Our shrimp cakes recipe is really simple and quick.
Are you looking for tasty finger foods? Or simply craving a fancy side to enjoy with your meal? Either way, our shrimp cakes can help.
Loaded with flavors and seared to golden perfection, these shrimp cakes possess a crispy exterior and are super chewy on the inside. Best of all, you can prepare them in advance and whip up a batch to serve whenever you want!
Are Shrimp Cakes Healthy?
1. Fried Foods and Cholesterol
Most finger foods, especially fried, are often associated with being fatty and, therefore, unhealthy. This is not necessarily true.
The fat to avoid consuming is trans fat, present in industrial oil and foods deep-fried in hydrogenated oil. By sticking to fat from vegetables and animals, you can rest assured knowing your food is free of trans fat.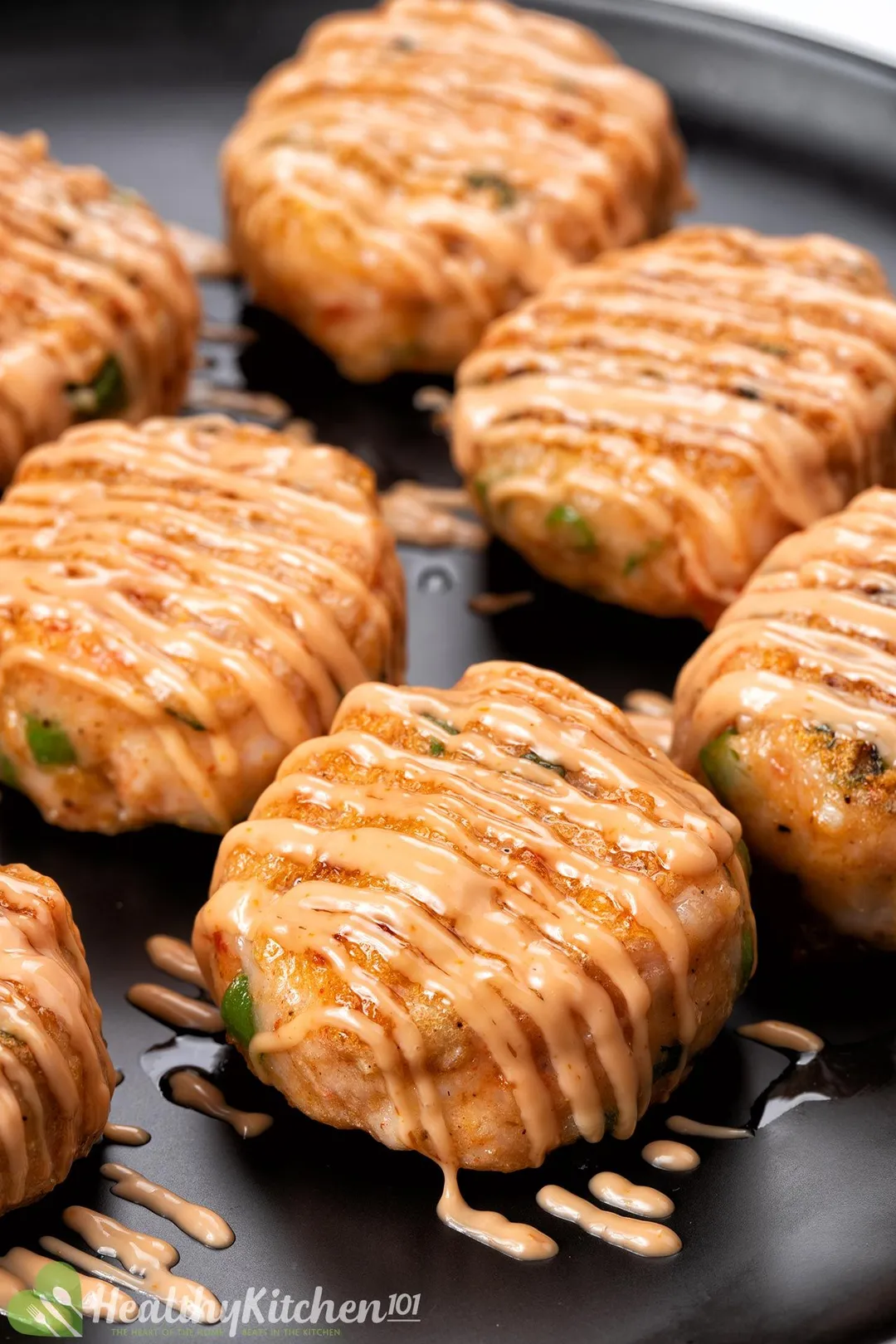 The fat to consume in moderation is saturated fat, says the USDA. Sources of saturated fat include animal fat, butter, cheese, and many more.
As for our shrimp cakes recipe, each serving only has 0.6 grams of saturated fat. In comparison to the recommended amount given by the USDA, this is almost nothing:
Shrimp also gets a bad rap for its high cholesterol content.
However, this is dietary cholesterol. Up to now, there is a lack of evidence to prove that dietary cholesterol is related to cardiovascular diseases.
With that said, let's have a look into the healthy benefits our shrimp cakes recipe brings:
2. The Good Stuff
To start with, shrimp is a healthy source of lean protein, with very little fat content. For every 100 grams of shell-on raw shrimp, there is less than one gram of fat.
The fat it comes with is not just any fat. It's DHA and EPA, the omega-3 fatty acids you don't want to cut back on.
DHA and EPA are primarily found in seafoods. They have been shown to help balance your triglyceride levels, and are especially crucial for children.
We also put chopped green beans in the cake batter. They contain an insignificant amount of fiber, probably too little to make a change, but hey, better than nothing, right?
Types of Shrimp for This Recipe
You might think, "Isn't shrimp just shrimp?" But in reality, there are 300 species of shrimp out there. Lucky for you, only 10 of them (at max!) are available for purchase, which saves you some trouble when choosing.
1. Kind and Size
For this recipe, any kind of shrimp will do. Sticking to the usual— white shrimp— is the easiest and simplest option.
In terms of size, again, it doesn't matter since they will end up blended in the food processor. But we do know that small shrimps can save you money while large ones save you time peeling and deveining.
The most important aspect of choosing shrimp is whether to have fresh or frozen. This is also the sketchiest aspect, so let's go through it little by little.
2. Fresh vs. Frozen
First, ask yourself, are those "fresh" shrimp really fresh, or frozen, then thawed? If you live near the sea, chances are they are really fresh and you should go for them.
But since not everyone lives in Louisiana or South Carolina, the "fresh" shrimp you see might be thawed shrimp. They're okay to purchase and cook immediately, but to be put in the freezer again? Not so much.
When shrimp is frozen for the first time, their cells explode due to water expansion. When they're thawed, bacteria can feed on them more easily, resulting in the shrimp's quality decreasing by the minute.
Living without fresh seafood nearby, your only option is frozen shrimp, and that's actually better. They have been frozen since caught, so you can freeze them again without worrying about your shrimp going bad.
How to Peel and Devein Shrimp
So, you've purchased frozen shrimp. Either freeze it now, or thaw them out and follow these steps to prep them for your shrimp cakes.
1. Remove Their Heads
Pick one up, hold its head with the other hand, then twist and yank to remove. Don't throw it in the trash can, because it (along with the shell) makes delicious stock.
2. Peel Their Shells
We are aware of the many ways one can remove shrimp shells, but we only trust one. This method requires nothing but your trusty fingers.
Hold the shrimp, pull out their legs (optional) to reveal their most vulnerable spot— their stomach. Pry it open with your thumbs, and gently take the shell out.
Again, save the shells to make stock.
3. Devein
You definitely don't want this vein in your food— it's filled with bacteria and yucky bits.
Use a paring knife to slice its back open. The vein should be visible by now, so you can take it out easily.
To devein whole shrimp (if that's what your recipe calls for), follow these steps:
Use a toothpick to plunge through the part where the tail and body connect.
Pull the toothpick upward to cut the vein.
Hold on to the exposed end of the vein near where we removed the head and pull out the rest of it. Discard.
What Do You Eat With Shrimp Cakes?
1. Dipping Sauce
I can't stress enough how you must serve finger foods with a dipping sauce. Dipping makes food more delicious, and it's fun, especially with other people.
In this shrimp cakes recipe, we serve the cakes with a mixture of ketchup and mayonnaise. The name is "thousand island dressing," and it's definitely better than plain mayo or ketchup alone.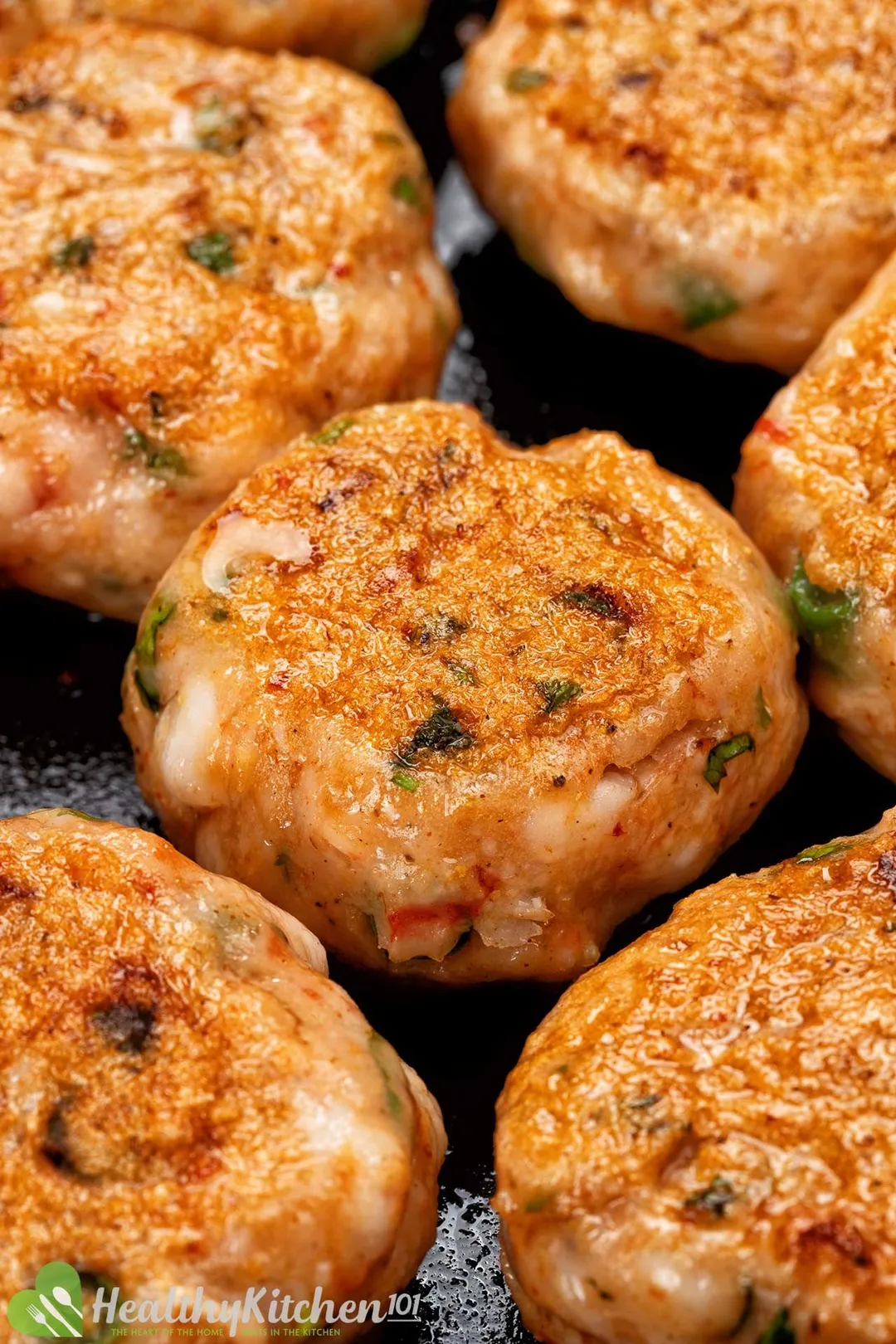 2. Salad
A salad on the side to refresh the palate anew— it's a definite yes to us. This classic combo works because the richness of the cakes pairs well with the salad's tangy, refreshing bites.
On our site, you can find many refreshing salads that are quick to recreate. We had this with Greek salad and thought they're a splendid pair. Better yet, whip up a quick Shrimp Avocado Salad while you're at it if that still shrimp craving is still persistent.
FAQ
1. How Long Do Shrimp Cakes Last?
The rule applies to all fried foods— serve them hot and immediately. You don't want to let them sit around for too long and become soft.
If you must, they'll last about a day at room temperature, and 2-3 days more in the fridge (carefully covered). They are edible within this timeframe, but the experience you get will be significantly reduced in the end.
To have this finger food crispy anytime you want, we have a better choice. Freeze the cakes raw and fry them whenever you need.
2. How Can You Freeze Shrimp Cakes?
Proceed to step 4 of our shrimp cakes recipe and place the balls onto a tray, with space in between. Slide that tray into the freezer and you can have a snack whenever you want!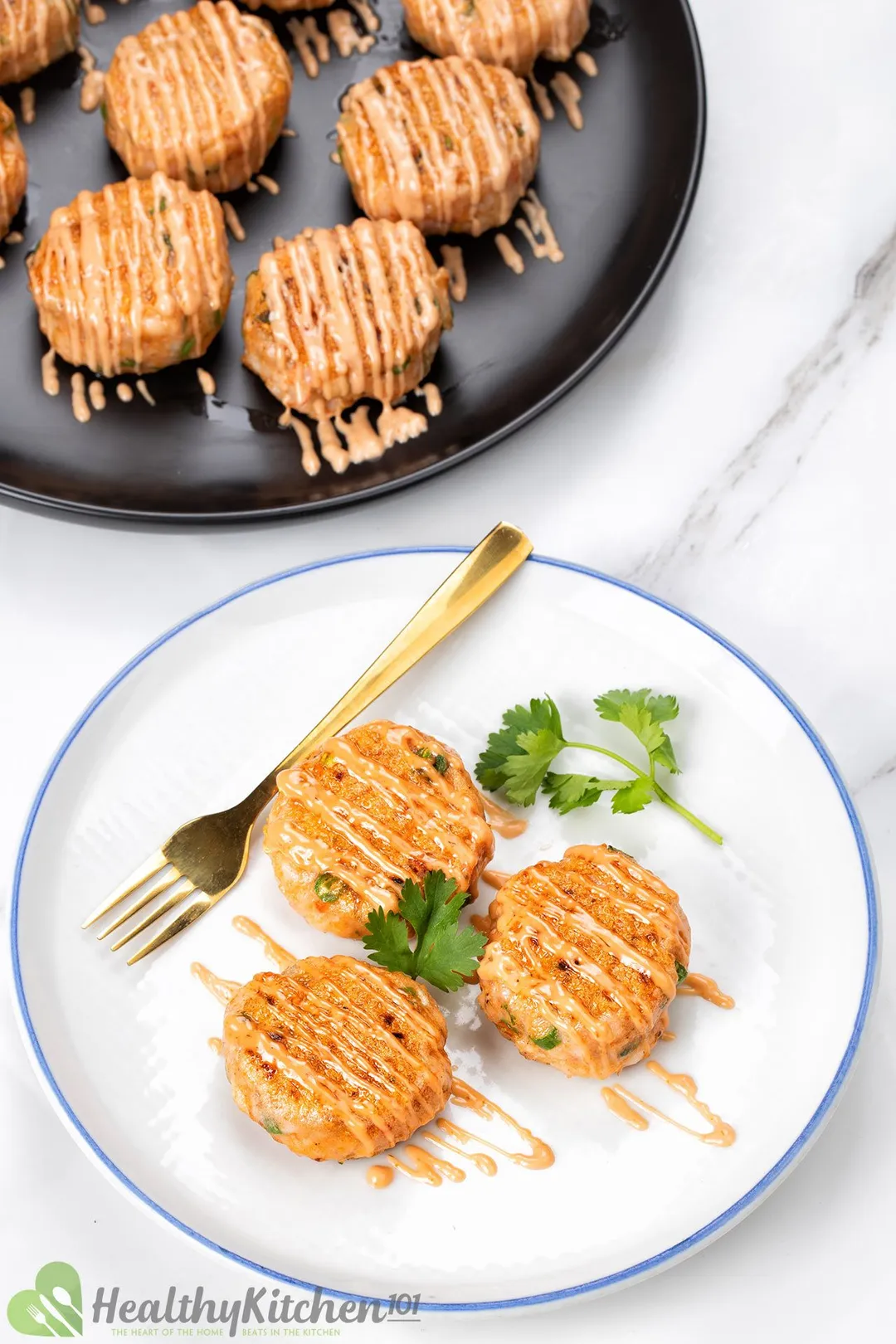 3. Isn't This Freezing Shrimp for a Second Time?
Remember how we mentioned shrimp shouldn't be frozen twice? In this situation, you can.
When you purchase frozen shrimp, thaw, prep, blend, then freeze again, the whole process takes less than an hour. This amount of time is not enough for bacteria to ruin the shrimp meat.
On the other hand, "fresh" shrimp at grocery stores are probably thawed for hours. We doubt you'll need more than 2 hours to cook the shrimp.
Check Out These Other Amazing Shrimp Recipes!
Shrimp Cakes
This shrimp cakes recipe takes only 25 minutes from start to finish. The result? Crispy, chewy shrimp cakes that taste better than take-out.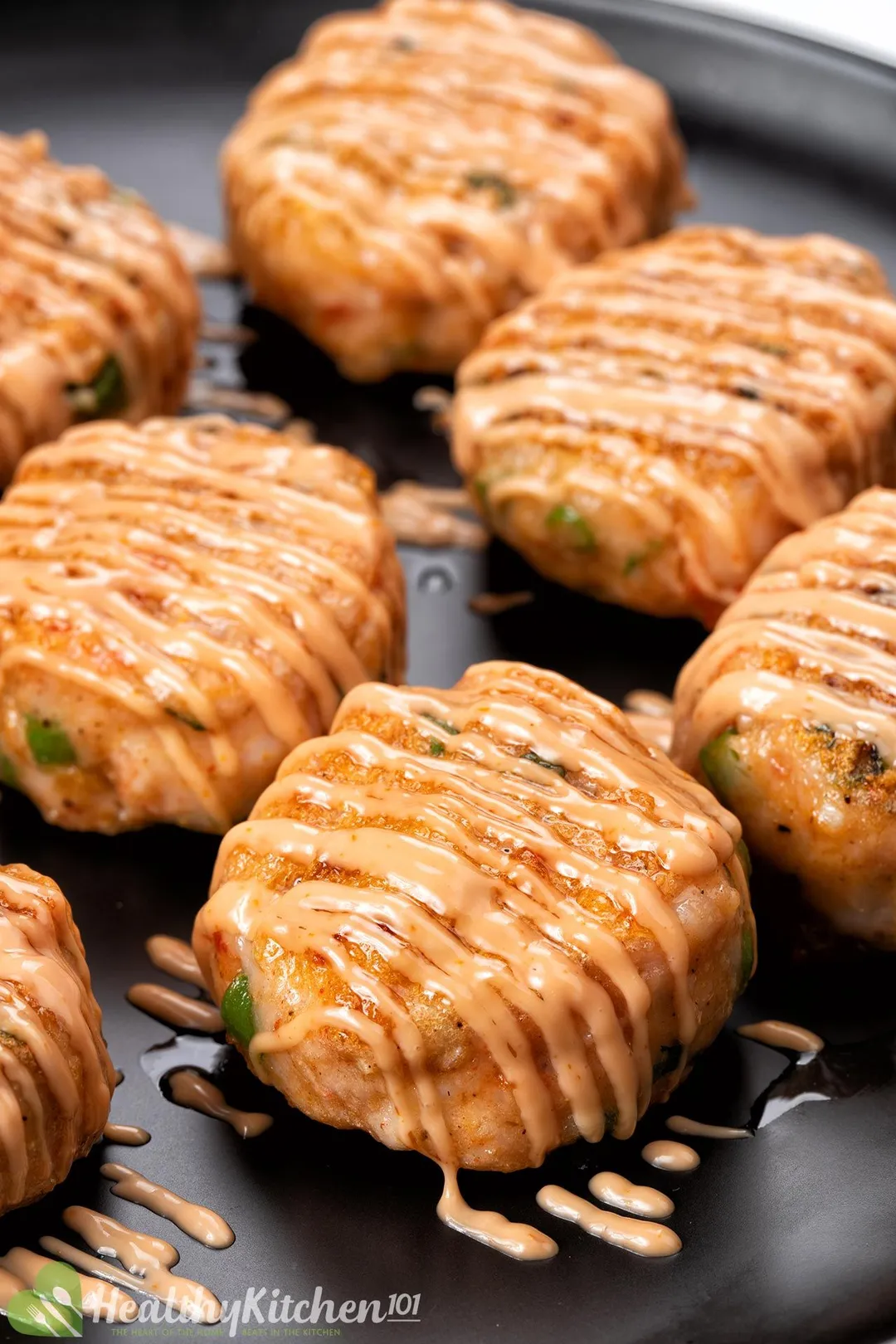 cook TIME

15 mins

prep TIME

10 mins

total TIME

25 mins
COURSE

Side Dish, Snack

CUISINE

Global

SERVINGS

CALORIES

237 kcal
INGREDIENTS
16 oz

peeled shrimp

(28 oz peeled)

1 oz

green beans

(chopped)

3 tsp

canola oil

(divided into 2 and 1)

1/4 tsp

ground black pepper

1 tsp

ground coriander seed

1 tsp

Japanese mayonnaise

2 tbsp

coriander

(minced)
INSTRUCTIONS
1
Add 16 oz peeled shrimp into a food processor and pulse until it becomes a paste. Scrape down the sides occasionally to blend everything evenly.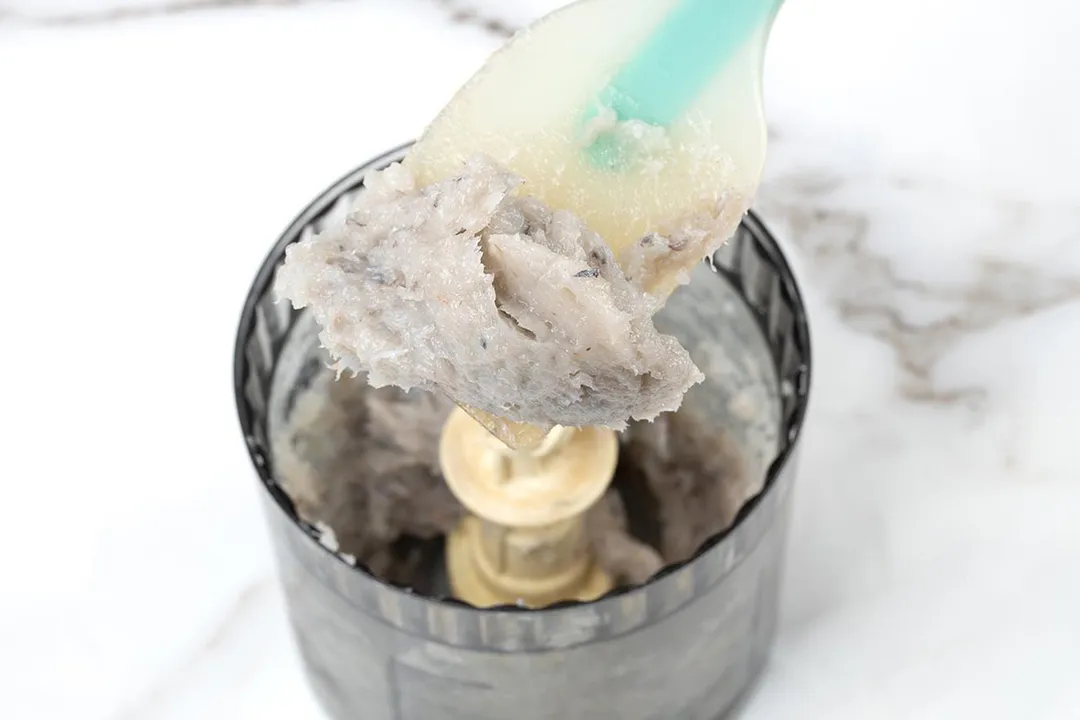 2
Add 1/4 tsp pepper, 1/2 tsp tabasco, 1/8 tsp baking powder, 1/16 salt, 1/2 garlic powder, 1 tsp ground coriander seeds, 3 tbsp all-purpose flour, 1/4 tsp paprika, 1 oz green beans, 1 tsp shallots, and 2 tbsp coriander. Pulse again until mixed through.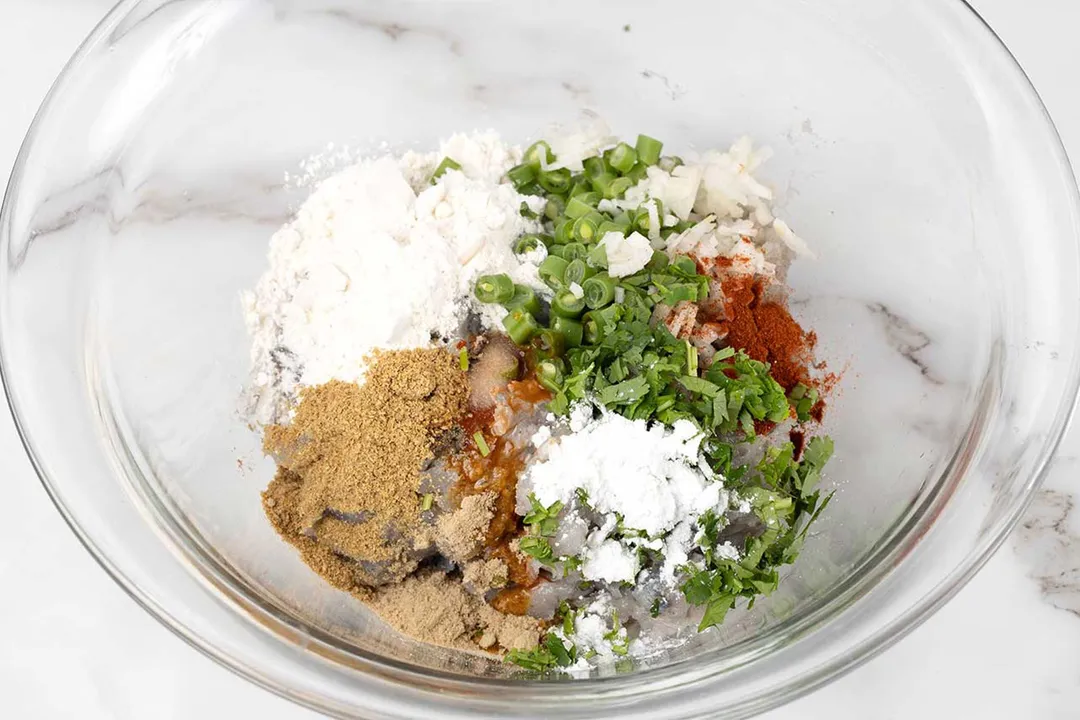 3
Divide the shrimp into 12 balls, each weighing around 1.5 oz. During the process, dip your finger in 1 tsp of oil to prevent the batter from sticking to your hands. Flatten them afterwards.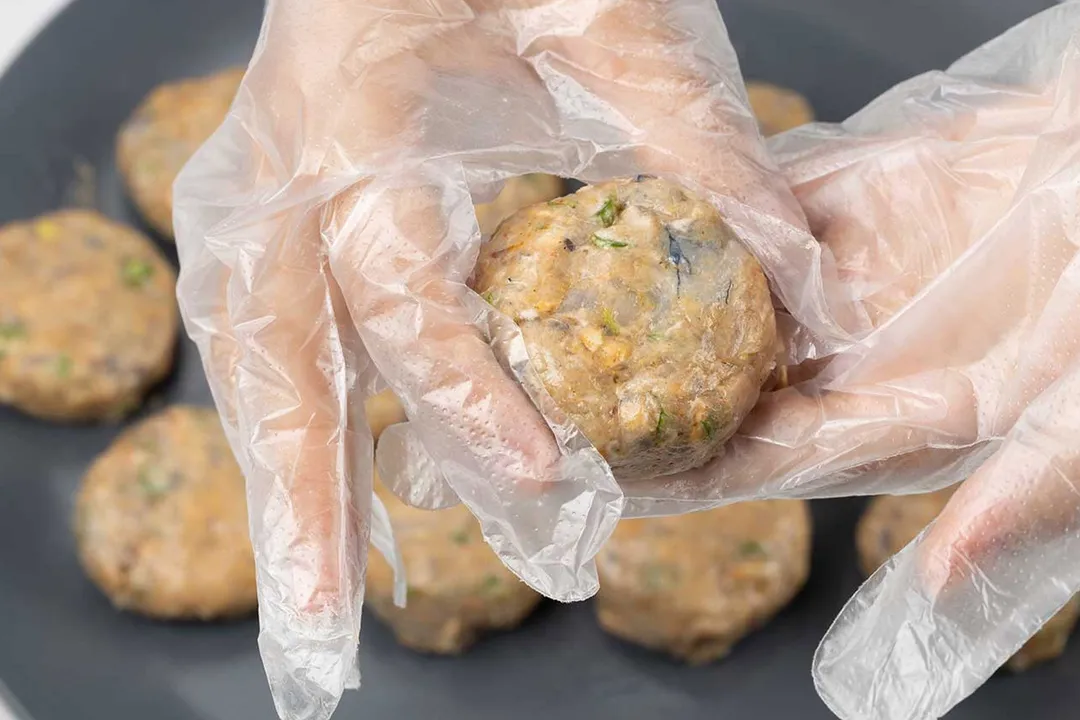 4
Add the remaining oil to a skillet and heat it over medium-low heat. When it's hot, sear the balls until they're golden brown on both sides. Doing this in batches is easier, especially if you have a small skillet.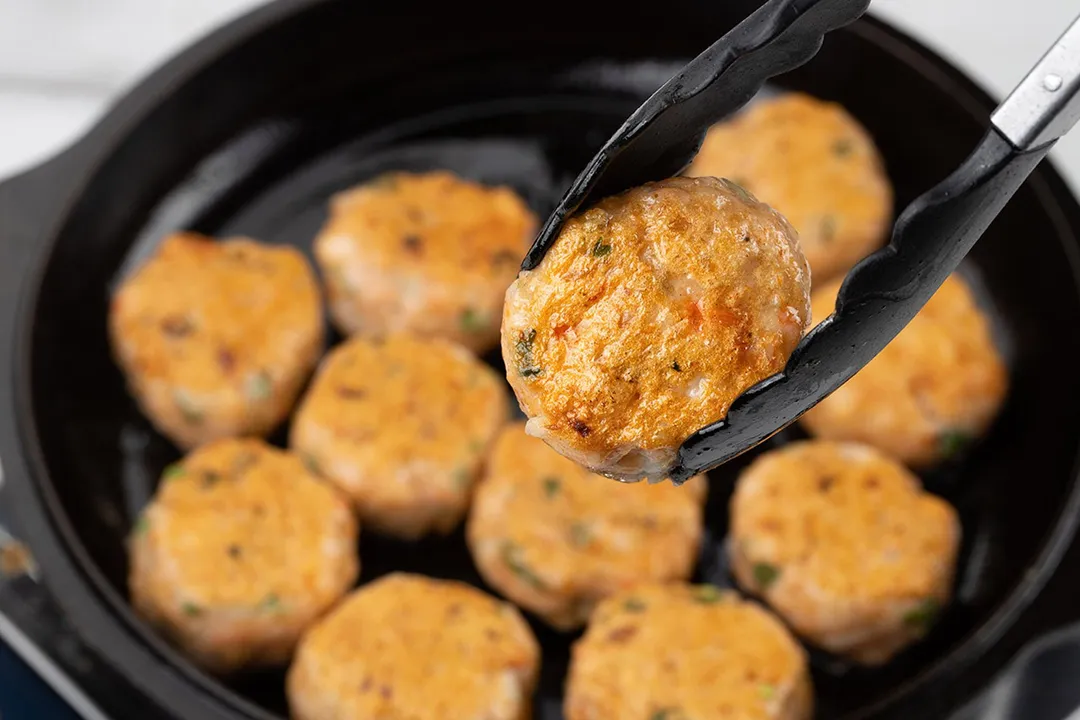 5
Mix 1 tsp ketchup and 1 tsp mayonnaise together in a dipping bowl and serve.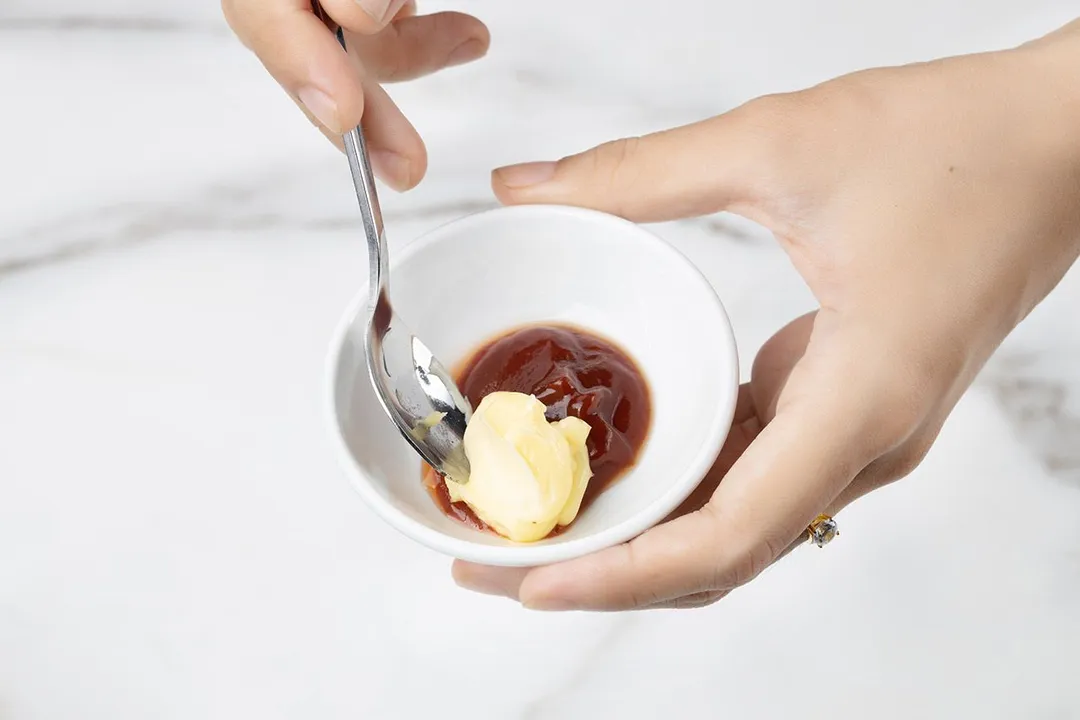 6
Drizzle with the sauce before serving.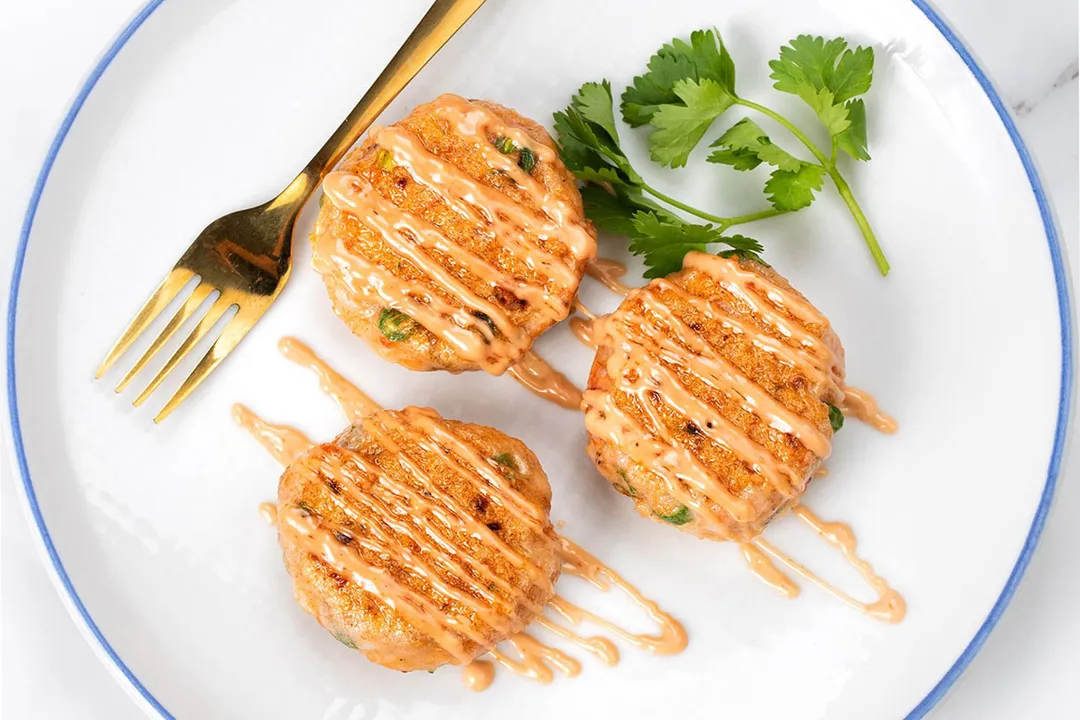 NUTRITION
Nutrition Facts
Shrimp Cakes
Amount Per Serving (1 serving)
Calories 237
Calories from Fat 45
% Daily Value*
* Percent Daily Values are based on a 2000 calorie diet.
Keywords: how to make shrimp cake, shrimp cake, shrimp cakes, shrimp cake recipe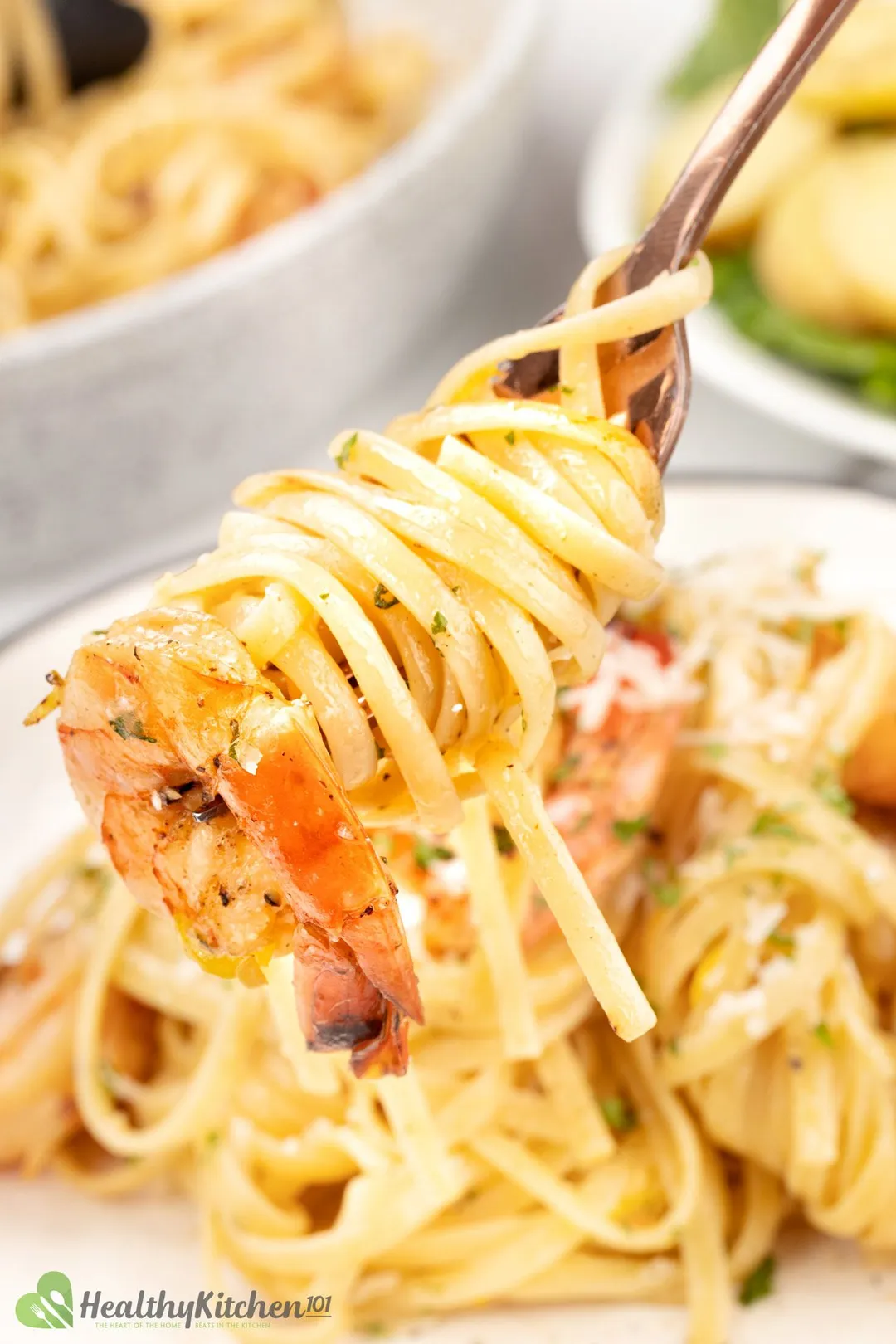 Previous Recipe
Shrimp Scampi
Shrimp Scampi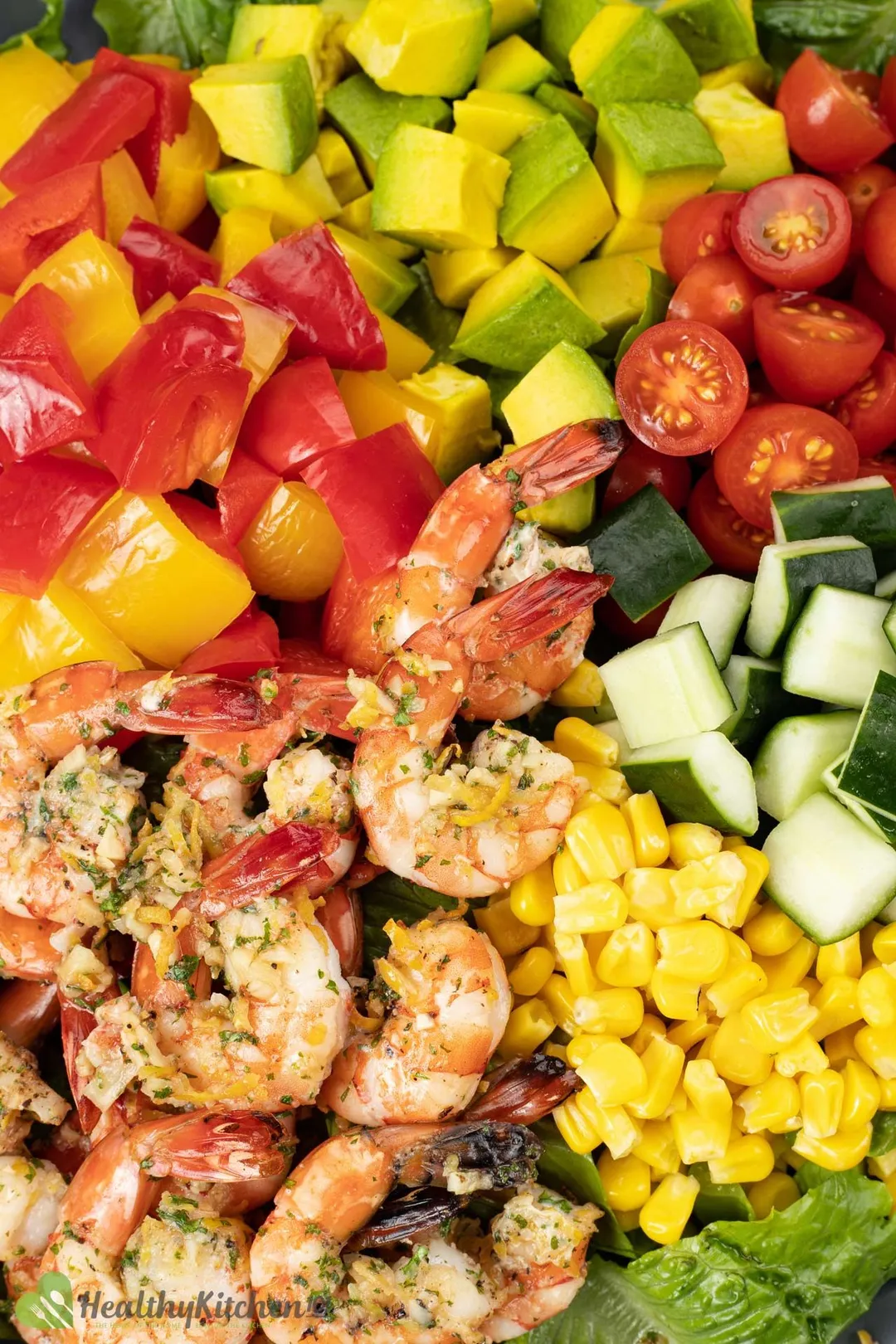 Shrimp Salad
Head Chef, Culinary Consultant
Tuyet Pham is an award-winning Saigonese chef who believes that joy is the secret ingredient to delicious food. At Healthy Recipes 101, Tuyet personally tests and simplifies every recipe, ensuring maximum flavor with minimal effort. With a background at prestigious French restaurants P'TI Saigon and Le Corto, Tuyet knows how to make every dish exceptional.
Writer, Author
Luna Regina is an accomplished writer and author who dedicates her career to empowering home cooks and making cooking effortless for everyone. She is the founder of HealthyKitchen101.com and HealthyRecipes101.com, where she works with her team to develop easy, nutritious recipes and help aspiring cooks choose the right kitchen appliances.
Nutrition Reviewer
Lizzie Streit is a Minneapolis-based dietitian and founder of It's a Veg World After All. She completed her MS in Human Nutrition from Drexel University, and is an expert in culinary nutrition, recipe development, and nutrition communications. Lizzie's philosophy is centered around making nutrition recommendations, and especially the advice to eat more vegetables, approachable and realistic. She is excited to be working with the team at Healthy Recipes 101 to ensure that their recipes are both nutritious and delicious.
Delicious and easy shrimp cakes recipe, perfect for a quick and healthy meal.