Our sautéed green beans recipe is simple and easy to follow. It is a classic Thanksgiving recipe you can cook to make any occasion a celebration.
Green beans are versatile; you can boil, sauté or steam them, all while retaining nutrients. In this recipe, we combine the green beans with cheese and a creamy mushroom sauce to create a crunchy dish rich in umami flavor and oh so satisfying!
Nutritionally, this meal provides fiber to boost digestion. It's excellent for incorporating into various diets for its low-carb and low-calorie features.
If that sounds enticing to you, why not try it today! Read on to find out more about this healthy treat and how you can prepare it.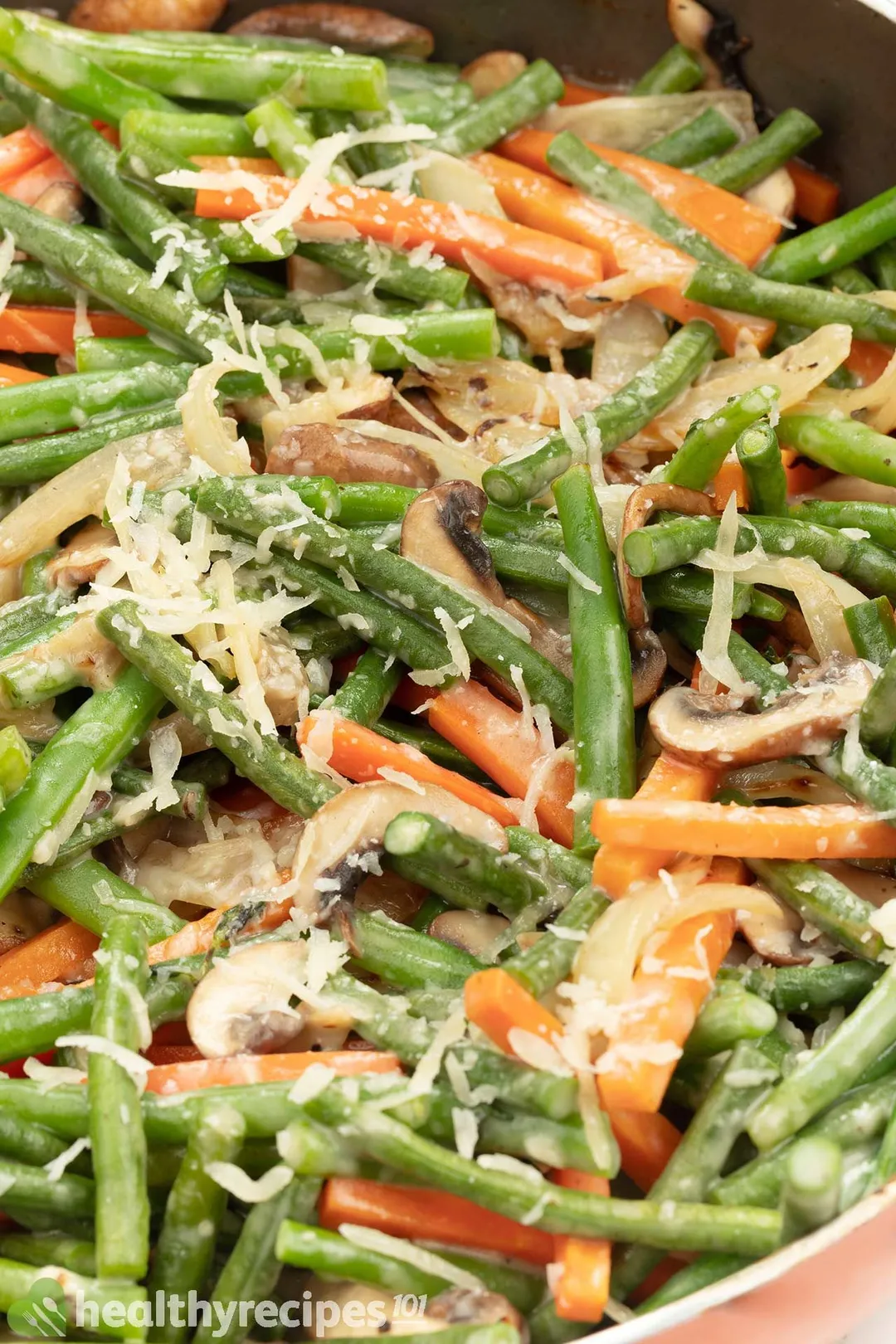 String Beans vs Green Beans
"Green" beans is a generic term referring to varieties of similar-colored beans, and string beans can fall under this category.
"String" signifies an earlier era, one where we grew up being assigned odd jobs at the kitchen counter. Especially during the frenzy of preparing for Thanksgiving (even with the modern day help of canned mushroom sauce), it was all hands on deck!
Watching grandma— or yourself— snap a bean in half, you'd notice a piece of string unravel down its middle; this is where the name comes from. These were the common type of beans.
Now traditional string beans are outdated and have been replaced by a stringless variety that shares the same "snap" feature. This is why most green beans are also known as snap beans.
That's not the only interesting fact about green beans. Here's where their versatility kicks in.
Are Green Beans Keto?
You may have heard that beans are forbidden in a keto diet, but green ones are among the few exceptions. In fact, they are excellent for the keto diet because they are low in carbohydrates.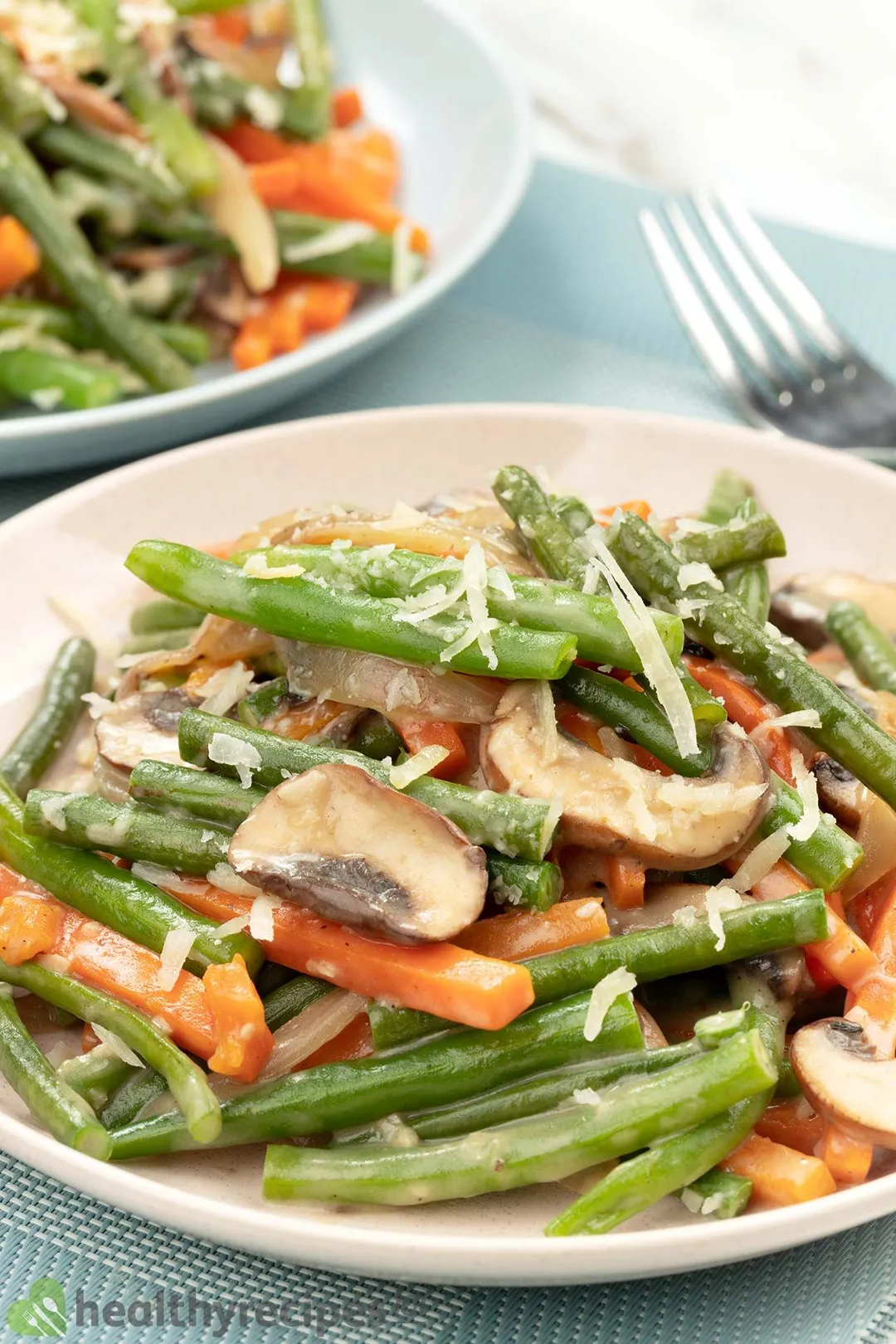 The bonus is that 40% of those carbs are fiber, giving you a further boost for digestion and weight loss.
But they're not only keto. They are low-carb, gluten-free, paleo, vegan, and vegetarian.
This explains why string beans are one of the most popular home-grown vegetables. You can incorporate them into almost any diet, all with added health benefits, some of which we explain below.
Are Green Beans Healthy?
Our recipe is a healthy one that we've successfully balanced with flavor and nutrition for a remarkable Thanksgiving recipe. This dish contains plenty of nutrients, including vitamin C and fiber.
Here are some other essential nutritional points about our green bean recipe.
1. Carbs
We recommend this recipe for keto as well as low-carb diets because of its low carbohydrate profile. A cup of green beans contains about 10 grams of carbohydrates, a relatively low amount.
That said, carbs aren't bad at all. They can fuel you with energy, and if you incorporate them in moderate amounts, they will help, not harm your health.
2. Calories
This recipe dish contains 228 calories per serving. We've cut off a big chunk of calories by using fresh ingredients and homemade mushroom soup.
Don't let the festive season rush hour get to you. It's worth shaving off calories by spending a little more time making your homemade version.
Plus, this dish includes plenty of fiber and protein to create a healthy, balanced dish.
What Goes Well With Sautéed Green Beans
We can admit that green beans, healthy as they are, taste better combined with more full-flavored ingredients. The following are some easy additions to this dish.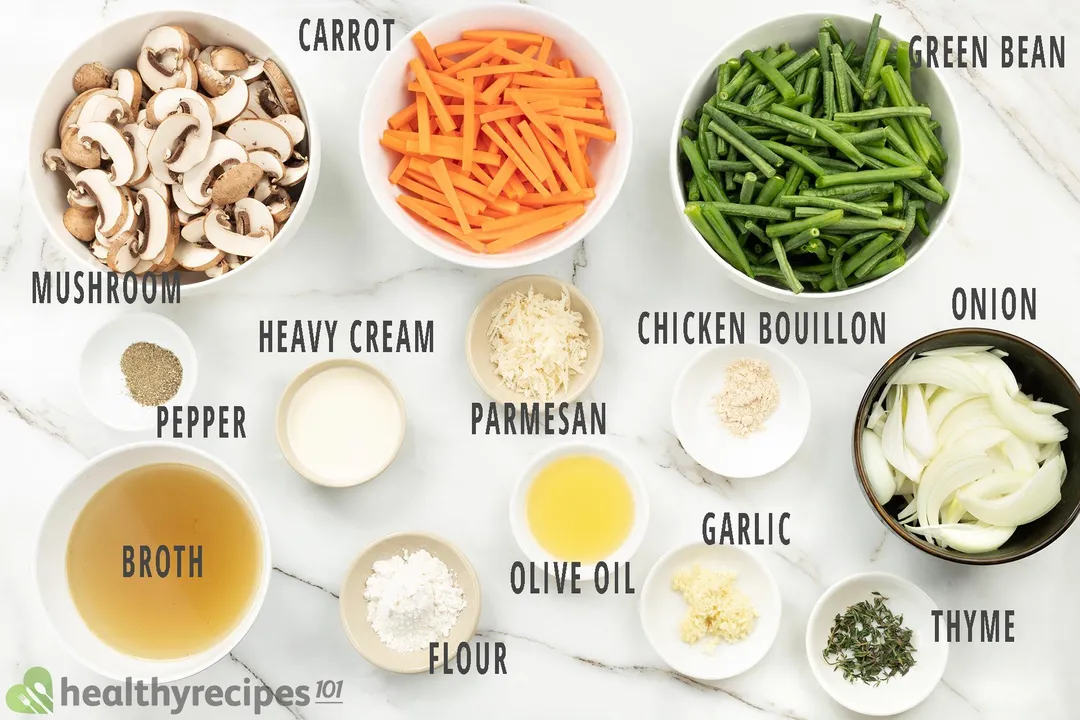 1. Bacon
Bacon adds rich flavor to any dish. The greatest part is you don't need it in large amounts.
A little bacon will add enough fat, saltiness, and umami to perfectly compliment a green bean dish. Remember to use it sparingly for a tasty and well-balanced meal.
2. Mushrooms
To hit the right notes, our classic green bean recipe had to include mushrooms! The two are an age-old combination that's been around for a long time, for good reason.
Most can agree that mushrooms are chewy, they add savory flavor, and they make an excellent creamy soup.
3. Carrot
Carrots go great with green beans because of their similar textures. You can saute them together and preserve their crunch, adding a subtle sweetness to the finished dish.
4. Onion
Chopped onion is definitely worth the tears, especially when sauteed like we do in this green bean recipe. It releases a sweet flavor that compliments the beans and ties this dish together.
How to Cook Green Beans
Green beans are super simple to cook, and there are a couple of ways to do so. Boiling and sauteeing are two quick methods you can use; here we employ both methods.
1. How Long to Boil Green Beans?
Your preference matters most when it comes to boiling green beans.
Some like softer green beans to match the mushroom texture. If you're one of those people, boil them for up to 10 minutes until they're slightly pale.
You can tell they're done if they're limp and give way when stirred.
If you enjoy beans with a crunch, boil for only 5 minutes until they're tender but still firm. The result is a crunchy green bean that's not too tough and adds an interesting texture to the overall dish.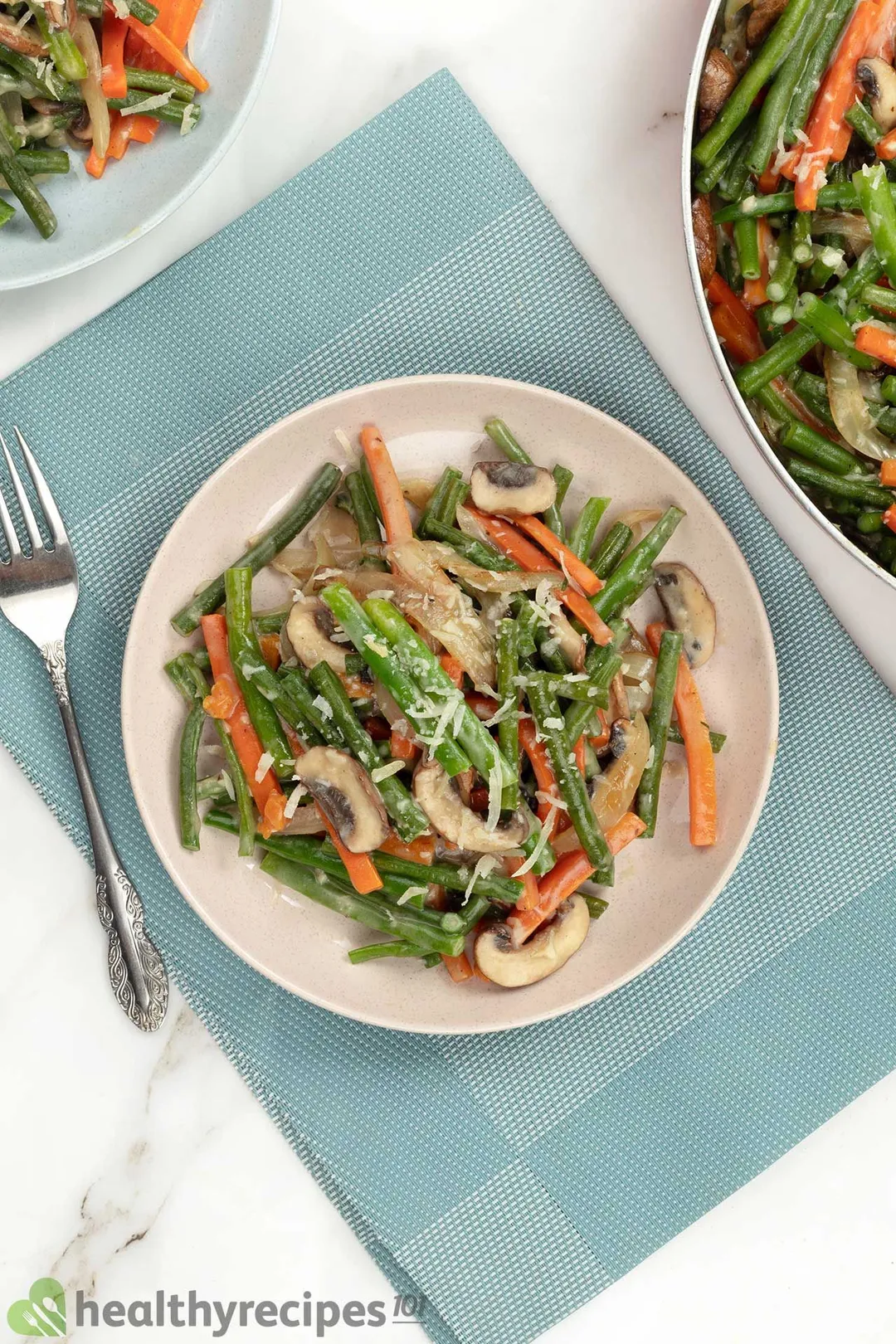 2. Sauteed Green Beans
Sauteeing green beans is a great way to impart flavor while preserving their crunch. Get a large pan and heat it over high heat, and add butter or olive oil along with the beans.
Mix and toss them for 5 minutes until they're cooked, and add any seasonings like garlic while they're sizzling hot. Stir once more to mix them in and serve the dish hot.
How Long Does It Last in the Fridge?
Cooked green beans can last up to three days in the refrigerator.
They may still be edible by the fourth day if you limit the air, heat, and light exposure. Be sure to taste a bit to make sure they are still fresh enough and enjoyable.
How to Freeze Green Beans?
You can store both uncooked and cooked green beans in the freezer. You just need a Ziploc bag to ensure that they are not exposed to air.
Once secured, keep them frozen for a maximum of three months, or until you're ready to use them. Leave the green beans at room temperature to thaw, and then cook or reheat them before serving with a meal.
What to Serve With Sautéed Green Beans
Our creamy green-bean dish is sufficient to serve essential vegetables (and fungus, too) in one skillet. But to make a rounded meal, pair it with comparatively filling dishes.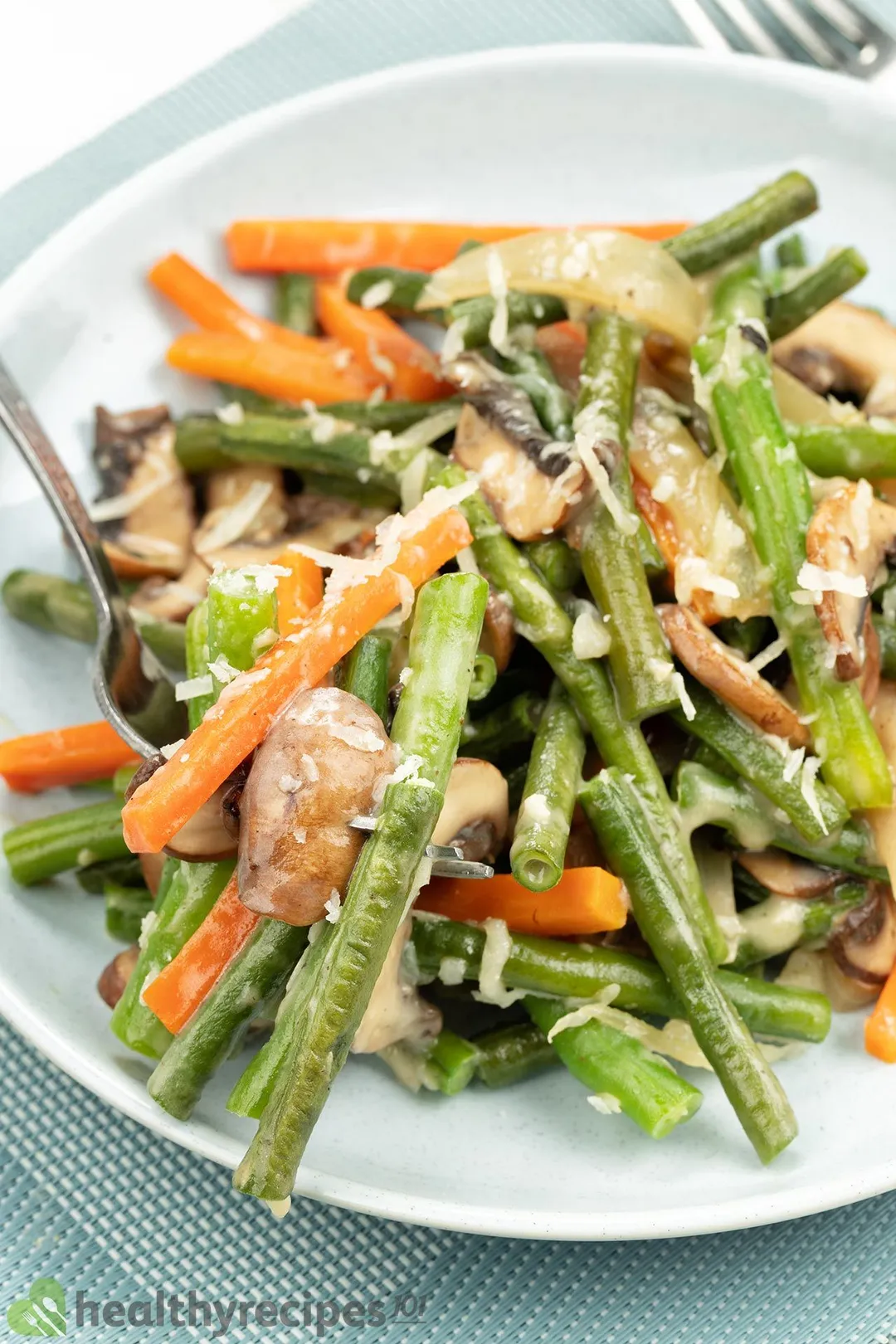 Here are some of our suggestions:
1. Mashed Potatoes
The creamy smoothness of mashed potatoes is evocative of a warm home and is a delicious reminder of safety and celebration. Because mashed potatoes are mellow on the palate, they accompany this crunchy treat with a pleasant, creamy texture.
Sweet potato mash, or fries, also pair well with this dish.
2. Roast Turkey/Chicken
You can also turn this dish into a main by adding some high-protein foods. Turkey is a typical Thanksgiving pairing, but if you're not feeling overly festive, use chicken instead.
Meat always goes well with veggies; there's a reason for the stereotypical meat and two veg. If you prefer a vegetarian meal, you can also pair it with one of our healthy vegetable dishes to go full vegetarian.
It's always a good idea to pair a vegetable dish with foods that fulfill the other food groups such as carbs and proteins. Most importantly, pick a dish that you and your family will love and enjoy with this green bean side dish.
More Green Bean Dishes Here
Want to find more ways to incorporate green beans into your diet? We recommend trying out some of the following dishes for easy, flavorful, and healthy meals:
Sautéed Green Beans
This sautéed green bean recipe includes creamy mushrooms and savory carrots for a satisfying, delicious dish. You can serve it hot at any Thanksgiving feast, or for lunch and dinner meals.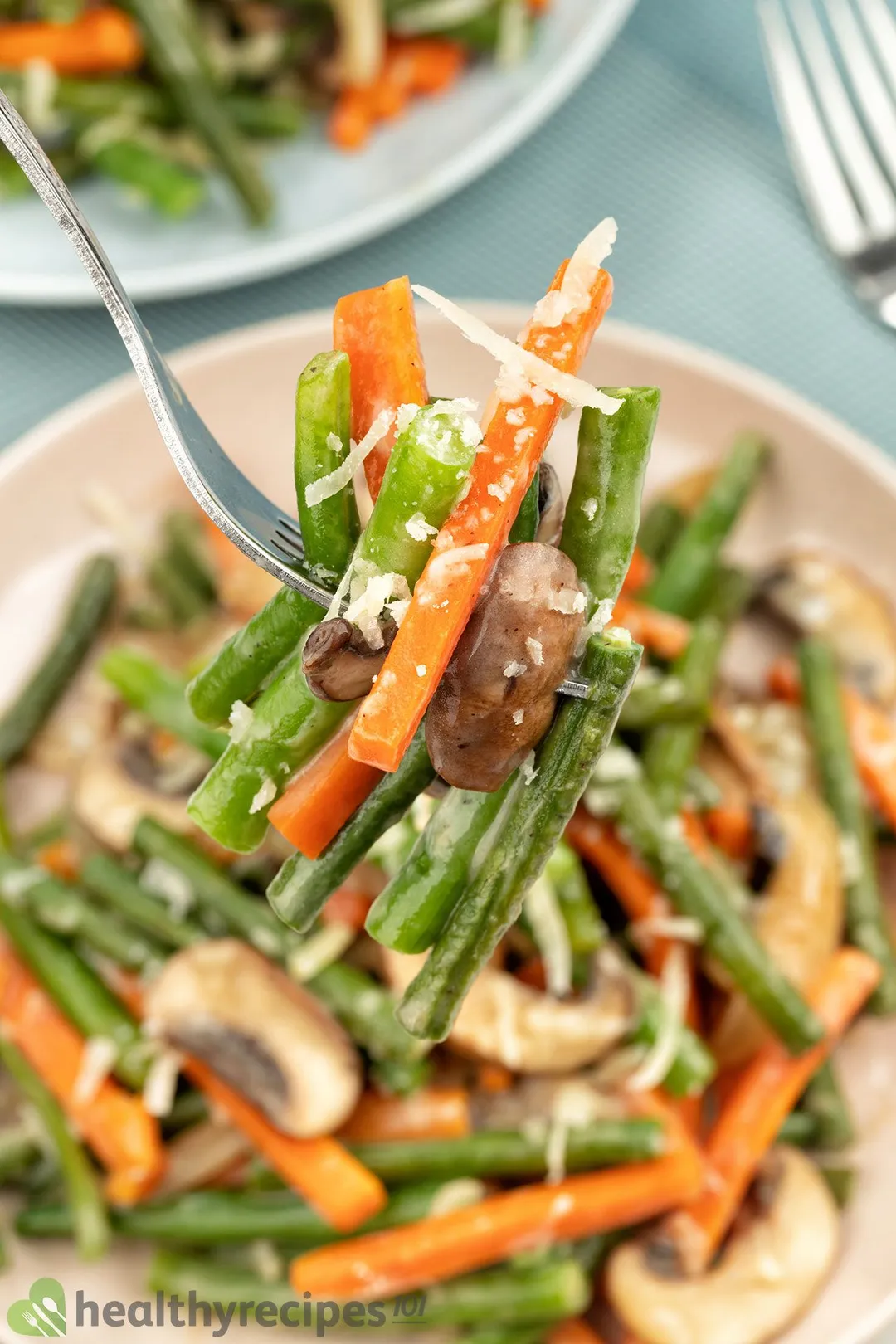 cook TIME

31 mins

prep TIME

10 mins

total TIME

46 mins

INACTIVE TIME

5 mins
COURSE

Dinner, Lunch

CUISINE

American

SERVINGS

CALORIES

208 kcal
INGREDIENTS
16 oz

green beans

(halved)

7 oz

carrots

(sliced and halved)

1 1/4 cups

unsalted chicken broth
INSTRUCTIONS
1
Bring a medium-sized pot of water to boil. Add 7 oz carrots and cook for 4 minutes. Remove carrots (leave the water on the heat) and drain using a slotted spoon.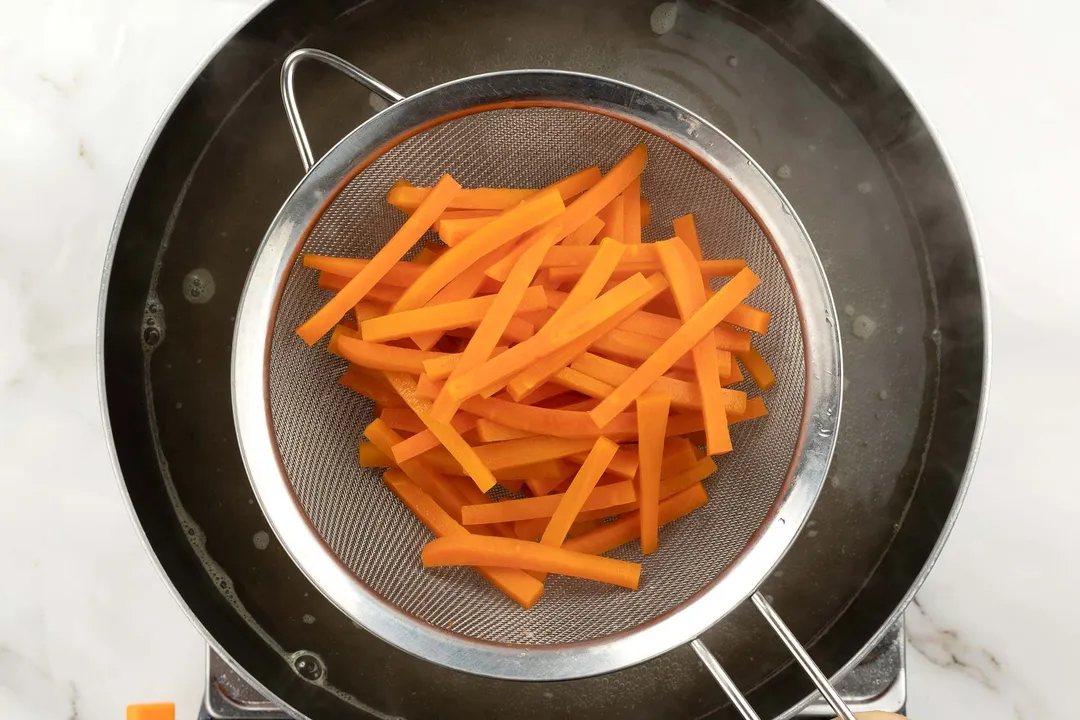 2
Add 16 oz green beans to the boiling pot and boil for 4 minutes. Remove and drain.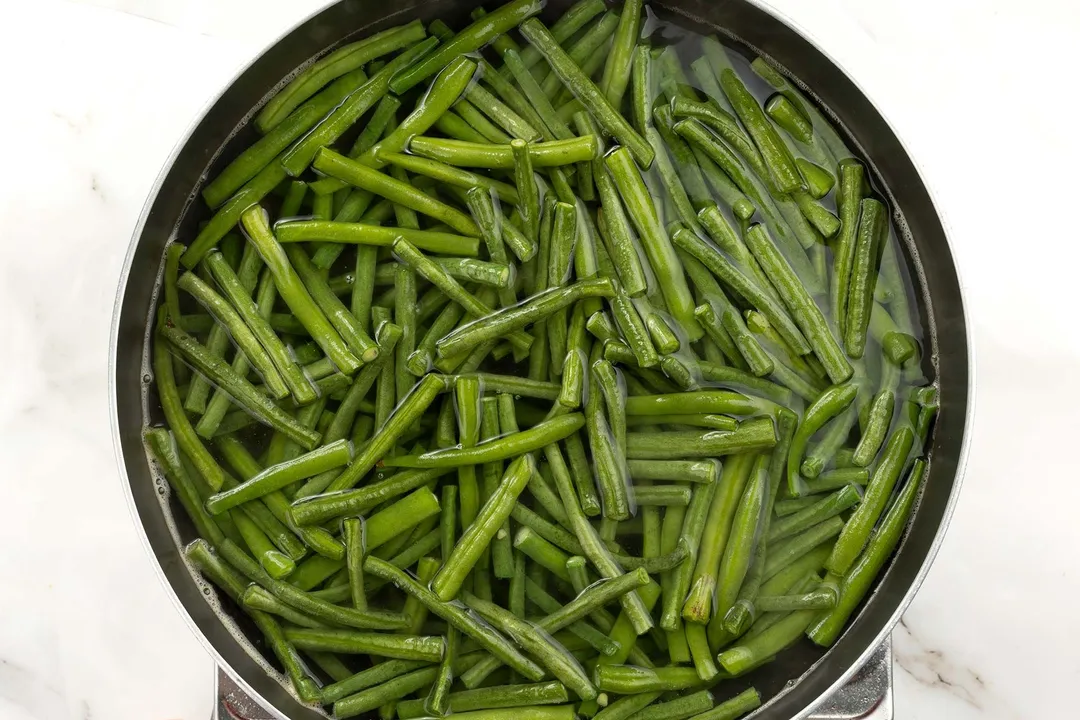 3
Heat a skillet to high heat. Add 1 tbsp olive oil, 3 tsp garlic, 2 tsp thyme, 1/2 tbsp flour, 1/2 tsp black pepper, 3/4 tsp chicken bouillon, and only 1 cup of chicken broth. Cook for 3 minutes.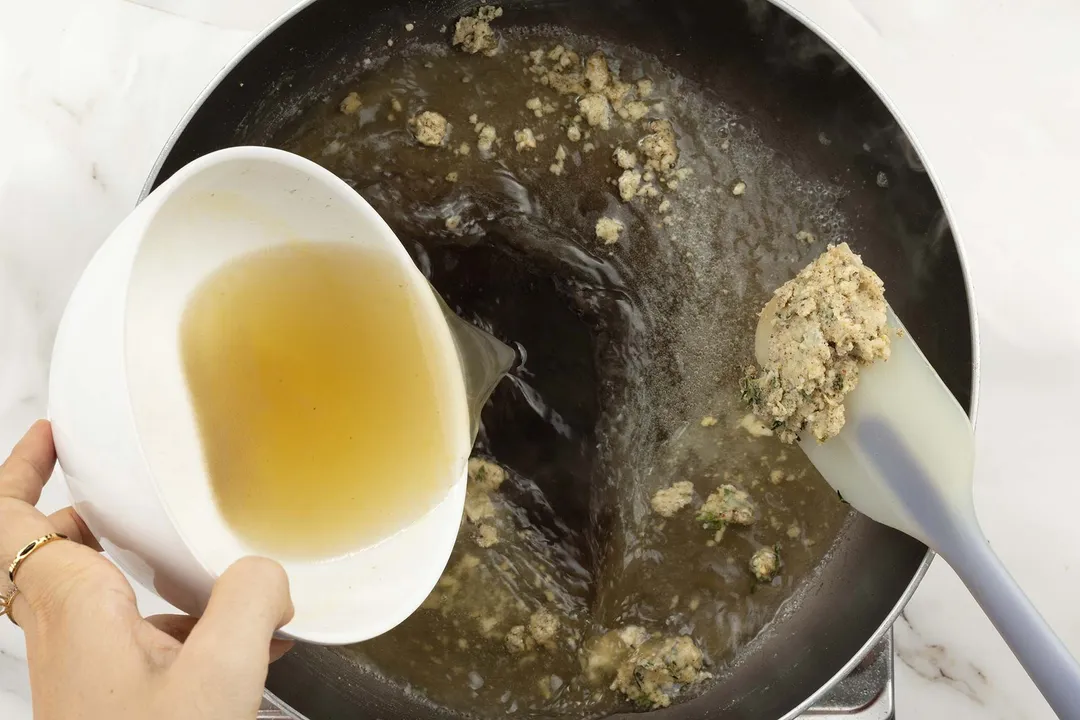 4
Add 3 tbsp heavy cream and stir for 30 seconds. Remove from heat.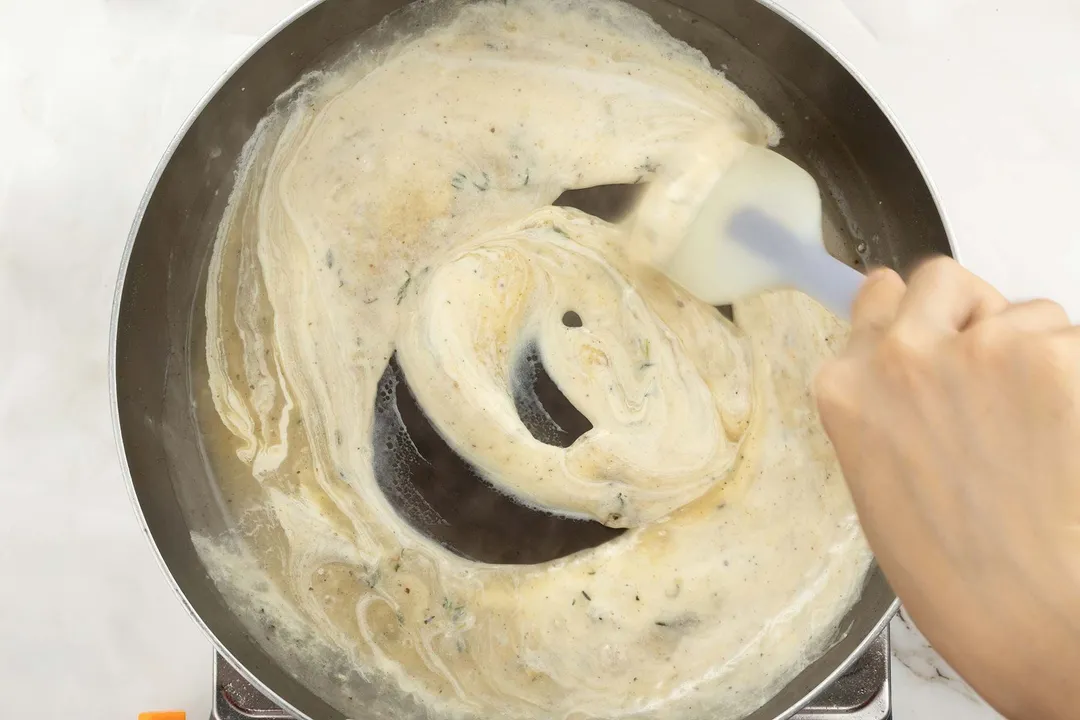 5
Heat a skillet to low heat and add the remaining 1 tbsp olive oil and 7 oz onions. Cook for 6 minutes until they turn a caramel-brown color.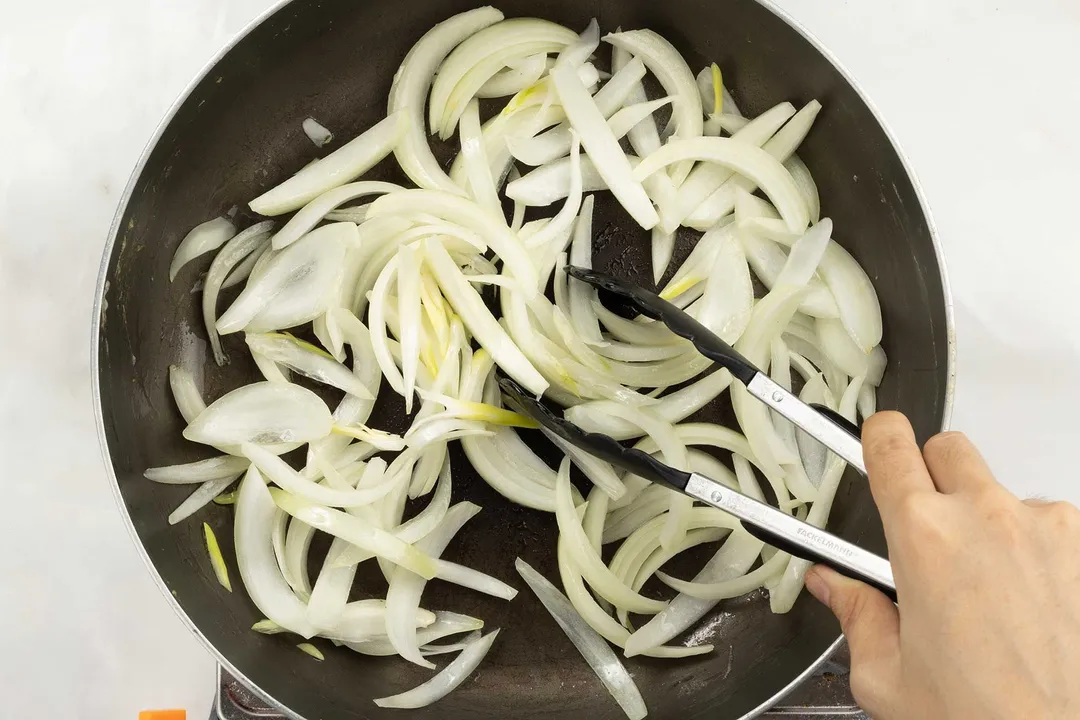 6
Add 10 oz mushroom and increase heat to medium. Cook for 10 minutes.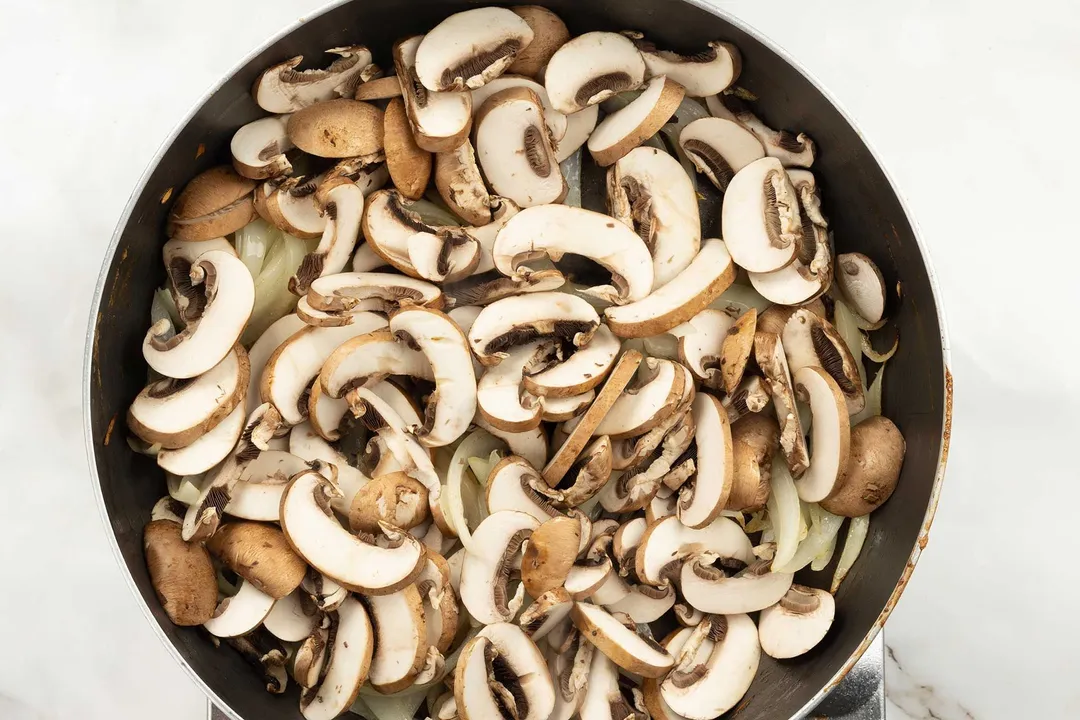 7
Reduce heat to low and add carrots and green beans. Stir then add the sauce and the remaining 1/4 cup chicken broth. Cook for 3 minutes.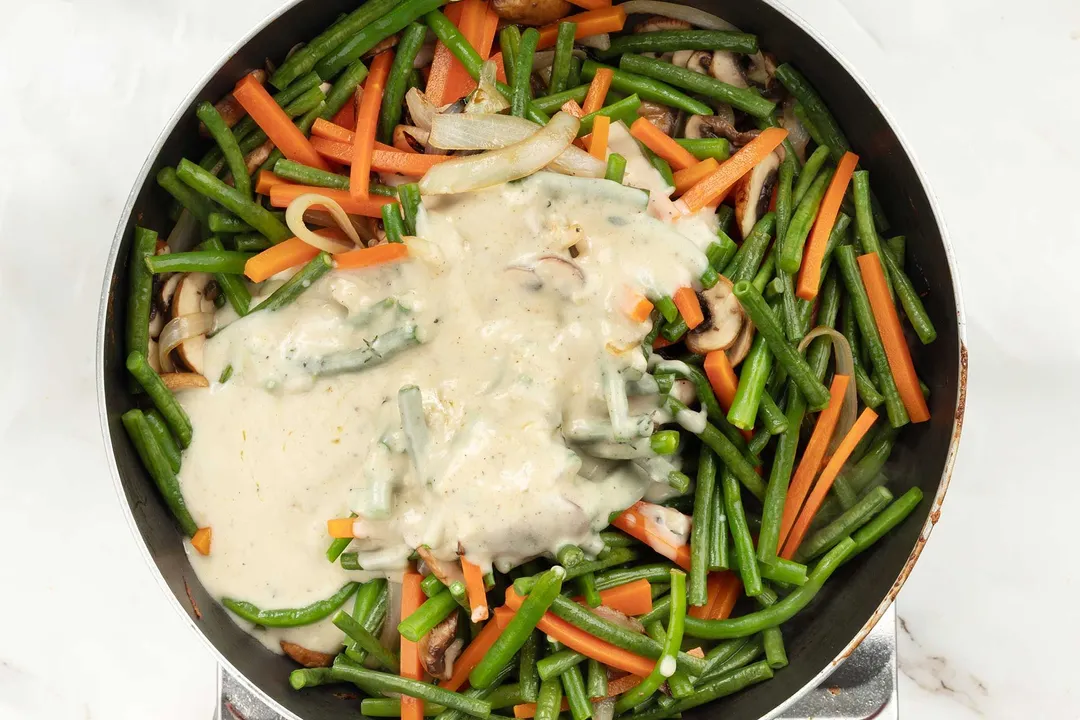 8
Sprinkle 0.5 oz parmesan over the dish and stir to mix well. Serve hot.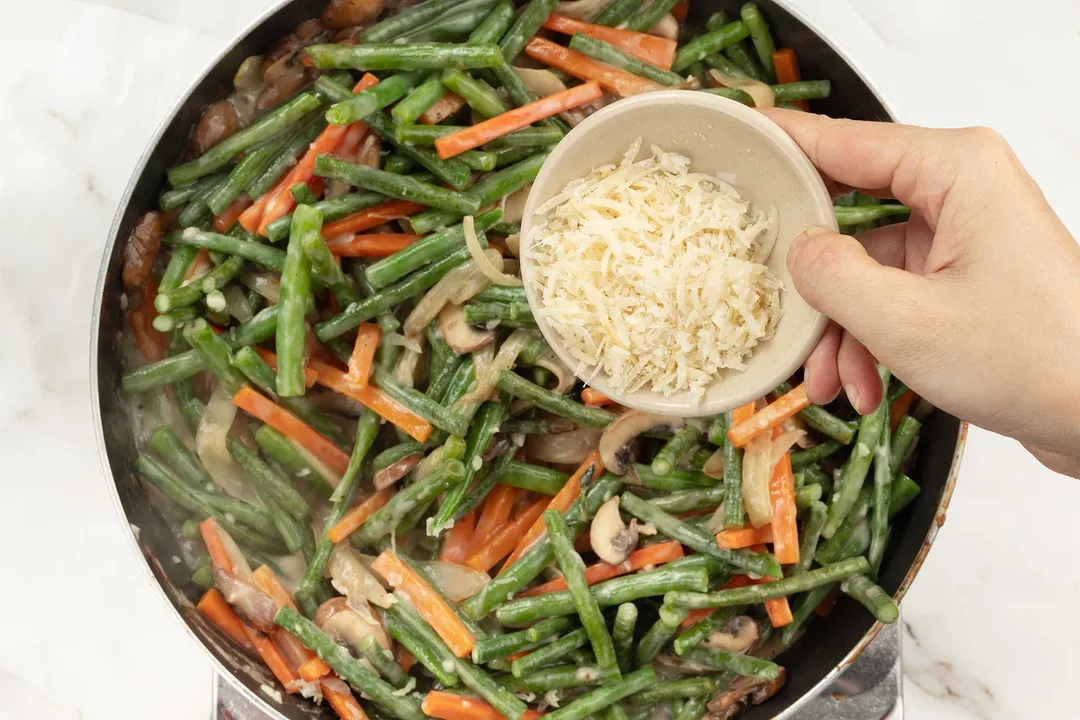 NUTRITION
Nutrition Facts
Sautéed Green Beans
Amount Per Serving (1 serving)
Calories 208
Calories from Fat 108
% Daily Value*
* Percent Daily Values are based on a 2000 calorie diet.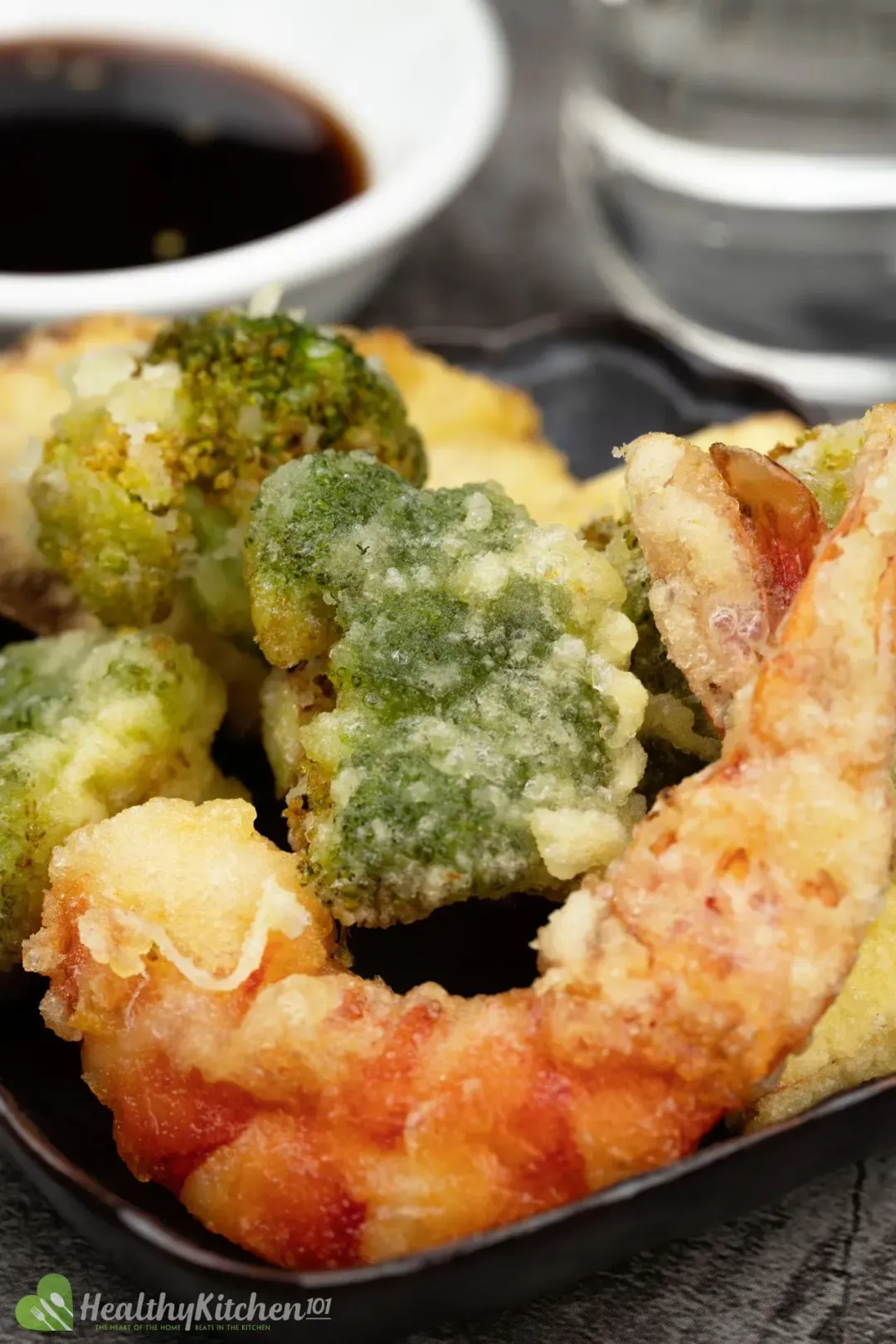 Tempura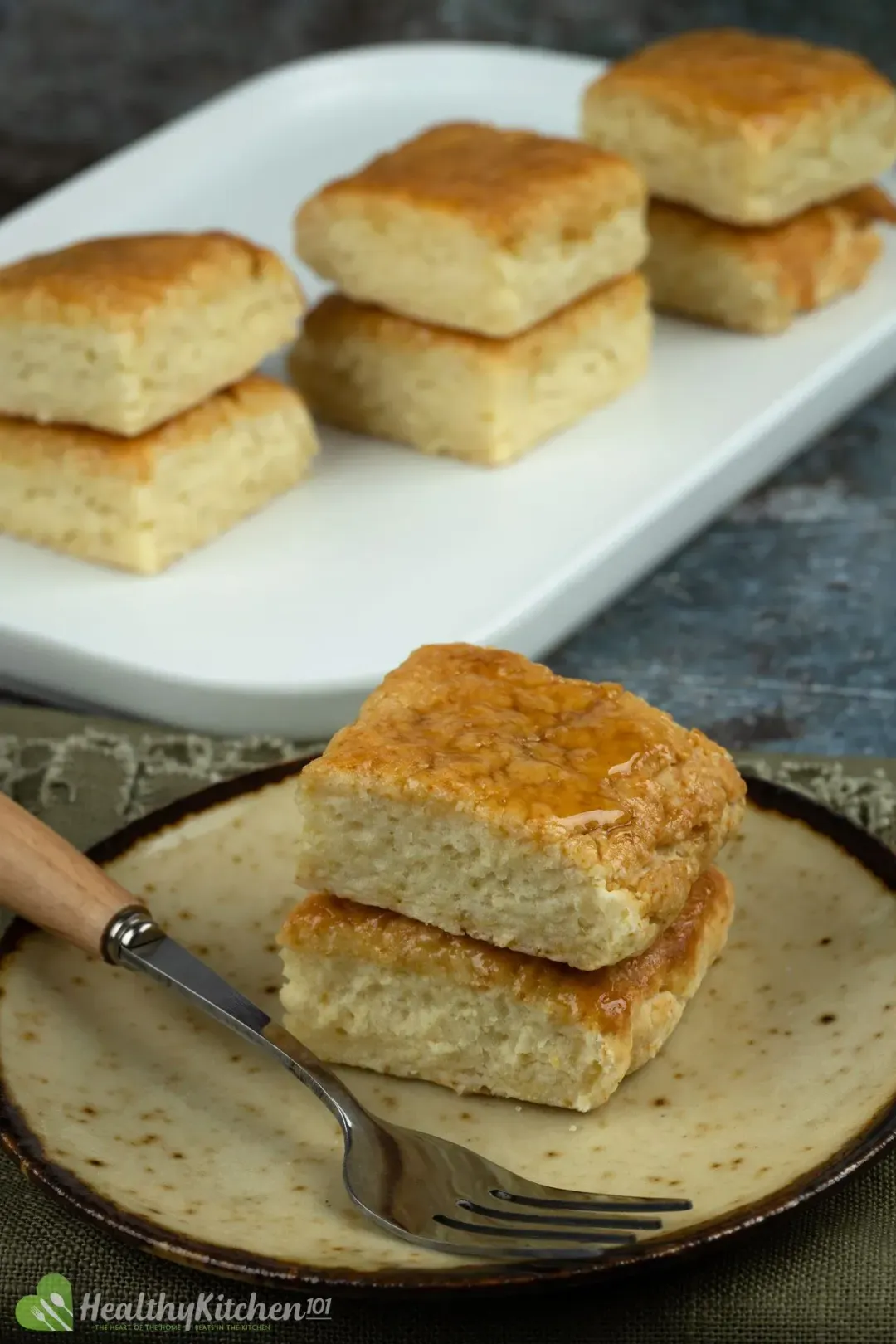 Next Recipe
Honey Butter Biscuits
Honey Butter Biscuits
Great resource for healthy and easy-to-follow green bean recipe with helpful nutritional information.

I have made this twice already, easy to make and delicious!