A dish that deserves clamor at the table— that's this healthy parmesan baked cod recipe. It's basically impossible to mess up: it cooks quickly, is hard to overcook, and easy to flavor however you want.
Baked cod is lemony, buttery, moist, and tender. This dish is hassle-free and sets the stage for every beautiful and delicate feast.
What Is Cod Fish?
Cod fish is a sweeter white fish with a mild-taste, firm texture, and no fishy smell. It's adaptable for different cooking methods.
As lean as it is, cod fish works well with most common seasonings. It can also go with many types of dishes.
We made this healthy baked cod recipe with pre-sliced Atlantic cod fish, however, feel free to use whatever kind you prefer. Don't forget to pat the fish fillets dry to remove excess water before marinating them with spices.
If you are using frozen raw cod fish, you'll need to plan on what day you want to serve it. After that, transfer it to the refrigerator one day before cooking to allow it to thaw.
Want to make other fish for dinner as well? Here are a few to try out: Salmon Piccata Recipe, Grilled Sea Bass Recipe, and Air Fryer Tilapia Recipe.
How Many Calories are in Cod Fish?
One fillet of Atlantic cod fish (weighing 231 grams) is 189 calories. It contains zero grams of carbohydrate and only 1.55 grams of fat.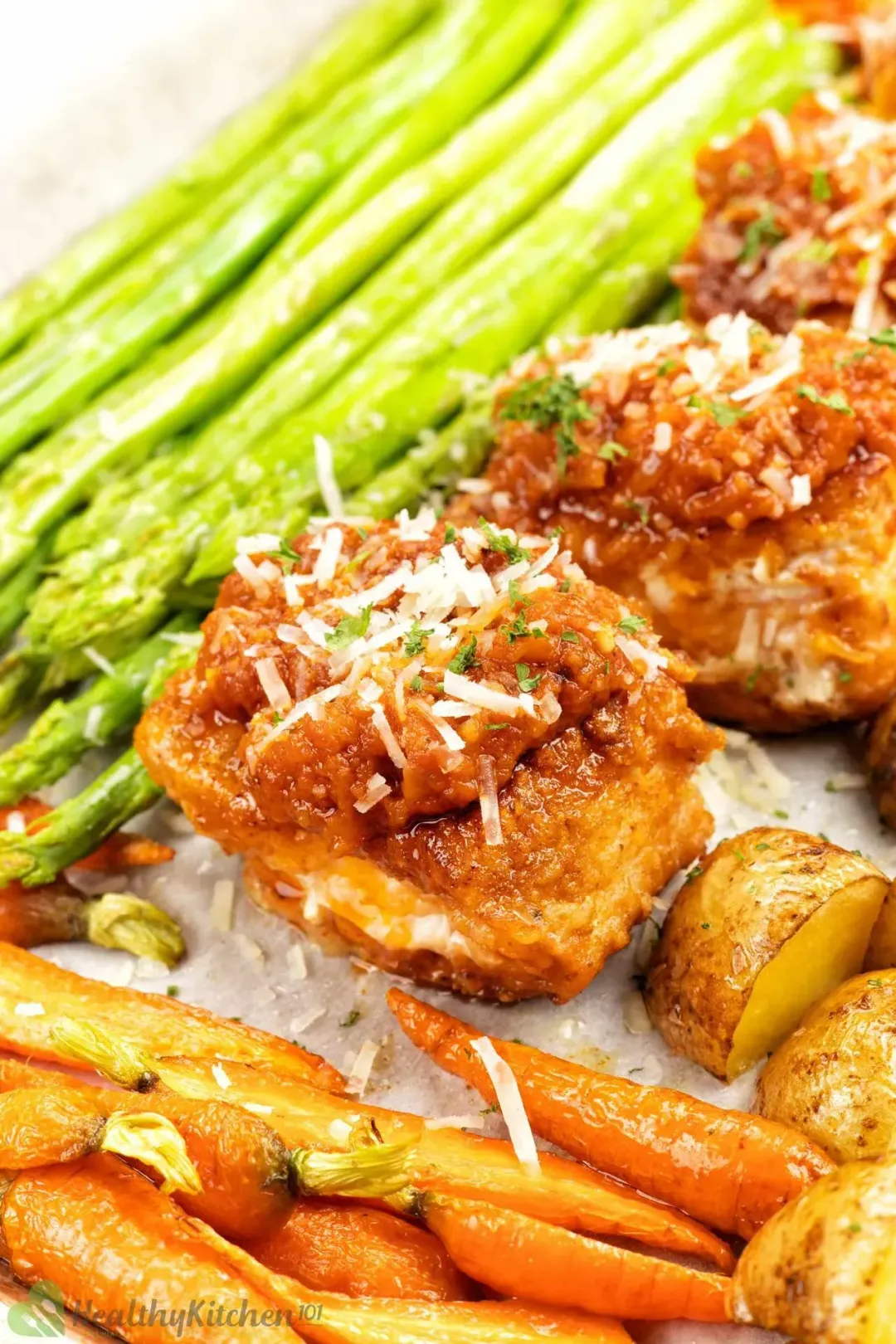 This parmesan baked cod recipe delivers only 460 calories per one serving. In which, there are 144 calories from fat.
Types of Cod Fish
All species of cod fish are great sources of omega 3 fatty acids, lean protein, and vitamin B12. If consumed in moderation, cod fish is a wonderful choice for low-carb diets and clean eating.
1. Atlantic
Atlantic cod fish is a firm and white fish found in the cold and deep water in the North Atlantic. They have a mild and slightly rich flavor.
2. Black
Black cod fish is mostly found in the Pacific waters around New Zealand. It's a small-scale species that's known for a soft texture and is the most favorable choice for smoking.
3. Rock
The rock cod is distributed throughout the coasts of south-eastern Australia and around the coasts of New Zealand and California. They're firm, white, and mild in taste.
Rockfish matures late, therefore, they don't quite make a sustainable food source.
4. Alaskan
Alaskan cod fish, also known as Pacific cod, lives in the Pacific Northwest and cold waters around Alaska. It's firm, moist, and slightly sweet with large flakes and thick fillets.
Alaskan cod fish is an economical seafood choice and suitable for either baking, grilling, or frying. It is mostly found in sandwiches and surimi.
How to Make Parmesan Baked Cod Fish
1. Seasoning for Parmesan Baked Cod Fish
In this healthy Parmesan baked cod recipe, the seasoning mixture includes salt, pepper, garlic powder, flour, paprika, coriander powder, and cumin powder.
We only added a pinch of paprika to create an appealing color for the cod. Don't worry, it won't make the dish spicy.
2. Pan-Fried Baked Cod Fish
In this healthy parmesan baked cod fish, we applied both the pan-searing and baking methods. Pan-searing gives the cod fish a crispy outer with a nice smoky aroma.
If you're running out of time, consider skipping the searing step and jump straight to baking.
3. Baked Cod in the Oven
Unlike bold-tasting fishes like salmon or tuna, cod and other white fishes are low in fat and lean-tasting. Thus, they are more likely to dry out if overcooked just a little bit.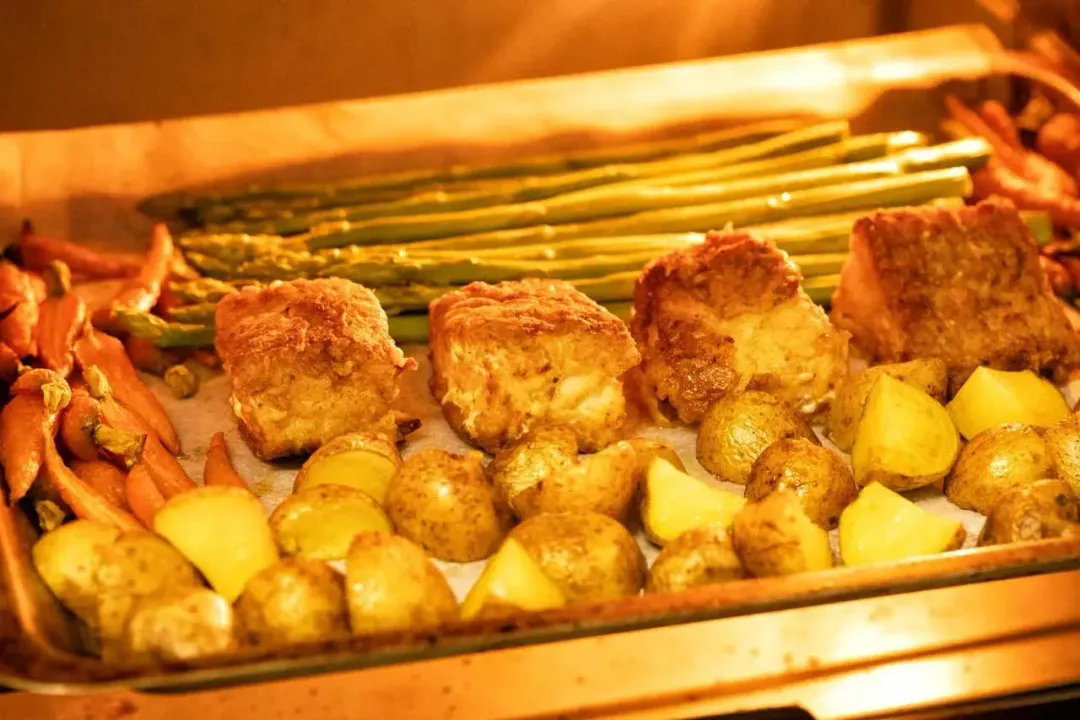 A baked cod meal is considered perfect as long as it's juicy and succulent. There is no precise number for baking time, and all we can provide is just an estimated number.
The thickness of the cod fillets decides how long it should be cooked. cod fish should be cooked to just done, at which it's flaky, tender, and a bit sappy with juices.
The only way to learn this is to check the cod frequently while it's still cooking. Simply use a fork to scrape the meat out a little bit and check if it's done.
Keep the cod fish enclosed in its juice as much as possible. After you're done baking, let the fish sit still for a couple more minutes in the oven.
The cod should be kept warm before exposure to room temperature so it holds in as much liquid as possible. It'd be even better to wrap each fillet with a separate piece of foil when baking.
Is Our Parmesan Baked Cod Recipe Healthy?
Cod fish is lean and mild in flavor, and an amazing source of protein and healthy fat. It's also rich in vitamins B6 and B12— surely is a more preferable choice to red meat or processed meat.
What Goes Well with Baked Cod
In this parmesan baked cod recipe, we baked the fish together with baby carrots, baby potatoes, and asparagus. After that, we finished it off with parmesan cheese on top to create a balanced combination of flavors.
But of course, that wasn't everything. Below are the most favorable add-ons to accompany baked cod.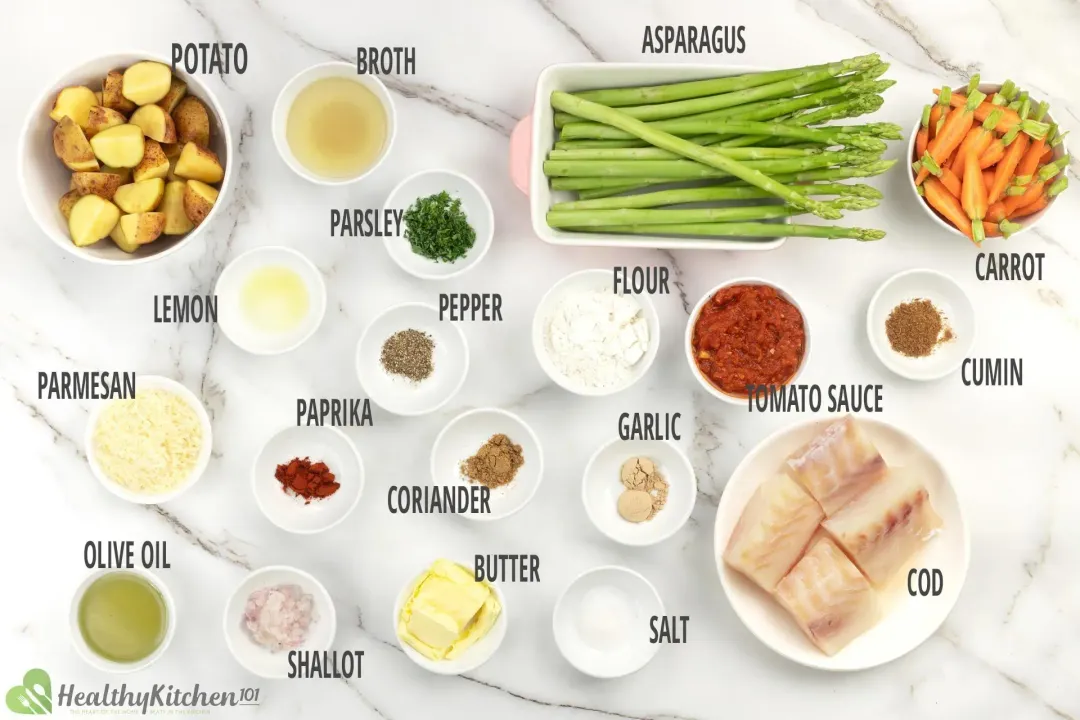 1. Lemon
To enhance a glorious flavor, of course, you cannot leave the lemon juice out of the sauce. It brightens up the fish and makes it juicier with a zingy flavor.
2. Breadcrumbs
In this parmesan baked cod recipe, we didn't whisk breadcrumbs in the coating mixture. Instead, we made a mixture of spices with flour, paprika, coriander powder, cumin powder, and parmesan cheese.
Adding breadcrumbs to the coating will probably result in a thicker and much crispier outer. With or without, it's completely up to you.
3. Tomatoes
Tomatoes will lend a nice bright flavor to balance the creamy buttery sauce if added to this dish. Use cherry tomatoes or chop plum tomatoes into smaller chunks to help them cook well with the cod fish.
4. Capers
As said, we already used lemon juice in this recipe. Adding capers along with lemon could make the dish too sour and overpower the natural flavor of cod fish.
Either lemon or capers would lift the dish. However, it's best to make one final choice rather than adding both of them to the dish.
5. Asparagus
Similar to baby potatoes and baby carrots, asparagus adds a nice crunch to complete this dish. Have the baked asparagus dip in the zesty creamy sauce for a delightful mouthfeel.
How Long Does Baked Cod Last?
Baked cod shouldn't be left at room temperature for more than one hour. For leftover baked cod, it's best to store it in the fridge.
In the Fridge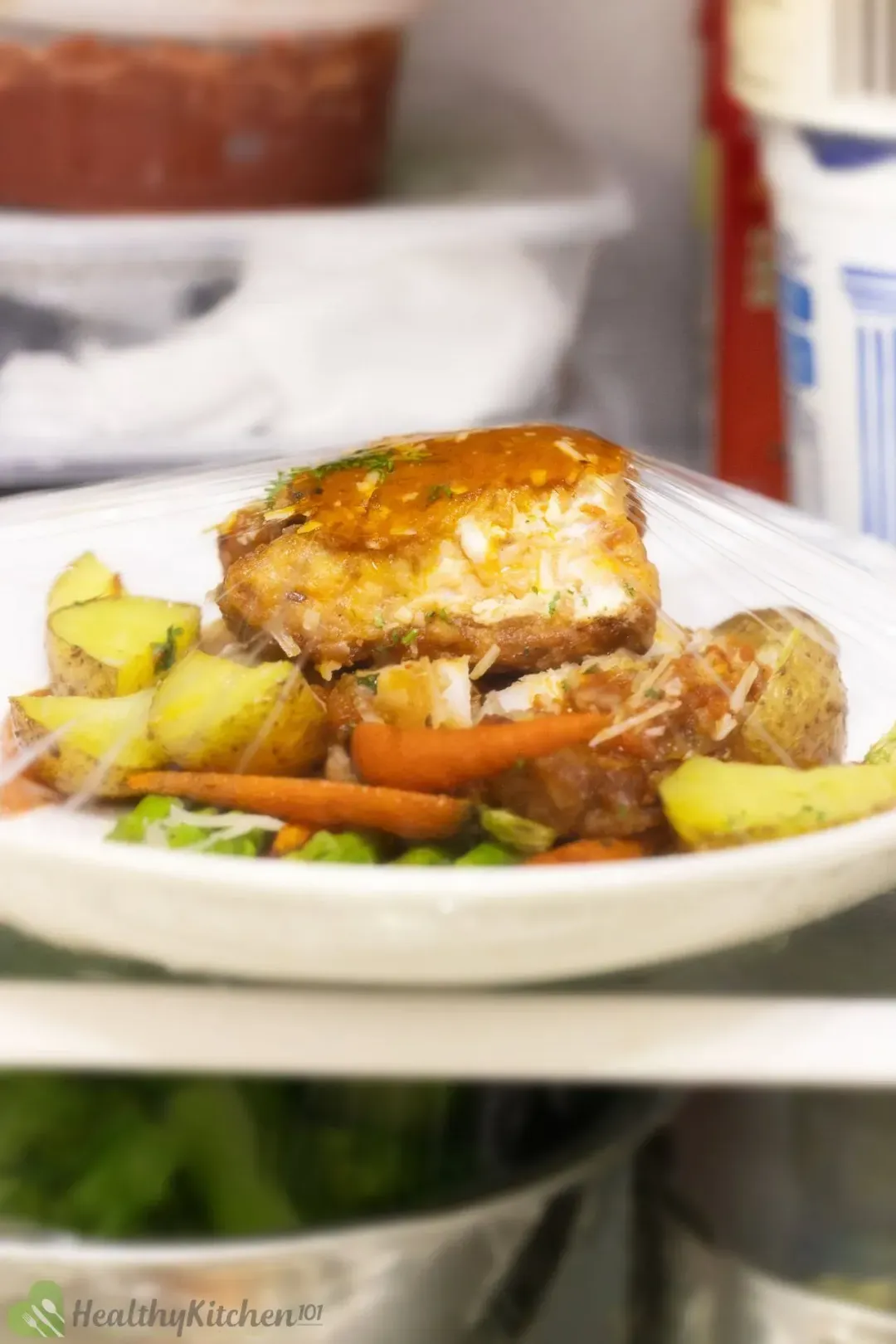 You can have baked cod for 3 to 5 days after cooking when stored in the fridge. Make sure to let the fish cool down first before transferring it to an airtight container covered with a lid.
If frozen, baked cod can last up to one month. Remember to let it thaw overnight in the refrigerator before reheating.
However, please note that after thawing, the texture of frozen cod fish won't remain the same as when it's first cooked.
Baked cod can be rewarmed easily in the oven in 5 minutes. You can also do this either in the microwave or on the stove.
Also, it's recommended to reheat the fish and the vegetables separately as they warm up at different speeds.
What to Serve with Parmesan Baked Cod
For an easy and healthy dinner, we pair the baked cod with watermelon arugula salad and a refreshing watermelon smoothie. Together, they make a filling, nutrition-rich, all-purpose meal for many different occasions.
Nevertheless, here we'd like to recommend you several more options for the side dish: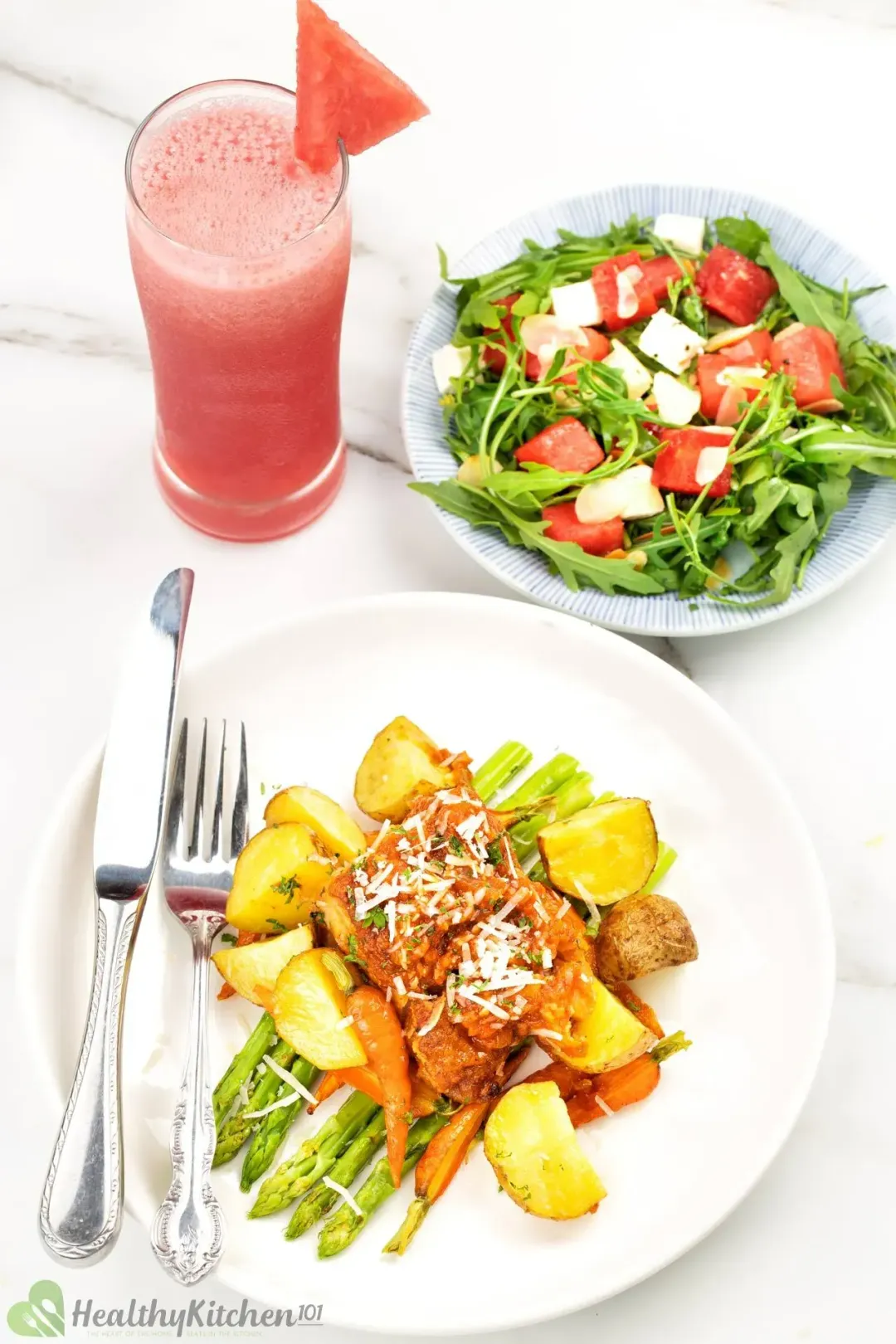 1. Tacos
Healthy baked cod can make an ideal filling in tacos. Add more of your favorite greens on top and there you have a fabulous lighter meal!
2. Sandwiches
Baked cod serves up wonderfully over crusty buns. Truth be told, this dish can be made more fulfilling with literally any carb-rich side dish.
3. Watermelon Arugula Salad
A hearty watermelon arugula salad that's nutrient-packed with loads of colors is our choice for a side salad. It's a perfect way to compliment the buttery, garlicky, and lemony flavor of baked cod.
You May Also Like
Healthy Parmesan Baked Cod
Looking 5-star but absolutely affordable and versatile, this healthy parmesan baked cod recipe is a show-stopper and true comfort meal. Flaky deliciousness served at its best!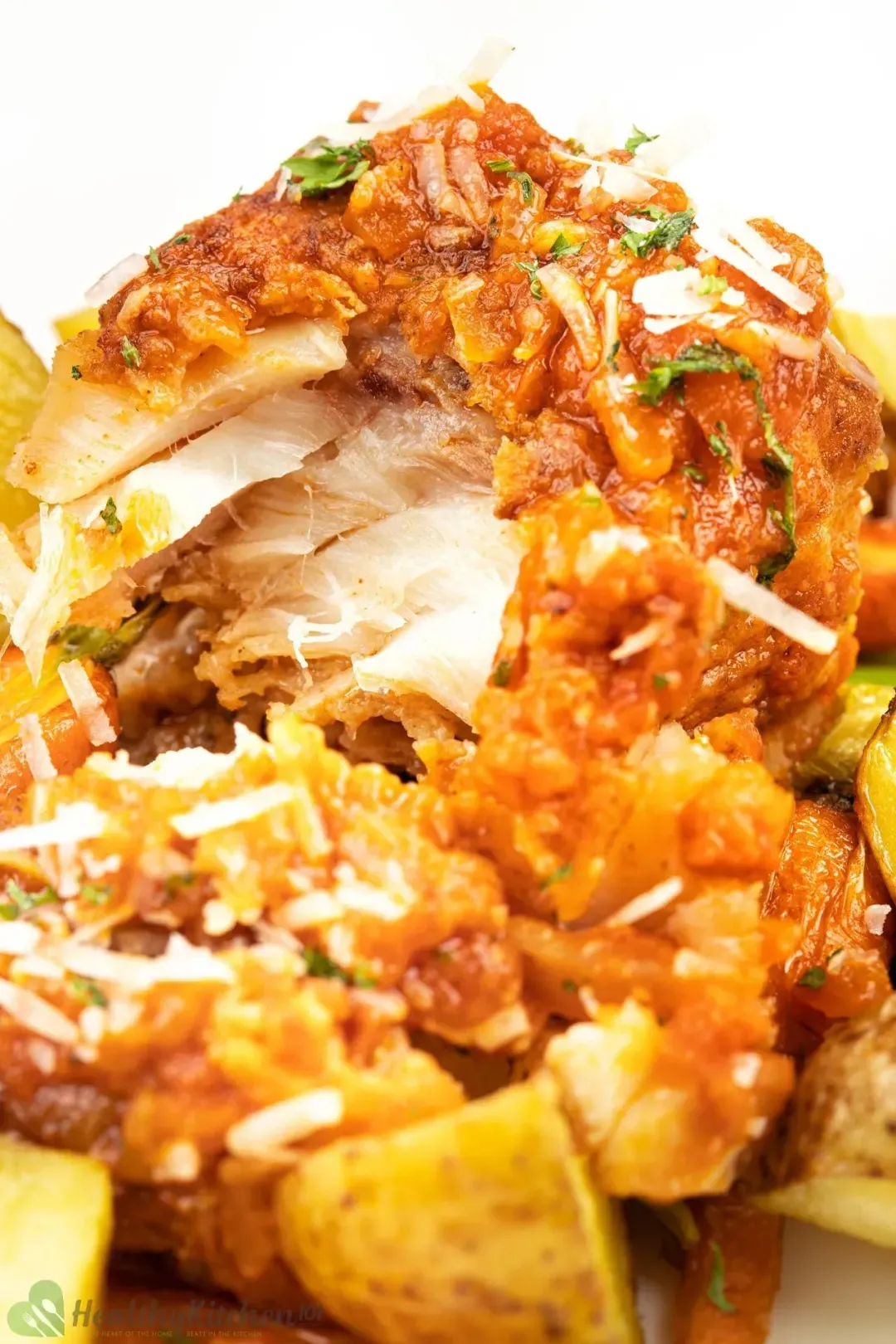 cook TIME

45 mins

prep TIME

25 mins

total TIME

1 hr 10 mins
COURSE

Main Course

CUISINE

American, Mediterranean

SERVINGS

CALORIES

452 kcal
INGREDIENTS
20 oz

Atlantic cod fish

(4 fillets)

1/4 tsp

ground black pepper

1 tsp

garlic powder

(divided)

1/3 cup

all-purpose flour

1 oz

shredded parmesan cheese

(divided)

2 tbsp

olive oil

(divided)

12 oz

baby potatoes

(chopped into small chunks)

3 tbsp

unsalted butter

(divided)

1/4 cup

unsalted chicken broth

1/2 cup

homemade tomato sauce

1 tsp

parsley

(for garnish)
INSTRUCTIONS
Prep
1
Preheat the oven to 400°F.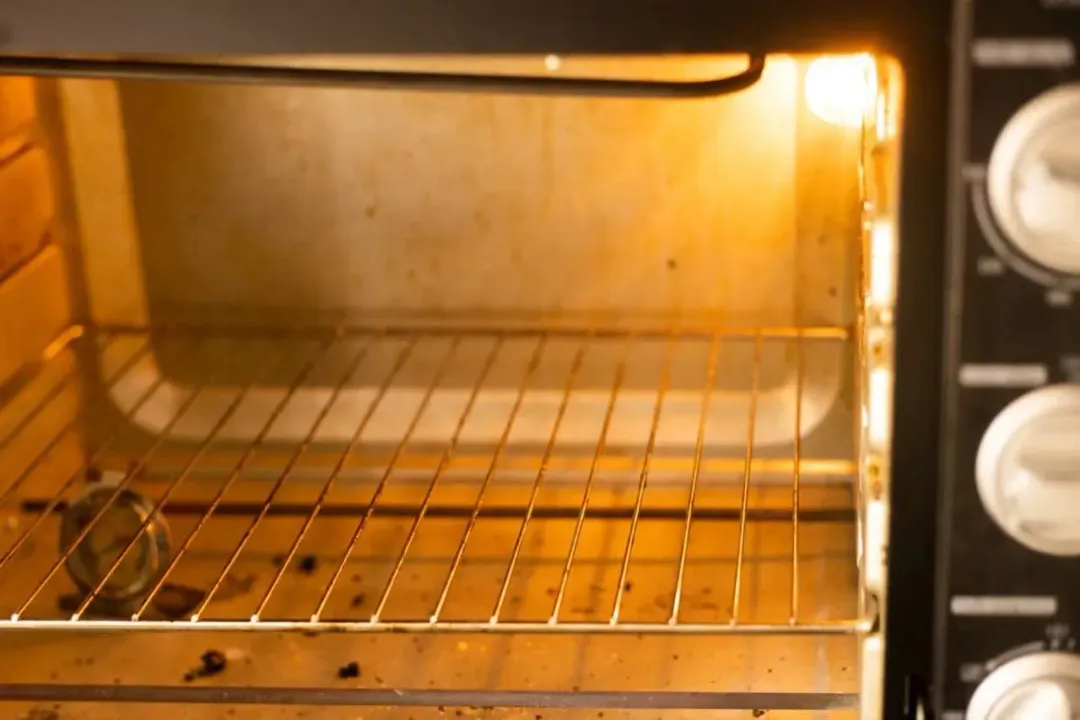 2
Marinate 20 oz cod fish fillets with 1/4 tsp of salt, 1/4 tsp ground black pepper, and 1/2 tsp of garlic powder. Let the cod fish sit for 10 minutes.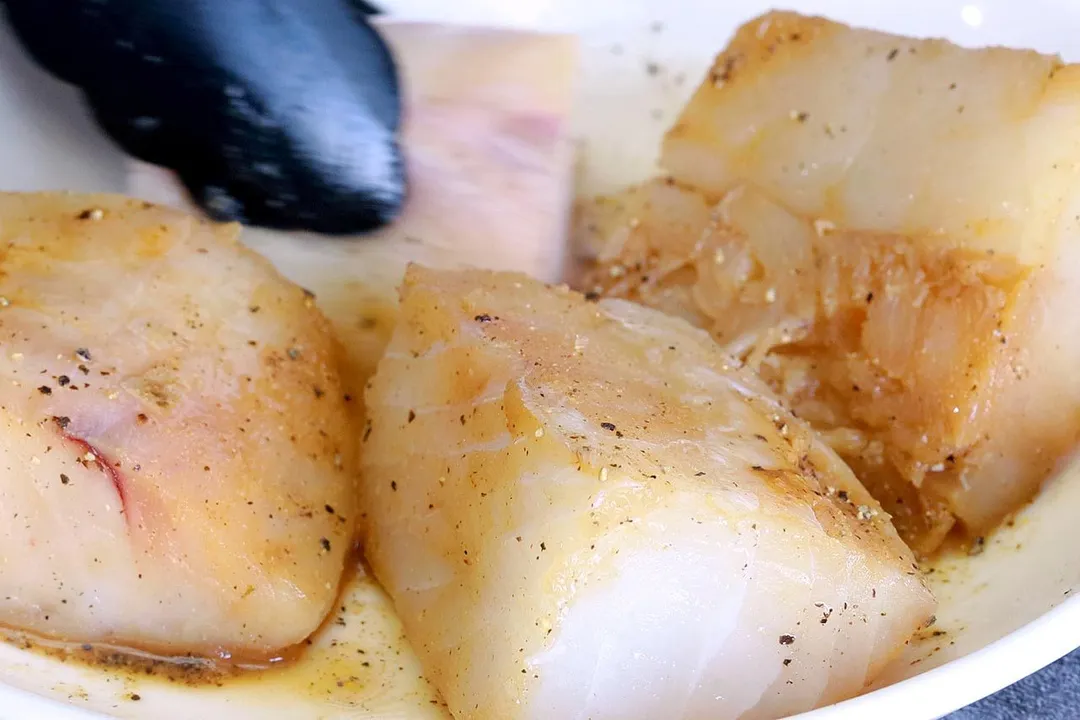 3
While waiting for the fish to absorb the marinade, make the coating by whisking together 1/3 cup flour, 1/2 tsp paprika, 1/2 tsp coriander powder, 1/2 tsp cumin powder, and 1/2 oz of parmesan cheese.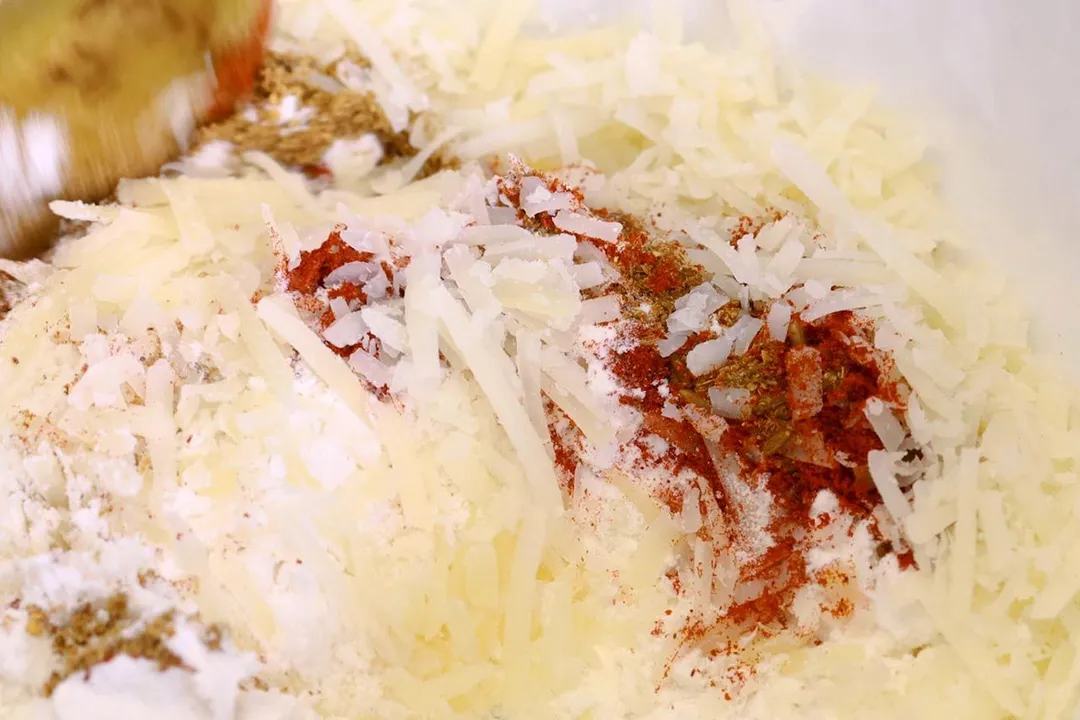 4
Coat the fish evenly with the above mixture. Set aside.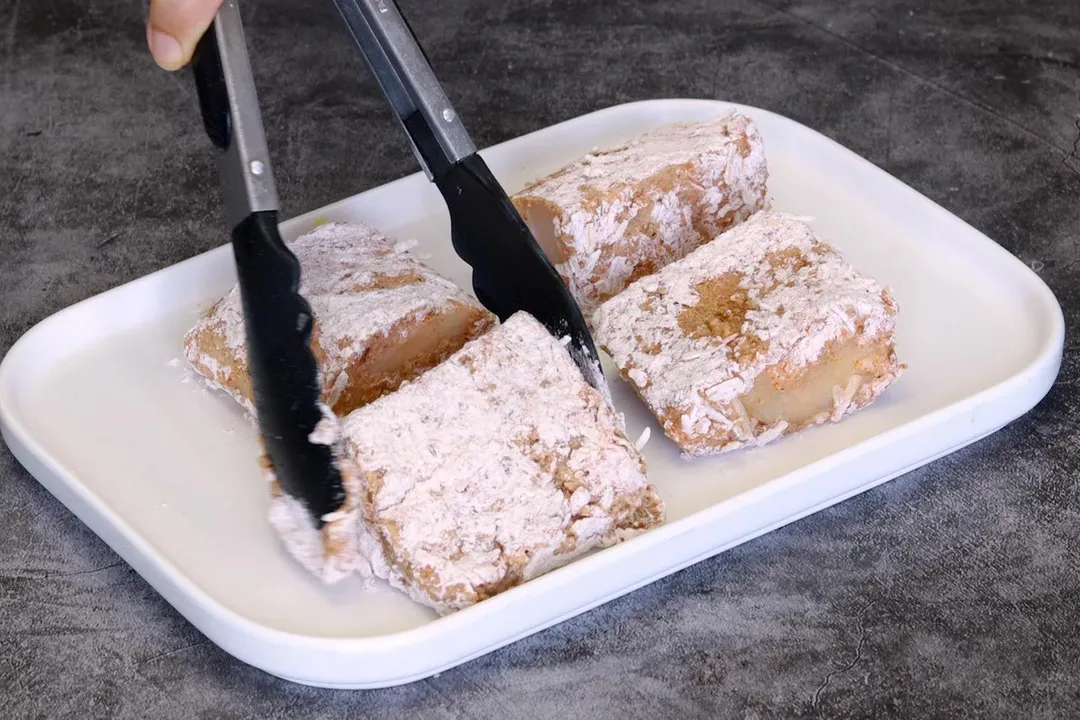 5
Spread 12 oz baby potatoes, 6 oz baby carrots, and 8 oz asparagus on a baking tray, drizzle 1 tbsp of olive oil over them and toss together. Remove the asparagus and set aside, save for later.
Put the baby potatoes and baby carrots in the oven to bake at 400°F for 20 minutes.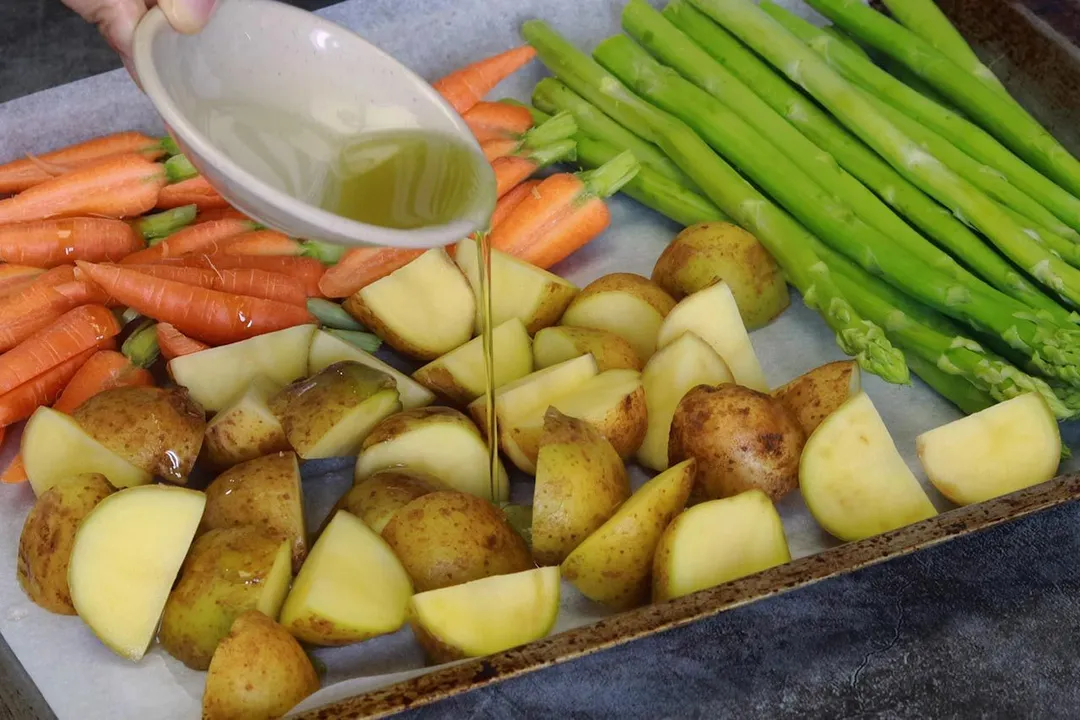 Cook
1
In the meantime, sear the coated cod fish. On a cast-iron pan, heat 1 tbsp olive oil over high heat. Add the cod fish in. Turn the heat down to medium after 2 minutes. Add 1 tablespoon of butter to the pan, let it melt and blend with the cod fish. Sear the first side of the cod fish for 4 minutes. Flip and continue with the second for 3 minutes. Remove from heat.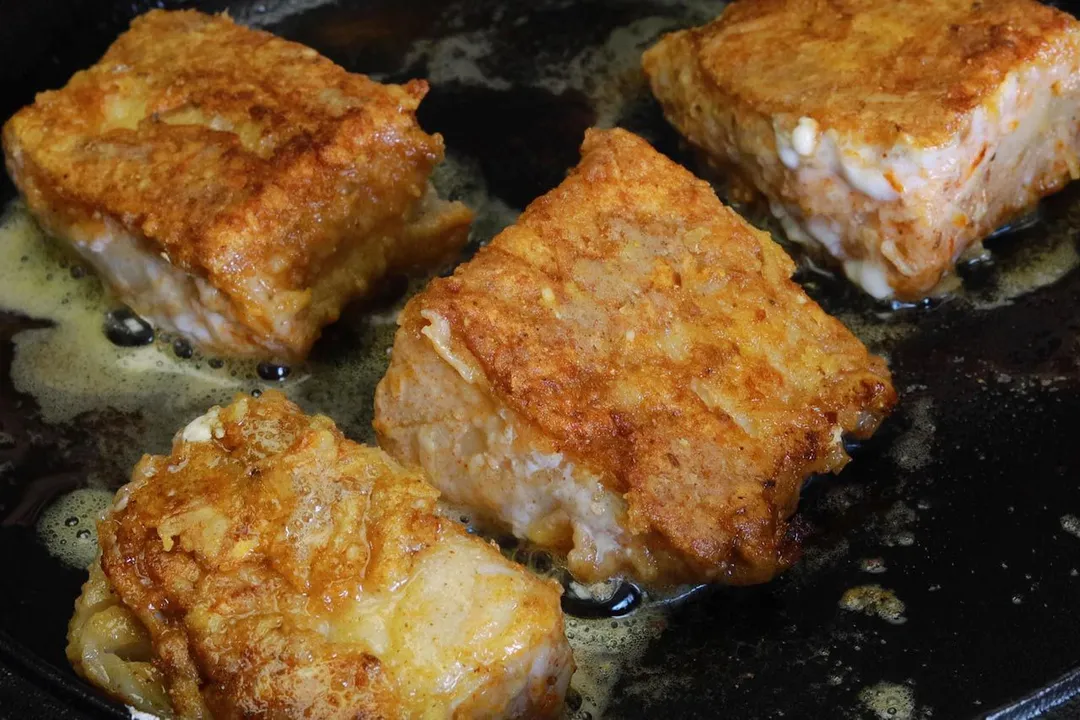 2
Transfer the seared fish and asparagus onto the baking tray together with the baby potatoes and baby carrots. Bake for 10 minutes at 400°F.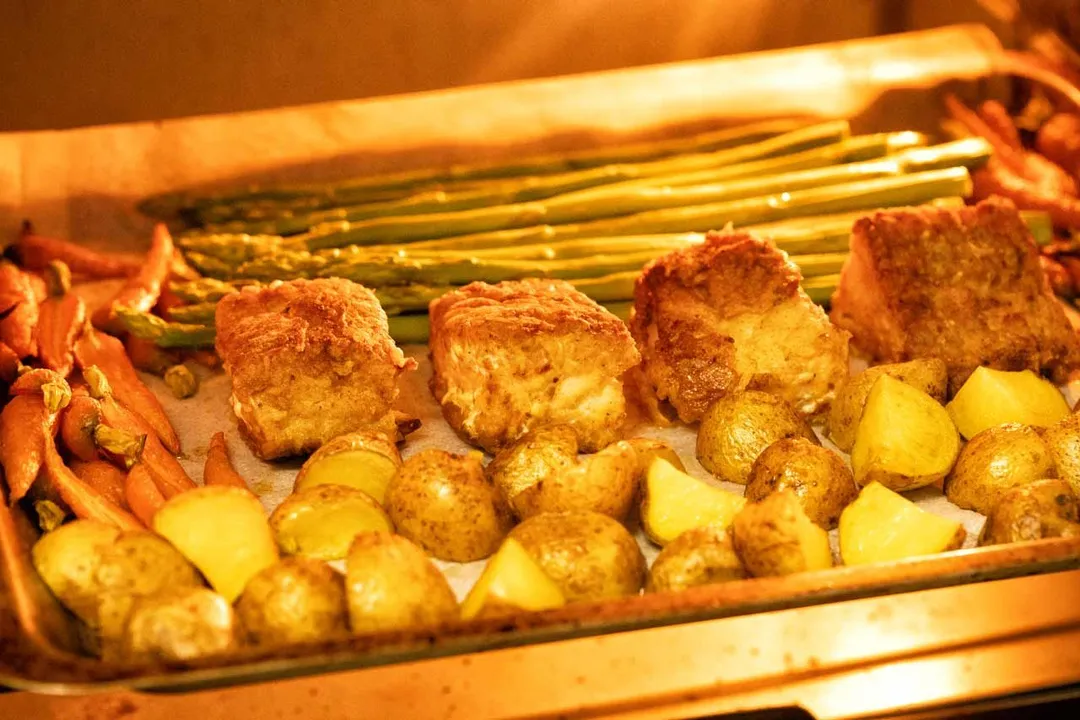 3
In the meantime, make the sauce. On the same pan used for the cod fish, turn on high heat and add successively to the pan: 1 tbsp shallot, 2 tbsp of butter, 1/2 tsp of garlic powder, and 1/2 cup tomato sauce. Whisk together and turn the heat off.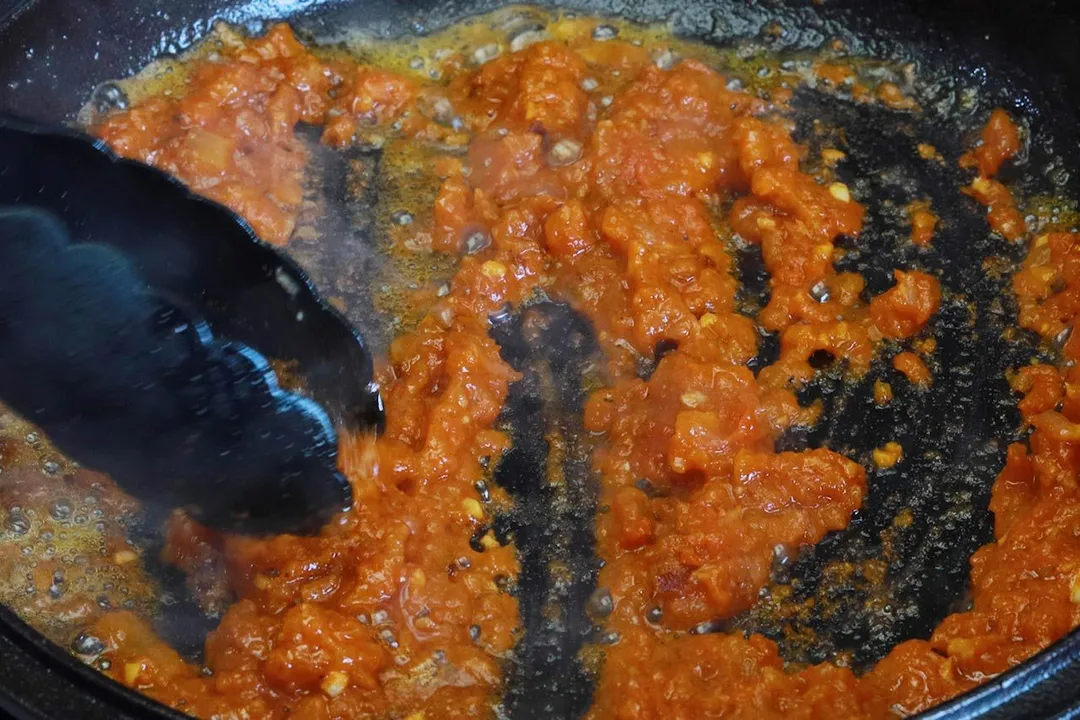 4
Continue to add 1/4 cup chicken broth, 1/2 tbsp lemon juice, and 1/4 tsp of salt to the pan. Whisk again to combine. Transfer to a small bowl. Set aside.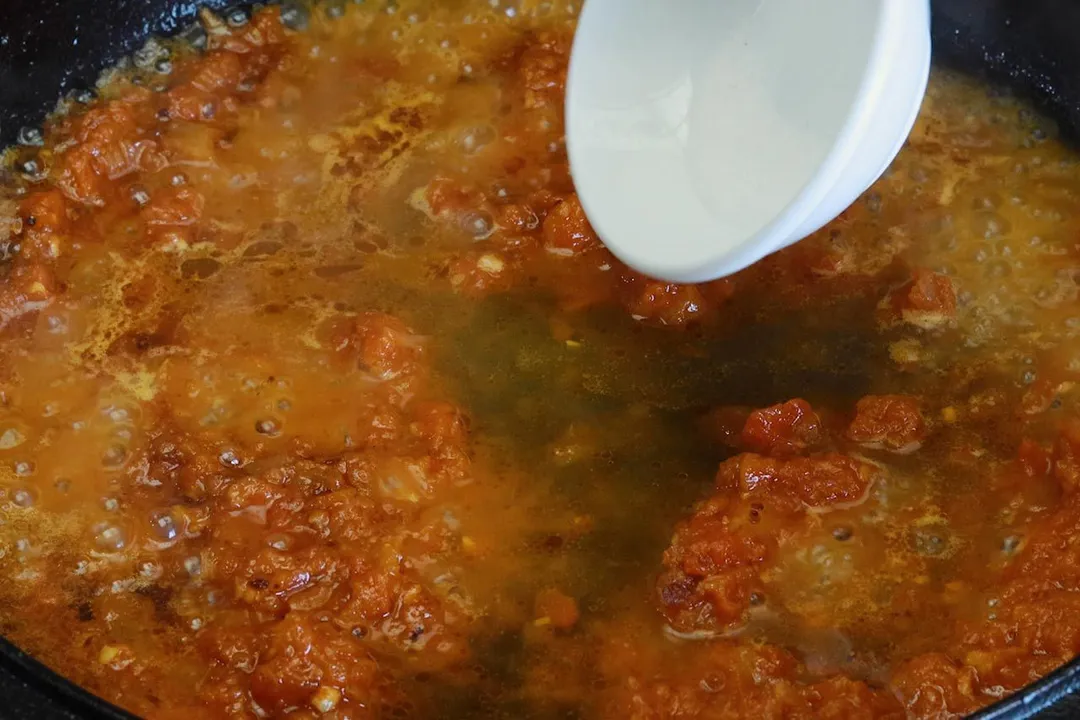 5
Drizzle the sauce all over. Sprinkle 1/2 oz of parmesan cheese and 1 tsp parsley on top. Enjoy!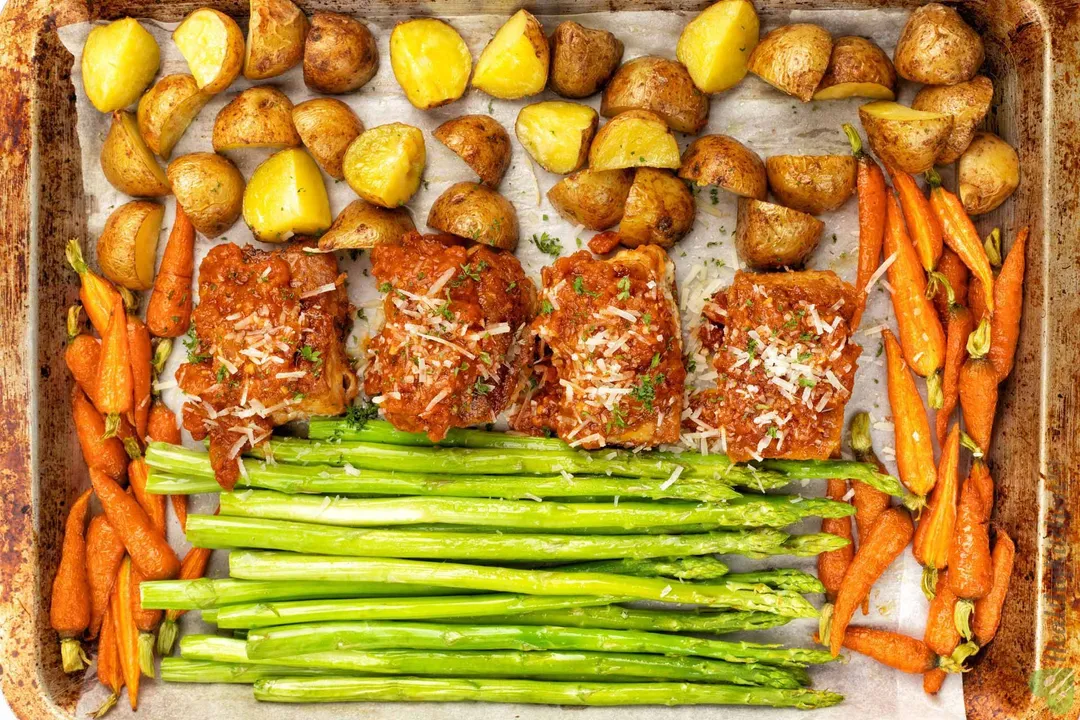 NUTRITION
Nutrition Facts
Healthy Parmesan Baked Cod
Amount Per Serving (1 serving)
Calories 452
Calories from Fat 198
% Daily Value*
* Percent Daily Values are based on a 2000 calorie diet.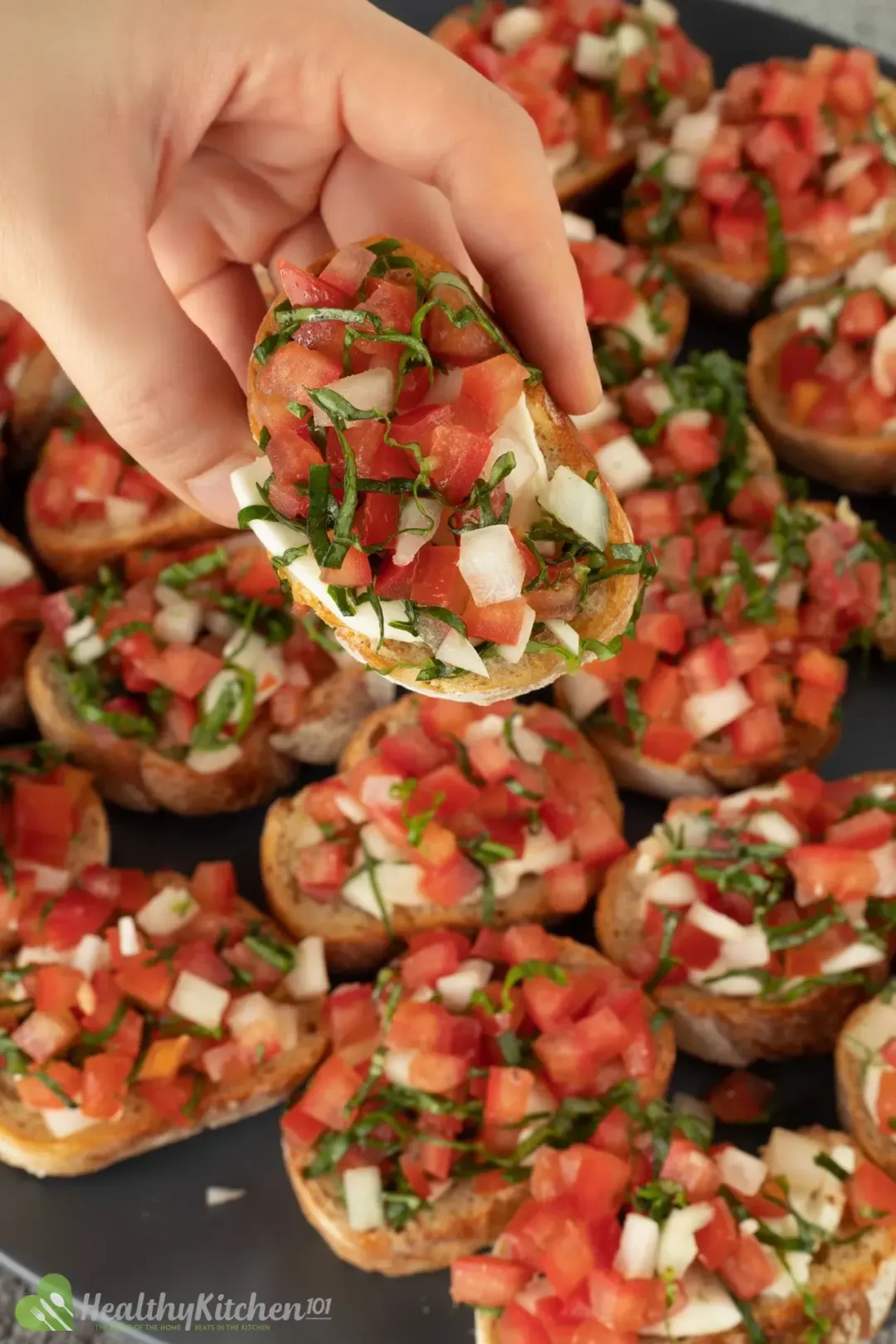 Previous Recipe
Tomato Bruschetta
Tomato Bruschetta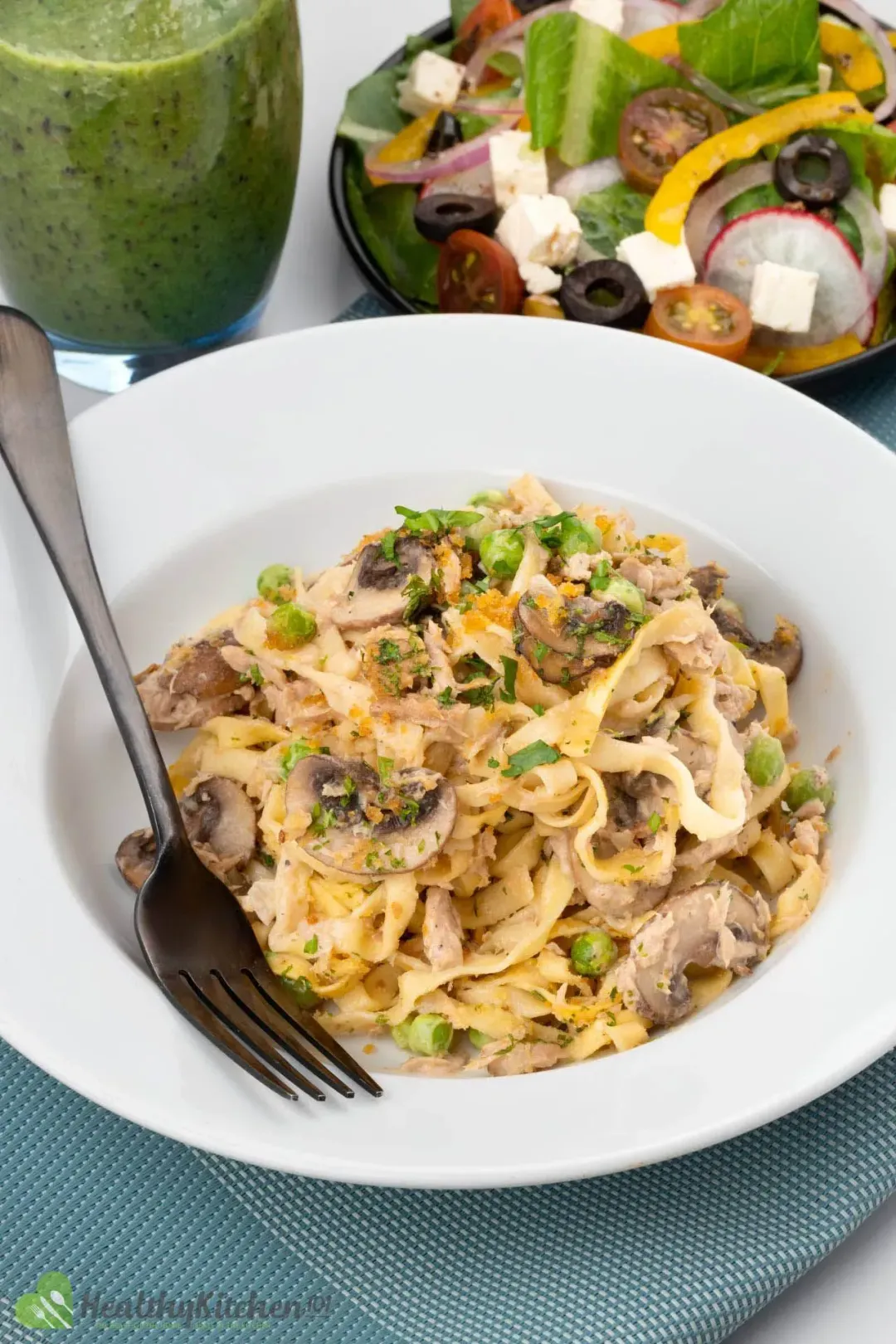 Next Recipe
Classic Tuna Noodle Casserole
Classic Tuna Noodle Casserole
Head Chef, Culinary Consultant
Tuyet Pham is an award-winning Saigonese chef who believes that joy is the secret ingredient to delicious food. At Healthy Recipes 101, Tuyet personally tests and simplifies every recipe, ensuring maximum flavor with minimal effort. With a background at prestigious French restaurants P'TI Saigon and Le Corto, Tuyet knows how to make every dish exceptional.
Writer, Author
Luna Regina is an accomplished writer and author who dedicates her career to empowering home cooks and making cooking effortless for everyone. She is the founder of HealthyKitchen101.com and HealthyRecipes101.com, where she works with her team to develop easy, nutritious recipes and help aspiring cooks choose the right kitchen appliances.
Nutrition Reviewer
Lizzie Streit is a Minneapolis-based dietitian and founder of It's a Veg World After All. She completed her MS in Human Nutrition from Drexel University, and is an expert in culinary nutrition, recipe development, and nutrition communications. Lizzie's philosophy is centered around making nutrition recommendations, and especially the advice to eat more vegetables, approachable and realistic. She is excited to be working with the team at Healthy Recipes 101 to ensure that their recipes are both nutritious and delicious.
Not paleo (or gluten-free). Any suggestions on how to make this completely GRAIN-free? Sounds great otherwise.

Hi Jean, to make this dish gluten-free, we suggest you opt for almond flour instead of all-purpose flour. Normally it'll show on the procduct's package whether it's wheat-free or gluten-free. Have fun cooking!

This was excellent!! Easy recipe with most ingredients that I have on hand.
I would make this recipe every time I have cod.
I need to add, I'm not someone that would eat fish, but this recipe is an A+++

Christine, fish can be a hit or miss food. I'm glad it was a hit for you this time around!