This Instant Pot pot roast recipe is exactly what you need to make a wholesome, comforting meal. It's wonderfully convenient too, with very little to clean and hands-free cooking time.
The best part is, this dish is a brilliant option for when things are tight and you can't afford expensive meat. With the magic of the instant pot, any cheap, tough beef cuts will fall apart and melt in your mouth.
If you're interested and ready to cook, click here to get the ingredients and instructions. Or, read on to further increase your appreciation of this sumptuous dish.
What Is a Pot Roast?
Pot roast refers to a beef dish where a large chunk of beef is slowly cooked in moist heat. The meat is often cooked along with vegetables like carrots or potatoes, and either served as-is or with warm bread.
Pot roasts traditionally involve a large pot and hours of simmering, but things have changed since the advent of pressure cookers. Tender, meat that falls apart is now a result of just one hour of cooking without much supervision.
Are Pot Roasts Healthy?
Yes, pot roasts in general can be considered a healthy dish.
For starters, the beef cut is often without much fat. Animal fat contains plenty of saturated fat, which the USDA suggests we limit our intake of.
Plus, making pot roast is a good opportunity to include plenty of health-promoting vegetables in our diets, especially for picky eaters. The flavorful, succulent chunks of veggies are difficult to say no to.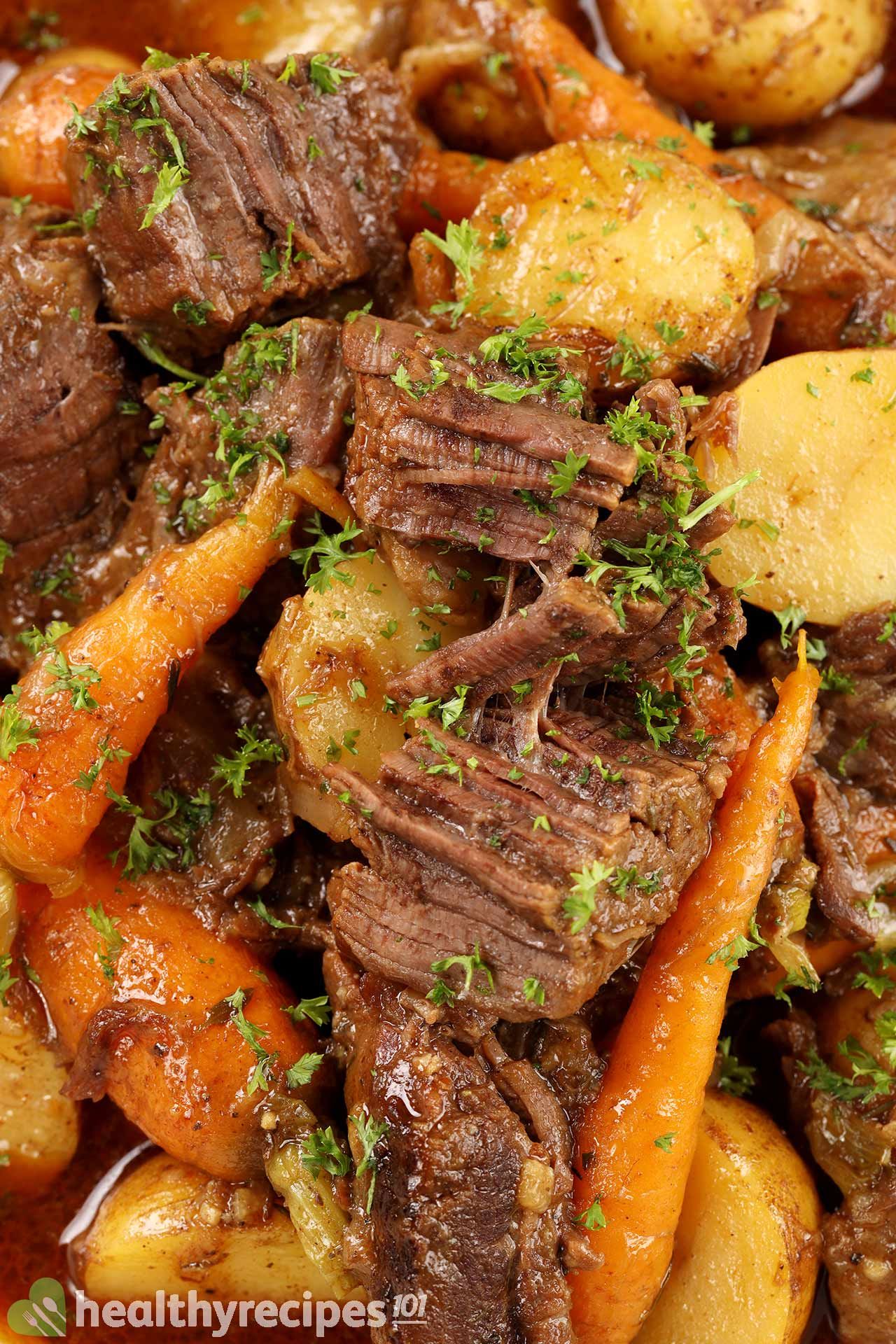 How We Made Our This Recipe Healthier
But the key to healthy eating isn't just reducing fat and eating more vegetables. According to the USDA's latest guidelines, we also need to watch our daily intake of calories, added sugar, and sodium.
This recipe calls for no added sugar, so we don't have to worry about this nutrient.
To keep the sodium at an acceptable level, we used just enough for a balanced flavor. Estimating the right amount of salt needed comes with experience and practice in calculating nutritional values; we've done the working out, so you don't have to.
Finally, we paired this pot roast with a salad which is healthier and lighter than plain bread and adds variety in both flavor and texture. It complements the flavor of the pot roast beautifully and brings the total calories to an acceptable amount.
You can check our guidelines to see how we regulate the amounts of nutrients and calories for our recipes depending on the different meal courses.
Best Cut of Meat for Pot Roasts
As mentioned, you can purchase a cheap cut of meat that would be tough on the teeth if handled the wrong way. Usually, these cuts belong to the areas that the animal uses most often, like the chuck, the round, the brisket, and the shank.
Under the pressure of your cooker, the collagen inside the connective tissues of these tough cuts breaks down into gelatin. In one hour, you'll witness the transformation into a tender, succulent chunk of meat that tastes expensive, but actually isn't.
If this gets your mouth watering, wait until you see how we seasoned it.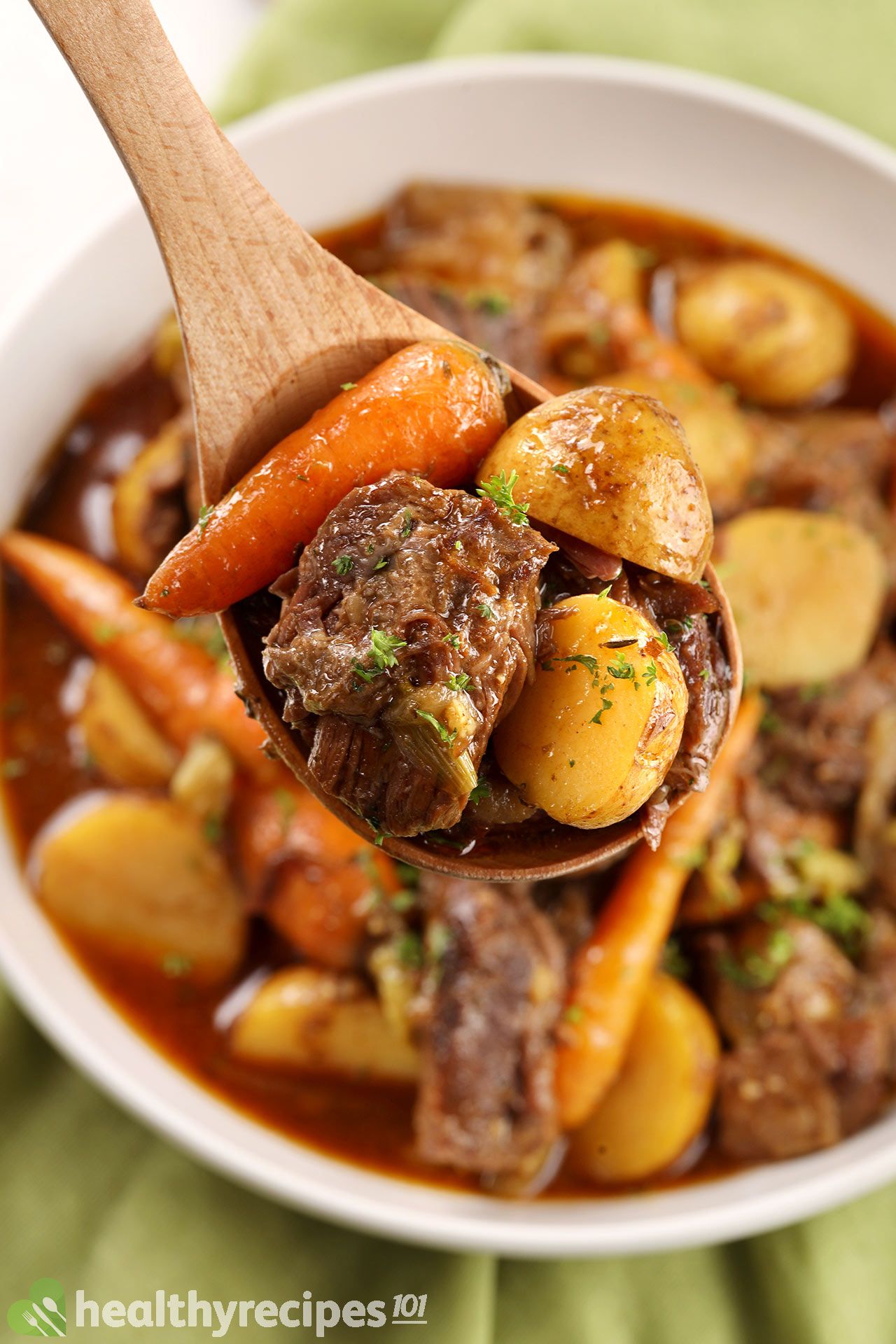 Pot Roast Seasonings
The soul of a good pot roast lies in its seasoning.
First, there must be garlic and onion, fresh and powdered. Fresh aromatics add a hint of sweetness to the dish, while the powder gives a more concentrated fragrance.
Next, salt for flavor and pepper for warmth. We added paprika to enhance the warmth and extra aroma and color to the broth.
We found that adding a bit of mustard makes a world of difference to beef stews. It has that unique pungency, exactly what a stew needs.
When dealing with beef, it's a must to add a sprig of fresh thyme — they are a taste duo.
To deglaze the pot, use a splash of red wine vinegar. It adds a nice tangy, acidic note to the end result.
Of course, bay leaves are a great addition to any stew. So, we added one along with the other seasonings.
Now that's covered, you're ready to make a delicious pot roast.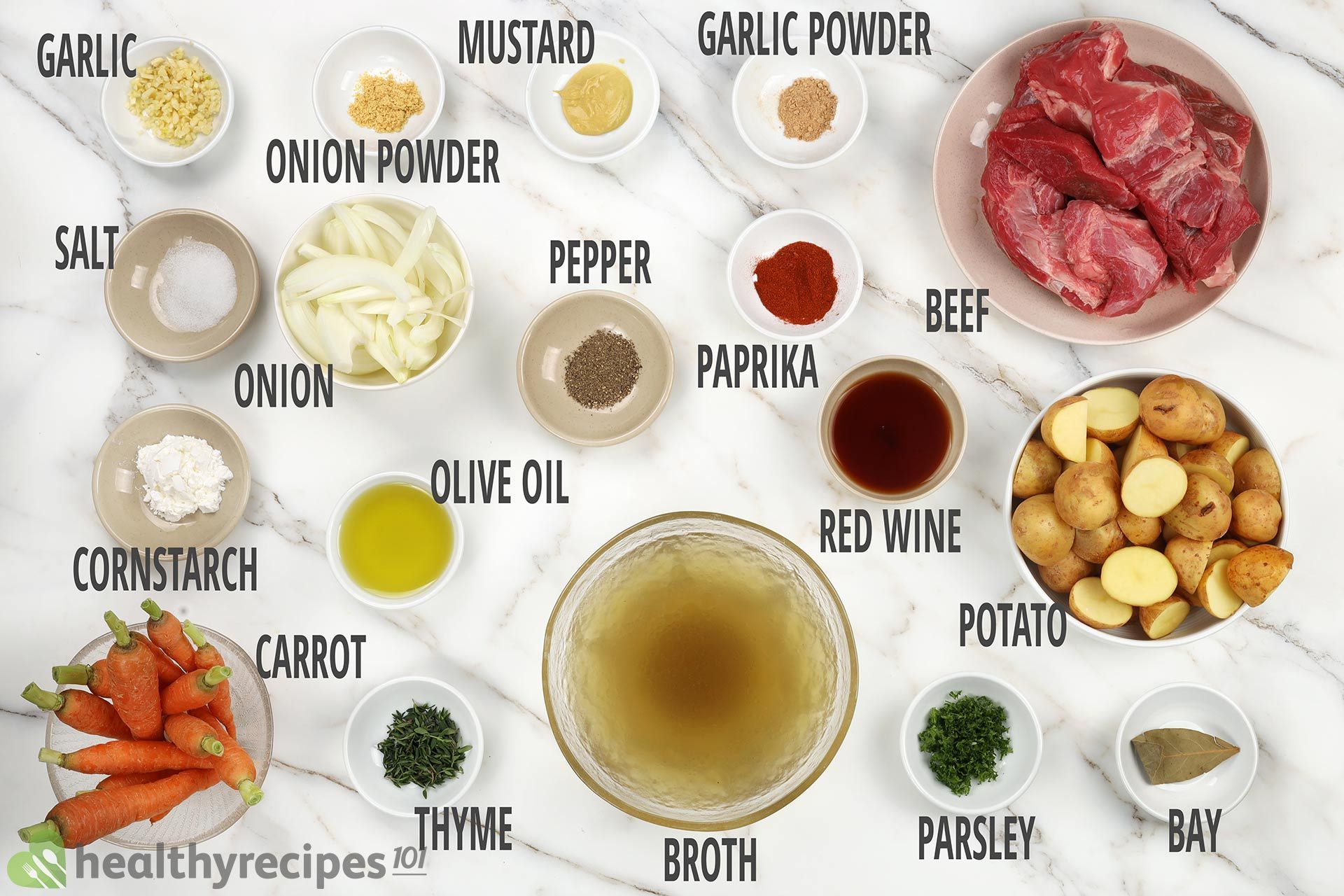 How to Make a Pot Roast in an Instant Pot
The perfection of this roast lies in simplicity and the knowledge that putting all ingredients in at once is a rookie mistake.
First, you'll need to coat the chunk of beef in cornstarch. This helps a barrier to form when you sear it, which seals all of the moisture inside.
Then, turn on your Instant Pot, choose the "sauté" mode, and give the meat a good sear. Make sure that all of its sides are golden brown (the inside doesn't need to be cooked for now).
Once a caramelized exterior is achieved, it's time to add the garlic and seasonings. When a good minute of stirring has passed, add red wine vinegar and scrape the bottom of the pot to release the flavorful bits stuck to it.
At this point, the meat is ready to be cooked in "beef stew" mode. Add the broth, lock the lid, press the "meat/stew" button, and sit back while the machine works its magic.
The beef should be cooked for one hour and the vegetables for just 20 minutes. So we cooked the beef for 40 minutes, depressurized the pot, added the vegetables in, and continued to cook for another 20 minutes.
After everything is nicely tender, reduce the broth using the "sauté" setting for a thick, silky soup. Or, you can serve it right away au jus.
Here's a quick summary:
Coat the meat in cornstarch
Sear the meat
Add seasonings
Deglaze with red wine vinegar
Add broth and cook
Add vegetables and cook
Reduce the broth
Pull the meat apart
Serve
For the full ingredients list, refer to our Instant Pot pot roast recipe card below.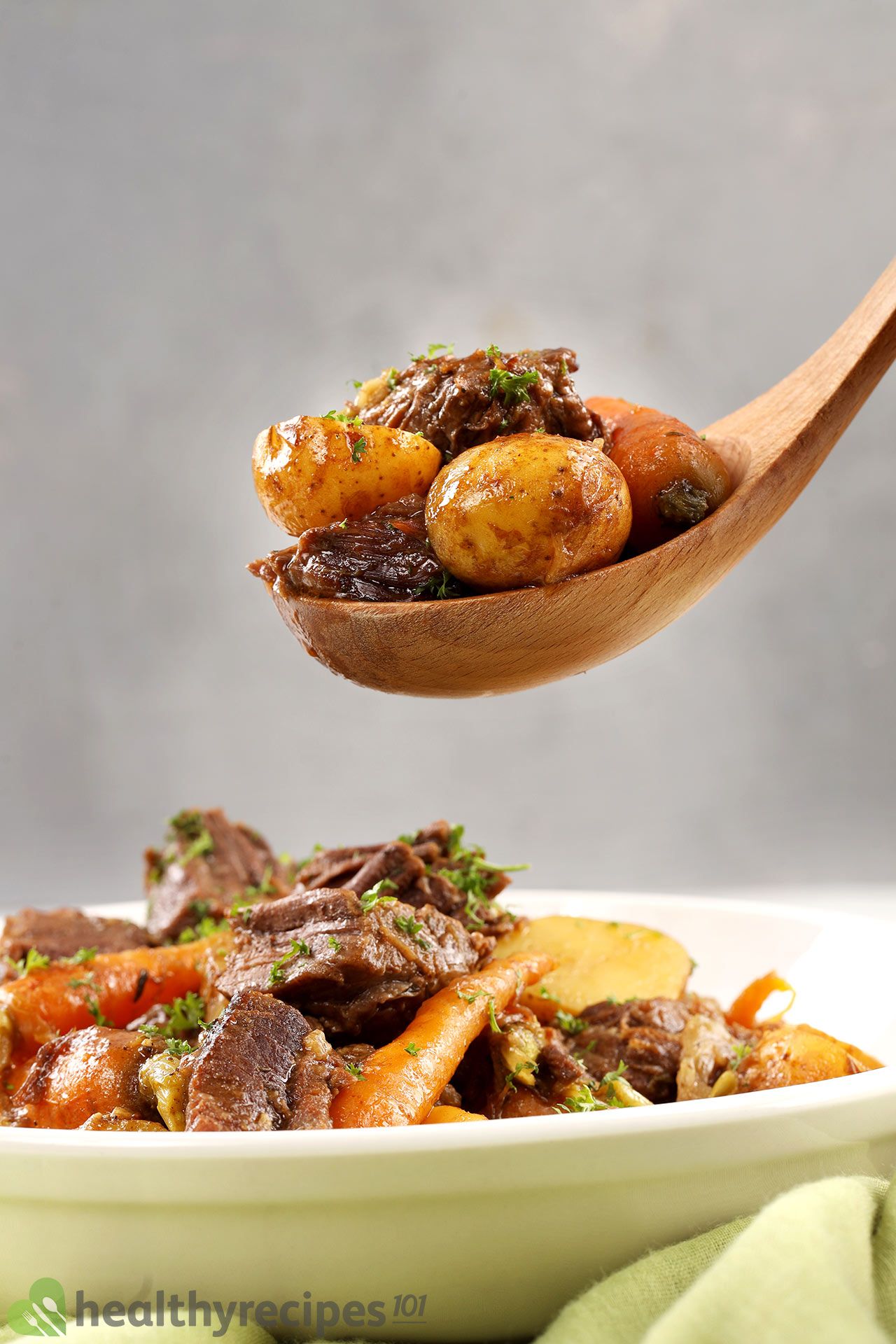 How to Cook a Frozen Roast in an Instant Pot
The best thing about the Instant Pot is that foods are pressure-cooked to tender. You can even put frozen meat in the pot, give it some more minutes, and it'll be completely cooked-through.
What you need to do is exactly all the steps mentioned above, but with 20 minutes extra in step five. Since there is plenty of liquid locked inside the machine, you can rest assured that your stew won't be burnt.
How Long Does It Last?
The meat and vegetables stay good in the fridge for 4 days, and up to several months when stored in the freezer. You can divide the roast into portions and store it either in individual Ziploc bags or airtight containers.
What to Serve With This Recipe
With such a savory broth, the dish is best served with soft bread. There's nothing like the satisfaction that comes with mopping up the last bit of broth on your dish with a soft piece of bread.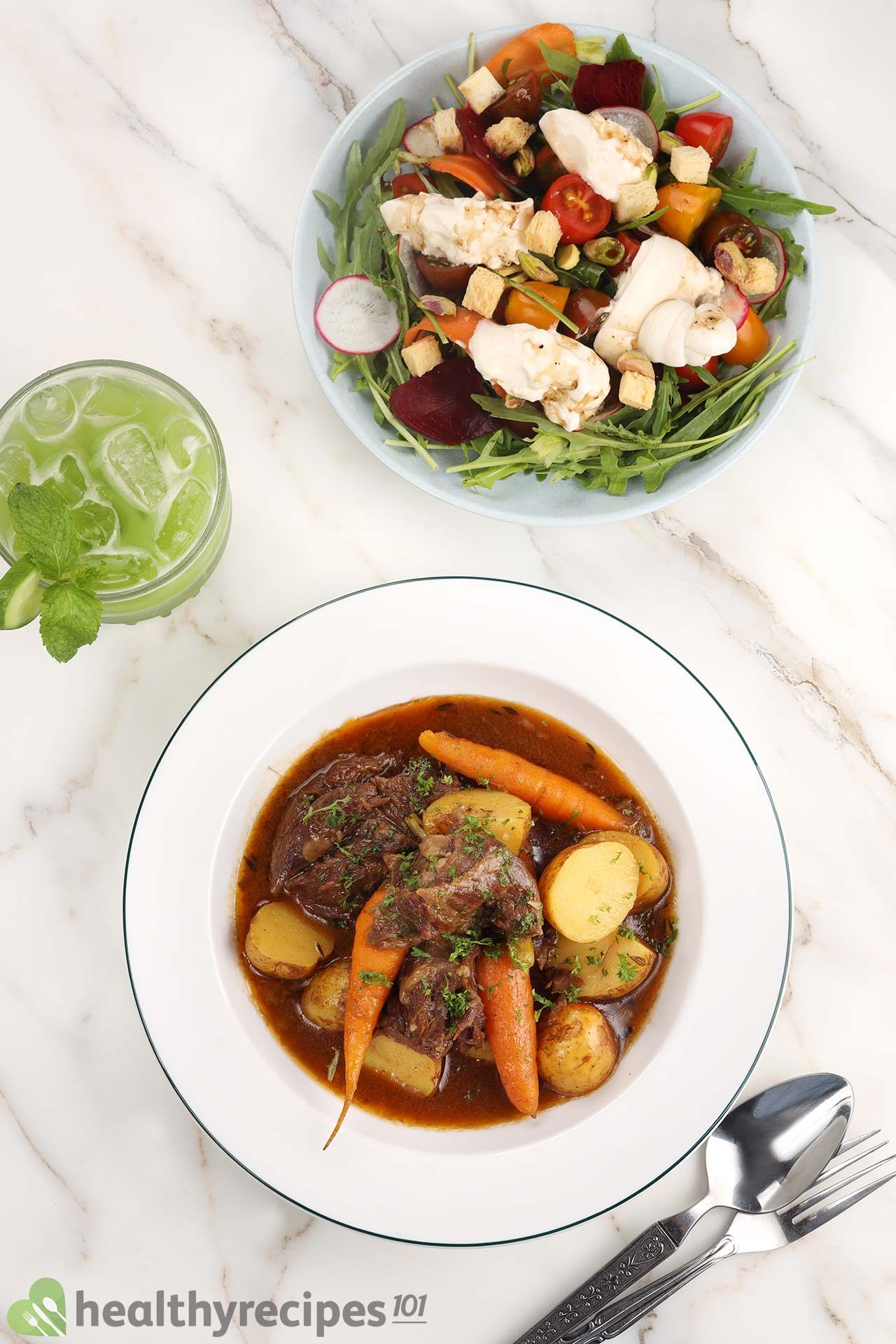 But we're going for a wilder, healthier combination today: beef stew and salad. Our top pick is burrata salad, with peppery rocket and creamy cheese that fits in perfectly with every succulent spoonful of stew.
To round off the meal, we picked out a glass of celery cucumber juice. It packs plenty of nutrients and cuts the richness of the broth for a refreshed palate.
Nutritional values in this table vary somewhat to those below due to different app calculations. Read more...
More Delicious Instant Pot Beef Ideas!
We have worked with instant pot a lot in our kitchen, and this one is just one of the many tasty ideas. Try these easy recipes to include more beef in your diet: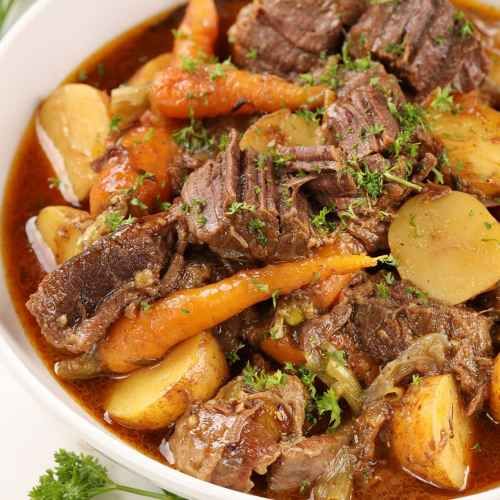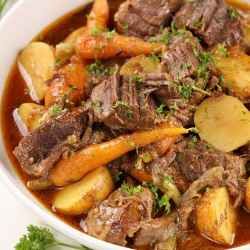 Instant Pot Pot Roast Recipe
This Instant Pot pot roast recipe is the key to a wholesome, tender, succulent meal. It's affordable and easy.
Ingredients
24

oz

lean chuck eye

1

tbsp

cornstarch

3

tbsp

olive oil

1

tbsp

garlic

minced

1

tsp

paprika

1/2

tsp

salt

1/2

tsp

ground black pepper

1/2

tsp

onion powder

1/2

tsp

garlic powder

1

tsp

fresh thyme

1

bay leaf

3

tbsp

red wine vinegar

2

cups

unsalted chicken broth

4

oz

onions

sliced

8

oz

baby carrots

18

oz

baby potatoes

quartered

2

tbsp

parsley
Instructions
Coat the beef chuck with 1 tbsp cornstarch.

Press the "sauté" button (or a similar one), pour olive oil in, and add the beef chuck to sear. Give each side 5 minutes or until golden brown.

Add garlic, paprika, salt, ground black pepper, onion powder, garlic powder, fresh thyme, Dijon mustard, and bay leaf into the pot. Stir around for 1 minute.

Add red wine vinegar to deglaze the pot; scrape the bottom to release any flavorful bits that stick to it.

Add chicken broth and sliced onions in. Close the lid and turn the steam handle to the "sealed" position. Select "meat stew" mode, adjust the timer to 40 minutes, and allow the machine to cook.

Place a cloth over the steam handle and use a spoon to switch it from "sealed" to "venting" position. Wait for the steam to release. Open the lid and add baby carrots and quartered baby potatoes in. Close the lid, turn the steam handle to "sealed", and cook the stew in the same mode for 20 minutes.

Release the pressure again similar to before, open the lid, and press the "sauté" button. Allow to cook and reduce the broth for 10 minutes.

Use a pair of tongs to take the meat out and place it into a bowl. Use two forks to pull the meat apart the way you like Then add it back into the pot.

Portion the stew into serving bowls (or dishes). Sprinkle parsley on top and serve.
Nutrition
Nutrition Facts
Instant Pot Pot Roast Recipe
Amount Per Serving (1 serving)
Calories 465
Calories from Fat 189
% Daily Value*
Fat 21g32%
Cholesterol 117mg39%
Sodium 557mg24%
Potassium 1383mg40%
Carbohydrates 32g11%
Protein 39g78%
Vitamin A 8270IU165%
Vitamin C 19mg23%
Calcium 84mg8%
Iron 6mg33%
* Percent Daily Values are based on a 2000 calorie diet.