This Instant Pot zucchini recipe will show you how to savor the summer harvest and ace your National Zucchini Day (August 8) feasting.
Zucchini can be bland and unappetizing if it's not treated right. Follow this recipe and you'll have flavorful zucchini that bursts in the mouth mixed with chewy, caramelized mushrooms — a fantastically fragrant assemblage.
If you're interested in making the dish right away, retrieve the shopping list by clicking here. Or, read on to learn more about this often-underrated fruit.
Is Instant Pot Zucchini Healthy?
Similar to most fruits and vegetables, zucchini is a nutritious food. It offers good amounts of vitamins and minerals, especially vitamin C and vitamin B6.
Zucchini also has plenty of fluid and fiber. Meeting your daily water and fiber needs means you'll maintain a hydrated body and healthier digestive system.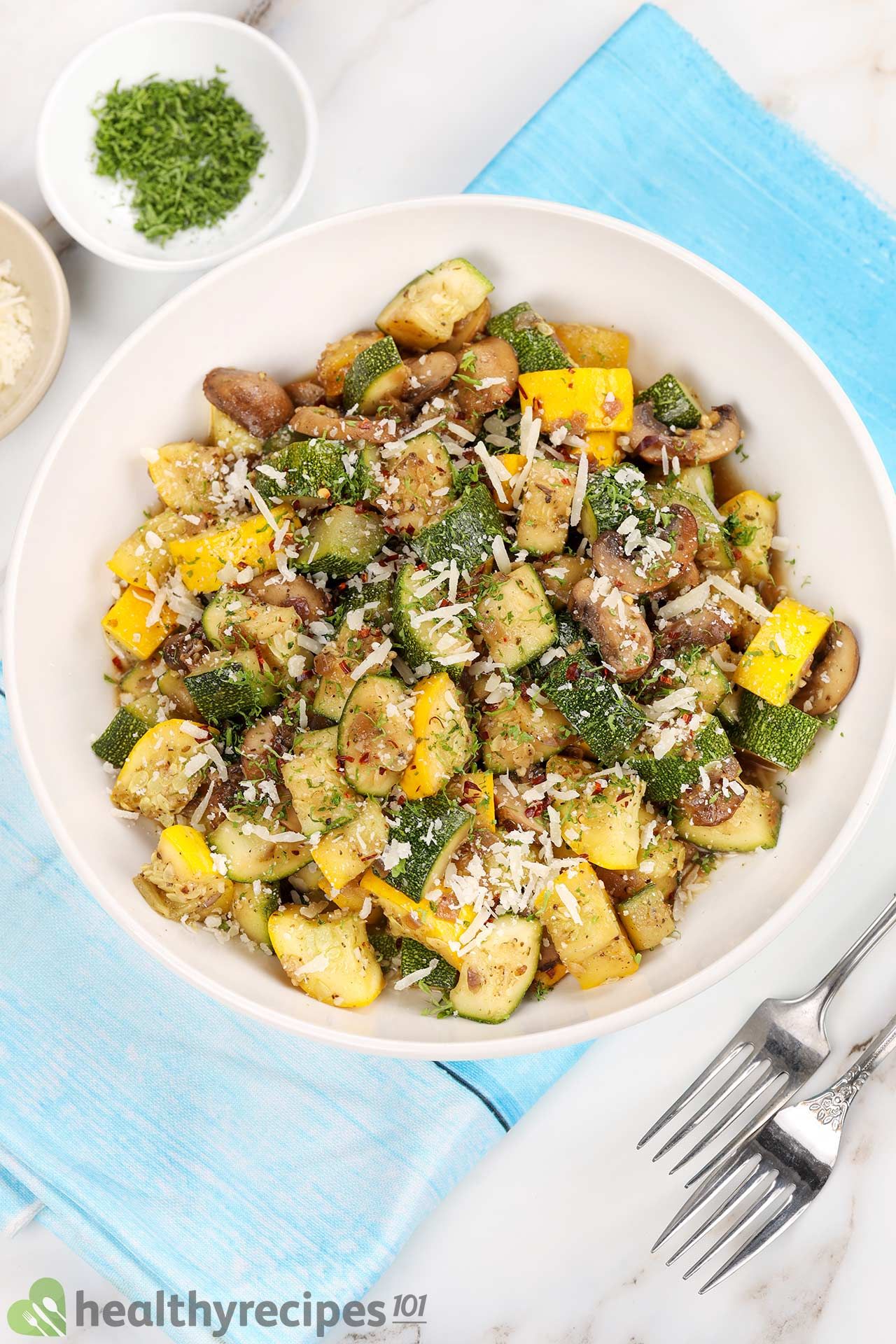 In general, these benefits can be achieved if vegetables and fruits make up a large portion of your diet. We happen to have plenty of vegetable dishes made for the Instant Pot:
Instant Pot Broccoli: delicate vegetables need delicate handling, which happens to be what this recipe's all about. The broccoli is steamed, then quickly sautéed with butter, tons of flavors, and plenty of parmesan.
Instant Pot Brussels Sprouts: peppery, soft, and thoroughly-flavored, these Brussels sprouts can give kids second thoughts. They're topped with bacon and parmesan.
Instant Pot Green Beans: upping your nutrients and fiber intake has never been easier than with this green bean dish. It's crunchy, it's bright, it's well-seasoned, and it's topped with bacon.
Instant Pot Asparagus: if you enjoy this vegetable baked, you'll love it even more pressure-cooked. The already flavorful and tender young shoots now come with an impressive degree of juiciness — a great side for roasted meats.
What's special about zucchini is that it's low in carbohydrates and calories. Dishes made of zucchini tend to be fulfilling, helping us better control our calorie intake.
While making the dish, we also kept an eye on the salt and made sure there's just enough to bring out the flavors. This is a part of a healthy diet defined in the USDA's dietary guidelines.
If you wish to learn more about how we create healthier versions of classic recipes, check out our healthy eating guidelines.
How to Prepare Zucchini
Begin by chopping off the ends of the fruit. From here, you can cut it into fingers, round slices, or chunks.
For roasting, it's better to cut zucchini into thick slices. If you're aiming for gratin dishes like ratatouille, that's when you want to use the mandoline for thin slices.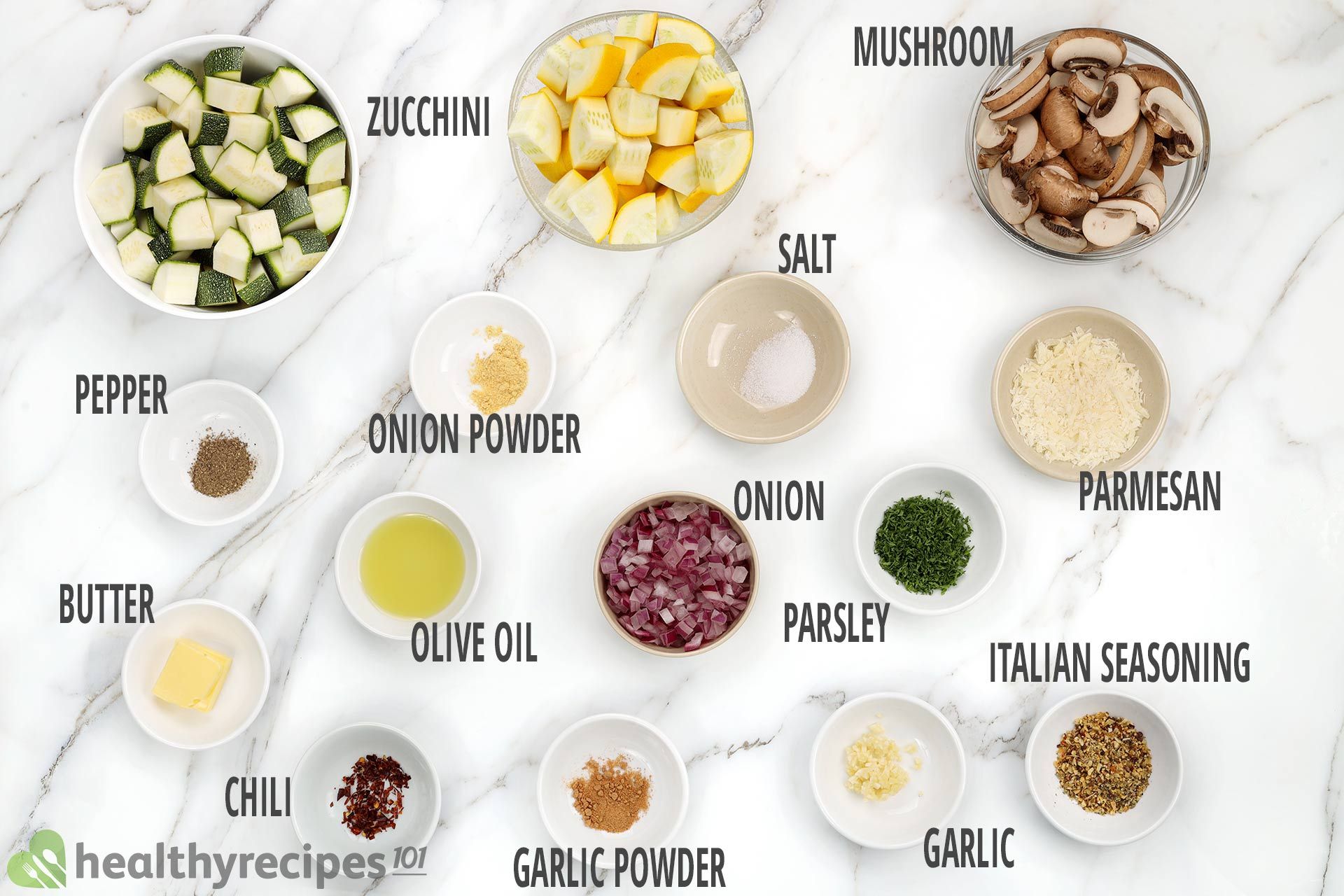 Zucchini can also be shaved lengthwise and tossed with a simple vinaigrette to make a refreshing summer salad.
We also tried cutting the zucchini into fingers to make this crispy finger food.
To cut it into chunks for stews or soups, slice the fruit into quarters and then into triangular chunks. That's what we did for the recipe below.
Do You Peel Zucchini?
Peeling zucchini is optional, as the skin is edible and doesn't interfere with the fruit's flavor.
We decided to keep the skin on. There's no reason to spend time cutting off edible, tasty eats.
How to Cook Zucchini in an Instant Pot
Most of our Instant Pot dishes begin with us sautéing food with aromatics. Then, broth is added and after 30 minutes or so, the whole stew comes together.
This, however, is not what we'll be doing to the zucchini. They're too fragile, and would be mushy if we were to do that to them.
Instead, we first steam the zucchini to preserve their moisture. Then, sauté it very briefly to develop flavors, leaving us with this satisfying, juicy meal.
Here's a recap: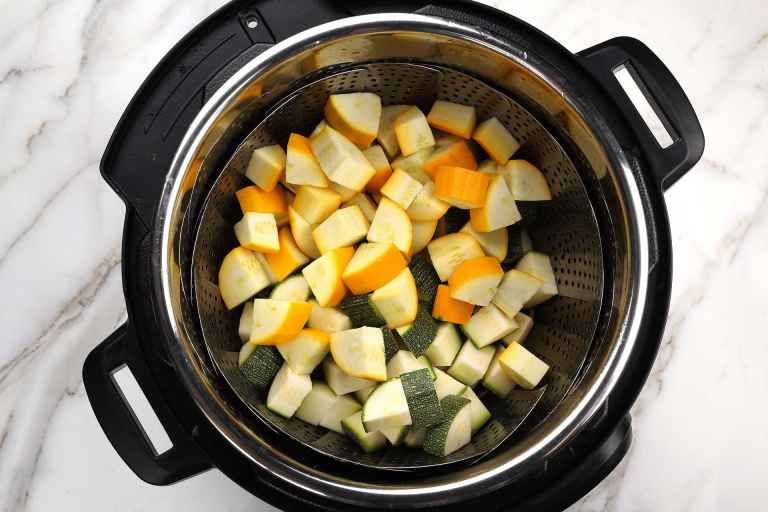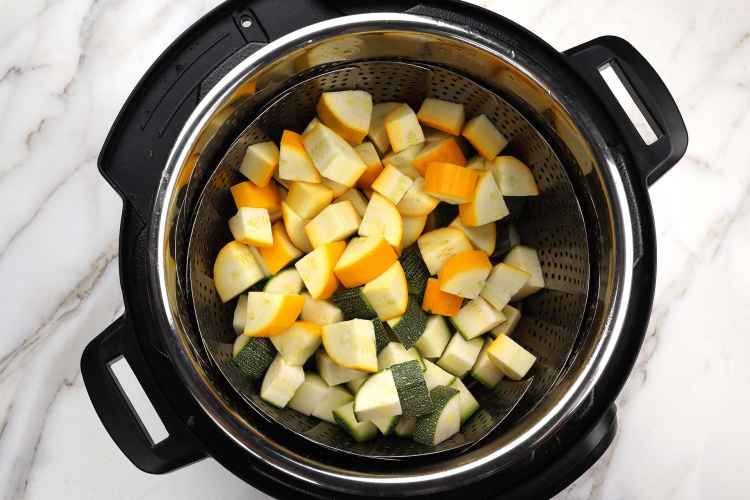 Steam the zucchini and release the steam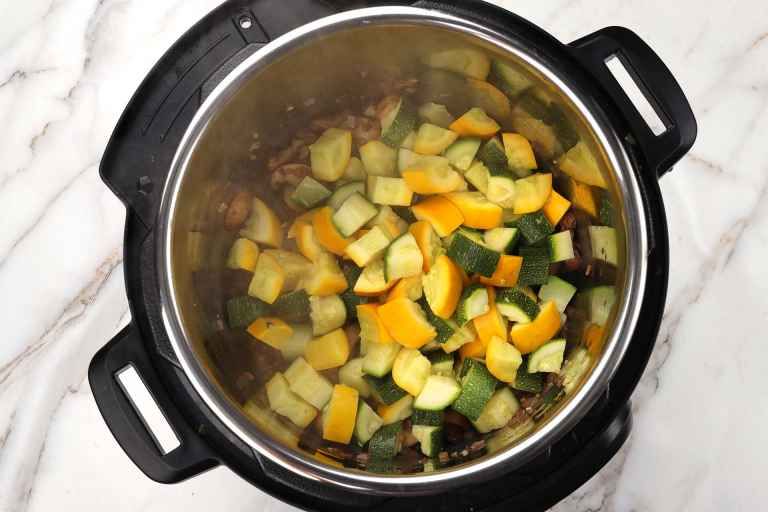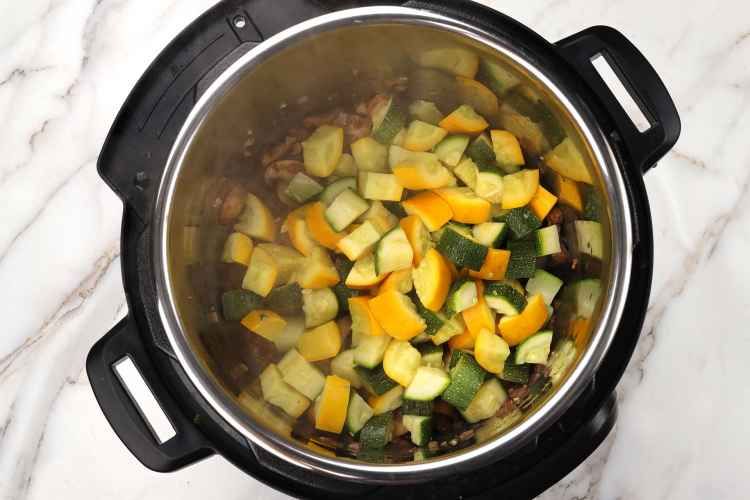 Sauté zucchini with mushrooms and seasonings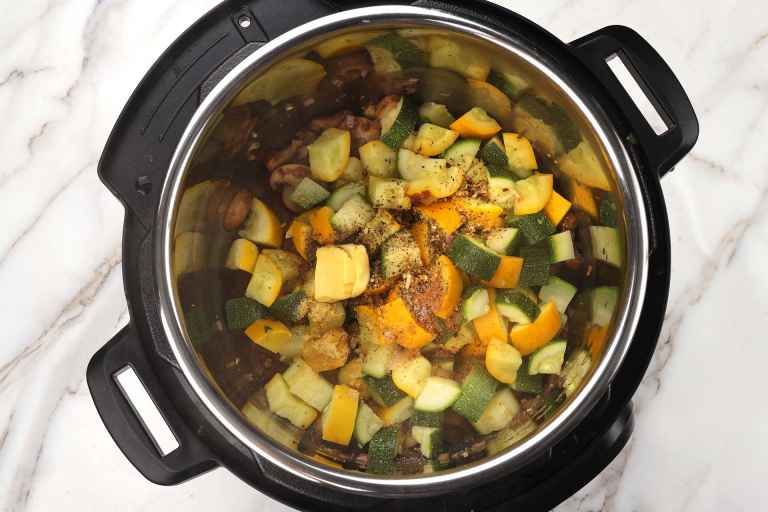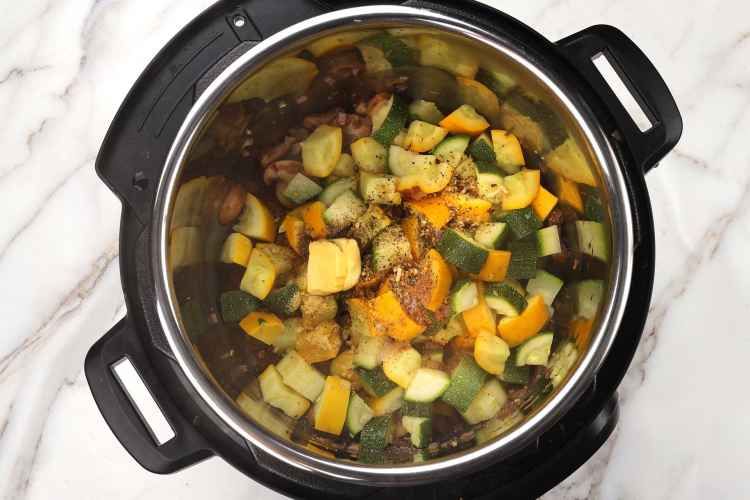 Sprinkle with more seasonings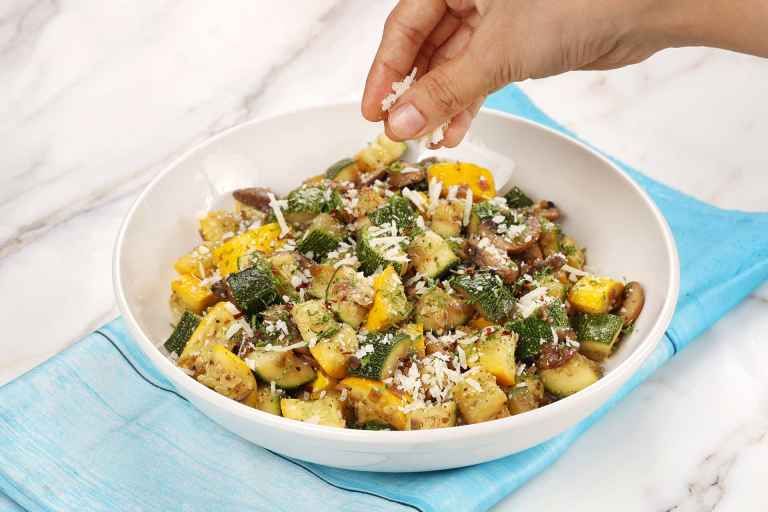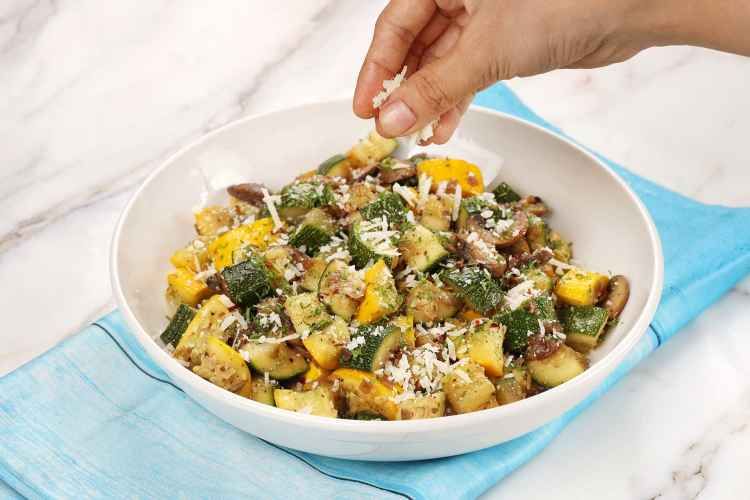 Serve
Jump to Recipe
The full instructions with ingredients are in the Instant Pot zucchini recipe card below.
What to Make With Leftover Zucchini
Leftover zucchini can be kept in the fridge if you intend to serve it within the week.
To store it longer than that, divide the cooked zucchini into portions and place them into individual containers. Put the containers into your freezer and reheat them in the microwave whenever you need.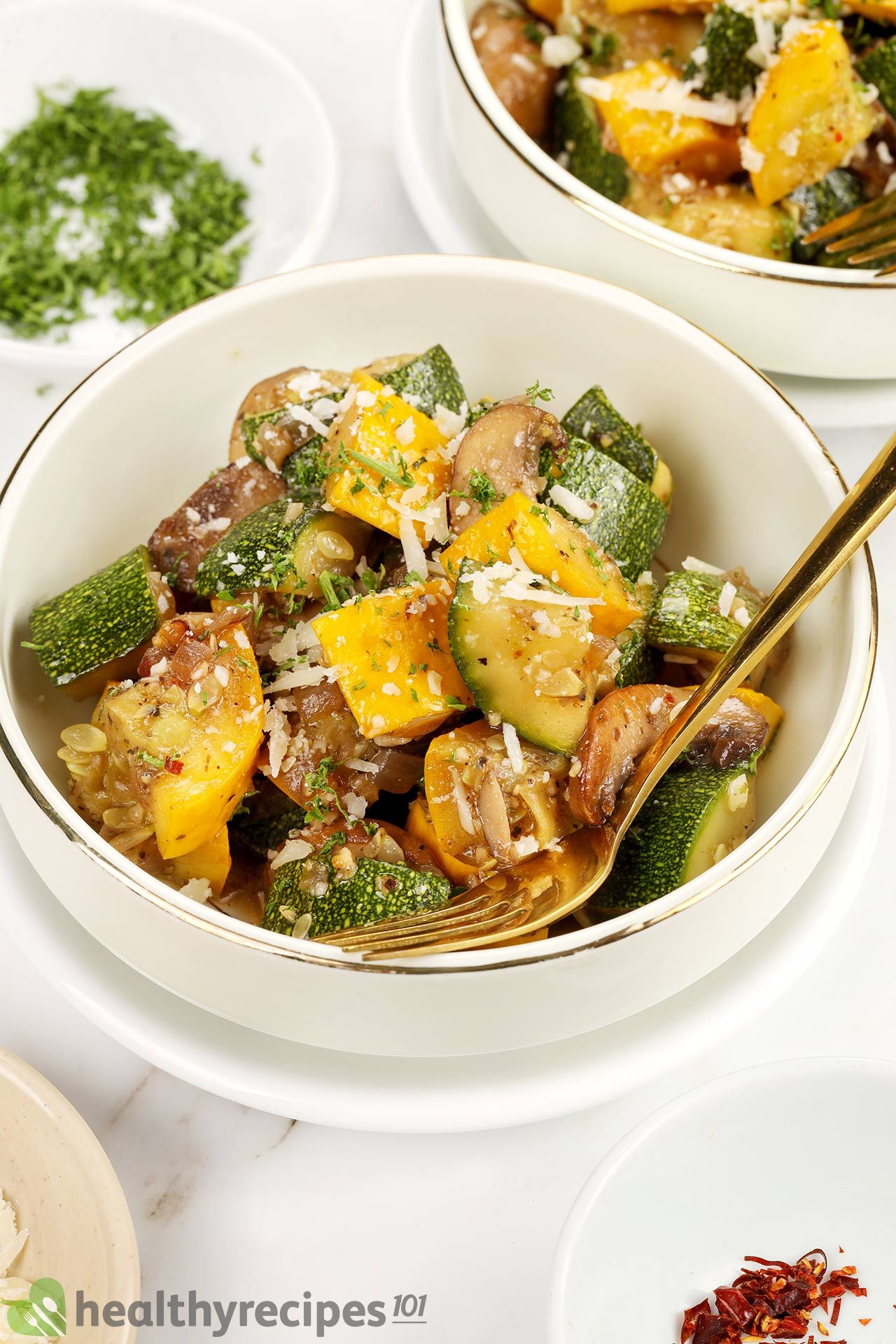 If you have plenty of zucchini, you don't need to cook it all at once. You can freeze it instead, and we have instructions for freezing zucchinis right here.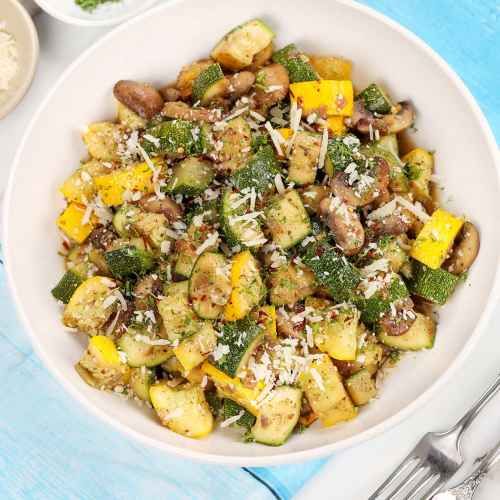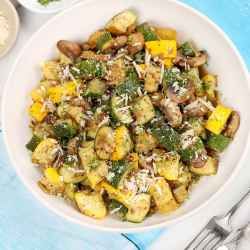 Instant Pot Zucchini Recipe
This Instant Pot zucchini recipe is the best way to preserve the vegetable's essence. It's an easy side dish to throw together any time.
Ingredients
20

oz

zucchini

cut into chunks

1

cup

water

1

tbsp

olive oil

1

tsp

garlic

minced

2

oz

red onion

diced

6

oz

brown mushrooms

sliced

1

tbsp

unsalted butter

1/2

tbsp

Italian seasoning

1/4

tsp

salt

1/4

tsp

ground black pepper

1/4

tsp

garlic powder

1/4

tsp

onion powder

1/4

tsp

red pepper flakes

0.5

oz

parmesan cheese

grated

1

tbsp

parsley

freshly chopped
Instructions
Add water to the pot, place a steaming rack inside, and place the zucchini onto the rack. Close the lid, switch the steam handle to "sealed", select the "steam" mode, set the timer to 3 minutes and cook. Place a cloth on the steam handle and use a spoon to switch it to "release". Remove the zucchini, set aside, and discard the water.

Select the "sauté" mode. Add olive oil, garlic, onion, and mushroom and stir for 3 minutes or until the mushrooms develop a golden brown color.

Add zucchini, butter, Italian seasoning, salt, pepper, onion powder, and garlic powder and stir for 2 minutes.

Plate the zucchini and sprinkle pepper flakes, cheese, and parsley on top to serve.
Nutrition
Nutrition Facts
Instant Pot Zucchini Recipe
Amount Per Serving (1 serving)
Calories 118
Calories from Fat 72
% Daily Value*
Fat 8g12%
Cholesterol 11mg4%
Sodium 228mg10%
Potassium 612mg17%
Carbohydrates 9g3%
Protein 4g8%
Vitamin A 436IU9%
Vitamin C 28mg34%
Calcium 81mg8%
Iron 1mg6%
* Percent Daily Values are based on a 2000 calorie diet.