Our zucchini fries recipe will take you less than half an hour, and will make you want more.
What Is Zucchini?
Zucchini belongs to the squash family, and unlike butternut squash or pumpkins, zucchini is a summer squash. It is often used in sautees, soups, salads, or to make zucchini noodles.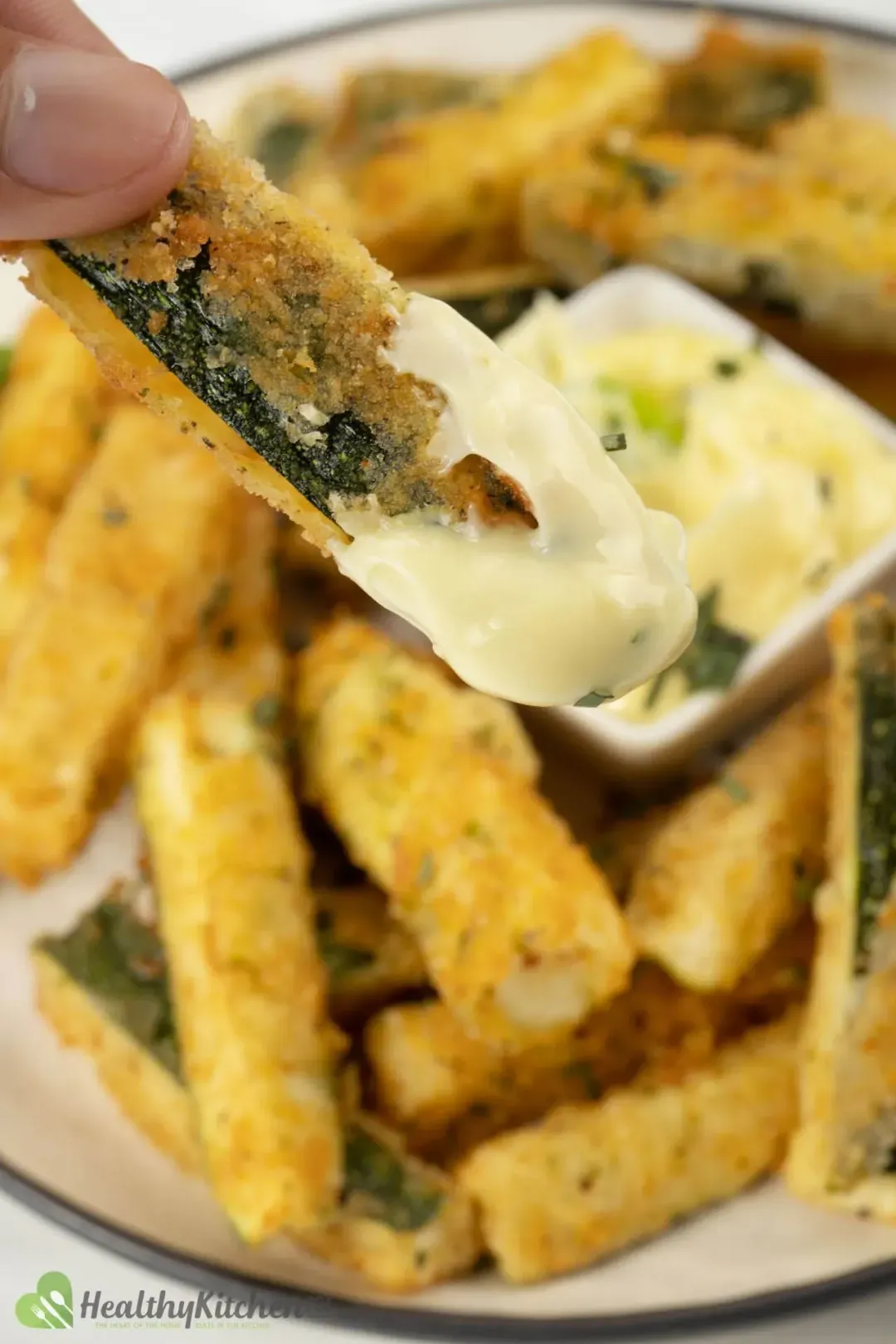 There are two kinds of zucchini, indicated by the color of the skin— yellow and green. Green zucchini is often mistaken for cucumber, which shares a similar skin color and shape.
In this zucchini fries recipe, we picked both kinds of zucchini and they don't taste that different. You can pick whichever kind of zucchini you want.
1. Zucchini vs Cucumber
You can tell these two apart simply by looking at the price tags. However, in case these two are placed next to each other with no name tags, here's how to distinguish them:
By skin color, cucumber is typically darker in shade. Green zucchini, on the other hand, is paler and often has short, yellow lines on the skin or a little bit of light green speckling.
You can also feel the skin with your hand to know whether it's zucchini or cucumber. Zucchini has a shinier skin, smooth to the touch, while cucumber's skin is often bumpy.
Despite looking almost identical, these two are not interchangeable. Cucumber retains more water than zucchini, they have distinctive tastes and zucchini is much more pleasant cooked than cucumber is.
2. Is Zucchini a Fruit?
As the zucchini flower blooms, its ovary grows larger and larger, and finally, develops into what we call zucchini. Therefore, it is classified as a fruit.
Despite being a fruit, it is often treated as a vegetable in cooking. You often use it in savory dishes instead of treats or desserts.
Is Zucchini Fries Healthy?
Zucchini yields very little calories, yet contains a vast amount of vitamins and minerals. Its benefits for the body can range from improving the digestive system to lowering the risks of heart disease.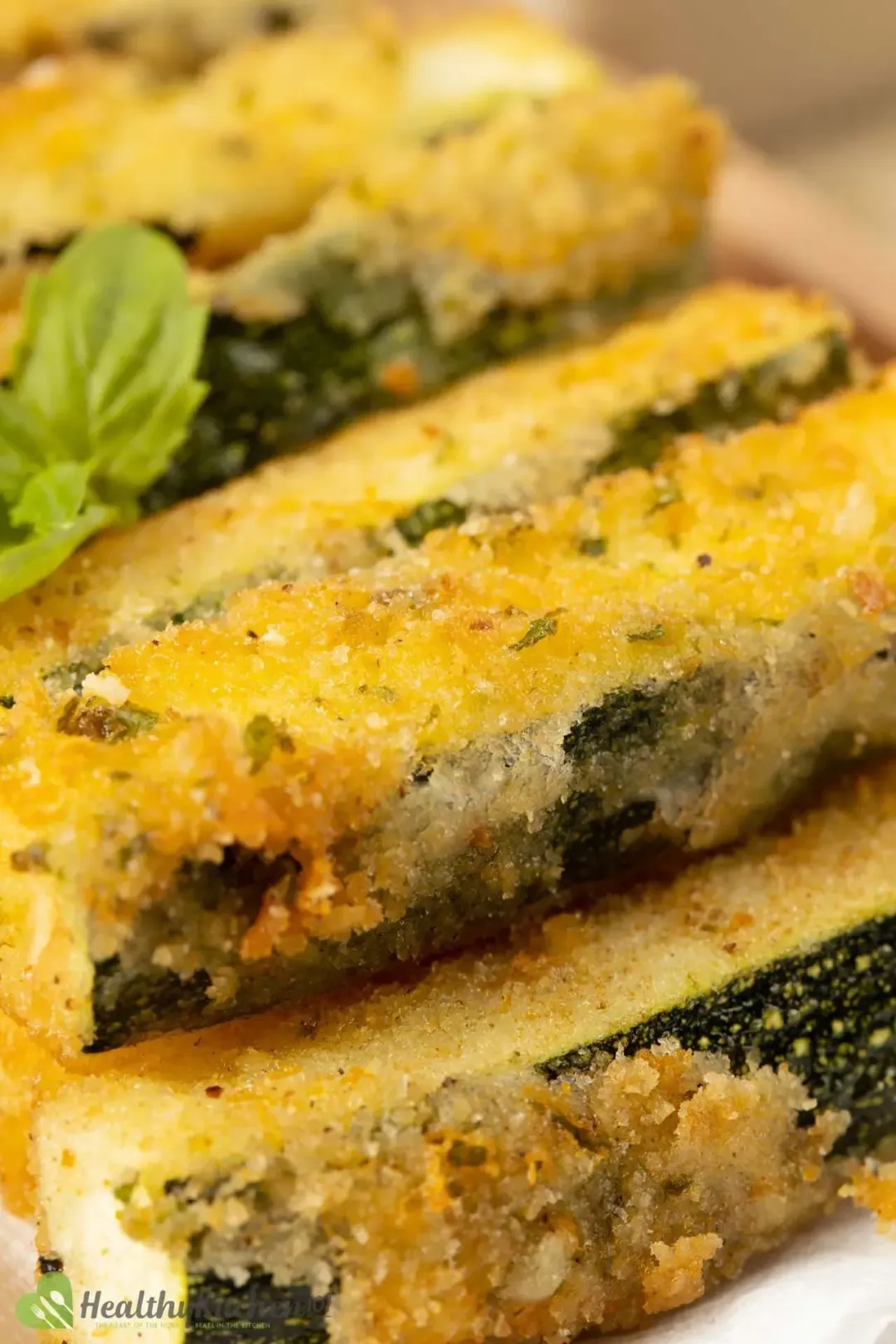 Although fried food is often considered unhealthy, choosing the right kind of oil does help. For example, soybean oil has a high smoke point and contains healthy fats.
Want more healthy and easy snack foods? Check out our Air Fryer French Fries Recipe and Air Fryer Potato Wedges Recipe.
Zucchini Nutrition
Let's find out more of what this versatile fruit has to offer.
1. Calories
Zucchini has only 17 calories per 100 grams. Most of the calories are from good carbs and protein, with very little from fat.
Our zucchini fries recipe yields around 237 calories, coming mainly from the oil, breading, and mayonnaise dipping. You can pair them with these crispy, deep-fried rice balls for a crunchy, yummy breakfast!
2. Carbs
There are about 4 grams of carbs in every 100 grams of zucchini, including fiber. Thanks to the low amount of carbs, zucchini is often included in low-carb, keto diets.
Zucchini is an excellent substitute for noodles/pasta in low-carb diets. You can easily turn zucchini into pasta using a special tool called a "spiral slicer".
3. Vitamins
Zucchini contains a large amount of vitamin A. The nutrient is known to promote eye health and fight off cell inflammation in the body as an antioxidant.
Vitamin C is also present in zucchini. This antioxidant can boost the overall performance of the immune system and can relieve symptoms of the common cold.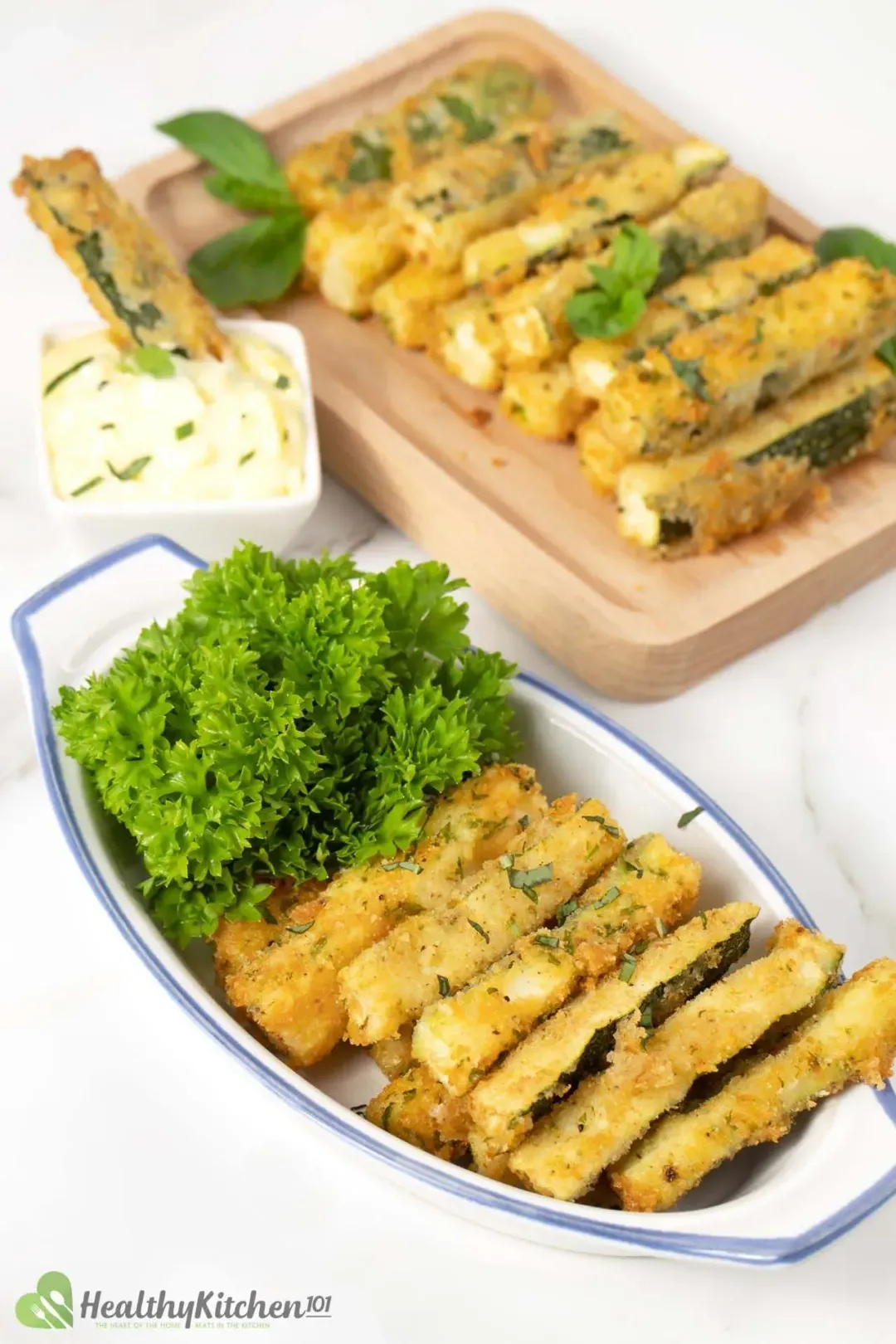 How to Cut Zucchini
Zucchini can be sliced in a lot of ways, depending on what dish you're making. No matter how you slice them, don't remove the skin because it's edible and contains nutrients.
To saute or make casseroles, it's best to cut them into quarters, lengthwise, then dice. You can also slice them to make dishes like ratatouille.
In our zucchini fries recipe, we first trim the ends of the zucchinis, then slice each in half. Next, we cut each part vertically, into 3 thick sheets, then cut each sheet into large strips.
It's important to keep the thickness of the zucchini about the size of your thumb. We want them to cook evenly, and thoroughly.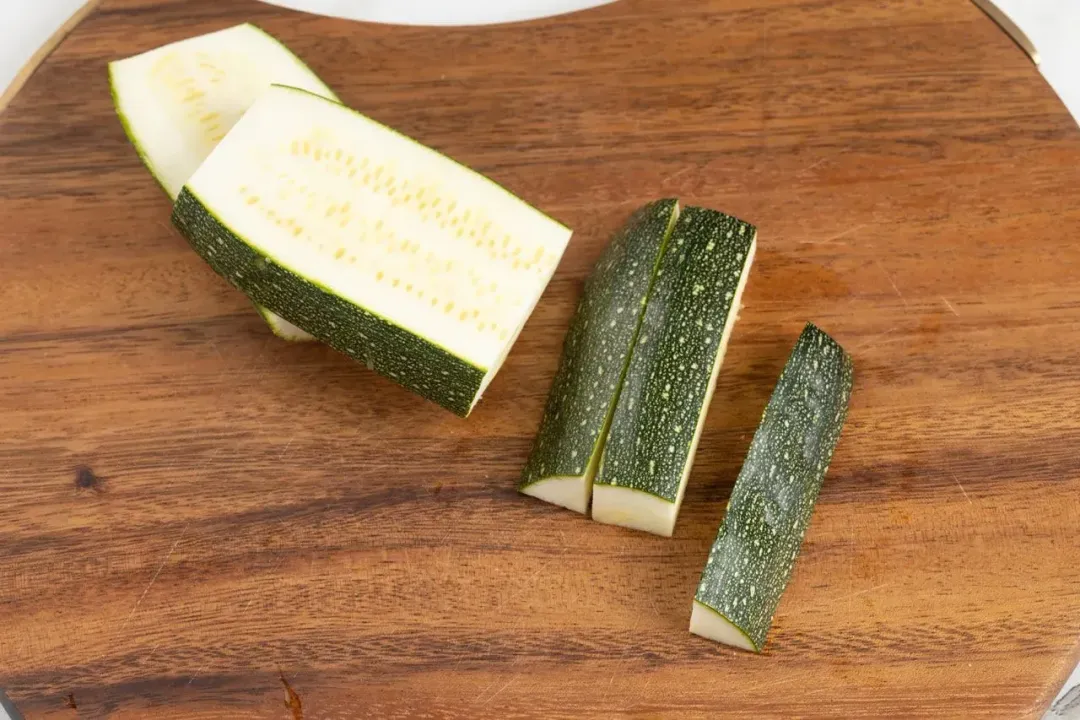 Flour Your Fries Faster
Breading is easy, but when it's a large batch with lots of little components, it can be time-consuming. Here's one of our tips to save you time when following our zucchini fries recipe:
First, prepare two clean paper bags.
Put one cup of flour into one bag. Place your zucchini sticks in there, tightly grab the opening of the bag, and start shaking it.
Then, very thoroughly, mix the parmesan, panko, and the rest of the seasonings in the other bag.
Crack an egg into a bowl and whisk it well. Dip each of the floured zucchini sticks in the egg, and carefully place them in the bag of seasoned panko.
When you've placed all sticks in the panko bag, shake the bag just like you did with the flour bag. Within seconds, all of your fries should be well-coated and ready to go in the deep-fryer.
Can You Freeze Zucchini Fries?
For convenience, you can freeze a batch of panko-coated zucchini in Ziploc bags, and fry them up whenever you want. Of course, they will need an additional one or two minutes, but they taste just as good.
Frozen panko-coated zucchini can last for up to one month in the freezer.
What we don't recommend is freezing fried zucchini. They are edible alright, but there is no way you can make them as crispy as the first fry.
How Long Do Zucchini Fries Last?
Like most fried foods, zucchini fries will get wilted when left sitting for more than half an hour. It's best to eat them immediately after frying/baking.
Keeping Zucchini Fries in The Fridge
In case you have coated the zucchini but can't fry right away, you could refrigerate them for 5-6 hours. Make sure to cover the container with cling wrap.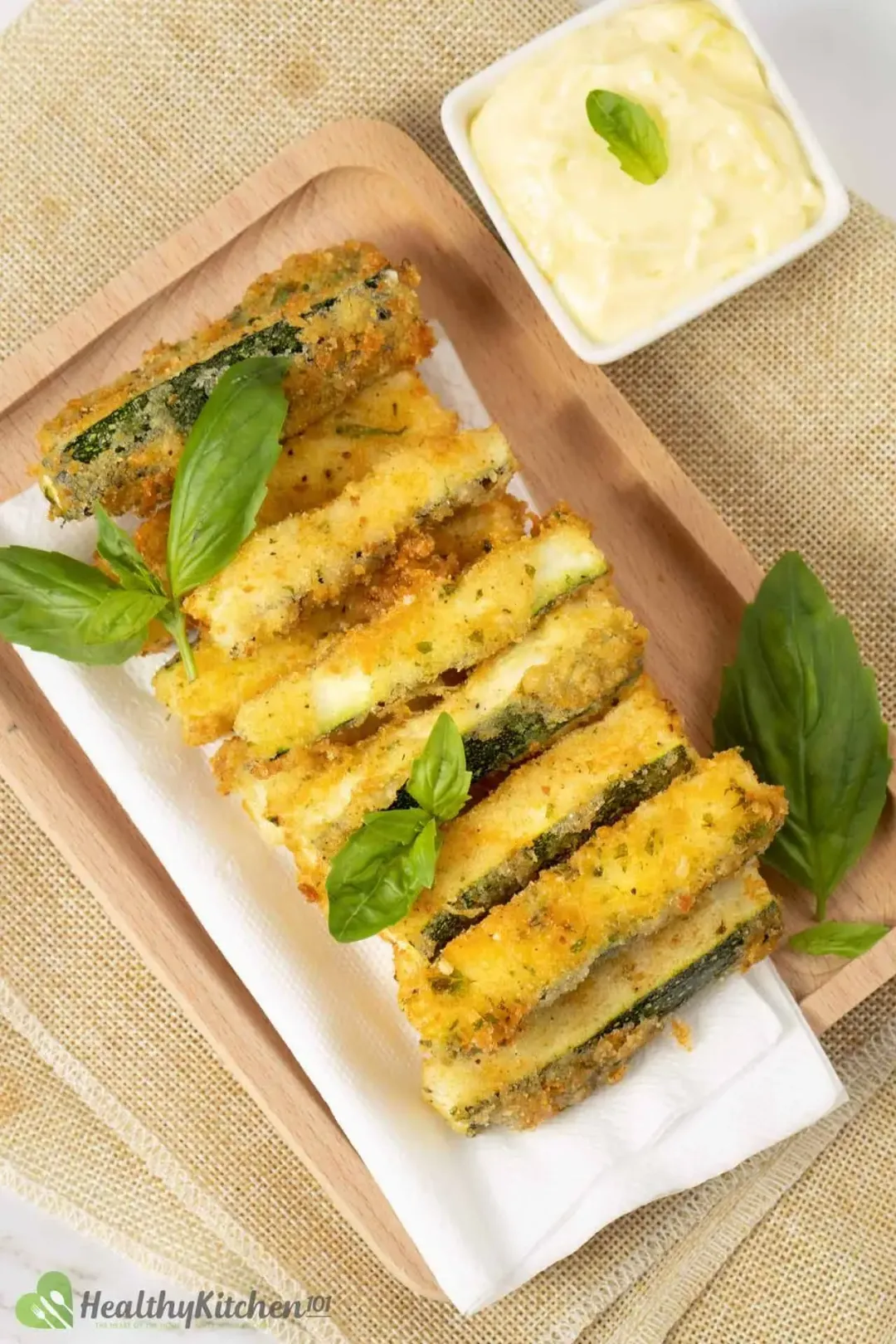 What to Serve with Zucchini Fries
Like how french fries often go with burgers or fried chicken, zucchini fries also need a main dish to accompany. Just like its carby cousin, zucchini fries can go with a lot of dishes, and here's what we can offer:
1. Egg Curry
Since zucchini fries are not distinctly flavorful, they need to go with something rich and bold. Our egg curry is a perfect candidate, with crisp skin submerged in the creamy, aromatic sauce served over warm rice.
Not only delicious, but the two are also complementary in terms of nutrients. While zucchini fries mostly provide fat and carbs, eggs are packed with protein and make a whole meal.
2. Gumbo
Having a flavor-packed broth seasoned with plenty of aromatics, gumbo served over rice also pairs well with zucchini fries. The crisp side will pose as a good palate-cleanser after each spoonful, taking the gumbo to another level.
Like the egg curry, gumbo is also rich in protein, coming from chicken thighs and chewy sausage. Together, they can make a wholesome, healthy, tasty meal.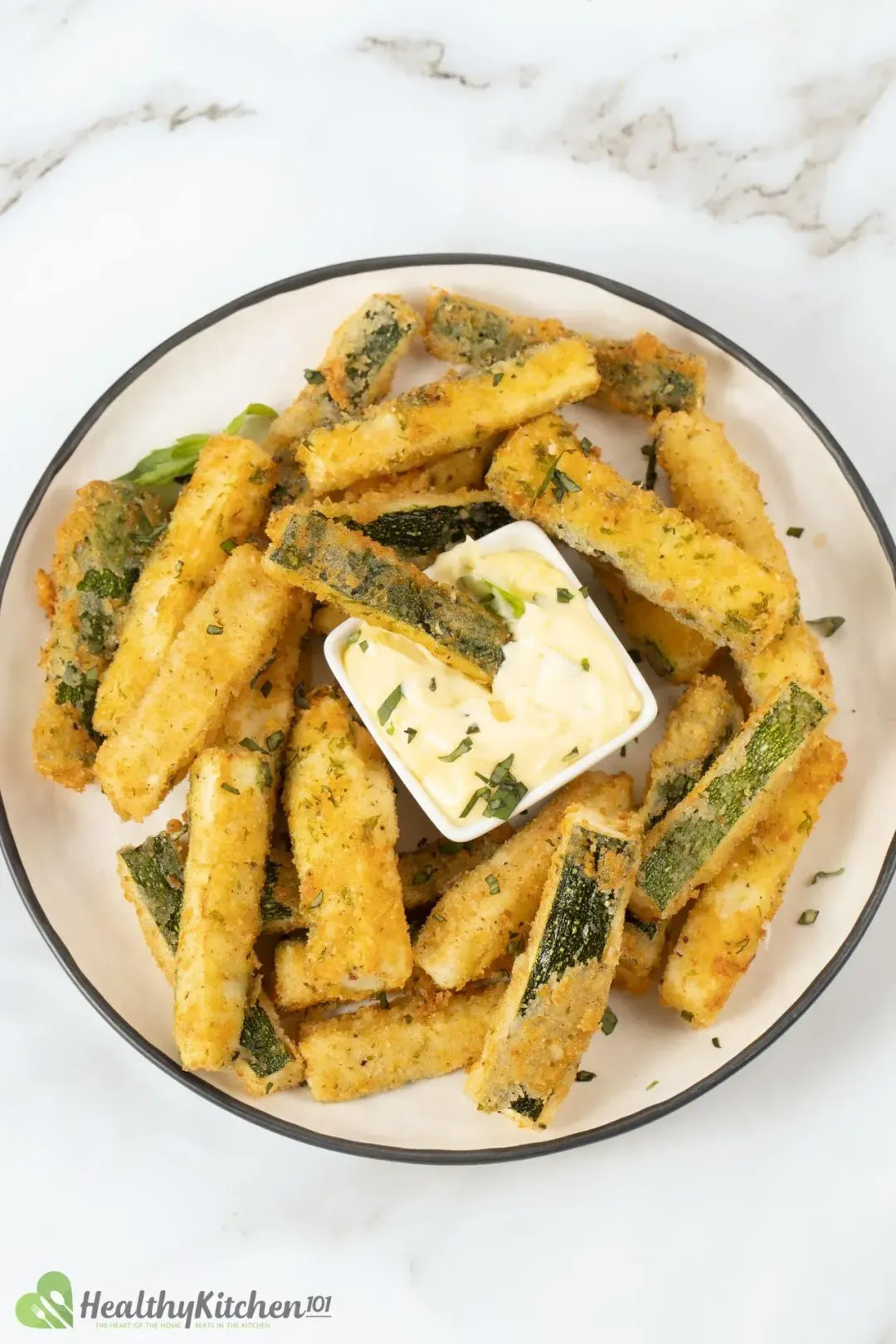 More Delicious Zucchini Recipes
Zucchini Fries
Our zucchini fries recipe makes fries that are crisp on the outside, and soft on the inside. Its nutritional values are also guaranteed to stay within our guidelines.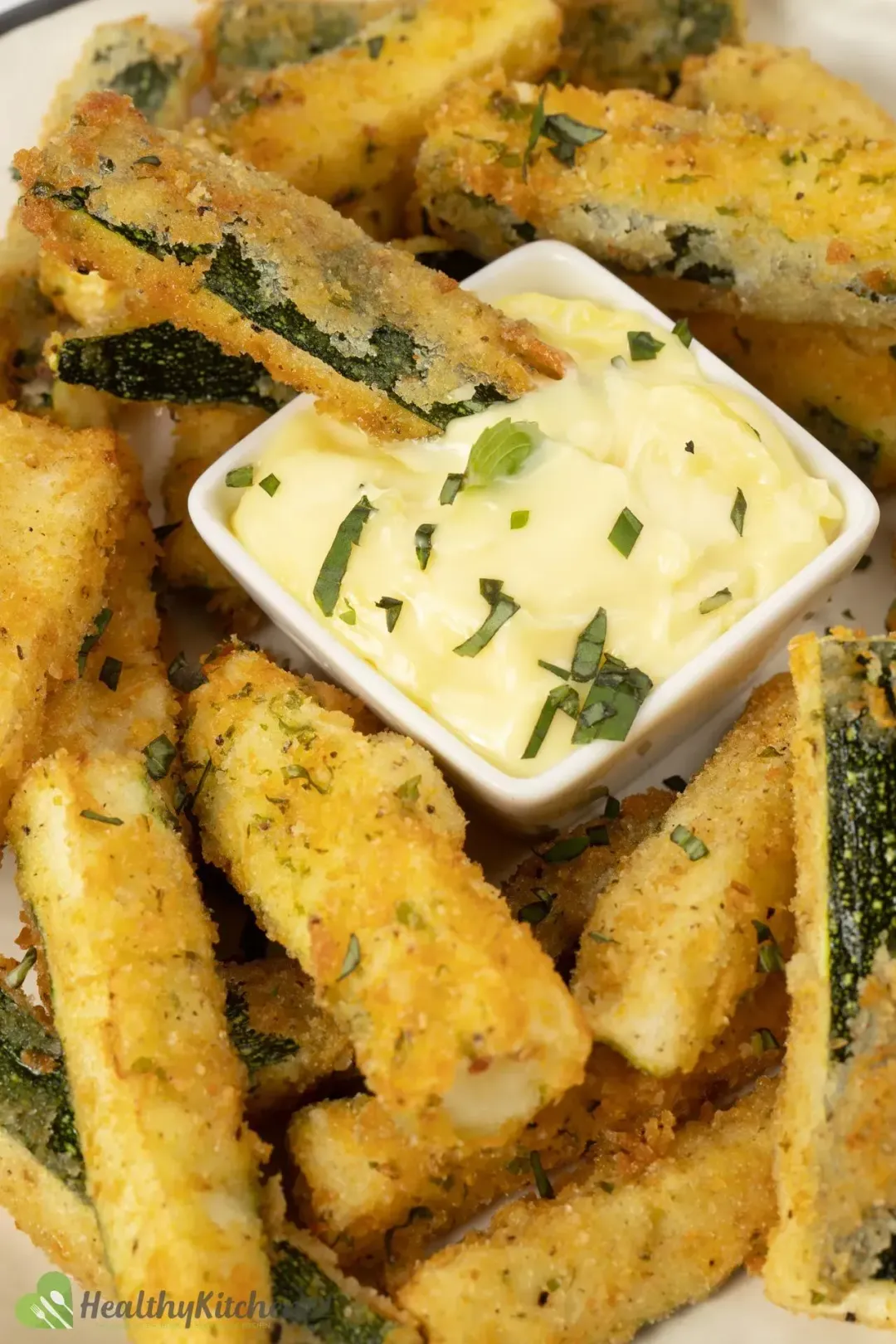 cook TIME

20 mins

prep TIME

10 mins

total TIME

30 mins
COURSE

Side Dish

CUISINE

American

SERVINGS

CALORIES

237 kcal
INGREDIENTS
1 cup

all-purpose flour

(*)

1/3 cup

plain panko breadcrumbs

2 cups

canola oil

(for frying *)

1 1/2 tbsp

parsley

(minced)

1 1/2 tbsp

basil

(minced)

1/4 tsp

ground black pepper

3 tbsp

Japanese mayonnaise
INSTRUCTIONS
1
Cut the 12 oz zucchini into sticks.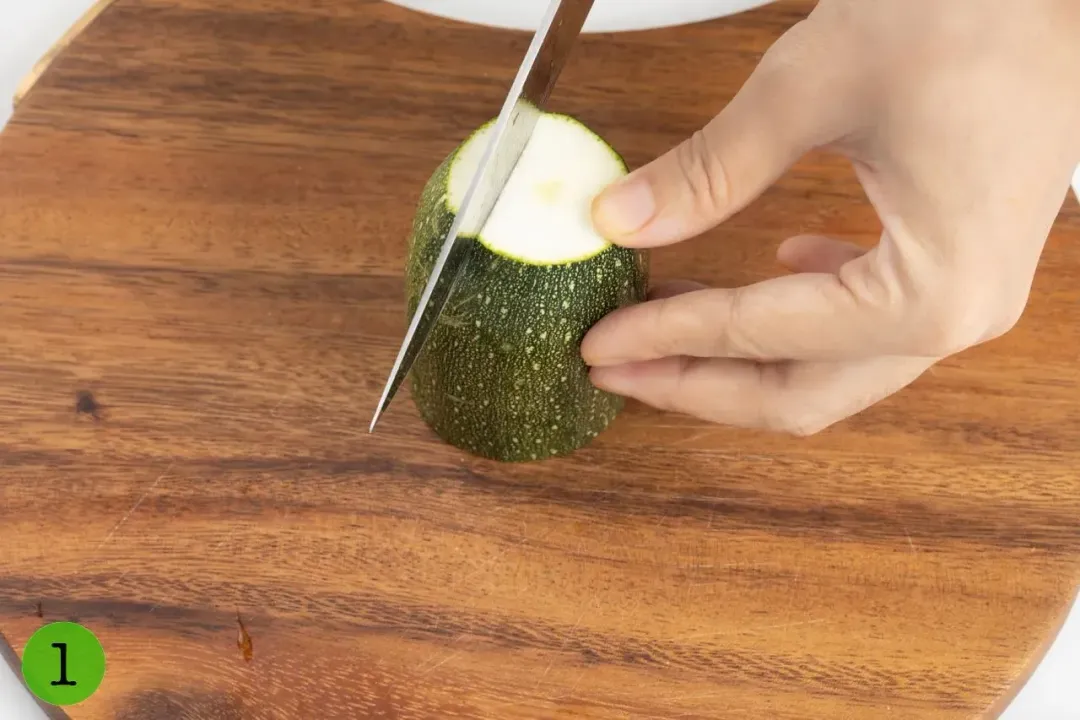 2
In a bowl, mix 1/3 cup panko breadcrumbs with 1/8 tsp salt, 1/4 tsp pepper, 0.75 oz parmesan, 1 1/2 tbsp parsley and 1 1/2 basil.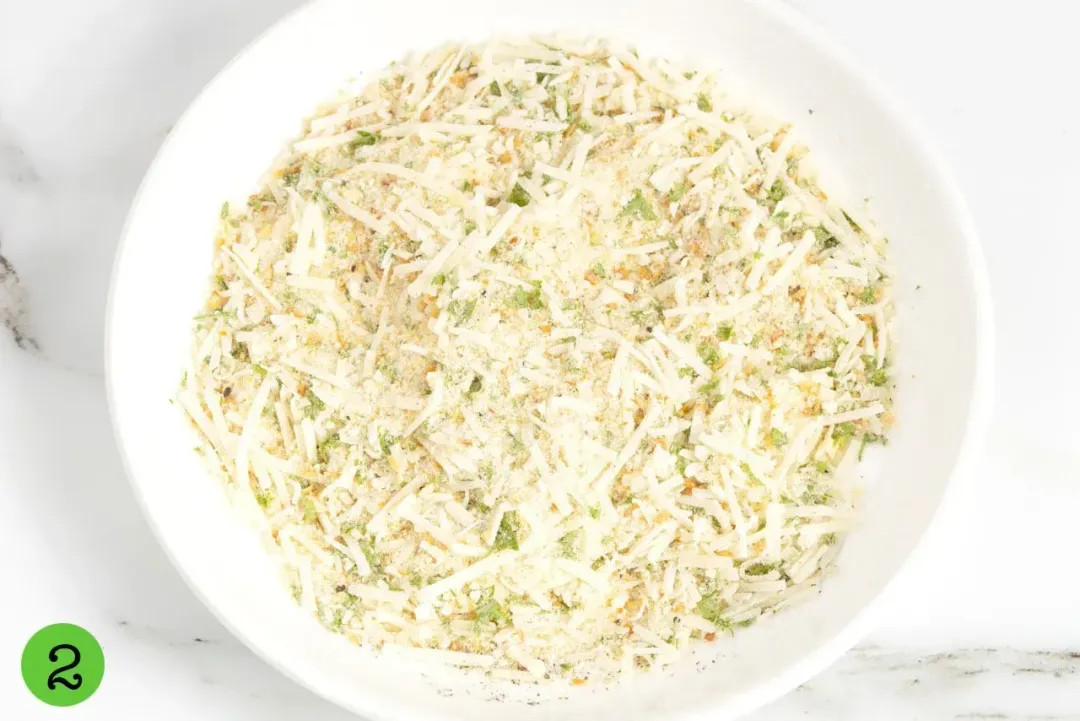 3
Crack an egg into a separate bowl and whisk well.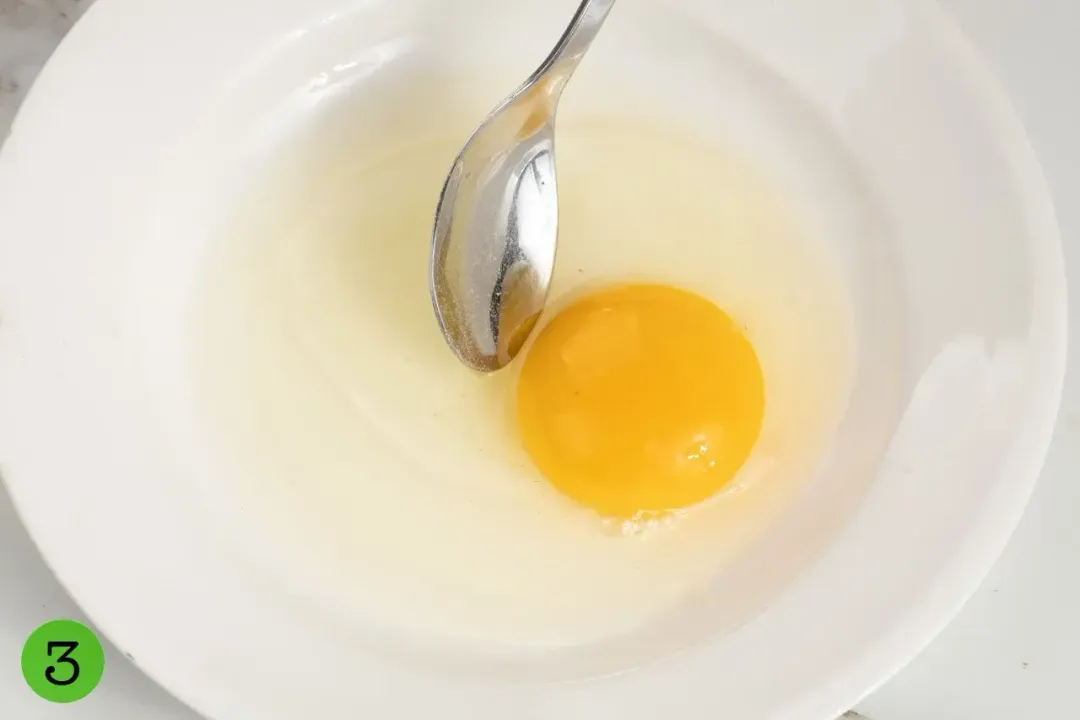 4
Coat the zucchini sticks in 1 cup flour first, then egg, and finally seasoned breadcrumbs. You can apply the bag method explained above to make it quicker.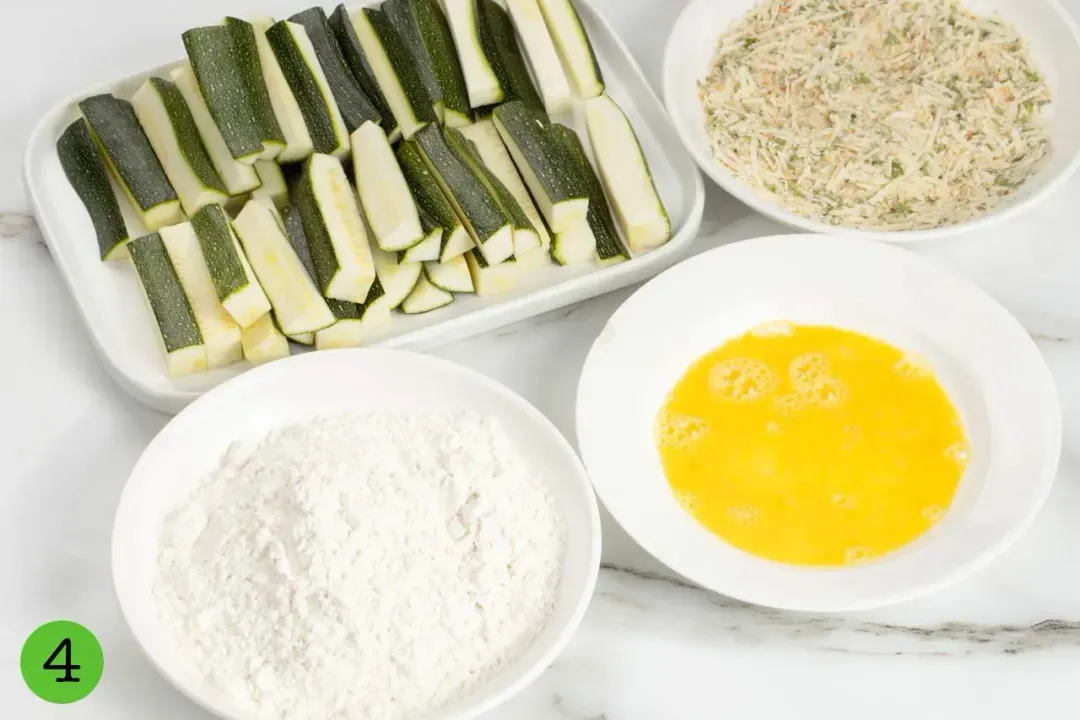 5
Heat 2 cups canola oil in a saucepan on medium heat. Drop a piece of breadcrumb in to see if it sizzles. If it does, slowly place the zucchini sticks in. Deep-fry them for 4 minutes or until golden, then place them on a cooling rack.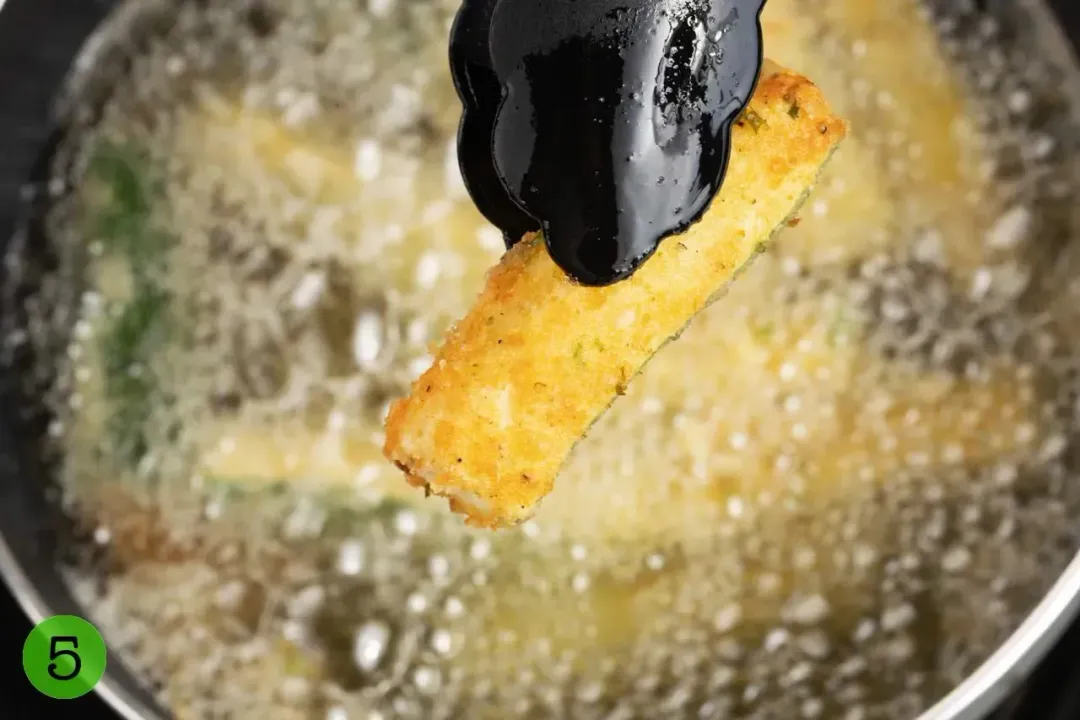 6
Serve with 3 tbsp mayonnaise.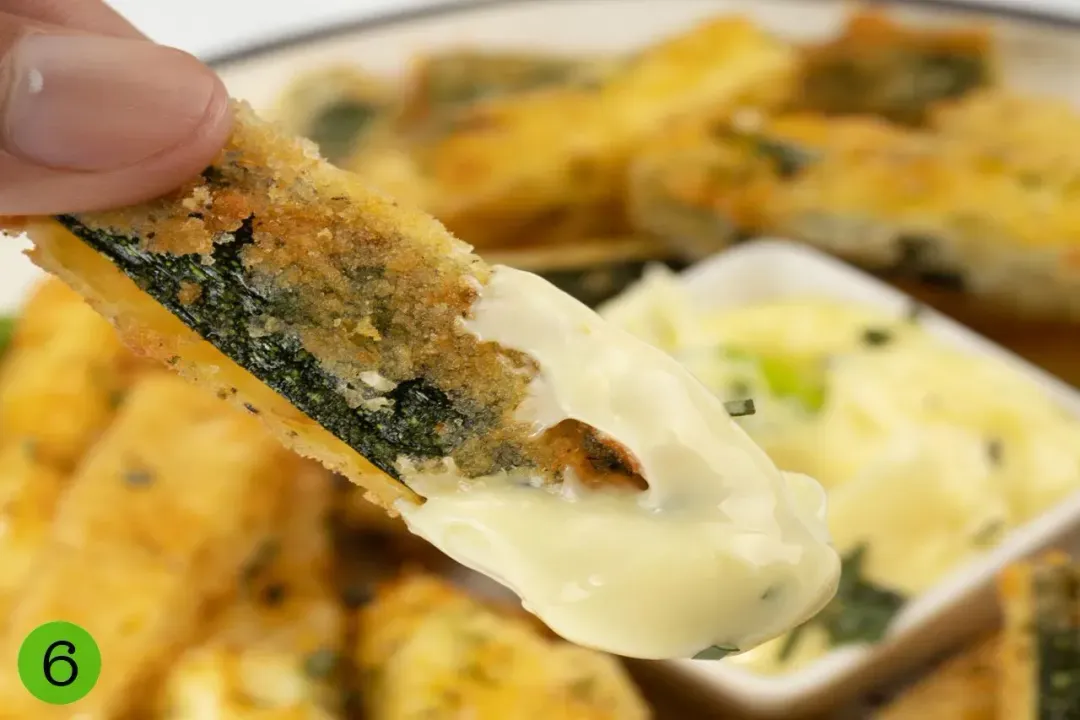 (*) Only part of these ingredients will end up in the final product and we have calculated nutritional values based on that amount. The whole amount is needed for the coating and cooking process, but what actually ends up being consumed is ½ a medium egg, 1 tbsp all-purpose flour and 3 tbsp canola oil.
Unlike fries or chicken nuggets, zucchini fries will get soggy when left in the air for just 3 - 4 minutes. We recommend eating them very soon after being taken out of the pot for the best experience.
NUTRITION
Nutrition Facts
Zucchini Fries
Amount Per Serving (1 serving)
Calories 237
Calories from Fat 180
% Daily Value*
* Percent Daily Values are based on a 2000 calorie diet.
Keywords: baked zucchini, baked zucchini recipes, baked zucchini sticks, fried zucchini recipe, zucchini fries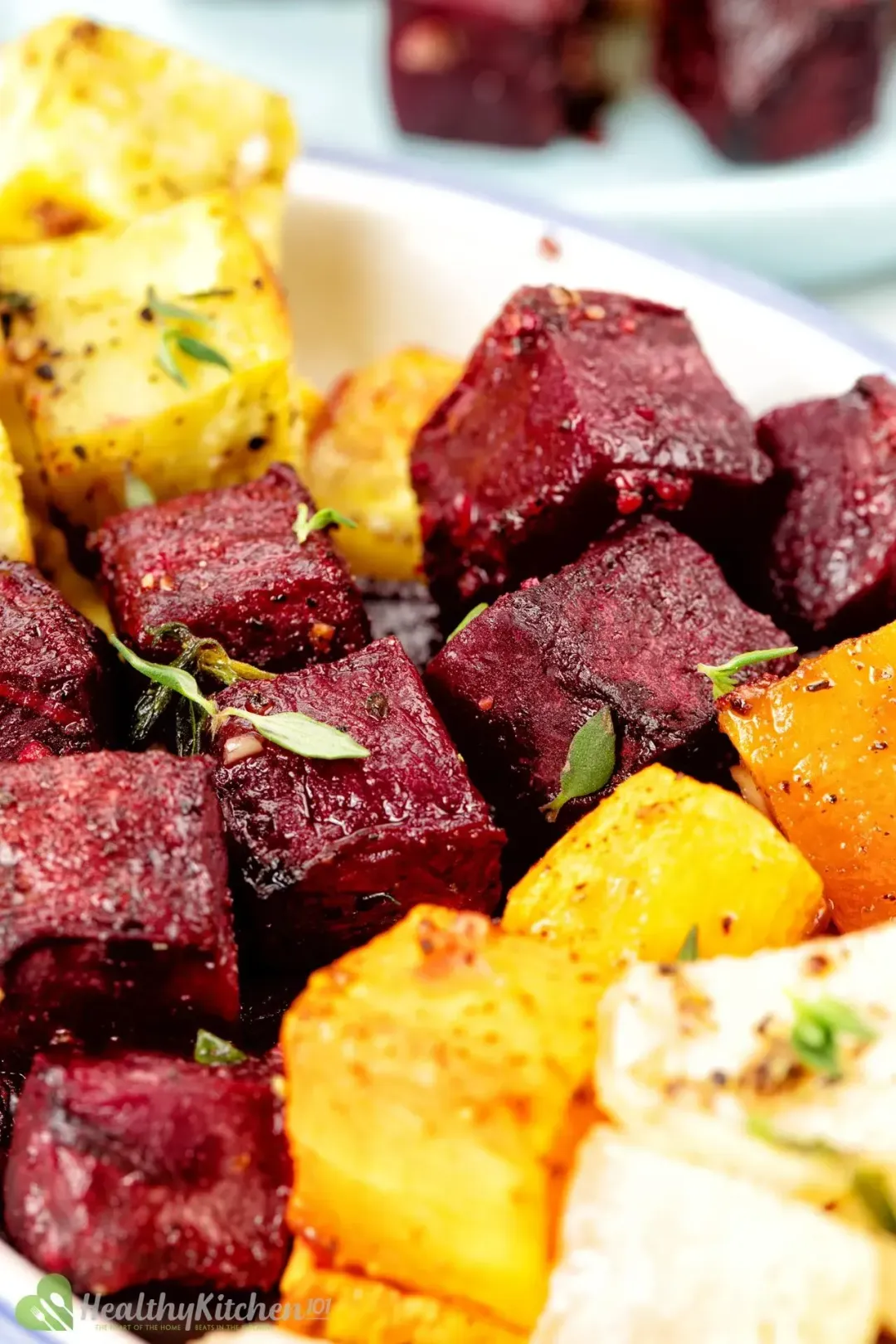 Previous Recipe
Roasted Beets
Roasted Beets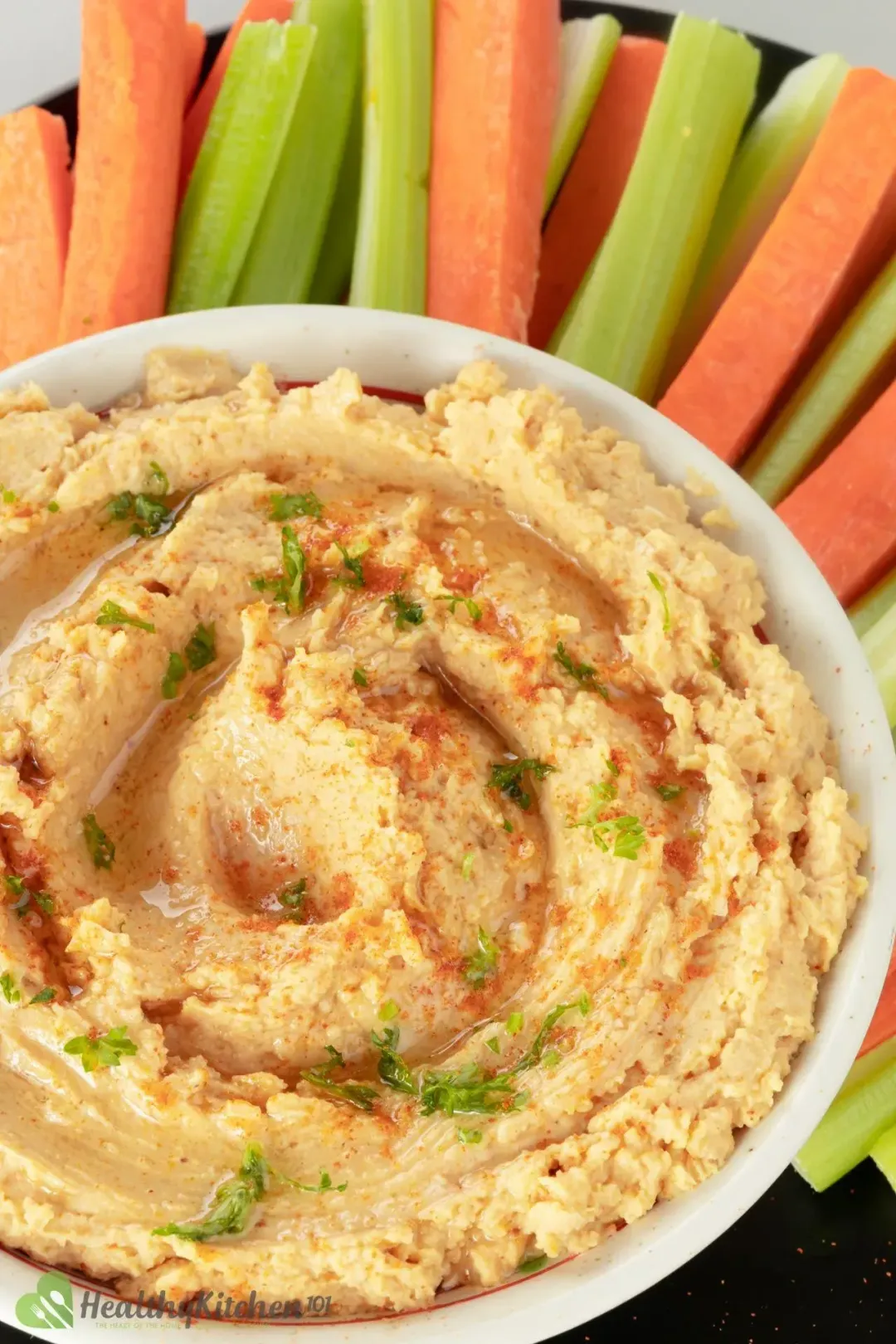 Next Recipe
Hummus with Tahini
Hummus with Tahini
Head Chef, Culinary Consultant
Tuyet Pham is an award-winning Saigonese chef who believes that joy is the secret ingredient to delicious food. At Healthy Recipes 101, Tuyet personally tests and simplifies every recipe, ensuring maximum flavor with minimal effort. With a background at prestigious French restaurants P'TI Saigon and Le Corto, Tuyet knows how to make every dish exceptional.
Writer, Author
Luna Regina is an accomplished writer and author who dedicates her career to empowering home cooks and making cooking effortless for everyone. She is the founder of HealthyKitchen101.com and HealthyRecipes101.com, where she works with her team to develop easy, nutritious recipes and help aspiring cooks choose the right kitchen appliances.
Nutrition Reviewer
Lizzie Streit is a Minneapolis-based dietitian and founder of It's a Veg World After All. She completed her MS in Human Nutrition from Drexel University, and is an expert in culinary nutrition, recipe development, and nutrition communications. Lizzie's philosophy is centered around making nutrition recommendations, and especially the advice to eat more vegetables, approachable and realistic. She is excited to be working with the team at Healthy Recipes 101 to ensure that their recipes are both nutritious and delicious.
I never tried Zucchini fries, but it looks so delicious and healthy. I have been looking for vegetarian recipe that are nutritious and tasty, and I am sure this will fit my taste. Cant wait to try it in my kitchen. Thanks

Saif

So glad we can help :D. Good luck!

These zucchini fries are delicious and so easy to make! They're a great side dish or snack with a nice crunchy texture. I'm glad I cooked them up!

Great tasting recipe. Yummy!