When strawberries and kiwis are abundant in the summer, it is the perfect time to prepare this easy strawberry kiwi juice recipe. It is delicious, refreshing, and ideal for those hot and sticky days.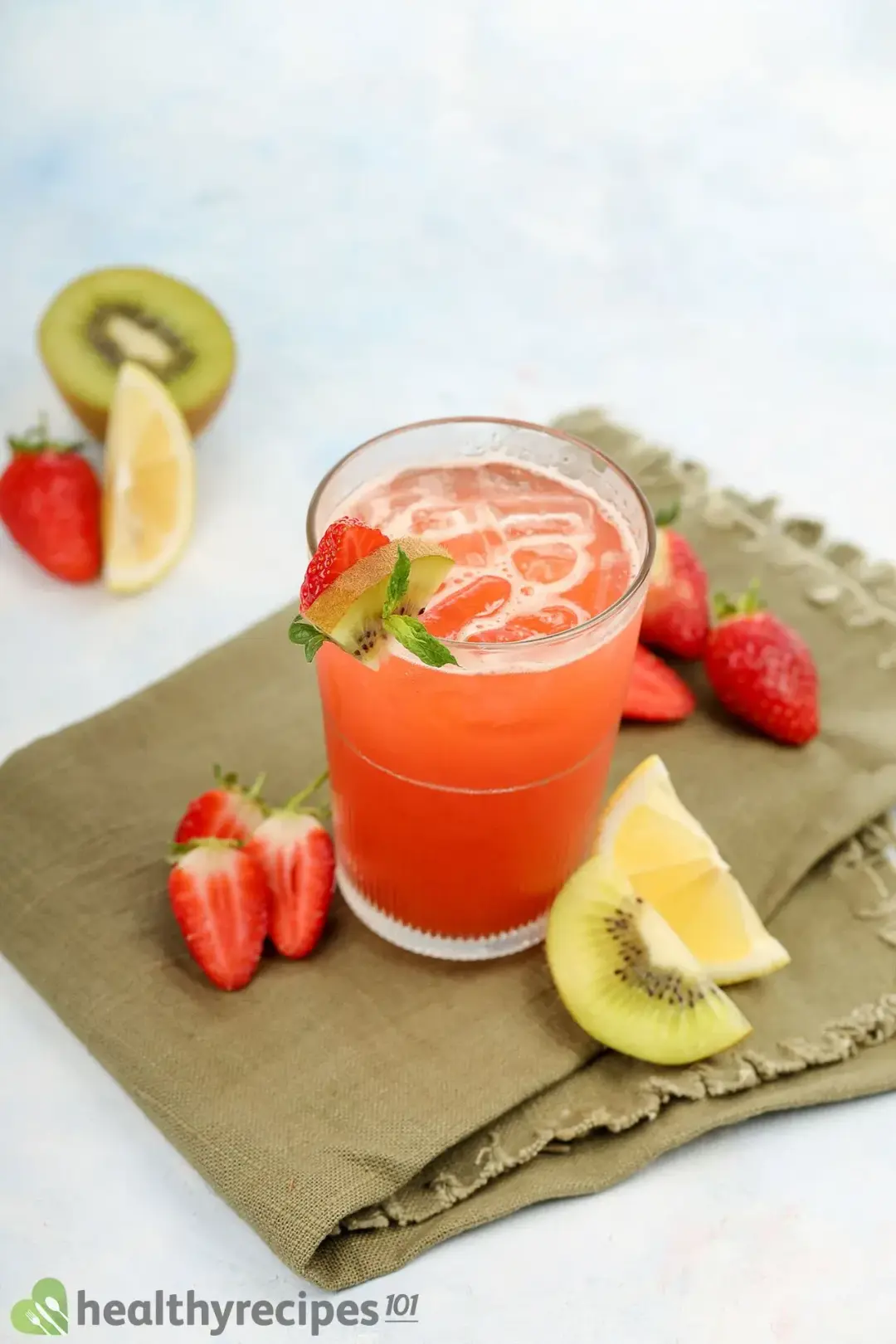 Strawberry Kiwi Juice's Benefits
Fresh fruits add health advantages to this strawberry kiwi juice due to their micronutrients. They include vitamins B, C, E, and K, as well as minerals like manganese and potassium.
Kiwis are high in nutrients and vitamins, particularly vitamin C. Specifically, one cup of this fruit has 56mg of vitamin C, 140% of the recommended daily allowance.
Vitamin C is an effective antioxidant that strengthens the immune system and removes damaging free radicals from the body. In other words, each sip of this delightful juice is packed with immune-boosting minerals.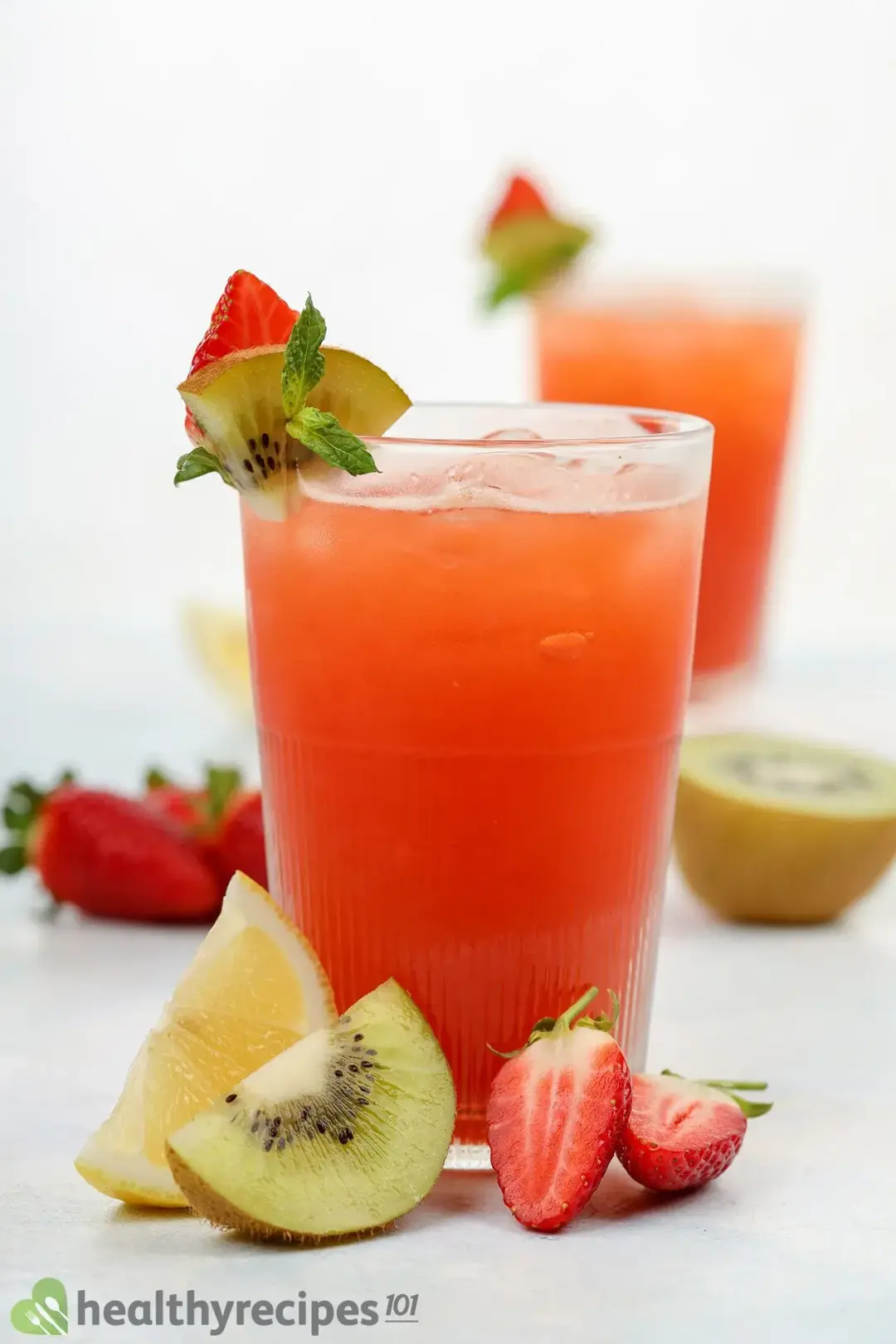 Strawberries are one of nature's most popular and delectable fruits and a rich source of antioxidants. Possible advantages of consuming strawberries include lowering the risk of heart disease, lowering blood pressure, enhancing brain function, and lowering the risk of cancer. 
We attempt to avoid adding excessive quantities of sugar or sugar-containing sweeteners when we make our juices. This juice includes just 6 grams of added sugar per serving, which is far below the USDA's limits.
Main Ingredients
Our strawberry kiwi juice combines strawberries, kiwis, and a few other simple ingredients to make an appealing drink.
The combination of slightly sour kiwi and sweet strawberry makes a fantastic blend. If ripe kiwi and strawberries are not available, feel free to substitute frozen fruits. Simply allow the fruits to defrost and juice them as you would with fresh fruits.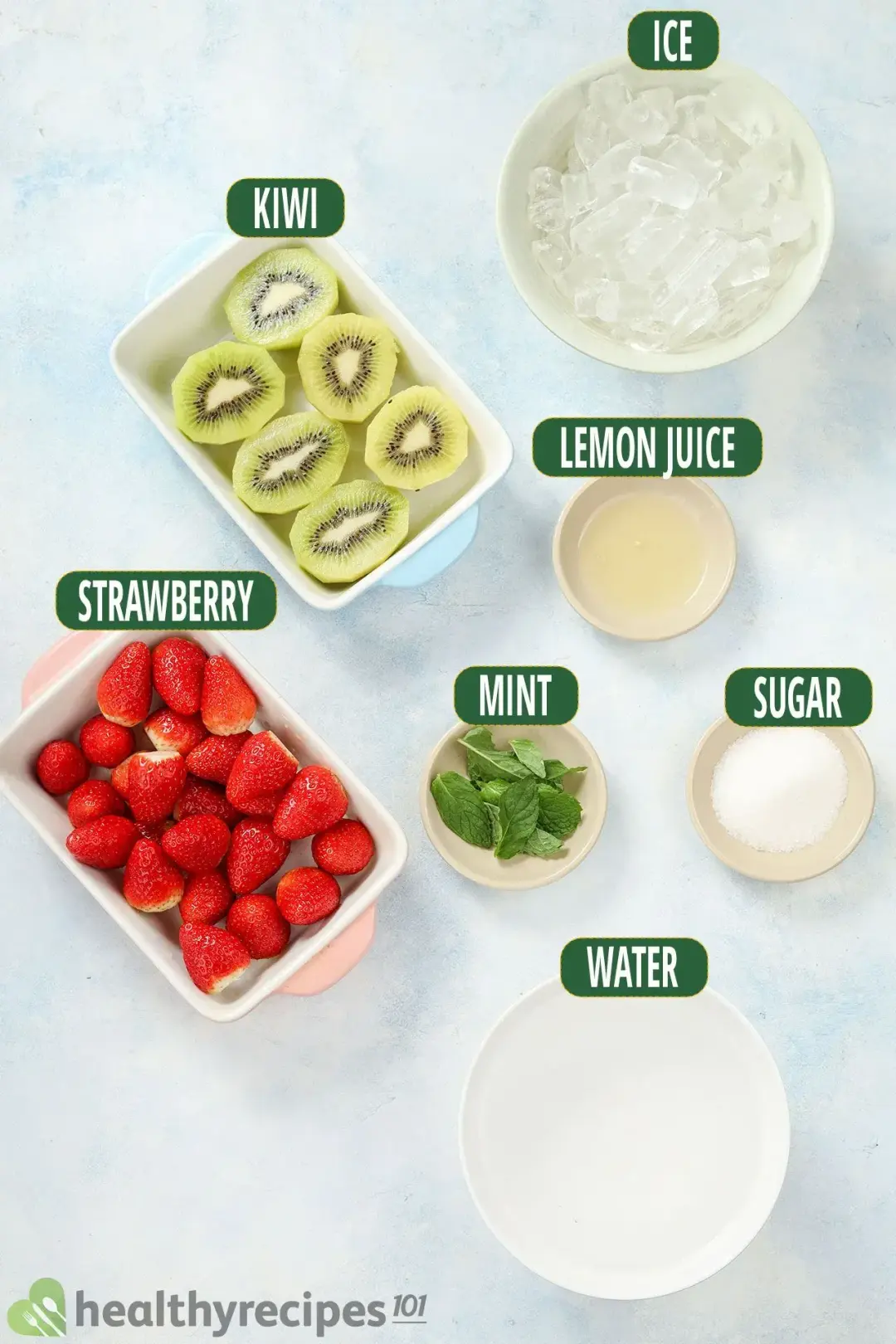 In this recipe, we add just enough sugar to balance out the tartness but not overpower the fruit flavor. As an alternative, you can use a liquid sweetener of your choice, like honey or maple syrup.
This strawberry kiwi juice is perfectly served with mint or basil for a refreshing touch. A little thyme or basil would also suffice.
Protip: If you like smooth juice, there is no need to throw away the leftover pulp. Instead, keep it to add to smoothies, baked goods such as bread, or even compost it. If you have an abundance, it may be frozen in ice cube trays for later use.
Can I Make This Juice in a Blender?
Yes, you can, and the blender creates the juice with the same quality as the juicer.
We prefer to individually blend the fruits and then combine them. To do this, place the strawberries and kiwis in separate dishes (if using an immersion blender) or just mix one fruit at a time using a blender and blend till smooth.
If you want pulpy juice, you can easily blend the two juices and add water, sparkling water, or coconut water to taste. Alternatively, the juice can be drained using a fine-mesh sieve lined with cheesecloth or a nut milk bag.
Storage Strawberry Kiwi Juice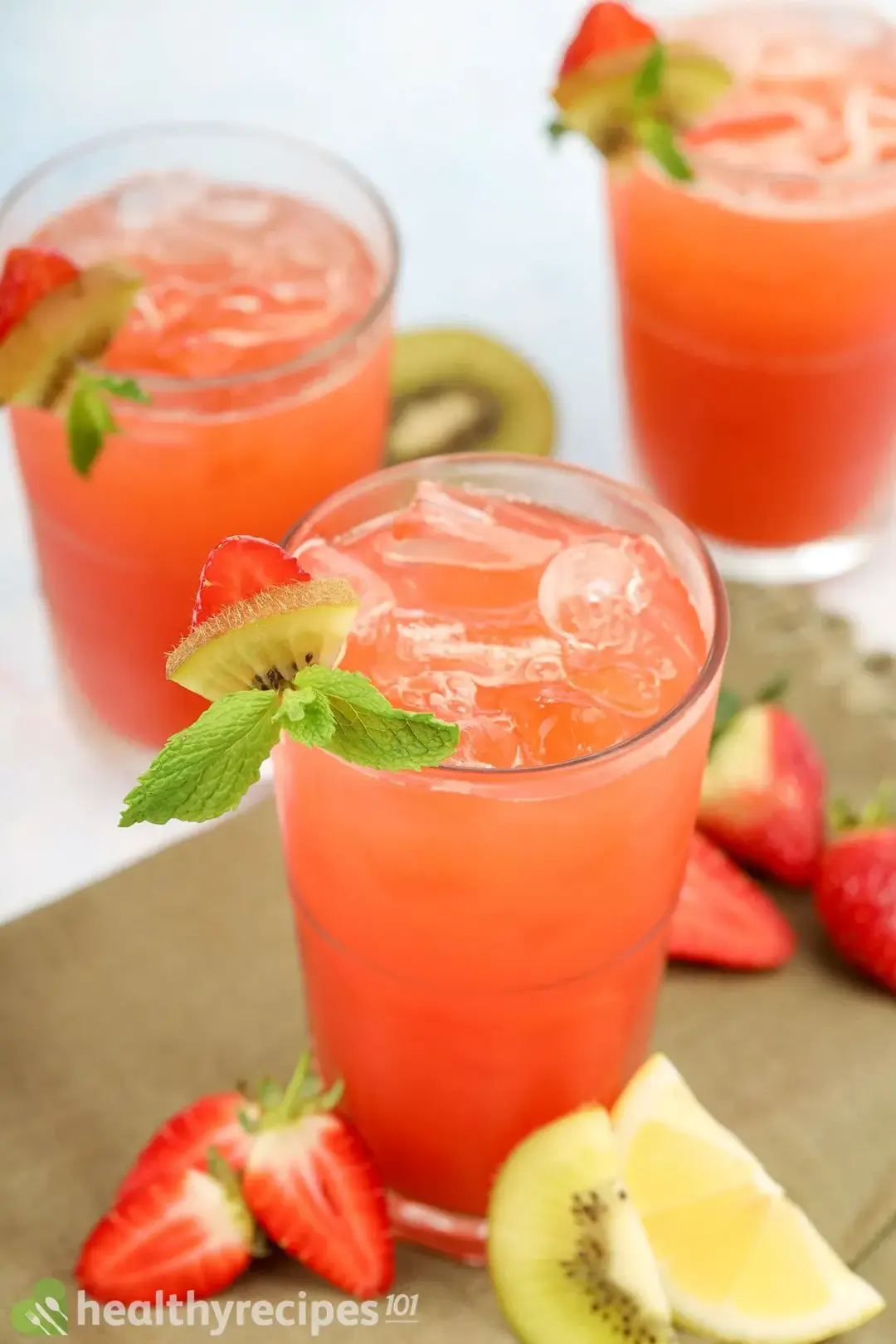 For maximum nutrition and freshness, we recommend consuming the strawberry kiwi juice within a few hours of preparation. Any leftovers can be stored in the refrigerator for two to three days in the fridge or the freezer for up to three months. For easy defrosting, we recommend storing each drink portion in a separate resealable bag.
Strawberry Kiwi Juice Recipe
This strawberry kiwi juice recipe makes a sweet, tangy, and extremely refreshing drink. And it's easy to make at home.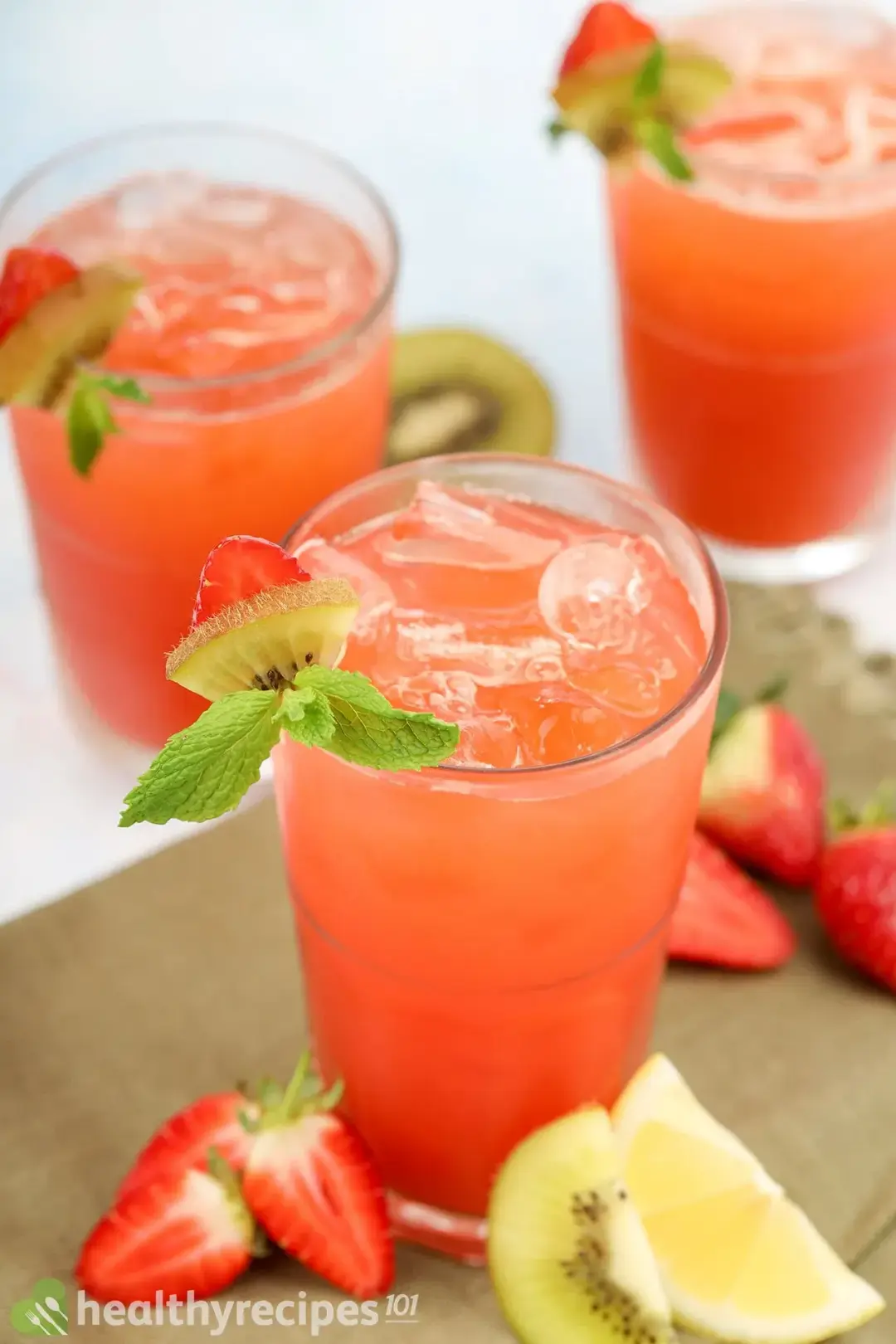 prep TIME

10 mins

total TIME

10 mins
COURSE

Beverage, Drinks

CUISINE

Global

SERVINGS

servings

CALORIES

95 kcal
INGREDIENTS
12 oz

strawberries

10 oz

kiwis

1 cup

water

2 tbsp

sugar

0.5 tbsp

lemon juice

2 cups

ice

8

mint leaves
INSTRUCTIONS
Preparation:
1
Remove the stems from the strawberries.
2
Peel the kiwi skin and cut the fruit into halves.
Instructions:
1
Juice the fruits: Run 12 oz strawberries and 10 oz kiwis through the juicer. Collect the juice into a large pitcher.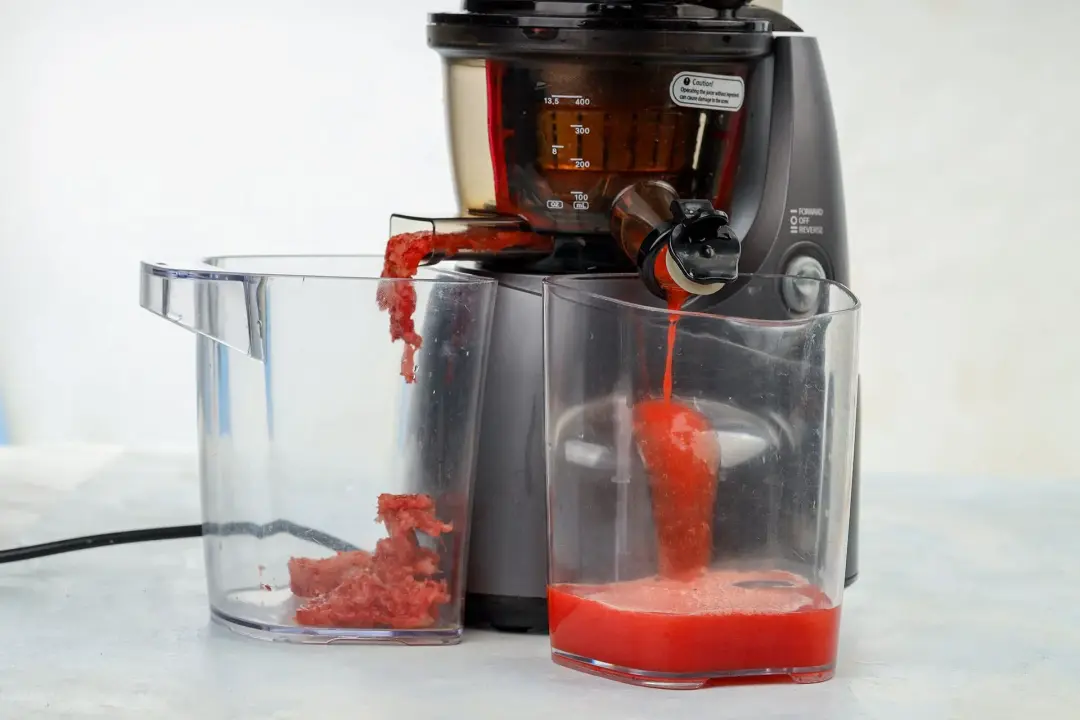 2
Add sugar, lemon juice, and water: Add 1 cup water, 2 tbsp sugar, and 1/2 tbsp lemon juice to the pitcher. Use a spoon to whisk until all the sugar is dissolved.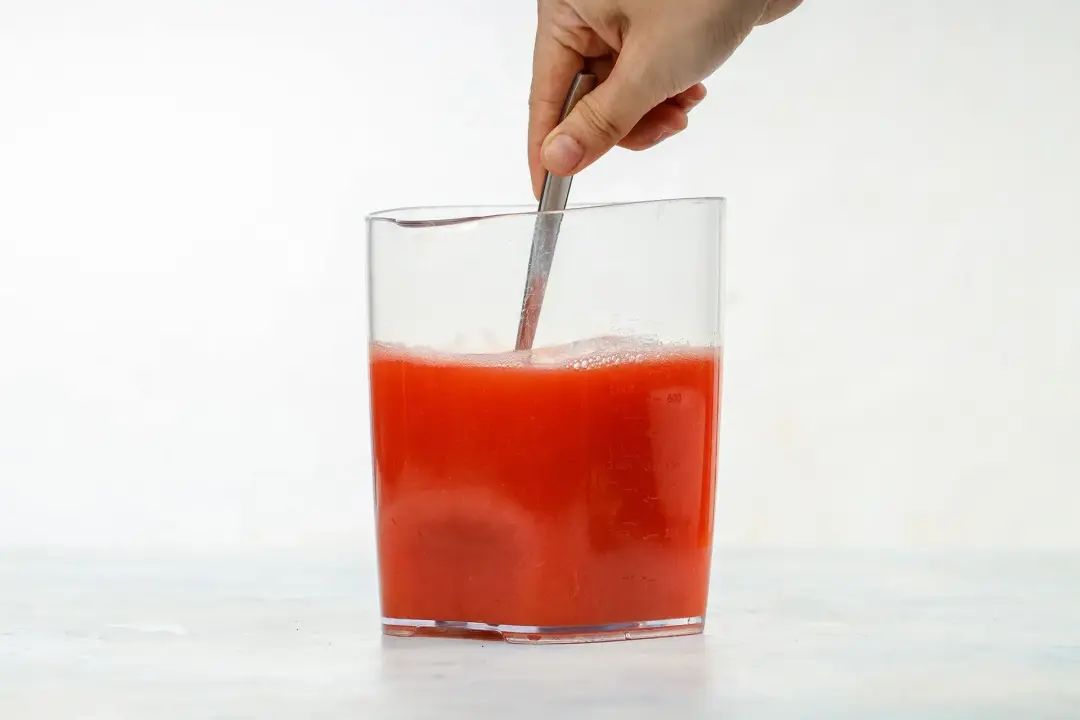 3
Serve the drink: Add 2 cups of ice to the pitcher. Pour the juice into serving glasses and garnish with mint leaves. Serve the drink immediately.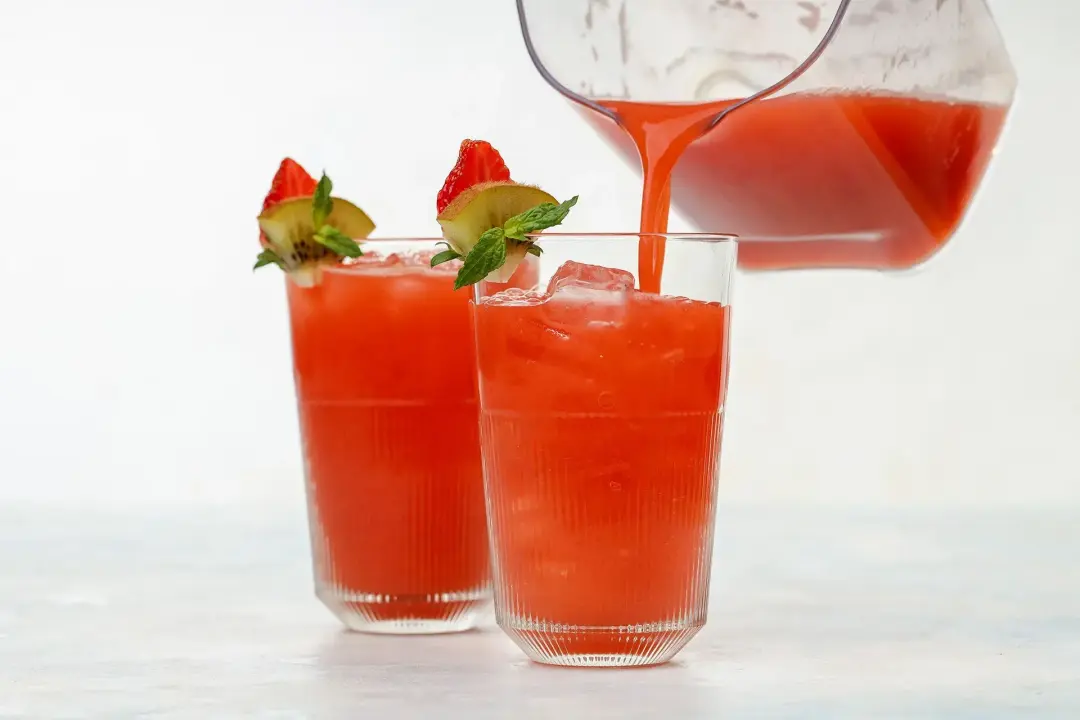 NUTRITION
Nutrition Facts
Strawberry Kiwi Juice Recipe
Amount Per Serving (1 serving)
Calories 95
Calories from FDA
% Daily Value*
* Percent Daily Values are based on a 2000 calorie diet.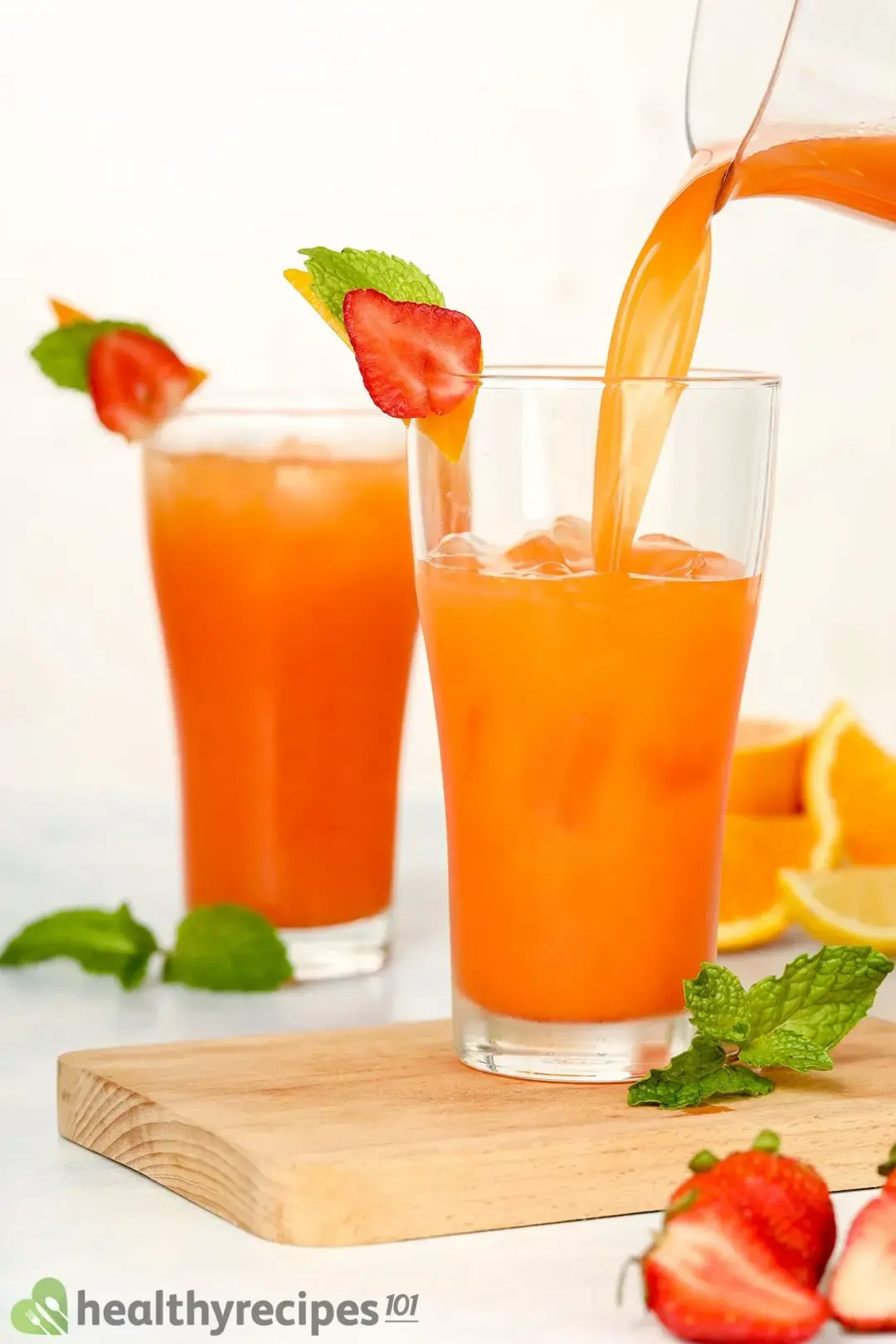 Previous Recipe
Strawberry Orange Juice
Strawberry Orange Juice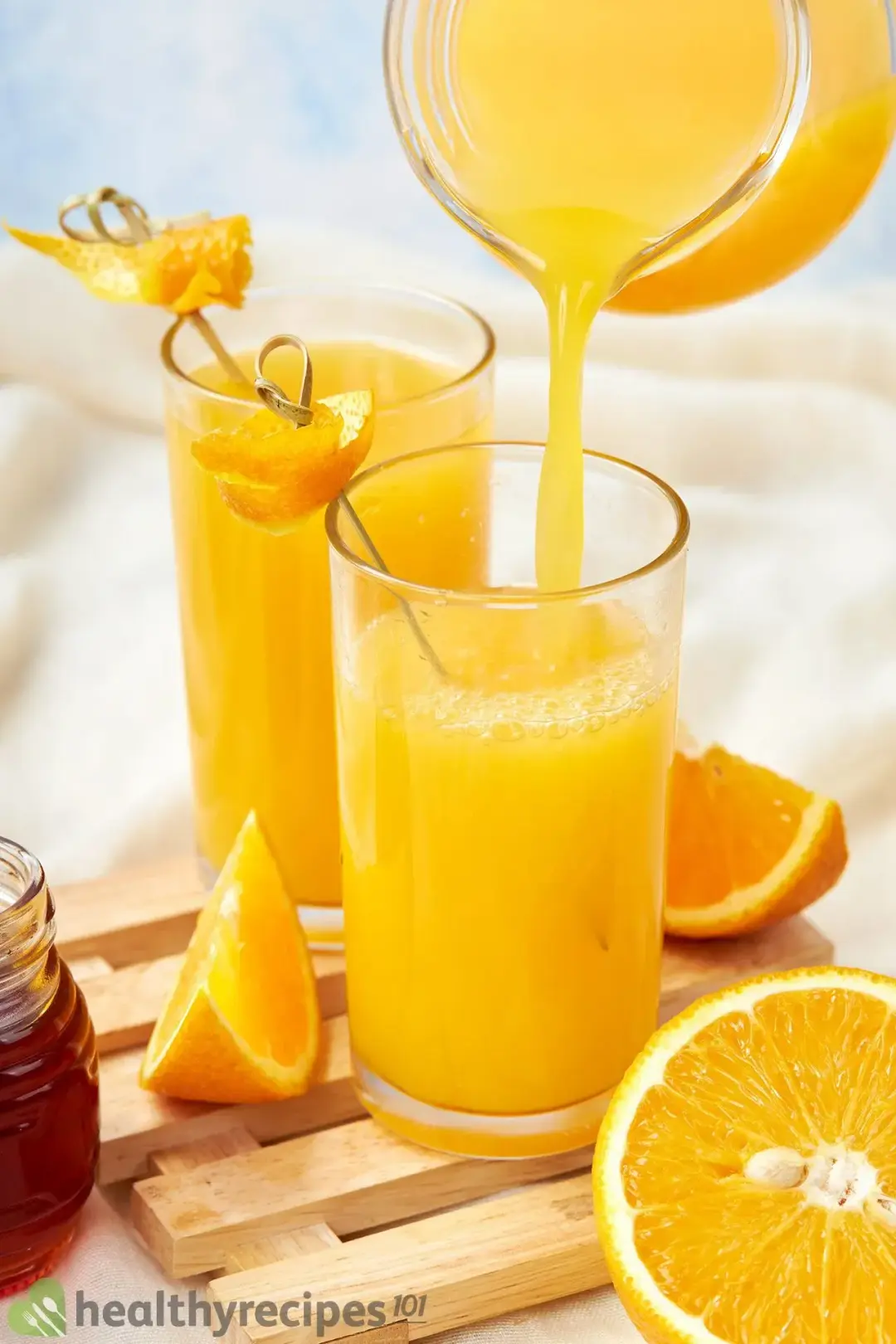 Next Recipe
Orange Juice Apple Cider Vinegar and Honey
Orange Juice Apple Cider Vinegar and Honey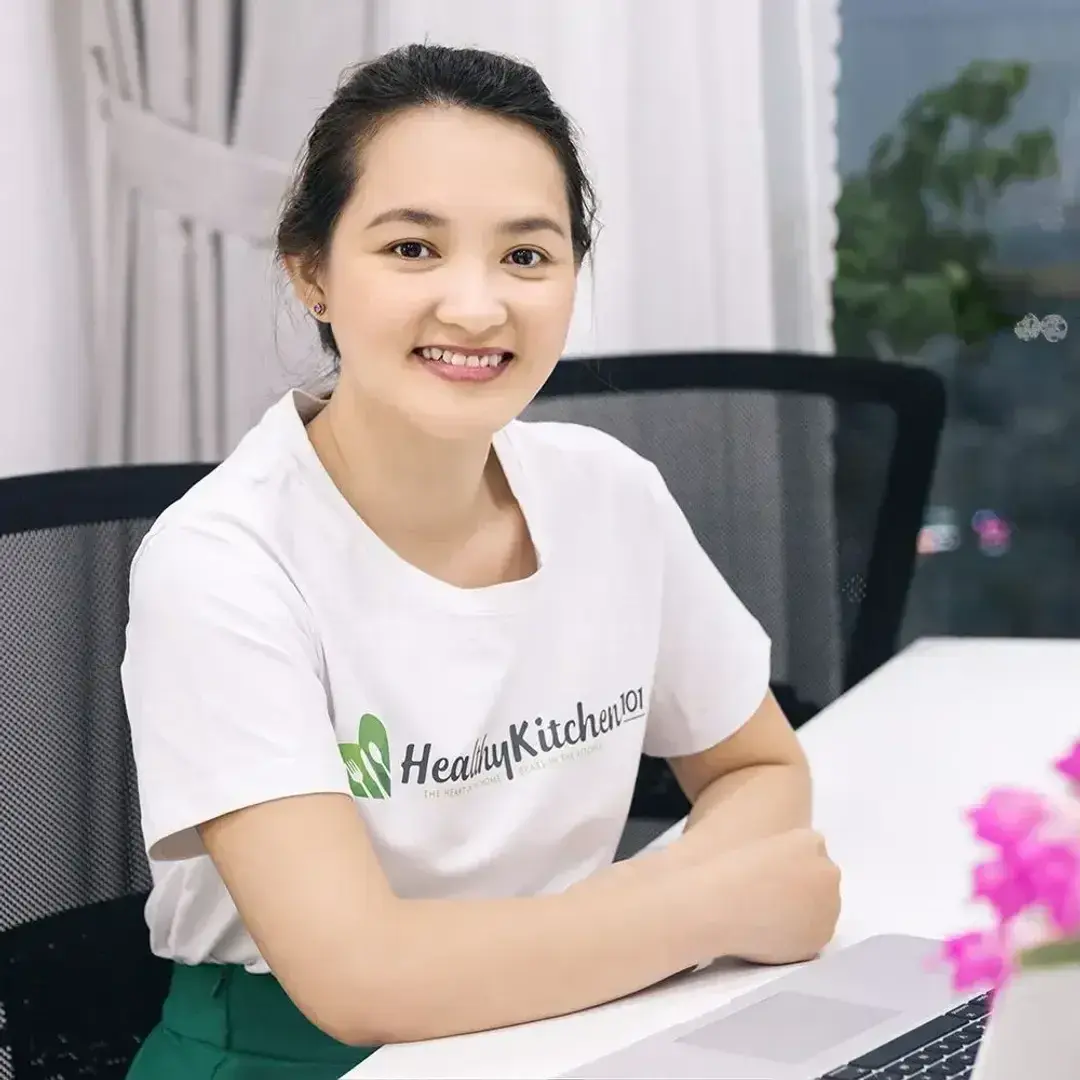 Luna Regina
Luna is the founder and chief recipe developer of Healthy Recipes 101. Apart from cooking, she also loves reading, programming, exploring the outdoors, and collecting useless facts about everything.