Summer brings both the need for extra refreshment and the solution by providing an abundance of berries. Blueberry season is upon us, and what better way to celebrate than making these blueberry juice recipes.
Blueberries have been hailed as a superfood, rich in antioxidants and plentiful in health benefits. They also happen to be delicious!
There are two main types of blueberry: wild (low-bush) and cultivated (high-bush). While both are good, the wild ones are a little superior in terms of flavor and nutrition, so keep an eye out for them.
If you are unable to buy fresh blueberries locally, you can usually find them in the frozen section of the grocery store. Whatever way you choose to get a nice cold cup of refreshing juice, let this list of the best blueberry juice recipes inspire you with interesting ways to create healthy drinks of your own.
Easy and Delicious Recipes
1. Blueberry Juice
This easy-to-make blueberry juice is a powerhouse of vitamins and nutrients. A dash of lemon juice is added to lend a pleasant tang to the juice. You only need a glass of it for a great addition to desserts and big meals! It's versatile and easily adjusted to your taste. You can skip the sweetener for less sweet juice, or enjoy it together with popsicles by the beach!
Go to Recipe
2. Blueberry Juice Recipe
This down-to-earth blueberry juice is a powerhouse of vitamins and nutrients. A dash of lemon juice is added to lend a pleasant tang to the juice. You only need a glass of it for a great addition to desserts and big meals!
Go to Recipe
3. Blueberry Lemonade
Indulge in the epitome of summer refreshment with this tantalizing Blueberry Lemonade. This exquisite concoction seamlessly blends the vibrant sweetness of plump, sun-kissed blueberries with the zesty tang of freshly squeezed lemons, creating a symphony of taste that is both refreshing and invigorating. Its vibrant hue, reminiscent of summer twilight, beckons with promises of cool respite and pure delight. Whether you're having fun in the sun, or just lounging away indoors, have a cold glass in your hand and it's a great time guaranteed.
Go to Recipe
4. Blueberry Mojito
Embark on a journey of taste and elegance with the enchanting Blueberry Mojito. This captivating libation combines the timeless allure of a classic mojito with plump, juicy blueberries. As you take a sip, the cool, crisp mint awakens your taste buds, infusing the drink with a revitalizing essence. It is a harmonious marriage of flavors, where the sweetness of the blueberries and the invigorating freshness of the mint intertwine, creating a symphony of taste that is both exhilarating and soothing.
Go to Recipe
5. Hibiscus & Blueberry Agua Fresca
Agua fresca is a Mexican beverage that's well-loved for its simplicity and incredible ability to rejuvenate your palate in a blink of an eye. With this recipe, hibiscus syrup and blended blueberries are mixed with chilled water, lime juice, and agave to make a delicate and refreshing mixture. Add a few crushed ice and mint leaves and you've got yourself a foolproof summer drink to beat that scorching summer heat.
Go to Recipe
6. Blueberry Colada
If you like piña colada (and perhaps getting caught in the rain), then put this blueberry colada on the menu as well. It's a bright, cheerful concoction of blueberry lime juice, pineapple juice, coconut milk, and rum. That classic tropical goodness still takes center stage and makes each sip feel like a trip to a tropical paradise. However, with blueberry in the mix, you'll also be treated to a delightful sweet-tart twist—a solid choice for livening up any outdoor parties and summer festivities.
Go to Recipe
7. Blueberry Milk
It's amazing just how many different drinks you can make with blueberry juice. With this recipe, fresh, plump blueberries are simmered with sugar until the juice reaches a slightly thick consistency, then whisked together with milk and maple syrup. The result is an irresistible drink with an eye-catching color and irresistibly sweet taste that will keep you coming back for more.
Go to Recipe
8. Lavender Blueberry Gin Sparkler
No matter the occasion, you certainly can't go wrong with this lavender blueberry gin sparkler. It's a bubbly drink that fizzles in your mouth with a sweet-tart taste and lovely hints of floral. The gin imparts that subtle citrusy, piney undertone that lingers delicately in the aftertaste. Savor each sip of this drink, relish in its magical flavors, and let it awaken your senses and rejuvenate your spirit.
Go to Recipe
9. Blueberry Cabbage Juice
Blueberry, red cabbage, cucumber, and apple come together to make this delightful and healthy juice. The fruits offer such a vibrant sweetness that you'll barely be able to detect the red cabbage. It's the perfect summer thirst quencher to keep your body nourished and hydrated while still sipping on something that's utterly delightful.
Go to Recipe
10. Sparkling Blueberry Ginger Mocktail
From poolside parties to backyard BBQs, this sparkling mocktail makes a perfect companion for all your summer festivities. This delightful concoction features a naturally sweetened simple syrup infused with the flavors of fresh or frozen blueberries, fragrant ginger, aromatic rosemary, and pure water. Then, the sparkling water joins the mix and tingles your taste buds with its joyful, fizzy touch.
Go to Recipe
Healthy Benefits 
Perhaps the most well-known health benefit of blueberries is their high antioxidant content. Antioxidants combat free radicals and oxidative stress. This helps reduce damage to cells, which in turn reduces inflammation and your risk for various diseases and cancers.
Drinking blueberry juice is a great way to add more antioxidants to your diet. The darker the berries are, the more antioxidants they have.
Blueberry Juice Benefits Weight Loss
A 1-cup serving of blueberries contains 4g of fiber, 14% of your daily value (DV). However, when you look at the nutrition label for a bottle of blueberry juice, it often contains 0g of fiber.
Sometimes nutrients are lost during processing. If you make your own blueberry juice employing the blending method, you are more likely to retain this fiber as you are using the entire berry.
Fiber is a great tool for weight loss as it aids digestion. It can help keep you regular, as well as make you feel full. If you feel full, you eat less. One study showed that even if nothing else in a lifestyle was changed, including more fiber in the diet led to weight loss.
Fiber is also linked to reduced belly fat and increased insulin sensitivity. Insulin helps regulate blood glucose levels. When the body's insulin response is damaged, it's harder to lose weight and temper appetite.
1. Benefits for Skin
The antioxidants present in blueberries can have anti-aging effects on the skin. They protect skin cells from free radicals and their oxidative damage, which is the main contributor to the appearance of aged skin.
Vitamin C, present in blueberries and blueberry juice, is often used in skincare products because of its many positive effects. These effects include increased collagen production, assisting in wound healing, minimizing raised scar formation, hydrating skin, and protecting against UV damage.
Blueberries have also been linked to improving inflammatory skin conditions, such as psoriasis, eczema, and acne. Inflammation is caused by free radicals and oxidants, so adding more antioxidants to your diet can help with many inflammatory conditions.
2. Improve Neurological Health
Daily blueberry consumption has been found to improve cognitive function. It can help increase brain activity and executive functions (the ability to plan, multi-task, remember, etc.), linked to increased blood flow to the brain.
Blueberry juice can help improve memory in older adults. This is good news with an ever-increasing rate of dementia. The best way to deal with dementia and Alzheimer's disease is to take preventative measures, and including blueberry juice in your daily diet is one of them.
3. Reduce the Risk of High Blood Pressure
Blueberries can help reduce the risk of high blood pressure. High blood pressure can damage blood vessels and lead to an increased risk of blood clots, stroke, and heart attack.
Blueberries contain anthocyanins (a type of flavonoid), which have been linked to lowering blood pressure.
4. UTI Prevention
UTIs (urinary tract infections) cause a lot of discomforts. Cranberry juice is often recommended to treat (and help prevent) UTIs, but blueberries can also help. It is thought that blueberries, like cranberries, help keep bacteria from attaching to the lining of the urinary tract, thus preventing infections.
How to Make
Blueberry juice can have less nutritional value than blueberries themselves, so be sure to look out for good brands, or make your own to preserve nutrients. 100% blueberry juice is not as easy to find in the store as other juices. It's usually available in juice blends or with a lot of added sugar. If you're unable to find it at your store, or simply want to make it from scratch (having control over the method and ingredients), there are a couple of methods for making blueberry juice at home.
1. Good Rinsing
If you are able to get organic blueberries, a good rinsing should suffice. If your blueberries are not organic, there is a high probability pesticide have been used during their cultivation, so it's good to soak them.
A simple soak can be made by adding vinegar to the water your blueberries are soaking in. It is recommended to use four parts water to one part vinegar (we usually use white vinegar), and let the berries sit for 10 minutes. After, rinse them once more.
2. Methods
You can pop your blueberries into a blender with the option of adding sugar. Blueberries can be a mixed bunch in terms of sweetness and tartness, so, adding something else to accentuate the sweetness can make the juice even more delicious. We often add a dash of maple syrup.
You can add water to the blueberries before blending to improve the texture. When you blend berries without water, you tend to get more of a purée than a juice. A cup of blueberries can be blended with a cup of water for an easily drinkable consistency. Blend until the juice is smooth.
If you don't like little blueberry skin pieces in your drink, you can always pass it through a strainer, but bear in mind that the skin has added nutrition.
Another way to make blueberry juice is to boil the blueberries in water. You can use a spoon during the boiling process to squish juice out, then strain. Or, boil until the blueberries are noticeably softer, let cool, and then place into a cheesecloth and squeeze out the juice over a bowl.
Some swear by this method and appreciate the smoothness, but this method causes you to lose more nutrients from the berries.
3. Additions for Blueberry Juices
Blueberry juice is another versatile drink that tastes great with many optional add-ins.
A splash of lemon juice will add a little zing to the drink as well as help protect against oxidation (especially if you've added other fruits). Other berries will add more flavor and color. Incorporating other refreshing fruits such as melon is also a great option.
There are so many possibilities, and we hope our top 10 blueberry recipes will give you a starting point.
4. Storage
Blueberry juice can be kept in the fridge for up to 3 days. After that, it can start to turn. Any freshly squeezed juice will always taste best the first day you make it. You can potentially store it in the freezer for up to 3 months, but freezing can alter the taste and texture a bit.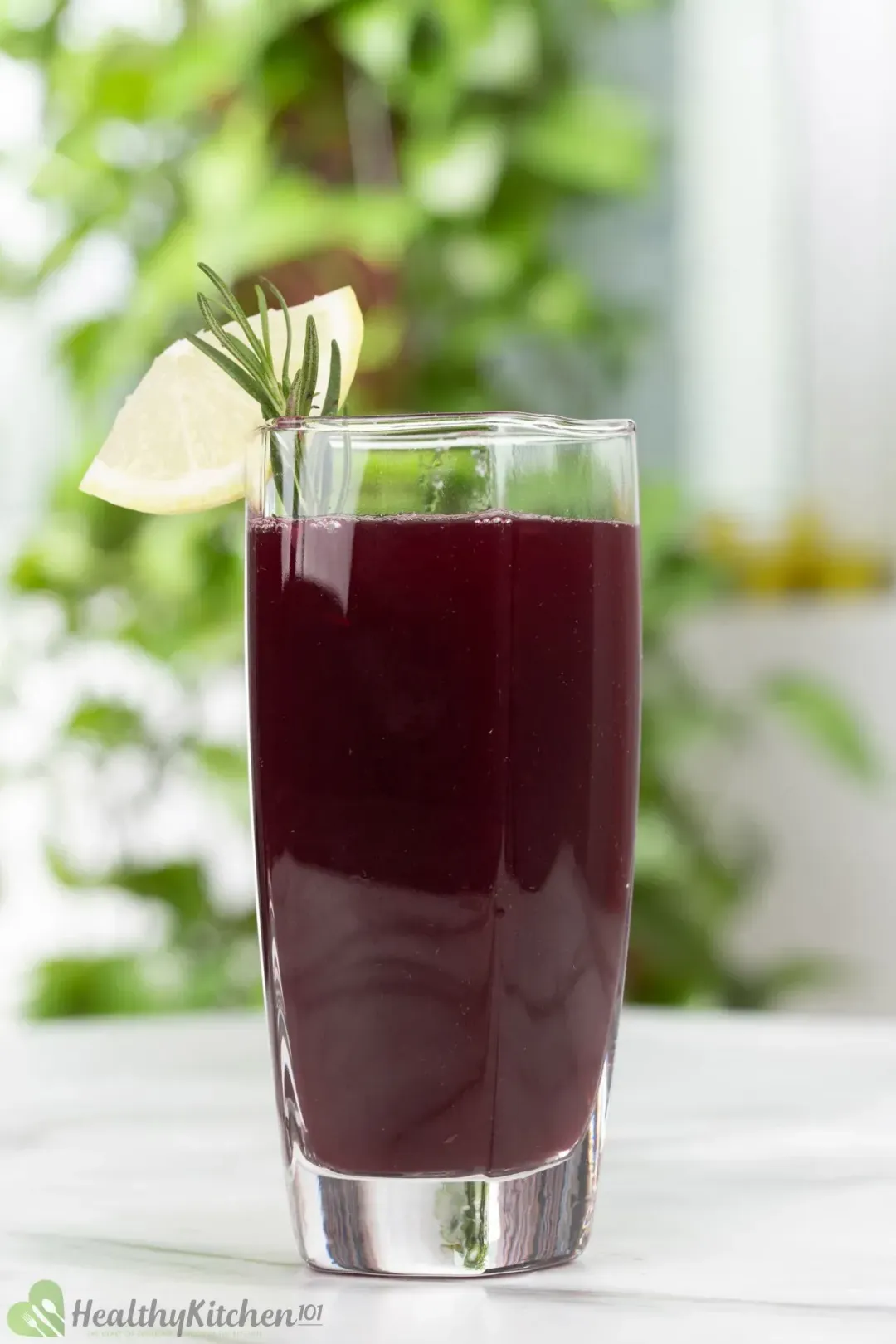 FAQ 
1. Is This Juice Good for You?
Blueberry juice is great for you. It has been linked to a host of health benefits, such as lowered blood pressure, improved memory, reduced inflammation, protection against UTIs, anti-aging effects for skin, weight loss, and anti-diabetic properties.
Blueberries have been termed "one of the best functional fruits." Their many antioxidant components and plant compounds have been shown to prevent degenerative diseases, as well as reduce the risks of cancer, obesity, and heart disease.
They have been associated with reduced depressive symptoms and blood glucose levels. Blueberry juice has the potential to improve both mental and physical health, and that's why you should consider including it as part of your daily routine.
2. How Much Should I Drink a Day?
A recent study found that eating a cup of blueberries each day helped reduce the risk of cardiovascular disease by up to 15%. If you're making blueberry juice at home, a cup of blueberries can be used to make a glass of juice, covering your 1 cup quota for improved heart health.
Studies linking blueberry juice to health benefits have used from as little as 1 oz of concentrate (which you can dilute into an 8 oz drink) to as much as 16 oz of blueberry juice daily. We would recommend starting with an 8 oz cup of blueberry juice a day and seeing how your body responds.
3. Do Blueberries Have Side Effects?
Generally considered safe, there are just a couple of things to note when consuming blueberries. Blueberries have been observed to lower the blood sugar levels of people with diabetes. While this sounds like a benefit, it can have negative side effects, such as hypoglycemia, if combined with blood-sugar-lowering medications.
You should avoid blueberries if you have G6PD deficiency. This deficiency is a condition where red blood cells start to break down if they come into contact with specific chemicals or medications. Some of these are present in blueberries, so if you have G6PD deficiency, either exclude them from your diet or check with your healthcare provider.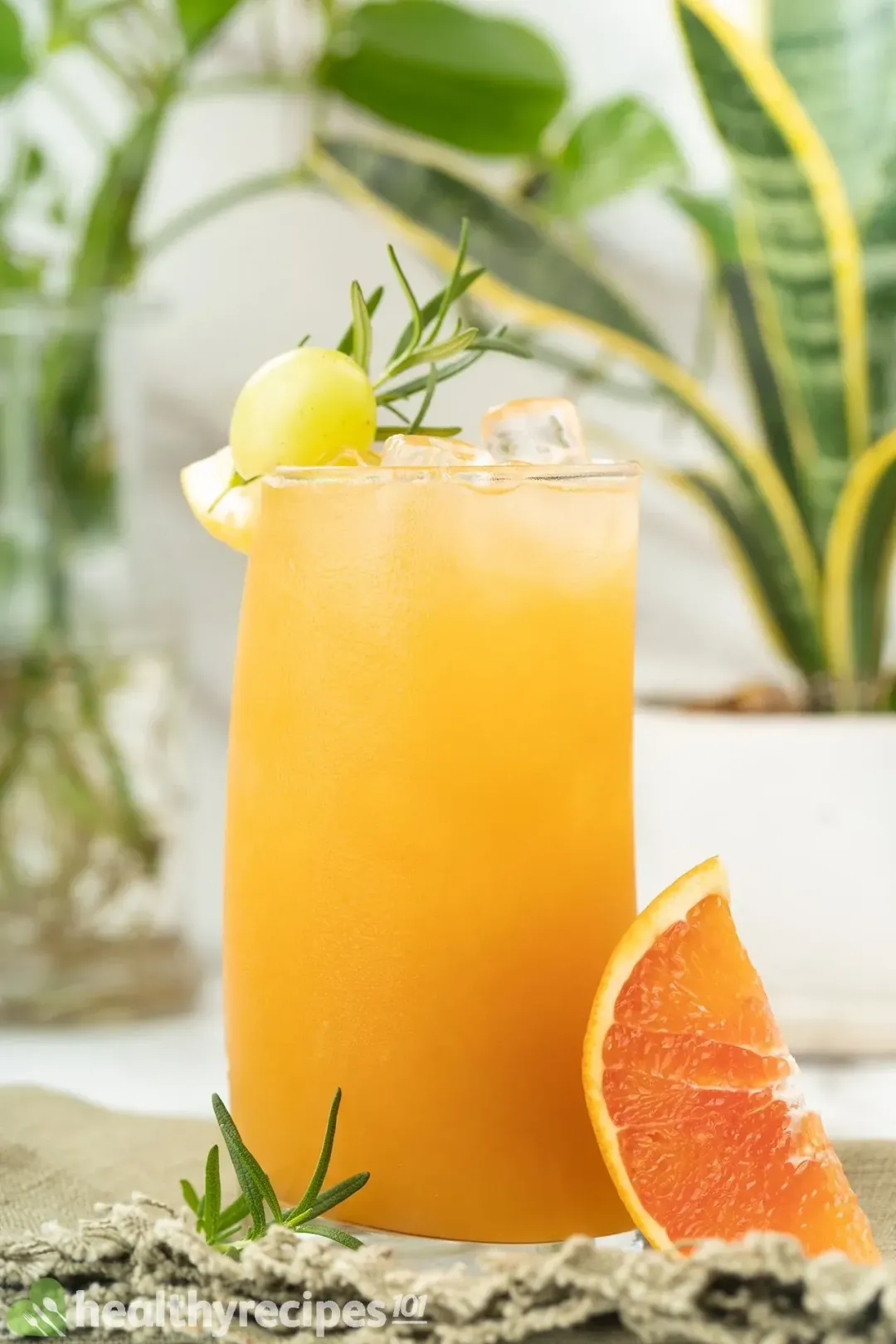 Previous Recipe
Grapefruit Juice Recipes
Grapefruit Juice Recipes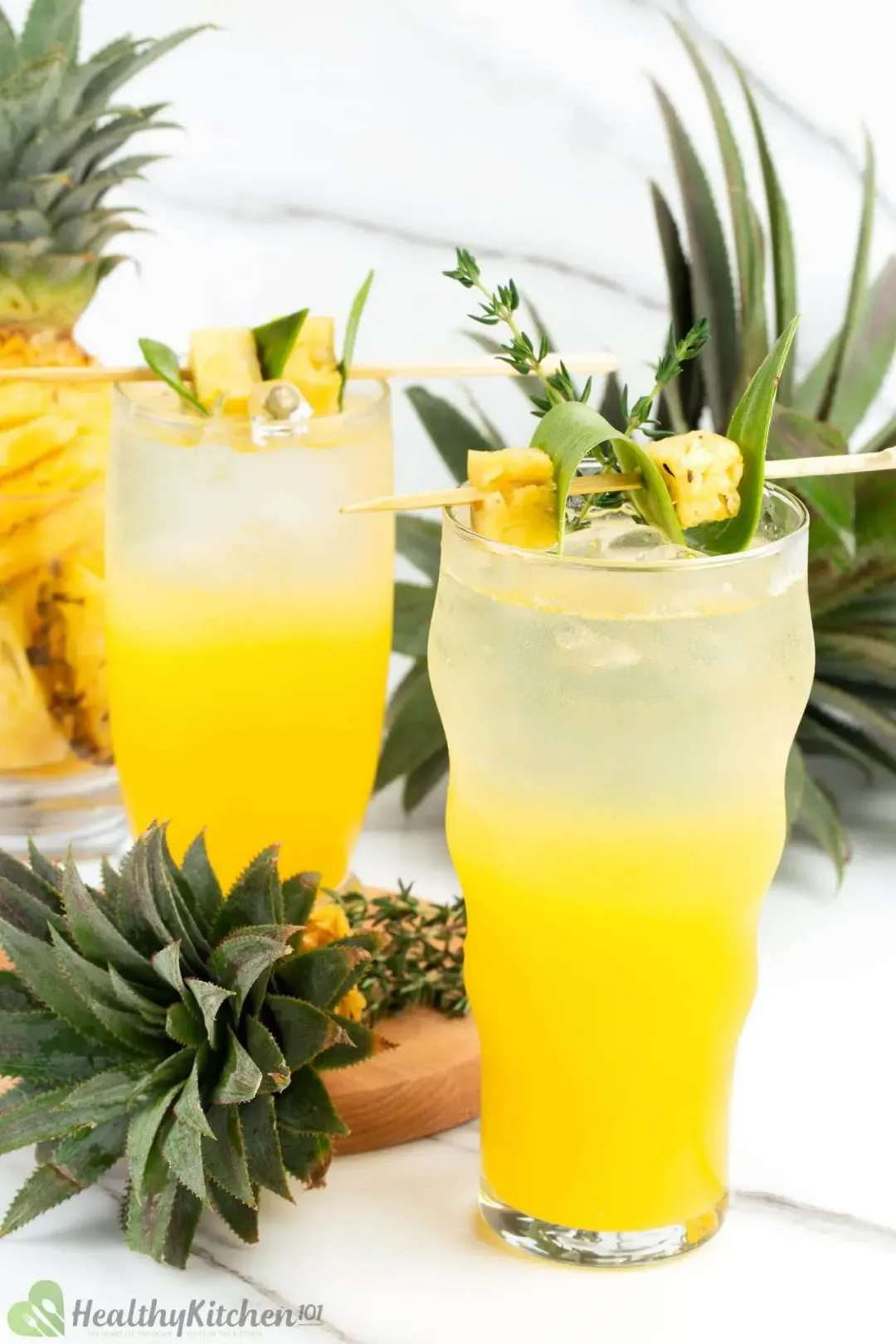 Next Recipe
Top 15 Pineapple Juice Recipes
Top 15 Pineapple Juice Recipes
Writer, Author
Luna Regina is an accomplished writer and author who dedicates her career to empowering home cooks and making cooking effortless for everyone. She is the founder of HealthyKitchen101.com and HealthyRecipes101.com, where she works with her team to develop easy, nutritious recipes and help aspiring cooks choose the right kitchen appliances.
Comments/ Reviews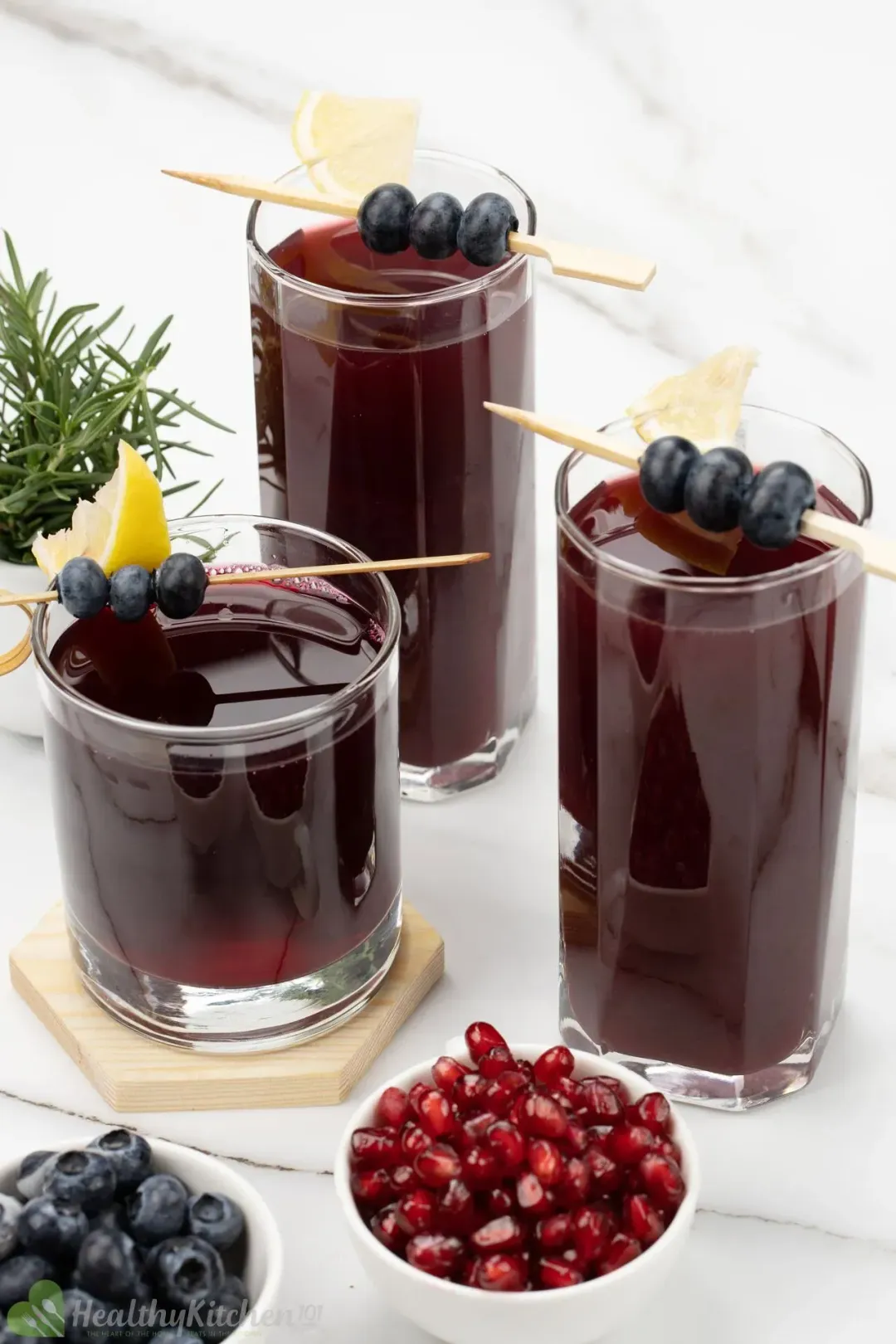 Love this unsweetened blueberry juice! So sweet and refreshing!

Refreshing and nutritious blueberry juice recipes!