Summer brings both the need for extra refreshment and the solution by providing an abundance of berries. Blueberry season is upon us, and what better way to celebrate than making some delicious blueberry juice.
Blueberries have been hailed as a superfood, rich in antioxidants and plentiful in health benefits. They also happen to be delicious!
There are two main types of blueberry: wild (low-bush) and cultivated (high-bush). While both are good, the wild ones are a little superior in terms of flavor and nutrition, so keep an eye out for them.
If you are unable to buy fresh blueberries locally, you can usually find them in the frozen section of the grocery store. Whatever way you choose to get a nice cold cup of refreshing juice, let this list of the best blueberry juice recipes inspire you with interesting ways to create healthy drinks of your own.
But first things first, let's talk a bit about why blueberries are the choice to consider.
Blueberry Juice Benefits 
Perhaps the most well-known health benefit of blueberries is their high antioxidant content. Antioxidants combat free radicals and oxidative stress. This helps reduce damage to cells, which in turn reduces inflammation and your risk for various diseases and cancers.
Drinking blueberry juice is a great way to add more antioxidants to your diet. The darker the berries are, the more antioxidants they have.
1. For Weight Loss
A 1-cup serving of blueberries contains 4g of fiber, 14% of your daily value (DV). However, when you look at the nutrition label for a bottle of blueberry juice, it often contains 0g of fiber.
Sometimes nutrients are lost during processing. If you make your own blueberry juice employing the blending method, you are more likely to retain this fiber as you are using the entire berry.
Fiber is a great tool for weight loss as it aids digestion. It can help keep you regular, as well as make you feel full. If you feel full, you eat less. One study showed that even if nothing else in a lifestyle was changed, including more fiber in the diet led to weight loss.
Fiber is also linked to reduced belly fat and increased insulin sensitivity. Insulin helps regulate blood glucose levels. When the body's insulin response is damaged, it's harder to lose weight and temper appetite.
2. for Skin
The antioxidants present in blueberries can have anti-aging effects on the skin. They protect skin cells from free radicals and their oxidative damage, which is the main contributor to the appearance of aged skin.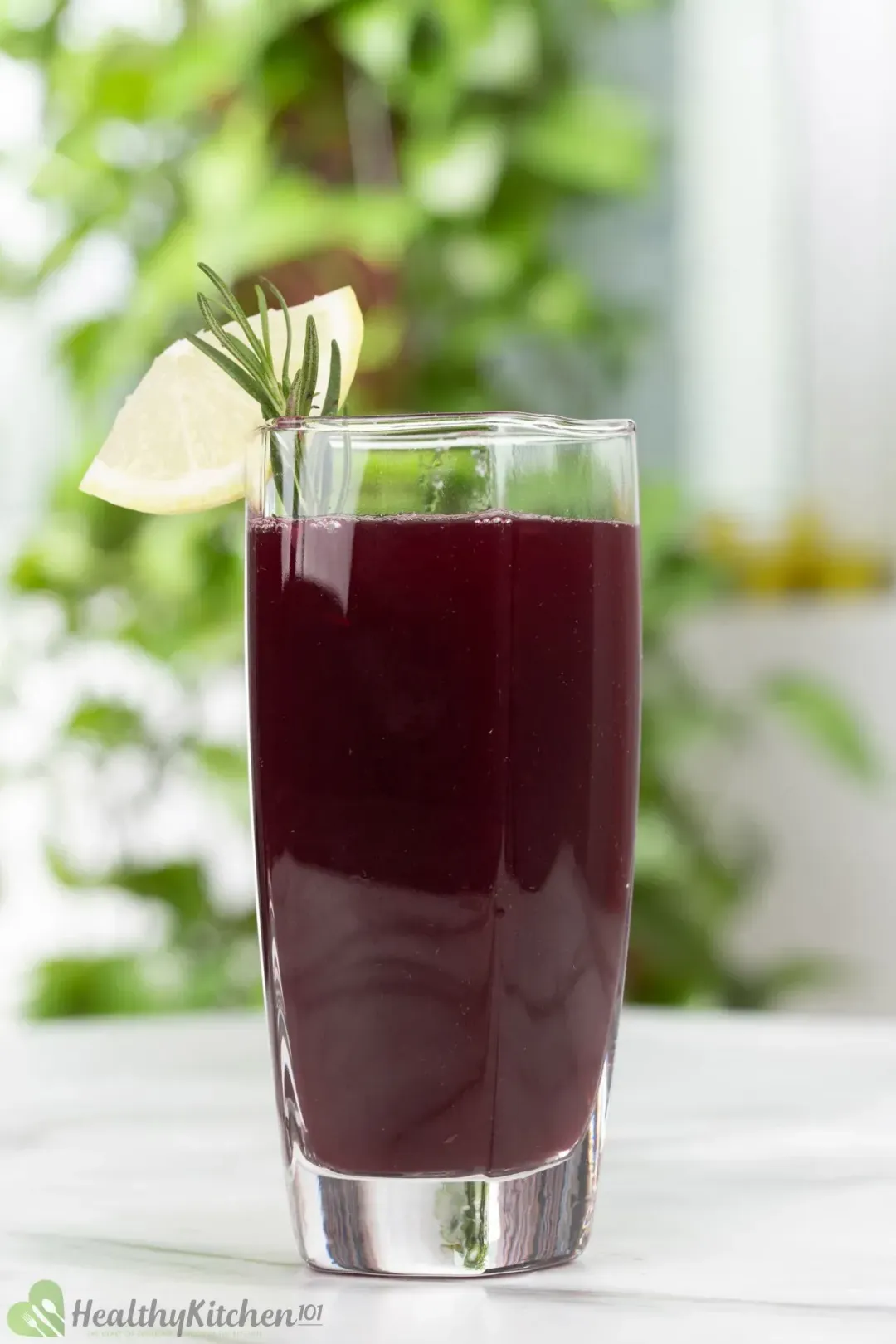 Vitamin C, present in blueberries and blueberry juice, is often used in skincare products because of its many positive effects. These effects include increased collagen production, assisting in wound healing, minimizing raised scar formation, hydrating skin, and protecting against UV damage.
Blueberries have also been linked to improving inflammatory skin conditions, such as psoriasis, eczema, and acne. Inflammation is caused by free radicals and oxidants, so adding more antioxidants to your diet can help with many inflammatory conditions.
3. Improve Neurological Health
Daily blueberry consumption has been found to improve cognitive function. It can help increase brain activity and executive functions (the ability to plan, multi-task, remember, etc.), linked to increased blood flow to the brain.
Blueberry juice can help improve memory in older adults. This is good news with an ever-increasing rate of dementia. The best way to deal with dementia and Alzheimer's disease is to take preventative measures, and including blueberry juice in your daily diet is one of them.
4. Reduce the Risk of High Blood Pressure
Blueberries can help reduce the risk of high blood pressure. High blood pressure can damage blood vessels and lead to an increased risk of blood clots, stroke, and heart attack.
Blueberries contain anthocyanins (a type of flavonoid), which have been linked to lowering blood pressure.
5. UTI Prevention
UTIs (urinary tract infections) cause a lot of discomforts. Cranberry juice is often recommended to treat (and help prevent) UTIs, but blueberries can also help. It is thought that blueberries, like cranberries, help keep bacteria from attaching to the lining of the urinary tract, thus preventing infections.
How to Make Blueberry Juice 
Blueberry juice can have less nutritional value than blueberries themselves, so be sure to look out for good brands, or make your own to preserve nutrients. 100% blueberry juice is not as easy to find in the store as other juices. It's usually available in juice blends or with a lot of added sugar. If you're unable to find it at your store, or simply want to make it from scratch (having control over the method and ingredients), there are a couple of methods for making blueberry juice at home.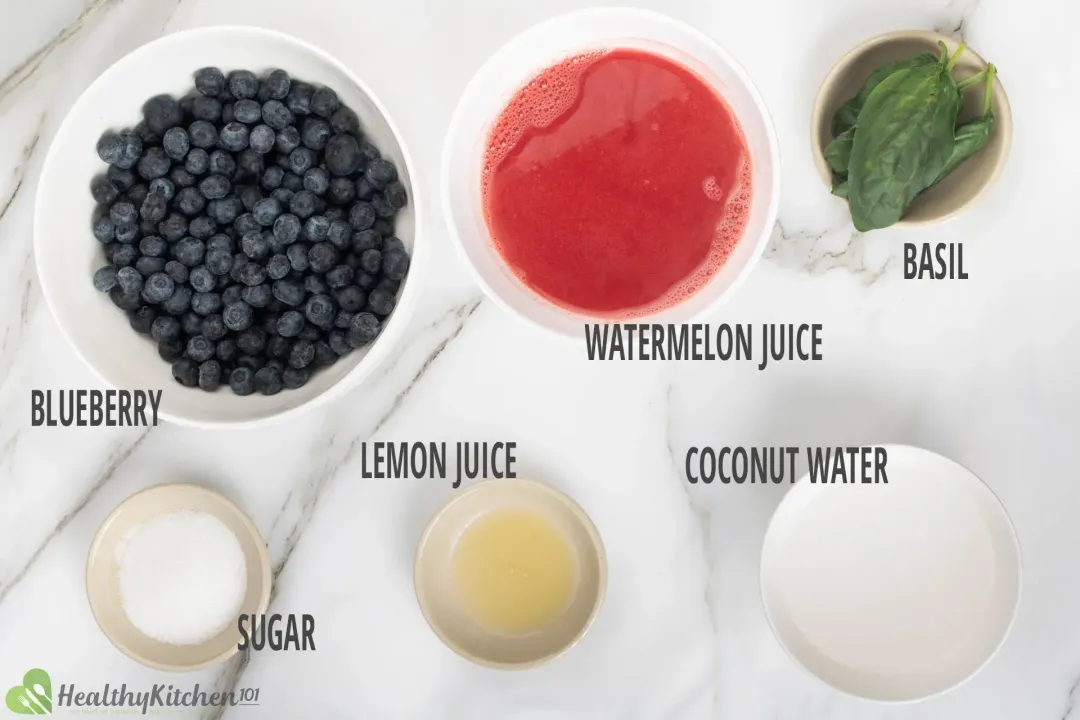 1. Good Rinsing
If you are able to get organic blueberries, a good rinsing should suffice. If your blueberries are not organic, there is a high probability pesticide have been used during their cultivation, so it's good to soak them.
A simple soak can be made by adding vinegar to the water your blueberries are soaking in. It is recommended to use four parts water to one part vinegar (we usually use white vinegar), and let the berries sit for 10 minutes. After, rinse them once more.
2. Methods
You can pop your blueberries into a blender with the option of adding sugar. Blueberries can be a mixed bunch in terms of sweetness and tartness, so, adding something else to accentuate the sweetness can make the juice even more delicious. We often add a dash of maple syrup.
You can add water to the blueberries before blending to improve the texture. When you blend berries without water, you tend to get more of a purée than a juice. A cup of blueberries can be blended with a cup of water for an easily drinkable consistency. Blend until the juice is smooth.
If you don't like little blueberry skin pieces in your drink, you can always pass it through a strainer, but bear in mind that the skin has added nutrition.
Another way to make blueberry juice is to boil the blueberries in water. You can use a spoon during the boiling process to squish juice out, then strain. Or, boil until the blueberries are noticeably softer, let cool, and then place into a cheesecloth and squeeze out the juice over a bowl.
Some swear by this method and appreciate the smoothness, but this method causes you to lose more nutrients from the berries.
3. Additions for Blueberry Juices
Blueberry juice is another versatile drink that tastes great with many optional add-ins.
A splash of lemon juice will add a little zing to the drink as well as help protect against oxidation (especially if you've added other fruits). Other berries will add more flavor and color. Incorporating other refreshing fruits such as melon is also a great option.
There are so many possibilities, and we hope our top 10 blueberry recipes will give you a starting point.
4. Storage
Blueberry juice can be kept in the fridge for up to 3 days. After that, it can start to turn. Any freshly squeezed juice will always taste best the first day you make it. You can potentially store it in the freezer for up to 3 months, but freezing can alter the taste and texture a bit.
Easy and Delicious Blueberry Juice Recipes
1. Best Recipe: Blueberry Juice Recipe (4 servings)
This down-to-earth blueberry juice is a powerhouse of vitamins and nutrients. A dash of lemon juice is added to lend a pleasant tang to the juice. You only need a glass of it for a great addition to desserts and big meals!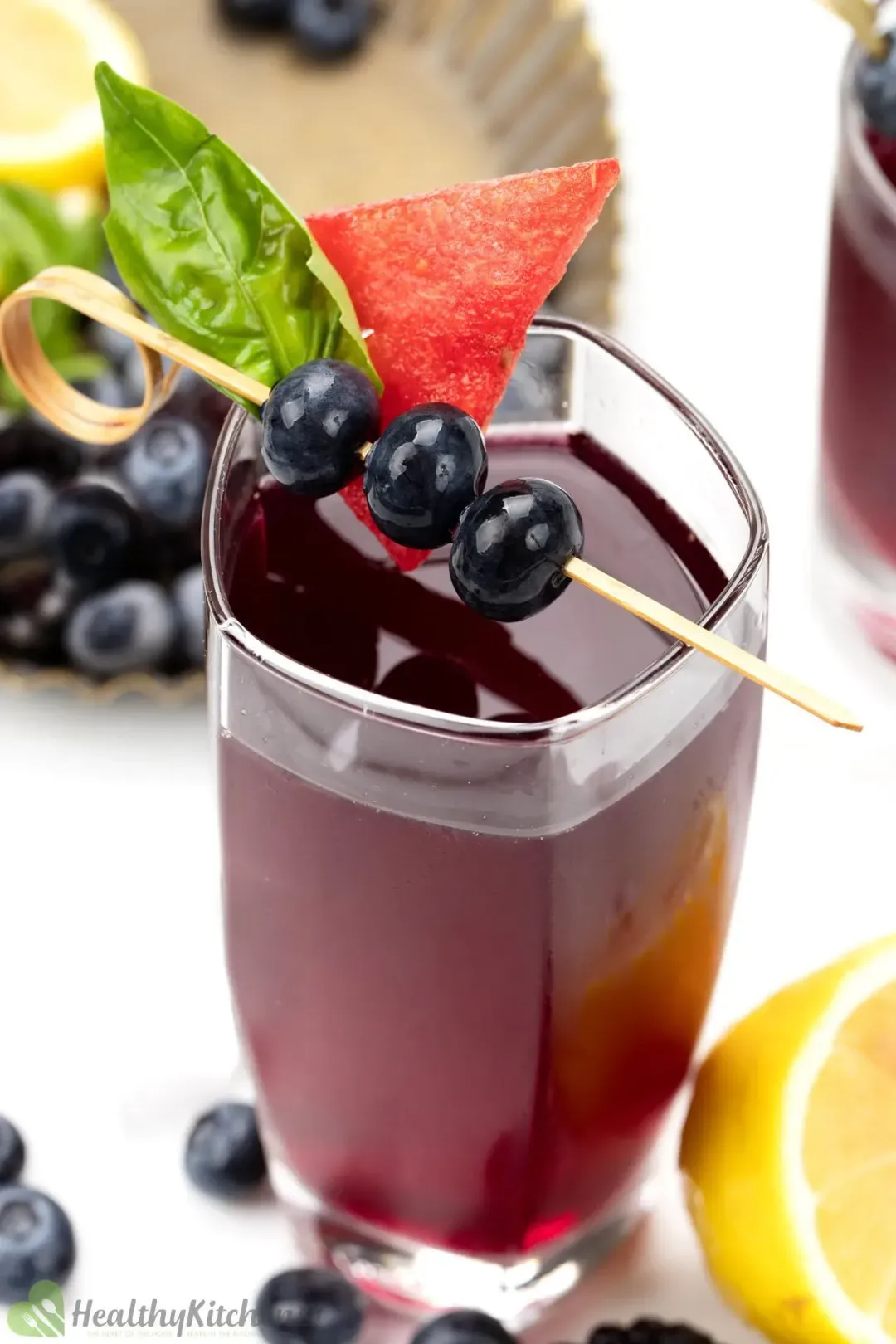 2. Pomegranate Blueberry Juice (4 servings)
Pomegranate blueberry juice is not only packed with nutrients but also comes with a lovely and refreshing flavor. This might be your next favorite thirst-quenching drink to enjoy under the scorching summer sun.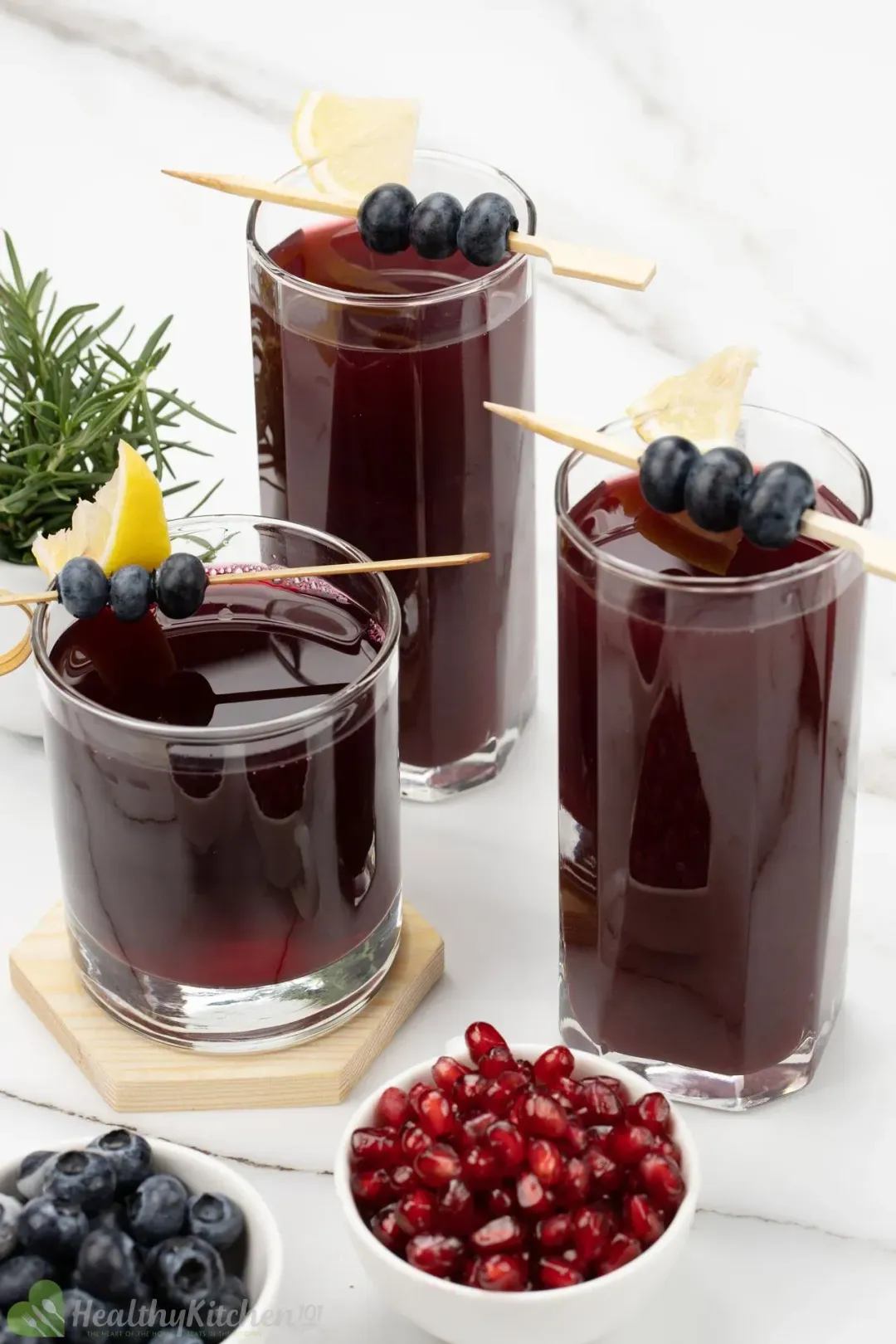 Ingredients:
1/2 tbsp lemon juice
3/2 tbsp sugar
2 cups ice
8 oz blueberries
½ cup water
1 tsp rosemary
16 oz pomegranates
Instructions:
Extract pomegranate juice: place a piece of cheesecloth over a medium bowl. Add a handful of pomegranate seeds in the middle of the cheesecloth fold it in half. 
Twist the cloth to wring out the juice. Continue with the remaining pomegranate seeds.
Juice the blueberries: put blueberries and rosemary through a juicer and collect the juice in a pitcher.
Add water to the juicer: this helps further process the leftover blueberry flesh inside the machine.
Combine the juices: add pomegranate juice to the pitcher.
Add sugar to the juice: to balance out the tartness.
Add lemon juice to the pitcher: this adds more depth of flavor to the juice.
Serve: you can pour the juice into 4 glasses and serve immediately or chill the pitcher before serving.
3. Blueberry Juice Cocktail (4 servings)
For days when your energy runs low, this blueberry juice cocktail might be the power boost you need. Feel free to play around with the ingredients to find the perfect mixing ratio for your cocktail.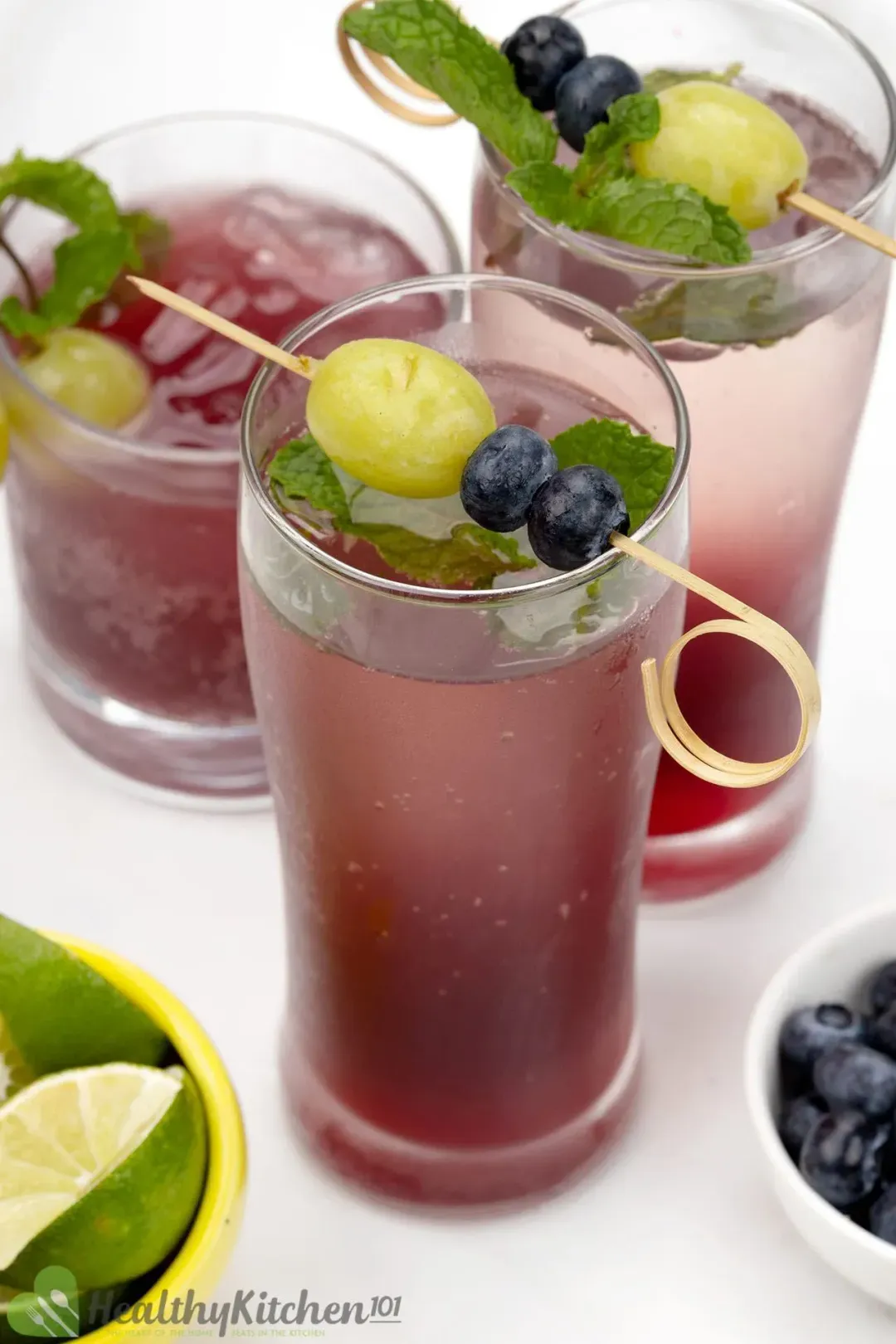 Ingredients:
3/2 tbsp sugar
1 tbsp lime juice
6 mint leaves
2 cups ice cubes
1 cup club soda
4 oz green grapes
8 oz blueberries
4 fl oz rum
Instructions:
Rinse blueberries and drain well. Put them in a blender and blend until completely smooth.
Put a strainer over a bowl and cover with a cheesecloth. Pour the blended blueberries over the cheesecloth. Gather the edges of the cloth, then twist and squeeze to extract clear blueberry juice. Set aside and discard the skin.
In a pitcher, combine all the ingredients. Stir well.
To serve, divide the drink into four glasses filled with ice, and top with mint leaves.
4. Apple Blueberry Juice (4 servings)
Apple blueberry juice can be a quick reset for your hectic days. It's rich in antioxidants and can also help you fight colds.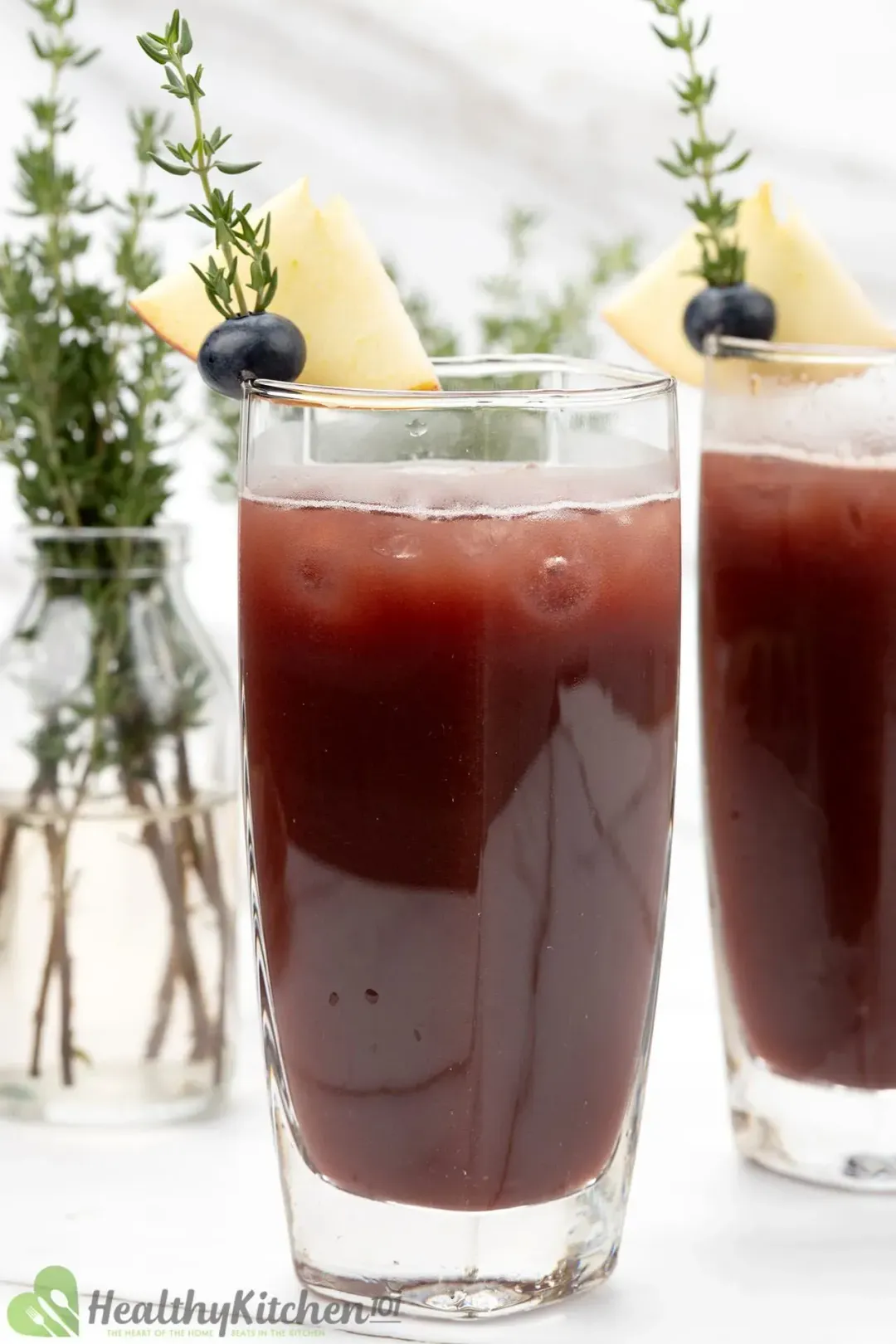 Ingredients:
1 tbsp lemon juice
2 oz blackberries
1 tbsp sugar
1 tsp thyme leaves
2 cups ice
16 oz apple juice
8 oz blueberries
Instructions:
Rinse blueberries and drain well. Put them in a blender and blend until completely smooth.
Put a strainer over a bowl and cover with a cheesecloth. Pour the blended blueberries over the cheesecloth. Gather the edges of the cloth, then twist and squeeze to extract clear blueberry juice. Set aside and discard the skin.
In a pitcher, combine all the ingredients. Stir well.
To serve, divide the drink into four glasses filled with ice, and top with mint leaves.
5. Unsweetened Blueberry Juice (4 servings)
In this unsweetened blueberry juice, blueberries, green grapes, apple, and coconut water join together for a healthy and mesmerizing drink. Everything blends together nicely without the need for any other sweetener!
Don't be hesitant. Make yourself a cup and experience the organic goodness of a variety of fruits.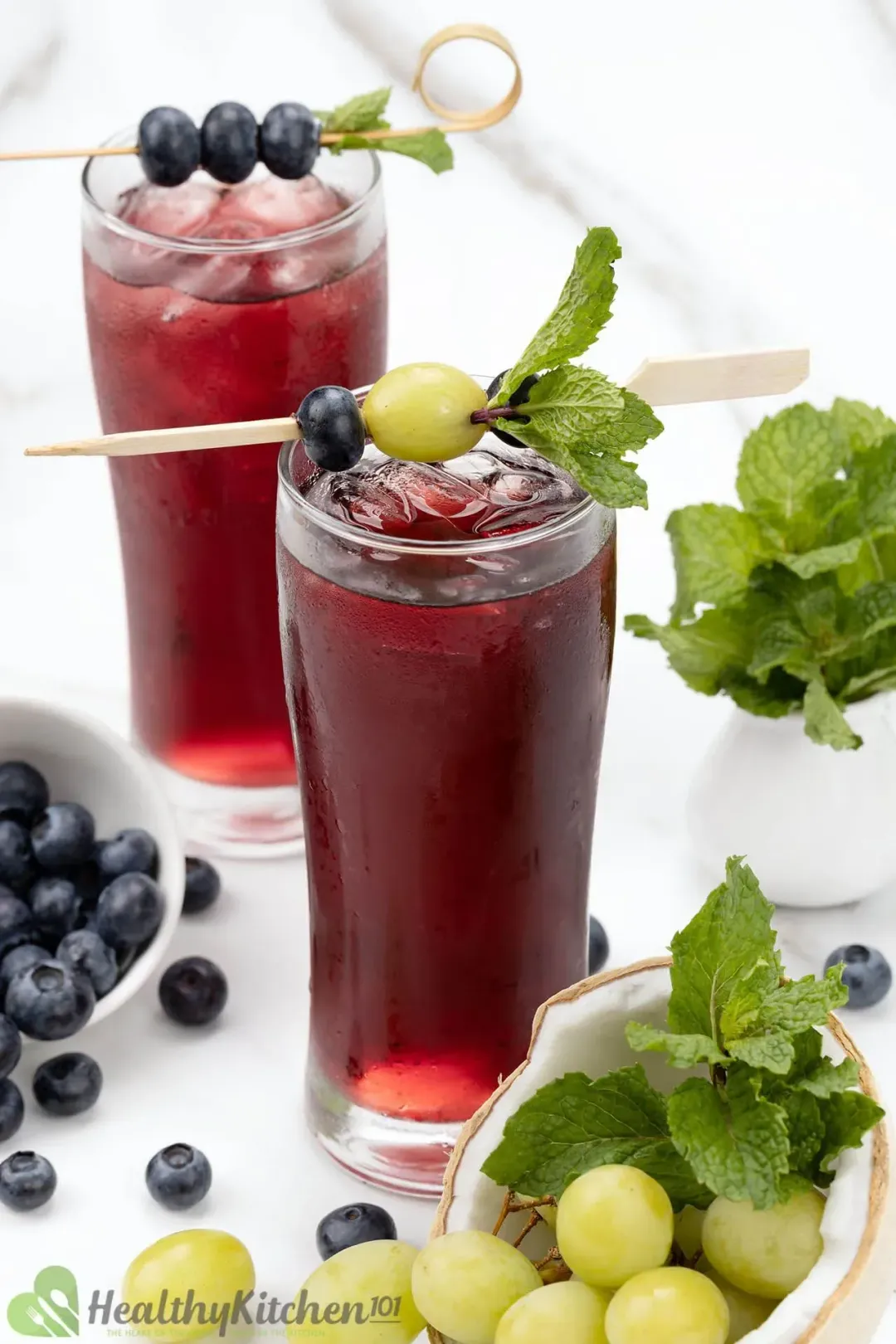 Ingredients:
6 oz green grapes
3/4 cup coconut water
6 mint leaves
2 cups ice
6 oz red apple juice
12 oz blueberries
Instructions:
Rinse blueberries and drain well. Put them in a blender and blend until completely smooth.
Put a strainer over a bowl and cover with a cheesecloth. Pour the blended blueberries over the cheesecloth. Gather the edges of the cloth, then twist and squeeze to extract clear blueberry juice. Set aside and discard the skin.
In a pitcher, combine all the ingredients. Stir well.
To serve, divide the drink into four glasses filled with ice, and top with mint leaves.
6. Milk Blueberry Juice (8 servings)
This milk blueberry juice is full of natural flavors. Fresh milk and blueberry syrup are combined for a healthy, fresh, and super-simple drink.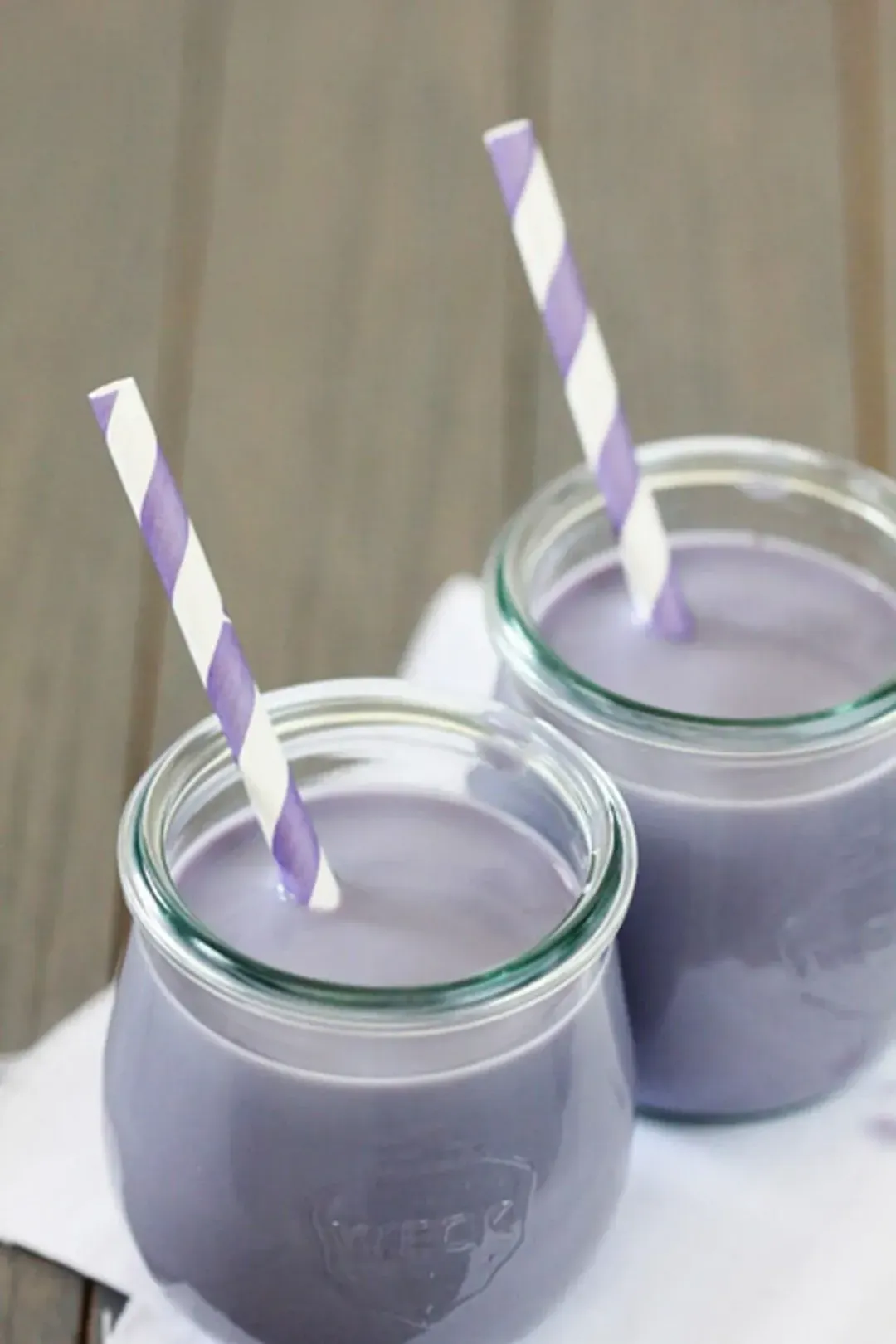 Ingredients:
1 cup blueberries, fresh or frozen
1/4 cup sugar
2/3 cup water
2 cups milk
Instructions:
Cook blueberries with sugar and water over medium heat. After boiling, let simmer for 10-15 minutes until the mixture thickens. Remove from heat.
Strain the mixture through a fine-mesh strainer. Refrigerate.
Whisk the blueberry syrup with cold milk, and serve.
7. Carrot Blueberry Juice (2 servings)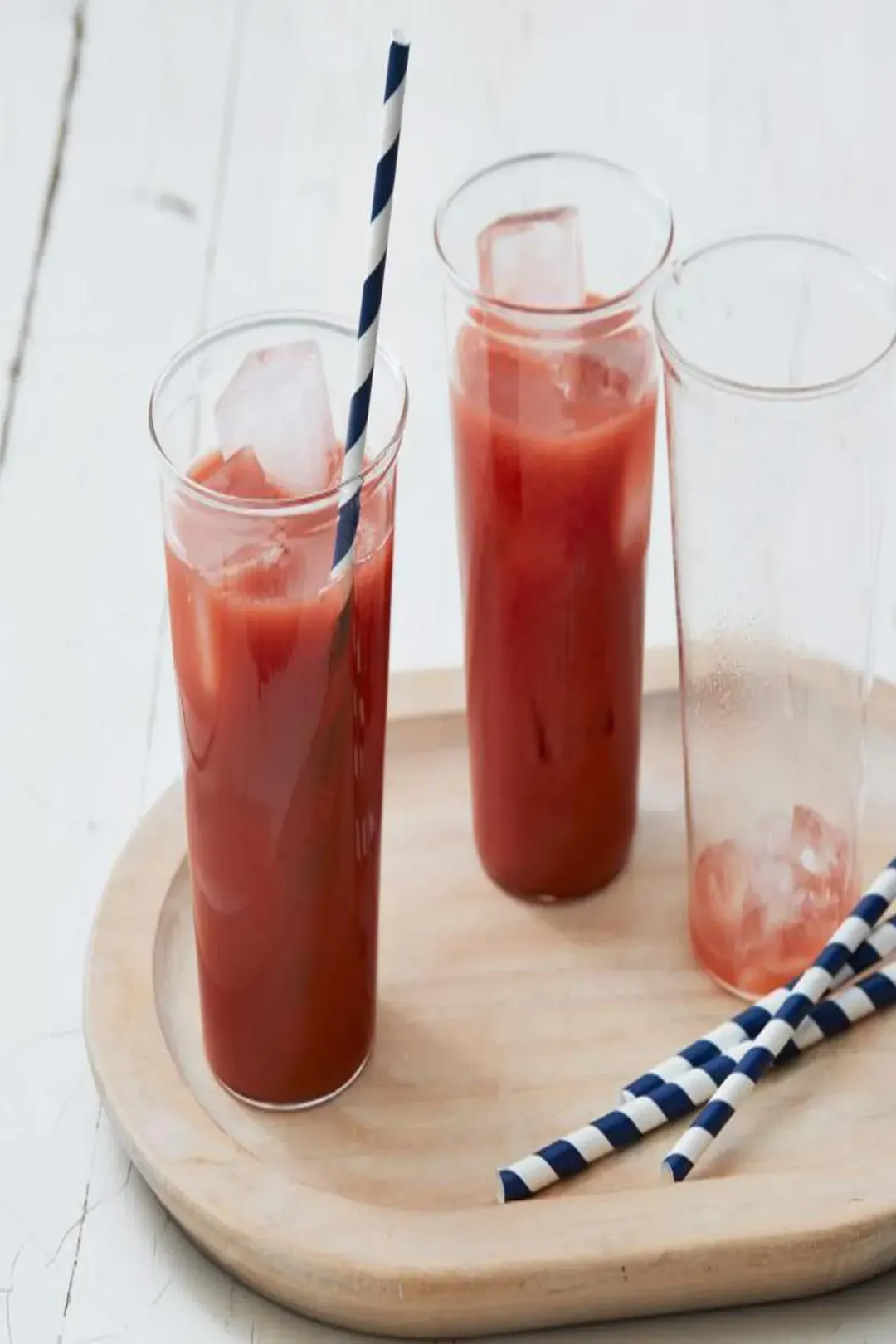 This carrot blueberry juice is made without added sweetener and produces a vibrant color from the organic ingredients. It includes heaps of different berries— an ideal drink to serve on every occasion throughout the year.
Ingredients:
1 1/2 cups strawberries
1 1/2 cups blueberries
1 cup raspberries
6 medium carrots
Instructions:
Run all the berries and the carrots through a juicer, working only one at a time.
Whisk the juice with water to adjust the consistency, if desired.
Pour over ice and serve.
8. Strawberry Blueberry Juice Recipe (3 servings)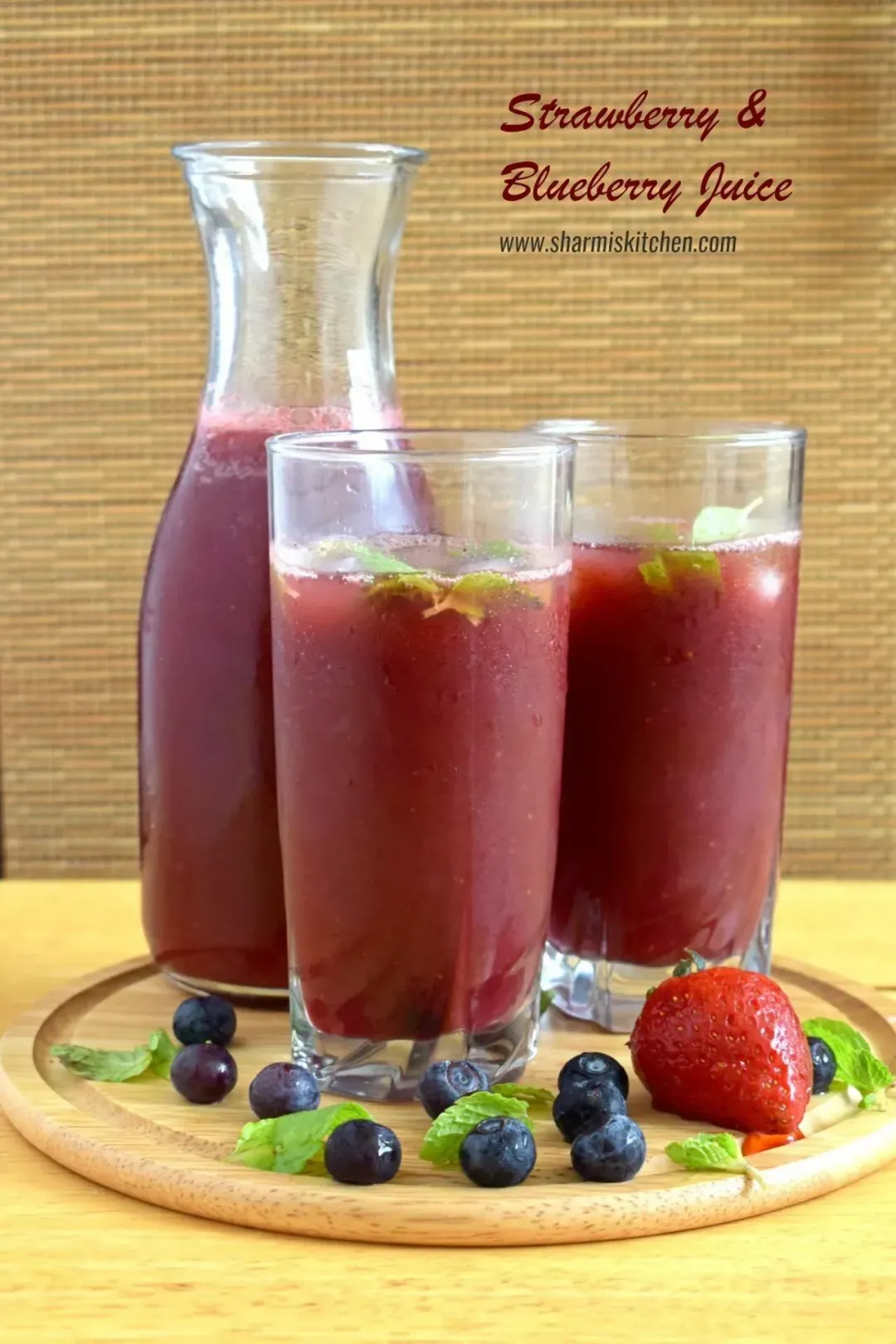 Strawberry blueberry juice is simple to make and super refreshing in taste. It's a delicious way to keep you hydrated in the hot summer weather.
Ingredients:
5 strawberries
3.5 oz blueberries
7-8 mint leaves
1/4 cup honey
Juice of one lemon
Ice cubes
2 cups water
Instructions:
Process strawberries, blueberries, and lemon juice in the blender.
Blend in the mint leaves and honey.
Blend the ice cubes and water.
Serve chilled.
9. Blueberry Pineapple Juice Recipe (1 serving)
You can use either fresh or frozen fruits for this blueberry pineapple juice. Also, opt for more of your favorite berries to create the smooth, creamy berry combination of your dreams.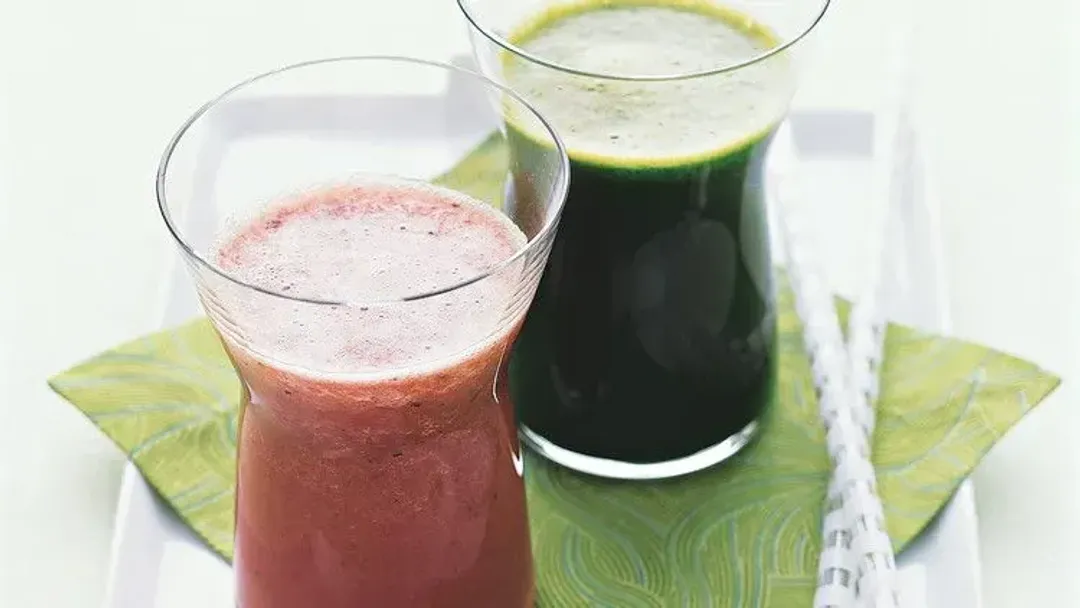 Ingredients:
1/4 pineapple
1 cup blueberries
¼-½ inch piece of fresh ginger
Instruction:
Cut pineapple into chunks and remove pits.
Run all the ingredients through a juicer.
Serve and enjoy.
10. Apple, Blueberry, Cucumber, Beet Juice (2 servings)
As the name suggests, this apple, blueberry, cucumber, beet juice calls for a lot of fruits and vegetables. Everything comes together blended and strained through a fine-mesh for a beautifully smooth and hearty summer drink.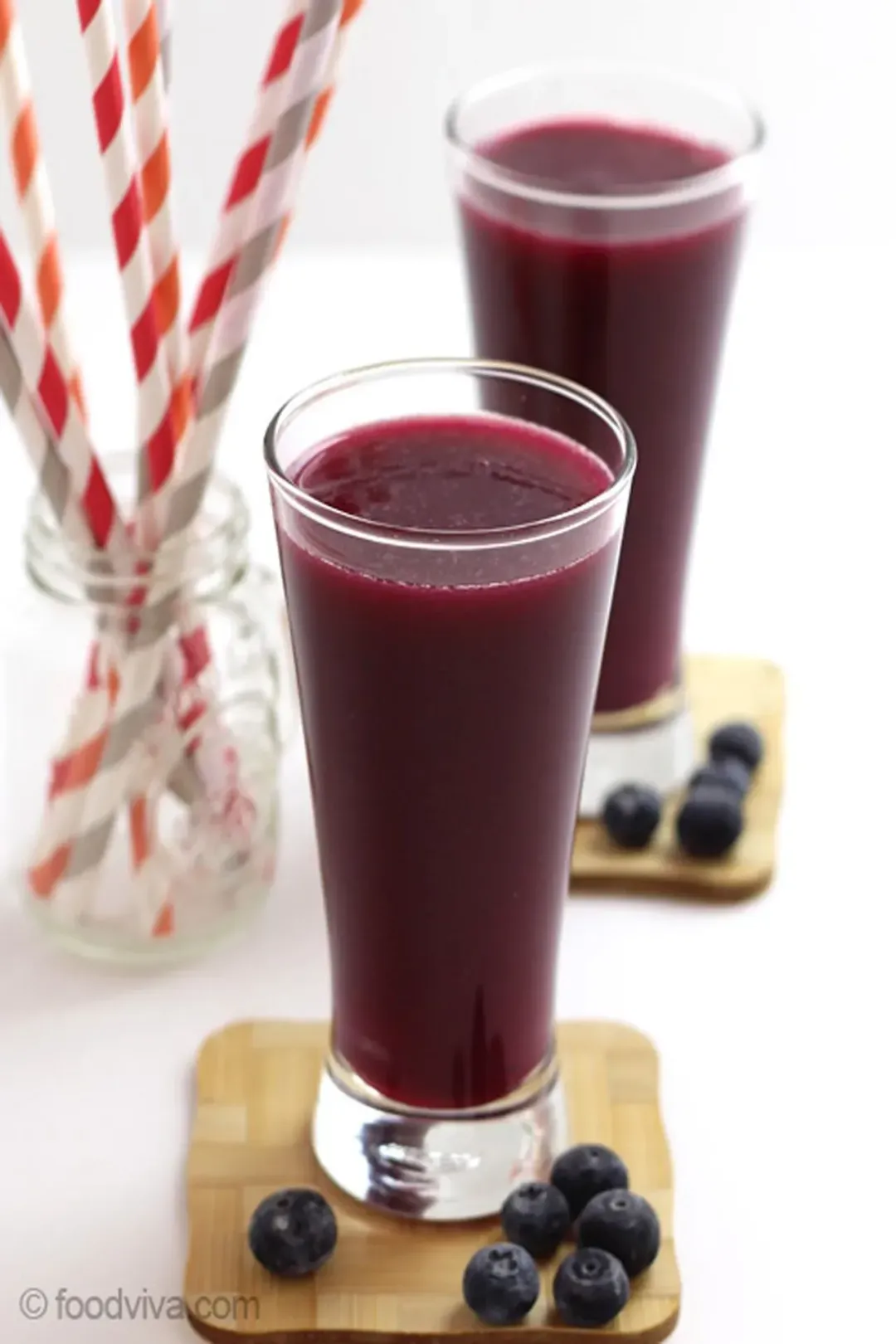 Ingredients:
1 cup blueberries
1 apple
1 celery stalk
1/2 cucumber, optional
1/4 beetroot
1/4 lemon or lime
1/2 cup water
2-3 ice cubes, optional
Instructions:
Rinse blueberries, apple, celery, cucumber, and beetroot thoroughly in water to remove any debris.
Cut the apple into large pieces and remove the core. Cut the celery and cucumber into large pieces. Peel and cut the beetroot into small pieces.
Take a juicer and place an empty glass or a container under its spout.
Process all veggies and fruits through the juicer, alternating each time.
Squeeze the lemon over the prepared juice and stir well.
Fill up glasses with ice and pour juice over them. Optionally, garnish with mint sprigs and serve.
FAQ 
1. Is Blueberry Juice Good for You?
Blueberry juice is great for you. It has been linked to a host of health benefits, such as lowered blood pressure, improved memory, reduced inflammation, protection against UTIs, anti-aging effects for skin, weight loss, and anti-diabetic properties.
Blueberries have been termed "one of the best functional fruits." Their many antioxidant components and plant compounds have been shown to prevent degenerative diseases, as well as reduce the risks of cancer, obesity, and heart disease.
They have been associated with reduced depressive symptoms and blood glucose levels. Blueberry juice has the potential to improve both mental and physical health, and that's why you should consider including it as part of your daily routine.
2. How Much Blueberry Juice Should I Drink a Day?
A recent study found that eating a cup of blueberries each day helped reduce the risk of cardiovascular disease by up to 15%. If you're making blueberry juice at home, a cup of blueberries can be used to make a glass of juice, covering your 1 cup quota for improved heart health.
Studies linking blueberry juice to health benefits have used from as little as 1 oz of concentrate (which you can dilute into an 8 oz drink) to as much as 16 oz of blueberry juice daily. We would recommend starting with an 8 oz cup of blueberry juice a day and seeing how your body responds.
If you are in the mood for some berry juice, this blackberry juice recipe is for you
3. Do Blueberries Have Side Effects?
Generally considered safe, there are just a couple of things to note when consuming blueberries. Blueberries have been observed to lower the blood sugar levels of people with diabetes. While this sounds like a benefit, it can have negative side effects, such as hypoglycemia, if combined with blood-sugar-lowering medications.
You should avoid blueberries if you have G6PD deficiency. This deficiency is a condition where red blood cells start to break down if they come into contact with specific chemicals or medications. Some of these are present in blueberries, so if you have G6PD deficiency, either exclude them from your diet or check with your healthcare provider.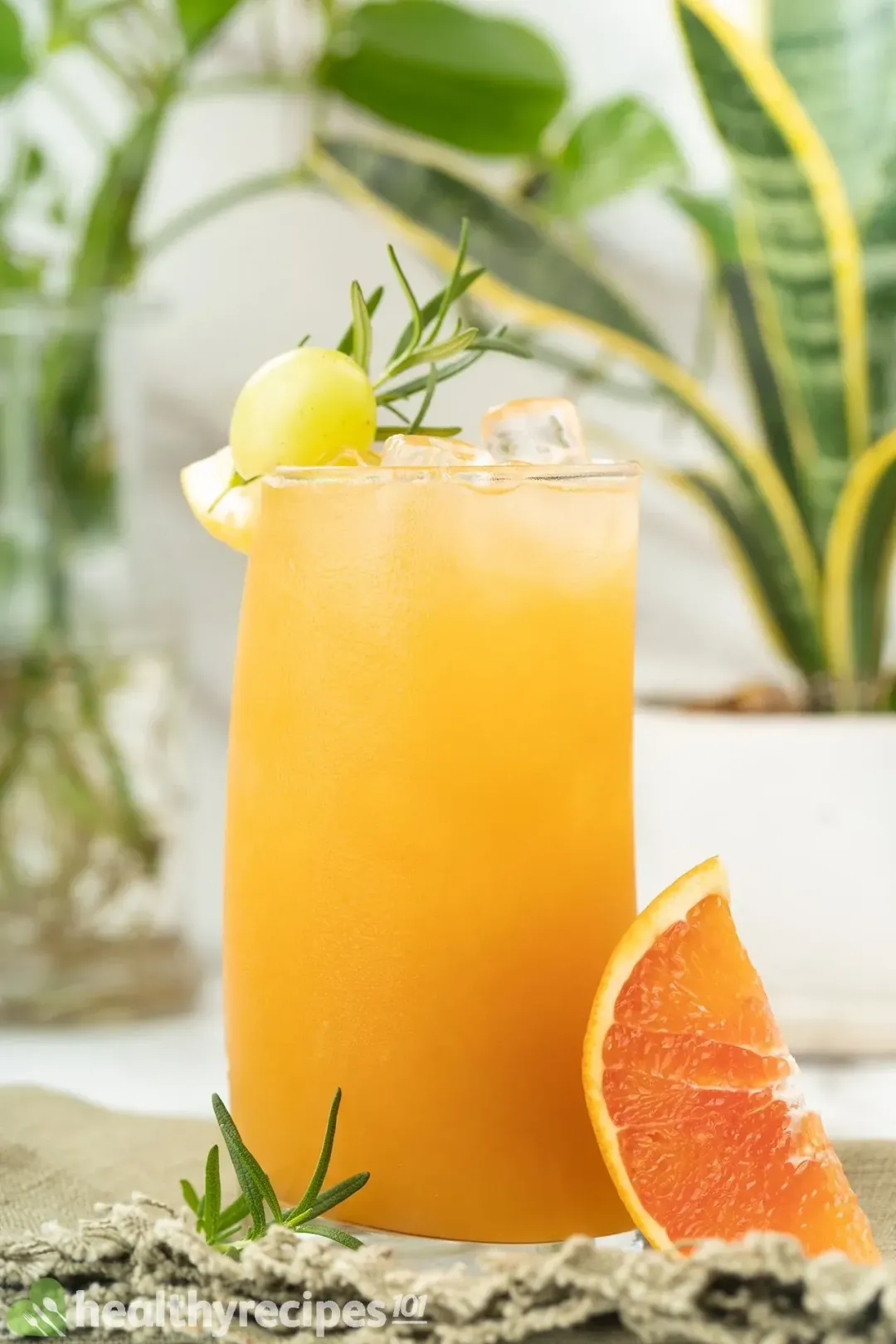 Previous Recipe
Grapefruit Juice Recipes
Grapefruit Juice Recipes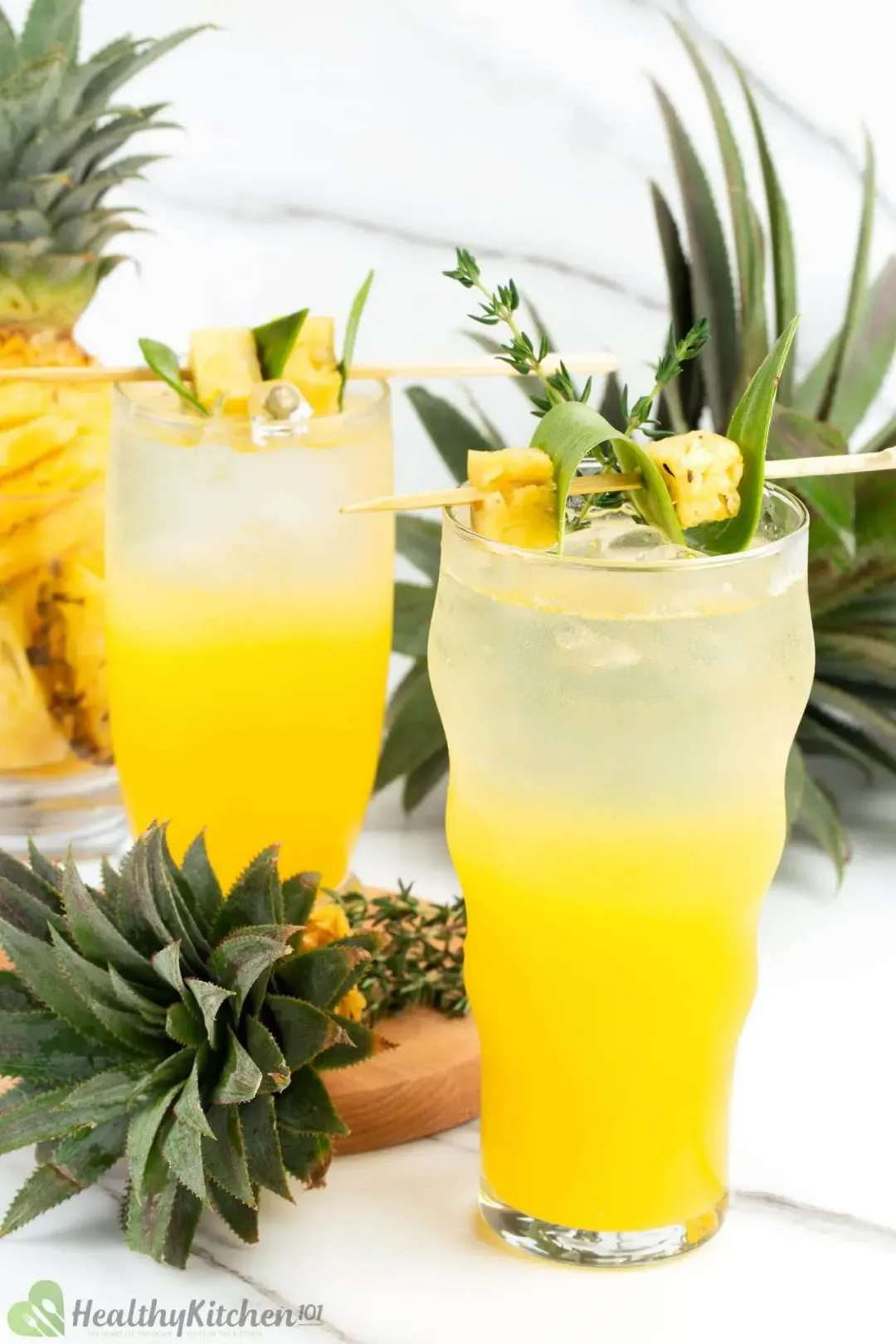 Next Recipe
Best Pineapple Juice Recipes
Best Pineapple Juice Recipes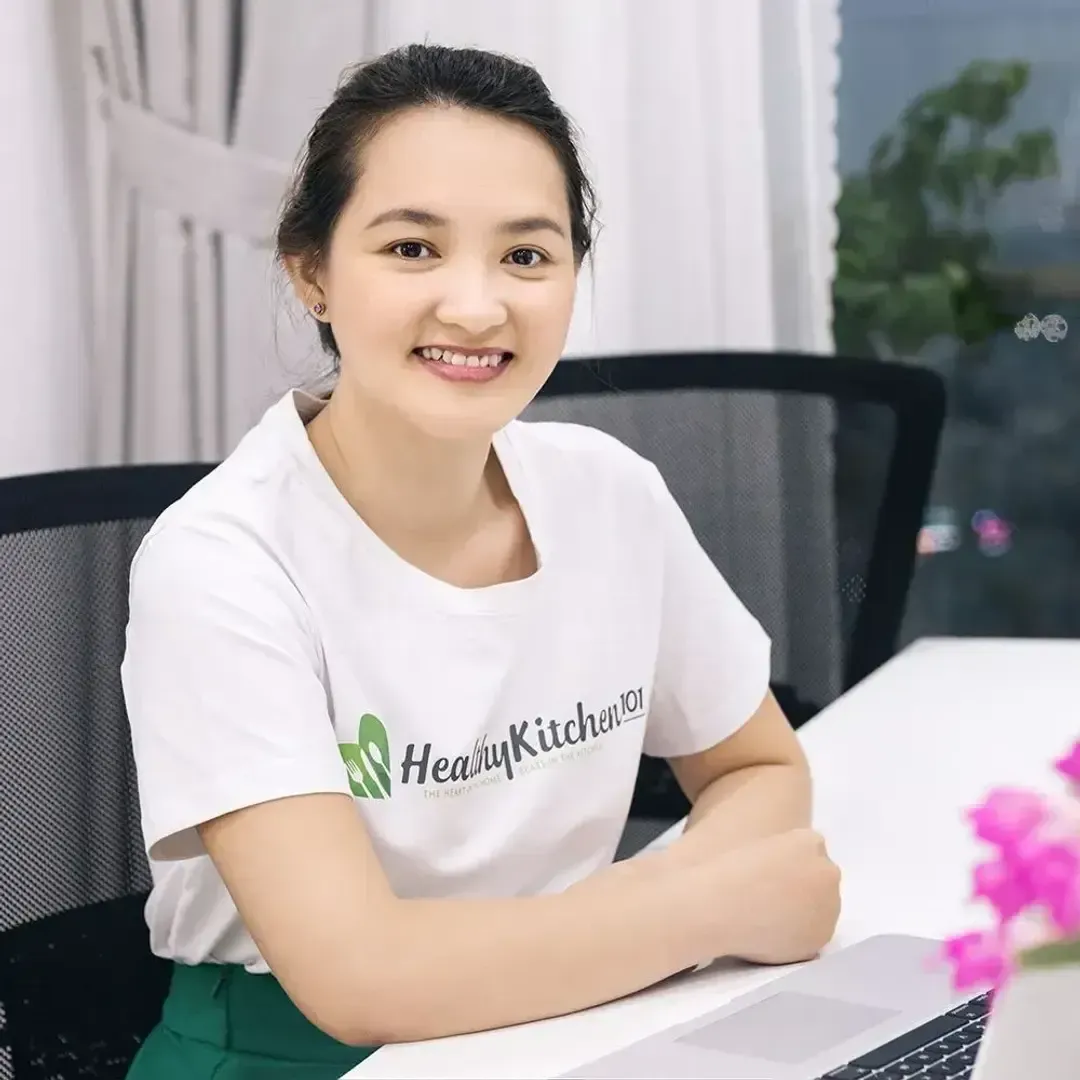 Writer, Author
Luna Regina is an accomplished writer and author who dedicates her career to empowering home cooks and making cooking effortless for everyone. She is the founder of HealthyKitchen101.com and HealthyRecipes101.com, where she works with her team to develop easy, nutritious recipes and help aspiring cooks choose the right kitchen appliances.
Comments/ Reviews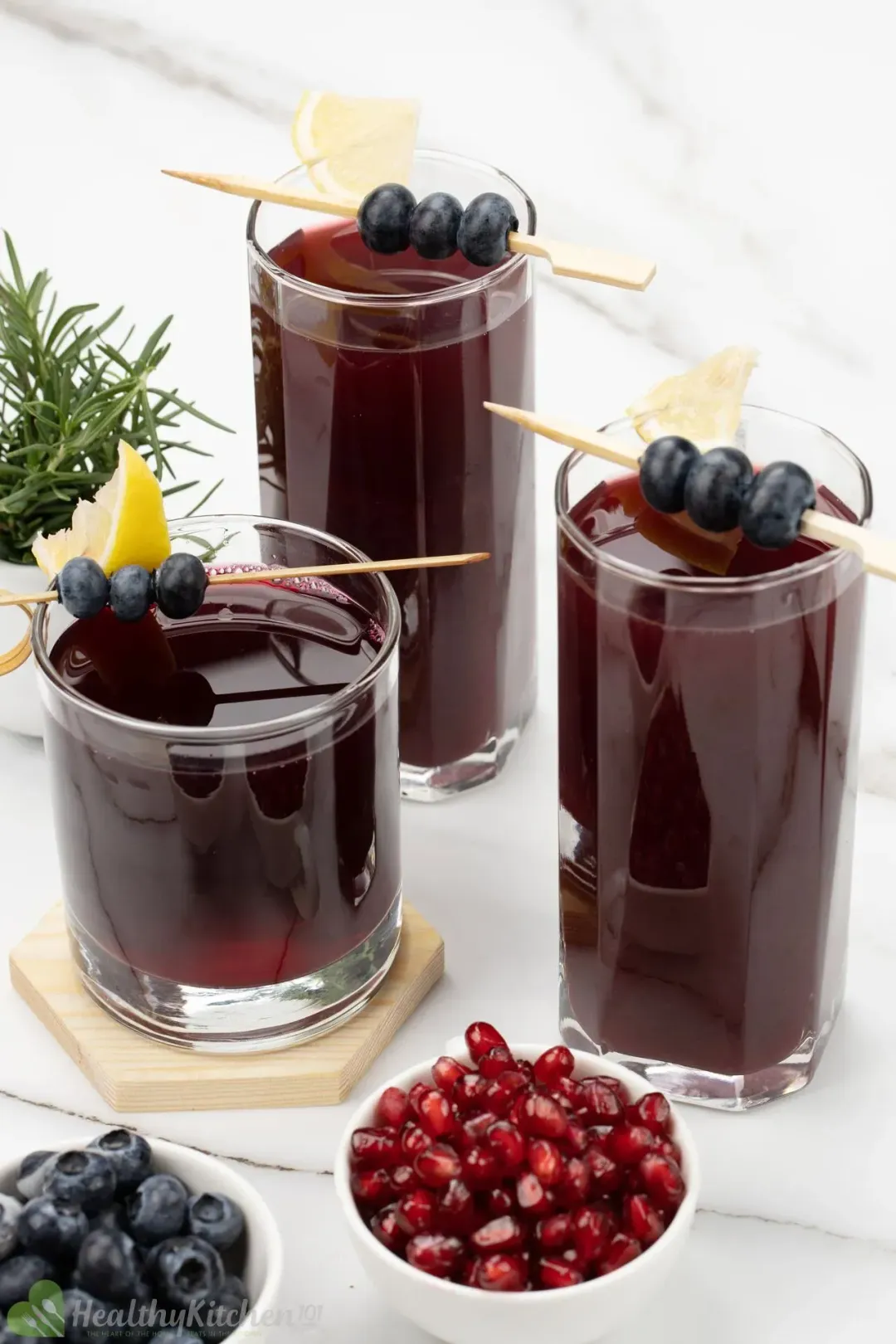 Charlotte Jo

February 14, 2023 at 8:57 AM

Love this unsweetened blueberry juice! So sweet and refreshing!