Today's best pineapple juice recipes introduce nutrient-packed metabolism drinks that aid digestion and reduce inflammation while offering some flavor-bursting tropical goodness. They're quick and easy ways to get that daily health boost, and thanks to the pineapple's natural, bright sweetness, you don't even need to add much sugar or sweeteners. Looking for a healthy way to bring some brightness into your days? These drinks might just be what you need.
And hey, the tropical fun doesn't have to stop here. Check out our Mango Juice Recipes and Watermelon Drinks Recipes for more healthy, easy, and exciting ways to keep yourself hydrated this summer.
Easy And Delicious Recipes
1. Sugar-Free Pineapple Juice
With the right balance of sweetness and tartness, this pineapple juice offers plenty of health benefits while rejuvenating your body from the inside out. It consists of pineapple juice, grape juice, apple juice, coconut water, chia seeds, and mint leaves, with no added sugar for healthy, low-calorie enjoyment. This combination brings a bursting brightness that reminisces of Hawaii's summer on the beach, where it's all sunshine and clear skies.
Go to Recipe
2. Orange Pineapple Juice
This five-ingredient orange pineapple juice delivers robust flavors and can be made in a blink of an eye. It fills your taste buds with sweet and tangy notes that dance to the melody of a tropical song. This organic energizing drink comes with plenty of immune-boosting and digestion-aiding properties—a perfect quick fix for any time you need a health boost.
Go to Recipe
3. Pineapple Green Juice
Packed with fresh pineapple, kale, basil, and cucumber, this green juice is a burst of vitamins, minerals, and antioxidants that will leave you feeling energized and revitalized. With its vibrant green hue and bright, fresh flavors, this green juice is sure to become your new favorite way to start the day!
Go to Recipe
4. Vodka And Pineapple Juice
This beautifully layered vodka and pineapple juice is super easy to make— all you need is six simple ingredients and a pitcher to mix them together! The smooth and crisp vodka lays a perfect base for the bright, vibrant taste of pineapple to shine. With lemongrass and lime juice thrown in the mix, this drink offers a flavor kick that excites your taste buds like no other. So, grab a glass, add some ice, and get ready to sip on this gorgeous summer drink.
Go to Recipe
5. Rum And Pineapple Juice
Our rum and pineapple juice comes together in 10 minutes but offers some spectacularly complex flavors. It's fresh, sweet, and sour, with an earthly and spicy hint that warms you right up. If you're looking for a casual yet flavorful drink to accompany you on all those friendly gatherings and dinner parties, this is it!
Go to Recipe
6. Apple Cider Vinegar And Pineapple Juice
This apple cider vinegar and pineapple juice is a weight loss booster and an invigorating metabolism drink. Make it the next morning shot before work to improve your digestion and achieve the best detoxifying results!
Go to Recipe
7. Pineapple Limeade
When those sweltering hot summer days roll around, make a glass of this pineapple limeade and keep yourself hydrated in the best way possible. The pineapple brings a natural sweetness that melts right into the lime's zesty notes, creating a joyful swirl of flavors that revitalize you in an instant. You can even make a large pitcher to have right by the poolside, or at outdoor gatherings for friends and family to enjoy.
Go to Recipe
8. Pineapple Cucumber Juice
This 10-minute pineapple cucumber juice will help you stay nourished and refreshed all day long. You can prepare it the night before and enjoy it the next morning for an energetic day at work. We can't imagine starting the day on a better note than with a cold, refreshing, and health-boosting glass of juice.
Go to Recipe
9. Pineapple Celery Juice
This pineapple celery juice is a versatile and low-calorie beverage that's packed with nutrients that keep you nourished and energized throughout the day. It's fresh and delightful, with a touch of brightness from pineapples to make each sip feel like sunshine dancing on your tongue. And it comes together super quickly too, so you'll have a healthy, delightful drink ready to go in just 10 minutes.
Go to Recipe
10. Carrot Orange Pineapple Juice
Loaded with carrots, oranges, and pineapples, this juice is a nutritional powerhouse to kick-start your wonderful day. These fruits and vegetables offer a great deal of vitamins, antioxidants, and fiber, as well as a gorgeous mixture of sweet, earthy, and tangy flavors. Give it a try to discover another healthy, easy drink that will undoubtedly brighten all your days.
Go to Recipe
11. Lavender Pineapple Juice
This recipe uses fresh lavender to infuse your pineapple juice with floral notes that bloom like a dream amongst the vibrant sweetness. It's delicate and fragrant while also bursting with a taste of sunshine—a perfect choice for those outdoor parties and gatherings. Plus, you can also turn it into a simple cocktail by adding vodka, gin, rum, etc., and bring a buzzing joy with every sip.
Go to Recipe
12. Pineapple Mango Juice
With a refreshing, vibrant combination of pineapple, mango, ginger, and lemon juice, this juice tastes like an exciting adventure to tropical lands. Add a couple of ice cubes and you've got a refreshing thirst-quencher to keep yourself cool on those hot summer days.
Go to Recipe
13. Pineapple Ginger Juice
One of the best things about this pineapple ginger juice is that it's super versatile, with a contrast of flavors that perfectly balances between sweet, spicy, and sour. It's a lip-smacking beverage that you'll have a marvelous time sipping on—whether it's to accompany a hearty meal, quench your thirst after a long, strenuous exercise, or just start the day on the right note.
Go to Recipe
14. Gin And Pineapple Juice
This gin and pineapple juice is the perfect way to add a little bit of fun to your next party or gathering. It requires only a few ingredients: gin, tonic water, limes, and pineapple juice, creating a toothsome concoction of sweet, tangy, zesty, and slightly piney flavors. Each sip is like a mini vacation, with the tropical flavors transporting you to a sunny beach paradise.
Go to Recipe
15. Pineapple Sangria
Celebrate summer and all of life's beautiful, special moments with a pitcher of this Pineapple Sangria. It's a sweet, tangy, and sparkling mixture of pineapple juice, lemon juice, fresh basil, white wine, rum, and ginger beer. Throw in some ice cubes and fresh apple slices and you've got an effortless crowd-pleaser that will keep everyone buzzing with joy for the rest of the day.
Go to Recipe
Nutrition Facts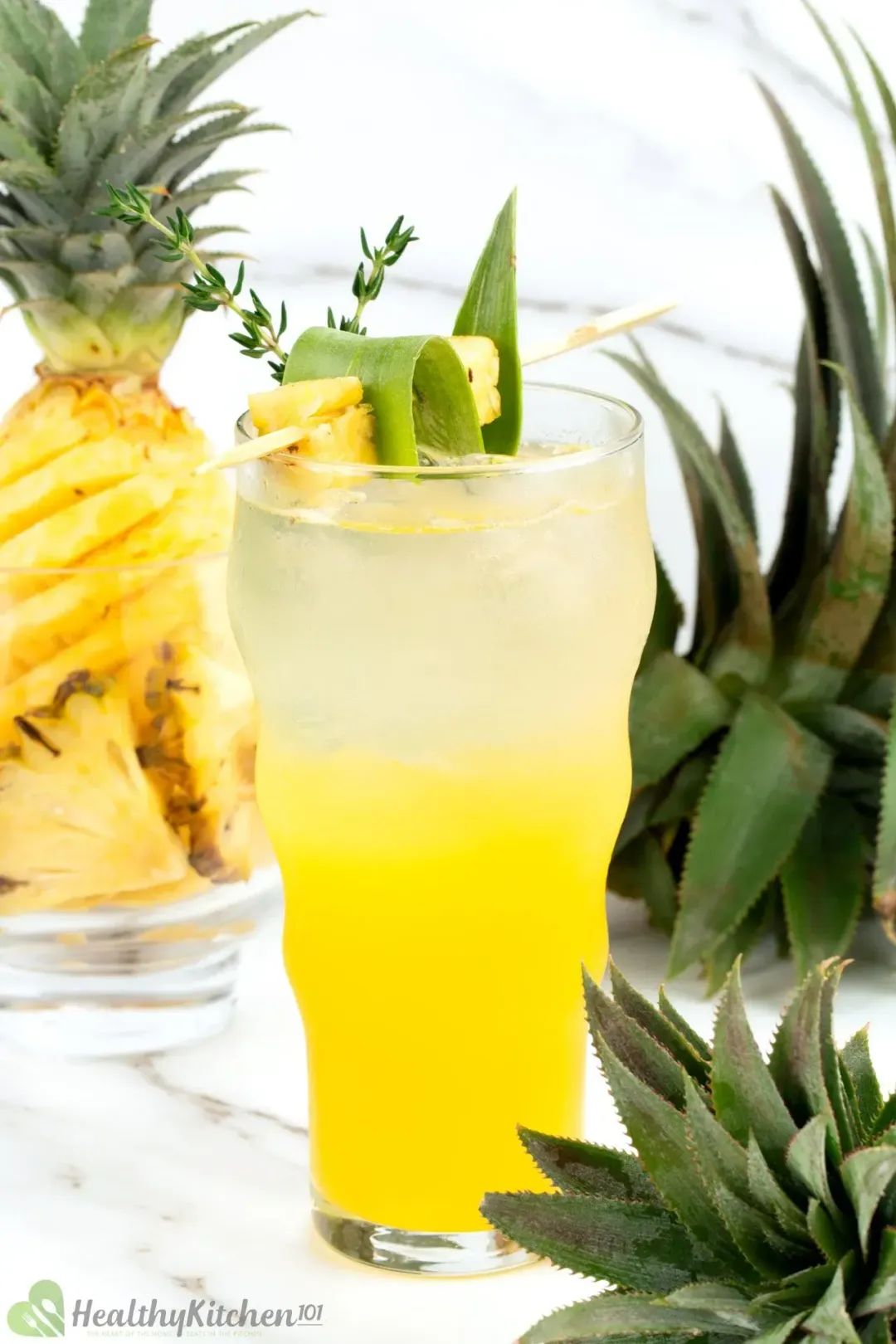 1. Calories
Basically, homemade pineapple juice needs no added sugar as pineapple is naturally sweet in itself.
As a matter of fact, 1 cup (roughly 165 grams) of pineapple produces about 5 fl oz of fresh pineapple juice. One serving of which provides you 82.5 calories and 16.3 grams of sugar (in the form of fructose).
2. Vitamins and Minerals
Pineapple juice is rich in vitamins and minerals.
Pineapples themselves are specially packed with a variety of vitamins and minerals: vitamin C and B6, manganese, copper, and trace amounts of other nutrients including iron, calcium, phosphorus, zinc,... These nutrients all play important roles in improving bone health and immunity, reducing inflammation, suppressing cancer cells' growth, and speeding up recovery. 
3. Antioxidants
Pineapple is not only rich in nutrients but also is a good source of antioxidants. Experts believe that the antioxidants in pineapple juice— especially vitamin C, β-carotene, flavonoids, and phenolic acids— can contribute to many potential beneficial effects.
4. Bromelain
Pineapple is the main dietary source of bromelain—a group of digestive enzymes that helps enhance the absorption of certain medicines (for example antibiotics and blood thinners). It can also break down protein molecules into constituent parts— amino acids and small peptides— so it's easier for your body to absorb protein across small intestines. Thanks to this property, bromelain is also widely used as a commercial meat tenderizer.
5. pH
Fresh pineapple scores 3.5-4.0 on the pH scale— right in the middle of the acidic spectrum, making it a moderately acidic fruit. Doctors advise against consuming pineapples for people who have active stomach ulcers or have experienced symptoms of acid reflux such as burning sensation or irritation in the esophagus.
Health Benefits
Pineapple juice is a good choice for a low-calorie snack as it can satisfy your sweet tooth but delivers much fewer calories than other factory sweets. It provides a high content of important vitamins and minerals and has no saturated fat or trans fat. Add a few cups of pineapple juice to your daily meals and you'll see yourself gradually eating fewer calories overall, thus resulting in weight loss.
Rich in vitamin C, beta carotene, and bromelain, pineapple is a powerhouse in rejuvenating skin and thus makes it look bright and clear. It can also help reduce wrinkles and minimize the damage from daily sun and pollution exposure. Moreover, vitamin C and ascorbic acid in pineapple juice is a very effective remedy for acne and reducing black spots.
With its bromelain-rich content, pineapple juice may also help digestion, prevent harmful diarrheal bacteria, and reduce inflammation in patients with inflammatory bowel disease.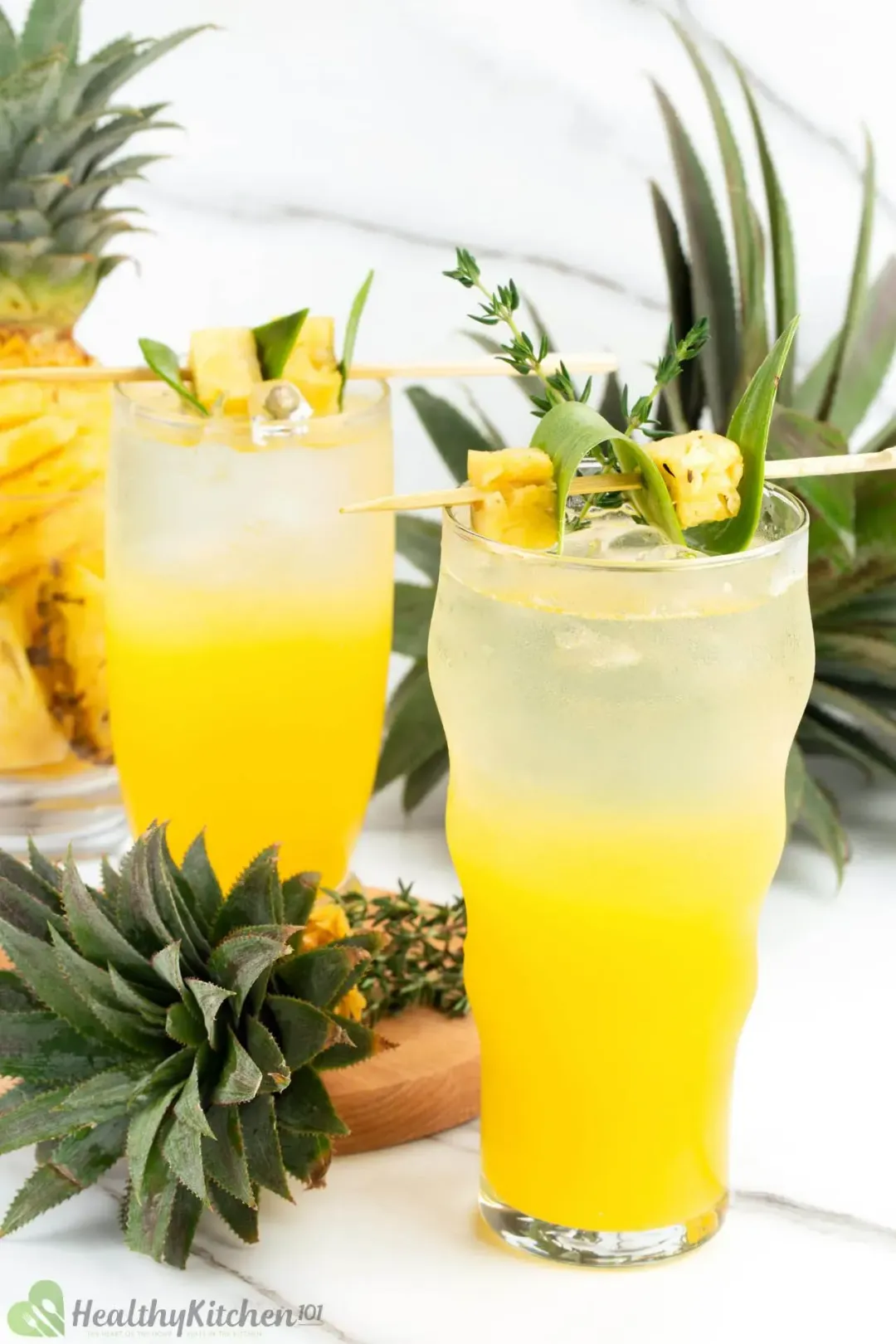 FAQ
Is Pineapple Juice Good for Phlegm?
Bromelain, a mixture of enzymes in pineapple provides anti-inflammatory properties that can help with regular respiratory issues (common allergies and asthma). Its mucolytic properties are said to help break down, dissolve, and expel mucus.
Can You Drink Before Bed?
Being high in melatonin, pineapple juice is believed to help people fall asleep fast.
Studies have reviewed the use of melatonin for the treatment of sleep disorders. Consuming pineapple juice a couple of hours before bed can increase the concentration of melatonin signals in your body, thus resetting your circadian rhythm a.k.a. sleep cycle.
How Long Does This Juice Last?
When refrigerated, fresh pineapple juice should last for 2-3 days. If you want to further extend its shelf life, you can also consider freezing. This should maintain its quality for 3-4 months. After defrosting, pineapple juice can last for an additional period of 3-4 days in the fridge.
What Happens If You Drink It Too Much?
The acidity in pineapple juice is usually one of the reasons for heartburn or reflux in some people. People with gastroesophageal reflux disease (GERD) may wish to avoid consuming large amounts of it. The juice from pineapple is low in fiber but rich in sugar, so it is not recommended to drink more than 5 fl oz (about 150ml) of it every day.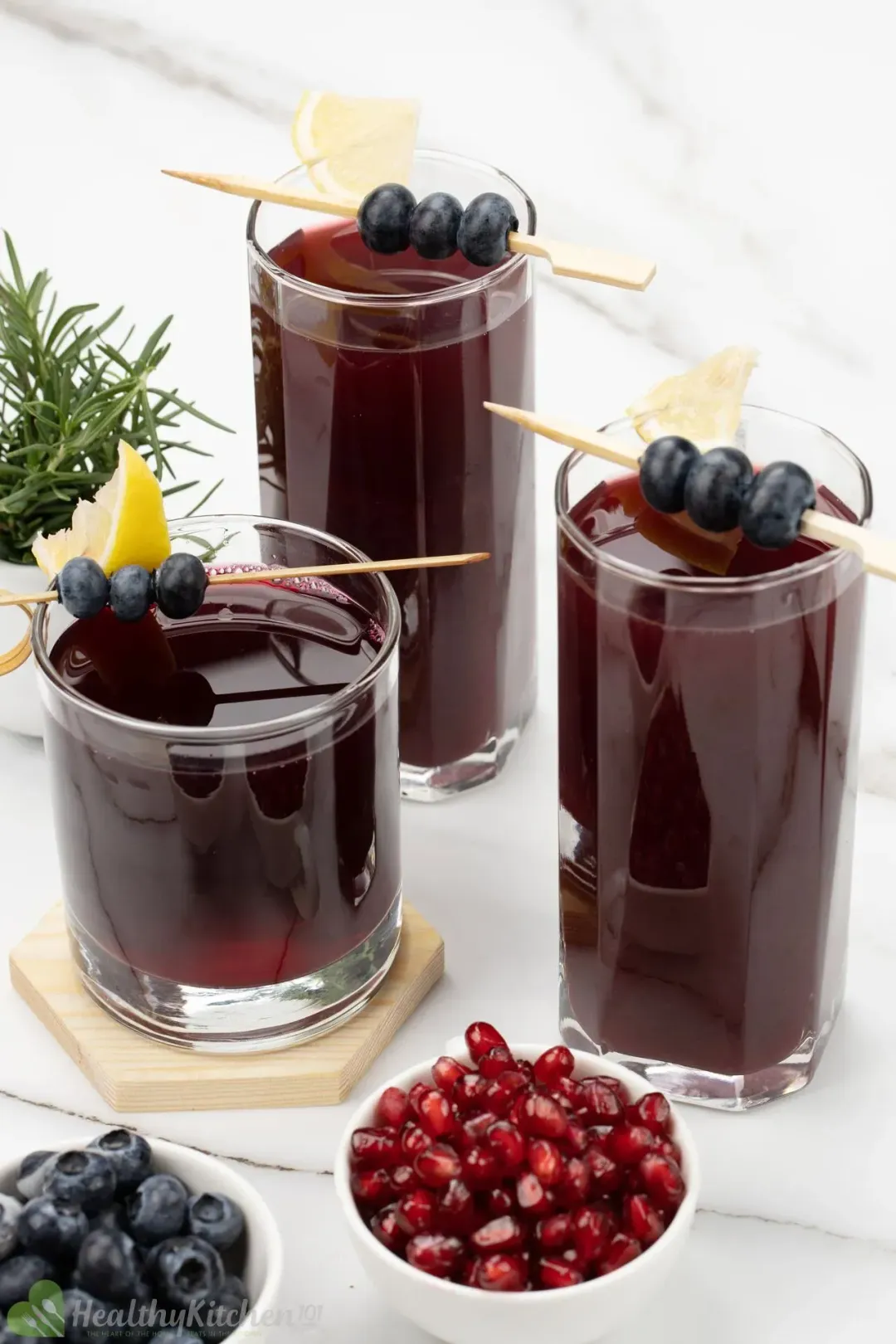 Previous Recipe
Top 10 Blueberry Juice Recipes
Top 10 Blueberry Juice Recipes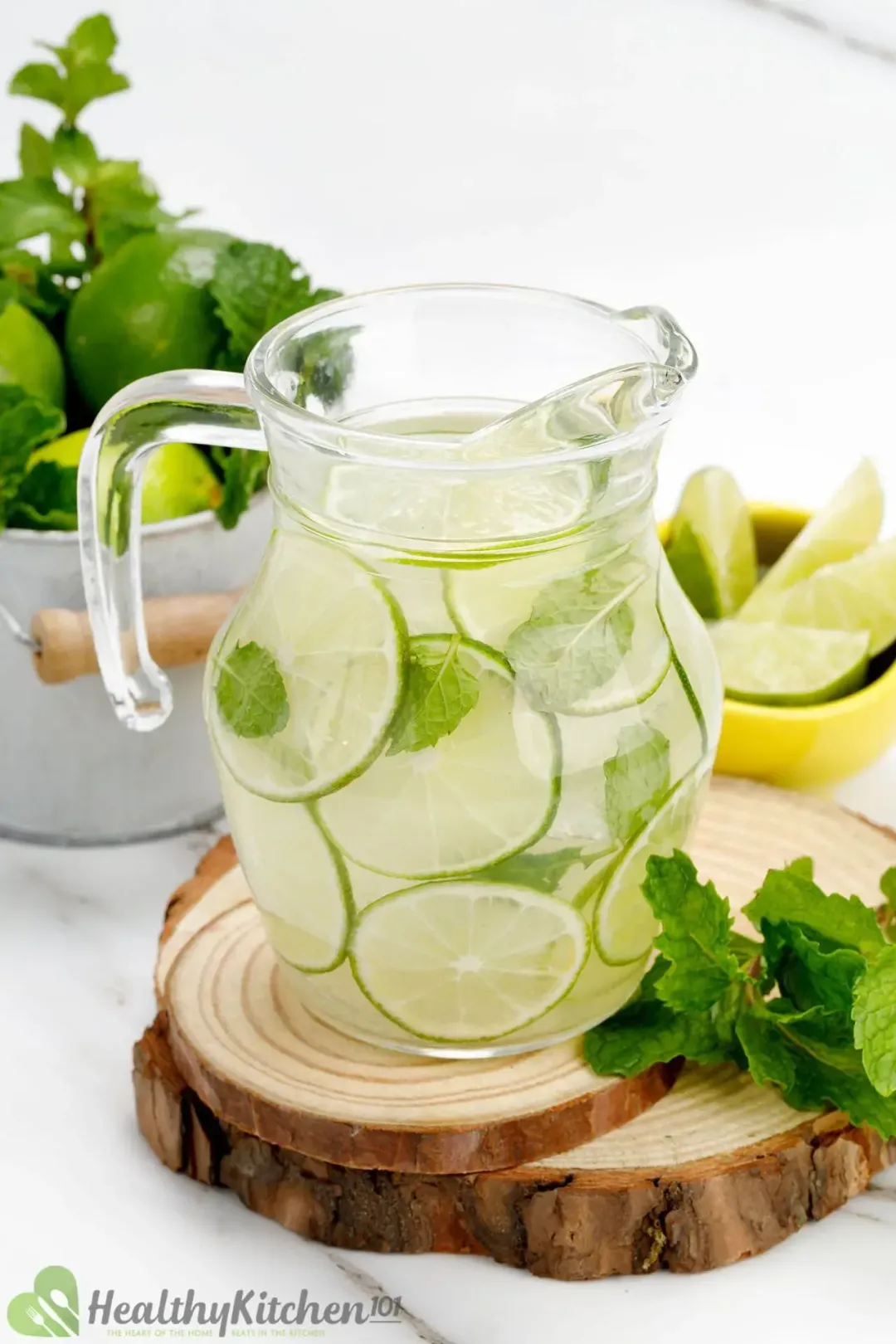 Next Recipe
Top 10 Lime Juice Recipes
Top 10 Lime Juice Recipes
Writer, Author
Luna Regina is an accomplished writer and author who dedicates her career to empowering home cooks and making cooking effortless for everyone. She is the founder of HealthyKitchen101.com and HealthyRecipes101.com, where she works with her team to develop easy, nutritious recipes and help aspiring cooks choose the right kitchen appliances.
Comments/ Reviews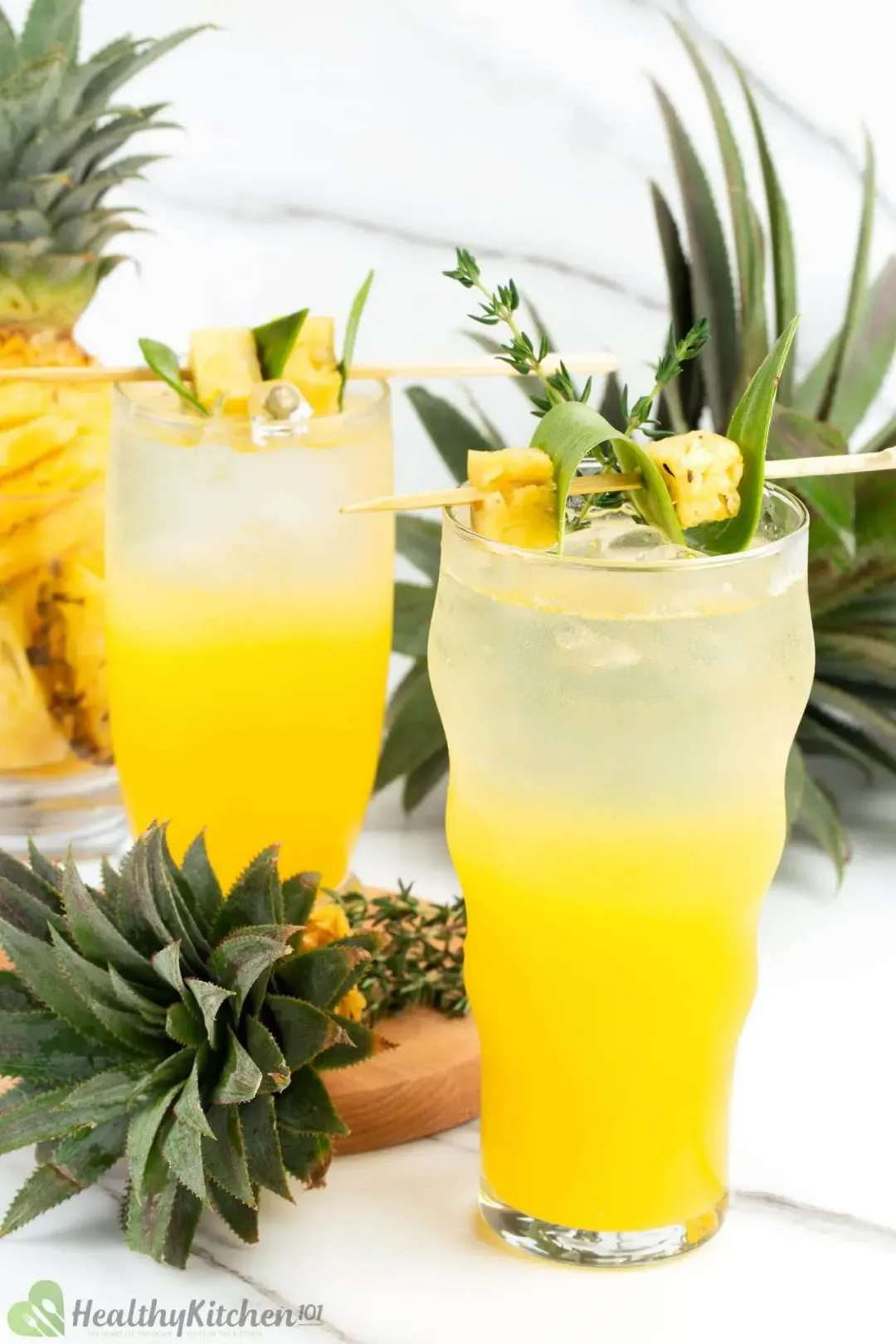 i just found your site, this was great! So nice and refreshing.

Tropical and sweet pineapple juices.

Really liked these recipes. Simple but tasty!