Today's best pineapple juice recipes introduce nutrient-packed metabolism drinks that aid digestion and reduce inflammation for you.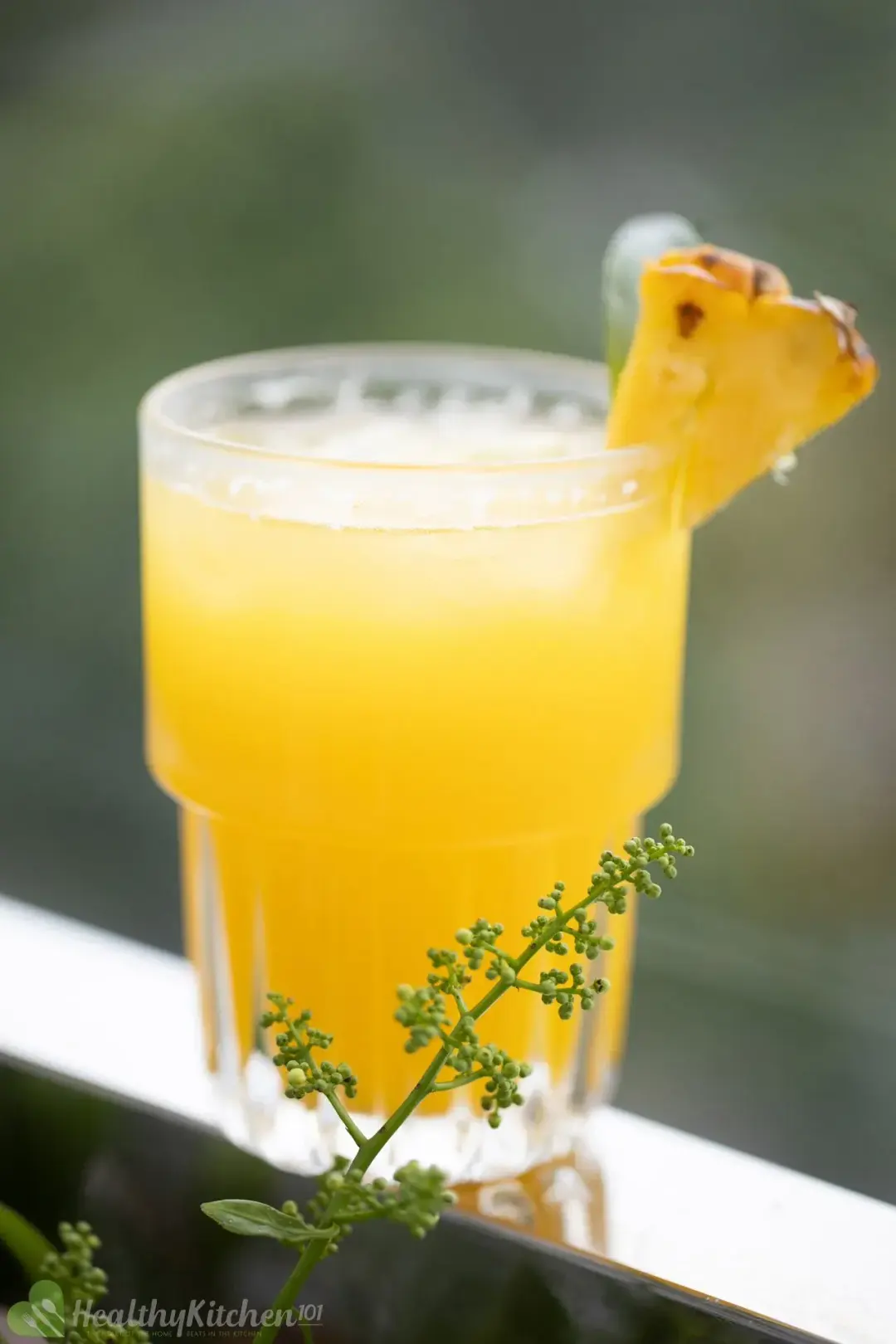 Pineapple is one of the most popular tropical fruits and easily available at grocery stores. Likewise, pineapple juices are also served at many restaurants as they're super easy to make and come with stimulating flavors.
Pineapple juice makes a wonderful choice to reset taste buds after big meals. Because of its natural sweetness, you don't need to add much sugar or sweeteners when making.
These drinks also come with plenty of nutritional benefits. Vitamins and minerals are concentrated into single servings of them so you can consume them daily with ease.
Having said that, if you're taking any medication, please consult your doctor or registered dietitian to ensure that it is safe to consume pineapple juice.
Pineapple Juice Nutrition
1. Calories
Basically, homemade pineapple juice needs no added sugar as pineapple is naturally sweet in itself.
As a matter of fact, 1 cup (roughly 165 grams) of pineapple produces about 5 fl oz of fresh pineapple juice. One serving of which provides you 82.5 calories and 16.3 grams of sugar (in the form of fructose).
2. Vitamins and Minerals
Pineapple juice is rich in vitamins and minerals.
Pineapples themselves are specially packed with a variety of vitamins and minerals: vitamin C and B6, manganese, copper, and trace amounts of other nutrients including iron, calcium, phosphorus, zinc,…
These nutrients all play important roles in improving bone health and immunity, reducing inflammation, suppressing cancer cells' growth, and speeding up recovery. These benefits will be particularly discussed in more detail in the below part.
3. Antioxidants
Pineapple is not only rich in nutrients but also is a good source of antioxidants. Experts believe that the antioxidants in pineapple juice— especially vitamin C, β-carotene, flavonoids, and phenolic acids— can contribute to many potential beneficial effects.
While oxidative stress is a state of having excessive free radicals in the human body, the good news is that antioxidants can help fight against it.
These free radicals are unstable compounds that accumulate in your body and interact with human cells due to many factors (pollution, stress, or unhealthy diet). They will, thus, cause cell damage that's related to chronic inflammation, weakened immune systems, and many harmful diseases.
4. Bromelain
Pineapple is the main dietary source of bromelain.
Bromelain is a group of digestive enzymes naturally present in pineapple. It mainly helps enhance the absorption of certain medicines (for example antibiotics and blood thinners).
Bromelain can also break down protein molecules into constituent parts— amino acids and small peptides— so it's easier for your body to absorb protein across small intestines. Thanks to this property, bromelain is also widely used as a commercial meat tenderizer.
5. pH of Pineapple Juice
Fresh pineapple scores 3.5-4.0 on the pH scale— right in the middle of the acidic spectrum. This tells pineapple is a moderately acidic fruit.
In fact, doctors advise against consuming pineapples for people who have active stomach ulcers or have experienced symptoms of acid reflux such as burning sensation or irritation in the esophagus.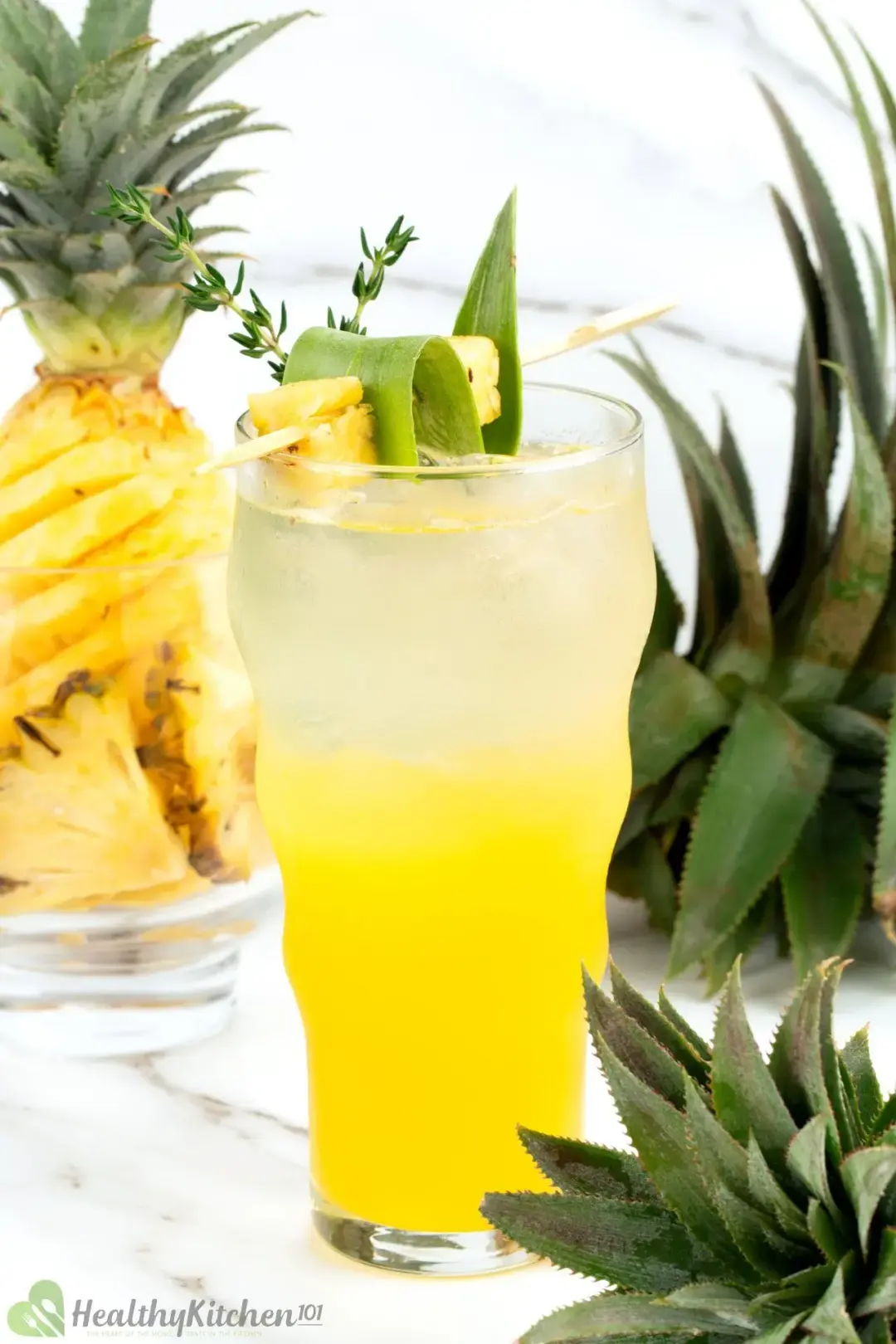 Pineapple Juice Benefits
1. For Weight Loss
Pineapple is year-round produce. You can easily find it available on the market as fresh, frozen, or canned.
Canned pineapple is usually the most convenient choice for busy people trying to add homemade juices to their diet. However, if using canned pineapple, it's important to check whether the product packs pineapple canned in its own juice or the refined syrup. 
The syrup contains added sugar, which makes your juice more calorie-dense, increases your total sugar intake and triglycerides (a type of fat in the bloodstream and fat tissue). Thus, this type of product might possibly result in weight gain if used for juices.
All in all, pineapple juice is a good choice for a low-calorie snack as it can satisfy your sweet tooth but delivers much fewer calories than other factory sweets. It provides a high content of important vitamins and minerals and has no saturated fat or trans fat.
You can fill up your stomach easily with pineapple juice without the fear of consuming too many calories. Add a few cups of pineapple juice to your daily meals and you'll see yourself gradually eat fewer calories overall, thus result in weight loss.
1. For Skin
Thanks to being rich in vitamin C, beta carotene, and bromelain, pineapple is a powerhouse in rejuvenating skin and thus makes it look bright and clear. Here are some major beneficial effects of consuming pineapple on your skin.
Brighten your skin & anti-aging:
As pineapple is a rich source of antioxidants, vitamin C, and alpha-hydroxy acids, it is known for the use of fighting skin-damaging free radicals. It can help reduce wrinkles and minimize the damage from daily sun and pollution exposure.
At the same time, bromelain can also exfoliate dead skin cells, thus brighten your skin. It's no surprise that pineapple is getting more and more popular as a natural body exfoliator.
Nowadays, pineapple is an ideal ingredient for types of face masks, toners, and body rubs. Skincare products made with pineapple extract can help flush away toxins and hence return you smooth and shiny skin.
Treats acne, fade scars and black spots:
The vitamin C in pineapple juice is a very effective remedy for acne and sun damage treatment. At the same time, the ascorbic acid in pineapple helps fade scars, reduce black spots on your face, and even your skin tone.
A simple method that's popular among people with these mentioned skin conditions is to dab/rub a few slices of pineapple over the black spots on your skin. Next, leave it on for a couple of minutes, then rinse it off with cold water.
3. Reduce Inflammation and Speed up Recovery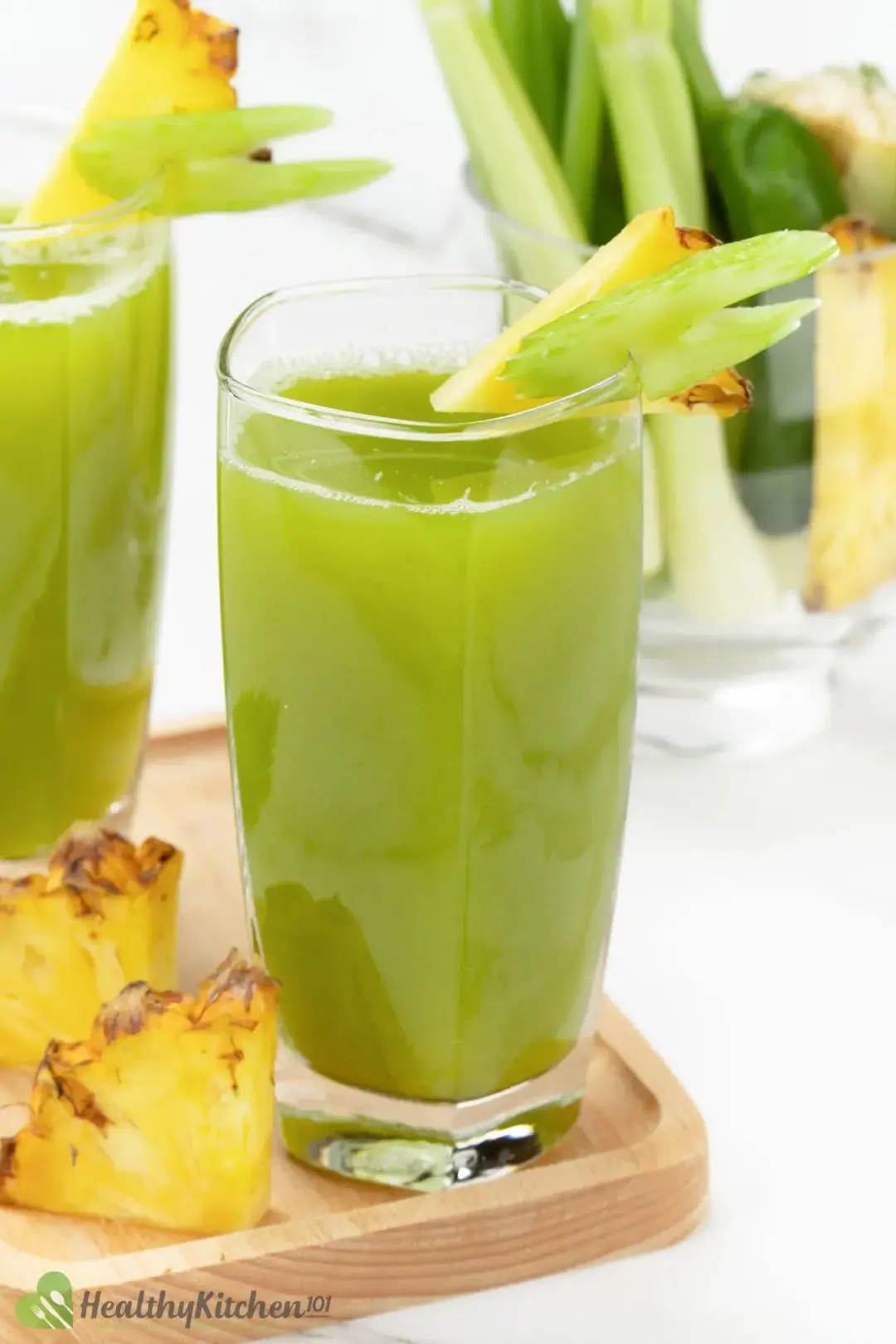 Pineapple juice contains bromelain, a group of enzymes that have been shown to be associated with many health benefits.
Bromelain is believed to help accelerate the recovery of damage caused by trauma, injury, surgery, rheumatoid arthritis, or osteoarthritis by reducing inflammation around the damaged muscle tissue.
Due to the anti-inflammatory properties of bromelain, you can expect to maintain greater strength, reduce the time required for surgical wounds or deep burns to recover, and also reduce swelling, bruising, and pain after surgery.
Bromelain can also treat arthritis in the short term. However, further studies are needed before recommending bromelain to relieve symptoms of arthritis in the long term.
4. Aid Digestion
Bromelain in pineapple also shows its role in aiding the digestion of the human body. It can help digestion, prevent harmful diarrheal bacteria, and reduce inflammation in patients with inflammatory bowel disease.
Bromelain can also break down protein molecules into components, which are amino acids and small peptides. Thanks to this, the human body can absorb protein in the small intestine more easily. This is particularly useful for people with pancreatic insufficiency, where their pancreas cannot produce enough digestive enzymes themselves.
5. Suppress Cancer Cells' Growth
Test tube and animal studies have found that bromelain can stimulate the immune system to produce molecules. This process results in white blood cells being more effective in eliminating or inhibiting the growth of cancer cells in the skin, bile ducts, gastric system, and colon.
How to Make Pineapple Juice
Make pineapple juice in a blender:
Start by adding the pineapple chunks to a blender, always fill the blender halfway only.
Consider adding some teaspoons of sugar or any sweetener of your favorite to neutralize it. This is optional and can be omitted if you find the tart and sour taste of pineapple juice is just right for you.
You can also add ice to make it slushier, the more ice you use, the thicker your drink will be. If you simply want to chill it, finishing juicing it and pour it over ice later when serving.
Next, add water to work out the chunks at the bottom of the blender more easily. Water can also help dilute the juice, thus making it less acidic in taste.
When you've got everything you want, hit the button to blend it until smooth.
The blending time depends on how much water and ice you've added to the blender. It's best to pause midway and stir it up with a spoon to check its consistency.
Finally, transfer the blended pineapple mixture to a cheesecloth and squeeze out the juice over a bowl.
Make pineapple juice in a juicer:
It's simpler making pineapple juice in a juicer than in the blender. There's absolutely no need for straining if the juicer is in use.
All you need to do is load the juicer with the pineapple chunks successively. Hold the lid down continually when they're going through the juicer until finishing.
And that's pretty much all it takes! Pour the pineapple juice out into serving glasses, whisk it together with other fruit juices or sugar, and enjoy right away.
Easy And Delicious Pineapple Juice Recipes
1. Best Recipe: Pineapple Juice (4 servings)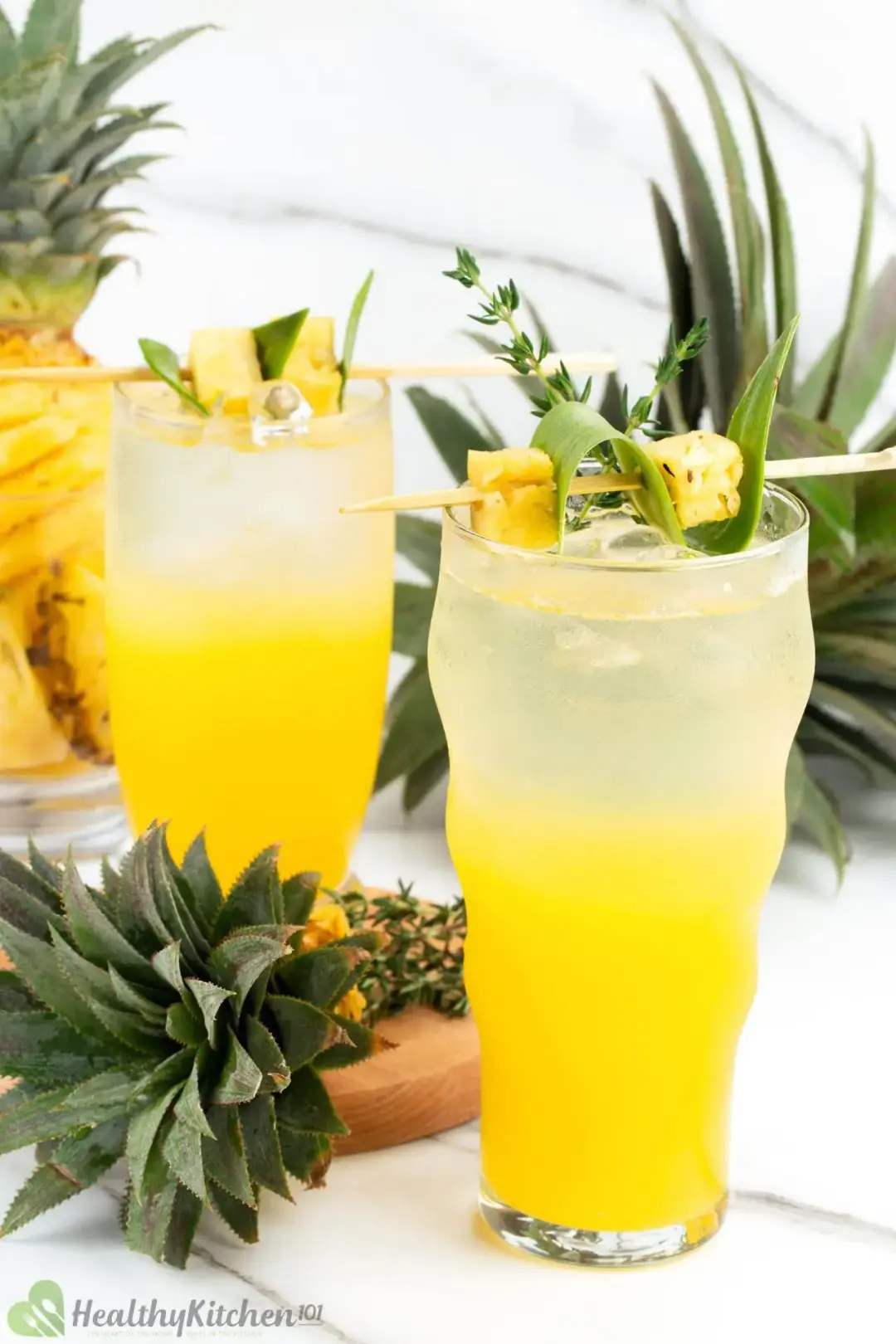 With the right balance of sweetness and tartness, this pineapple juice offers plenty of health benefits while enlivening your body from the inside out.
It's the festive cocktail that's reminiscing of Hawaii's summer on the beach. The ingredients are super basic and easily adjustable!
2. Orange Pineapple Juice (4 servings)
This five-ingredient orange pineapple juice delivers robust flavors from five ingredients only. Whether for breakfast, parties, or as starters, it serves as an organic energizing drink that comes with plenty of immune-boosting and digestion-aiding properties.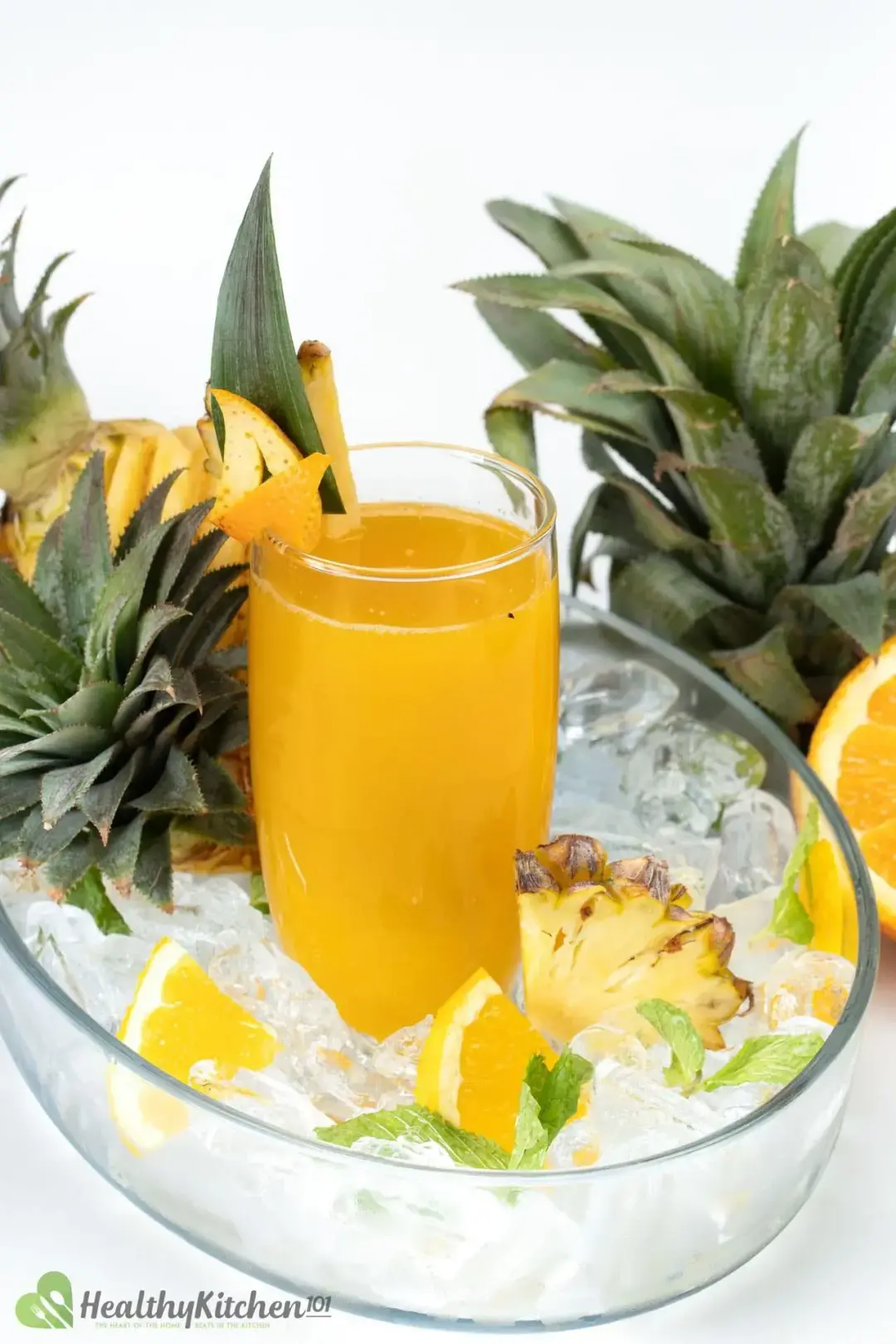 Ingredients
18 fl oz orange juice from 26 oz oranges
8 fl oz pineapple juice from 9.6 oz pineapple
1/8 tsp salt
2 tbsp sugar
2 cups ice cubes
6 mint leaves to garnish
Instructions
Wash and pat dry oranges and pineapple. Peel the pineapple and cut it into chunks. Run pieces through a juicer and collect liquid in a pitcher.
Slice oranges in half. Use a reamer to extract orange juice and add it to the pitcher.
Add sugar. Stir to dissolve.
Fill glasses with ice and pour the mixture. Garnish with mint leaves. Serve.
3. Vodka And Pineapple Juice (4 servings)
This beautifully layered vodka and pineapple juice is super easy to make— all you need is a pitcher to mix things up and a relaxing soul to enjoy the goodness!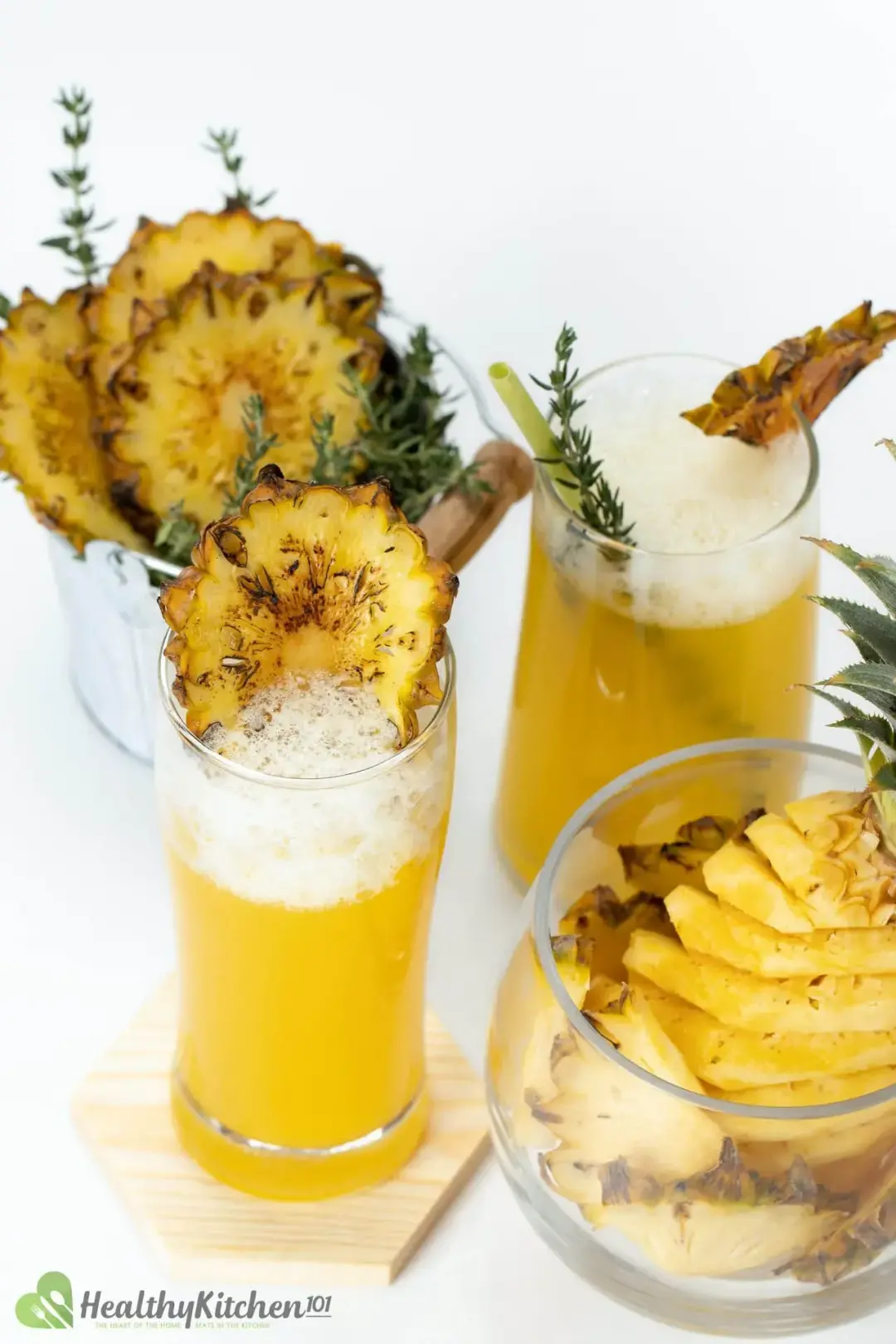 Ingredients
½ tsp lime juice
2 cups ice cubes
4 fl oz vodka
1 tbsp sugar
0.5 oz lemongrass
16 fl oz pineapple juice
Instructions
Fill a lowball glass with ice cubes.
Add the pineapple juice, vodka, lime juice, lemongrass, and sugar. Stir to combine.
Garnish with lime wedges if desired. Enjoy!
4. Rum And Pineapple Juice (4 servings)
Our rum and pineapple juice makes a simple drink that's done in 10 minutes but with complex flavors. It's fresh, sweet, sour, and leaves a hint of warmth on your tongue.
This drink can easily be added to dinners where a slightly tipsy feeling is just what you need. Let's check out the ingredients below!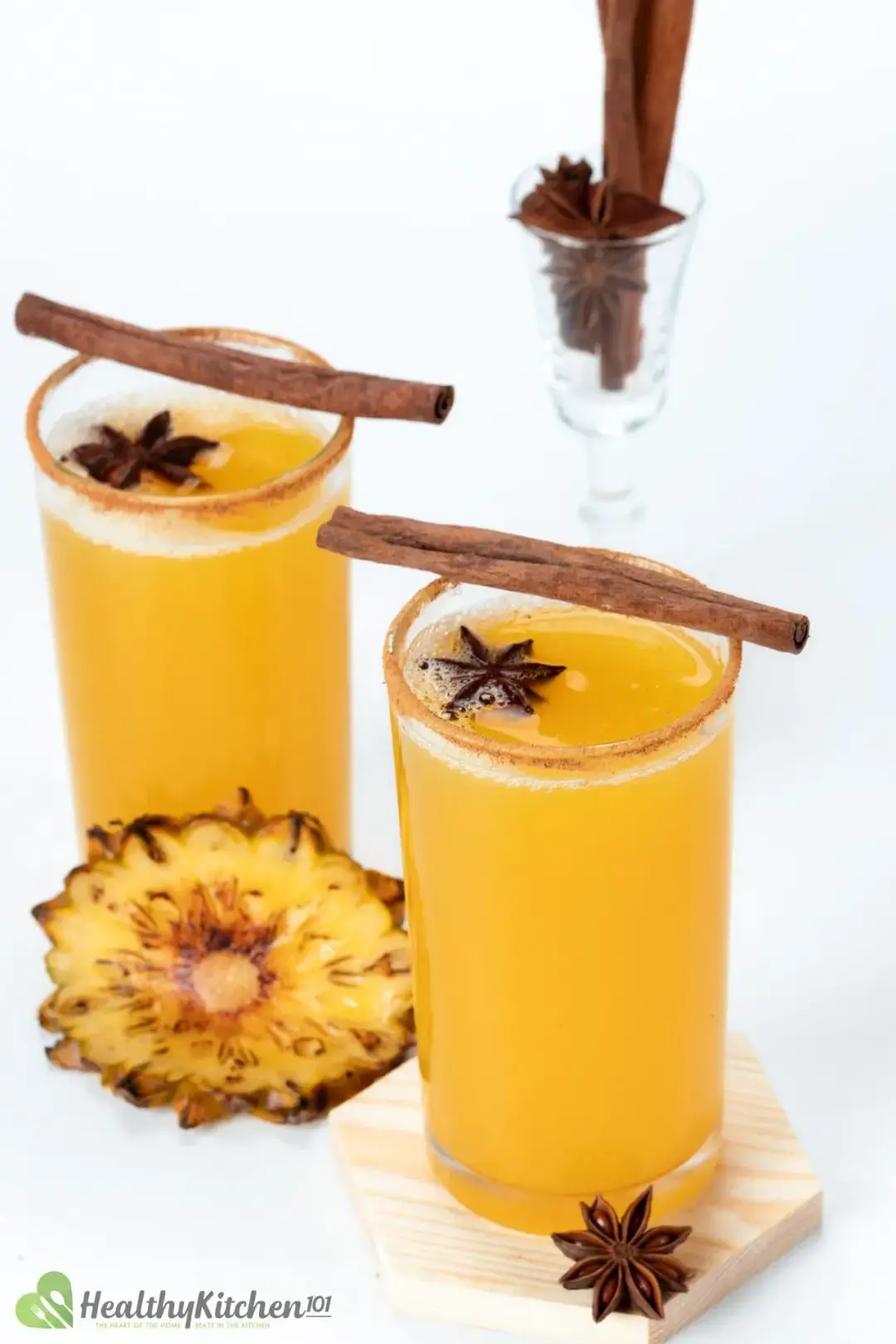 Ingredients
16 fl oz pineapple juice
4 fl oz 80-proof rum
1/2 tsp lime juice
1 tbsp sugar
1 tsp star anise powder
4 whole star anise, for garnish
8 mint leaves, for garnish
2 cups ice cubes
Instructions
Peel and cut the pineapple into chunks that fit the chute of your juicer.
Put pineapple in a juicer and collect the juice in a large pitcher.
Add rum, lime juice, sugar, and star anise powder to the pitcher. Mix well to dissolve the sugar.
Divide the drink into 4 glasses and add ice. Garnish with whole star anise, mint, and serve.
5. Sugar-Free Pineapple Juice (4 servings)
Are you looking for a low-calorie, sugar-free pineapple juice recipe to complement your summer? You're in the right place.
This added sugar-free pineapple juice formula is a delightful low-calorie drink with the natural sweetness of pineapple, grapes, apples, and coconut juice. Without added sugar, you won't have to worry about consuming excessive carbohydrates and calories.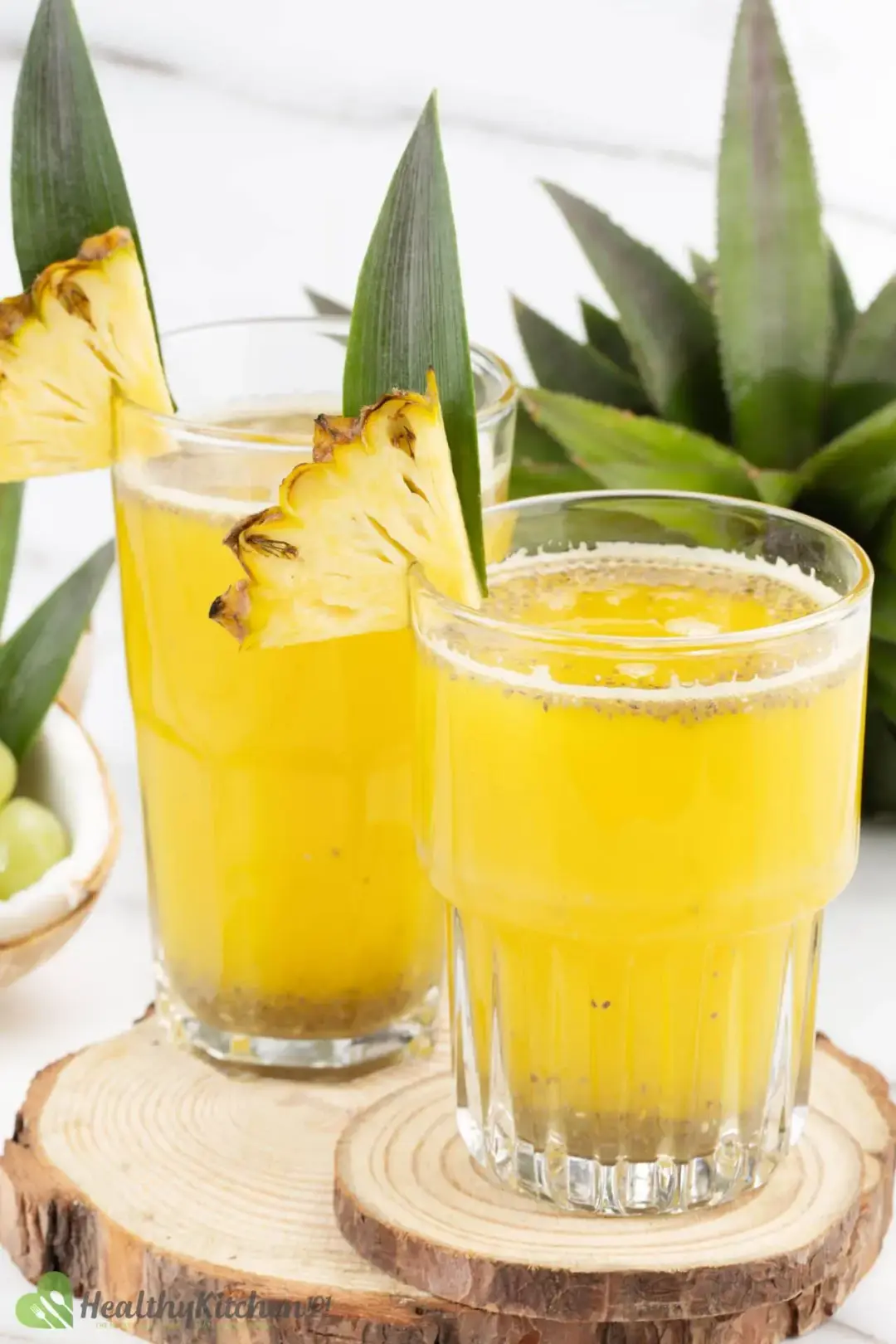 We also added nutritious chia seeds to give them more texture and flavor. Enjoy it while it's cold or add it to a nutritious meal to make it a thirst-quenching side drink.
Ingredients
18 fl oz pineapple juice from 24 oz fresh pineapple
4 fl oz red apple juice from 5 oz fresh gala apples
4 fl oz grape juice from 10 oz fresh grapes
1/4 cup coconut water
1/2 tbsp chia seeds
6 spearmint leaves fresh
2 cups ice cubes
Instructions
Wash pineapples, apples, and grapes separately. Peel and cut pineapples and apples into chunks (you can leave apples unpeeled).
Run pineapple pieces through the juicer and collect the liquid in a jar. Run apple pieces, then grapes through the juicer. Similarly, collect the juice in separate jars.
In one large pitcher, add pineapple, apple, coconut, and grape juice. Stir to mix.
Add in chia seeds and stir until well combined. Serve over ice and garnish with mint leaves.
6. Apple Cider Vinegar And Pineapple Juice (4 servings)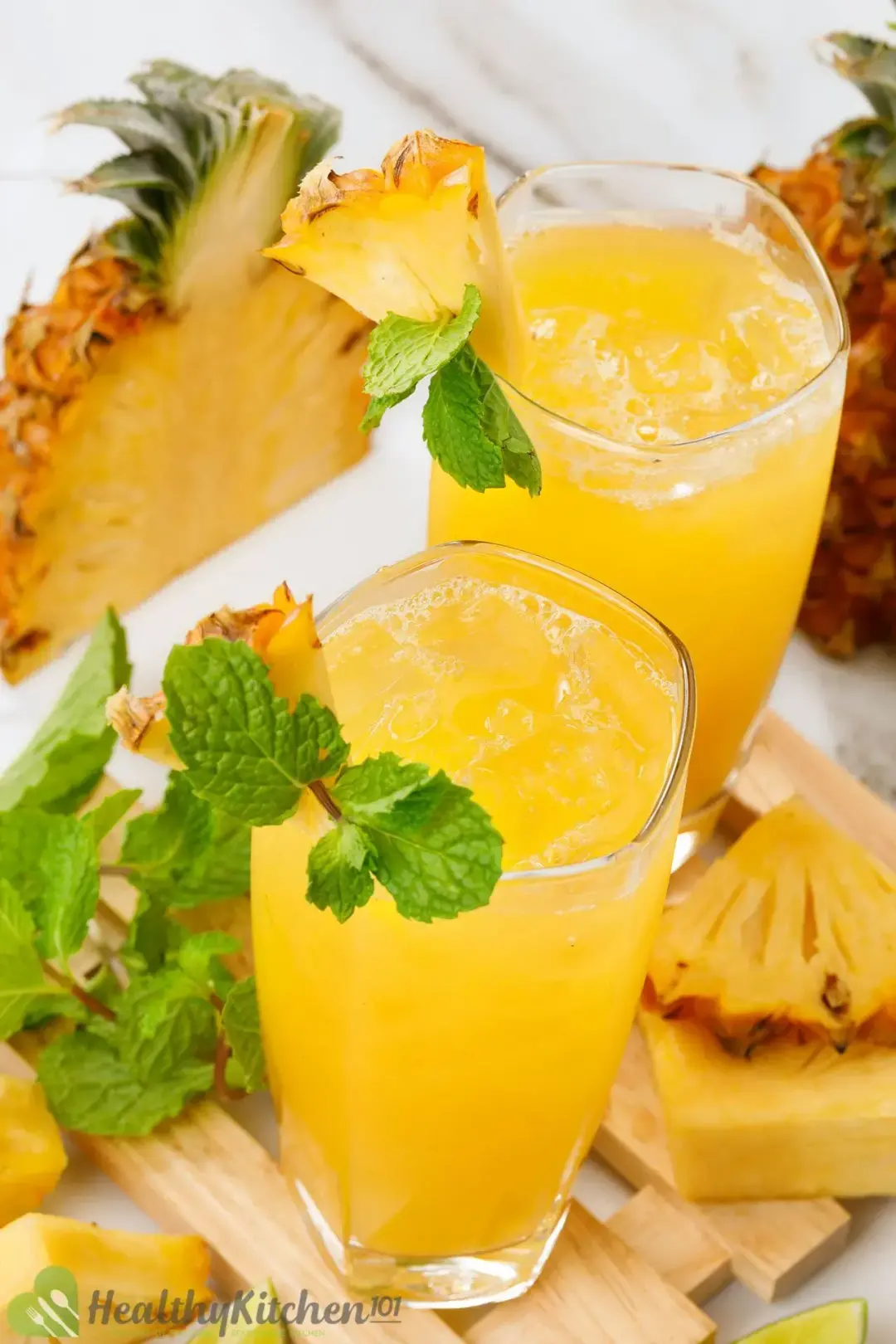 This apple cider vinegar and pineapple juice is a weight loss booster and an invigorating metabolism drink. Make it the next morning shot before work to improve your digestion and achieve the best detoxifying results!
Ingredients
1 1/2 tbsp apple cider vinegar
1 tsp lime juice
1 tbsp honey
2 tbsp mint
2 cups ice cubes
16 fl oz pineapple juice
1.5 cup sparkling water
Instructions
Place apple cider vinegar, lime juice, and pineapple juice in a blender, blend until well combined. 
Stir in honey, whisk until dissolved.
Pour the juice over ice cubes, add sparkling water. Garnish with mint leaves and enjoy.
7. Pineapple Lemonade Recipe (4 servings)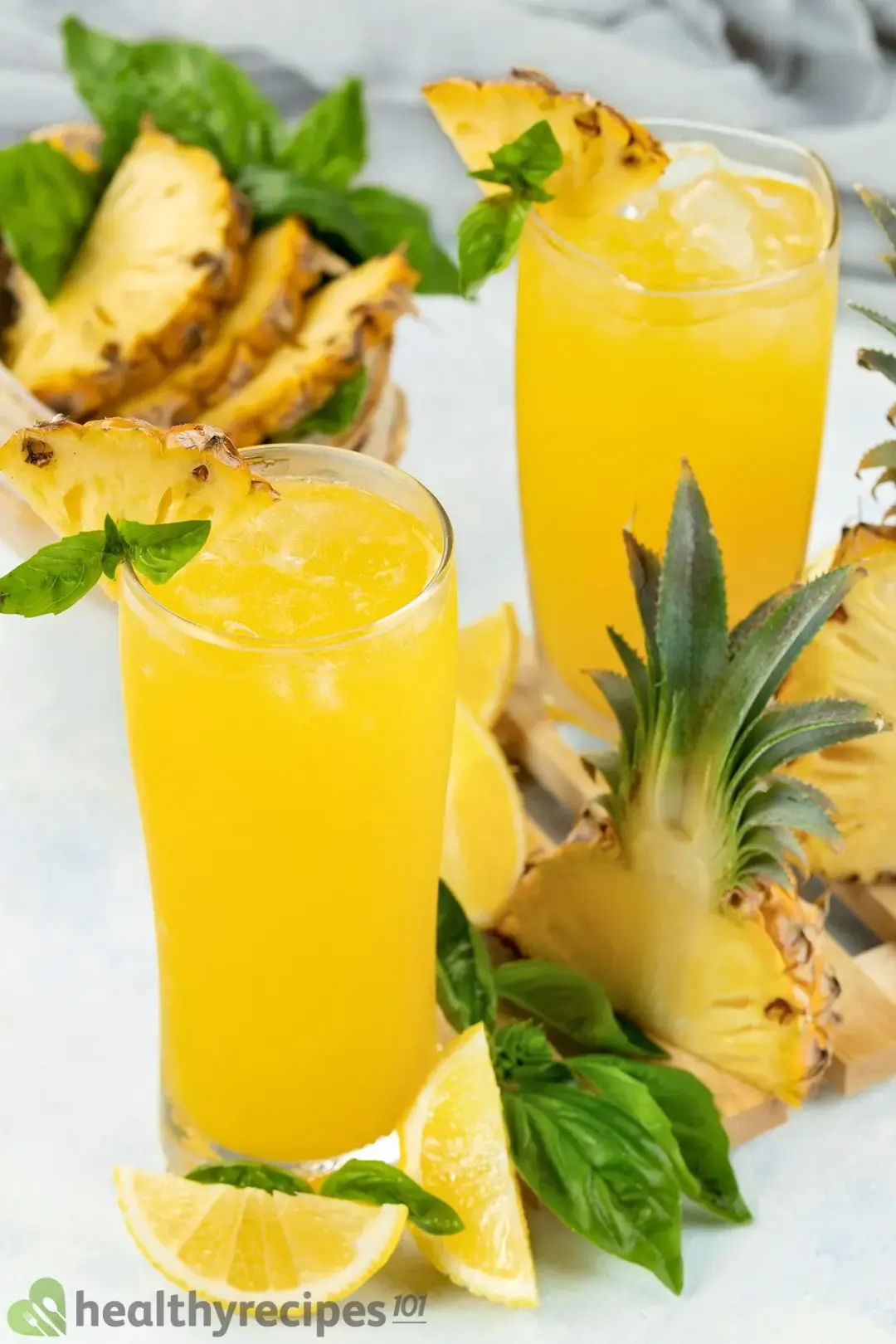 Our pineapple lemonade recipe packs many vitamins and nutrients and introduces a lip-smacking, refreshing drink that is sure to lighten up your mood on hot summer days.
Ingredients
16 oz pineapple juice
1 cup coconut water
2 tbsp lemon juice
2 tbsp granulated sugar
1 tsp lemon zest
2 tbsp basil
2 cups ice
Instructions
Mix the ingredients: add the pineapple juice, coconut water, lemon juice, sugar, lemon zest, and basil to a large pitcher. Use a wooden spoon to stir until all the sugar is dissolved.
Serve: Add ice to each glass and pour in the juice. Serve right away.
8. Carrot Orange Pineapple Juice Recipe (4 servings)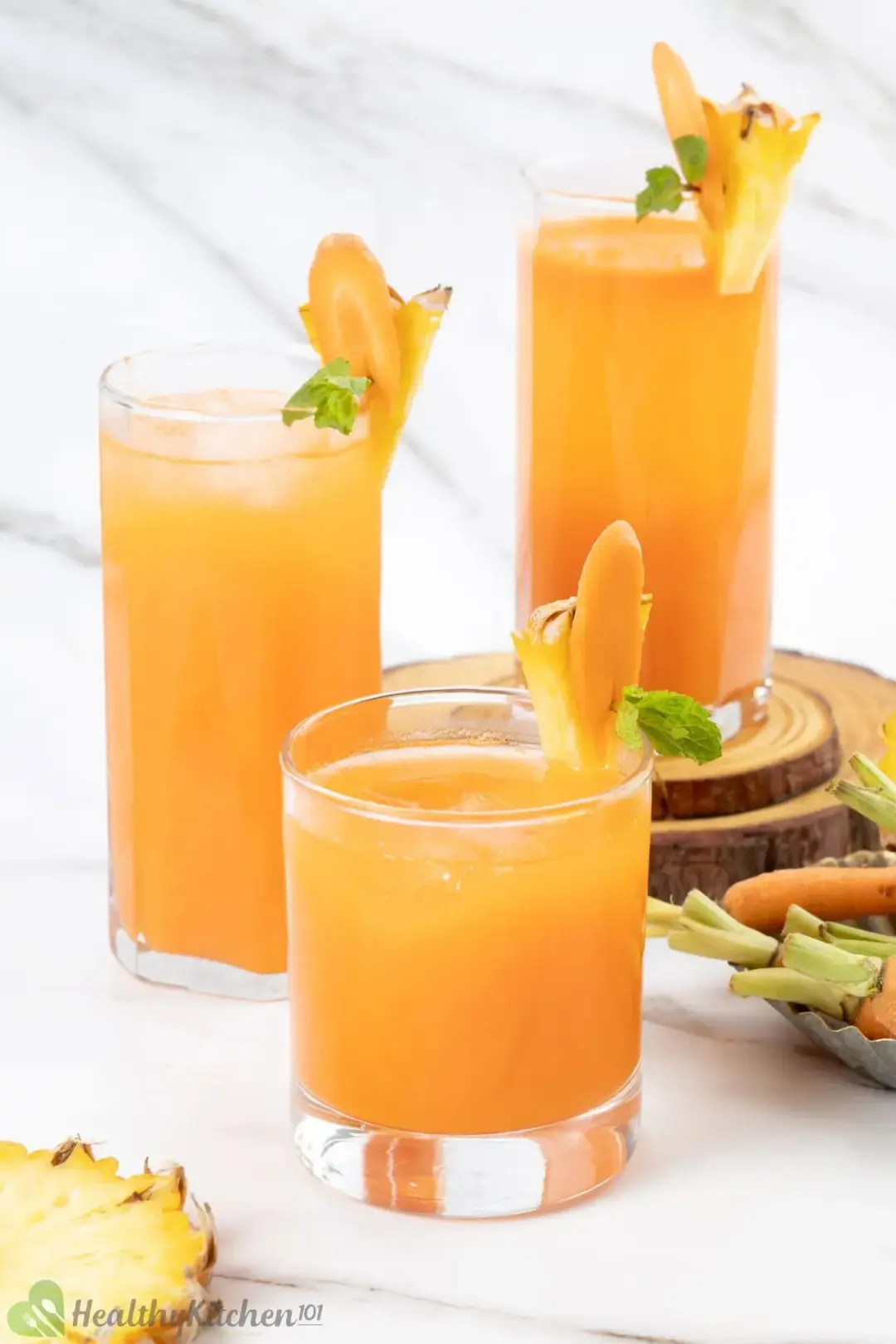 Three basic ingredients and a juicer are all that you need to make this carrot orange pineapple juice recipe. Slightly sweet and perfectly balanced, carrot orange pineapple juice gives you an antioxidant boost and a decent kick start for the day.
Ingredients
8 fl oz carrot juice, 16 oz carrot
10 fl oz navel orange juice, 12 oz orange
6 fl oz pineapple juice, 8 oz pineapple
1 tbsp sugar
4 oz ice cubes
1 tsp mint
Instructions
Wash all the fruits and vegetables. Cut them into small pieces if necessary to fit the juicer chute.
Feed all the produce through a juicer.
Pour into a pitcher and add sugar. Stir until the sugar dissolves.
Serve over ice and top with mint leaves.
9. Pineapple Coconut Juice (2 servings)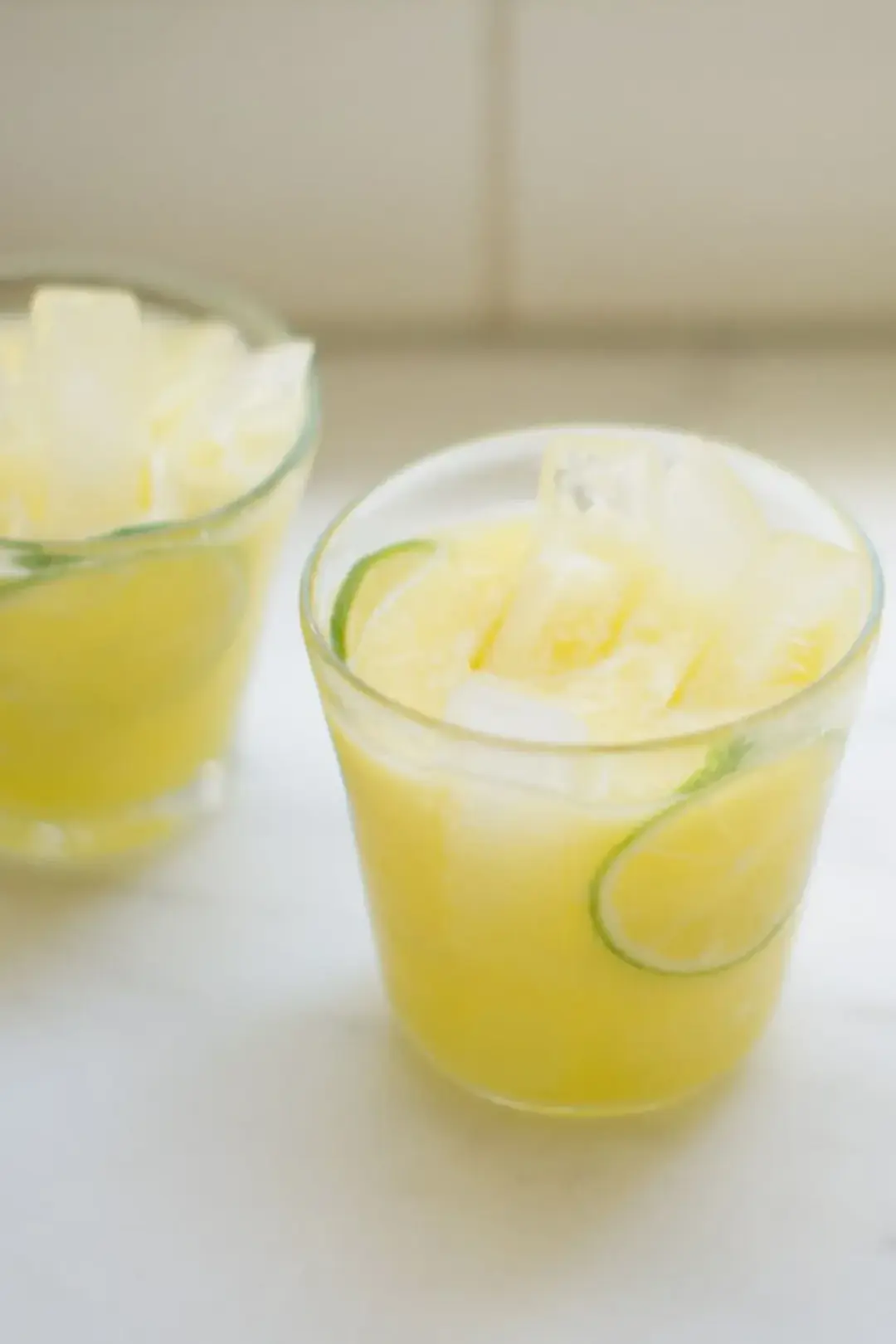 Made with coconut water, lime, and ginger juice, this pineapple coconut juice comes with invigorating flavors with an intense shade of yellow. We believe it could promise an energy booster for your next morning to work!
Ingredients
3/4 cup fresh pineapple juice (180 ml)
1/2 cup coconut water (120 ml)
1/2 tsp ginger juice
1 tsp honey
Juice of 1 lime
Instructions
Combine pineapple juice, coconut juice, and ginger juice in a cocktail shaker filled with ice, and add a little honey if desired. Shake well.
Fill serving glasses with ice cubes and lime juice. Pour the mixture of pineapple and coconut water into the prepared glasses. Add some extra squeezes of lime if preferred and enjoy.
10. Pineapple Mango Juice (4 servings)
This pineapple mango juice provides a warming kick from the ginger and refreshing tropical vibes from the combination of pineapple, mango, ginger, and lemon juice. Indeed a simple and energizing cocktail for the summer!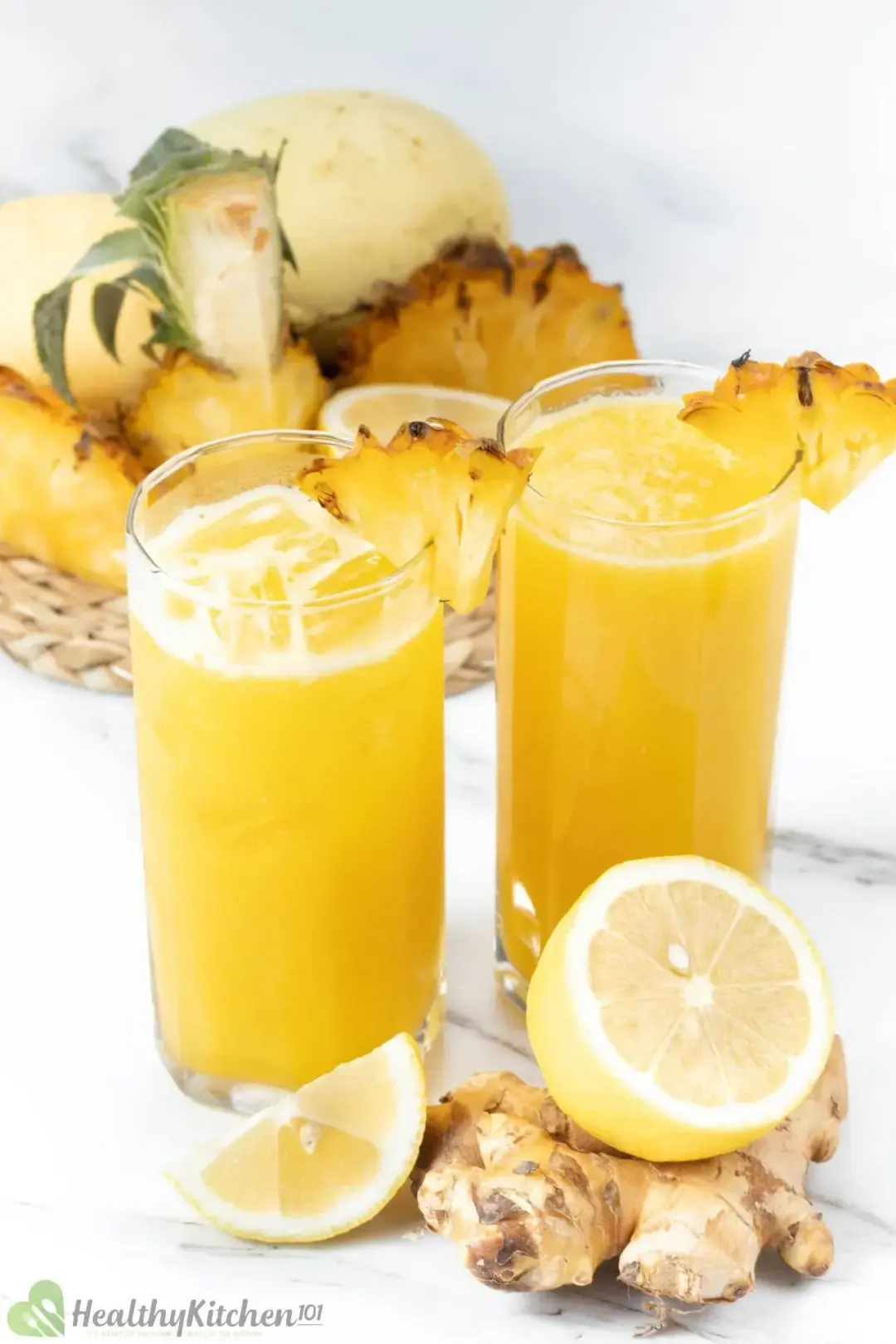 Ingredients
16 fl oz pineapple juice from 18 oz pineapple
8 oz mango
1/2 oz ginger
2 tbsp lemon juice
1 cup water
2 cups ice cubes
Instructions
Wash pineapples, mango, and ginger. Peel pineapples and ginger. Cut into small sizes that will fit into your juicer's feed chute. Peel the mango and cut into wedges. Discard the pith.
Add mango to a blender and blend to a smooth liquid. Run pineapple and ginger through juicer feed chute and collect the juice in a pitcher.
Pour mango blend into the pitcher. Add lemon juice and water. Stir to mix.
Fill glasses with ice and pour in the mixture. Garnish with a pineapple wedge. Serve.
11. Pineapple Ginger Juice (4 servings)
This refreshing pineapple ginger juice with lime could be the next wonderful choice to lighten up the mood on your hot summer days!
One of the best things about it is that it's super versatile and reaches a perfect balance between contrasting flavors. The blend of sweetness, spiciness, and sourness allows you to work this juice to your liking whatever way you want.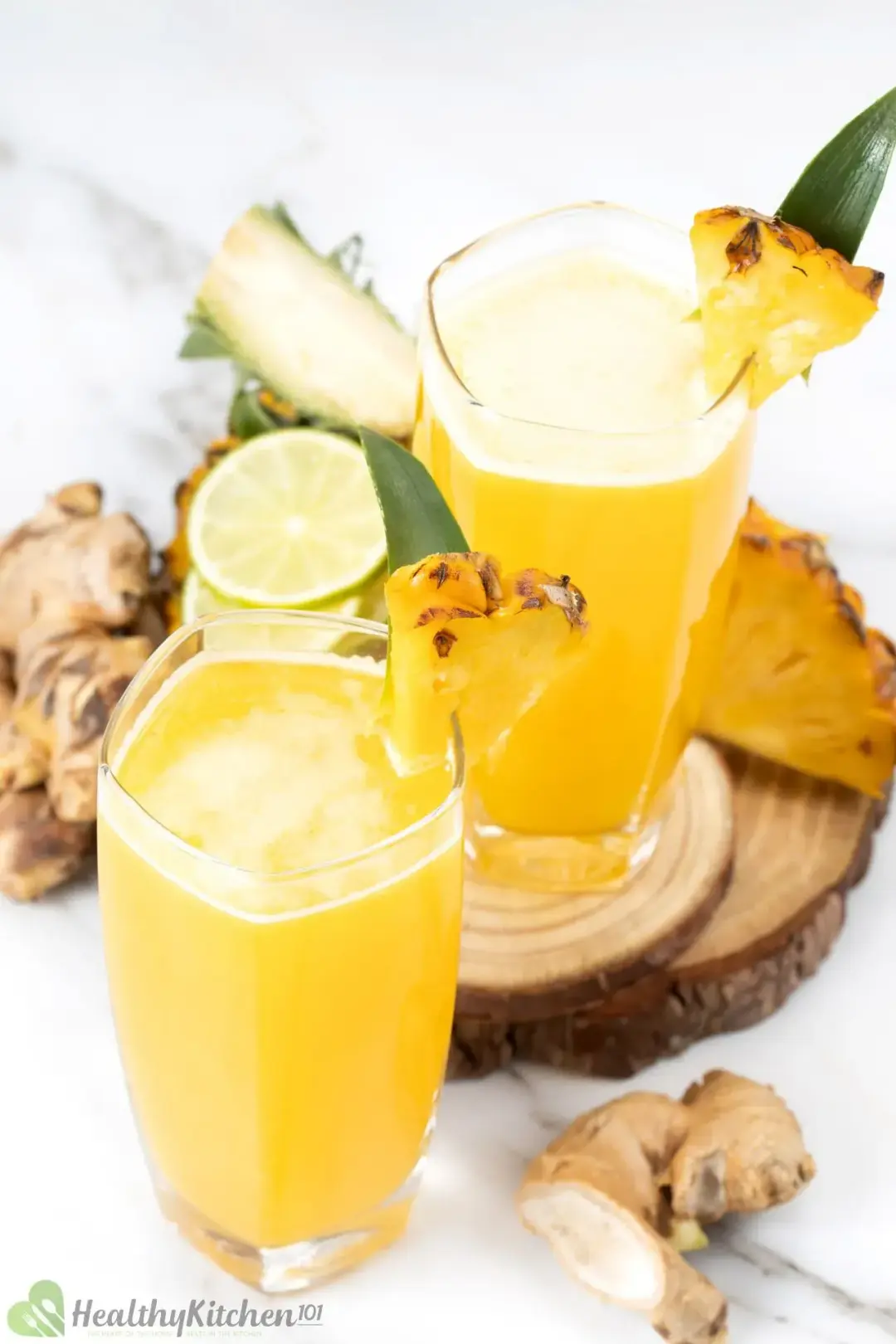 Ingredients
12 fl oz pineapple juice from 16 oz fresh pineapple
1 oz ginger
3 tbsp granulated sugar
1 cup water
1 tbsp lime juice
1 cup ice
Instructions
Place the pineapple chunks and ginger through a juicer. Then transfer the juice to a large pitcher.
In the pitcher, add water and lime juice, mix until well combined. Use a fine sieve, drain the juice.
Add granulated sugar to the pitcher. Stir until the sugar has dissolved.
Garnish with lime slices and serve over ice.
12. Gin And Pineapple Juice (1 serving)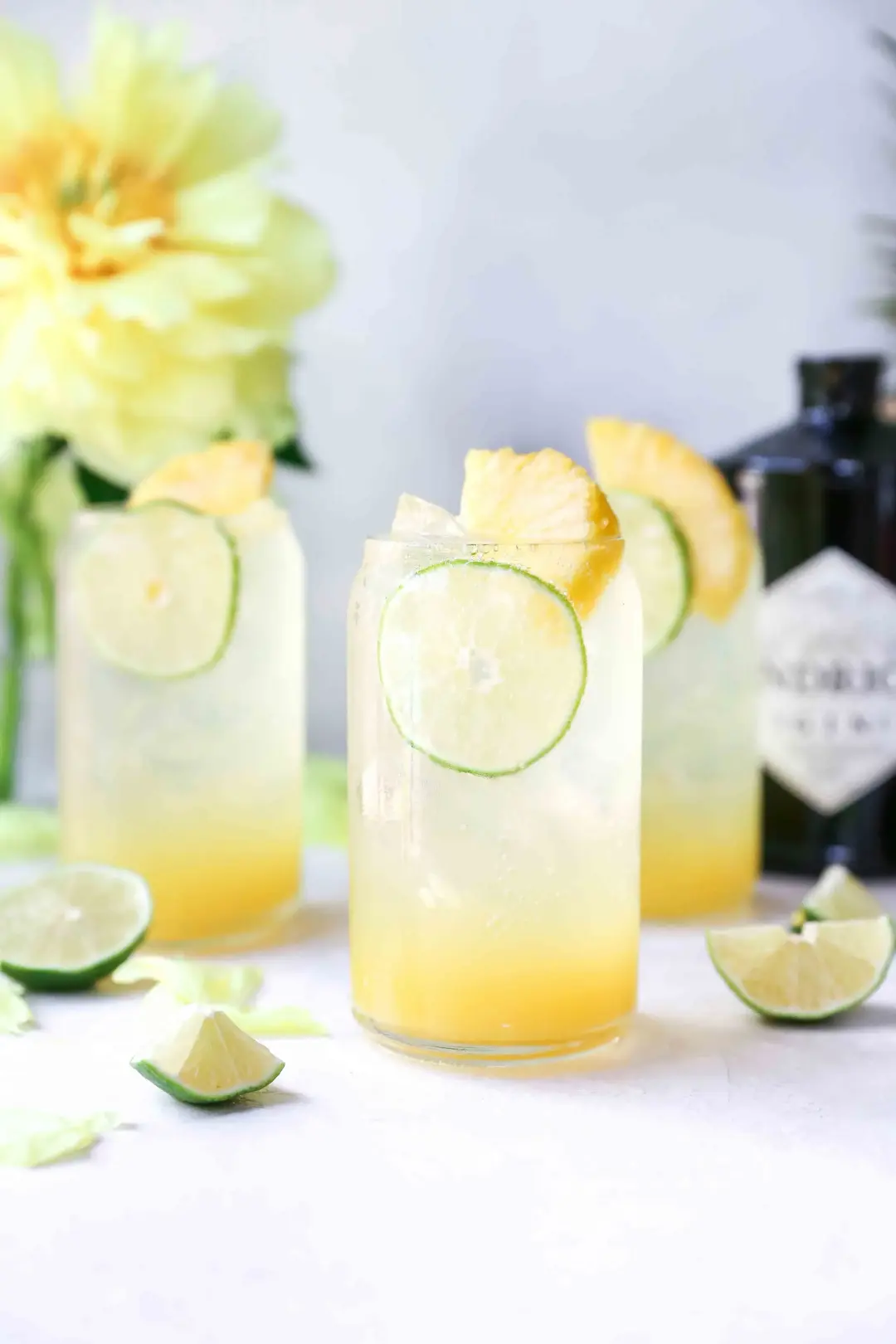 This gin and pineapple juice requires only a few ingredients: gin, tonic water, limes, and pineapple juice. It's refreshing and super easy to be customized to your taste.
Ingredients
6 fl oz pineapple juice
8 fl oz gin
12 fl oz tonic water
Juice of 3 limes
Lime wedges
Fresh pineapples, sliced
Instructions
Fill the serving glasses with ice cubes and fresh pineapple juice.
Pour gin, lime juice, and tonic water into the glasses. Stir gently.
Decorate the glasses with fresh lime wedges and pineapple slices. Serve immediately.
FAQ
1. Is Pineapple Juice Good for Phlegm?
Phlegm is a type of mucus that's produced with excessive amounts in your lungs whenever you catch a cold, making you cough up nonstop. It's more severe in people suffering from tuberculosis (TB).
Bromelain, a mixture of enzymes in pineapple provides anti-inflammatory properties that can help with regular respiratory issues (common allergies and asthma). Its mucolytic properties are said to help break down, dissolve, and expel mucus.
2. Drinking Pineapple Juice Before Bed
Being high in melatonin, pineapple juice is believed to help people fall asleep fast, 
Studies have reviewed the use of melatonin for the treatment of sleep disorders. Consuming pineapple juice a couple of hours before bed can increase the concentration of melatonin signals in your body, thus reset your circadian rhythm a.k.a. sleep cycle.
3. How Long Does Pineapple Juice Last?
Packaged pineapple juice should be stored in a cool, dark area and avoid exposure to direct sources of heat or light before unpacking. If stored properly, it'll be safe to consume until the expiry date printed on the package.
For fresh pineapple juice, if refrigerated properly, it can remain edible for 2-3 days from the day it's made.
Also, you may consider freezing your pineapple juice to extend its shelf life. If frozen constantly, the juice will be able to maintain its best quality for 3-4 months.
After defrosting, pineapple juice can last for an additional period of 3-4 days in the fridge.
4. What Happens If You Drink Too Much Pineapple Juice?
The acidity in pineapple juice is usually one of the reasons for heartburn or reflux in some people. People with gastroesophageal reflux disease (GERD) may wish to avoid consuming large amounts of it.
Although consuming small amounts of pineapple juice is associated with lowering risks of type 2 diabetes and heart disease, it absolutely doesn't mean the more the better. The juice from pineapple is low in fiber but rich in sugar, so it is not recommended to drink more than 5 fl oz (about 150ml) of it every day.
When drinking the juice from a pineapple, you are unlikely to be as full as when eating the same amount of raw fruit. Therefore, having too much pineapple juice may promote weight gain and other negative effects.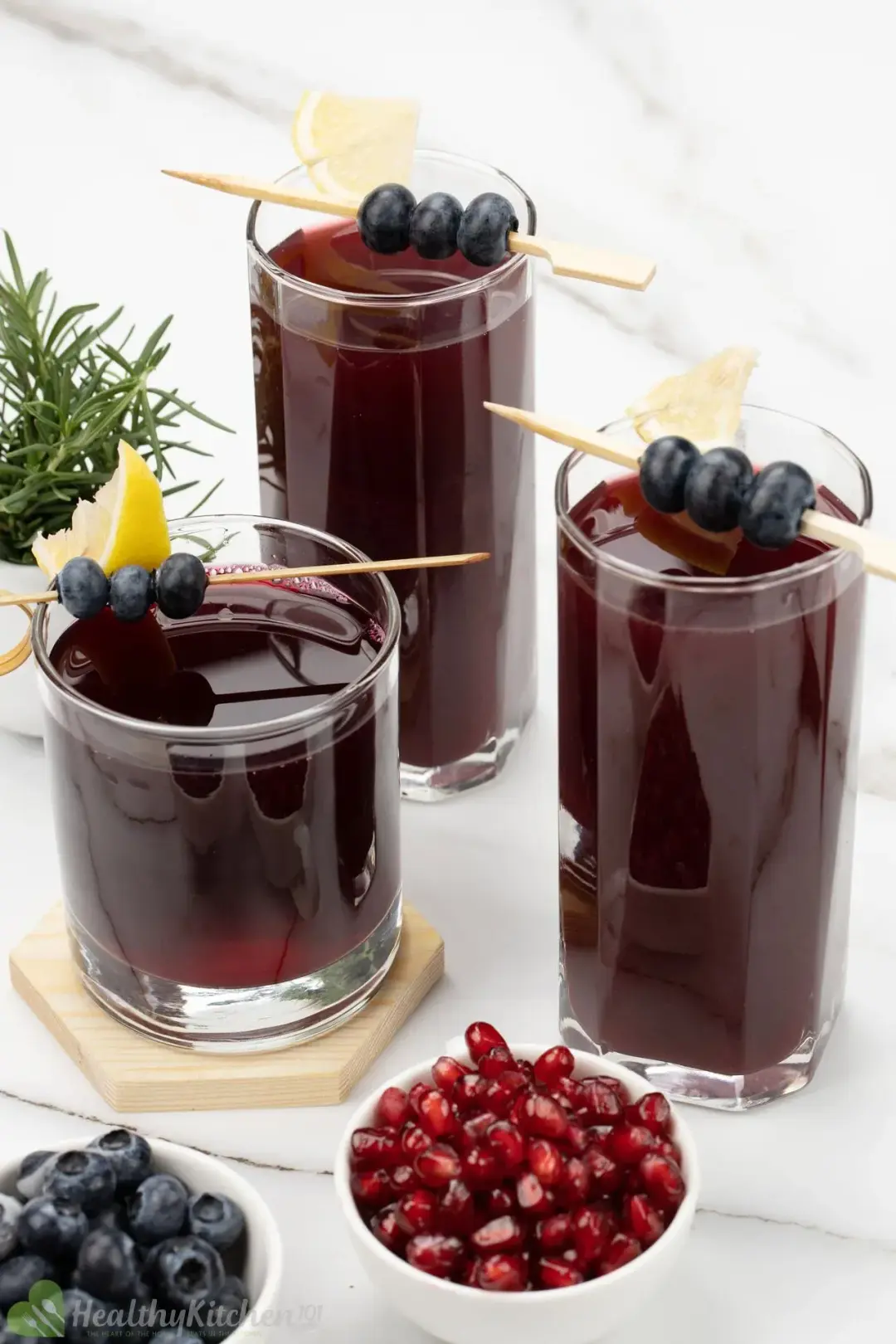 Previous Recipe
Top 10 Blueberry Juice Recipes
Top 10 Blueberry Juice Recipes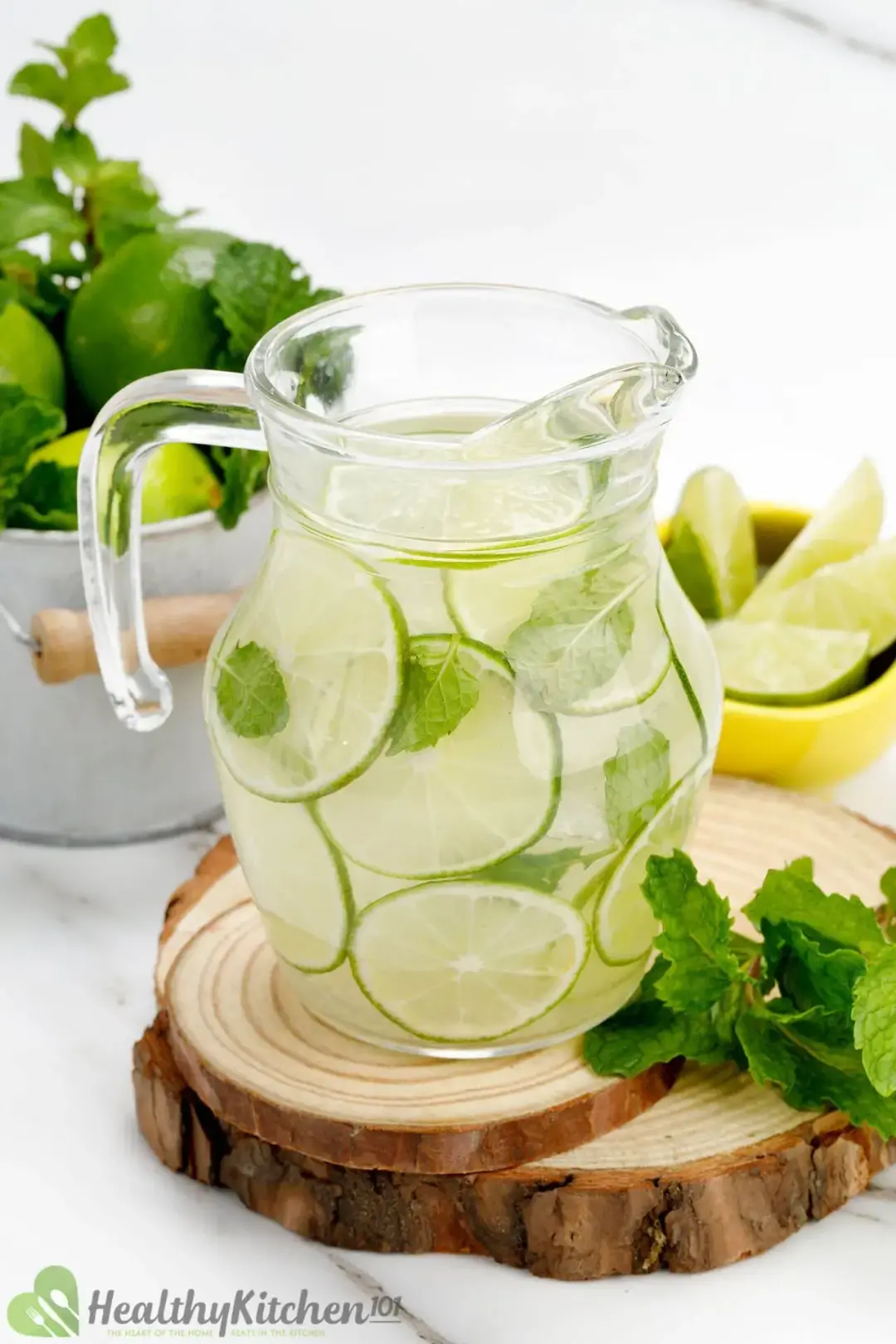 Next Recipe
Top 10 Lime Juice Recipes
Top 10 Lime Juice Recipes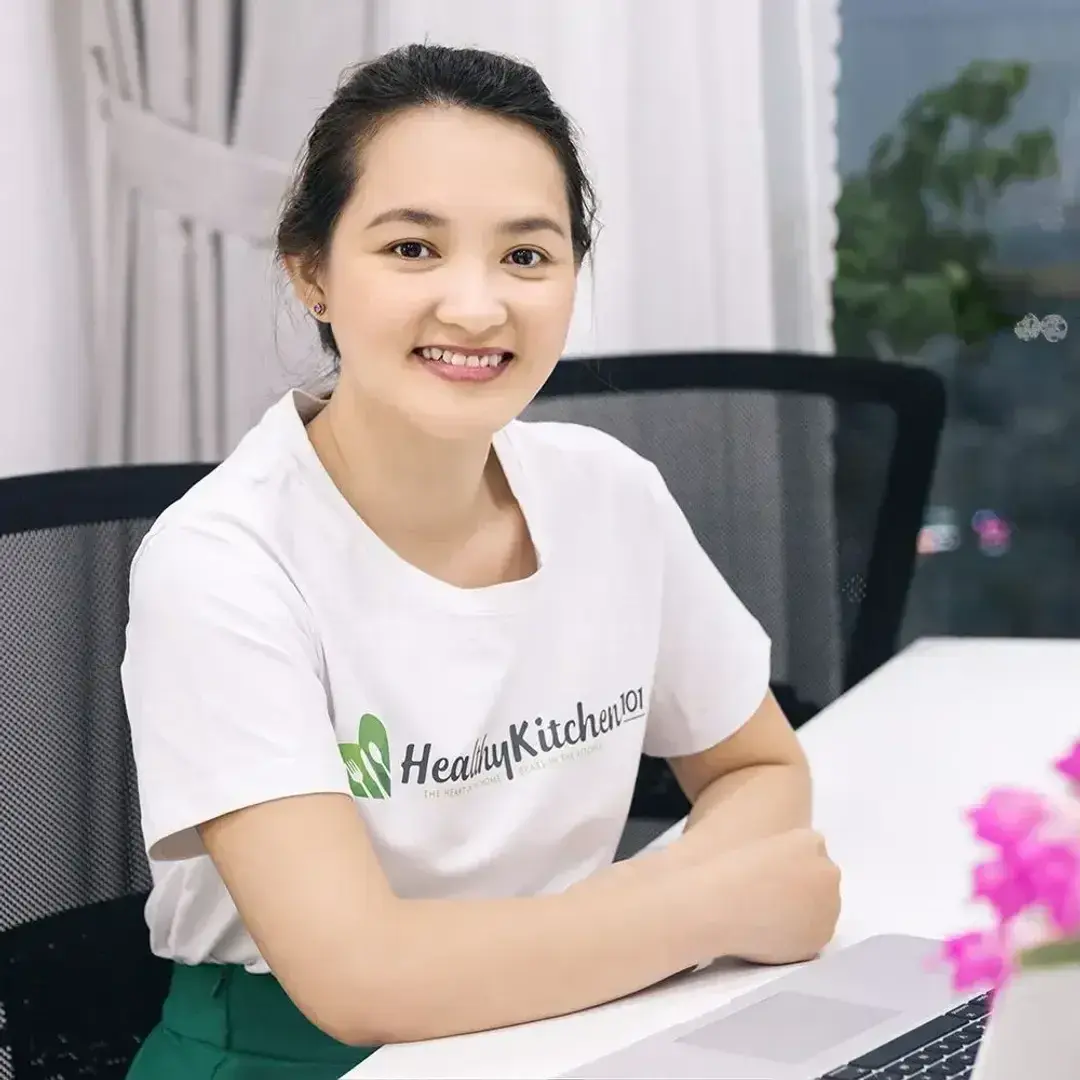 Luna Regina
Luna is the founder and chief recipe developer of Healthy Recipes 101. Apart from cooking, she also loves reading, programming, exploring the outdoors, and collecting useless facts about everything.