Explore the marvelous wonders of grapefruit with these grapefruit juice recipes. Whether you enjoy this fruit's tangy and tart taste on its own or prefer to mix it with other fruits and ingredients, we have got you covered.
In this article, we'll also tell you exactly how to prepare the best grapefruit juice recipes depending on your goals and health issues. You can read research-backed recipes, and find out why grapefruit juice is good for you, as well as who should avoid drinking it.
Read along!
Easy And Delicious Recipes
1. Fresh Grapefruit Juice
This homemade grapefruit juice is pleasantly flavorful with the natural sweetness of pink grapefruit and organic products. There are green grapes and lemon juice included in this recipe to boost the nutrition and at the same time, layer the drink with sweet and zesty undertones for a more exciting taste. Want to brighten things up this morning? A cup of this homemade grapefruit juice might be what you need.
Go to Recipe
2. Grapefruit Orange Lemon Juice
This grapefruit orange lemon juice is a citrus party you won't want to miss out on. It's a burst of vibrantly bright and zesty flavors, with notes of ginger to infuse a touch of warmth after each sip. Dress it up with a sprig of rosemary or thyme and you've got a brunch-appropriate drink to share over conversations with friends or lounging by the pool. Whatever it is, you can count on this drink to bring that instant sense of relaxation.
Go to Recipe
3. Grapefruit Apple Carrot Juice
Made with nutrient-dense ingredients that also offer exquisite flavors, this juice blend gives you the best of both worlds. It's packed with vitamins, antioxidants, and minerals that bring great health benefits, and at the same time, graces your taste buds with a vibrant mix of sweet, tart, and zesty goodness. Whether you need a health boost or just something to brighten the palate, this juice is a more than ideal choice.
Go to Recipe
4. Orange, Grapefruit, and Coconut Juice
This delightful concoction features a combination of zesty oranges, vibrant grapefruit, and creamy, sweet coconut that will leave you feeling like you're sipping on sunshine. Each taste is a dance of flavors, with the citrusy notes of oranges and grapefruits intertwining on your tongue while the coconut adds a tropical twist. Whether you're lounging by the pool, hosting a summer soiree, or simply in need of a pick-me-up, this vibrant juice is the perfect companion.
Go to Recipe
5. Vodka And Grapefruit Juice
This mix of vodka and grapefruit juice might just be your next summer party staple. Tart and bright at first taste with a lingering touch of citrus, this gorgeous drink is a fantastic choice for livening up the mood and having your guests buzzing with joy. The best part? You'll only need to spend a few minutes to mix up a giant pitcher of this sparkling cocktail.
Go to Recipe
6. Tequila And Grapefruit Juice
Cheers to a taste of paradise with this delectable mix of tequila and grapefruit juice. The sharp and citrusy taste of grapefruit pairs perfectly with the smooth and earthy notes of tequila, creating a balanced and tantalizing drink that is sure to please. Looking to add a little kick to your tropical oasis? This is just the drink to make!
Go to Recipe
7. Gin And Grapefruit Juice
This recipe of ours triples the citrus and calls for both lemon and orange to create a fresh burst of citrus flavor and make a perfect pair with the liquor. Since grapefruit juice already brings a spark to the mix, you need no soda for the fizzy bubbly effect. So put on some jazz music, mix the ingredients together, and elevate your cocktail experience with this exquisite libation.
Go to Recipe
8. Ginger, Grapefruit, & Blood Orange Juice
Transport your senses to a sunny citrus grove, surrounded by the vibrant colors and aromas of freshly squeezed fruit with this marvelous, two-step recipe. The combination of zesty grapefruit and sweet blood orange juice creates a delightful citrus base, while the addition of ginger adds a subtle spice that balances out the flavors. The result is a perfectly balanced and invigorating drink that is both refreshing and satisfying.
Go to Recipe
9. Apple Cider Vinegar And Grapefruit Juice
Apple cider vinegar (ACV) is known to aid in digestion, boost the immune system, and promote healthy skin, among other things. However, since ACV tends to be too acidic, pairing it with grapefruit juice helps to mellow out the harshness and make it a lot more palatable. With each sip of this revitalizing drink, you'll be treating your taste buds to a delightful burst of citrus, tart flavors while also giving your body a dose of natural goodness.
Go to Recipe
10. Cucumber Grapefruit Juice
Inject a splash of freshness to your day with this cucumber grapefruit juice and feel the summer heat melt off with every sip. This combination of crisp cucumber and tangy grapefruit creates a light and invigorating beverage that is perfect for any time of day. It's a great way to stay hydrated and still treat your taste buds to a wonder of flavors at the same time.
Go to Recipe
Healthy Benefits
Grapefruit juice has many health benefits. We'll discuss the most important ones below:
1. For Weight Loss
Grapefruit juice can assist your weight loss because of its nutrients and caloric intake according to several studies: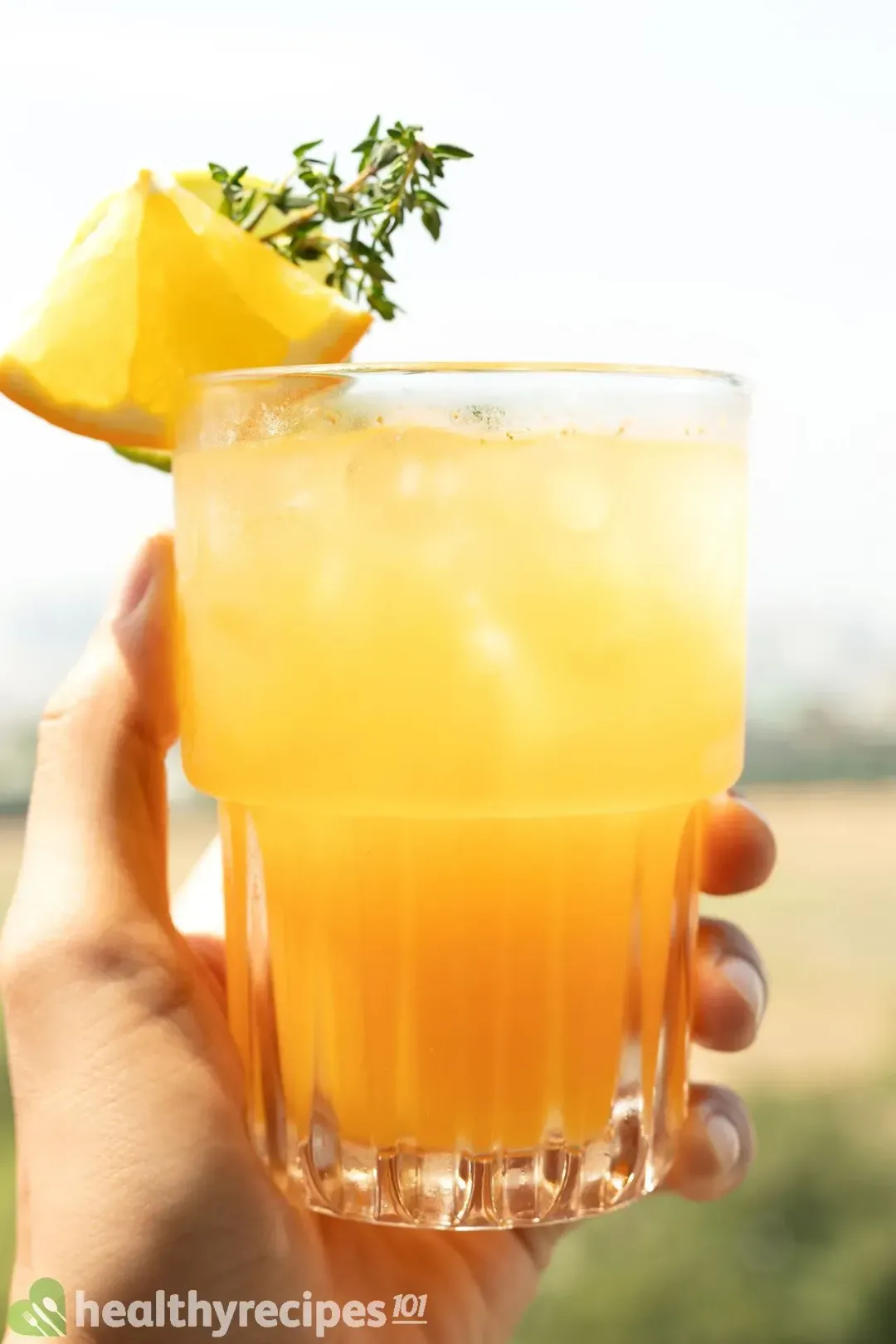 If you want to lose weight quickly, it's important to ingest the grapefruit's healthy fibers. Therefore, you should add enough water to your blender along with the grapefruit to create a juice-like consistency. Adding some chili to the mix is another good idea because the capsaicin in chili has fat-burning properties.
2. For Skin
Grapefruit juice helps your skin stay beautiful and young because of several nutrients:
Vitamin A: Inflammatory skin conditions like rashes and dermatitis are the most common skin problems, but vitamin A reduces inflammation, helping your skin to stay healthy.
Vitamins B and C, zinc, copper, and iron: These vitamins and minerals improve your immune system's health, therefore, your body can fight pathogens that trigger skin infections more effectively. Besides, these nutrients can help to keep the integrity of your skin.
Vitamin C and fiber: Several studies show that an unhealthy digestive system can trigger skin issues. However, vitamin C and fiber improve your digestion and promote the health of good gut bacteria.
Now that you know this juice is so healthy for you, let's see how you can prepare it.
How to Make
Grapefruit juice recipes are easy to make, but you have to choose the best recipe according to your fitness and health goals.
You can read more recipes below, but for now, let's focus on some basic principles.
1. Make for Weight Loss
If you want to lose weight quickly, it's important to ingest the grapefruit's healthy fibers. Therefore, you should add enough water in your blender along with the grapefruit to create a juice-like consistency.
Adding some chili to the mix is another good idea because the capsaicin in chili has fat-burning properties.
2. Make for Skin Health
Studies show that garlic, green tea, carrots, beetroot, and turmeric improve your skin health. Consequently, you should add some of these spices and veggies to your grapefruit juice recipes if you have chronic skin issues.
3. Make for Better Immunity
If you're always coming down with something or simply want to give your immune system a boost, mix this juice with other citrus fruits. Adding orange and/or lemon will increase your intake of vitamin C and antioxidants.
Since honey is a popular ingredient to strengthen the immune system, it can be a good addition to your juice. So if you crave a sweeter combination in your grapefruit recipes, add some honey to your taste.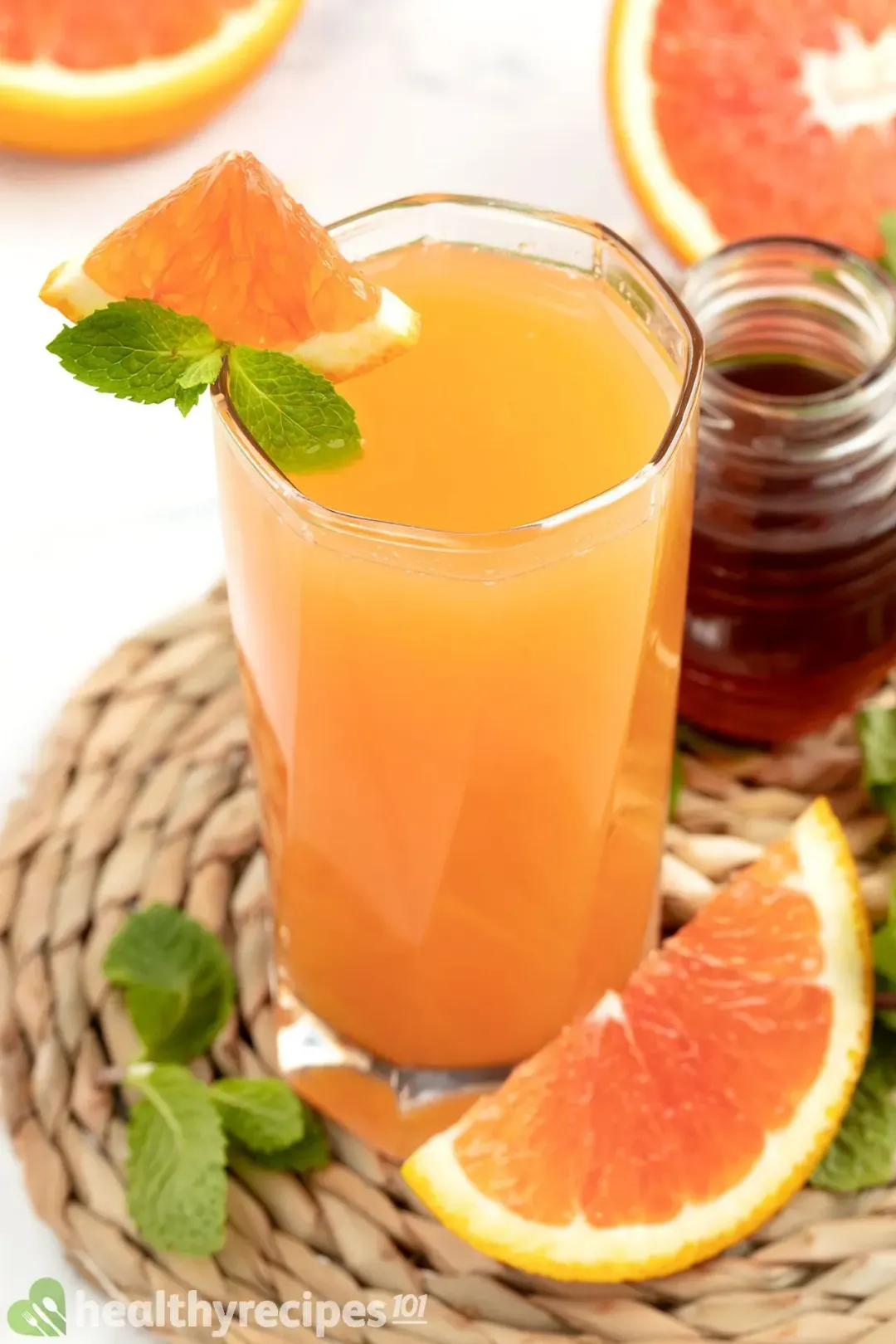 4. With No Pulp
If you don't like pulpy juice, you can use a sieve on top of your glass or pitcher to extract the juice. Another option is to prepare the grapefruit juice without using a blender. 
You have two main options available:
Cut the this fruit in half and squeeze the juice with your hands. Pro tip: Put the grapefruit in the microwave for a few seconds to squeeze more juice.
Use a lemon squeezer.
After that, you can mix the this juice with other juices or spices for more flavors and aromas.
Is This Juice Good for You?
Yes, grapefruit juice is good for you. We already discussed several advantages of this juice, such as:
Accelerated weight loss
Improved insulin levels
Improved immune system
Waist-trimming abilities
Improved digestion
Now let's discuss a few other benefits of including grapefruit juice recipes in your diet:
Improved heart health. Studies prove that this juice can lower your bad cholesterol and your blood pressure thanks to its potassium and fiber content. Grapefruit's antioxidants, such as vitamin C and flavonoids, also protect your heart health and reduce the risk of stroke.
Reduced risk of chronic illness. The antioxidants in grapefruit decrease the risk of chronic conditions because they fight free radicals in your body. As such, the combination of vitamin C and beta-carotene reduces your general risk of cancer, while lycopene has been shown to prevent prostate cancer especially.
Reduced risk of kidney stones. The citric acid in grapefruit prevents kidney stones because it binds to the calcium in your kidneys, helping to flush them out. Besides, grapefruits decrease your body's acidity by excreting acid through urine, and kidney stones can't develop in a less acidic environment.
Increased hydration. Grapefruit juice is rich in water, vitamins, and minerals that help you stay hydrated. As such, a glass of this juice reduces morning fog and at the same time helps you recover quickly after a jarring workout.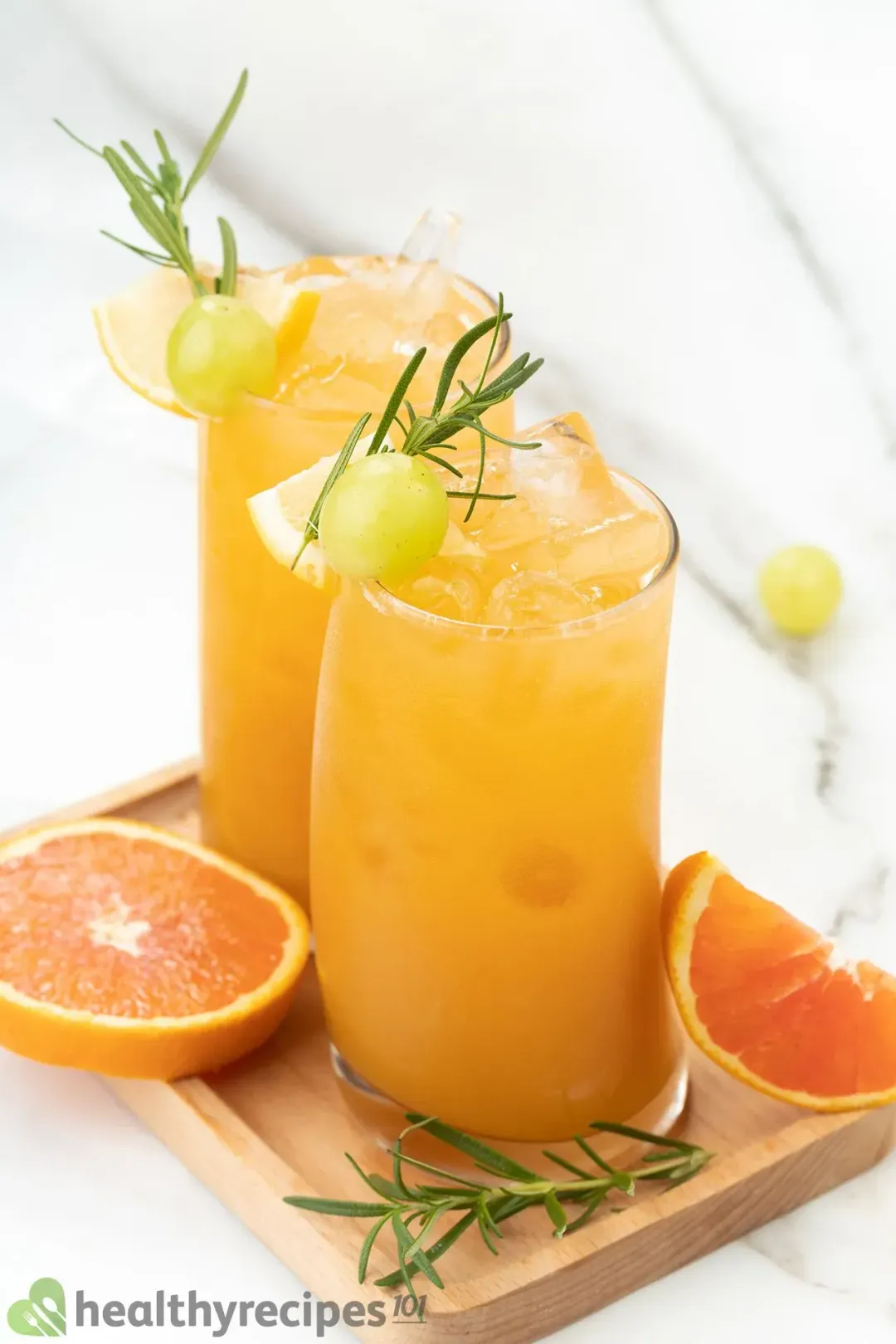 Who Should Not Drink This Juice
Although grapefruit juice has a lot of health benefits, this fruit can also inhibit your body from metabolizing medication such as:
Anti-anxiety drugs
Antihistamines like Allegra
Corticosteroids
Drugs for blood pressure
Immunosuppressants
Statins
The citric acid in grapefruit is also dangerous if you have:
Gastritis
Ulcers
Acid reflux
Tooth enamel erosion
Nutrition
Equally important to everything we've mentioned so far, understanding grapefruit juice nutrition is a must if you want to prepare the right juice for your needs. Read our tips below!
1. Carbs
According to the USDA, grapefruit juice contains 9 grams of carbs per 100g. However, these carbs are natural-occurring sugars and fibers.
That means you can include grapefruit juice recipes in your low-carb or keto diet as long as you watch your macros. Besides, as grapefruit juice has been seen to stabilize your insulin levels, you can also include grapefruit juice in your diet if you have diabetes. However, don't put any processed sugar in your grapefruit juice recipes if you want to stick to keto or lose weight.
2. Calories
100g of grapefruit juice has 39 calories, almost as much as 100g of soda. However, grapefruit juice is a low-energy-density fruit with plenty of fiber and nutrients, while energy density refers to the proportion of calories versus volume.
Grapefruit is a low-energy-density fruit because it has few calories and a lot of water. This concept is important because studies prove that low-energy food items can help you lose weight faster as they're more satiating.
So, even if grapefruit juice and soda have the same calories, grapefruit juice is healthier and helps you feel satiated.
3. Potassium
100g of grapefruit juice has 4% of the RDI of potassium. This mineral has been found to reduce blood pressure, regulate fluid balance, and also improve nerve health.
However, you need more potassium per day than what a glass of grapefruit juice offers. So if you want to improve your heart, brain, and kidney health, add spinach, cucumber, or apricot juice to your grapefruit juice recipes.
4. pH
Grapefruit juice is acidic with a pH of 3.22.
Same as oranges, lemons, and limes, grapefruits belong to the heartburn food group. Thus, people with digestive issues, such as gastroesophageal reflux disease (GERD) and irritable bowel syndrome (IBS) are advised to limit their intake of grapefruit.
5. Sugar
Grapefruit juice contains 7g of sugar per 100g, whereas sodas like Coke contain 10g of sugar per 100g. That doesn't seem like much difference at first glance. However, the sugar in grapefruit juice is not processed.
That means soda increases your blood sugar levels, whereas grapefruit juice regulates them. Therefore, grapefruit juice recipes are recommended if you have diabetes, obesity, or heart issues but soda is not.
FAQ
1. When Should You Drink?
Drink grapefruit juice according to your goals and pre-existing conditions:
Half an hour before meals to reduce appetite and your blood sugar levels after meals. This option is good for you especially if you want to lose weight or have diabetes.
Before or after intense physical effort. Grapefruit juice is very hydrating, so a glass before your workouts helps you stay in shape.
Anytime during the day. If you want to strengthen your immune system, your heart, or kidney health, you can chug down your grapefruit juice at any hour.
2. Is This Juice Bad for You?
Grapefruit juice can be bad for you if you're taking certain medications or have gastric disorders. It can also cause diarrhea because of its high vitamin C content if you're drinking more than one glass per day.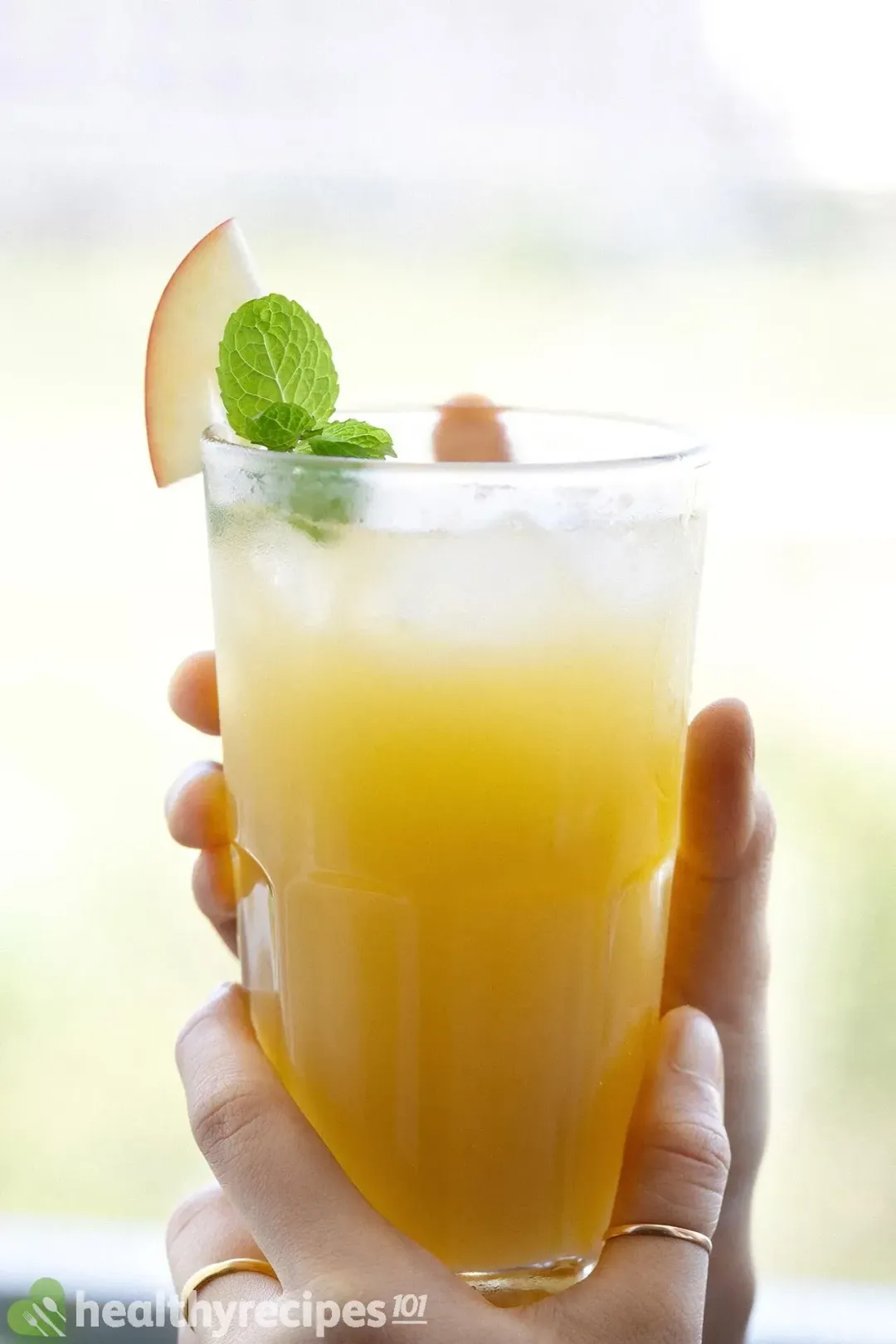 Previous Recipe
Delicious and Healthy Juice Recipes
Delicious and Healthy Juice Recipes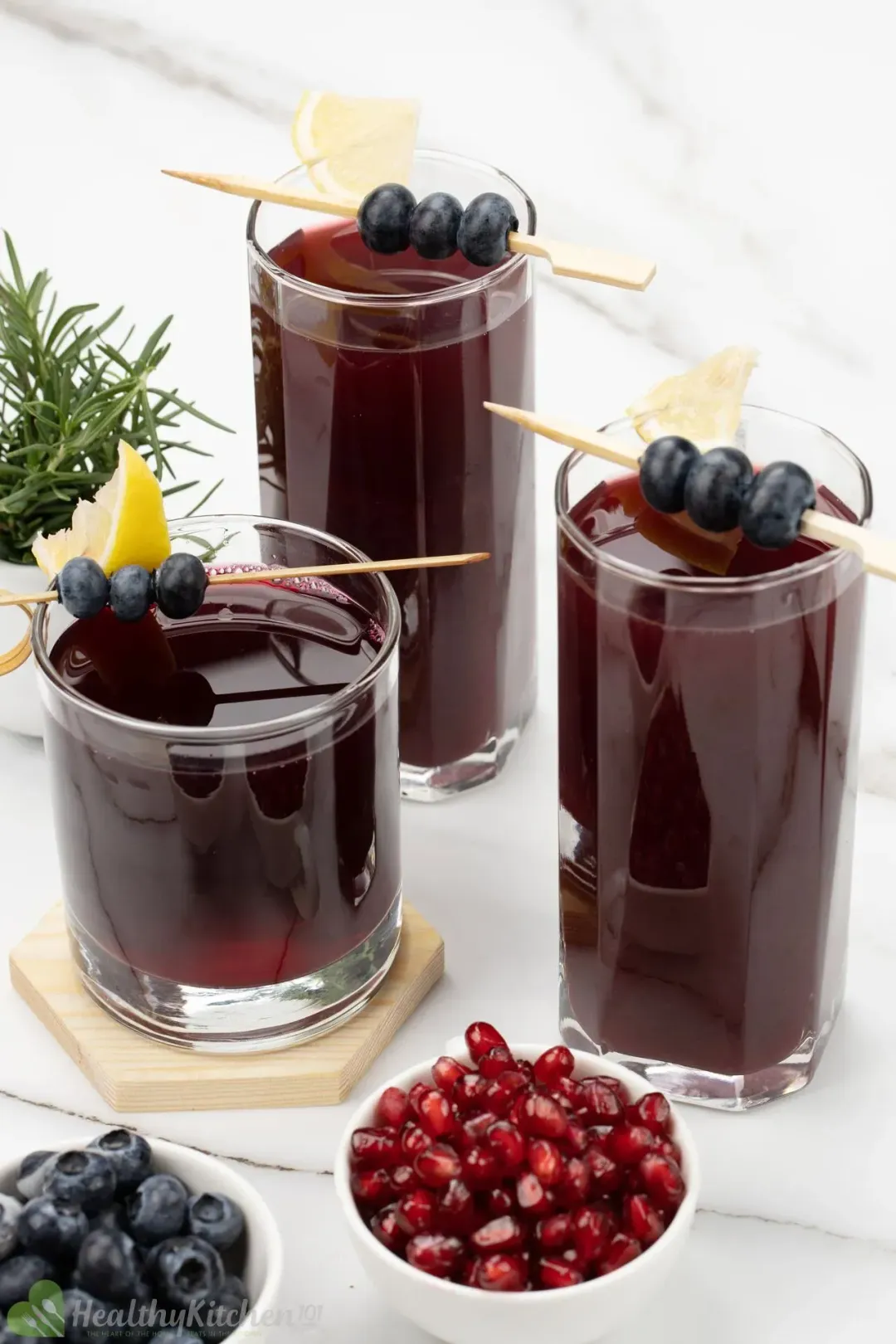 Next Recipe
Top 10 Blueberry Juice Recipes
Top 10 Blueberry Juice Recipes
Writer, Author
Luna Regina is an accomplished writer and author who dedicates her career to empowering home cooks and making cooking effortless for everyone. She is the founder of HealthyKitchen101.com and HealthyRecipes101.com, where she works with her team to develop easy, nutritious recipes and help aspiring cooks choose the right kitchen appliances.
Comments/ Reviews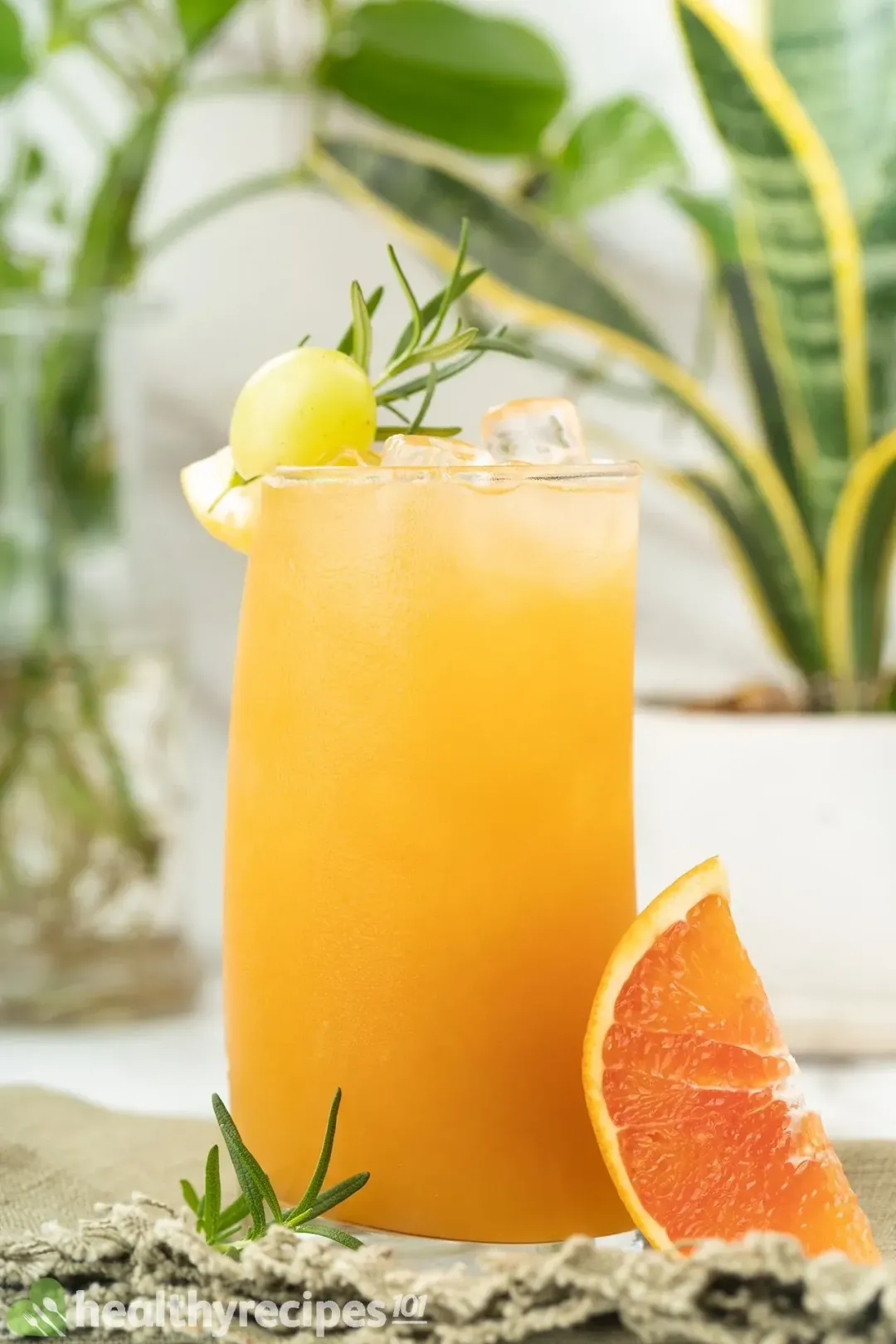 I absolutely loved grapefruit, overall very nice and refreshing.

Grapefruit juice is a tangy and refreshing twist