Grapefruit juice recipes became a craze a few years ago. One study showed that people who ate half a grapefruit each morning before breakfast lost 3.5 pounds per week on average. 
This is because grapefruits stabilized their insulin levels. Therefore, their metabolism, aka the speed at which the body burns calories, also increased.
Moreover, this juice has been proven to improve your immunity, your kidney health, and your skin health. So, if you want to reap all those benefits, prepare the best grapefruit juice recipes for your needs.
In this article, we'll tell you exactly how to prepare the best grapefruit juice recipes depending on your goals and health issues. You can read research-backed recipes, and find out why this juice is good for you, as well as who should avoid drinking it.
Read along!
Benefits of Grapefruit Juice
Grapefruit juice has many health benefits. We'll discuss the most important ones below:
1. For Weight Loss
Grapefruit juice can assist your weight loss because of its nutrients and caloric intake according to several studies: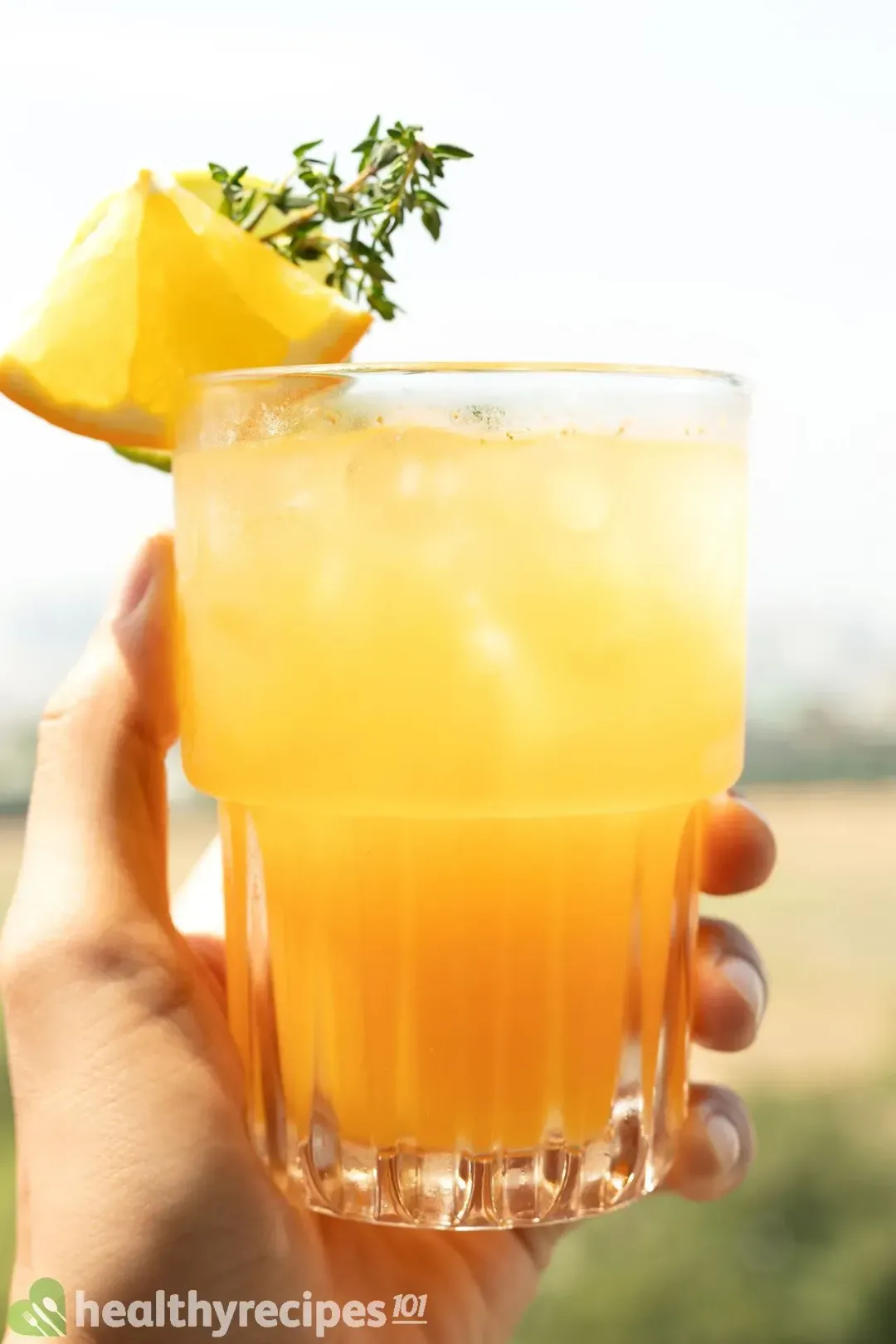 2. For Skin
Grapefruit juice helps your skin stay beautiful and young because of several nutrients:
Vitamin A. Inflammatory skin conditions like rashes and dermatitis are the most common skin problems, but vitamin A reduces inflammation, helping your skin to stay healthy.
Vitamins B and C, zinc, copper, and iron. These vitamins and minerals improve your immune system's health, therefore, your body can fight pathogens that trigger skin infections more effectively. Besides, these nutrients can help to keep the integrity of your skin.
Vitamin C and fiber. Several studies show that an unhealthy digestive system can trigger skin issues. However, vitamin C and fiber improve your digestion and promote the health of good gut bacteria.
Now that you know this juice is so healthy for you, let's see how you can prepare it.
How to Make Grapefruit Juice Recipes
Grapefruit juice recipes are easy to make, but you have to choose the best recipe according to your fitness and health goals.
You can read more recipes below, but for now, let's focus on some basic principles.
1. Make for Weight Loss
If you want to lose weight quickly, it's important to ingest the grapefruit's healthy fibers. Therefore, you should add enough water in your blender along with the grapefruit to create a juice-like consistency.
Adding some chili to the mix is another good idea because the capsaicin in chili has fat-burning properties.
2. Make for Skin Health
Studies show that garlic, green tea, carrots, beetroot, and turmeric improve your skin health. Consequently, you should add some of these spices and veggies to your grapefruit juice recipes if you have chronic skin issues.
3. Make for Better Immunity
If you're always coming down with something or simply want to give your immune system a boost, mix this juice with other citrus fruits. Adding orange and/or lemon will increase your intake of vitamin C and antioxidants.
Since honey is a popular ingredient to strengthen the immune system, it can be a good addition to your juice. So if you crave a sweeter combination in your grapefruit recipes, add some honey to your taste.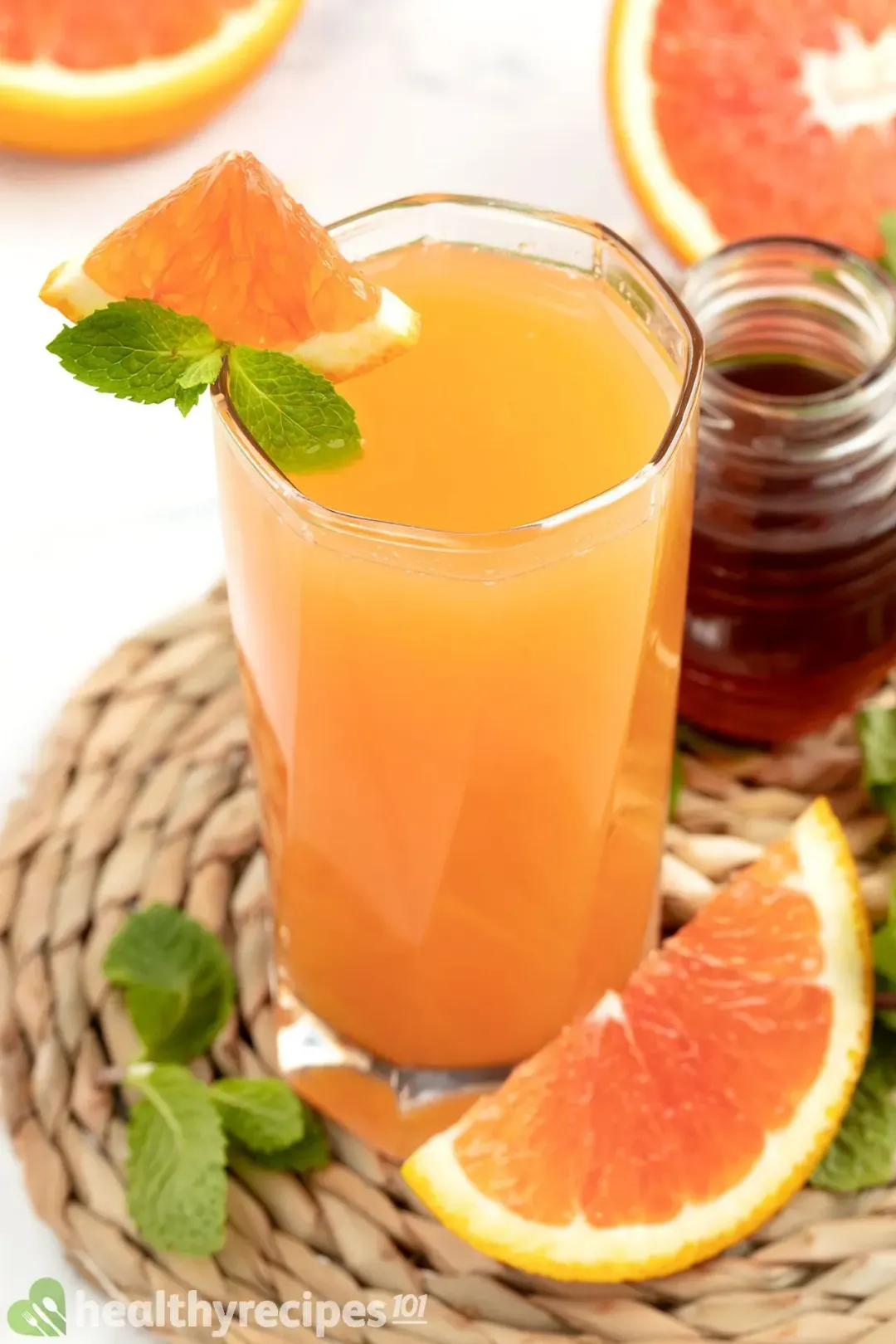 4. With No Pulp
If you don't like pulpy juice, you can use a sieve on top of your glass or pitcher to extract the juice. Another option is to prepare the grapefruit juice without using a blender. 
You have two main options available:
Cut the this fruit in half and squeeze the juice with your hands. Pro tip: Put the grapefruit in the microwave for a few seconds to squeeze more juice.
Use a lemon squeezer.
After that, you can mix the this juice with other juices or spices for more flavors and aromas.
Is Grapefruit Juice Good for You?
Yes, grapefruit juice is good for you. We already discussed several advantages of this juice, such as:
Accelerated weight loss
Improved insulin levels
Improved immune system
Waist-trimming abilities
Improved digestion
Now let's discuss a few other benefits of including grapefruit juice recipes in your diet:
Improved heart health. Studies prove that this juice can lower your bad cholesterol and your blood pressure thanks to its potassium and fiber content. Grapefruit's antioxidants, such as vitamin C and flavonoids, also protect your heart health and reduce the risk of stroke.
Reduced risk of chronic illness. The antioxidants in grapefruit decrease the risk of chronic conditions because they fight free radicals in your body. As such, the combination of vitamin C and beta-carotene reduces your general risk of cancer, while lycopene has been shown to prevent prostate cancer especially.
Reduced risk of kidney stones. The citric acid in grapefruit prevents kidney stones because it binds to the calcium in your kidneys, helping to flush them out. Besides, grapefruits decrease your body's acidity by excreting acid through urine, and kidney stones can't develop in a less acidic environment.
Increased hydration. Grapefruit juice is rich in water, vitamins, and minerals that help you stay hydrated. As such, a glass of this juice reduces morning fog and at the same time helps you recover quickly after a jarring workout.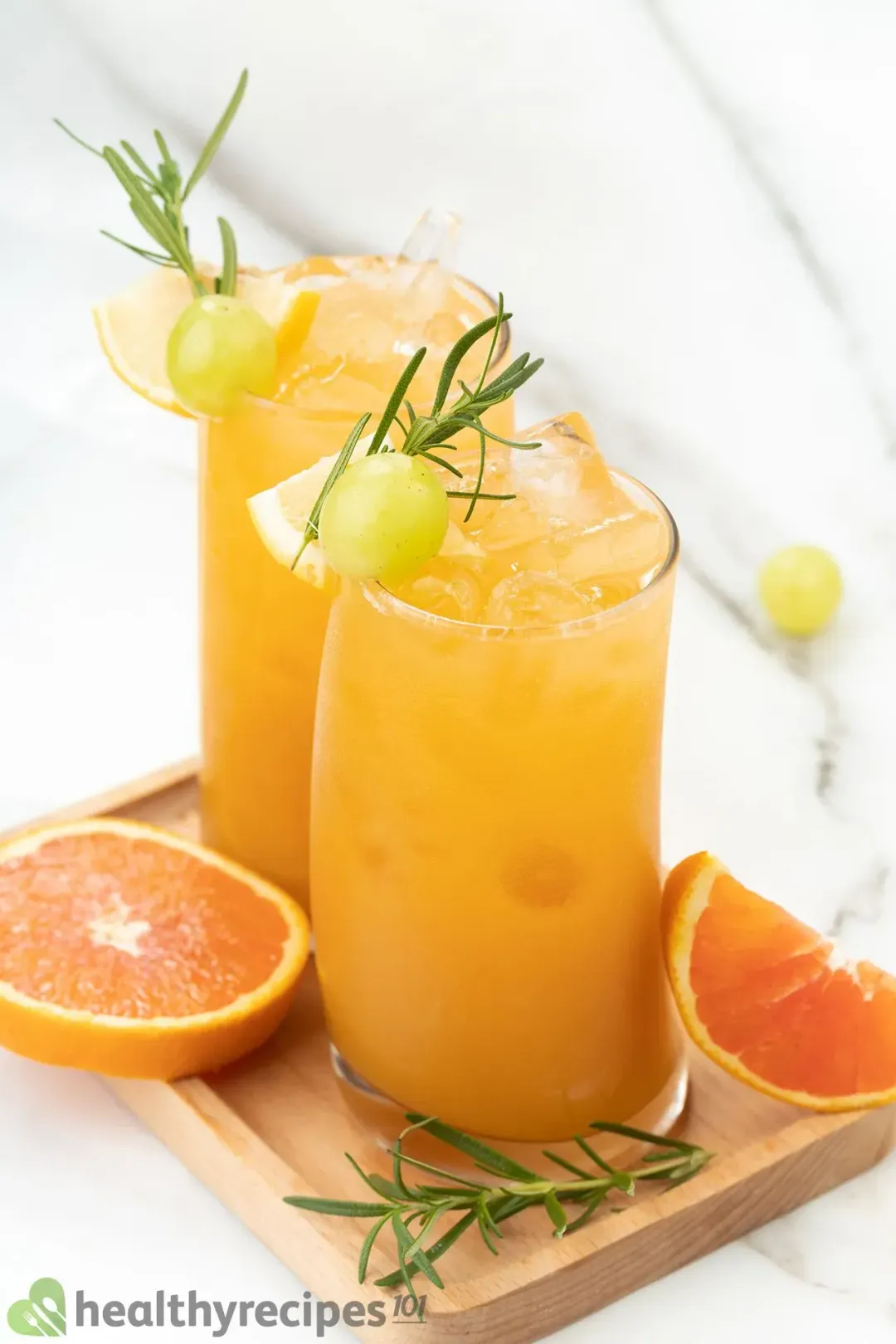 Who Should Not Drink This Juice
Although grapefruit juice has a lot of health benefits, this fruit can also inhibit your body from metabolizing medication such as:
Anti-anxiety drugs
Antihistamines like Allegra
Corticosteroids
Drugs for blood pressure
Immunosuppressants
Statins
The citric acid in grapefruit is also dangerous if you have:
Gastritis
Ulcers
Acid reflux
Tooth enamel erosion
Easy And Delicious Grapefruit Juice Recipes
1. Best Recipe: Grapefruit Juice Recipe (4 servings)
Want to brighten things up this morning? A cup of homemade citrus juice might be the choice to make. How about a touch of sweetness from the pink grapefruit and some added zippiness from the lemon juice and green grapes?
2. Vodka And Grapefruit Juice (4 servings)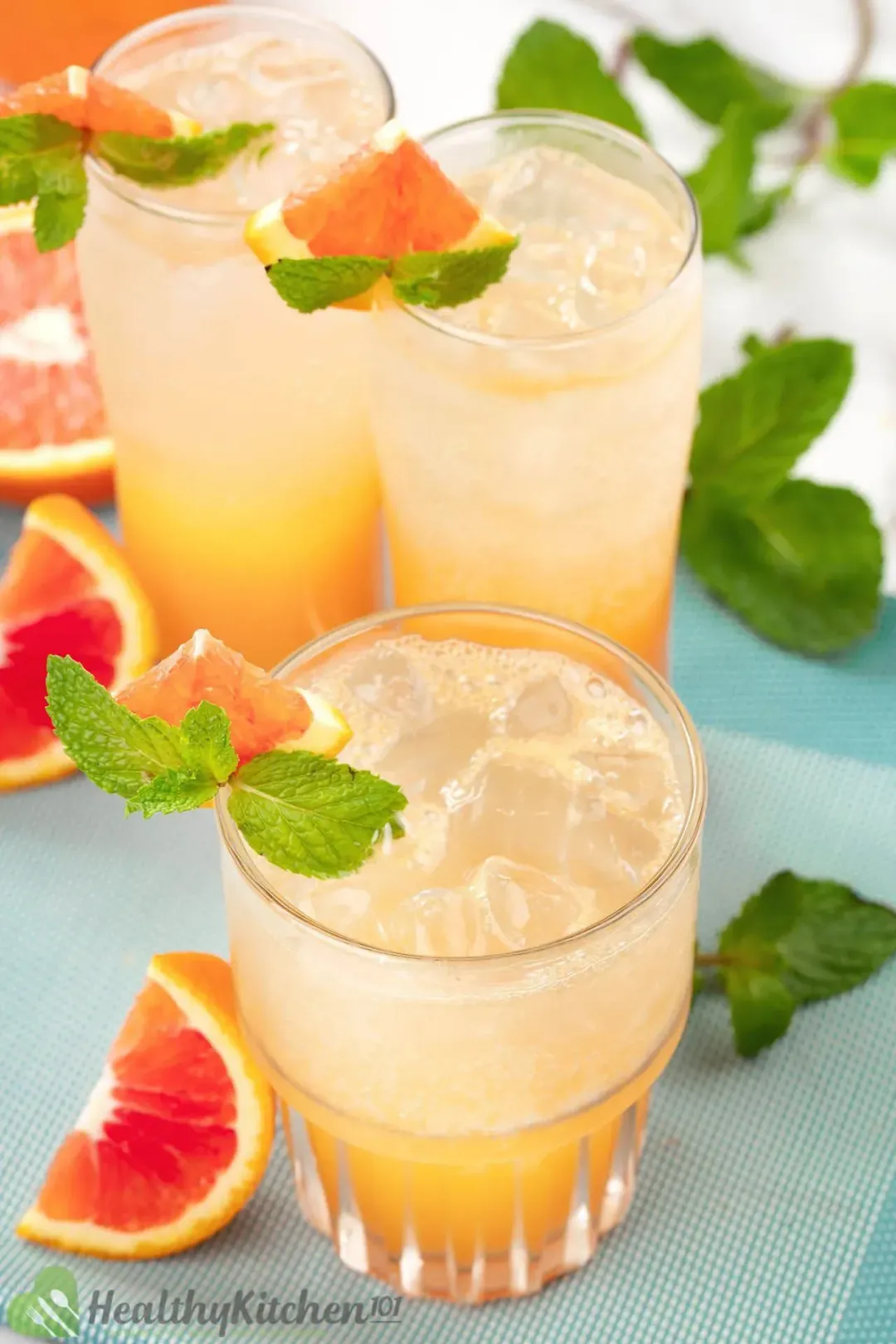 Vodka and grapefruit juice might no longer be a stranger to summer people. This semi-tart mixed drink is popular for its convenience and especially its fantastic display. You'll only need to spend a few minutes to mix up a giant bowl of this sparking cocktail so your friends can enjoy together.
Ingredients:
12 fl oz grapefruit juice
4 fl oz vodka
6 mint leaves
2 tbsp sugar
2 cups ice cubes
1 cup sugar-free soda
Instructions:
Prepare a cocktail glass with ice cubes. Rim the edge with salt if desired.
Pour over vodka, soda, and grapefruit juice. Stir gently. 
Continue to whisk sugar to the mixture to your taste.
Garnish with mint leaves (or lime wheels) and serve.
3. Tequila And Grapefruit Juice (4 servings)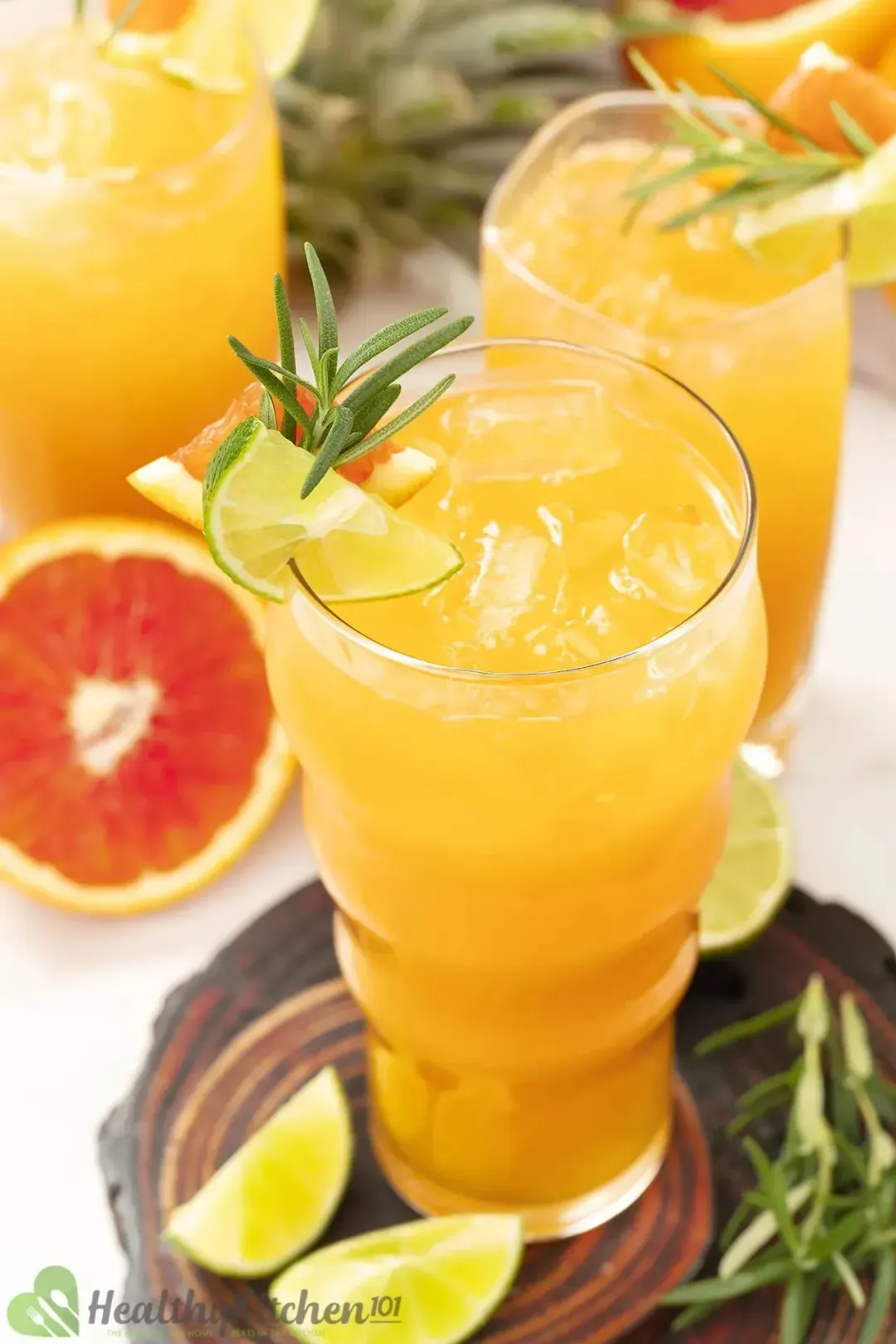 Tequila and grapefruit juice is not only popular for its simplicity but also makes an ideal light and refreshing beverage for brunches or beachside parties. This is because the tequila adds a bright flavor to the juice and pairs perfectly with the tart and citrusy grapefruit. Wait no more!
Ingredients:
4 fl oz tequila 
6 sage leaves 
2 tbsp sugar
1 tsp lemon juice
2 cups ice cubes
12 oz grapefruit
8 fl oz pineapple juice 
Instructions:
Get a collins glass. Wet the rim with a lemon wedge and rim with salt.
Run grapefruit and sage leaves through a juicer.
Fill the glass with ice cubes. Whisk with tequila, lemon juice, grapefruit juice, and pineapple juice. Add sugar if desired.
Enjoy!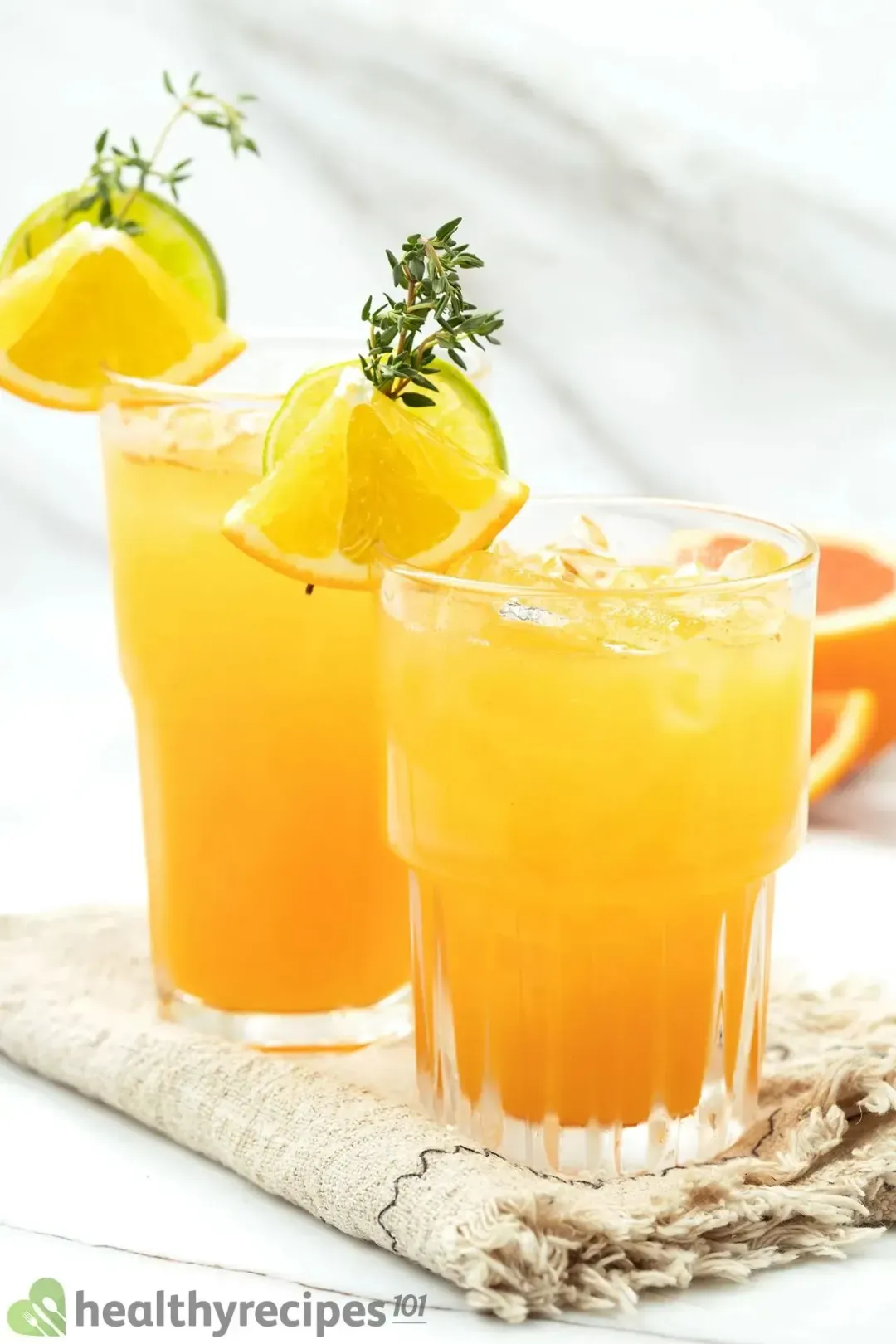 4. Gin And Grapefruit Juice (4 servings)
Gin and grapefruit juice is popular for its soft pink hue and also a special tart sweet taste. Since grapefruit juice already brings spark to the mix, you need no soda for the fizzy bubbly effect. This recipe of ours triples the citrus and call for both lemon and orange to create a fresh burst of citrus flavor and make a perfect pair with the liquor.
Ingredients:
4 fl oz gin 
1 tsp lemon
1 tsp thyme leaves
2 tbsp sugar
1/8 tsp cinnamon
2 cups ice cubes
12 fl oz grapefruit juice
6 oz orange juice 
Instructions:
In a cocktail shaker, add grapefruit, sugar, ice cubes, thyme leaves, gin, cinnamon, and orange juice. Shake it up. 
Pour the mixture into tall glasses. 
Top it off with a nice slice of grapefruit and lemon.
Serve.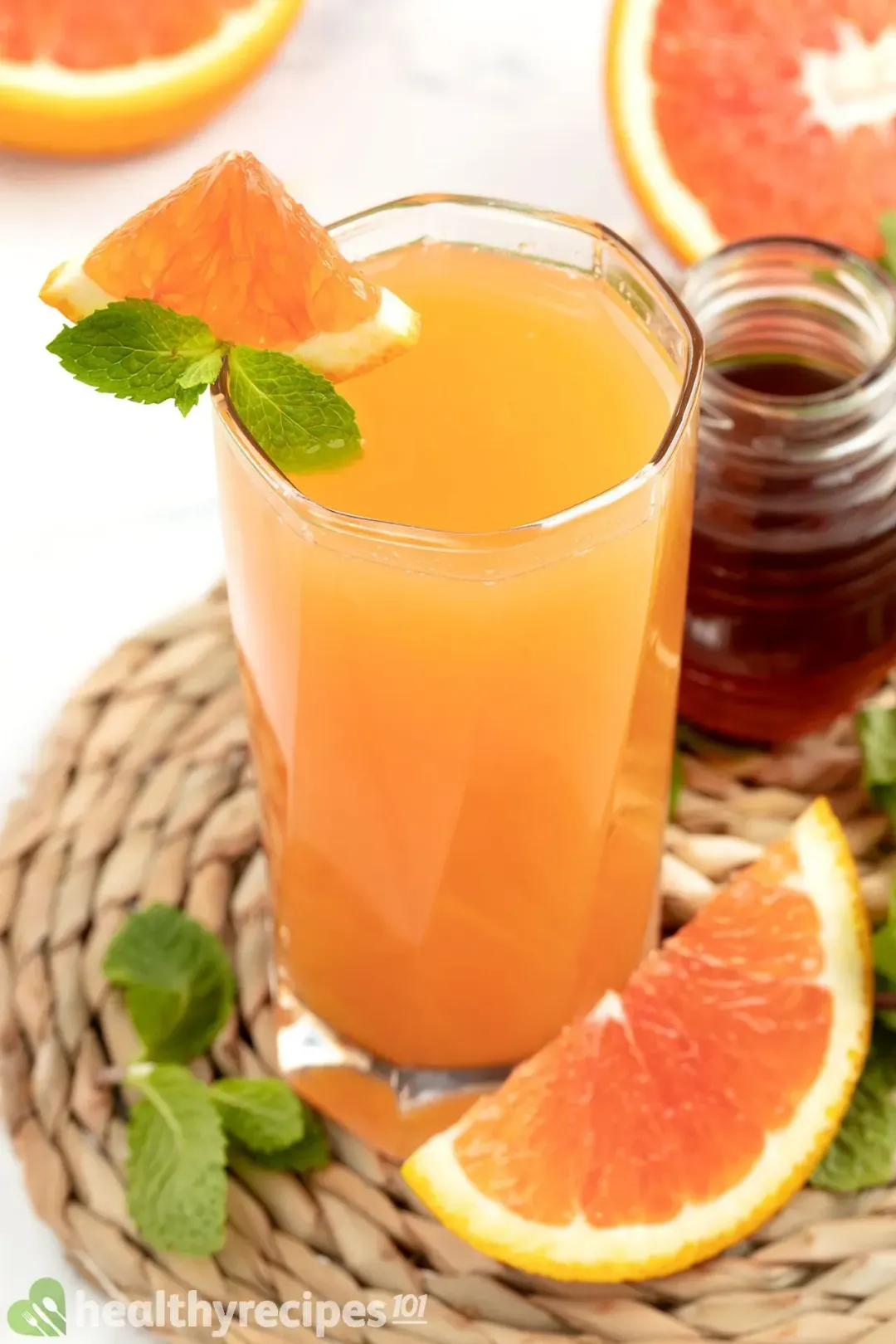 5. Apple Cider Vinegar And Grapefruit Juice (4 serving)
This apple cider vinegar and grapefruit juice is an awesome nutritious drink. It promotes weight-loss and is also adaptable to anyone's taste. With only four ingredients, this juice certainly makes it even easier to enjoy this in the comfort of your own home.
Ingredients:
1 cup fresh grapefruit juice
2 tbsp unfiltered apple cider vinegar
1 tsp honey 
Ice cubes
Instructions:
Whisk grapefruit juice together with apple cider vinegar. 
Add honey to your taste.
Pour over ice cubes and serve straight up.
6. Champagne And Grapefruit Juice (4 servings)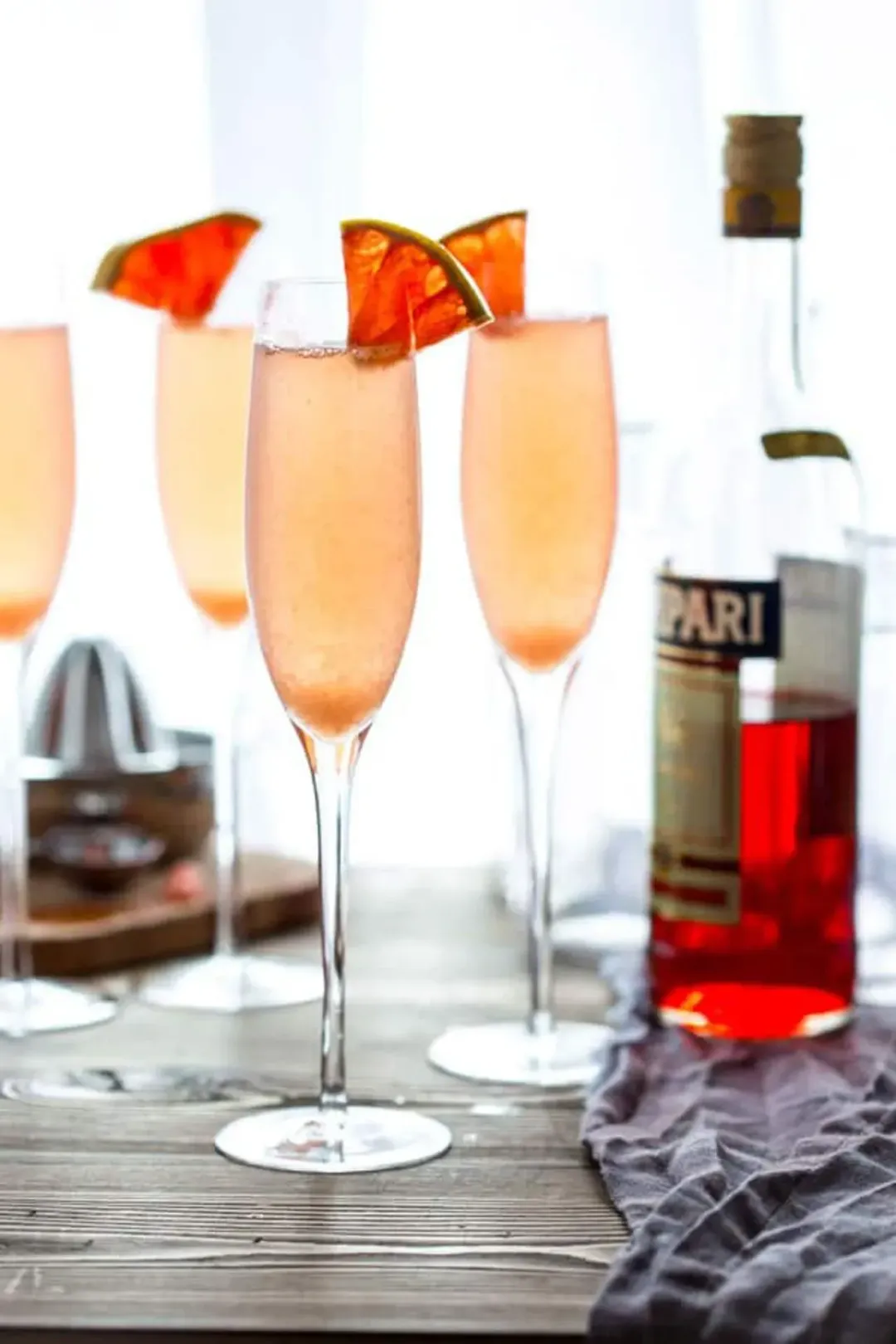 This champagne and grapefruit juice is undoubtedly a refreshing alternative to the traditional orange juice mimosas. The tart grapefruit pairs perfectly with the champagne, making it juicy, sweet, and bitter all at the same time. Let's get yourself a nice cold bubbly flute of this for an afternoon chill, because why not?
Ingredients:
1 red grapefruit
1 tablespoon Campari
1 bottle dry champagne (or Prosecco)
Instructions:
Cut grapefruit in half, save one half for garnish and the other half for juicing.
Whisk grapefruit juice with Campari.
Divide the mixture into champagne flutes. Top each flute with champagne or Prosecco.
Garnish with grapefruit rounds. Serve.
7. Unsweetened Grapefruit Juice (4 servings)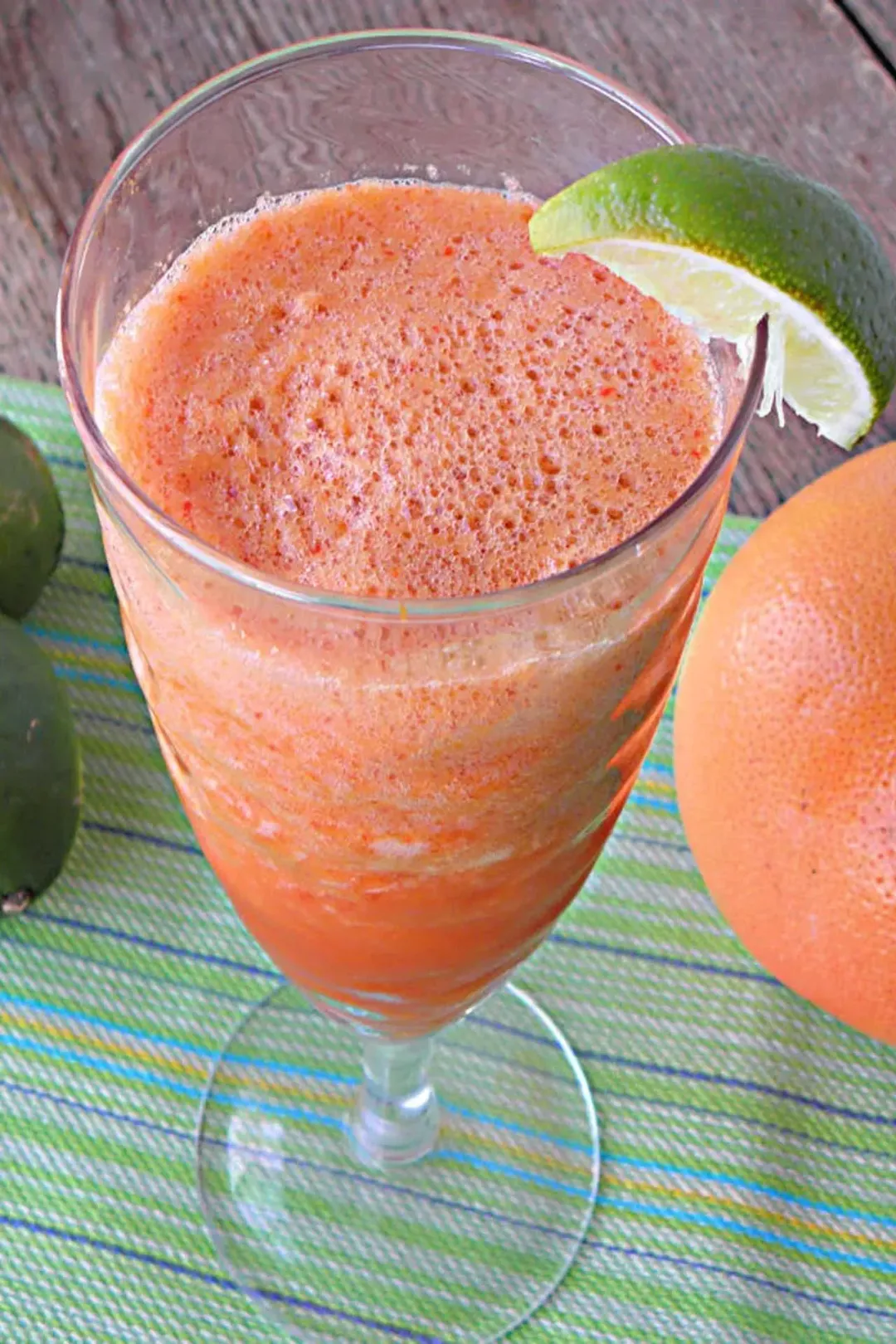 Unlike white grapefruit, pink grapefruit juice is loaded with vitamins without a bitter aftertaste. This unsweetened grapefruit juice with coconut, apple juice, and grapes promises a balanced flavor while remaining a fantastic nutrition boost. Since there's no sweetener in this recipe, the type of grapefruit and its ripeness will decide the final taste for your drink.
Ingredients:
6 mint leaves 
2 cups ice cubes
4 oz grapes 
1 cup coconut water
6 oz apple 
12 oz grapefruit 
Instructions:
Peel the grapefruit and cut into quarters.
Put the grapefruit, apple, mint leaves, and grapes through a juicer. Juice together.
Whisk the juice mixture with coconut water. 
Divide into serving glasses and enjoy fresh.
8. Rum And Grapefruit Juice (1 serving)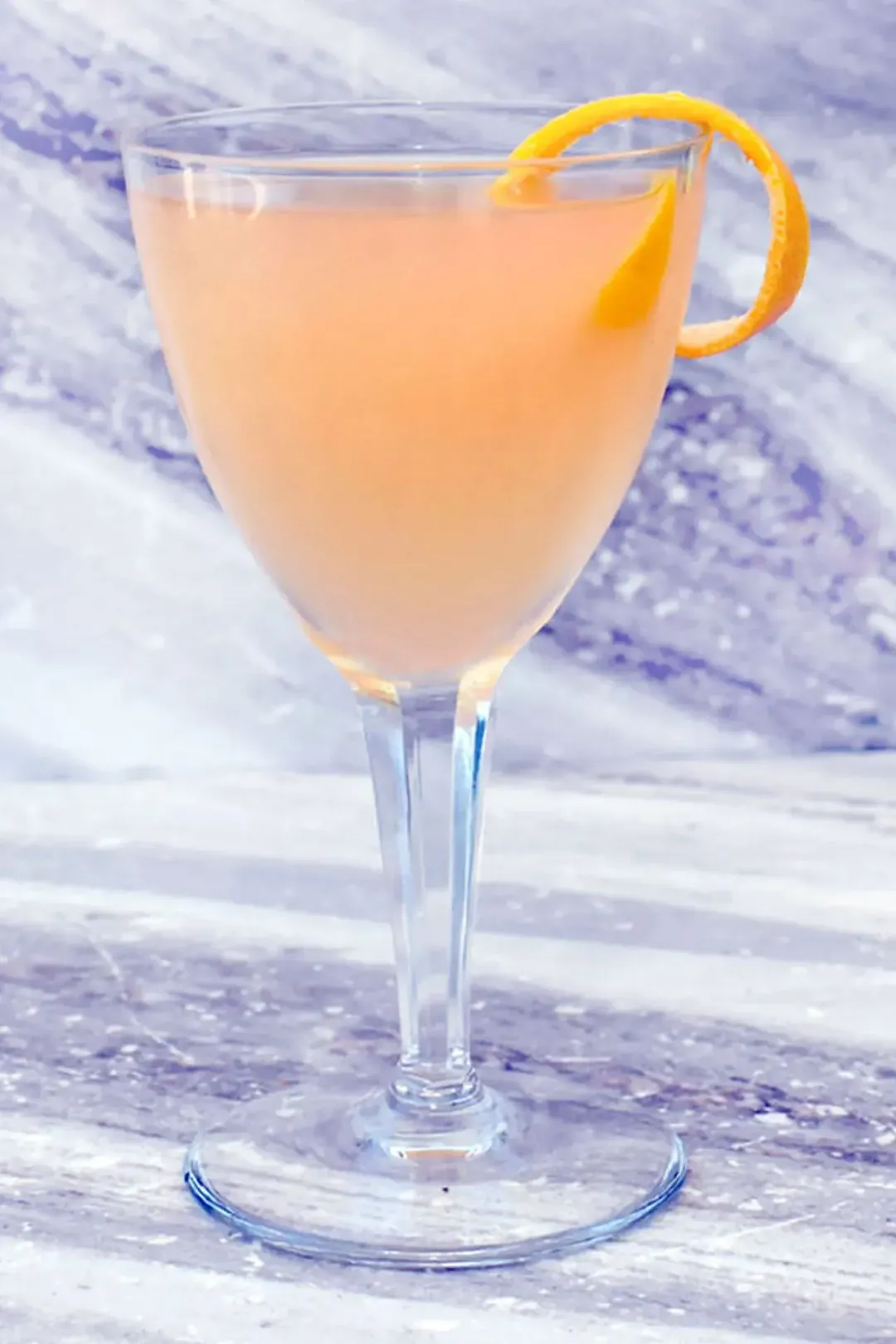 As grapefruit is a popular ingredient in a variety of cocktails and party drinks, this rum and grapefruit juice is no exception. While white rum plays the role of a flavor base, grapefruit juice, lime juice, and agave syrup create a great balance together and delicious fusion drink.
Ingredients:
1.5 fl oz white rum
1 fl oz grapefruit juice
½ fl oz lime juice
½ fl oz agave syrup
Instructions:
Pour all ingredients into a cocktail shaker. Add ice.
Shake to chill and combine.
Fine strain the juice mixture into a coupe glass. Garnish with a nice ring of grapefruit and enjoy!
9. Whiskey And Grapefruit Juice (1 serving)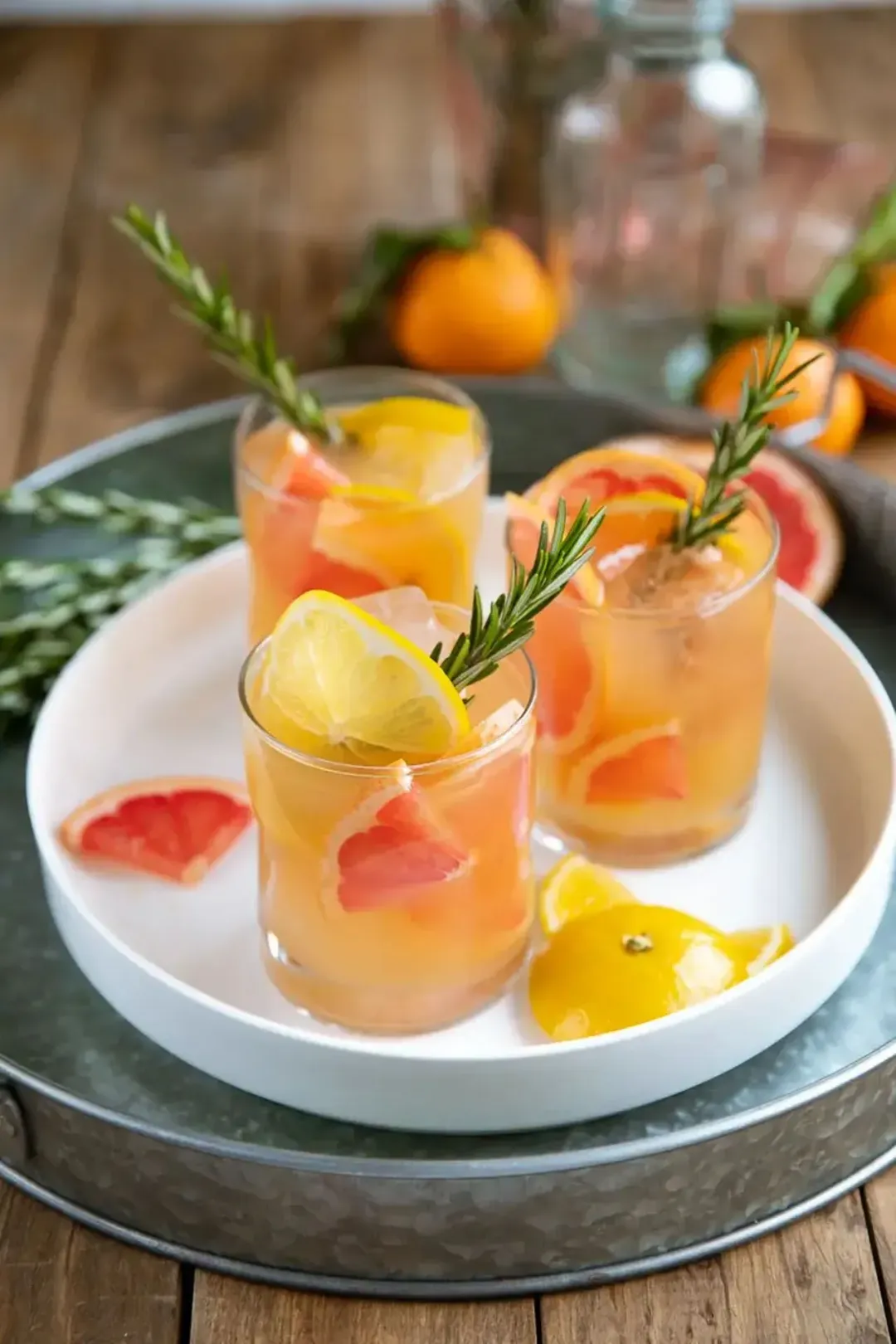 Also known as Brown Derby cocktail, whiskey and grapefruit juice is a delicious and easy cocktail that requires no fancy mixers or liquors to make. This mixed drink made with bourbon, honey, grapefruit juice, and rosemary is certainly a perfect choice for you to enjoy the pure and classic citrus hit. Take little sips of it slowly and see for yourself.
Ingredients:
Ice cubes
2 fl oz bourbon (or whiskey)
3 fl oz fresh grapefruit juice
1/2 fl oz fresh lemon juice
1 tsp honey
1 sprig fresh rosemary, for garnish
soda
grapefruit slices, for garnish
Instructions:
Add ice, bourbon, grapefruit juice, fresh lemon juice, honey, and fresh rosemary to the cocktail shaker. Shake for 10-20 seconds.
Transfer to a serving glass and top off with soda, a grapefruit slice, and a fresh sprig of rosemary. 
Enjoy.
10. Pineapple Grapefruit Juice (1 serving)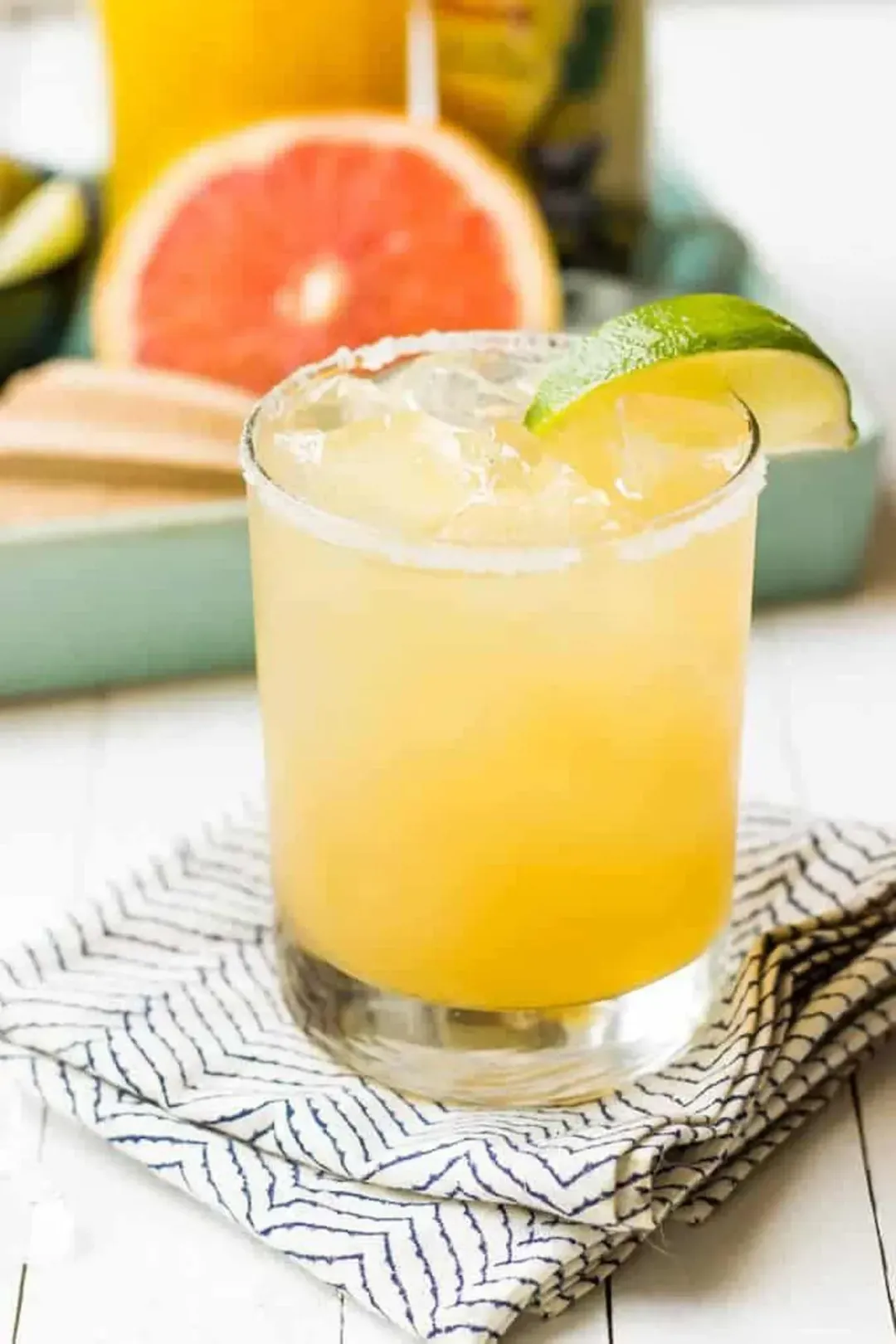 This vibrant tequila-infused pineapple grapefruit juice is bursting with tropical tartness. It's strong, tart, and fruity— a combination that speaks the language of summer. 
Ingredients:
2 fl oz tequila
2 fl oz fresh grapefruit juice
1 fl oz pineapple juice
¼ tsp agave nectar
2 dashes citrus bitters
Instructions:
Wet the edge of a glass with a grapefruit slice and rim in salt. 
Fill the glass with ice.
Shake the ingredients together in a cocktail shaker.
Pour the juice into the glass and enjoy.
Nutrition
Equally important to everything we've mentioned so far, understanding this juice nutrition is a must if you want to prepare the right juice for your needs. Read our tips below!
1. Carbs
According to the USDA, this juice contains 9 grams of carbs per 100g. However, these carbs are natural-occurring sugars and fibers.
That means you can include grapefruit juice recipes in your low-carb or keto diet as long as you watch your macros. Besides, as it has been seen to stabilize your insulin levels, you can also include this juice in your diet if you have diabetes.
However, don't put any processed sugar in your grapefruit juice recipes if you want to stick to keto or lose weight.
2. Calories
100g of this juice has 39 calories, almost as much as 100g of soda.
However, it is a low-energy-density fruit with plenty of fiber and nutrients, while energy density refers to the proportion of calories versus volume.
Grapefruit is a low-energy-density fruit because it has few calories and a lot of water. This concept is important because studies prove that low-energy food items can help you lose weight faster as they're more satiating.
So, even if grapefruit juice and soda have the same calories, this juice is healthier and helps you feel satiated.
3. Potassium
100g of this juice has 4% of the RDI of potassium. This mineral has been found to reduce blood pressure, regulate fluid balance, and also improve nerve health.
However, you need more potassium per day than what a glass of this juice offers. So if you want to improve your heart, brain, and kidney health, add spinach, cucumber, or apricot juice to your grapefruit juice recipes.
4. pH of This Juice
Grapefruit juice is acidic with a pH of 3.22.
Same as oranges, lemons, and limes, grapefruits belong to the heartburn food group. Thus, people with digestive issues, such as gastroesophageal reflux disease (GERD) and irritable bowel syndrome (IBS) are advised to limit their intake of grapefruit.
5. Sugar in This Juice
Grapefruit juice contains 7g of sugar per 100g, whereas sodas like Coke contain 10g of sugar per 100g. That doesn't seem like much difference at first glance. However, the sugar in this juice is not processed.
That means soda increases your blood sugar levels, whereas this juice regulates them. Therefore, grapefruit juice recipes are recommended if you have diabetes, obesity, or heart issues but soda is not.
FAQ
Now that you're here you know that grapefruit juice has lots of benefits, as well as some side effects. If you still have unanswered questions, read on below.
1. Is Grapefruit Juice Good for Your Kidneys?
Yes, grapefruit juice is good for your kidneys. We already discussed how it can prevent the formation of kidney stones.
Other research also shows that moderate grapefruit consumption decreases the risk of kidney cysts formation. Besides, as this juice is a hydrating beverage, it helps your kidneys flush out toxins and continue to work properly.
2. When Should You Drink Grapefruit Juice?
Drink grapefruit juice according to your goals and pre-existing conditions:
Half an hour before meals to reduce appetite and your blood sugar levels after meals. This option is good for you especially if you want to lose weight or have diabetes.
Before or after intense physical effort. This juice is very hydrating, so a glass before your workouts helps you stay in shape.
Anytime during the day. If you want to strengthen your immune system, your heart, or kidney health, you can chug down your grapefruit juice at any hour.
3. Is This Juice Bad for You?
On the other hand, this juice can be bad for you if you're taking certain medications or have gastric disorders. It can also cause diarrhea because of its high vitamin C content if you're drinking more than one glass per day.
4. Is Grapefruit Juice Good for Weight Loss?
Grapefruit juice speeds up weight loss, but you will also have to eat healthily and exercise. Remember not to replace your water intake with this juice because it's totally not calorie-free.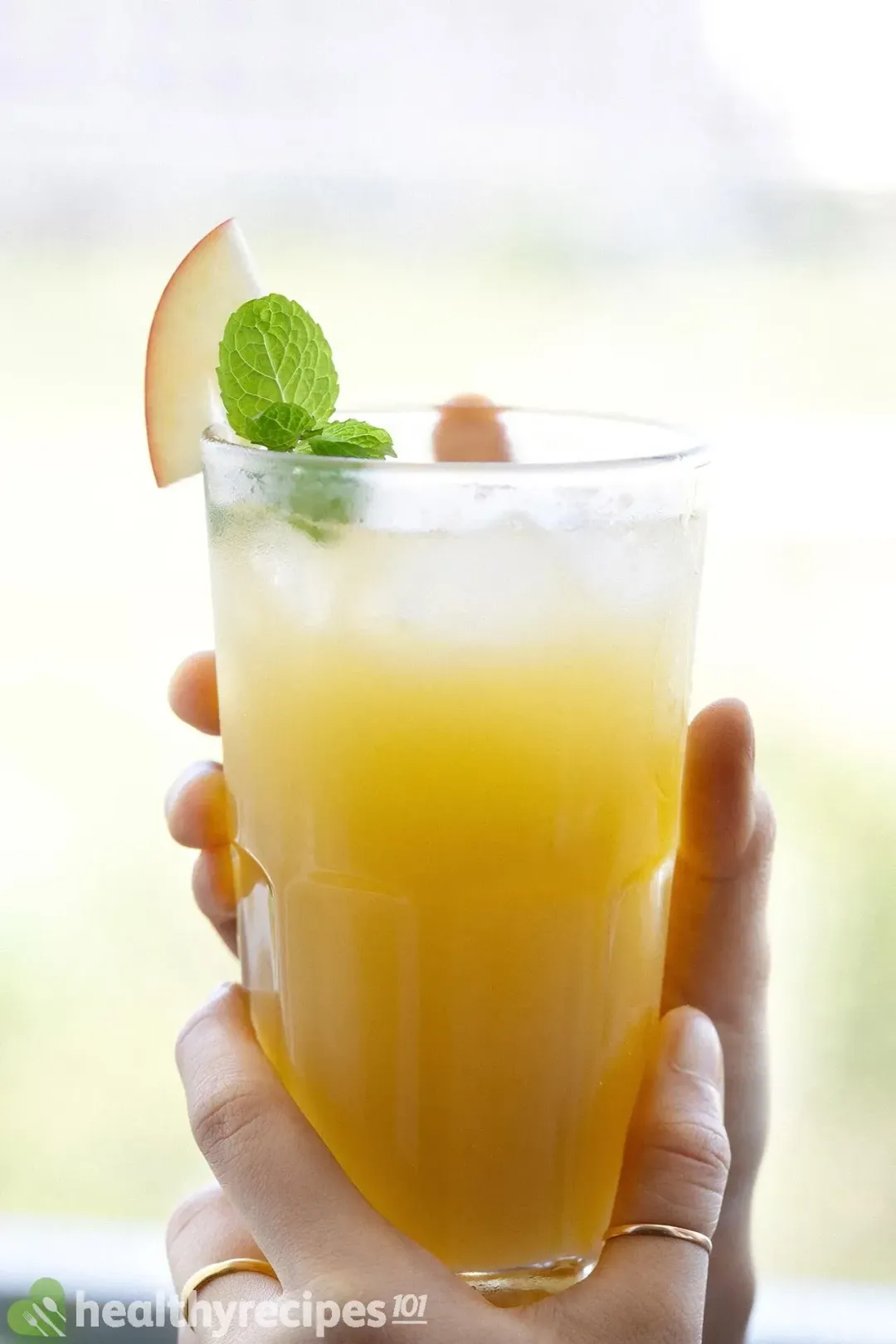 Previous Recipe
Delicious and Healthy Juice Recipes
Delicious and Healthy Juice Recipes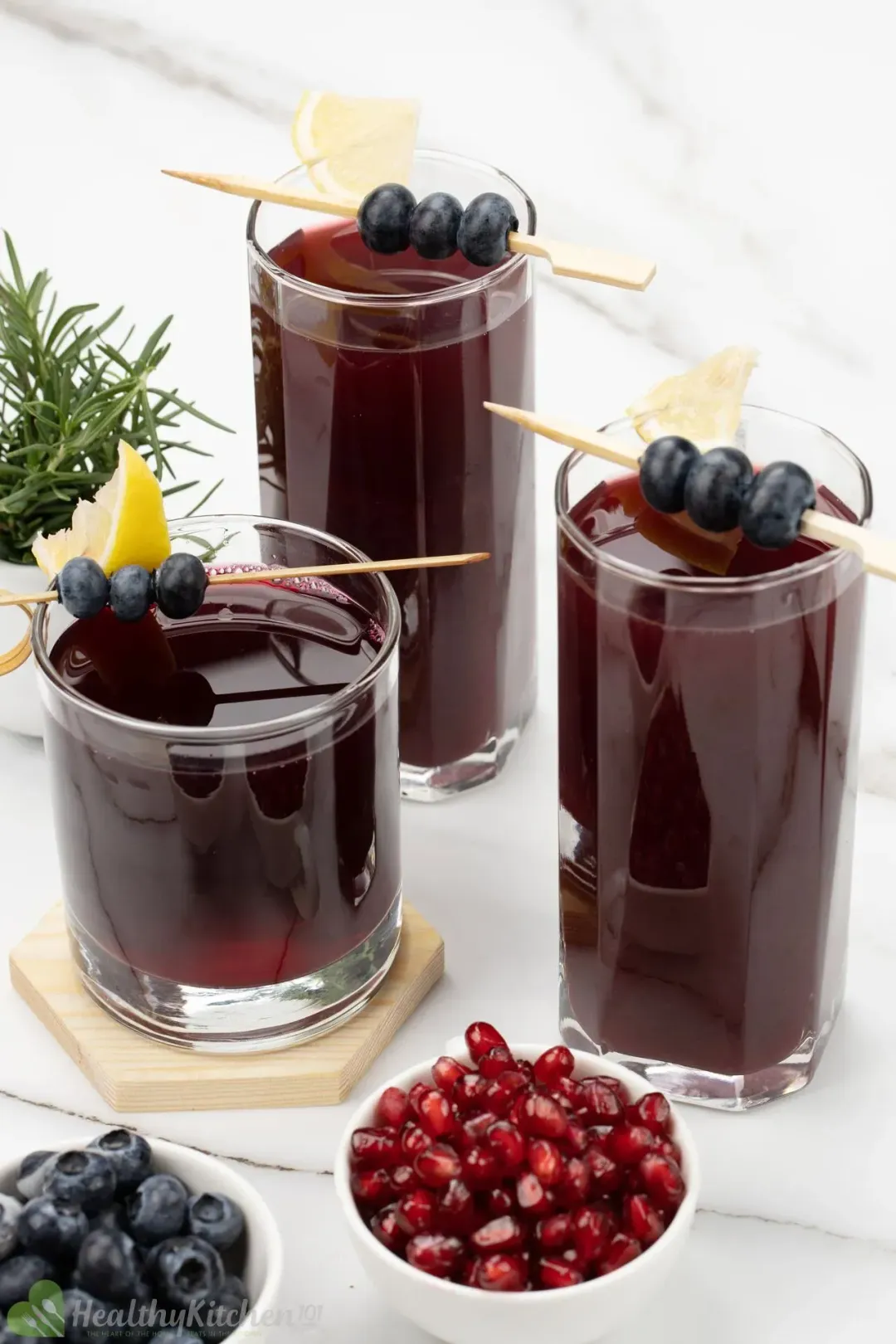 Next Recipe
Top 10 Blueberry Juice Recipes
Top 10 Blueberry Juice Recipes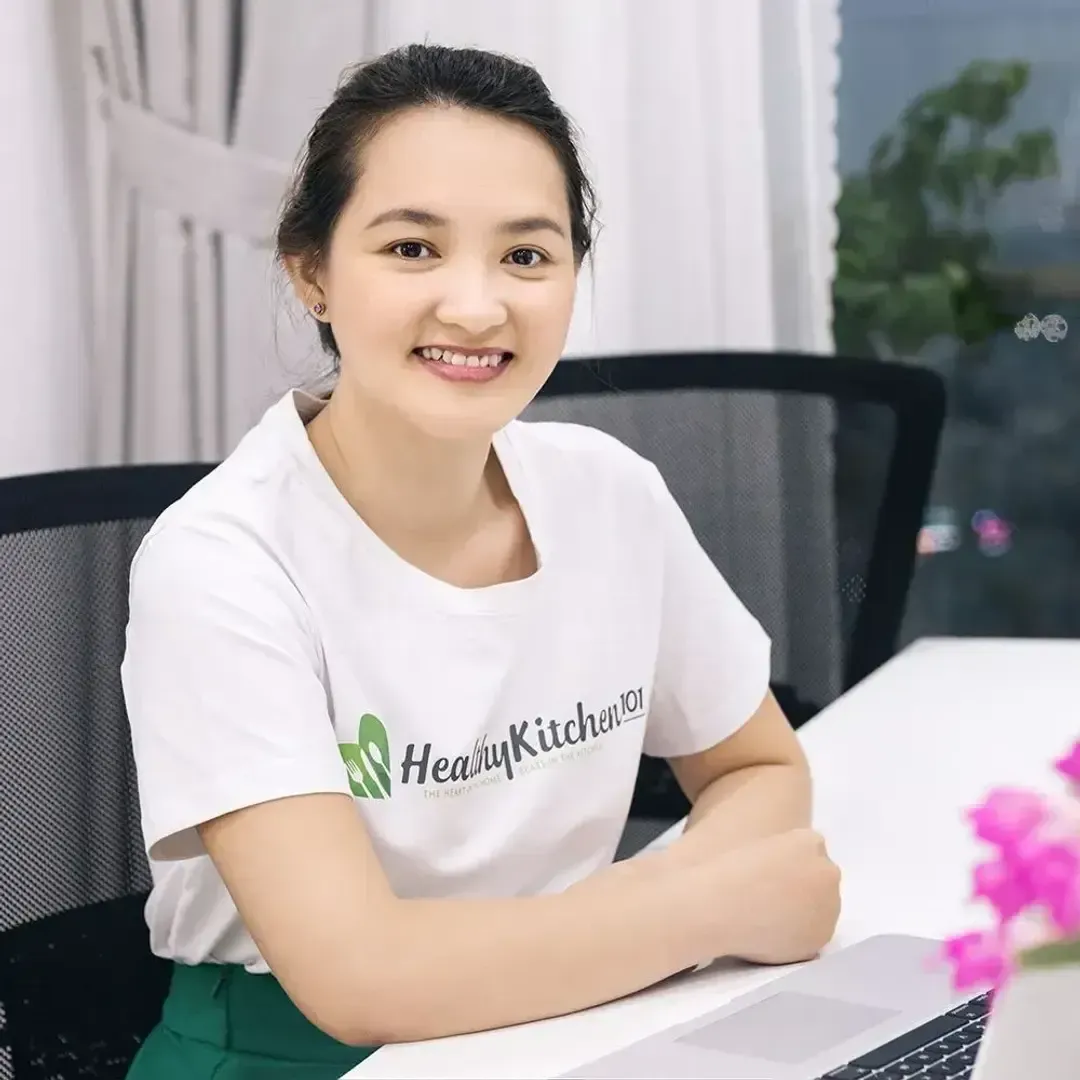 Writer, Author
Luna Regina is an accomplished writer and author who dedicates her career to empowering home cooks and making cooking effortless for everyone. She is the founder of HealthyKitchen101.com and HealthyRecipes101.com, where she works with her team to develop easy, nutritious recipes and help aspiring cooks choose the right kitchen appliances.
Comments/ Reviews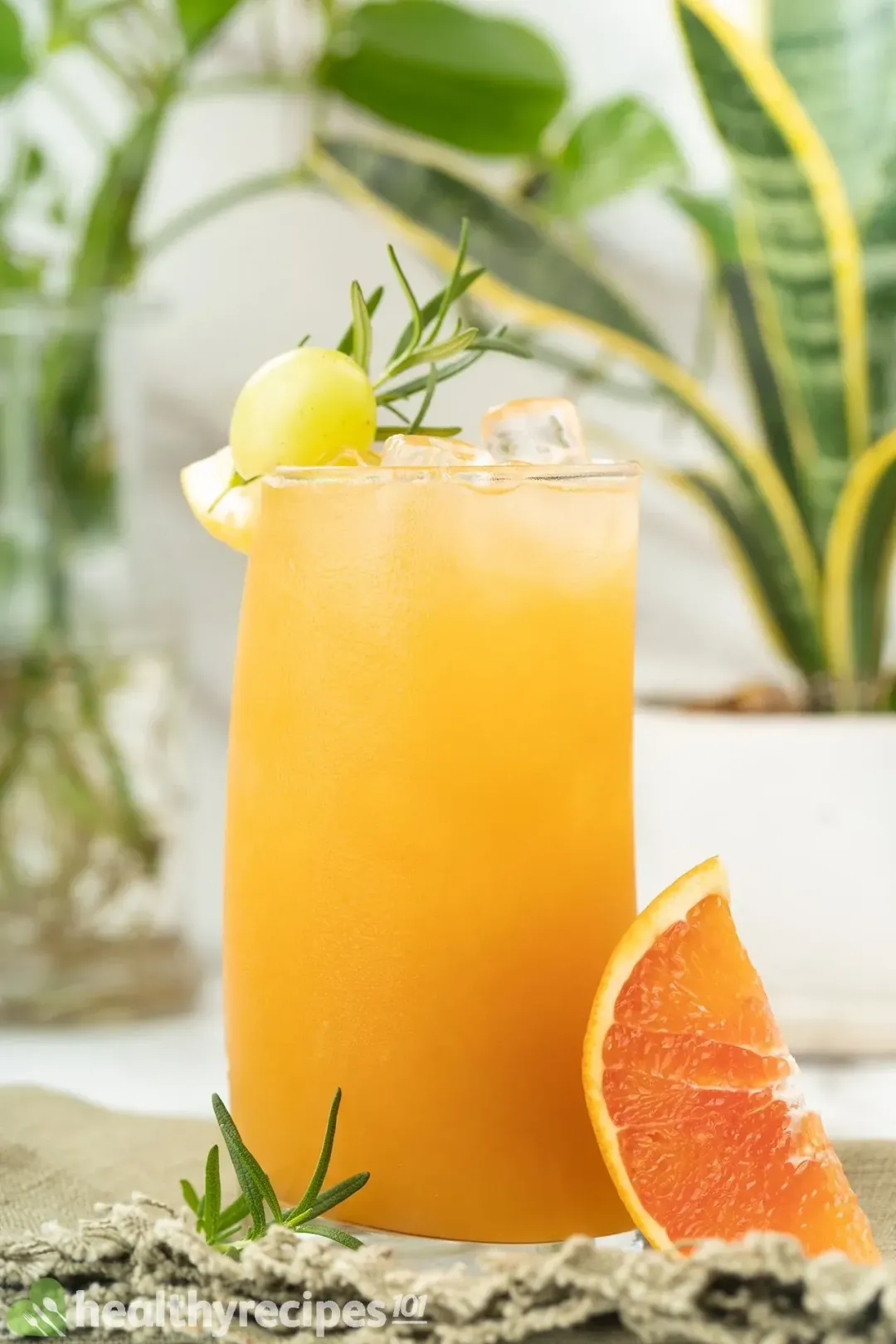 Christie

February 22, 2023 at 9:30 AM

I absolutely loved grapefruit, overall very nice and refreshing.