This strawberry watermelon juice recipe makes a healthy and incredibly refreshing summer drink. It's a low-calorie beverage that comes loaded with vitamins and antioxidants.
We've made it with lime juice and spearmint to add zestiness and a cooling element to match the summer heat.
We've also limited added sugar. Having this drink in place of higher-calorie sodas will help manage your calorie intake while nourishing your body.
Read on to learn the benefits that come with strawberry watermelon juice and how to store it for maximum benefits.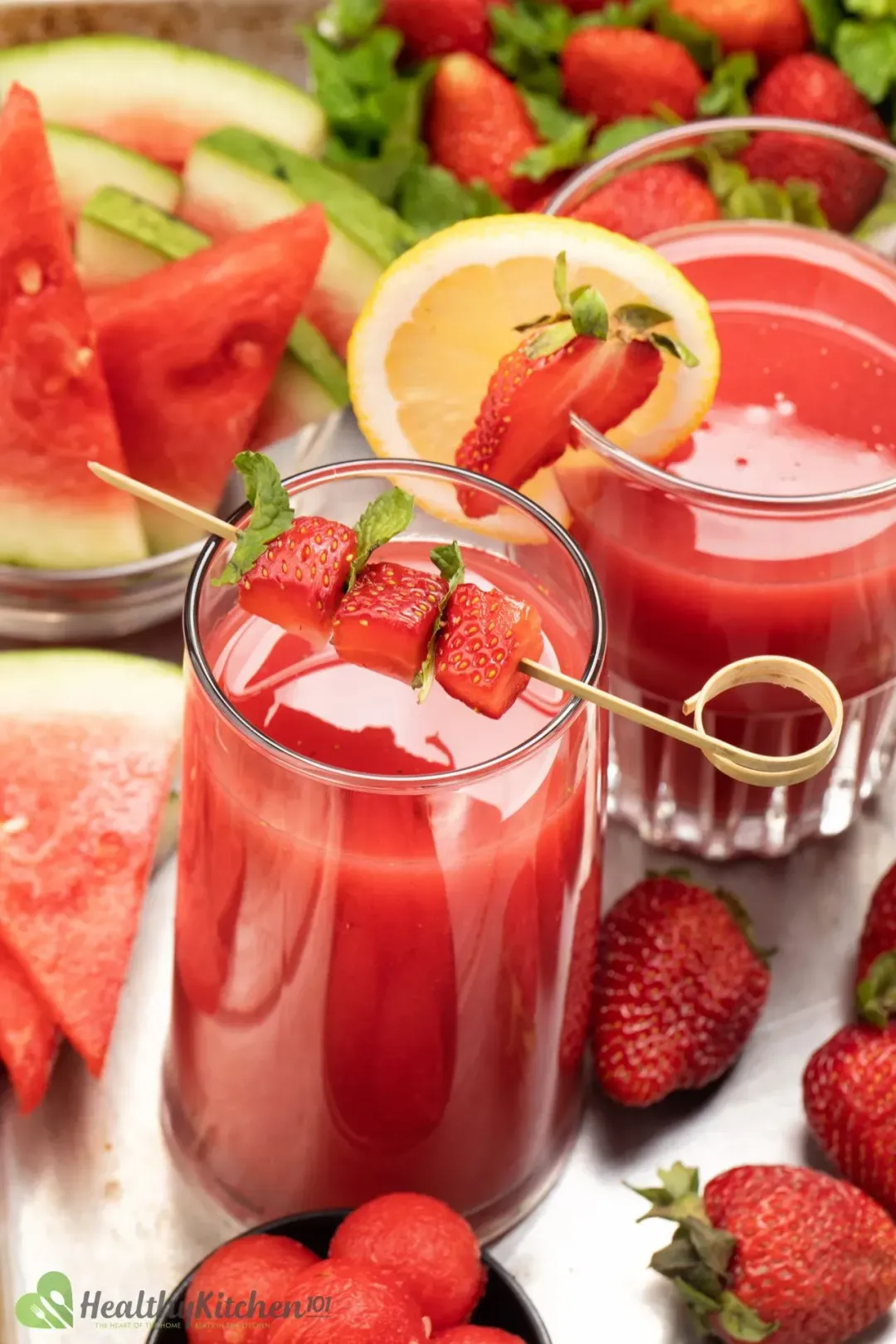 Is This Juice Good for You?
Just like our near pure watermelon juice, this strawberry watermelon juice offers a plethora of health benefits. Compared to traditional recipes, ours incorporates various fruits for increased nutrients and flavor.
1. Vitamin C
One 8 oz serving of strawberry juice contains 36% of vitamin C's Daily Value (DV).
Every day, your body fights viruses, infections, and many factors that pose a health risk to your body. Among these factors are free radicals.
Vitamin C is one of the leading antioxidants that neutralize free radicals in the body. A deficiency can lead to inflammation, cell damage, slow wound healing, poor skin conditions, and a weak immune system.
2. Anti-Cancer
Watermelon juice has admirable qualities too. It contains lycopene, a carotenoid with antioxidant properties.
In addition to fighting free radicals, studies show that lycopene can repress the growth of cancer cells. That, coupled with its natural sweetness, makes watermelon juice a favorable option to incorporate into your routine.
Lime juice and spearmint, in this recipe, bring minor benefits too. They both contain vitamin C, though lime juice (in this case) provides more.
Our bodies can't produce vitamin C; neither can they store it. So it's vital to get it every day from abundant sources like citrus fruits, broccoli, and this beverage.
3. Cognitive Health
Drinking strawberry watermelon juice with mint could also give you a mental boost.
According to studies, spearmint extract may improve cognitive health such as memory, mood, and alertness. So having this drink first thing in the morning may prove to be a great way to start your day!
4. Sugar
Lastly, we've added just 3/4 tsp of sugar per serving. The USDA guidelines suggest limiting added sugar to six teaspoons/day for women and nine teaspoons/day for men.
This ensures a nourishing drink without risking adverse effects that come with excess sugar.
How to Juice
Watermelon juice is relatively easy to extract.
To juice: peel, deseed, and cube a watermelon. Run the cubes through a juicer and collect the liquid in a pitcher.
You can find out other ways to juice watermelon in this Top 10 Watermelon Juice Recipes article. It illustrates how to extract the juice with/without a juicer and has excellent options for making healthy, tasty drinks.
The process of extracting strawberry juice, however, is not as straightforward. Strawberries tend to clog the juicing filter since their flesh is very soft and difficult to separate from the pulp.
A more efficient way to juice strawberries is by adding them into a blender— pulse them to a liquid consistency.
Once pureed, set a cheesecloth directly over a bowl. Strain the strawberry puree to collect clear juice.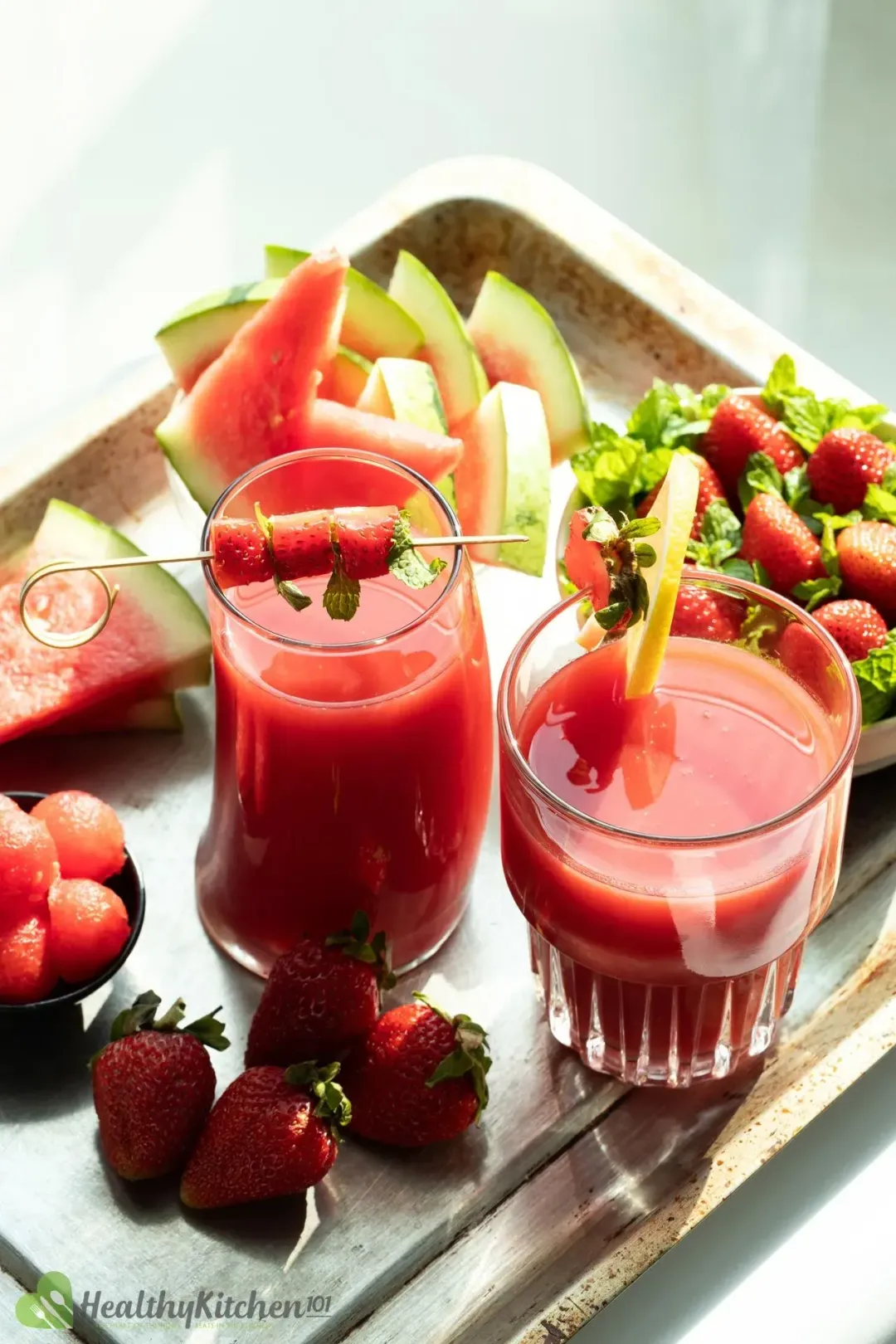 Another option is to make watermelon juice with its seeds. Though it's higher in nutrition, it's high in calories too. Or to juice with cucumber and make a different but healthy drink.
In this case, drink moderate amounts to avoid excessive calorie intake.
For an amazing and natural vitamin C beverage, check out our Strawberry Lemonade Recipe.
How Long Does It Last?
We suggest that you keep strawberry watermelon juice for up to 3 days in the refrigerator.
That's because homemade fruit juices have a relatively short shelf life since they're not pasteurized. They lose more nutrients with time and store better at lower temperatures.
You can keep it in an airtight container to limit its exposure to air. Oxygen is a cause for browning in fruit juices, thus needs to be limited.
Other factors, too, affect the juice's storage period. Vitamin C, for example, is light and heat-sensitive.
Avoid leaving the juice exposed to light for long periods. In the same manner, limit heat exposure to prevent a decrease in overall nutrient content.
To store it for extended periods, keep it in the freezer in an airtight, freezer-safe container. This way, it can last for up to 3 months while still retaining nutrients.
Remember to leave about an inch of space at the top to accommodate any expansion.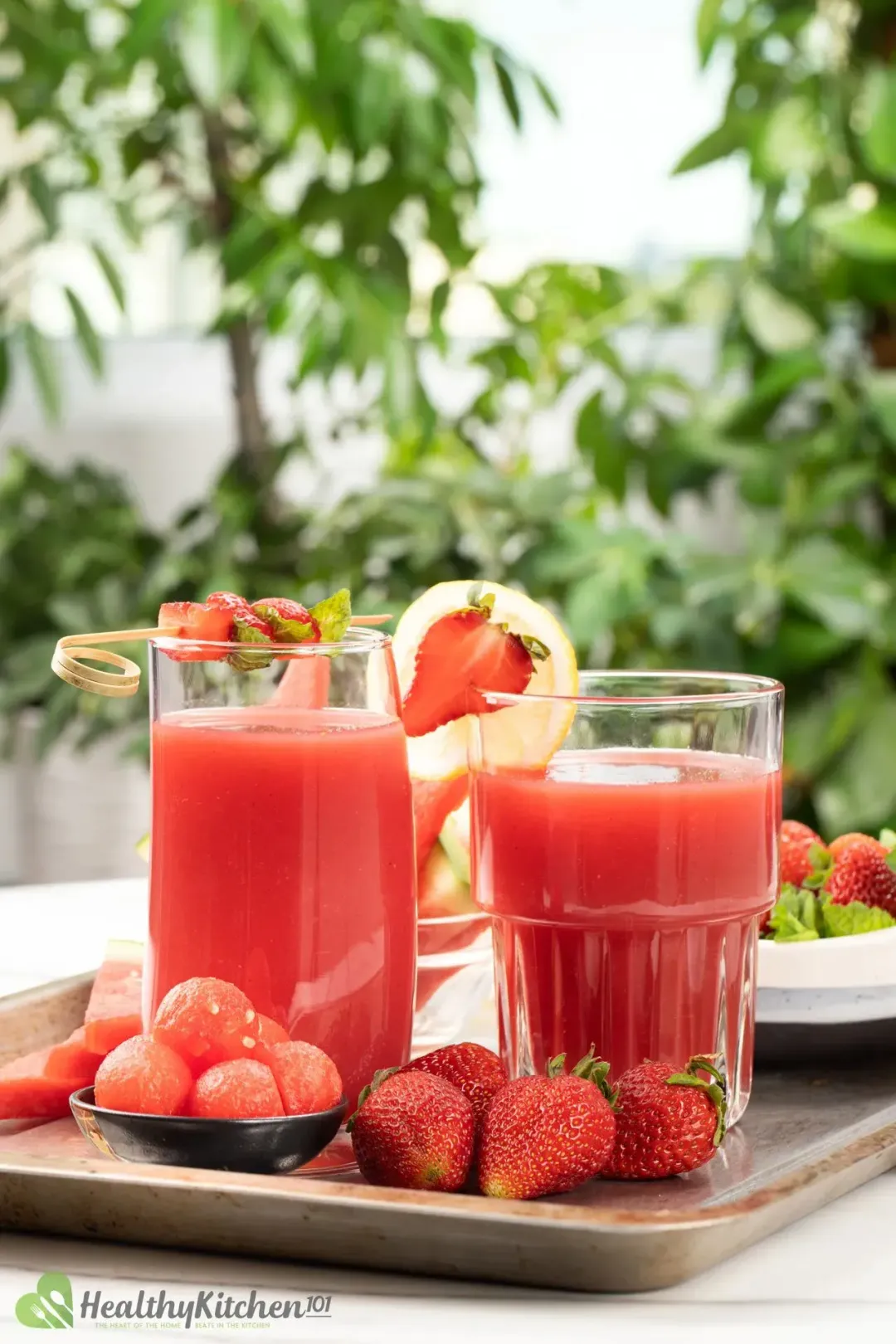 You can also keep it in ice and popsicle molds to create a more fun experience. Simply leave it to freeze and use it for a party, or as a kid-friendly summer refreshment!
Calories
This strawberry watermelon juice contains 69 calories per serving, with most of them from carbs in the form of sugars.
This low-calorie profile makes it appropriate for incorporating into a daily regimen without piling excessive calories.
A small amount of calories is also from protein. It's a tiny amount that will nonetheless contribute to building muscles and managing weight loss.
To create a rounded meal, pair it with a higher protein dish that adds nourishing calories and tastes even better with a refreshing summer drink.
And even without pairing it with a meal, you can enjoy the nourishing benefits that come with this drink. It's a convenient treat that you can keep around to refresh and relieve all summer.
If you want more delicious drinks, check out this healthy juice roundup.
Strawberry Watermelon Juice
This strawberry watermelon juice recipe is a low-calorie beverage that's great for summer refreshment. You can have it as a simple appetizer or enjoy it served together with a higher-calorie meal.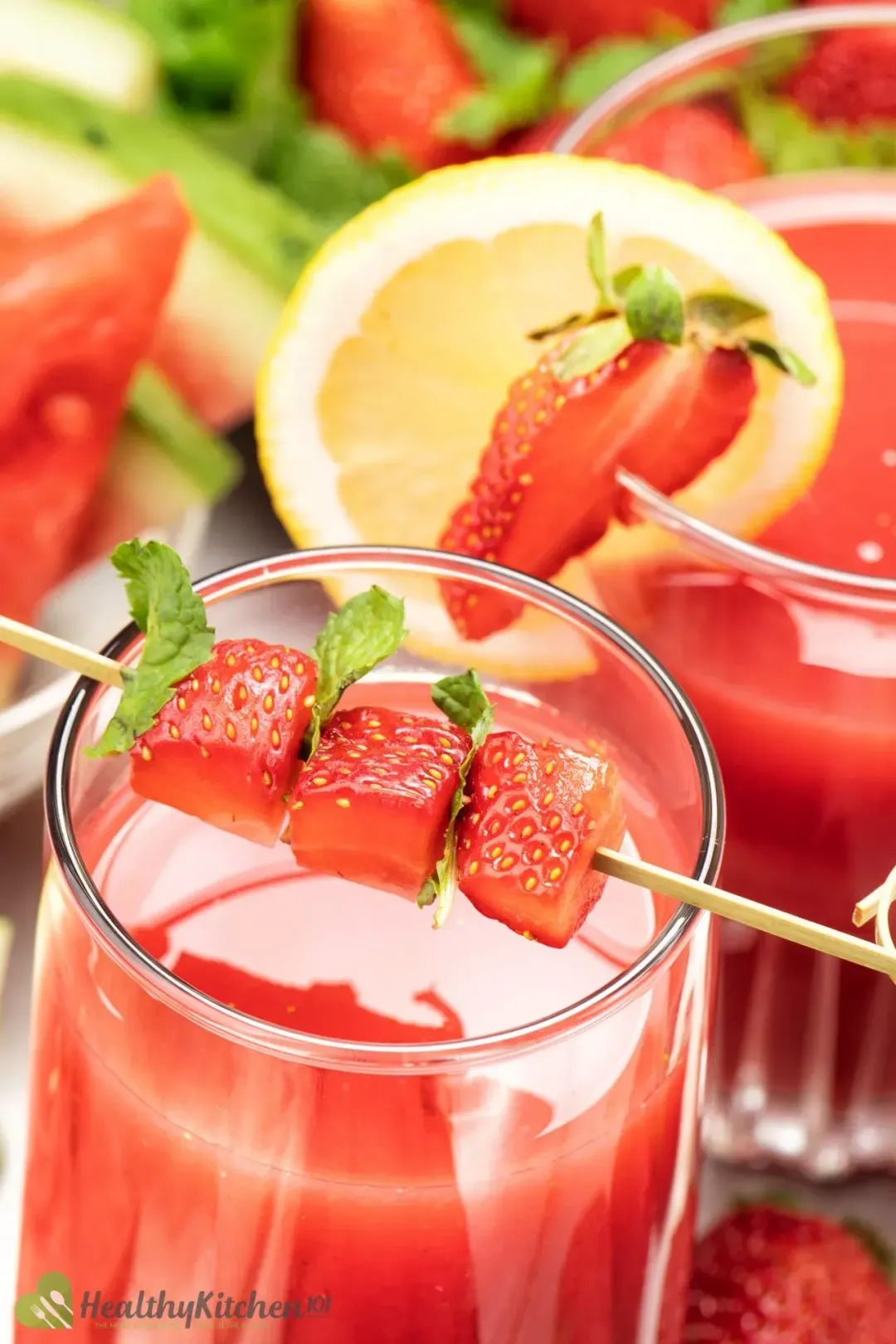 prep TIME

7 mins

total TIME

7 mins
COURSE

Beverage

CUISINE

American

SERVINGS

CALORIES

69 kcal
INGREDIENTS
6

spearmint leaves

(fresh)
INSTRUCTIONS
1
Wash watermelons and strawberries thoroughly. Peel, deseed, and cut the watermelon into cubes.
2
Run 20 oz watermelon and spearmint through a juicer. Collect the juice in a pitcher.
3
In a blender, add 6 oz strawberries and pulse to a liquid consistency. Pour the mixture through a cheesecloth. Strain and squeeze to collect clear strawberry juice.
4
Pour strawberry juice into the pitcher to mix with watermelon juice. Add 1 tbsp sugar and 1 tsp lime juice, and stir until sugar has dissolved.
NUTRITION
Nutrition Facts
Strawberry Watermelon Juice
Amount Per Serving (1 serving)
Calories 69
% Daily Value*
* Percent Daily Values are based on a 2000 calorie diet.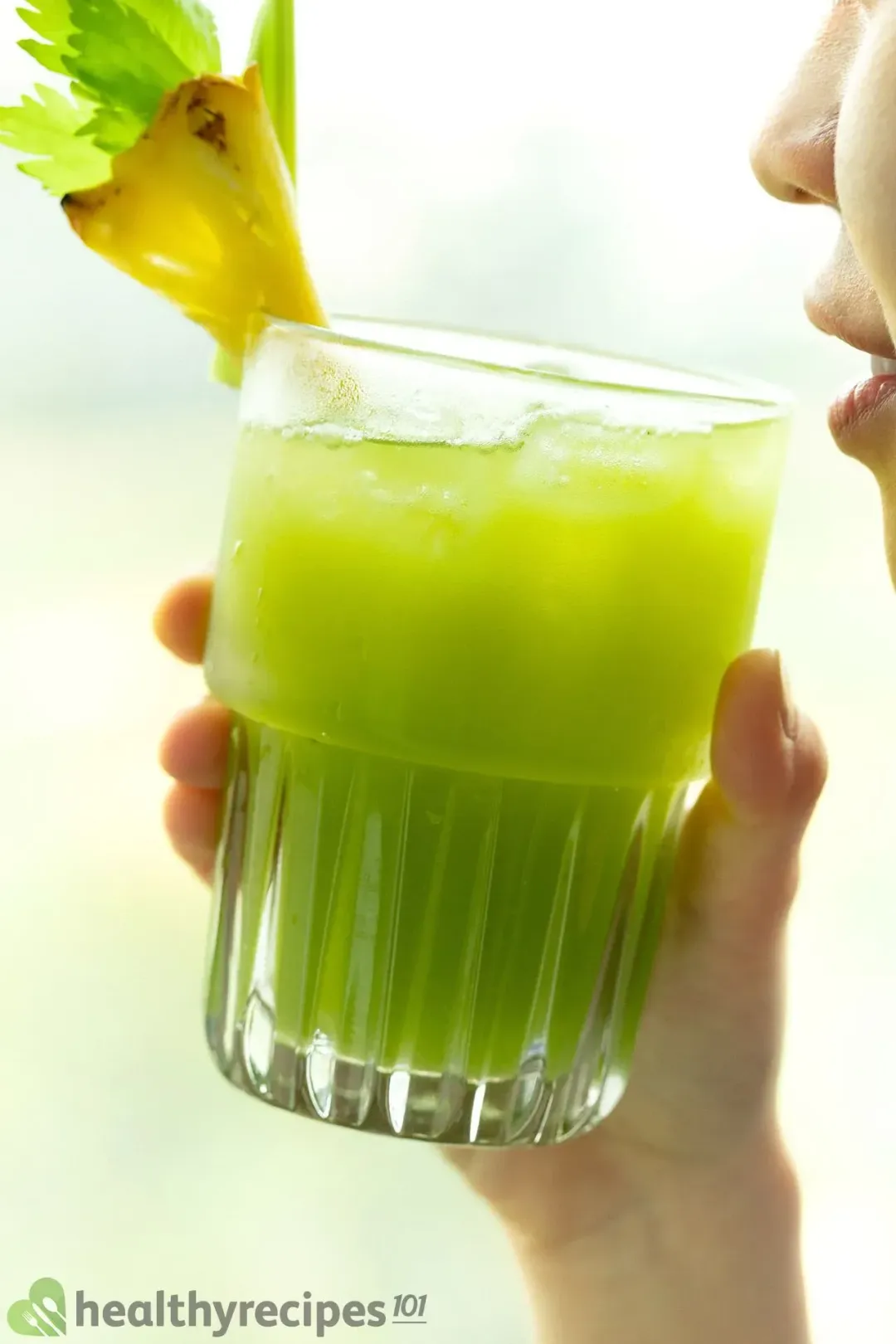 Previous Recipe
Pineapple Celery Juice
Pineapple Celery Juice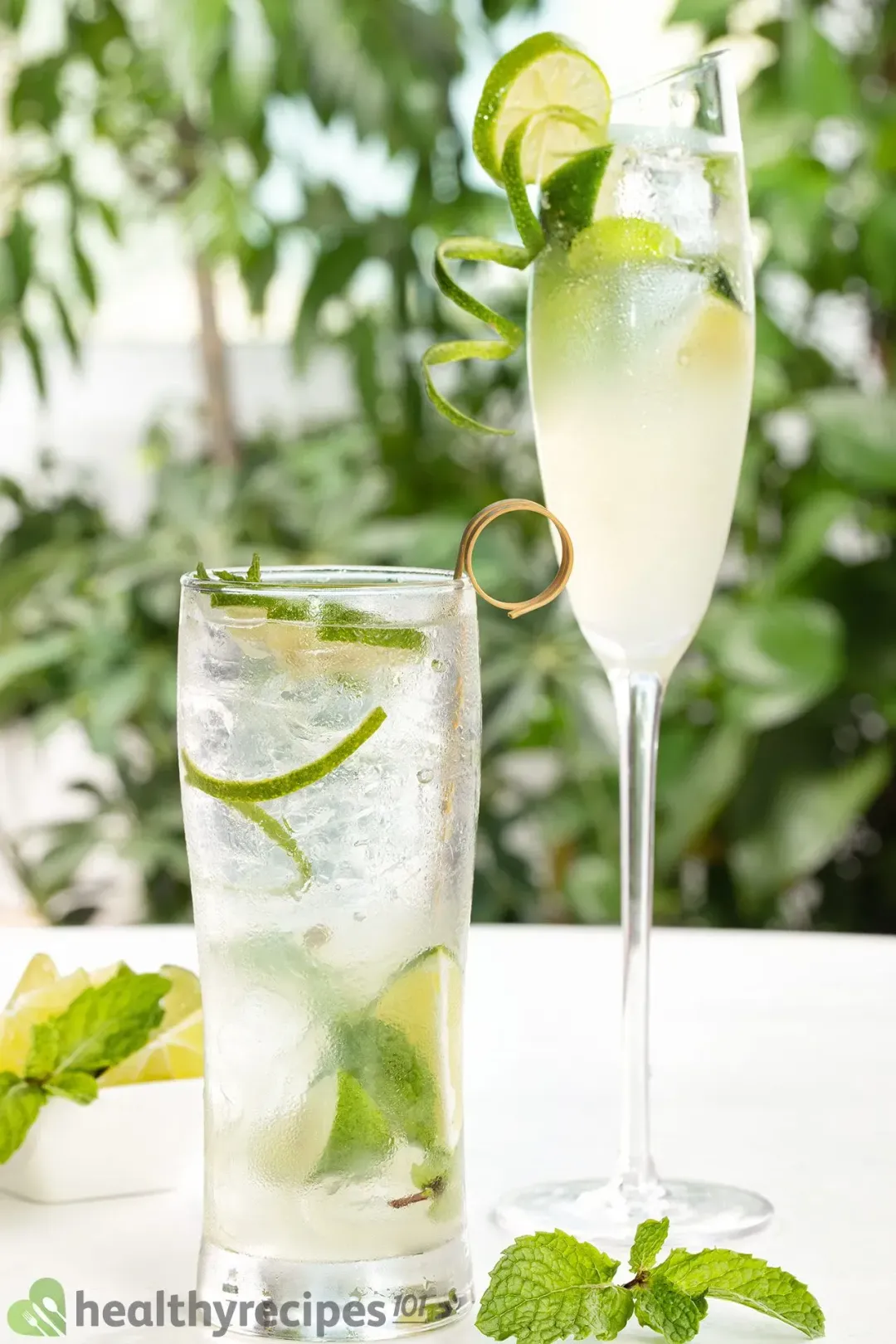 Next Recipe
Tequila and Lime Juice
Tequila and Lime Juice
This is a refreshing drink! I would definitely do this again!

Fall in love with this website at first sight.