Whether you are a pro chef or home cook, it's always good to know a refreshing lemonade recipe. It's a healthy drink that'll help you handle the summer heat and stay refreshed on National Lemon Juice Day (August 29).
How Healthy Are Lemons?
We all know lemons are healthy, but how healthy are they exactly? Let's find out.
For starters, lemons are a huge source of vitamin C— ascorbic acid. One lemon contains about 31 mg of vitamin C, which is 51% of the reference daily intake (RDI).
More than just an anti-aging agent for your skin, vitamin C can reduce inflammation, and stress, and lower the risk of having a stroke.
Lemons also contain fair amounts of citric acid, which can potentially prevent kidney stones.
How to Make
Lemonade is super easy to make at home, plus it's fresh and all-natural. It's also really quick, like 5 minutes for a large pitcher.
1. How Many Lemons to Make This Recipe
One medium lemon yields about 3 tablespoons of lemon juice.
To get the optimum amount of juice out of lemons, you can microwave them for about 1 minute before squeezing them. Then, take them out and roll them on your kitchen counter to help get the juice out easier.
If you're making a large batch of lemon juice, use a lemon squeezer. Cut each lemon in half, place them in the squeezer, cut side down, and press.
Our lemonade recipe makes 4 servings and calls for 1 lemon (and a half, just in case). If you're making lemonade for many people, say 12, 5 lemons would be sufficient.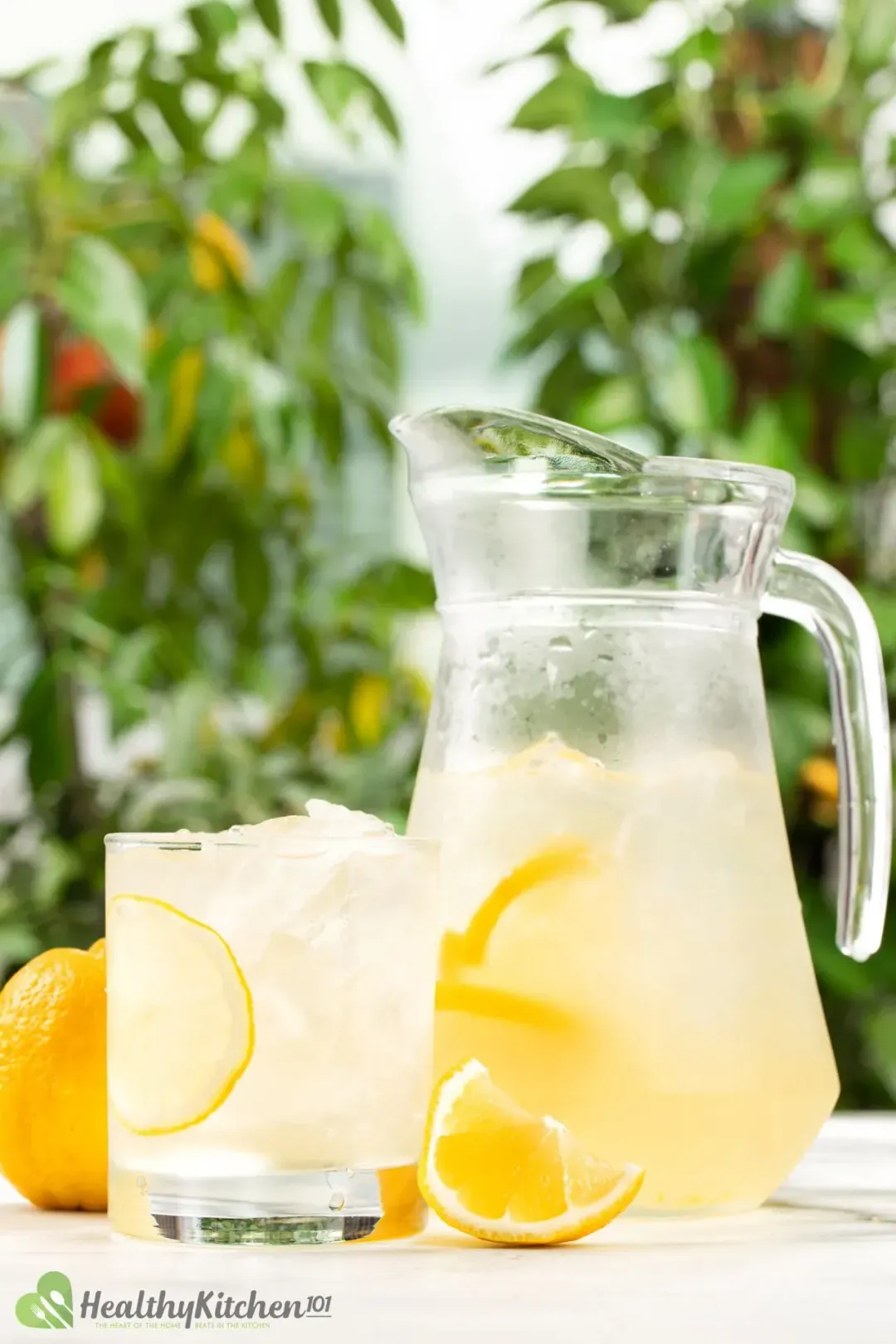 2. How Much Sugar
In terms of sweeteners, our lemonade recipe uses 3 tablespoons of sugar and 1 tablespoon of honey. A little bit of honey gives it a nice color and a depth in flavor.
That amount of sweetness is to ease the tartness of 3 tablespoons of lemon juice, diluted in 1 ¾ cups of water.
You can adjust the amount of water or lemon juice to make your lemonade more or less tangy. However, to follow the healthy eating guideline, we encourage you to not add any more sugar, honey, or other sweeteners.
Note that you can add in vinegar to add an apple cider vinegar drink to your diet. Or add milk to make your own buttermilk.
What Should I Sweeten My Lemonade With?
Some people say honey is sweeter than sugar, but that depends on the type of honey it is (among the 300 kinds!) To be fair, we'd say they're all relatively sweet.
While table sugar is nothing but sucrose, honey has trace amounts of enzymes, amino acids, vitamins, minerals, and antioxidants. They are small in quantity, but in the long run, they can do you good.
You can try it using our lemonade recipe without refined sugar and see if you prefer it with only honey.
Although, honey has a distinctive fragrance while table sugar doesn't. If you prefer the smell of honey, you can adjust the honey-sugar ratio (no more than 4 tablespoons in total).
Tips for Making
If you're making a lot of lemonade, add water and sugar to a pot and heat them while constantly stirring. This helps dissolve the sugar much quicker than adding everything to a pitcher and stirring.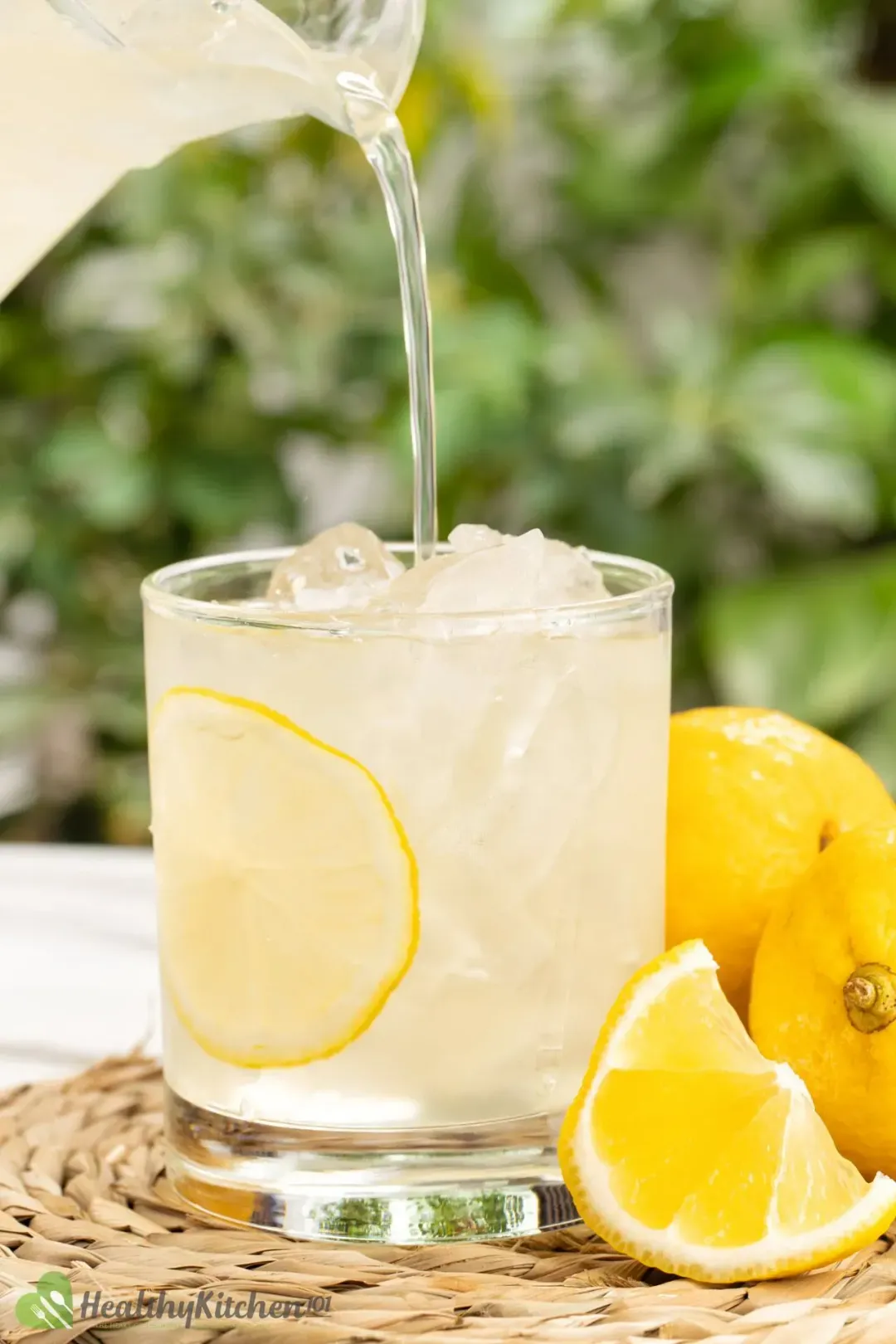 Lemonade would look rather plain without embellishment. Adding lemon slices, lemon zest, several mint leaves, or even stalks of lemongrass helps to make your lemonade pitcher stand out.
If you decide to add lemon zest, zesting the lemons before juicing them is better than trying to do it after. The zest not only adds body to your lemonade but also gives great fragrance.
Adding lemongrass also gives an amazing highlight to your lemonade. Remove the outer layer of each stalk and wash them well before adding them to your pitcher.
By separating each layer of the lemongrass, you can create cute straws that are natural, fragrant, and environmentally friendly.
Lemonade is best enjoyed with ice. To avoid watery lemonade, refrigerate it for at least 2 hours before serving to prevent the ice from melting too quickly.
You can use stainless steel ice or frozen grapes instead of ice for added interest.
The Best Recipes
Lemonade is easy. But why stop there, when even easier and more amazing drinks await?
Have a look at these fun ways to take your lemonade to another level.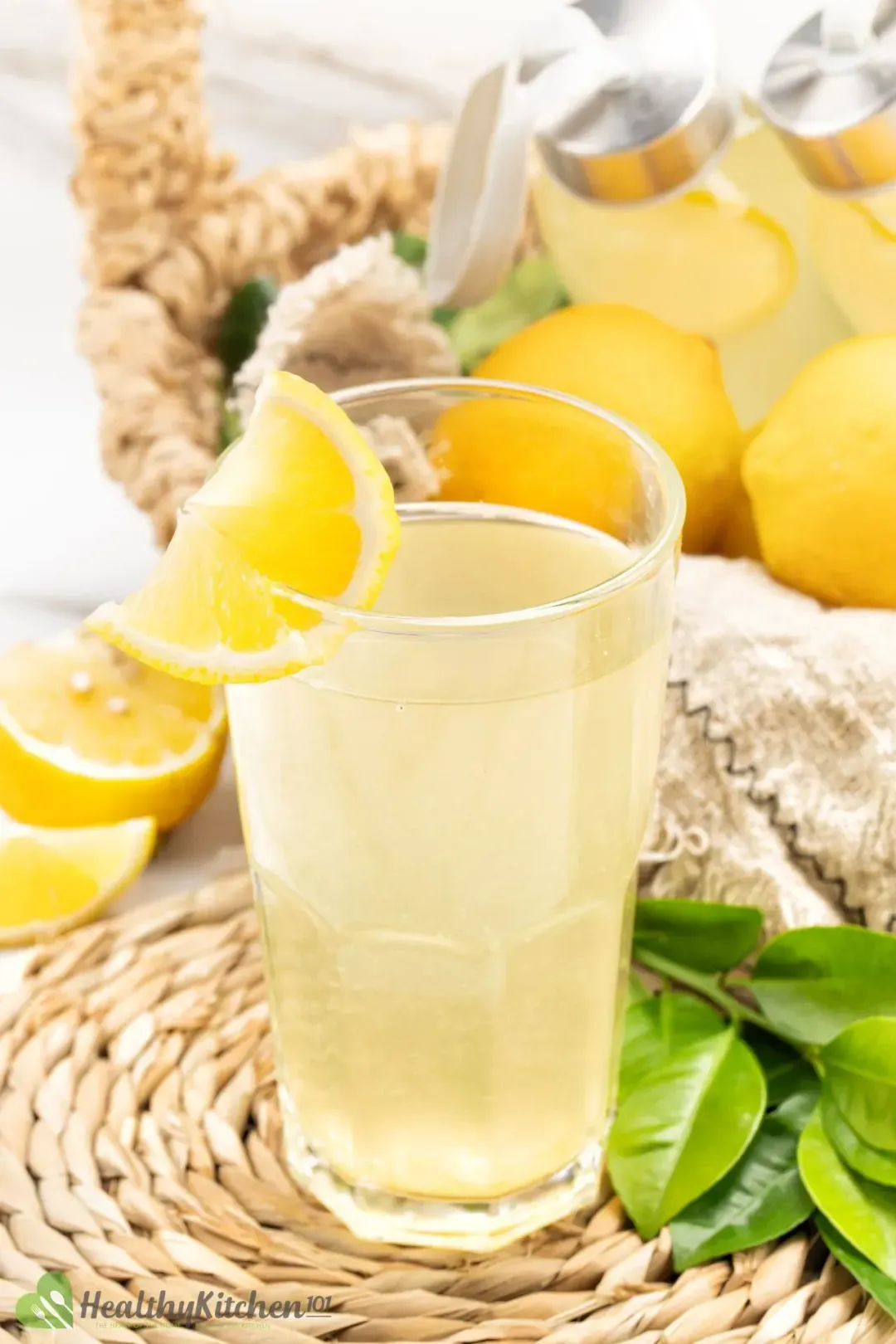 1. Mint Lemonade
Looking fly and phenomenally fragrant, mint leaves can make your lemonade more refreshing.
To extract their essence, put a few leaves in your serving glass and crush them slightly. Then, pour in the iced lemonade (made using our recipe of course) and remove the leaves.
Don't forget to garnish the glass with some new leaves, and a slice or two of lemon.
You can add a few stalks of lemongrass. The aroma of lemongrass pairs well with mint and lemon.
2. Pink Lemonade Recipe, or Strawberry Lemonade
What Is Pink Lemonade?
Lemons with a pink interior are real, but they produce clear juice instead of pink. Pink lemonade is actually lemonade with a dollop of red berry sauce.
What Makes Pink Lemonade Pink?
To make the red berry juice, simply simmer sugar and strawberries in a saucepan until they soften. Blend the mixture in a blender or use an immersion blender, and you have a sweet, aromatic red berry sauce.
To make berry sauce for 4, use 4 tbsp of sugar and 4 oz of strawberries. Use the sauce as a substitute for sugar and honey in this recipe.
Besides the beautiful color, the sauce also adds a fair amount of fiber, vitamins, and minerals to the drink.
3. Vodka Lemonade Recipe
Adding a splash of vodka to your lemonade will turn it into an amazing cocktail that's easy, delicious, and refreshing.
To comply with USDA's guidelines on alcohol consumption, add 1-1.5 fluid ounces of 80-proof vodka to each serving. We think 1 fluid ounces is sufficient, but you can add a little more if that's more to your liking.
4. Watermelon Lemonade Recipe
Watermelon is a great addition to lemonade. It changes the drink from yellow to pinkish, adds natural sugar to it, and creates a great flavor blend.
To make a super refreshing watermelon lemonade recipe for 4, use our recipe, but use watermelon juice instead of water and honey. Specifically, juice 12 ounces of watermelon and add the rest of the ingredients to it.
How to Store
Stored lemonade may not taste as good as freshly squeezed, but it's convenient and free of additives.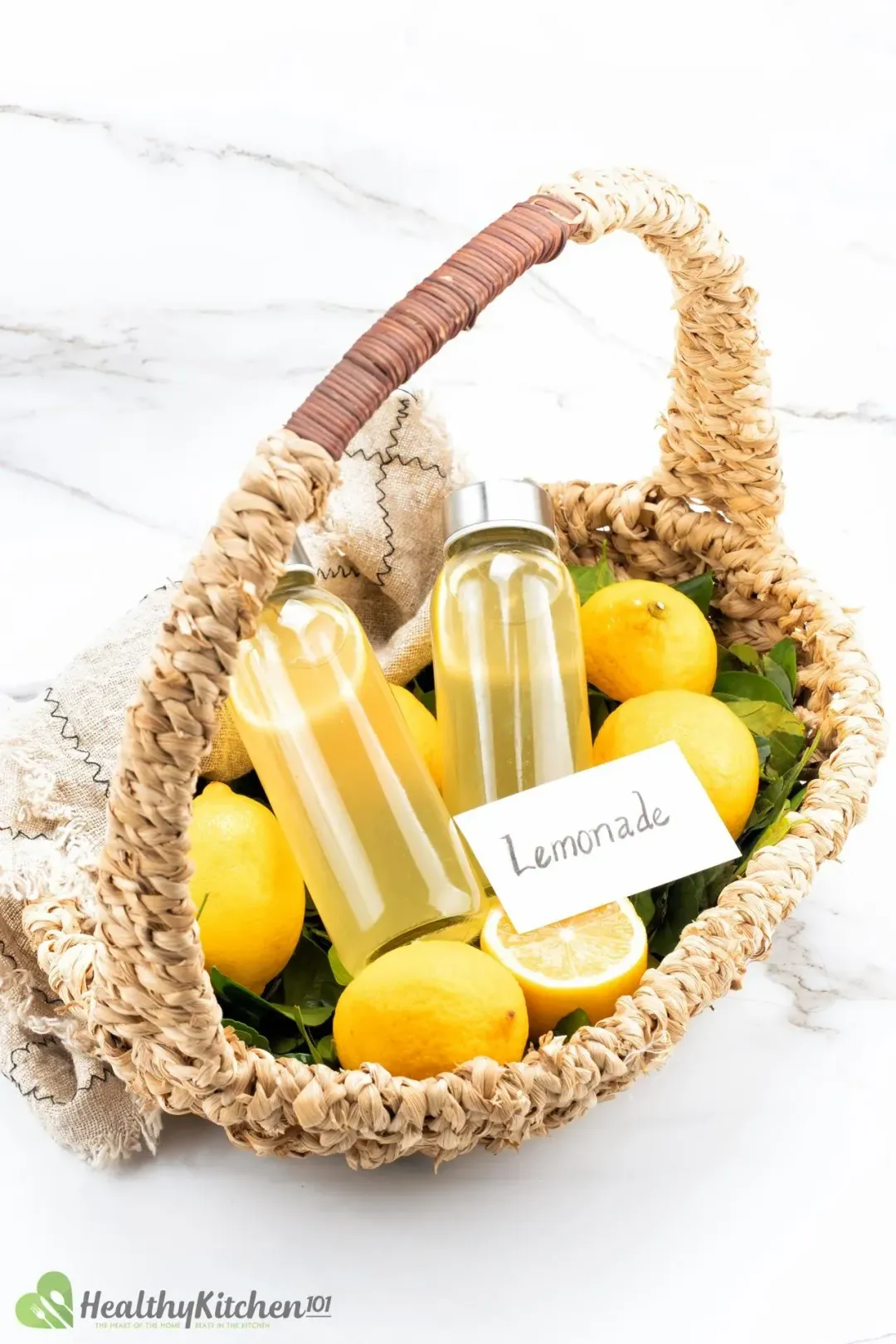 To store lemonade, you can either refrigerate it or divide it into bags and freeze.
Before storing, make sure that nothing touches your lemonade but clean utensils. Dirty spoons or double-dipped spoons contain bacteria, which can spoil your food.
Frozen lemonade can be stored up to several months. However, it's still best to use them up as quickly as possible, within 6 months maximum.
Refrigerated lemonade, on the other hand, should be used within 48 hours of being in the fridge. It's best to check for signs of spoilage before serving, such as strange odor, off-flavor, or even change in color.
Check out our top healthy juice recipes for more delicious drinks.
How Many Calories
Each serving of our lemonade recipe contains only 55 calories.
By adding 1 fluid ounces of vodka to make vodka lemonade, the calories go up to 120 calories. This is how much calories alcohol gives.
If you fancy our previously introduced pink lemonade, each serving of it yields 64 calories. The added calories are from natural sugar, and come along with vast amounts of fiber and micronutrients.
You can drink lemonade as-is, or serve it with main and side dishes to make a wholesome meal. We served our lemonade with pepper steak, rice, and winter melon soup, and it was awesome.
You can also find other simple lemon juice recipes to try out and keep your options open with an easy cucumber drink to help you cleanse. Or get an even more delicious kick using cheap ingredients like ginger!
Healthy Lemonade
Here it is, a healthy lemonade recipe you can whip up in minutes to serve your friends, or drink yourself.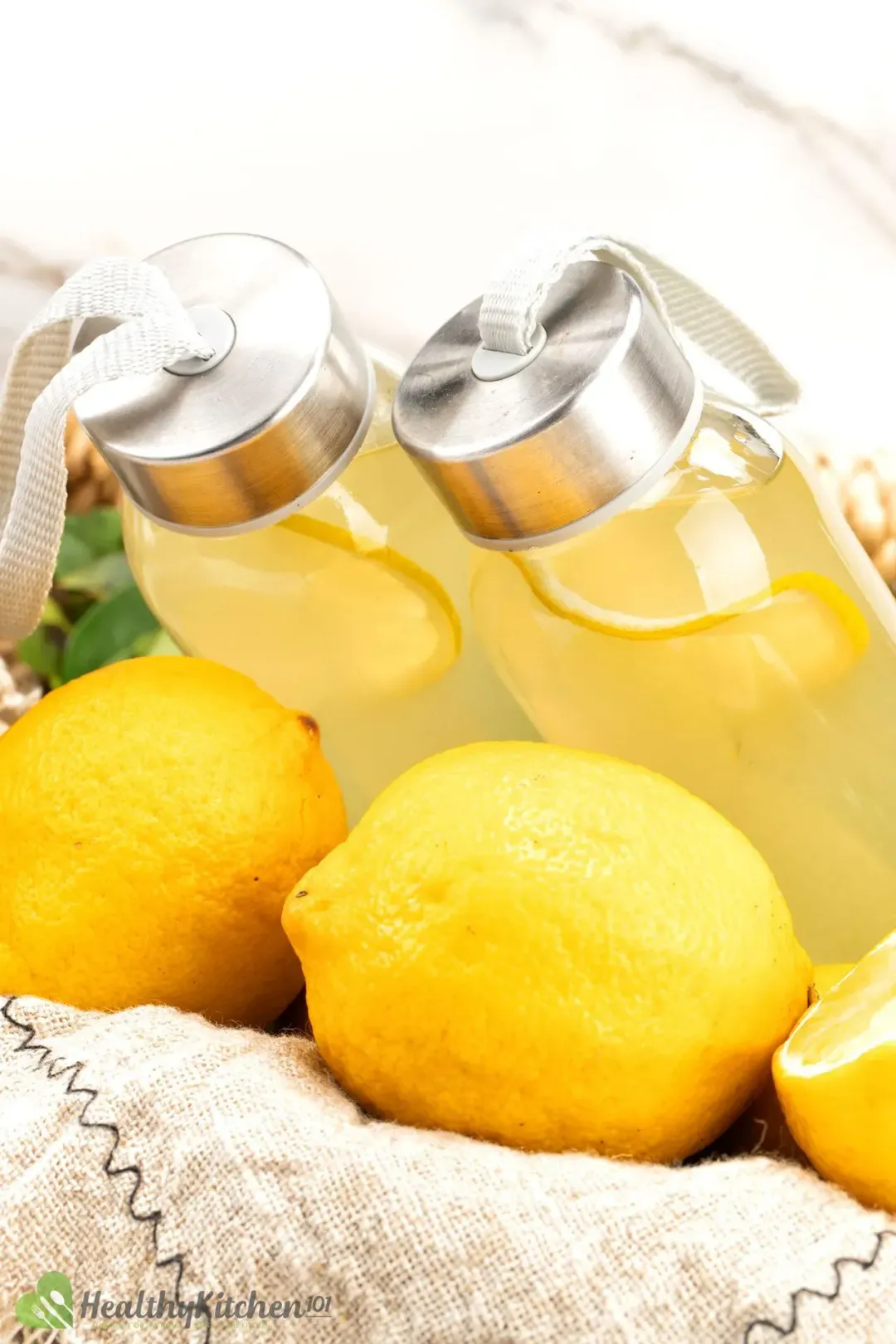 prep TIME

10 mins

total TIME

10 mins
COURSE

Beverage, Dessert

CUISINE

Global

SERVINGS

CALORIES

55 kcal
INSTRUCTIONS
1
Place 3 tbsp sugar and 6 basil leaves in a tall glass. Use a muddler to crush the leaves to get the fragrance out.
2
Add 3 tbsp lemon juice, 1 tbsp honey, 2 tsp lemon zest, a little bit of water (2-3 tbsp) to dilute the mixture. Pour everything into a pitcher and add the rest of the water.
NUTRITION
Nutrition Facts
Healthy Lemonade
Amount Per Serving (1 serving)
Calories 55
% Daily Value*
* Percent Daily Values are based on a 2000 calorie diet.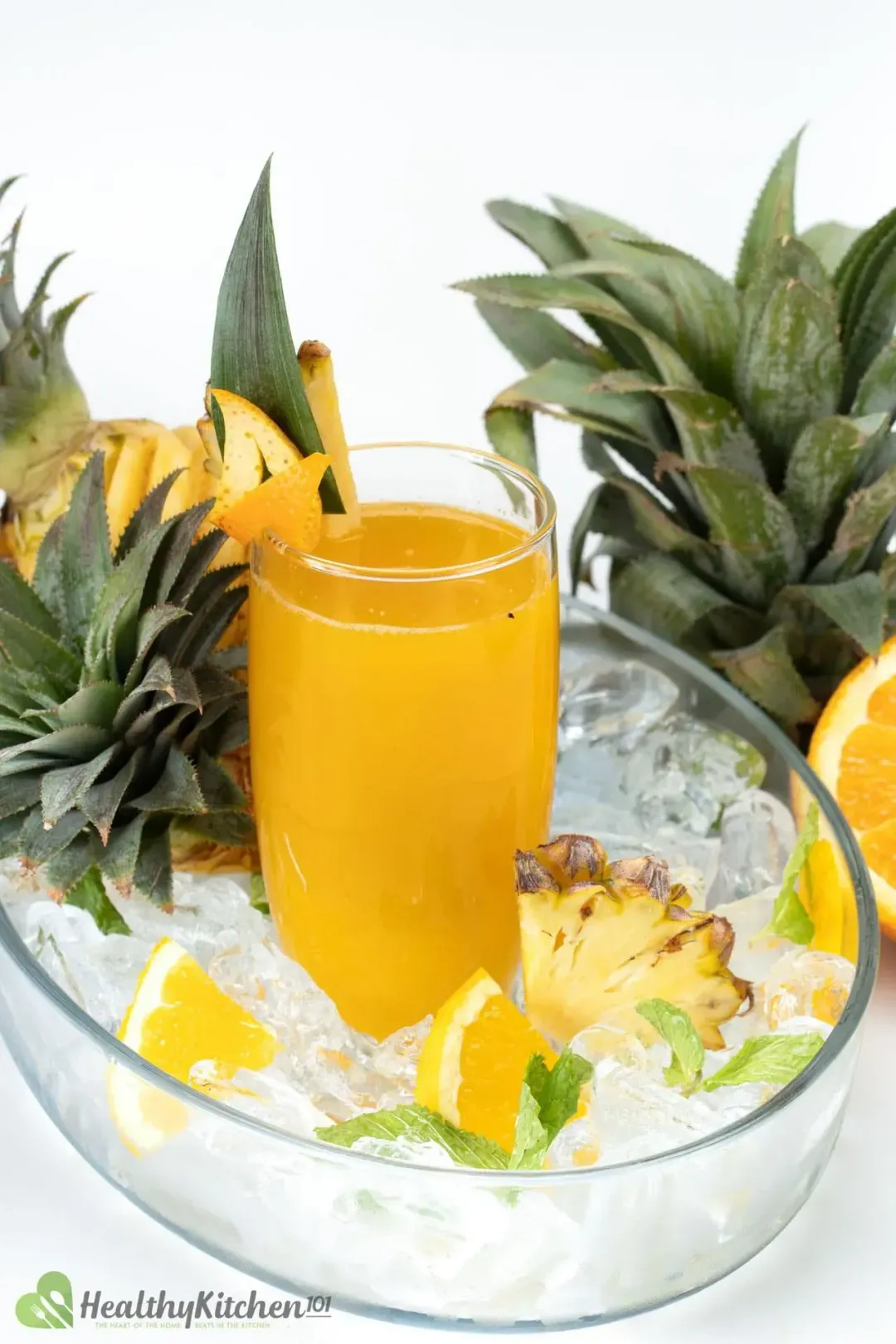 Previous Recipe
Orange Pineapple Juice
Orange Pineapple Juice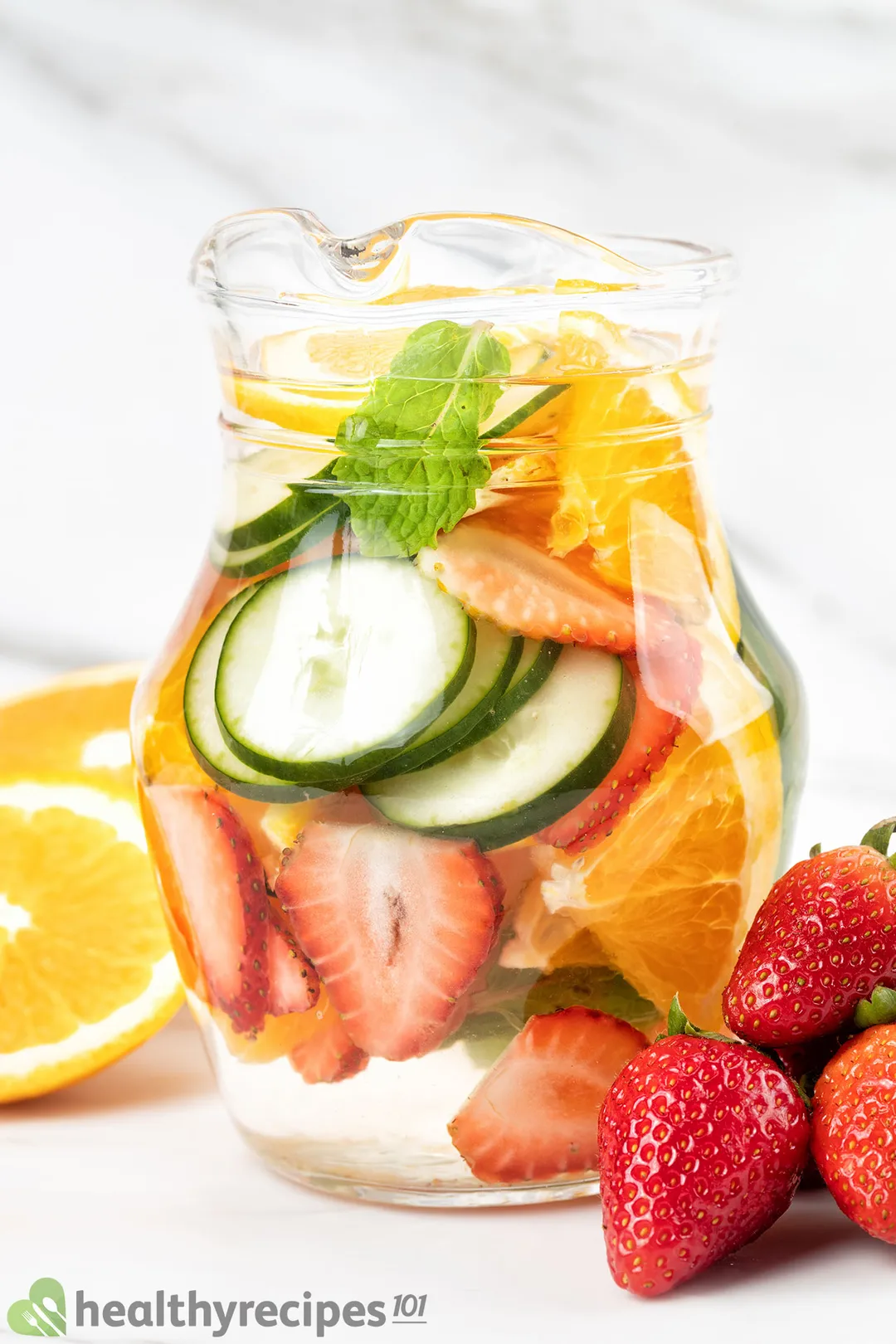 Next Recipe
Cucumber Water
Cucumber Water
Head Chef, Culinary Consultant
Tuyet Pham is an award-winning Saigonese chef who believes that joy is the secret ingredient to delicious food. At Healthy Recipes 101, Tuyet personally tests and simplifies every recipe, ensuring maximum flavor with minimal effort. With a background at prestigious French restaurants P'TI Saigon and Le Corto, Tuyet knows how to make every dish exceptional.
Writer, Author
Luna Regina is an accomplished writer and author who dedicates her career to empowering home cooks and making cooking effortless for everyone. She is the founder of HealthyKitchen101.com and HealthyRecipes101.com, where she works with her team to develop easy, nutritious recipes and help aspiring cooks choose the right kitchen appliances.
Nutrition Reviewer
Lizzie Streit is a Minneapolis-based dietitian and founder of It's a Veg World After All. She completed her MS in Human Nutrition from Drexel University, and is an expert in culinary nutrition, recipe development, and nutrition communications. Lizzie's philosophy is centered around making nutrition recommendations, and especially the advice to eat more vegetables, approachable and realistic. She is excited to be working with the team at Healthy Recipes 101 to ensure that their recipes are both nutritious and delicious.
I just made lemonade with this recipe, and it was perfect! The sweetness from the sugar balanced out the tartness of the lemons perfectly. Definitely my go-to for summer refreshment!