Our orange pineapple smoothie recipe is the simplest way to make a nutritious vitamin boost.
Is This Orange Pineapple Smoothie Healthy?
Yes, we believe it is good for your health.
Orange juice and pineapple are rich in antioxidants like vitamin C, A, and B6 while also containing a variety of other nutrients such as manganese, copper, iron, calcium, etc. Blending the two together with a little ice gives you a delicious health boost.
In addition to these nutrients, each serving contains just 119 calories. If you only require a small amount to meet your daily calorie goal, low-calorie beverages such as this one are ideal.
Around 52 of those 119 calories come from added sugar. This amount accounts for approximately 26 percent of the recommended upper limit for a 2000-calorie diet.
Ingredients for Our Orange Pineapple Smoothie Recipe
The ingredients list is actually pretty simple:
To make the most delicious and flavorful smoothie, use ripe pineapples for their sweetness and stronger aroma. There are numerous techniques for selecting a ripe pineapple, but our favorite is to gently sniff the pineapple's bottom. It should smell floral and sweet.
You can also use fresh whole oranges, but we found it more convenient to just slice the fruit in half and squeeze out the juice rather than peeling away the rind. If you have time, however, we encourage you to use the orange flesh — it will provide you with additional fiber.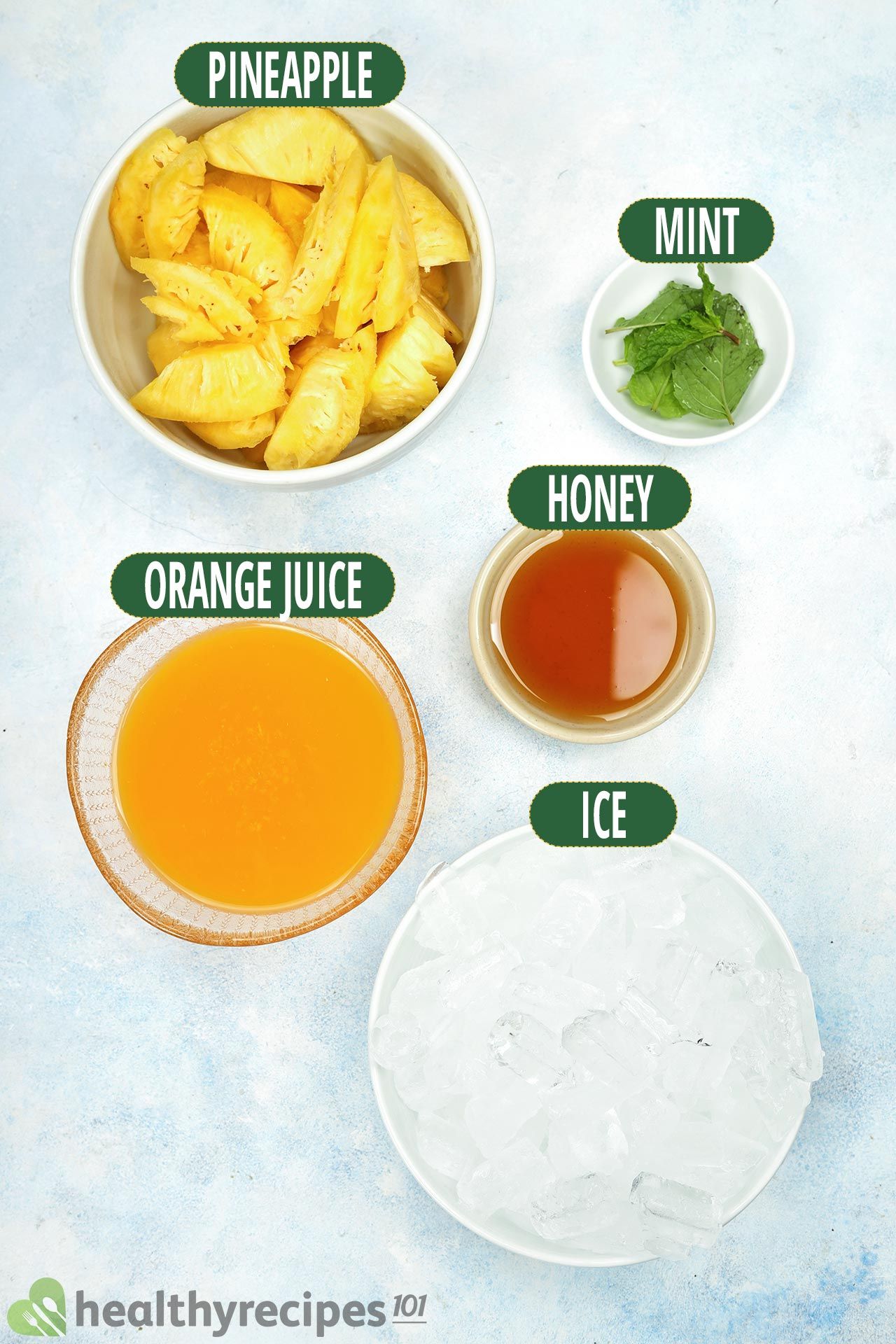 How to Make Orange Pineapple Smoothie
Measure out cucumber, pineapple, coconut water, lime juice, sugar, mint, and ice and blend them all together until smooth.
The smoothie's texture will be determined by two factors: the size of the blender's motor versus the quality of the ice. Powerful blenders can handle all types of ice, while weaker models can only handle soft ice, such as ice nuggets.
If you cannot find soft ice, you can pound your ice in a bag or large cheesecloth. Additionally, some blenders include an ice-grinding function that is designed to break down large/tough ice into smaller pieces. This reduces the load on the motor and results in a smoother smoothie more quickly.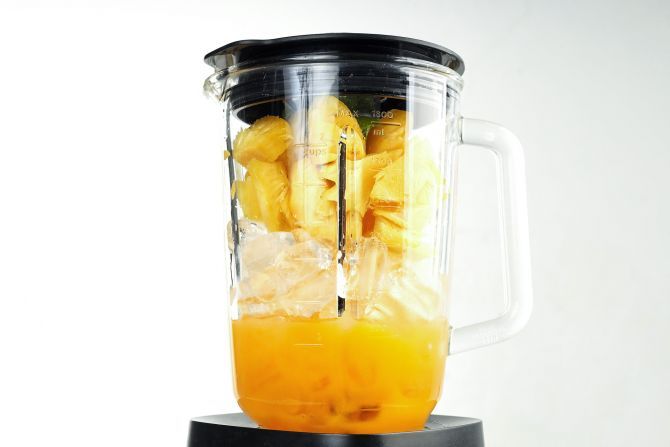 Blend ingredients.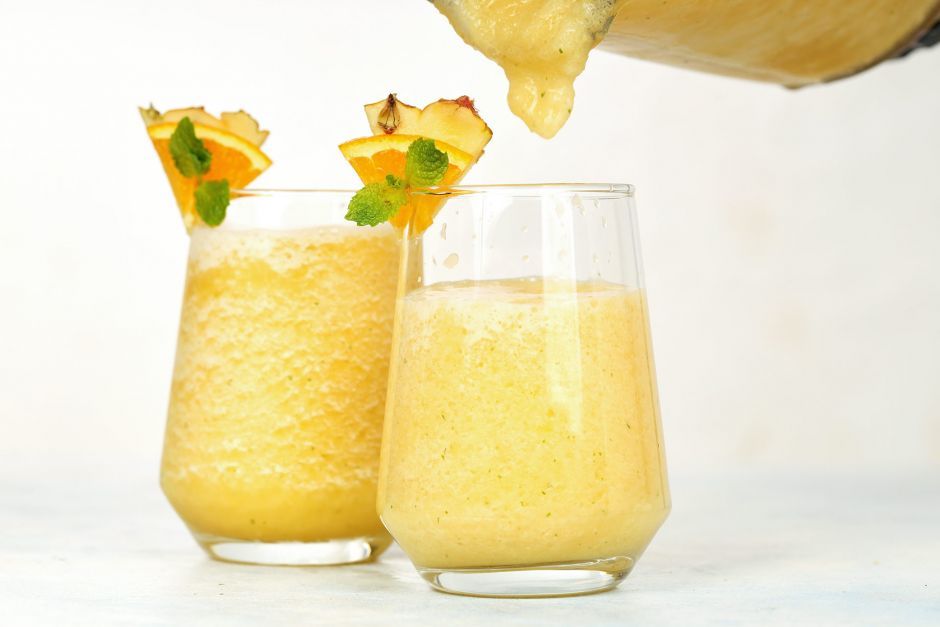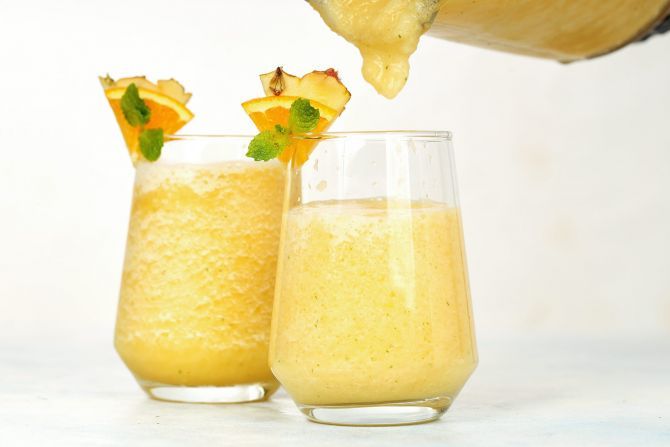 Pour into serving glasses.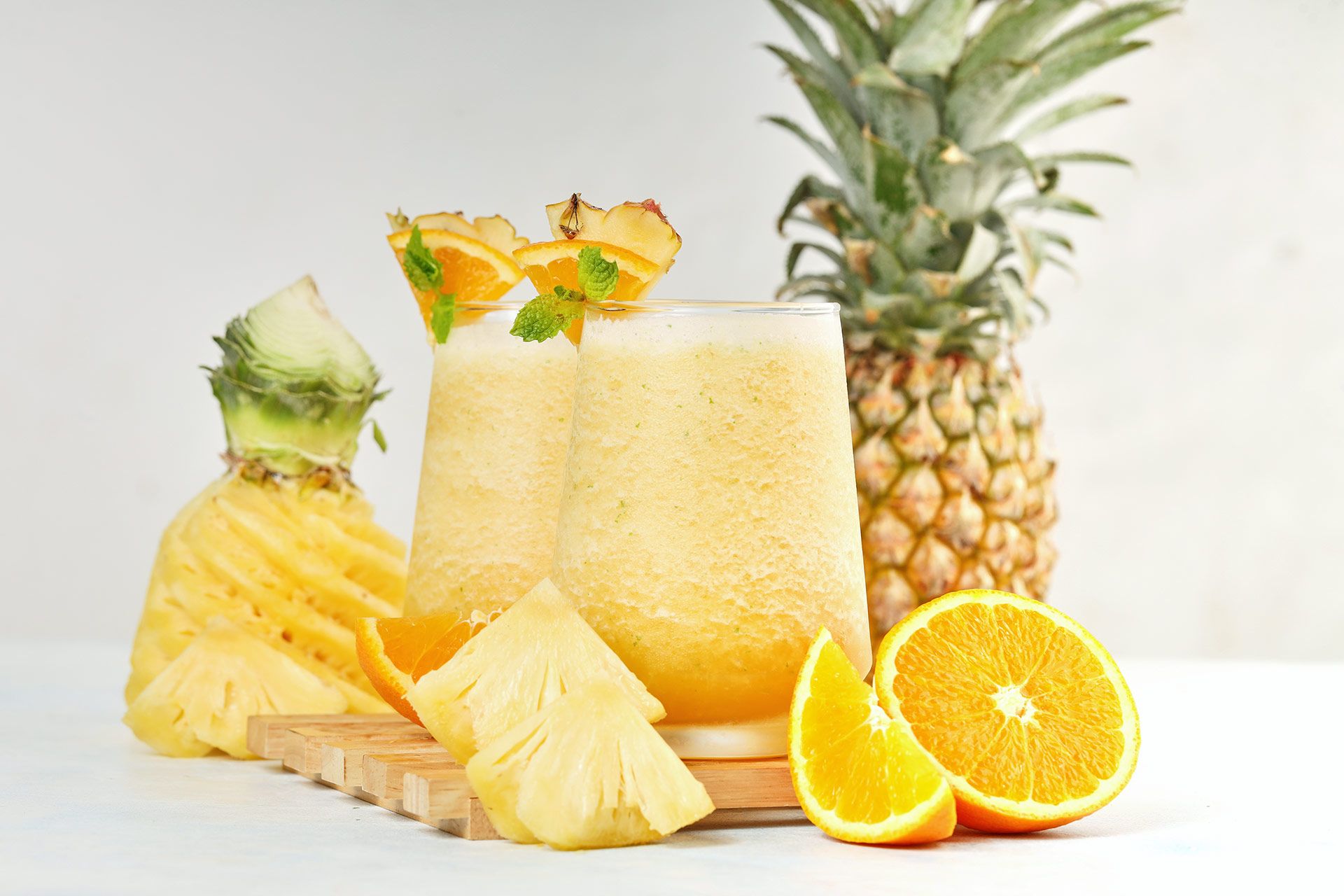 Garnish with more mint leaves and serve immediately.
Jump to Recipe
How to Tell If an Orange Is Bad
Oranges should be firm and heavy in proportion to their size, with fine-textured skin and no soft spots.
They should be free of blemishes and cuts. Scars may form on the peel where the young fruits brush against the tree, but these surface flaws are not an indication of the fruit's quality.
To avoid spoiling the fruit, there are two ways to store it properly.
Allowing them to sit at room temperature in the pantry—or even in a fruit basket in the kitchen—will result in a juicier fruit. It's the preferred method if you're certain you'll consume the oranges within a couple of days.
The second option is to store the oranges in the refrigerator. They won't be as juicy, but you'll get a much longer shelf life in exchange. It's the best option if you're purchasing in bulk or if someone generously shares their harvest with you.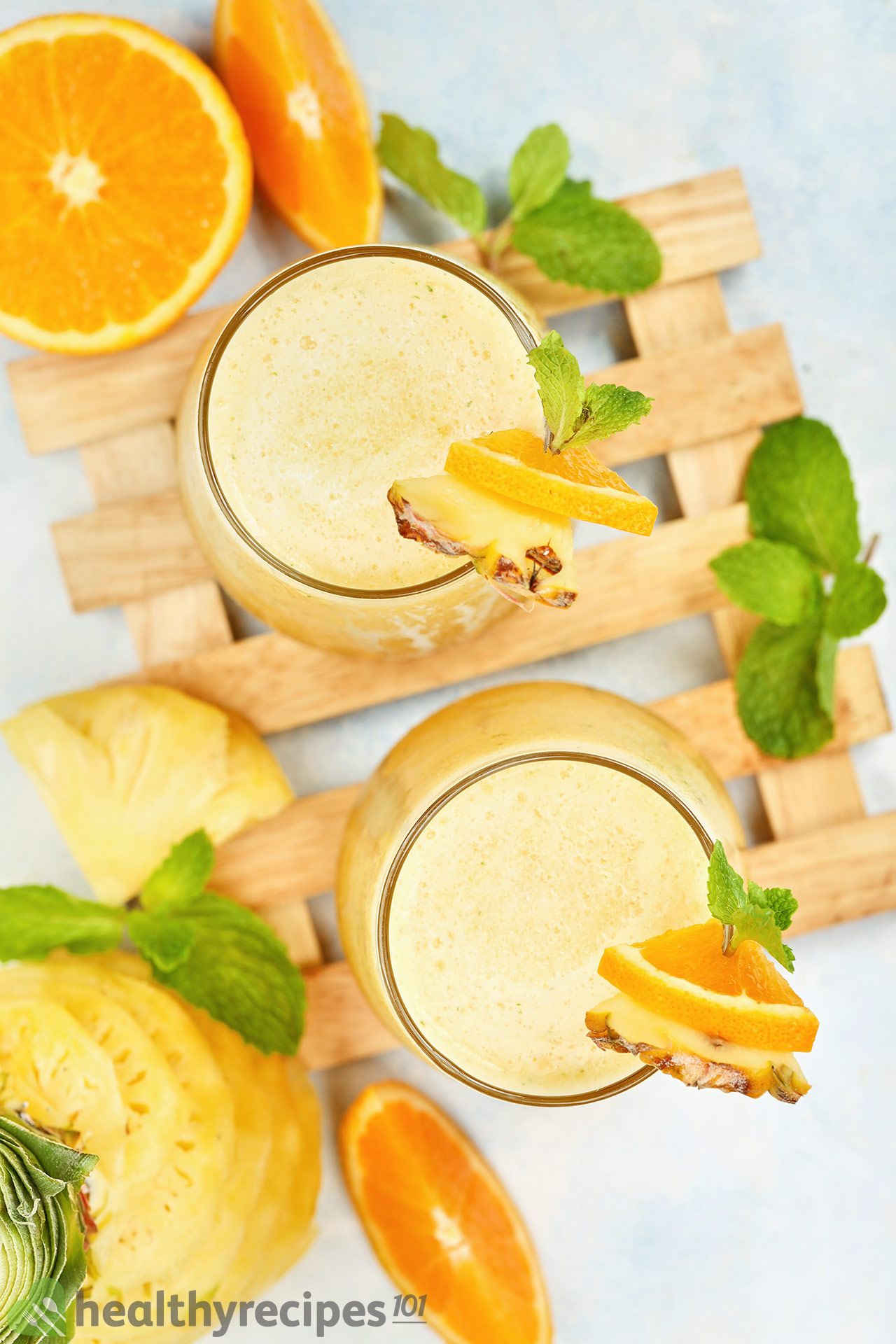 How Long Does This Smoothie Last?
As with most smoothies, it's best to consume it all at once to avoid it becoming watery and discolored. Otherwise, we recommend omitting the ice during production to make storage easier.
If you wish to keep it for two days, combine everything in a large container and seal it tightly. Whenever you need, blend with ice.
Divide it into small portions and store it in Ziploc bags rather than containers to extend its shelf life. They facilitate individual storage/use.
When left alone, most smoothies will self-separate into layers, which is normal and does not indicate spoilage. Typically, spoiled smoothies have an unpleasant odor and may contain molds.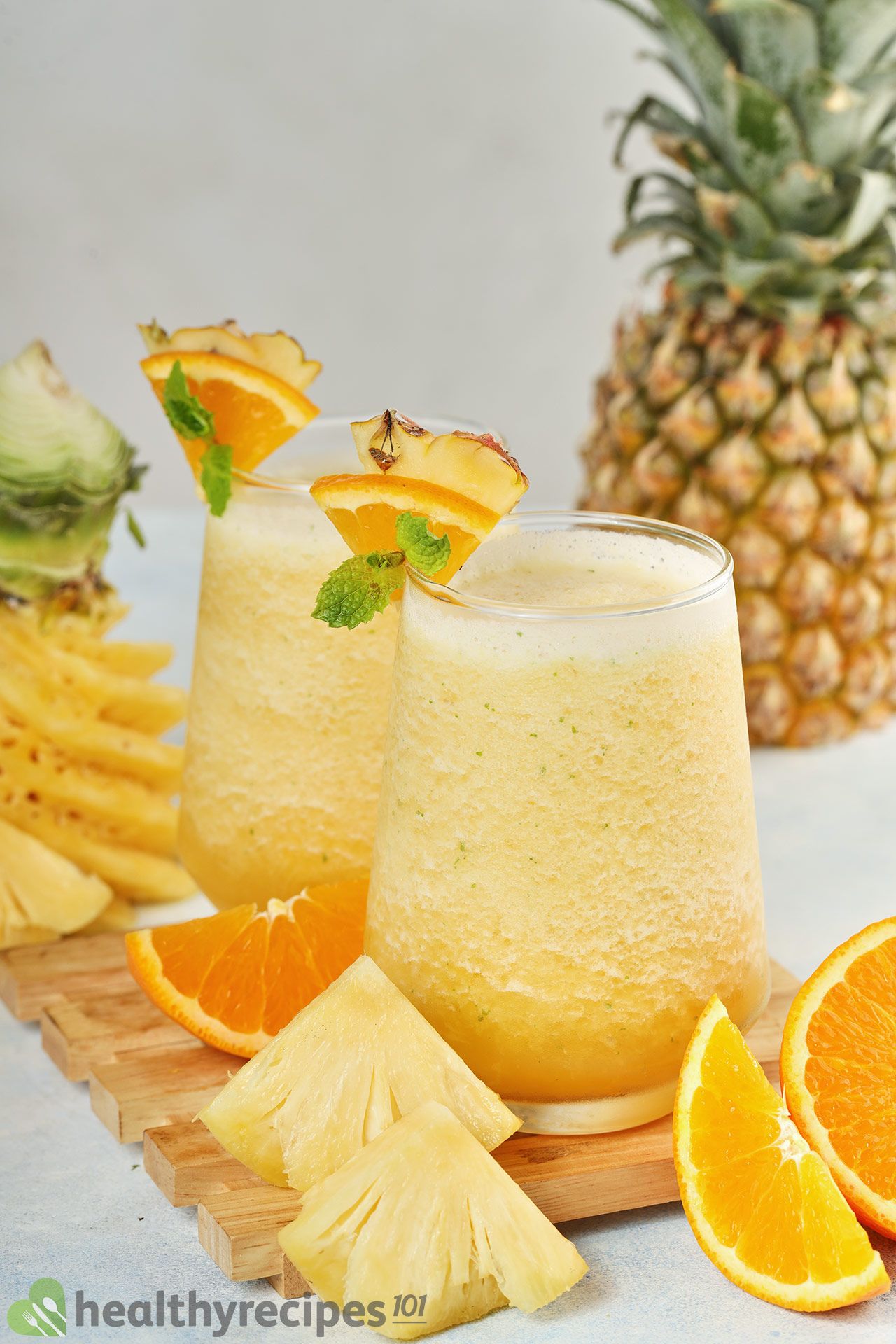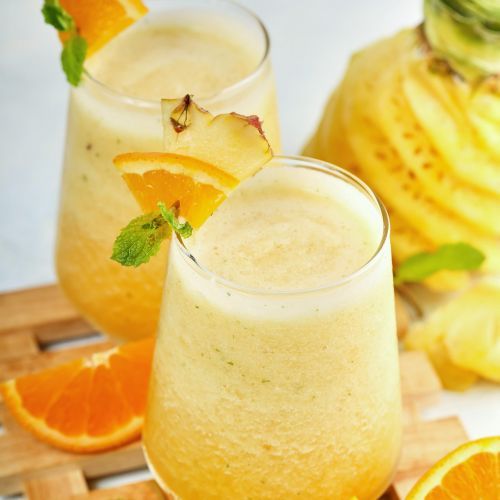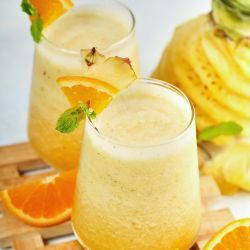 Orange Pineapple Smoothie Recipe
Our orange pineapple smoothie recipe is a delicious, thirst-quenching drink to add to your list. It's a must-try this summer!
Ingredients
12

oz

pineapples

cut into chunks

3

cups

ice

8

leaves

mint

3

tbsp

honey

1

cup

orange juice
Instructions
Place all ingredients in a blender, starting with the ice. Cover and blend until smooth.

Pour into serving glasses.

Garnish with more mint leaves and serve immediately.
Nutrition
Nutrition Facts
Orange Pineapple Smoothie Recipe
Amount Per Serving (1 serving)
Calories 119
% Daily Value*
Sodium 11mg0%
Potassium 225mg6%
Carbohydrates 31g10%
Protein 1g2%
Vitamin A 178IU4%
Vitamin C 72mg87%
Calcium 24mg2%
Iron 1mg6%
* Percent Daily Values are based on a 2000 calorie diet.