Our blueberry orange smoothie recipe features a delectable blend of frozen blueberries, orange juice, and Greek yogurt for a creamy, sweet beverage with a slightly tangy hint. The drink is sugar-free and rich in protein and healthy ingredients, making it ideal for breakfast or snacking.
Our Blueberry Orange Smoothie's Benefits
Thanks to the freshly-squeezed orange juice and sweet-tart blueberries, this smoothie has a bright summery flavor and is packed with health benefits. Orange juice is an excellent source of vitamins and minerals, including vitamin C, vitamin A, thiamin, folate, potassium, fiber, proteins, copper, and magnesium.
One cup of orange juice has almost double the daily vitamin C requirement (124 mg of vitamin C). Vitamin C, commonly known as ascorbic acid, acts as a powerful antioxidant in the body, neutralizing and eliminating free radicals. In addition, vitamin C is one of the essential components of collagen, which is required for cell repair and the creation of new tissues in the body.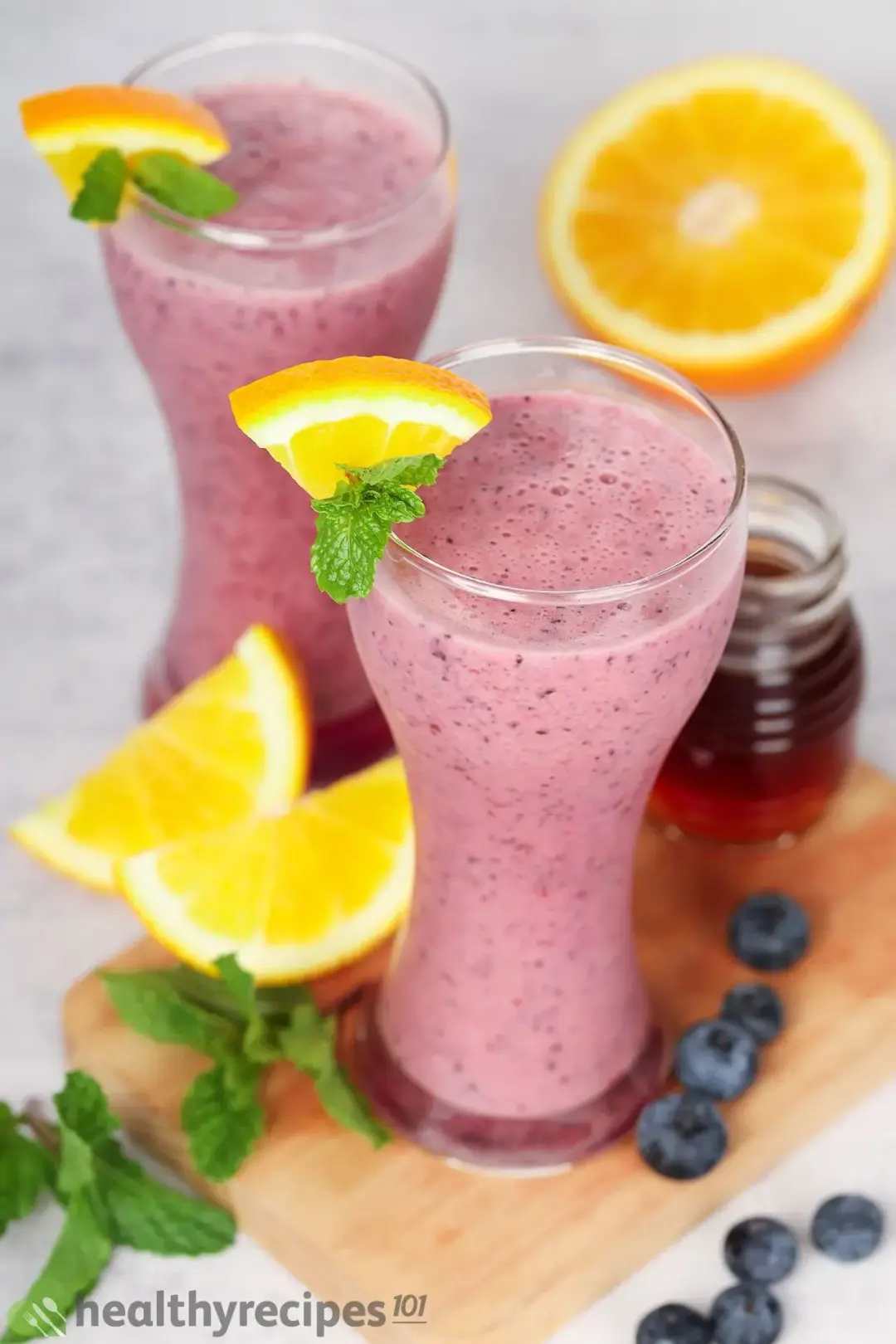 Blueberries are one of the best natural sources of antioxidants. The fruit also contains a great amount of dietary fiber (2.4 g over 100 gr blueberries). And as we all know, fiber helps your digestive system function efficiently.
Plus, due to their high fiber content and low sugar profile compared to other fruits, blueberries do not produce a blood sugar spike, making them a healthy snack to munch through the day.
What's in This Smoothie?
When you think of smoothies, blueberries and orange juice are probably not the first things that come to mind. However, the two flavors happen to naturally complement each other wonderfully.
Blueberries are not as sweet as other berries, so the addition of orange juice and honey provides a touch of sweetness, making the smoothie more lip-smackingly appealing.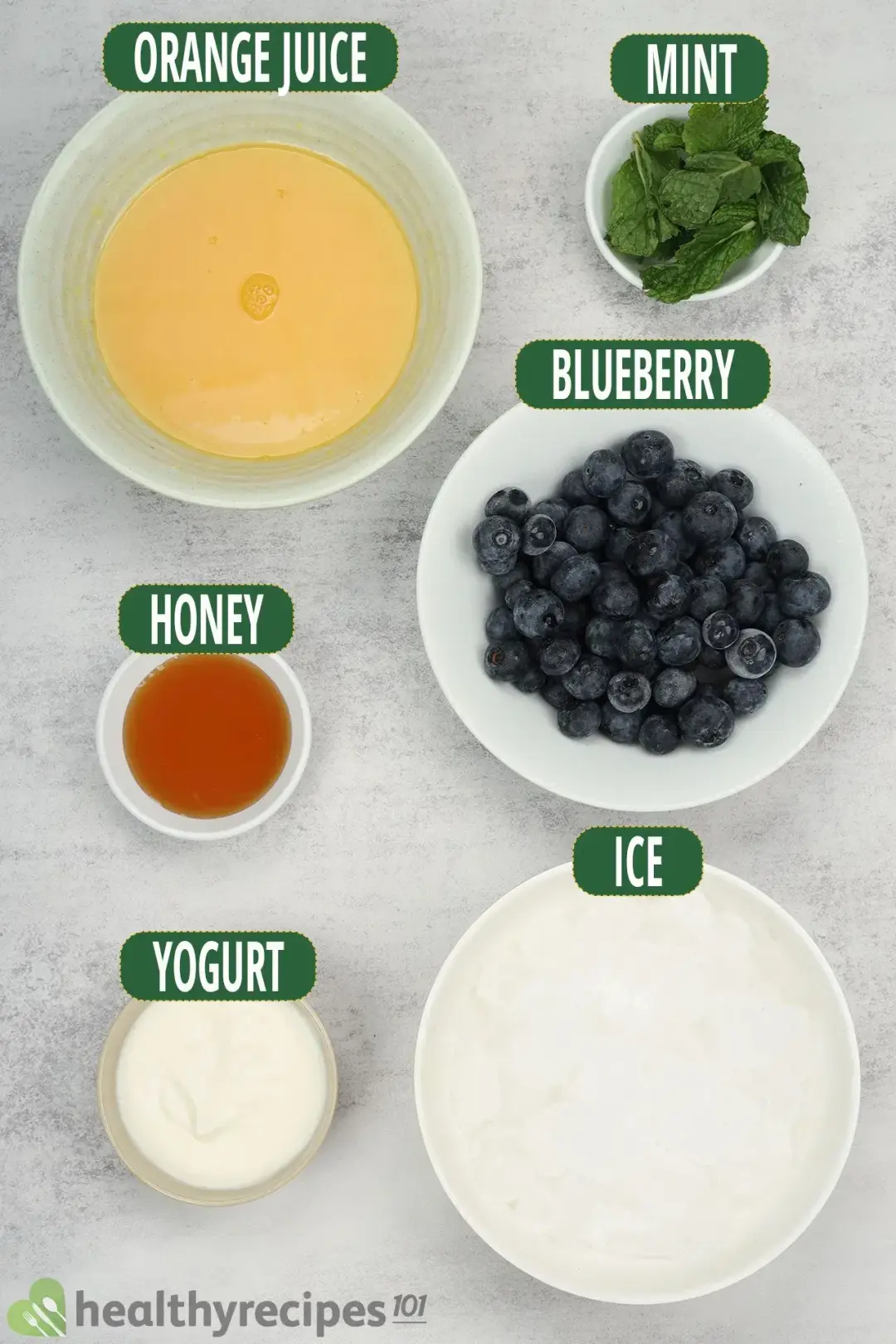 Due to the high water- content of oranges, you will need to add a thickening agent like yogurt. If you wish for a dairy-free version, substitute Greek yogurt for soy milk yogurt.
We also recommend using frozen berries. This will enhance the consistency, resulting in a thick, creamy milkshake-like treat.
How We Made Blueberry Orange Smoothie
This blueberry orange smoothie is a delicious way to please the entire family. Store some frozen blueberries and juicy oranges so that you can make this beverage any time before citrus season ends.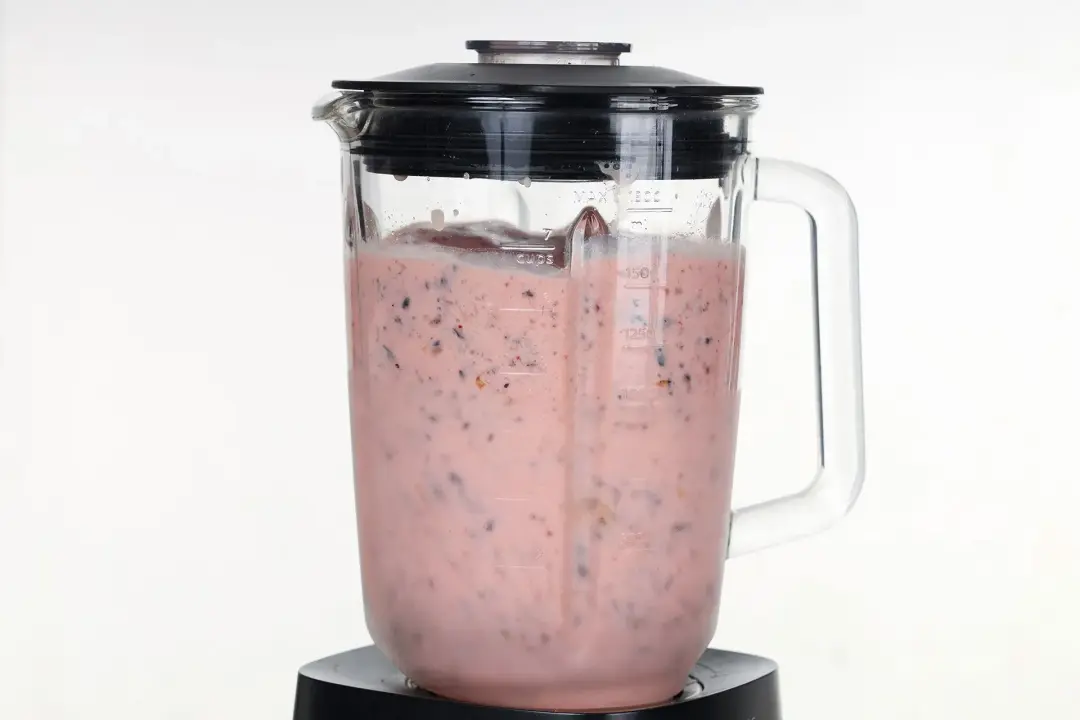 In a blender, combine all ingredients and blend until smooth.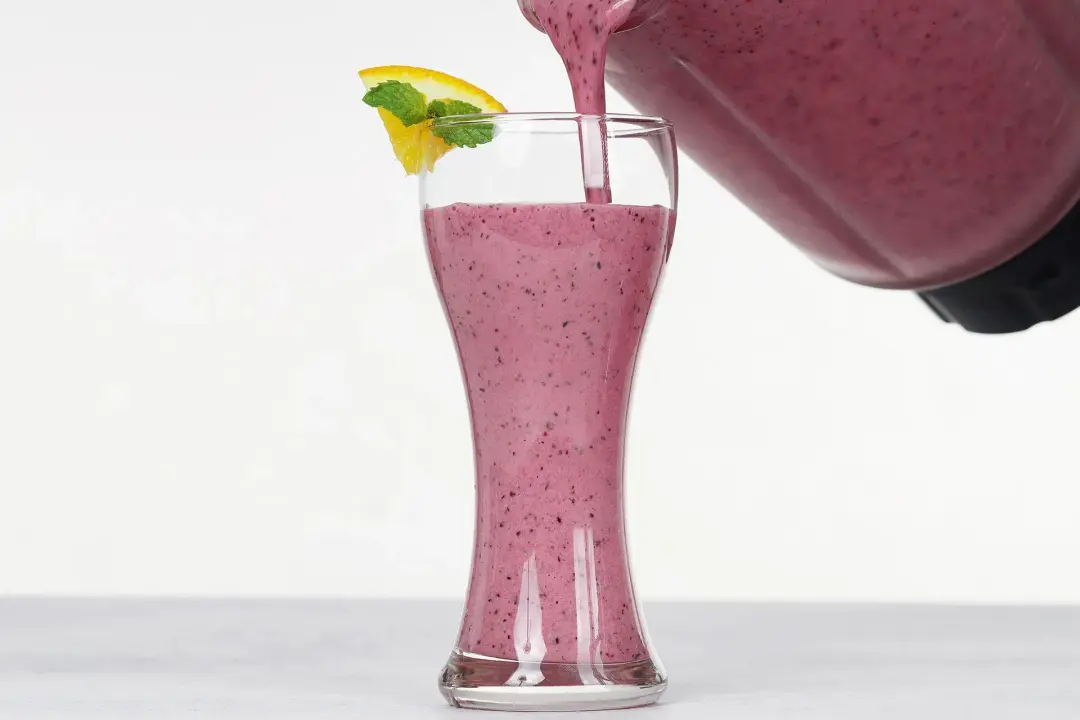 Pour into serving glasses. Decorate and serve the drink.
Storage and Freezing
Since this blueberry orange smoothie contains ice, it should be consumed immediately for the best quality and consistency.
Once the ice is removed, the smoothie can be stored in airtight containers in the refrigerator for up to two days.
To freeze, we prefer to divide the mixture into small Ziploc bags. This allows us to easily defrost each portion individually. You can freeze the portions for up to 3 months.
Can I Refreeze Frozen Blueberries?
The short answer is yes, and it's also how most people preserve these berries during the winter.
The freezing process doesn't affect the nutritional value and flavor of the fruit; however, there are undesirable effects on its overall texture. Refreezing causes ice crystals on the surface of fruits, resulting in damage to the outer layer and a soft and mushy texture.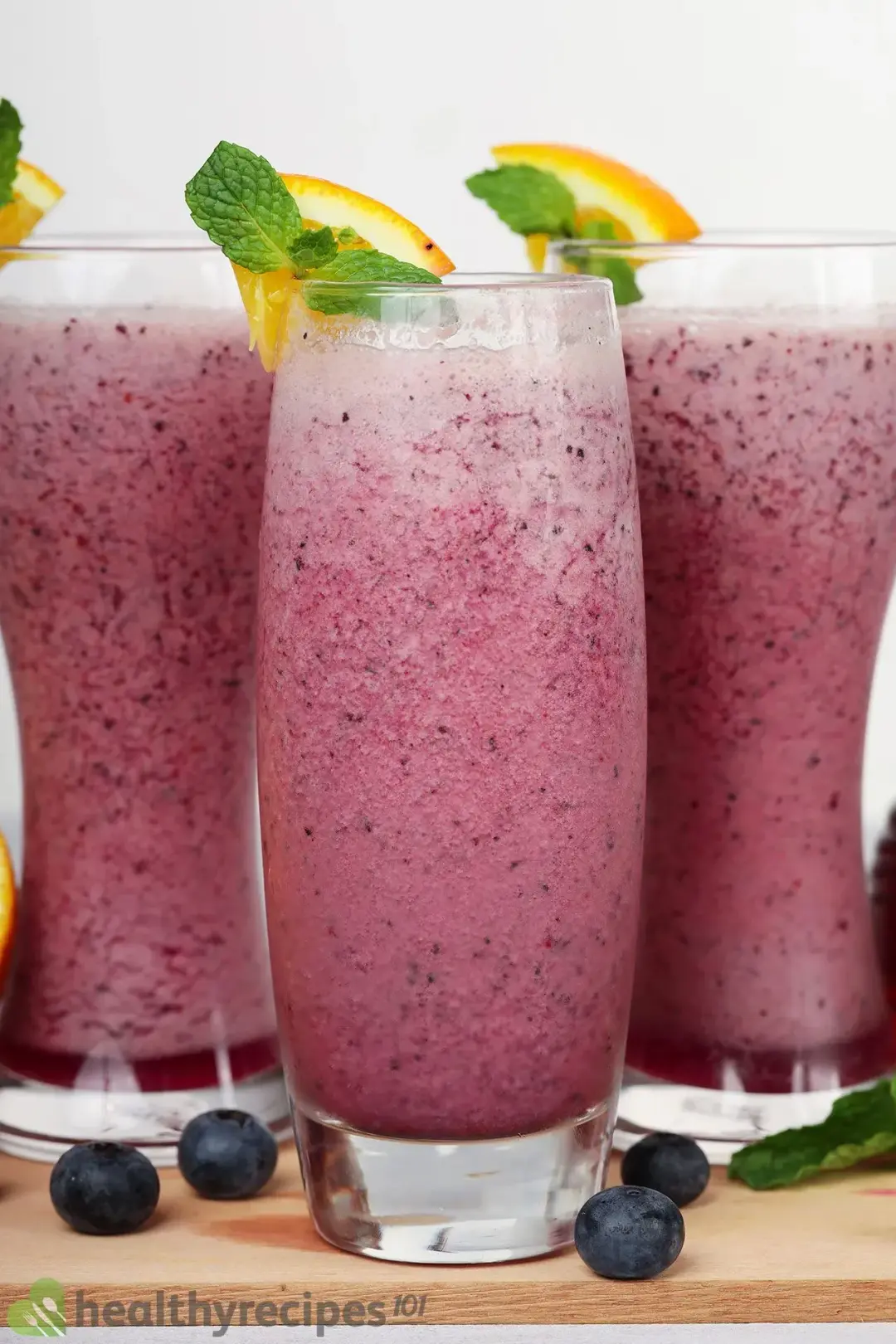 Additionally, the exposure to air may lead to bacterial growth which will spoil the fruit. In general, it's a great tip to defrost only the necessary amount and to keep the rest of it in the freezer.
If your frozen berries are stored in large containers rather than individually portioned ones, simply let them sit at room temperature for 20 minutes, then tap the container on a hard surface to loosen the berries.
Then, take out the required quantity and set them aside. Seal the container tightly and refreeze the remaining fruit for later usage.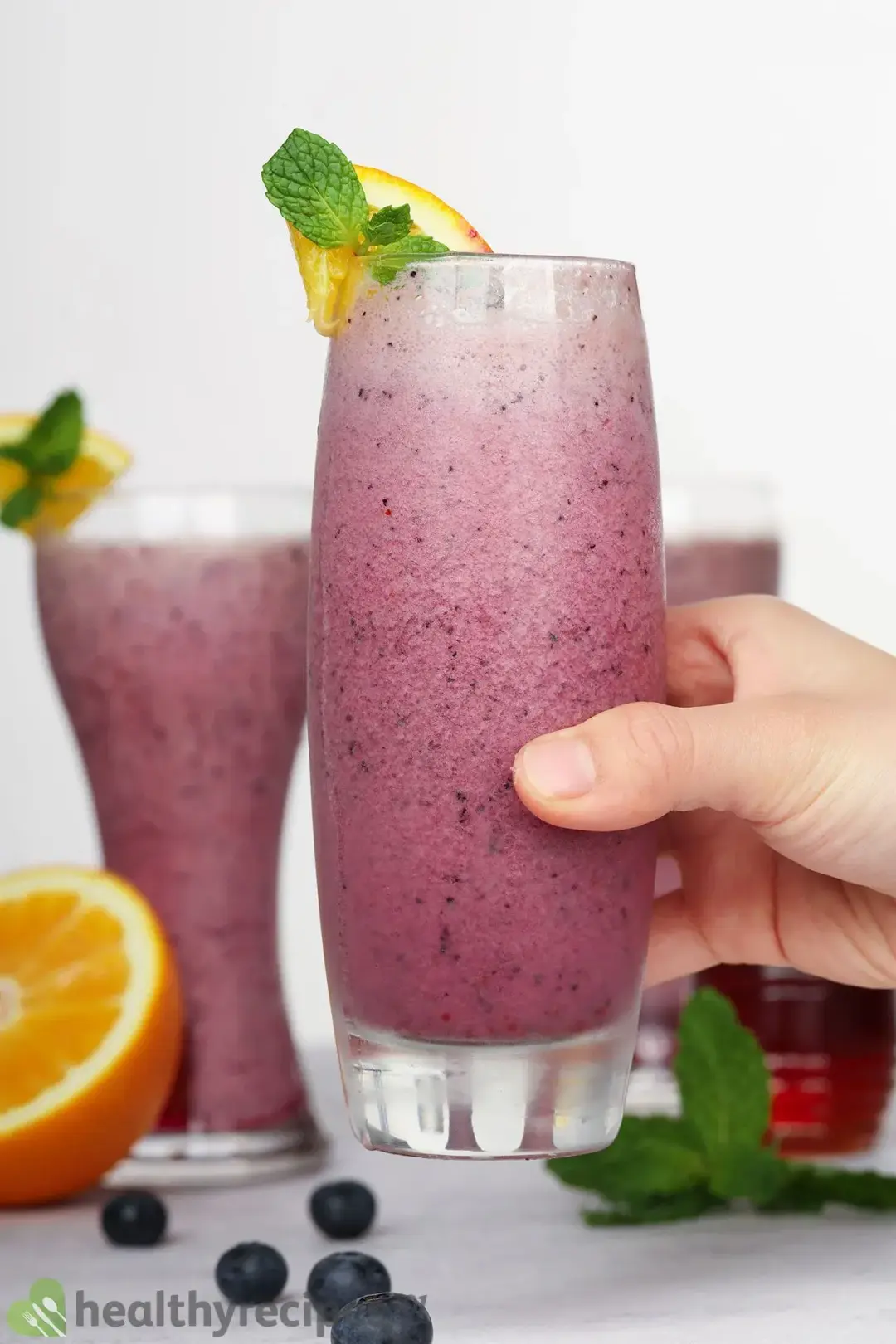 Blueberry Orange Smoothie Recipe
Made with blueberries, fresh orange juice, and Greek yogurt, you will want to incorporate this nutrient-dense drink into your daily routine.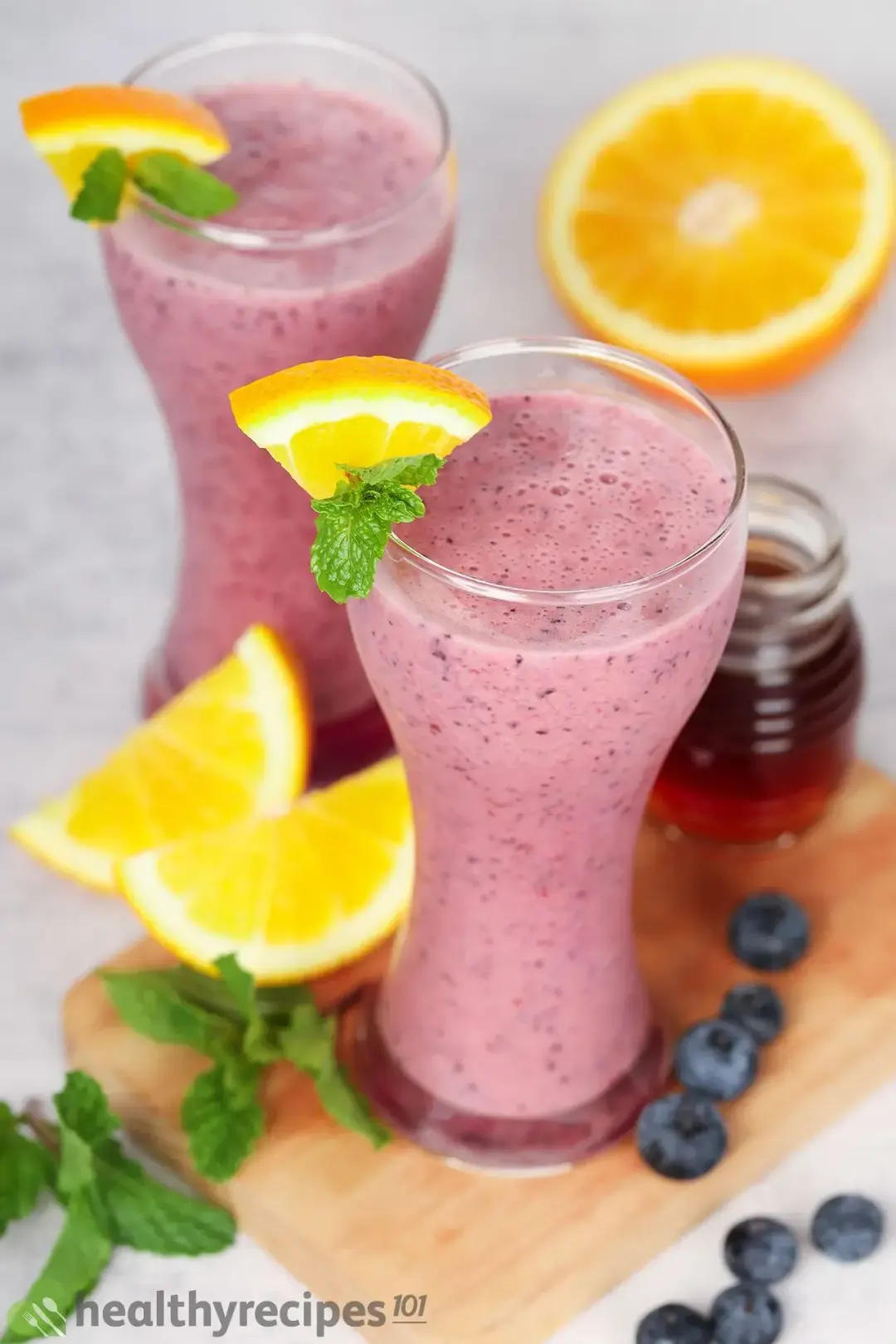 prep TIME

10 mins

total TIME

10 mins
COURSE

Beverage, Smoothie

CUISINE

Global

SERVINGS

servings

CALORIES

130 kcal
INGREDIENTS
7 oz

blueberries frozen

2 cups

orange juice

2 cups

ice

0.3 cup

plain Greek yogurt

2 tbsp

honey

8

mint leaves
INSTRUCTIONS
1
Place 2 cups ice, 7 oz frozen blueberries, 2 cups orange juice, 1/4 cup Greek yogurt, and 2 tbsp honey in a blender. Blend until smooth and creamy.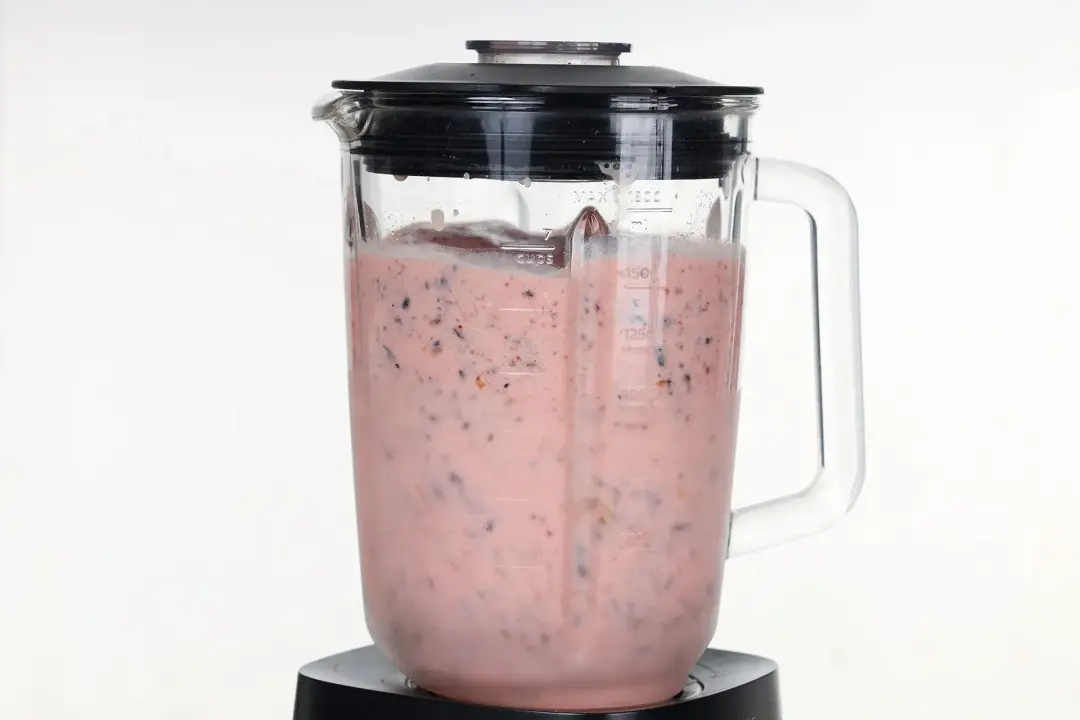 2
Pour the drink into serving glasses. Garnish with mint leaves and serve immediately.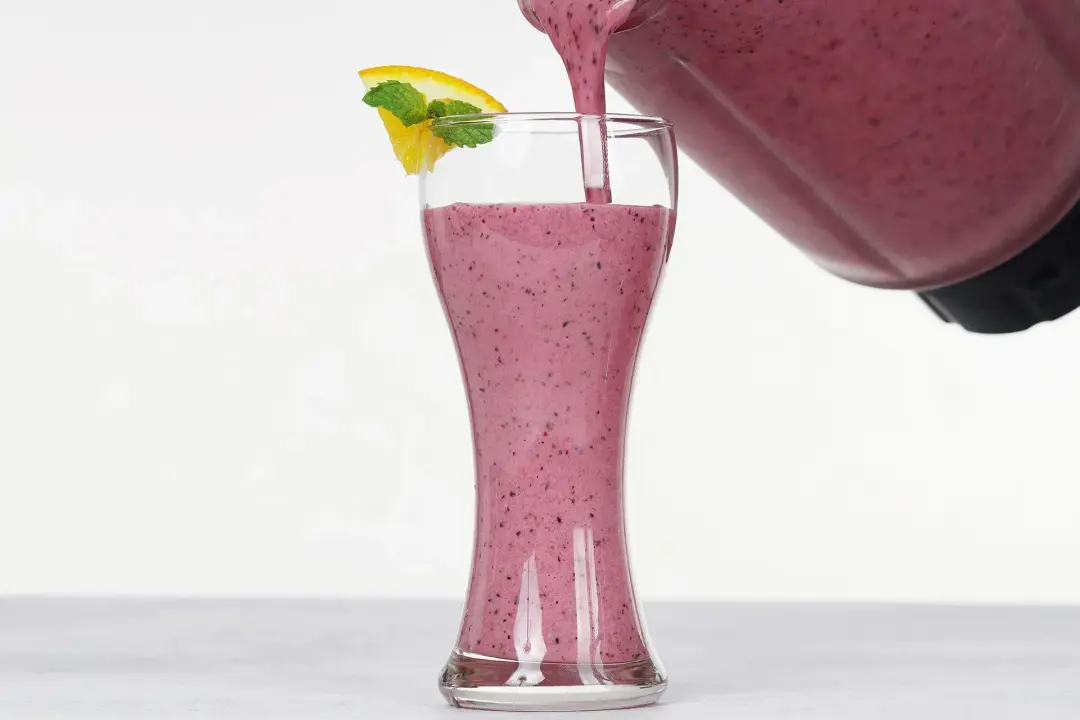 NUTRITION
Nutrition Facts
Blueberry Orange Smoothie Recipe
Amount Per Serving (1 serving)
Calories 130
Calories from FDA
% Daily Value*
* Percent Daily Values are based on a 2000 calorie diet.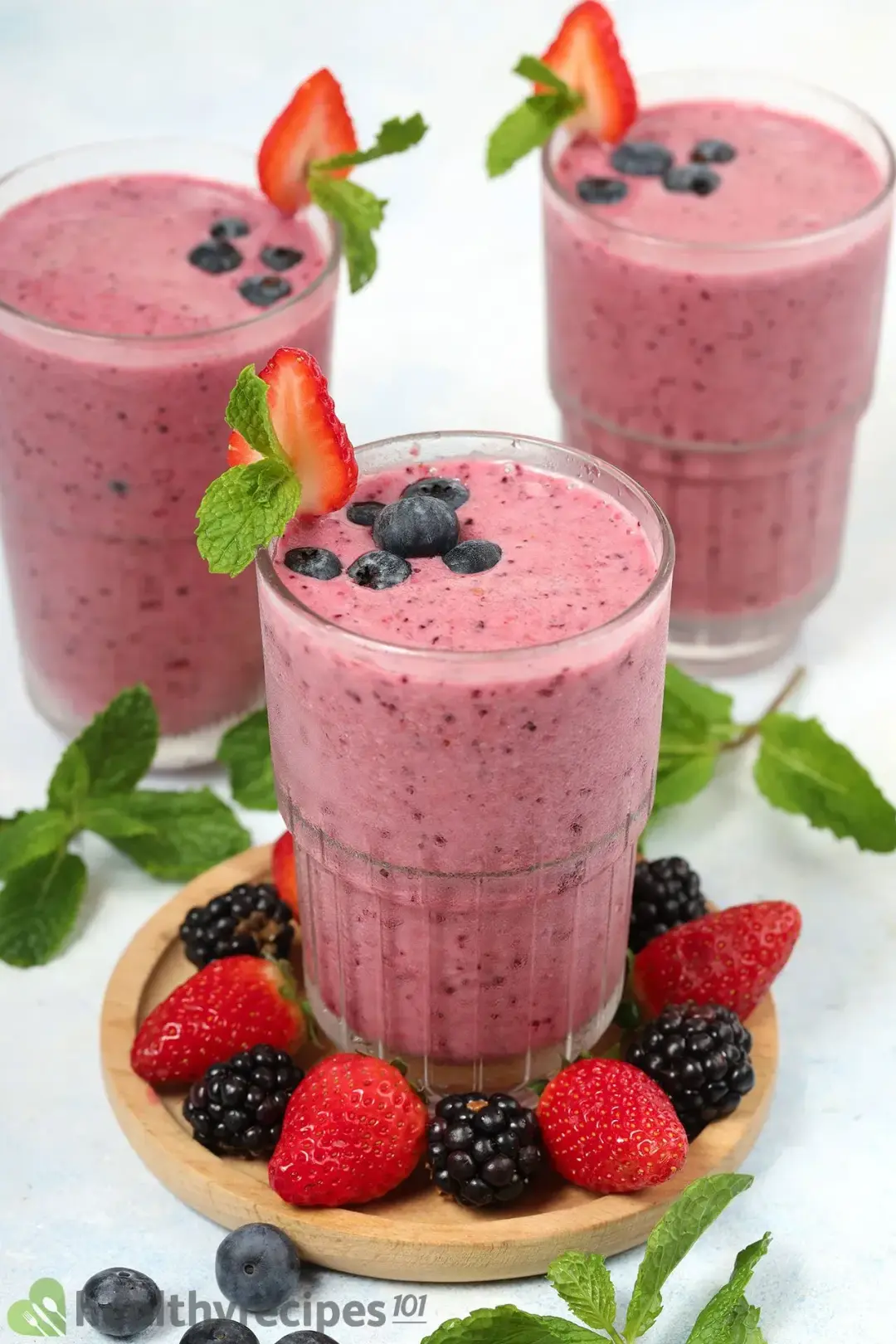 Previous Recipe
Triple Berry Smoothie
Triple Berry Smoothie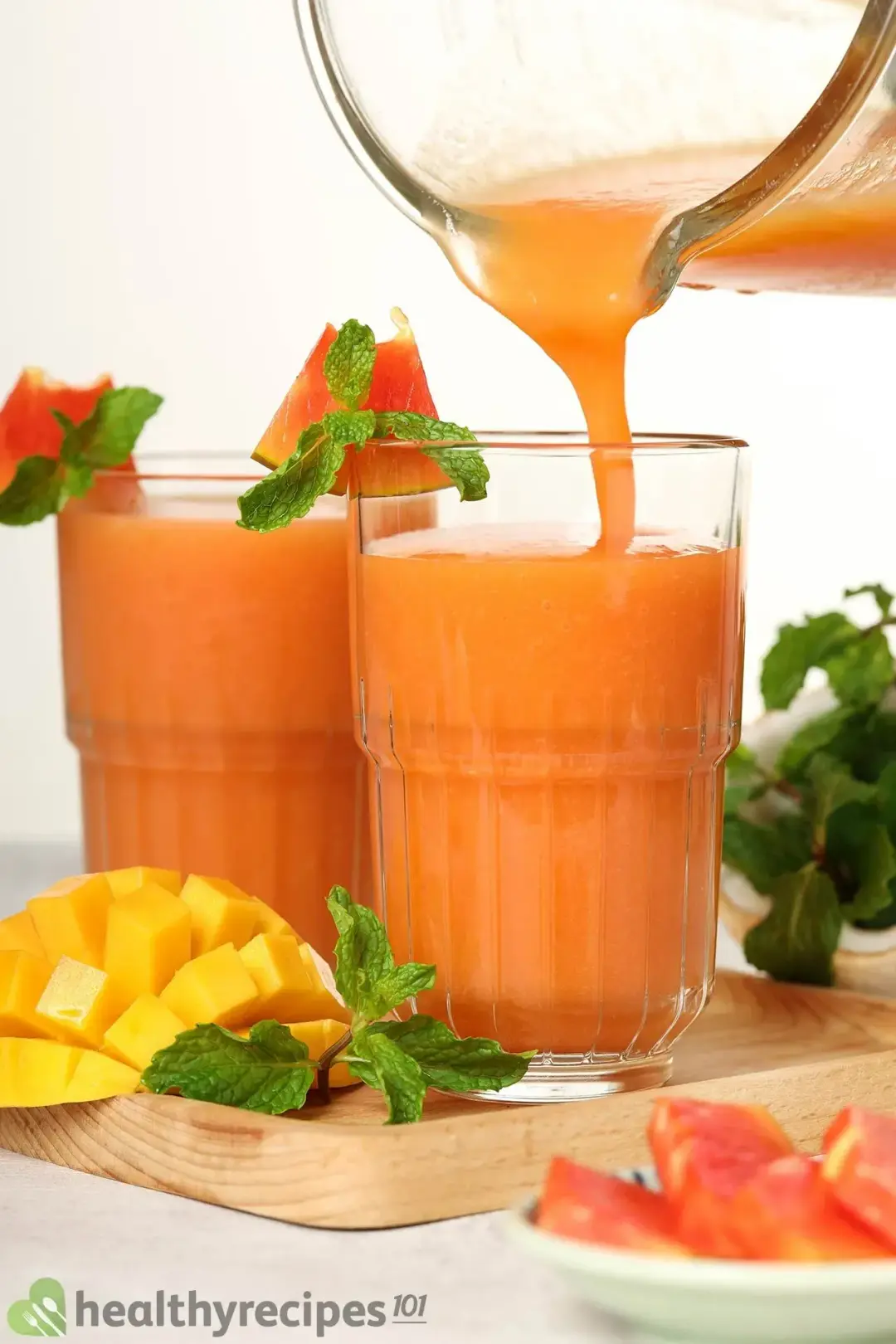 Next Recipe
Mango Papaya Smoothie
Mango Papaya Smoothie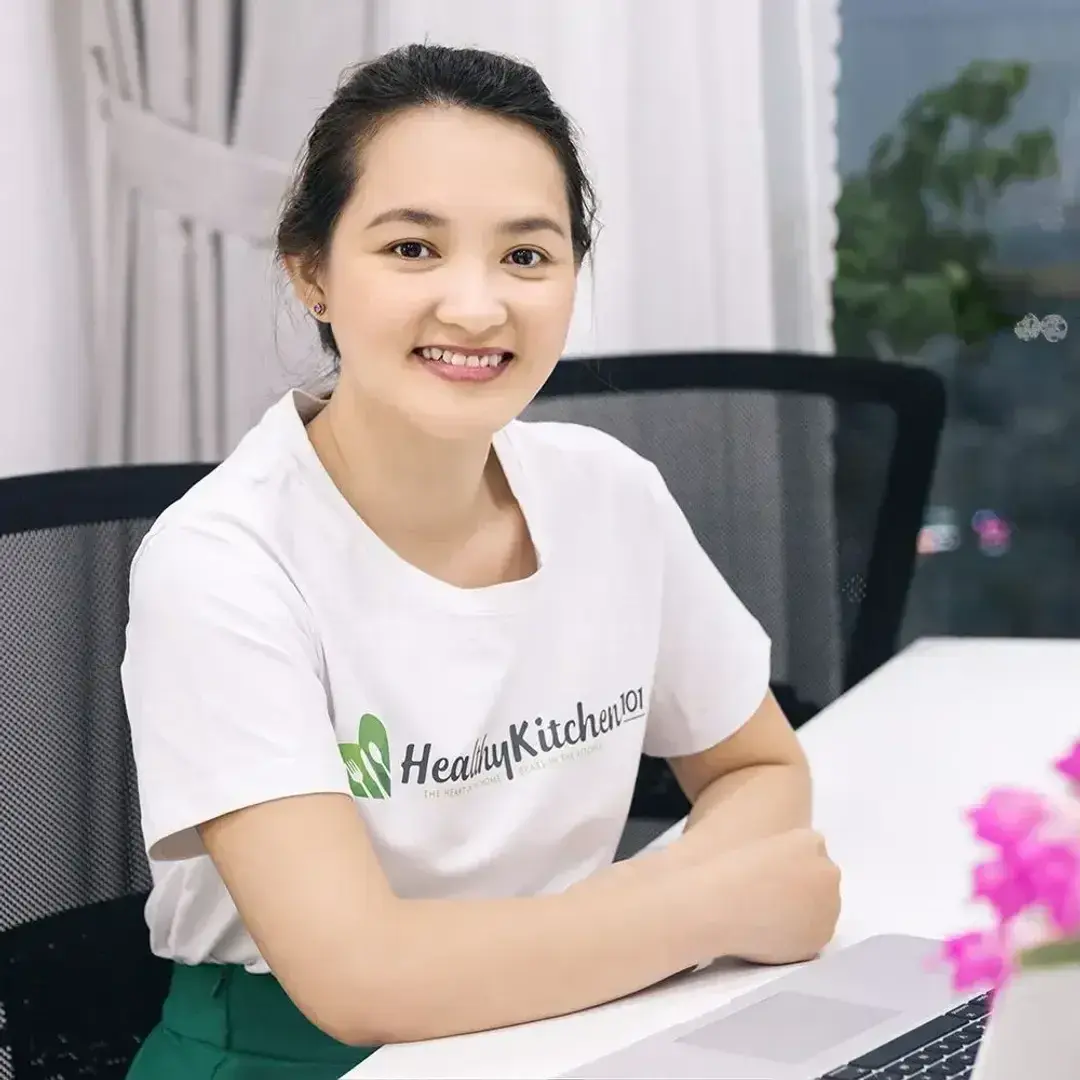 Luna Regina
Luna is the founder and chief recipe developer of Healthy Recipes 101. Apart from cooking, she also loves reading, programming, exploring the outdoors, and collecting useless facts about everything.