Our pineapple strawberry mango smoothie recipe is a delightful drink for when you are pressed for time but still want to nourish your body. This smoothie is creamy, reviving, and always hits the spot on a hot summer day.
Pineapple Mango Strawberry Smoothie's Benefits
Pineapple, mango, and strawberries provide ample levels of vitamin C, vitamin A, and many other vitamins and minerals, including calcium and magnesium.
With orange juice added, the levels of the nutrients listed above, as well as potassium, are increased. A cup of orange juice (248 grams) provides approximately 10% of the recommended daily intake for potassium.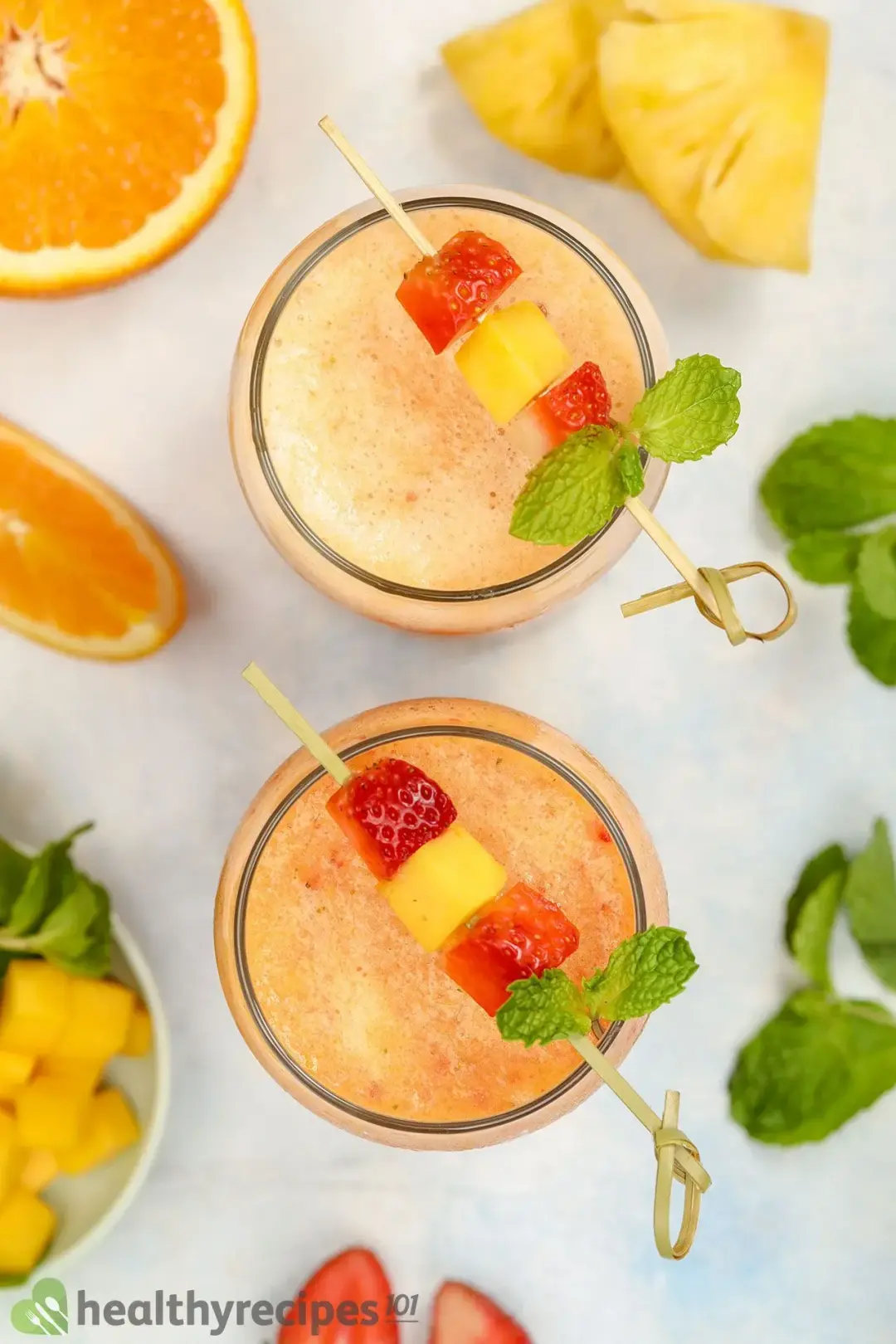 Also important is being mindful of the amount of added sugar and daily calories consumed. We made the smoothie using only the natural sweetness of ripe strawberries, with no added sugar. This further reduces the total calories per serving to 81.
If you find that impressive, check out the recipe for our pineapple coconut smoothie. The smoothie contains just 110 calories per serving, but it is still lip-smacking and satisfying.
Main Ingredients
This pineapple mango strawberry smoothie recipe is a delicious blend of mango, strawberries, pineapple, and orange juice. It is bursting with tropical flavors and has a gorgeous coral hue, making it an ideal summertime drink. Here's what you'll need: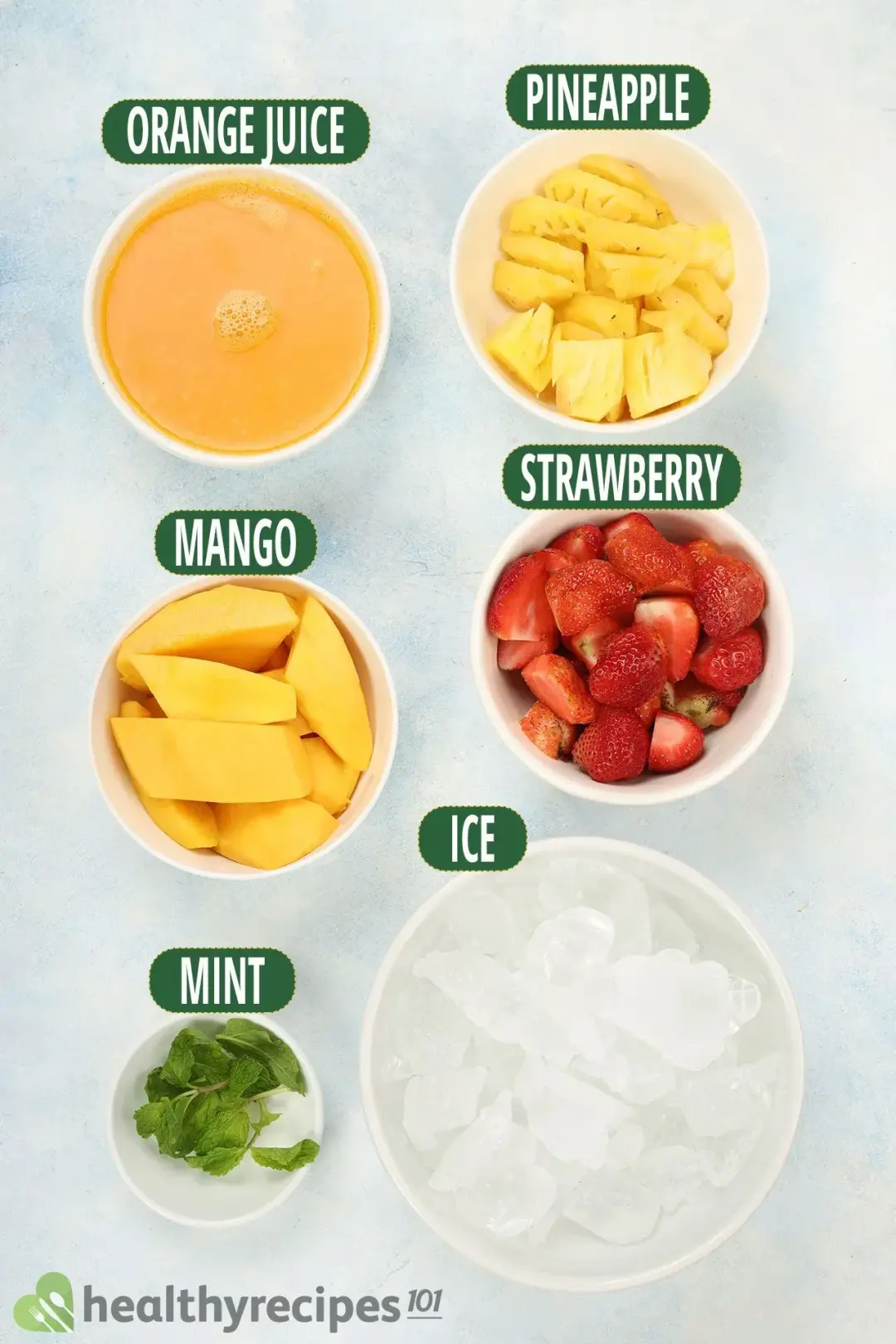 Pineapple: We prefer purchasing frozen pineapple chunks that have already been chopped for extra convenience.
Mango: Fresh mango helps to build a thick and creamy consistency. Feel free to use the frozen variants if that's all you have.
Strawberries: Strawberries are delicious and an excellent addition to any summery beverage. The sweetness and sourness of the fruit are due to the presence of fruit sugar and malic acid. If you want your beverage to be on the sweeter side, go with ripe ones.
Orange Juice: It imparts a delightful tropical taste to the smoothie, complementing the mango, pineapple, and strawberries. You can replace store-bought orange juice with freshly squeezed orange juice if you lack the time to make it yourself.
Mint: Adds a touch of refreshment and visual appeal.
Can I Use Frozen Fruits for This Smoothie?
The beautiful thing about smoothies is that you can use both fresh and frozen fruits. But if it's summer and the fruits are at their peak, we suggest storing ripe fresh fruits rather than purchasing pre-frozen variants from the freezer aisle. They will make your smoothie even more delicious and flavorful.
Storing and Freezing Pineapple Mango Strawberry Smoothie
Like other smoothies, this pineapple mango strawberry smoothie can be stored in the refrigerator for approximately two days. Still, we recommend consuming it all at once, as the smoothie will become more watery as time passes.
It can be difficult to freeze smoothies as it is hard to prevent the ice particles from melting. Consequently, the first step in preparing smoothies for preservation is to exclude the ice.
If you combine the smoothie without ice, you will obtain a thick paste. Place this paste in tiny bags in the refrigerator or freezer. When you need a pleasant beverage, just combine the smoothie paste with ice. 
These smoothie paste packets will have a three-month shelf life in the freezer. It's a good idea to mark them with expiration dates so you're aware of when they'll expire.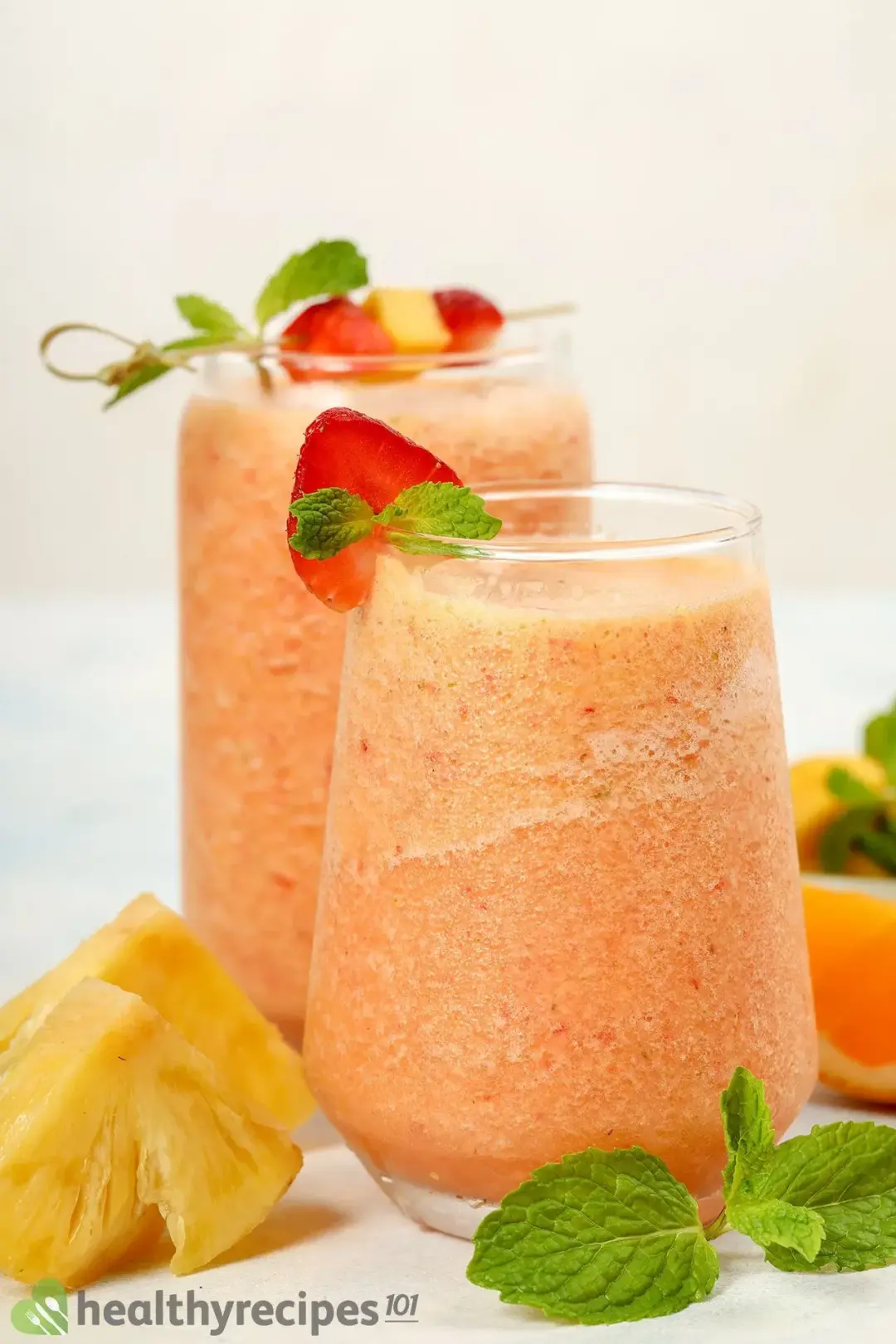 Pineapple Mango Strawberry Smoothie Recipe
Our pineapple mango strawberry smoothie recipe is made with 6 ingredients and takes less than 10 minutes to produce a tropical thirst-quencher.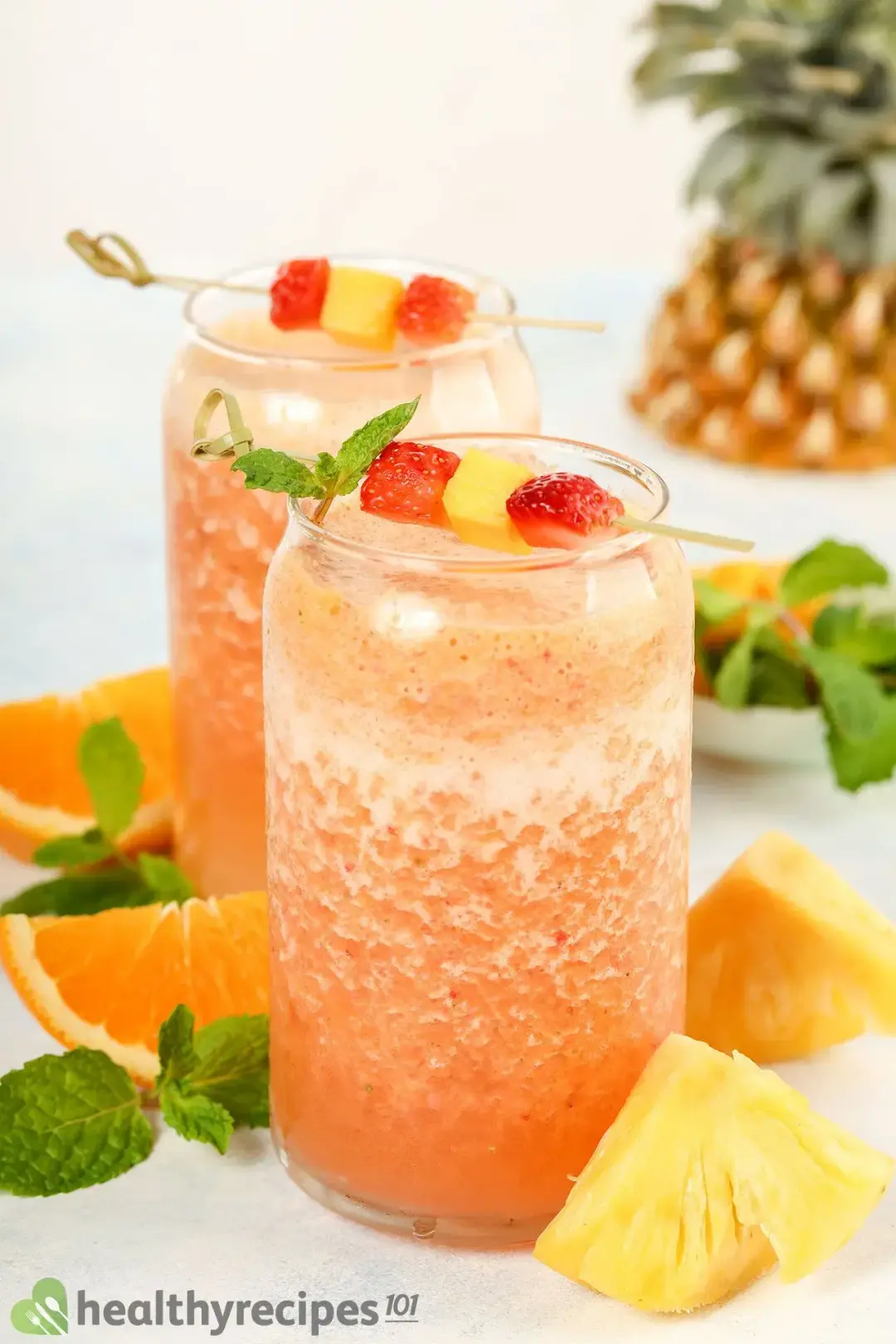 prep TIME

10 mins

total TIME

10 mins
COURSE

Drinks, Smoothie

CUISINE

Global

SERVINGS

servings

CALORIES

81 kcal
INGREDIENTS
4 oz

pineapple

6 oz

strawberries

6 oz

mango

2 cups

ice

1 cup

orange juice

8

mint leaves
INSTRUCTIONS
Preparation
1
Cut pineapple into slices.
2
Remove the strawberries' stem and cut the fruit into halves.
3
Cut the mango into cubes.
Instructions
1
Blend the smoothie: Put 2 cups ice, 4 oz pineapple, 6 oz strawberries, 6 oz mango, and 1 cup orange juice into a blender. Blend until smooth.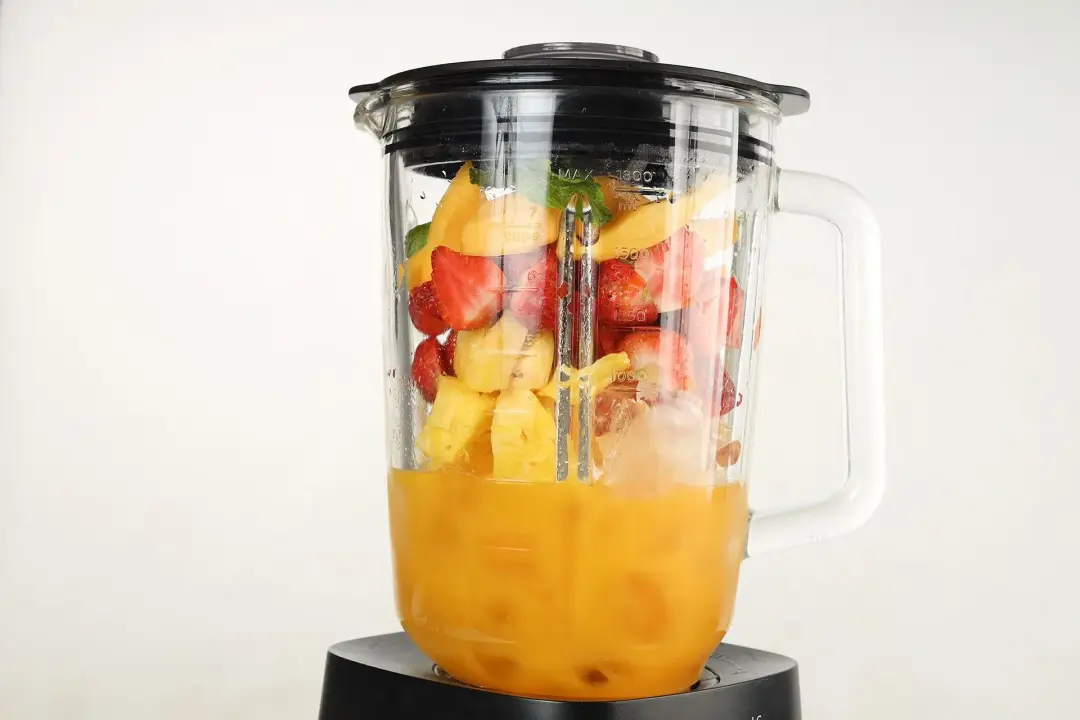 2
Serve the smoothie: Pour the smoothie into serving glasses. Garnish with mint leaves and serve the drink immediately.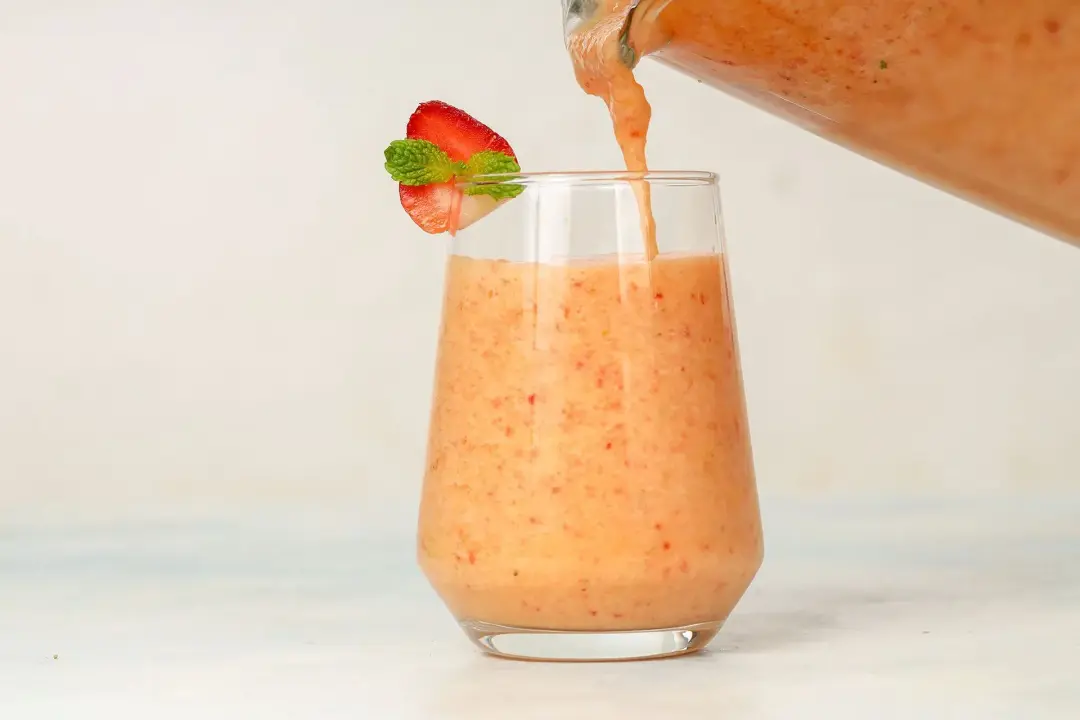 NUTRITION
Nutrition Facts
Pineapple Mango Strawberry Smoothie Recipe
Amount Per Serving (1 serving)
Calories 81
Calories from FDA
% Daily Value*
* Percent Daily Values are based on a 2000 calorie diet.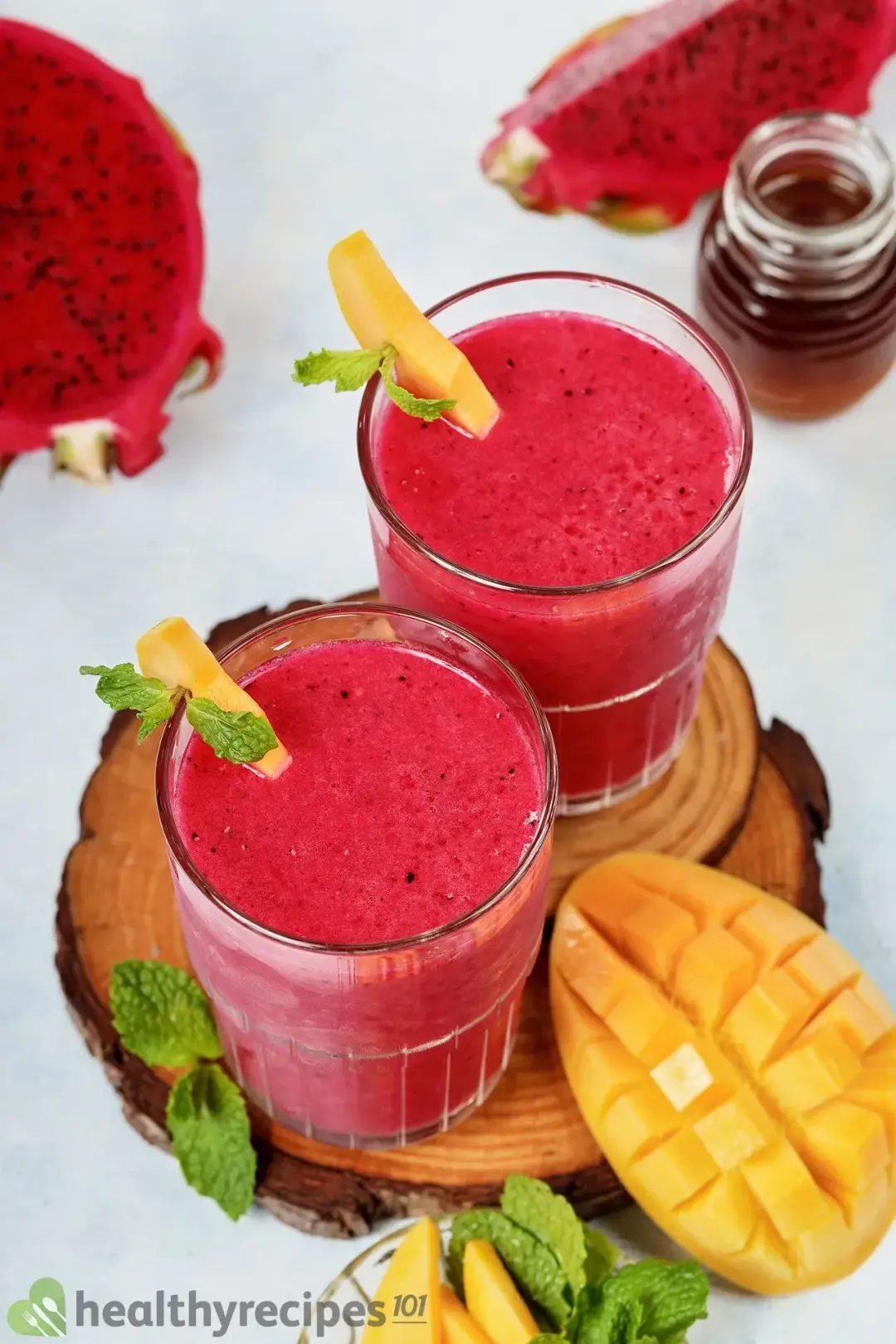 Previous Recipe
Mango Dragon Fruit Smoothie
Mango Dragon Fruit Smoothie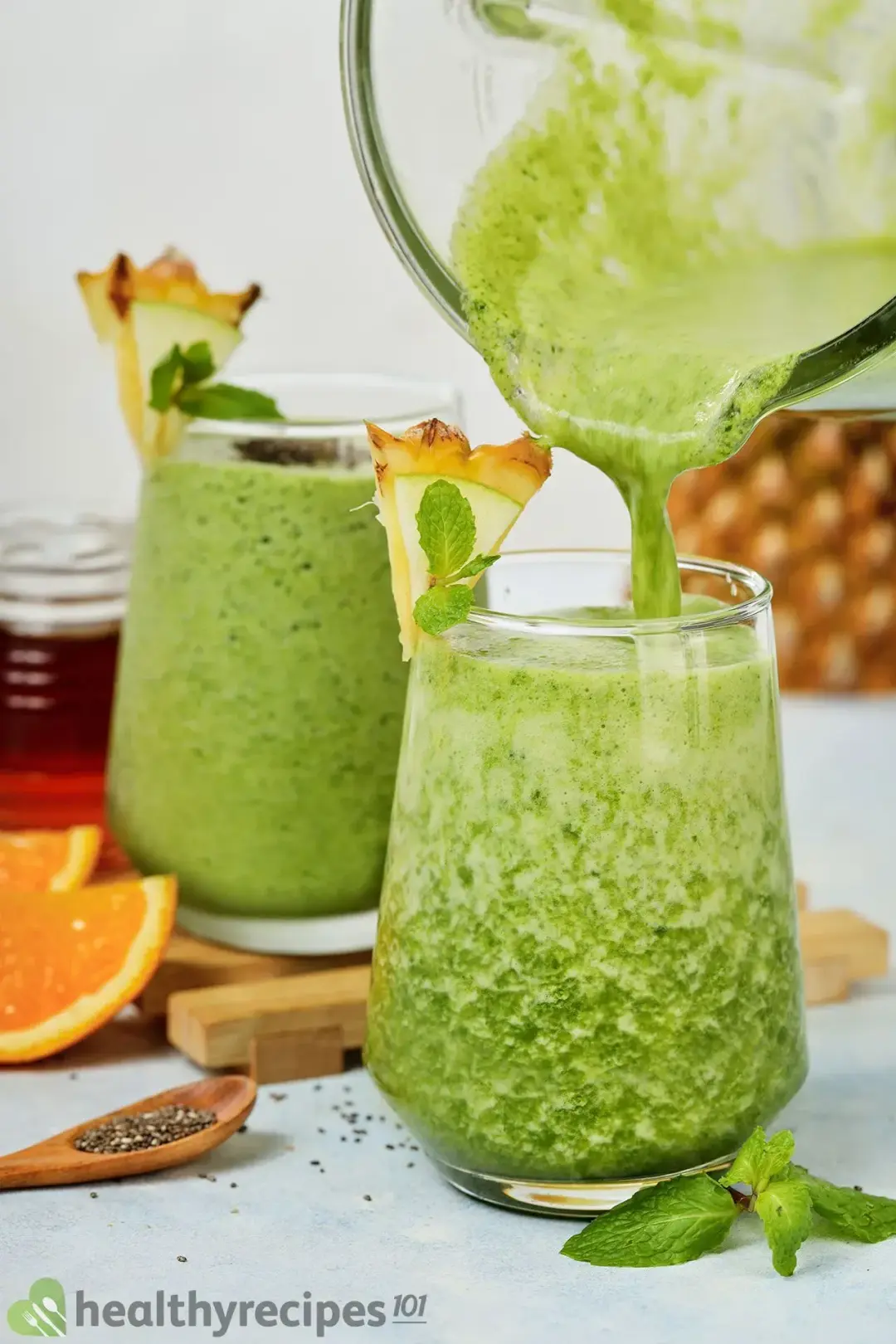 Next Recipe
Green Apple Smoothie
Green Apple Smoothie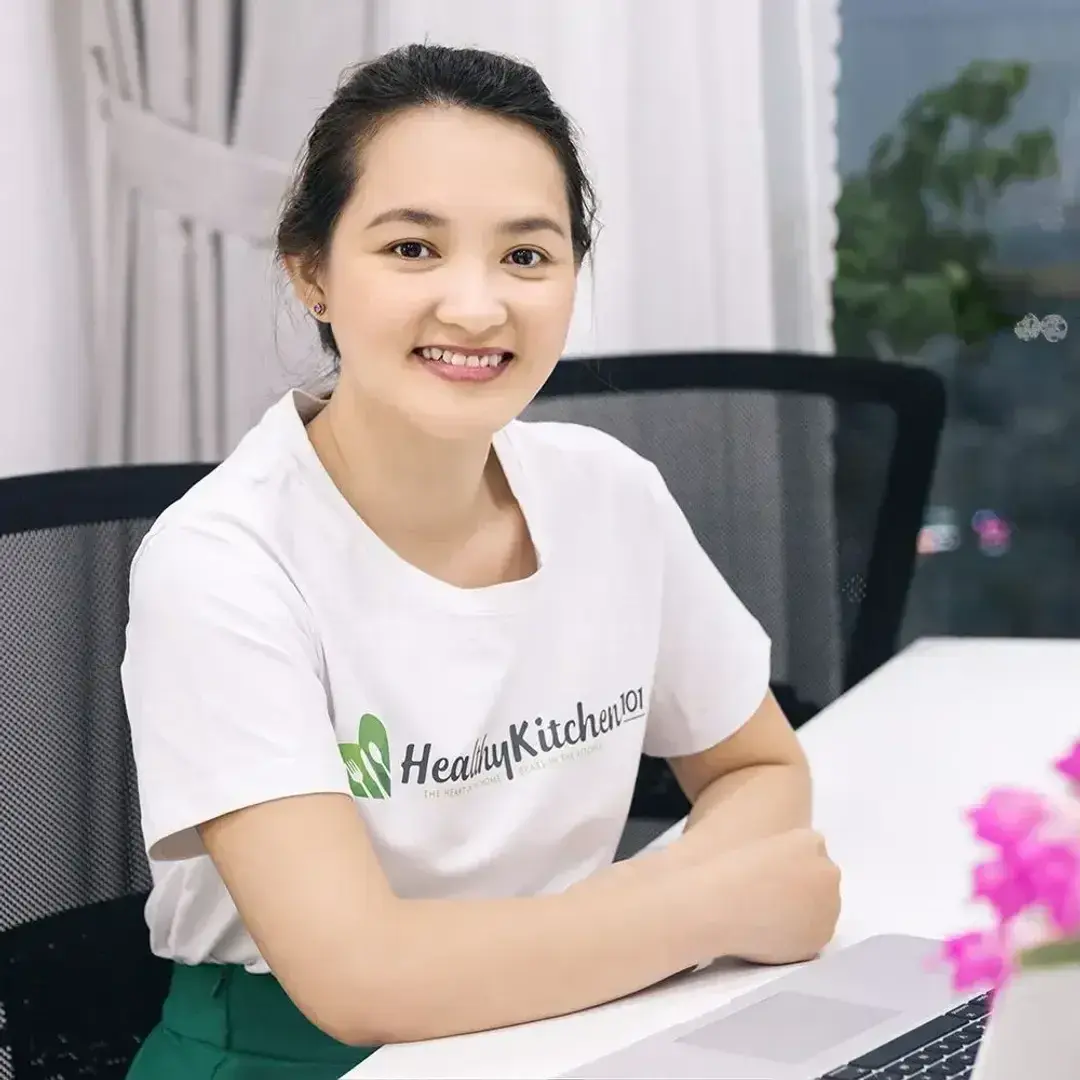 Luna Regina
Luna is the founder and chief recipe developer of Healthy Recipes 101. Apart from cooking, she also loves reading, programming, exploring the outdoors, and collecting useless facts about everything.