Our papaya smoothie recipe introduces a great, yet simple way to enjoy this fruit.
Considered exotic in America, papaya is quite popular among its native countries as a sweet, juicy-tender fruit. It is often chilled, prepped, and sold by street vendors in bags (sometimes skewers) as a rehydrating snack for pedestrians.
Today's recipe takes this freshness up a notch by blending it with ice and mint. Milk is added for extra richness, resulting in the ultimate healthy and delicious beverage.
Benefits of Papaya Smoothie
This awesome fruit is beneficial to our health in many ways.
To start with, it's loaded with nutrients like fiber, vitamin C, vitamin E, vitamin A, folate, and potassium while containing trace amounts of calcium and magnesium, all of which are necessary for the body's proper functioning.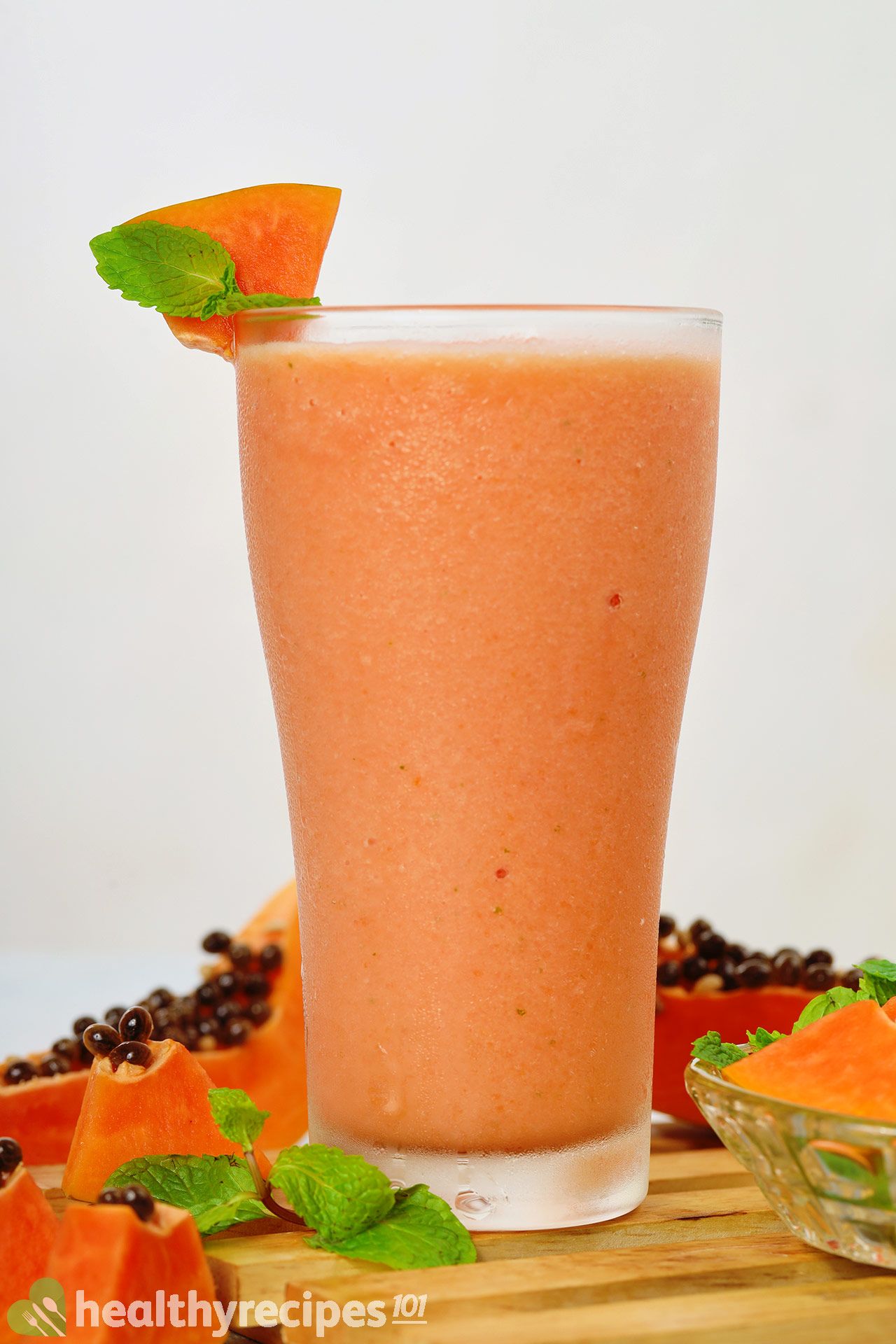 Like many other fruits and veg, papaya is found to contain antioxidants — carotenoids, specifically. Some other nutrients like vitamin C, vitamin E, and vitamin A are also antioxidants. Antioxidants can neutralize free radicals to reduce the risk of developing disease, including some types of cancers.
Our papaya smoothie recipe calls for 1 tbsp of sugar for 4 servings, leaving each with only 3 g of added sugar. It equates to 6% of the USDA's daily recommended upper limit of added sugar for a 2000-calorie diet.
Each serving also gives you just 80 calories. Such a small amount makes it a great fit for calorie-tight meal plans.
Ingredients for This Smoothie
Our papaya smoothie recipe has a very simple formula:
We start with ripe papaya, which should have orange flesh with a greenish-yellow ombré peel. You can also look for canned papaya if fresh ones aren't available, but be sure to rinse off any syrup.
As papaya varies in sweetness, you can adjust the amount of sugar we suggest or leave it out altogether. You can also substitute sugar with honey, which will dilute more quickly.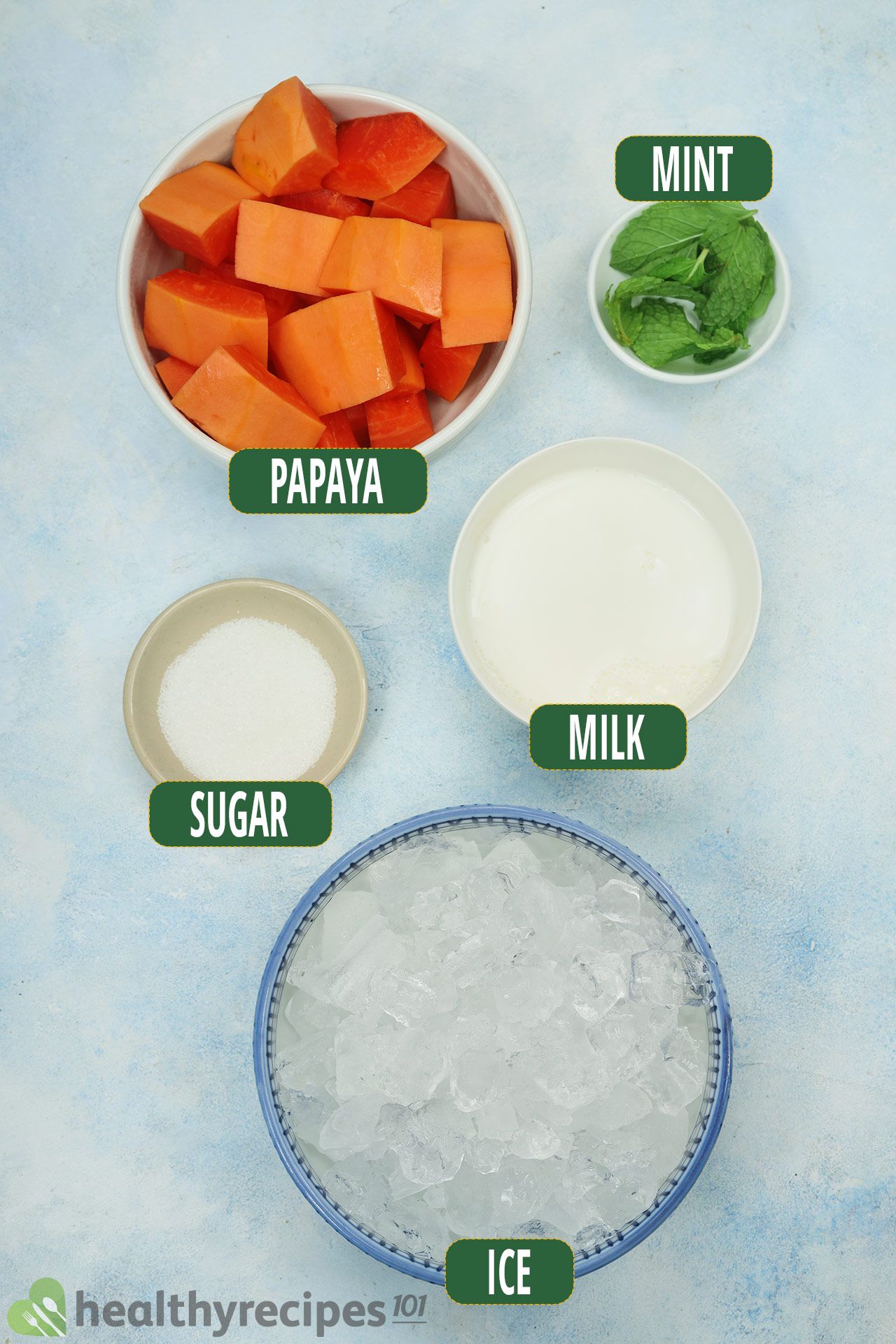 One of the joys of making smoothies is being able to add your favorite toppings. We're adding mint leaves to this papaya smoothie, simple, but you can go for chia seeds, nuts, or even berries.
To make this smoothie vegan, you can opt for a nut-based milk instead. We think almond milk is a great fit.
How to Cut and Peel a Papaya for Smoothies
There are two approaches to prepping ripe papaya.
Approach number one slices the fruit in half, scrapes off its seeds, peels it with a peeler, then cuts the fruit into desired segments. Approach number two peels the fruit first, then does the rest of the steps in the mentioned order.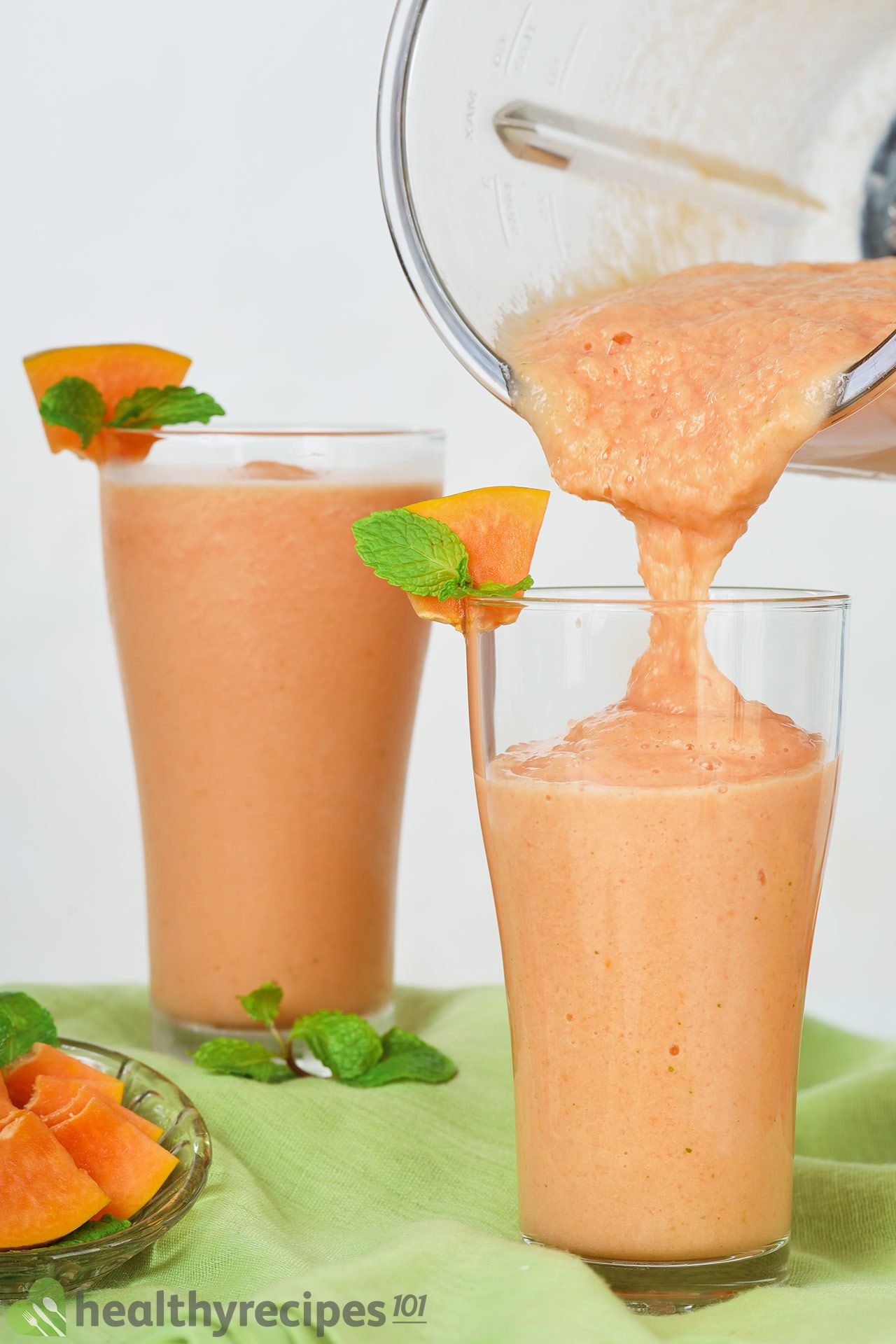 To make papaya balls, go for approach number one but after you've scraped off the seeds, continue with a melon baller. These balls look great on cakes, smoothies, or even inside a fruit bowl with bananas, berries, and yogurt!
How to Make A Papaya Smoothie
Once you've measured out your ice, papaya, sugar, mint, and milk, blend all until smooth:
If your smoothies often turn out chunky, the ice you tend to use is probably too tough for your blender. You can start by pounding the ice into smaller pieces first, placing less stress on the blender.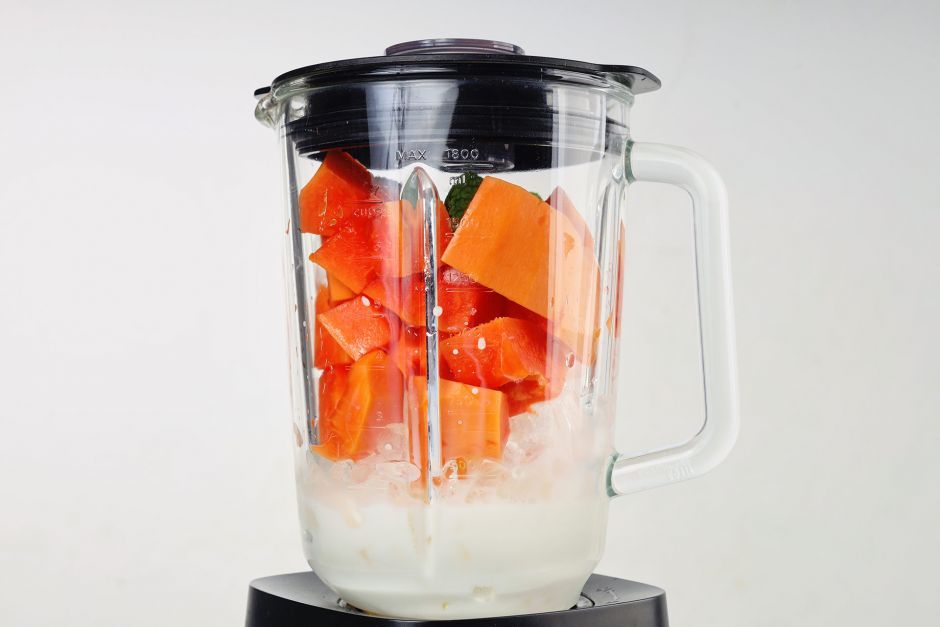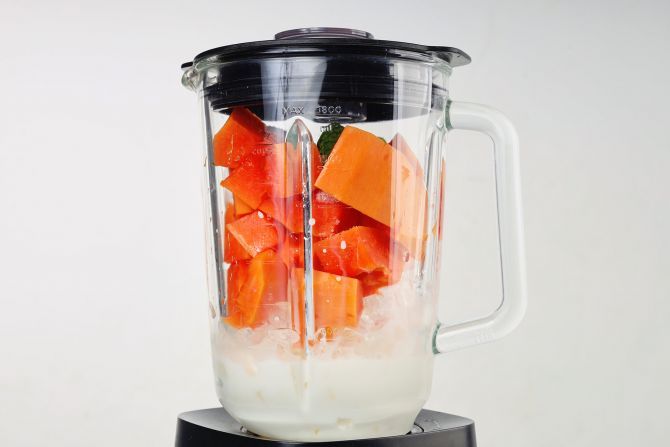 Blend ingredients.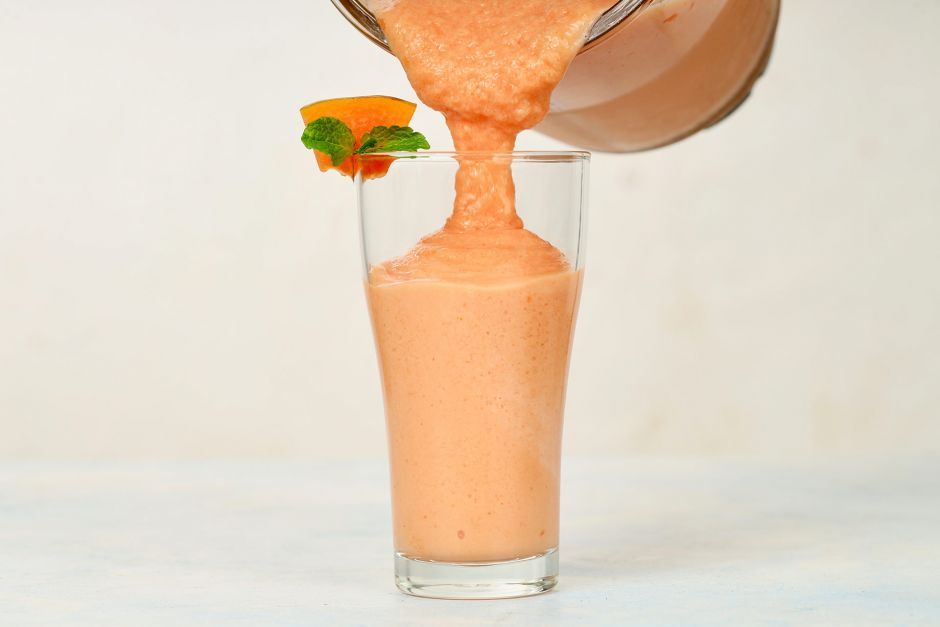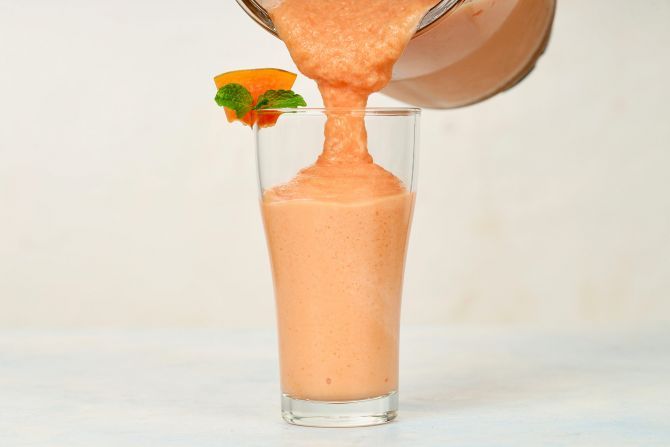 Pour into serving glasses.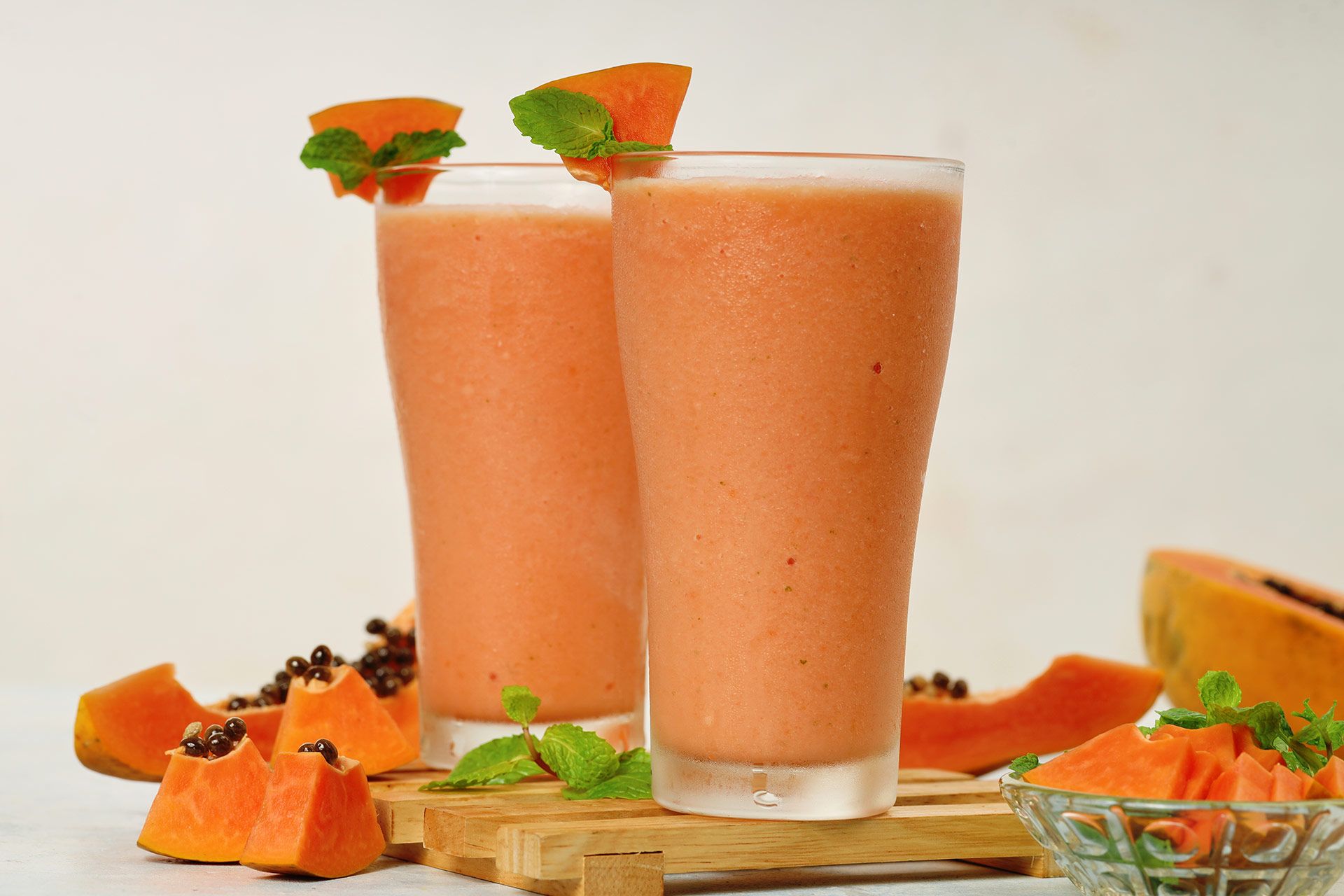 Garnish with more mint leaves and serve immediately.
Jump to Recipe
Other than that, for the best result, have a look at our 'papaya smoothie recipe' card at the bottom.
How Long Does Papaya Smoothie Last?
It's best to consume any smoothie right away — it will become more and more diluted as it sits, which isn't very appetizing.
For storage, we recommend that you blend the smoothie without ice, then portion the mixture into small Ziploc bags. These bags can be refrigerated (for up to 2 days) or frozen (for up to 3 months) and blended with ice whenever you need.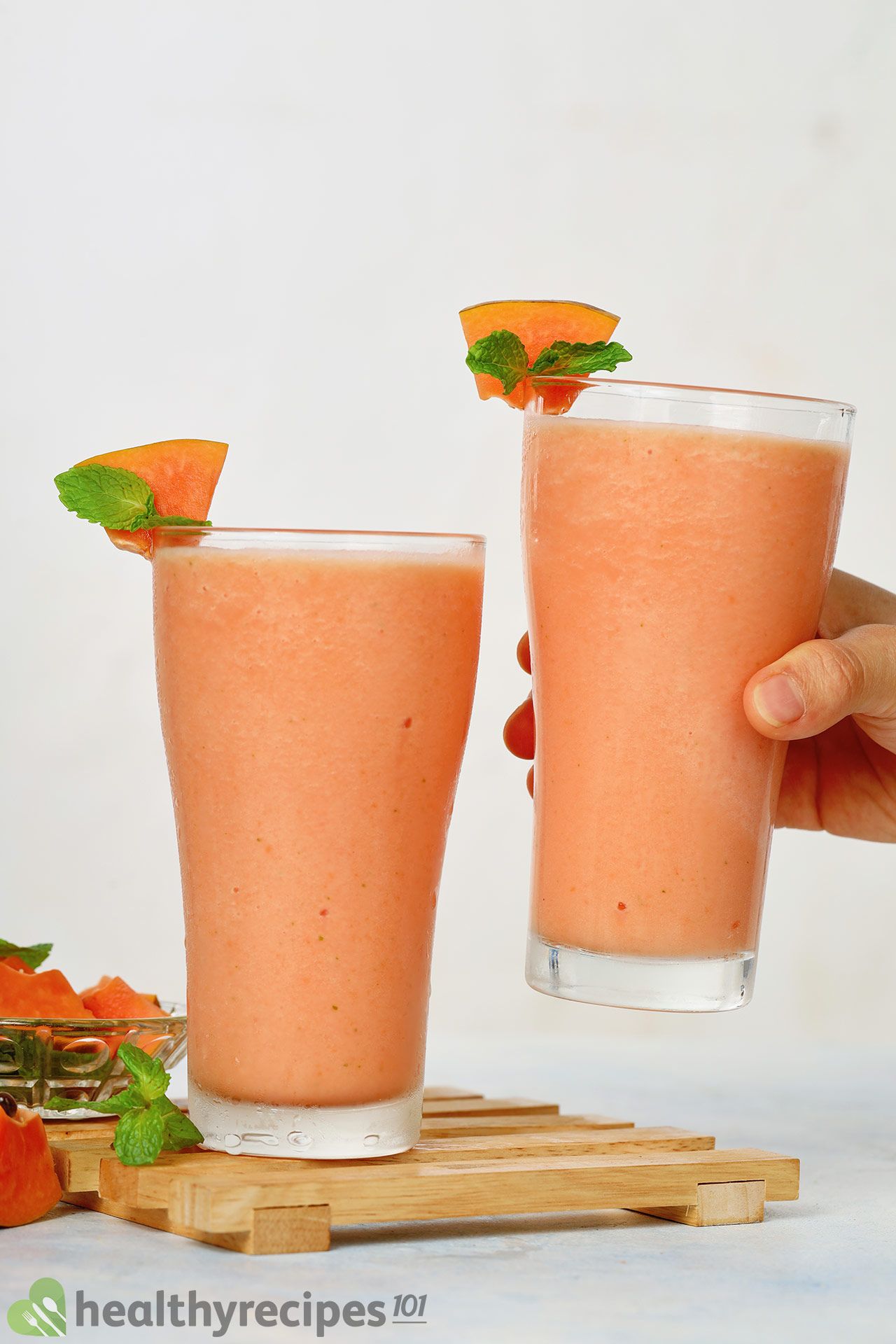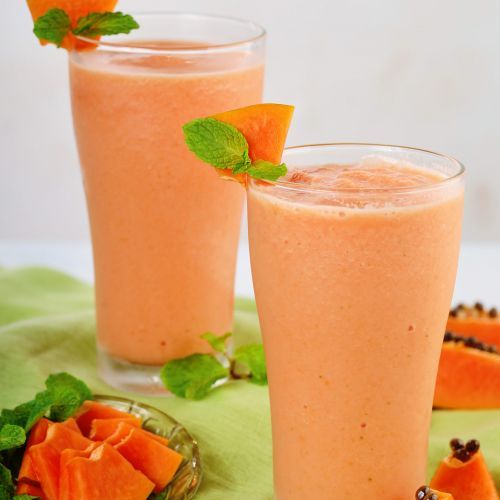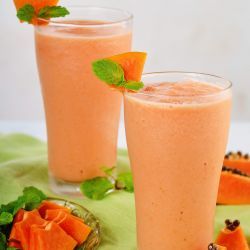 Papaya Smoothie Recipe
This papaya smoothie recipe makes a sweet, refreshing drink. It also adds notes of freshness from mints.
Ingredients
16

oz

papaya

peeled and deseeded

3 1/2

cups

ice

8

mint leaves

1

tbsp

granulated sugar

1/2

cup

whole milk
Instructions
Place all ingredients in a blender, starting with the ice. Cover and blend until smooth.

Pour into serving glasses.

Garnish with more mint leaves and serve immediately.
Nutrition
Nutrition Facts
Papaya Smoothie Recipe
Amount Per Serving (1 serving)
Calories 80
Calories from Fat 9
% Daily Value*
Fat 1g2%
Cholesterol 4mg1%
Sodium 32mg1%
Potassium 264mg8%
Carbohydrates 17g6%
Protein 2g4%
Vitamin A 1212IU24%
Vitamin C 70mg85%
Calcium 71mg7%
Iron 1mg6%
* Percent Daily Values are based on a 2000 calorie diet.