Our orange smoothie recipe is a breeze to make and promises a delicious vitamin boost.
While juicing is a much quicker way to get the nutrients from an orange, it also discards one of the key nutrients fiber. Blending the fruit, however, preserves more of the nutrients and delivers them to you in the most delicious way possible.
Our orange smoothie recipe blends the fruit with orange zest and mint leaves lending the beverage some amazing aromas.
Is This Orange Smoothie Healthy?
Yes, it is good for your health.
Oranges are rich in antioxidants and vitamin C while containing various amounts of other nutrients like vitamin A, manganese, and copper, etc. Making smoothies with oranges is a delicious way to gain these nutrients.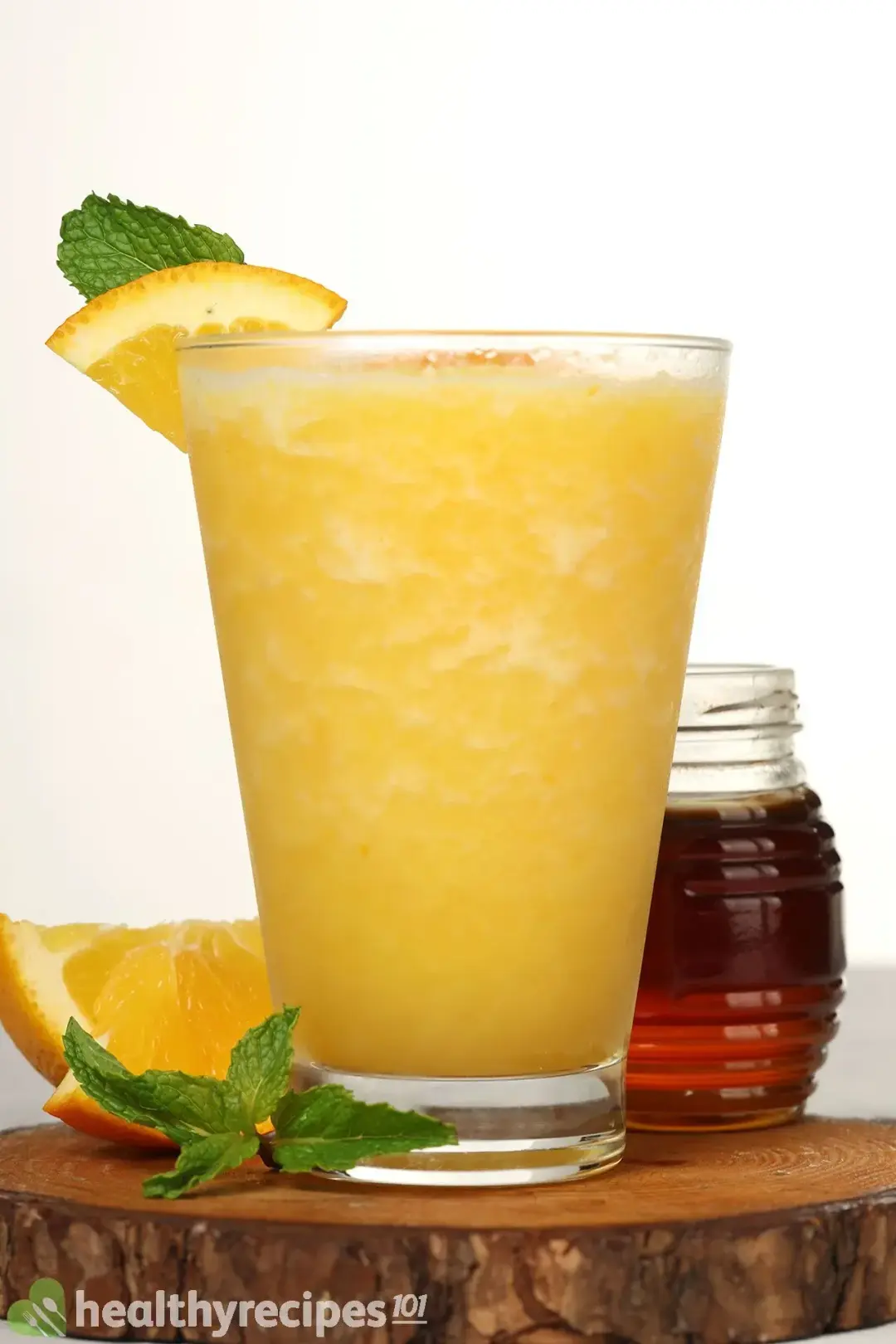 Sweetened with honey, each serving has 11 g of added sugar and provides you with 83 calories:
This amount of added sugar accounts for 22% of the suggested upper limit for a 2000-calorie diet, which is 50 g. Since everyone's tastes are different, we suggest you taste test the smoothie first and then decide how much to use.
If you decide to leave out the honey, each serving should give you only around 39 calories. When you only need a few more calories to meet your daily needs, this smoothie is an ideal option.
Ingredients for This Smoothie
Our orange smoothie recipe focuses on simplicity:
For this smoothie, we use both the flesh and the zest. We zest the oranges first, collect our desired portion, then cut each one in half and slice away the skin to reveal the bright flesh. Fact: this is also how we'd prep oranges for salads.
Instead of packing the smoothie with oranges only, we also add some freshly-squeezed orange juice to increase its hydration qualities.
As for a sweetener, we specifically go for honey. Granulated sugar also works well, but the floral aroma of honey really makes a difference.
For extra freshness, we blend everything with mint. We love its cooling effect in a tangy beverage.
For the last ingredient, ice, you should use a type that your blender can easily handle. If it's not a particularly powerful model, either choose soft ice like ice nuggets or pound it into finer pieces before blending. This will help to avoid serving a glass of lumpy smoothie.
How to Zest an Orange
You should always zest your orange before cutting it. It's easier to hold onto a whole orange than half of one, we find. 
In terms of tools, we often use a zester — the long rectangular tool with micro-holes that waiters use to grate parmesan onto dishes. Graters with larger holes don't work, as they will get to the bitter-tasting pith real quick.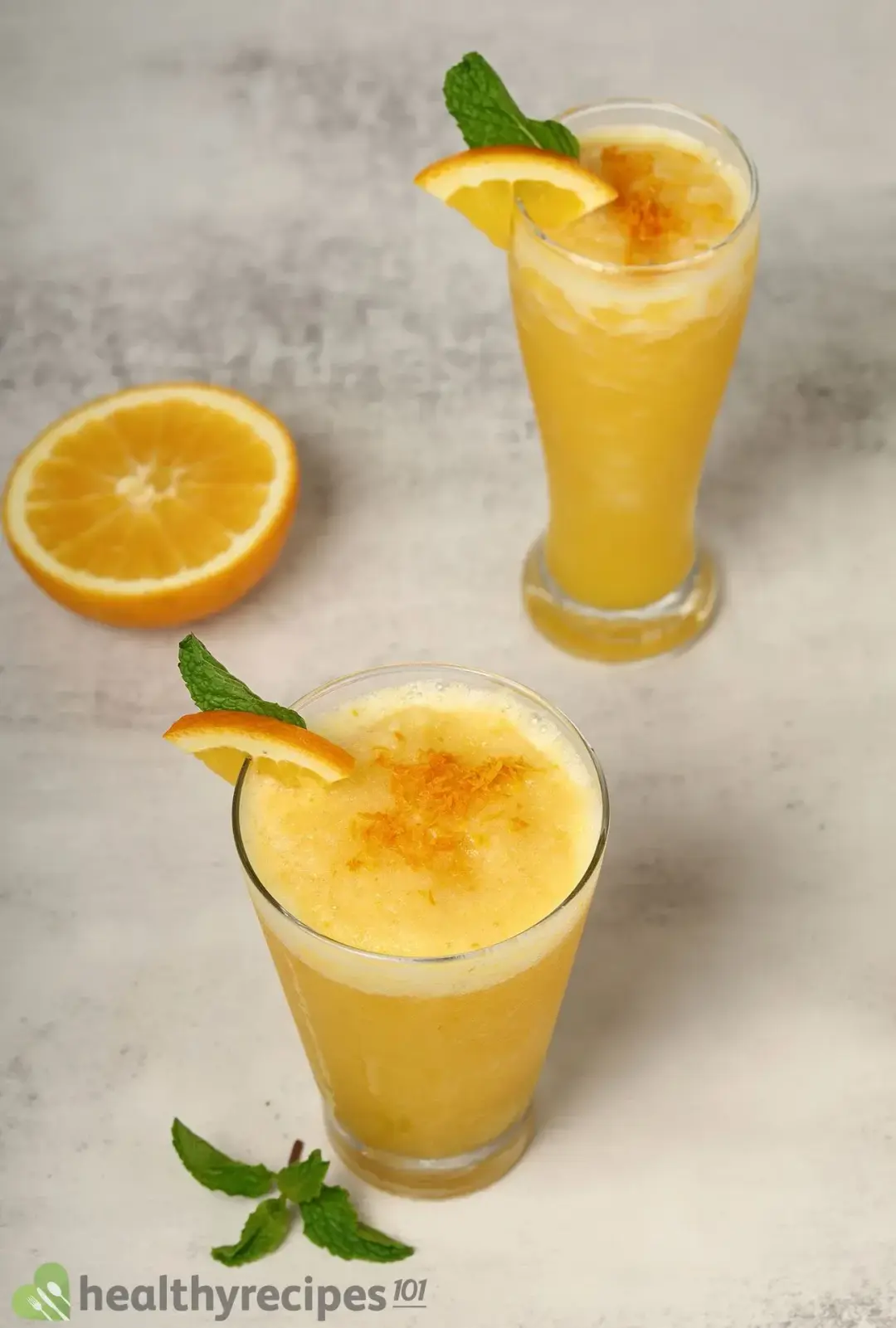 Most people hold the orange above the zester and place a container below to collect the zest. Others flip the zester and scrape the orange from above, so the zest is held within the tool itself. Both methods work equally well.
Throughout the process, remember to rotate the fruit as soon as the layer of pith is revealed. Continue until the orange is no longer orange.
If you don't happen to have a zester to hand, you can also carefully slice the peel away, then trim the pith from the peel.
How to Make an Orange Smoothie
Once you've gotten your orange zest and flesh, ice, mint, and honey, place them all into the blender and blend until a slushie is formed.
The blender's motor will determine how smooth or chunky your smoothie becomes. A powerful one handles all types of ice, while weaker ones can only grind softer ice.
If you don't have soft ice, like ice nuggets, place any type of ice you have into a large cheesecloth, then pound it with a mortar.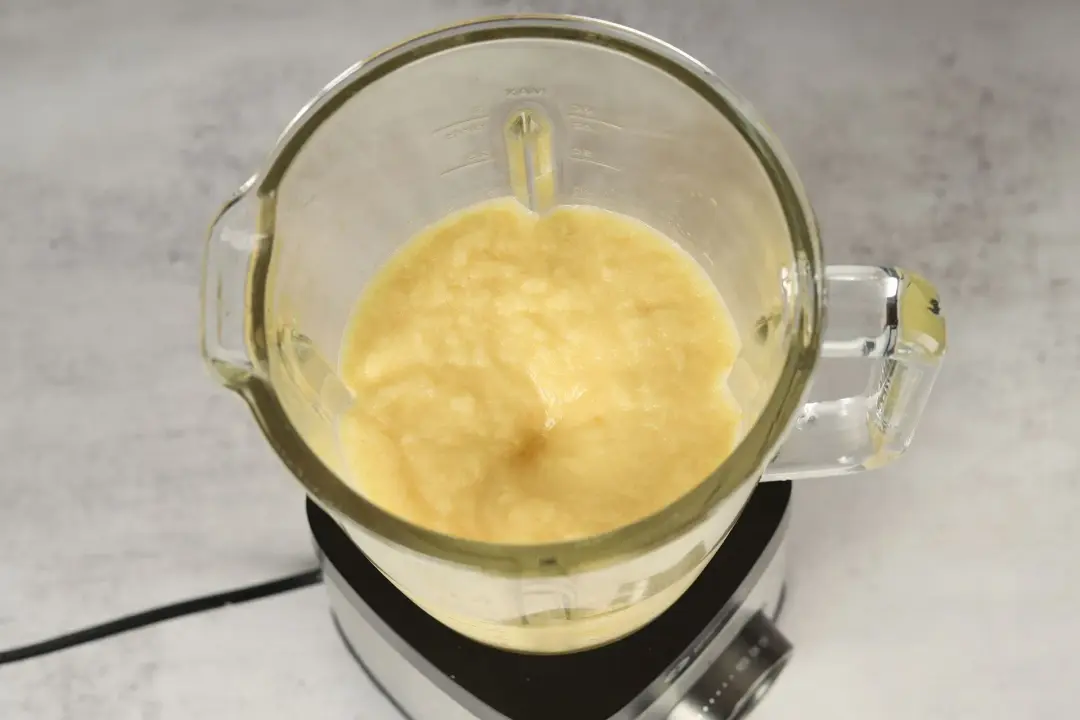 Blend ingredients.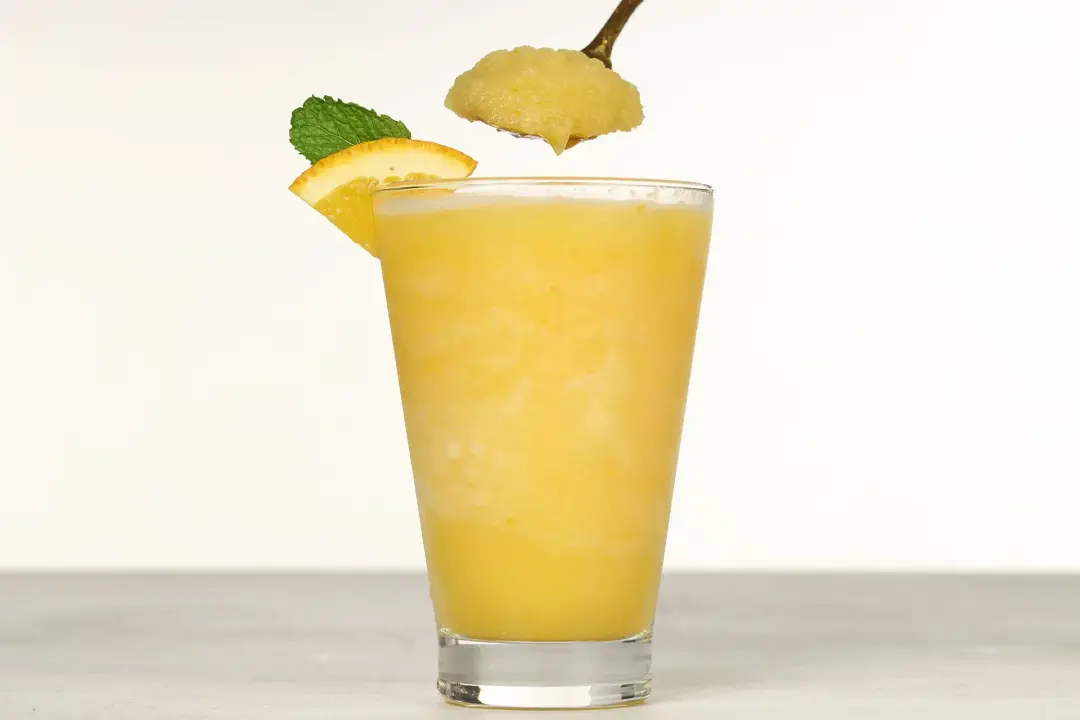 Pour into serving glasses.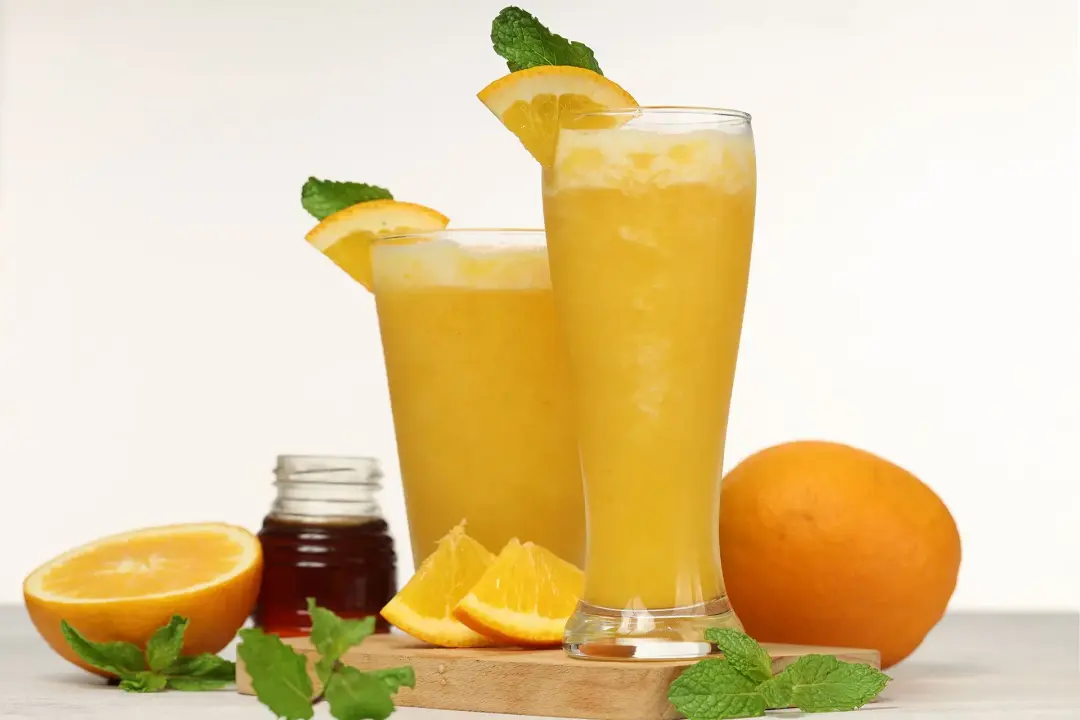 Garnish with more mint leaves and serve immediately.
What Fruits Go Well With Orange in a Smoothie?
Believe it or not, the fruit's tanginess pairs excellently with bananas, making for a smoothie that is balanced in taste.
Combining everyone's favorite fruits, our orange apple smoothie garners a lot of attention. We blend the fruits with ginger as well bringing a therapeutic element to this delicious beverage.
Orange can also be mixed with pineapple and coconut, or with some mango for a rich, thirst-quenching slushie. These tropical blends are just perfect for the summer.
How Long Does Orange Smoothie Last?
This orange smoothie will last for about 2 days in the fridge and up to 3 months in the freezer. Still, we suggest that you make just enough to consume in one sitting because the smoothie will dilute as it sits.
You can also prepare the smoothie in advance by measuring out all the ingredients, blending them without ice, placing them in Ziploc bags, and freezing them away. Whenever you feel like it, blend one portion with ice for a fresh, cold smoothie.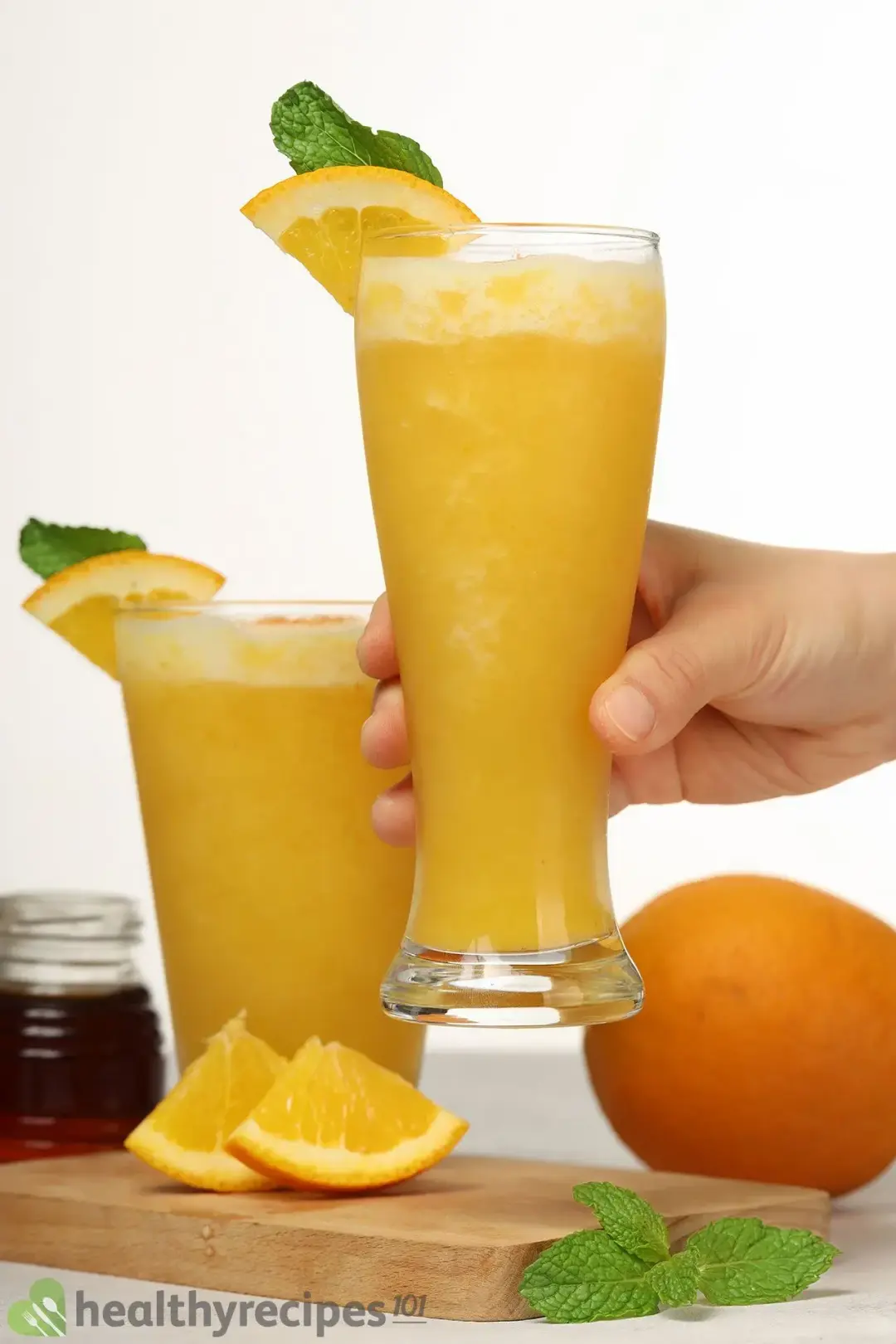 Most smoothies will self-layer if left alone, which is normal and not a sign of spoilage. Usually, spoiled smoothies smell bad and may display molds.
Orange Smoothie Recipe
Our orange smoothie recipe will help you relieve the heat. It's tangy, sweet, fragrant, and with a cooling sensation from mint.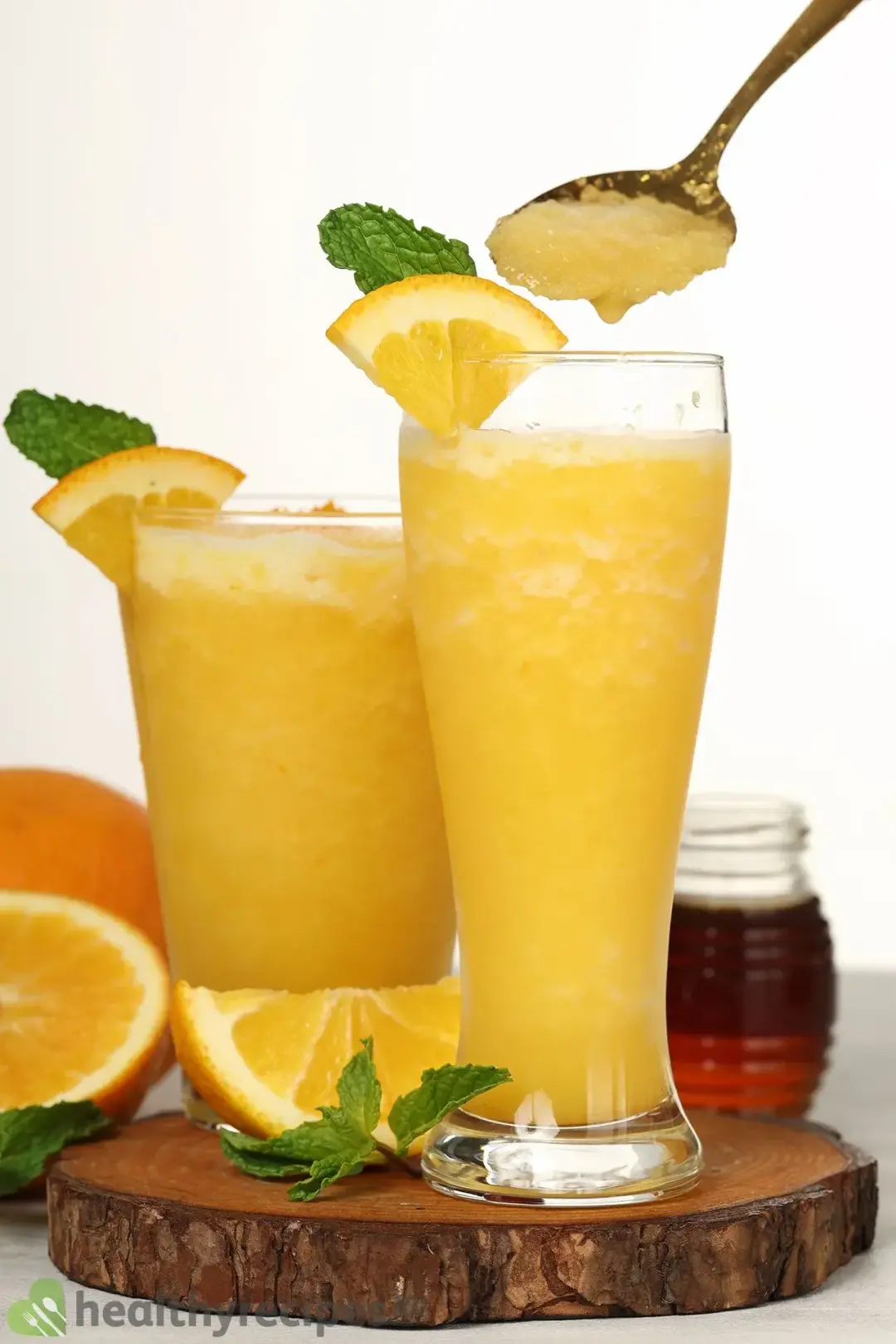 prep TIME

7 mins

total TIME

7 mins
COURSE

Beverage, Smoothie

CUISINE

Global

SERVINGS

servings

CALORIES

102 kcal
INGREDIENTS
10 oz

oranges peeled

2 cups

ice preferably ice nuggets

1 cup

orange juice

2.5 tbsp

honey

2 tsp

orange zest

8

mint leaves
INSTRUCTIONS
1
Place all ingredients in a blender, starting with the ice. Cover and blend until smooth.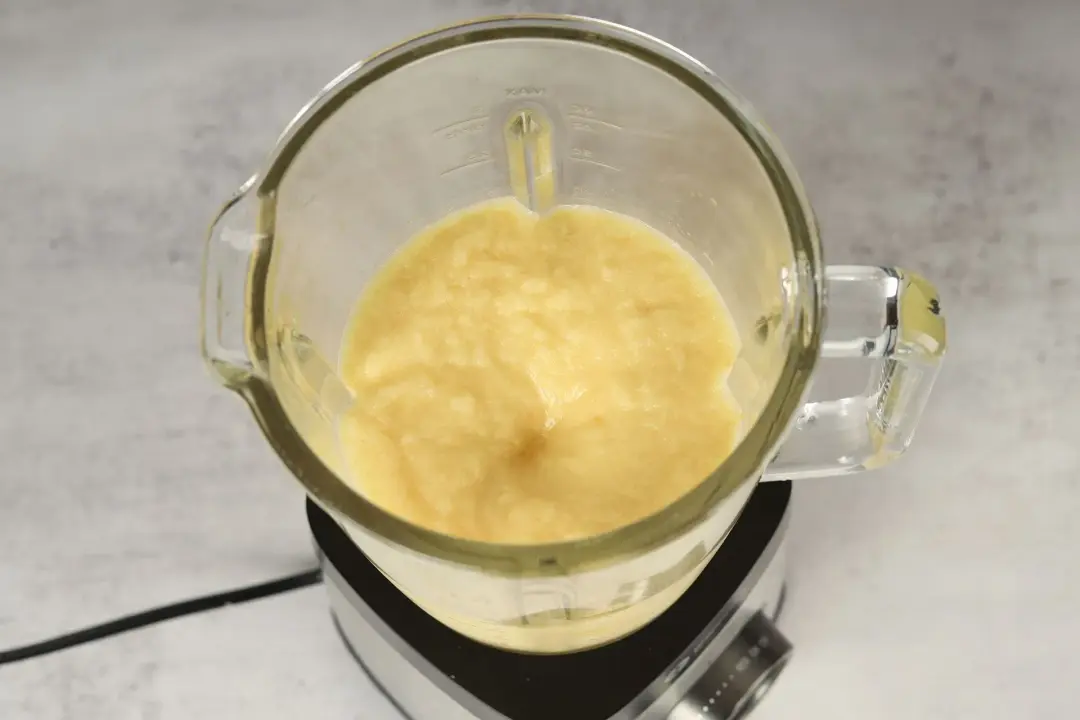 2
Pour into serving glasses.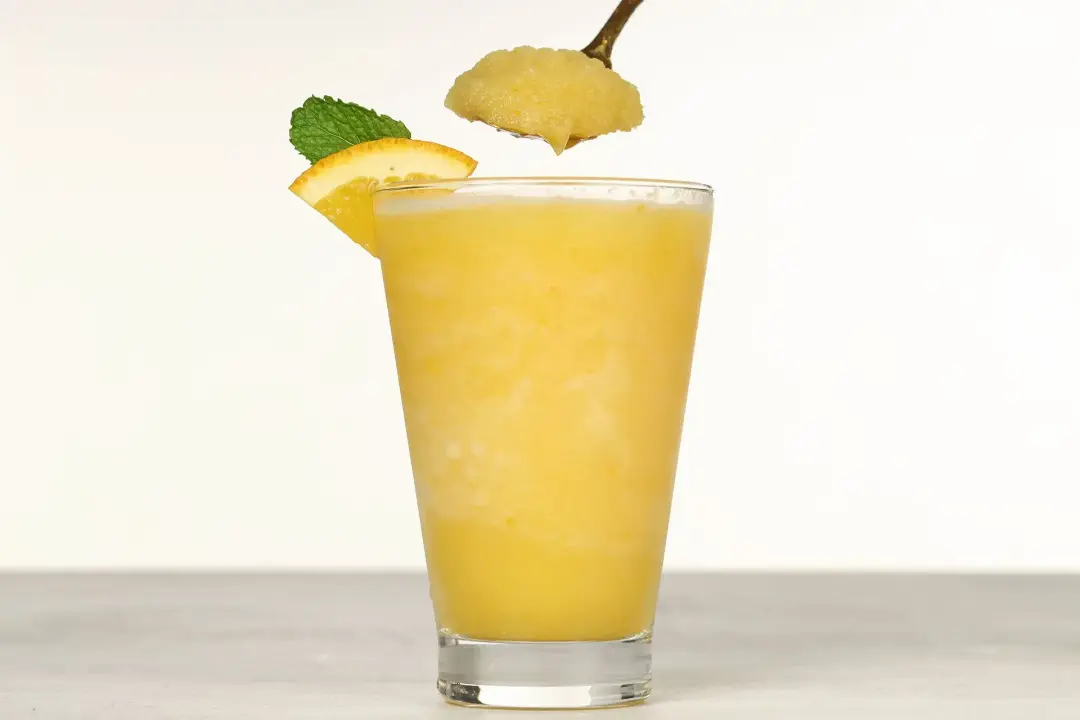 3
Garnish with more mint leaves and serve immediately.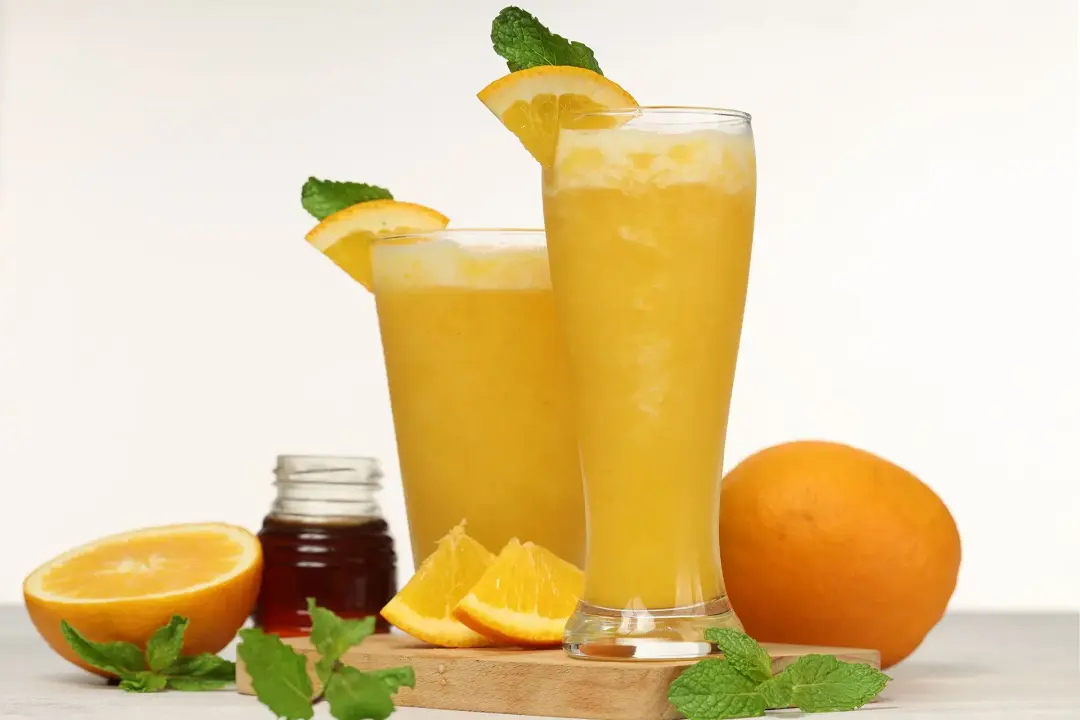 NUTRITION
Nutrition Facts
Orange Smoothie Recipe
Amount Per Serving (1 serving)
Calories 102
Calories from FDA
% Daily Value*
* Percent Daily Values are based on a 2000 calorie diet.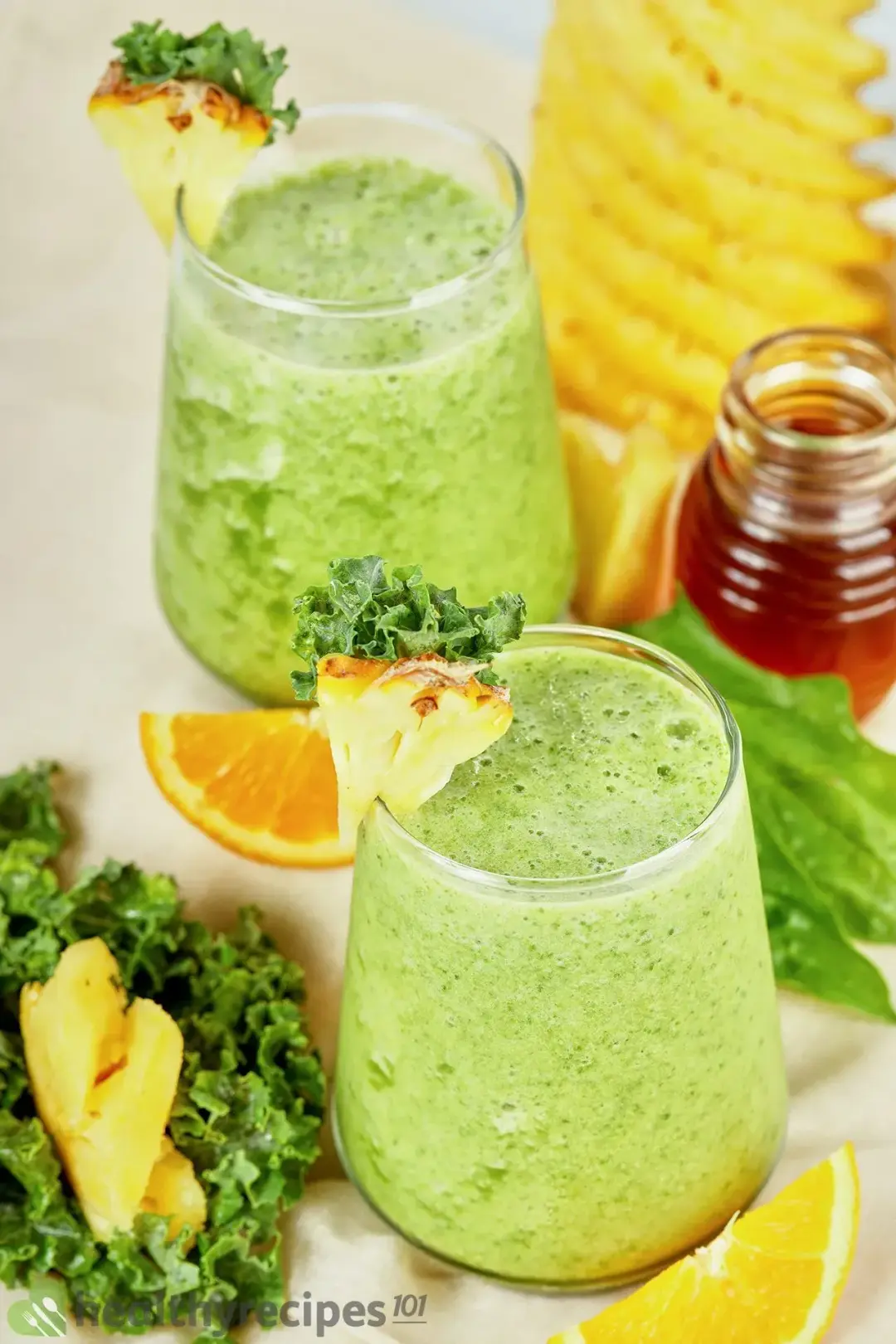 Previous Recipe
Pineapple Green Smoothie
Pineapple Green Smoothie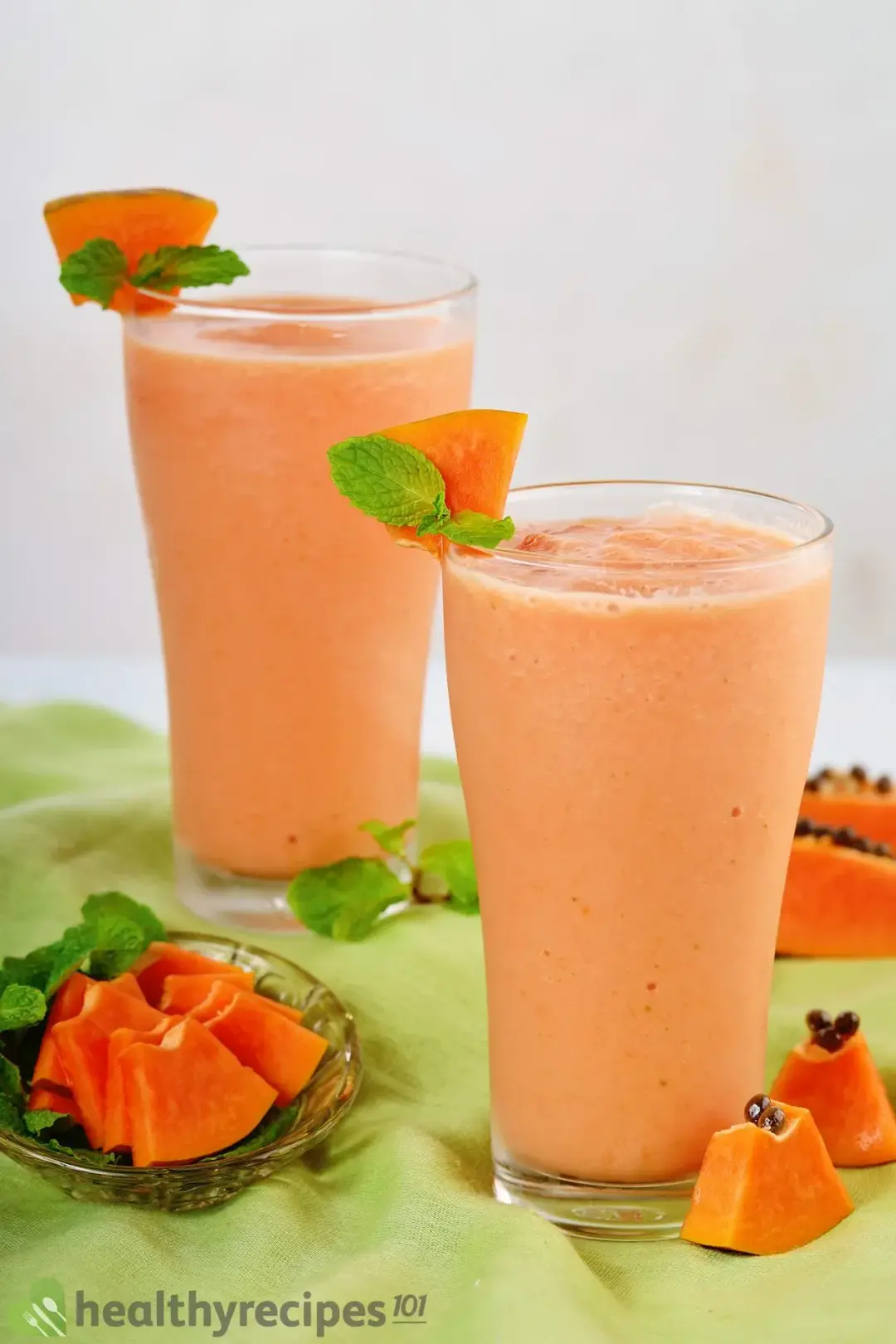 Next Recipe
Papaya Smoothie
Papaya Smoothie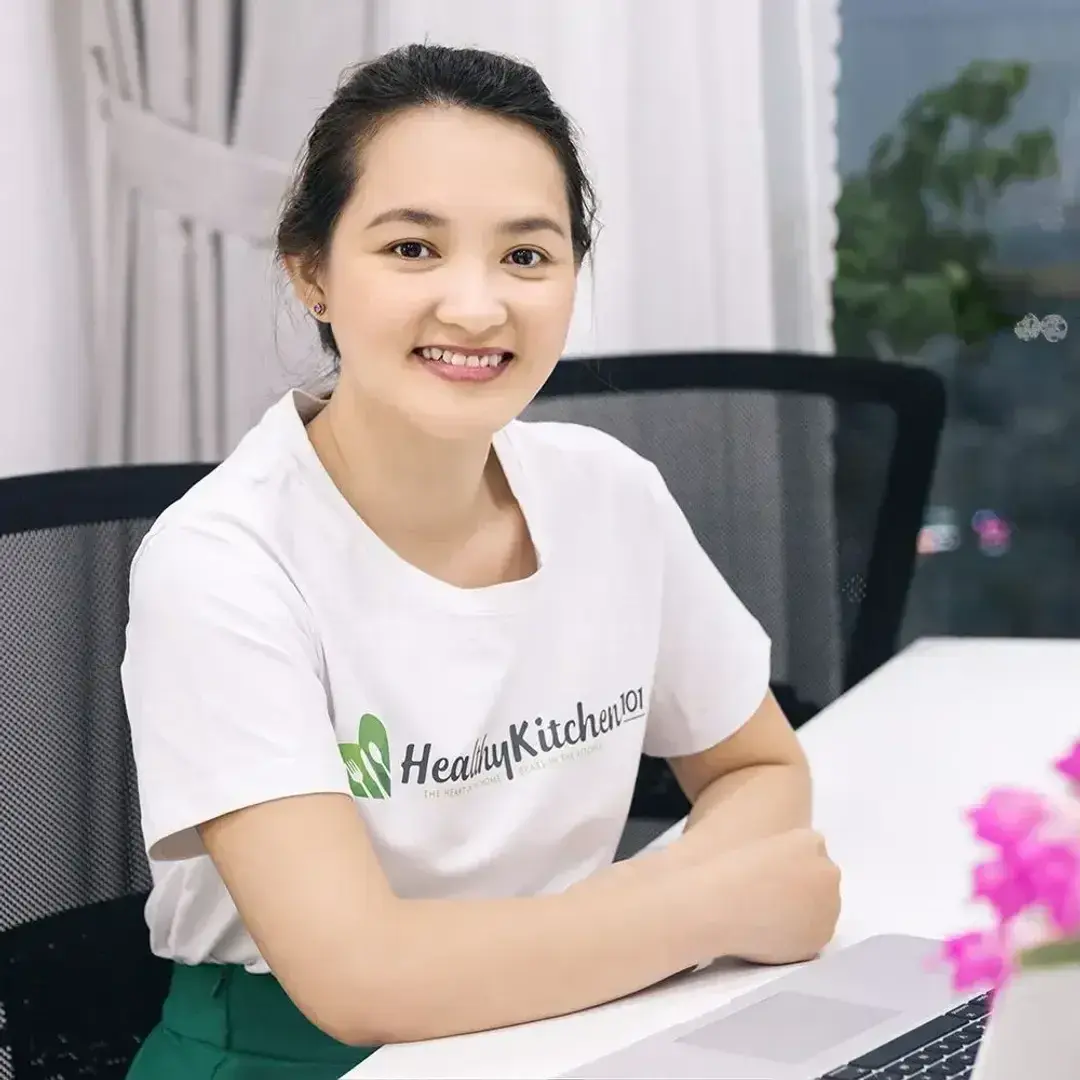 Luna Regina
Luna is the founder and chief recipe developer of Healthy Recipes 101. Apart from cooking, she also loves reading, programming, exploring the outdoors, and collecting useless facts about everything.