This pineapple ginger smoothie recipe is an awesome combination. It's super fresh and with a lingering warmth that is sure to grow on you.
Is This Pineapple Ginger Smoothie Healthy?
Yes, our pineapple ginger smoothie is a nutritious (and delicious) smoothie.
Within each serving, there is an abundance of micronutrients from the components combined: vitamin C, vitamin A, vitamin B6, magnesium, calcium, copper, iron, and so on. Being the best plant-based source of omega 3 and omega 6 fatty acids, chia seeds also have various positive effects on the body.
One of the main ingredients is ginger. Not only high in antioxidants, this herbal root is also an effective home remedy for nausea and even contains anticancer agents.
These health benefits come with just around 96 calories and 4g added sugar, per serving. These low amounts allow you to easily slip this drink into your diet.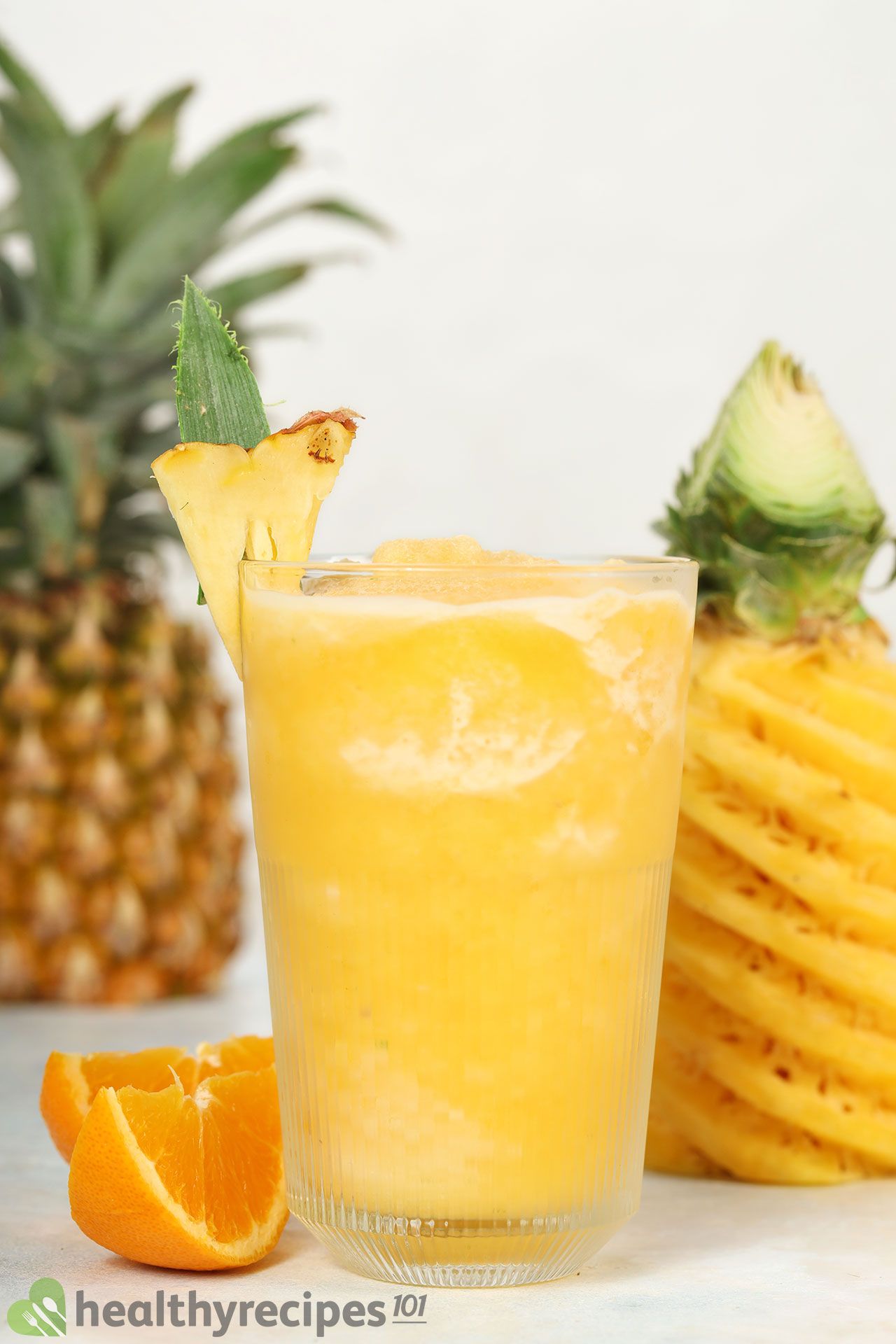 Ingredients for This Smoothie
Pineapples, ice, orange juice, mint leaves, ginger, and chia seeds are all that's needed for our pineapple ginger smoothie recipe:
We use fresh pineapples, but you can use canned or frozen pineapples if it's more convenient. In order to avoid consuming extra sugar, we suggest rinsing the pineapple chunks with water.
We make our own orange juice. If you choose bottled goods, go for unsweetened products to limit your intake of added sugar.
As our smoothie tastes a little tangy at the end, we add honey for some sweetness to balance things out. It's up to you whether or not to sweeten your drink — our tastes can be very different.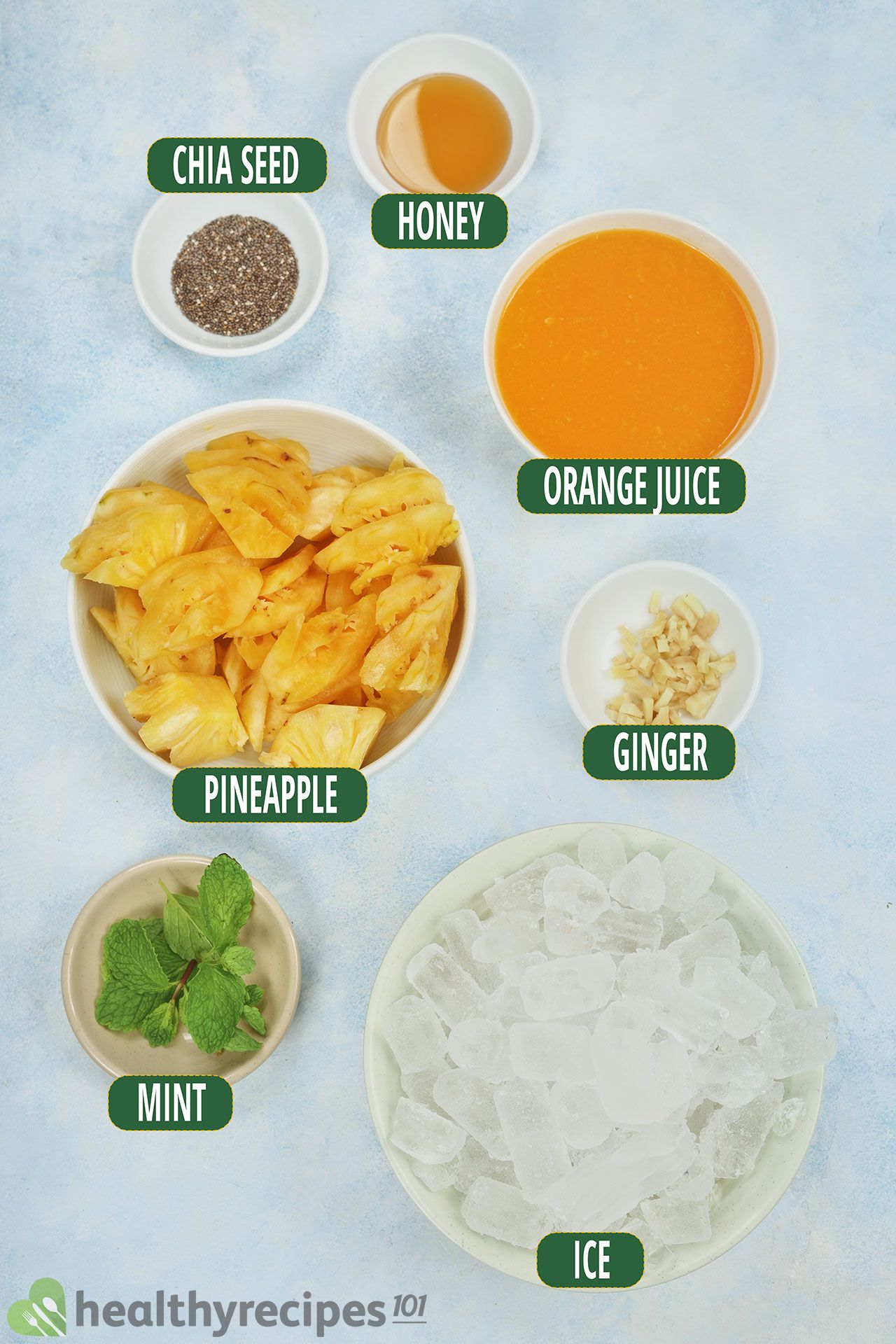 If your blender is fond of producing chunky smoothies, the ice is probably too hard for the motor to grind. You can use soft ice, like ice nuggets, or pound the hard ice first. A mortar and a pouch/cheesecloth are the only tools you need.
For the chia seeds, soaking them in water will cause them to bloom and soften up, or you can simply use the seeds as they are.
Can You Put Raw Ginger in a Smoothie?
Yes, you can — when peeled or cleaned, ginger can be consumed both cooked and fresh. Either way, it will provide a lingering warmth that fits many combinations of fruit and veg. We've tried adding it to smoothies with apples, pineapples (like this recipe), greens, and oranges, and they all turned out pretty well.
How To Put Ginger in a Smoothie
Usually, we scrape the peel with a spoon, slice it, then julienne it before adding it to the blender. Some mince it, grate it with a zester, or even go as far as juicing it to avoid including large pieces.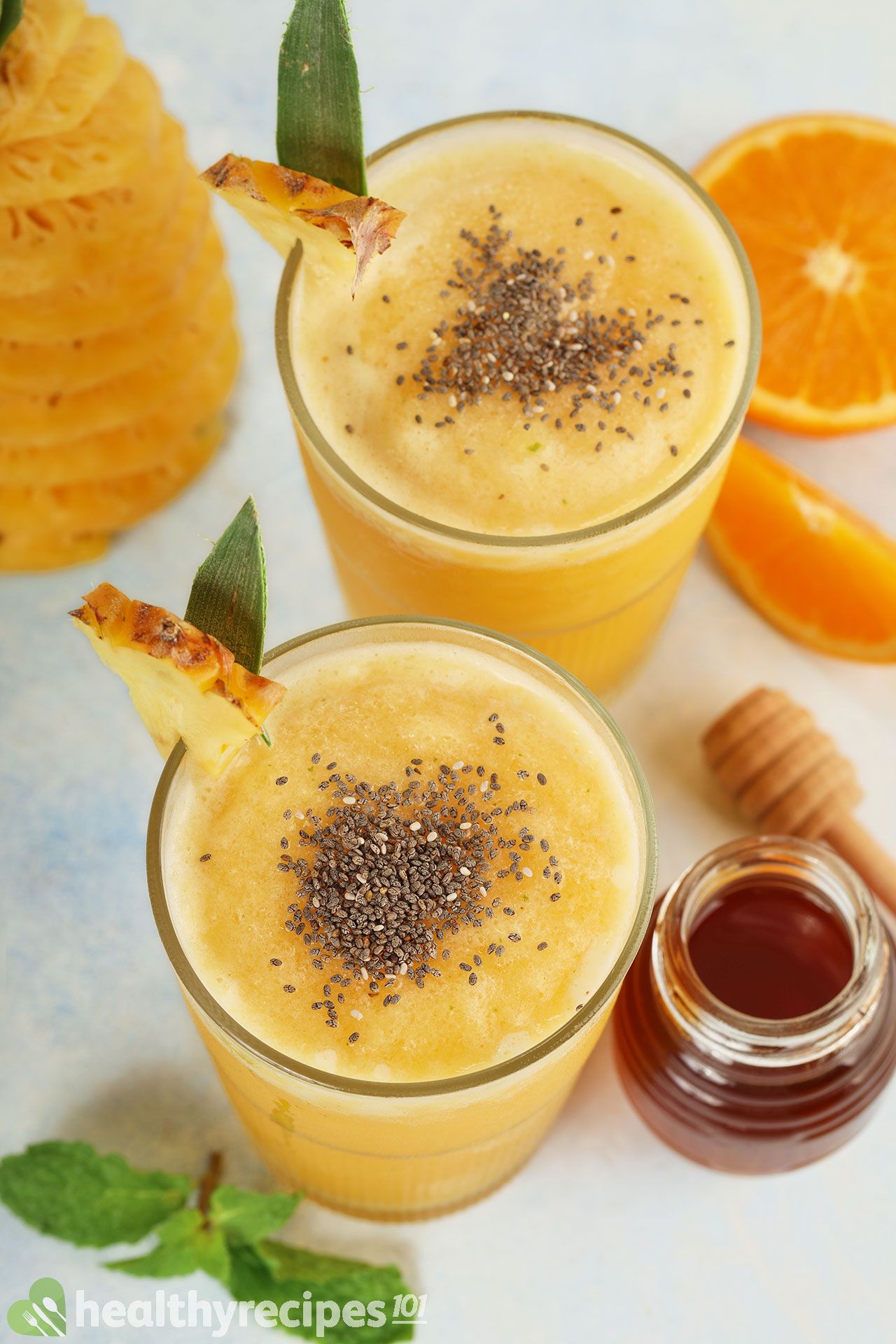 If you're unsure about using ginger in your smoothie, however, the grating/ juicing method is a great option. Pour out a little, add just a few drops, and taste-test before seasoning the entire batch with ginger essence.
We often purchase several roots, prep all of them, place them into a small container, and store them in the fridge. It takes just a few minutes but eliminates the need to work with the tricky small knobs every time you need some ginger.
How to Make a Pineapple Ginger Smoothie
When you have all your ingredients measured out, blend them all together until the smoothie forms. Pro tip: Placing the ice at the bottom will help the smoothie come together faster.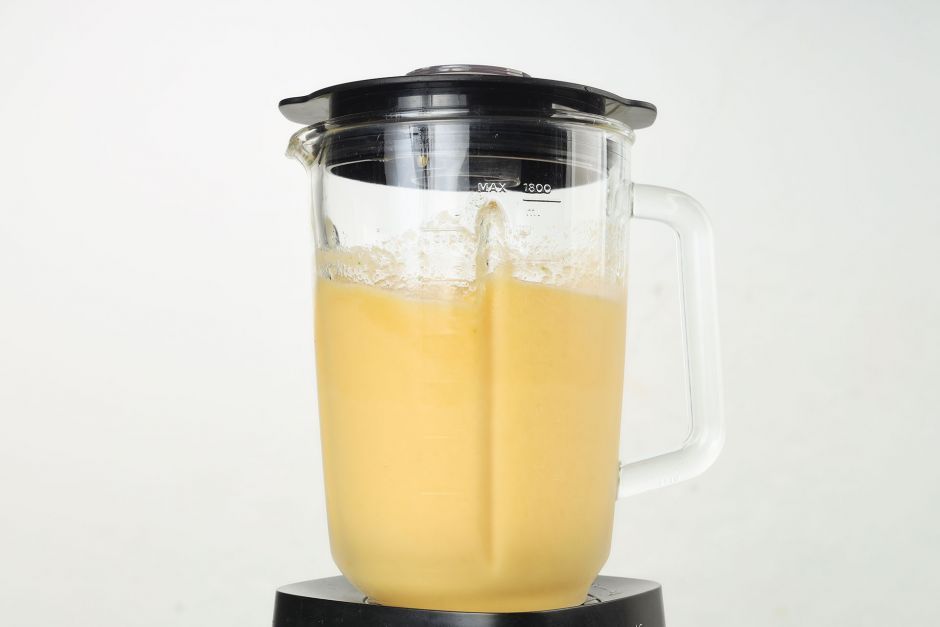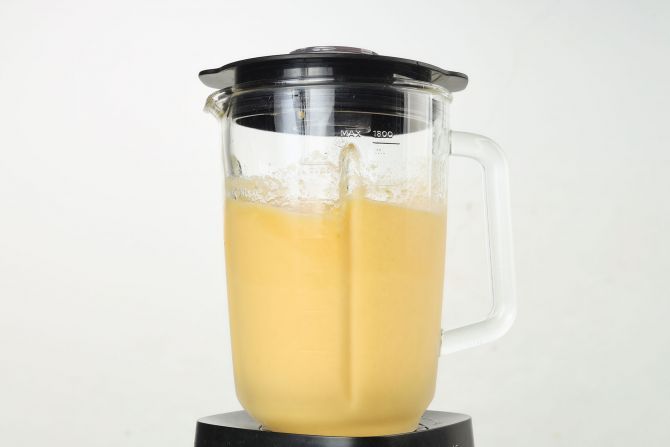 Blend ingredients.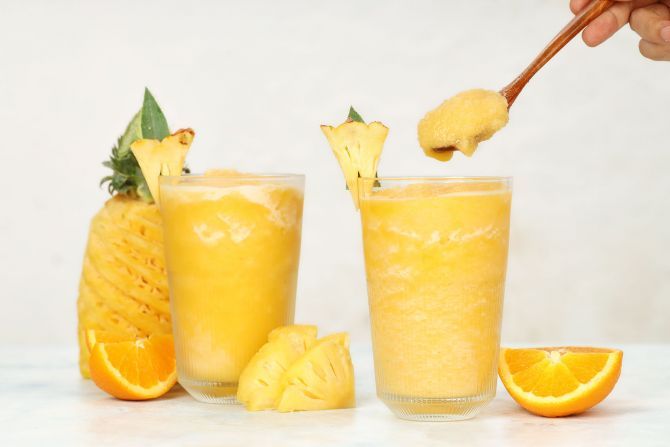 Pour into serving glasses..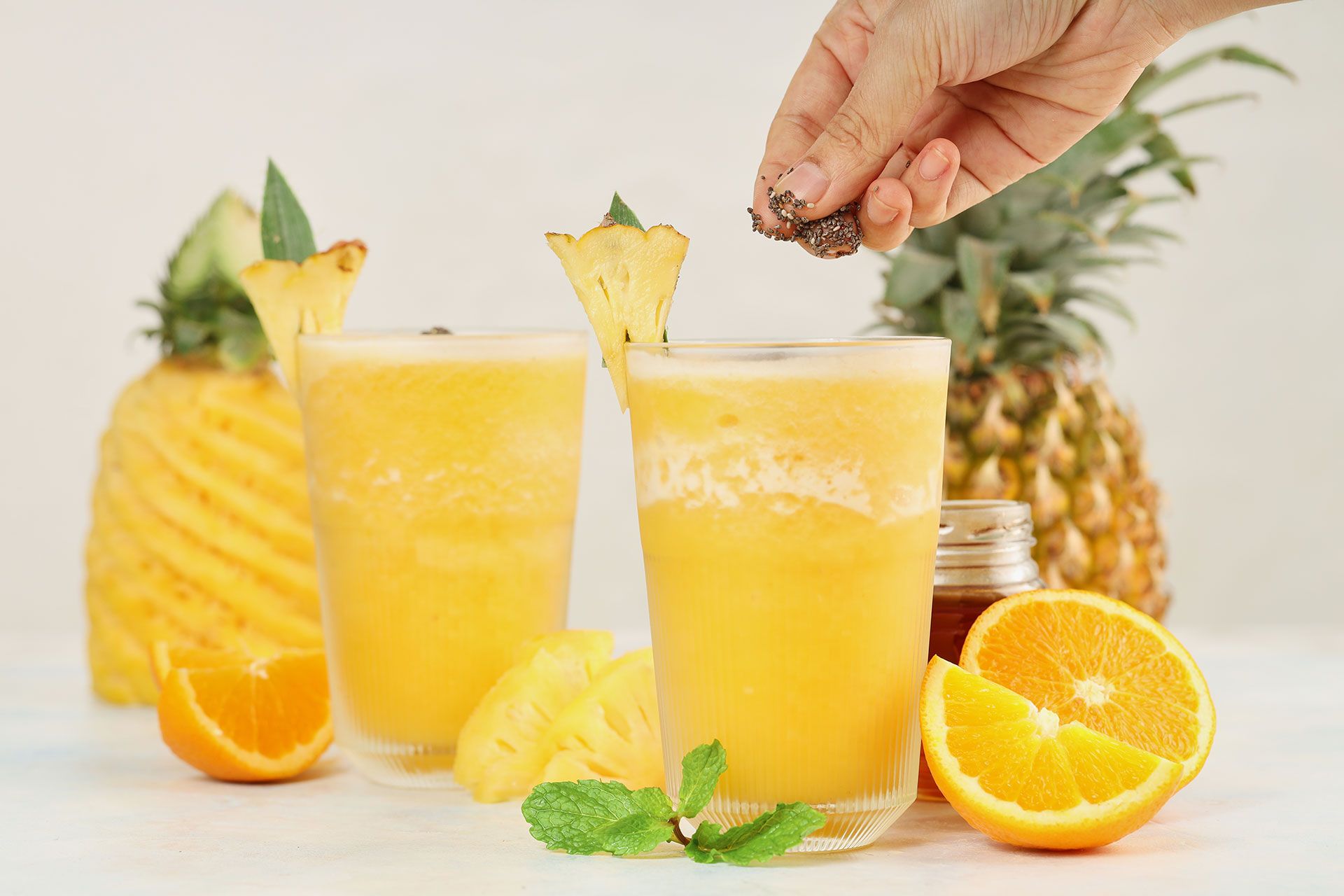 Garnish with chia seeds and serve immediately.
Measurements are listed in the printable 'Pineapple Ginger Smoothie Recipe' card at the bottom of this article.
Jump to Recipe
How Long Does This Smoothie Last?
This smoothie can be kept in the fridge for about 2 days only, or in the freezer for up to 3 months. However, it will become watery once thawed, so it's not something we recommend.
If you are not planning to consume it all at once, we suggest omitting the ice and blending all ingredients together to make the 'smoothie concentrate'. This concentrate can be portioned out and kept in the freezer, so you can blend it with ice whenever necessary.
When smoothies are allowed to sit, most will naturally separate into layers. This is perfectly normal and does not indicate spoilage. Generally, spoiled smoothies have an unpleasant odor and may contain mold.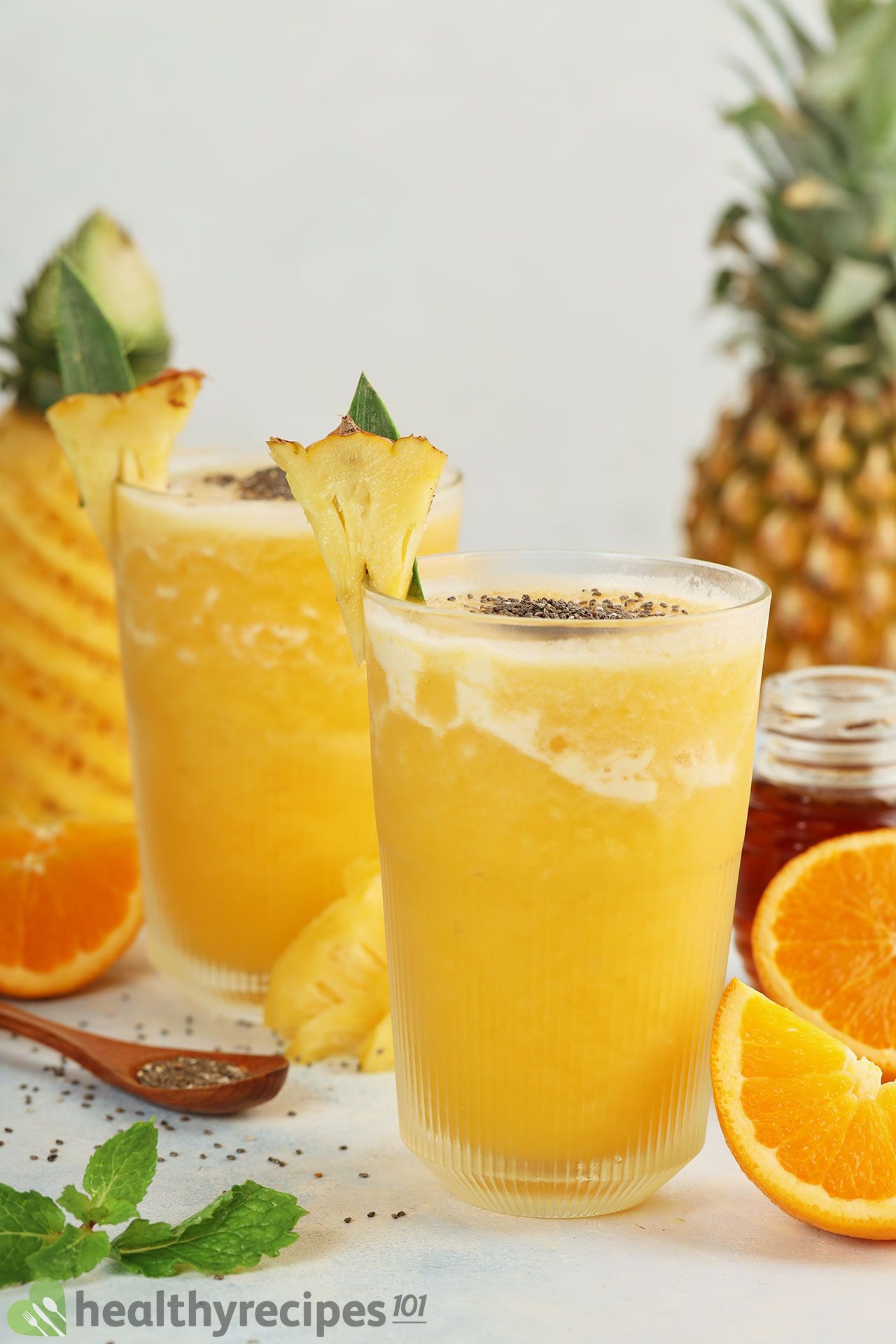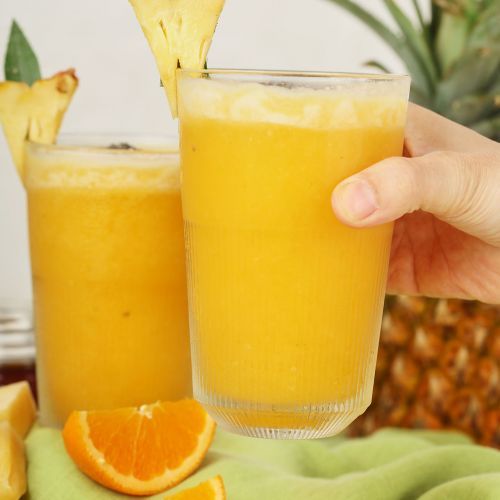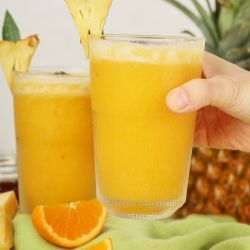 Pineapple Ginger Smoothie Recipe
This pineapple ginger smoothie recipe is a great combination of tangy fruits, warm ginger, chia seeds, and cool mint.
Ingredients
12

oz

pineapples

cut into chunks

3

cups

ice

preferably soft ice like ice nuggets

1

cup

orange juice

8

mint leaves

more for garnish

0.25

oz

ginger

finely chopped

1

tbsp

honey

1/2

tbsp

chia seeds

soaked or raw
Instructions
Place all ingredients in a blender, starting with the ice. Cover and blend until smooth.

Pour into serving glasses.

Garnish with more mint leaves and serve immediately.
Nutrition
Nutrition Facts
Pineapple Ginger Smoothie Recipe
Amount Per Serving (1 serving)
Calories 96
Calories from Fat 5
% Daily Value*
Fat 0.6g1%
Sodium 9.4mg0%
Potassium 244mg7%
Carbohydrates 23g8%
Protein 1g2%
Vitamin A 259IU5%
Vitamin C 72mg87%
Calcium 38mg4%
Iron 1mg6%
* Percent Daily Values are based on a 2000 calorie diet.