Our pumpkin spice smoothie recipe is a bold take on your favorite treat.
Pumpkin Pie Spice Smoothie — A Summer-Fall Interlude
We seriously believe that there's at least one food that just doesn't taste right unless served on its fitting occasion. Now that the very occasion is presenting itself, we dedicate to it this modern-classic treat, pumpkin spice smoothie.
Rich and generously spiced, but tailored to fit the fading heat, it is just the thing to enjoy on a warm day. Swirled in the silky- smooth texture there's a mild hint of maple; clear, yet gentle enough to let the main spices shine through. Atop the drink are sprinkled sliced almonds, adding a nuance in texture, and tying the experience together nicely.
What Does Pumpkin Pie Spice Mix Taste Like?
Pumpkin pie spice mix is a mixture of cinnamon, ginger, nutmeg, allspice, and cloves. The sweet smell of cinnamon and nutmeg plus the warmth from ginger and cloves are what make the autumnal treat so iconic and desirable.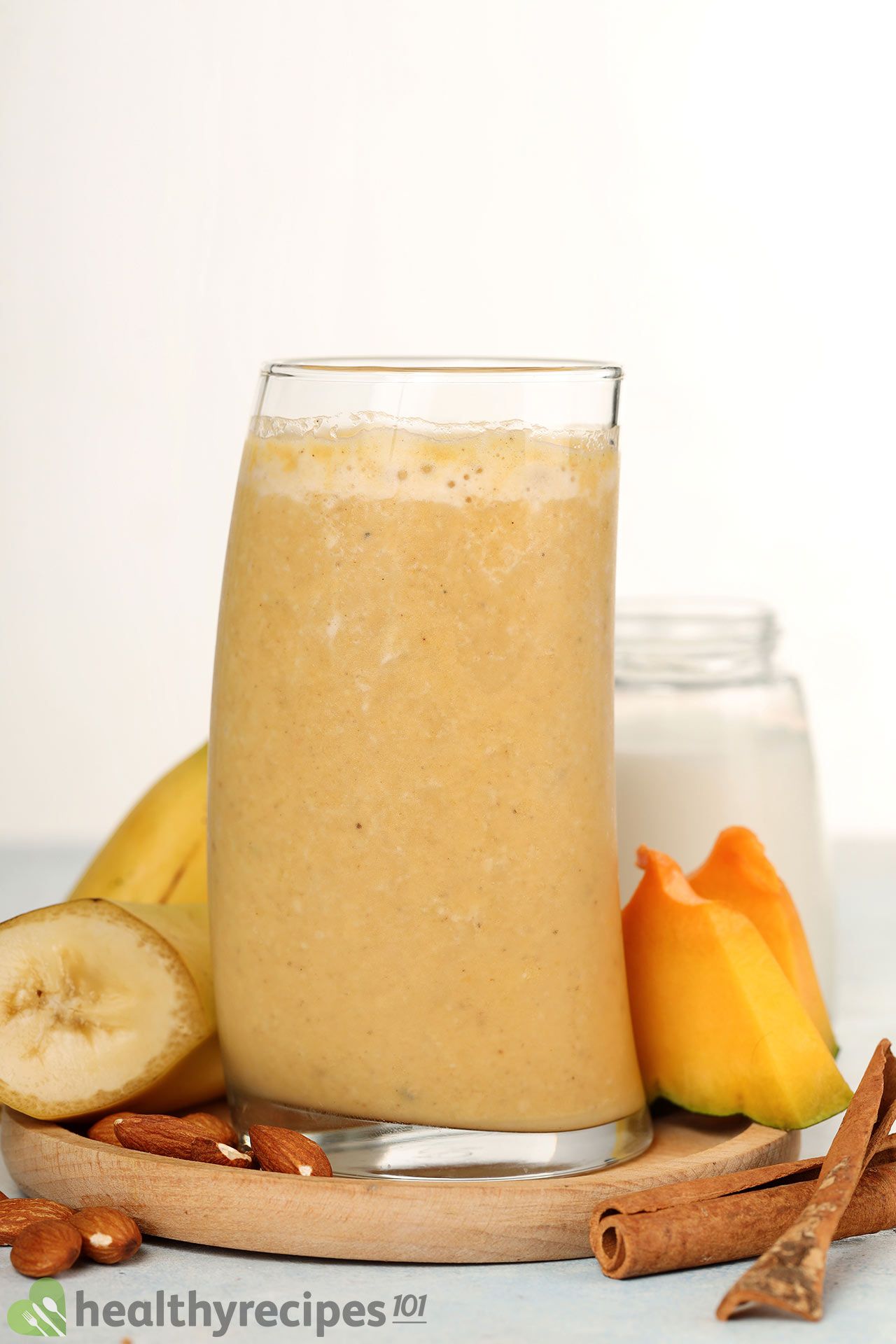 Being spices, they are filled with aroma but on their own can taste unpleasantly bitter. This bitterness is masked by the rich sweetness of the pumpkin custard.
What Ingredients Are Required?
To begin with, you'll need pumpkin purée, the spice mix, some bananas and milk, and ice. Then, a few extras, which we'll get to very soon:
Unsweetened pumpkin purée is readily available in cans, but if you enjoy the company of homemade ingredients, it is something you can recreate with ease. Steam some nicely chopped pumpkin, blend it in a food processor, and run the mixture through a sieve to achieve a silky- smooth purée.
Pumpkin purée alone can't replicate the thick custard texture, so we added some bananas. They bring a natural sweetness, which almost eliminates the need for added sugar. 'Almost', because we do include some maple syrup, for both its sweetness and addictive floral aroma.
The pumpkin spice mix is the soul of this treat and is available in many stores. We add to the mix some extra cinnamon and nutmeg powder, putting a strong emphasis on these sweet notes.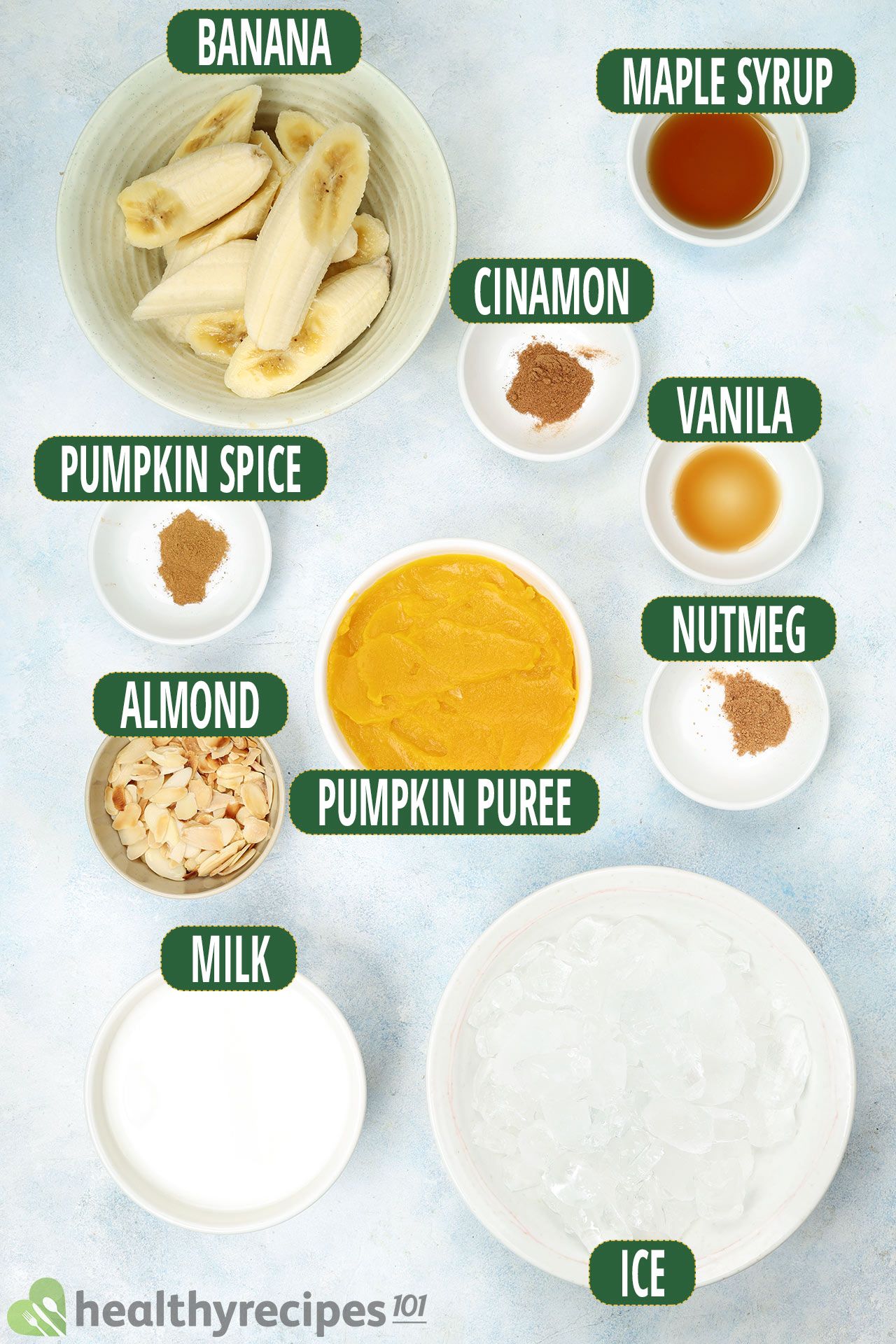 Vanilla extract, although not exactly associated with fall, lends a deliciously sweet aroma. Be aware it can be overpowering if too much is added, so be really careful handling your quarter teaspoon.
To ensure a smooth operation, we blend the thick ingredients with whole milk, replaceable with any kind of milk you fancy. Since we're adding almond slices on top of the smoothie, almond milk makes a very fitting substitute.
The last ingredient that sets this smoothie apart from its original is ice. To ensure the smoothest texture, you should either use easily breakable ice nuggets or give any ice you have on hand the smashing treatment. We often place ours into a cloth bag, grab its opening, and whack the ice a couple of times until relatively fine.
How Healthy Is This Pumpkin Spice Smoothie?
These ingredients are not harmful to your body in any way, and even provide varying amounts of vitamins and minerals. The smoothie is sweet indeed, but the sweetness mostly comes naturally. Only 1.25 g out of 15.5 g comes from maple syrup, which counts as added sugar and should be moderated.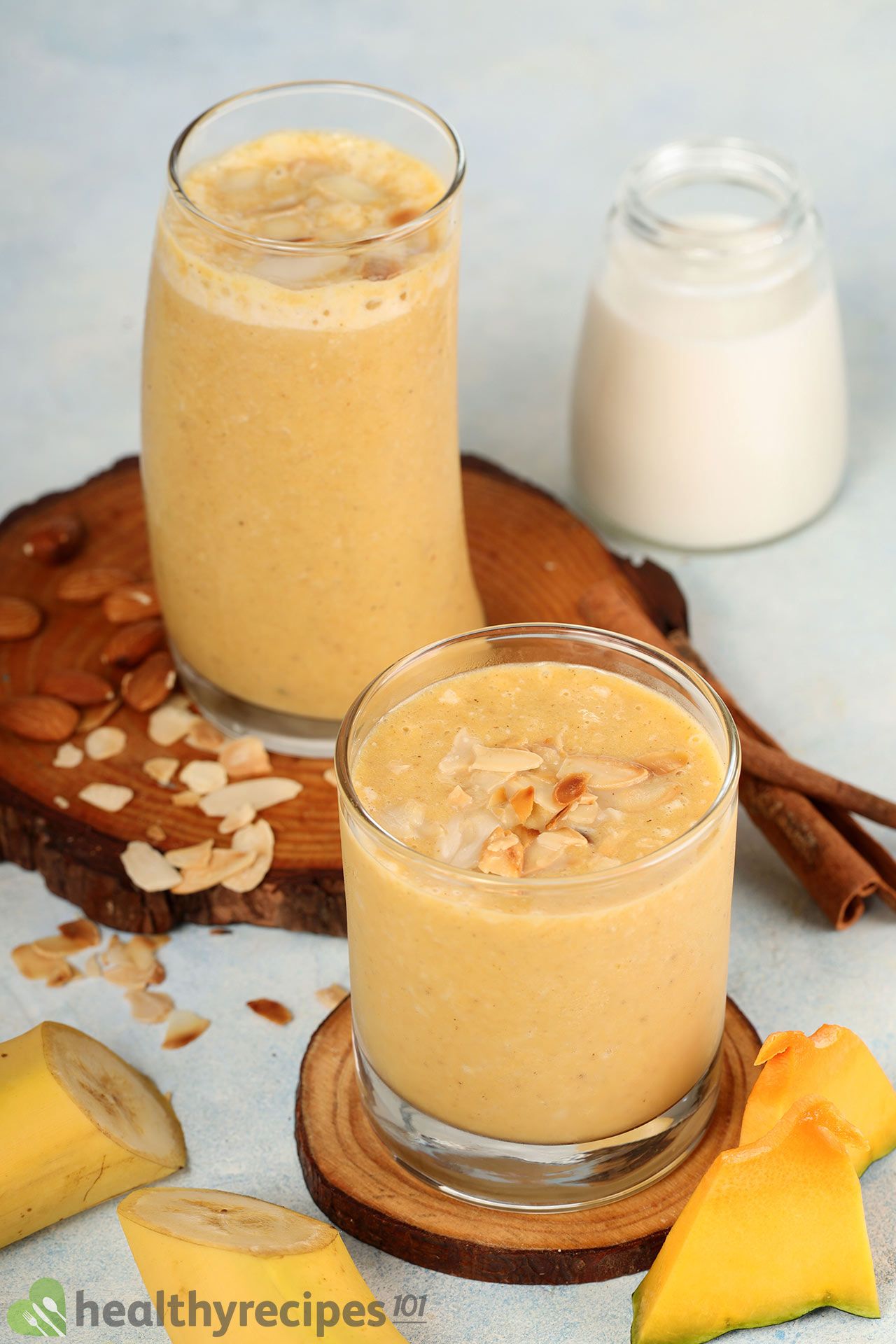 Each serving is expected to give you 170 calories, 27.3 g carbs, and 6 g fats, most of which are unsaturated fats. More information can be found in our nutritional facts, listed right below the 'pumpkin spice smoothie recipe' card section.
How to Make This Pumpkin Spice Smoothie
Like most smoothie recipes, this one involves nothing more than blending all ingredients together until a uniform consistency is reached. 'All' that is except the sliced almonds — they're for topping and snacking on.
If you're drinking just one out of the four servings in one sitting, hold the ice for now and blend your ingredients together. Measure out and store the other three servings, then blend the one you're drinking with ice.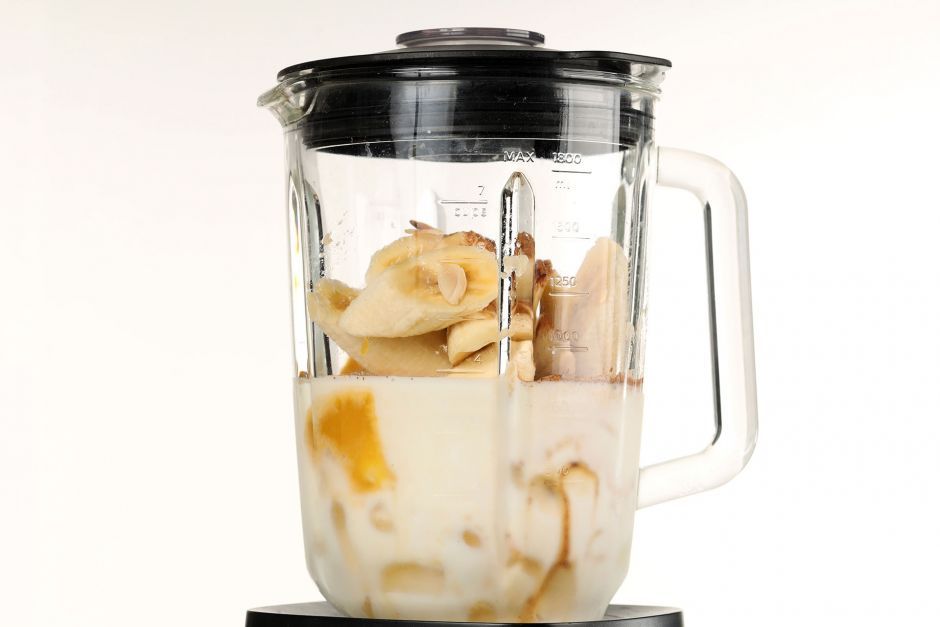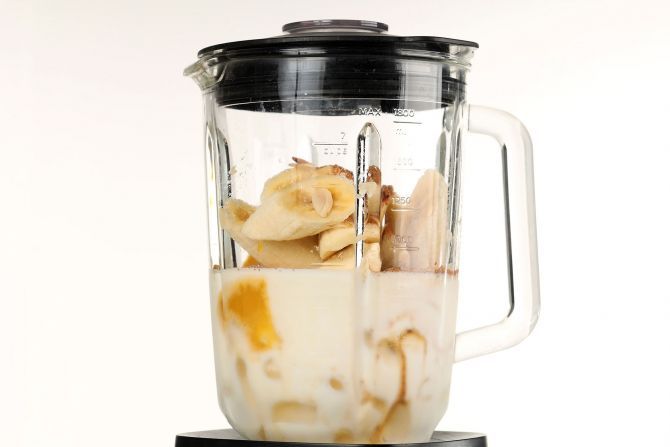 Blend ingredients.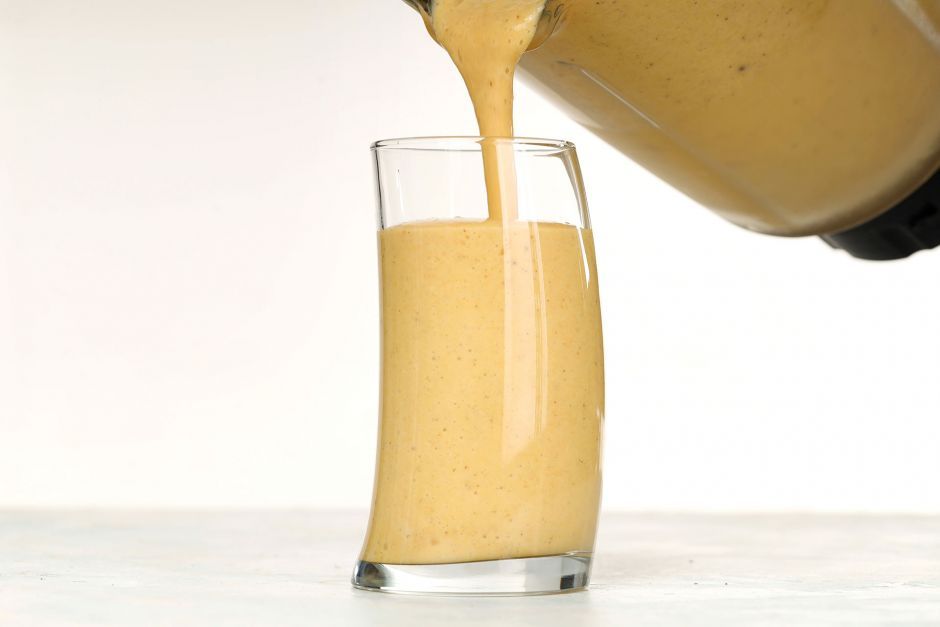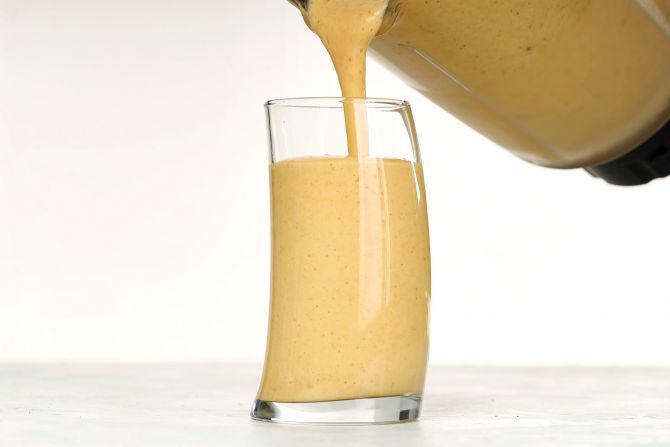 Pour into serving glasses.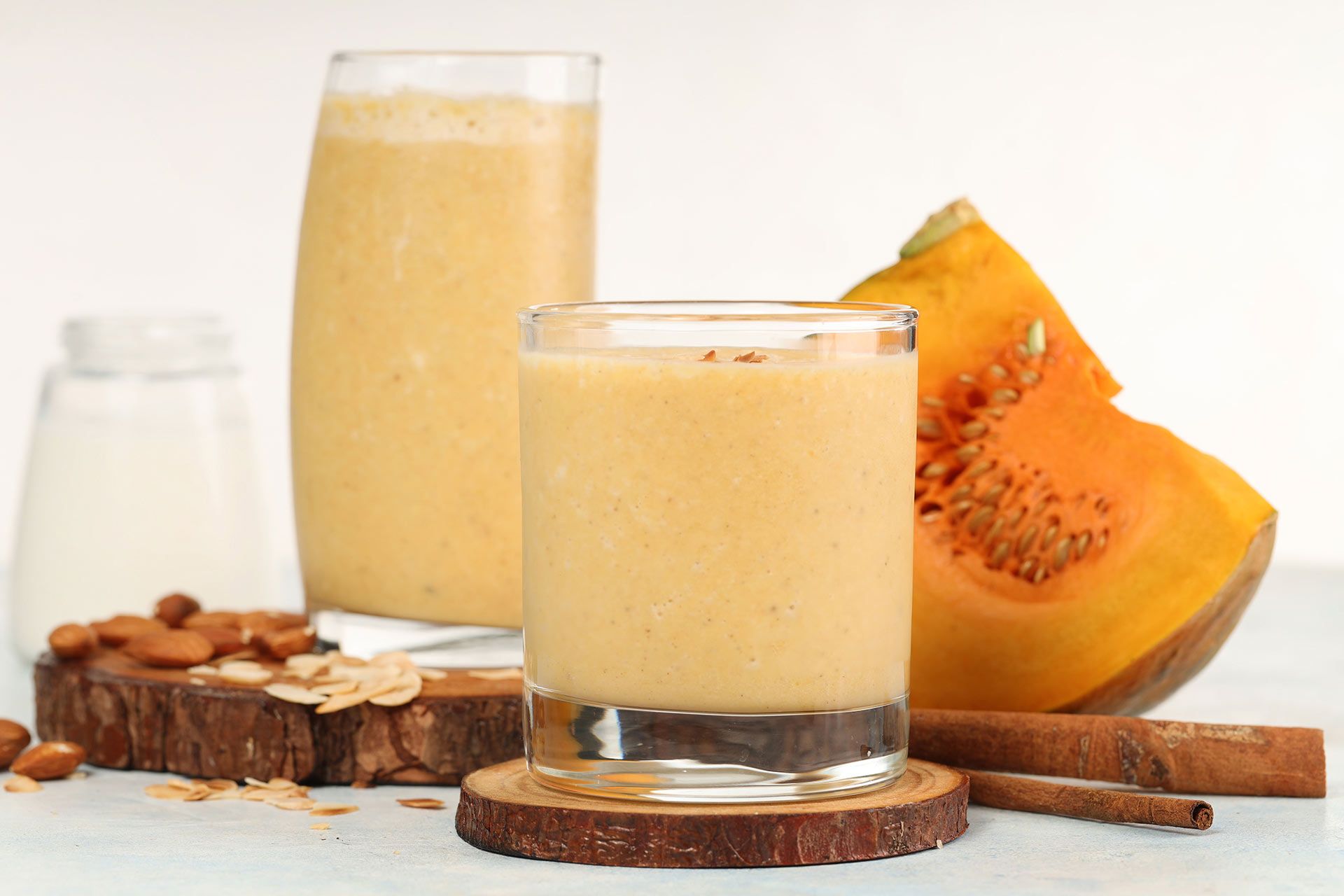 Top with almonds, and enjoy.
Jump to Recipe
For precise measurements, check out our 'pumpkin spice smoothie recipe' card at the bottom of this article.
Can You Freeze Canned Pumpkins?
Canned pumpkin can be safely frozen and easily retrieved if spread thinly and stored in individual sealable bags. We suggest writing on the bag the amount that you store it in, plus the date on which you store it so you'll know when they expire.
How and How Long to Store the Leftover Smoothie
Like the purée, we suggest using sealable bags and spreading the mixture out very thinly. They both are good for up to 3 months in the freezer and can be easily removed from the bag after a good rinse.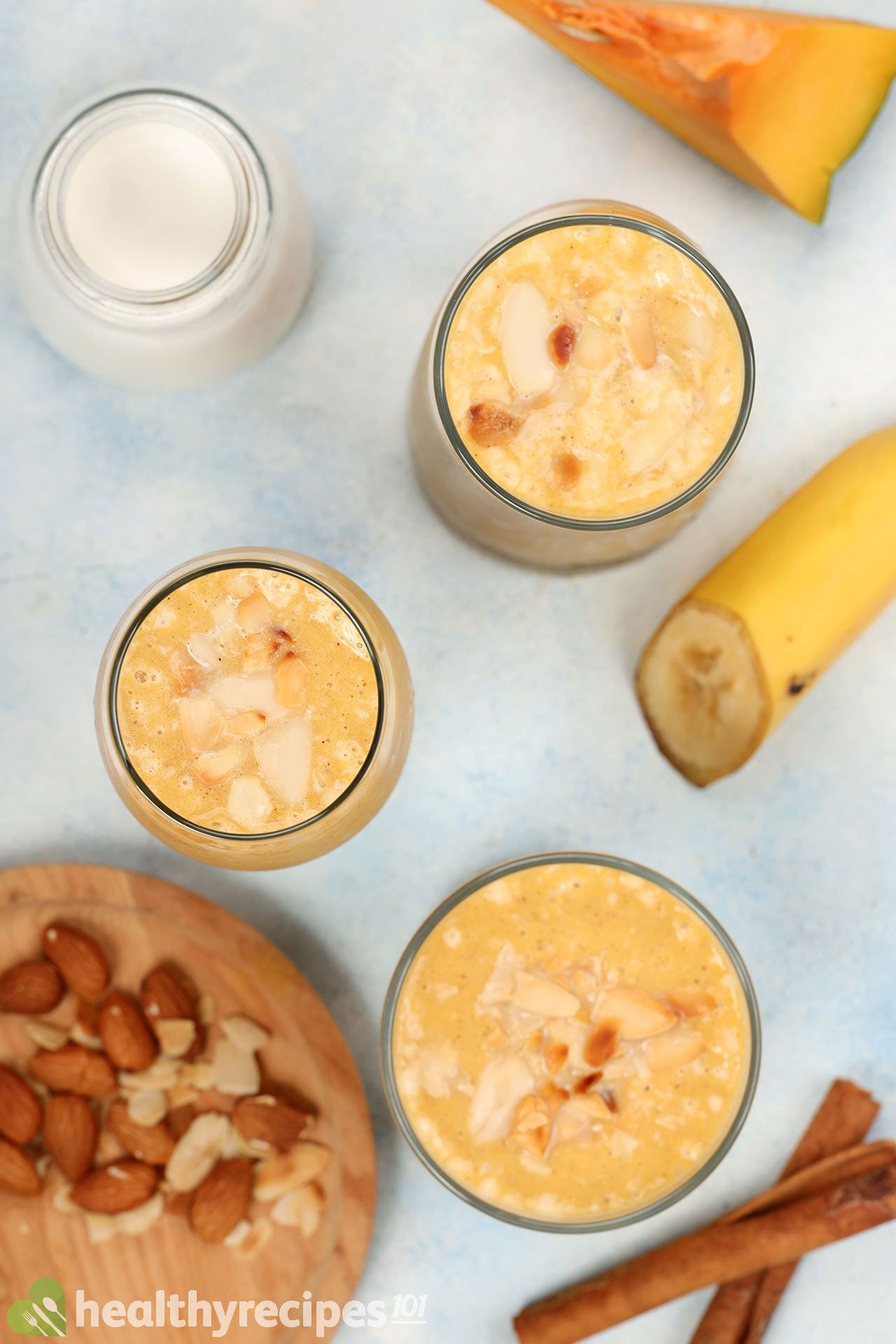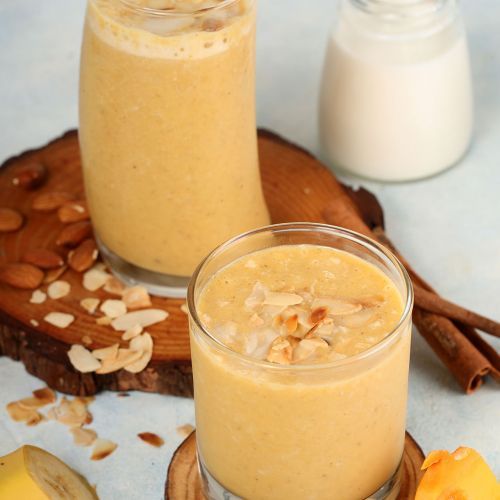 Pumpkin Spice Smoothie Recipe
Our pumpkin spice smoothie recipe is a bold, delicious reminder that fall is coming. The spice is on point and the texture is silky smooth.
Ingredients
8

oz

pumpkin purée

10

oz

bananas

chopped

2

cups

ice

1

cup

whole milk

1/2

tbsp

maple syrup

1/2

tsp

pumpkin spice

1/4

tsp

cinnamon powder

1/4

tsp

nutmeg

1/4

tsp

vanilla extract

1

oz

sliced almonds
Instructions
Place all ingredients in the blender (except almonds), starting with the ice. Cover and blend until smooth.

Pour into serving glasses.

Top with almonds, and enjoy.
Nutrition
Nutrition Facts
Pumpkin Spice Smoothie Recipe
Amount Per Serving (1 serving)
Calories 170
Calories from Fat 54
% Daily Value*
Fat 6g9%
Cholesterol 7mg2%
Sodium 33mg1%
Potassium 523mg15%
Carbohydrates 27g9%
Protein 5g10%
Vitamin A 8969IU179%
Vitamin C 9mg11%
Calcium 122mg12%
Iron 1mg6%
* Percent Daily Values are based on a 2000 calorie diet.