Our lemon dill salmon recipe is easy enough to make for any weeknight meal and fancy enough for a dinner party. Accompanied by crisp vegetables and served with a mayo-based sauce, the fish stays fresh and fork-tender.
Baking salmon with vegetables in the oven is a smart way to cook this delectable fish, ensuring everything is done to perfection at the same time. Plus, the clean-up is then a breeze.

Is This Lemon Dill Salmon Recipe Healthy?
The short answer is yes, our lemon dill salmon recipe is healthy.
With salmon as the principal ingredient, today's recipe is high in protein. Each meal contains approximately 48 g of protein, which accounts for up to 86 percent of the USDA's recommended daily requirement.
To preserve a healthy balance of key nutrients, we included a small quantity of fat in both the baked fish and the creamy sauce. Each serving contains only 5 g of saturated fat.
Apart from the saturated fat, the sodium and calorie counts are both within healthy ranges, coming in at roughly 580 mg and 500 calories, respectively. In other words, this lemon dill recipe has been put together very carefully to make a delicious and healthy main dish.

Ingredients for Lemon Dill Salmon
Salmon: This lemon dill salmon recipe may easily be doubled or tripled depending on how many people you're serving and how much salmon you prefer per serving. Our serving sizes typically vary from 6 to 8 ounces. Choose a smaller amount if you're pairing the salmon with many side dishes.
Dill: Dill is often enjoyed with seafood and the herb really elevates the salmon in this recipe. It adds a delicate, sharp punch to the fish.
If you prefer other more common spices or herbs like parsley, sage, garlic, and chives, feel free to go with them. They are all particularly delicious with salmon.
Lemon: The trick to a perfectly juicy baked lemon is to cook the fish with a little liquid. In this recipe, each salmon filet is roasted on a layer of thick lemon slices. 
The salmon poached in the juice from the lemon and is baked until tender and moist. Once the salmon is done, save the lemon and squeeze the juice over the filet. The recipe calls for both lemon zest and juice to maximize the citrus flavor.
Seasonings: We season the salmon with salt and black pepper. Paprika and Cajun seasoning add a pleasant, but not too spicy, kick of heat. Don't forget to coat both sides of the fish for the best tasting experience.
Lemon Dill Sauce for Salmon
The best part about our lemon dill salmon is the creamy sauce. It takes just minutes to make with simple condiments from your pantry. Here are the main ingredients you will need:
Olive Oil
Dill
Lemon Zest
Mayonnaise
Yogurt
The sauce is creamy and thick, yet with the tang of lemon and the fresh flavor of dill, featuring the taste of summer.

How to Make Lemon Dill Salmon
Today's lemon dill salmon recipe is ideal for recreating a gourmet dining experience at home. Here's how we made the dish:
Step 1: Microwave the potatoes and radish.
Step 2: Season the salmon. Set aside.
Step 3: Arrange the lemon slices and fresh dill before layering seasoned salmon on top.
Step 4: Coat the potatoes and radish with butter and oregano.
Step 5: Bake the salmon and vegetables on the same baking sheet.
Step 6: Make the creamy sauce for salmon.
Step 7: Serve the salmon with the creamy sauce.
For the detailed instructions and measurements of the ingredients, please refer to the recipe card at the bottom of this article.
Store and Reheat Leftover Lemon Dill Salmon
1. Store
Refrigerate cooked salmon in shallow airtight containers or wrap it securely in heavy-duty aluminum foil or plastic wrap to extend its shelf life safely and preserve the quality. You should also store them separately in portions for easier reheating later. 
Cooked salmon will keep for 3 to 4 days in the refrigerator and up to 3 months in the freezer if stored properly.
2. Reheat
We recommend reheating this lemon dill salmon at 300°F in the oven. Also, cover the salmon with aluminum foil to keep it from drying out. The cooked salmon should be reheated to a safe internal temperature of 145° F, according to FDA guidelines. If your salmon isn't hot enough, continue to cook for another few minutes until it reaches the recommended temperature.

What to Serve With Lemon Dill Salmon
We complete this flavorful lemon dill salmon with a simple side dish: kale salad. Packed with vibrant veggies, crunchy nuts, and juicy berries, our kale salad takes only 15 minutes to prepare and tastes like summer in a bowl.
Fresh lime juice is an excellent beverage to include with this meal because it pairs well with seafood. Additionally, it packs a nutritious punch with numerous health benefits.
Lemon Dill Salmon Recipe
Our simple lemon dill salmon recipe takes less than an hour and makes a perfect meal with tender fish and well-seasoned vegetables.
PREP TIME

15 mins

COOK TIME

40 mins

TOTAL TIME

55 mins
COURSE

Main Course

CUISINE

American

SERVINGS

servings

CALORIES

502 kcal
INGREDIENTS
28 oz

boneless salmon

22 oz

potatoes cubed

8 oz

radish

0.5 tsp

salt

0.5 tsp

black pepper

1 tbsp

lemon juice

1 tsp

lemon zest divided

1 tsp

garlic chopped

0.5 oz

dill

0.5 tsp

paprika

0.5 tsp

Cajun seasoning

2 oz

lemon slices

1 tbsp

unsalted butter

1 tsp

oregano

1 tbsp

olive oil

2 tbsp

Japanese mayonnaise

2 tbsp

plain Greek yogurt
INSTRUCTIONS
1
Put 22 oz potatoes and 8 oz radish into a big bowl. Microwave for 7 minutes.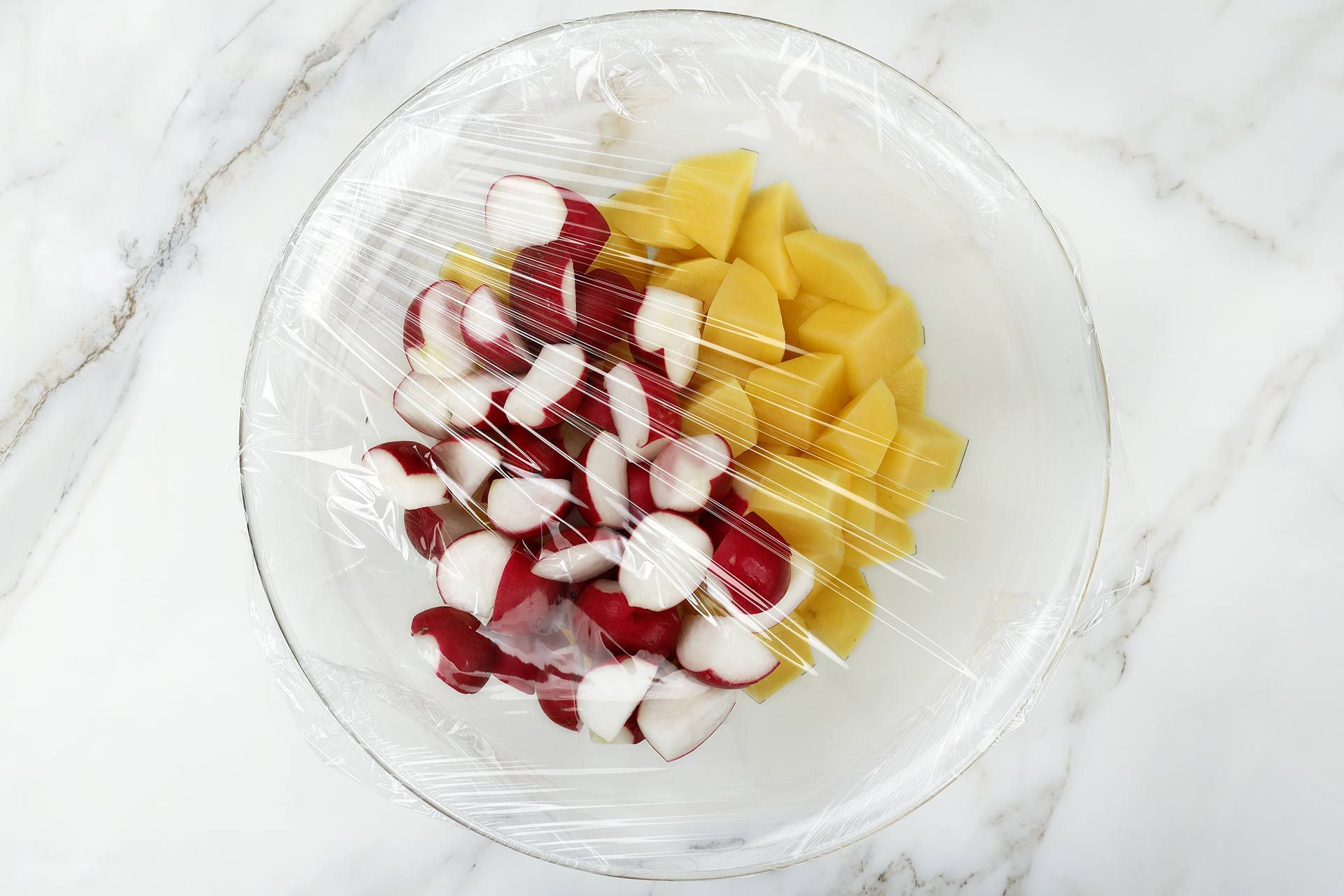 2
Meanwhile, season 28 oz salmon with 1/2 tsp salt, 1/2 tsp black pepper, 1 tbsp lemon juice, 1/2 tsp lemon zest, 1 tsp garlic, 1 tbsp dill, 1/2 tsp paprika, and 1/2 tsp Cajun seasoning.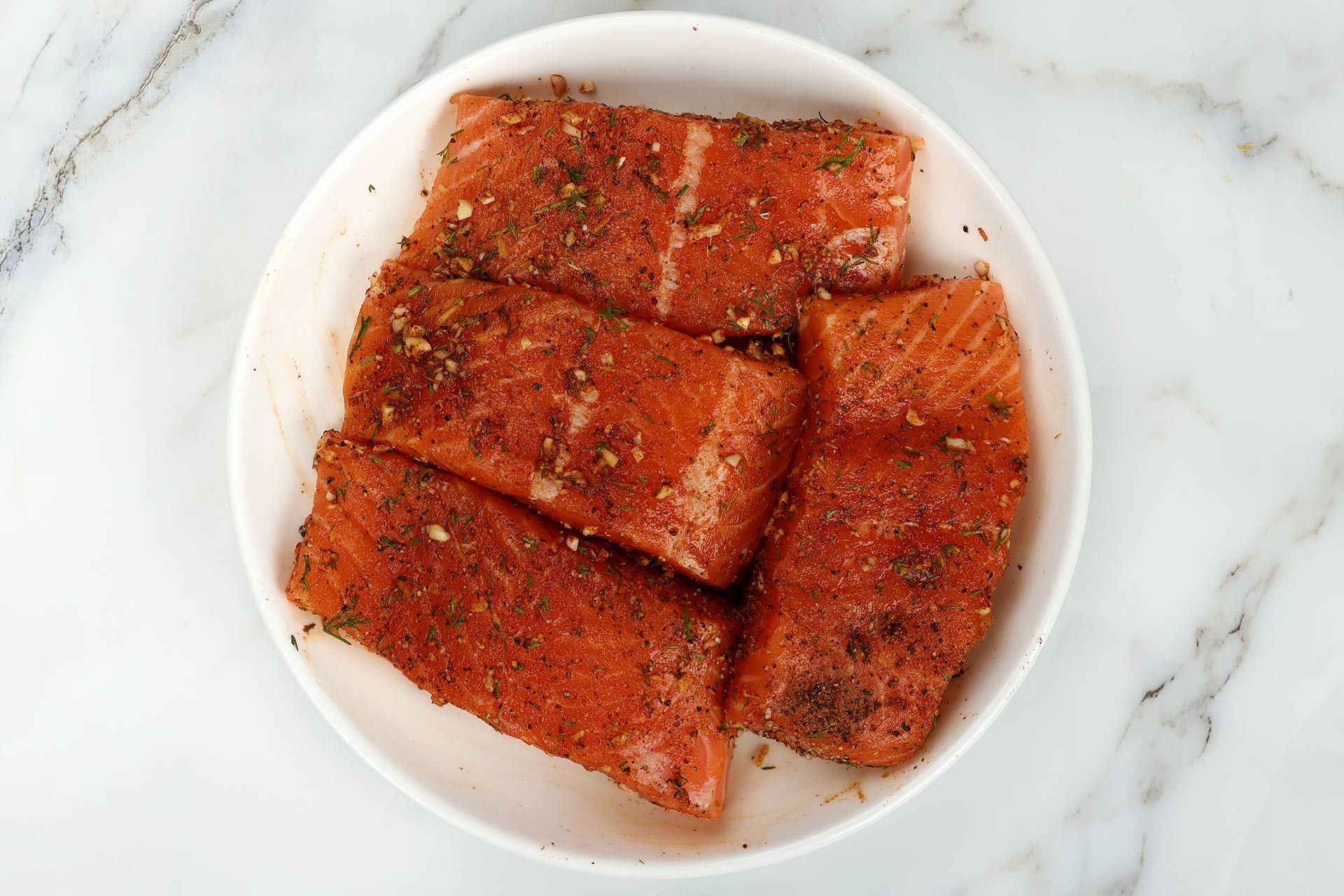 3
Arrange 2 oz lemon slices and the remaining dill at the bottom of a baking dish. Then place the salmon on top of the lemon and dill.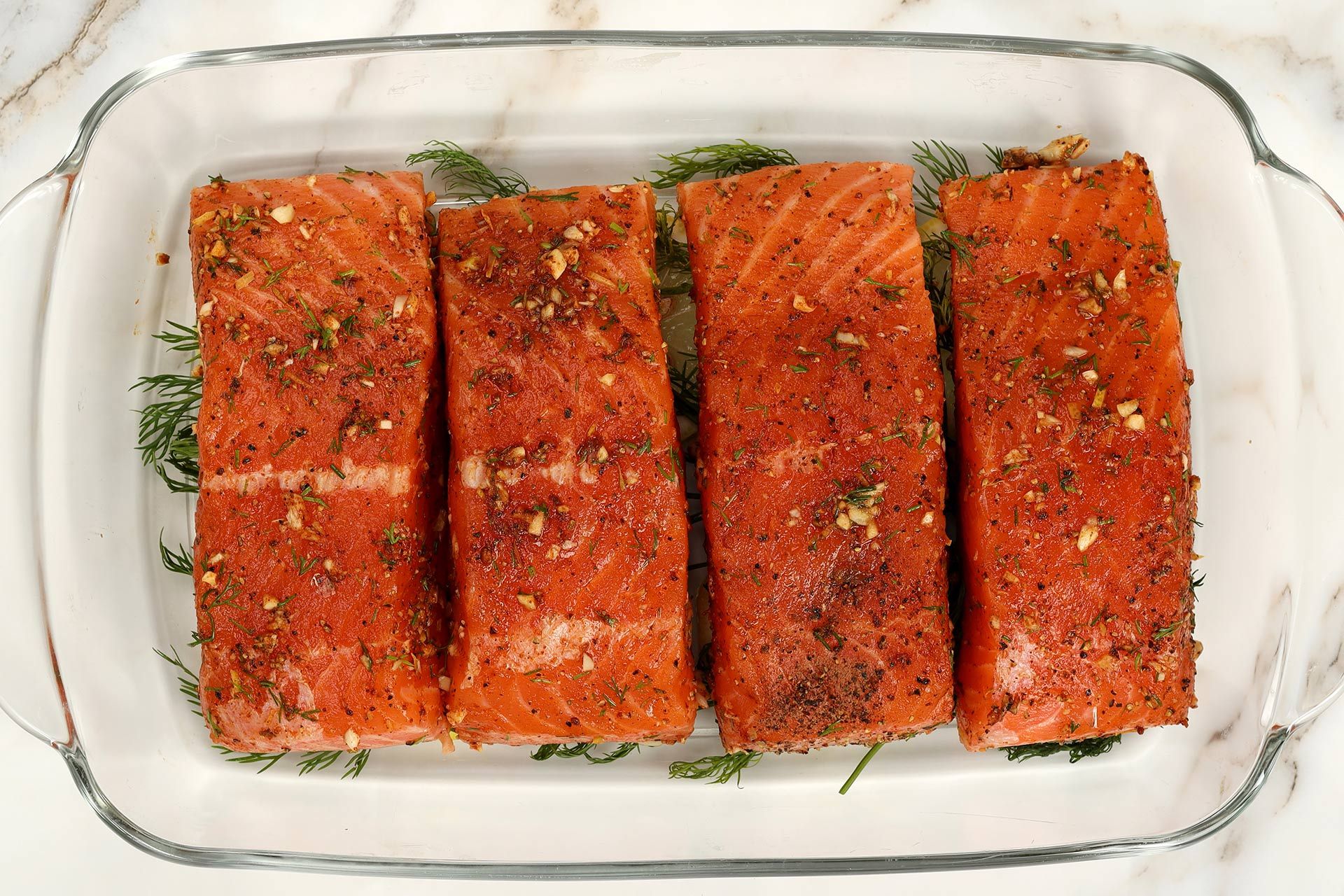 4
Add 1 tbsp butter and 1 tsp oregano to the potatoes and radish bowl. Gently mix to coat the vegetables.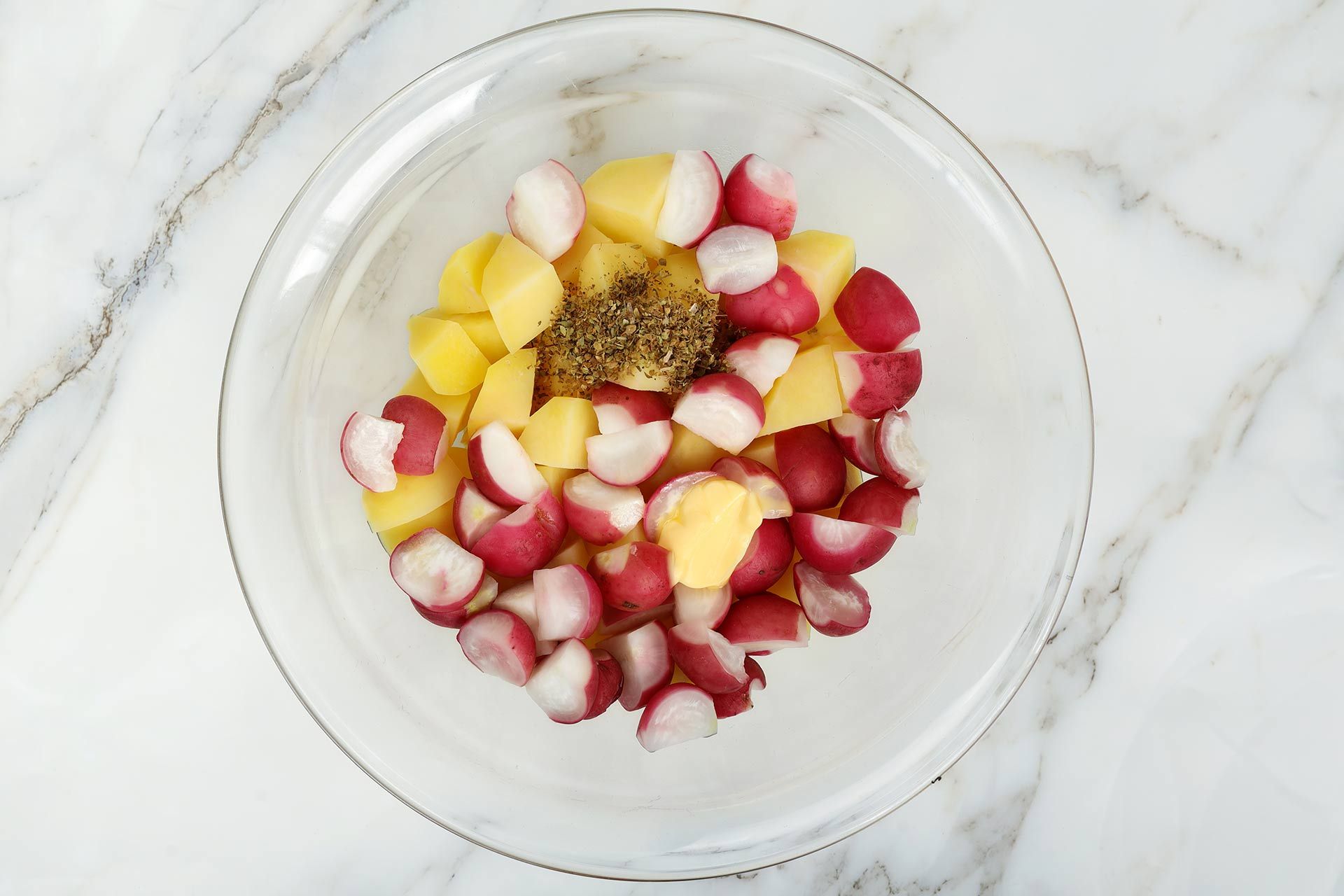 5
Place the salmon dish in the center of a baking sheet with the seasoned vegetables arranged around it. Bake at 380°F for 25 minutes.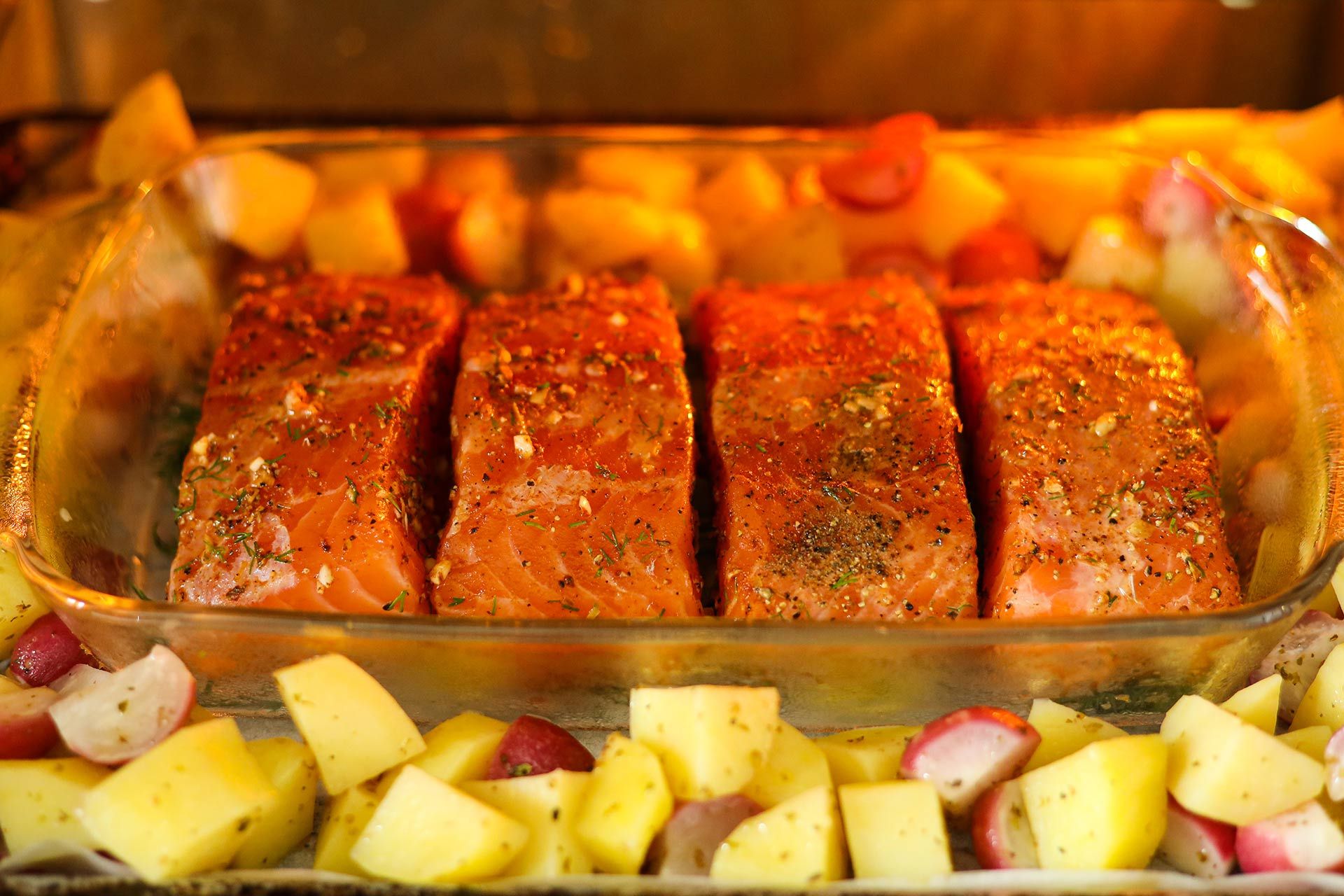 6
Meanwhile, make the sauce by whisking 1 tbsp olive oil, 1 tbsp dill, 1/2 tsp lemon zest, 2 tbsp mayonnaise, and 2 tbsp Greek yogurt in a small bowl. Set aside.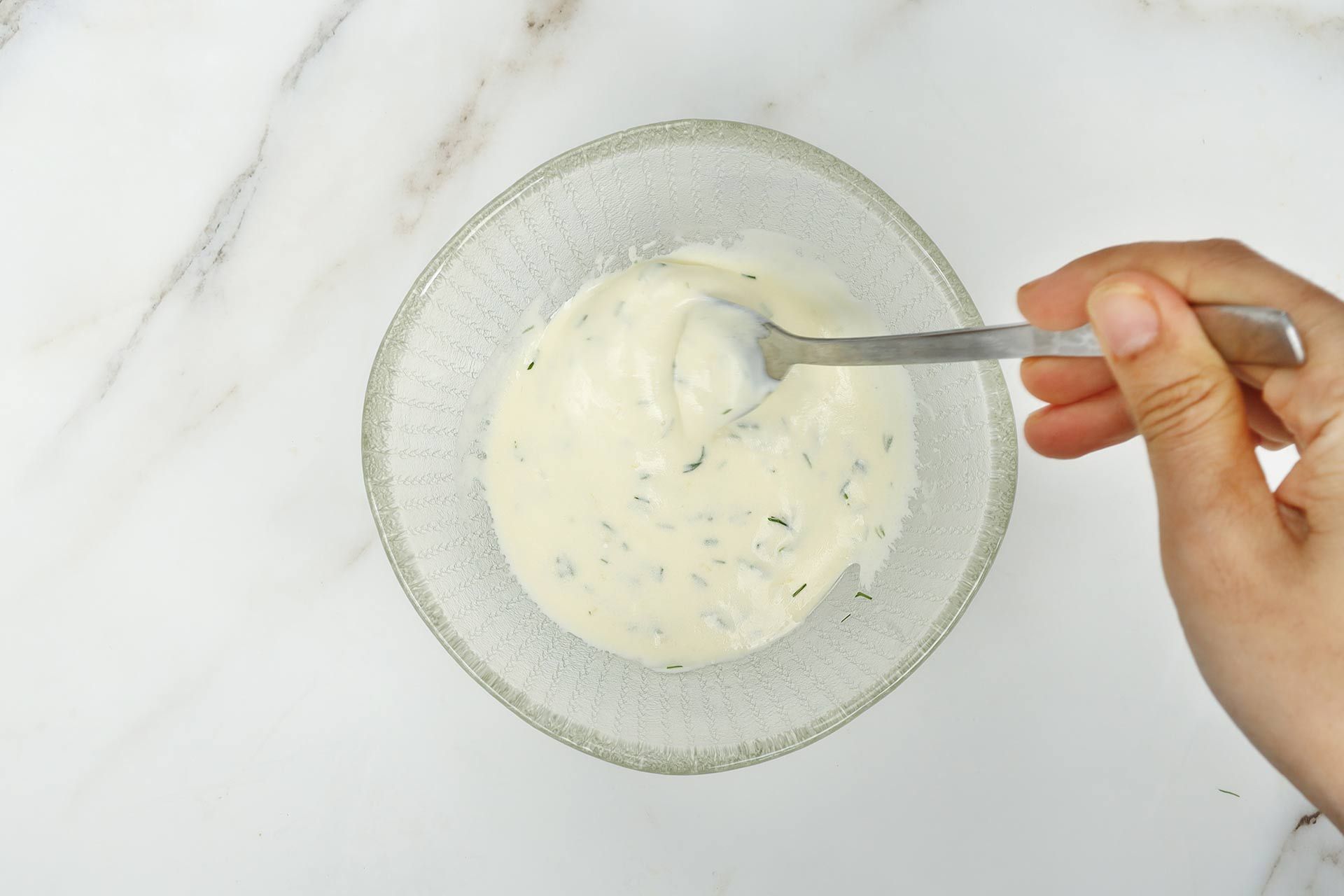 7
Once the salmon is done, arrange the fish and vegetables on serving plates. Drizzle the sauce and serve hot.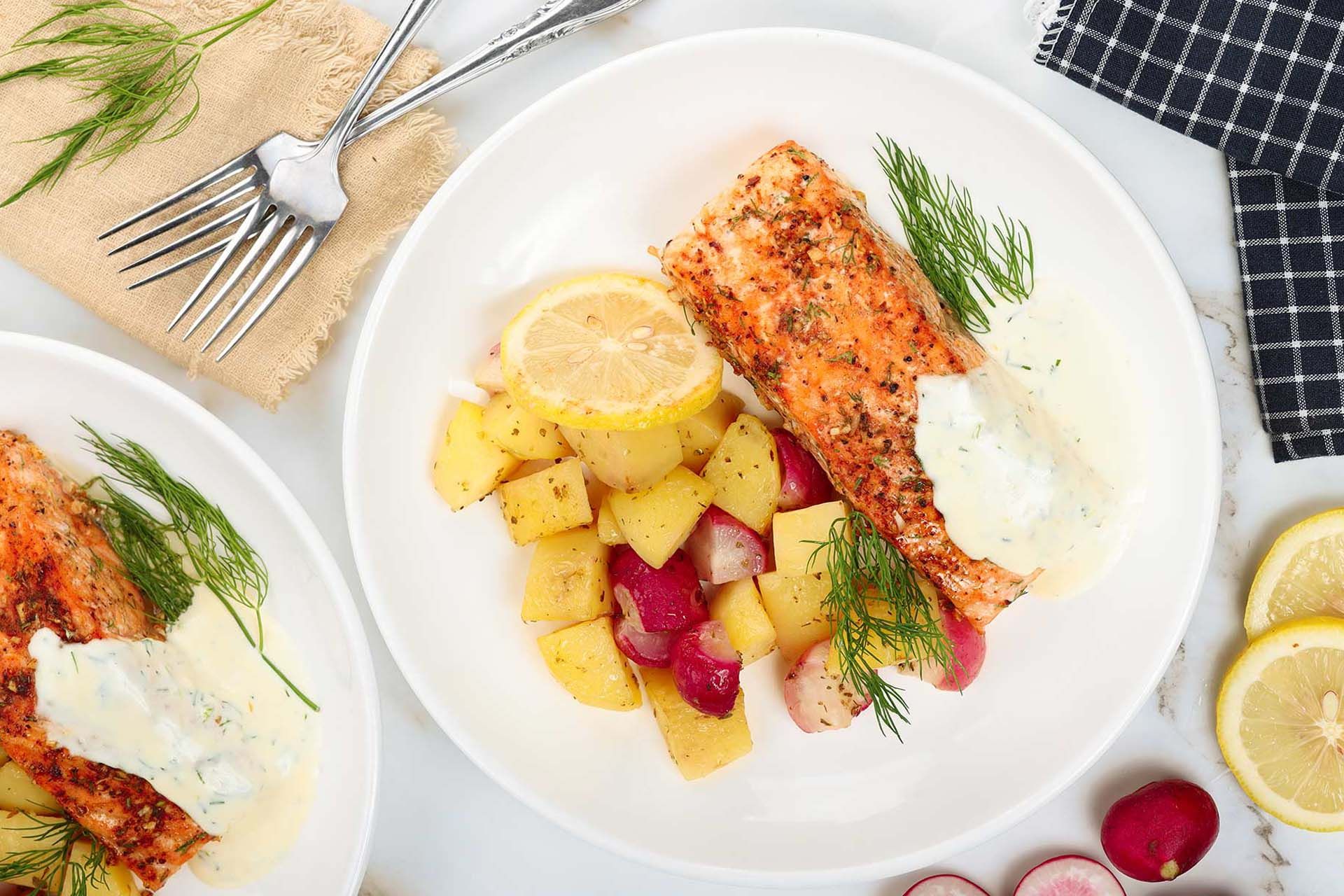 NUTRITION
Nutrition Facts
Lemon Dill Salmon Recipe
Amount Per Serving (1 serving)
Calories 502
Calories from FDA
% Daily Value*
Fat 21g27%
Trans Fat g
Polyunsaturated Fat 3g
Monounsaturated Fat 6g
Cholesterol 121mg40%
Sodium 591mg26%
Potassium 1579mg34%
Carbohydrates 30g11%
Protein 48g96%
Vitamin A 748IU15%
Vitamin C 35mg39%
Calcium 70mg5%
Iron 2mg11%
* Percent Daily Values are based on a 2000 calorie diet.
Previous Recipe
Salmon Loaf
Salmon Loaf
Next Recipe
Air Fryer Salmon
Air Fryer Salmon
Luna Regina
A writer and entrepreneur, Luna's day doesn't start at the computer keyboard, but in the kitchen.
Half of her working hours are spent on mixing ingredients for her recipes. The other half involve working with the tech team to research and test the tools and appliances that promise to make kitchen work effortless and mess-free. From a kitchen knife or water filter to the Instant Pot, if it can help save time and effort for the home cook, Luna and her team are on it.
Luna's extracurricular pastimes include camping, travel, and photography.