Calling all salmon lovers! Prepare to be dazzled by these poached salmon recipes that will have your taste buds dancing with pure, unadulterated joy. Picture this: perfectly poached salmon, delicately cooked to tender perfection, swimming in a sea of fragrant herbs and spices. Whether you're a seasoned chef or a kitchen novice, our collection is sure to ignite your culinary creativity and leave you craving for more.
Our Top 5 Favorite Poached Salmon Recipes
Those are our suggestions for a delicious meal with poached salmon!
1. Simple Poached Salmon
 This dish is like a gentle hug for your taste buds, wrapping them in the tenderness and succulence of perfectly cooked salmon. As you take your first bite, the tender flesh effortlessly flakes apart, revealing its delicate texture. The subtle hints of herbs and spices elevate the salmon to new heights, creating a symphony of taste that will leave you craving for more.
Go to Recipe
2. Poached Salmon in a Spicy Miso Broth
 Get ready to swim in flavor and savor every delicious bite with this miso-poached salmon recipe. The salmon chunks are poached in a broth infused with miso, oyster sauce, fish sauce, ginger, garlic, and some spices. It boasts a perfect harmony of delicate and deep flavors, so each spoonful brings utter delight to all of your senses. It's served with egg noodles and tofu, creating a wholesome, cozy dish to enjoy whenever you need that gastronomical comfort.
Go to Recipe
3. Poached Salmon in Coconut Lime Sauce
Unlike the previous two dishes, this one is a party flavor packed with zesty, savory, creamy, and aromatically spicy goodness. The secret? A broth made from caramelized garlic, ginger, and lemongrass stirred into coconut milk. Serve it with rice or vermicelli noodles for a hearty, satisfying dish that embodies all the warmth, comfort of a classic Asian homemade meal.
Go to Recipe
4. Poached Salmon With Creamy Dill Sauce
Whether you're a seafood aficionado or just dipping your toes into the world of cooking, this poached salmon drizzled with creamy dill sauce is the perfect catch. It still retains all of the fish's natural, soft taste, but adds a creamy, zesty sauce to enhance the flavors. The delicate, elegant mix of flavors feels like something straight out of a five-star restaurant kitchen, but with a perfect simplicity that allows you to put it together in less than half an hour.
Go to Recipe
5. Shallow-Poached Salmon With Leek Beurre Blanc
For those looking to try something brand-new and albeit a little challenging, take a look at this recipe. The fish is shallow-poached, which requires it to only be partially submerged in liquid and then simmered with lemon slices, leek, thyme sprigs, and wine. The filets are perfectly cooked, gently nestled in a warm bath of aromatic liquid that gives it an unparalleled elegance. Serve the fish over a bed of rice and herbs for a restaurant-worthy dish that will elevate your meal the second it hits the dining table.
Go to Recipe
Benefits of Poaching Salmon
Poaching is a cooking method in which your filets are kept submerged under a hot liquid over low-heat temperatures. With just a pot or a skillet and a liquid of choice, such as water, wine, broth, or milk, along with some aromatics, if preferred, you're good to go. This only takes around 10 minutes and requires very little preparation and cleaning up. 
Plus, since there are no extra fats or oil needed, it is a wonderful choice for those seeking healthy ways to make and enjoy food.
Difference Between Poaching and Boiling
While both poaching and boiling involve cooking food in liquid, there are some key differences between the two techniques.
Poaching is a gentle cooking method that involves submerging food in liquid that is heated to a low temperature, usually around 160-180°F (71-82°C). The liquid can be water, broth, or a combination of both, and is often flavored with herbs, spices, and aromatics. The goal of poaching is to cook the food slowly and evenly, without overcooking or drying it out. When it comes to cooking salmon, poaching is often preferred as it helps to retain the fish's delicate texture and flavor.
Boiling, on the other hand, involves cooking food in rapidly boiling liquid, typically water. The temperature of the liquid is much higher, usually around 212°F (100°C). Boiling is a faster cooking method and is often used for foods that require a shorter cooking time, such as pasta or vegetables. However, boiling can be harsh on delicate foods like fish, as the high heat can cause the proteins to toughen and the flavors to become diluted.
How to Tell If Salmon Is Done
The number one rule for a perfectly poached salmon is not to overcook it. If done right, the juiciness of these moist filets will be extremely rewarding.
Before cooking your salmon, bring the liquid to a boil, then reduce the heat to a low temperature. After that, place your filet in and cook for about 7 to 10 minutes depending on the filet's thickness and the desired doneness. After 7 minutes, you should take it out and gently press it with a spoon to test its firmness, then decide if it's good to go.
Do You Remove the Skin When Poaching Salmon?
If you love the slightly chewy texture of skin-on poached salmon, then feel free to leave it on. Nonetheless, if you wish to remove the skin, then it's better to do it after your filet is cooked. Just wait for it to cool down a little bit, then peel off the skin. Or you can simply get skinless salmon filets from the stores.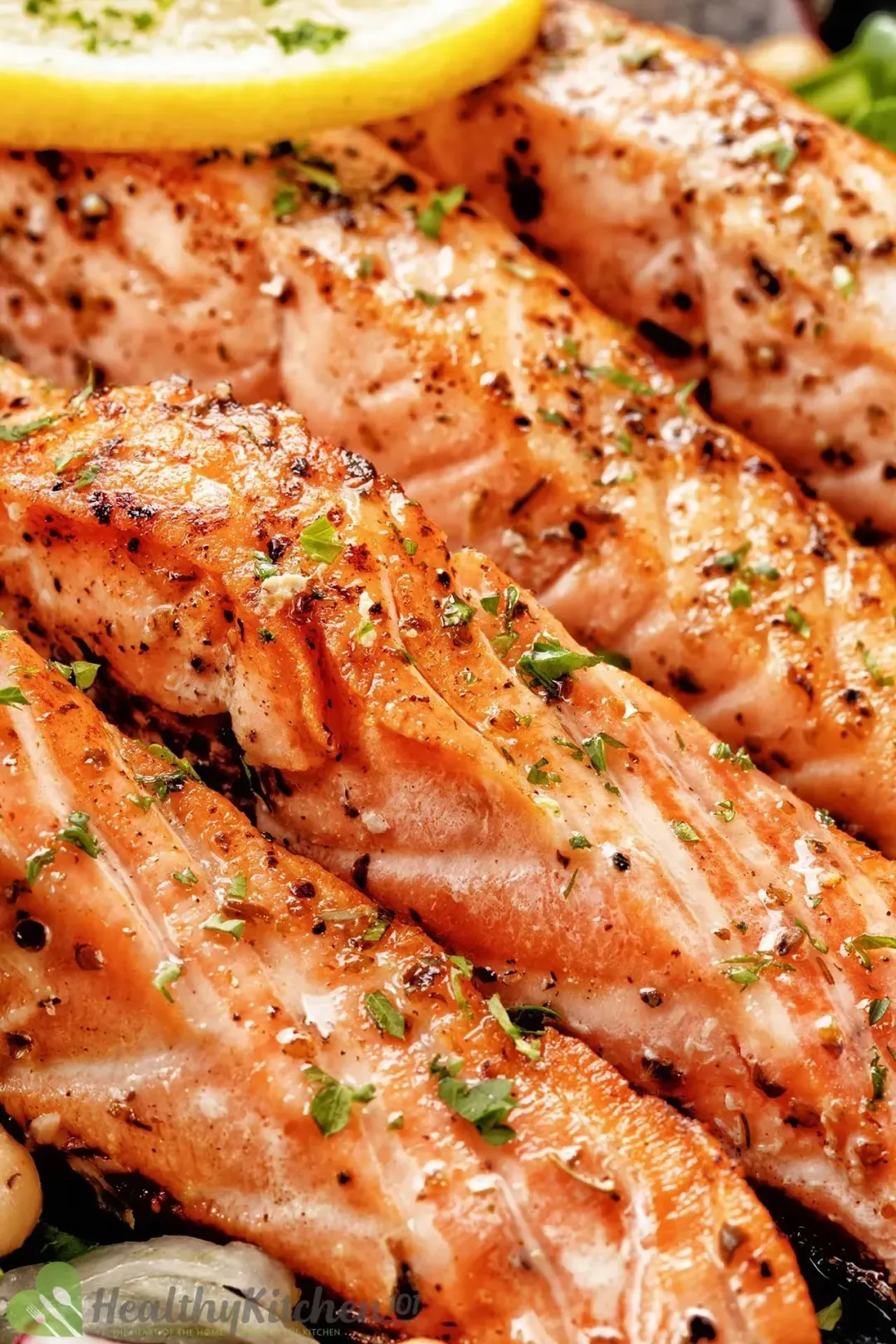 Previous Recipe
Pan Salmon Recipes
Pan Salmon Recipes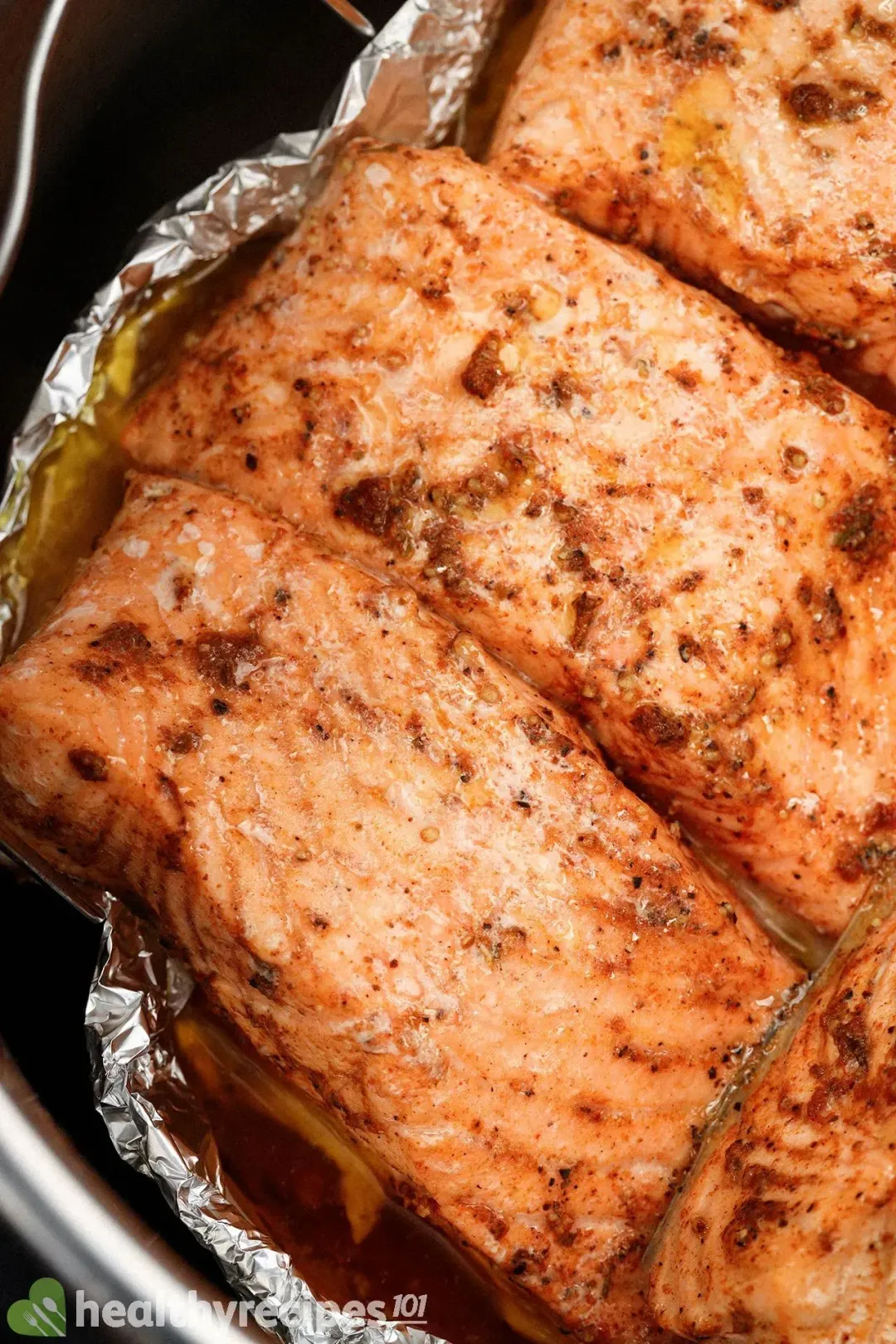 Next Recipe
Instant Pot Salmon Recipes
Instant Pot Salmon Recipes
Writer, Author
Luna Regina is an accomplished writer and author who dedicates her career to empowering home cooks and making cooking effortless for everyone. She is the founder of HealthyKitchen101.com and HealthyRecipes101.com, where she works with her team to develop easy, nutritious recipes and help aspiring cooks choose the right kitchen appliances.
Comments/ Reviews