This poached salmon recipe is a simple instruction for healthy, flavorful salmon fillets.
Trying to eat less fat can sometimes be difficult as there aren't many options to go with. So today, we're expanding your fat-free food choices with this saucy, flaky, extra-fragrant poached salmon.
If you're in a hurry, click here to instantly see our poached salmon recipe. Or, scroll along and learn more about this dish.
What Is Poached Salmon?
Everyone knows poached eggs, and it's a really amazing way to cook eggs. We bring a pot of water to a boil, crack in one egg, wait for it to cook, and serve it over avocado toast.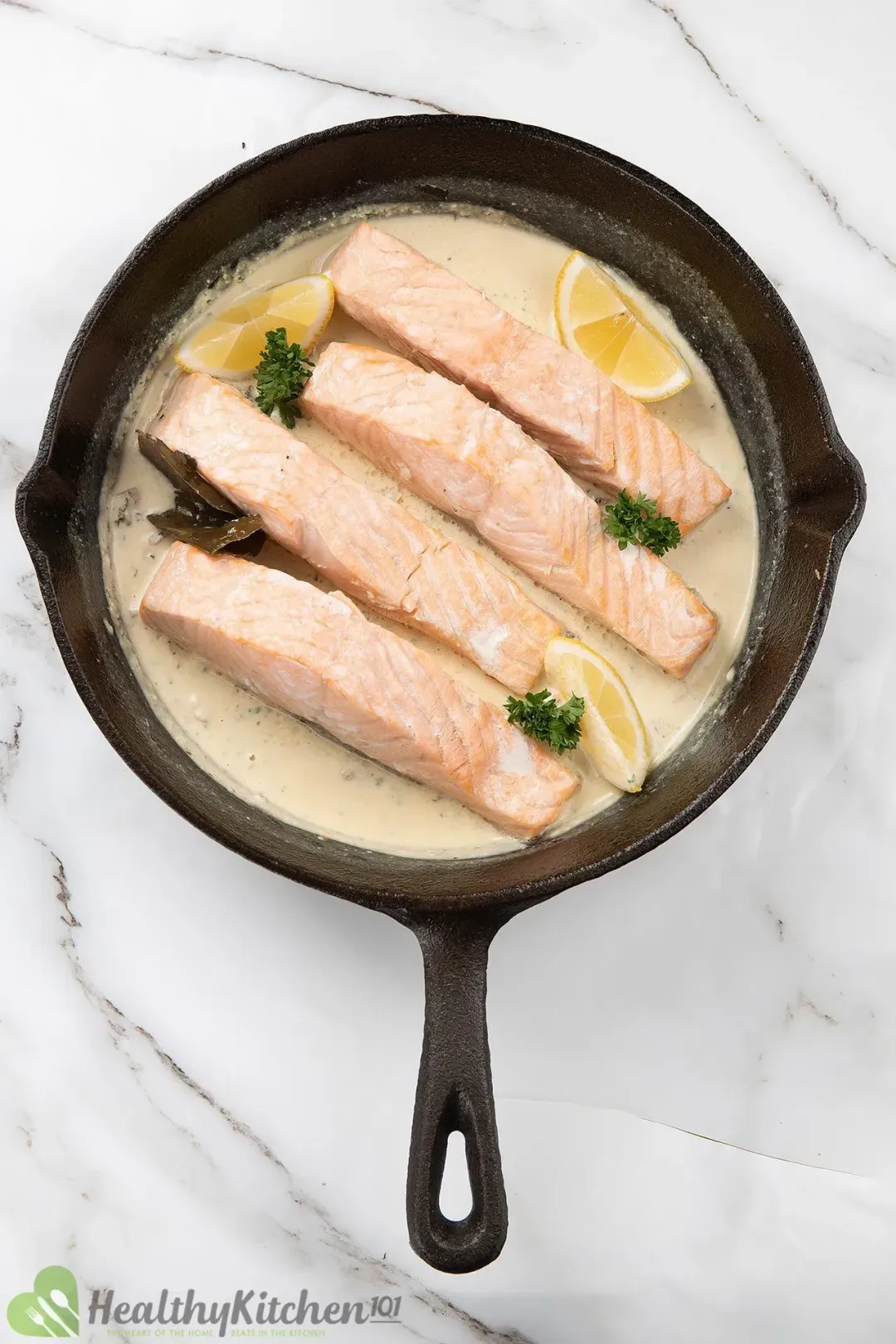 But poaching takes on a whole new meaning when it comes to other foods.
To poach salmon, we only add around 1 cup of water to a pot, bring it to a boil, and add the salmon fillets in.
Unlike with boiling, we don't submerge the fillets, as we want to avoid the risk of taking out all the natural moisture of the fish. It's also more convenient than steaming, as it doesn't require a steaming basket.
In this poached salmon recipe, we don't just add water to the pot, we also add plenty of vegetables and herbs. The purpose is to infuse the water with flavors and fragrances, and as the fillets cook, they'll become extra flavorful.
Is Simple Poached Salmon Healthy?
Simple poached salmon is a healthy dish, nutrient-wise. Salmon is a good source of proteins and is packed with omega 3, a type of good fat rarely found in nature.
Omega 3 has been proven to have many health benefits, especially for the heart. It may help with raising good cholesterol levels and preventing plaque formation.
In terms of cooking method, poaching is a good way to help you consume less fat. If this is not your aim, then poaching is not much healthier than frying, searing, or stir-frying.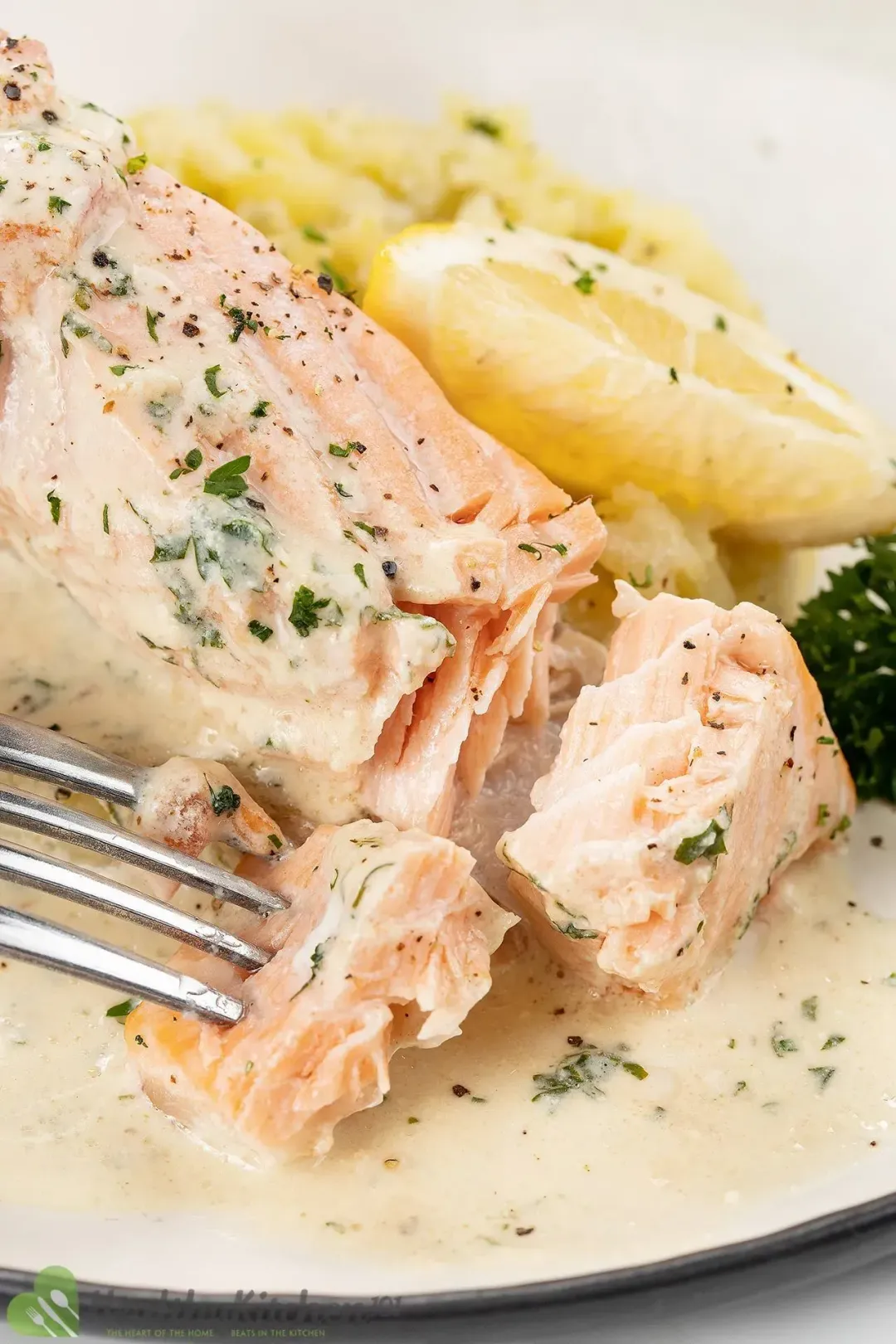 So if you want more flavorful, healthy salmon dishes, check out our other salmon recipes:
Best Seasoning for Salmon
Salmon is really amazing — simply season it with salt and pepper, and it's already tasty. Today, besides infusing salmon with aromas, we're also making a basic lemon cream sauce to drizzle over:
1. Lemon Cream Sauce
We start off by reducing the poaching water down to a quarter of a cup. A cream sauce needs a flavorful stock as the base, so we're using the poaching water instead of chicken stock.
When it's reduced, remove the veg and herbs, and add milk, cream, lemon juice, garlic, onions, and chopped-up tomatoes. It'll be really creamy, fragrant, and packed with flavors.
If this lemon cream sauce isn't to your taste, you can try making the classic dill sauce.
2. Dill Sauce
Dill sauce is a combination of sour cream, dill, mustard, milk, lemon juice, and garlic. It's tangy and creamy, with a pungent kick from the mustard — works every time with salmon.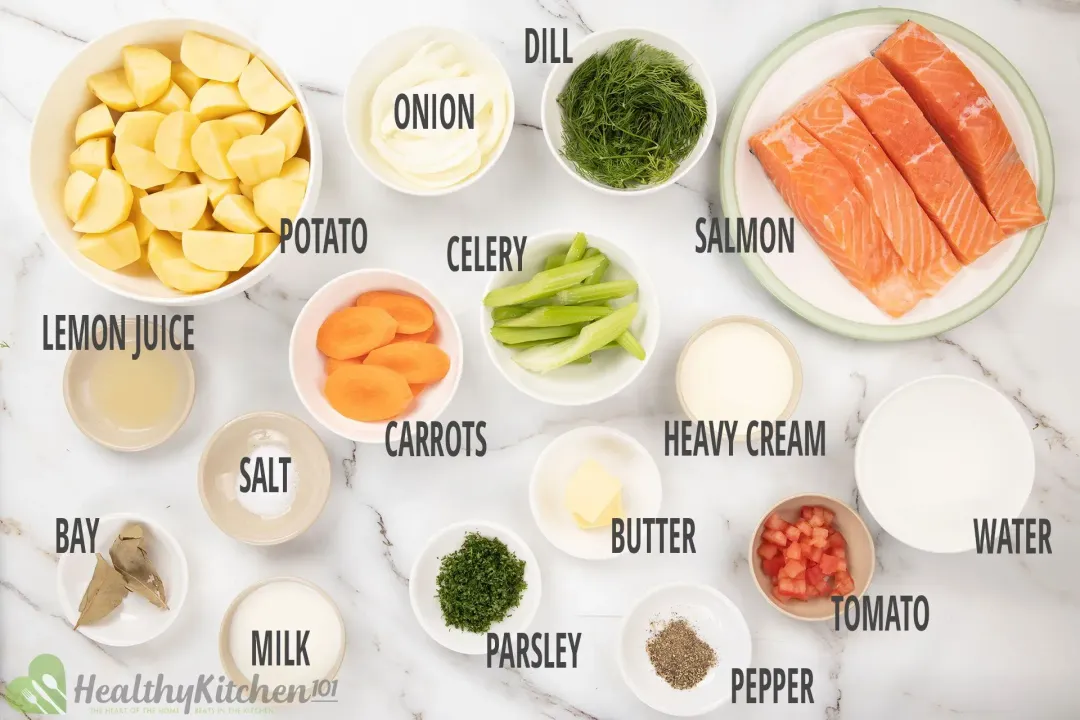 How to Make Simple Poached Salmon
Here's an overview of our simple poached salmon recipe. For a more detailed guide, scroll down to the recipe section.
Cooking Poached Salmon from Frozen
Have frozen salmon fillets in your freezer and want to poach/cook them? Let's start by either thawing them out first.
If you own a microwave, use the defrosting function and it'll take around 15 minutes to thaw the fillets.
If you don't have a microwave, here's a popular thawing method:
Wrap your fillets in cling film, and submerge them in a large bowl of cold water. Change the water every 10 minutes until they're soft and no longer frozen.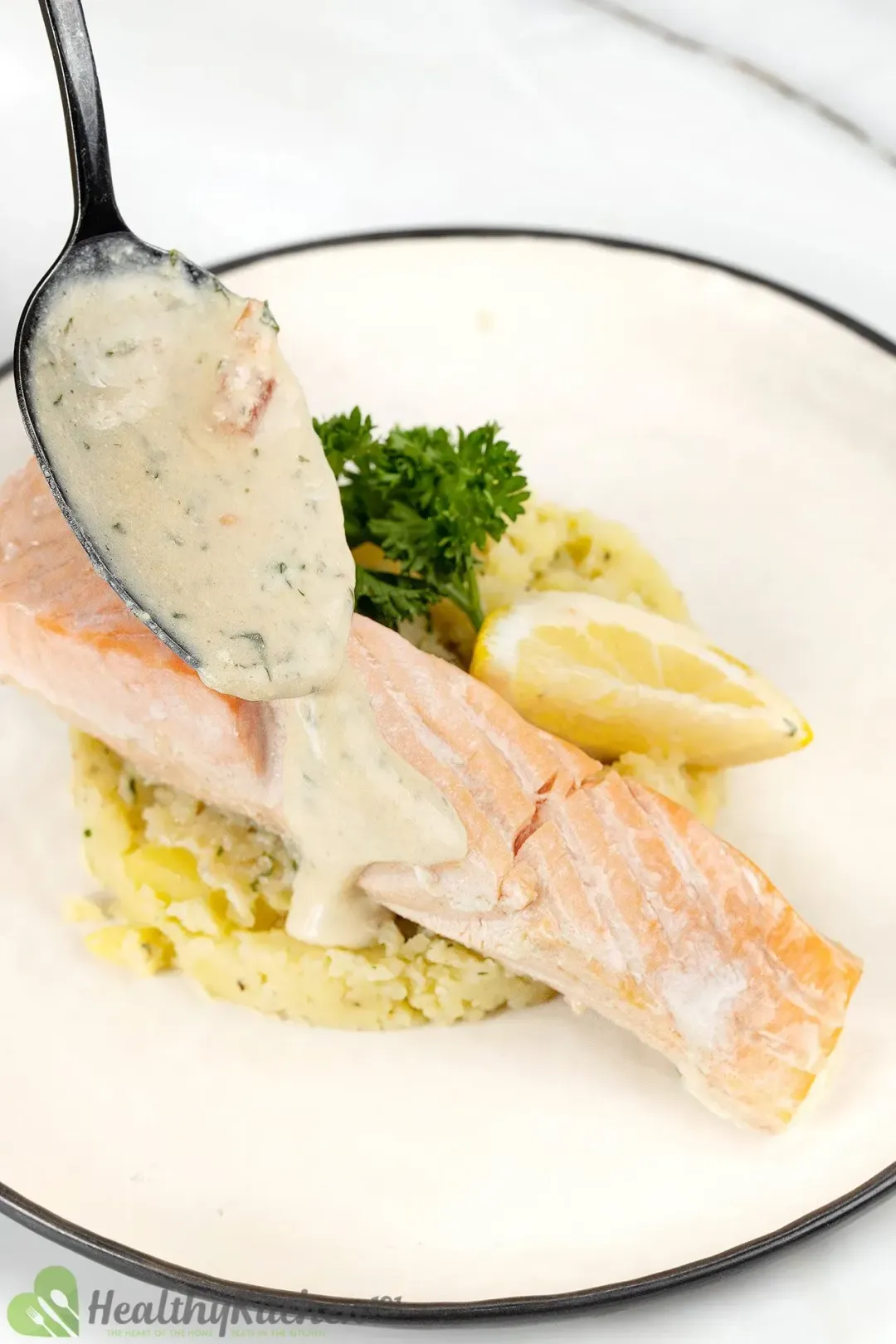 Water transfers heat better than air, so doing this helps to "heat" up the fillets.
It's important that you don't leave the fish to thaw completely to room temperature. This allows bacteria to grow and make your fish inedible.
What to Serve with Simple Poached Salmon
We often pair our dishes with sides that have a different texture and flavors so the meal gives a variety of mouthfeels.
1. Mashed potatoes
Salmon needs some healthy carbs as it's already packed with proteins and healthy fats. So in between bites, it'd be very comforting to have something creamy and buttery.
2. Watermelon arugula salad
To cut through the richness, there's nothing better than a tangy, fresh salad. We especially like this one because it has juicy watermelon cubes and fragrant arugula in lemon dressing.
3. Orange juice
To end the meal, simply have a classic orange juice. It's quick, nutritious, delicious, and super simple to make.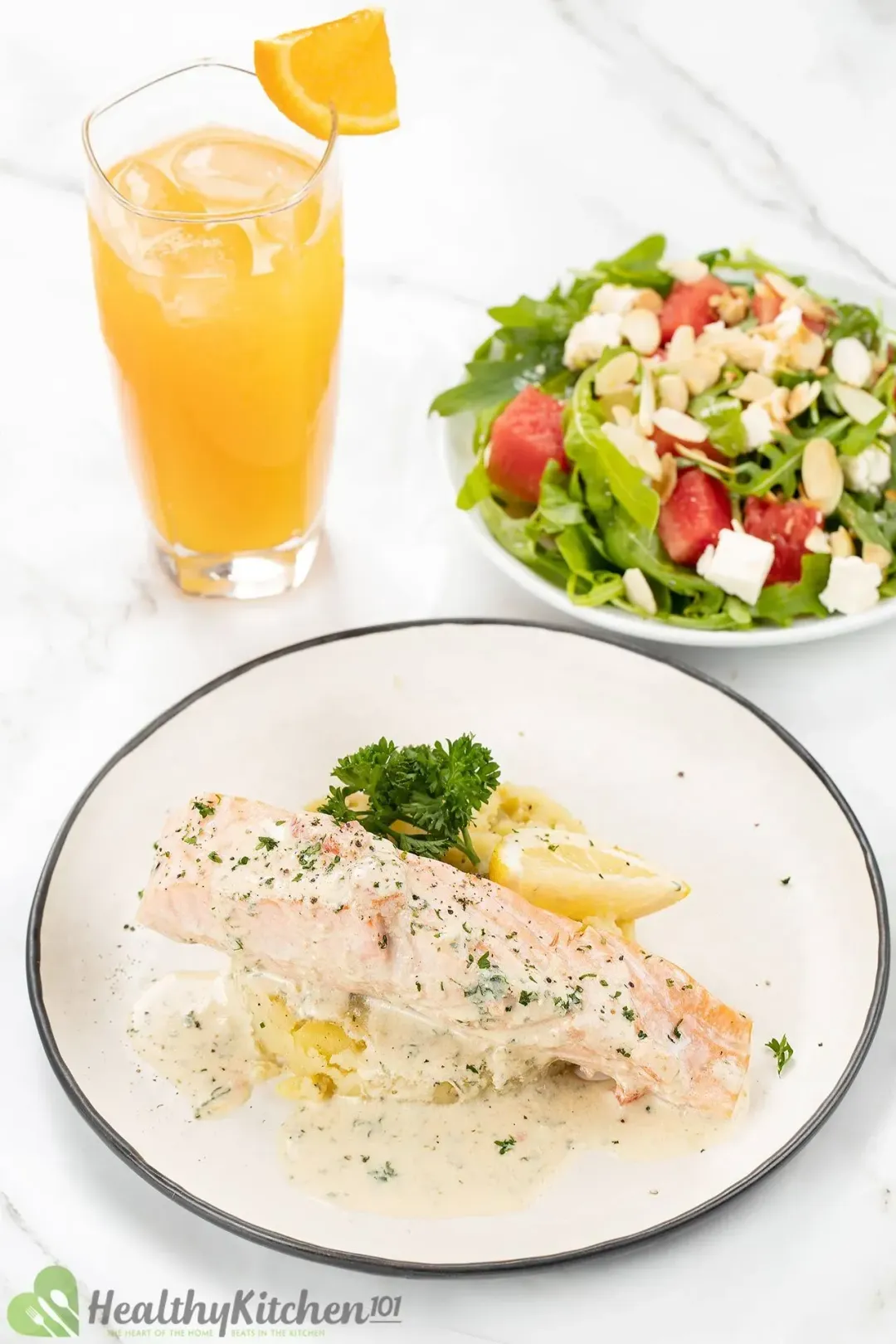 How Long Does Poached Salmon Last?
Cooked salmon (or fish in general) lasts for a maximum of 4 days in the fridge, and up to 2 months in the freezer. So you can store leftovers in the fridge and have it within the week after a quick reheating.
To store leftovers, it is best to keep everything in a container that's microwave-friendly or oven-safe. Or, place the salmon and mashed potatoes in two different containers/dishes and cover them with plastic wrap.
If you intend to keep the meal to have it, say, next week, we recommend freezing. Keep the salmon, the sauce, and mashed potatoes in different containers, seal, and freeze away.
To reheat, simply poach the salmon one more time in plain water. For the sauce and potatoes, either microwave them or reheat them in separate skillets.
Since it's super quick, we recommend you make the mashed potatoes beforehand and have all the ingredients measured and prepped. Then all you have to do is poach the salmon and make the sauce, which only takes around 10 minutes in total.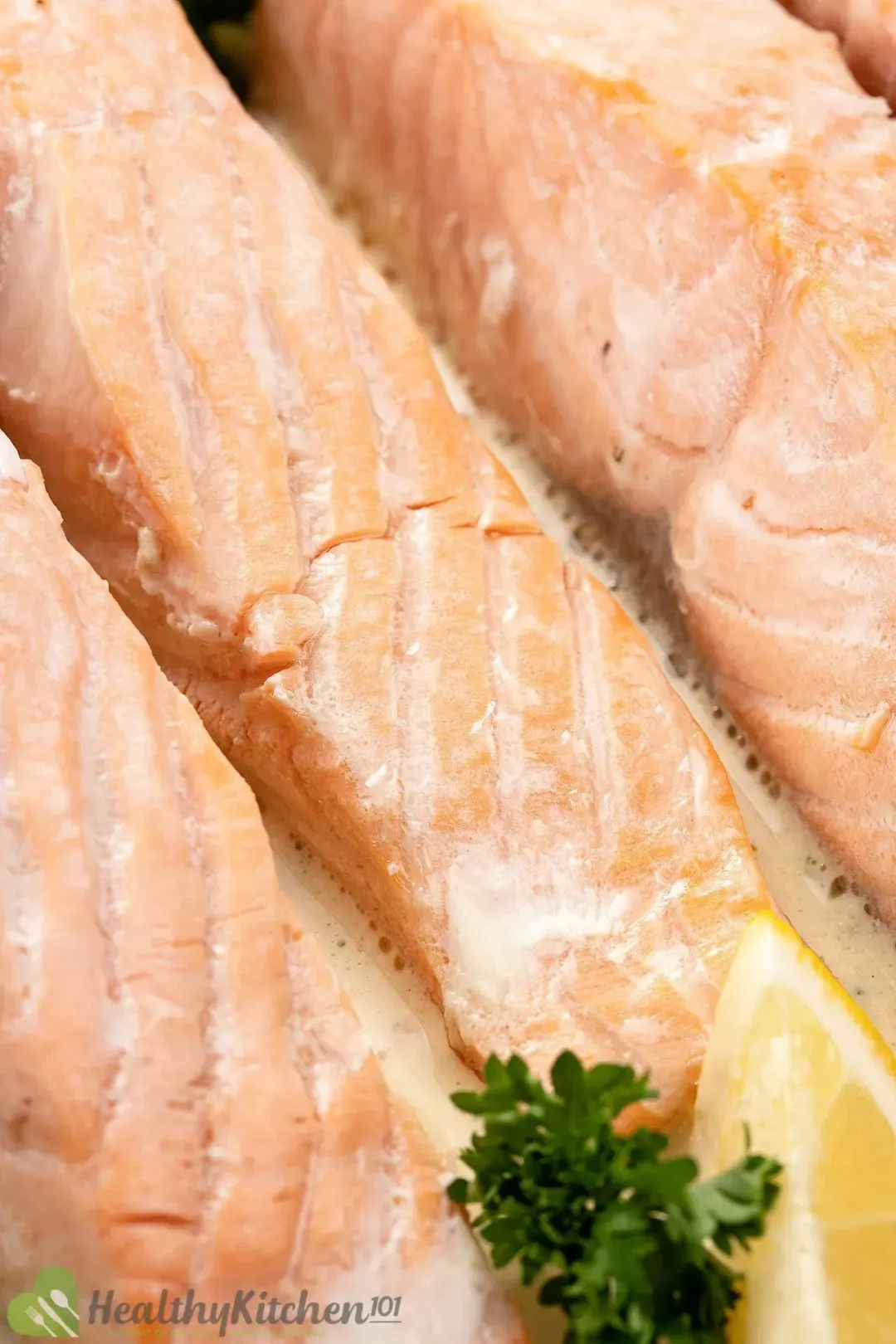 Poached Salmon Recipe
Poached salmon recipe is a simple dish to have whenever. It's quick, and it's a healthy option to include in your diet.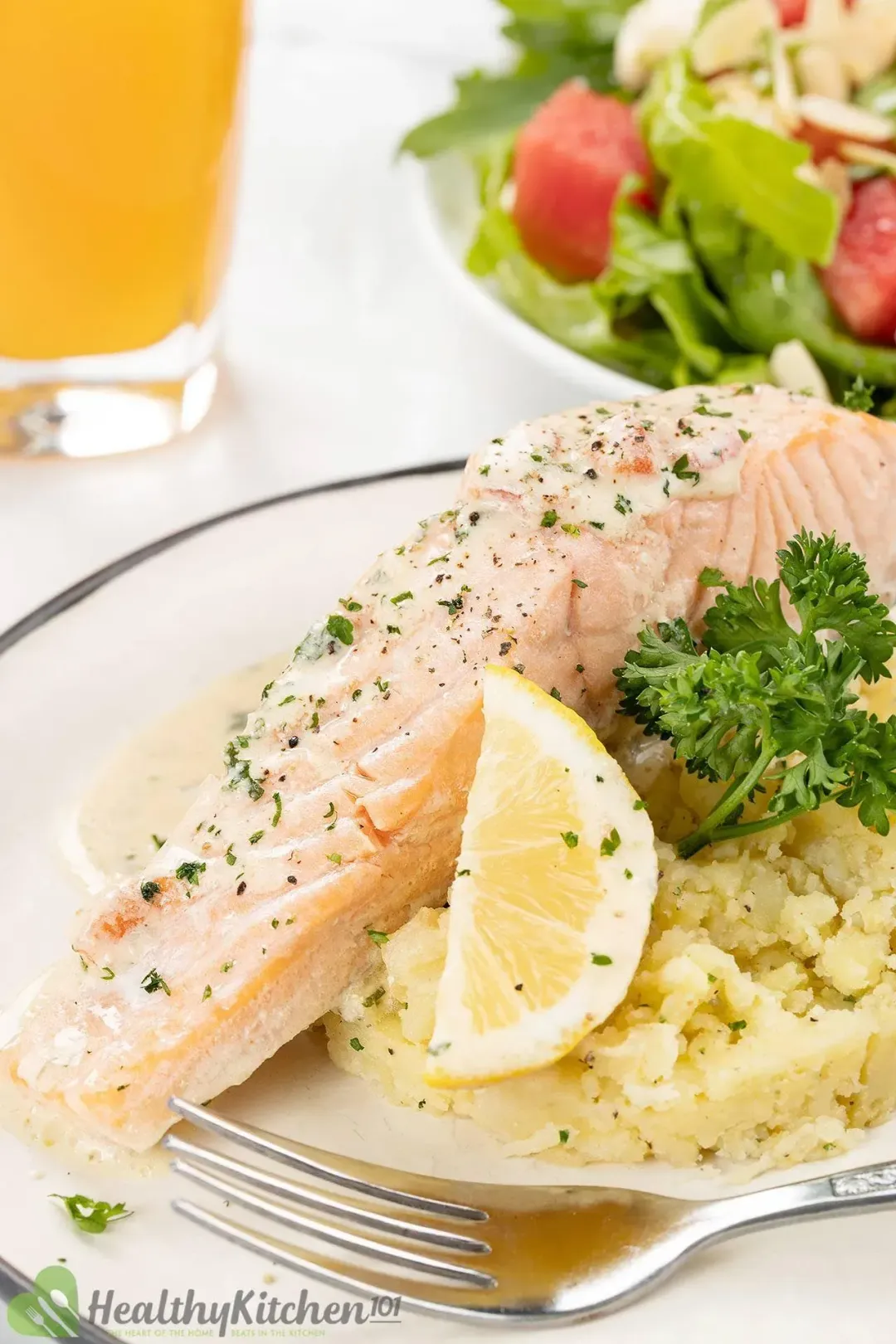 cook TIME

15 mins

prep TIME

10 mins

total TIME

25 mins
COURSE

Main Course

CUISINE

Global

SERVINGS

servings

CALORIES

473 kcal
INGREDIENTS
24 oz

potato

(peeled and quartered)

1/2 tsp

salt

(divided in half)

1/2 tsp

pepper

(divided in half)

2 oz

celery

(whole or cut into chunks)

2 oz

carrots

(peeled and cut into sticks)

2 oz

onions

(peeled and cut in half)

28 oz

skinless boneless salmon

(4 fillets)

2 tbsp

parsley

(finely chopped)
INSTRUCTIONS
1
Microwave the potatoes: add the quartered potatoes into a bowl and cover it with plastic wrap. You can place a larger dish on top of the bowl to save the wrap for other uses. Place it into the microwave and cook for 7 minutes.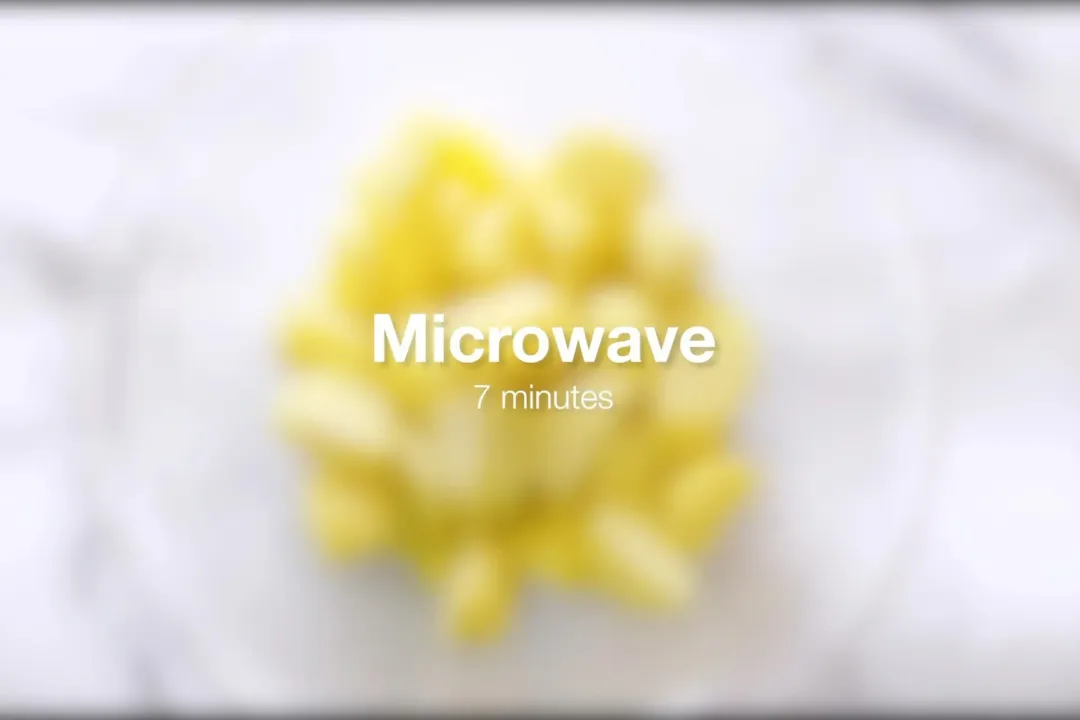 2
Season and mash the potatoes: remove the plastic wrap/dish and add 1/4 tsp salt, 1/4 tsp pepper, 2 tbsp butter. Use a fork to mash the potatoes and mix well.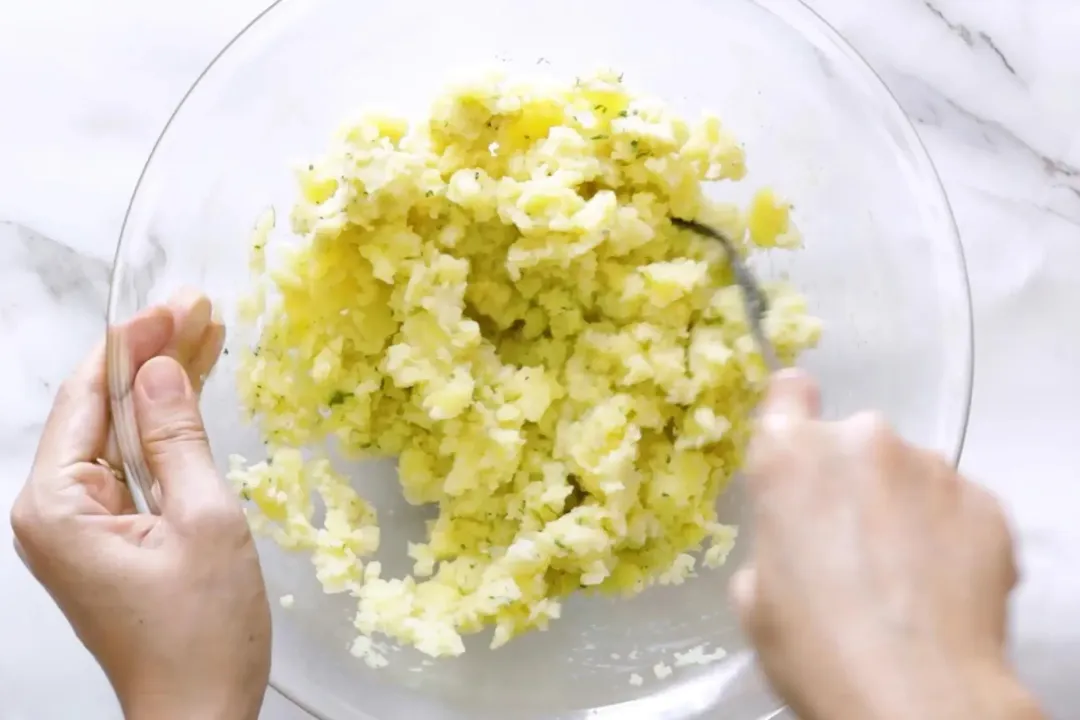 3
Poach the salmon: add 1 cup water, 2 oz whole celery, 2 oz whole carrots, 2 oz diced onions, 2 bay leaves, 0.25 oz dill, 1/4 tsp salt to a pot and bring it to a boil. Turn the heat down to low and add the fillets. Put on the lid and simmer the fillets for 5 minutes. Turn off the heat, carefully take out the fillets and leave aside.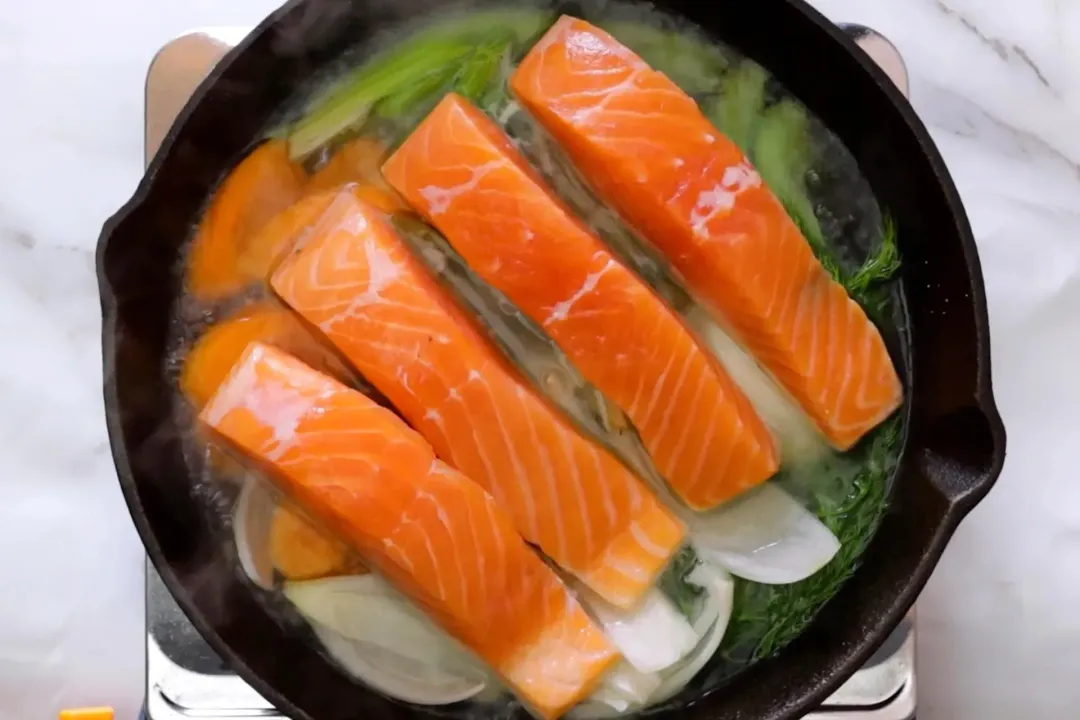 4
Make the cream sauce: remove the herbs and vegetables from the pot and reduce the infused stock to about 1/4 cup. Add 1/4 cup heavy cream, 1/4 cup whole milk, 2 tsp lemon juice, diced tomatoes, 1 tsp parsley and cook for 2 minutes over medium heat. Simmer some more if you want a thicker sauce.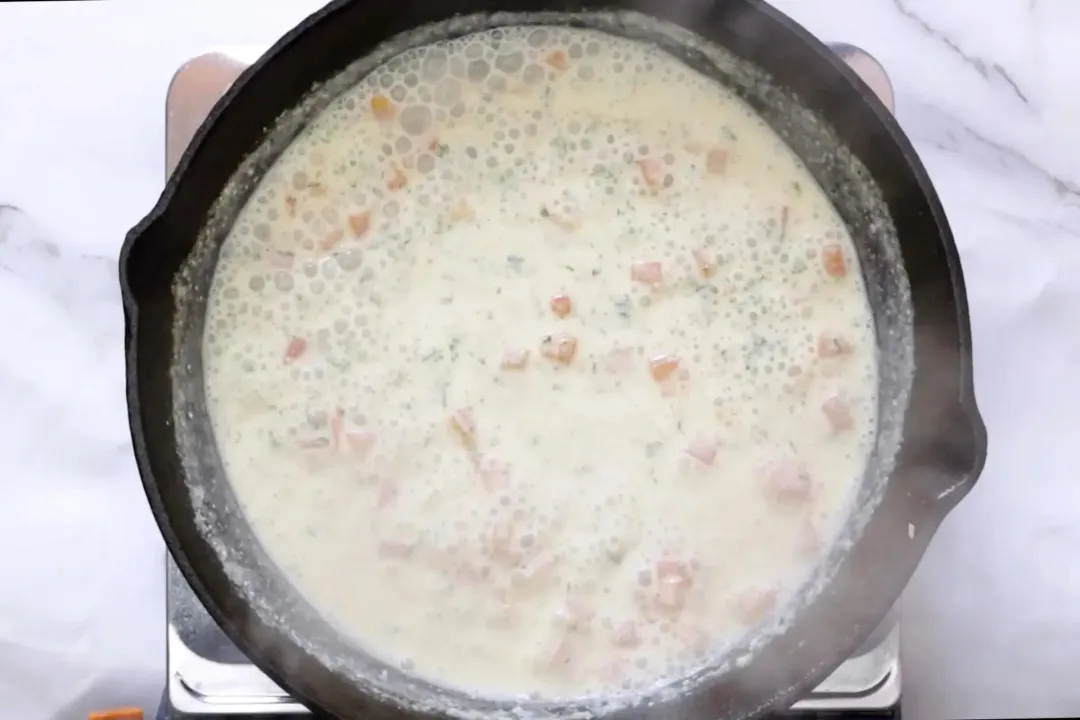 5
Plate and serve: divide mashed potatoes into portions. Scoop one out and place it onto a serving platter. Flatten the surface, then place one fillet on top. Sprinkle with parsley and a dash of black pepper if desired. Place a lemon wedge and a sprig of parsley onto the platter to garnish and serve.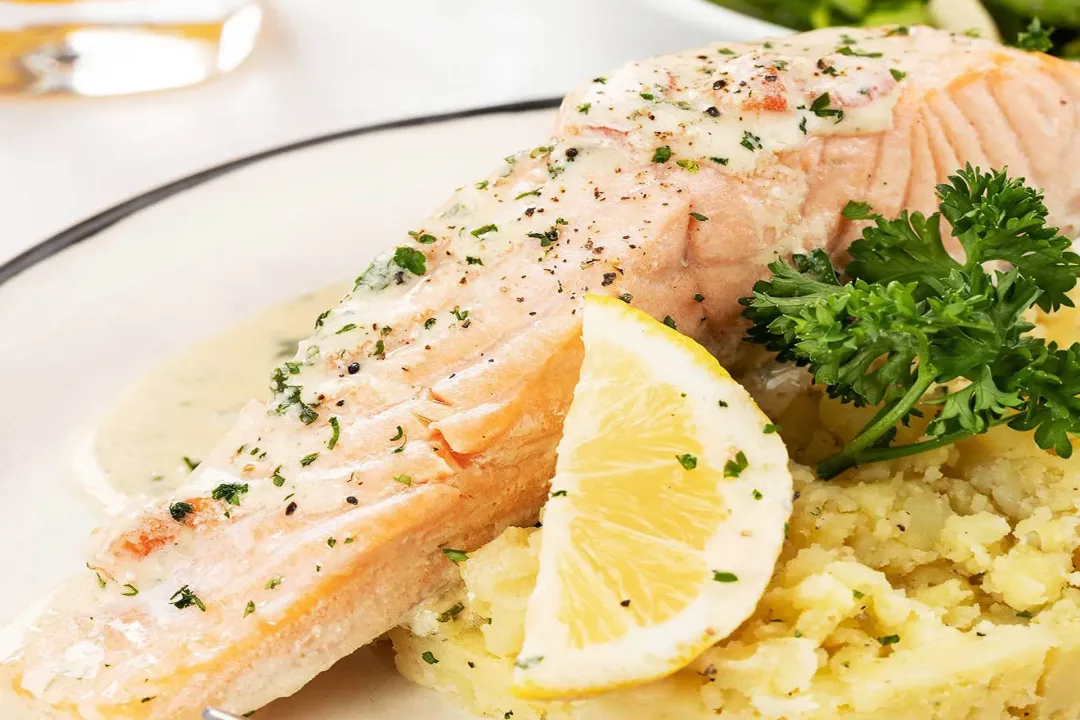 NUTRITION
Nutrition Facts
Poached Salmon Recipe
Amount Per Serving (1 serving)
Calories 473
Calories from FDA
% Daily Value*
* Percent Daily Values are based on a 2000 calorie diet.
Keywords: how to make poached salmon, poached salmon, poached salmon recipe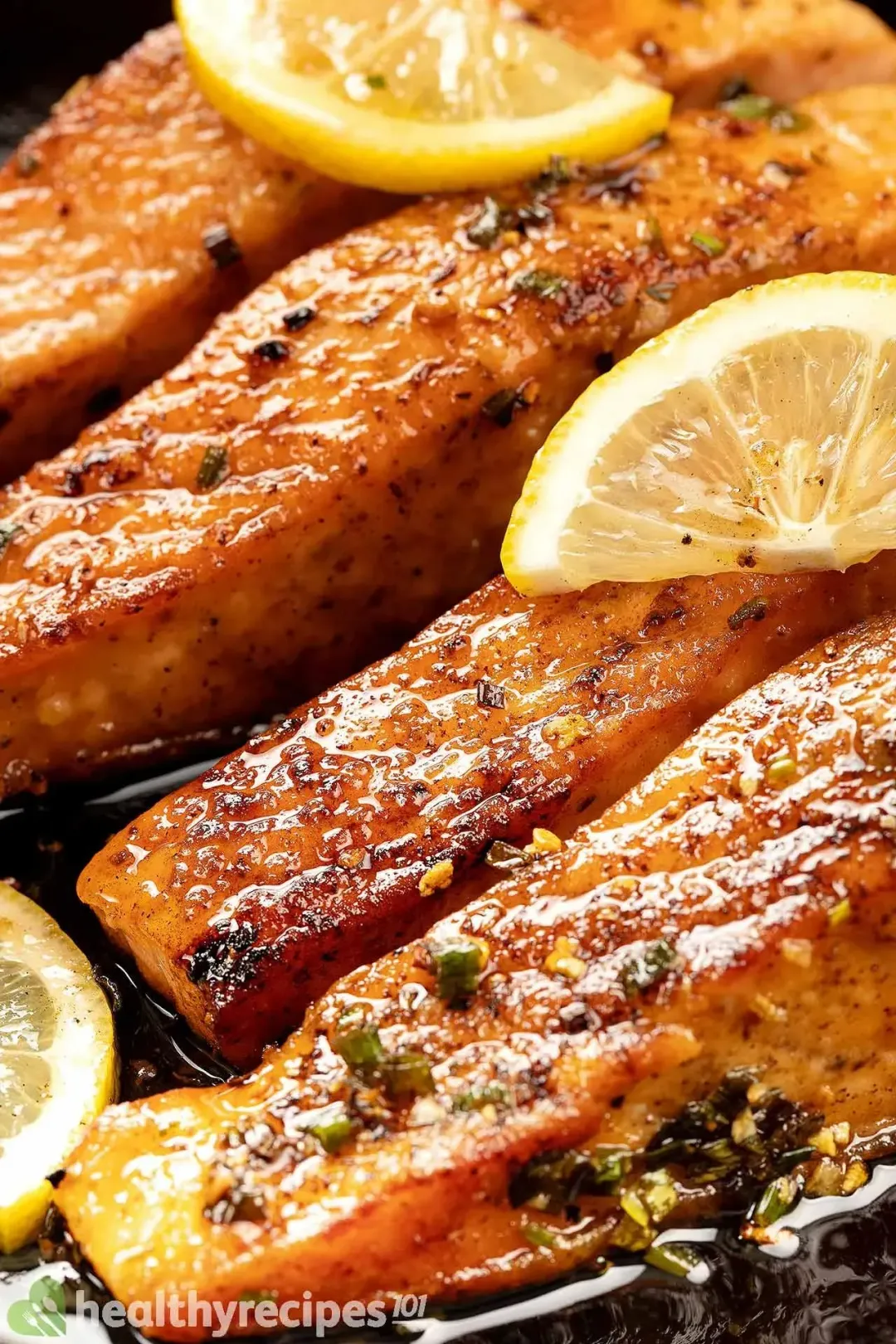 Previous Recipe
Salmon Meuniere
Salmon Meuniere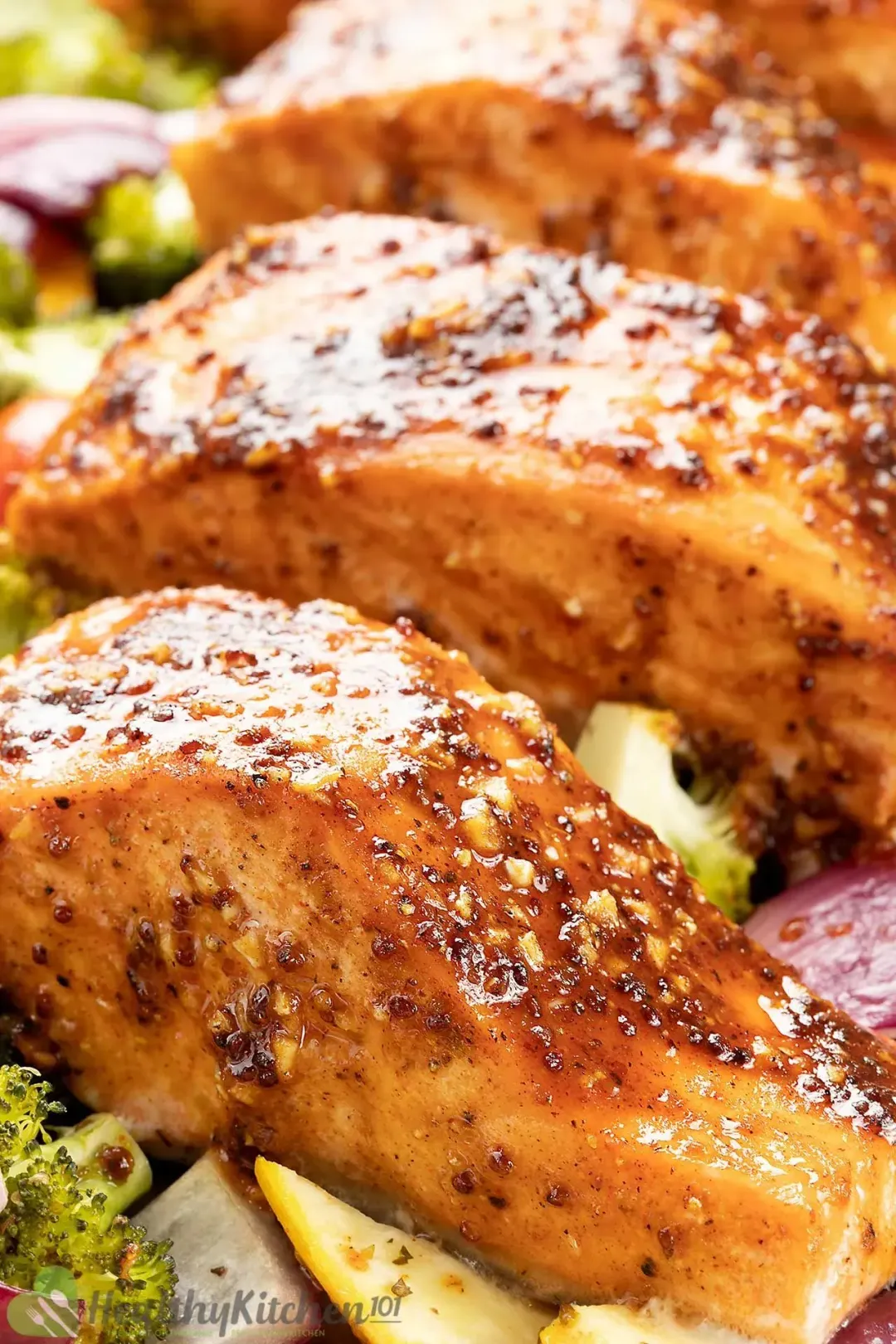 Next Recipe
Honey Mustard Salmon
Honey Mustard Salmon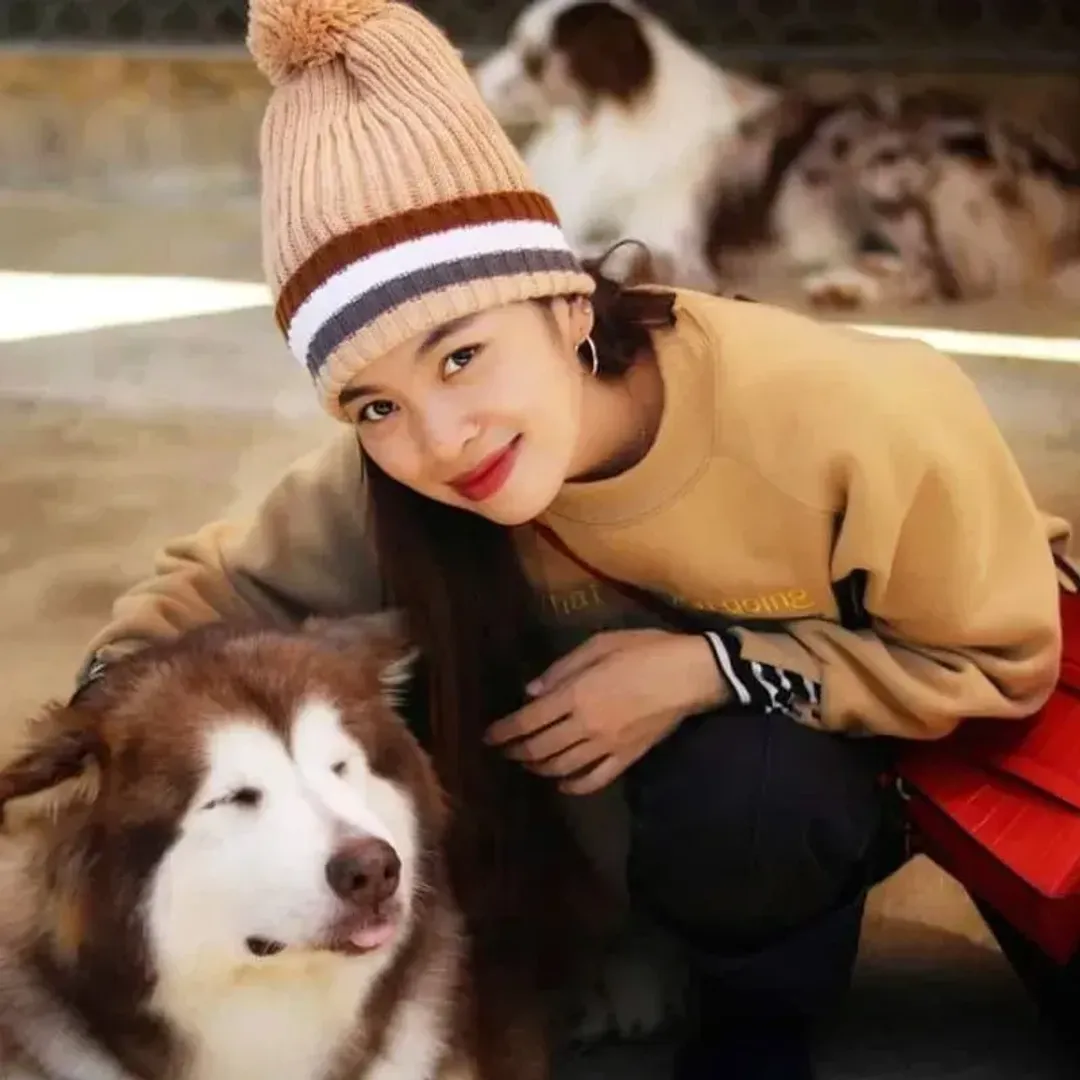 Chef, Culinary Consultant
Tuyet Pham is an award-winning Saigonese chef who believes that joy is the secret ingredient to delicious food. At Healthy Recipes 101, Tuyet personally tests and simplifies every recipe, ensuring maximum flavor with minimal effort. With a background at prestigious French restaurants P'TI Saigon and Le Corto, Tuyet knows how to make every dish exceptional.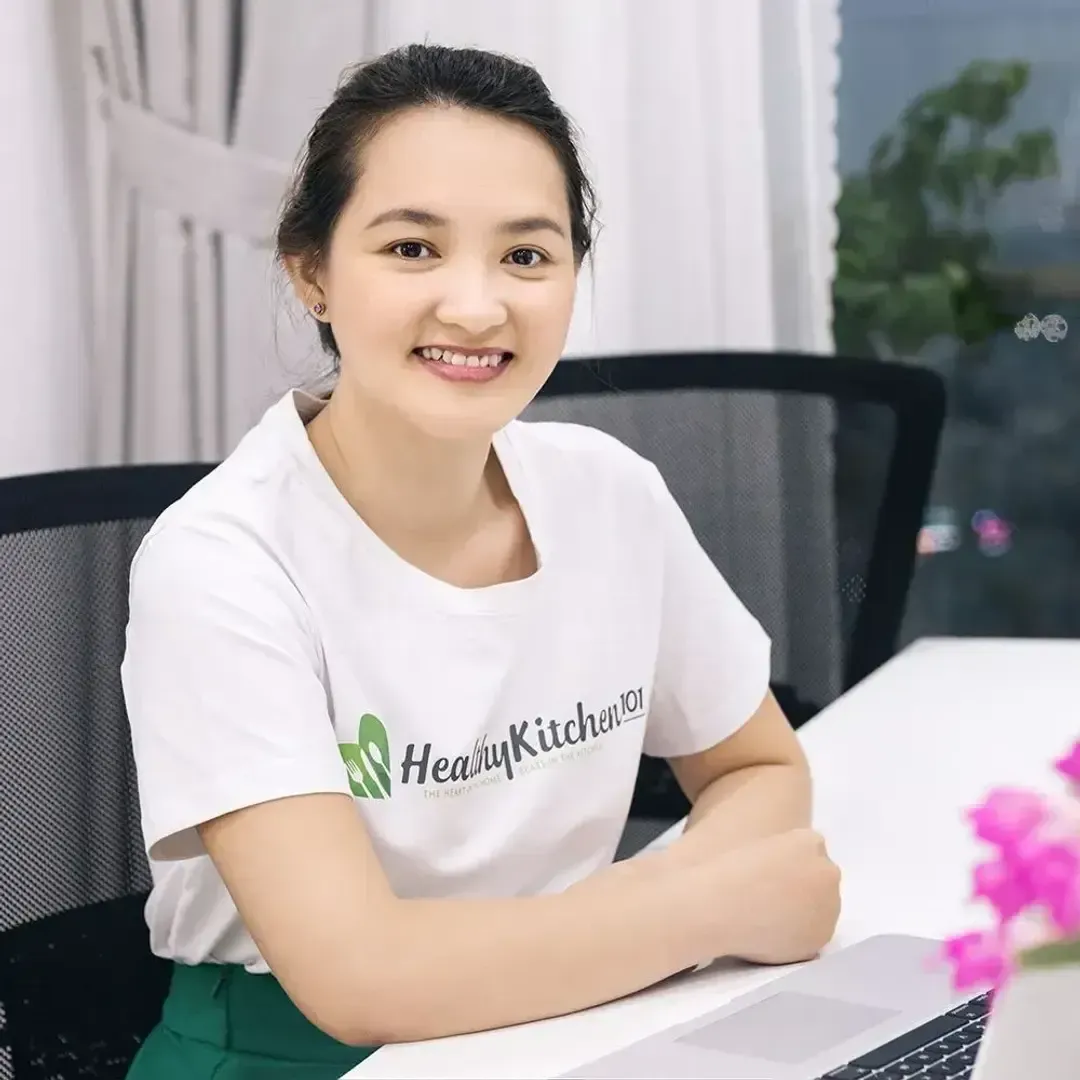 Writer, Author
Luna Regina is an accomplished writer and author who dedicates her career to empowering home cooks and making cooking effortless for everyone. She is the founder of HealthyKitchen101.com and HealthyRecipes101.com, where she works with her team to develop easy, nutritious recipes and help aspiring cooks choose the right kitchen appliances.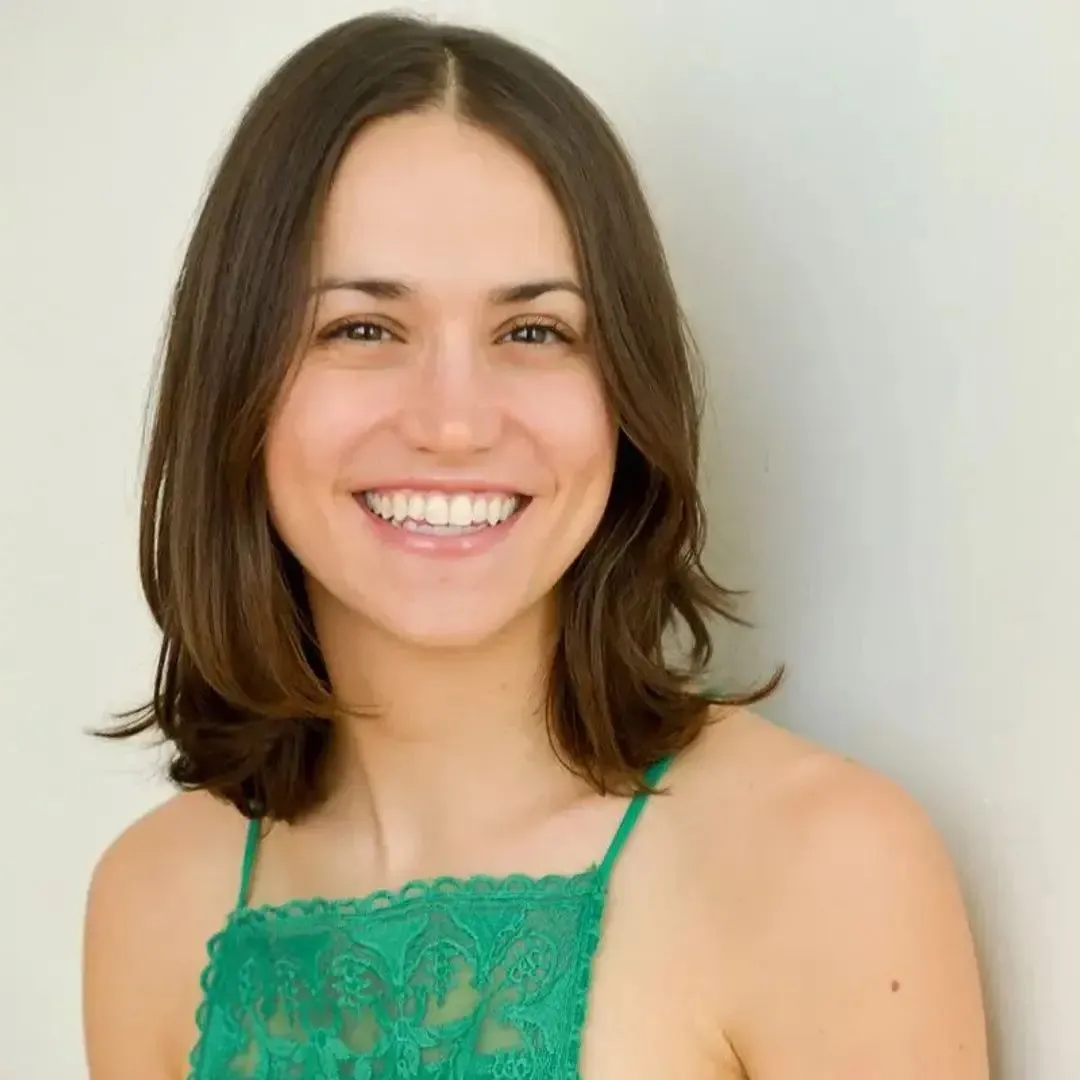 Nutrition Reviewer
Lizzie is a Minneapolis-based dietitian and founder of It's a Veg World After All. She completed her MS in Human Nutrition from Drexel University, and is an expert in culinary nutrition, recipe development, and nutrition communications.
Comments/ Reviews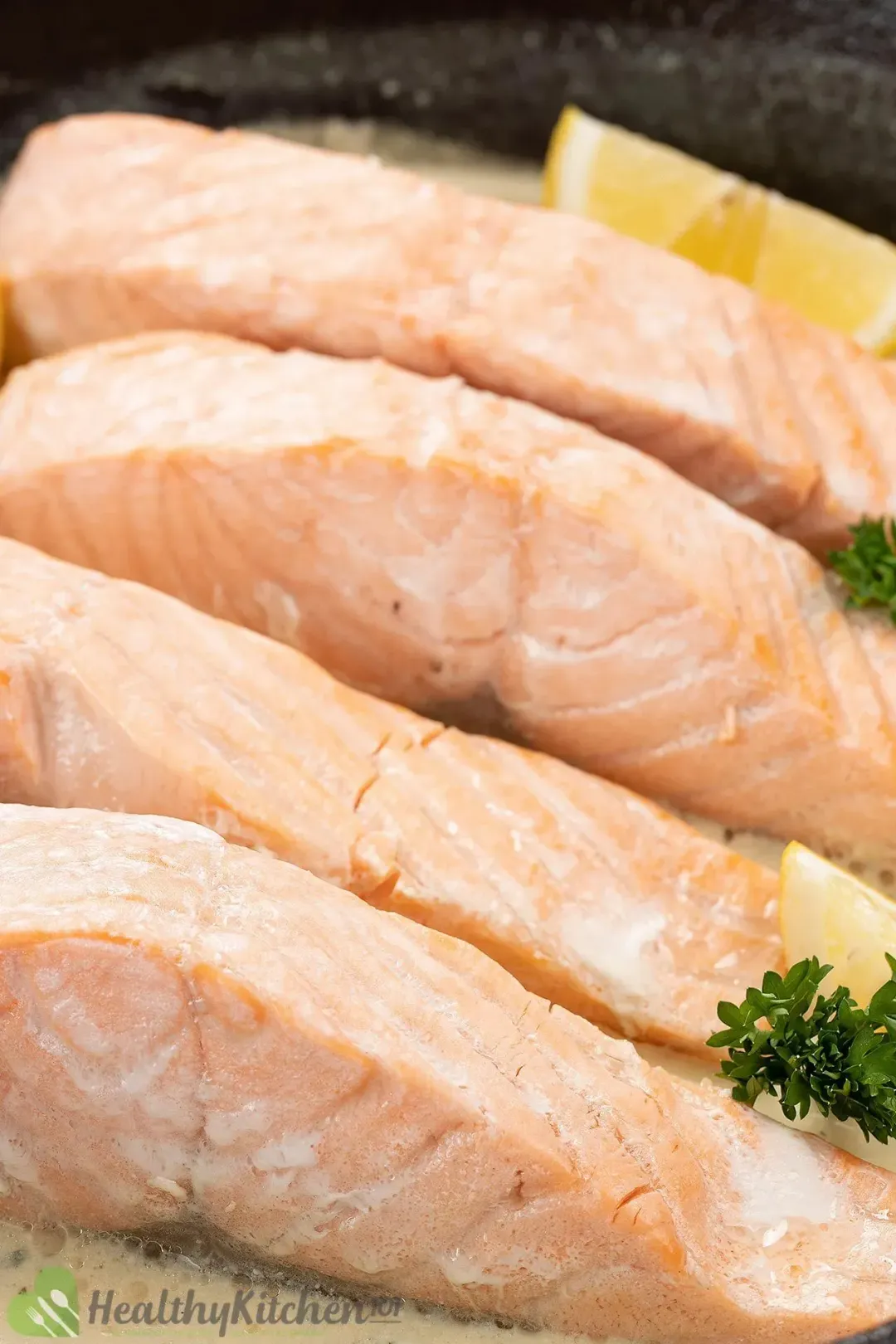 Jame Pilp

March 9, 2023 at 3:34 AM

The poached salmon was oh so tender and flavorful - what a delight!