Perfect for a tasty savory snack or a wonderful weeknight dinner, these salmon cakes recipes might just be your next favorite dishes. Let's jump in!
Are Salmon Cakes Good for You?
Yes, they are relatively healthy.
To begin with, salmon is a superfood that provides us with many essential nutrients, such as omega-3 fatty acids, which are extremely beneficial for our body and brain.
However, as salmon cakes are a fried dish, they can be high in sodium, trans fats, and calories. That's why nutritionists recommend that fried foods should be consumed in moderation.
Still, if you pay attention to the type of ingredients, as well as the cooking method, then you can enjoy these fried salmon cakes with ease. 
Our best suggestion when making fried dishes is to reduce the amount of cooking oil or opt for other healthier oils, such as olive or avocado oil. Using an air-fryer is also another great way to go, as it uses hot air to cook the food instead of oil.
Our Best Recipes
Ready for some delicious salmon cakes? Try out these recommended recipes for yourself and choose your favorites!
1 of 2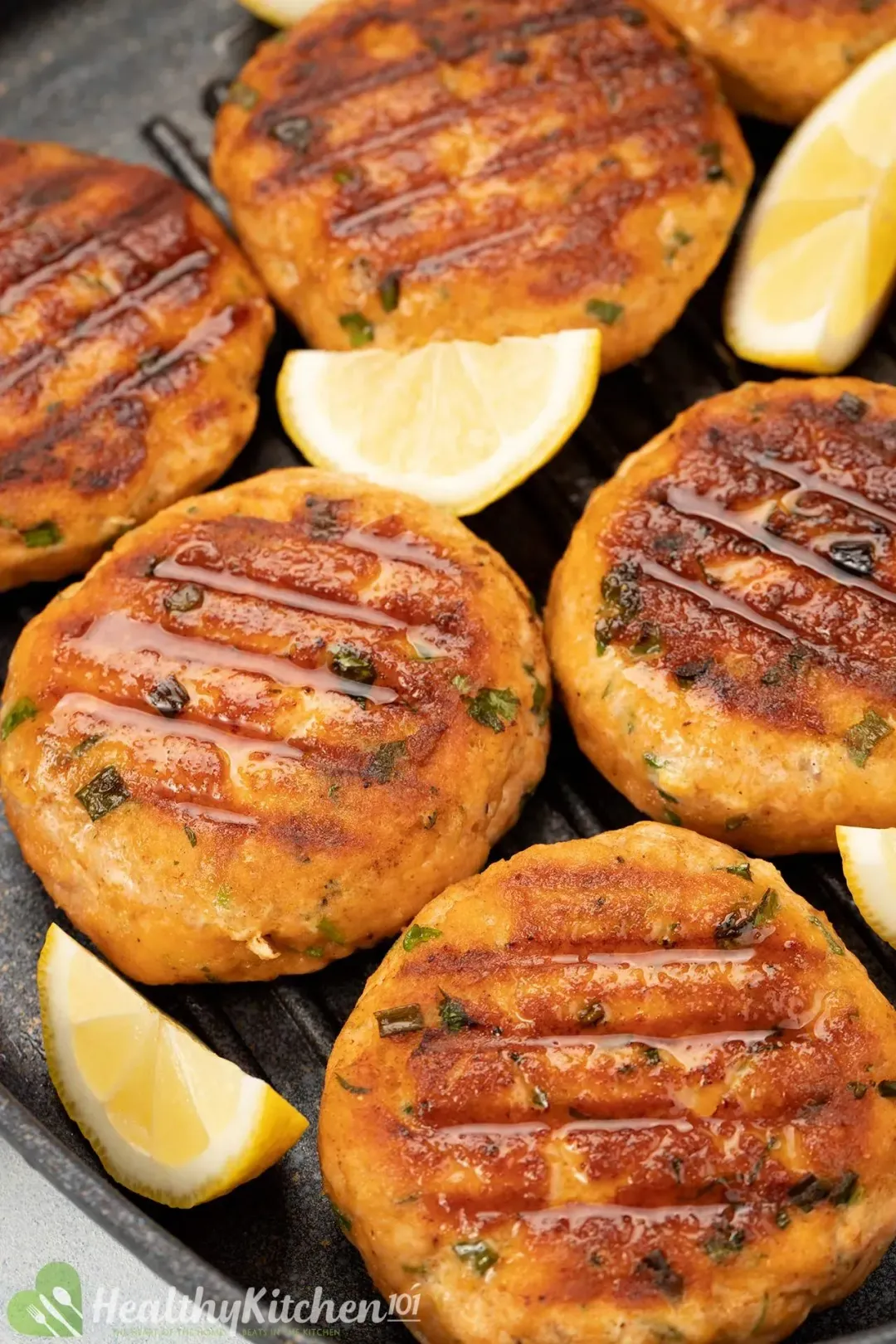 1 of 2
Salmon Croquette Recipe
Requiring just 20 minutes prep time, these Salmon Croquettes are our go-to choice for a quick high-protein meal. The best part is you can enjoy these with buns to make fancy burgers, or bread for a unique sandwich. Don't skip the sour cream and garlic sauce for a much-needed flavor kick.
Get the
recipe
.
2 of 2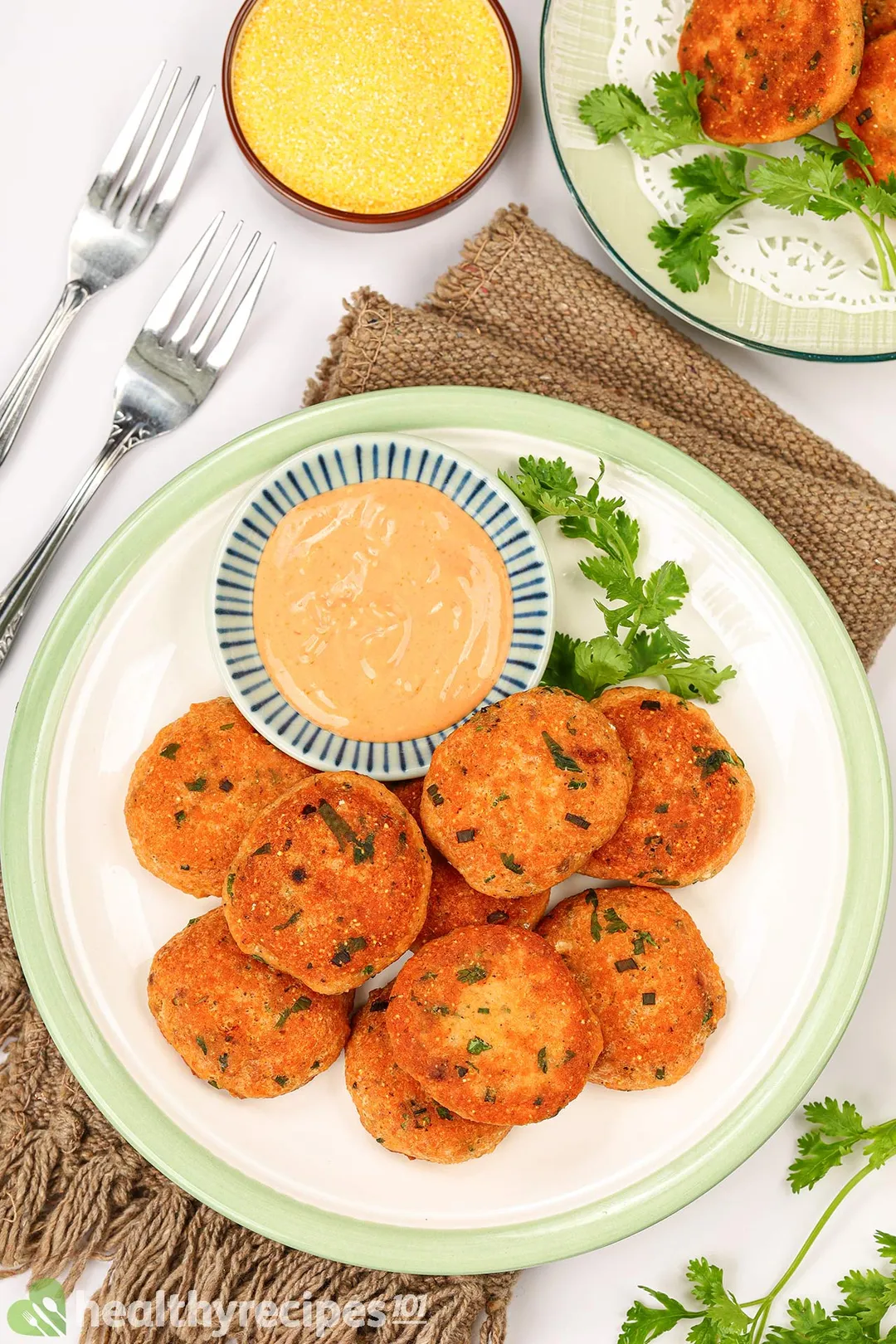 1 of 2
Salmon Patties With Cornmeal Recipe
Salmon Patties With Cornmeal are low-carb, high-protein, and omega-3 rich. Whether you're looking for the perfect burger filling, or a post-workout snack, these patties will do the trick. And don't let the crispy exterior fool you, these patties are juicy and buttery and served with a simple mayonnaise and ketchup dip that makes the experience so smooth.
Get the
recipe
.
And those are our suggested salmon cakes recipes. Let's pick one and whip it up for your next tasty meal!
Best Ways to Cook
1. In a Frying Pan
If you're aiming for taste and texture, then pan-frying is the best choice.
It will produce that beautiful golden-brown crust and extra crispiness for your cakes, while the inside will be kept moist and tender.
Of course, involving quite a considerable amount of oil in the frying process, this method is not as healthy as others. However, you can use healthy plant-based oil as an alternative.
So, if you decide to go with pan-frying, just remember to take into account the type and the amount of oil being used.
2. In an Air Fryer
If you are following a strict diet, but craving something satiating, such as salmon cakes, then it's time to turn to the air fryer.
This countertop kitchen appliance brings flexibility and convenience into your kitchen. You just need to press the button and get on with other tasks while waiting for it. Plus, there is no splattered grease to clean up.
Compared to pan-frying, air-frying is also considerably healthier, since there is very little or no oil needed. Moreover, the hot air flowing inside will make sure both sides of the cakes are cooked evenly.
Nonetheless, air fryer salmon cakes will not be as moist and crispy as pan-fried ones, so you should coat them with a thin layer of oil to ensure they don't turn out too dry.
How Do You Keep Cakes from Falling Apart?
It's very simple. You just need the right preparation and correct frying techniques. Let's check out what you need to do before and during cooking your salmon cakes. 
1. Before Cooking
Consistency is key. Too dry or too wet and your cakes will start to crack or crumble during the cooking process. With the right thickness, your cake mixture will ensure everything turns out great.
To know how to achieve it, let's look at the main components first. Salmon cakes consist of a base (fresh, cooked, or canned salmon), a binder (eggs), and an extender (cornflakes, breadcrumbs, or crackers).
While the binder and the extender help to hold the cakes together, the moisture and fat percentage of the salmon contribute to the overall texture as well.
If you are using canned salmon or leftover cooked salmon that is too dry, just add in more eggs and more extenders to give it a sticky consistency.
The texture of the salmon also matters. Mince your salmon thoroughly so that it will blend well.
And if you want to add more liquid to the mixture, such as soy sauce, then remember to chill the cakes in the fridge for thirty minutes to one hour before cooking to avoid a watery consistency. Refrigerating the cakes will help them hold their shape better when frying.
2. While Cooking
Apart from the cake's density, frying techniques also play a part.
If you flip the cakes too hastily, they will only break more easily.
Be patient and take time. Just wait for the cakes' contact surface to brown evenly, then gently flip to the other side and cook until crispy.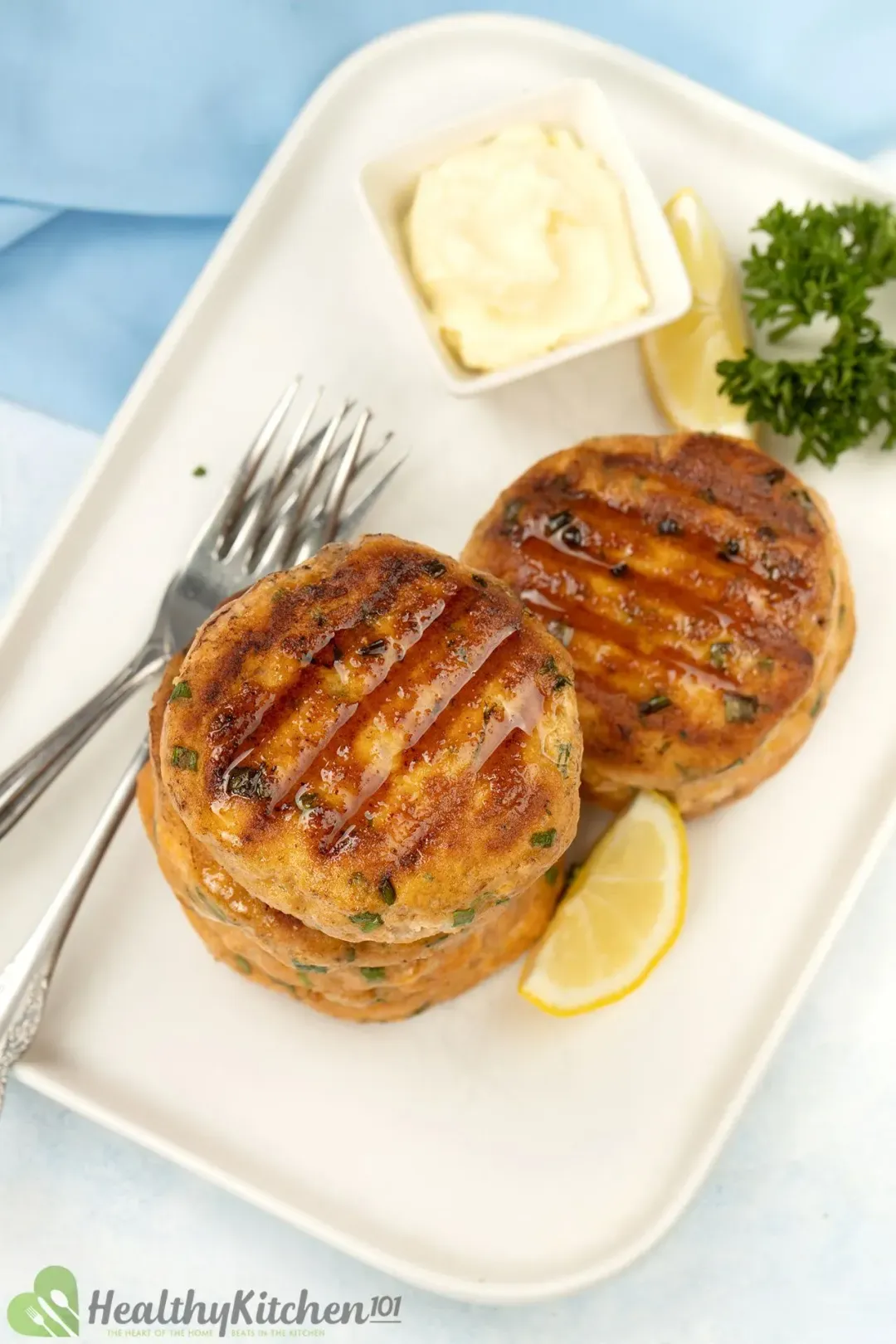 Salmon Cakes Recipes
With these quick and easy salmon cakes recipes, you will have a crispy, moist and delicious dish ready for your next meal.
Ingredients
Directions
Pick your favorite recipe.
Gather the ingredients.
Follow the instructions to give you incredibly salmon cakes dishes ready in less than an hour!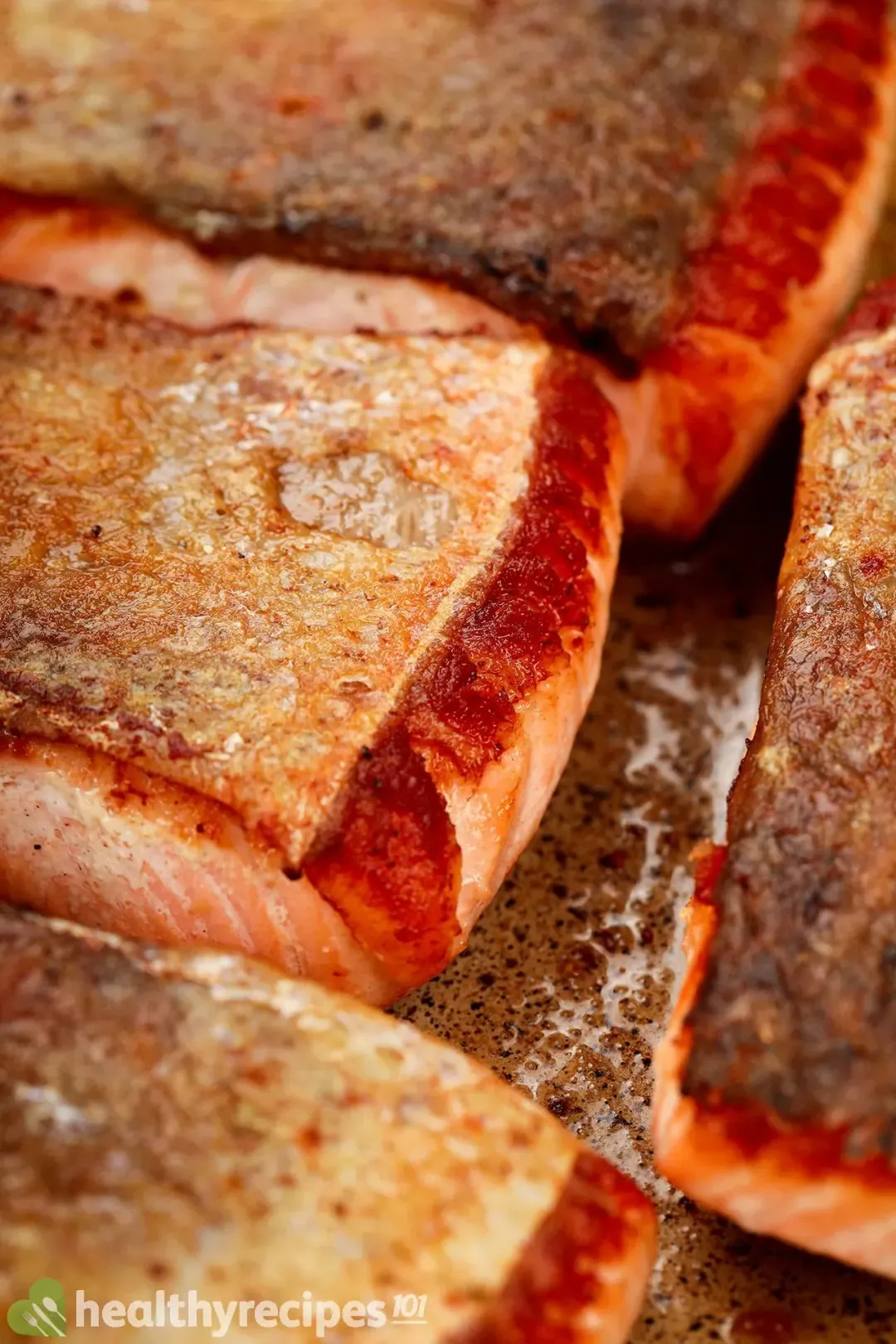 Previous Recipe
Crispy Salmon Recipes
Crispy Salmon Recipes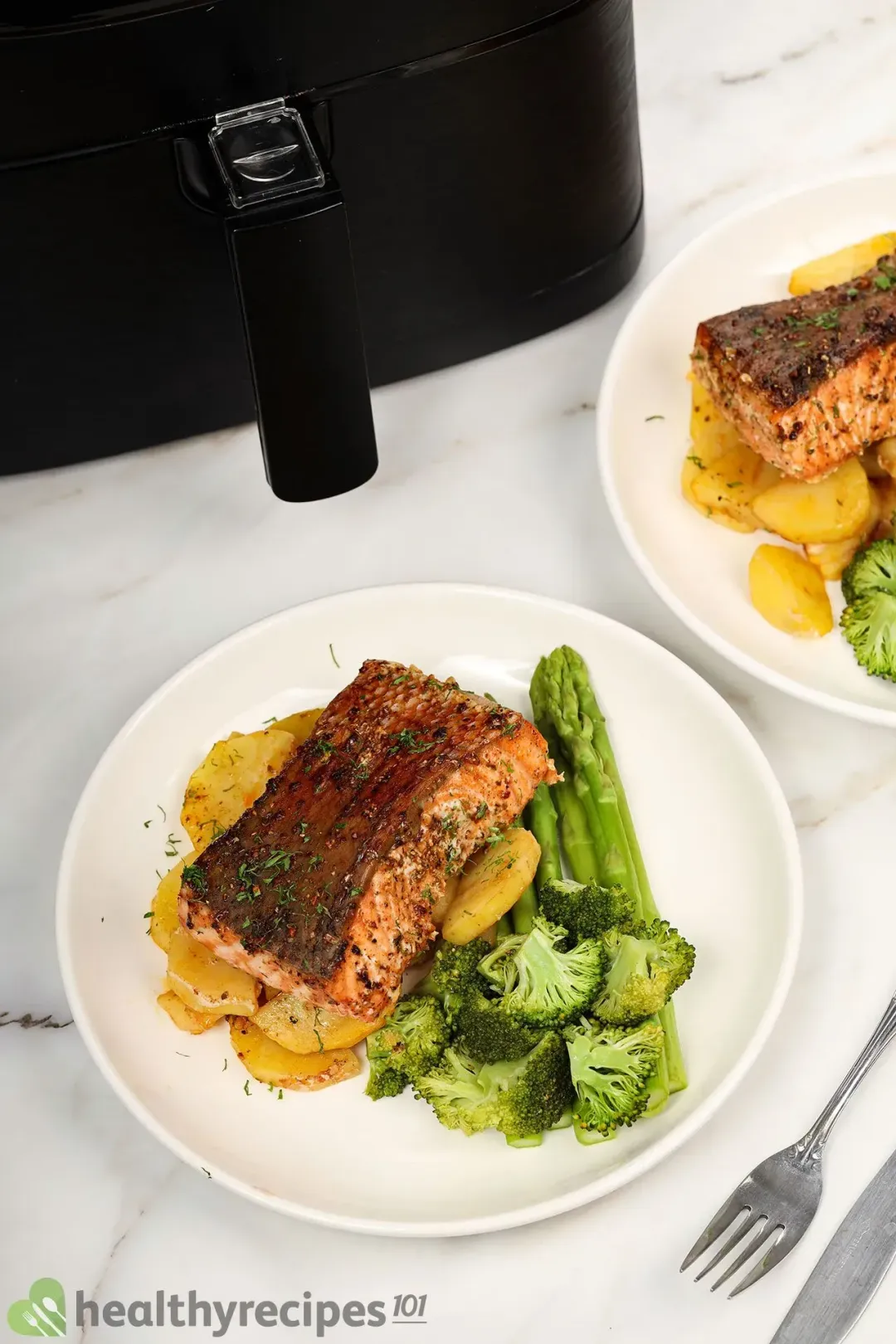 Next Recipe
Air Fryer Salmon Recipes
Air Fryer Salmon Recipes
Writer, Author
Luna Regina is an accomplished writer and author who dedicates her career to empowering home cooks and making cooking effortless for everyone. She is the founder of HealthyKitchen101.com and HealthyRecipes101.com, where she works with her team to develop easy, nutritious recipes and help aspiring cooks choose the right kitchen appliances.
Comments/ Reviews