This is the simplest and healthiest salmon croquette recipe to make at home. It's an effortless treat that takes just 20 minutes to prepare and will come in handy for quick, satisfying meals.
What Are Salmon Croquettes?
Salmon croquettes are patties made from ground salmon. The ground salmon can be mixed with thickeners like flour or breadcrumbs, as well as seasonings of your choice.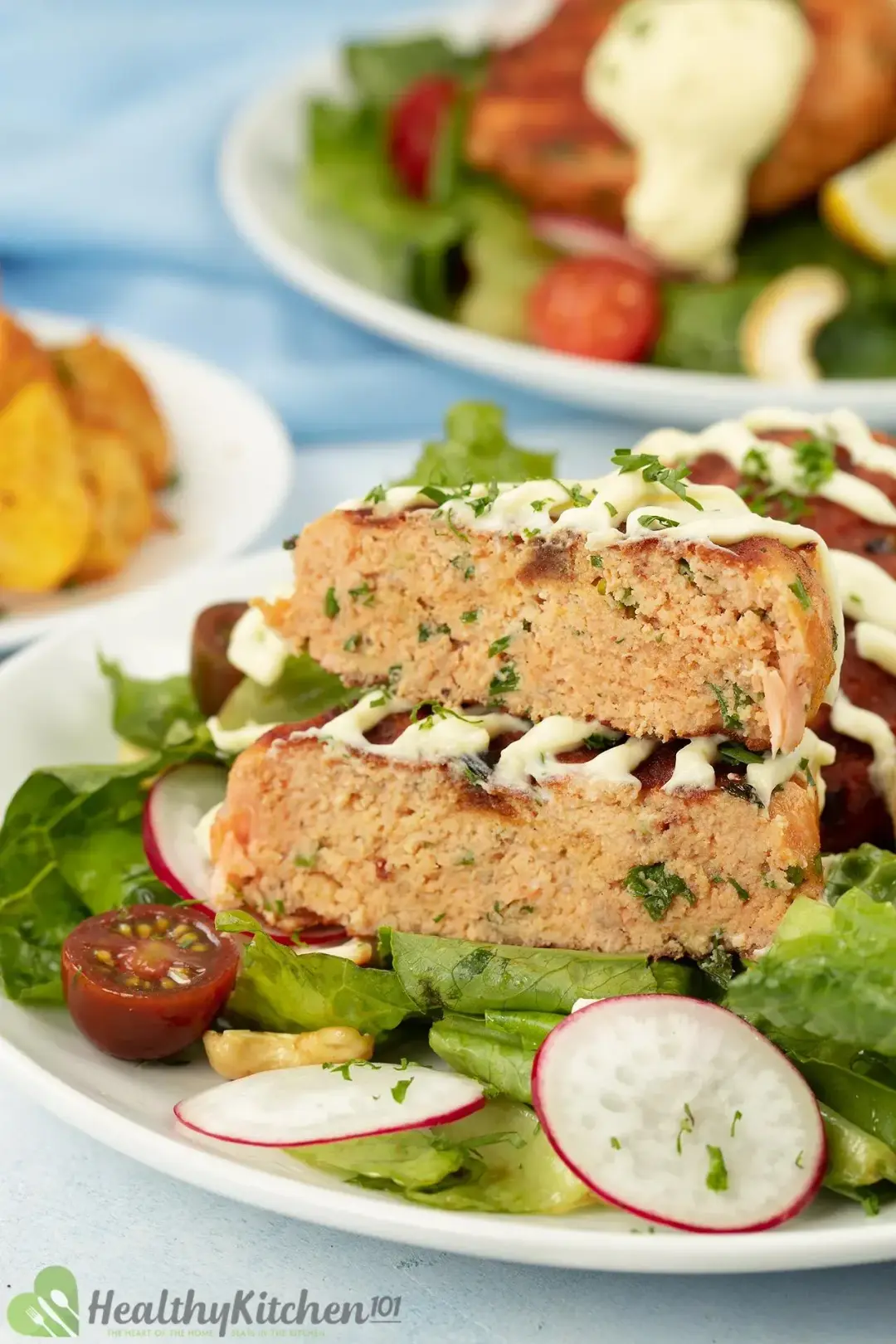 You can add eggs, milk, or cream to bind the mixture before rolling it. After that, flatten the mixture into several round shaped-patties, and then fry them.
What Is the Difference Between Salmon Patties and Salmon Croquettes?
The terms "salmon patties" and "salmon croquettes" are often interchangeable. However, the two are slightly different in size and use.
Secondly, salmon patties are usually sandwiched between two slices of bread. They're best served with brioche or regular buns to make delicious salmon burgers.
For one, patties are usually thinner and shaped like small, flat cakes of minced meat. On the other hand, salmon croquettes are thicker in size and can be eaten plain.
Secondly, salmon patties are usually sandwiched between two slices of bread. They're best served with brioche or regular buns to make delicious salmon burgers.
By contrast, croquettes can be enjoyed as is with a side of vegetables, salad, or fries.
Is This Salmon Croquette Recipe Healthy?
As salmon is the main ingredient in this salmon croquette recipe, there's no doubt that it's healthy. The fish is popular as an abundant source of protein.
Protein is every bodybuilder's best friend. It's good for muscle growth and recovery after a hard workout.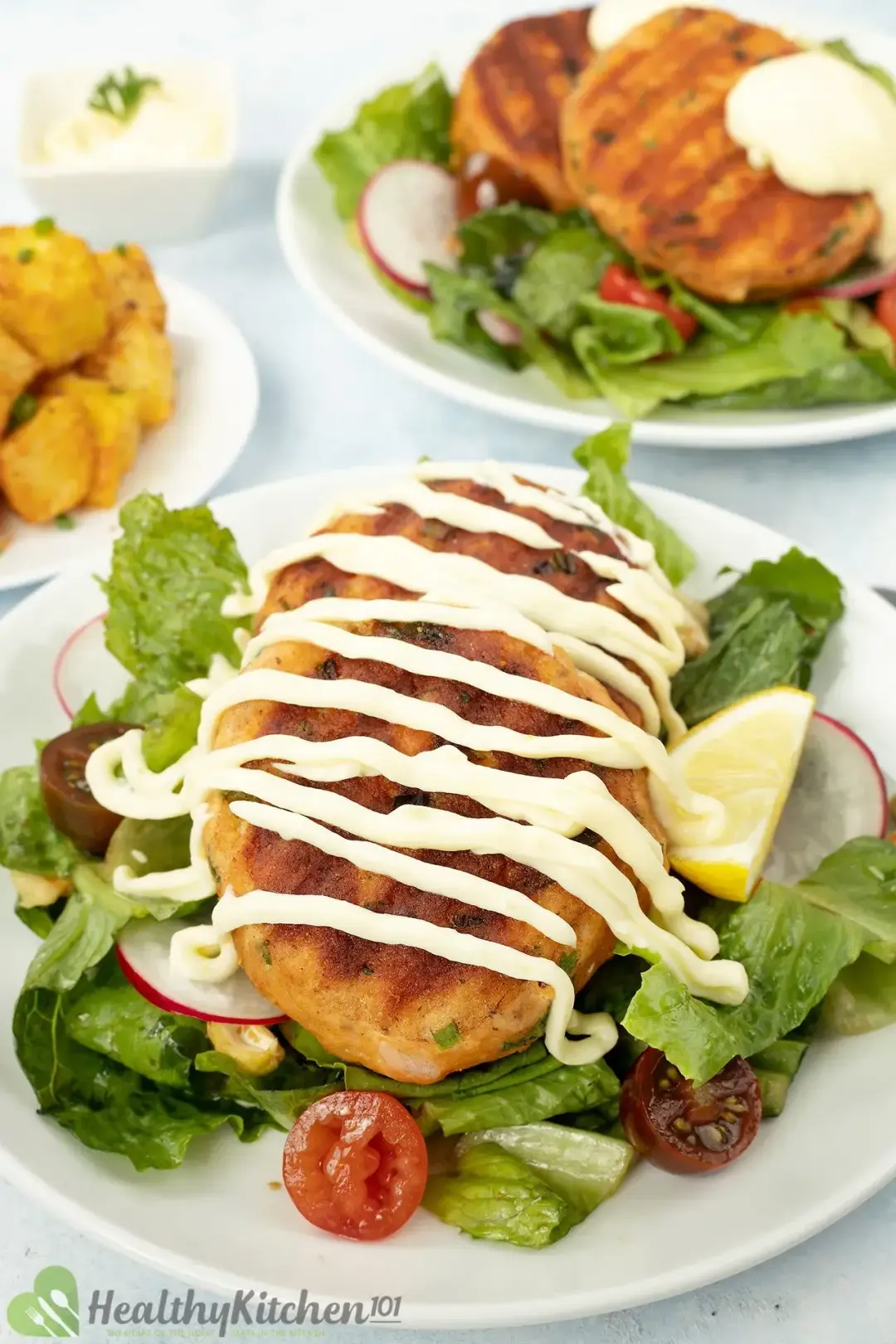 However, you don't have to be a weightlifter to love salmon. Anyone can benefit from eating it.
When you consume salmon, you can feel satiated and avoid hunger pangs that often lead you to indulge in snacking.
In time, it helps maintain weight loss, which is excellent for weight watchers.
With that in mind, including salmon croquettes in your diet certainly sounds like an excellent idea! Let's explore how to prepare them.
How to Prepare Salmon for Salmon Croquettes
Preparing salmon for croquettes is pretty straightforward. Most filets you buy in the grocery store nowadays come with the pin bones removed.
This means the work's already half done, and you won't have to spend an extra few minutes deboning your salmon!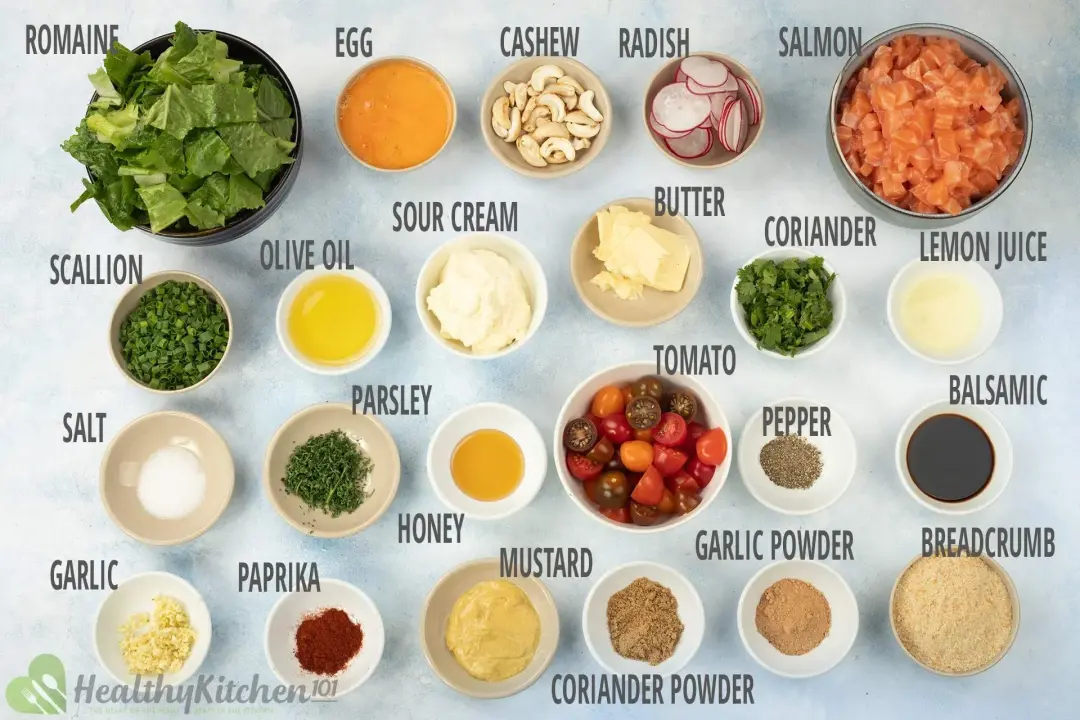 If you can't find deboned salmon, however, removing pin bones is still an easy task. All you need is a pair of pliers and a sharp knife to follow the instructions below:
Place the filet flat on a board, skin side down. Run your hand across the surface of the fish to feel any bones sticking out.
Use the pliers to grab the tip of each bone and pull it out.
Once you've removed all the bones, slide a sharp knife horizontally between the skin and flesh. Using your free hand to keep the filet in place, gently but firmly cut across the filet, as near to the skin as possible, until you've removed the skin.
How to Make Salmon Croquettes
Follow this step-by-step guide with photo instructions to help you prepare salmon croquettes:
Step 1: Mince the salmon.
Step 2: Add seasonings and herbs.
Step 3: Form the patties.
Step 4: Cook the patties.
Step 5: Make the sauce for the salmon.
Step 6: Make the dressing for the salad.
Step 7: Make the salad.
Step 8: Plate and serve.
Check out the recipe section below for full ingredient measurements and detailed instructions.
Sauce for Salmon Croquettes
Croquettes and sauce go hand in hand. A good sauce adds a creamy texture to the firmer croquettes and helps introduce a smooth texture.
For this recipe, we've chosen a tangy cream sauce to complete the dish. It includes freshly squeezed lemon juice mixed with minced garlic and sour cream - that's it!
For more variations, you can try a dill and yogurt sauce or a mayonnaise and mustard sauce.
What to Serve With Salmon Croquettes
The high protein content in salmon croquettes calls for a starch or vegetable component (or both!). Anything like potatoes, pasta, or a fresh salad is excellent for completing this dish.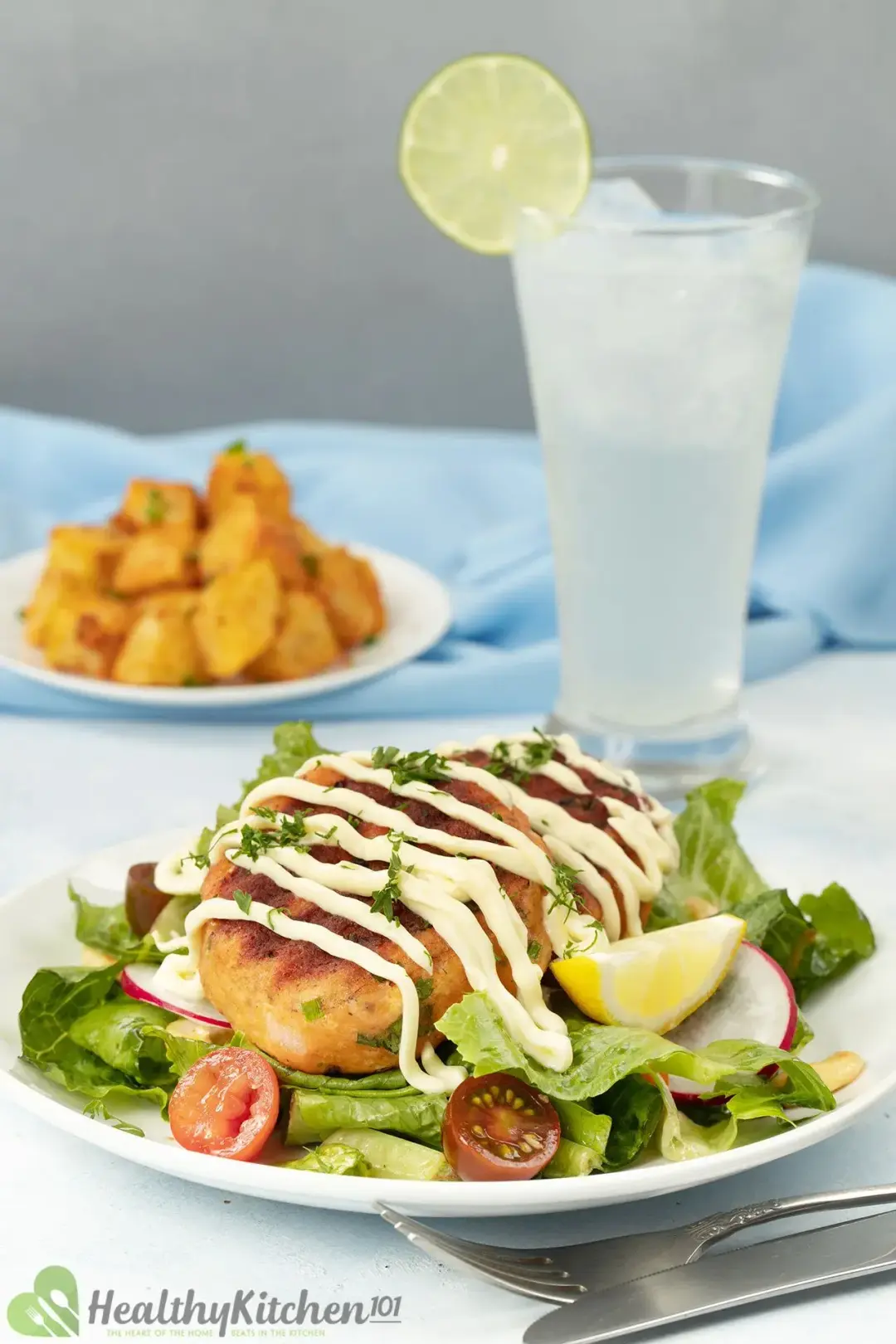 Because this salmon croquette recipe already includes a fresh lettuce salad, home fries are our pairing of choice. They're a crispy addition that adds crunch and satisfaction, leaving you satiated, full, and pleased as punch!
FAQ
1. Can I Eat Salmon Every Day?
Yes, you can eat salmon every day if you like.
However, we recommend you eat it in moderation. Seafood contains mercury, and although salmon has a low level of mercury, it's best to limit its consumption to a 6 oz serving per week.
2. How Long Do Salmon Croquettes Last?
Five days — given that you keep them in an airtight container and store them in the fridge.
3. Can You Freeze Salmon Croquettes?
Yes, you can.
We even recommend doubling our salmon croquette recipe to make a big batch of these fish patties. Once they're cooked, allow them to cool and then transfer them into freezer-safe containers or Ziploc bags.
Croquettes can stay in the freezer for about a month. When you're ready to eat them again, put them in the microwave for about 5 minutes on defrost mode until thawed.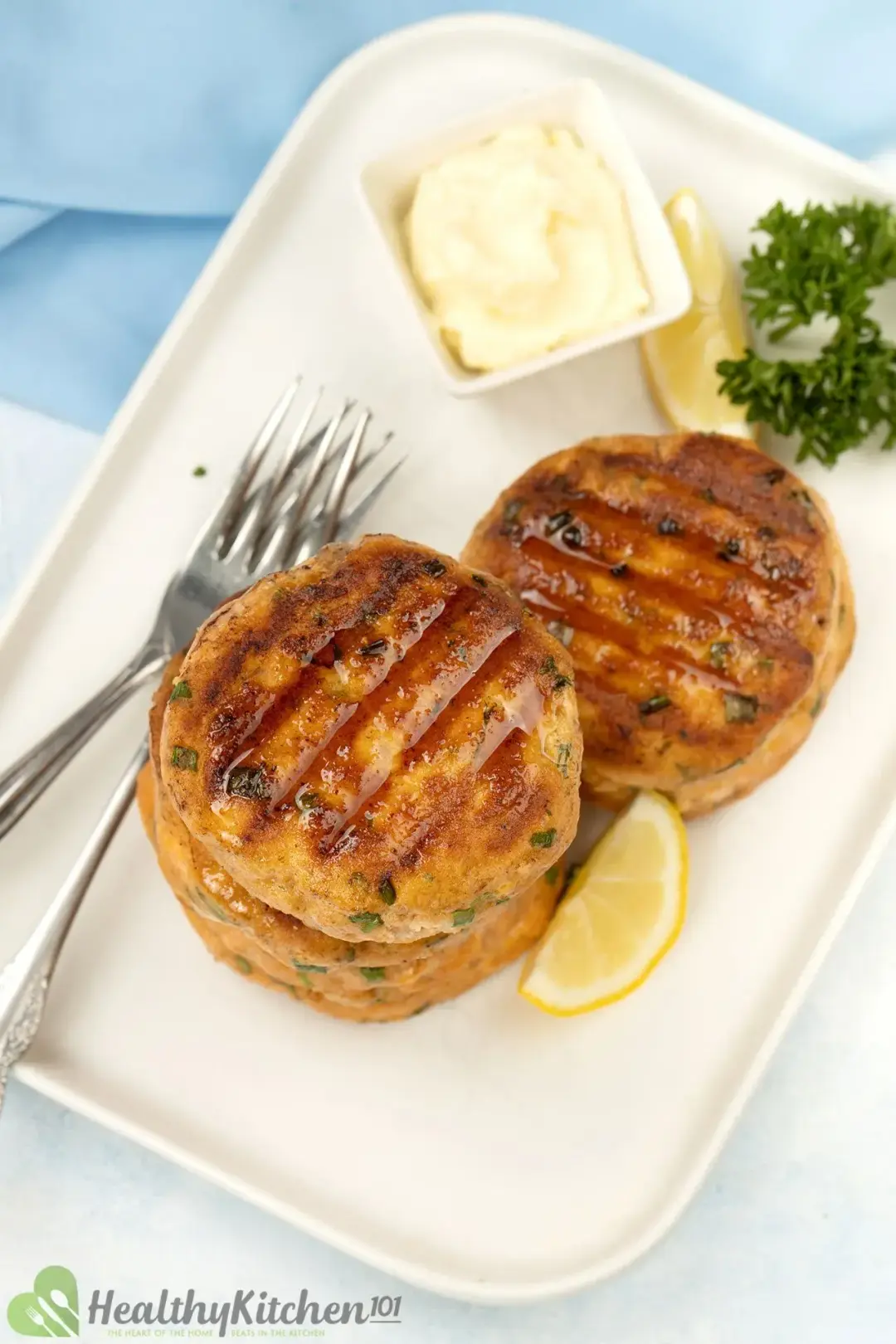 Salmon Croquette Recipe
Today's salmon croquette recipe offers you a healthy meal packed with protein and vegetables with fresh, vibrant flavors. Let's get cooking!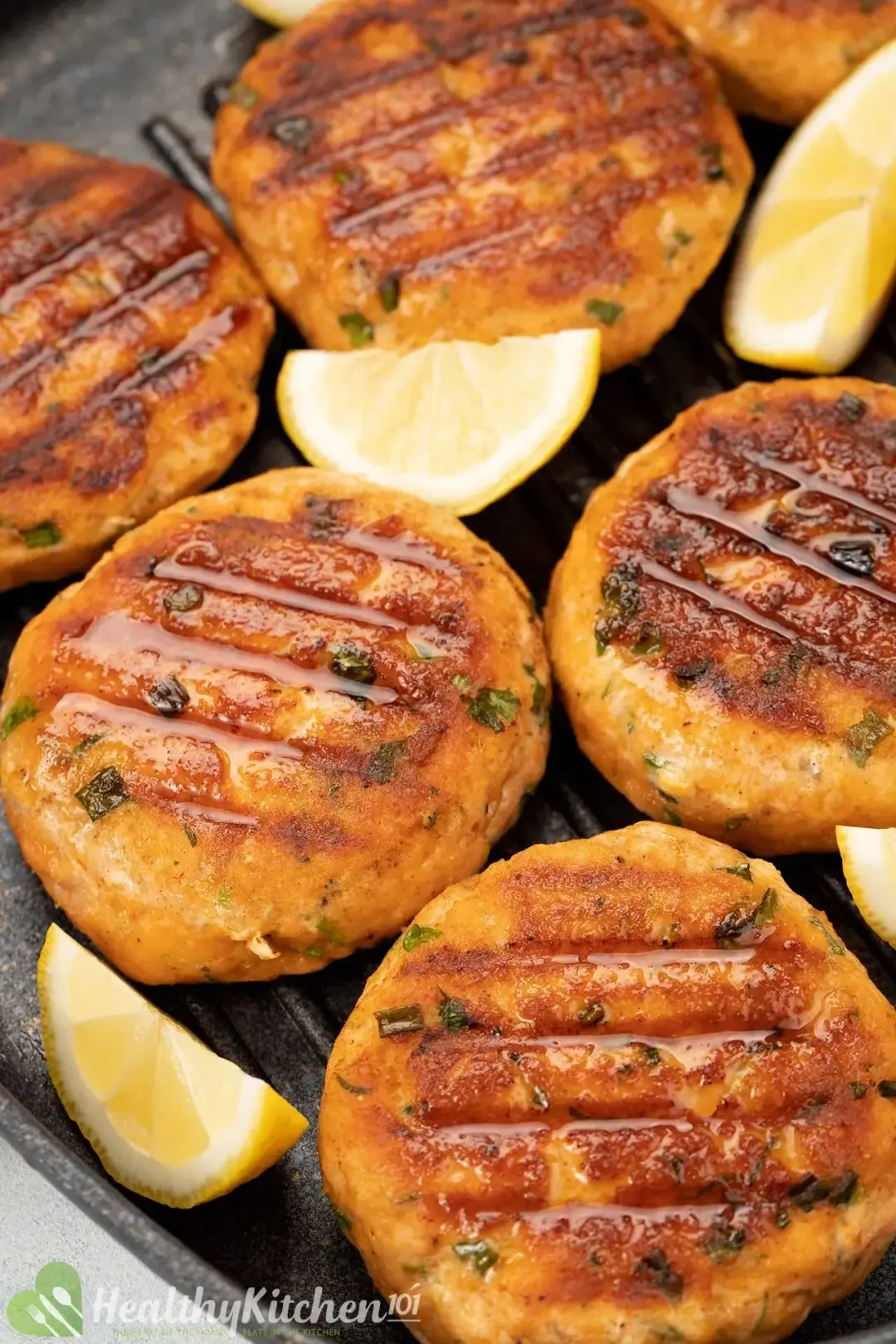 cook TIME

10 mins

prep TIME

10 mins

total TIME

20 mins
COURSE

Dinner, Lunch, Main Course

CUISINE

American, French

SERVINGS

servings

CALORIES

453 kcal
INGREDIENTS
24 oz

skinless boneless salmon (roughly chopped)

0.5 tsp

salt

0.3 tsp

ground black pepper

1.5

medium egg (beaten)

0.5 oz

scallion (finely chopped)

0.5 oz

coriander (finely chopped)

0.5 oz

parsley (finely chopped)

4 tsp

traditional Dijon mustard

6 tbsp

plain panko breadcrumbs (¼ cup + 2 tbsp)

1 tsp

paprika

2 tsp

coriander powder

2 tsp

garlic powder

1.5 tsp

lemon juice (divide into 1 tsp and ½ tsp)

2 tbsp

unsalted butter

0.3 cup

sour cream

0.5 tsp

garlic (minced)

1 tbsp

balsamic vinegar

1 tbsp

olive oil

1 teaspoon

honey

1 oz

radish (thinly sliced)

6 oz

cherry tomatoes (cut in half)

4 oz

romaine lettuce (chopped)

1 oz

cashew (roasted)
INSTRUCTIONS
1
Mince the salmon: In the bowl of a food processor, add the diced salmon. Pulse a couple of times. The salmon should be fairly chunky and not smoothly blended. Transfer to a large bowl.
2
Add seasonings and herbs: To the salmon bowl, add salt, black pepper, beaten egg, scallion, coriander, parsley, Dijon mustard, breadcrumbs, paprika, coriander powder, garlic powder, and 1 tsp lemon juice. Use a spoon to mix everything together evenly.
3
Form the patties: Divide the salmon mixture into 8 equal portions. Using your palms, roll each portion into a ball and flatten them into thick, round patties. Transfer to a dish and set aside.
4
Cook the patties: Add butter to a nonstick skillet over low heat. Once melted, add the patties and cook for 8 minutes or until golden brown on both sides, flipping halfway through. Once cooked, transfer patties to a plate and set aside.
5
Make the sauce for the salmon: In a small bowl, combine sour cream, minced garlic, and the remaining ½ tsp lemon juice. Mix well and set aside.
6
Make the dressing for the salad: In another small bowl, combine balsamic vinegar, olive oil, and honey. Whisk to emulsify the sauce (until well-mixed) and set aside.
7
Make the salad: Gently mix radish, tomatoes, lettuce, and cashew. Arrange the salad onto one side of the serving plate. Pour the dressing over the salad.
8
Plate and serve: Place the salmon croquettes in the center of the plate, drizzle the sauce over the salmon, and serve.
NUTRITION
Nutrition Facts
Salmon Croquette Recipe
Amount Per Serving (1 serving)
Calories 453
Calories from FDA
% Daily Value*
* Percent Daily Values are based on a 2000 calorie diet.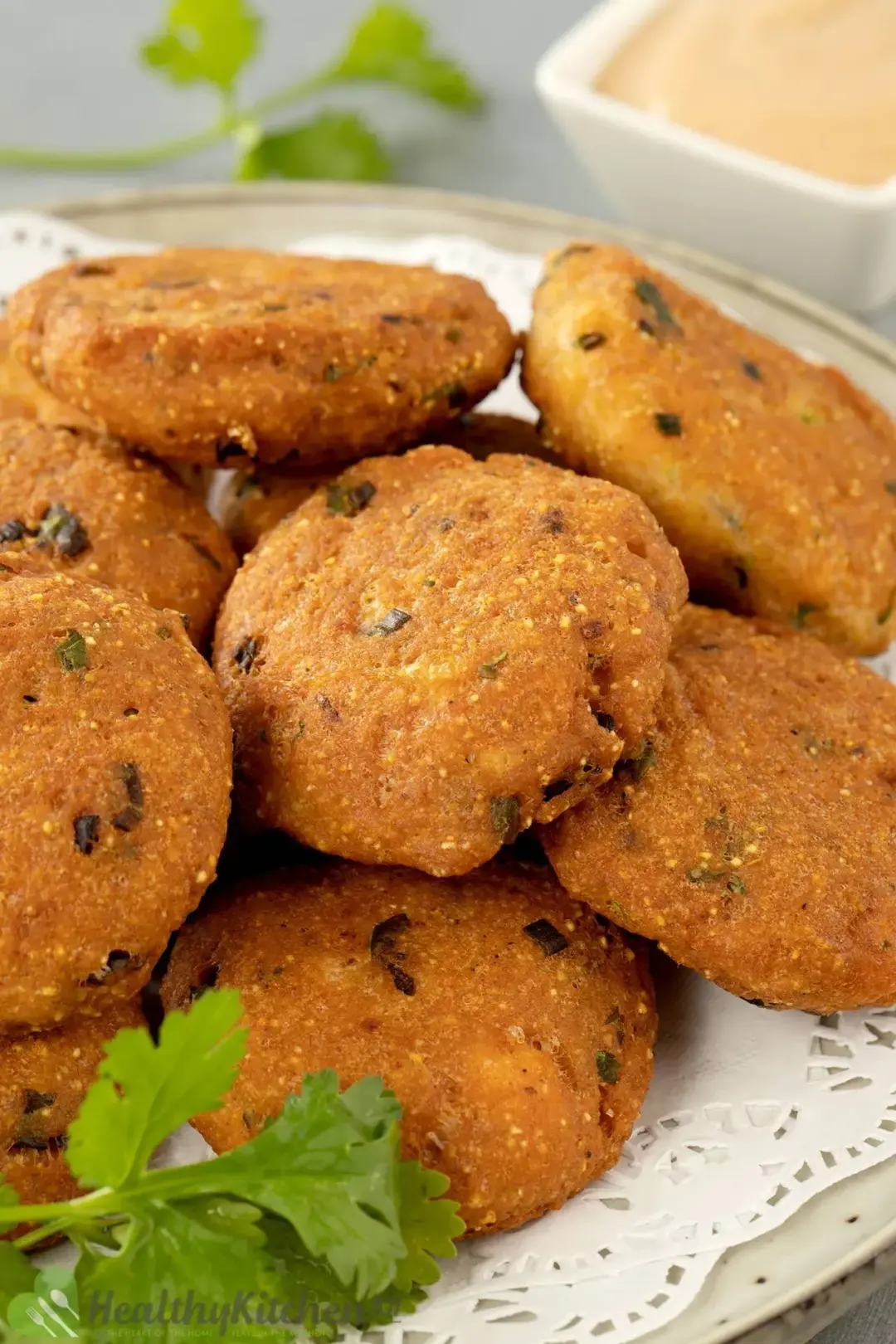 Previous Recipe
Salmon Patties With Cornmeal
Salmon Patties With Cornmeal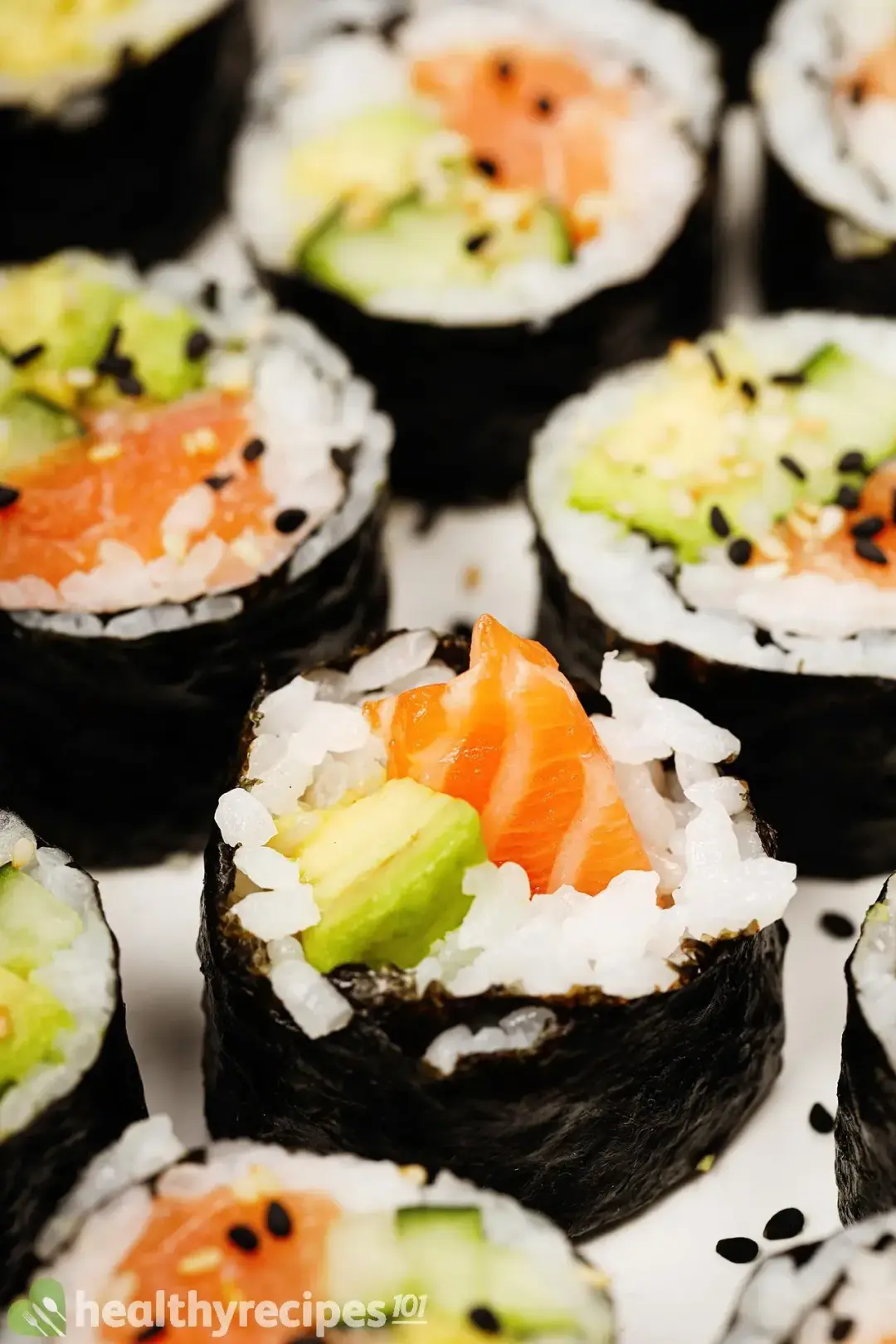 Next Recipe
Salmon Sushi Roll
Salmon Sushi Roll
Comments/ Reviews