Whether you're a seafood aficionado or simply seeking a mouthwatering adventure, these grilled shrimp recipes are guaranteed to make your grill roar with excitement. The plump, juicy shrimp, kissed by flames, and infused with a medley of spices, herbs, and marinades—we can hardly think of anything better. The best part about some of these recipes, however, is you don't even need to step outside to make them. Whip up delicious grilled shrimp right in the comforts of your kitchen!
Reasons to Love Grilled Shrimp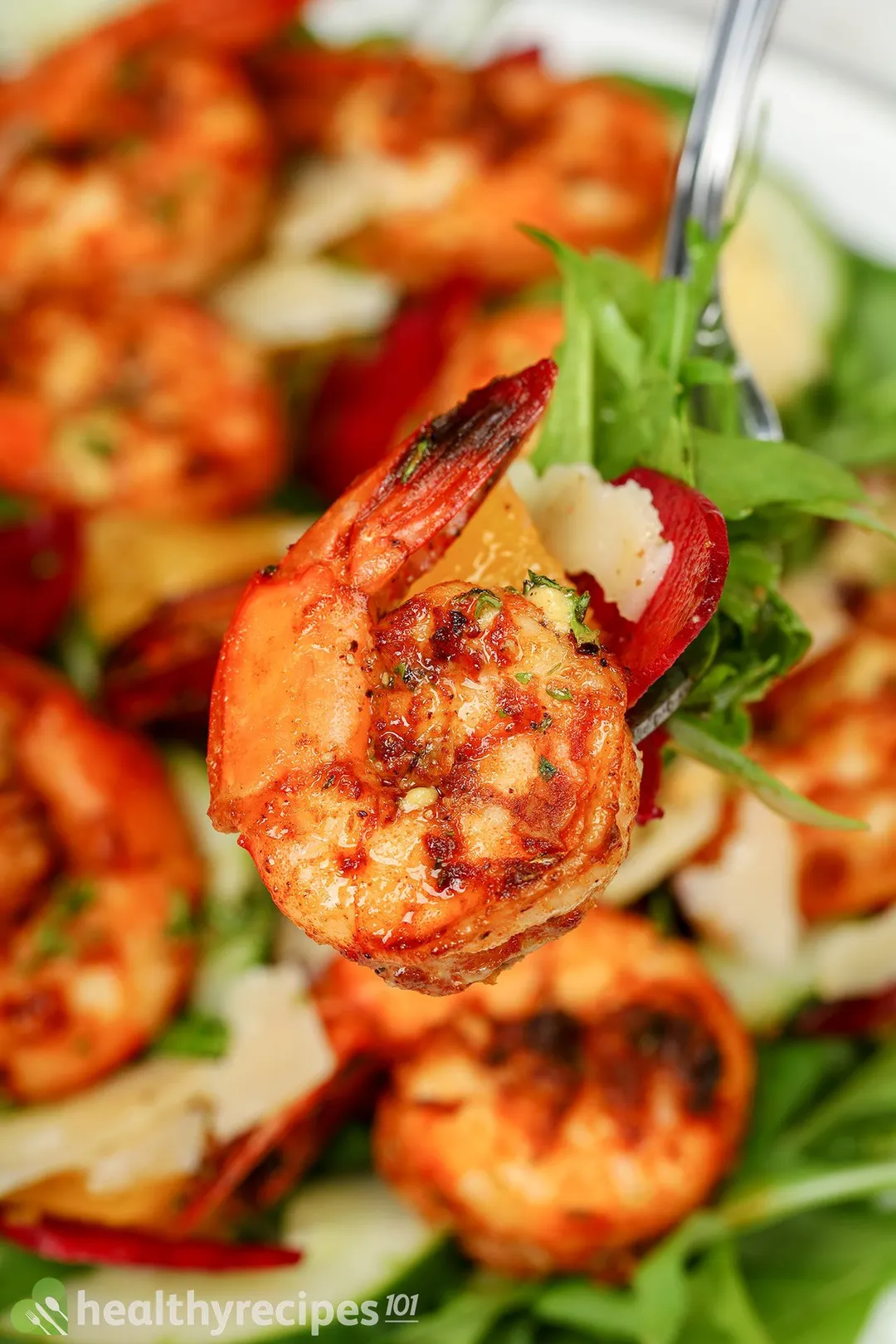 There are many reasons behind our great love for this grilled specialty. Let us explain this in detail to you.
A healthy and nutritious meal: Shrimp is a protein-loaded ingredient with an abundance of omega-3-6-9 fatty acids. When grilling, the excess fat from food will also melt and drip off the racks, restricting the amount of cholesterol intake. However, keep in mind that cooking at high temperatures – baking, frying, and grilling – may increase the level of Advanced glycation end-products (AGEs), which leads to many health issues.
Intriguing flavor profile: The distinctive taste and aroma of grilled shrimp are almost impossible to replicate. Have you ever considered adding herbs to your charcoal while grilling the shrimp? Doing this helps infuse your seafood with woodsy notes.
Quick and easy cooking method: Grilling is one of the fastest ways to cook this shellfish. Shrimp will take around 3-5 minutes to cook over an open fire, depending on the size and kind of shrimp you use – big or small, thawed or frozen.
Ideal for large servings: If you have a huge crowd to cater to, outdoor grilling will suit you best. With a large working surface, cooking anything, including shrimp and vegetables is quick and easy.
Best Grilled Shrimp Recipes
Without further ado, here are some of our delectable grilled shrimp recipes – gourmet-quality at its finest.
1. Shrimp Kabobs Recipe
Whether you're hosting a summer barbecue or simply looking to elevate your weeknight dinner, these shrimp kabobs are the ultimate crowd-pleaser. Coated in robust spices, lime juice, and herbs, these shrimp are a symphony of flavors and aromas. We take it up a notch by threading them onto skewers with a rainbow of fresh, crisp veggies like bell peppers, onions, and cherry tomatoes. The vibrant colors alone will make your mouth water!
Go to Recipe
2. Grilled Shrimp Salad
Eating salad has never been more fun with this mouthwatering dish. It combines succulent grilled shrimp with a vibrant medley of fresh ingredients that will both refresh and delight your taste buds. Plump, juicy shrimp are perfectly seasoned and grilled to perfection in the oven, then nestled on a bed of arugula, cucumber, beet, and orange. Drizzled with the bright tanginess of lemon juice and the depth of white wine vinegar, each bite is a symphony of textures and tastes that keeps you coming back for more.
Go to Recipe
3. Grilled Shrimp Cocktail With Fresh Tomato Cocktail Sauce
When your cookout, get-together, party, or even dinner night calls for something exciting and flavor-packed, don't forget to give this recipe a try. The marinated shrimp are bright, citrusy, and subtly spicy. Served with a delectable cocktail sauce made from sun-dried tomatoes, harissa paste, hot sauce, Worcestershire sauce, and herbs, they offer intricate flavor notes that dance to the music of your senses. You can serve them on their own, or over a bed of leafy greens, or pasta for a more filling, satisfying main course.
Go to Recipe
4. Chimichurri Shrimp Skewers Grill
Chimichurri sauce is a popular South American condiment made from a mixture of fresh herbs, garlic, vinegar, and oil. The sauce is known for its bright and tangy flavors, with a hint of spice from the garlic and herbs that linger delicately on your taste buds. With this recipe, it coats the shrimp entirely and is also used as a dip, so you can expect a burst of nuanced, aromatic flavors with every bite.
Go to Recipe
5. Orange Chili Grilled Shrimp
This dish combines the zesty punch of citrus with a fiery kick of chili, creating a sizzling sensation that will transport you straight to flavor paradise. Each bite is an explosion of flavors, with the juicy shrimp mingling effortlessly with the zingy orange and the fiery chili. Serve it as an appetizer to kick-start your meal or as the star of the show alongside a medley of grilled vegetables. Either way, it's a mouthwatering and unforgettable meal guaranteed!
Go to Recipe
6. Grilled Coconut Lime Shrimp
Summer dances in the air with these grilled coconut lime shrimp. With the sweetness of the coconut melds harmoniously with the lime's zesty sparks, it delivers a burst of sunshine that feels like pure, carefree joy. The smoky grill adds a hint of charred perfection to each delectable morsel. Accompanied by a dreamy, creamy yogurt sauce, each bite is a luscious taste of a tropical paradise settling nicely right on your taste buds.
Go to Recipe
7. Honey Garlic Grilled Shrimp
A culinary delight that comes together with ease, this recipe is an easy treat that's sure to impress. It flawlessly tip-toes between the line of sweet and savory, with an umami hint of soy sauce gently dancing in the background. Serve these skewers at your next cookout or get-together and it's a successful, memorable meal guaranteed.
Go to Recipe
8. Greek Grilled Shrimp With Basil-Orange Orzo
Dive into the marvel of Mediterranean cuisine with this delectable, 20-minute grilled shrimp recipe. The shrimp are marinated in a hearty, bright mixture of tomato sauce, red wine vinegar, cayenne pepper, olive oil, and various aromatic herbs. They are grilled then served over orzo that's been simmered in orange juice, chicken broth, and parmesan cheese. Toss in some toasted pine nuts and you've got a cozy, wholesome main course for all those weeknight dinners.
Go to Recipe
9. Thai Grilled Shrimp
For those who like that kick of heat in their shrimp, this recipe is right up your alley. The shrimp is coated in a blend of orange zest, sesame seeds, robust spices, and aromatic herbs then grilled to smoky perfection. If that alone isn't enticing enough, you also have the "angry sauce", which offers a harmonious mix of sweet, salty, zesty, and spicy notes that work like a dream with the shrimp. Get ready to ignite your taste buds with an explosion of marvelous, intense flavors!
Go to Recipe
10. Grilled Shrimp Tacos
Tacos are already pretty marvelous as they are, but fill them with grilled shrimp and you might just have a few culinary masterpieces on your hand. Staying true to the spirit of Mexican cuisine, these shrimp are seasoned with lime juice, garlic, cumin, and tequila. Their intense notes are perfectly contrasted by the cilantro-cabbage slaw's creamy punch, creating a harmonious medley of flavors that still captivate the taste buds. Got Tuesday Tacos coming up? Well, this dish right here is how you can take them up a notch.
Go to Recipe
How to Prepare and Marinate Shrimp for Grilling
For beginners, shrimp may be a little tricky to prepare and season. No need to worry, as we are here to guide you through the process. If you opt for frozen shrimp, make sure it is thawed properly beforehand, as frozen seafood doesn't marinate well.
For frozen shrimp, defrost them in the fridge one day ahead of cooking, or at least for 8 hours.
If you plan to grill shrimp using a grill pan, we recommend you deshell and devein them for a more flavorful taste. Start by removing the head and legs of the shrimp. With your hands, peel off the shells. Use a small paring knife to devein the shrimp. Discard all shells and veins. You can leave the tails on for decorative purposes.
If you have a grill for cooking the shrimp, you can skip the previous prepping step and go with shell-on shrimp.
Make your marinade following the recipe of your choice, or simply opt for some salt and pepper.
In a mixing bowl, add the shrimp and marinade sauce. Mix well with a wooden spoon.
Use a plastic wrap to cover the top of the bowl, and place it in the fridge.
Marinate the shrimp for at least 15 minutes, if not overnight.
Which Spice Blends Go Well With Grilled Shrimp?
Take your grilled shrimp dish to a whole new level with these spice mixes:
Cajun seasoning: This spice mixture featuring garlic powder, onion powder, cayenne pepper, black pepper, and oregano symbolizes the essence of Louisiana cuisine.
Creole seasoning: This combination, which includes oregano, basil, and thyme, is more herbal in flavor than Cajun seasoning. 
Blackened seasoning combines the best of both worlds – a cross between Cajun and Creole seasoning.
Old Bay seasoning: Maryland, USA, is home to many incredible seafood delicacies. Let your grilled shrimp be a part of this cuisine by adding some Old Bay blend to the marinade.
And for those who love a good old classic flavor-fest, don't forget to check out our BBQ Shrimp Recipes for some more quick, easy, and summery goodness.
What to Serve With Grilled Shrimp
If you're looking for some great pairings for grilled shrimp, why not give these a whirl?
Salad: Fresh fruit salad and grilled shrimp is the perfect duo as the tartness helps balance the savory aftertaste. Check out our no-mayo, healthy fresh fruit salad here.
Grilled vegetables: Grill your shrimp along with some asparagus, baby carrots, and corn for more fiber in your diet.
Pasta: Top your favorite pasta with grilled shrimp for a delicious, hearty dinner.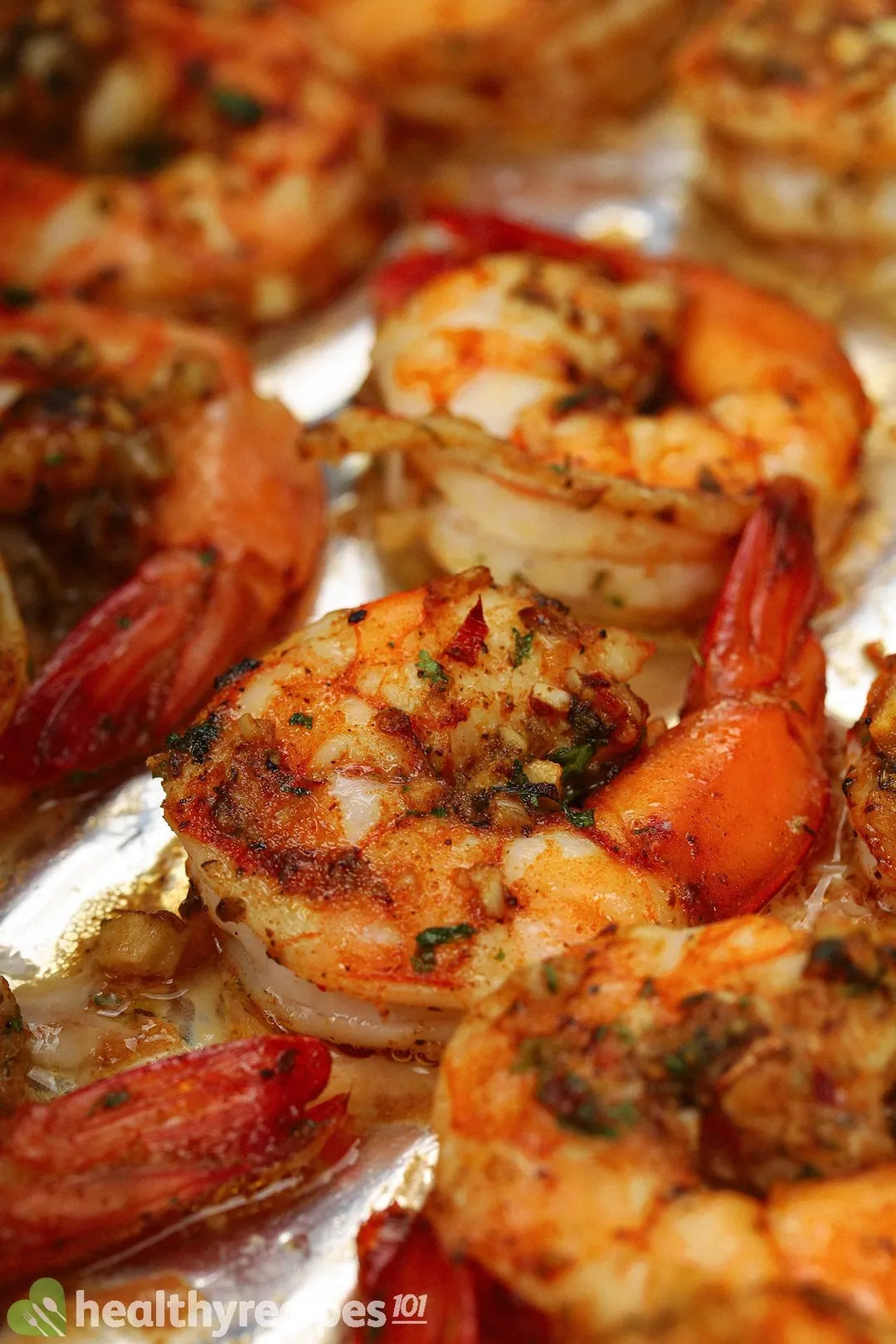 Previous Recipe
Baked Shrimp Recipes
Baked Shrimp Recipes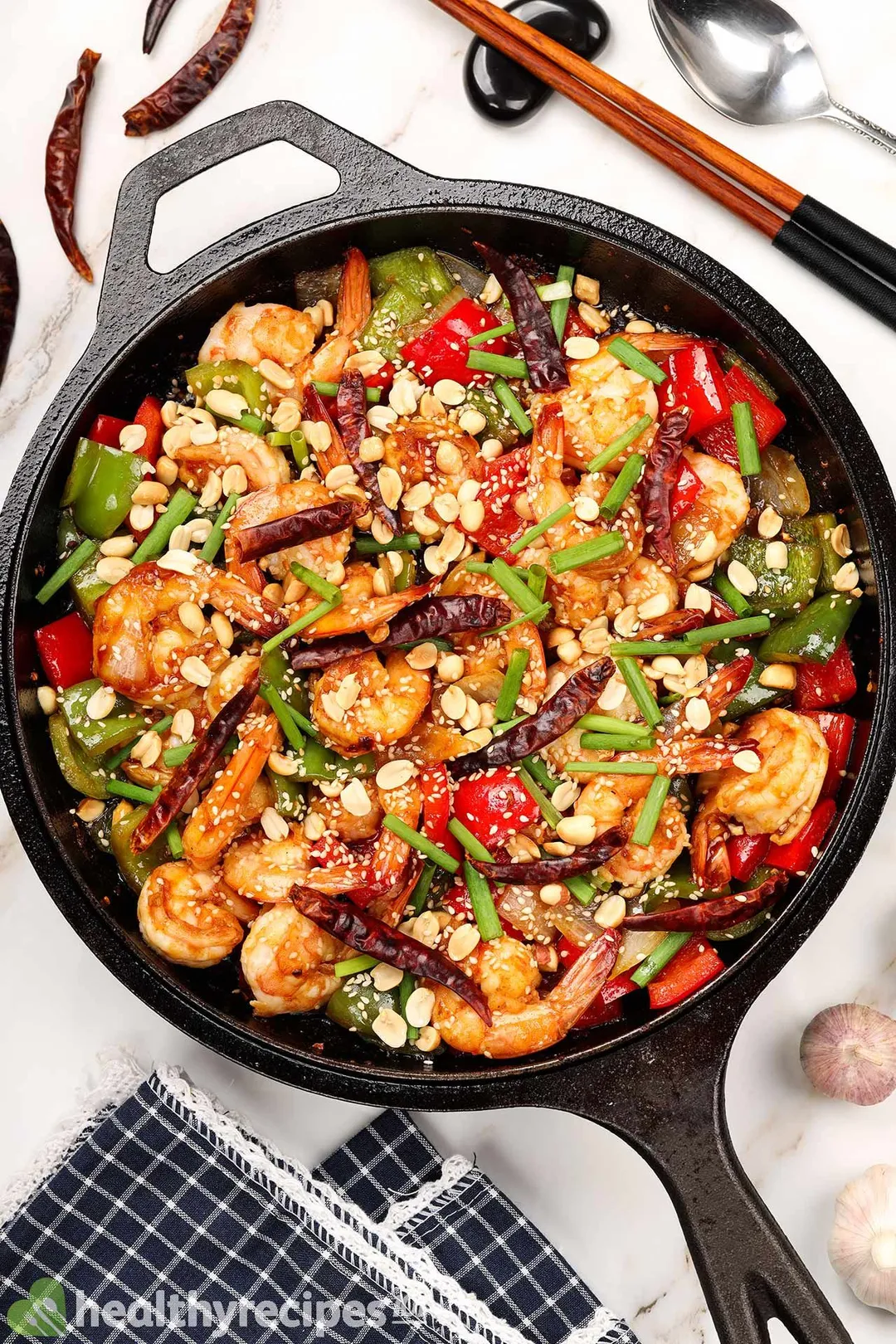 Next Recipe
Asian Shrimp Recipes
Asian Shrimp Recipes
Writer, Author
Luna Regina is an accomplished writer and author who dedicates her career to empowering home cooks and making cooking effortless for everyone. She is the founder of HealthyKitchen101.com and HealthyRecipes101.com, where she works with her team to develop easy, nutritious recipes and help aspiring cooks choose the right kitchen appliances.
Comments/ Reviews