We put together this list of baked shrimp recipes to help you use your oven, that kitchen stalwart, to make delectable shrimp dishes.
If you've never baked shrimp before, don't worry, we're here to walk you through the process and share some meal inspiration. You'll leave with both the method and some favorite recipes to try out.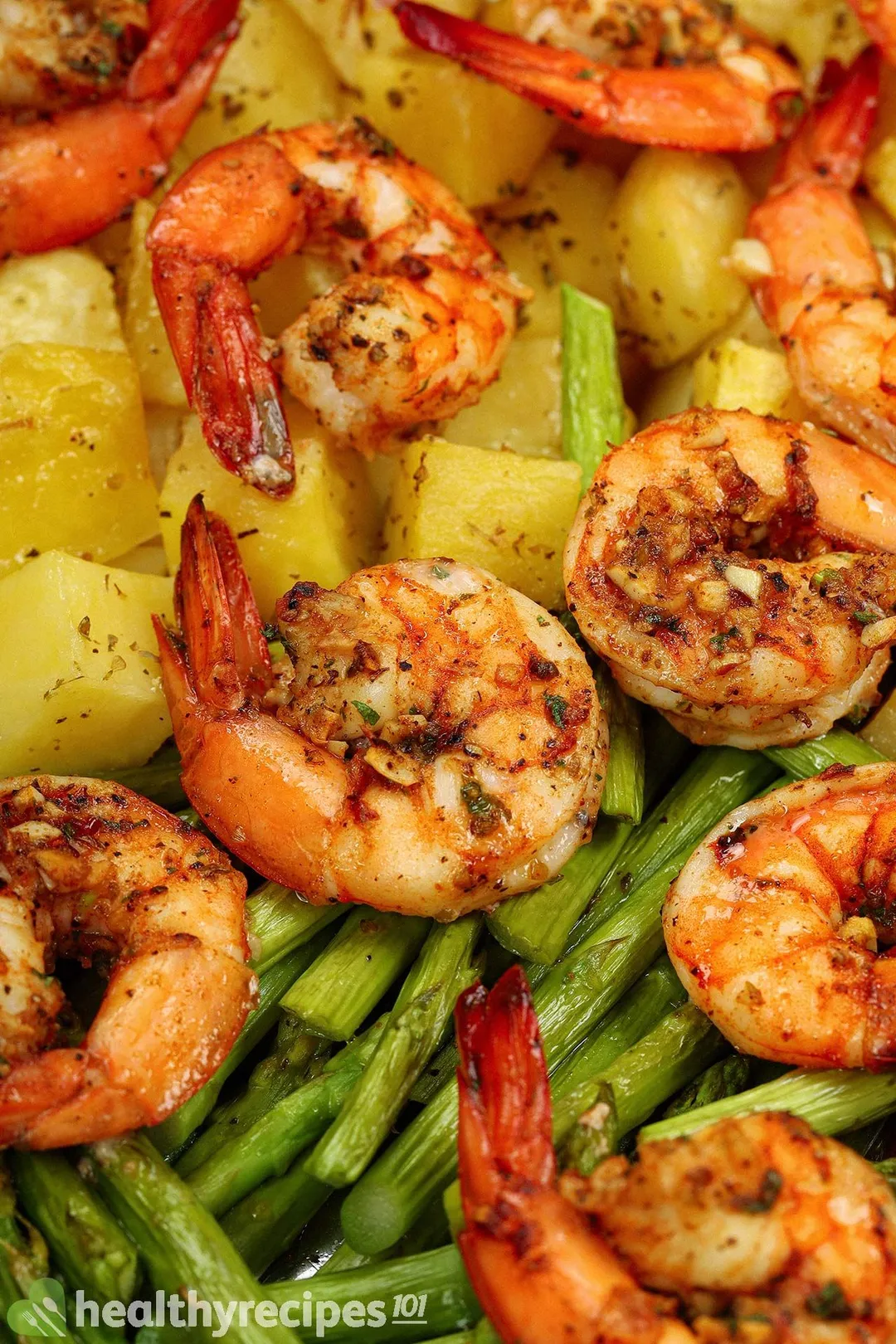 Baked Shrimp – an Excellent Way to Cook
We couldn't say that one cooking method is better than another because they all have their pros and cons. But clearly, baking is an outstanding choice.
When it comes to cooking time, baking is not the fastest. The oven takes time to preheat and then around 8-13 minutes to cook shrimp perfectly (depending on temperature and size.)
However, it is convenient. Using the oven gives you a greater amount of freedom for other tasks in the kitchen because you can pop your food in and let it cook while you work on other things.
The mechanics of an oven can also help you. Ovens cook by heating the air around the food, so using one doesn't add any more fat or calories to your dish.
Best Baked Shrimp Recipes
Let the oven do its thing with these tasty baked shrimp recipes.
1. Oven-Baked Shrimp
Oven-baked to perfection, these shrimp boast a caramelized, savory taste and delightful texture that tantalize your taste buds with each succulent bite. Whether you're hosting a lively dinner party or simply treating yourself to a satisfying feast, this dish is the ultimate showstopper. Pair it with a refreshing cocktail or serve it alongside a vibrant salad for a complete meal that will transport you to the shores of paradise.
Go to Recipe
2. Shrimp Parmesan
This vibrant, golden dish is what good food dreams are made of. The plump, succulent shrimp are simmered in a hearty mixture of tomato sauce, chicken broth, and robust spices, then covered in breadcrumbs and parmesan cheese. Baked in the oven for only 10 minutes, it gives you a flavor-bursting dish with delightful textures that just can't be beat. Served over a bed of pasta, it makes a perfect main course for all those homey, cozy dinner nights.
Go to Recipe
3. Baked Cajun Shrimp
Get a taste of New Orleans cuisine with this delectable, spicy, and utterly mouthwatering Cajun shrimp recipe. We simply adore how quick and easy it is—all you have to do is toss the shrimp in the herbs and spices, then spread them onto a baking sheet, and let the oven work its magic. And the result is just wonderful and stunning, no one will even believe you spent barely 15 minutes making this.
Go to Recipe
4. Baked Shrimp With Garlic Lemon Butter Sauce
The seafood bliss is very real with this easy, vibrant dish. Tender, succulent shrimp is tossed in a zesty, subtly sweet, and rich lemon butter sauce, and then baked to perfection. Grab a few toasted bread slices for company and you've got an effortless main course for lunch, brunch, or dinner. Take your pick because this dish is great at any time!
Go to Recipe
5. Shrimp Quiche
There's something about a quiche that just inexplicably brings that sense of comfort and even a little nostalgia. While it may typically be a work of arduous labor, rest assured that won't be the case with this recipe. It only takes 35 minutes to make, and you'll still have that golden-baked crust and savory, tender filling. It's perfect for a bonding brunch, satisfying lunch, or cozy dinner, and if you've got any leftovers, you can also turn it into the next day's breakfast!
Go to Recipe
6. Shrimp Baked in Tomato Sauce
Tender, plump shrimp covered in a rich, tangy, and mildly spicy tomato sauce is our definition of pure, unadulterated joy. Every spoonful of this dish bursts with magical flavors while also pampering your taste buds with a delicate, homey warmth. Give it a try and you just might discover yet another family favorite!
Go to Recipe
7. Bacon Wrapped Shrimp
Shrimp and bacon, now that's a combination that's sure to knock your socks off. The tender shrimp, kissed by the smoky embrace of bacon, melds together in perfect harmony. But that's not all! The bacon adds a delightful crunch to each mouthful, creating an explosion of textures that will keep you coming back for seconds, thirds, and maybe even fourths!
Go to Recipe
8. Easy Baked Butterfly Shrimp
This easy, keto, and gluten-free recipe gives you beautifully flavored shrimp while still highlighting their natural seafood sweetness. The delicate flavors of the shrimp harmonize effortlessly with the rich buttery notes, creating a gorgeous, well-balanced symphony of taste. It's perfect as an appetizer to kickstart your meal, a standalone dish for seafood lovers, or laid over a bed of rice for a filling main course.
Go to Recipe
9. Shrimp Mac and Cheese
This indulgent dish combines the creamy, cheesy goodness of traditional mac and cheese with the succulent, flavorful addition of shrimp. It's a twist on the classic mac and cheese, giving it a slightly elevated taste while still staying true to the warming essence this dish has to offer. Got a cozy night in and not sure what to make? Whip this up for a taste of nostalgia and comfort.
Go to Recipe
10.  Garlicky Baked Shrimp
Garlic and shrimp is a match made in culinary heaven that's delicious beyond words. With this easy, simple recipe, you can have a hot pan of perfectly baked shrimp covered in crispy breadcrumbs and infused with citrusy, garlicky, and subtly herby aroma in just 20 minutes. It's perfect for a cozy night in or for entertaining guests with its gourmet flair—whatever the occasion, you can't go wrong with this dish.
Go to Recipe
11. Shrimp Enchiladas
This indulgent Mexican-inspired dish combines the succulent, flavorful shrimp with the spicy, tangy flavors of enchilada sauce. Imagine sinking your teeth into a warm, soft tortilla filled with plump, juicy shrimp that has been seasoned to perfection. Each bite is bursting with the bold taste of garlic, cumin, and chili powder, creating a fiesta of flavors that will have your taste buds dancing with joy. 
Go to Recipe
12.  Cheesy Shrimp Casserole
Filled to the brim with mildly spicy shrimp, vegetables, green beans, rice, and melted cheese, this shrimp casserole is the very definition of comfort food. There's nothing quite like sitting around with your loved ones and sharing conversations over spoonfuls of this warm, decadent, and delicious dish. Plus, it also makes a mouthwatering crowd-pleaser at all those house parties and small gatherings.
Go to Recipe
13.  Saucy Greek Baked Shrimp
In the mood for something new? This hearty, vibrant dish is the one to try. The shrimp is smothered in a delectable tomato sauce alongside crumbles of feta cheese and then baked for a short while. What comes out of the oven is a beautiful, warming dish that wraps your taste buds in a wonderfully cozy and comforting hug. Serve it with a few slices of toasted bread and you've got a soul-soothing treat for all those cold, blue days.
Go to Recipe
14. Baked Shrimp Toast
Keep this recipe in your back pocket for any time you've got a gathering or party coming up and you want to start the night with a memorable bang. The crispy bread slices are topped with a Cajun-infused, cheesy mixture of shrimp, onion, and celery. They offer a firework of bursting flavors and striking textures that will have your guests savoring every bite.
Go to Recipe
15. Crispy Sheet Pan Shrimp Tacos
Taco Tuesdays are about to get a whole lot more exciting with these shrimp tacos. The shrimp is coated in robust spices and briefly pan-fried, then stuffed into tortillas alongside a chock full of shredded cheese. 20 minutes in the oven and you've got some truly indulgent treats on your hands. With overflowing cheese, flavorful shrimp, and slightly charred, crispy tortillas, it honestly doesn't get any better than this.
Go to Recipe
How to Season Shrimp for Baking
Another advantage of baking is that you can season the shrimp right before putting them in the oven. If you use a baking dish, place the shrimp in a single layer on the pan and add your seasoning of choice. The shrimp will absorb the flavors during the cooking process.
It doesn't need a long marinating time. In fact, you shouldn't marinate shrimp too long, especially if your seasoning contains acidic ingredients as it can affect the texture.
Be sure to check what the recipe says and don't marinate your shrimp for longer than 30 minutes (for acidic ingredients) or 2 hours (for others).
How Long Should You Bake Shrimp?
The exact baking time will depend on how much shrimp you have and how big it is, as well as the temperature of the oven.
For example:
at 350 °F: 12-13 minutes
at 375 °F: 10-12 minutes
at 400 °F: 8-10 minutes
How to Know When Baked Shrimp Are Done
Because the cooking time varies depending on how hot the oven is, you should rely on additional factors to determine if your shrimp is fully cooked. The top two being: the appearance of the shrimp and the internal temperature.
Appearance: When shrimp starts curling into a C-shape and its color is pinkish, you should get ready because it's almost done.
Temperature: The USDA states that shrimp is cooked through and safe to eat when it has an internal temperature of 145 °F.
How to Store and Reheat Leftover Baked Shrimp
You can refrigerate baked shrimp in airtight containers and they should last for 3-4 days. The shelf life can be extended for up to 10-12 months in the freezer.
Reheating shrimp is simple, the best method is the one you used to cook it. In this case, reheating in the oven is the best choice.
First, preheat the oven to 300 °F.
Spread out the shrimp evenly on a lined baking pan.
Cover them with aluminum foil to keep in the moisture.
Bake at 300 °F for 15 minutes.
Remove the shrimp from the oven and enjoy.
Using the microwave is also an option, especially if you bring leftovers to work or school.
Make sure that you put the shrimp in a microwave-safe container.
Add a little bit of water to the shrimp.
Loosely cover the container with the lid.
Reheat the shrimp on high for 1-2 minutes. You should start with 1 minute and then check if it's heated through, if not, heat in 30 second increments until it is.
Remove the shrimp from the microwave and enjoy.
What to Serve With Baked Shrimp
Baked shrimp sounds delicious, but it's not a whole meal in itself. Here are some recommendations for what you can serve alongside it:
Baked or roasted vegetables: broccoli, asparagus, corn, potatoes, carrots, etc.
Salads: coleslaw, Caesar, pasta salad, or your own creation.
Starch: pasta, rice, or bread.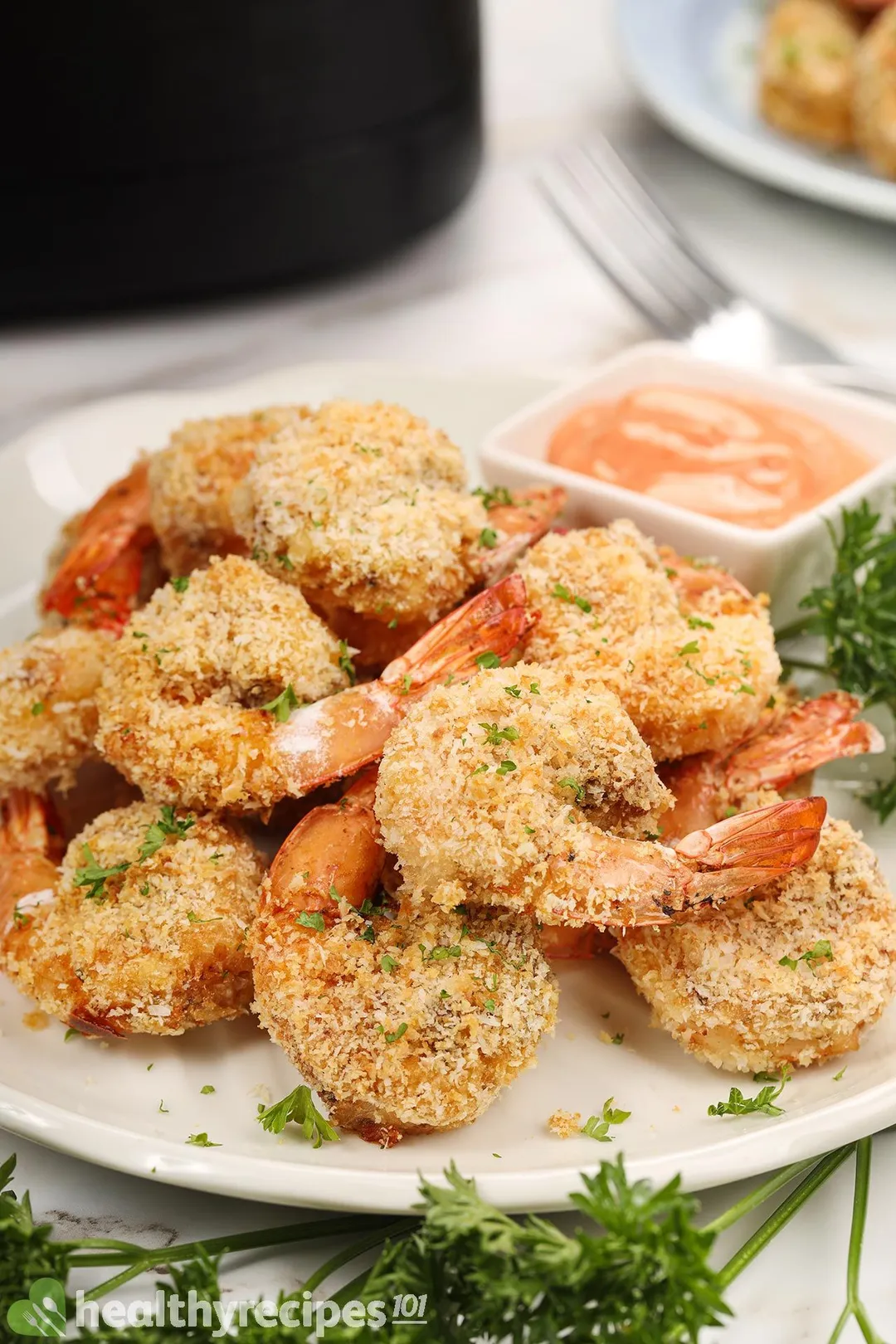 Previous Recipe
Air Fryer Shrimp Recipes
Air Fryer Shrimp Recipes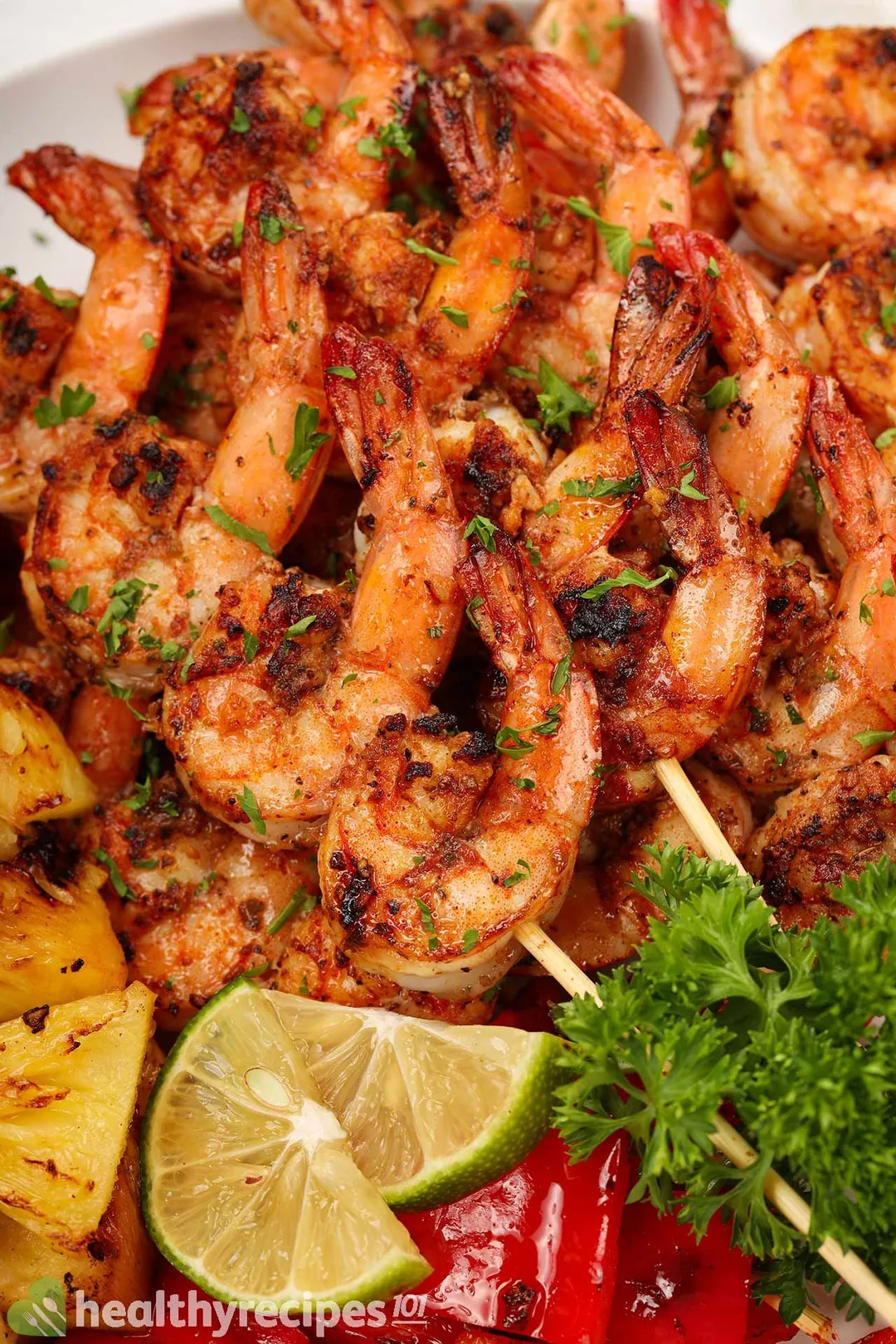 Next Recipe
Grilled Shrimp Recipes
Grilled Shrimp Recipes
Writer, Author
Luna Regina is an accomplished writer and author who dedicates her career to empowering home cooks and making cooking effortless for everyone. She is the founder of HealthyKitchen101.com and HealthyRecipes101.com, where she works with her team to develop easy, nutritious recipes and help aspiring cooks choose the right kitchen appliances.
Comments/ Reviews