With our shrimp alfredo recipe, you can cook up a delicious and healthy meal in just 30 minutes.
Smothered in a rich, aromatic cream sauce, this shrimp and pasta is the ultimate comfort food that's also surprisingly simple. Even better, each serving has a sound nutritional profile.
You might also love our creamy chicken alfredo. It's tasty, easy, and can also be cooked in an Instant Pot.
If you're planning to cook ahead, be sure to check out our storage instructions. We have some tips that will keep the pasta soft but avoid it turning mushy when reheated.
Is Shrimp Alfredo Healthy?
After several adjustments to the original, our shrimp alfredo recipe makes a healthy dish.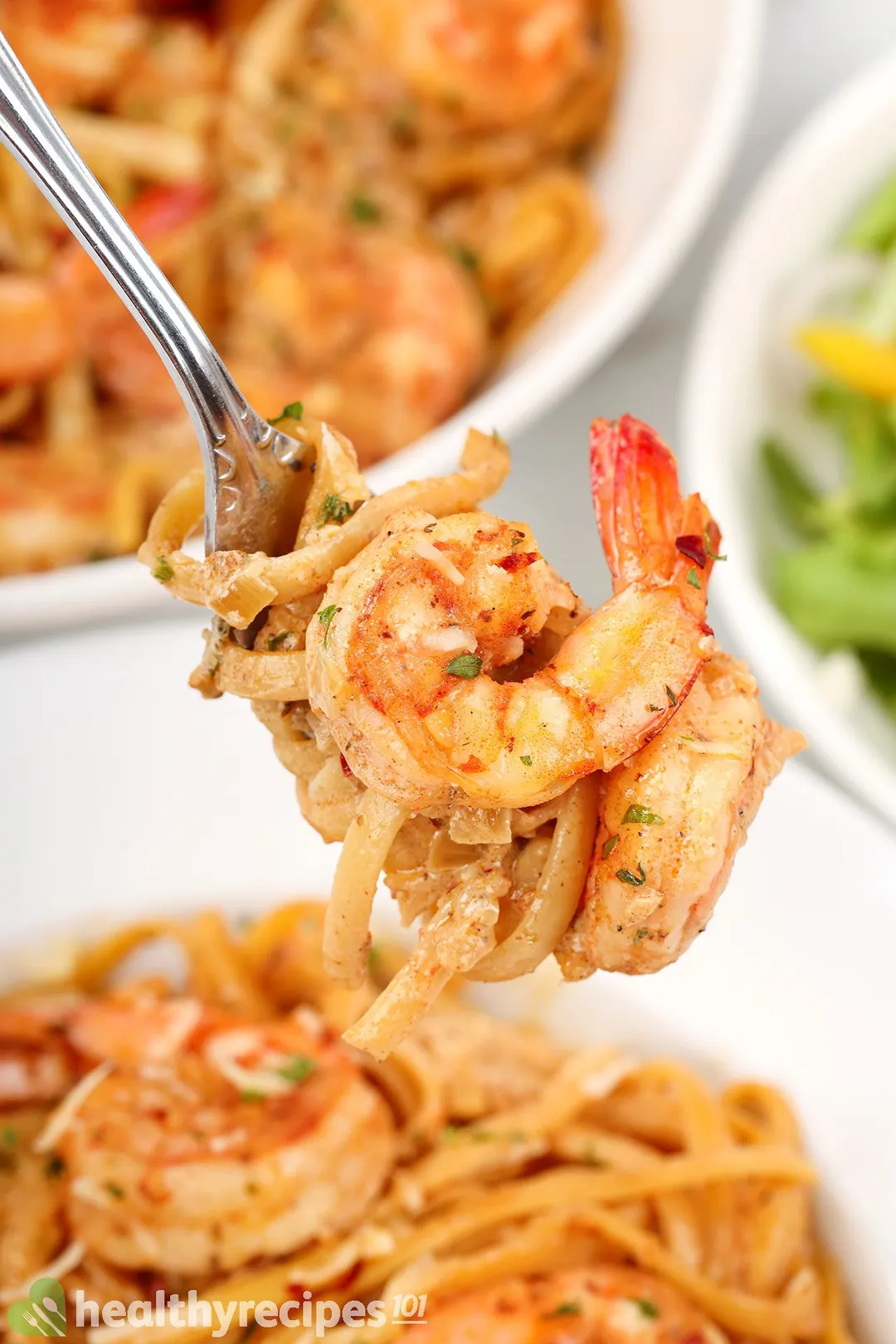 Shrimp alfredo is often high in saturated fats, containing loads of dairy. Its sodium level can also be over the top without moderate seasoning, as shrimp itself already contains a significant quantity.
As the dish has calorie-rich components, it's important to be mindful of the size of each serving. Improperly portioned and it would be impossible to include in our strictly calorie-controlled diet.
Taking all of this into account, we made sure that each of the aforementioned ingredients is used reasonably. Each serving, therefore, yields about 8.6 g saturated fat, 576 mg sodium, and 483 calories, complying to our nutrition guidelines.
Shrimp Alfredo Ingredients
Let's take a look at what you need for our shrimp alfredo recipe:
1. Pasta
Fettuccine is the traditional choice for any alfredo, but we found spaghetti works just as well. As long as the noodles are long-stranded, the difference in experience should be minimal.
For efficient cooking, you want to bring a pot of water to a boil before proceeding with the steps we're about to show you. Once it reaches a rolling boil, add the pasta and cook it according to its package instructions.
On the package you'll find the cooking times, the lower of which results in al dente (firm) pasta and the other, soft pasta. Cook the pasta until soft for immediate serving and al dente for storing.
2. Shrimp
Shrimp of different sizes work the same way, but larger ones make for a better experience. Still, jumbo-sized shrimp can make portioning difficult, so be sure to get ones similar to ours — medium, about 6 per serving.
If you're using fresh shrimp, you need to devein them and remove their heads and shells. Get frozen (deveined and peeled) shrimp and you won't need to do any of this, plus, you can cook them straight from frozen.
Be sure to check out our instructions for cooking frozen shrimp below.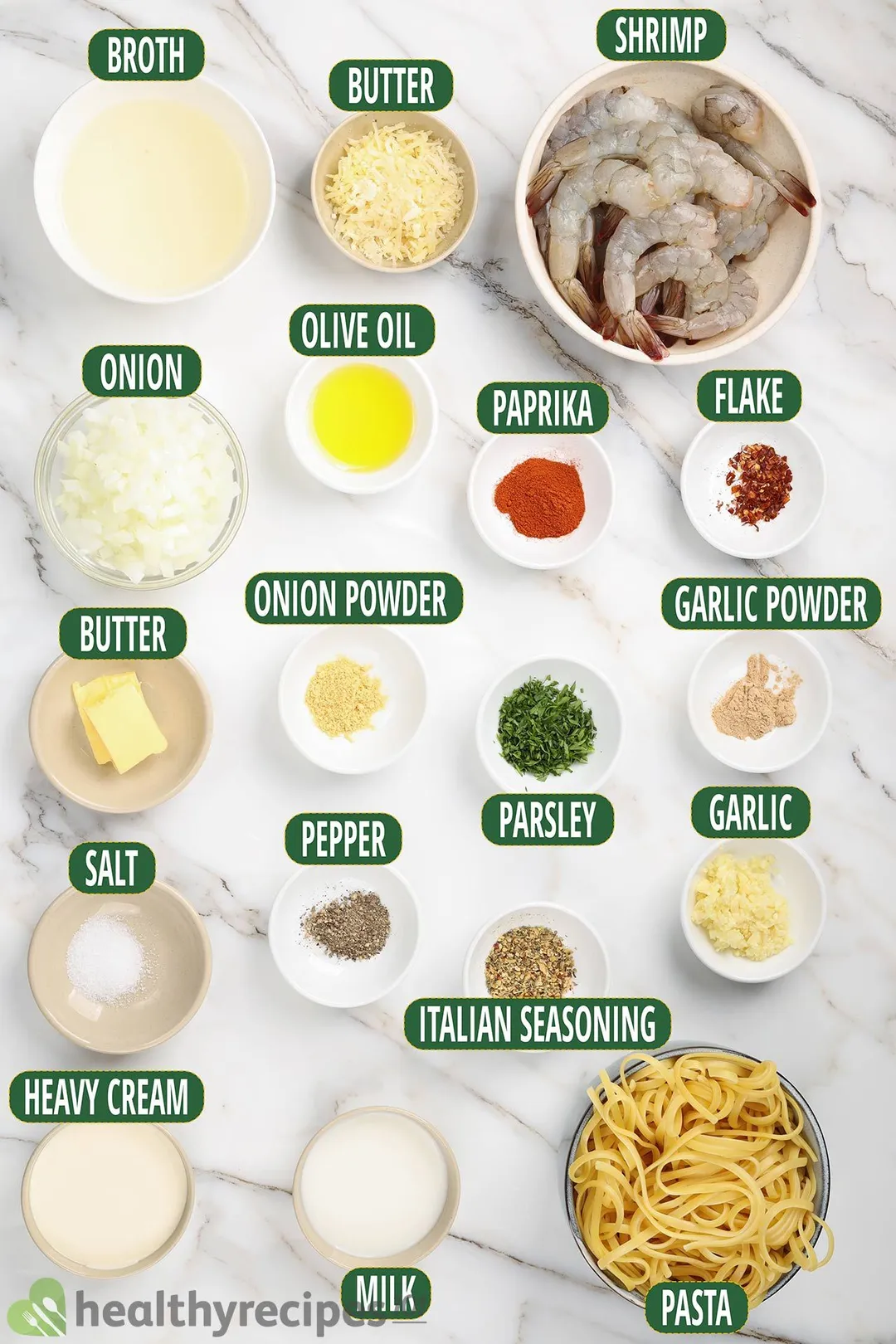 3. Aromatics and Seasonings
You'll need garlic, onion, Italian seasoning (a mix of dried herbs), salt, and pepper. The first three are crucial in any Italian dish while the last two are self-explanatory.
To intensify the shrimps' flavor, we added some onion and garlic powder, which have a more concentrated flavor compared to the fresh aromatics. We also added a touch of paprika for an appetizing spicy kick.
4. Alfredo Sauce
Traditional alfredo sauce only has butter and parmesan, but seeing as this sauce contains loads of saturated fat, we prefer an alternative.
The one we're about to show you is a combination of butter, parmesan, milk, cream, and chicken broth. They make for a healthier sauce that's as rich and flavorful as the traditional one.
Can You Cook Frozen Shrimp?
You can, and it's really easy: cook them for an additional 2 minutes or until both sides turn golden pink.
If you don't want to spend the extra minutes on cooking, you can defrost the shrimp first. However, it is important to understand how to thaw shrimp properly:
How to Thaw Frozen Shrimp, the Right Way
It's not okay to simply leave the shrimp on the counter and wait until they come to room temperature. By doing this, you're allowing the present bacteria to reactivate and spoil the shrimp.
The key is to allow them to be soft and pliable, but still really cold. Cooking it at this stage kills off the bacteria before they have a chance to thrive.
You can do this by moving the frozen shrimp to the fridge the night before, allowing them to defrost overnight or for 12 hours. Or, place the frozen shrimp in a bag, seal it, submerge it in cold water for 5-10 minutes, and they'll be ready to cook. It's even quicker with small shrimps, taking just a couple of minutes.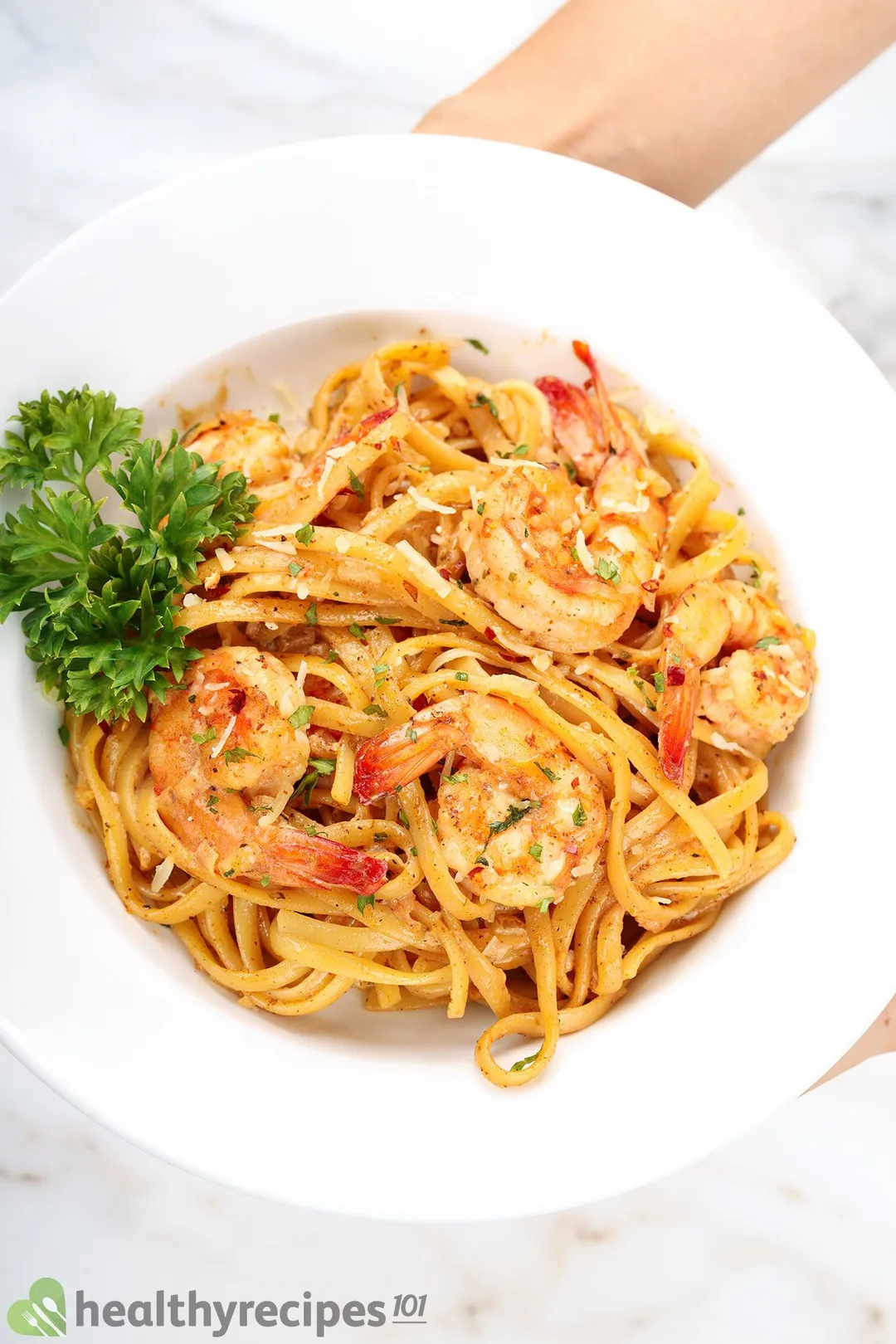 How to Make Shrimp Alfredo
We promised an easy shrimp alfredo recipe, and now we deliver:
Be sure to check out the ingredients list in the recipe card section below.
How to Store and Reheat Shrimp Alfredo
If you're cooking shrimp alfredo ahead, remember to take out the pasta at the point of al-dente. Then, proceed to make the dish and portion it out into containers to store.
Place the ones you're eating within the week in the fridge. For the rest, place them in the freezer with a note saying "3 months expiry from [today]".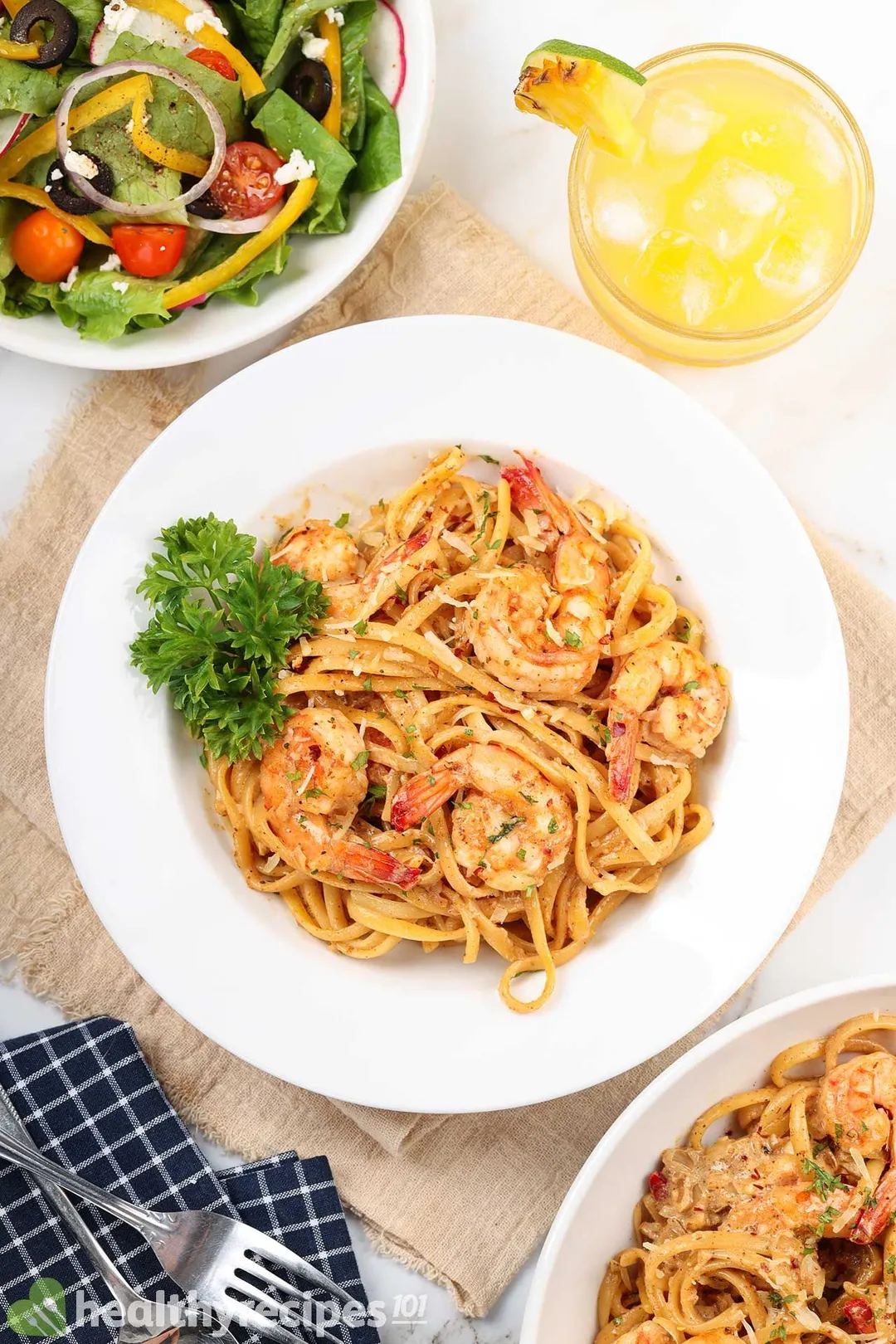 We often choose air-tight containers when there are only a few servings and reusable Ziploc bags when there are more. Containers are convenient for reheating in the microwave, while Ziploc bags save lots of fridge space.
To reheat, simmer your desired portions with about 1-2 tbsp water in a pot over low heat for about 4-6 minutes. Or, place them into a microwave-safe container and microwave for 2-4 minutes (check every 1 minute).
What to Serve With Shrimp Alfredo
This rich, savory pasta pairs well with tangy, fresh salads, among which our Greek salad is the most suitable. It can be put together quickly and is also perfect to make ahead.
To balance out the flavors, we picked out a sweet and mildly tangy drink: our pineapple ginger juice.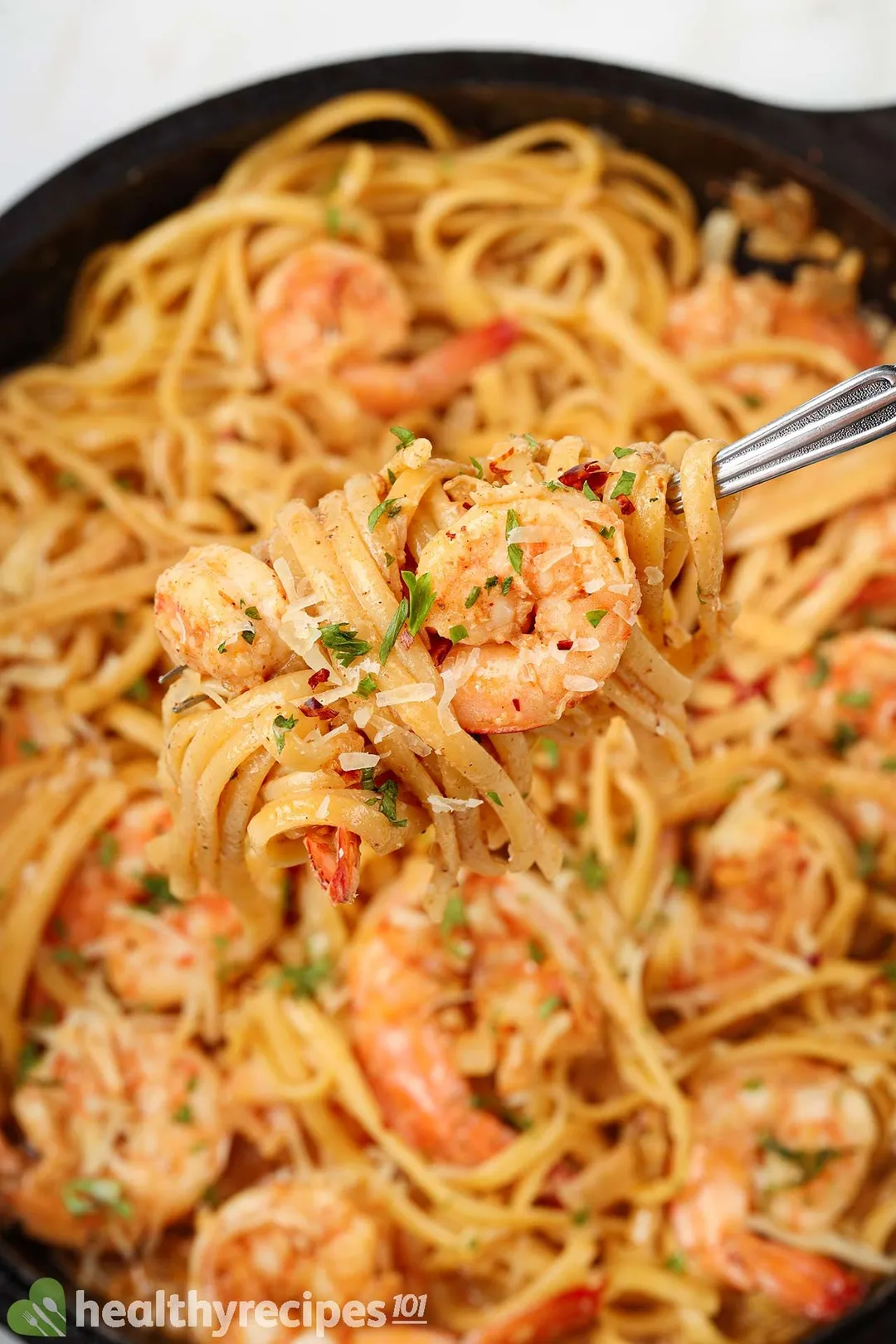 For More Shrimp Pasta Dishes, Check Out These Recipes!
Shrimp Alfredo
Our shrimp alfredo recipe makes many portions of a healthy, comforting meal in under 30 minutes. It's meal-prep friendly.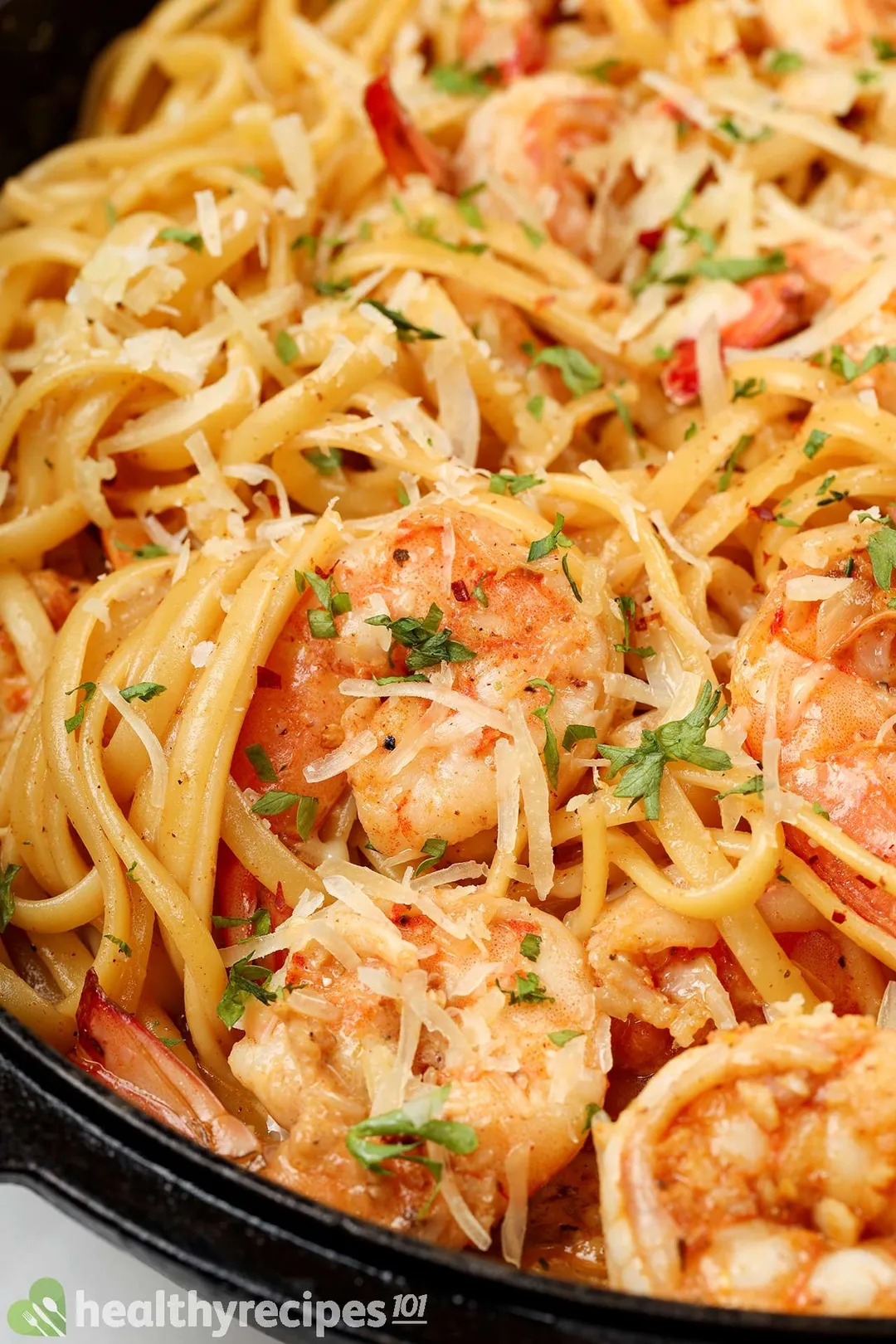 cook TIME

15 mins

prep TIME

15 mins

total TIME

30 mins
COURSE

Main Course

CUISINE

Italian

SERVINGS

CALORIES

483 kcal
INGREDIENTS
24 oz

raw shrimp

(14 oz peeled (with heads removed))

14 oz

cooked spaghetti

(from 6 oz uncooked, al-dente for later storage and soft for immediate serving)

1 tbsp

unsalted butter

(about 0.5 oz)

0.5 oz

parmesan cheese

(shredded)

1/2 cup

unsalted chicken broth

4 oz

onions

(about 2/3 a medium, diced)

2 tbsp

garlic

(about 3 cloves, minced)

1/2 tsp

ground black pepper

2 tbsp

parsley

(finely chopped)

1/2 tsp

red pepper flakes
INSTRUCTIONS
1
Boil some pasta if you haven't already. Heat a nonstick skillet over medium heat and melt 1 tbsp (or 0.5 oz) unsalted butter. Add 2 tbsp minced garlic and stir for about 30 seconds.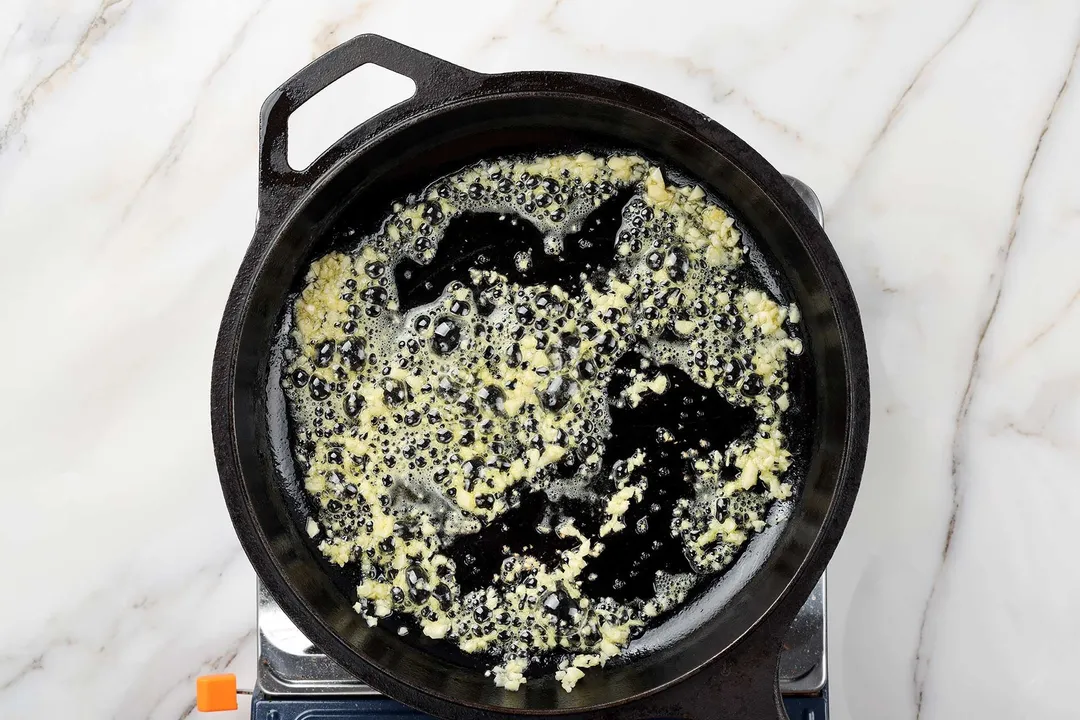 2
Add 24 oz raw shrimp and leave it to sear for about 1.5 minutes. Flip to cook for another 1 minute, stir in 1 tsp Italian seasoning, 1 tsp paprika, 1/2 tsp garlic powder, and 1/2 tsp onion powder. Once the shrimp is thoroughly seasoned, place them in a bowl and put aside.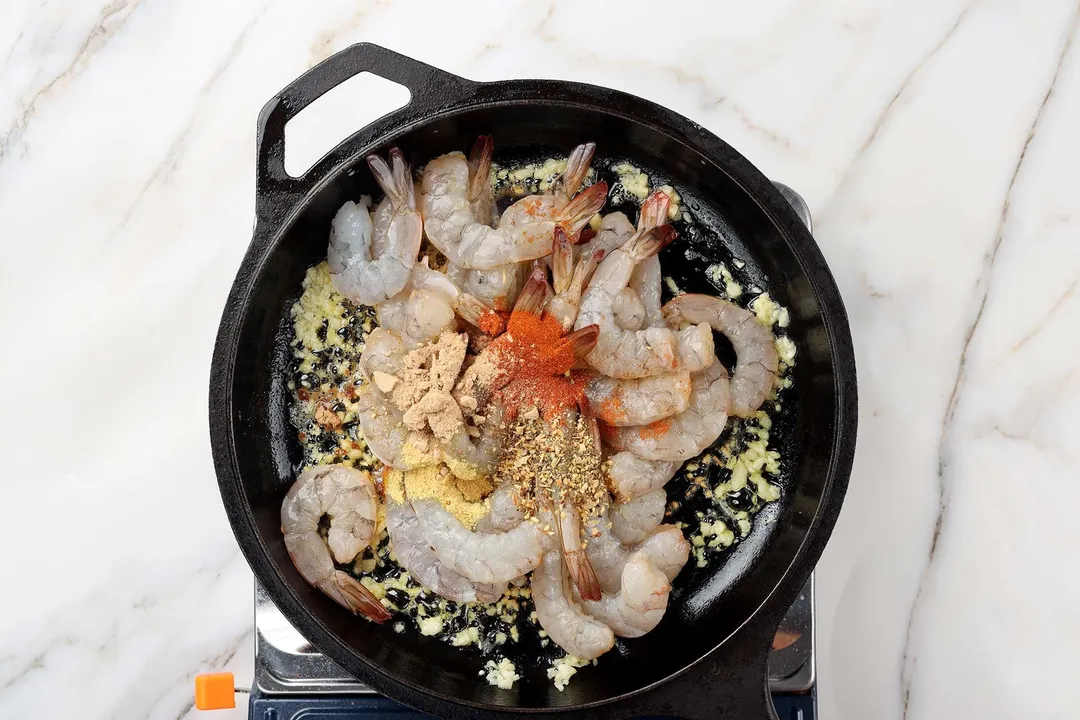 3
Grease the skillet with 1 tbsp olive oil and add 4 oz diced onions to cook for 1 minute or until translucent. Add 1/2 cup chicken broth, 4 tbsp milk, 6 tbsp heavy cream, 1/2 tsp salt, and 1/2 tsp pepper. With a spatula, stir for 1 minute, and at the same time, scrape the bottom to release all of the flavors into the sauce.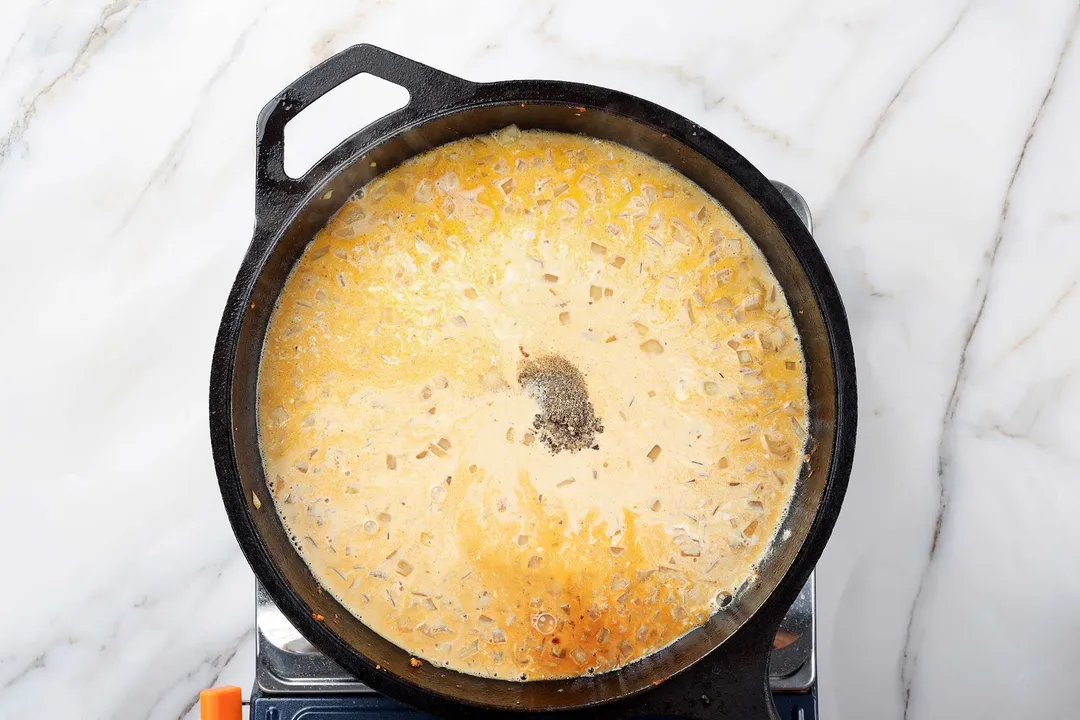 4
Add the cooked shrimp back and cook everything for another 3 minutes over medium heat. Add 14 oz cooked spaghetti, stir to coat it with the sauce, and simmer for 2 minutes. Remove from the heat.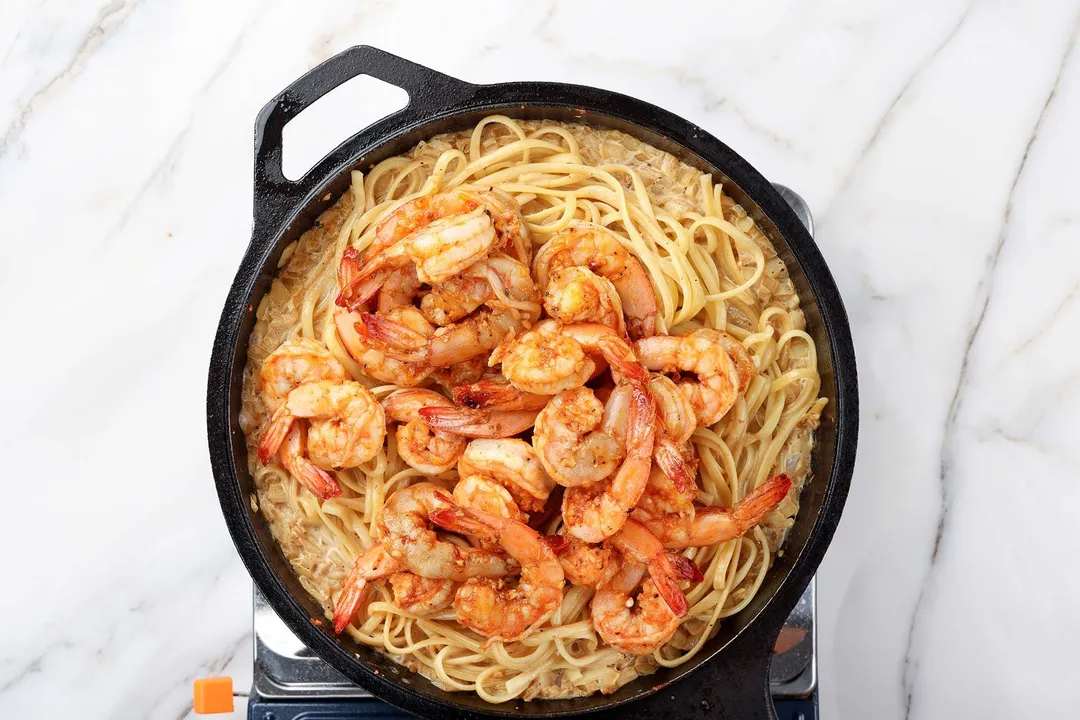 5
Sprinkle with 2 tbsp chopped parsley, 0.5 oz shredded parmesan, 1/2 tsp red pepper flakes, and enjoy.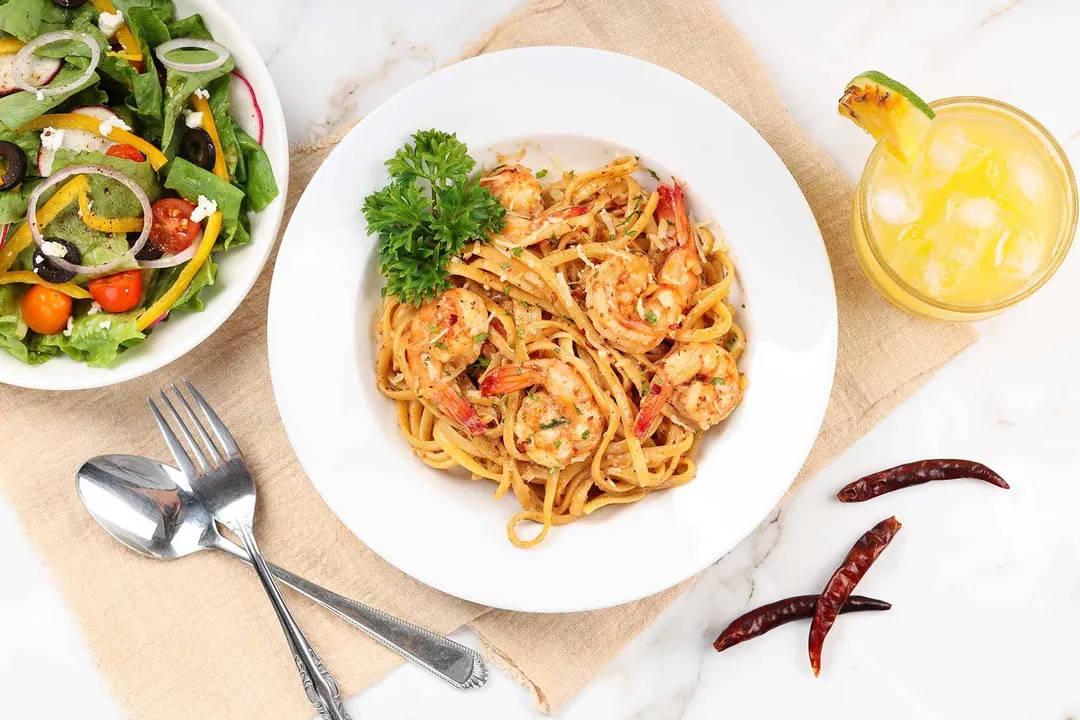 NUTRITION
Nutrition Facts
Shrimp Alfredo
Amount Per Serving (1 serving)
Calories 483
Calories from Fat 162
% Daily Value*
* Percent Daily Values are based on a 2000 calorie diet.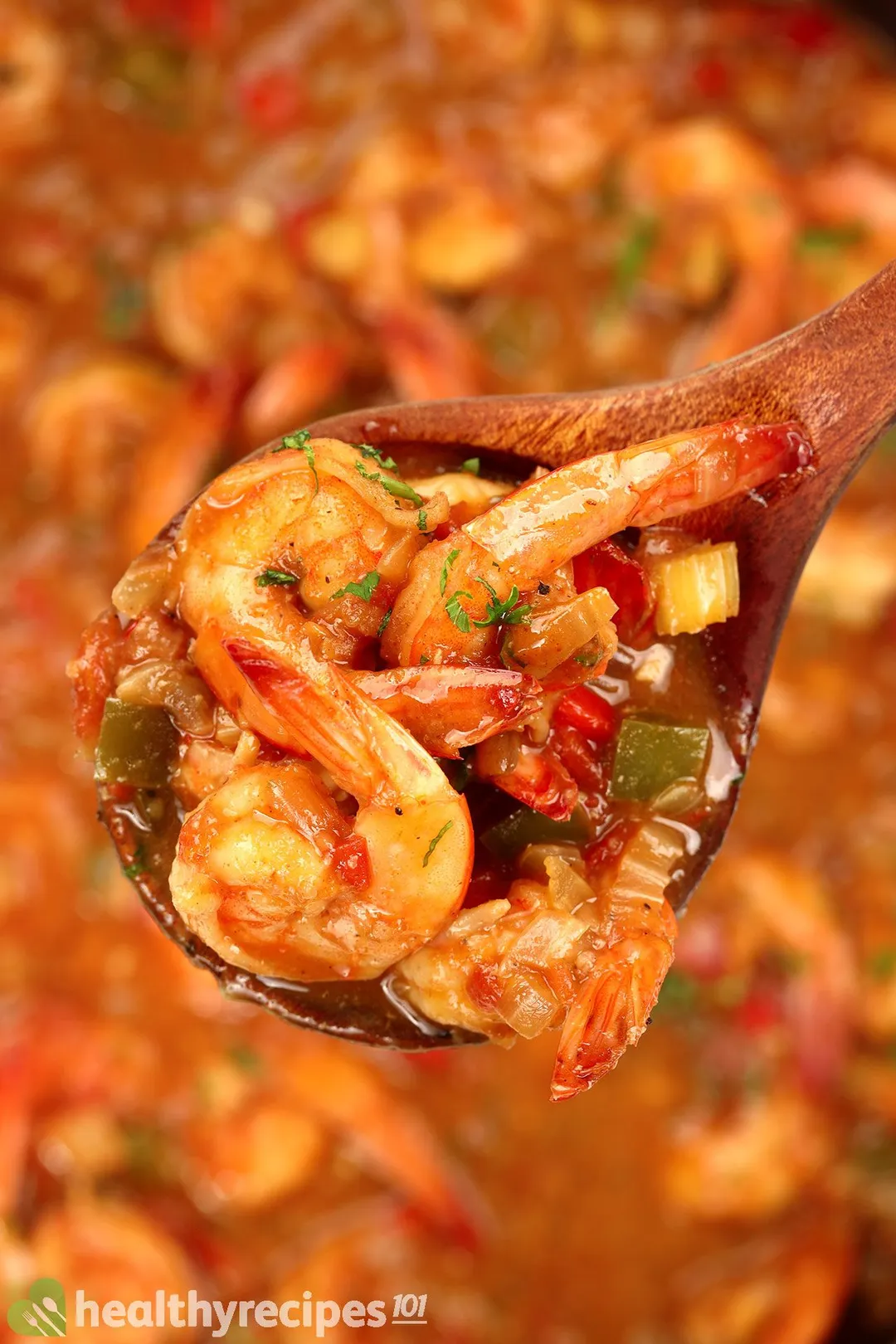 Previous Recipe
Easy Shrimp Etouffee
Easy Shrimp Etouffee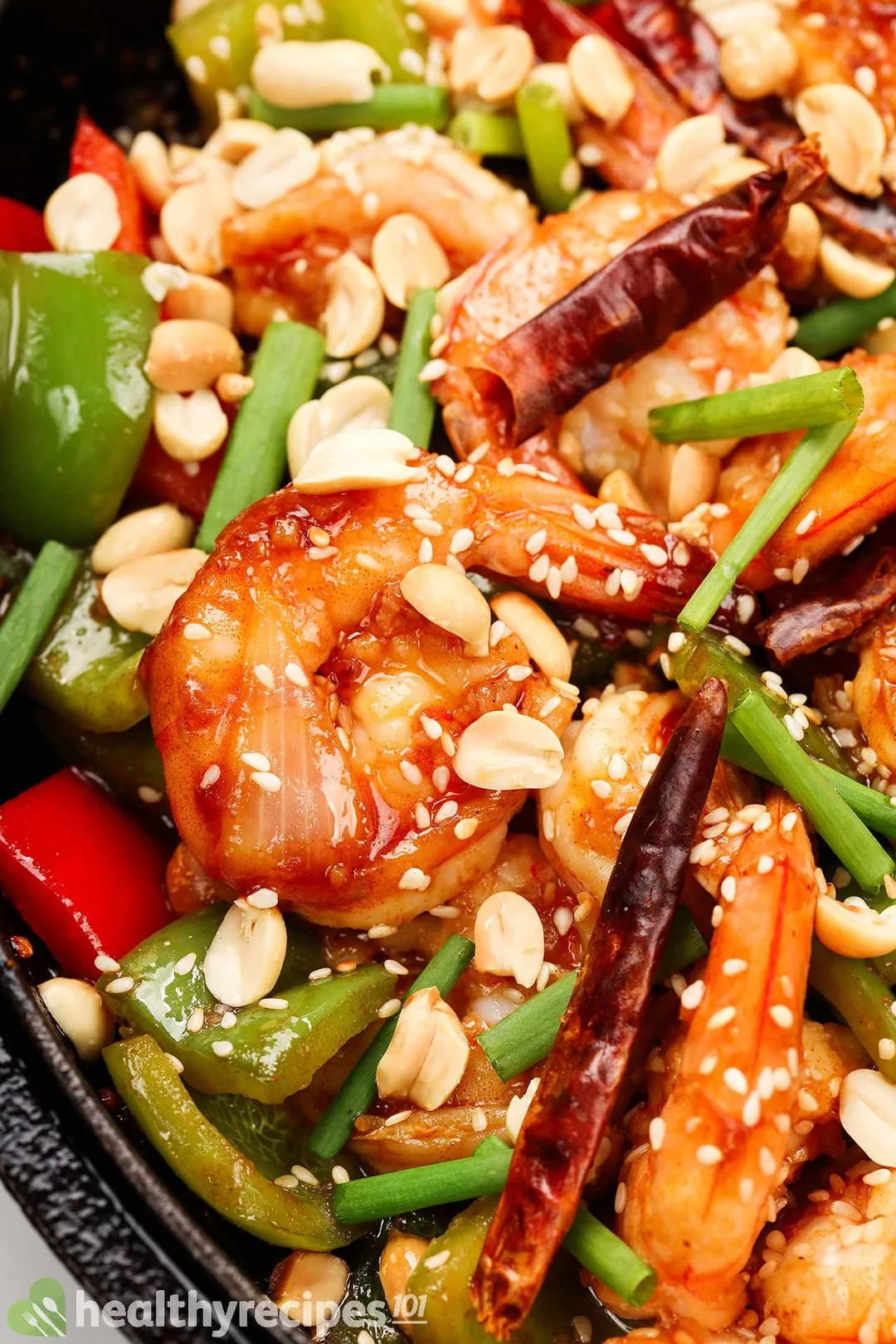 Next Recipe
Kung Pao Shrimp
Kung Pao Shrimp
Head Chef, Culinary Consultant
Tuyet Pham is an award-winning Saigonese chef who believes that joy is the secret ingredient to delicious food. At Healthy Recipes 101, Tuyet personally tests and simplifies every recipe, ensuring maximum flavor with minimal effort. With a background at prestigious French restaurants P'TI Saigon and Le Corto, Tuyet knows how to make every dish exceptional.
Writer, Author
Luna Regina is an accomplished writer and author who dedicates her career to empowering home cooks and making cooking effortless for everyone. She is the founder of HealthyKitchen101.com and HealthyRecipes101.com, where she works with her team to develop easy, nutritious recipes and help aspiring cooks choose the right kitchen appliances.
Nutrition Reviewer
Lizzie Streit is a Minneapolis-based dietitian and founder of It's a Veg World After All. She completed her MS in Human Nutrition from Drexel University, and is an expert in culinary nutrition, recipe development, and nutrition communications. Lizzie's philosophy is centered around making nutrition recommendations, and especially the advice to eat more vegetables, approachable and realistic. She is excited to be working with the team at Healthy Recipes 101 to ensure that their recipes are both nutritious and delicious.
Creamy and indulgent shrimp pasta.