This easy apple smoothie recipe introduces a simple blend of 6 fresh ingredients in a cozy and irresistibly tasty smoothie.
Our 10-minute apple smoothie is loaded with natural sweetness from apples and honey, a pleasant warmth from cinnamon, and extra creaminess from milk. It's kid-friendly, family-friendly, and is a total delight to enjoy on fall days.
Benefits Of Apple Smoothie
This apple smoothie can be either a healthy side beverage to add to a breakfast or a big meal or a simple light snack to enjoy throughout your day. It's sweet, refreshing, and tastes somewhat like an apple pie, but much lighter in calories and fat — only 157 calories and 3 g of fat per serving.
Being the main ingredient in our drink, apples provide many benefits for your health. A 3-inch medium apple can provide about 10% of your daily vitamin C and 25% of your daily fiber needs. They also contain pectin, a type of soluble fiber that's known to help prevent constipation, lower LDL (the "bad" cholesterol), as well as prevent chronic diseases.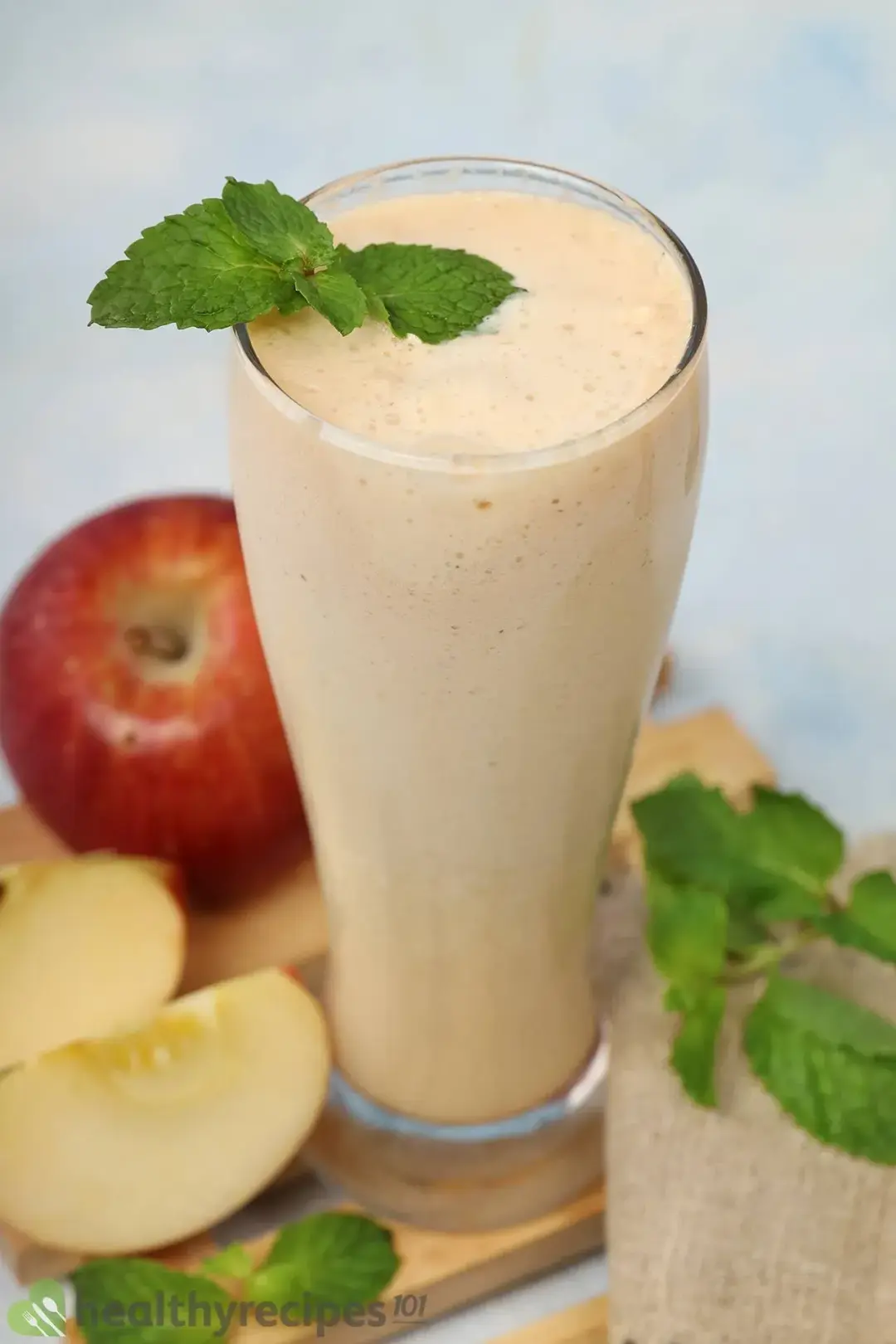 Ingredients for This Apple Smoothie
1. Red Apples
Sweet apples (like Gala and Fuji) work best for this recipe. They make the smoothie naturally sweet, even without the presence of a sweetener.
That being said, if you prefer it tart, feel free to go for green apples such as Honey Crisp or Granny Smith or any variety that you have on hand.
It takes just a few extra steps to prepare apples for a smoothie. First, rinse the apples well — especially if you're not using organic apples — to remove wax and pesticides on their skin.
We decided to peel the apples in advance as we wanted our apple smoothie smooth and creamy, but you can leave the skin on if preferred.
Next, cut them straight down along the core and near the stem. Then, discard the core and seeds. Lay one half of the apple flat, cut-side down, then keep slicing it off into long, rectangular thick slices and then into 1-inch cubes.
Add the apple cubes to your blender with other ingredients and purée. Although a high-powered blender will produce a finer smoothie, a regular blender is also suitable as fresh apples always blend easily.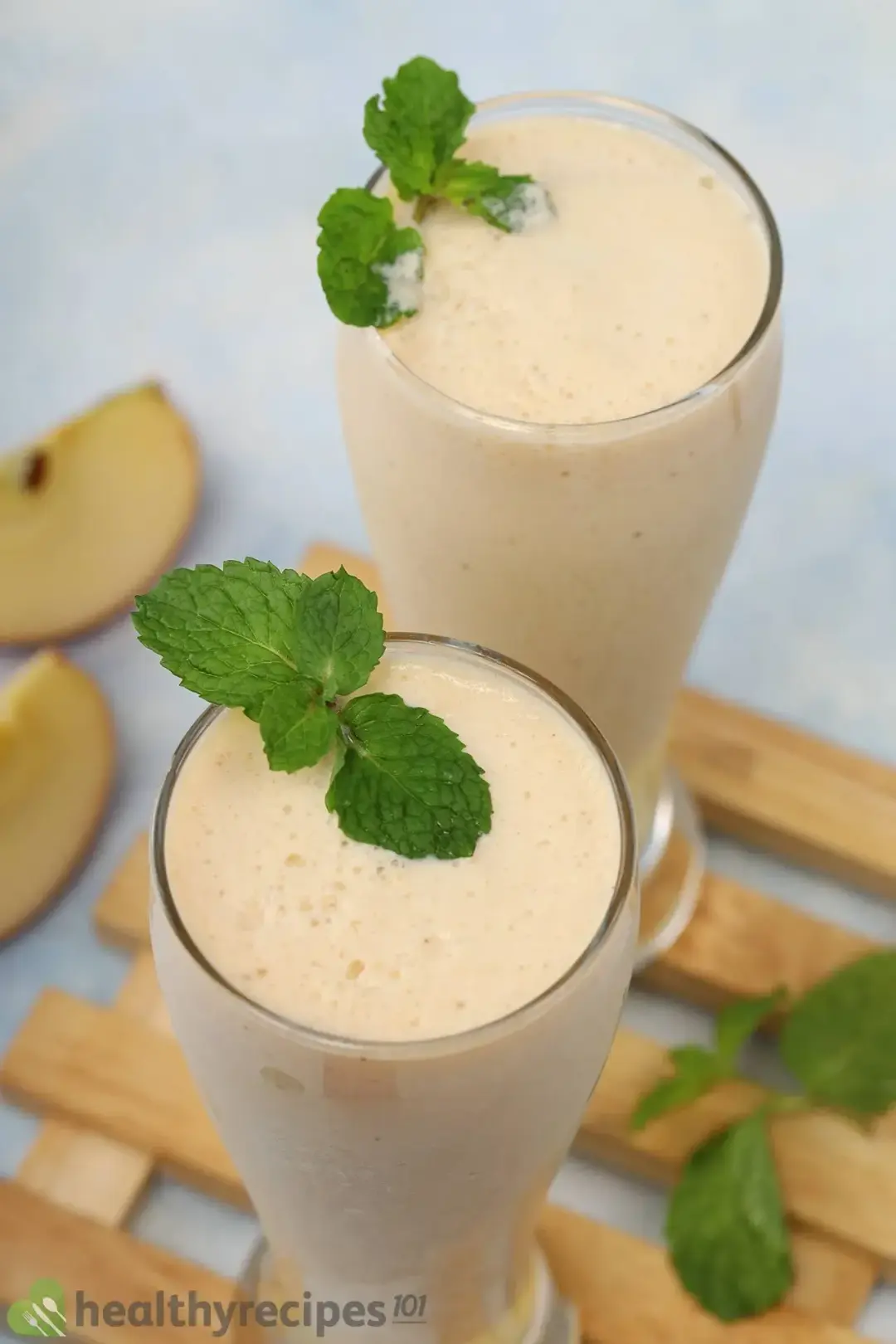 2. Liquids: Honey and Milk
Honey and milk help the smoothie blend and give it the desired creamy texture.
You can start with half a tablespoon of honey, take a taste test after blending to see if it suits your taste, and increase the amount if needed. As honey is an extra sweetener, you can also omit it since the apples are already sweet. 
For dairy, it doesn't have to be whole milk. Any milk can work for this apple smoothie, including almond milk and coconut milk. Each will yield different results, so feel free to choose whichever works best for your taste.
3. Cinnamon
Apple and cinnamon have been a well-known classic pair. Together, they bring in a subtly sweet taste that resembles the apple pie flavor. The addition of cinnamon spices enhances our smoothie with a hint of coziness that fits perfectly in the chilly season.
4. Ice and Mint
Adding ice cubes to the blender makes the smoothie thicker and frostier (while still creamy but not watery). Finally, adding some mint leaves for garnish will give our drink a pleasant, herby aroma.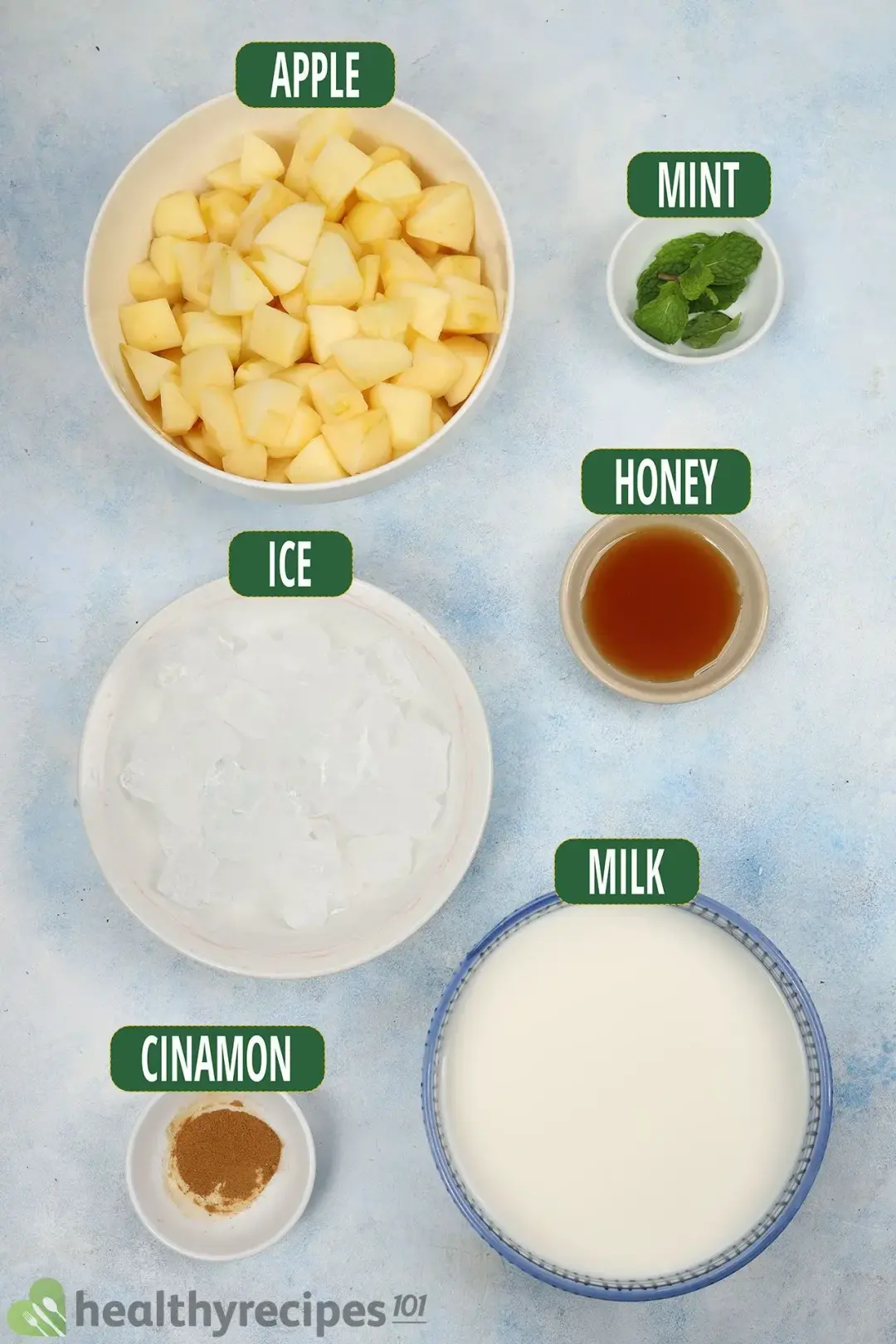 How To Make An Apple Smoothie
Our easy apple smoothie recipe requires no more than 10 minutes of prepping and puréeing the ingredients until smooth in the blender. This tasty and kid-friendly drink is made in just 4 steps: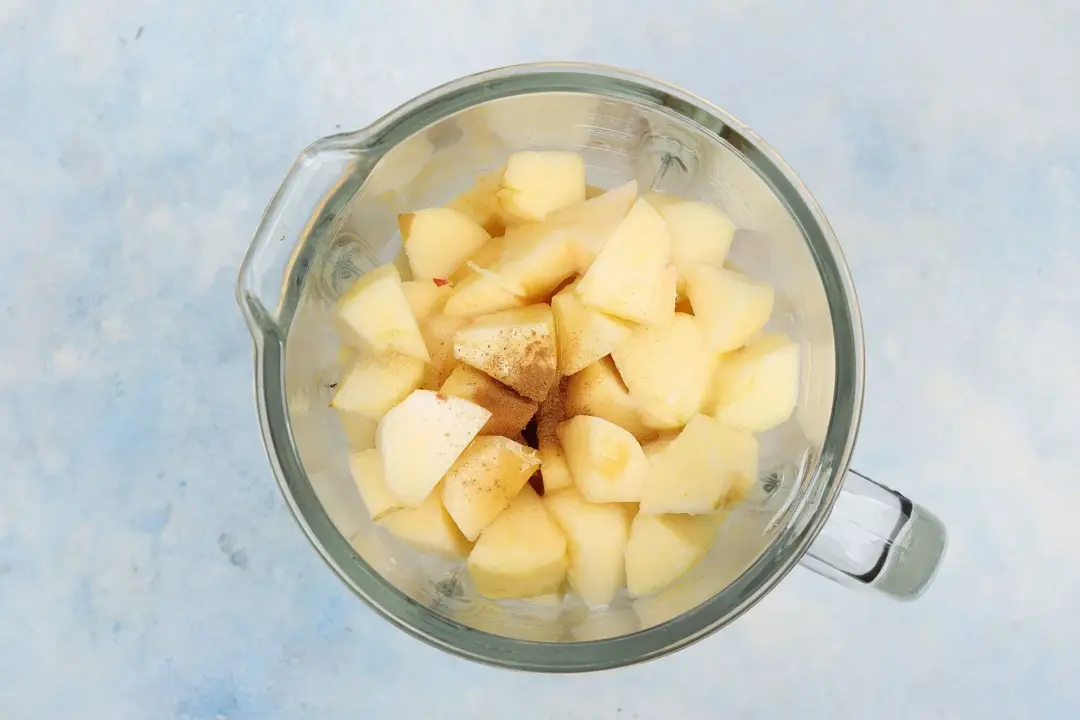 Layer the ingredients in the blender, with liquids on top of solids.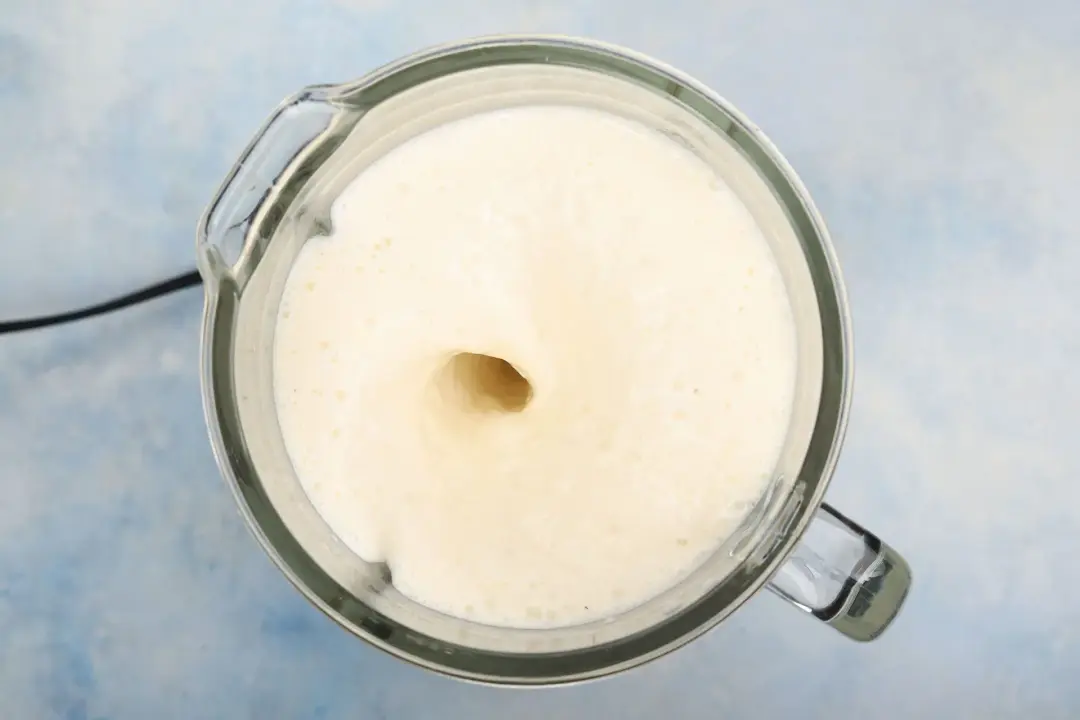 Blend until smooth.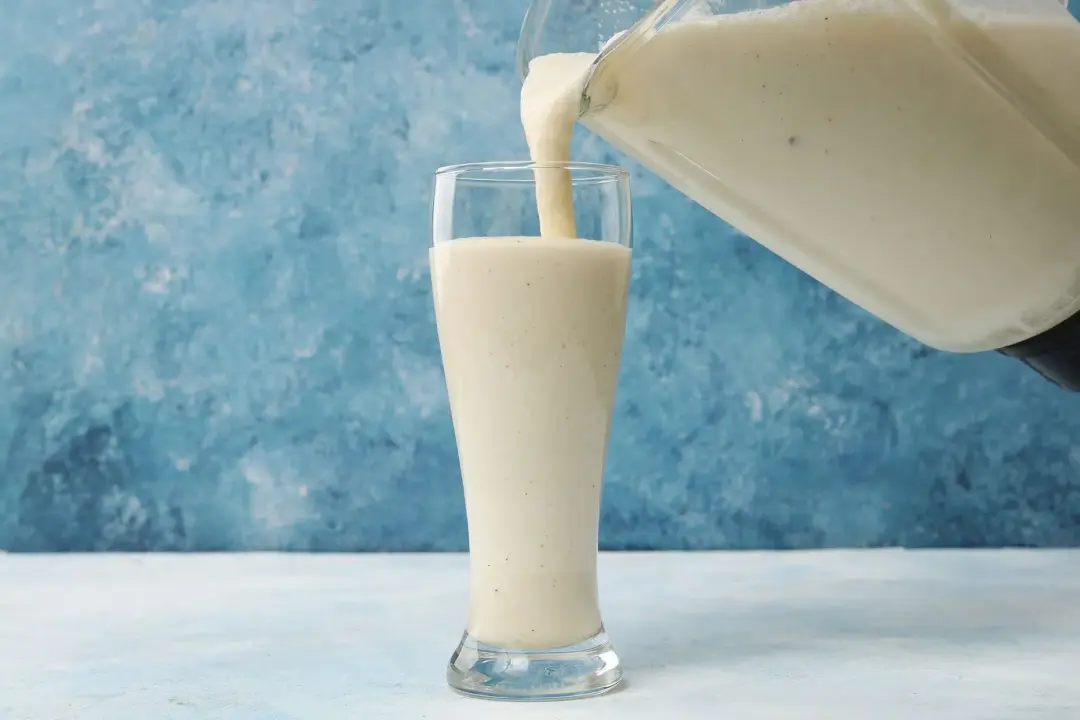 Pour into glasses.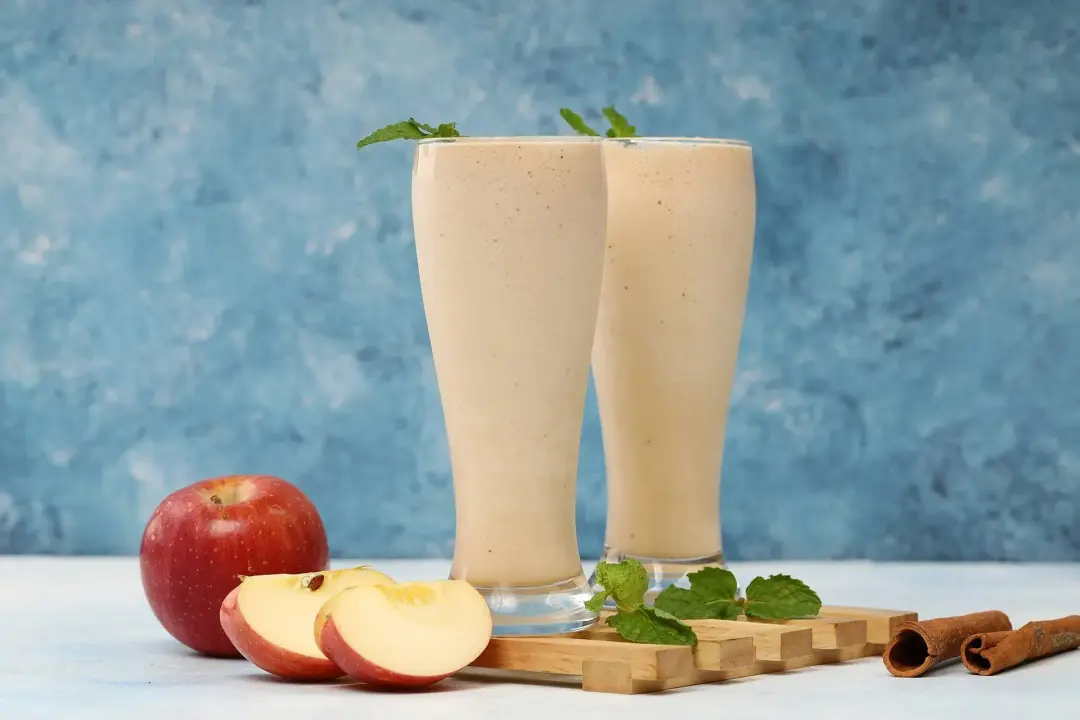 Garnish with mint leaves and enjoy right away.
Can I Use Frozen Apples for This Smoothie?
Yes, you can. This apple smoothie recipe could be a great way to use up leftover frozen apples in your fridge before they go bad.
Simply store the cored and cubed apples in the freezer, then pop them straight into the blender without defrosting them first. To aid processing, you'll need to omit the ice cubes and increase the amounts of liquids a little bit.

How Long Does This Smoothie Last?
If stored properly, an apple smoothie can last for up to 3 days in the fridge.
After the first day in storage, you might notice that the smoothie separates into two parts. Don't worry, this is completely normal and the smoothie is still drinkable. Just stir it up, shake it up, or give it a re-blend in the blender.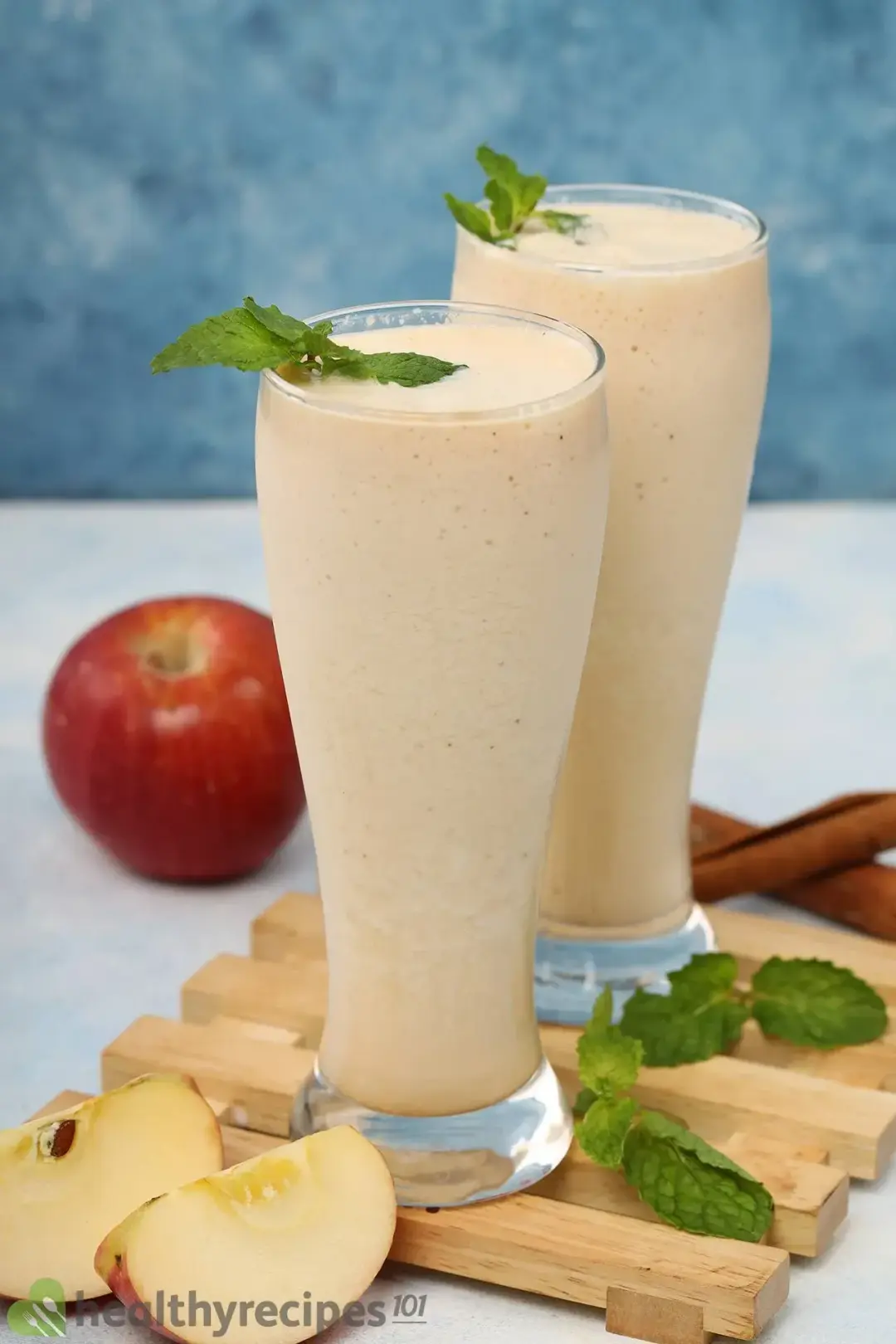 Can You Freeze an Apple Smoothie?
Absolutely. This apple smoothie is a great make-ahead drink as it can last for up to 3 months in the freezer.
When you're ready to finish the leftovers, simply remove the frozen smoothie from the freezer to room temperature and let it slowly melt.
Apple Smoothie Recipe
This easy apple smoothie recipe introduces a simple blend of 6 fresh ingredients in a cozy and irresistibly tasty smoothie.
prep TIME

10 mins

total TIME

10 mins
COURSE

Beverage

CUISINE

Global

SERVINGS

servings

CALORIES

157 kcal
INGREDIENTS
20 oz

red apples peeled, cubed

1 cup

ice cubes

1.5 cup

whole milk

2 tbsp

honey

0.3 tsp

cinnamon

6

mint leaves for garnishing
INSTRUCTIONS
1
Layer the ingredients in the blender, with liquids on top of solids, following this order from first to last: 1 cup ice cubes, 20 oz peeled and cubed red apples, 1 1/2 cup whole milk, 2 tbsp honey, and 1/4 tsp cinnamon.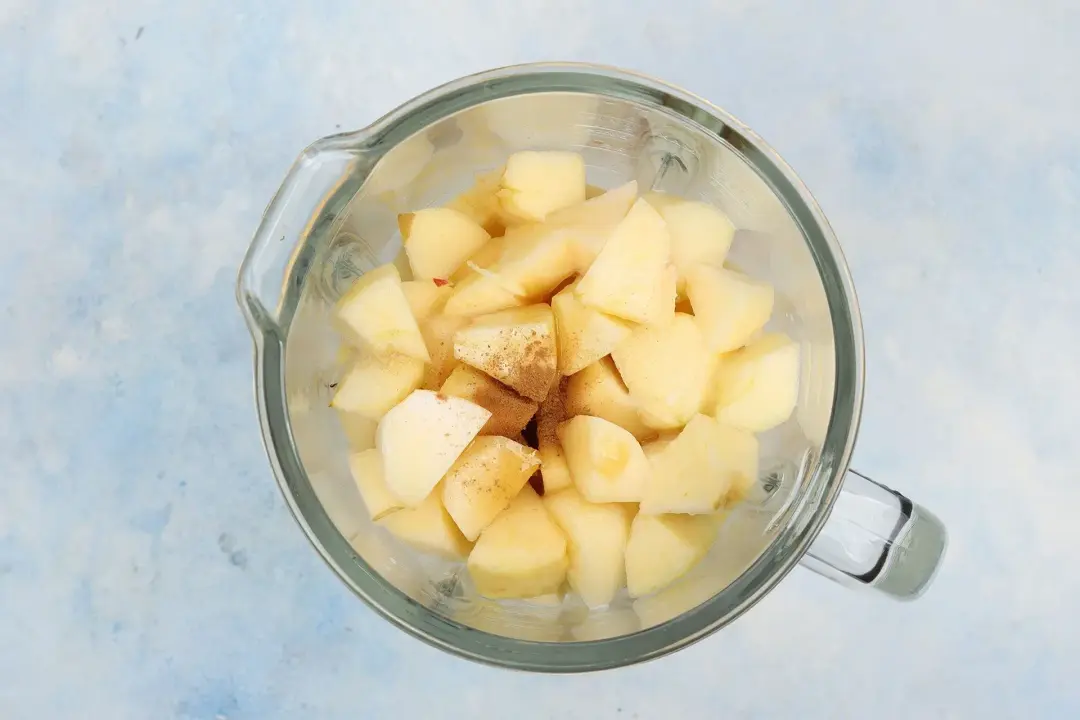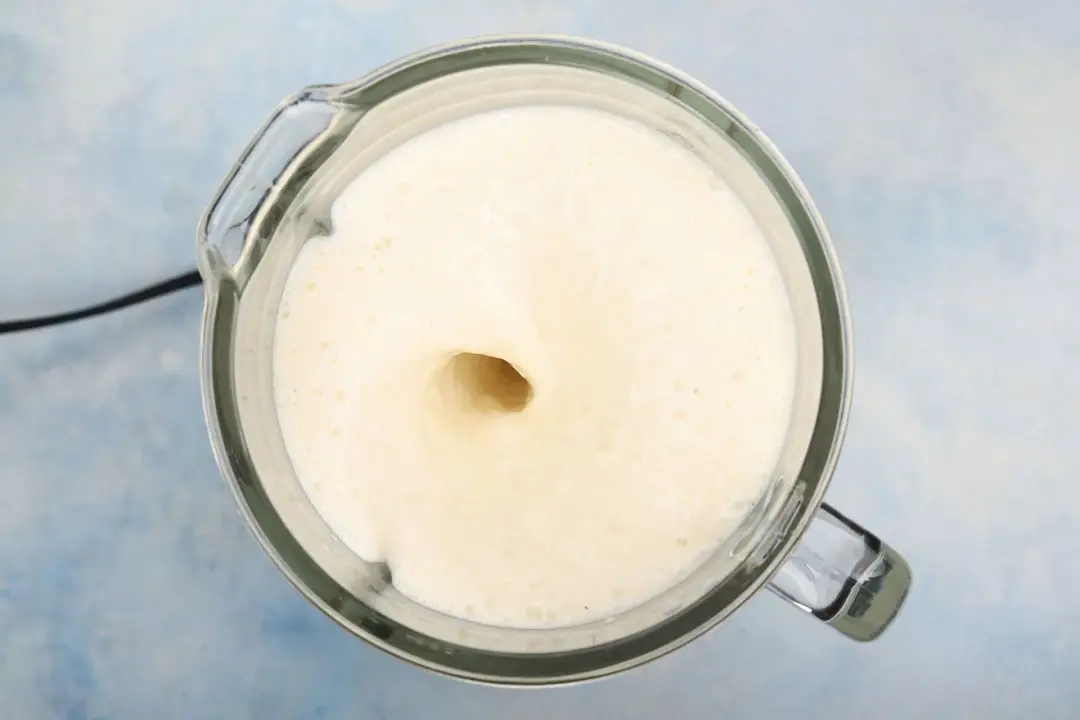 3
Pour the apple smoothie into glasses.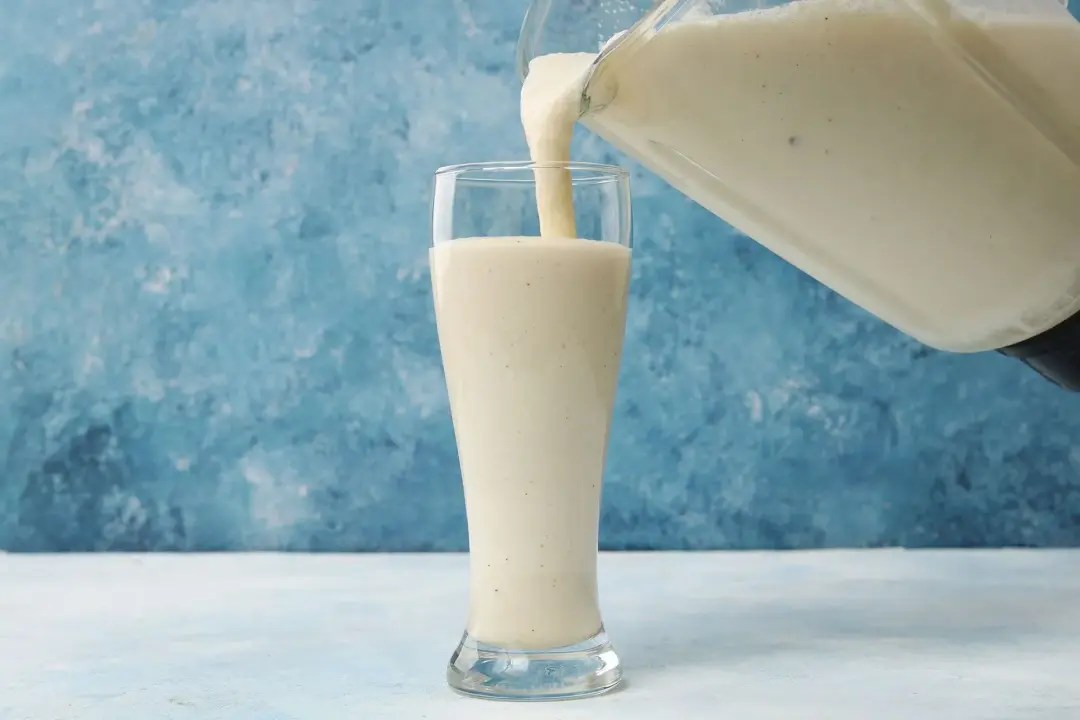 4
Garnish with 6 mint leaves for 4 servings. Enjoy right away because it will turn brown fast due to oxidation.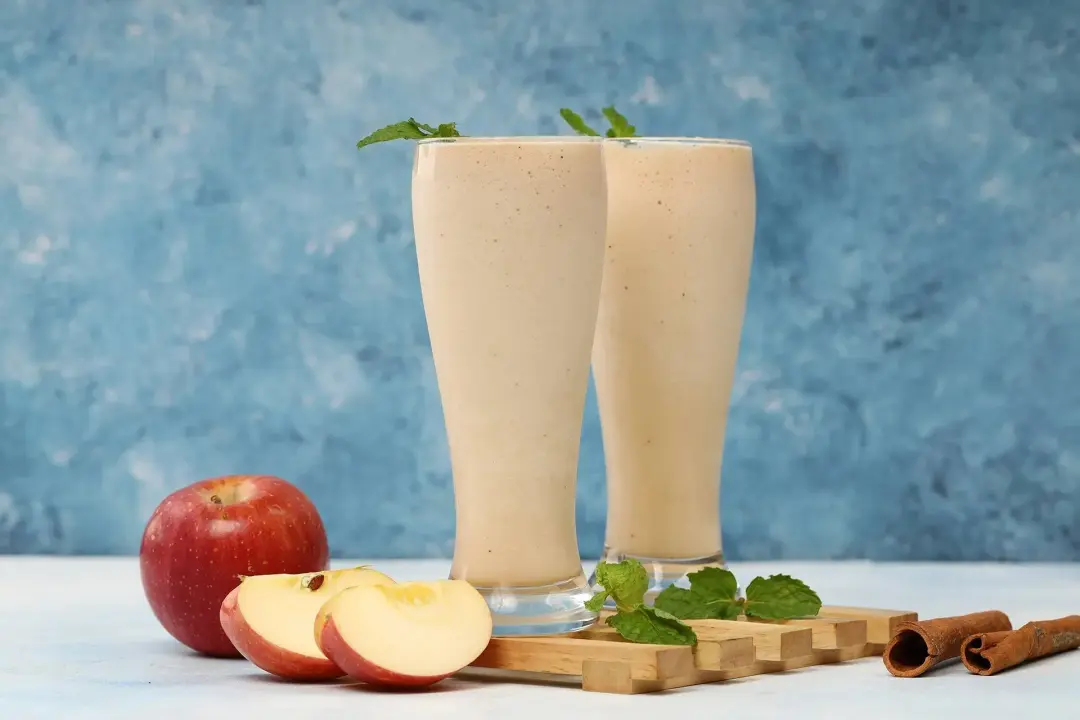 NUTRITION
Nutrition Facts
Apple Smoothie Recipe
Amount Per Serving (1 serving)
Calories 157
Calories from FDA
% Daily Value*
* Percent Daily Values are based on a 2000 calorie diet.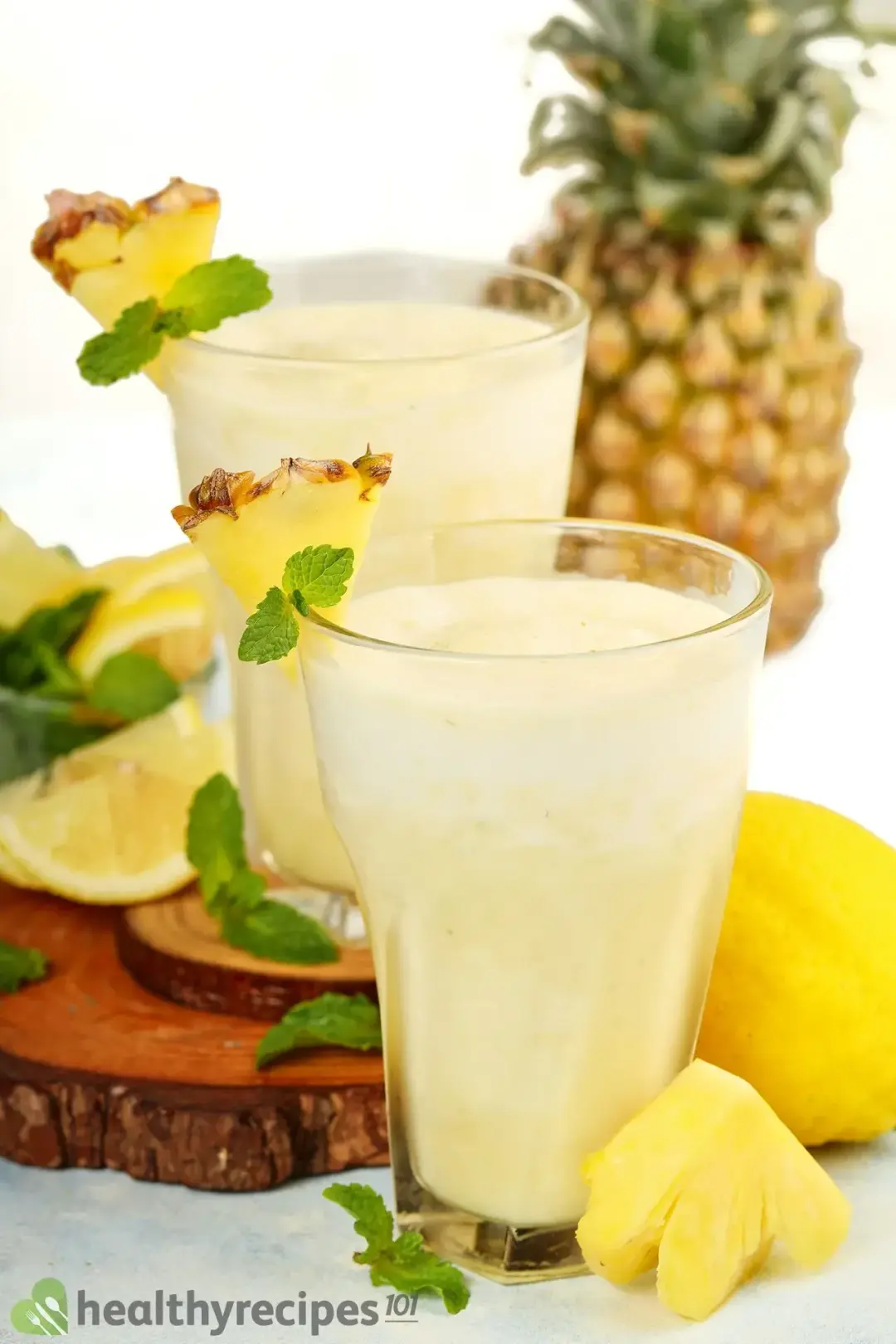 Previous Recipe
Pineapple Smoothie With Milk
Pineapple Smoothie With Milk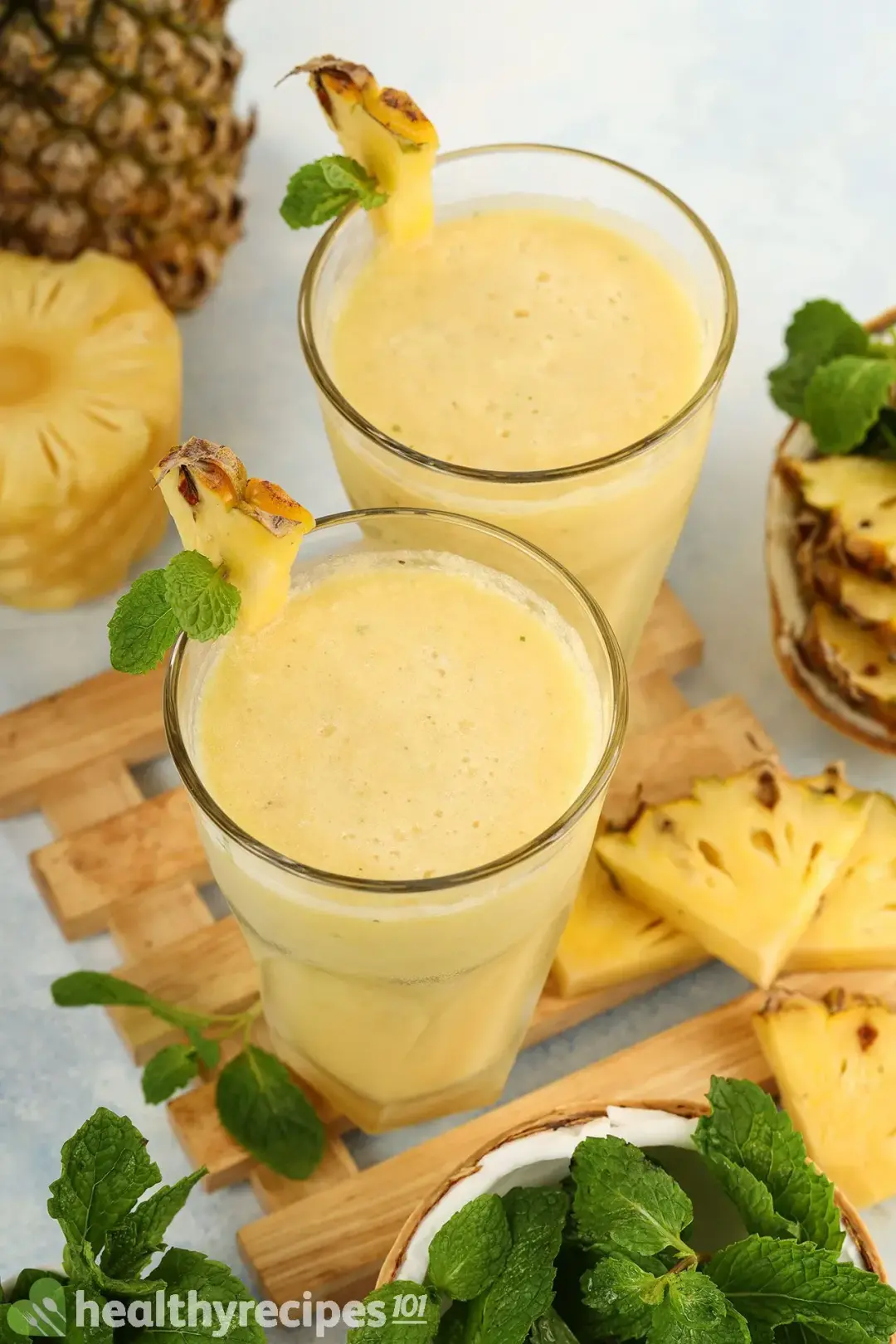 Next Recipe
Pineapple Coconut Smoothie
Pineapple Coconut Smoothie
Luna Regina
A writer and entrepreneur, Luna's day doesn't start at the computer keyboard, but in the kitchen.
Half of her working hours are spent on mixing ingredients for her recipes. The other half involve working with the tech team to research and test the tools and appliances that promise to make kitchen work effortless and mess-free. From a kitchen knife or water filter to the Instant Pot, if it can help save time and effort for the home cook, Luna and her team are on it.
Luna's extracurricular pastimes include camping, travel, and photography.