This pineapple smoothie with milk recipe turns simple ingredients into a nutritious, tasty drink. Sweet pineapples, milk, and ice are blended with mint to turn out a refreshing smoothie that wards off the summer heat.
Within this article, we'll also show you a few tips and tricks to turn out a great-tasting smoothie. There are fruit-picking techniques as well as possible alternatives for the ingredients.
Is Pineapple Smoothie With Milk Healthy?
Yes, our pineapple smoothie with milk is a nutritious (and delicious) drink.
Within each serving is an abundance of micronutrients from pineapples and milk: vitamin C, vitamin K, iron, calcium, and so on. They're accompanied by just 100 calories — a low amount that allows you to easily incorporate the smoothie into your diet.
Each glass also comes with about 1.1 g saturated fats and 3 g added sugar. These amounts are within the recommended upper limits for a 2000-calorie diet.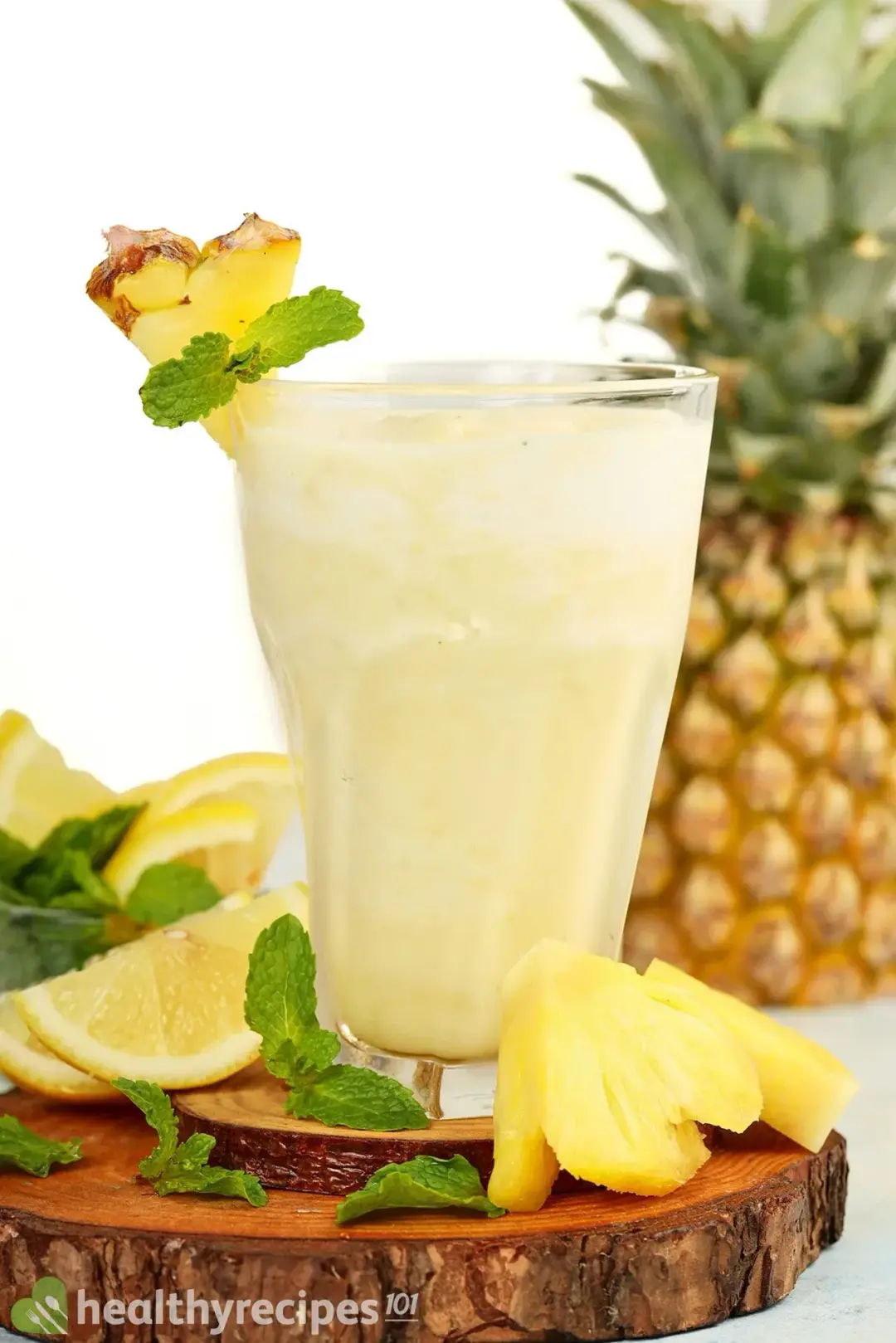 Ingredients for This Smoothie
For our pineapple smoothie with milk recipe, you'll need pineapple, milk, ice, mint leaves, lemon juice, and sugar.
We are using fresh pineapple, but canned or frozen pineapple slices are also good options. Some canners submerge the pineapple chunks in a sweet syrup, so give them a quick rinse to avoid most of that extra sugar.
Since our pineapples were not very sweet, we had to add some sugar to balance out their tartness. You can leave the sugar for last to easily adjust the drink to your taste.
If your blender tends to create chunky smoothies, chances are the ice you use is too hard for the blender's motor. If possible, switch to soft ice like ice nuggets instead. Barring that, manually pound the hard ice into finer pieces first. A mortar and a pouch/piece of cheesecloth will do the trick.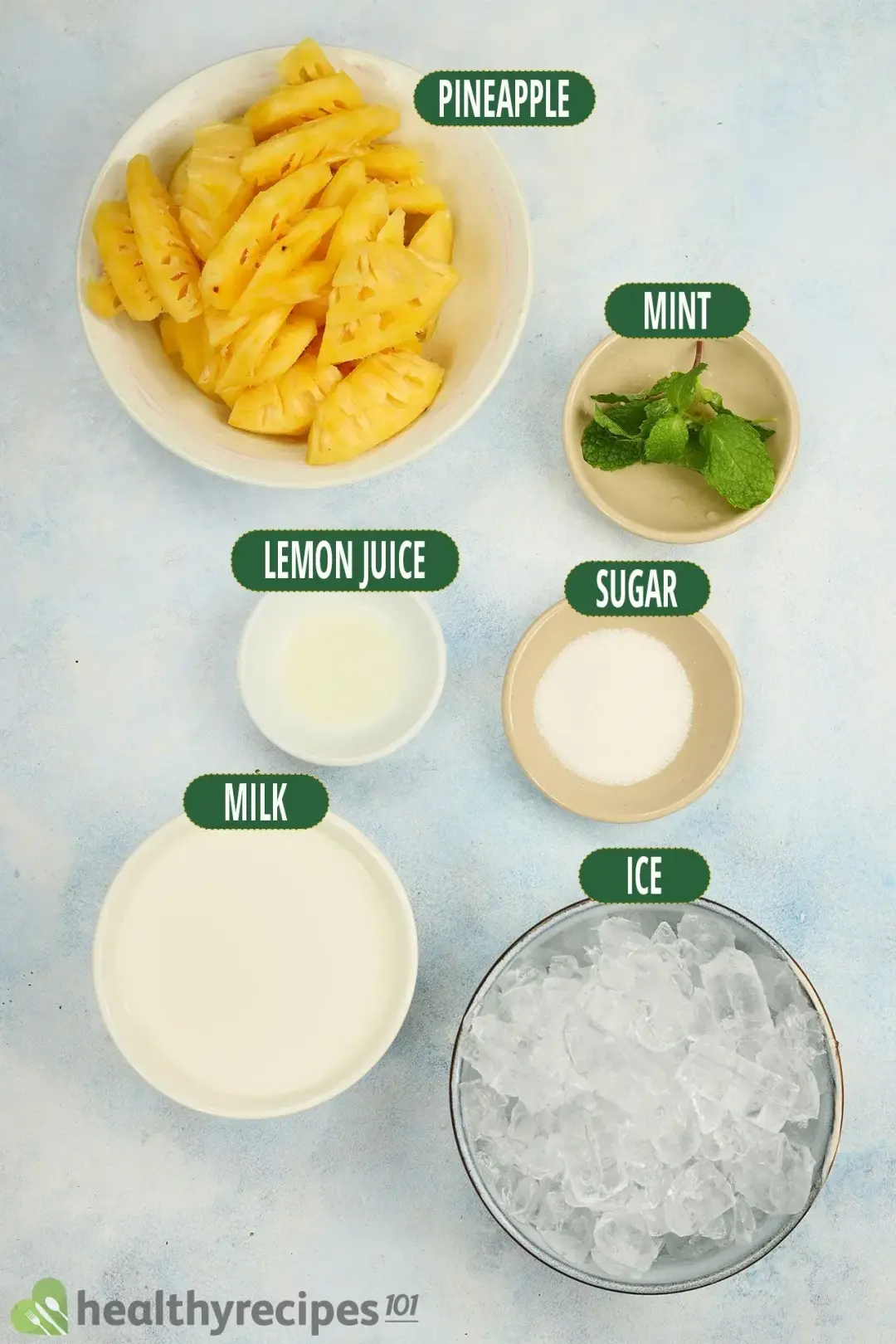 1. How to Pick a Pineapple
Since we are going for a naturally sweet smoothie, the fruit needs to be ripe and sweet. To tell how ripe a whole pineapple is, we sniff its base — the sweeter and stronger the fragrance, the sweeter the fruit. Unlike many fruits, the color of the pineapple is irrelevant to its maturity.
2. Can I Substitute Out the Milk in This Smoothie?
Yes, you can.
We blended the fruit with whole milk. If you want less fat (and fewer calories), we suggest half-and-half or skimmed milk as alternatives. If you want the smoothie to be vegan, almond milk, nut milk, or soy milk also works great.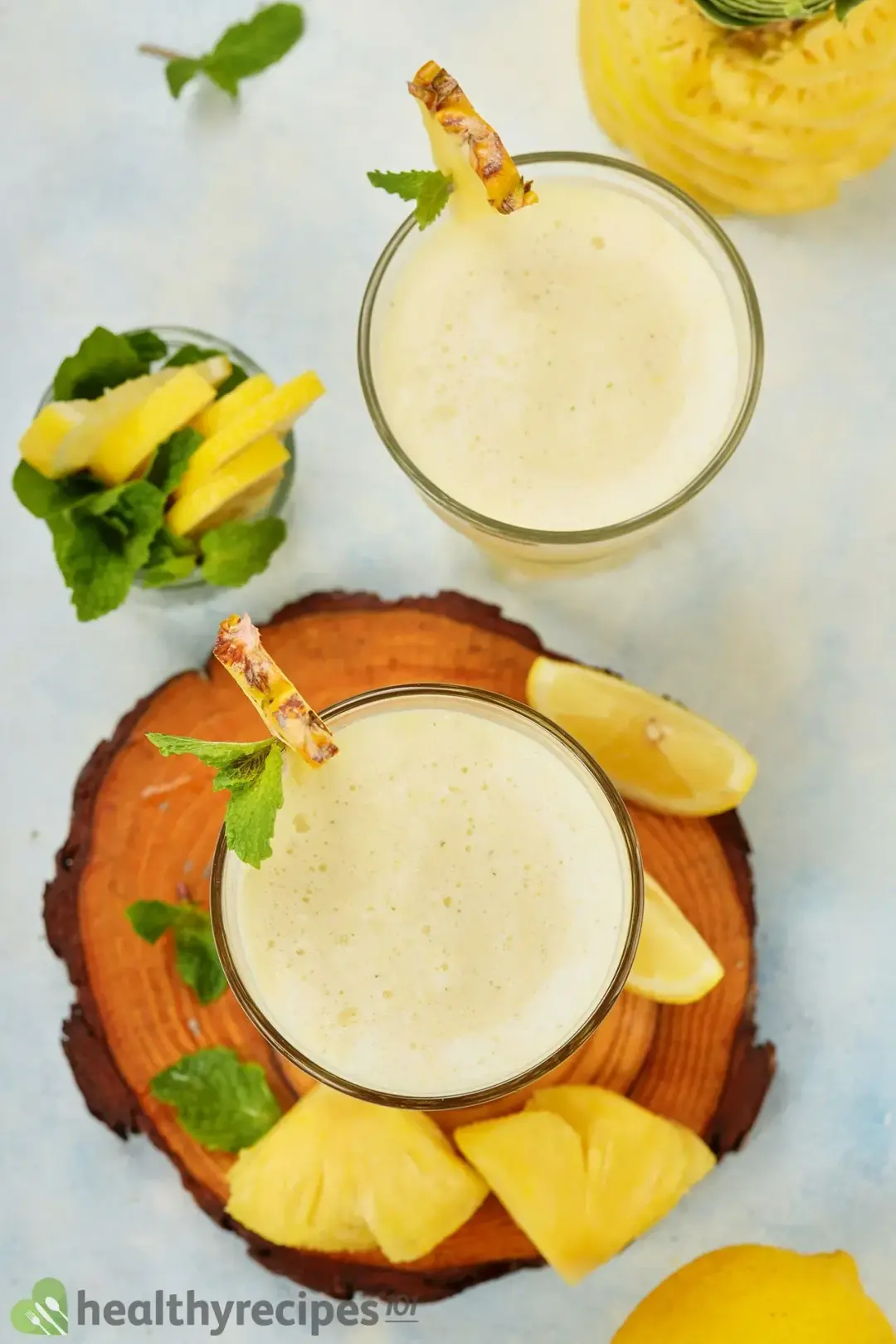 How to Make Pineapple and Milk Smoothie
Once you've measured out your fruit, sugar, lemon juice, milk, ice, and mint leaves, blend it all until smooth. It's helpful to place the ice at the bottom so the smoothie comes together more quickly.
Measurements for the ingredients are listed in the printable 'Pineapple Smoothie With Milk Recipe' card at the bottom of this article.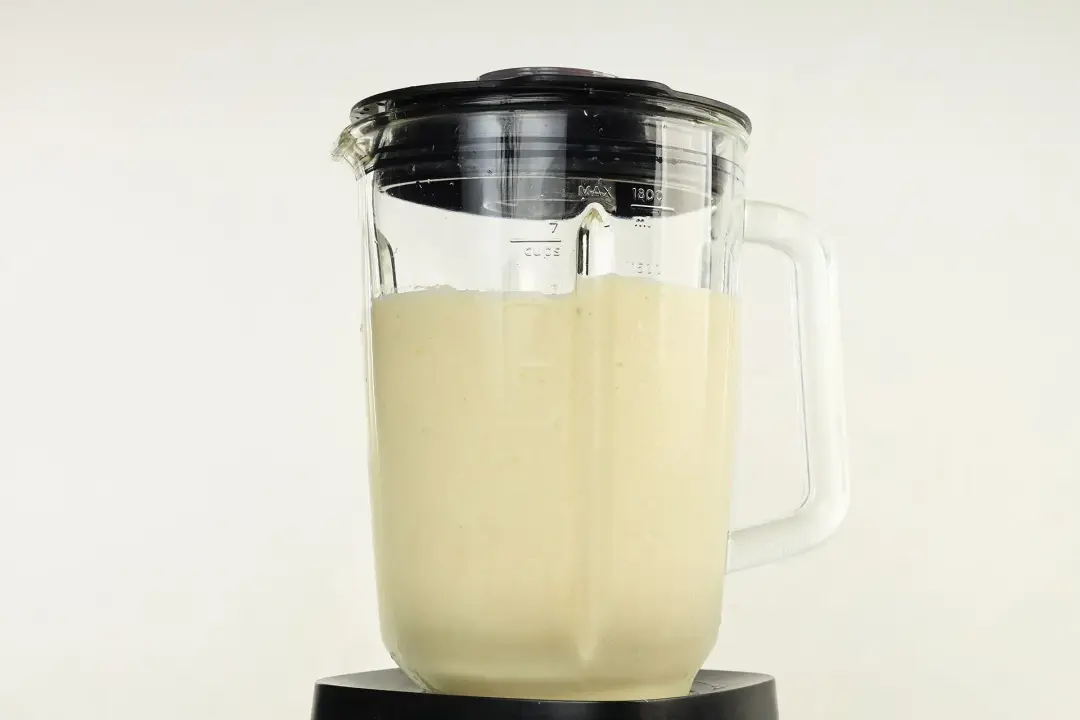 Blend ingredients.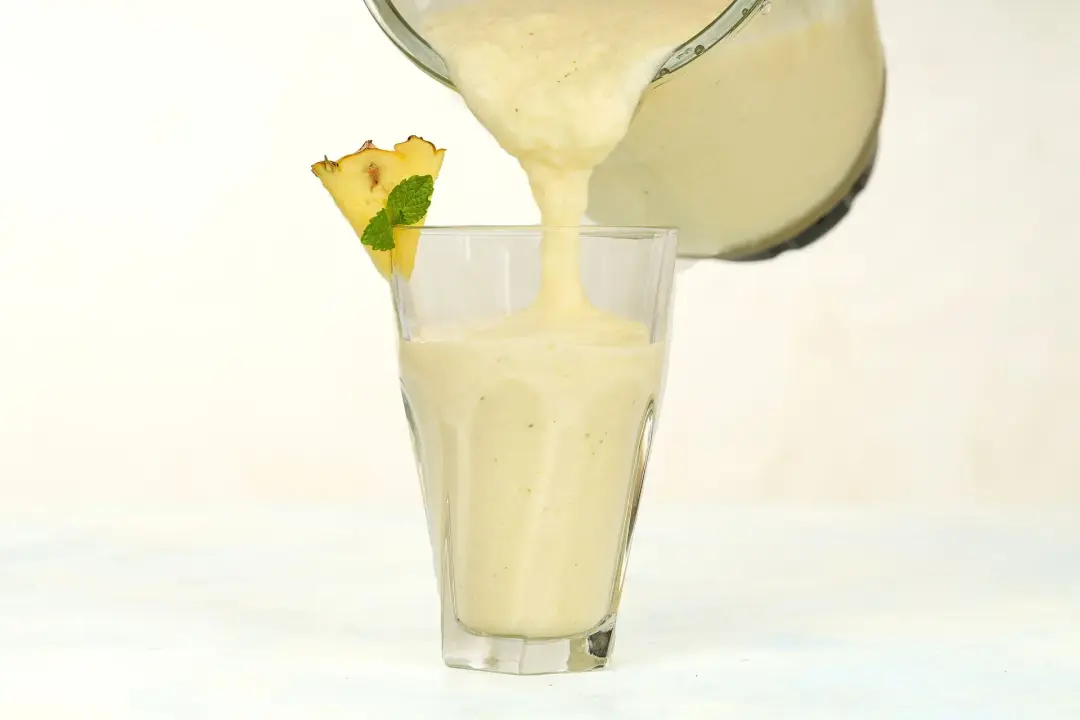 Garnish with mint leaves and serve immediately.
How Long Does This Smoothie Last?
As with most smoothies, it's best to consume it all at once so it doesn't get watery and discolored. If you can't, we recommend making the smoothie without ice to make storage easier.
If you wish to keep it for two days, combine everything but the ice in a large container and seal it tightly. Whenever you want a cool, sweet drink, blend that mixture with ice.
To extend the shelf life, divide it into small portions and store it in Ziploc bags rather than containers. That way you've got individual portions ready to go.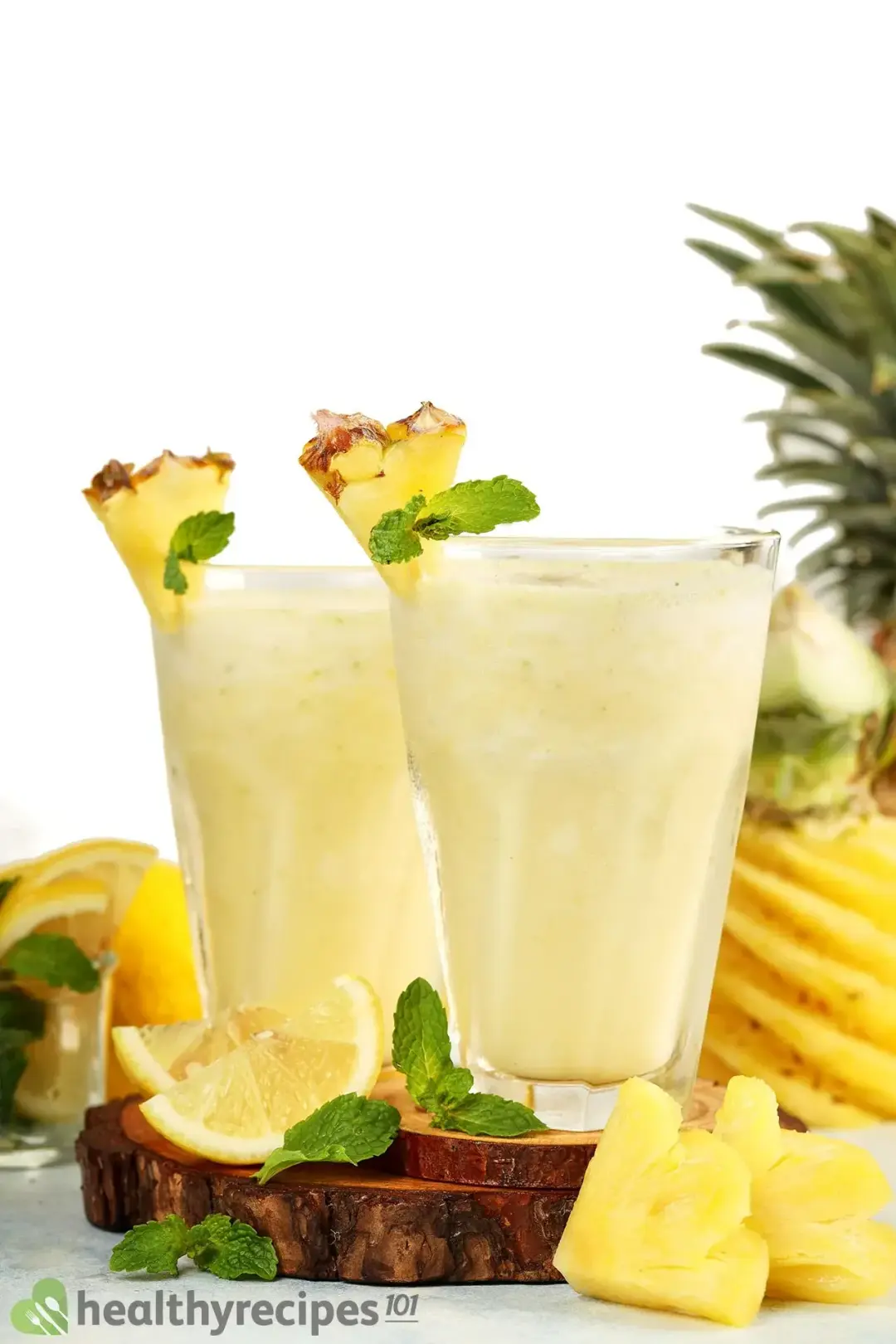 When left to sit, most smoothies will self-separate into layers, which is normal and does not indicate spoilage. Typically, spoiled smoothies have an unpleasant odor and may contain mold.
Pineapple Smoothie With Milk Recipe
Try our pineapple smoothie with milk recipe for a sweet, rich, refreshing summer beverage. It requires just 6 easy-to-find ingredients!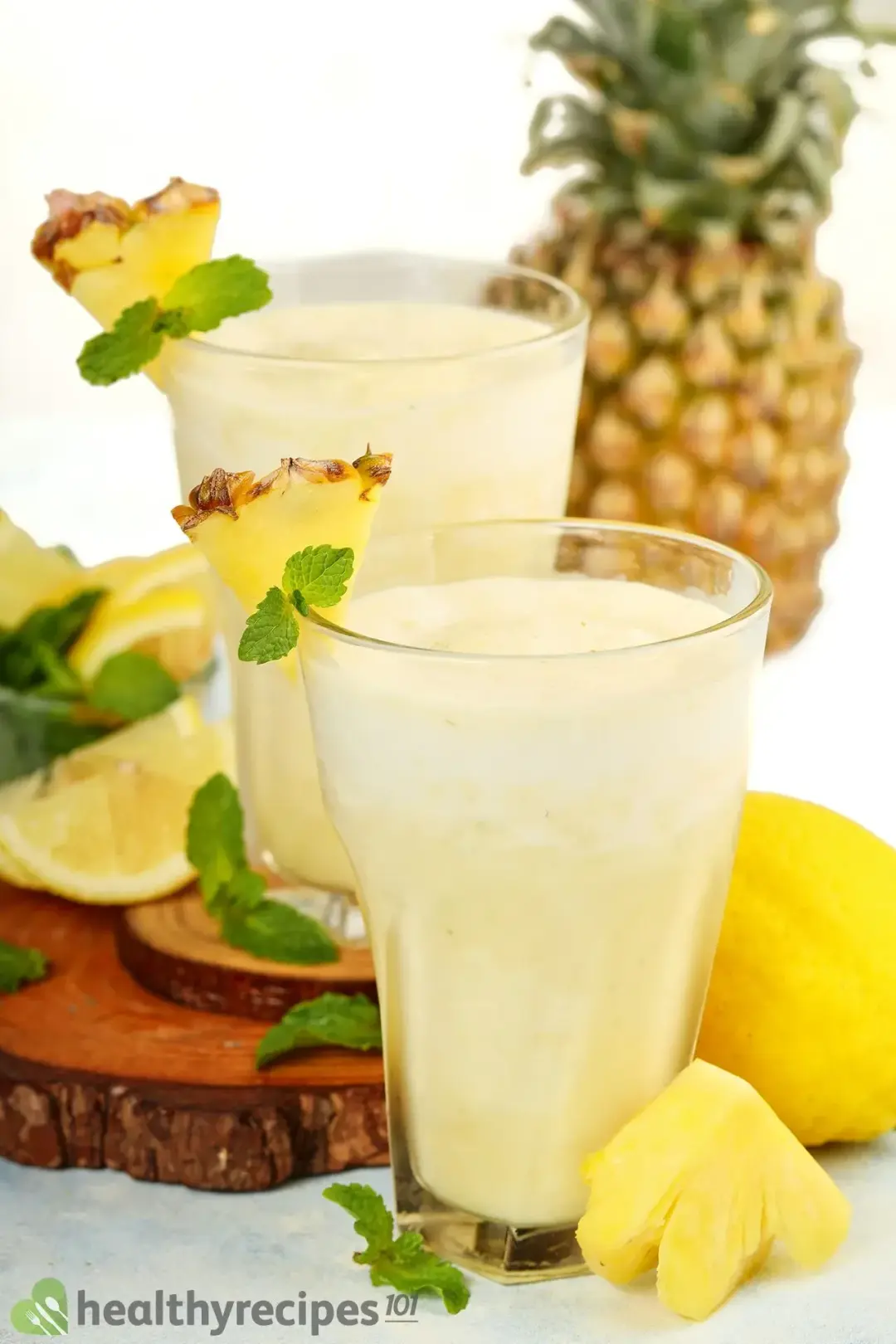 prep TIME

7 mins

total TIME

7 mins
COURSE

Beverage, Smoothie

CUISINE

Global

SERVINGS

servings

CALORIES

99 kcal
INGREDIENTS
12 oz

pineapple cut into chunks

2 cups

ice

1 cup

whole milk

1 tbsp

sugar

1 tsp

lemon juice

8

mint leaves
INSTRUCTIONS
1
Place all ingredients except for mint in a blender, starting with the ice. Cover and blend until smooth.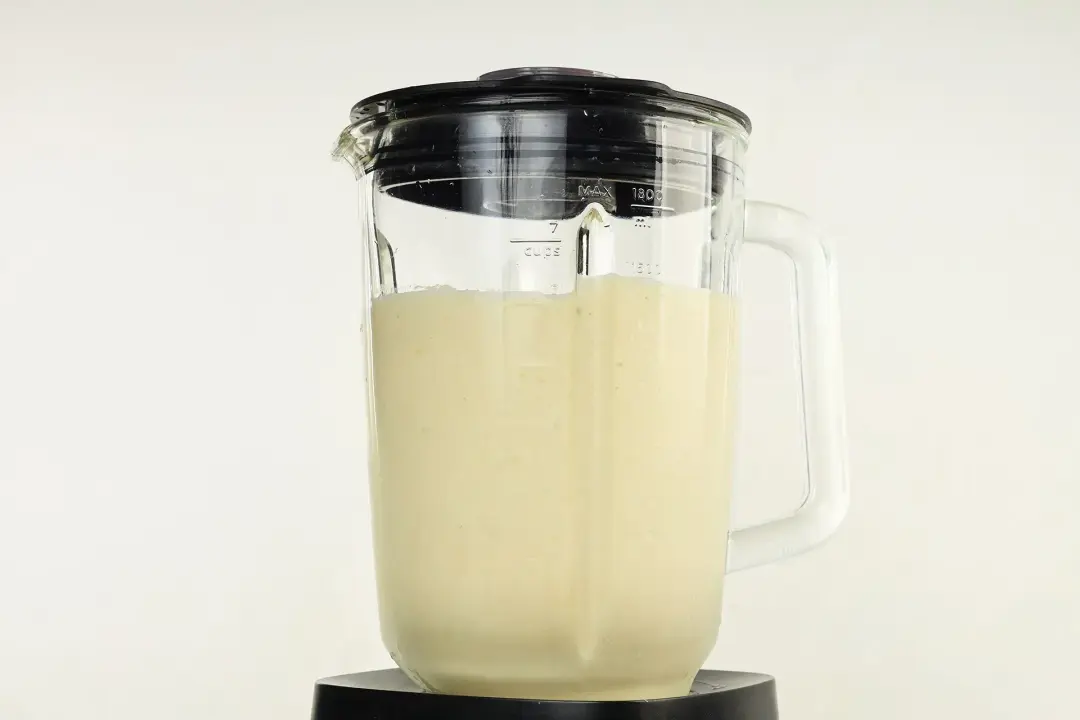 2
Garnish with mint leaves and serve immediately.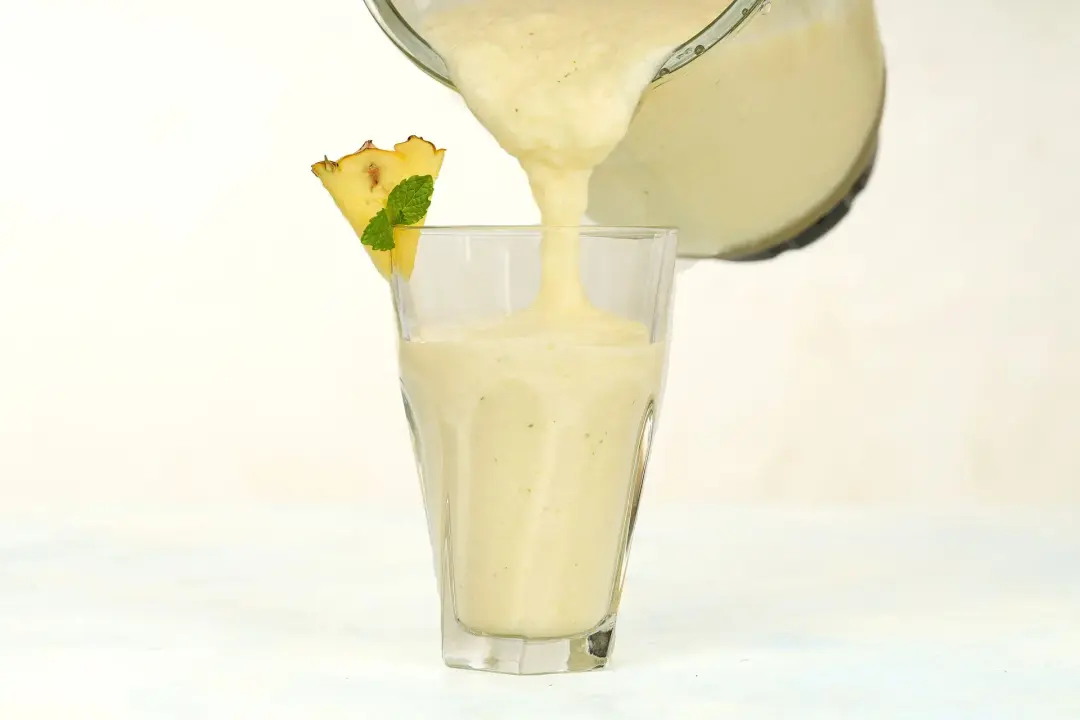 NUTRITION
Nutrition Facts
Pineapple Smoothie With Milk Recipe
Amount Per Serving (1 serving)
Calories 99
Calories from FDA
% Daily Value*
* Percent Daily Values are based on a 2000 calorie diet.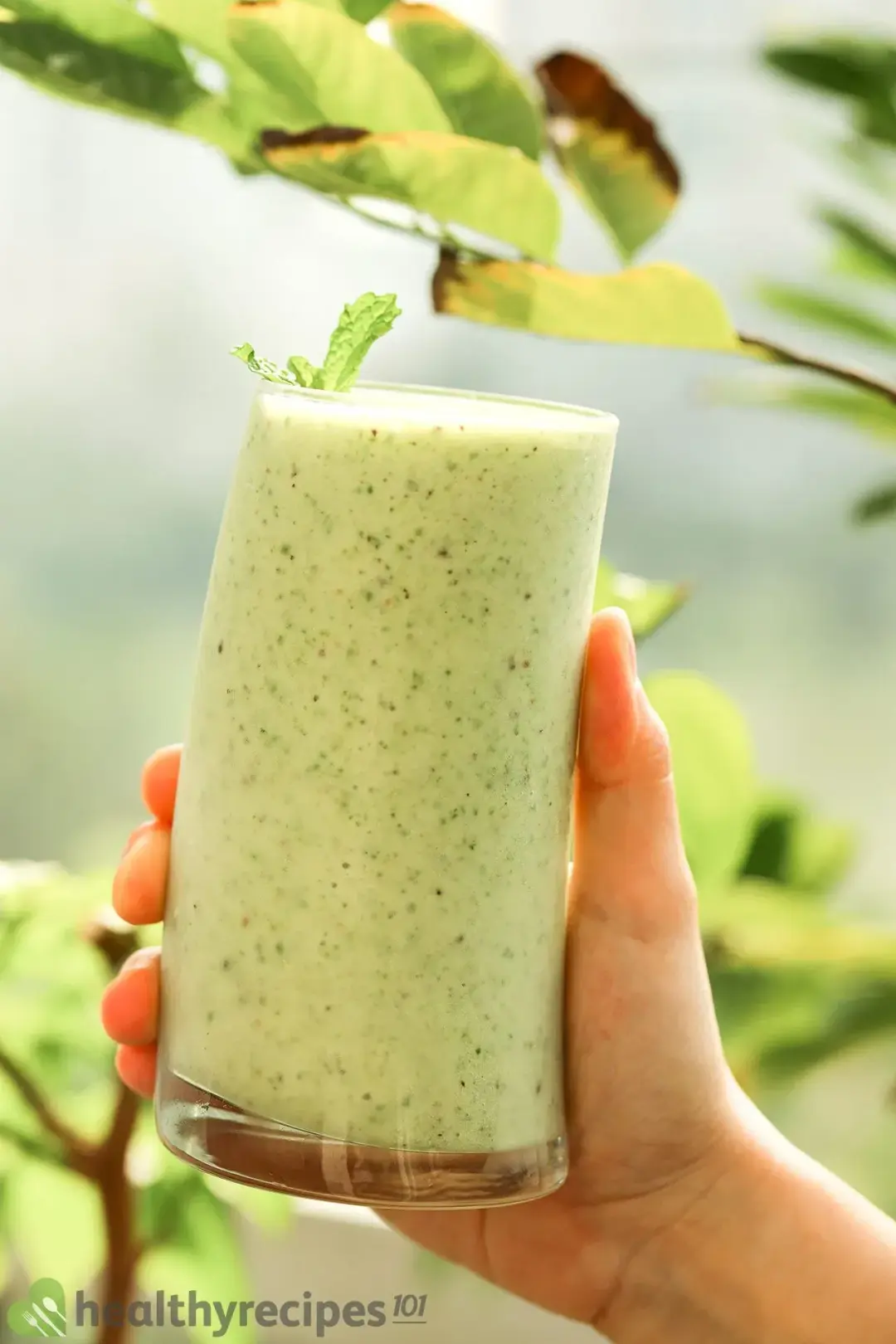 Previous Recipe
Kiwi Banana Smoothie
Kiwi Banana Smoothie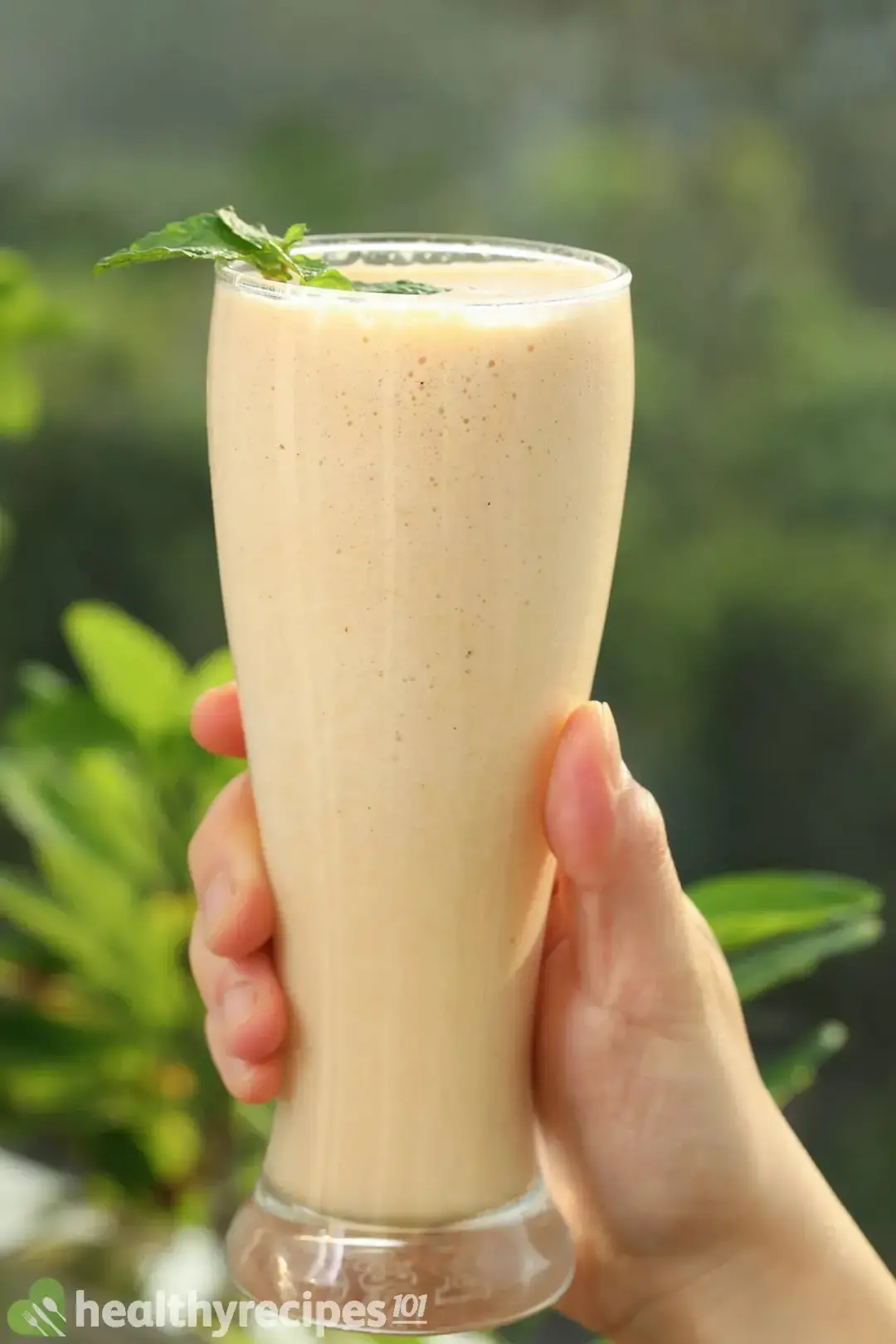 Next Recipe
Apple Smoothie
Apple Smoothie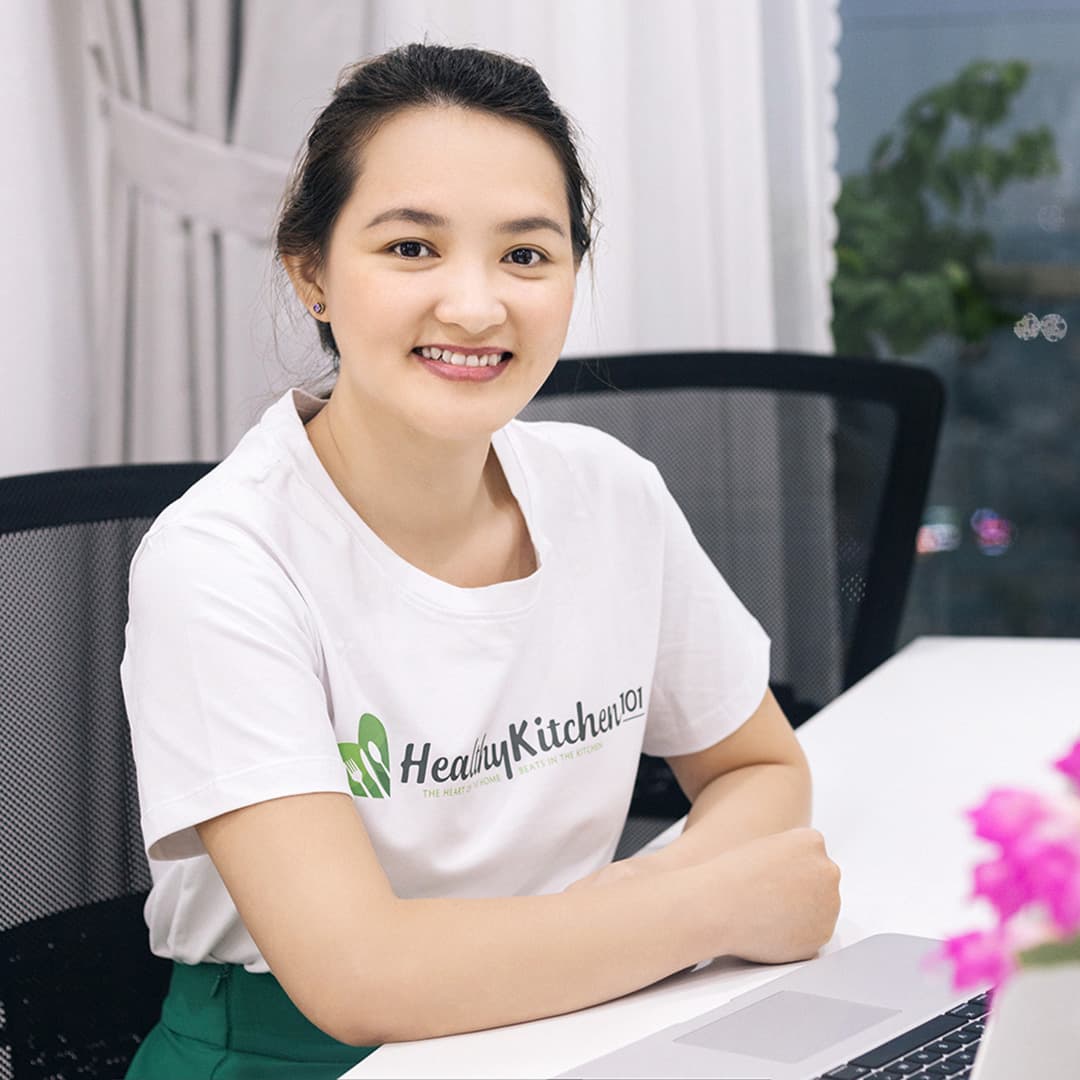 Luna Regina
A writer and entrepreneur, Luna's day doesn't start at the computer keyboard, but in the kitchen.
Half of her working hours are spent on mixing ingredients for her recipes. The other half involve working with the tech team to research and test the tools and appliances that promise to make kitchen work effortless and mess-free. From a kitchen knife or water filter to the Instant Pot, if it can help save time and effort for the home cook, Luna and her team are on it.
Luna's extracurricular pastimes include camping, travel, and photography.
Comments/ Reviews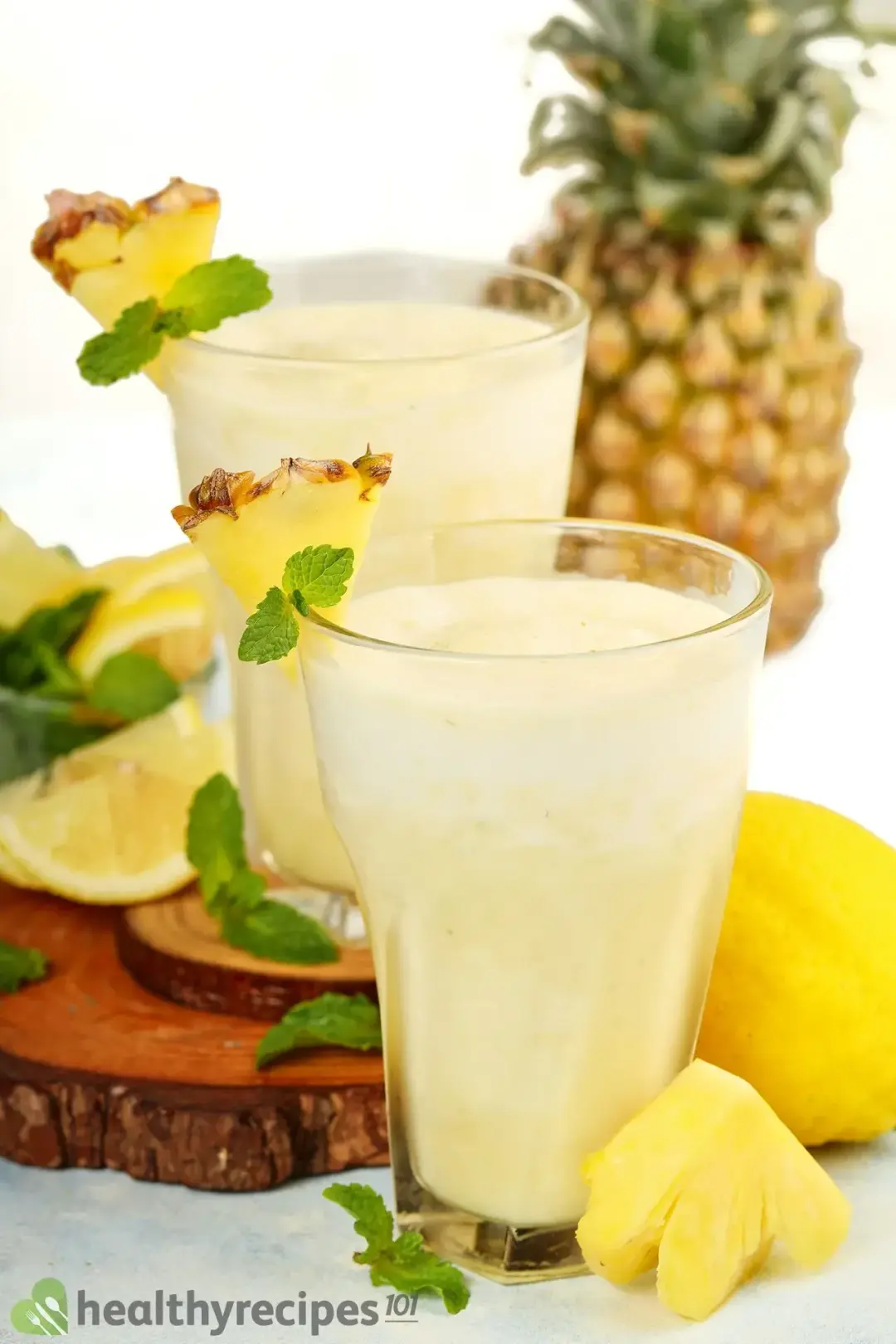 Pineapple Smoothie With Milk Recipe