Get through your summer with this healthy peach smoothie recipe. It'll help you stay nourished and hydrated while making up for any lost nutrition, especially during busy days. It'll also take you through National Eat a Peach Day (August 22) — that's if you fancy drinking your fruit.
The real thrill, though, is that it tastes divine. This peach smoothie is full of mango sweetness balanced with a tart essence.
You can enjoy it while receiving immune-supporting nutrients that boost your body's health. Vitamin C and beta-carotene are just some of the nutrients you can easily retain while drinking it.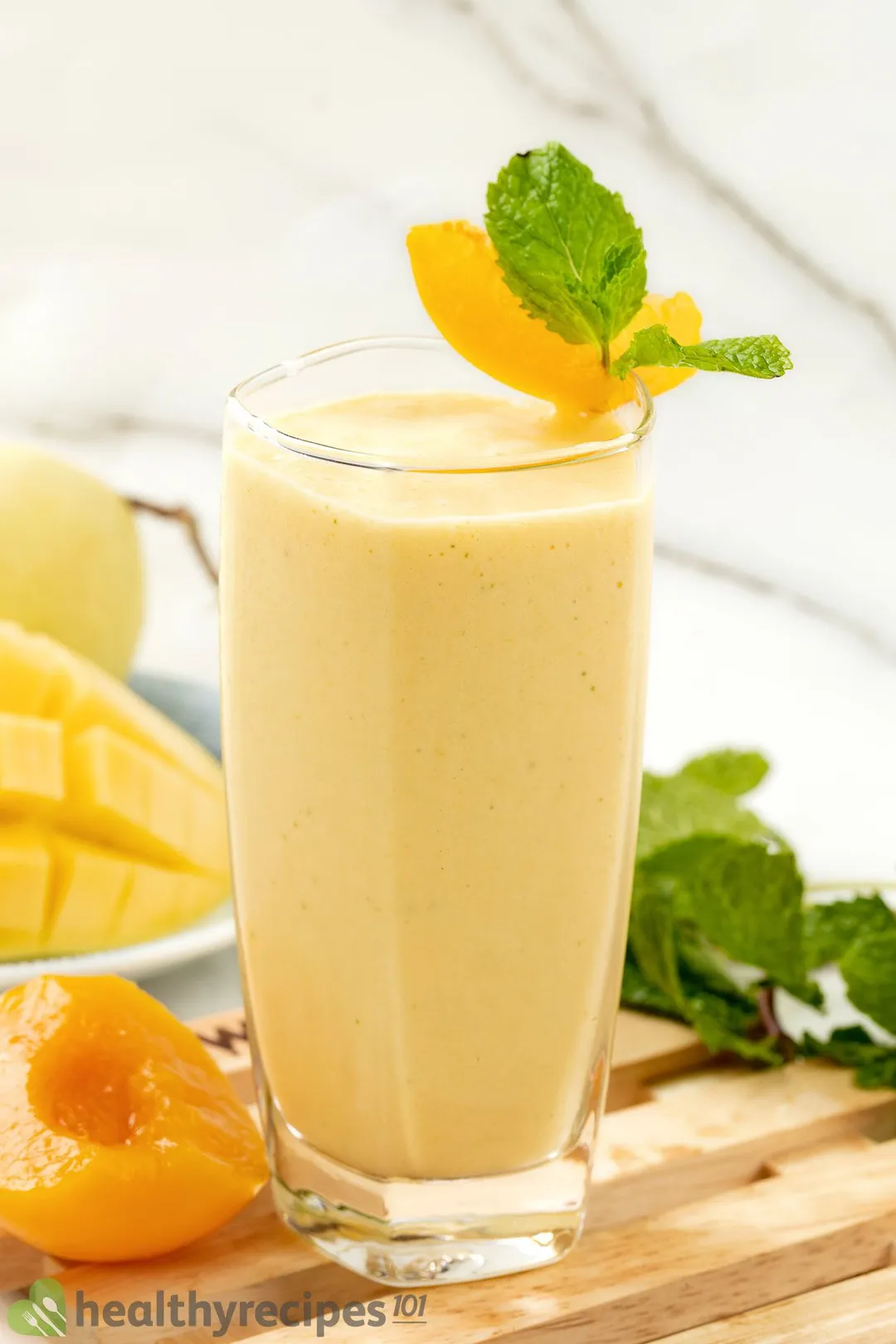 Is Our Recipe Healthy?
There are a few things to consider when attempting to make a healthy peach smoothie recipe. The main threat to a healthy drink is sugar.
It's true that consuming too much added sugar can have adverse effects on your body. Anything more than 36 grams a day could contribute to diabetes, obesity, and cardiovascular health risks.
With that in mind, we chose to add a little more sweetness to this smoothie with maple syrup.
Compared to table sugar, maple syrup is less processed and has a lower glycemic index. Thus it raises blood sugar slower.
Plus, it provides a small number of nutrients too. Some of which are potassium, calcium, and antioxidants that can offset free radicals to reduce oxidative damage in your body.
There has been debate about whether canned peaches, like in this recipe, are as nutritious as fresh ones. Research shows that both versions retain similar amounts of nutrients like vitamin A.
Our bodies convert the beta-carotene found in peaches into vitamin A, which is essential for eye health. Beta-carotene is also responsible for giving peaches their yellow vibrancy.
Vitamin E, also found in peaches, has been linked to a lower risk of cardiovascular disease and death. Consuming them may help contribute to slowing the process of cell aging caused by free radical damage.
We've added mango to the recipe, which research says possesses anti-diabetic and anti-cancer properties. Mangoes have also been shown to promote lower glucose levels in rats as well as supporting antitumor activity in humans.
Additionally, they contain some fiber. Together with peaches, they provide a healthy dose of fiber that helps to prevent gut issues like constipation.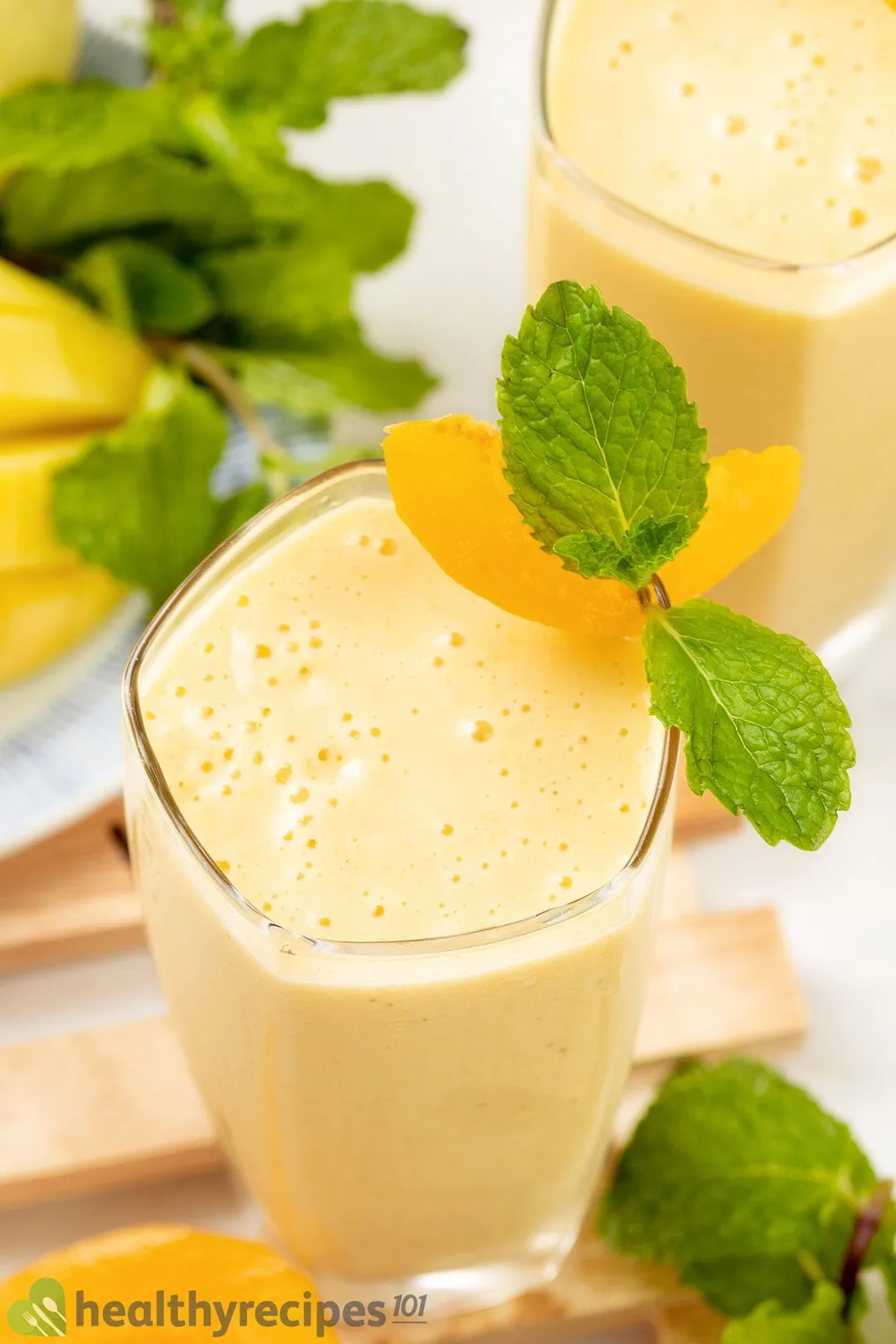 What Goes Well with Peaches?
Peaches are typically sweet. Yellow cling peaches are very juicy and create delicious desserts and smoothies.
Here are some suggestions for components to add to a peach smoothie recipe:
Banana: Bananas are a typical go-to ingredient for thickening smoothies. They also add some sweetness and much-needed fiber. You can use them in this recipe to achieve a thicker finish with distinctly sweet notes.
Strawberry: Strawberries would add a more intense tartness compared to peaches. It's great because it varies the flavor profile with no overbearing flavors.
Mango: Mango, already in this peach smoothie, is excellent for introducing a balance between sweet and tangy. They are great in smoothies, both delicious and nourishing. You could also try out this mango smoothie recipe for a similarly nourishing drink. And just like peaches, they're succulent, making a delectable smoothie with plenty of fiber for good digestion.
Blueberries: Blueberries have an intriguing taste of acidity with slight hints of sweetness. They would mix perfectly into this smoothie and keep the overall palate balanced while adding unique flavor.
Pineapple: Pineapples, like strawberries, are tangy and acidic. They are usually sweeter, though, so they finish this smoothie with sugary notes.
Yogurt: Yogurt is excellent in this smoothie. It adds a smooth viscosity that makes this drink creamy and even-textured.
Almond Milk: Almond milk is an excellent vegan option. It's incredibly tasty, with a nutty essence that alters the flavor of this drink to make it even better.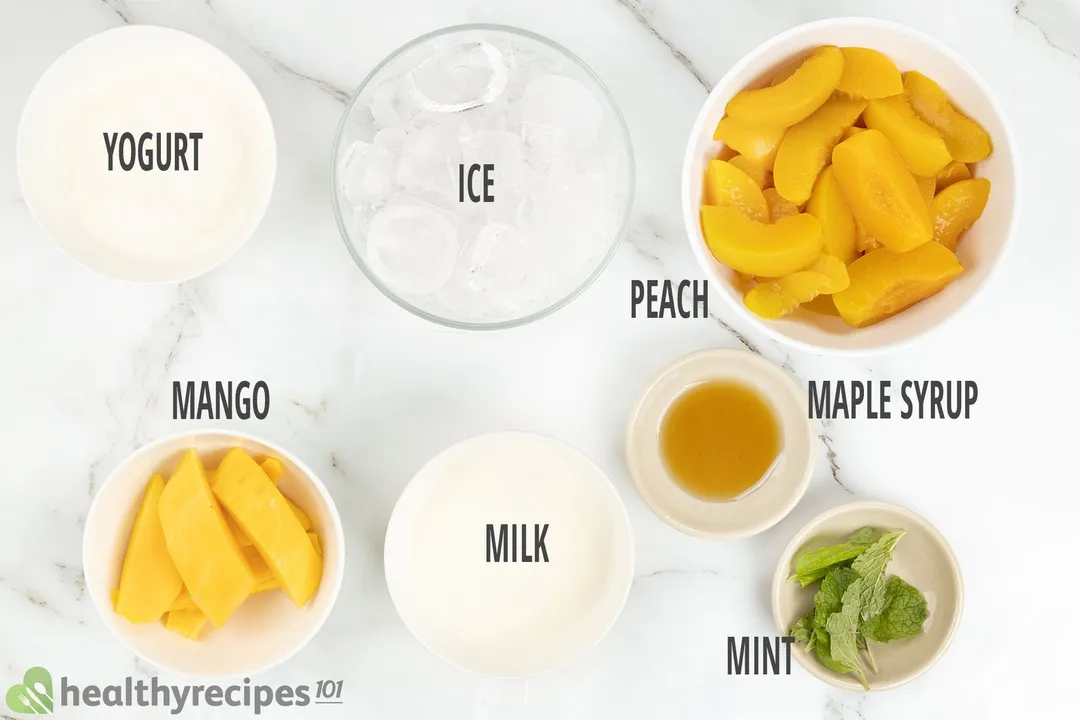 Should I Peel a Peach for a Smoothie?
You don't have to peel a peach for a smoothie. In fact, peach skin is full of vitamins and antioxidants that will only make your smoothie healthier!
If you can, leave them on, and you won't notice them once they're blended in with all the other ingredients.
Frozen Recipe
A frozen peach smoothie is an exciting take on this recipe. You can start by freezing fresh/canned peach slices and using them to thicken your drink.
Frozen ingredients add texture and substance, bringing a fun experience to any smoothie! Plus, it makes it extra cooling on a hot day.
Calories
This peach smoothie contains 137 calories per serving. Most of them come from carbohydrates in the form of dietary fiber.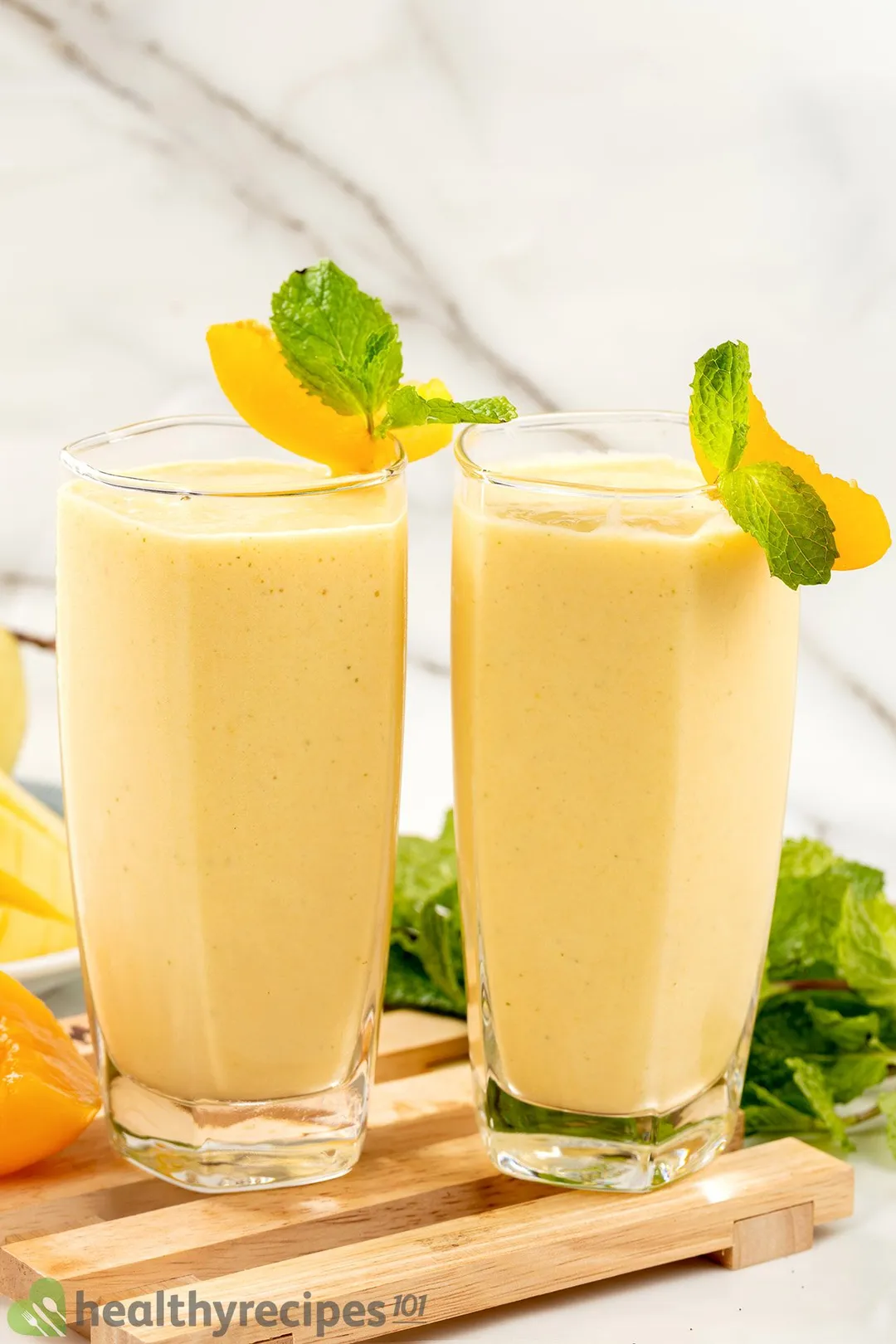 This makes it excellent for promoting bowel movements and preventing constipation. Not only that, but it also helps with weight management and lowers your risk of diabetes and heart disease.
Healthy Peach Smoothie
This healthy peach smoothie recipe is a fabulous drink with a sweet, fruity essence. It helps promote bowel movement and works great as a breakfast beverage or a healthy appetizer.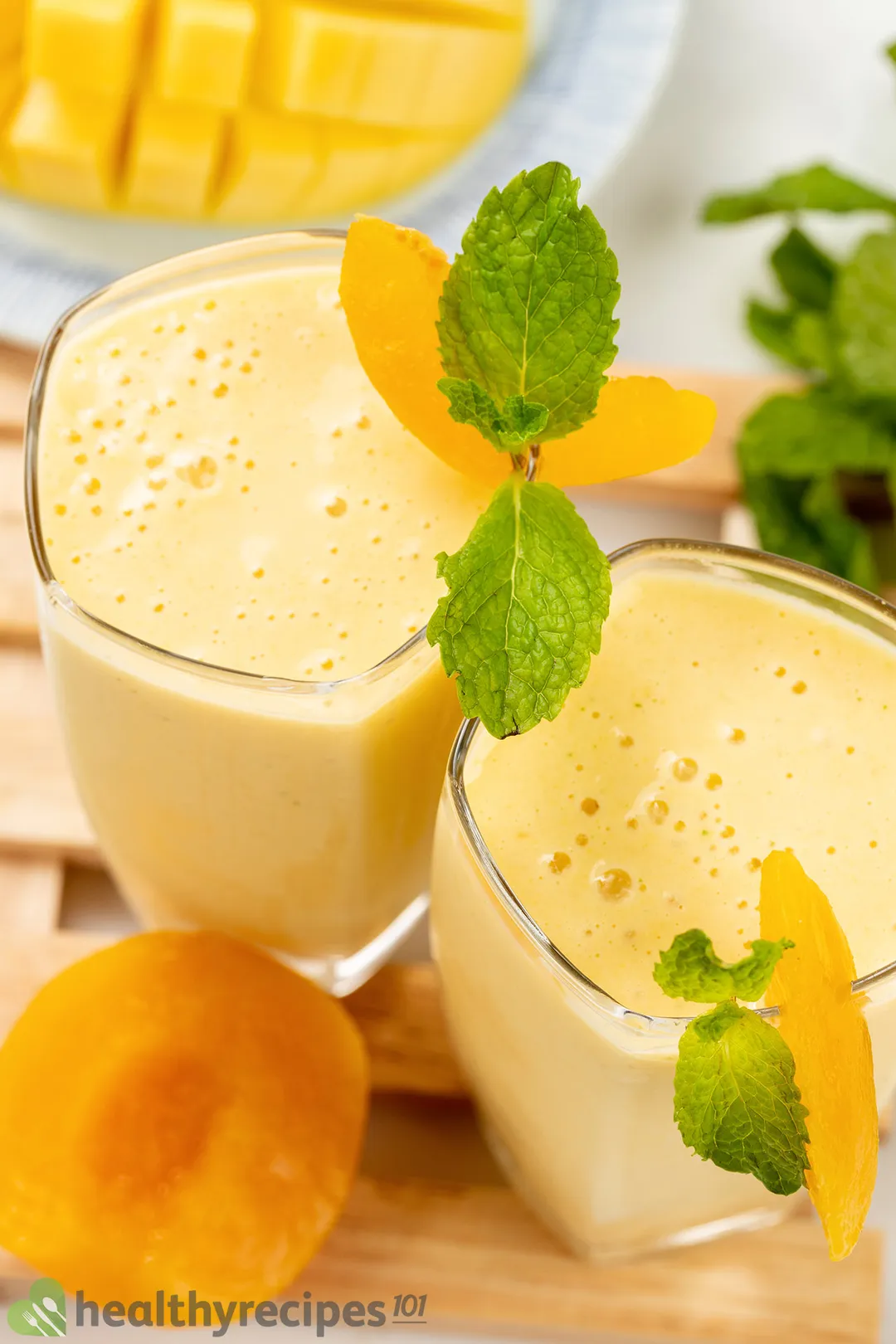 prep TIME

5 mins

total TIME

5 mins
COURSE

Beverage

CUISINE

American

SERVINGS

CALORIES

137 kcal
INGREDIENTS
16 oz

canned sliced peaches

(2 cups)

1/2 cup

plain Greek yogurt
INSTRUCTIONS
1
In a blender, add 16 oz peaches, 4 oz mango, 1/2 cup yogurt, 1/2 cup milk, and 1/2 tbsp syrup.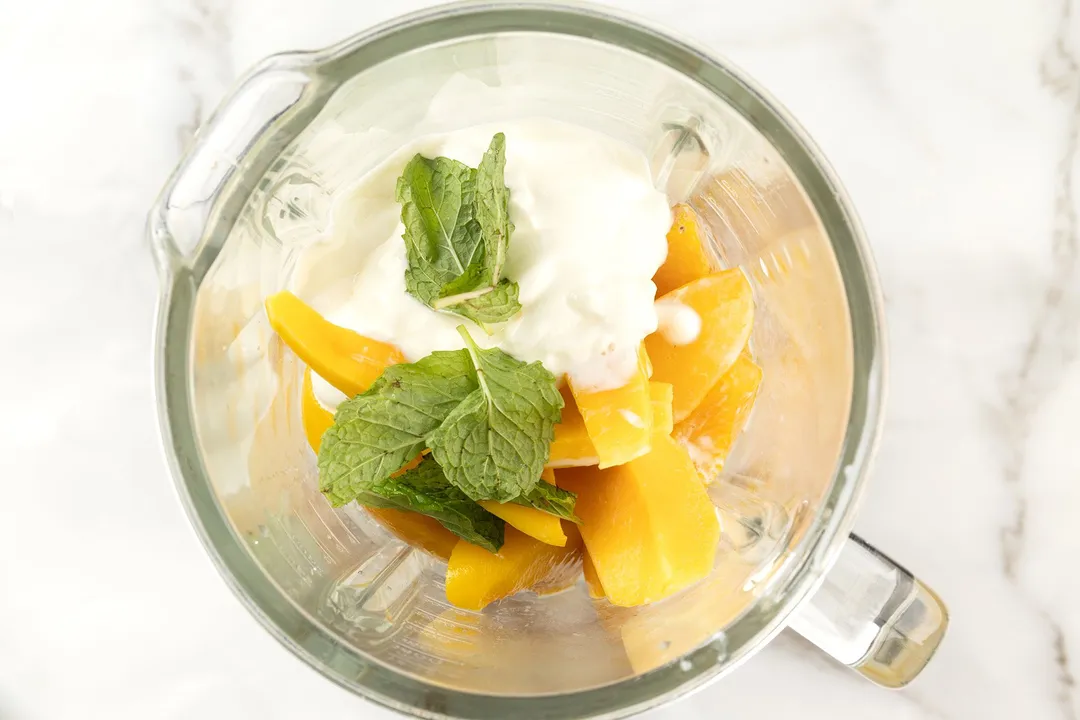 2
Blend in 30 - 60 seconds until smooth.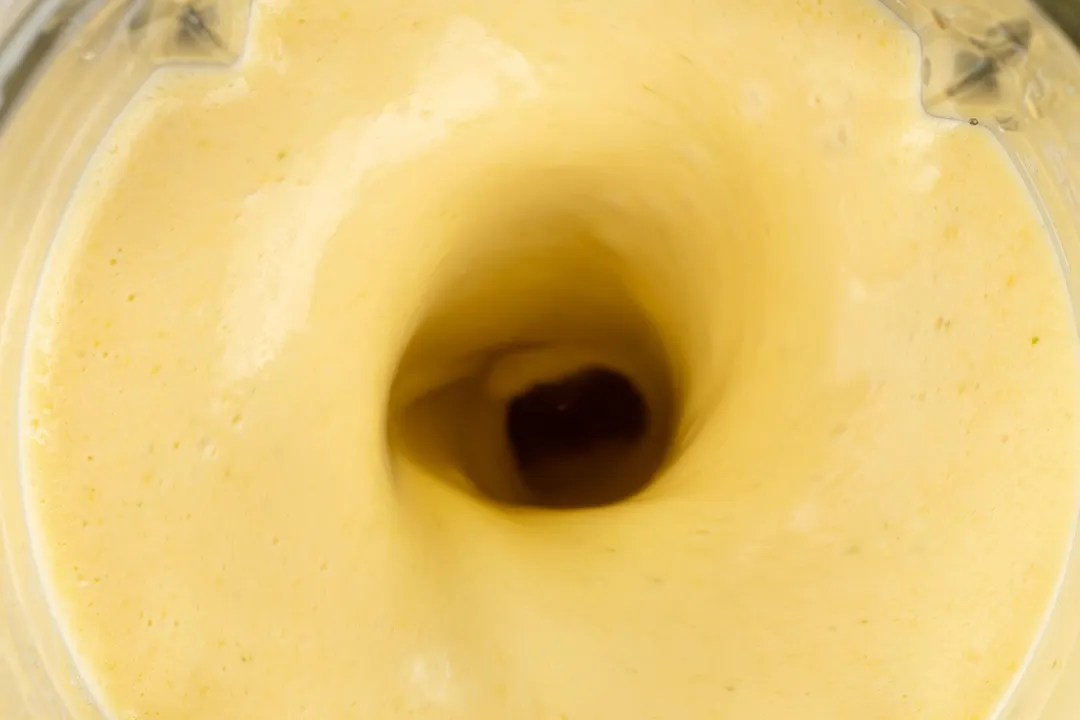 3
Pour into serving glasses.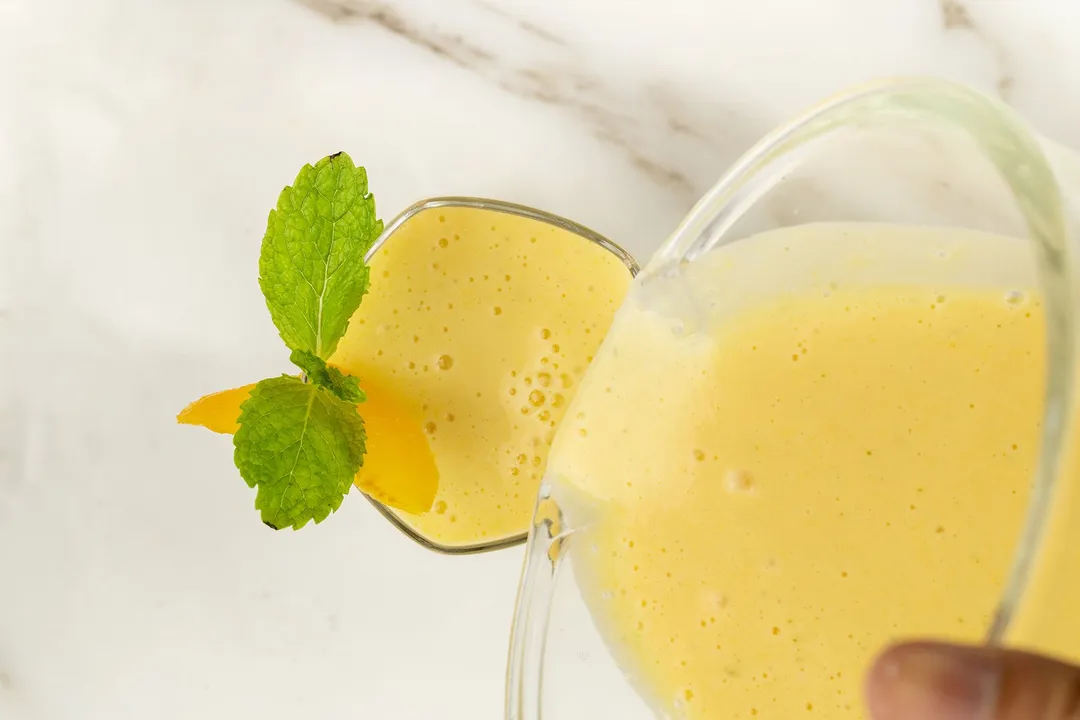 4
Garnish with mint. Serve.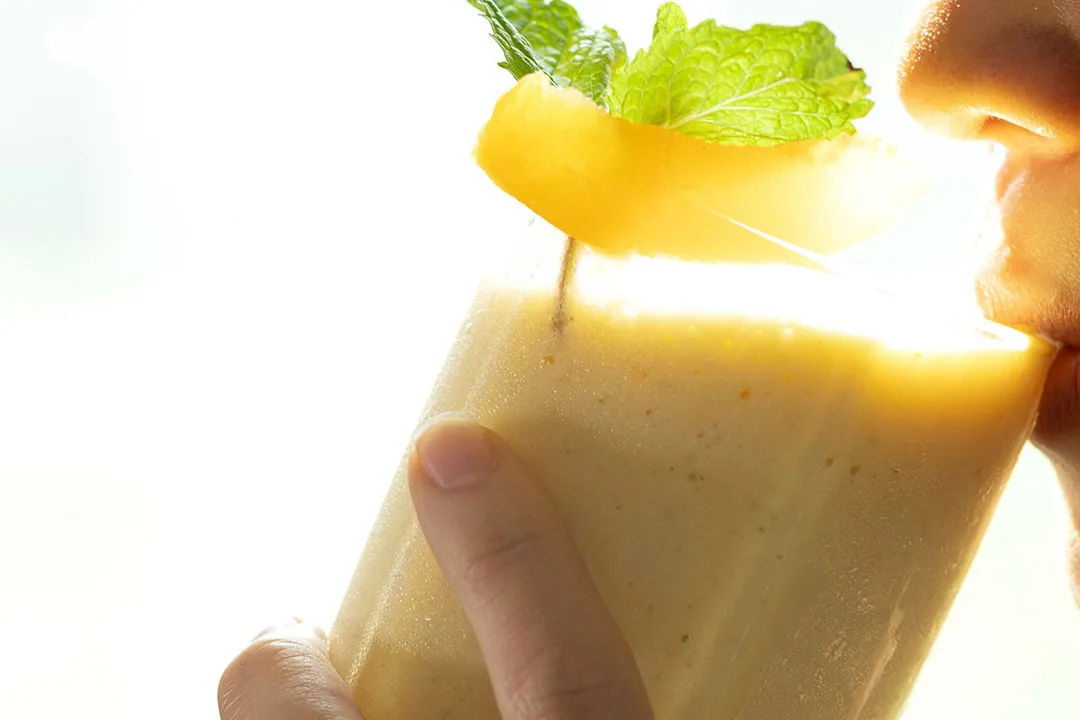 NUTRITION
Nutrition Facts
Healthy Peach Smoothie
Amount Per Serving (1 serving)
Calories 137
Calories from Fat 27
% Daily Value*
* Percent Daily Values are based on a 2000 calorie diet.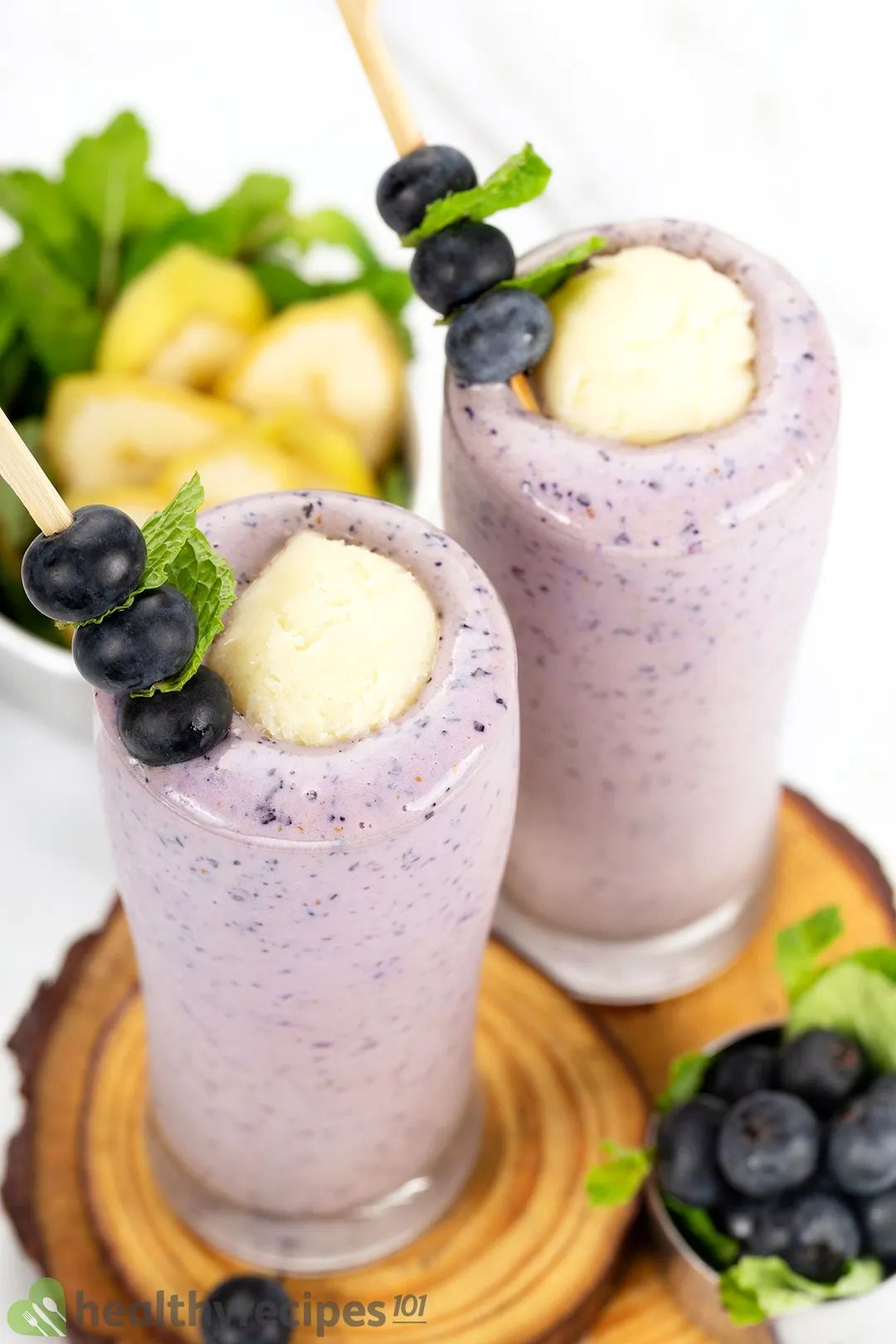 Previous Recipe
Blueberry Banana Smoothie
Blueberry Banana Smoothie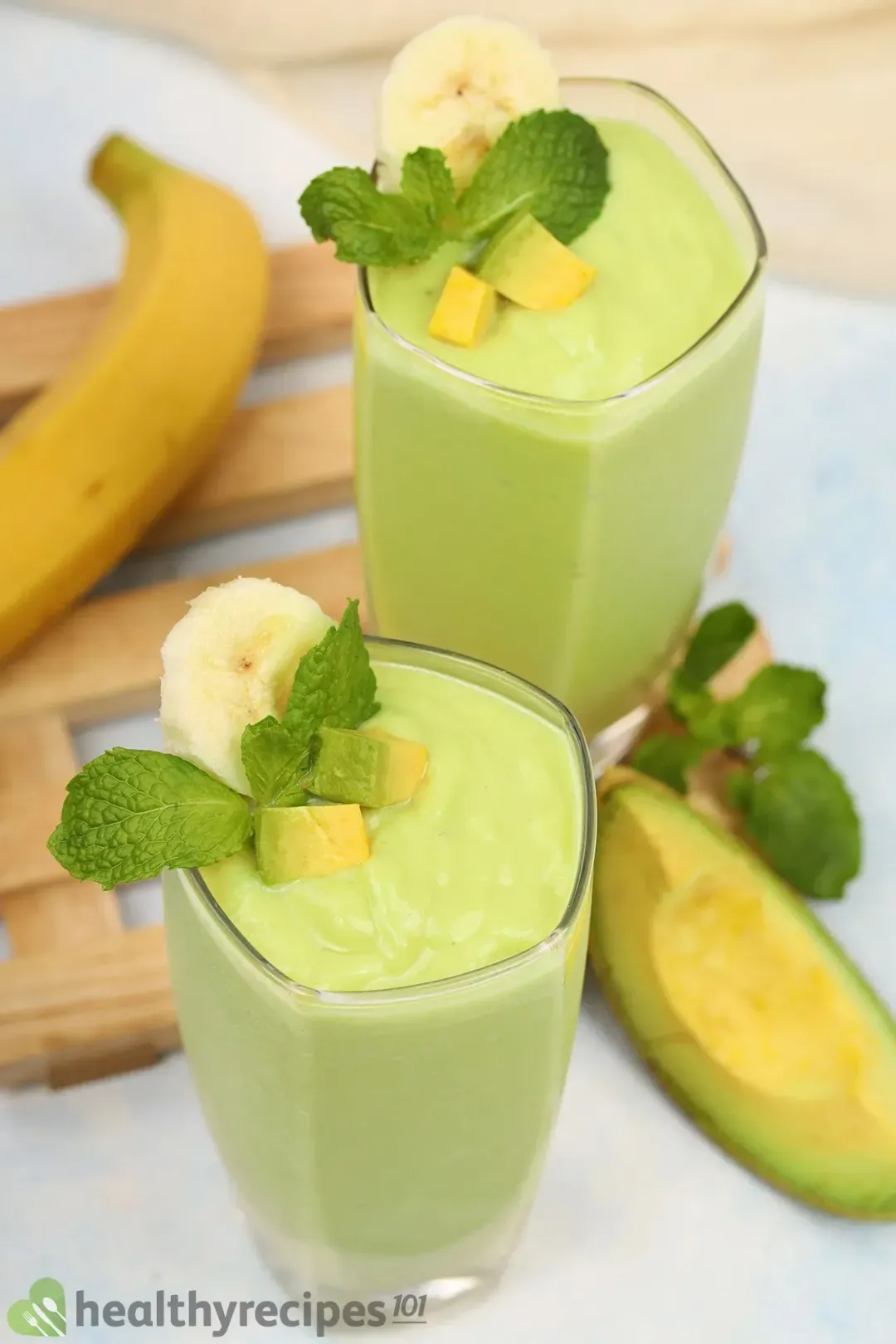 Next Recipe
Avocado Banana Smoothie
Avocado Banana Smoothie
Deliciously refreshing peach smoothie, pure bliss!