Kale smoothie recipes are amazing. They are packed with micronutrients, yet can keep the vegetable-haters coming back for more.
What Is Kale
Kale has been a popular green popped up on a lot of recipes, from salads, soups, to smoothies, juices.
It belongs to the mustard family, closely related to cabbage, and can grow in hot or cold temperatures. That translates very well in the kitchen: you can have access to fresh kale all year round.
There are many ways to prepare kale— steam, saute, blend, juice, or leave it as-is. It has a strong, earthy taste, yet is not peppery like arugula.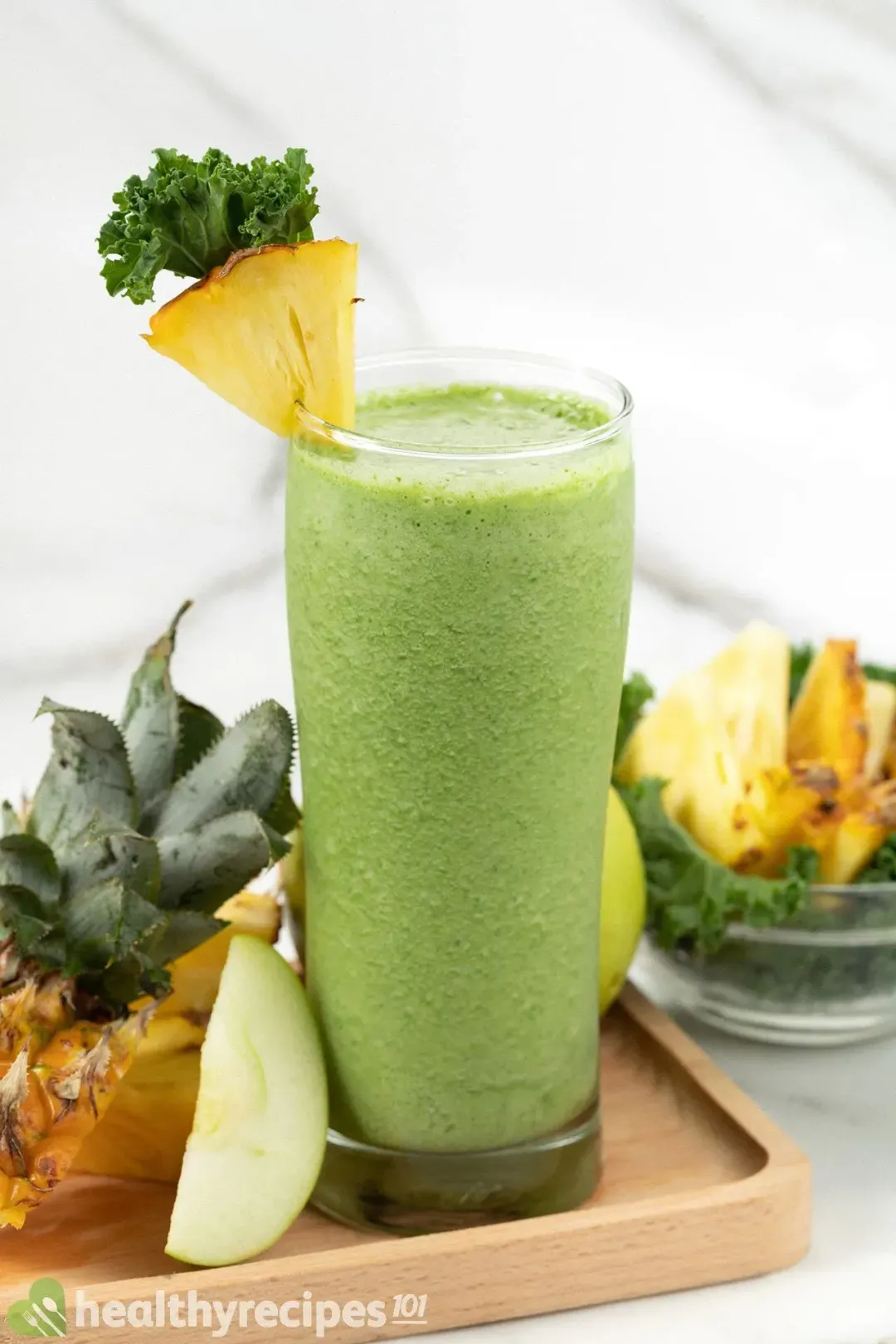 Types of Kale for Smoothie
Our recipe uses curly kale. It's the most common type you can find on the market.
Kale also comes in many other forms.
The color of the leaves ranges from dark green and purple to white and slight pink. There is purple kale, which is also curly, but has a light purple, snowy hue.
Dinosaur kales have a deep dark green color. Their leaves are not curly, but look as if they're crumpled and need water to expand.
Many recipes use baby kale, the immature version of curly kale. They have a bright color, indicating that they're less bitter but slightly sweet.
Is Kale Smoothie Healthy?
The smoothie tastes fruity delicious, yet packs wallop nutrient-wise. It also has lots of fiber to promote gut health and is great for your waistline.
Besides the nutritions from kale, our kale smoothie also has apple and pineapple. Not only rich in vitamin C, these fruits can also contribute to your daily dose of fiber.
To top it all off, our kale smoothie recipe uses honey instead of granulated sugar. More than a sweetener, it's more fragrant and contains a small but important amount of minerals.
Kale Nutrition
1. Calories in Kale
Like most greens, kale is low in calories. One cup of kale (about 21 grams) only contains 7.2 calories.
2. Carbs in Kale
Kale is also very low in carbohydrates. That amount of kale contains under 1 gram of carbohydrates, and almost 90% of the carbohydrates is fiber.
A kale salad is a great side dish to include in your keto, low-carb diet.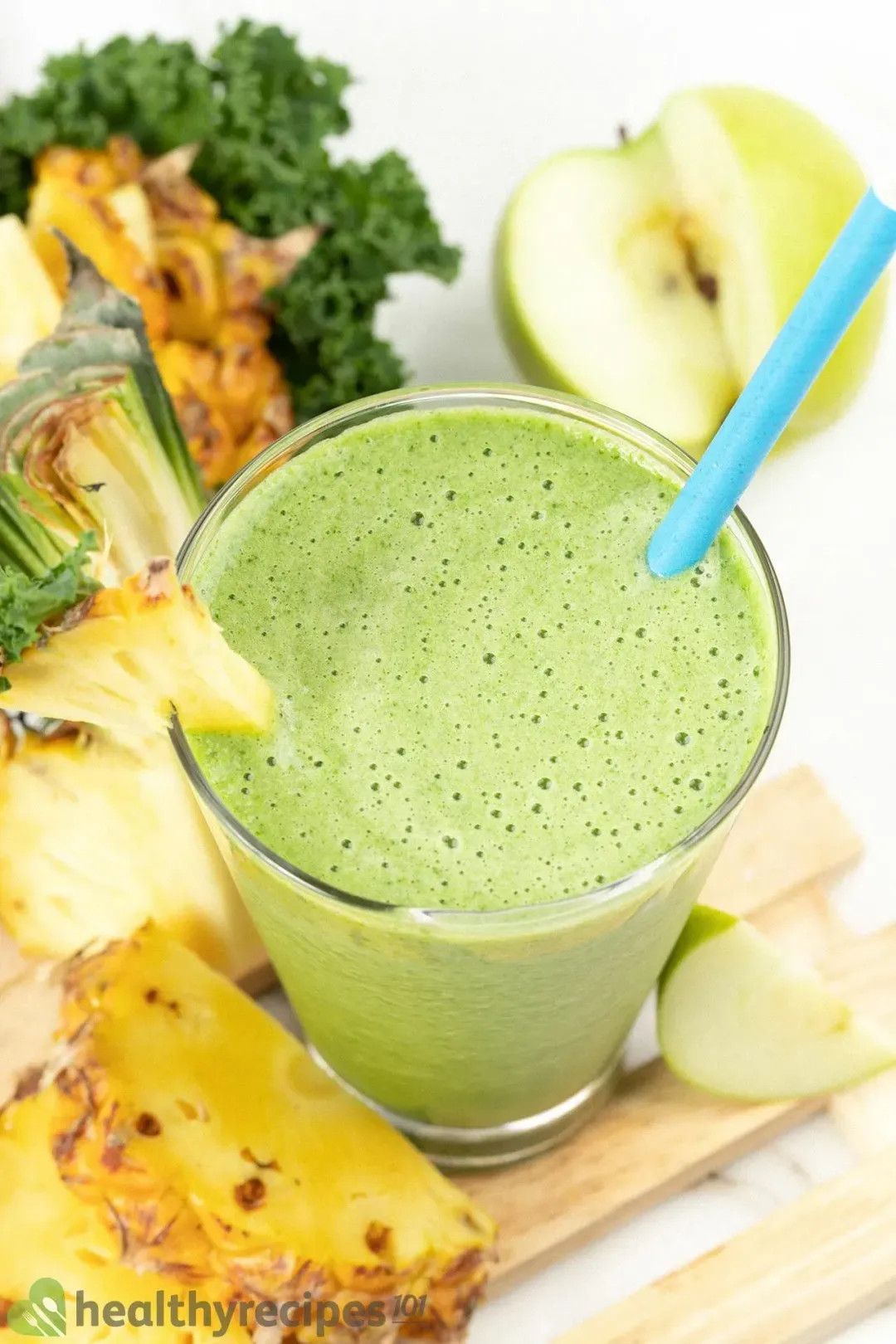 3. Adding Protein to Kale Smoothie
Kale provides around 1 grams of protein per one cup, not significant compared to meat, dairy, nuts, or other foods. However, you can still turn a kale smoothie into your daily protein shake before gym.
All you need is to add to your kale smoothie blender one scoop of your favorite protein powder. Pulse it nicely and you'll have a protein shake that's packed with nutrients and fiber.
Keep in mind that many protein powders contain sugar, so it'd be great to skip the sugar in our recipe.
4. Kale Vitamins
Not only low in calories, kale has an interesting micronutrient profile.
In just 1 cup packed (67 grams), kale contains up to twice the daily value (DV) of vitamin A. Vitamin A is known to promote eye health, and is an antioxidant that boosts the performance of our immune system.
The same amount of kale is also rich in vitamin C (134% of the DV), also an immune-boosting antioxidant.
Besides the mentioned nutrients, kale contains a vast amount of vitamin Bs and minerals. They all play certain roles to support your body work its magic and keep you function normally.
Fruits with Kale Smoothie Recipes
Of course, this cruciferous green needs to be accompanied by a good selection of fruits and other vegetables.
Here are several fruits you can add to your kale smoothie recipe: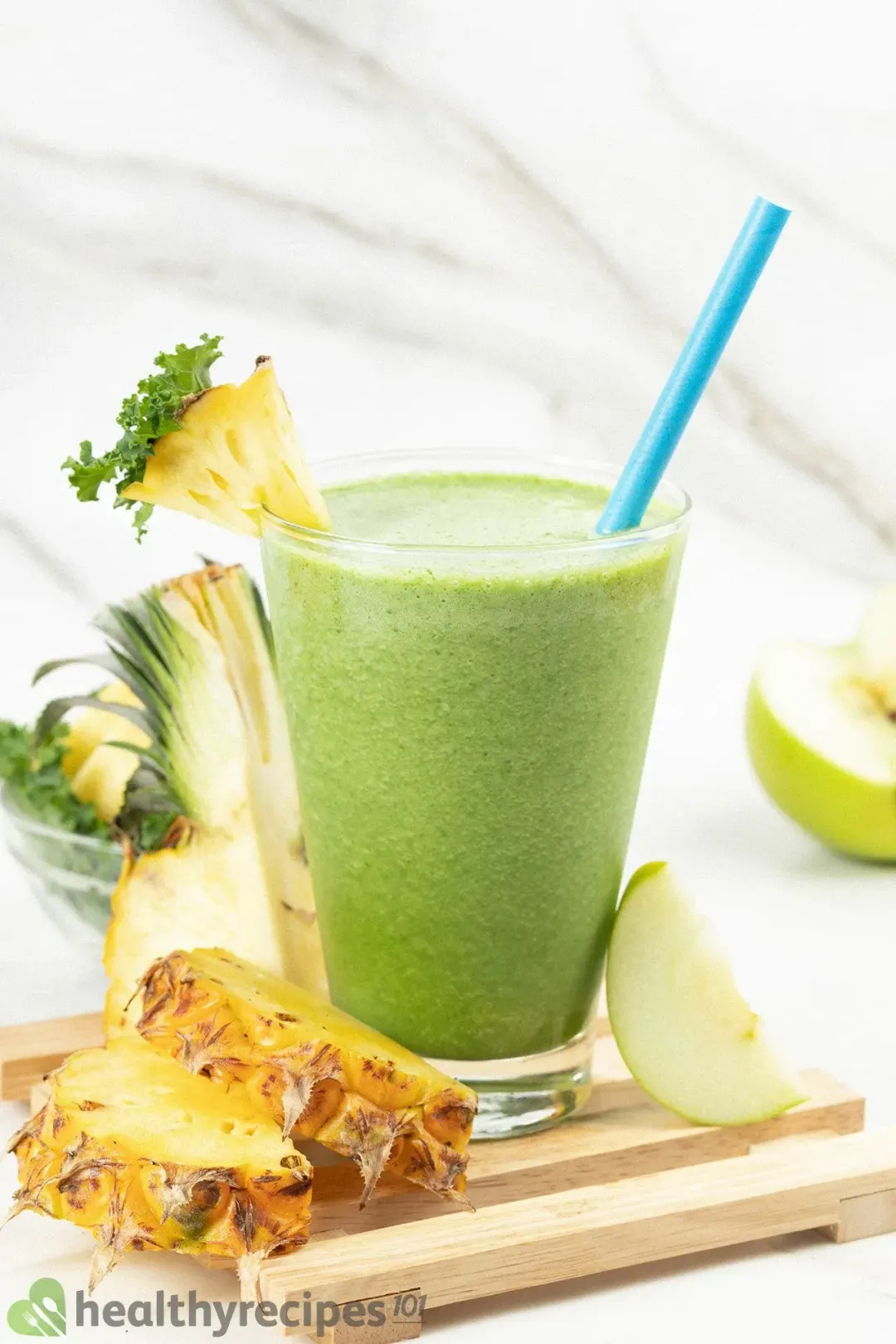 1. Banana
Banana is a great natural sweetener, and is often added to smoothies as a creamy smoothie base.
As kale is quite… fibrous, even the leaves, there are a few things to note if you want to add creamy fruits to it.
First, blend kale with 1-2 tablespoons of water (or milk) for about 5 minutes straight to really grind those leaves. Then add the rest and blend until smooth.
It's helpful to freeze the leaves before blending. Frozen kale is easily broken down into small bits.
2. Avocado
Has been an exclusive addition in breakfasts, salads, avocado also adds thickness to your smoothie. It paired with banana not only creates a nutrition-packed-duo, but a perfect creamy-sweet base for any smoothie.
Make sure that you blend the kale really well before adding the fruit base. Finding large leafy bits in a creamy smoothie is no pleasant experience.
3. Pineapple and Apple
Apple and pineapple are great companions for kale smoothie. They add tanginess, sweetness, and a lot of fiber.
For the two fruits, there's no need to blend the kale finely beforehand. These two fruits are rather fibrous, hence masking the texture of kale really well.
In fact, we have a green smoothie that uses both pineapple and apple. It's tangy, sweet, really balanced in flavor.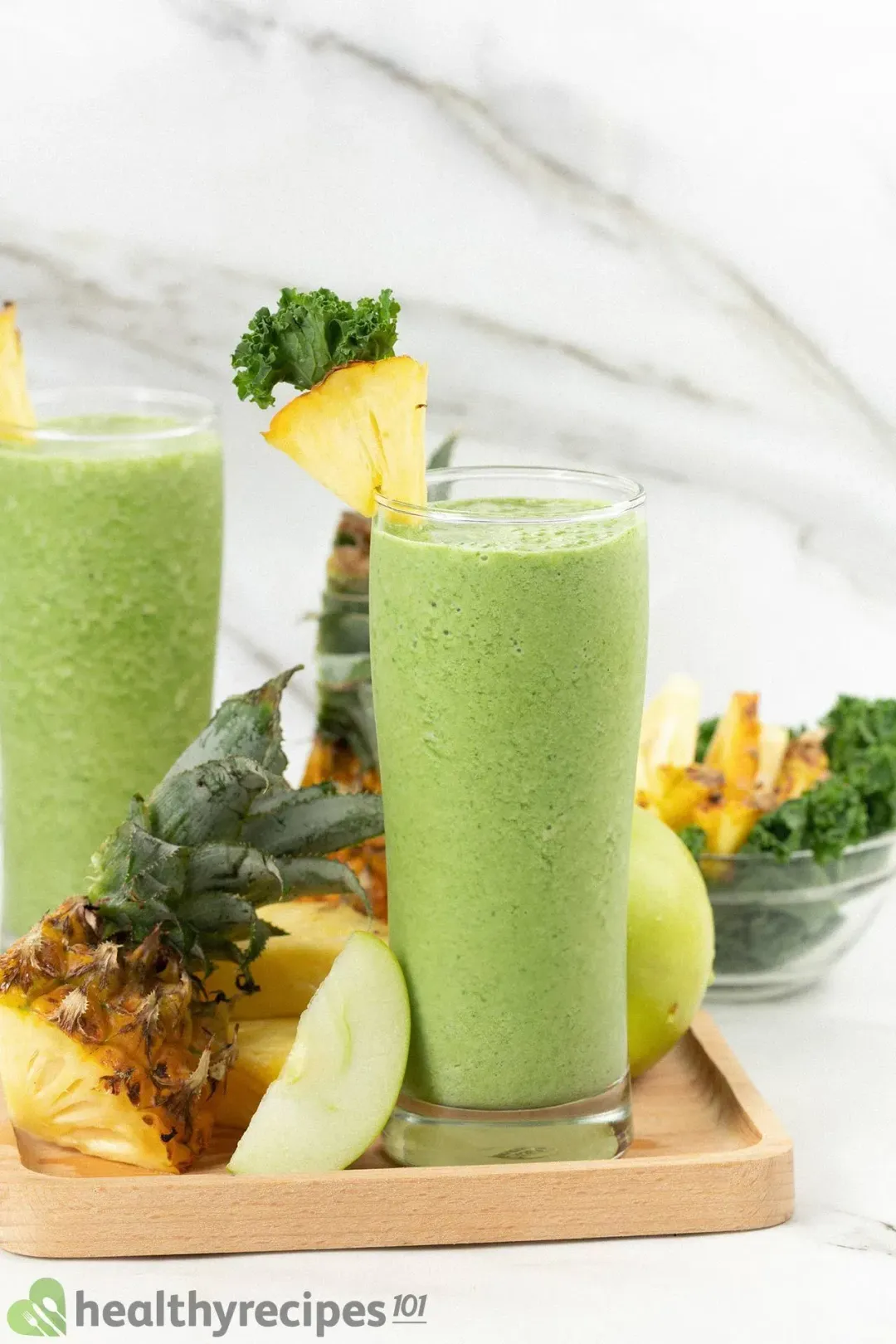 4. Blueberry
Although its fragrance is quite faint, blueberry adds a beautiful color to your smoothie and a whole lot of antioxidants.
You can add blueberries to almost any smoothie, how many you want. For thickness, Greek yogurt is often added along with it.
5. Strawberry
Strawberries are such an iconic topping, you'll see it in almost every dessert and sweet treat. Adding strawberries to any smoothie gives it more flavor, and if it's fruit-based, its sweetness and tanginess will be enhanced.
How Long Does Kale Smoothie Last
Smoothies should always be consumed immediately after making. It's tastier and the color is more vibrant, just coming out of the blender.
For later consumption, freeze fresh fruits and vegetables in batches and whenever you need, take one batch and blend away.
Cut fruits and vegetables can be stored for a really long time in the freezer. However, it's best to check for molds if you're unsure.
Healthy Kale Smoothie
Kale smoothie recipe is an easy, delicious way to sneak more vegetables into your diet. It's packed with minerals and vitamins, as well as fiber!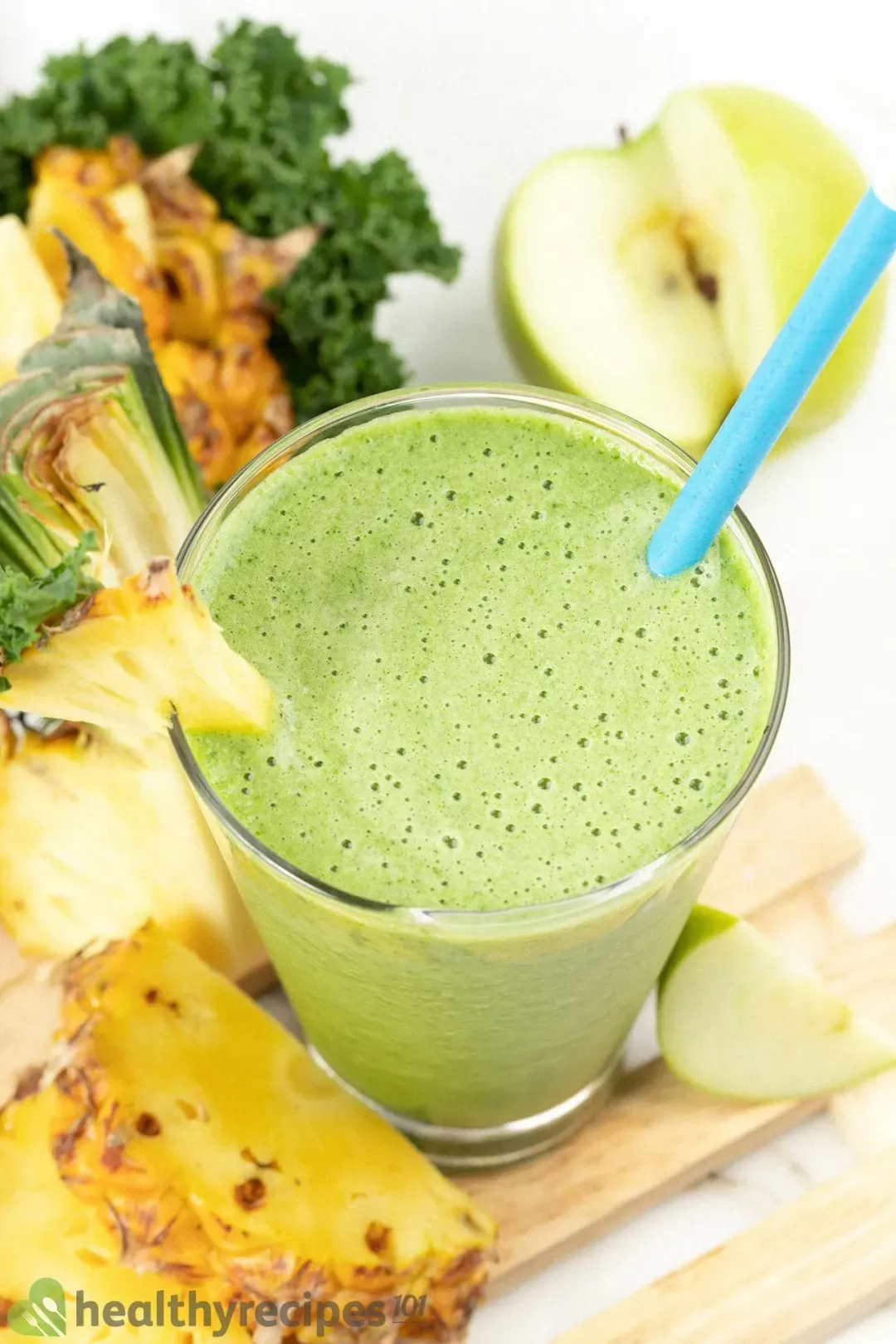 prep TIME

5 mins

total TIME

5 mins
COURSE

Beverage

CUISINE

American

SERVINGS

CALORIES

119 kcal
INSTRUCTIONS
1
Add 2 cups ice, 2 oz kale, 4 oz apple, 4 oz pineapple, 1/2 cup milk, 4 tbsp honey to the blender.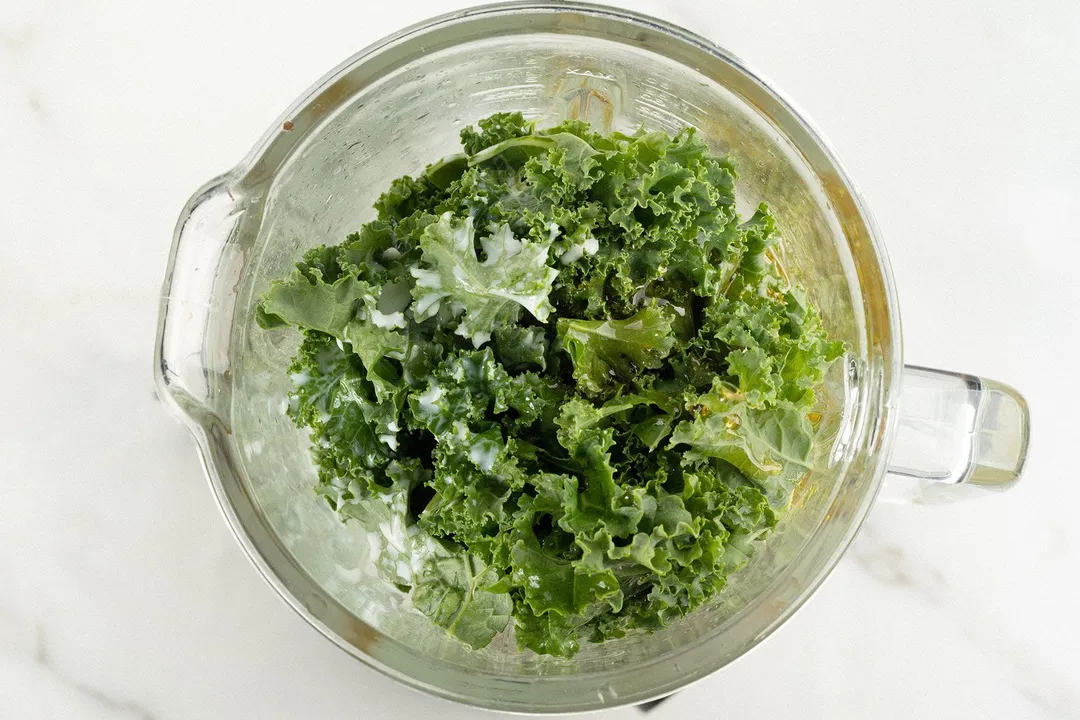 2
Blend in 30 seconds - 1 minute until smooth.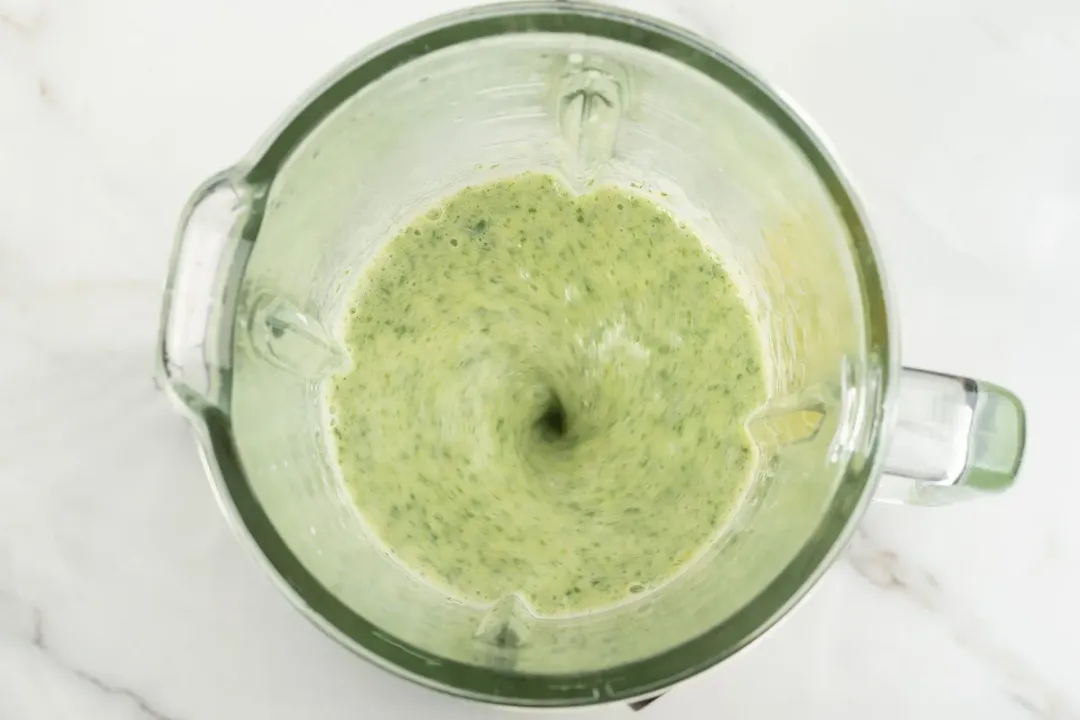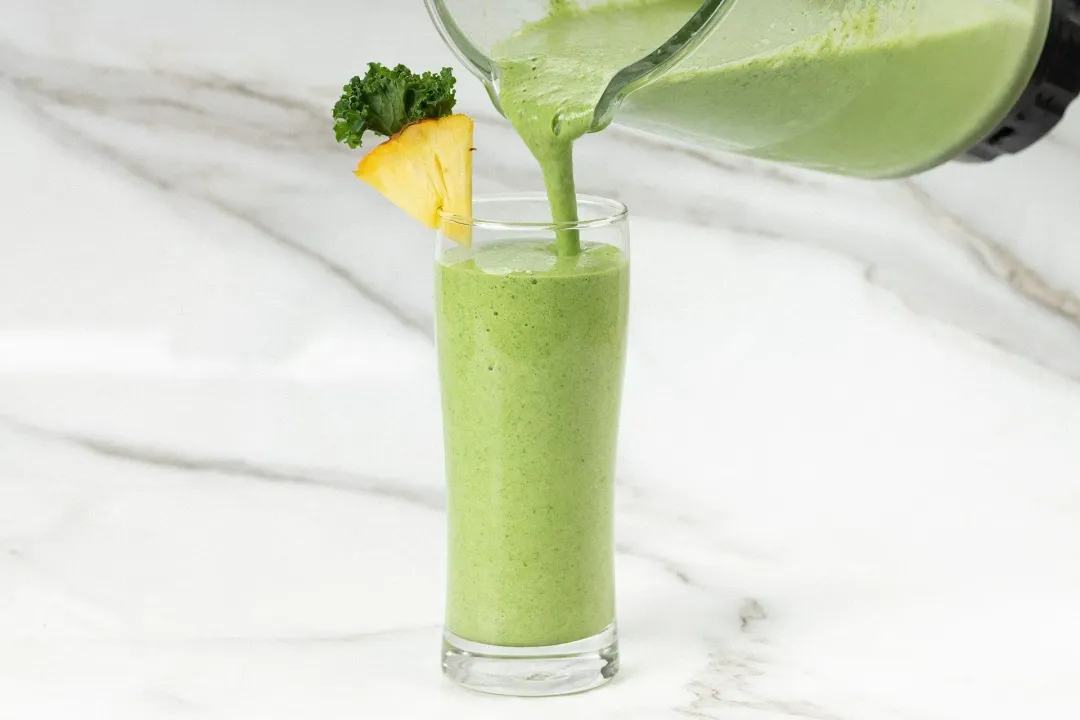 NUTRITION
Nutrition Facts
Healthy Kale Smoothie
Amount Per Serving (1 serving)
Calories 119
% Daily Value*
* Percent Daily Values are based on a 2000 calorie diet.
Keywords: Healthy Kale Smoothie Recipe, How to make Kale Smoothie Recipe, Kale Smoothie Recipe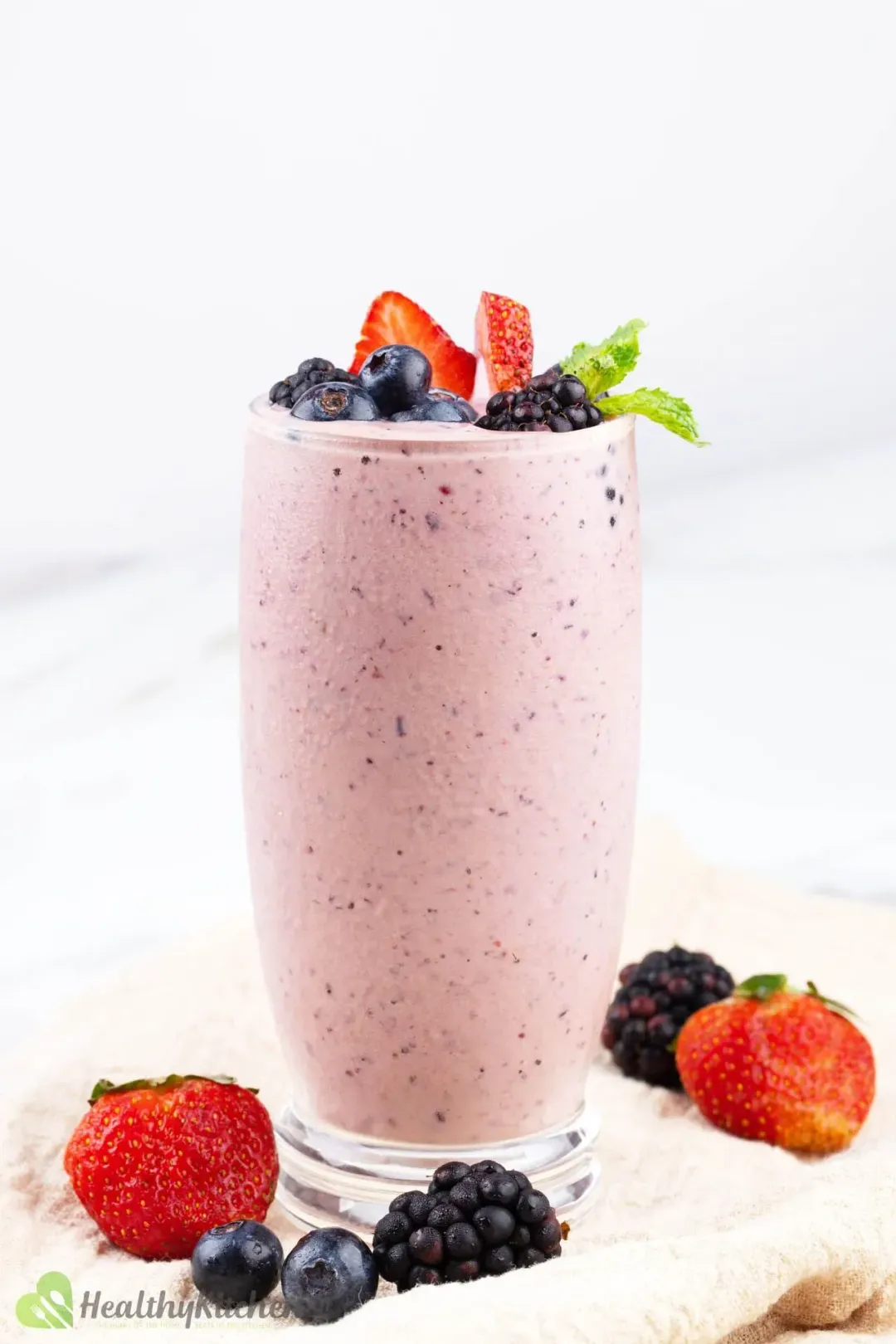 Previous Recipe
Healthy Frozen Fruit Smoothie
Healthy Frozen Fruit Smoothie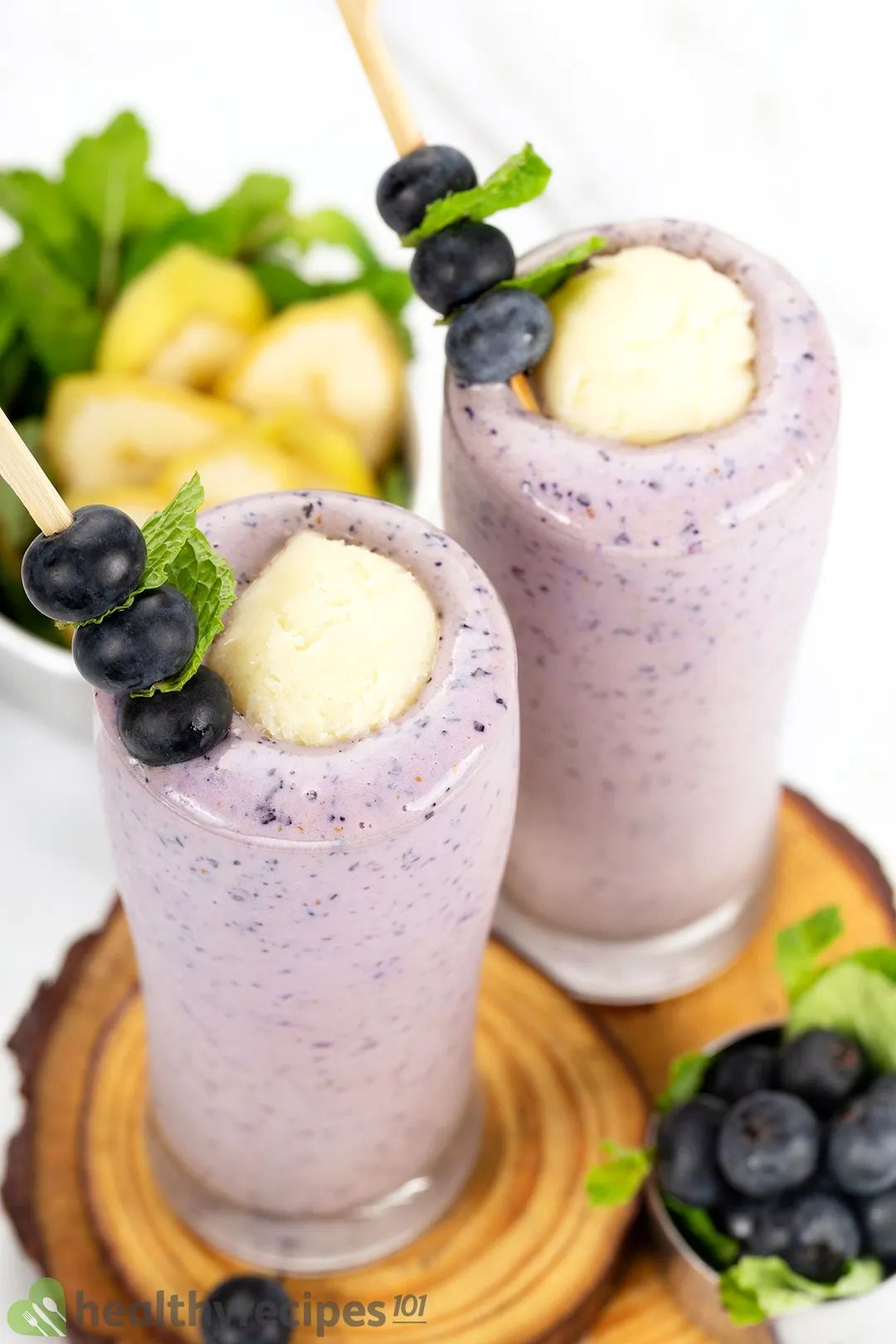 Next Recipe
Blueberry Banana Smoothie
Blueberry Banana Smoothie
Head Chef, Culinary Consultant
Tuyet Pham is an award-winning Saigonese chef who believes that joy is the secret ingredient to delicious food. At Healthy Recipes 101, Tuyet personally tests and simplifies every recipe, ensuring maximum flavor with minimal effort. With a background at prestigious French restaurants P'TI Saigon and Le Corto, Tuyet knows how to make every dish exceptional.
Writer, Author
Luna Regina is an accomplished writer and author who dedicates her career to empowering home cooks and making cooking effortless for everyone. She is the founder of HealthyKitchen101.com and HealthyRecipes101.com, where she works with her team to develop easy, nutritious recipes and help aspiring cooks choose the right kitchen appliances.
Nutrition Reviewer
Lizzie Streit is a Minneapolis-based dietitian and founder of It's a Veg World After All. She completed her MS in Human Nutrition from Drexel University, and is an expert in culinary nutrition, recipe development, and nutrition communications. Lizzie's philosophy is centered around making nutrition recommendations, and especially the advice to eat more vegetables, approachable and realistic. She is excited to be working with the team at Healthy Recipes 101 to ensure that their recipes are both nutritious and delicious.
The kale smoothie had both tartness and sweetness in one sip which hits all the right notes – green goodness at its finest, if you ask me 😋

It's really interesting and good for the health.