We can't imagine a more fun and convenient way to experience summer or National Frozen Food Day (March 6) than with a refreshing, healthy frozen fruit smoothie recipe. It's the ultimate summer accessory that's icy, slushy, and fun to try out.
This article explains the health benefits of frozen fruits. We'll also illustrate how to make a delicious blueberry, raspberry, blackberry, and mango smoothie, and how to store batches.
Are Frozen Fruits Healthy?
Frozen fruits are unequivocally healthy. This is contrary to common perception, which implies that freezing fruits causes a decrease in their nutrients.
Frozen fruits have been found to display similar nutritional value to fresh-stored fruits, with very little to no differences.
There are actually benefits to the practice. Freezing slows down the ripening and decaying process of fruits so that they last for prolonged periods.
Antioxidants are rarely affected by freezing.
Their total antioxidant content stays constant for up to a year. In some cases, it even increases.
Blueberries, in particular, contain the antioxidant anthocyanin.
After storing them in frozen, dried, and fresh states for three months, there was no notable change. Antioxidant decrease for all three states was negligible.
But they're not only healthy. Compared to fresh fruits, frozen fruits are easier to transport. They're also more readily available year-round, and easily stored in the freezer, making them more convenient.
Even frozen fruits you can buy from the store are usually just as healthy. Fruits like berries are delicate and, unlike most vegetables, cannot withstand the blanching process (to result in a nutrient loss).
We encourage you to opt for frozen berries and to practice freezing your fresh fruits at home, after washing them. You'll achieve clean produce that stores for a prolonged time and keeps its nutrients.
Is This Smoothie Healthy?
This smoothie contains frozen strawberries which carry only 77 calories per cup. They're just as nutritious as fresh ones, providing more than 100% of the vitamin C DV (Daily Value).
You get skin-supporting benefits from vitamin C, such as the formation of collagen as well as wound healing properties.
Additionally, a cup of frozen blackberries (also included) contains more than one-third of vitamin K1's DV. Vitamin K1 helps your blood to clot.
As a result, it prevents heavy bruising and bleeding.
And because it also supports bone maintenance, a deficiency could lead to bone fractures and blood thinning.
Frozen mangoes provide vitamin A. Vitamin A supports your immune system and lowers the risk of certain cancers.
It also supports healthy vision by protecting your eyes from age-related decline.
Clearly, you can reap plenty of nutrients in one serving of this frozen fruit smoothie. You can also replace some fruits with others that you prefer.
The goal is to maintain the overall nutritional value of this drink.
How to Make a Smoothie with Frozen Fruits
Frozen fruits make some of the best beverages. They add nutrients, substance, texture, and thickness to any smoothie.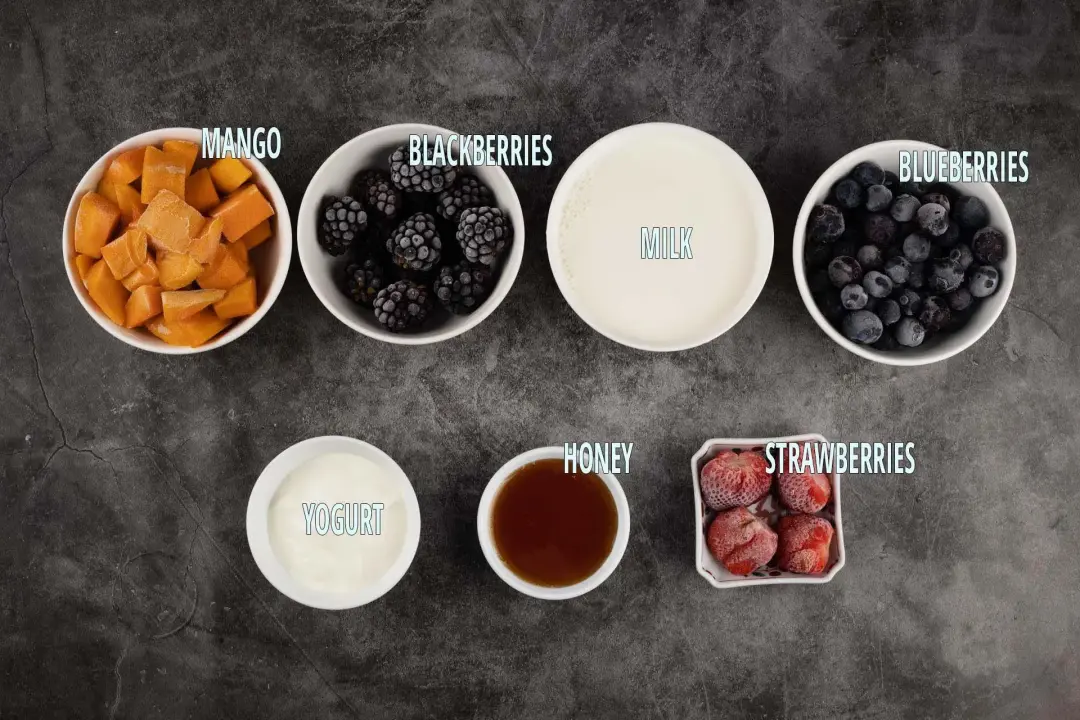 You can see how this tropical smoothie turns out looking iced and slushy. It meets the criteria for a perfect summer accompaniment, and so does this one.
Step 1: Start by freezing fresh blueberries, blackberries, strawberry chunks, and mango chunks overnight.
Step 2: Add them into a blender together with the yogurt, honey, and milk.
Step 3: Pulse until a smooth consistency forms.
Step 4: Serve topped with frozen fruit garnishes.
How to Make Taste Better
A frozen fruit smoothie recipe naturally incorporates various fruits, so you don't need so many extra ingredients to elevate its taste. Below are some complements to finish a fabulous smoothie.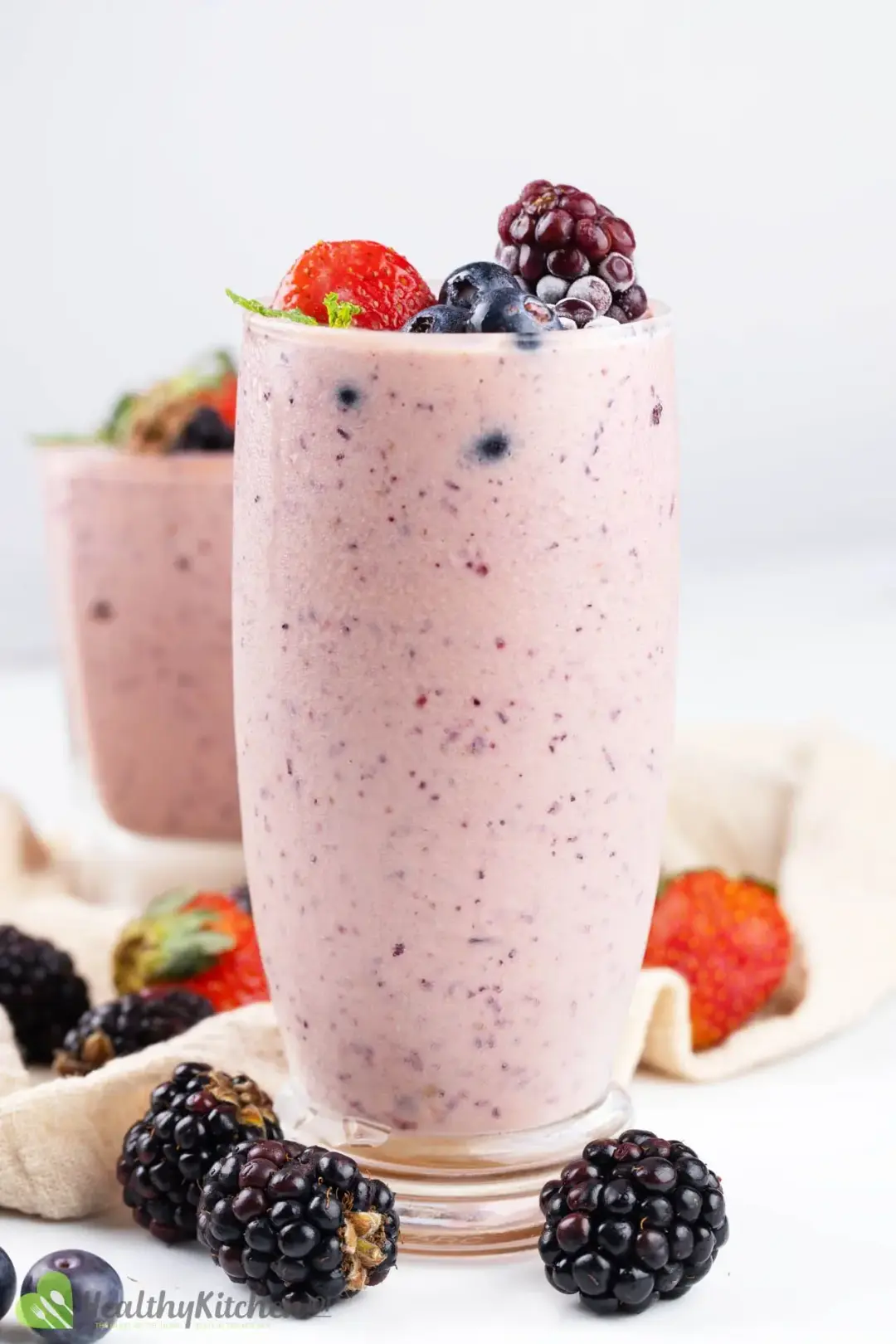 1. Yogurt
Yogurt helps to make a thick smoothie. You can usually tell the difference before adding it; your smoothie turns out chunkier.
Some people love this texture. But if you want a smoother consistency, yogurt is your best bet.
Other alternatives include coconut cream and chia seeds. They will equally add both texture and thickness to your frozen fruit smoothie.
2. Milk
Milk is a light complement. It adds mild taste and fluid consistency.
It's great because you don't need much of it to loosen the texture of your frozen fruit smoothie.
You can also use vegan options. Almond and coconut milk work great and produce similar results, as well as adding hints of other flavors.
3. Banana
Bananas are excellent for this smoothie. You can freeze them to keep the theme of frozen fruits.
Bananas are also thick-textured. So you can use them fresh to result in a slightly less slushy but creamier smoothie.
How Long Do Frozen Fruit Smoothies Last?
Frozen fruit smoothies, and all smoothies in general, will last up to two days in the refrigerator.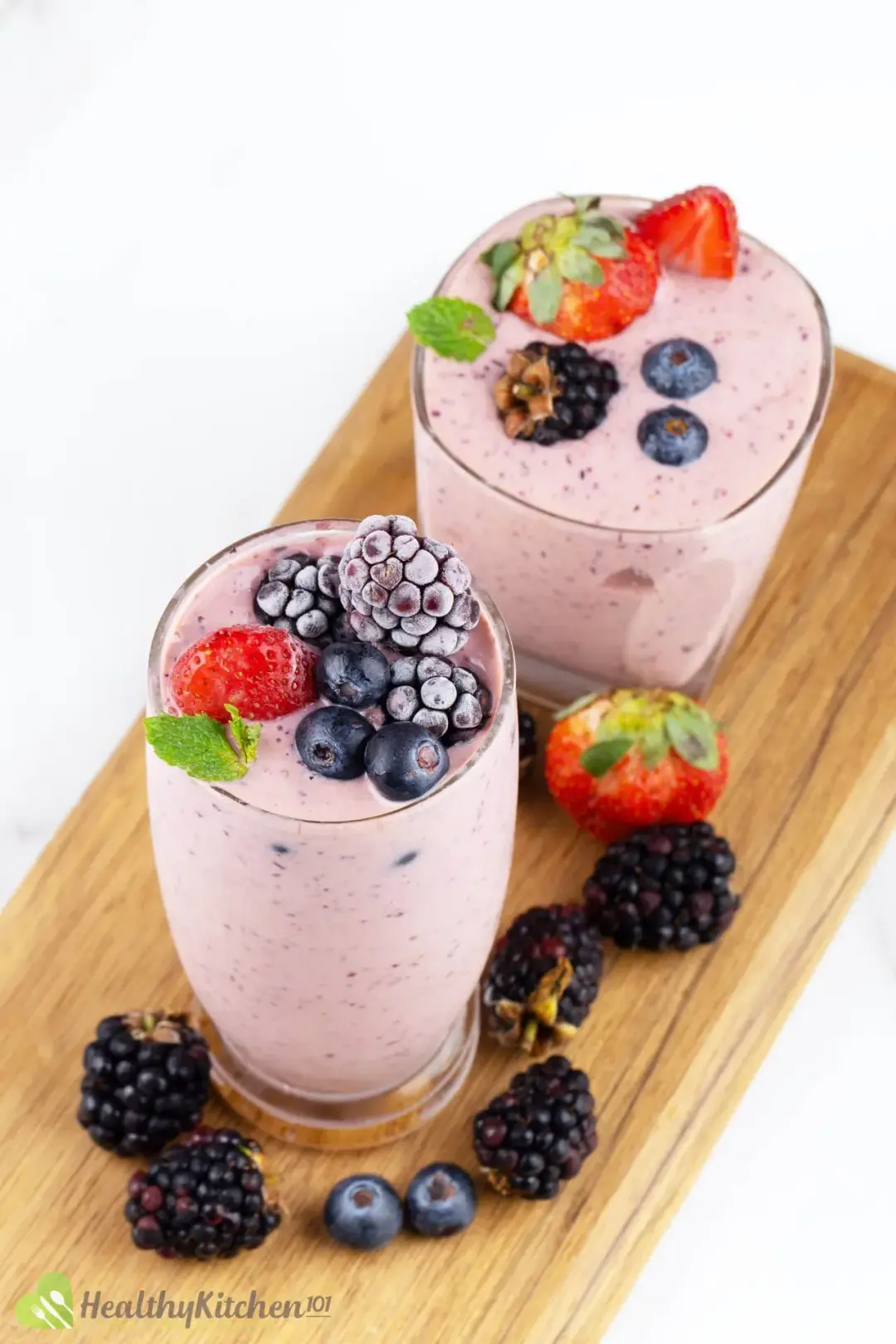 It's best to keep them in airtight containers. Mason jars, for example, can help to prevent the fruits from oxidizing.
Keeping your smoothie in the freezer will guarantee a longer storage period. You can pour it into a freezer-safe jar and leave it to defrost an hour before drinking it.
Or you can keep them in popsicle molds. It creates a more fun and convenient experience.
Alternatively, you can store the frozen ingredients separately instead. You won't have to wait hours before defrosting to get your smoothie ready.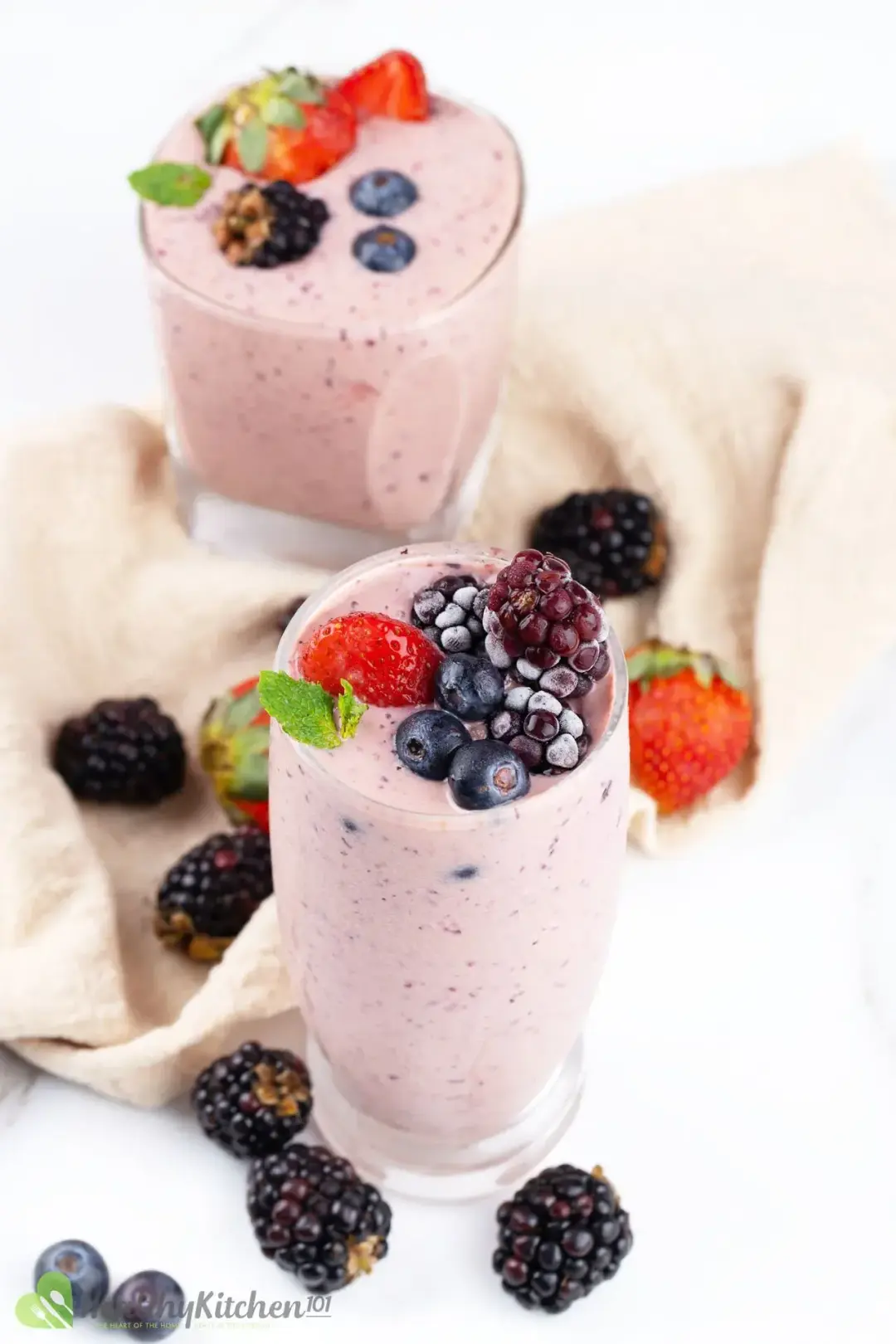 Plus, it may result in a fresher frozen fruit smoothie.
Healthy Frozen Fruit Smoothie Recipe
This healthy frozen fruit smoothie recipe is a thick, luscious summer beverage that you can put together in 5 minutes. Serve it for breakfast or as a calorie-filler throughout the day.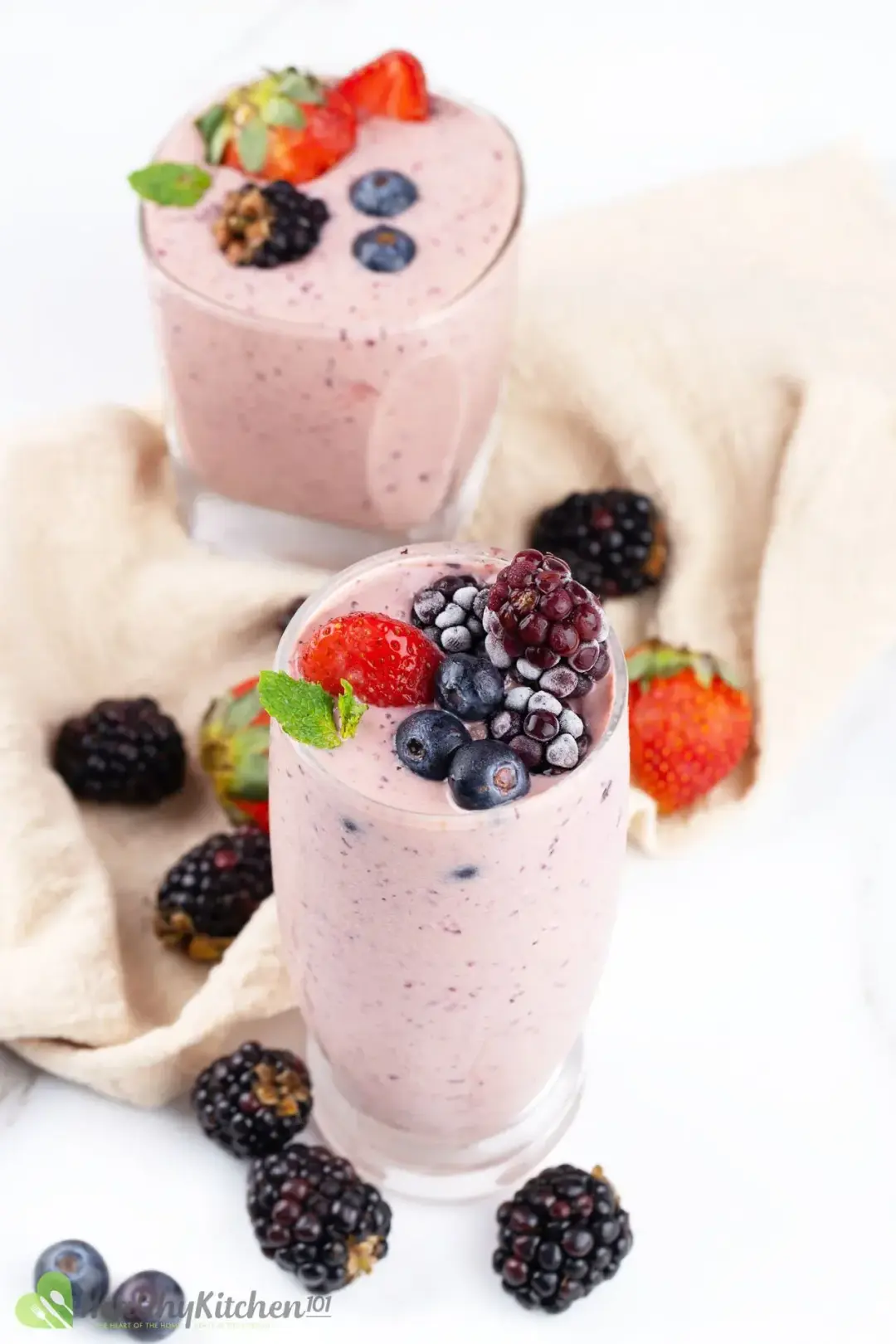 prep TIME

5 mins

total TIME

5 mins
COURSE

Beverage

CUISINE

American

SERVINGS

servings

CALORIES

175 kcal
INGREDIENTS
6 oz

blueberries (frozen)

4 oz

blackberries (frozen)

2 oz

strawberries (frozen)

6 oz

mango chunks (frozen)

3 tbsp

honey

0.3 cup

plain Greek yogurt

1 cup

whole milk
INSTRUCTIONS
1
Place blueberries, blackberries, strawberries, and mangos in the freezer for at least 4 hours until frozen. Add all fruits into a blender.
2
Pour honey, yogurt, and milk into a blender. Pulse until smooth.
NUTRITION
Nutrition Facts
Healthy Frozen Fruit Smoothie Recipe
Amount Per Serving (1 serving)
Calories 175
Calories from FDA
% Daily Value*
* Percent Daily Values are based on a 2000 calorie diet.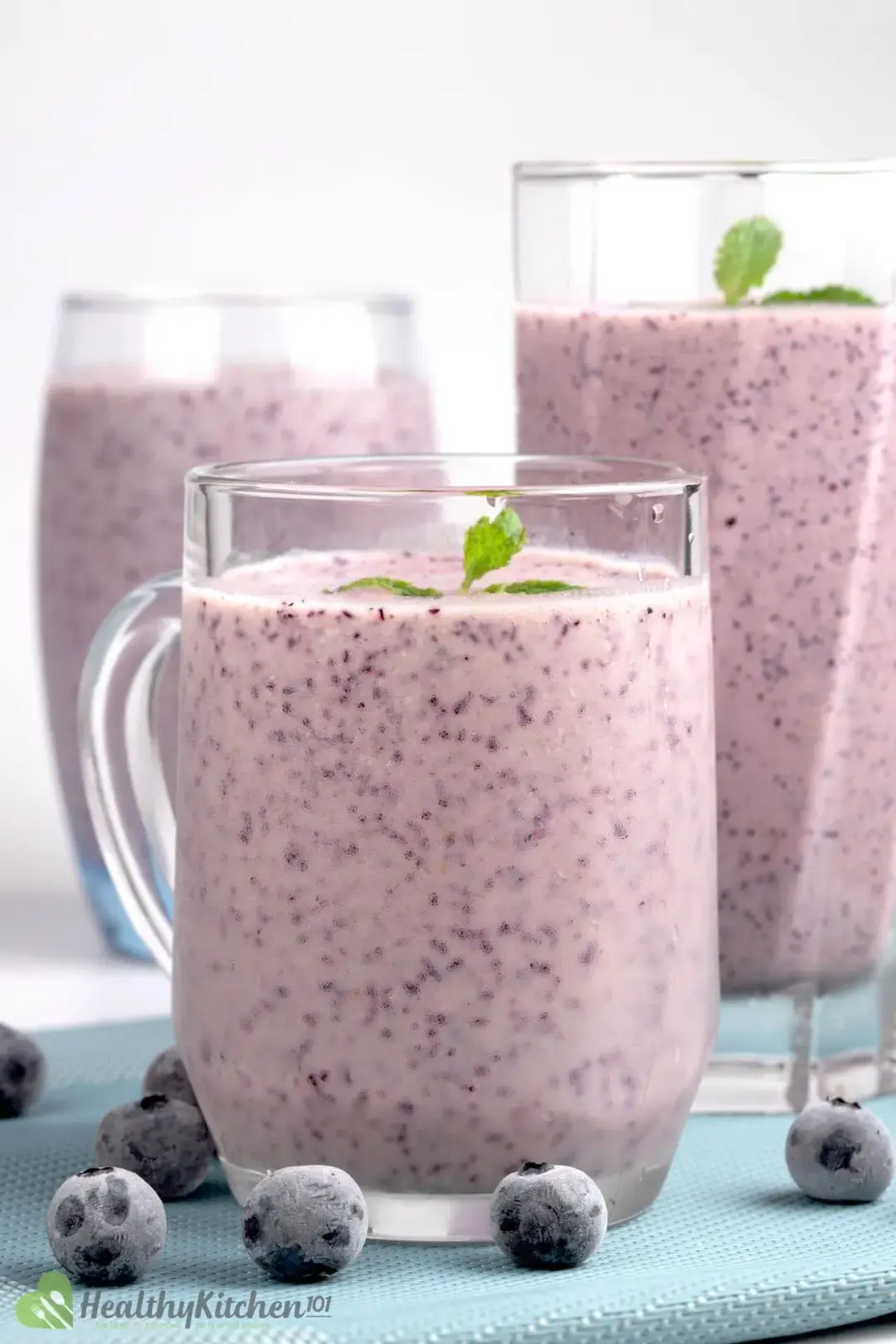 Previous Recipe
Blueberry Smoothie
Blueberry Smoothie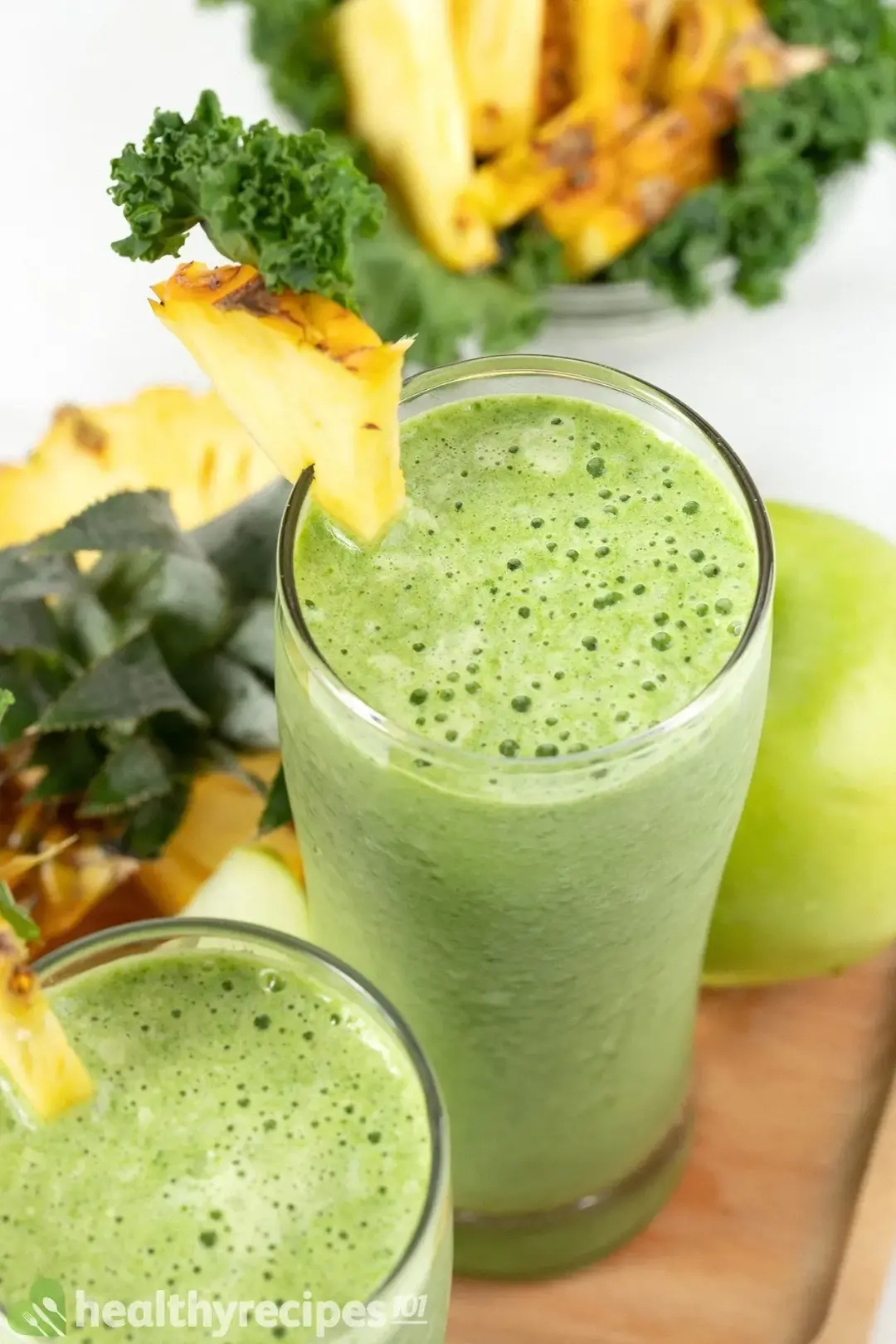 Next Recipe
Healthy Kale Smoothie
Healthy Kale Smoothie
Comments/ Reviews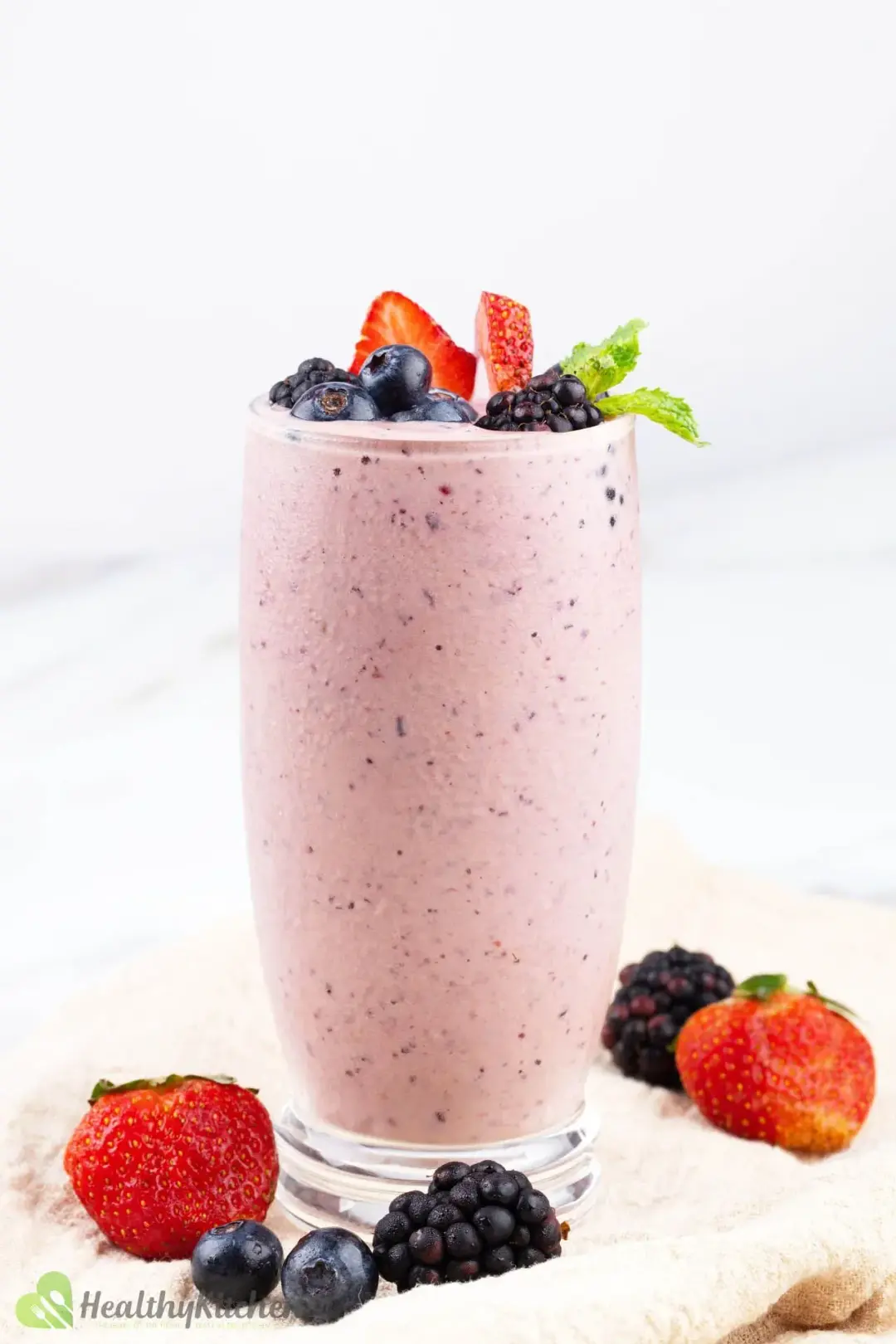 Healthy Frozen Fruit Smoothie Recipe