This blueberry banana smoothie recipe will have you looking forward to hot summer days and tasty desserts. It's a versatile drink you can have as an appetizer or a calorie-filler.
More importantly, it balances nourishment and taste. The drink provides eye and heart-health benefits delivered with aromatic flavors.
As a bonus, this blueberry banana smoothie is thick, creamy, and refreshing.
You don't have to go all out to make a drink that satisfies a crowd. You can use this simple recipe— and it's excellent for kids too.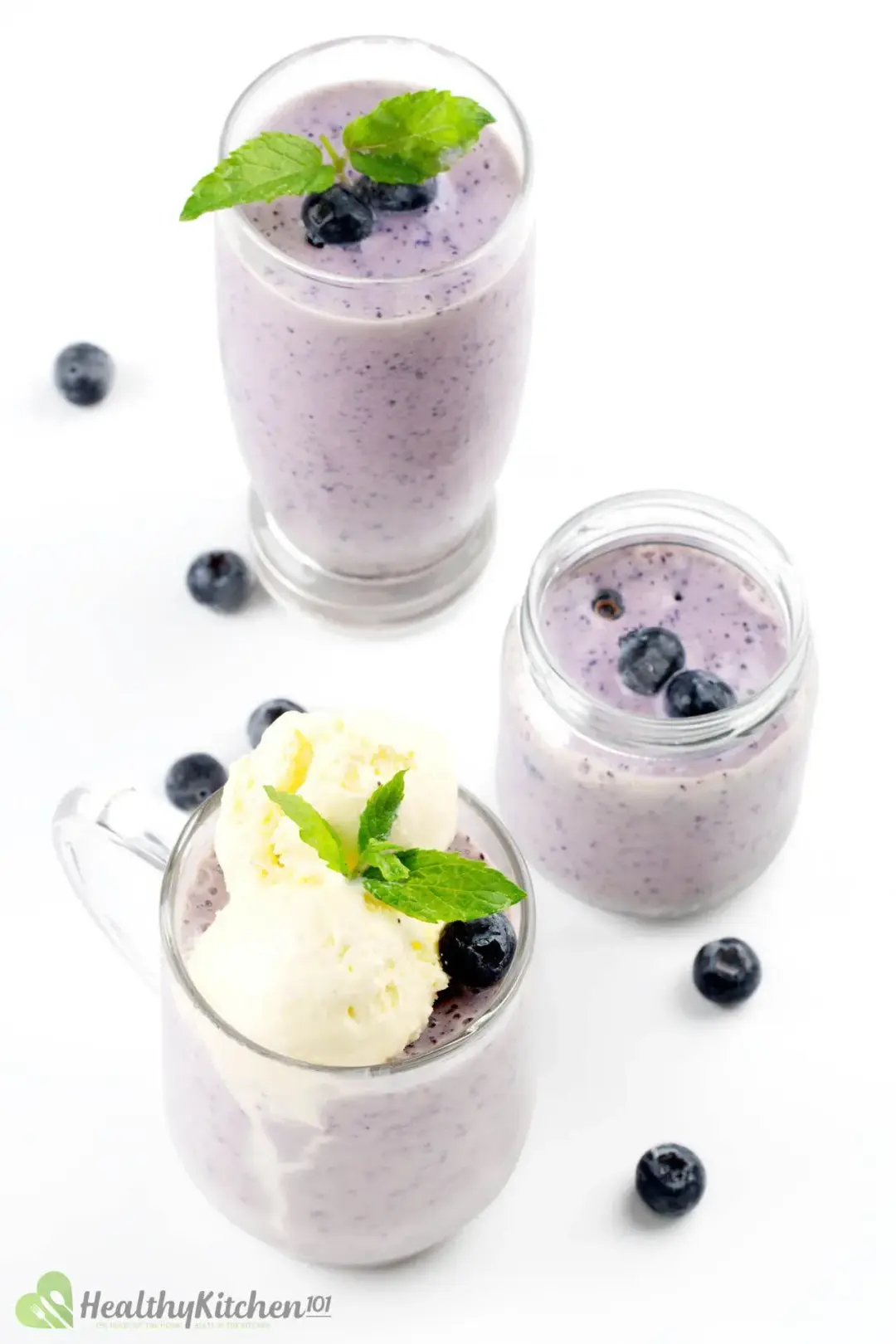 Are Blueberry Banana Smoothies Healthy?
Yes, and ours is full of antioxidants. It also contains potassium from bananas.
In one experiment, blueberry anthocyanins reversed the oxidation effects in the eye tissue of animals. It suggests that later studies on humans may show similarly positive results.
Blueberries are also among the best sources of polyphenols that help the body to fight disease. Research suggests that a consistent intake of blueberry may alleviate neurodegeneration.
Loss of neuron function can lead to Alzheimer's and Parkinson's disease. So it's good to take whatever preventative measures you can.
It has also been proposed that frozen blueberries can improve balance in older people, but this research is not conclusive.
Bananas, in this smoothie, offer digestive, cardiovascular, and weight supporting benefits. One medium banana contributes almost 10% of the DV (Daily Value) for potassium.
Potassium is an essential mineral and electrolyte. Studies show that increasing dietary potassium lowers blood pressure and helps reduce the risk of cardiovascular disease.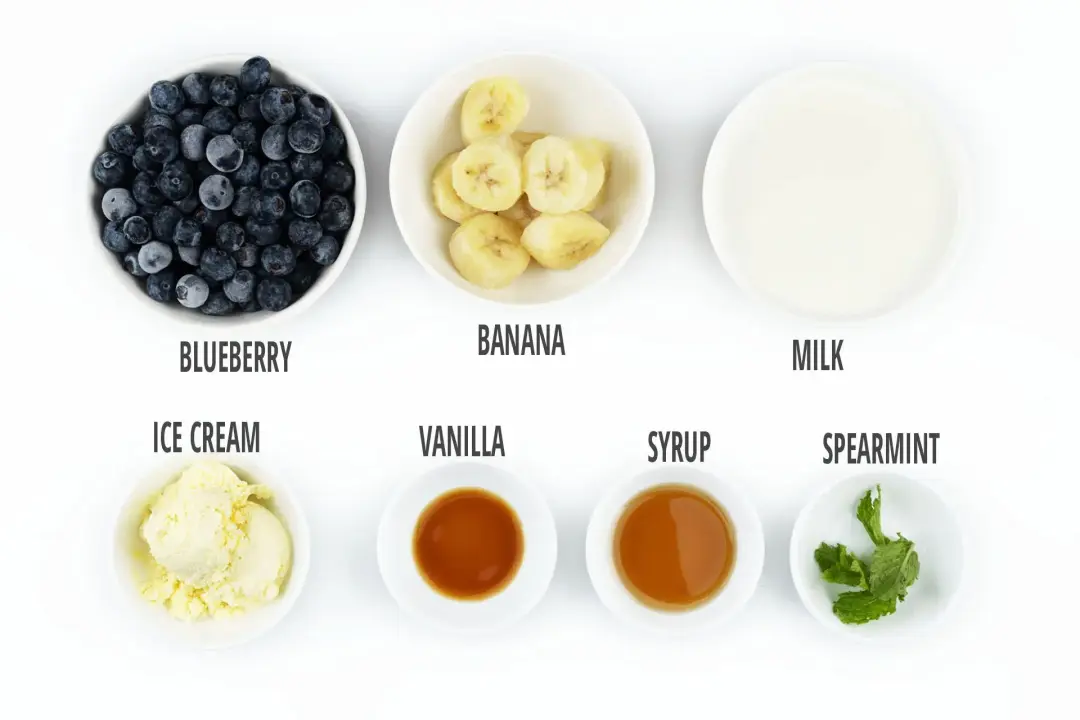 The Western diet consists of low potassium and high sodium intake, which can lead to high blood pressure. Increasing dietary potassium can counteract this effect by flushing out excess sodium in the body.
So it's good— maybe necessary, to incorporate foods like bananas to compensate for sodium that we unconsciously exceed in allowance.
Our blueberry banana smoothie incorporates mint for refreshment. It completes this drink with cooling features that make it summer-friendly.
Mint is only for garnishing, but chewing on a bit of it can prove beneficial. It has antioxidant properties that help the body to fight against free radicals.
Eating foods with antioxidants is like increasing security in your body. They attack unwanted intruders and prevent inflammatory responses. 
On top of that, eating fresh mint can help to treat bad breath. Many chewing-gum brands use mint oil for its sharp aroma that can mask a foul-smelling odor.
In the same way, mint leaves release a vibrant aroma that can improve breath when consumed. Using it is a great way to add taste and nutrition to any smoothie.
What to Add to a Blueberry Banana Smoothie
You can improve your blueberry smoothie recipe by adding various ingredients to favor your palate. Here are some suggestions to help you boost your drink:
1. Yogurt
Yogurt has a thick, creamy texture that adds body to any smoothie. Plus, it can be a source of protein and probiotics.
Adding it can result in a smoothie that supports your bone and gut health.
2. Almond Milk
Almond milk is the perfect vegan, dairy-free option to enhance a smoothie. It'll add a lovely nutty flavor as well as fluidity.
It's not as nutritious as cow's milk. But commercialized versions provide some nutrients like vitamin E and calcium.
Preparation Tips
To make this blueberry banana smoothie, you'll need to start with frozen fruits. They make the thickest smoothies.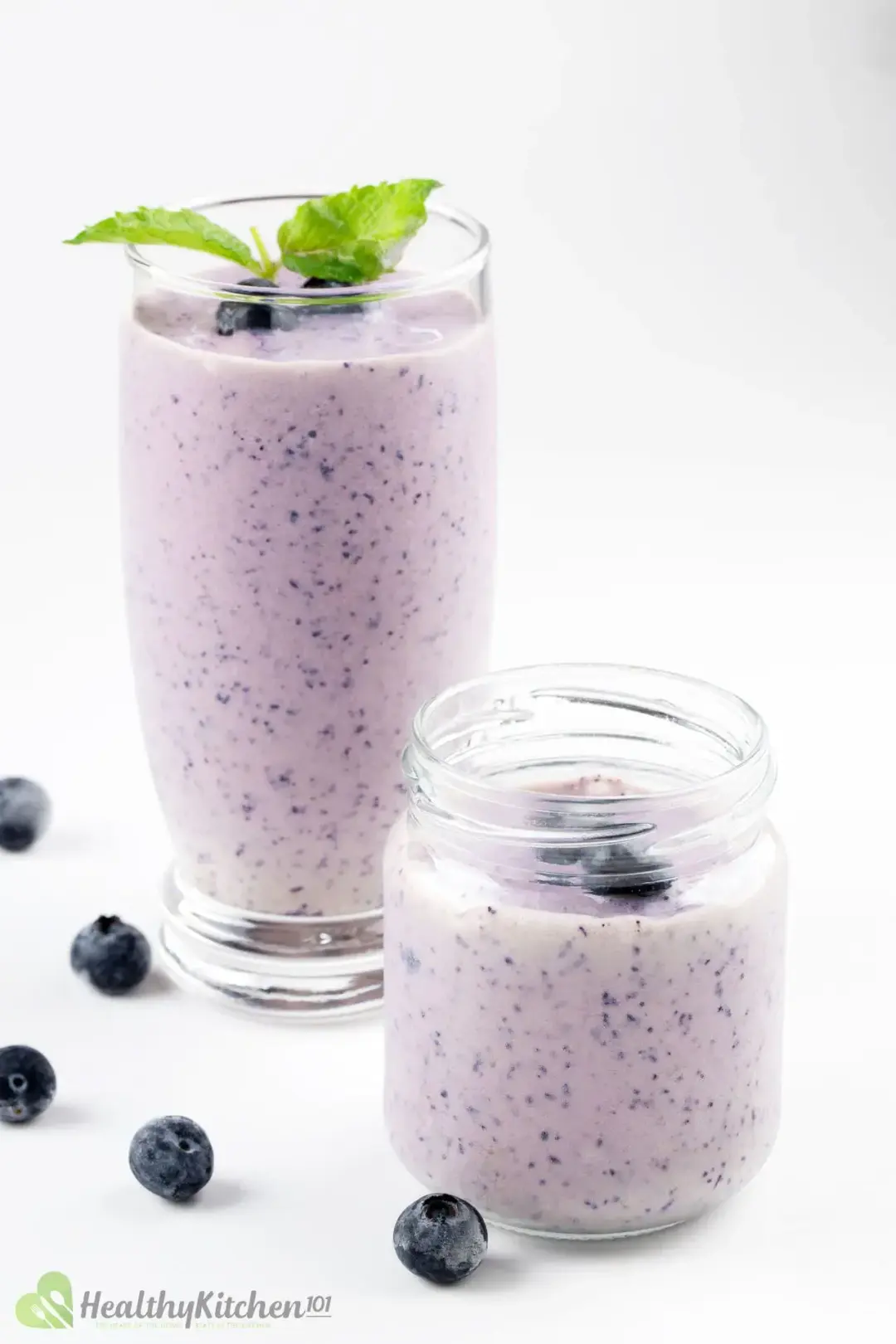 For example, our frozen fruit smoothie recipe incorporates frozen ingredients for a textured finish.
Place fresh blueberries and banana chunks in the freezer. Then, leave them for at least 3 hours until they're frozen.
You can also blend the frozen fruits and ice cream before adding other ingredients. It gives the liquid components less time to thaw the frozen elements, resulting in a thicker smoothie.
How to Make a Blueberry Banana Smoothie Recipe
Step 1: Add frozen banana chunks together with frozen blueberries into a blender and blend until the ingredients are well mixed.
Step 2: Add all other ingredients, except mint, into the blender.
Step 3: Blend until a smooth consistency forms.
You can also make this without bananas and still end up with a delicious smoothie!
Calories
This blueberry banana smoothie contains 160 calories. Most of them are in the form of fiber and fat.
It's an appropriate amount of calories for a beverage. Plus it simultaneously provides plenty of nourishment.
However, we don't advise having it more than twice a week. If you're following a weight loss regimen, limit it to once a week.
Also, try to go for a healthy variety like natural vanilla ice cream. Few brands offer ice cream made with just milk, cream, vanilla, low sugar, and no additives.
Ultimately, this smoothie has a fair amount of dietary fiber to support digestion. And it provides protein for some strength, making it a nourishing, rounded drink.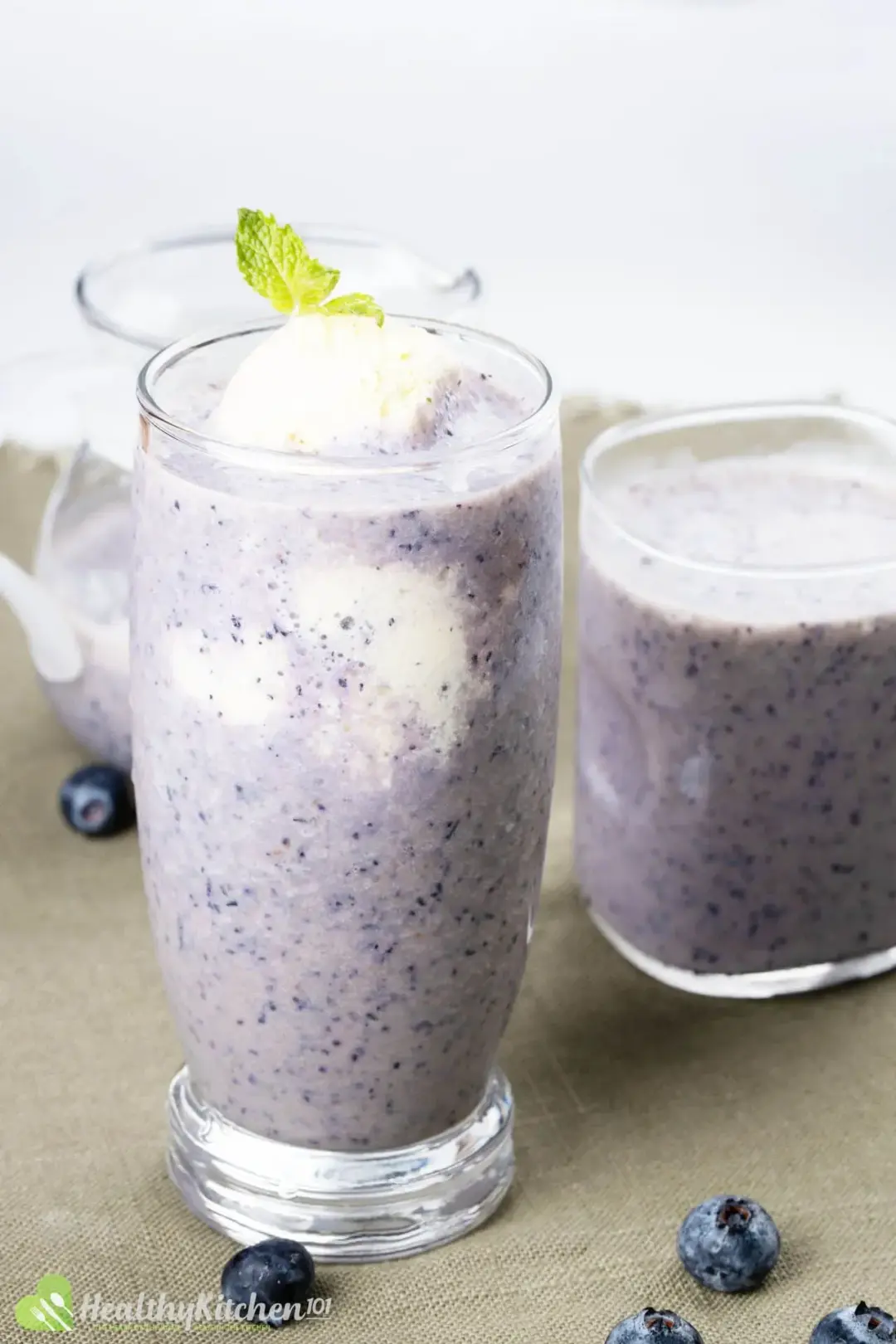 How Long Does a Smoothie Last in the Fridge?
A smoothie can last for up to 2 days in the refrigerator. Any longer than that could risk the fruits completely oxidizing.
The best way to ensure that your smoothie stays fresh is to store it in an air-tight container.
For example, a mason jar works great, and it also prevents contamination.
You can also keep your smoothie in the freezer. Leave it to defrost at room temperature for 3-4 hours before drinking it.
Once it has thawed, it'll have a slushy texture— which may be an added bonus.
Healthy Blueberry Banana Smoothie Recipe
This healthy blueberry banana smoothie recipe is a refreshing drink and dessert that makes a refreshing treat. You can have it as a simple filler between meals, or use it for parties and gatherings.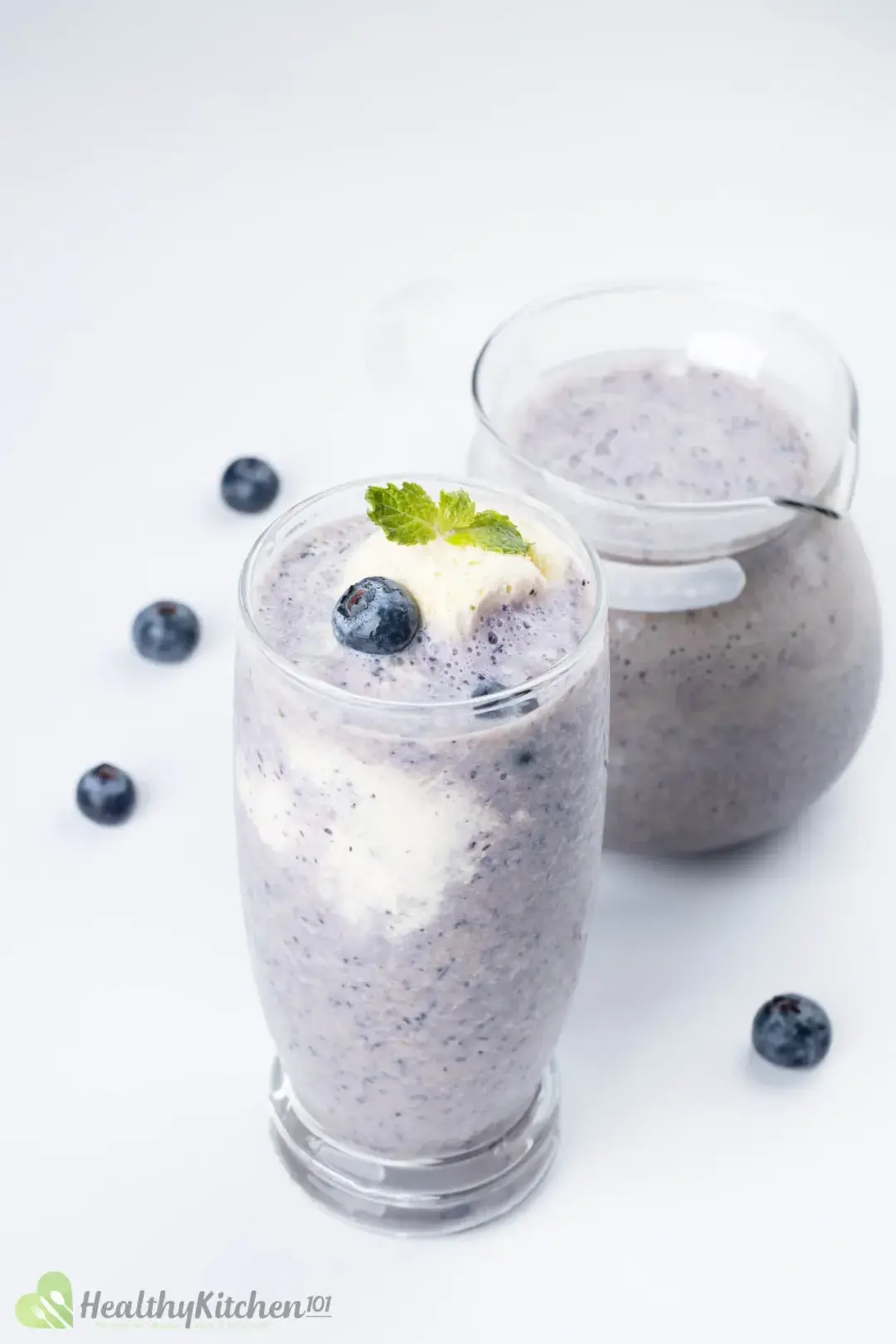 prep TIME

5 mins

total TIME

5 mins
COURSE

Beverage

CUISINE

American

SERVINGS

servings

CALORIES

160 kcal
INGREDIENTS
8 oz

blueberries (frozen)

2 oz

banana (frozen)

1 cup

vanilla ice cream

1 cup

whole milk

1 tbsp

maple syrup

1 tsp

vanilla extract

1 tbsp

spearmint leaves
INSTRUCTIONS
1
In a blender, add blueberries, banana, ice cream, milk, maple syrup, and vanilla extract. Blend until smooth.
2
Garnish with mint. Serve.
NUTRITION
Nutrition Facts
Healthy Blueberry Banana Smoothie Recipe
Amount Per Serving (1 serving)
Calories 160
Calories from FDA
% Daily Value*
* Percent Daily Values are based on a 2000 calorie diet.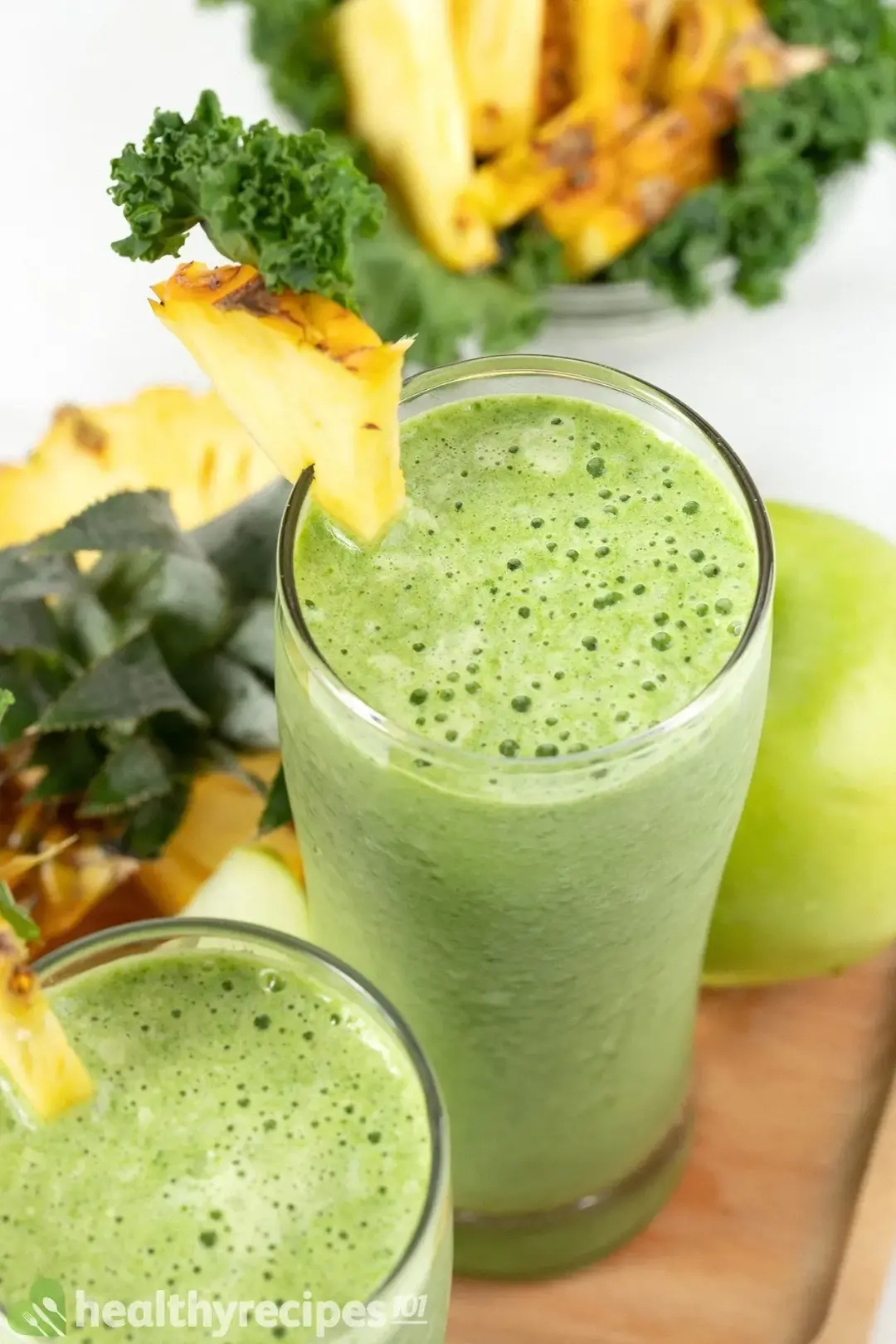 Previous Recipe
Healthy Kale Smoothie
Healthy Kale Smoothie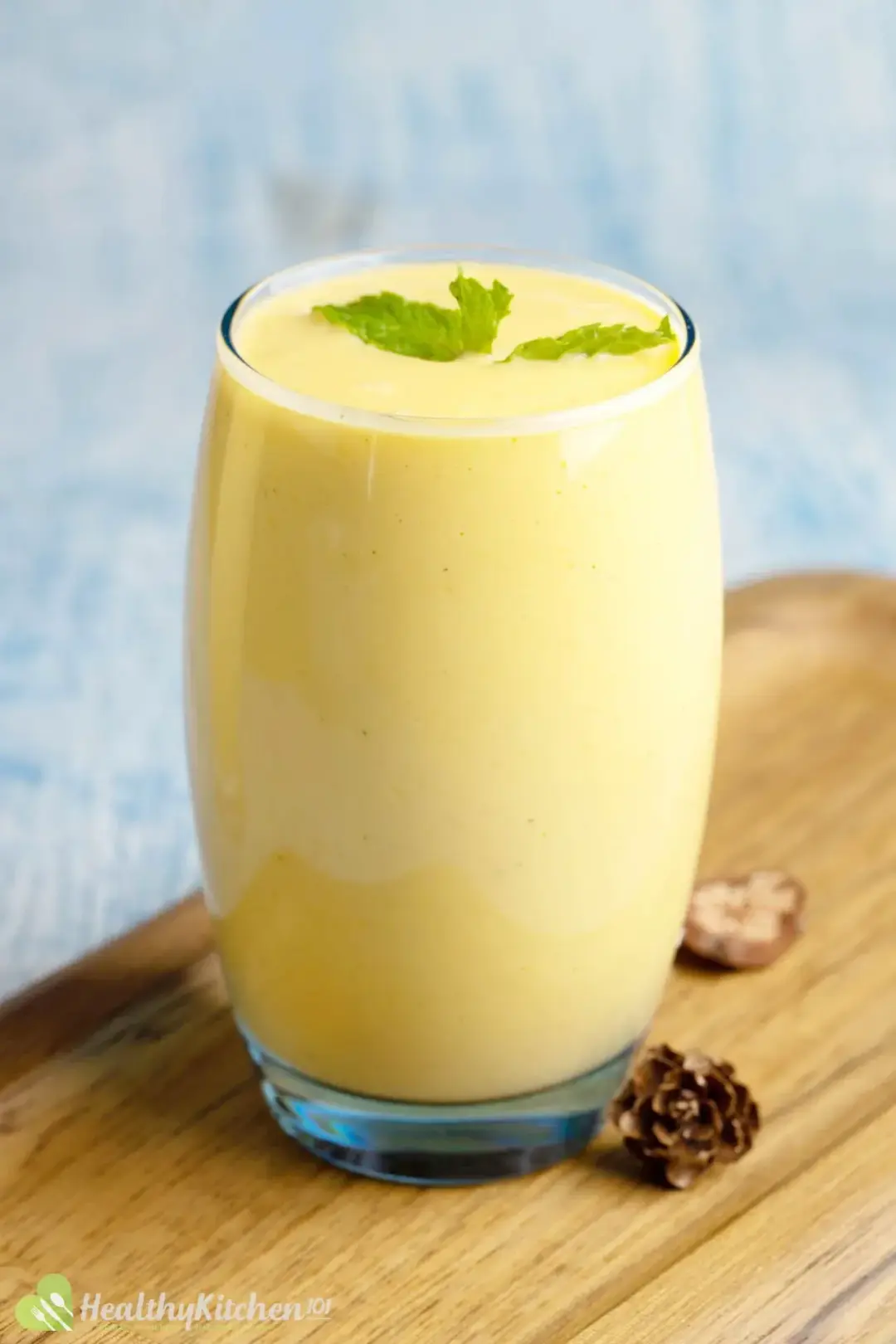 Next Recipe
Healthy Peach Smoothie
Healthy Peach Smoothie
Comments/ Reviews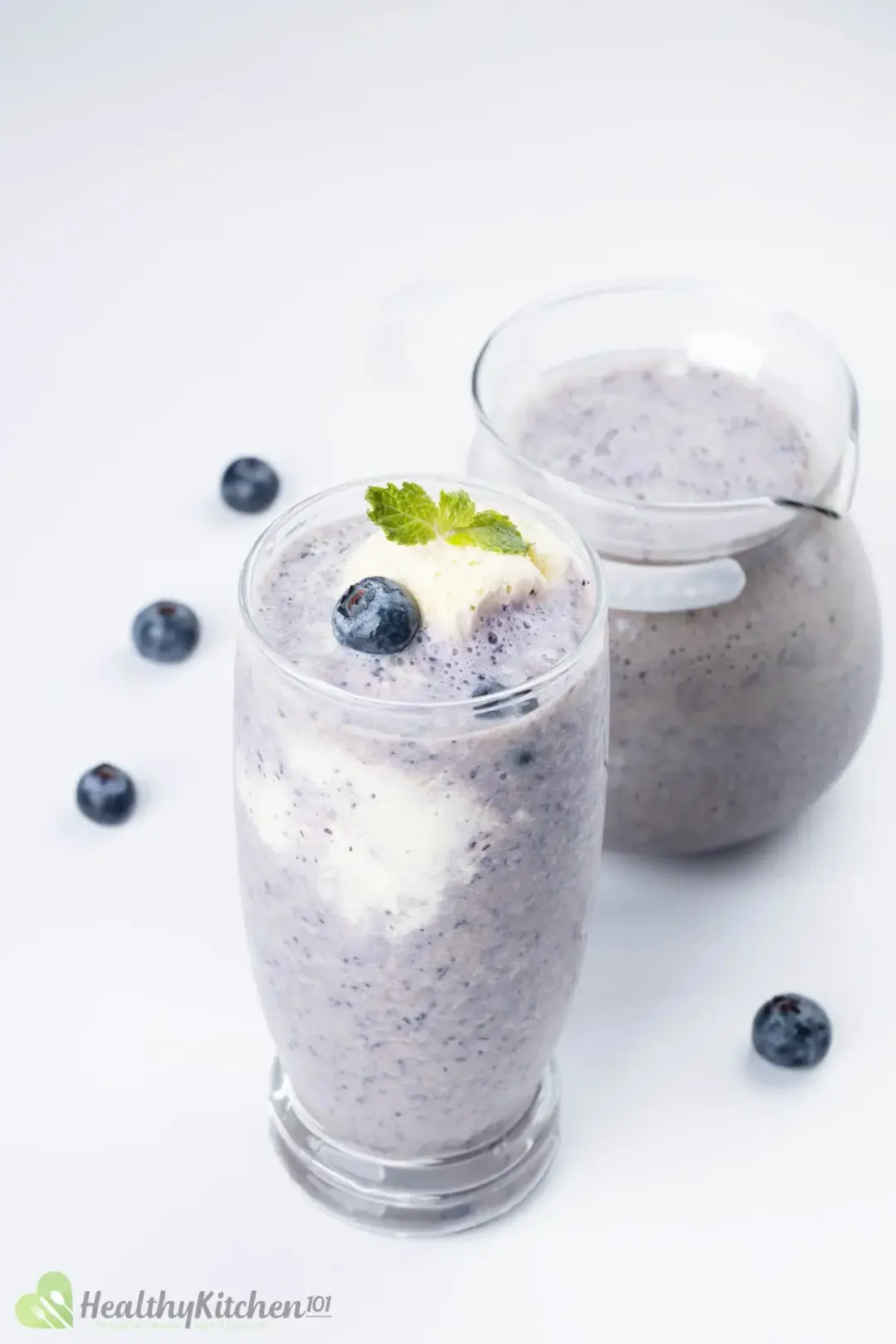 Blueberry Banana Smoothie Recipe