With our kiwi smoothie recipe, you can make a simple and healthy smoothie using very few ingredients, most of which you may already have in your kitchen.
Healthy Benefits
The main health benefits of today's kiwi smoothie come from our main ingredient: kiwi fruit.
Vitamin C, or ascorbic acid, is required for the growth and repair of physiological tissues, as well as the correct functioning of the immune system. And kiwis just so happen to be a good source of vitamin C.
In addition, this fruit also has an incredible amount of vitamin K, with 40 mcg per 1 cup. Vitamin K is a fat-soluble vitamin that plays a role in blood clotting, blood calcium levels, and metabolism.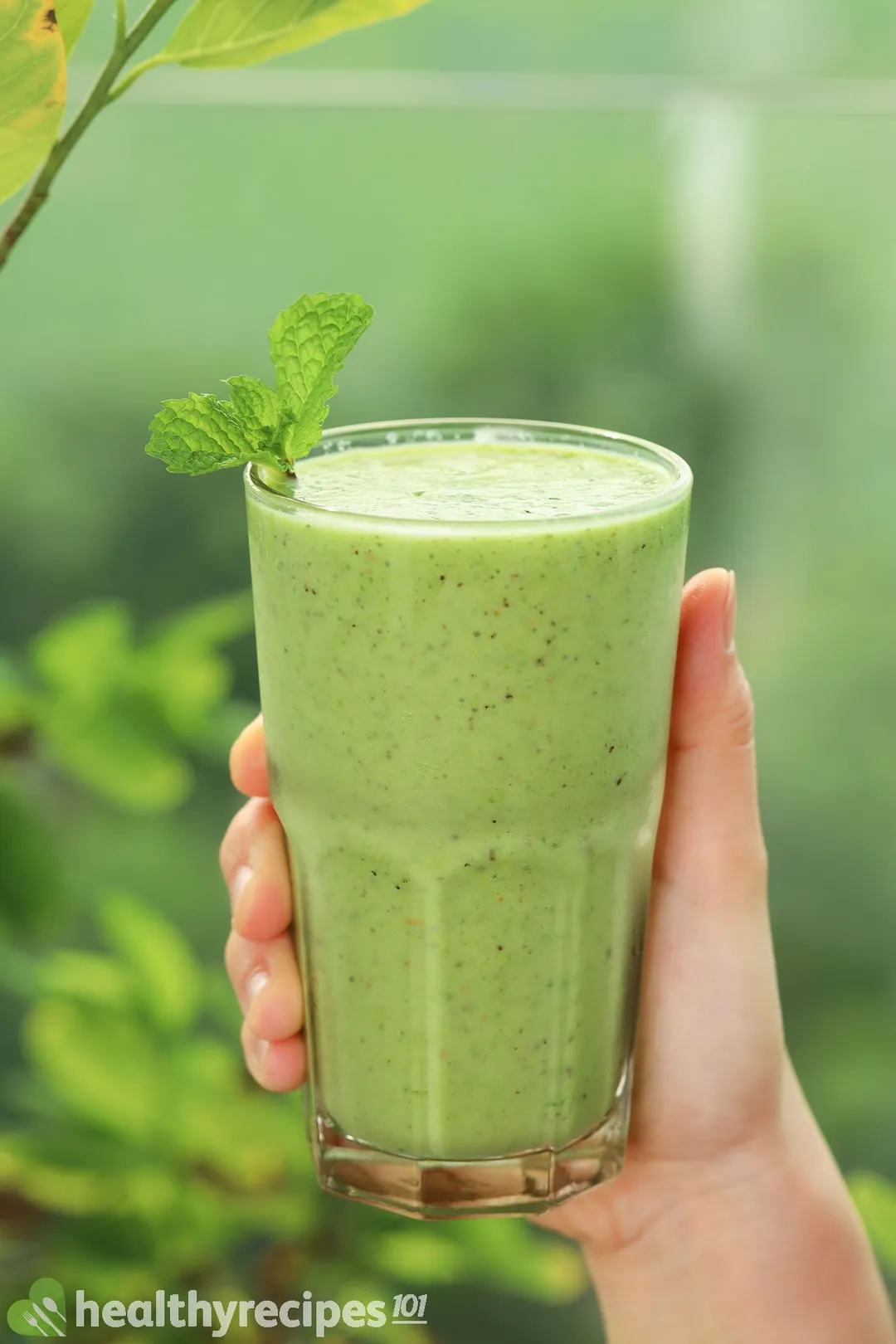 Besides vitamins C and K, kiwis are packed with other micronutrients such as vitamin E, folate, copper, and more.
Not to mention, kiwi is low in calories and has a moderate water and dietary fiber content, making it the perfect healthy snack to incorporate into any weight loss plans. Its high fiber content may help improve your digestive health as well.
Is Kiwi Skin Edible?
It is said that kiwi skin is safe to eat, but that doesn't mean you should eat it. The fuzzy texture of the skin is not necessarily pleasant to chew or easy for your stomach to digest.
In addition, due to its textured surface, kiwi skin tends to trap dirt on it which may not be washed away completely with simple running water. For best results soak your kiwis in a solution of water and vinegar, the ratio is 4 cups of water to 1 cup of white vinegar.
Ingredients
Our kiwi smoothie recipe only requires seven ingredients, and they are:
Kiwi: This sweet tropical fruit is the star of today's show. It doesn't need much preparation— you just have to peel and cut it.
Spinach: This leafy veggie is our secret to a bright green kiwi smoothie. It gives the drink a deep, vibrant color but you won't even taste it!
Greek yogurt and milk: These dairy ingredients add a faint hint of richness to your smoothie. And they help it blend more smoothly.
Sugar: As mentioned, the only sweetener that we're going to use in this smoothie is a little sugar.
Mint leaves: These refreshing herbs are only for garnish, and they are totally optional.
And ice.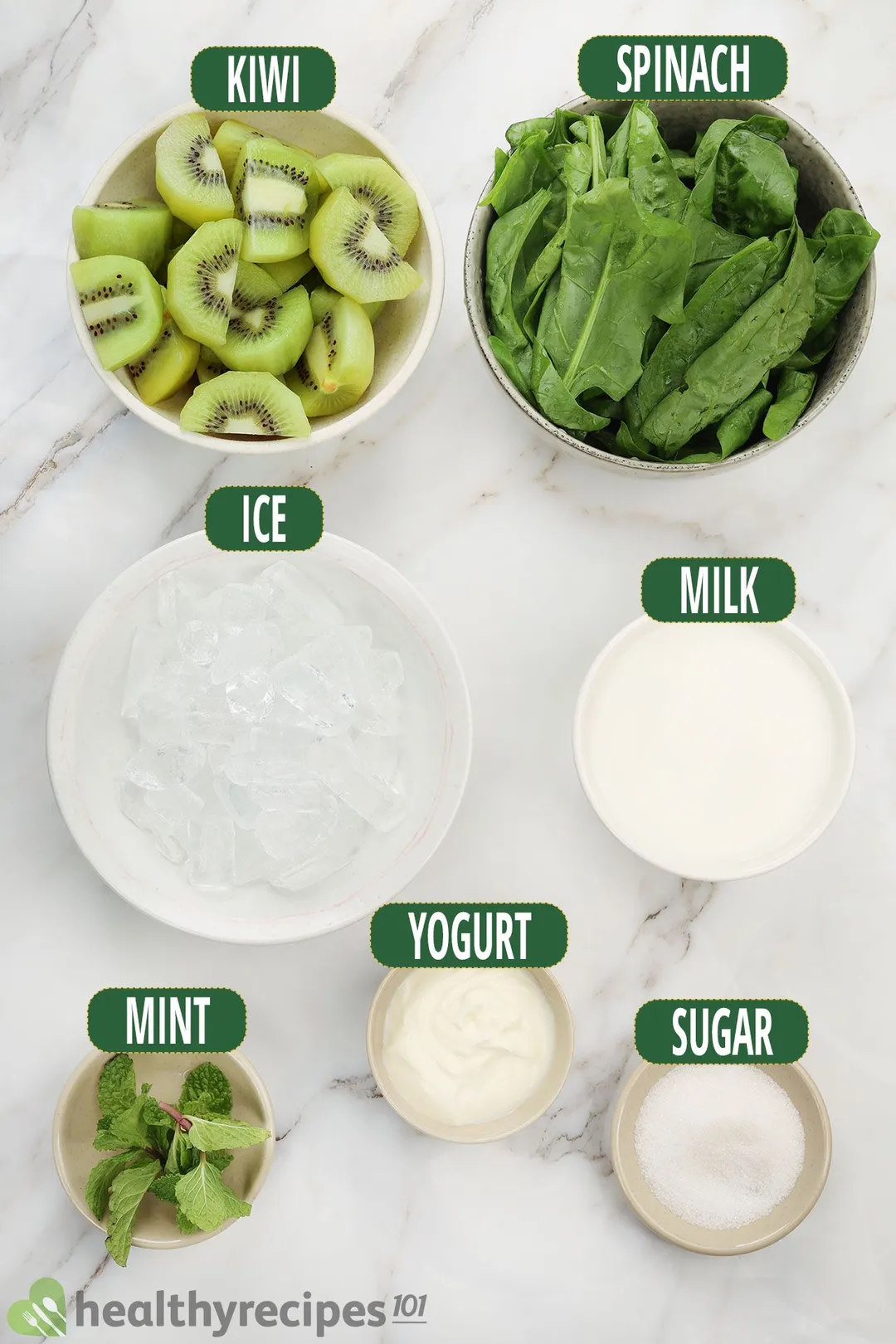 How to Peel and Cut a Kiwi Fruit
You don't need to cut your kiwi fruits into any fancy-looking shape when you're using them for a kiwi smoothie recipe. That being said, it's nice to know how to cut them neatly so you can present them as part of a colorful fruit platter or salad.
Here are several ways to cut a kiwi fruit:
You really don't need top-notch knife skills to know how to peel a kiwi, but you do need a sharp knife and precision:
Place the kiwi on the cutting board horizontally and snip off the two ends.
Hold the paring knife in your dominant hand and the fruit in the other.
Start peeling the fruit from the top to bottom, cutting off strips of the skin. Try not to cut too much into the flesh because the skin is pretty thin — we don't want to waste this delicious fruit.
If the sharp knife makes you feel nervous about cutting yourself, you can put the fruit on a cutting board or try using a peeler.
You can easily remove the skin of a kiwi using a peeler in the same manner you would peel a potato or an apple:
Hold the peeler with your dominant hand and the fruit in the other.
Slide the edge of the peeler across the fruit in a downward motion to remove the skin.
This may be a quick way to peel a kiwi, but it may not work well with fruits that are a bit too ripe and have gone soft. If that is the case for your kiwis, try the "spooning" method.
You may have seen this method on one of those viral kitchen hack videos. Although they are not wrong, they may have forgotten to mention that this method works best with ripe kiwis.
When your fruits are unripe, the kiwi flesh is firmer and clings to the skin more than with ripe kiwis. With this method, you want your fruit to be fully ripe and slightly soft to the touch:
Place the kiwi on the cutting board horizontally and cut it in half.
Hold a half of the kiwi in your hand, facing the cut side towards you, and spoon in the other.
Insert the spoon into the kiwi, just beneath the skin. The cupped side of the spoon should be bordering along the curve of the fruit.
Gently push the spoon all the way to the bottom of the fruit and rotate the kiwi as you go, using the edge of the spoon to pry the flesh from the skin.
Once you're done rotating around the fruit, you should be able to scoop the flesh out with ease and have a "cup" of kiwi skin left. Repeat with the remaining half.
All of these peeling methods will give you a half or whole kiwi fruit that you proceed to cut into any shape you like. You can slice or dice it uniformly to add to your fruity breakfast cereal bowl or salad; or, cut it roughly into chunks or leave it whole and use it to make a smoothie.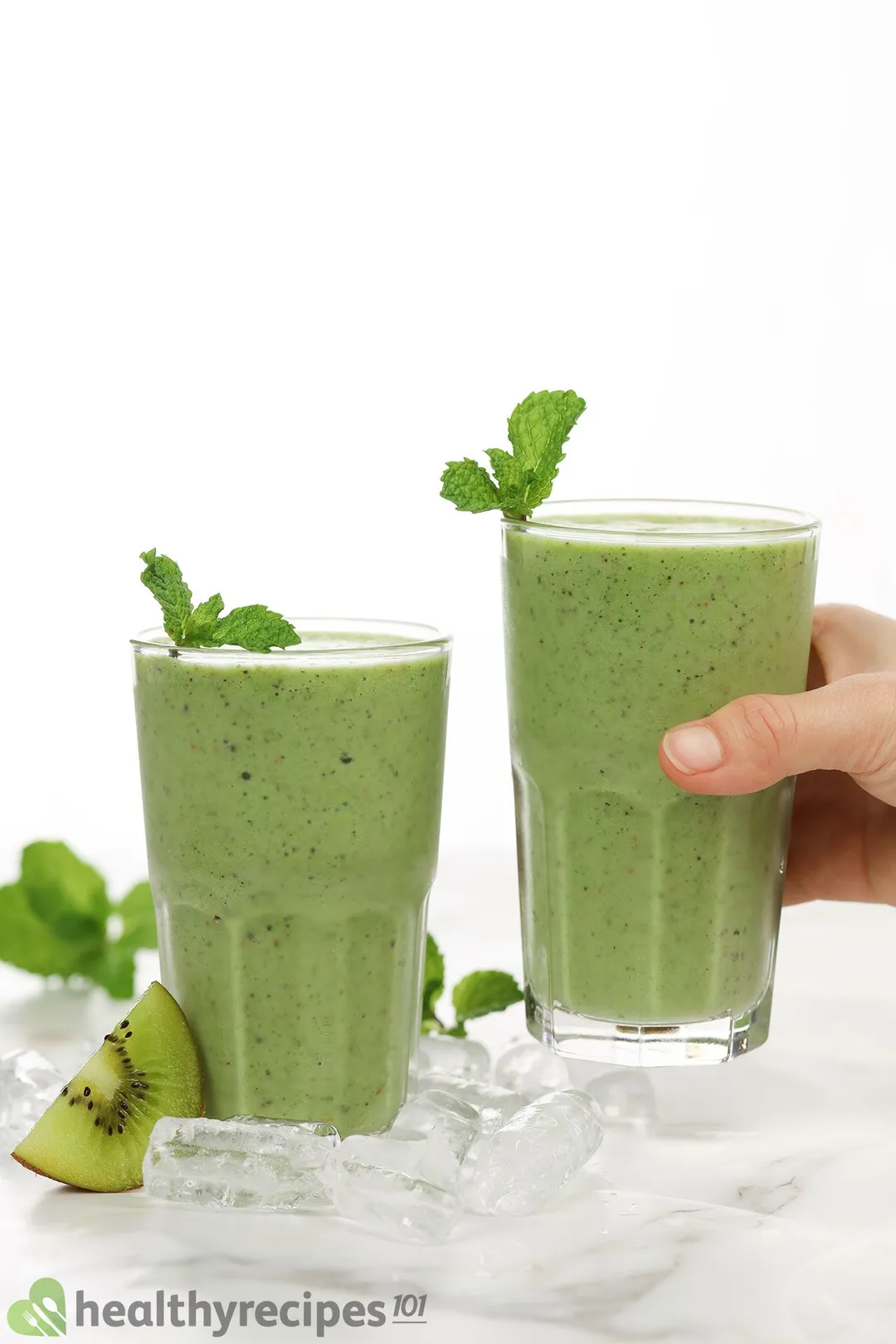 What Fruits Mix Well With Kiwi?
Kiwis have a sweet and tart flavor profile and faint fruity scent which makes them versatile and able to pair with almost any other fruit. Here are some of our favorite examples:
Apple kiwi kale smoothie: If you eat each fruit separately, you'll notice that apples and kiwis have different textures yet very similar tastes. Kale adds even more nutrition and goes with most fruits, and you won't even taste it in your smoothie.
Kiwi banana smoothie: Bananas are known for their versatility since they can go well with almost any fruit. Adding bananas to smoothies can also give your drink a thicker consistency.
Assorted berries: Any type of berries can be a great addition to your kiwi smoothie recipe. From strawberries to cranberries, just pick your favorite!
How Long Does It Last in the Fridge?
Because our kiwi smoothie recipe contains whole milk and Greek Yogurt, this drink can only last for a day in the fridge.
We recommend keeping it in an airtight container, such as a bottle with a tight fitting lid or a mason jar, to minimize oxidation, keeping it fresh as much as possible.
Kiwi Smoothie
You only have to use seven simple ingredients to make this kiwi smoothie recipe. Check your fridge and see if you have everything you need.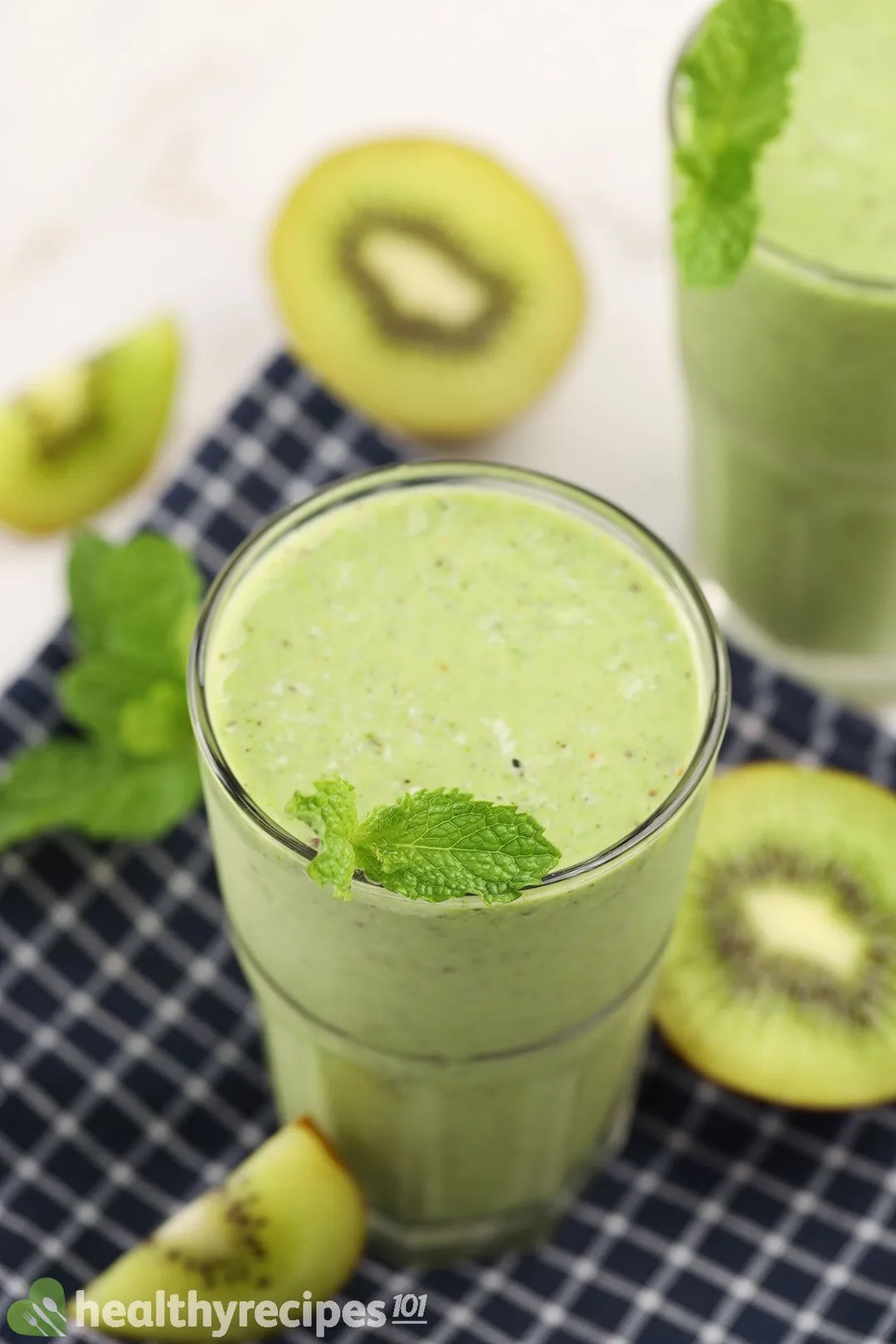 prep TIME

10 mins

total TIME

10 mins
COURSE

Beverage

CUISINE

American

SERVINGS

CALORIES

156 kcal
INGREDIENTS
2 oz

spinach

(leaves only)
INSTRUCTIONS
1
Combine 2 cups ice, 18 oz kiwis, 2 oz spinach, 1/4 cup yogurt, 1 cup milk and 2 tbsp sugar in a blender.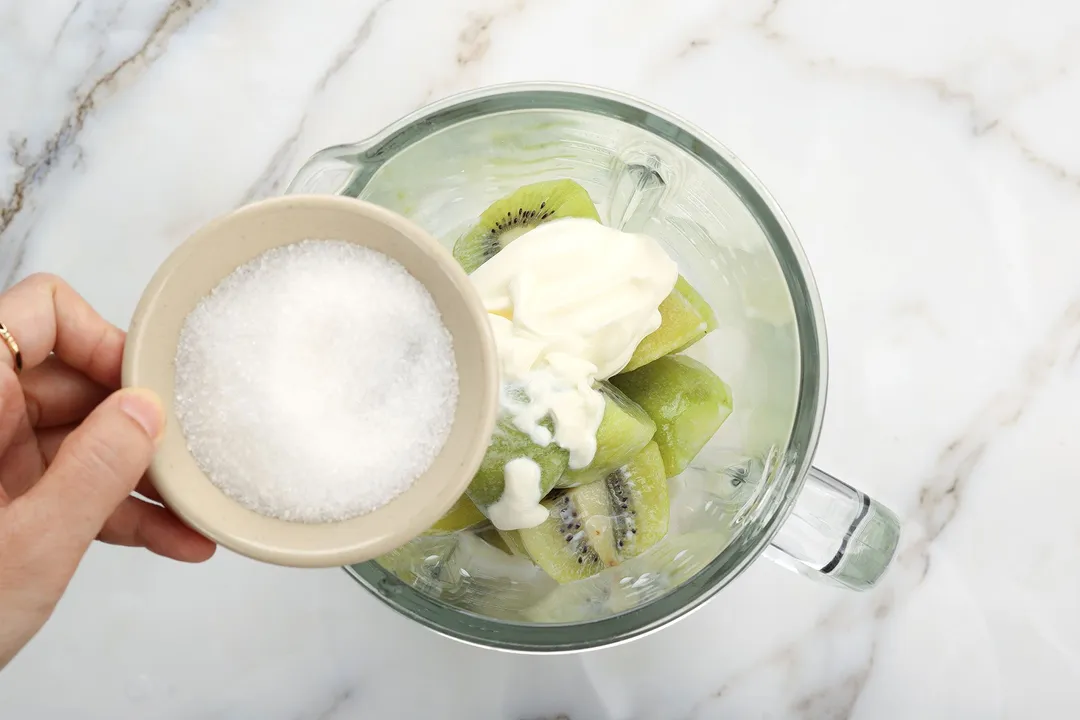 2
Blend in 20 - 30 seconds at high speed until smooth.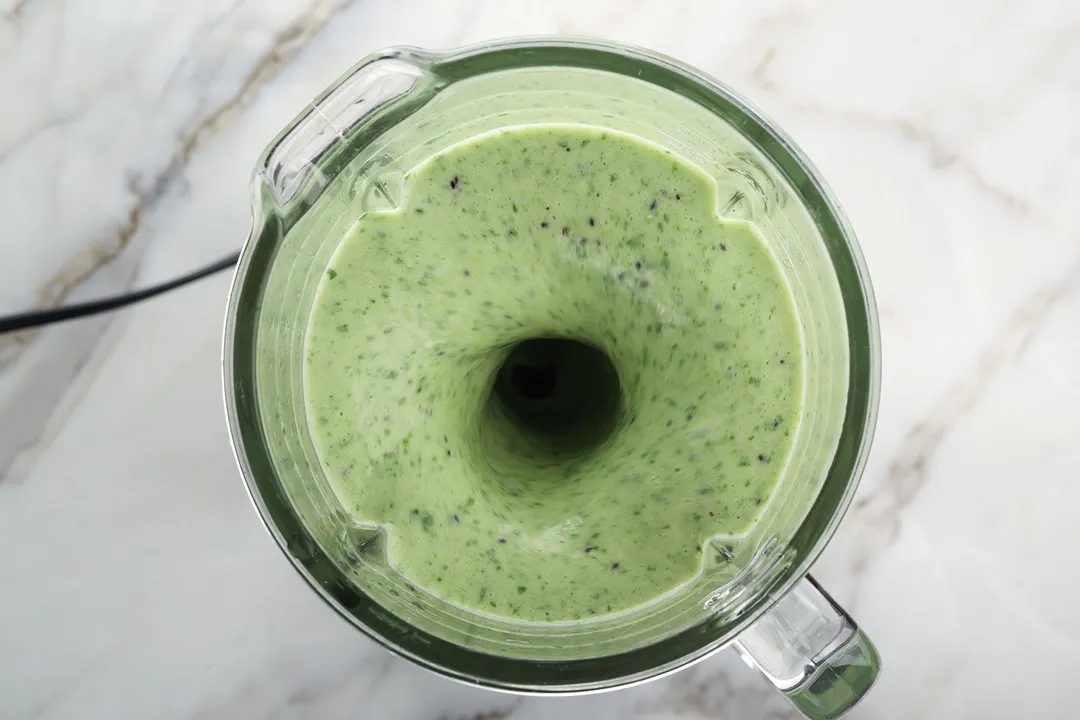 3
Pour the smoothie into 4 glasses.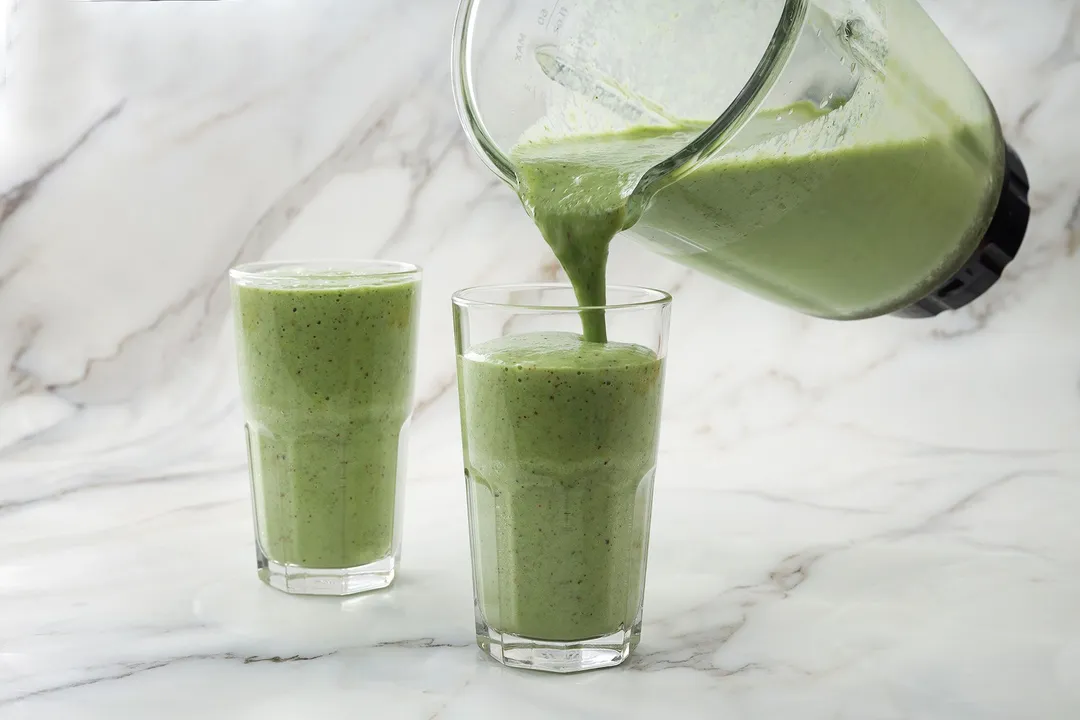 4
Garnish them with the mint leaves and enjoy your refreshing beverage.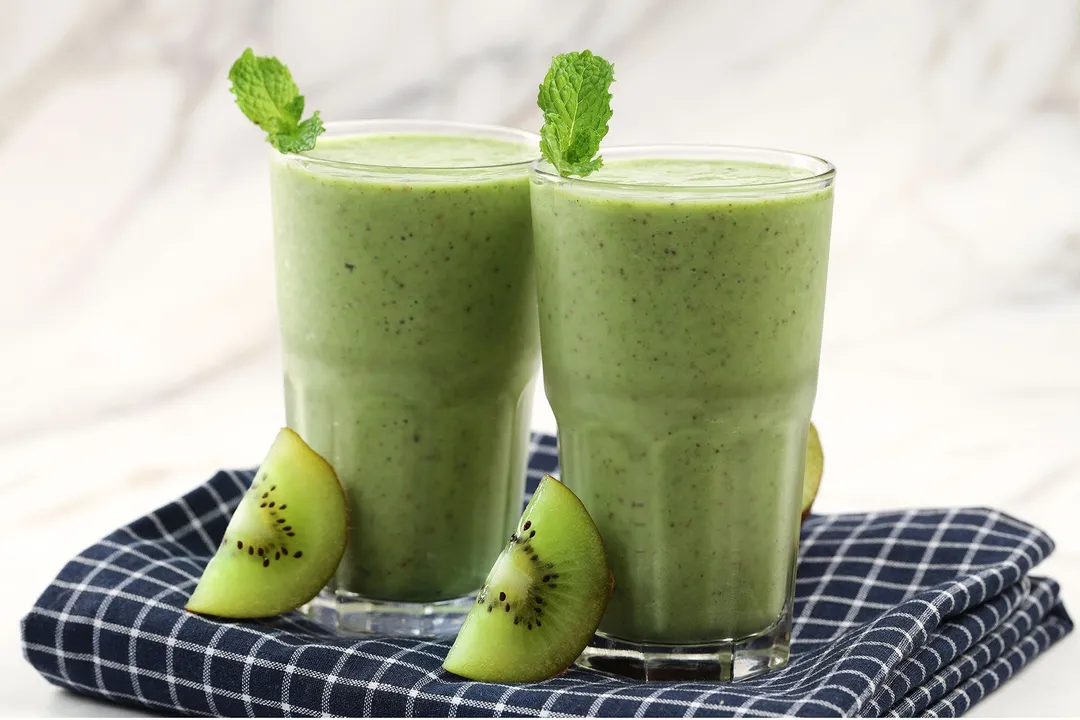 NUTRITION
Nutrition Facts
Kiwi Smoothie
Amount Per Serving (1 serving)
Calories 156
Calories from Fat 32
% Daily Value*
* Percent Daily Values are based on a 2000 calorie diet.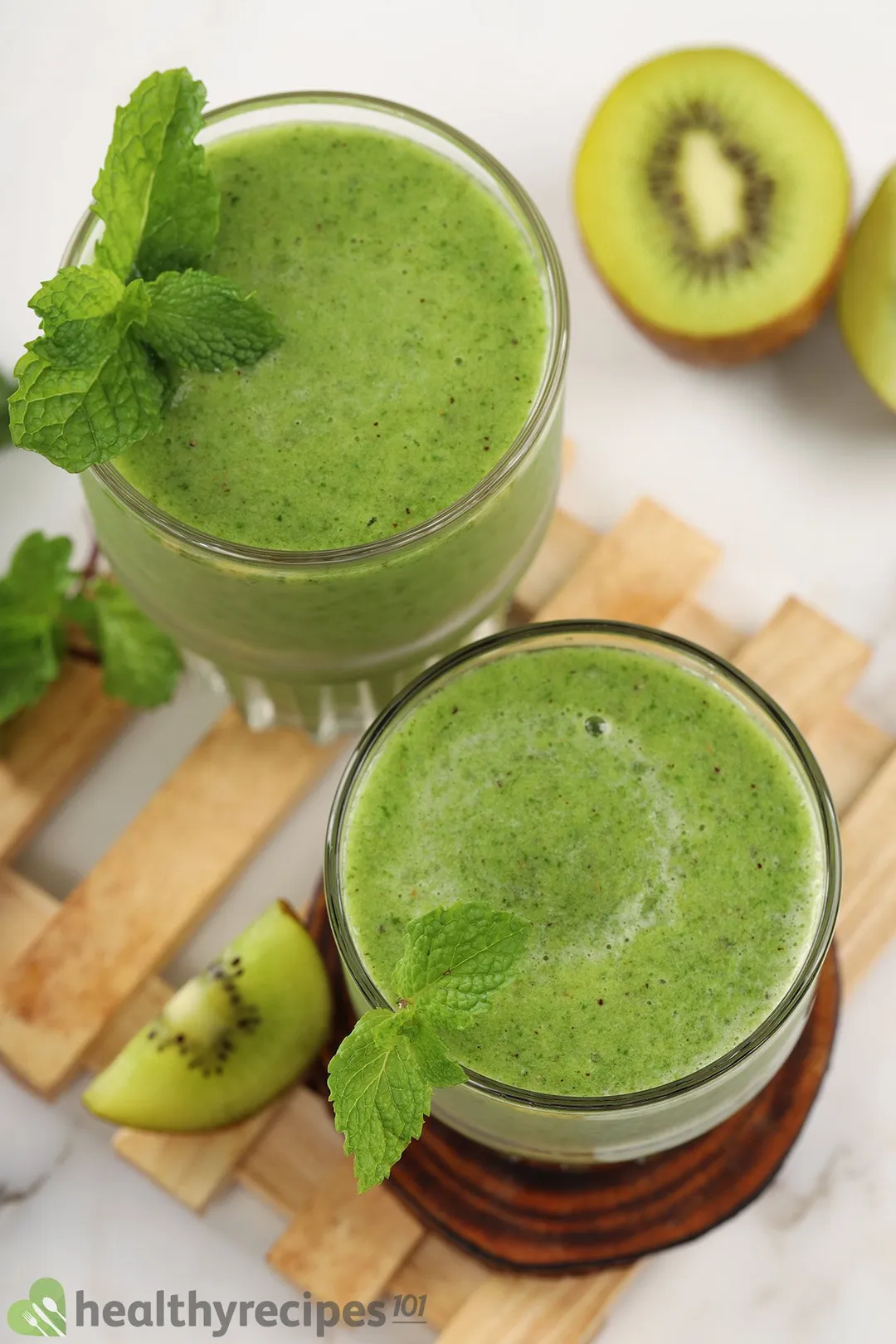 Previous Recipe
Apple Kiwi Kale Smoothie
Apple Kiwi Kale Smoothie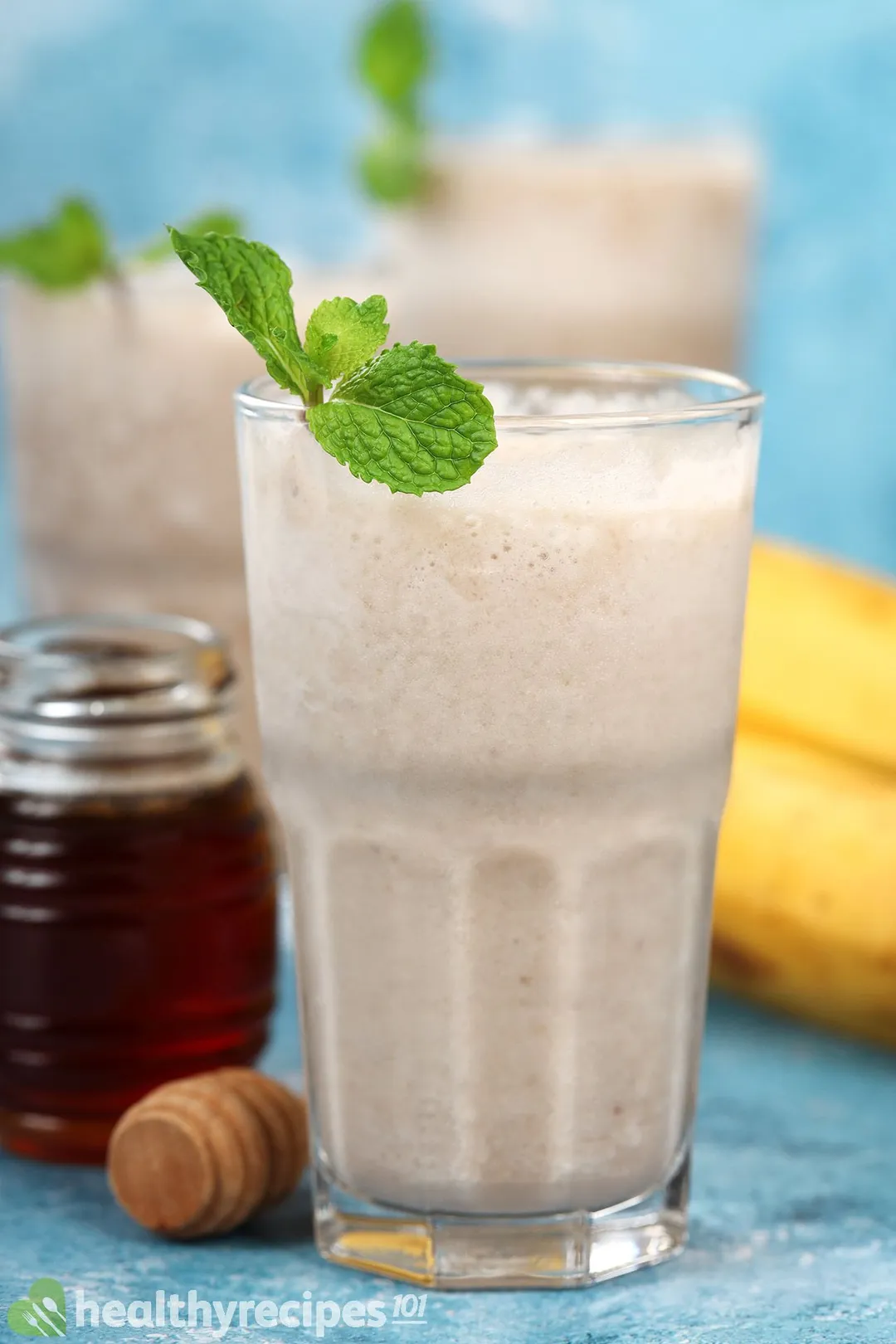 Next Recipe
Yogurt-Free Banana Smoothie
Yogurt-Free Banana Smoothie
Head Chef, Culinary Consultant
Tuyet Pham is an award-winning Saigonese chef who believes that joy is the secret ingredient to delicious food. At Healthy Recipes 101, Tuyet personally tests and simplifies every recipe, ensuring maximum flavor with minimal effort. With a background at prestigious French restaurants P'TI Saigon and Le Corto, Tuyet knows how to make every dish exceptional.
Writer, Author
Luna Regina is an accomplished writer and author who dedicates her career to empowering home cooks and making cooking effortless for everyone. She is the founder of HealthyKitchen101.com and HealthyRecipes101.com, where she works with her team to develop easy, nutritious recipes and help aspiring cooks choose the right kitchen appliances.
Refreshing and tangy kiwi smoothie.

Awesome! Refreshing smoothie for summer.