This mango smoothie recipe makes a creamy, nutritious blend with added apple and spinach. It's a pleasant summer drink and an excellent replacement for higher calorie beverages with low nutrient profiles.
The real bonus is that it's easy to prepare. It only takes a few minutes and can be incorporated with little effort as a regular breakfast smoothie.
If you're in a rush, but also need a nutrient boost, this smoothie will fit great into your mornings. You'll love how delicious it tastes and feel better for it!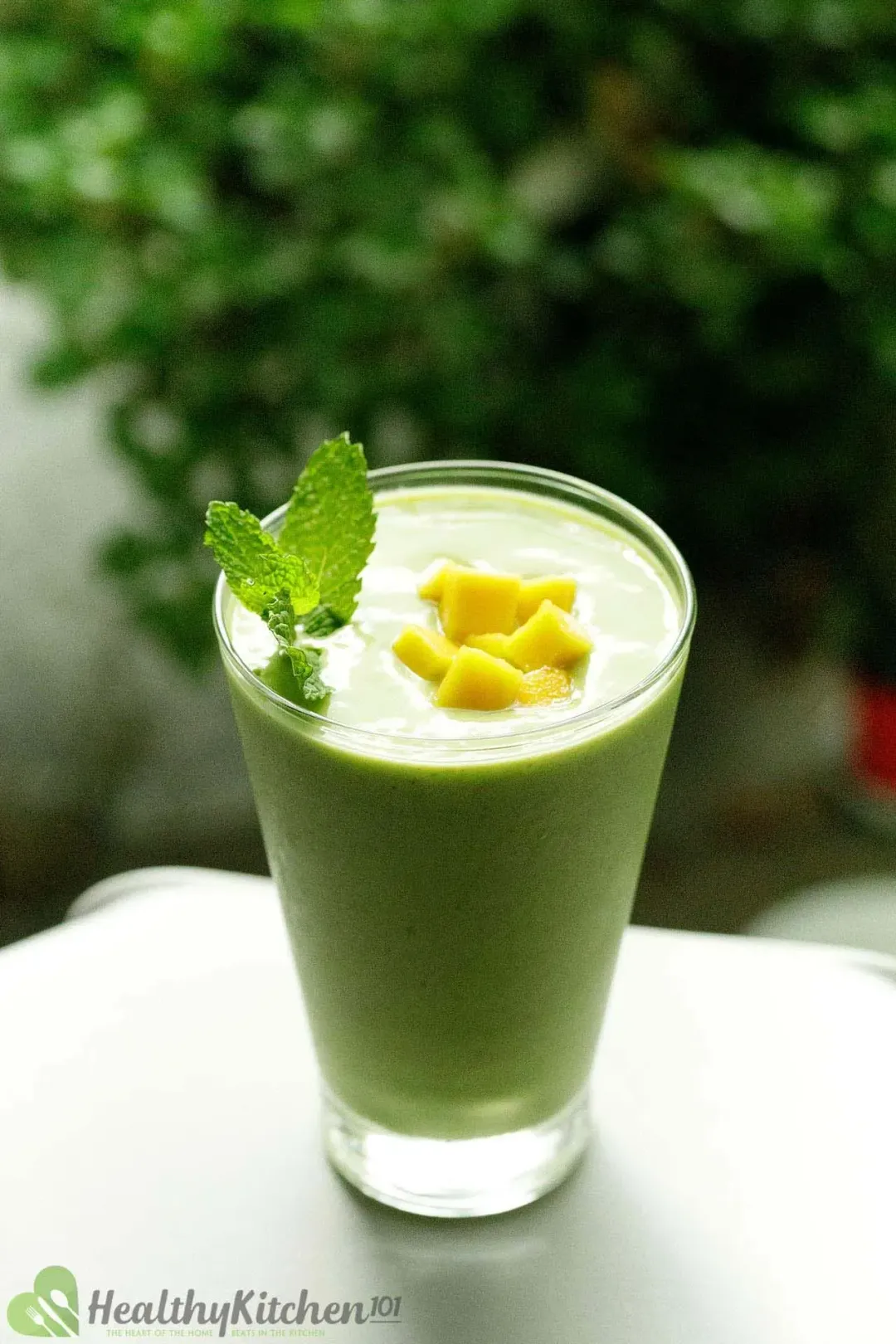 Are Mango Smoothies Healthy?
Yes. Chugging a homemade mango smoothie can thankfully be a "healthy obsession".
Of course, it depends on what ingredients you include in your recipe.
Naturally, a mango smoothie is high in polyphenols and carotenoids. Did you know that beta-carotene found in mango gives it its vibrant color along with cancer-fighting properties?
One lab experiment found that mango polyphenols reduced breast cancer tumors in mice. This suggests that it might be able to help combat breast cancer in humans too, but more research is needed.
Our recipe also includes spinach, which comes with lutein and zeaxanthin— an eye-sustaining pair of nutrients. Together with mangoes, they create an antioxidant-rich beverage that helps protect against macular degeneration, cancer, and diabetes.
Which Mango Variety Is the Best?
Any sweet, soft variety of mangoes is suitable to make a satisfying smoothie.
Steer away from very firm-textured mangoes that tend to be sour and extra fibrous. That's unless you plan on keeping them a few days before using to give them time to soften.
Alphonso is one common type of mango imported from India. It's famous for its sweetness, and its buttery flesh that offers depths of flavor.
Kesar is another mango type from India that has a bright yellow skin with juicy, succulent flesh. Both varieties are luscious and very likely to result in a delicious smoothie with sweet notes.
How to Make a Mango Smoothie
To make a creamy, thick smoothie, start with some fresh mangoes, apples, and spinach. Peel the mangoes, core the apples, and dice both fruits.
You don't have to cut the spinach but thoroughly wash the leaves separately from the other fruits. Next, measure your ice cubes, yogurt, and honey into a bowl and add all the elements into a blender.
Blend the ingredients until a smooth puree forms and serve your smoothie garnished with fresh mint and mango.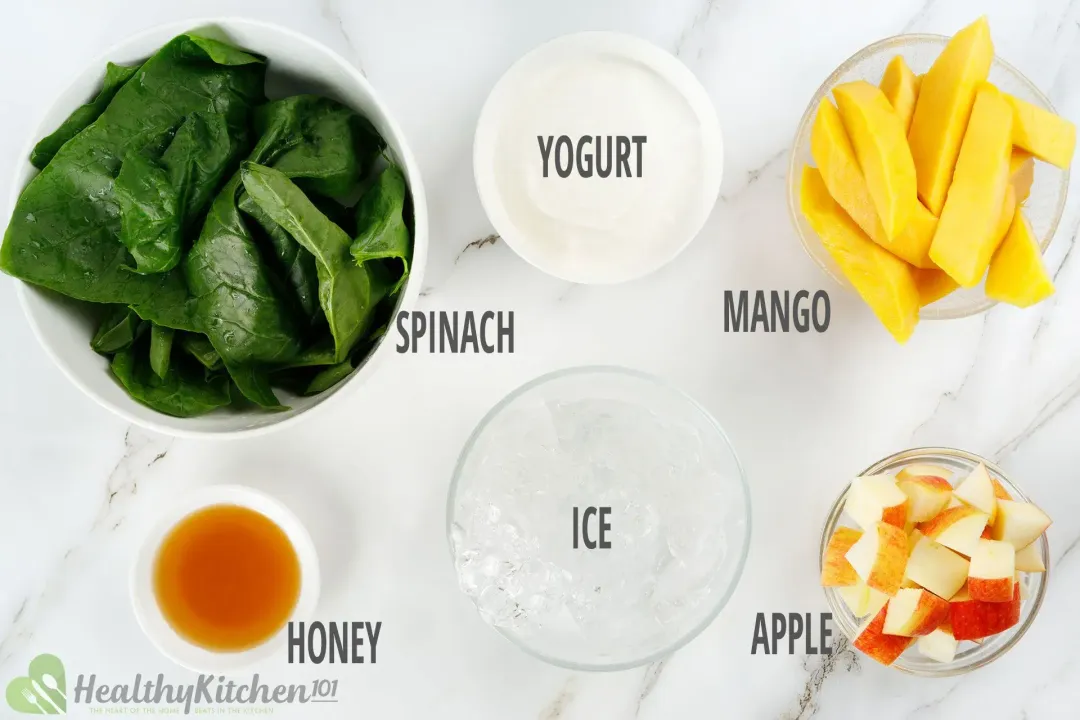 You can alternatively start with frozen mango pieces to make a thicker smoothie. And if the beverage is too sweet for your liking, you can reduce the amount of honey you use.
For a vegan mango smoothie, replace the yogurt with chia seeds to maintain the thick consistency. Or add avocados for an even healthier drink!
How Many Calories Are in a Mango?
One mango (without the pit and peel) contains 170 calories. It's a higher amount compared to other fruits like oranges and pears, but it simultaneously provides many nutrients.
It even has a considerable amount of protein, making up less than 1% of the total calories. Nonetheless, it's a higher amount than most fruits.
Most of the calories in mango come from natural sugars, contributing almost 14% of the total nutrients. No wonder they're so palatable and inviting!
They're certainly a fabulous medium for fulfilling sugar cravings, especially since they contain some dietary fiber too. It makes up almost 2% of the total calories, just enough to make mangoes a well-rounded, healthy option.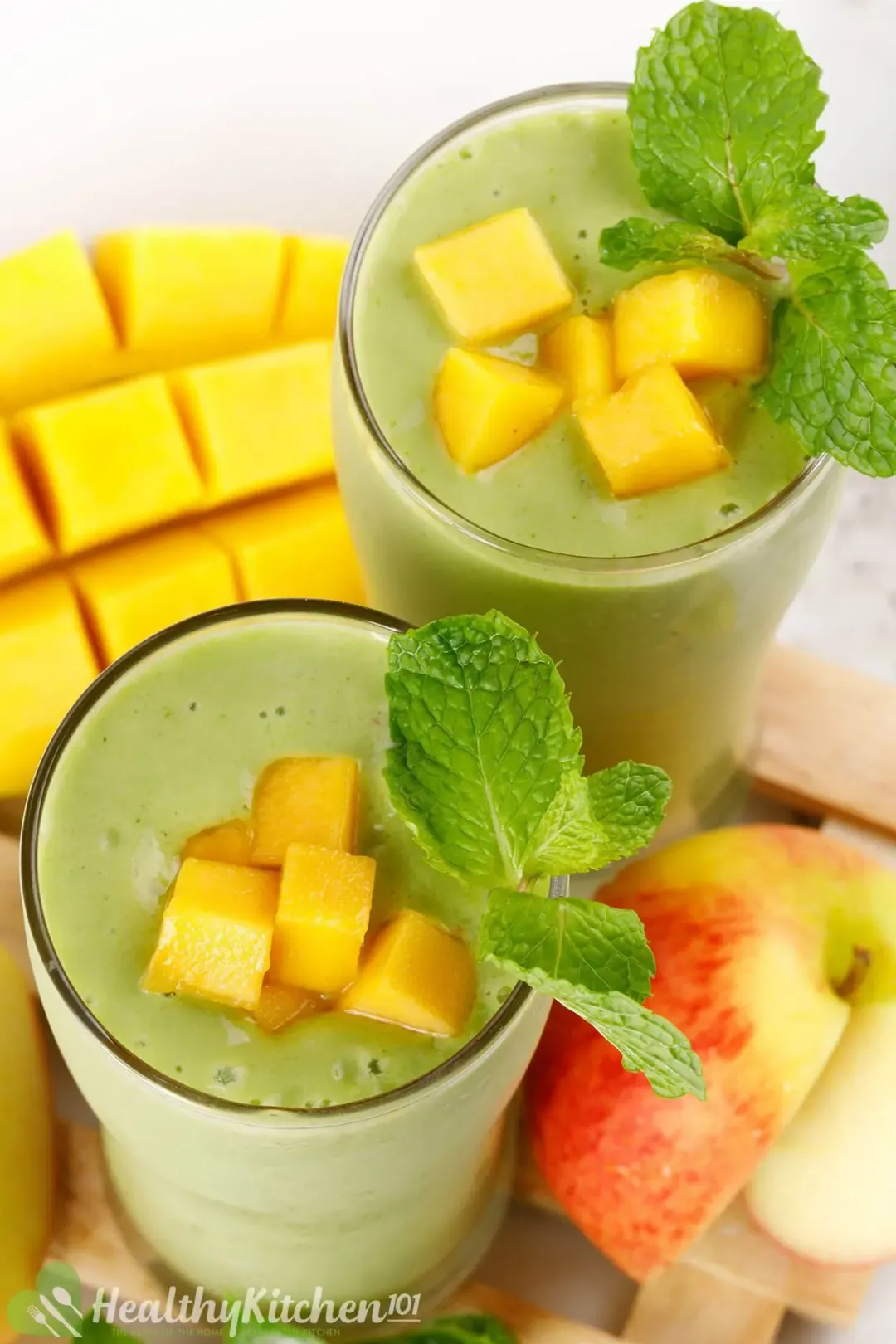 Using Fresh vs Frozen Mango
For this mango smoothie recipe, you can use either fresh or frozen mango pieces. With frozen mango, you'll get a thick, sorbet texture.
On the other hand, using fresh mango will give a creamier, smooth result that's easier to sip with a straw.
Both results are equally pleasant. And you can always add ice cubes for an even chunkier finish.
What Goes Well with Mango in a Smoothie?
Smoothies are well-renowned because they offer servings of fruits and/or vegetables in the form of a tasty beverage. Hence what you choose to add can ultimately make or break your smoothie.
1. Fruit
You can hardly go wrong when pairing fruits together. For the best complements, you'll want to add fruits that have a slight tartness to balance the sweetness of mango.
For example, strawberries, pineapples, or citrus, like orangs, all add a sour element.
Bananas are also excellent even though they're sweet, but make sure you add some yogurt to temper the overall flavor. Here's a similar healthy green smoothie that incorporates them for a sweet and balanced outcome.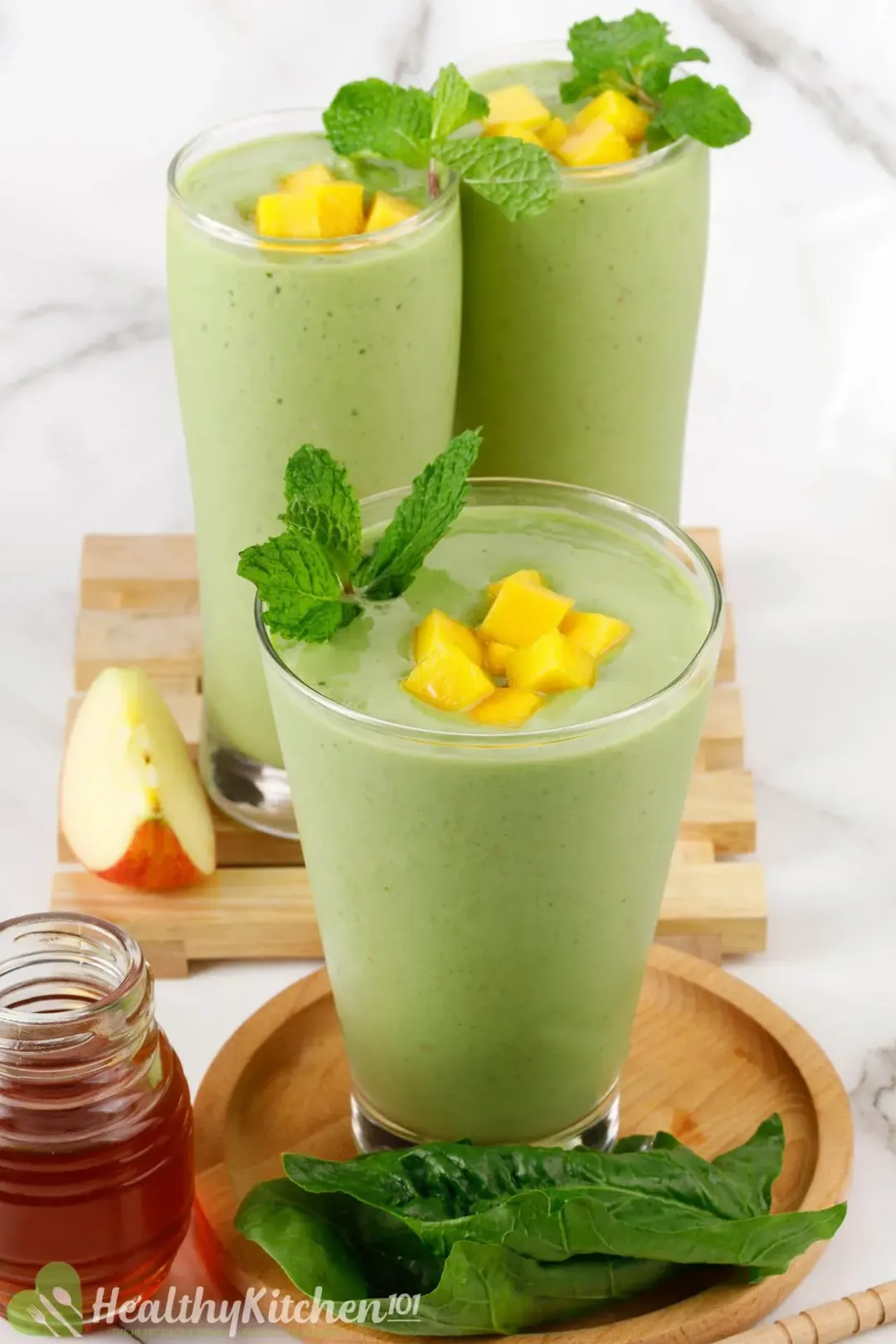 2. Milk
Milk is good because it imparts a creaminess to smoothies. Plus, it adds more protein and a slight sweetness without overpowering all the other elements.
If you don't like milk or are allergic to it, you can use water instead. It will help to achieve a similar consistency without altering the flavors of your smoothie.
3. Yogurt
Yogurt is usually a staple smoothie ingredient. It's thick, creamy, smooth, and mild— the perfect smoothie component.
It can also add gut-helping probiotics.
It's especially excellent for mango smoothies as it adds a contrast to the sweet elements. Thus you find most smoothies can get away with just adding yogurt to fruit.
If you don't particularly favor yogurt, you can substitute with equally creamy ingredients like coconut cream. Just keep in mind that you should add another slightly bitter element to balance everything.
Healthy Mango Smoothie
This healthy mango smoothie recipe is a quick, 5-minute beverage that's excellent for busy mornings! You can double the ingredients and freeze them for blending later. Feel free to add more ice for a thicker consistency and a more refreshing blend.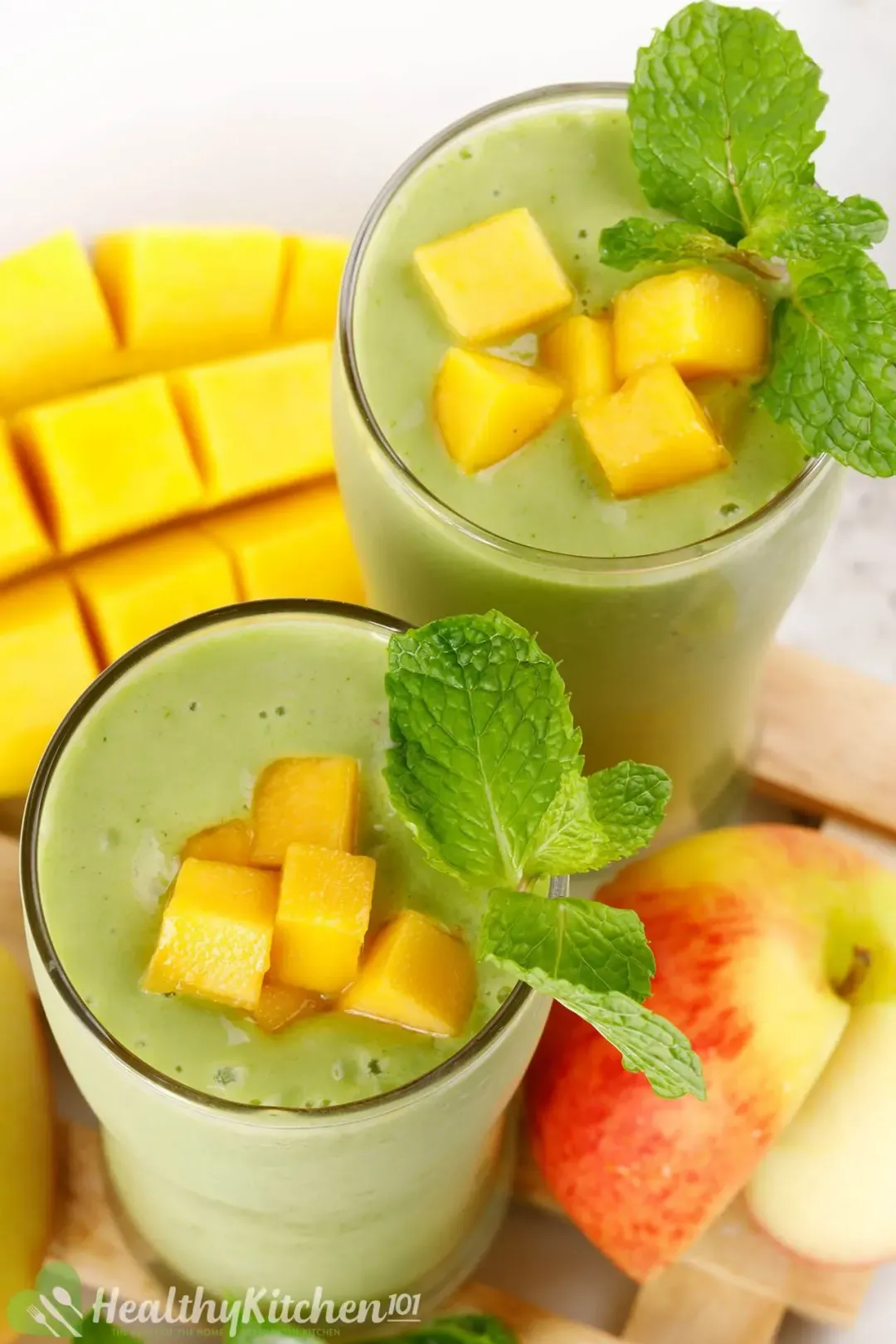 prep TIME

10 mins

total TIME

10 mins
COURSE

Beverage

CUISINE

American

SERVINGS

CALORIES

170 kcal
INGREDIENTS
10 oz

mangoes

(skin and pit removed, sliced)

1.6 oz

spinach

(raw, rinsed and drained)

6 oz

gala apples

(core removed, diced)

Optional: mint leaves

(garnish)
INSTRUCTIONS
1
Add all ingredients (2 cups ice, 10 oz mangoes, 1,6 oz spinach, 6 oz apples, 1 cup yogurt, 2 tbsp honey) into a blender.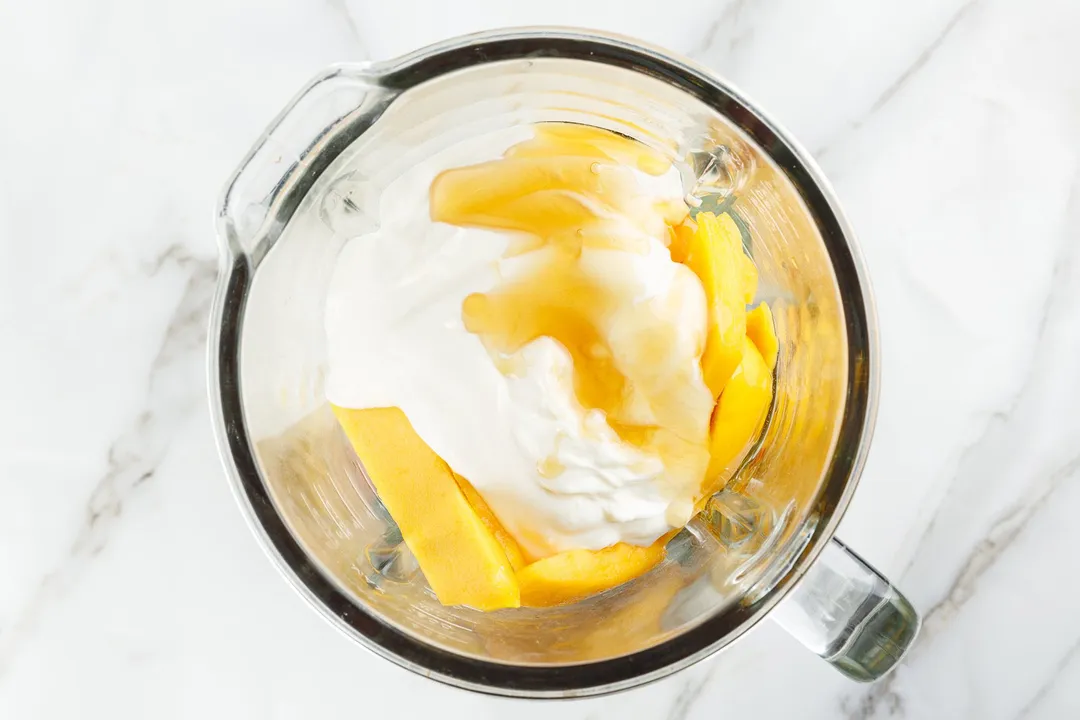 2
Blend in 20 - 30 seconds at high speed until smooth.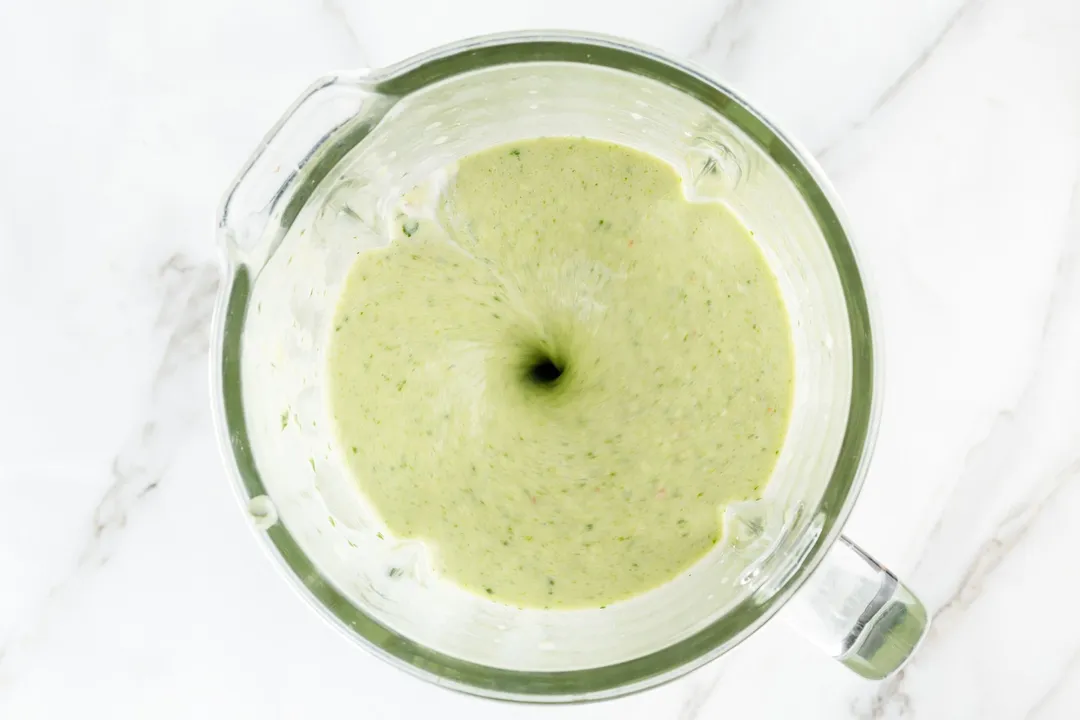 3
Serve into 4 glasses and enjoy.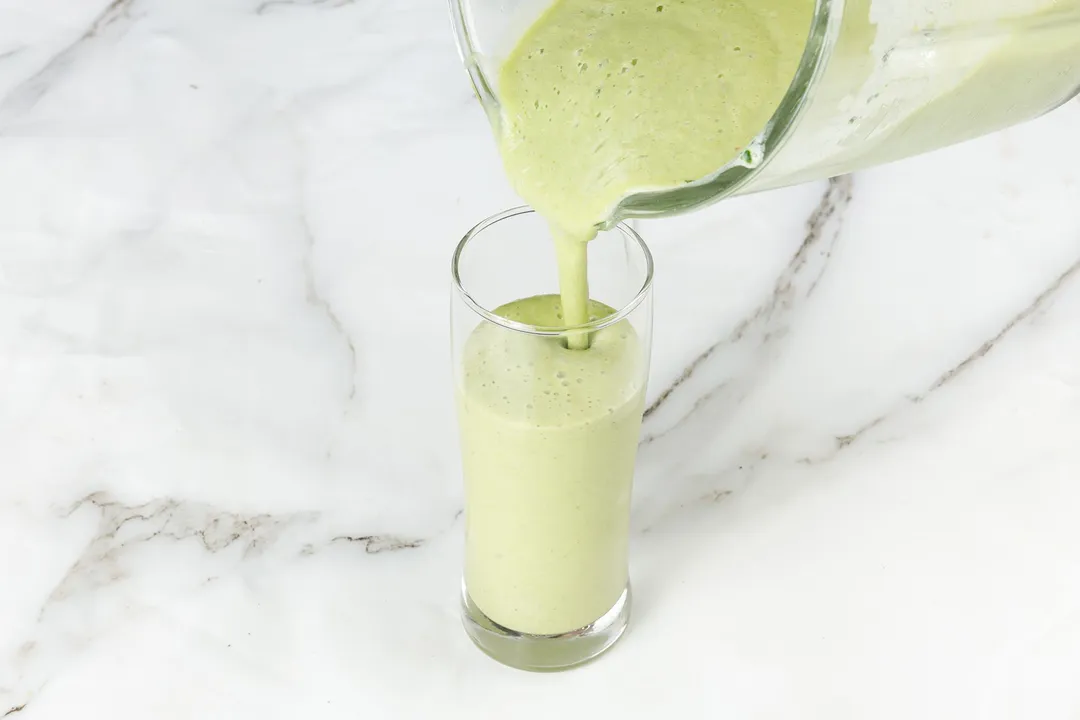 4
Optional: you can garnish the drink with mint leaves or extra pieces of mangoes and apples.
NUTRITION
Nutrition Facts
Healthy Mango Smoothie
Amount Per Serving (1 serving)
Calories 170
Calories from Fat 36
% Daily Value*
* Percent Daily Values are based on a 2000 calorie diet.
Keywords: homemade mango smoothie recipe, how to make mango smoothie recipe, mango smoothie recipe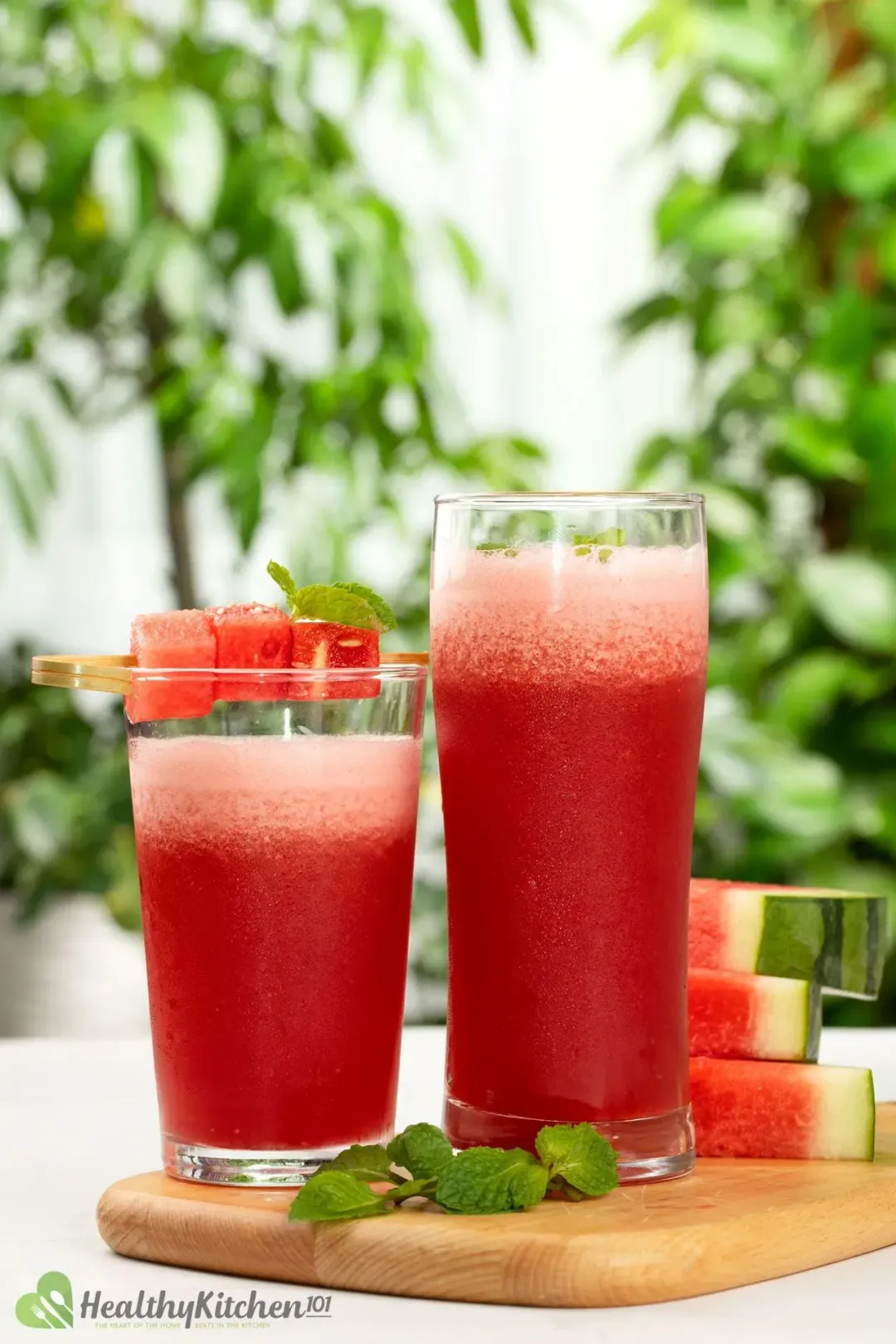 Previous Recipe
Healthy Watermelon Smoothie
Healthy Watermelon Smoothie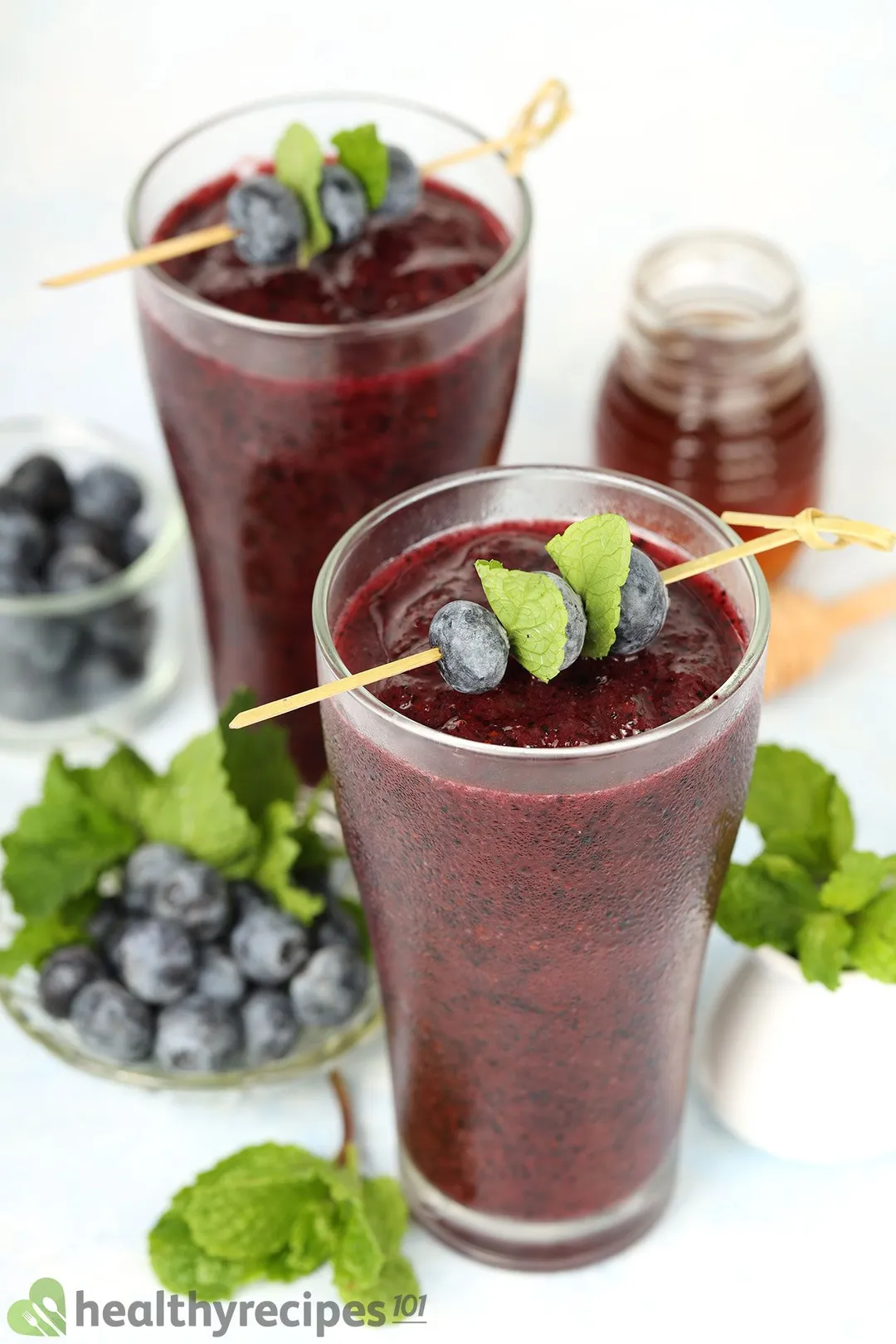 Next Recipe
Blueberry Smoothie
Blueberry Smoothie
This smoothie is a tropical delight that's both healthy and tasty.