You can jazz your mornings up by incorporating a blueberry smoothie recipe as part of your breakfast, turning it from bland to appealing.
In this article, we show you how to make a nutritious smoothie. We also inform you of the health benefits that come with it.
And with frozen blueberries available year-round, this smoothie will give you something to look forward to having every week.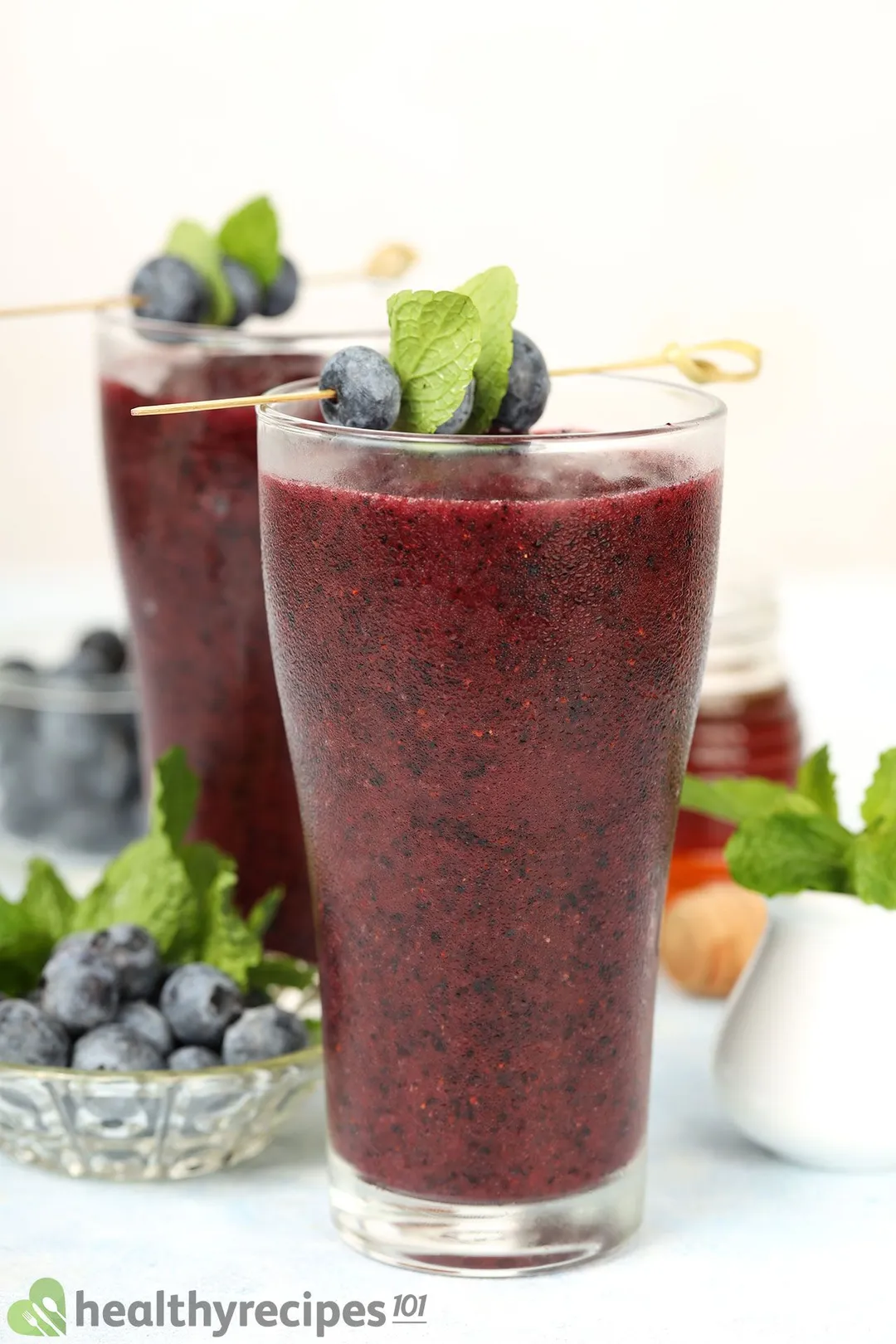 Is Our Blueberry Smoothie Healthy?
Yes, they certainly can be. Ours has the bonus of being both healthy and enjoyable.
Blueberries are an antioxidant powerhouse. And just like mangoes contain beta-carotene that makes them yellow, blueberries (and red cabbage) contain anthocyanin, making them appear blue.
These flavonoids have characteristics that include cancer-fighting abilities, lowering the risk of cardiovascular disease, and aiding weight control.
Blueberries are particularly high in vitamins K and C. Half a cup of frozen blueberries contains 14% of the vitamin K1 DV (Daily Value).
Also known as phylloquinone, vitamin K is essential to maintaining bone strength. One way it does this is by defending against clinical fractures.
In one clinical trial, it proved effective for postmenopausal women with osteopenia. Daily supplementation of vitamin K1 caused a 50% reduction in fractures over a period of 2 years.
We've included rolled oats to add whole grain benefits. Oats are loaded with beta-glucan which can support weight loss by keeping your stomach feeling full for longer.
The highly nutritious chia seeds add fiber that will promote bowel movements and prevent constipation. While the addition of orange juice contributes to your immune-boosting, daily vitamin C intake.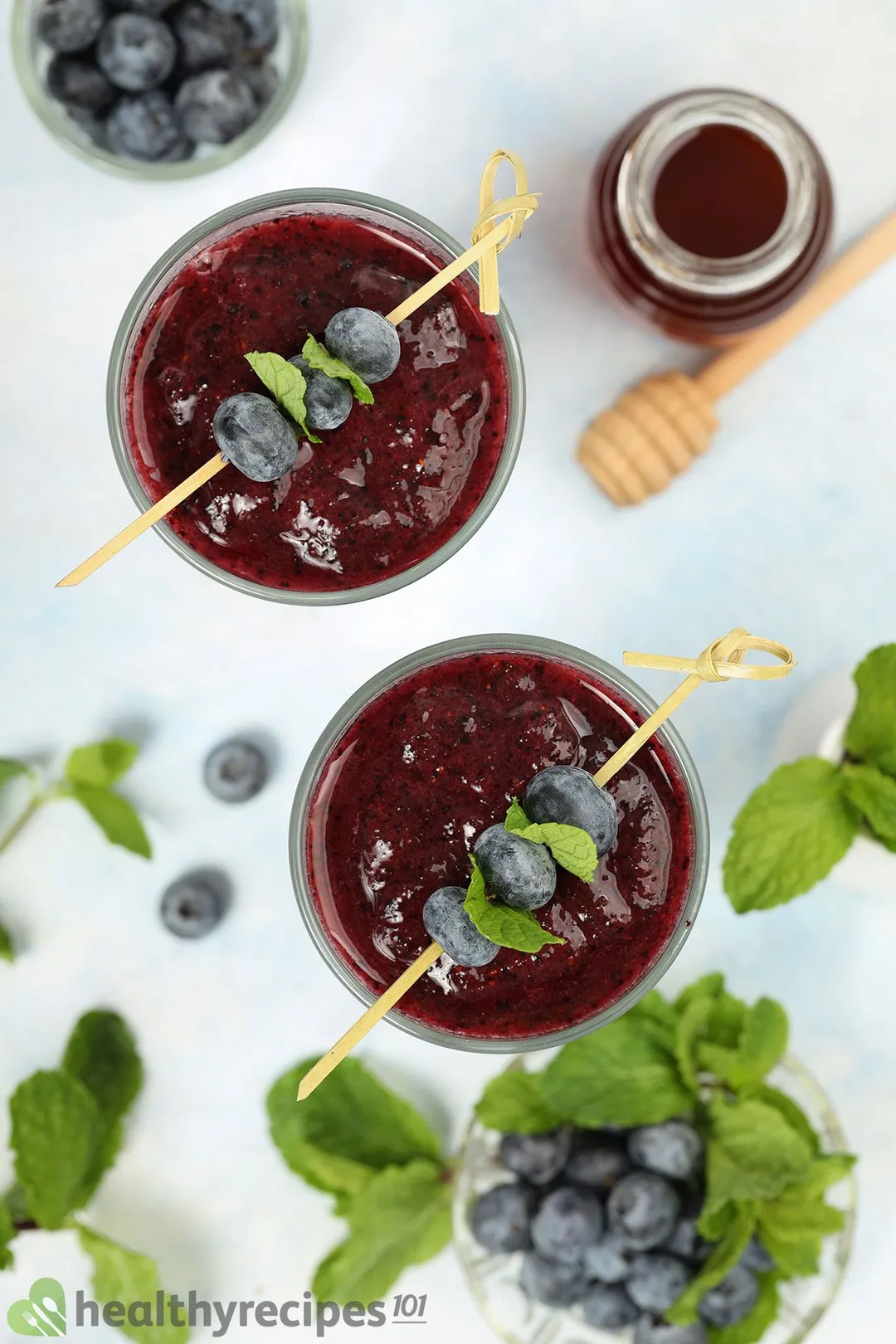 Fresh vs Frozen Blueberries
You can use both fresh and frozen blueberries to make your smoothie. However, frozen berries tend to result in a smoothie with better texture and higher nutrition.
Using frozen berries creates a more desired, thick-textured smoothie. While freezing your own fresh berries helps to retain their nutrients.
You can also opt for store-bought frozen berries. They're just as healthy, in some cases containing more nutrients than fresh-stored fruits.
Ingredients for Blueberry Smoothie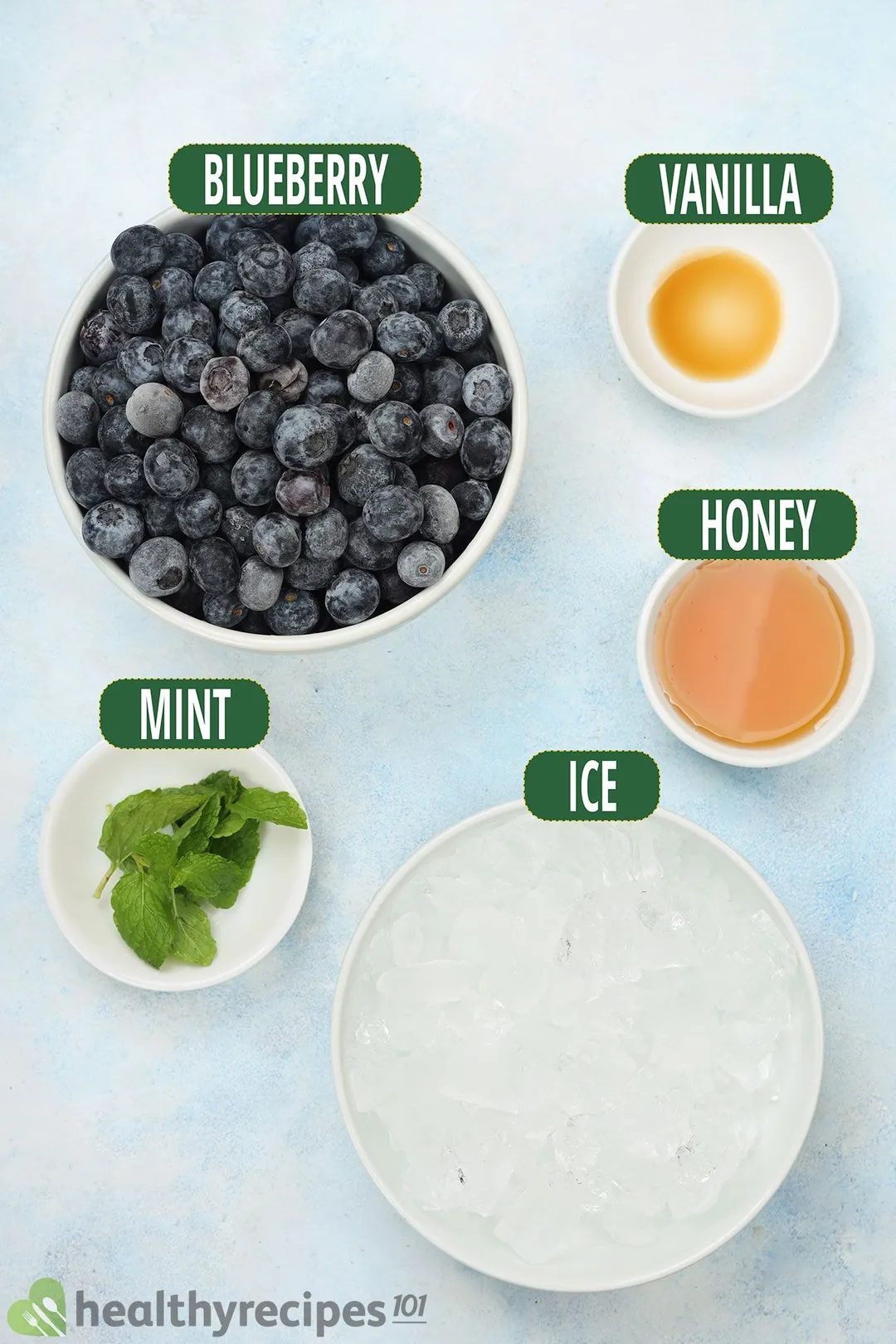 What to Mix into a Blueberry Smoothie Recipe
Blueberries have a naturally potent flavor. They are sweet, acidic, and tart, and mixing them with other elements usually accentuates their sweetness.
Here are some ingredients you can add into your blueberry smoothie recipe:
1. Banana
Bananas are a sweet complement to the acidic notes of blueberry. They also add some bowel-supporting fiber.
Using them gives a smooth viscosity to smoothies, and it's even better when you start with frozen banana chunks. Check out our Blueberry Banana Smoothie for more details.
2. Strawberry
Strawberries are slightly more acidic than blueberries. They're also loaded with immune-boosting vitamin C. Blending these fruits together will give you a drink with sweet-tart notes of a summer melody that will have your taste buds dancing.
You may want to add a wholly sweet element that balances the overall acidity to make this smoothie more palatable. Take a look at our Strawberry Blueberry Smoothie for detailed instructions.
3. Spinach
Spinach would be excellent in this smoothie, given you add another element like bananas (full instructions right here). That's because the mineral taste of spinach may be hard for some people to swallow.
Masking it with a sweeter fruit makes it more pleasant. Here's a mango smoothie recipe that actually incorporates spinach to make a healthy blend.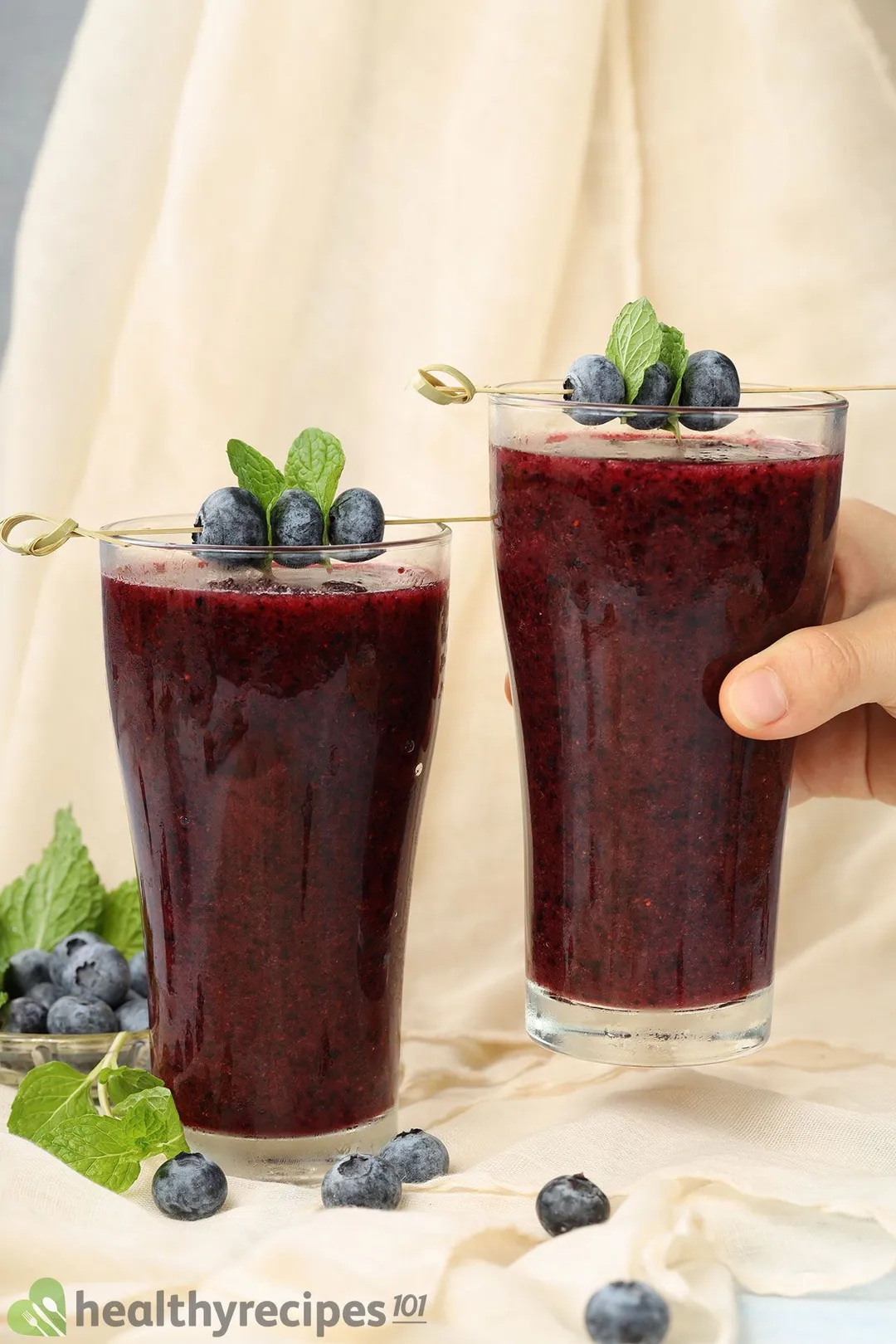 4. Mango
Mangoes make fabulous smoothies on their own, and when they join forces with berries? You can expect an undeniably irresistible drink that beams with vibrant flavors. 
They're sweet and juicy, with a lot of substance. Adding them will contribute to making a thicker, delicious beverage with pleasant hints of sweetness. Try our Mango Berry Smoothie and taste the magic yourself.
5. Peach
Peach is yet another fruit that exquisitely balances sweetness and acidity.
White-flesh peaches, in particular, are predominantly sweet and will mix better in this smoothie. They're light and aromatic, adding flavor without overpowering the blueberries.
6. Yogurt
Yogurt to a smoothie is like jelly to a peanut butter sandwich. Your smoothie can do without it, but it's so much better with it.
It makes the best smoothies, adding mild flavor and substance, as well as protein and probiotics. But of course, you can replace it with other creamy elements like coconut cream.
7. Milk
Milk is excellent for contributing to the fluid consistency of smoothies. It's usually in small amounts, so if you don't like it or can't have it, add water instead.
How Many Calories Are in This Recipe?
This blueberry smoothie recipe contains 210 calories, with most of them coming from carbs in the form of sugar and fiber. So we recommend that you drink it, at most, twice a week to manage and maintain a low-carb diet.
It's also relatively high in nutrients like protein and vitamins C and K. So it's worth every calorie, as it provides healthy, nourishing sustenance.
Healthy Blueberry Smoothie
This blueberry smoothie is a healthy addition to regular breakfast meals. It makes a thick smoothie that's creamy enough to sip with a straw.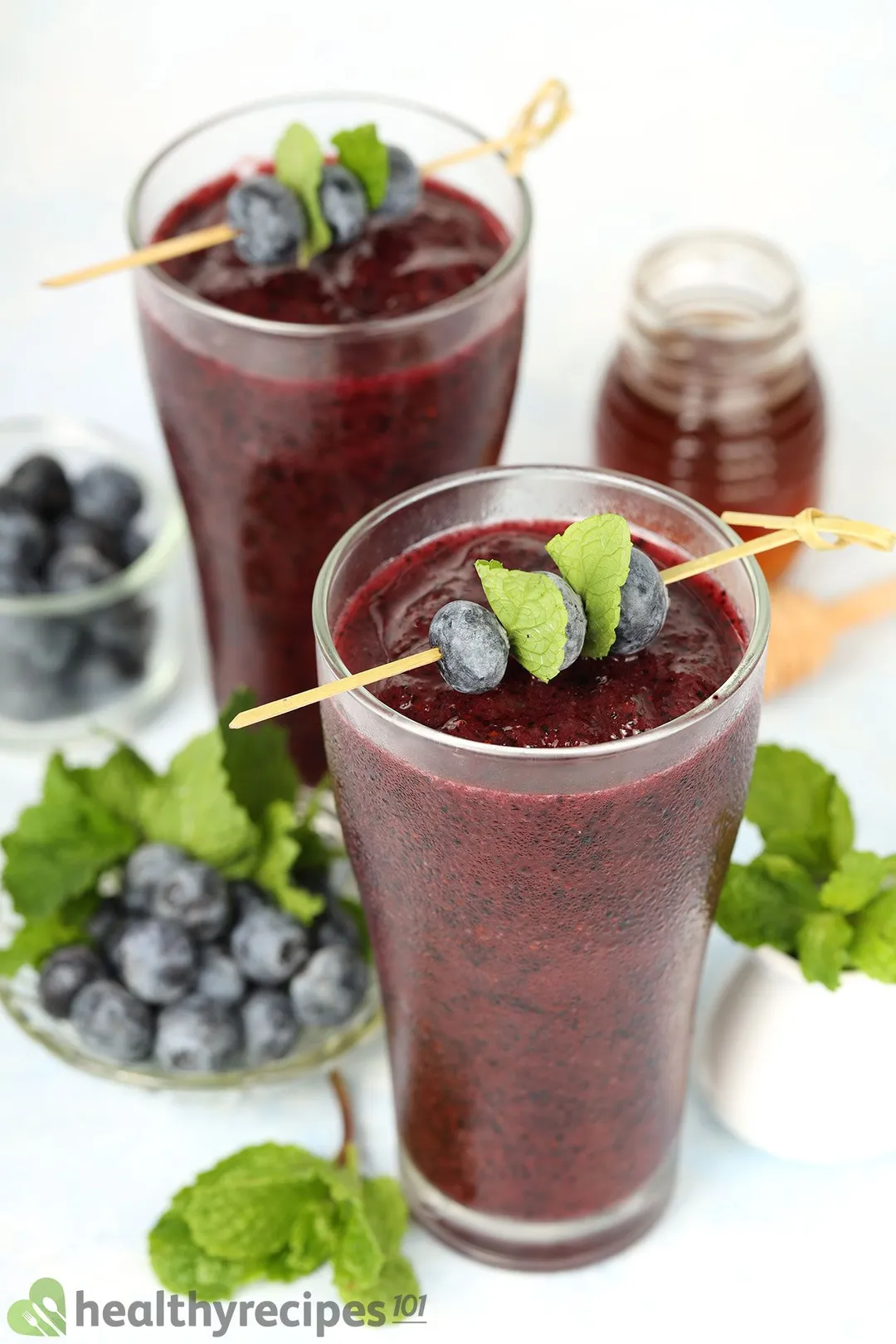 prep TIME

5 mins

total TIME

5 mins
COURSE

Beverage

CUISINE

American

SERVINGS

CALORIES

129 kcal
INSTRUCTIONS
1
Add 3 cups ice, 20 oz blueberries, 3 tbsp honey, 8 leaves mint, 1/4 tsp vanilla into a blender.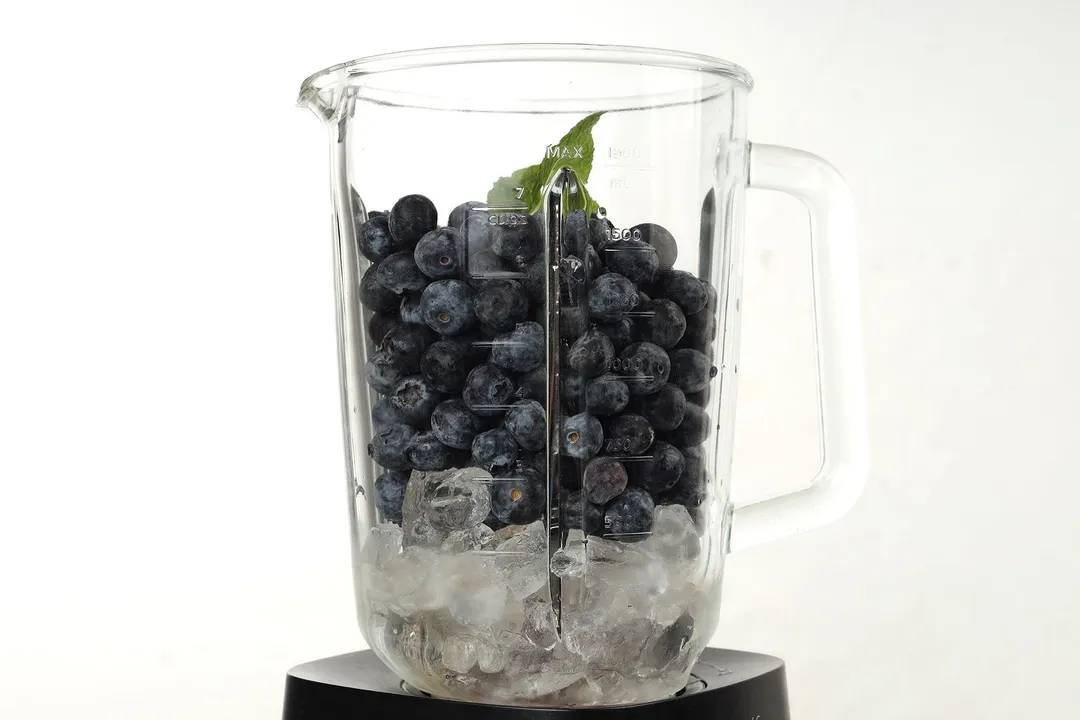 2
Put the lid on and blend in 30 - 60 seconds until smooth.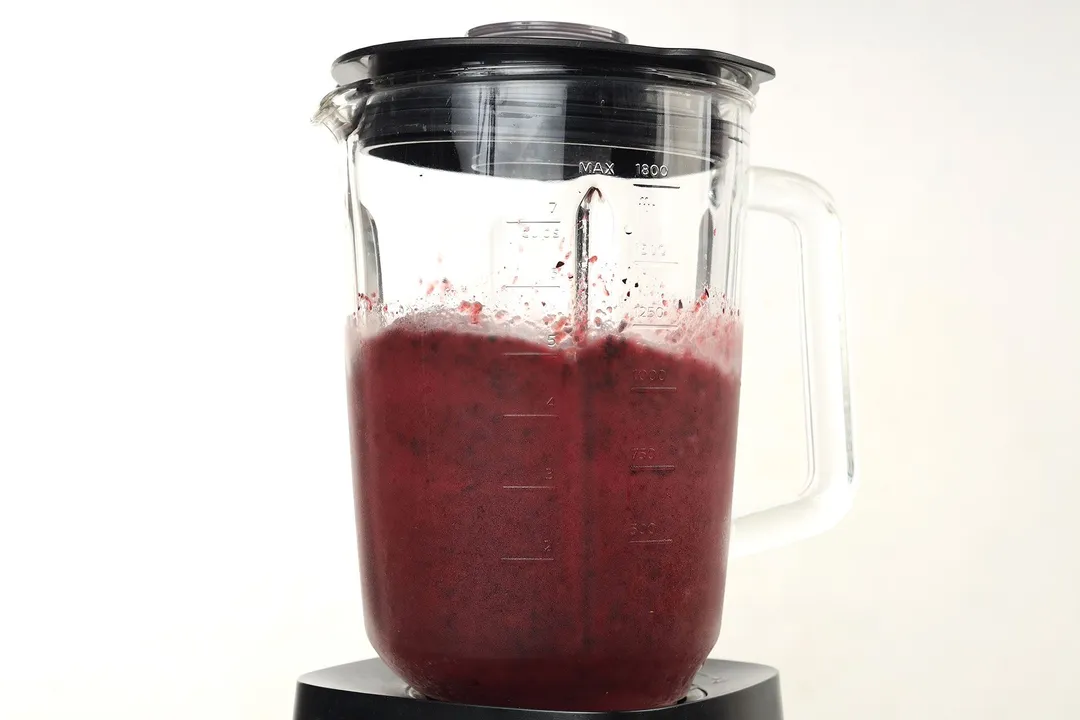 3
Pour into serving glasses.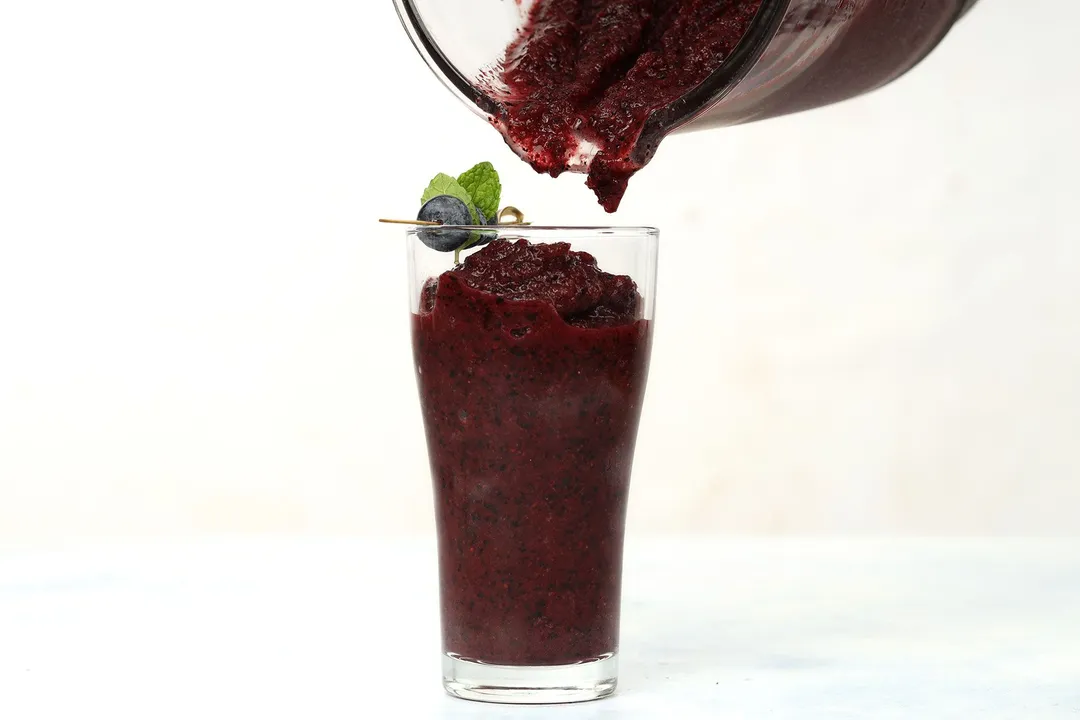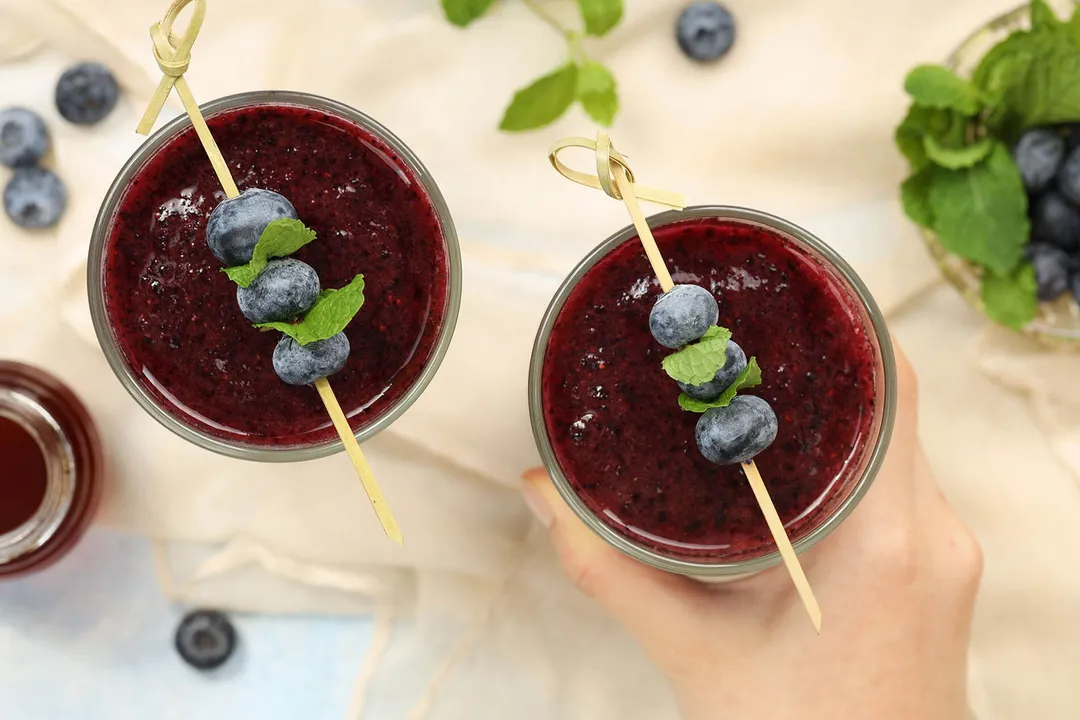 NUTRITION
Nutrition Facts
Healthy Blueberry Smoothie
Amount Per Serving (1 serving)
Calories 129
Calories from Fat 5
% Daily Value*
* Percent Daily Values are based on a 2000 calorie diet.
Keywords: Blueberry Smoothie Recipe, Healthy Blueberry Smoothie Recipe, How to make Blueberry Smoothie, benefits of blueberry smoothie, simple blueberry smoothie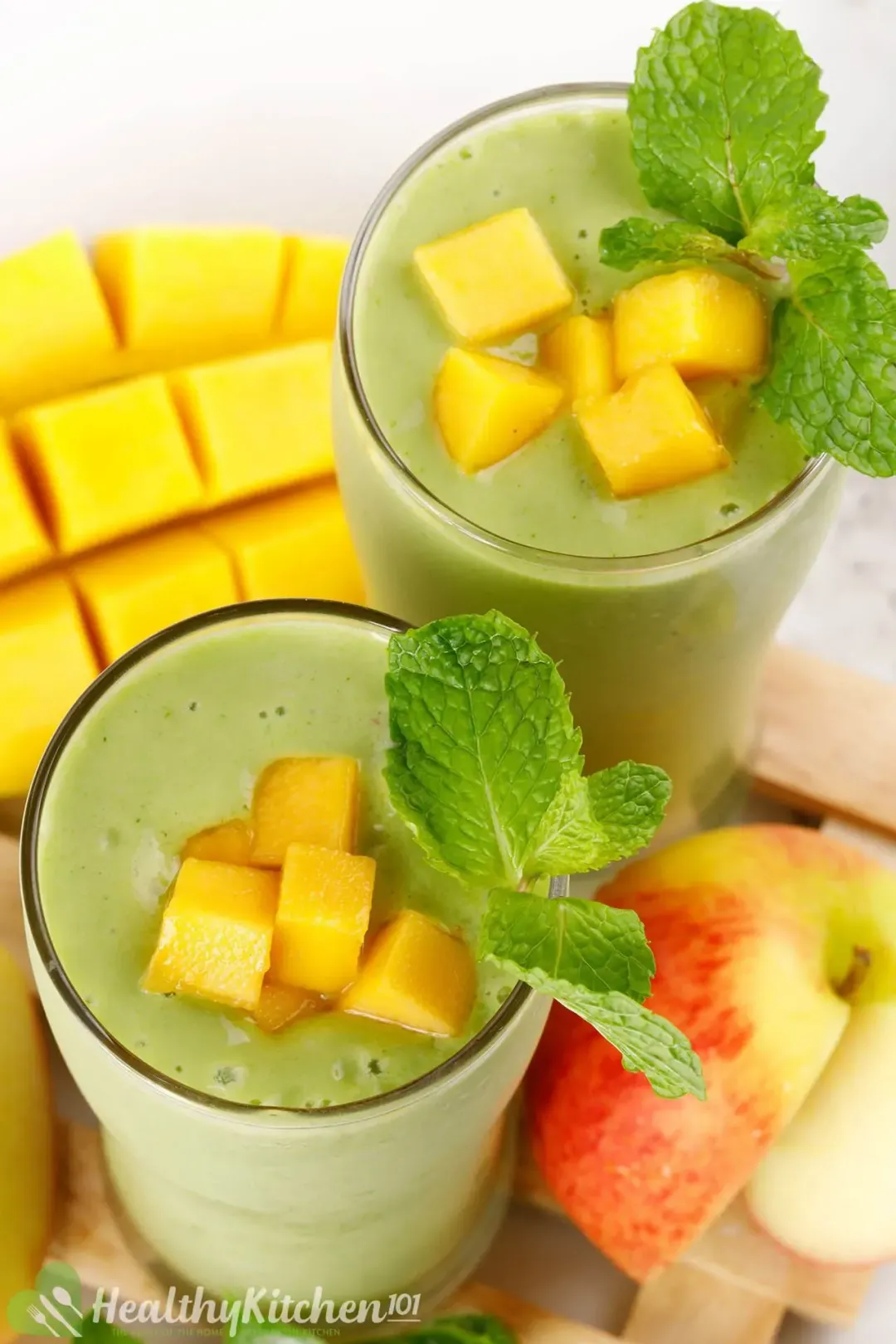 Previous Recipe
Healthy Mango Smoothie
Healthy Mango Smoothie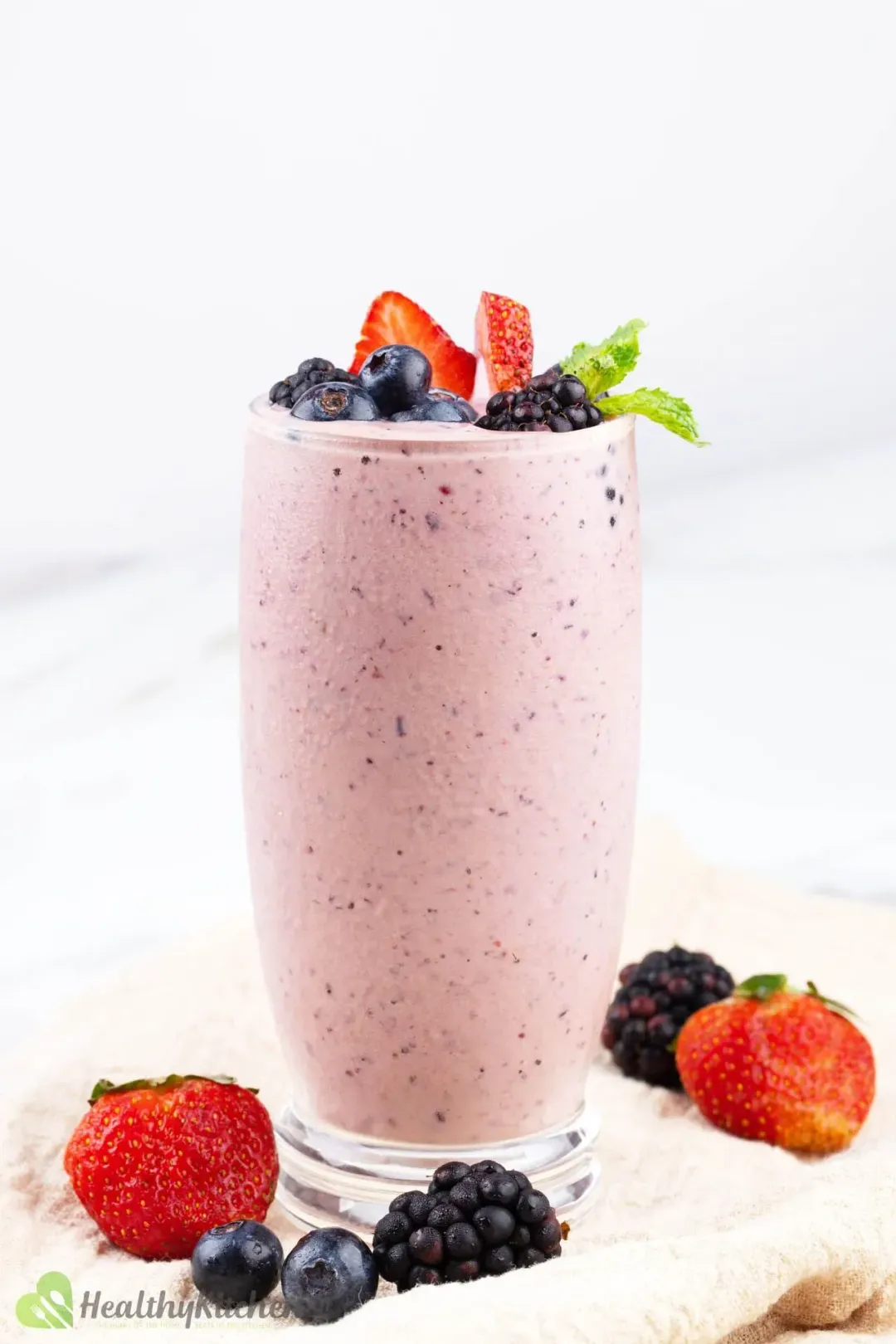 Next Recipe
Healthy Frozen Fruit Smoothie
Healthy Frozen Fruit Smoothie
Refreshing and sweet blueberry smoothie.