Today's watermelon smoothie recipe presents you with an indispensable drink for outdoor family reunions, pool parties, and National Watermelon Day (August 3).
Nothing tastes more like summer than a freshly blended smoothie. This watermelon smoothie will get you through the hot season joyfully and refreshingly.
Is Watermelon a Fruit?
Yes, watermelon is botanically a fruit. It belongs to the cucurbitaceae plant family, same as the cucumber, gourd, squash, and pumpkin.
Watermelon is planted from the ovaries that hold the seeds, and was domesticated in Africa. It is usually round or oval in shape, however, cube-shaped and heart-shaped watermelons are also available.
Watermelon's flesh is firm, smooth, and super juicy. Its color mostly varies from deep red to pink or yellow.
In many parts of the world, watermelon is also treated as a vegetable in cooking. This is also why people sometimes mistake watermelon for a vegetable.
All parts of the watermelon are edible, including the rind and seeds— although the seeds are usually discarded when prepping. Despite the fact they're neither tasty nor adaptable for recipes, watermelon seeds are actually great sources of micronutrients.
Is Watermelon Smoothie Healthy?
A bite-sized piece of watermelon contains roughly 92% water, so it's no surprise that watermelon is a super hydrating fruit.
In some studies, watermelon supplementation has been shown to reduce arterial stiffness in artery walls. It also comes with many health benefits thanks to being rich in lycopene and beta-carotene, which we'll discuss later.
Watermelon Smoothie for Weight Loss
Watermelon is full of antioxidants, especially lycopene, a pigment that helps lower the risk of cancers and diabetes. Beverages made with watermelon show great effects in preventing muscle soreness, and even offer a boost for workouts. 
Watermelon is already low in calories and naturally sweet, so adding a sweetener to your watermelon smoothie is optional. You can add a tiny dash of sugar, or replace it with honey or maple syrup at a 1:1 ratio.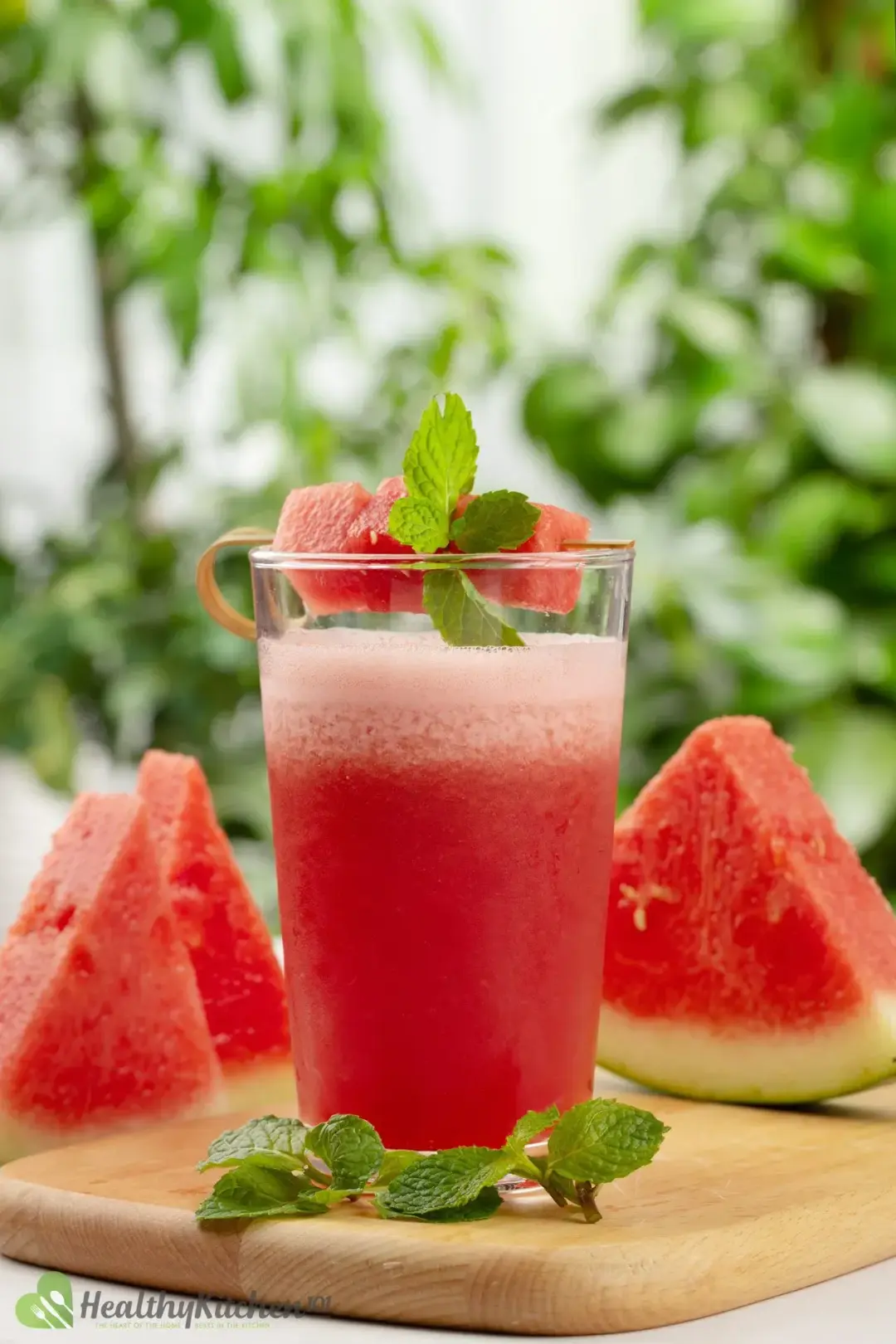 Best Types of Watermelon for Watermelon Smoothies
The best type of watermelon for a smoothie is a ripe melon. It produces more liquid and also is sweeter than an immature one. 
Ripe watermelons can be recognized by their remarkable size and dark green shelves.
1. Red Watermelon
In this watermelon smoothie recipe, we used a red watermelon. We're accustomed to using red watermelon in many recipes, plus, it's also easy for us to find.
Red watermelon is not only juicy and hydrating, but also has many health benefits. Its color comes from a phytonutrient called lycopene, which is linked to cancer prevention and vascular health support.
2. Yellow Watermelon
Yellow watermelon, also known as yellow crimson, is another variety of watermelon. It's been grown worldwide since 4,000 years ago and is as hydrating as red watermelon.
While red watermelon is rich in lycopene, yellow watermelon is known for being rich in beta-carotene. Beta-carotene is a group of yellow pigments with positive effects in reducing EPP, eye diseases, breast cancer, and sunburn.
These two types of watermelon are differentiated by their taste— yellow watermelon is a little sweeter than red.
Both types have their seeded and seedless varieties, and each variety provides different textures. Therefore, doing some research about them before purchasing is advised
Preparation for Watermelon Smoothie
There is one heads-up before we start: The amount of ingredients in this recipe is totally customizable. You can play with the ingredients to develop the best watermelon smoothie that delights your palate.
Everything in a watermelon is edible, including the rind and seeds. So, no matter what kind of melon you're using, there's no need to core it before blending.
To prep the watermelon, cut it into small chunks, about ½-inch thick. Don't forget to cut two triangular watermelon slices and set them aside for garnishing later.
Make sure you don't blend for too long, and serve it right away after you finish blending. The longer you wait, the more icy, slushy parts will rise to the top of the glass while the juice sinks to the bottom.
How to Make Watermelon Smoothie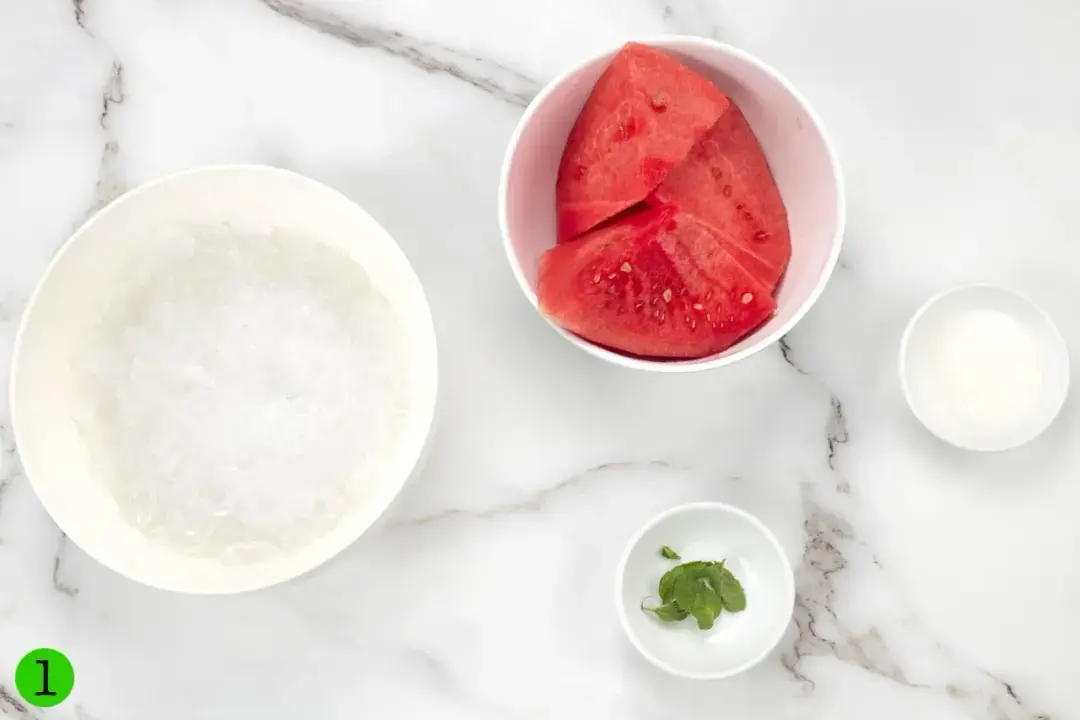 Prep: Cut watermelon into 1/2-inch cubes. Cut two triangle watermelon slices for garnishing.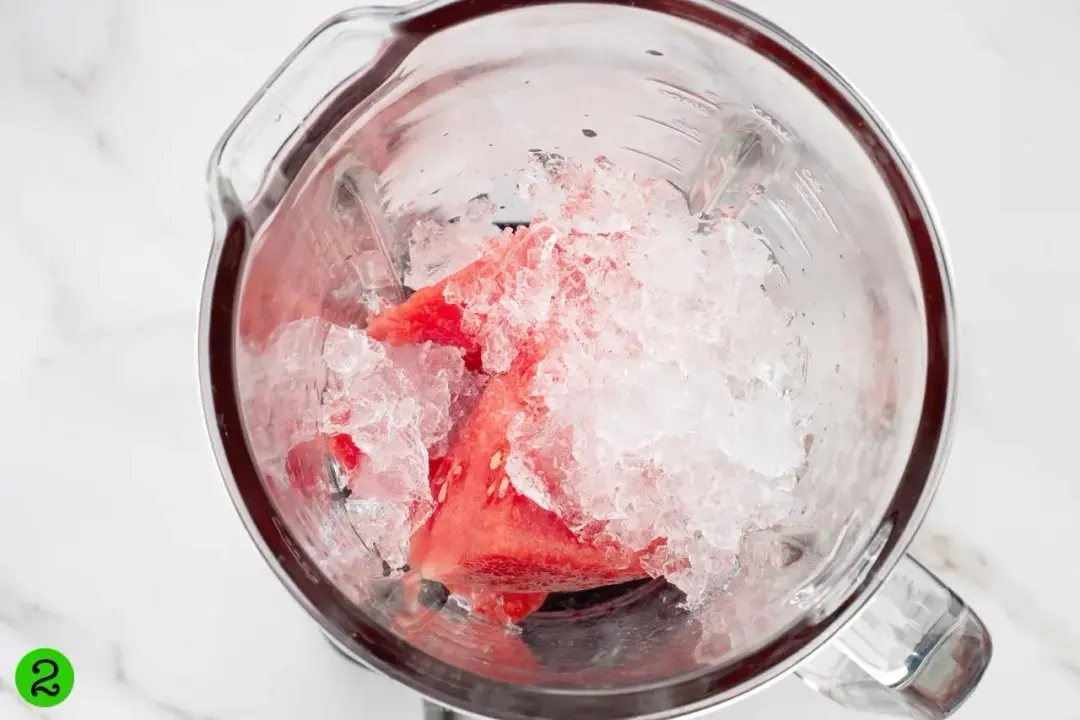 Add to blender: Pour the watermelon, ice cube, and sugar in a blender, secure with a lid.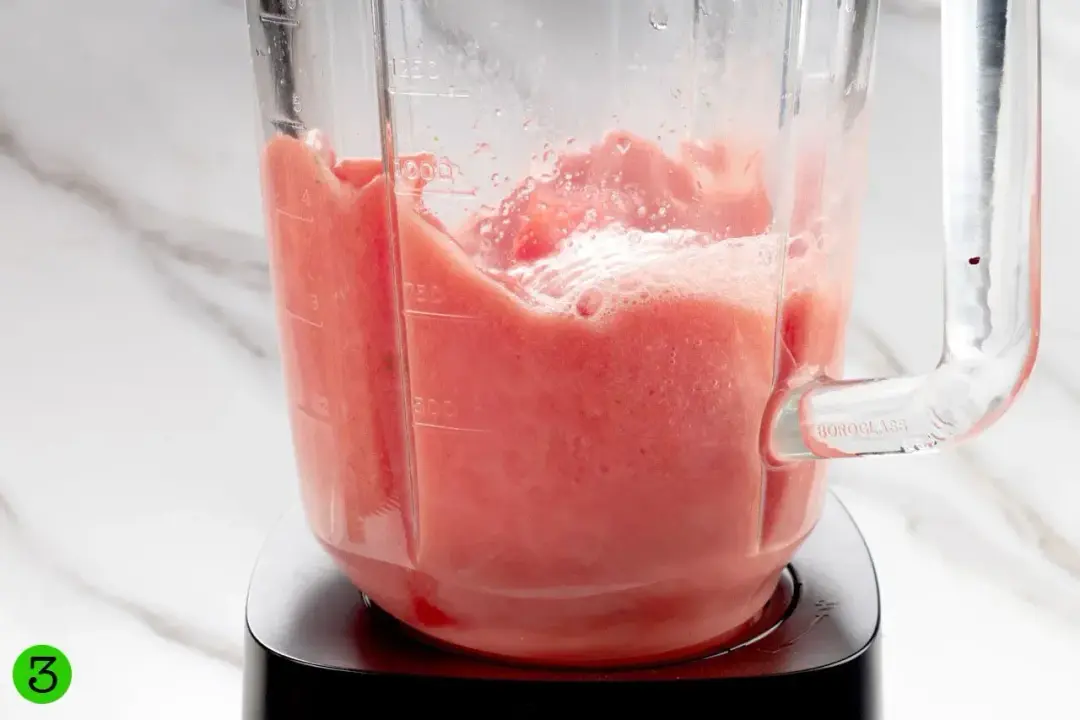 Blend: Blend for 10–15 seconds or until the mixture becomes smooth.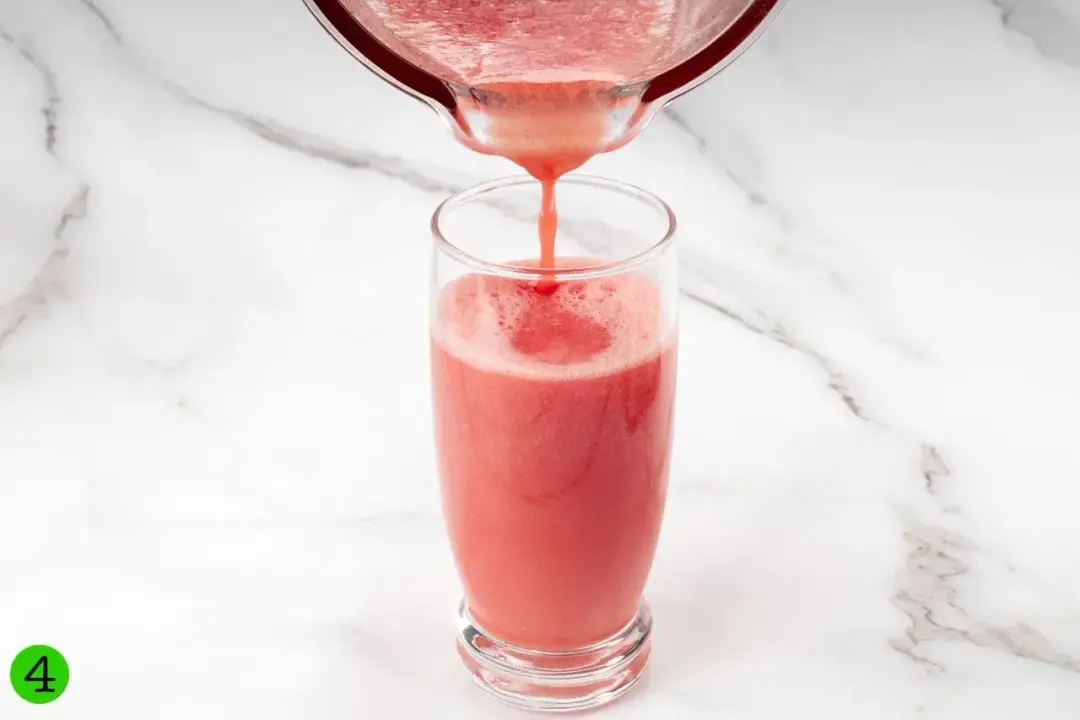 Serve: Pour the smoothie to a glass, garnish with mint leaves. Serve immediately.
What Goes with Watermelon Smoothie?
Watermelon is a favorite fruit for many during the summer. Additionally, watermelon smoothie isn't the only way for you to enjoy this fruit.
You can combine a variety of fruits, vegetables, and herbs into the basic watermelon smoothie to create unique flavor combinations. Here are some suggestions.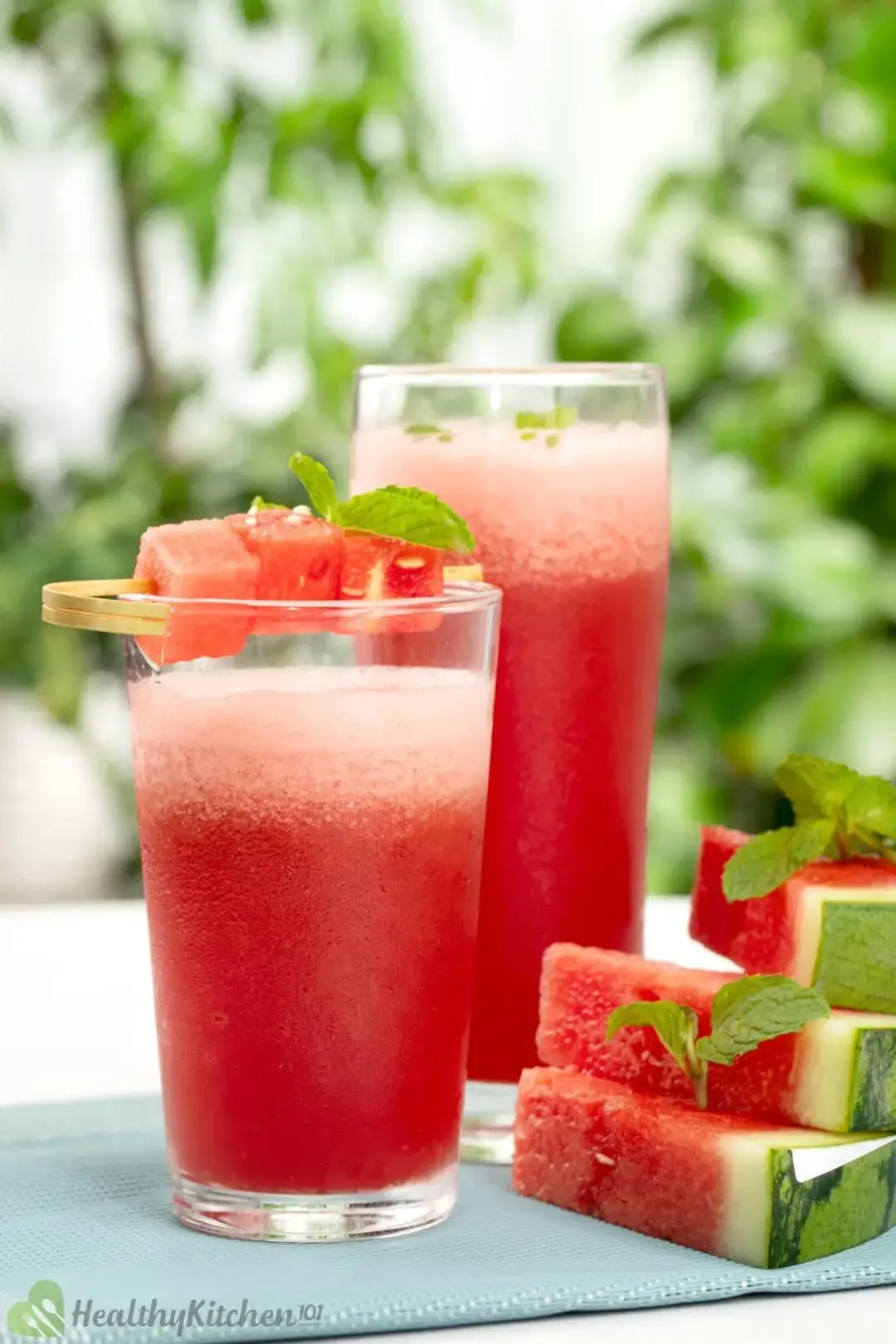 1. Banana
Banana and watermelon is a perfect combination for a light, refreshing, and healthy breakfast. Adding this smoothie into your diet can also help boost your weightloss efforts.
2. Strawberry
Watermelon and strawberries are both low in calories, and packed with nutrients and antioxidants. These fruits have natural and mild flavors that compliment rather than overpower one another.
If you feel like leaning your smoothie more towards strawberry, make sure to take a peek at this strawberry smoothie recipe.
3. Milk
In this watermelon smoothie recipe, we added no milk in the blender. It's simply the combination of fresh watermelon, sugar, and mint leaves.
However, if you want a creamy texture for your smoothie, we suggest you start with the easiest pick: whole milk. For a nuttier aroma, simply go for nut milk— you might consider almond milk, walnut milk, or hazelnut milk.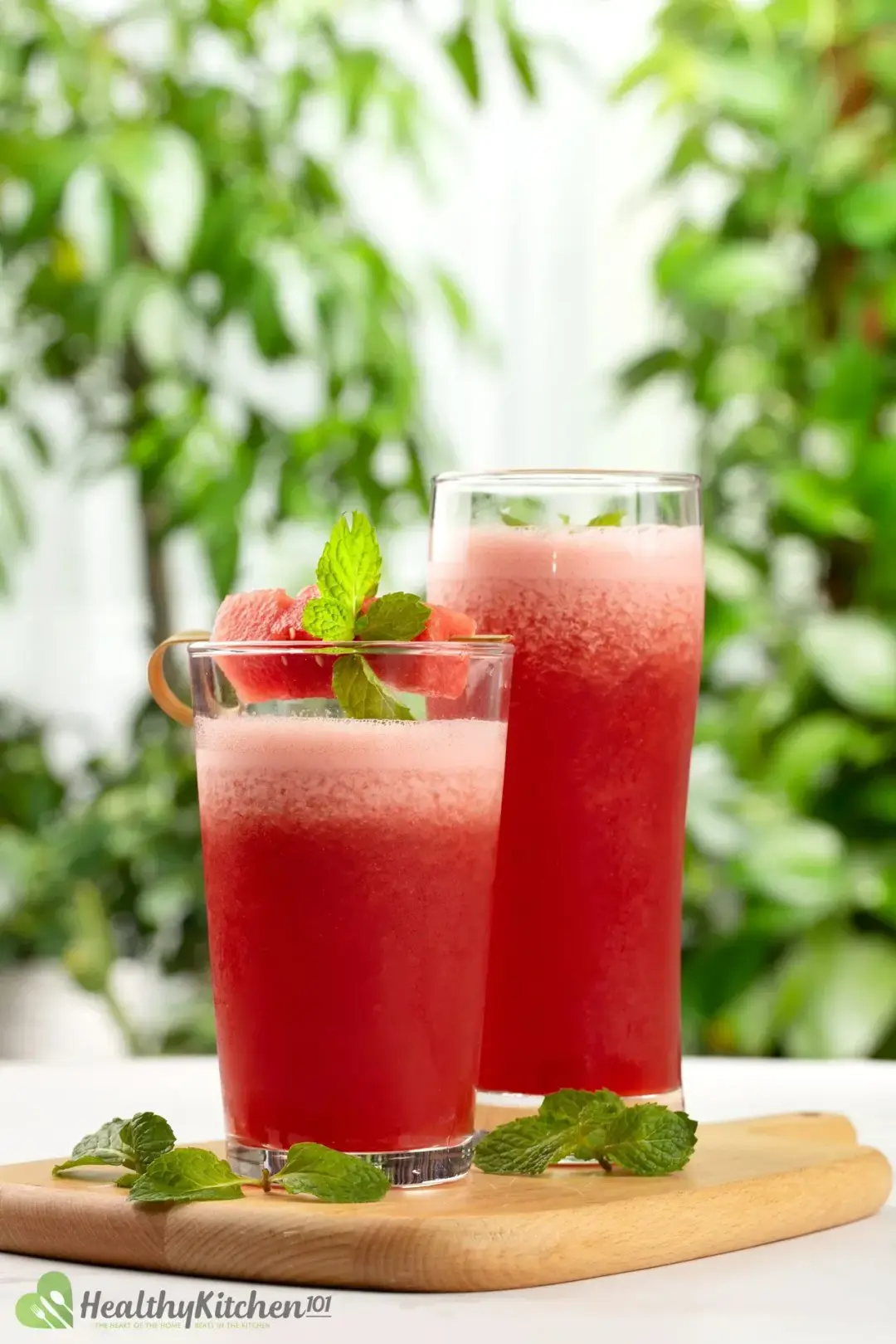 FAQ
1. Can Watermelon Be Frozen for Smoothies?
Yes, yes, and yes. If you have the habit of stocking frozen fruits for future use, you came to the right recipe.
For this watermelon smoothie, you can use either frozen watermelon or the one that's already sitting on your counter. The texture of your smoothie will just be significantly thicker and icier.
To save the excess watermelon, freezing is also a smart option. By doing so, you can earn more time and make the best use of the watermelons before they spoil.
Watermelon can still retain its flavor and freshness after being frozen, but only if you freeze it properly. Let the watermelon freeze completely so it's rock hard.
Remember to bring it to the blender right after removing it from the freezer and skip the thawing step. Otherwise, all you will have left will be an empty rind.
2. How Long Does Watermelon Last?
Imagine you happened to buy a large watermelon, which your family couldn't finish all at once. Usually, we'd stock the leftovers in the fridge, but how do you know when it will expire?
Like any other fruit, watermelon does go bad. However, there's a difference between storing it whole versus in smaller slices.
Uncut watermelons can last 7-10 days on the counter, and up to 3 weeks in the fridge. It's recommended to avoid leaving watermelon at room temperature for more than 2 days as it's prone to drying out very quickly.
Every watermelon has its own shelf life depending on when it's picked from the vine. Therefore, each of them has a different storing period— the earlier it's picked, the longer it will last under proper preservation.
If you wish to keep the cut melon slices edible and tasty for 3 days, consider wrapping them in plastic and storing in the fridge.
Watermelon starts to dry out the moment it is sliced, so cling film is a must-have in preservation. It helps keep the melon flesh moist and prevents strong odors from other foods from invading the fruit.
Healthy Watermelon Smoothie Recipe
Summer is coming and watermelon is going to be everywhere! This watermelon smoothie recipe is just what you need for a quick, nutritious, and wonderfully refreshing drink that will cool down the thirst on hot summer days.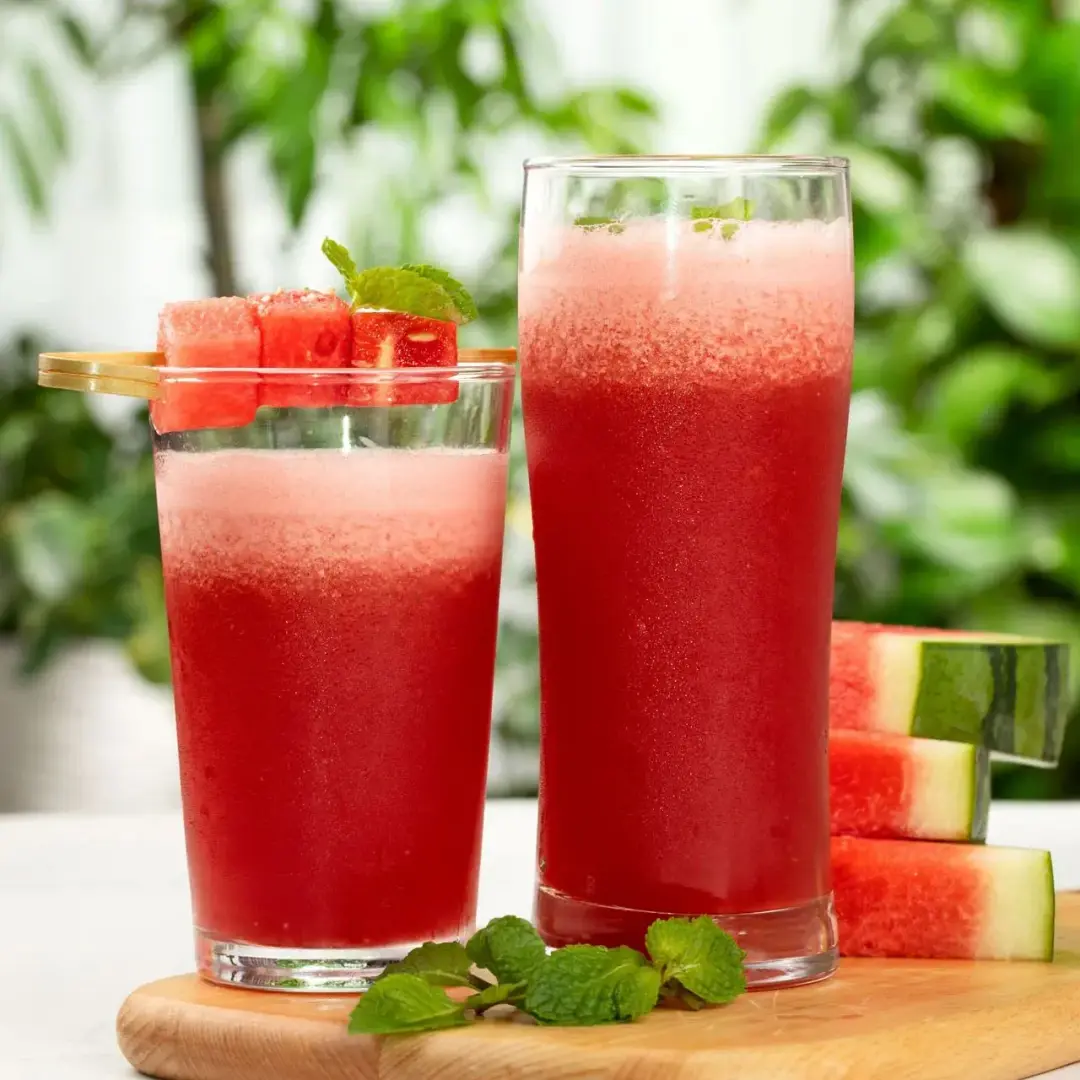 prep TIME

5 mins

total TIME

5 mins
COURSE

Beverage

CUISINE

Global

SERVINGS

servings

CALORIES

76 kcal
INGREDIENTS
12 oz

seedless watermelon

8 oz

ice cubes

1 tbsp

sugar

4

mint leaves
INSTRUCTIONS
1
Cut 18 oz watermelon into 1/2-inch cubes. Cut two triangular watermelon slices for garnishing.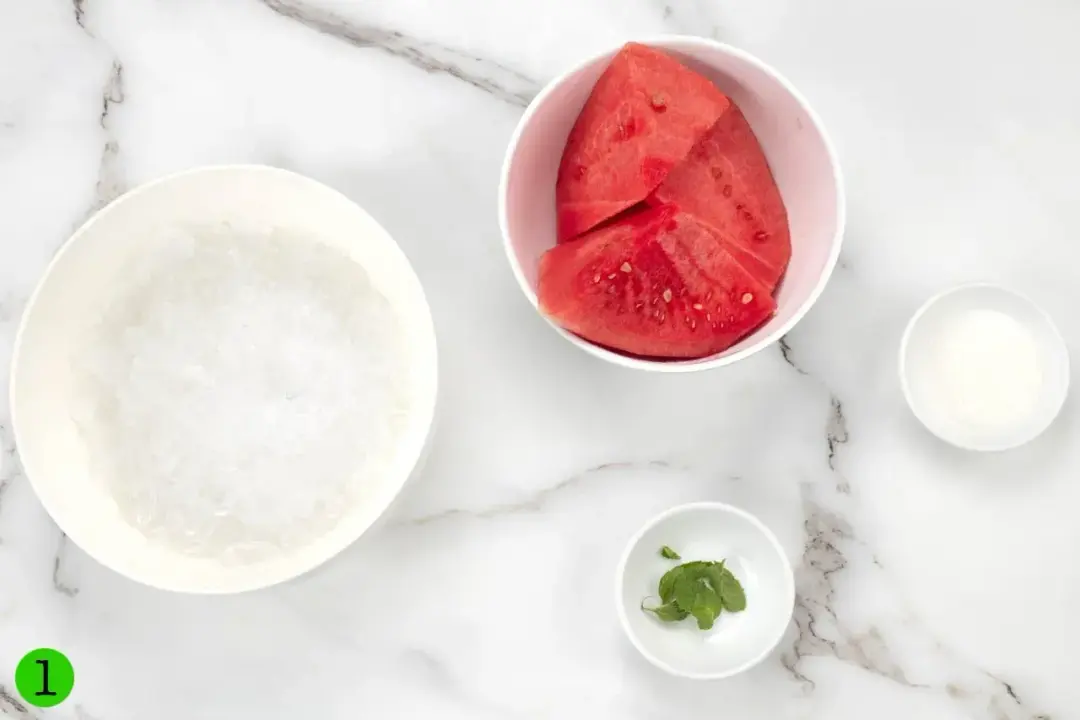 2
Pour the watermelon, 8 oz ice cubes, and 1 tbsp sugar in a blender and secure with a lid.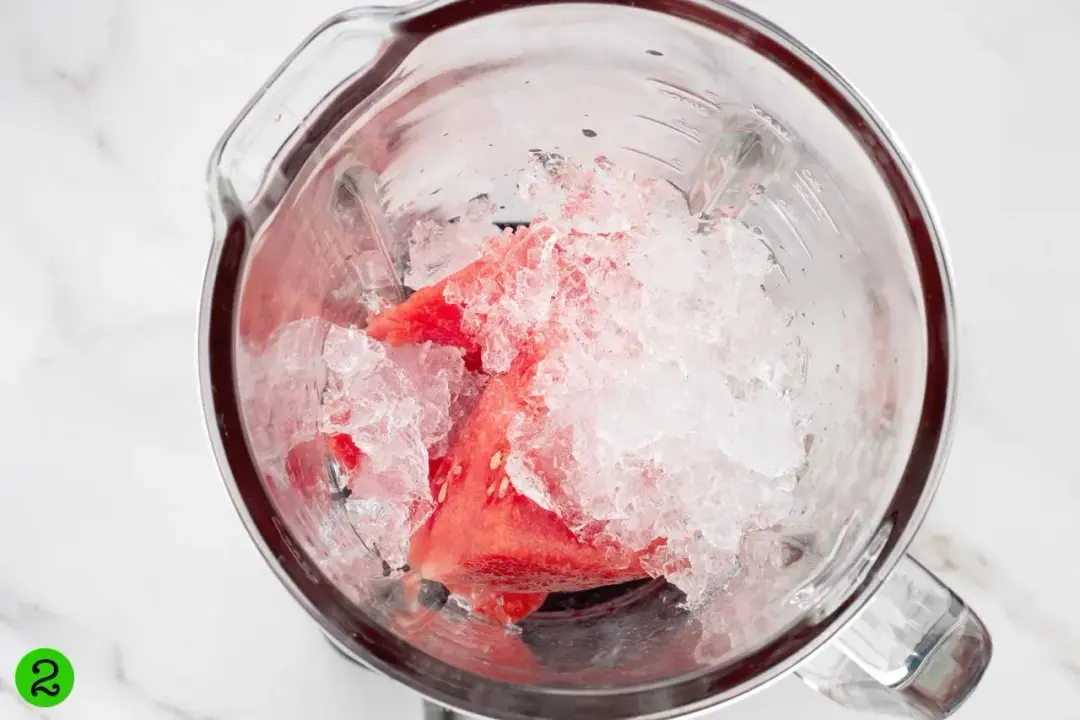 3
Blend for 10–15 seconds or until it becomes smooth.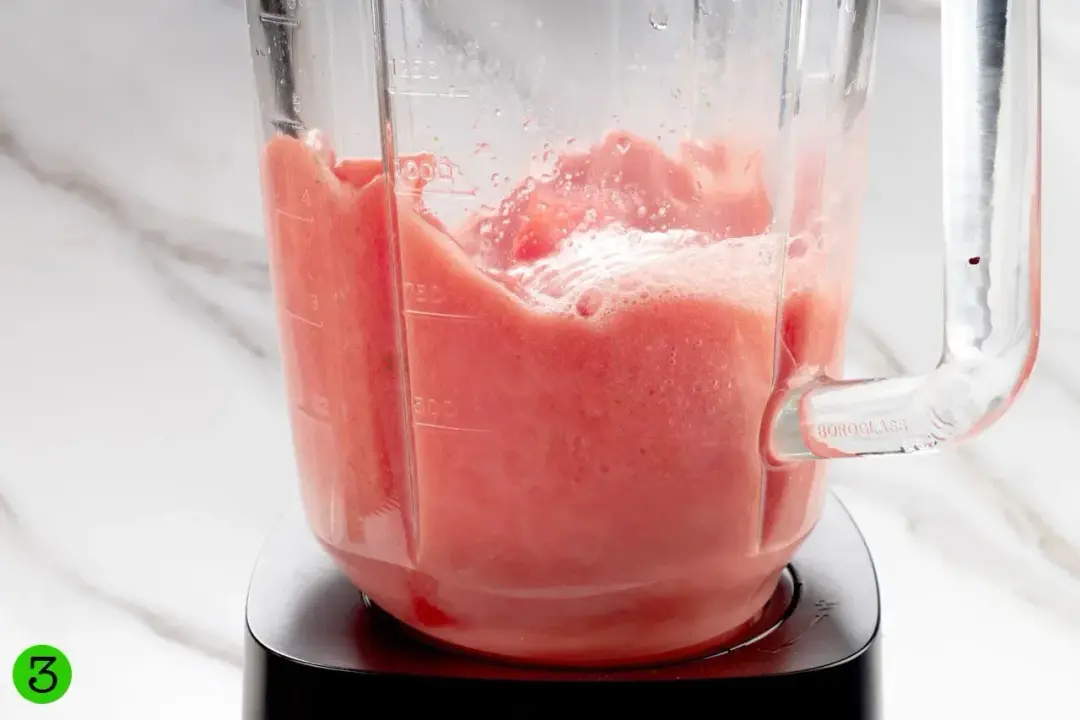 4
Pour the smoothie into a glass and garnish with mint leaves. Serve immediately.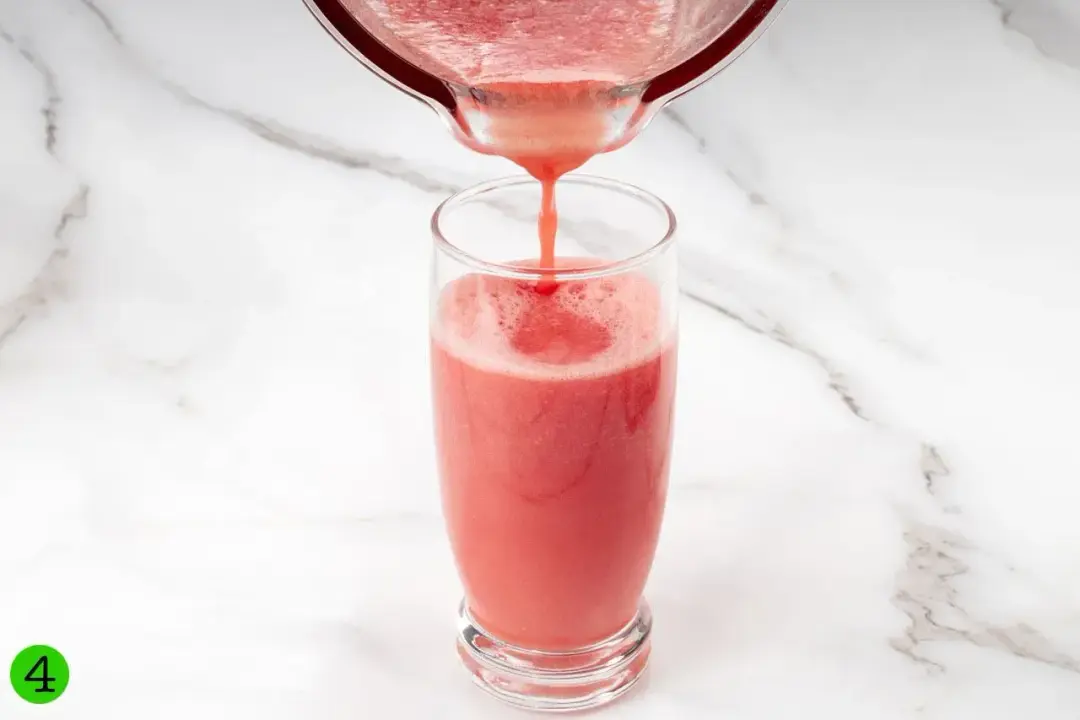 NUTRITION
Nutrition Facts
Healthy Watermelon Smoothie Recipe
Amount Per Serving (1 serving)
Calories 76
Calories from FDA
% Daily Value*
* Percent Daily Values are based on a 2000 calorie diet.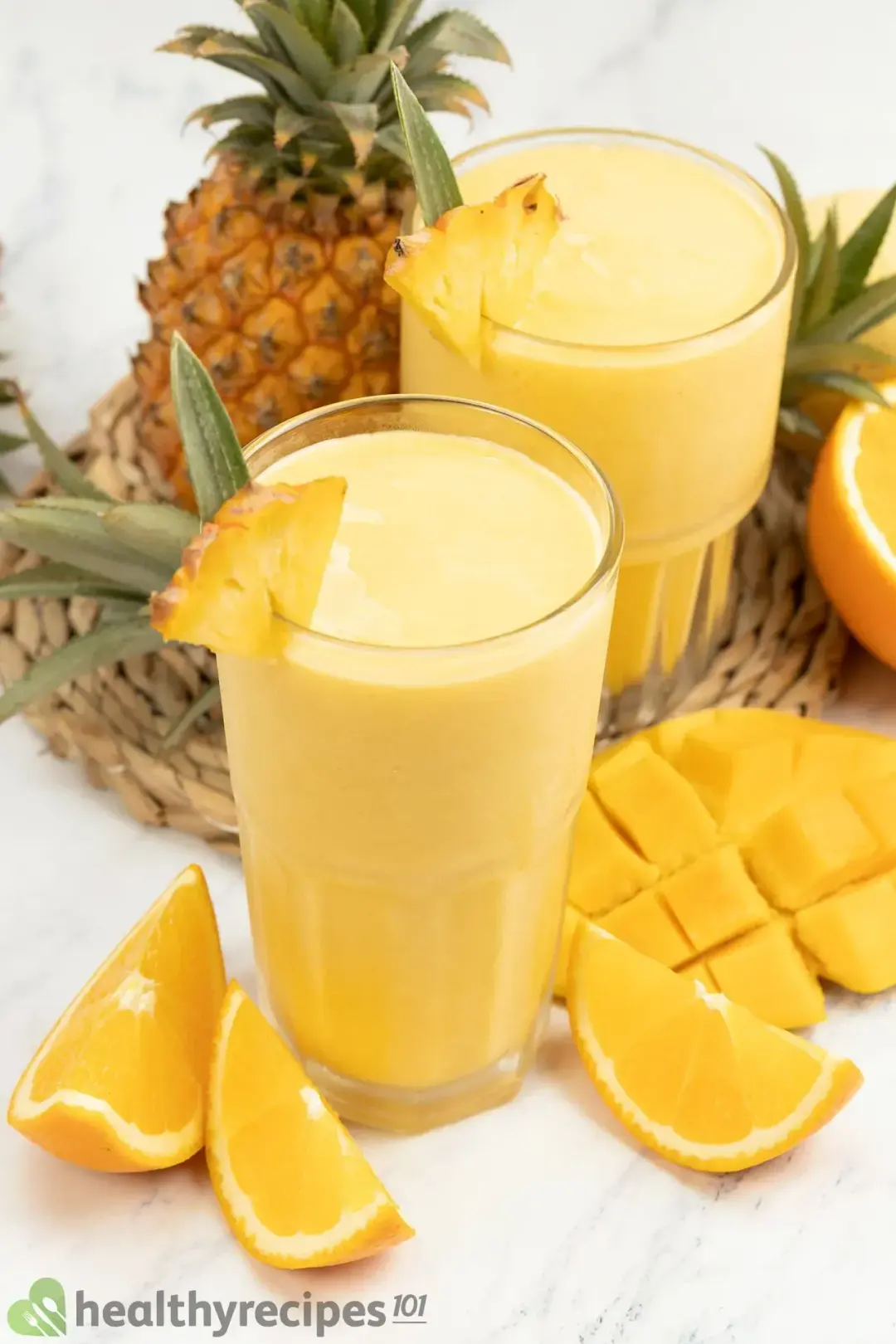 Previous Recipe
Tropical Smoothie
Tropical Smoothie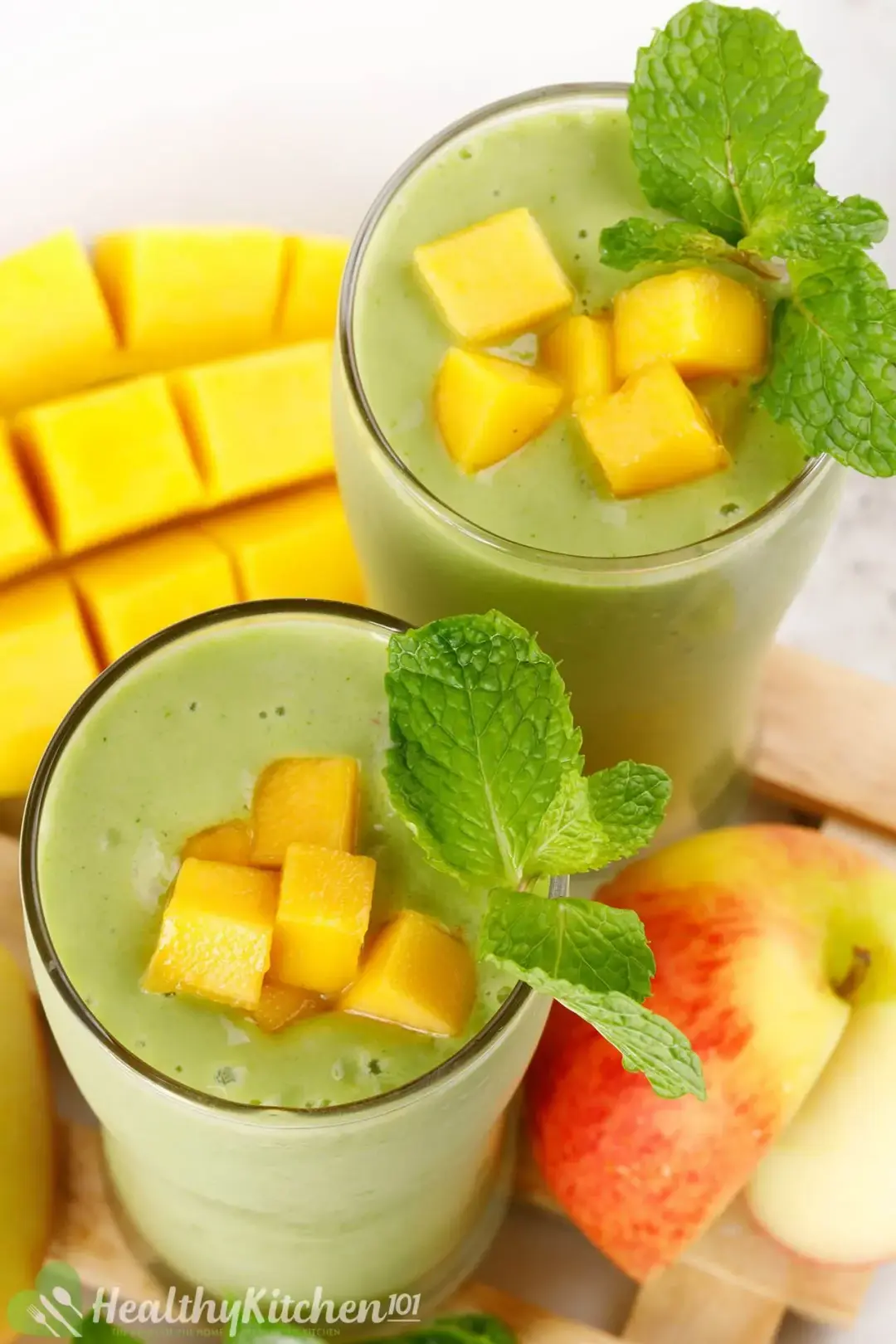 Next Recipe
Healthy Mango Smoothie
Healthy Mango Smoothie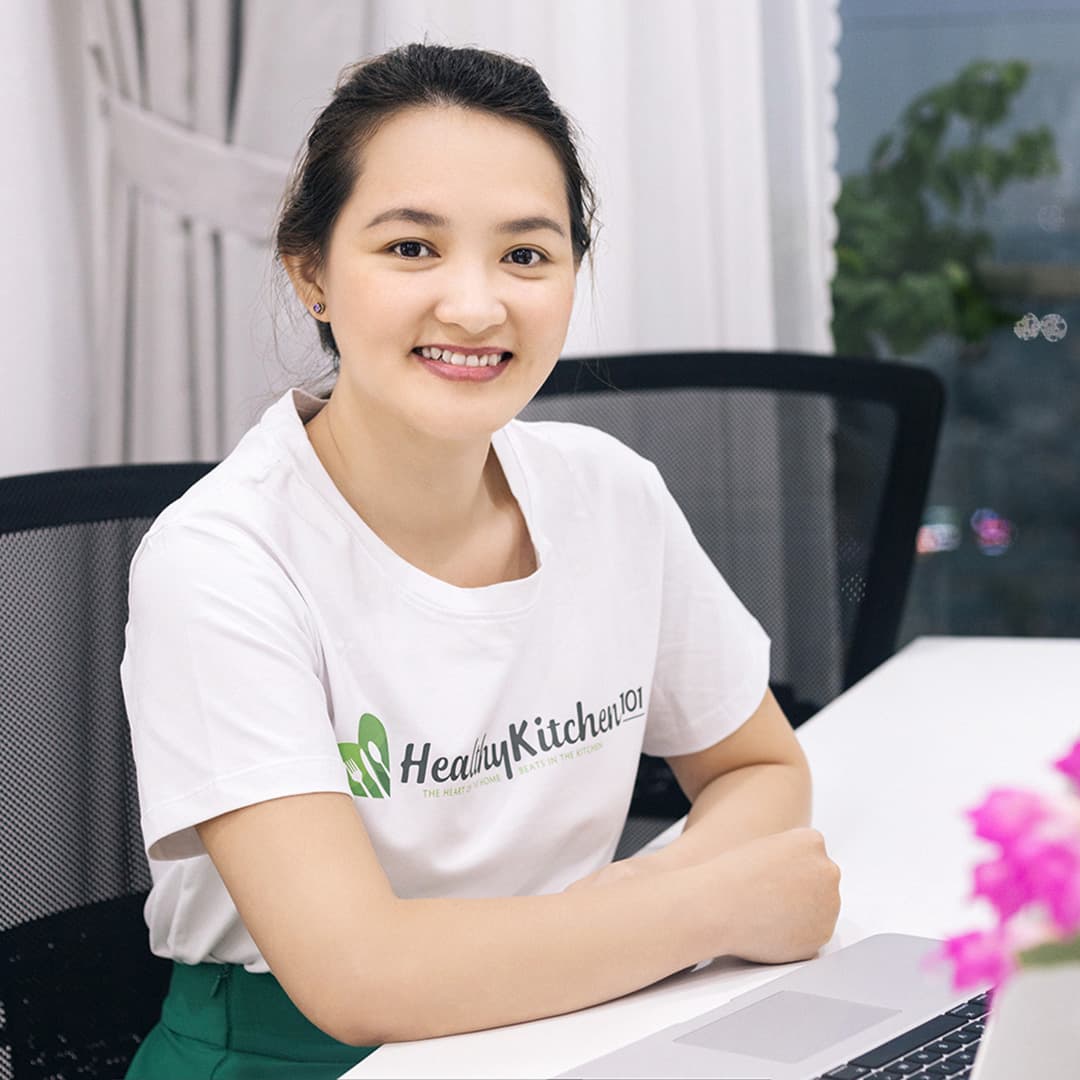 Luna Regina
A writer and entrepreneur, Luna's day doesn't start at the computer keyboard, but in the kitchen.
Half of her working hours are spent on mixing ingredients for her recipes. The other half involve working with the tech team to research and test the tools and appliances that promise to make kitchen work effortless and mess-free. From a kitchen knife or water filter to the Instant Pot, if it can help save time and effort for the home cook, Luna and her team are on it.
Luna's extracurricular pastimes include camping, travel, and photography.
Comments/ Reviews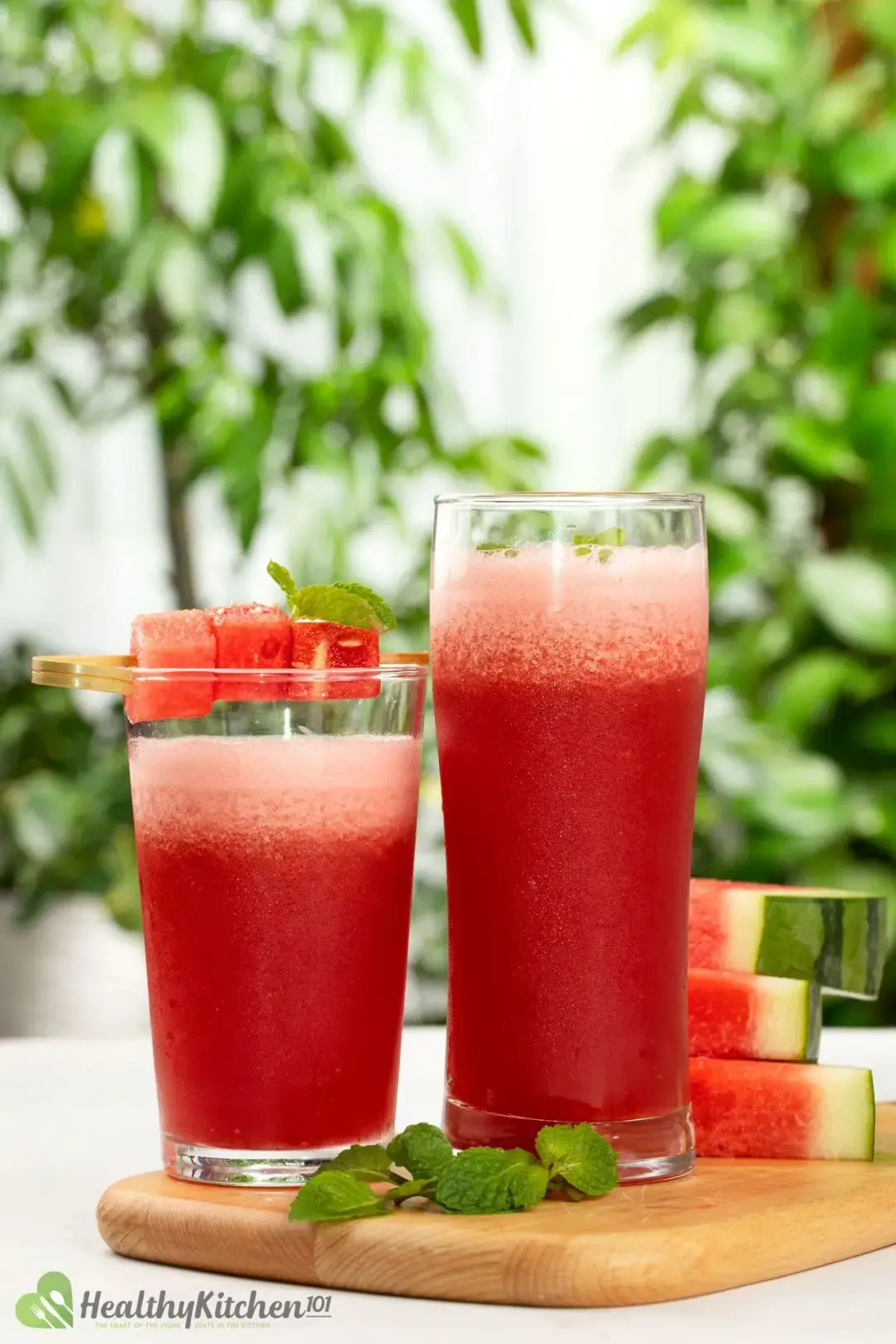 Healthy Watermelon Smoothie Recipe