If you love tropical and fresh smoothies, you will enjoy our mango dragon fruit smoothie. It is a nutritious and refreshing blend of fresh dragon fruit, ripe mangoes, honey, and lime juice. 
The drink has a lovely pink color, a thick and creamy consistency, and is bursting with tropical flavor. Whether you prepare a glass for yourself or a large pitcher for the crowd, this mango dragon smoothie will bring you to a summer paradise!
Mango Dragon Fruit Smoothie's Benefits
Dragon fruit is frequently called a superfood owing to its abundance of natural nutrients. With other ingredients in the recipe, this smoothie surely packs a nutritional punch.
Dragon fruit contains antioxidants such as flavonoids, phenolic acid, and betacyanin. These natural chemicals prevent free radicals from damaging your cells. In other words, the fruit is associated with the prevention of cancer and premature aging.
The fruit also includes prebiotics, which nourish the probiotic microorganisms in your stomach. Increasing the amount of prebiotics in your system can enhance the ratio of beneficial to harmful bacteria in your intestines.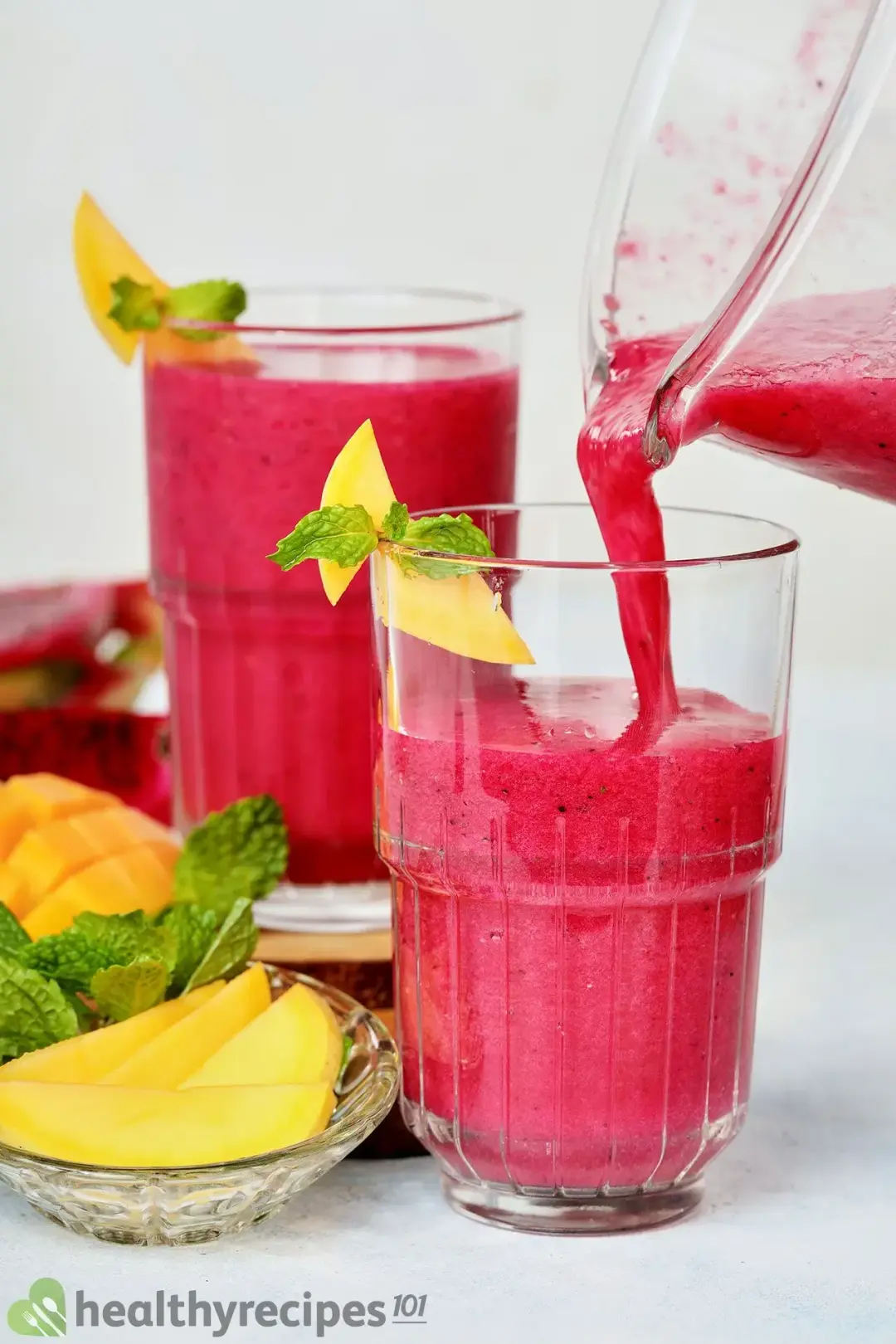 Mango is not only delicious but also possesses an exceptional nutritional profile. One cup of mango contains approximately 75% of the daily recommended requirement of vitamin C, which is 60 mg. Vitamin C is necessary for the development of collagen, a kind of connective tissue that gives skin its elasticity and helps prevent wrinkles and sagging.
Similar to other orange-colored fruits, mangoes contain beta-carotene, which is converted by the body into vitamin A. A diet rich in beta-carotene helps keep the surface of the eye moist, aiding eye health in general.
Ingredients for Mango Dragon Fruit Smoothie
Our mango dragon fruit smoothie is a refreshing blend of tropical fruits and easy to prepare anytime.
There are several types of dragon fruit for smoothies. The two most popular varieties feature pink skin on the surface and either white or brilliant magenta flesh on the inside. The pink flesh variant is our favorite due to its gorgeous pink color.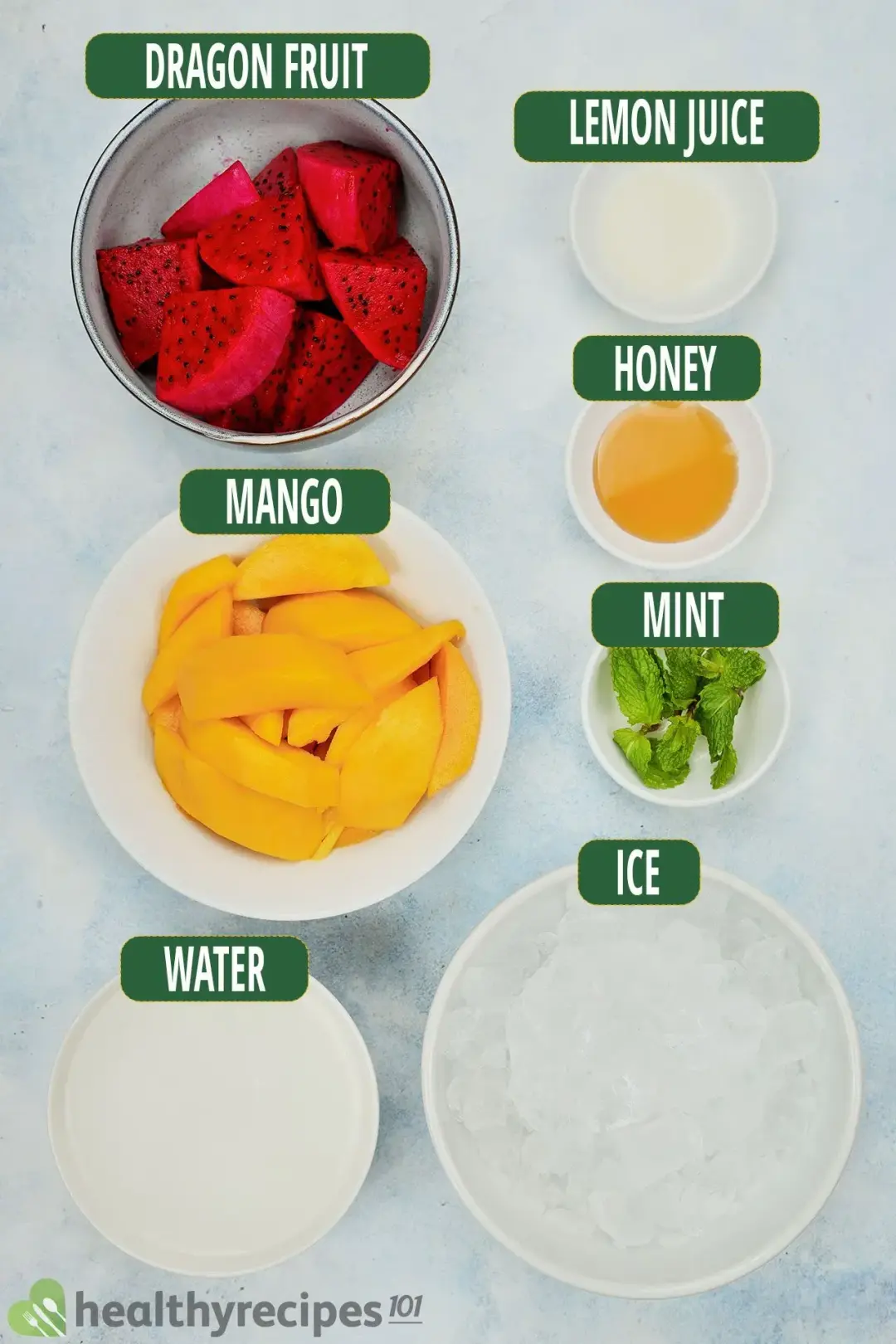 Dragon fruit is slightly sweet and has a similar taste to kiwi or pear. Due to its mild taste, the fruit benefits from blending it up with sweeter tropical fruits.
Ripe mango adds great flavor and gives the smoothie a rich, creamy texture. If you don't like mango, substitute it with ripe bananas, strawberries, or pineapple.
Finally, we add a teaspoon of lemon juice for a nice tartness and bright flavor. Also, if the fruits are not sweet enough for you, add a little honey or sugar of your preference.
Storing and Freezing the Leftover
Smoothies taste best when served immediately from the blender. However, the leftover mango dragon fruit smoothie can be refrigerated for three days in an airtight container. 
To freeze the smoothie, divide the mixture into small Ziploc bags, seal them, and keep in the freezer. This allows you to easily defrost each portion individually.
Freeze the fruits on a pan lined with parchment paper so they don't stick together. Once frozen, transfer them to a sealable bag/container and store them in the freezer for 3 months.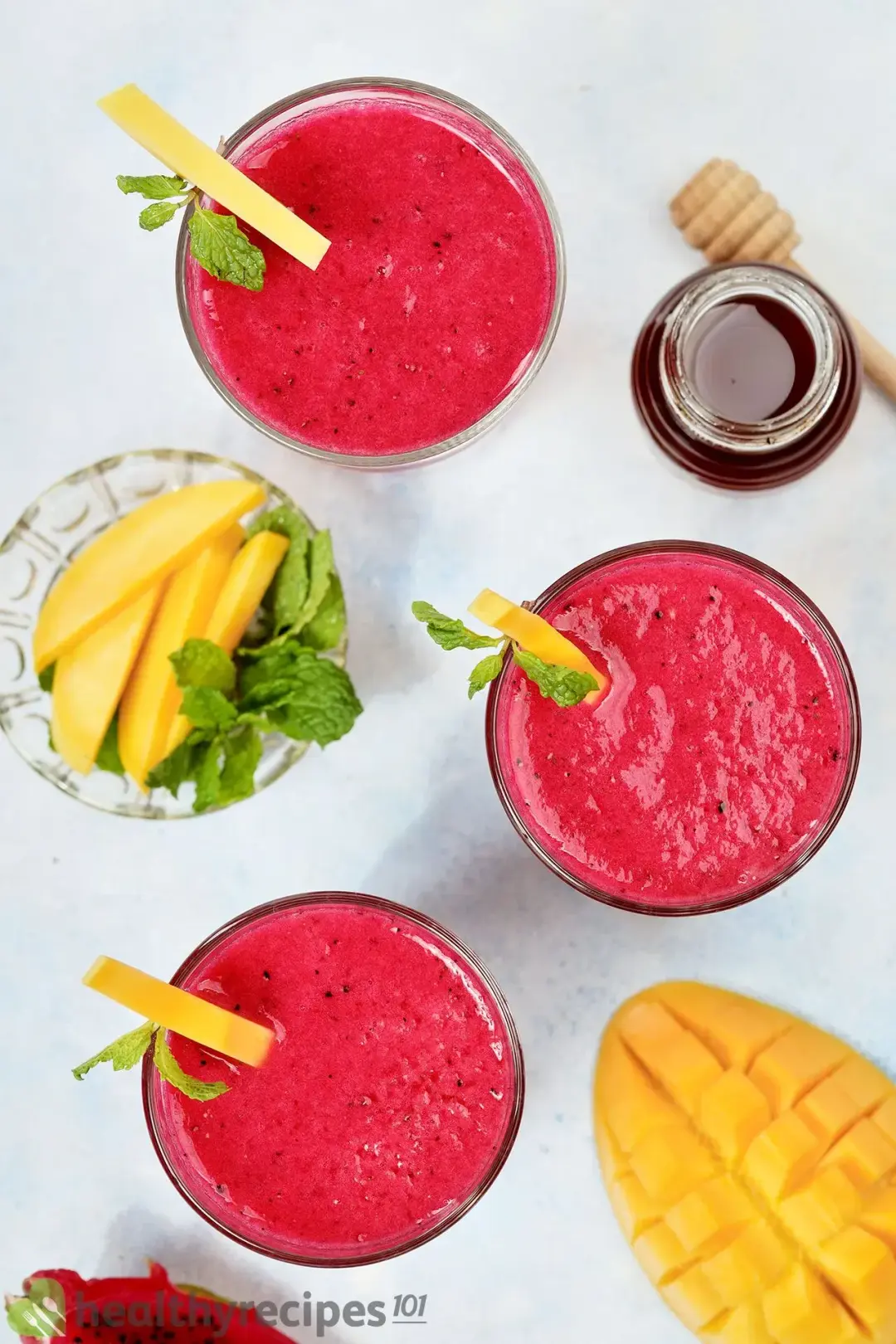 How to Make Mango Dragon Fruit Smoothie
Our mango dragon fruit smoothie recipe makes a drink that is refreshing with tropical aromas and loaded with vitamins and antioxidants.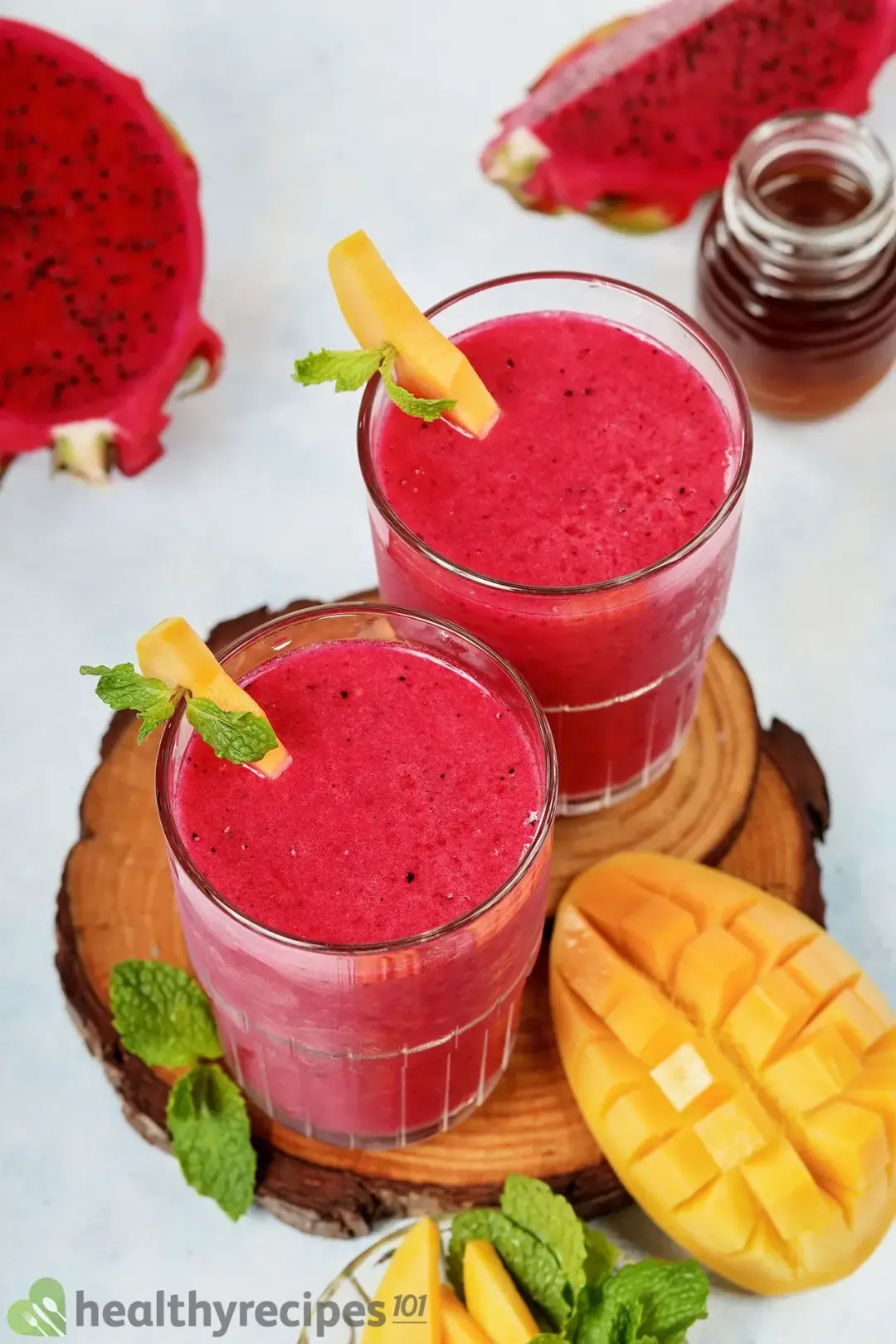 prep TIME

10 mins

total TIME

10 mins
COURSE

Drinks, Smoothie

CUISINE

Global

SERVINGS

servings

CALORIES

93 kcal
INGREDIENTS
10 oz

dragon fruit cubed

8 oz

mango cubed

1 cup

water

2 cups

ice

1 tsp

lemon juice

1 tbsp

honey

8

mint leaves
INSTRUCTIONS
Preparation:
1
Cut dragon fruit into cubes.
Instructions:
1
Blend all the ingredients: Put 2 cups ice, 10 oz dragon fruit, 8 oz mango, 1 cup water, 1 tsp lemon juice, 1 tbsp honey, and 2 mint leaves into a blender. Blend until smooth.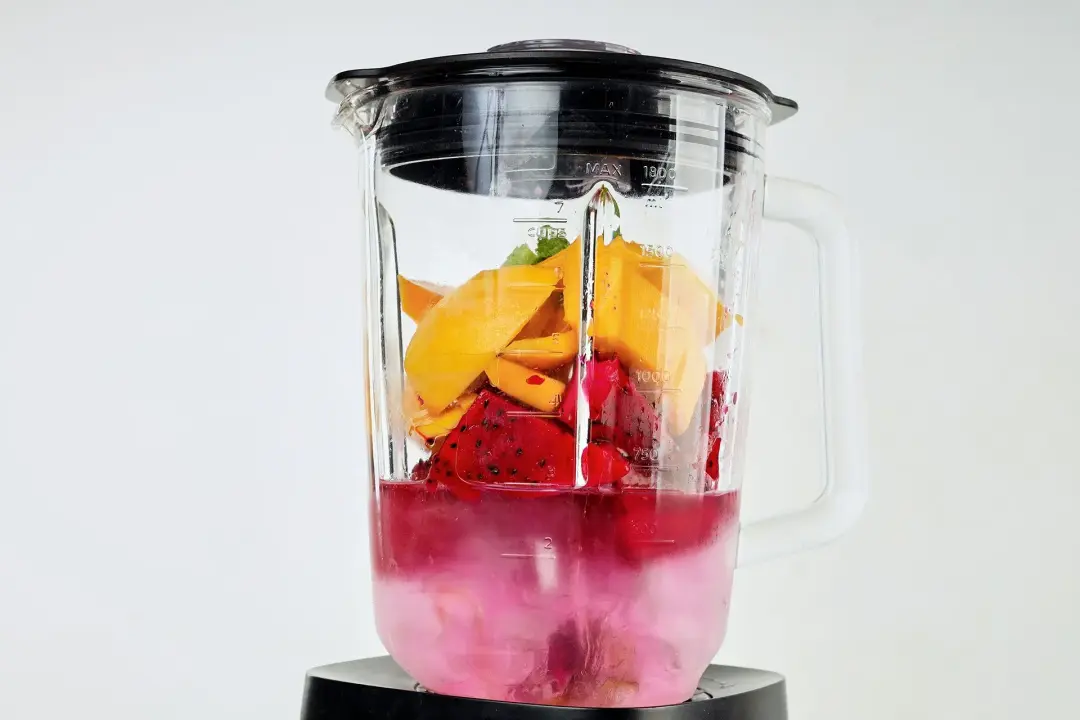 2
Serve the smoothie: Pour the smoothie into serving glasses. Garnish with the remaining mint leaves and serve immediately.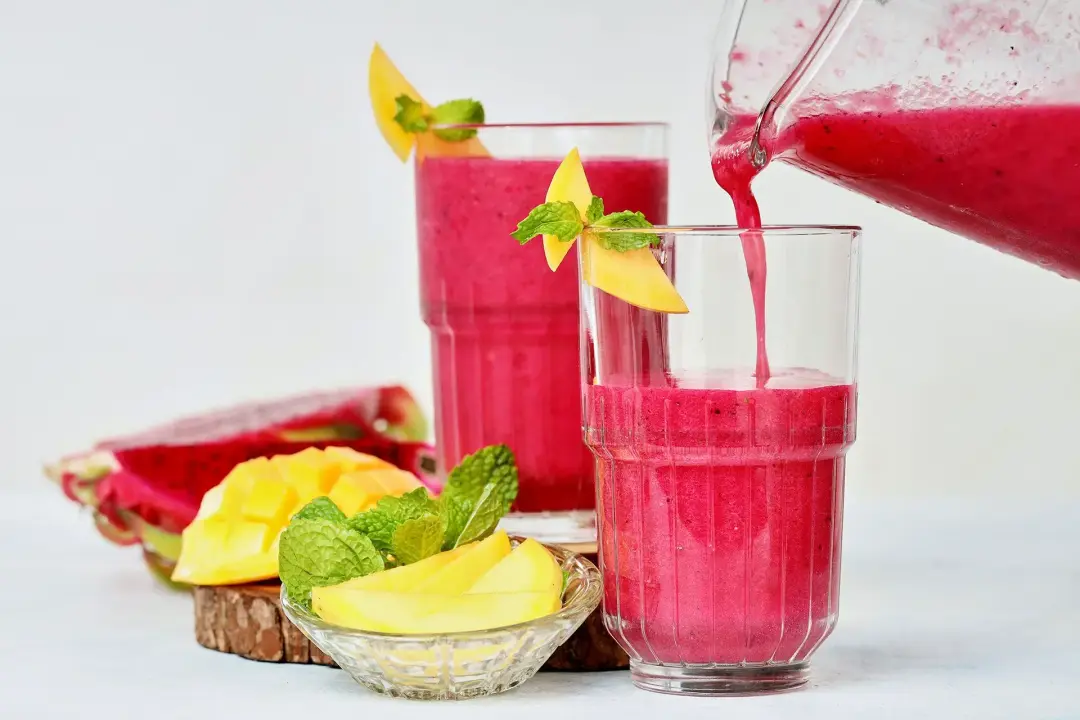 NUTRITION
Nutrition Facts
How to Make Mango Dragon Fruit Smoothie
Amount Per Serving (1 serving)
Calories 93
Calories from FDA
% Daily Value*
* Percent Daily Values are based on a 2000 calorie diet.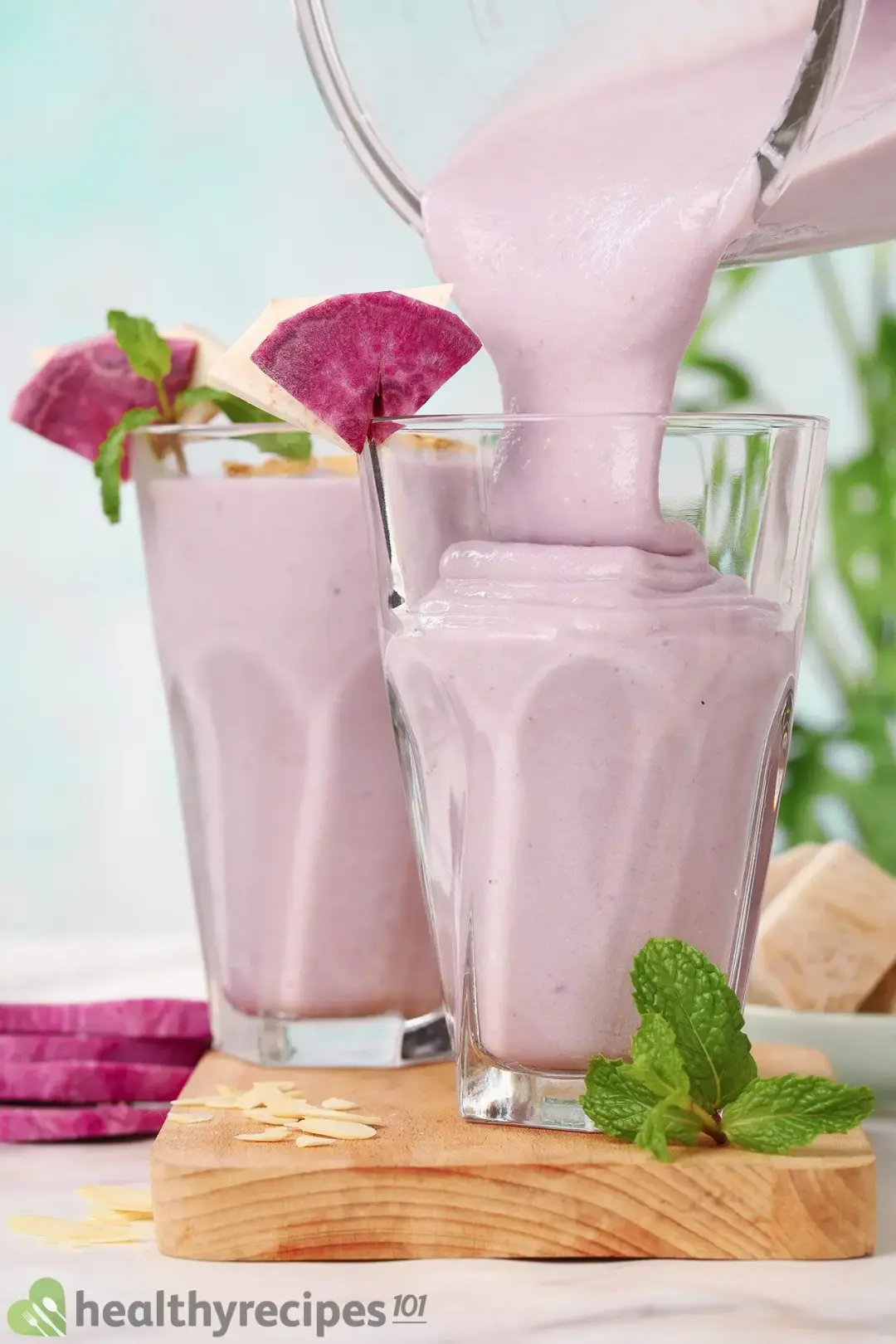 Previous Recipe
Taro Smoothie
Taro Smoothie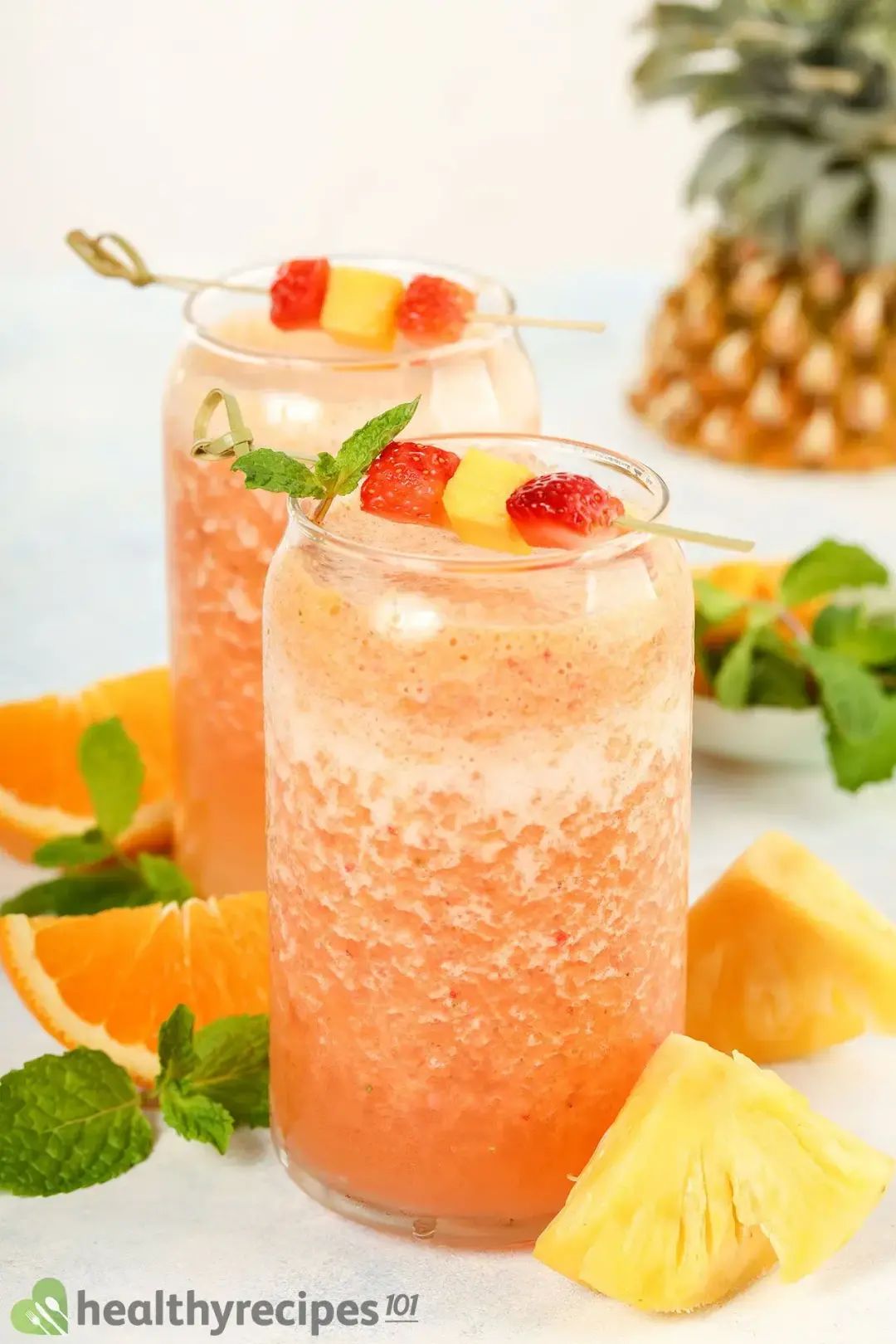 Next Recipe
Pineapple Mango Strawberry Smoothie
Pineapple Mango Strawberry Smoothie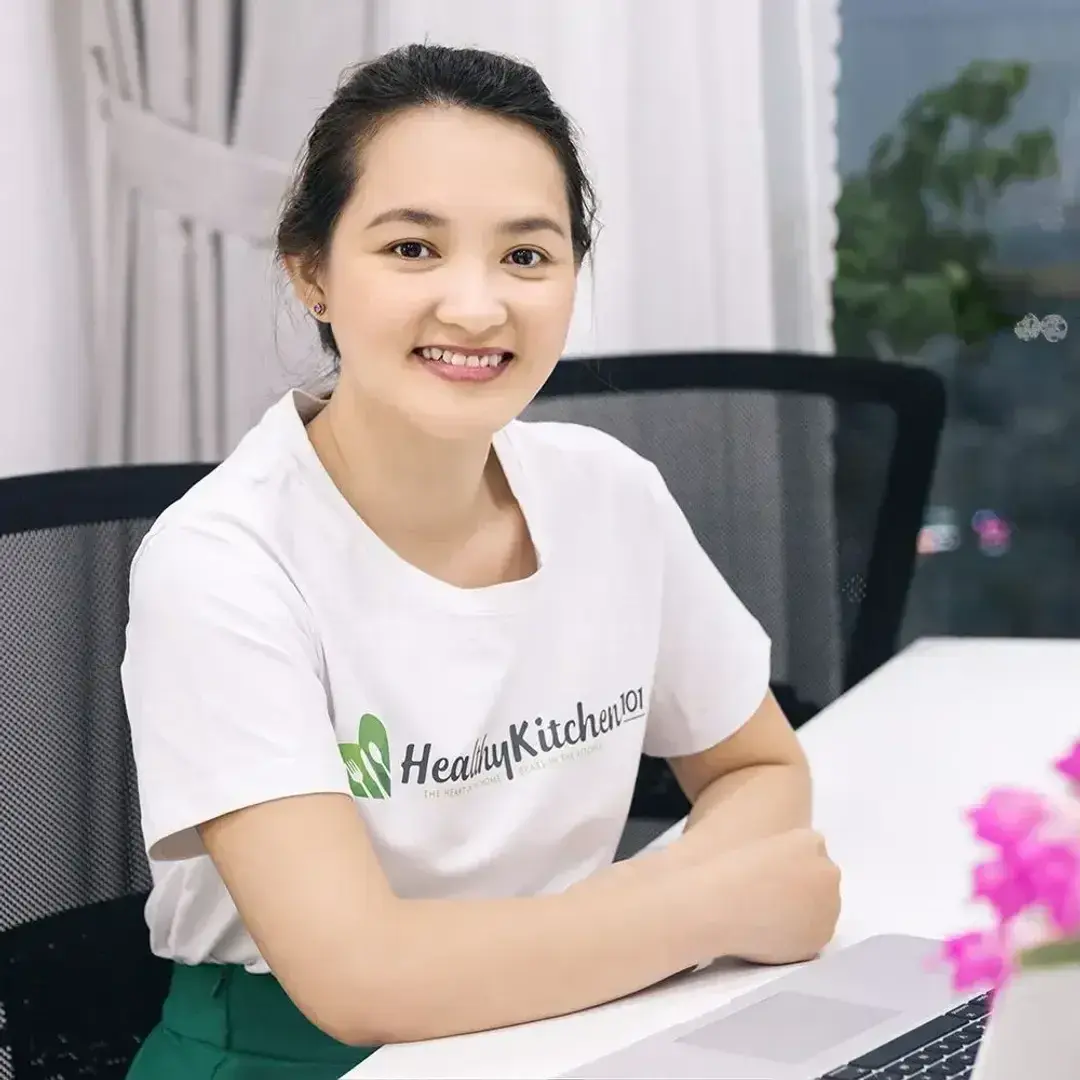 Luna Regina
Luna is the founder and chief recipe developer of Healthy Recipes 101. Apart from cooking, she also loves reading, programming, exploring the outdoors, and collecting useless facts about everything.