Our pineapple smoothie recipe is a great way to add healthy, satisfying calories to lower calorie meals. It showcases the tropical flavors of pineapple and coconut enriched with vanilla essence.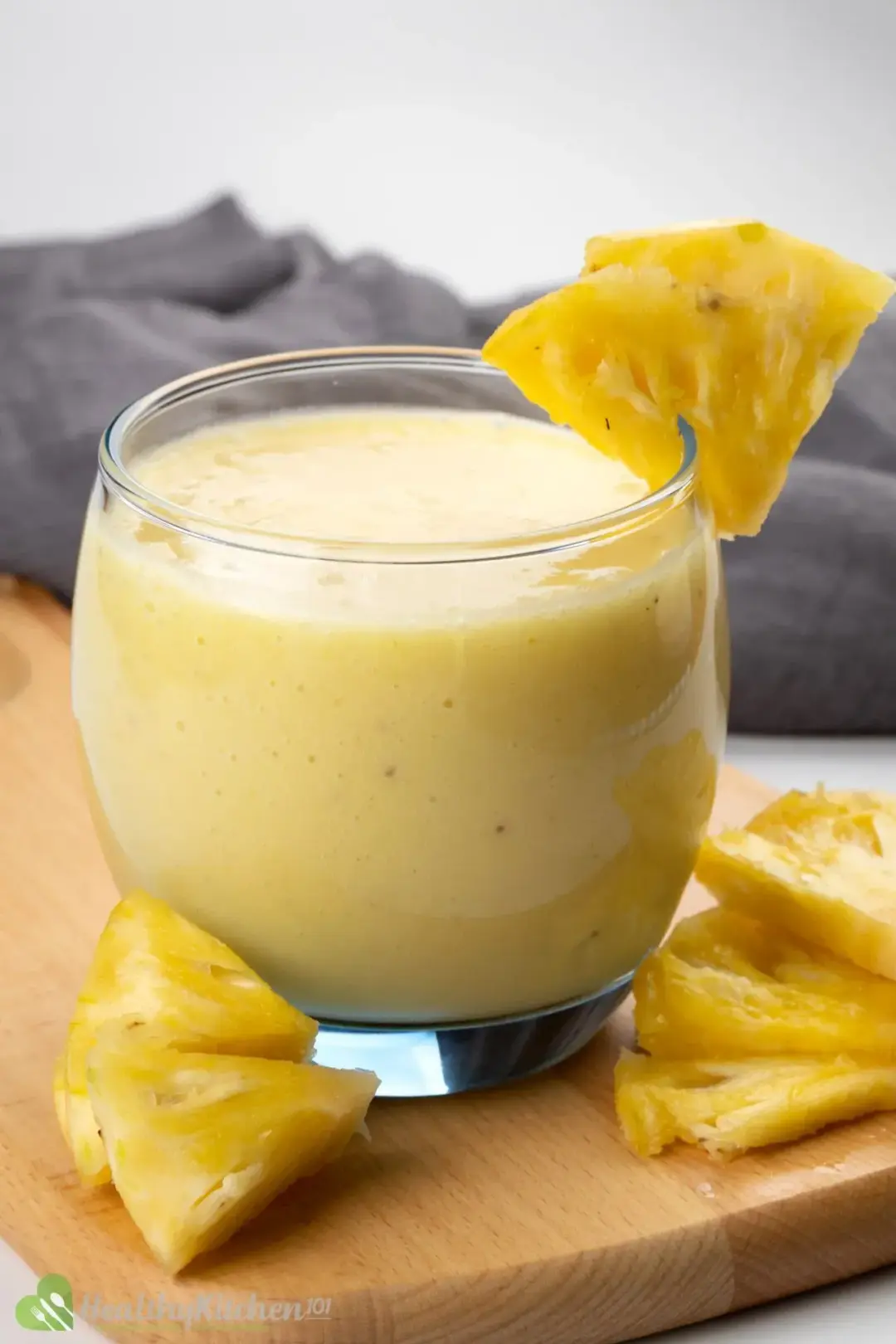 At first glance, you may see a simple go-to beverage. But look again and you will see a wealth of health benefits too!
Read on to find out how it can add gut-boosting nutrients to your diet, and how to make your own smoothie.
Is Pineapple Smoothie Healthy?
Definitely! Here's why:
1. For Digestive Health
Our pineapple smoothie contains 11% of the reference daily intake (RDI) of dietary fiber. Fiber can help with gastrointestinal health and prevent complications such as constipation and Irritable Bowel Syndrome (IBS).
Over time, incorporating fiber-rich meals leads to better weight management and reduces the risk of cardiovascular disease.
2. For Healthy Skin
This beverage also provides over 50% of the RDI of vitamin C thanks to the pineapple, bananas, coconut milk, and coconut water we include. Vitamin C (also known as ascorbic acid) is something we can't produce in our bodies, so we have to include it in our diet.
It helps produce collagen and maintain connective tissue. Thus, it goes a long way towards maintaining healthy, glowing skin.
3. For Heart Health
You'll also get almost 20% of the RDI of vitamin B6 (Pyridoxine) from a serving of this smoothie. Among several other benefits, a higher intake of pyridoxine may lower the risk of heart disease.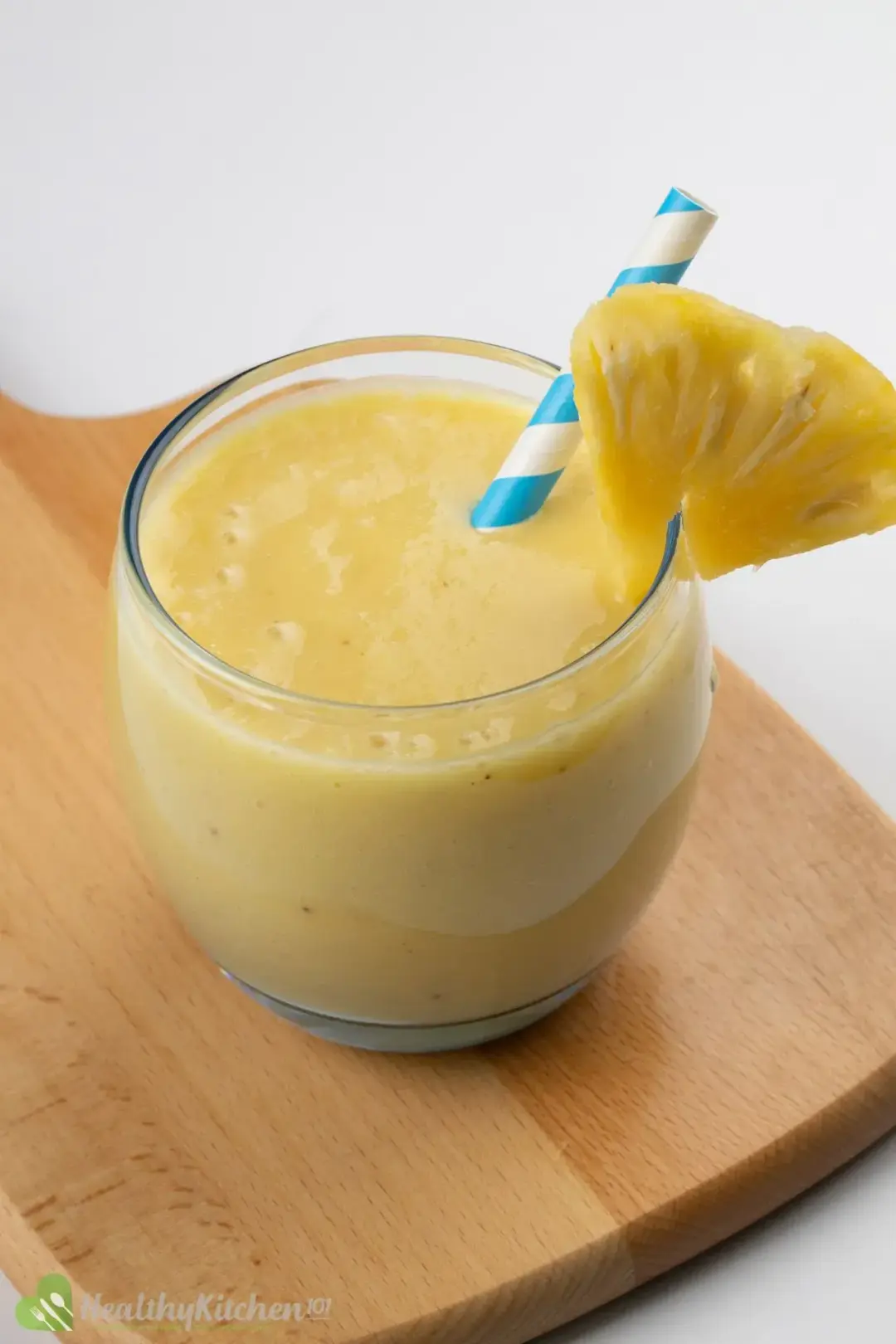 By incorporating this drink into a vitamin-B rich diet, you can reach your daily RDI and help prevent conditions like high cholesterol.
So how can you get started on a more vitamin-rich diet? Grab your fresh pineapple, and let's start peeling.
How to Peel a Pineapple for Smoothie
Don't let the spiky exterior intimidate you. After peeling tons of pineapples, we can assure you that you can easily and quickly do the same at home.
First, use a sharp knife to chop the spiked top off. Then place your palm on the now flat surface and use it to hold the pineapple firmly.
Carefully cut the skin off the sides, shaving just enough to trim the rind. Then remove the remaining stubbed depressions by making incisions around each "eye" and picking it out to leave a smoother surface.
To finish, slice it in rounds, then cut it into smaller chunks for juicing.
Can You Use Frozen Pineapple?
Yes, using frozen chopped pineapple is an excellent way to achieve a thicker smoothie. But always start with fresh pineapples (and bananas).
Fresh fruit often carries more flavor than the pre-frozen kind you can buy at the supermarket.
You can also freeze half of the coconut water into cubes overnight. This is optional but further guarantees a thicker consistency to your pineapple smoothie.
How to Make a Pineapple Smoothie
This pineapple smoothie recipe is so simple.
To save time each day, you can measure out a serving for each day of the week. After that, blend a serving every morning.
Simply combine the frozen pineapple and banana in a blender along with the coconut water and milk, honey, and vanilla extract. If you keep at least half the coconut water in liquid form, you can achieve a smoother drink.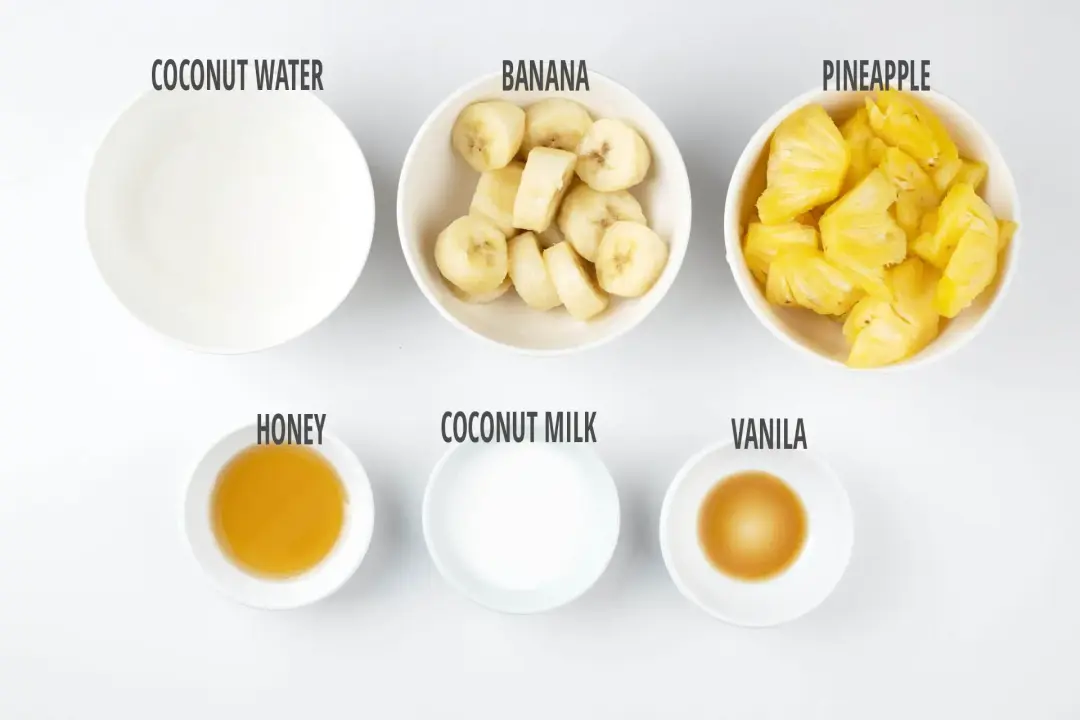 Pulse the ingredients to a smooth consistency, adding more coconut water if you need to. We found the consistency to be smooth and pleasantly creamy but everyone has their own preference when it comes to the texture of their smoothie.
Finish by pouring it into glasses and garnishing with a pineapple wedge.
What Goes With Pineapple Smoothie?
Though this pineapple smoothie is a non-dairy beverage, the following ingredients are excellent ways to add creaminess for those who are not allergic to dairy.
1. Yogurt
Yogurt is a basic ingredient for enriching any smoothie. Whether you use pineapple or other fruit, we can almost guarantee a smoother outcome while still maintaining the vibrance of the pineapple flavor.
2. Milk
Using milk is an excellent way to add fluidity to a beverage. However, use it sparingly, adding a little as you go to avoid a loose slurry texture.
What Fruit Goes With Pineapple in a Smoothie?
Health benefits aside, you also want to create a drink that you enjoy having. Below are some of our favorite fruit additions to achieve a delicious smoothie.
1. Mango
Mango is a joy for the senses. Its sweet and buttery flesh will not only make this smoothie extra delicious but also extra rich and thick.
The highlight of this mix, however, is a sweet and tart contrast that awakens your taste buds and quenches your thirst.
2. Banana
Bananas are among our favorite smoothie staples. They add texture and sweetness to any beverage, giving it that chunky dessert feel.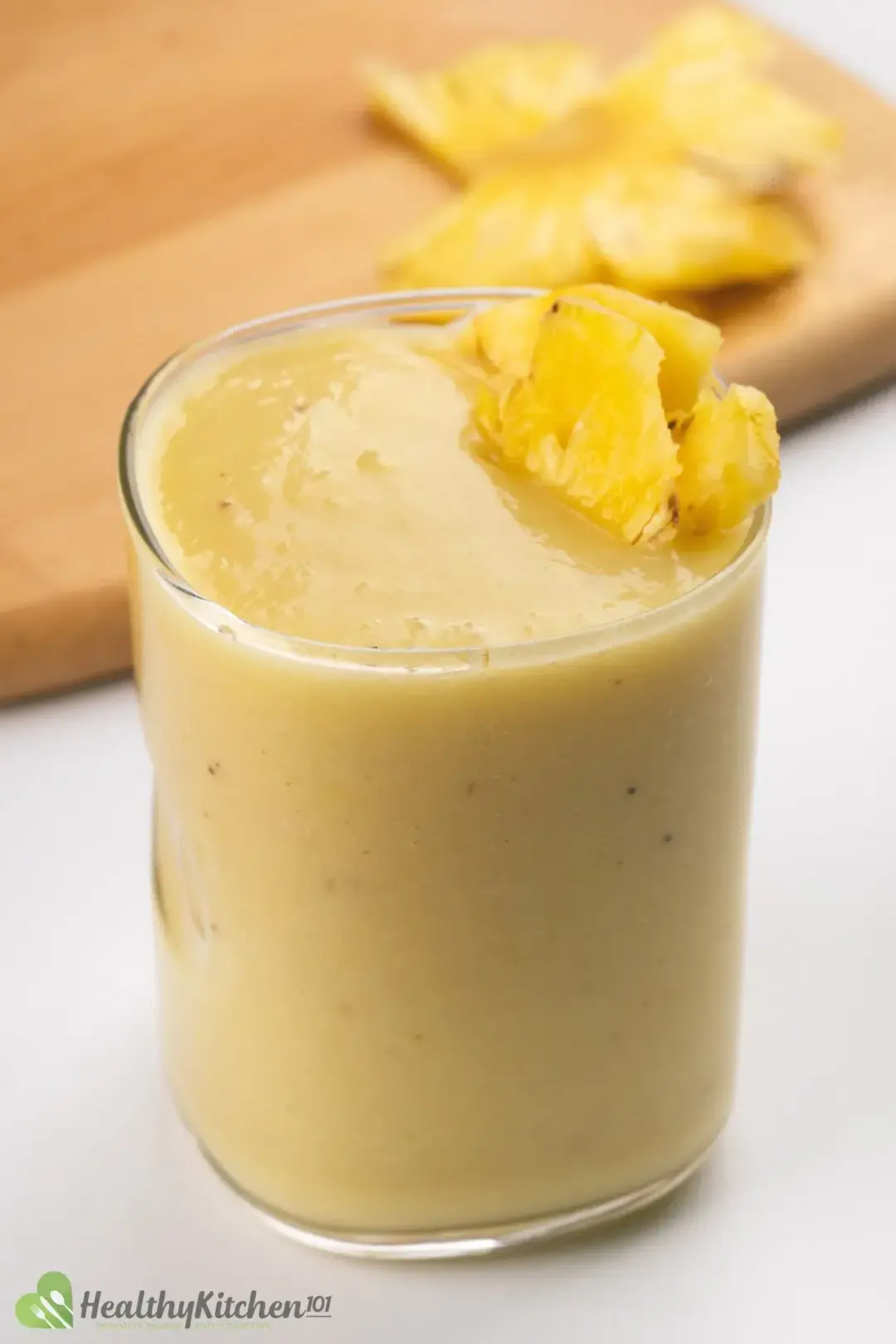 In this pineapple smoothie, they help to balance the tanginess and sharpness of the pineapple by adding sweetness.
3. Strawberry
Strawberries— just like pineapple— are usually sweet with acidic notes. So the best approach is to add them in smaller amounts so that they impart berry freshness without dominating the flavor.
If you would rather have a smoothie dominated by strawberries, try our healthy strawberry smoothie. Sweeteners usually help to counteract the tartness and balance the overall flavor.
How Long Does Pineapple Smoothie Last?
Our pineapple smoothie can last for one to two days in the refrigerator. Use a mason jar to preserve its flavor and prevent any contamination or air exposure.
Don't be alarmed if the mixture splits after a day. Just give it a good shake or use a spoon to stir and blend back together.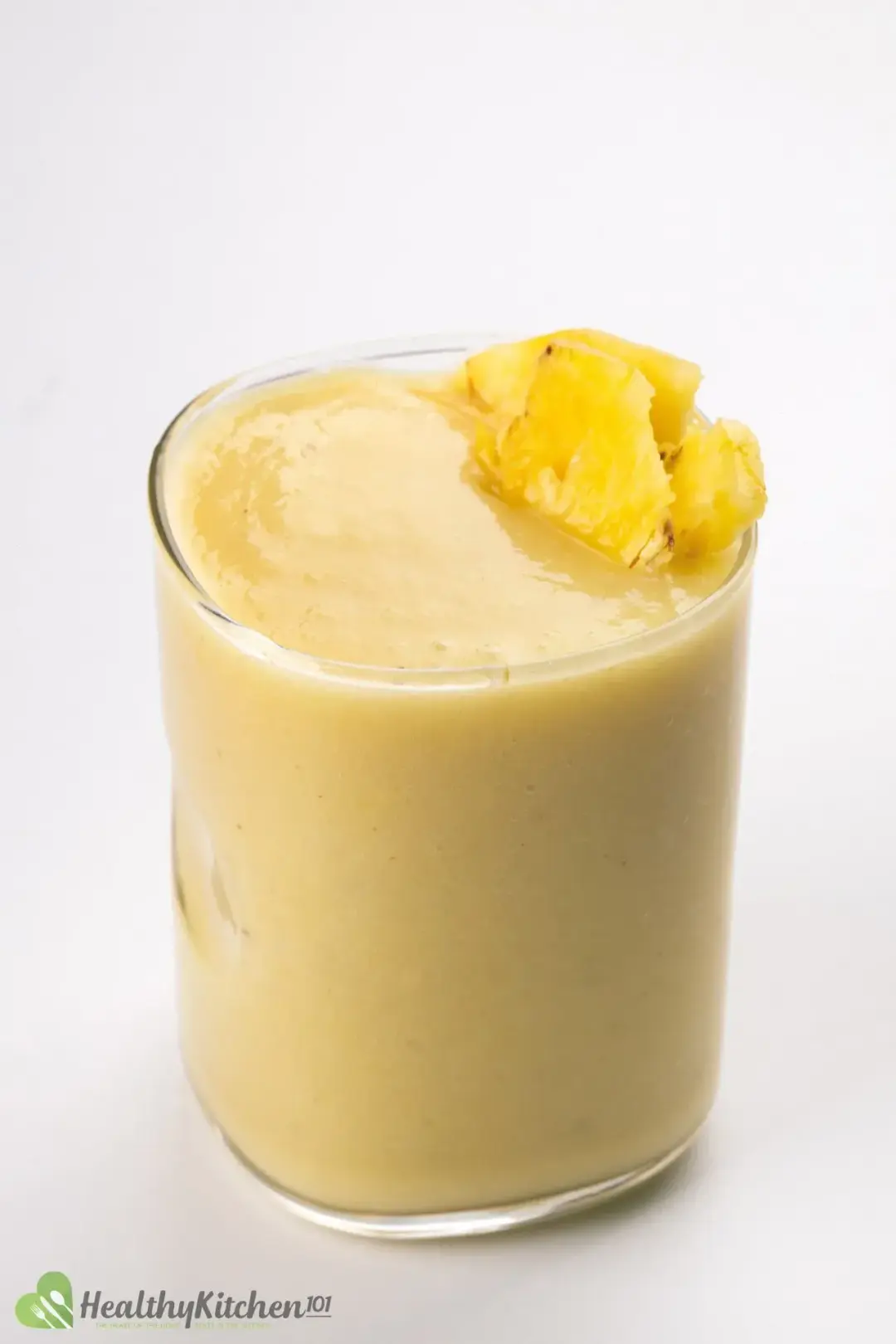 Use a freezer-safe container or Ziploc bag for long-term storage— up to three months— in the freezer. This is an even better way to preserve the fresh flavors of our pineapple smoothie without having to remake it.
Pineapple Smoothie Recipe
This pineapple smoothie is a nutritious addition that's super easy to put together. Once the fruit is prepped, blend and serve.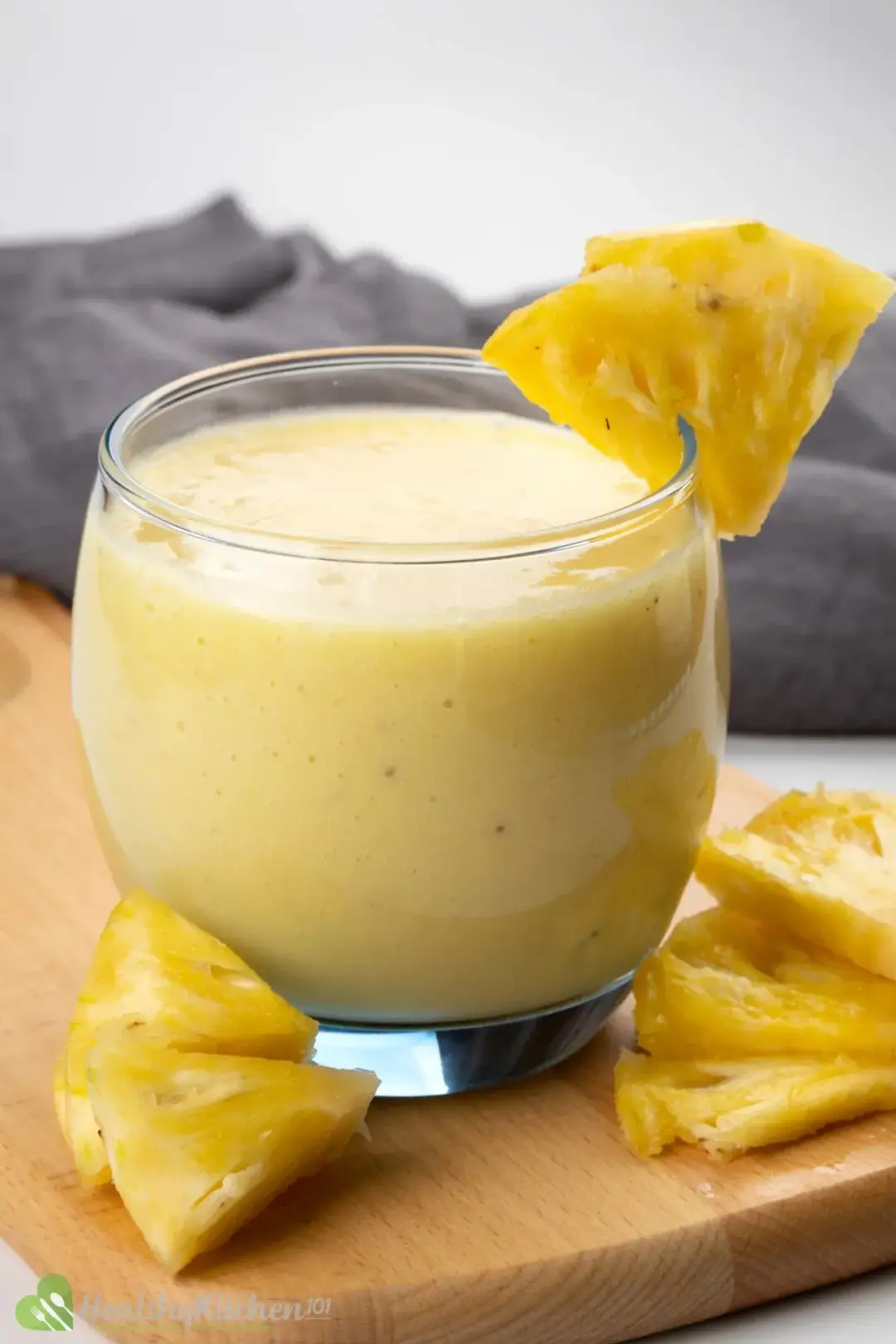 cook TIME

1 mins

prep TIME

5 mins

total TIME

6 mins
COURSE

Beverage

CUISINE

American

SERVINGS

servings

CALORIES

169 kcal
INGREDIENTS
12 oz

pineapple (cut into chunks and frozen)

8 oz

bananas (sliced and frozen)

0.5 cup

coconut water

0.3 cup

coconut milk

2 tbsp

honey

0.5 tsp

vanilla extract
INSTRUCTIONS
1
Cut pineapple and bananas into bite-sized chunks. Transfer into a Ziploc bag and freeze overnight, or for at least 8 hours until frozen.
2
Add frozen pineapple and banana chunks, coconut water, coconut milk, honey, and vanilla into a blender and blend for 30-60 seconds until smooth.
3
Pour into glasses and serve. Optionally garnish with pineapple wedge or fresh mint leaves.
NUTRITION
Nutrition Facts
Pineapple Smoothie Recipe
Amount Per Serving (1 serving)
Calories 169
Calories from FDA
% Daily Value*
* Percent Daily Values are based on a 2000 calorie diet.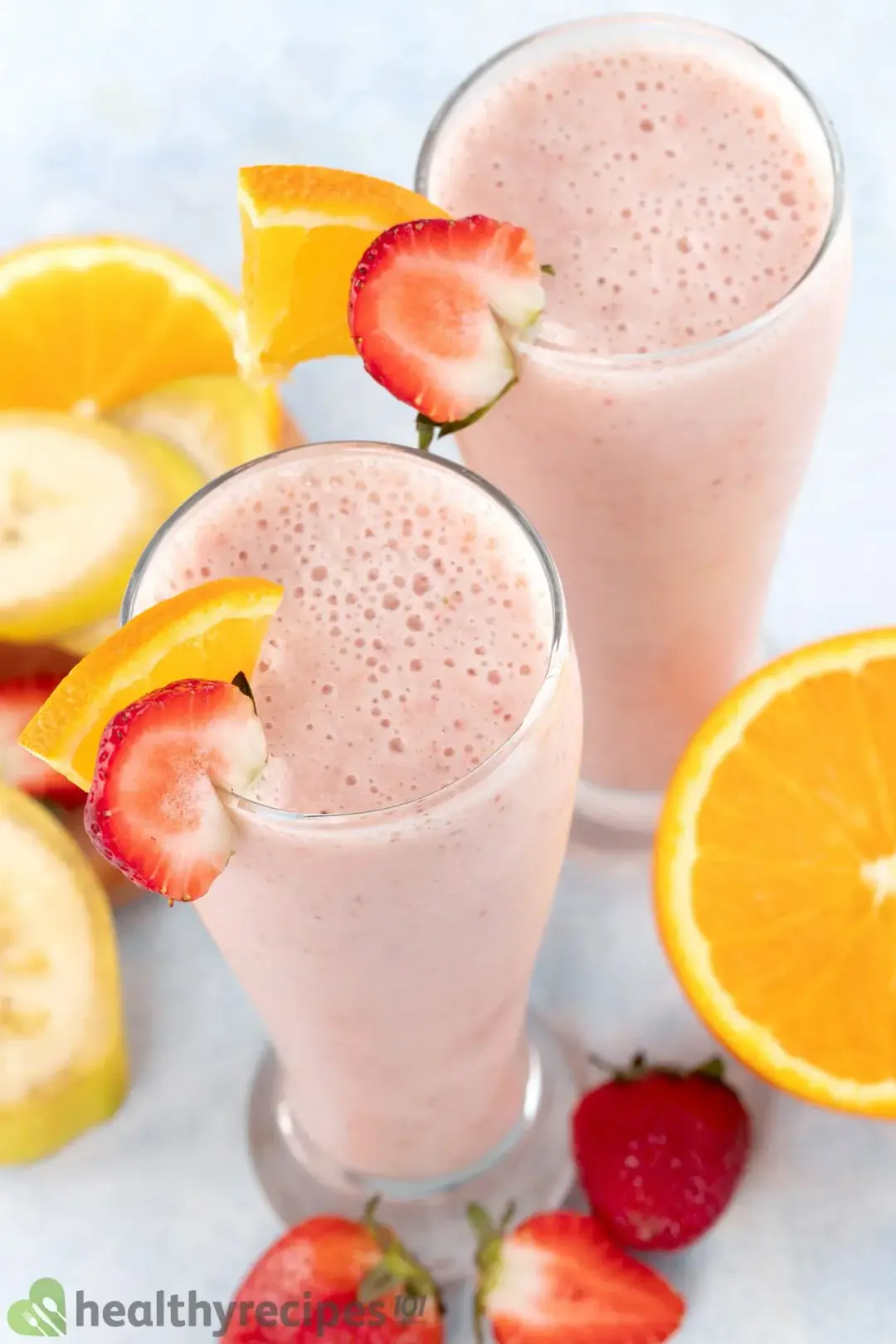 Previous Recipe
Strawberry Banana Smoothie
Strawberry Banana Smoothie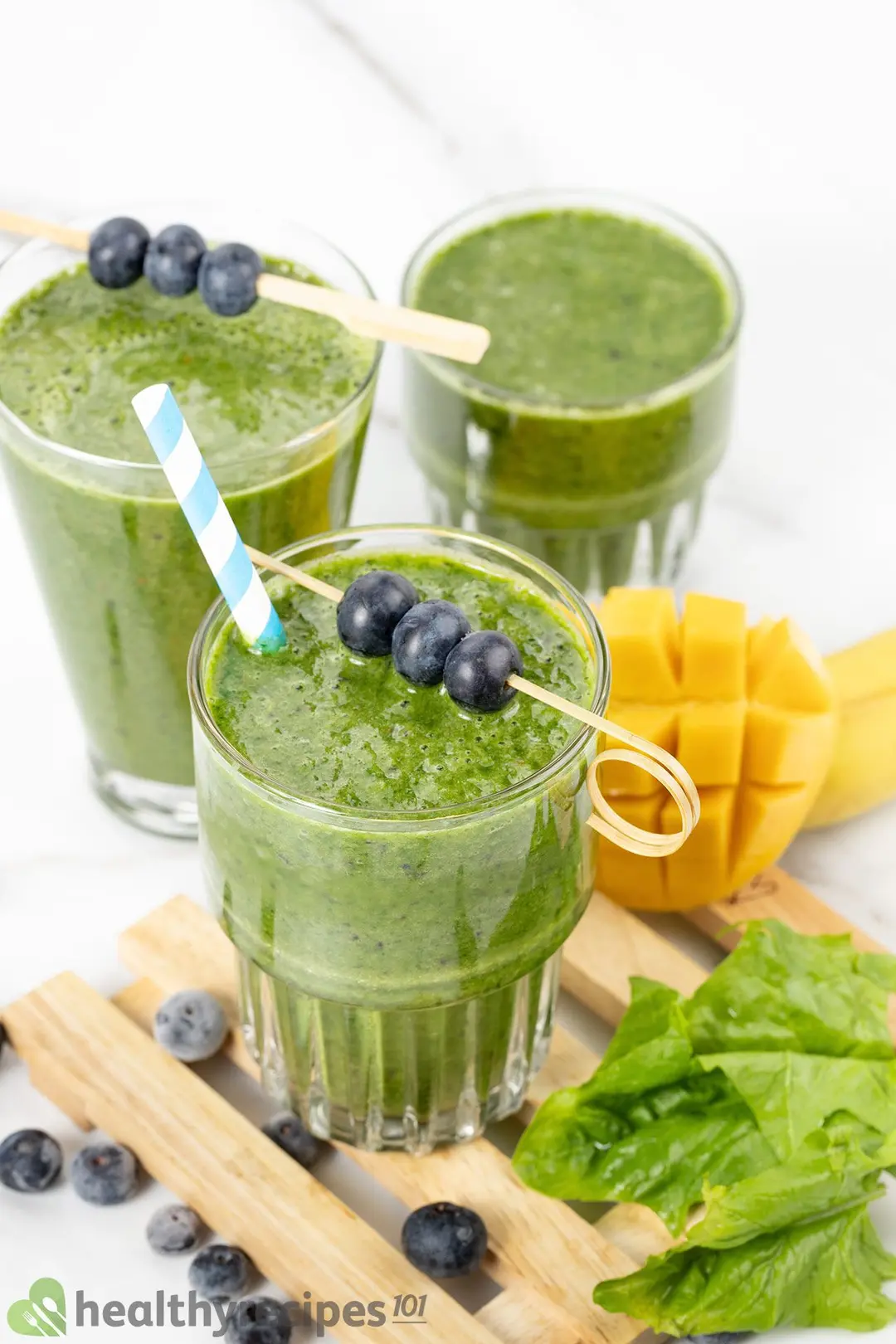 Next Recipe
Healthy Green Smoothie
Healthy Green Smoothie
Comments/ Reviews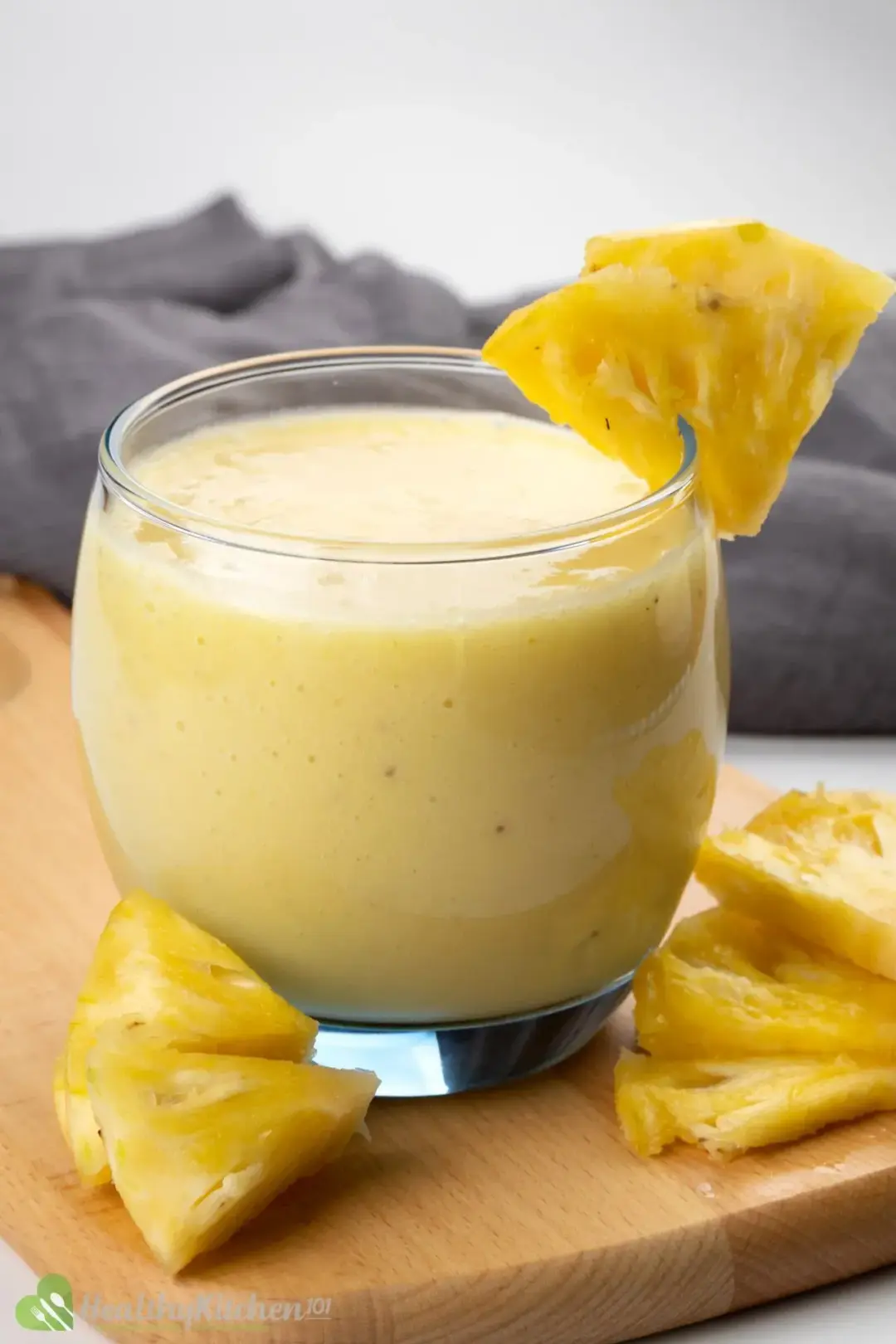 Healthy Pineapple Smoothie Recipe