With only four ingredients, this easy strawberry smoothie recipe with only four ingredients can add a new, revitalizing drink to your meals.
This drink calls for simple ingredients that are not only kid-friendly, but also adjustable and easily preserved. It also helps you stay full for a whole day without enduring sudden cravings for unhealthy snacks or junk food.
What Is Strawberry?
Strawberry is a red, heart-shaped fruit that belongs to the rose family. It's one of the most popular fruits in the world and is found in countless dishes.
Strawberries can be eaten either raw or cooked. Normally, their growing season peaks in the late summer.
Is Strawberry a Fruit?
Despite its name, strawberries aren't botanically berries! Strawberry is actually an aggregate of multiple fruits. 
Each of its sweet and tiny fruits surrounds a seed, and are embedded in the fleshy plant's stem. These tiny fruits are called "achenes" and are actually the ovaries of the flower.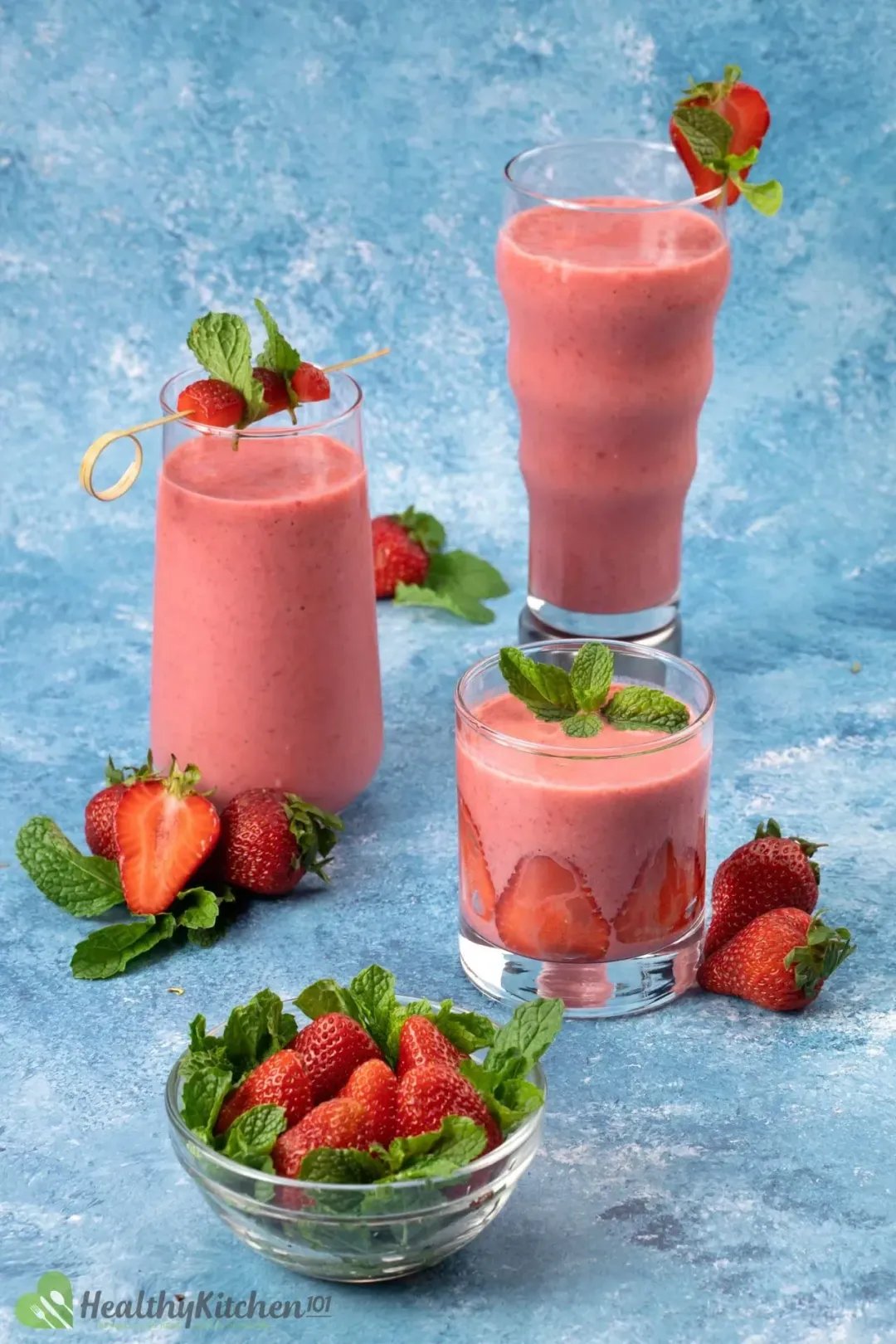 Are Strawberries Good for You?
Strawberries are one of nature's most versatile and tasty fruits and are also a good source of natural antioxidants. Strawberries can help reduce the risk of cataracts and cancer, prevent heart disease, improve brain health, and aid in weight loss.
A cup of strawberries can fulfill our daily requirement of important nutrients. They're low in calories and rich in vitamins— including vitamin C and phenolic compounds.
Strawberries also provide a boost to the immune system and are also anti-inflammation and anti-hair-loss agents. They also improve skin health.
Preparing Strawberries
First, you need to sort out the ripe, succulent strawberries carefully for the smoothie. Rinse them well, then slice them in half horizontally, saving the leafy top for garnish later.
After that, remove the stems of the remaining parts using the tip of a paring knife, then cut them into chunks. The smaller the chunks are, the quicker and easier it will be to create a perfectly smooth and silky result.
What Goes Well with Strawberries?
There are many reasons why people consume smoothies on a regular basis. They're a convenient way to consume enough fruits and vegetables, and at the same time, keep you hydrated.
This four-ingredient strawberry smoothie recipe is no exception.
The amount of each ingredient in this strawberry smoothie is totally adjustable and up to you. Aside from the natural sweetness of strawberries, here is what you get from this drink.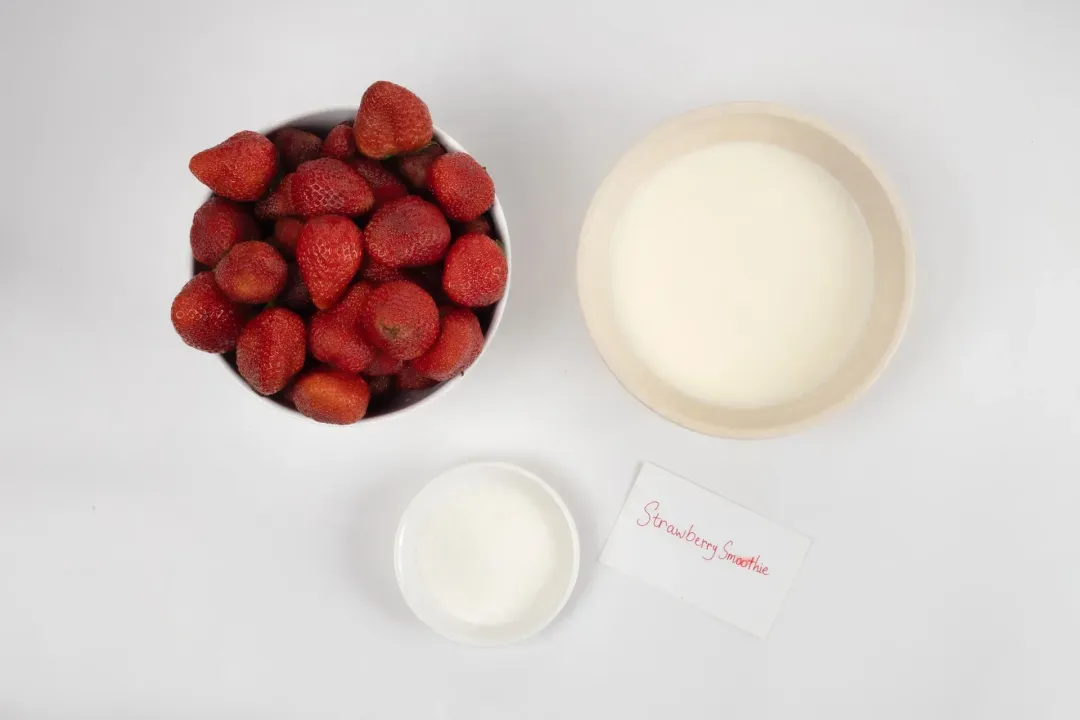 1. Greek Yogurt
In our opinion, Greek yogurt is the best choice for smoothies. It's a healthy source of good fat, low in calories, and has a rich and creamy texture.
Adding Greek yogurt to your meals can also make you feel full for longer and prevent weight gain. Therefore, in this strawberry smoothie recipe, we purposely make it heavier on the Greek yogurt.
Nevertheless, if you're feeding smoothies to toddlers and babies, be careful when using Greek yogurt. 
As Greek yogurt is rich in protein, it might be hard for them to properly digest it. Our suggestion is to feed toddlers with a small serving first to see how they deal with it.
In general, consuming healthy fats helps improve brain function and also prevents strokes. However, if Greek yogurt is not how you usually do smoothies, consider going for plain yogurt made from whole milk instead.
2. Milk
Although yogurt is used in most smoothie recipes as a creamy base, it's absolutely fine to leave it out.
You can get the thick and velvety texture easily by replacing yogurt with coconut milk. Or, if you prefer your strawberry smoothie thin and diluted, simply stick with whole milk.
The amount of strawberries and milk is totally adjustable, so add more berries if the smoothie is too thin, or more milk if it's too thick. 
You can also replace milk with unsweetened almond milk or soy milk for a vegan and dairy-free smoothie.
3. Ice
If you want to blend the ice cubes into the smoothie, you'll need to make the strawberry purée first. The blender needs some liquid at the bottom to create a base before ice cubes are added.
After everything's ready, select the ice blend mode on your blender to pulse and crush ice gradually.
If your blender doesn't have a special mode for crushing ice, be patient and repeat the pulsing motion manually. It's better to grind the ice cubes slowly that way to prevent damaging the blender.
4. Banana
If you're seeking a little improvisation, you might want to take a look at this strawberry banana smoothie recipe.
Strawberry banana smoothie is a delicious way to enjoy both fruits in one serving. It only takes some extra berries, a few chops of banana, and more fresh milk.
Essential nutrients and vitamins served in a yummy way!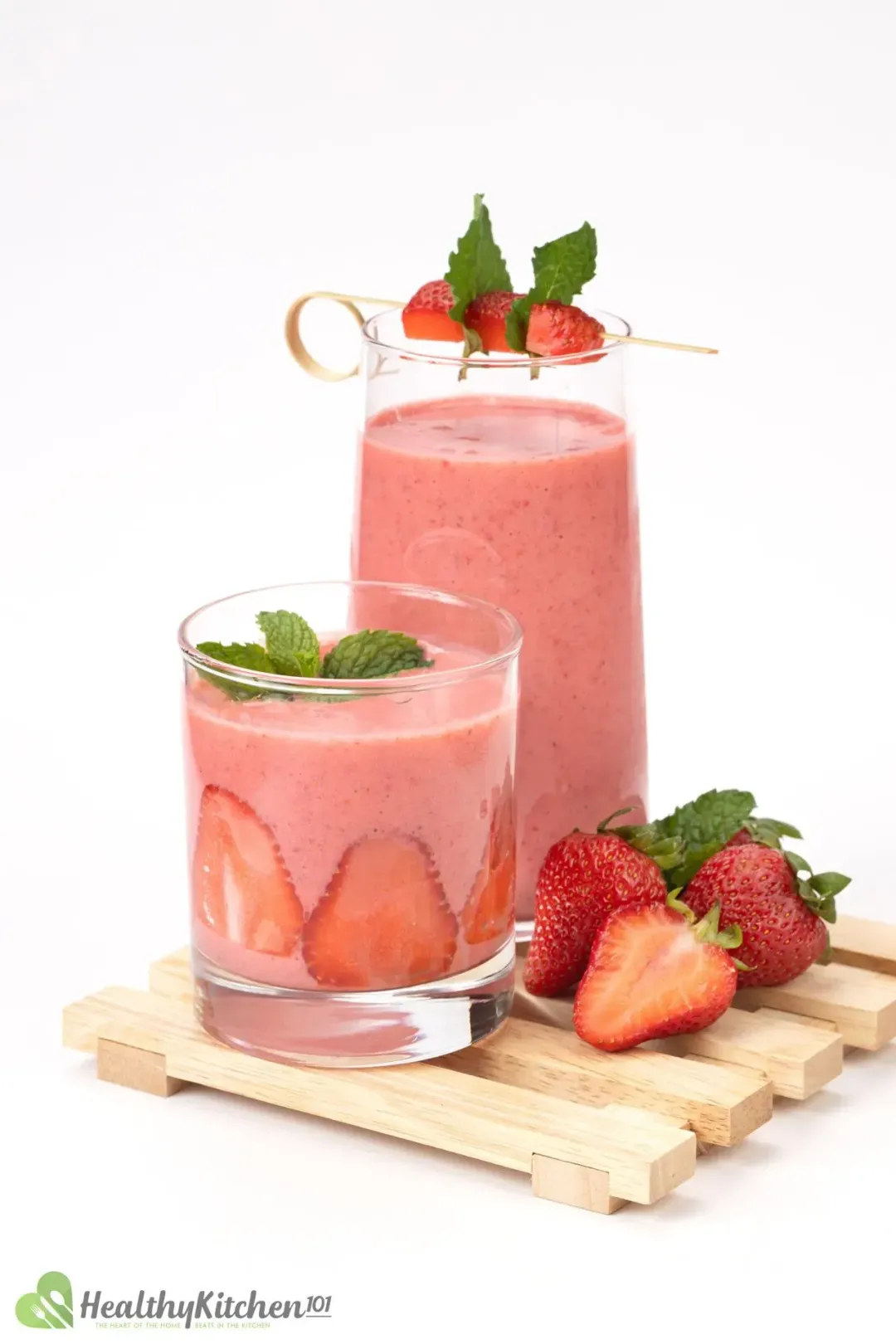 How Long Does Strawberry Smoothie Last?
This strawberry smoothie takes only 15 minutes to make, but can last for up to 2-3 days in the fridge. Spend some time making this rejuvenating drink in the morning and you'll get to enjoy it even days later.
Don't feel like you can finish it within a few days? No worries, simply put it in the freezer.
This is a classic strawberry smoothie recipe that calls for only four ingredients and takes you just 10 minutes to make! It's a refreshing and rejuvenating summer drink that bursts with flavor.
Frozen Strawberry Smoothie
If you find yourself with leftovers, rest assured that frozen strawberry smoothie can last up to 3 months. This is the solution for those who accidentally make a huge cup of smoothie and cannot finish it in one go.
However, we suggest you freeze fresh strawberries in batches instead. Freshly made smoothies always taste best, don't they?
By freezing fresh strawberries, you'll have them ready to blend any time you feel like a smoothie. Adding frozen strawberries is also a wonderful way to thicken your smoothie.
Healthy Strawberry Smoothie
This is a classic recipe that calls for only four ingredients and takes you just 10 minutes to make! It's a refreshing and rejuvenating summer drink that bursts with flavor.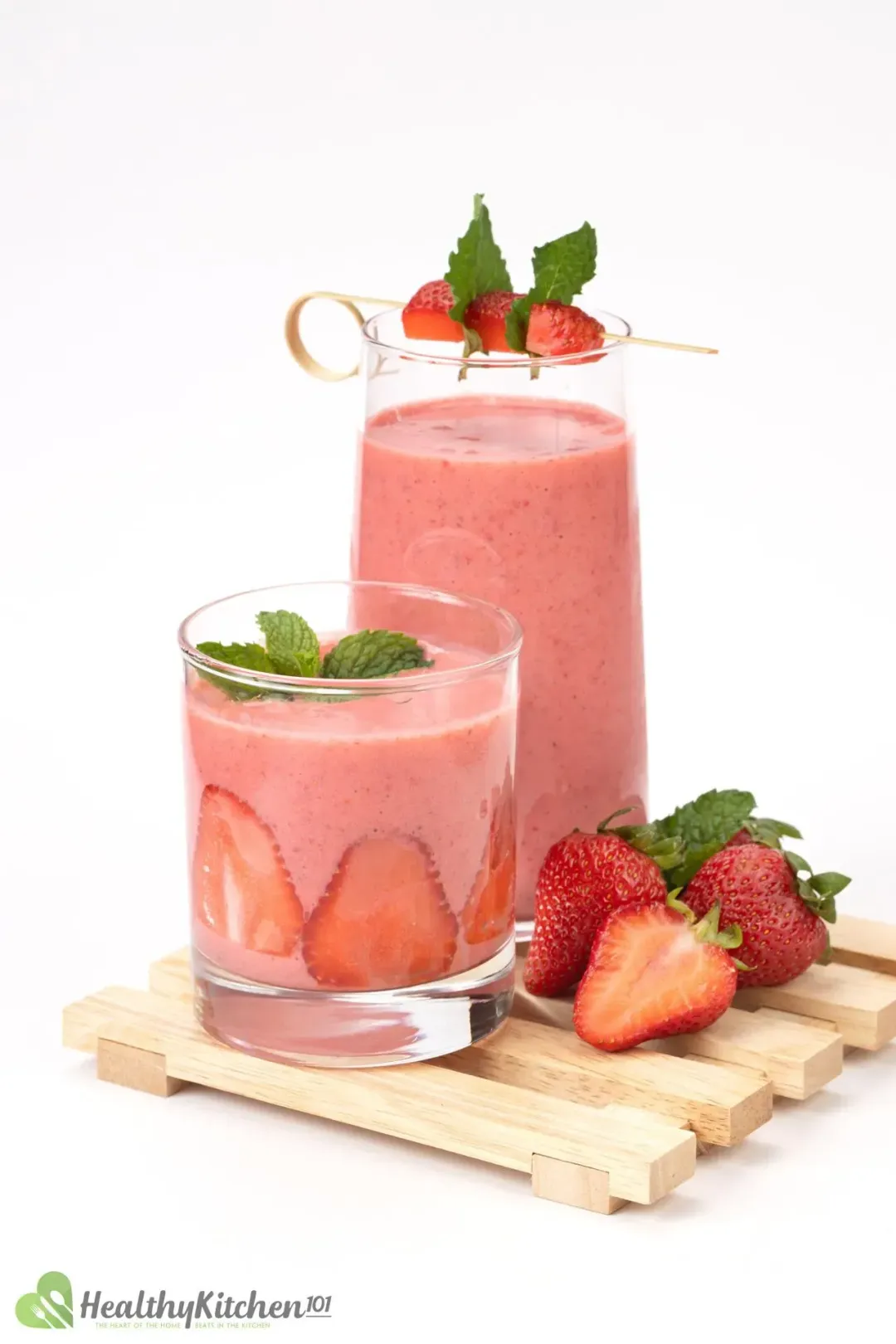 prep TIME

10 mins

total TIME

10 mins
COURSE

Beverage

CUISINE

Global

SERVINGS

CALORIES

106 kcal
INSTRUCTIONS
1
Wash and roughly chop the strawberries. Set some aside for garnishing later.
2
Place 10 oz strawberries, 1/2 cup milk, 1 tbsp sugar, and 1 cup ice cubes in the blender and cover the blender with a lid.
3
Blend everything in 20 - 30 seconds until smooth (puréed).
4
Pour the smoothie into serving glasses and garnish with strawberry slices. Serve immediately.
NUTRITION
Nutrition Facts
Healthy Strawberry Smoothie
Amount Per Serving (1 serving)
Calories 106
Calories from Fat 18
% Daily Value*
* Percent Daily Values are based on a 2000 calorie diet.
Keywords: how to make a strawberry smoothie, strawberry smoothie, strawberry smoothie recipe, strawberry smoothie recipes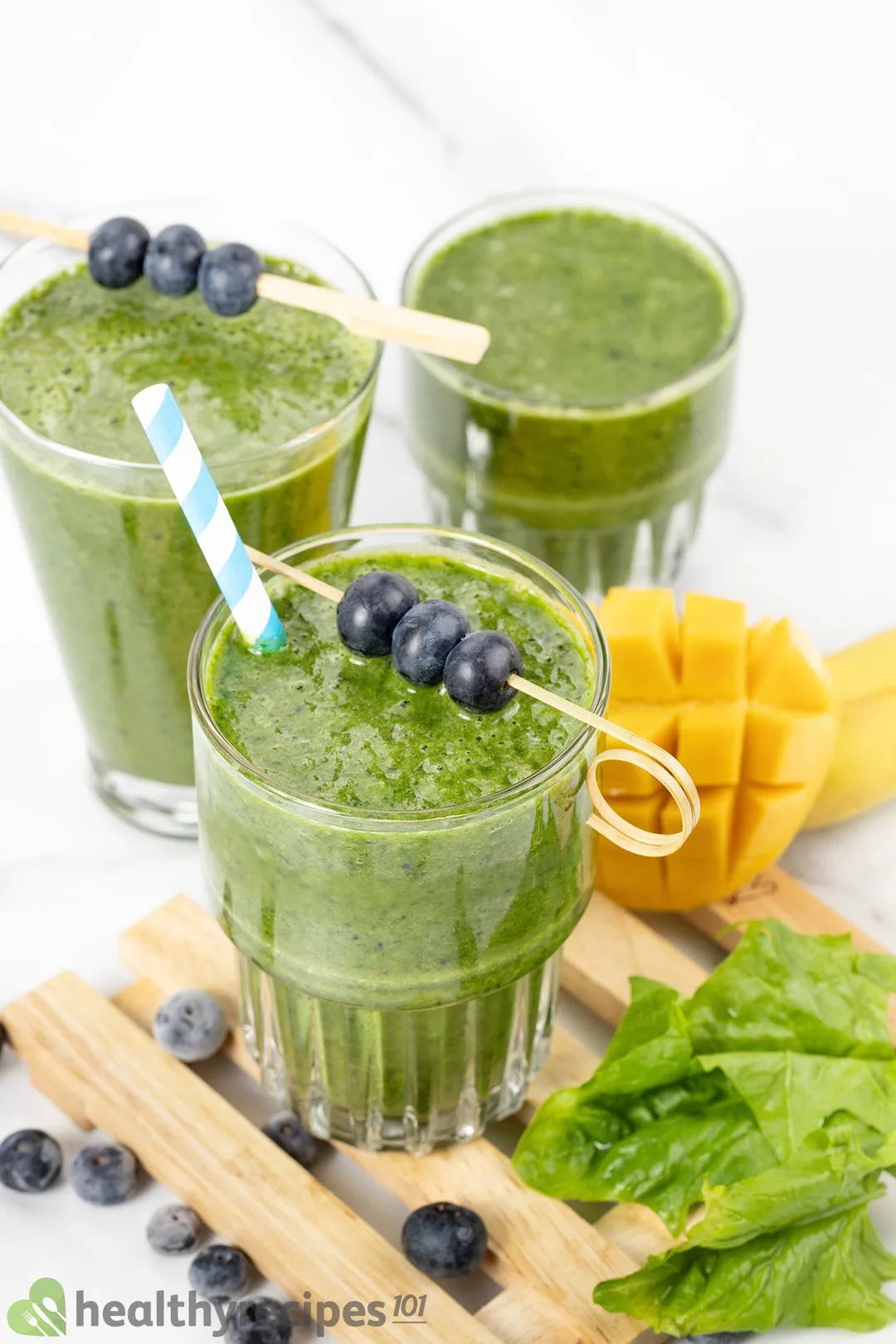 Previous Recipe
Healthy Green Smoothie
Healthy Green Smoothie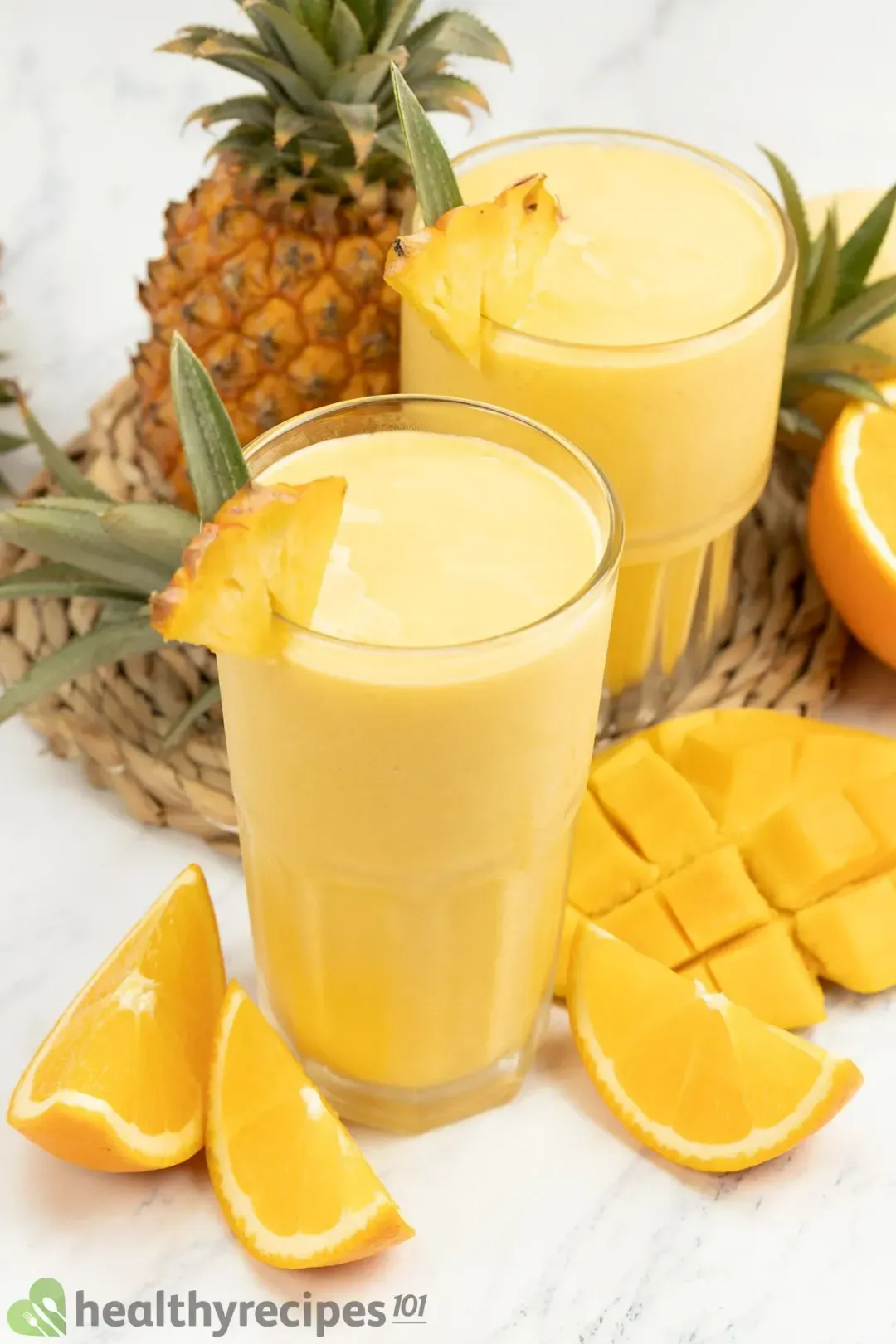 Next Recipe
Tropical Smoothie
Tropical Smoothie
Head Chef, Culinary Consultant
Tuyet Pham is an award-winning Saigonese chef who believes that joy is the secret ingredient to delicious food. At Healthy Recipes 101, Tuyet personally tests and simplifies every recipe, ensuring maximum flavor with minimal effort. With a background at prestigious French restaurants P'TI Saigon and Le Corto, Tuyet knows how to make every dish exceptional.
Writer, Author
Luna Regina is an accomplished writer and author who dedicates her career to empowering home cooks and making cooking effortless for everyone. She is the founder of HealthyKitchen101.com and HealthyRecipes101.com, where she works with her team to develop easy, nutritious recipes and help aspiring cooks choose the right kitchen appliances.
Nutrition Reviewer
Lizzie Streit is a Minneapolis-based dietitian and founder of It's a Veg World After All. She completed her MS in Human Nutrition from Drexel University, and is an expert in culinary nutrition, recipe development, and nutrition communications. Lizzie's philosophy is centered around making nutrition recommendations, and especially the advice to eat more vegetables, approachable and realistic. She is excited to be working with the team at Healthy Recipes 101 to ensure that their recipes are both nutritious and delicious.
Not true about what strawberries can prevent. I've eaten tons of Strawberries since r I was a child faithfully, and I have cataracts at now age 72. So that statement is not Truth… I've always been very healthy and ate healthy.. Don't know when ate very healthy. …William.

You can add half cup of yogurt too..

I like this strawberry smoothie try it

Thanks for your love Getrude 😀

I am also a huge smoothie fan. Your recipe sounds wonderful for a treat drink with a brunch or mid morning or late afternoon pick up. I need to get much more from a smoothie. My regular mix involves 1 serving of the highest protein content chocolate protein powder. Frequently 30g a serving. Then a scoop of fat free froyo. A small container of vanilla yogurt.

Wow that sounds like an awesome mix and match for a smoothie Christine! Thank you for stopping by, super love your idea tbh 😉

Delicious and simple to make. I added half tsp vanilla, ho ey and a banana. Do easy!

i don't have whole milk what can i use insted?

Hi Lana, as suggested in the article, other options besides whole milk are coconut milk, unsweetened almond milk, and soy milk. Thank you 😉