This strawberry banana smoothie recipe will give you a simplistic energy boost on the go.
Either as an easy drink to complement breakfasts or a tasty pick-me-up after workouts, this smoothie can be everything you want. It's wholesome and refreshing, definitely a classic to get you hooked.
Is Strawberry Banana Smoothie Healthy?
Being the iconic duo in the smoothie-verse, banana and strawberry taste amazing together. They bring with them lots of nutrients, too.
Let's have a look at what each portion of this strawberry banana smoothie recipe brings you.
1. Benefits of Bananas
Bananas are chock full of potassium: a medium fruit (4.2 ounces) gives you 13%-22% of the nutrient's RDI (2000-3400 milligrams). This mineral plays many roles in keeping the heart healthy, including managing blood pressure and potentially reducing the risk of stroke.
Although not fibrous, a medium banana gives about 10% of the daily value of fiber. This is soluble fiber, and in the gut, it absorbs moisture to become a gel that slows digestion.
Thanks to the soluble fiber content, our body can digest sweet bananas slowly, and thus, blood sugar spikes don't occur. That's why, although equally sweet, a smoothie is a healthier option than a milkshake.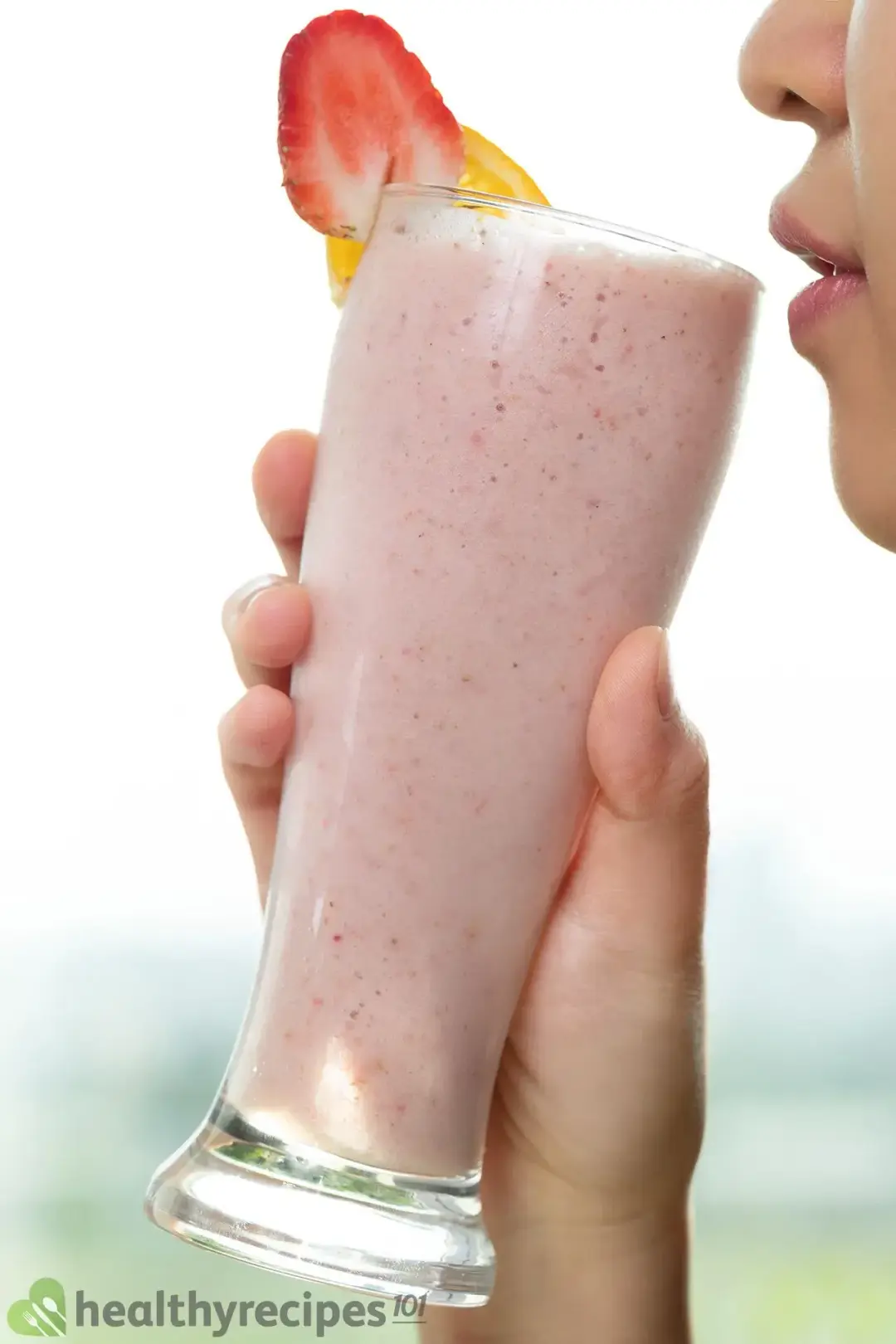 Besides the mentioned benefits, bananas also bring us necessary nutrients such as vitamin B6, vitamin C, magnesium, and vitamin A. They come in varying amounts, assuring bodily processes can take place normally.
2. Benefits of Strawberries
Shaped similarly to a heart, strawberries are potent little packages that possess beneficial properties for our health.
To begin with, strawberries are very low in calories— only 32 calories per 100 grams, and just 4.9 grams of sugar. With help from its own fiber content and that of bananas, this drink is less likely to cause blood sugar spikes.
Strawberries are also abundant in antioxidants, including a variety of polyphenols, as well as vitamin C. They can protect cells from oxidative damage, enhancing the immune system in general.
Strawberry Banana Smoothie Ingredients
Of course, it can't be called a strawberry banana smoothie recipe if it doesn't call for these two core ingredients. For the best drink, we recommend selecting the sweetest strawberries and bananas you can find.
Since this is a smoothie, dairy of any kind is crucial for a rich, velvety smoothie texture. We used milk to keep things simple, but you can add greek yogurt for a tang or almond milk for a nutty flavor.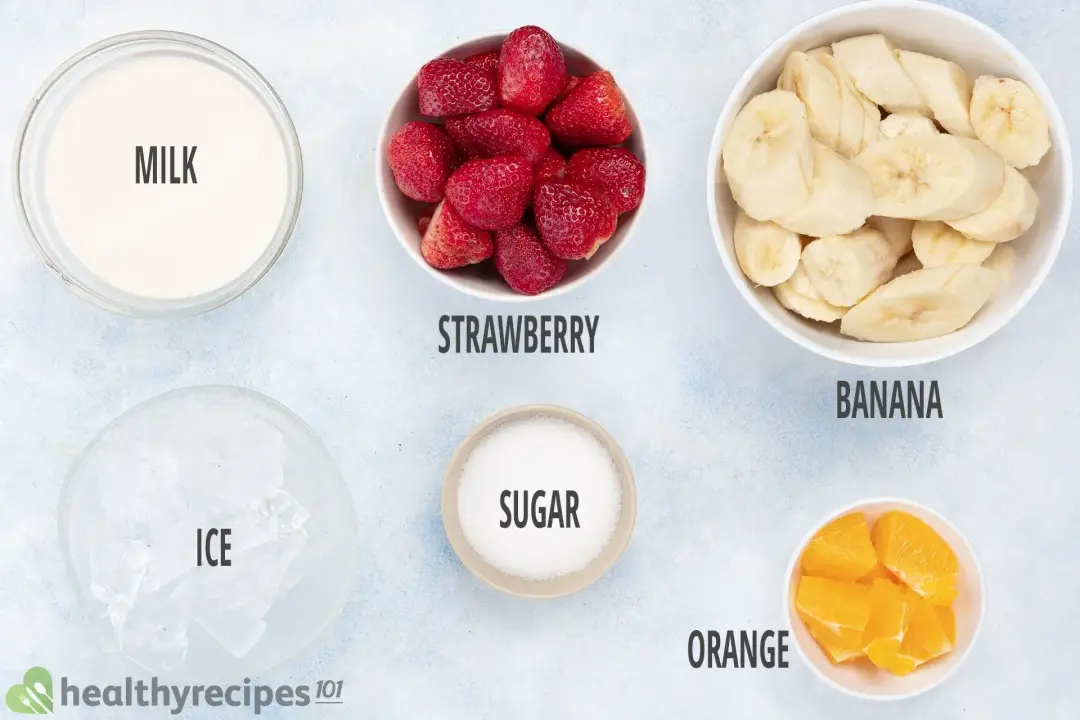 Next comes sugar, but this is optional because our strawberries were more sour than usual. You can skip or add less than what's called for, but it should not be more than 1 tbsp per serving.
We thought the sweetness and richness could be complemented by a bright citrus tang, so we added several orange segments. It balanced the flavor profile and also added a boost of vitamin C.
And finally, add ice to thin the smoothie out a bit, making it easier to slurp. Without ice, it becomes an ice cream-like mixture, which is ideal to serve on cones, but not so much in smoothie glasses.
Ice is definitely a brain-freezer, so don't gulp it down all at once. It's tempting, but you'll have instant regret, trust us.
Can You Make Smoothie with Frozen Fruit?
Fresh fruits are an intuitive go-to, but they don't have to be the only option. We used frozen fruits in this strawberry banana smoothie recipe, and the result was outstanding.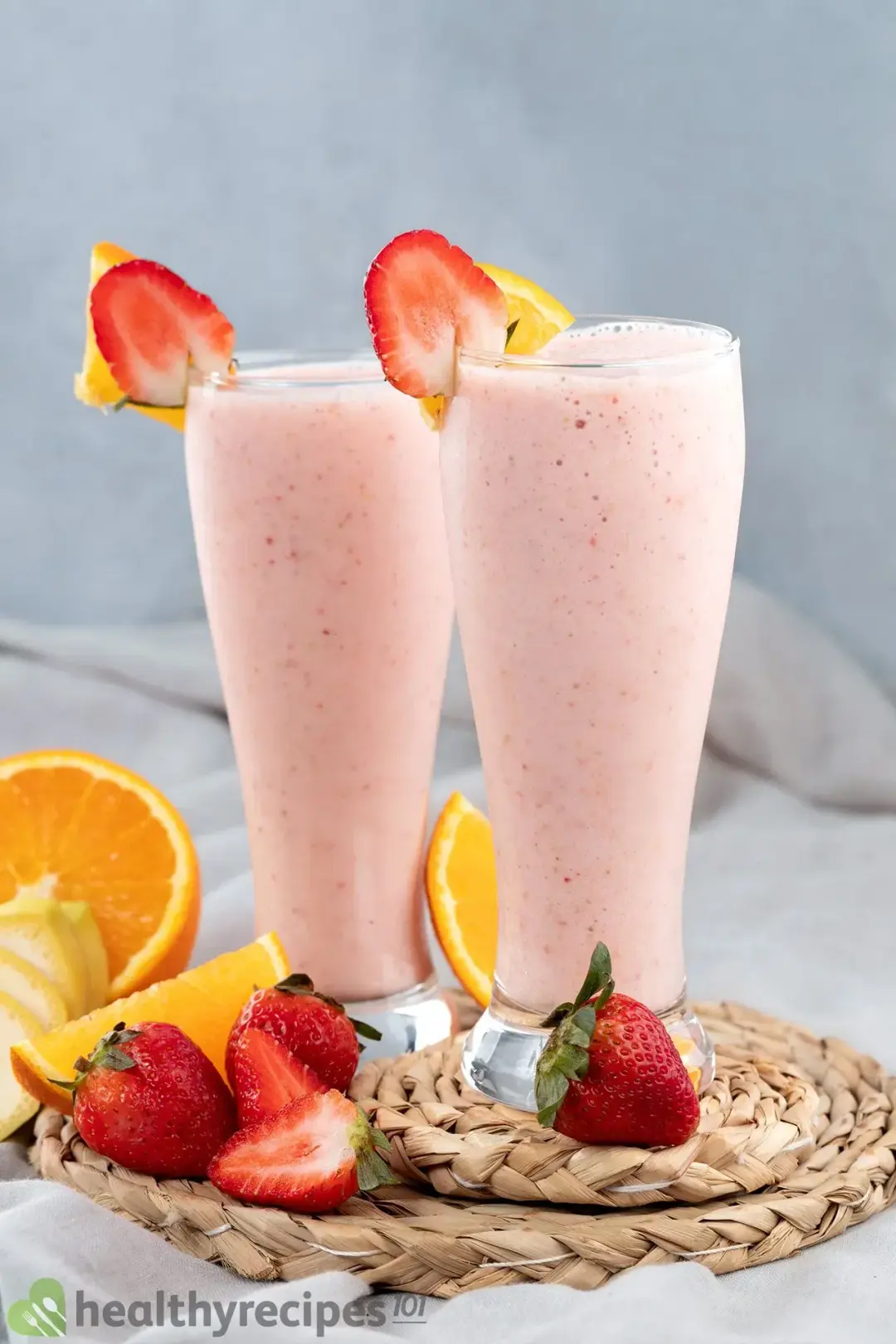 You can purchase frozen berries in packages or get the freshest ones, cut them up, and freeze them. Either way, it would make your smoothie extra velvety, thick, and cold for a really long time.
Plus, low temperatures deactivate enzymes responsible for the discoloration of smoothies and juices. Hence, your smoothie can keep its natural color for longer before succumbing to the oxygen in the air.
How to Make a Strawberry Banana Smoothie
The steps in our strawberry banana smoothie recipe are as simple as ABC. All there is to do is gather the ingredients and blend them together.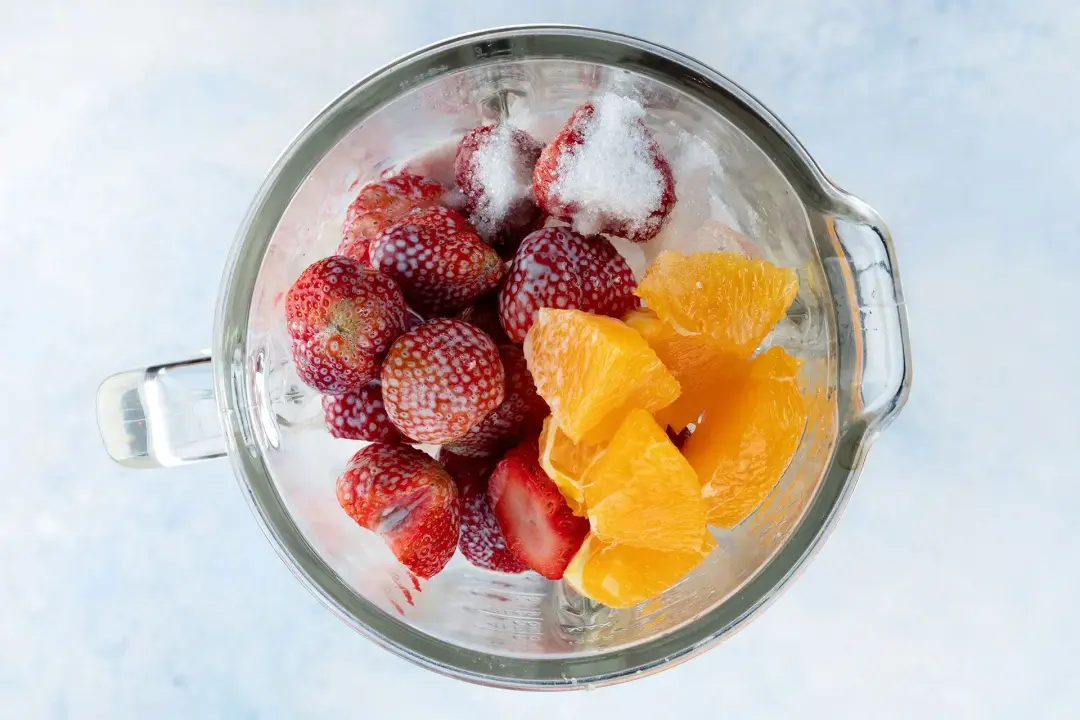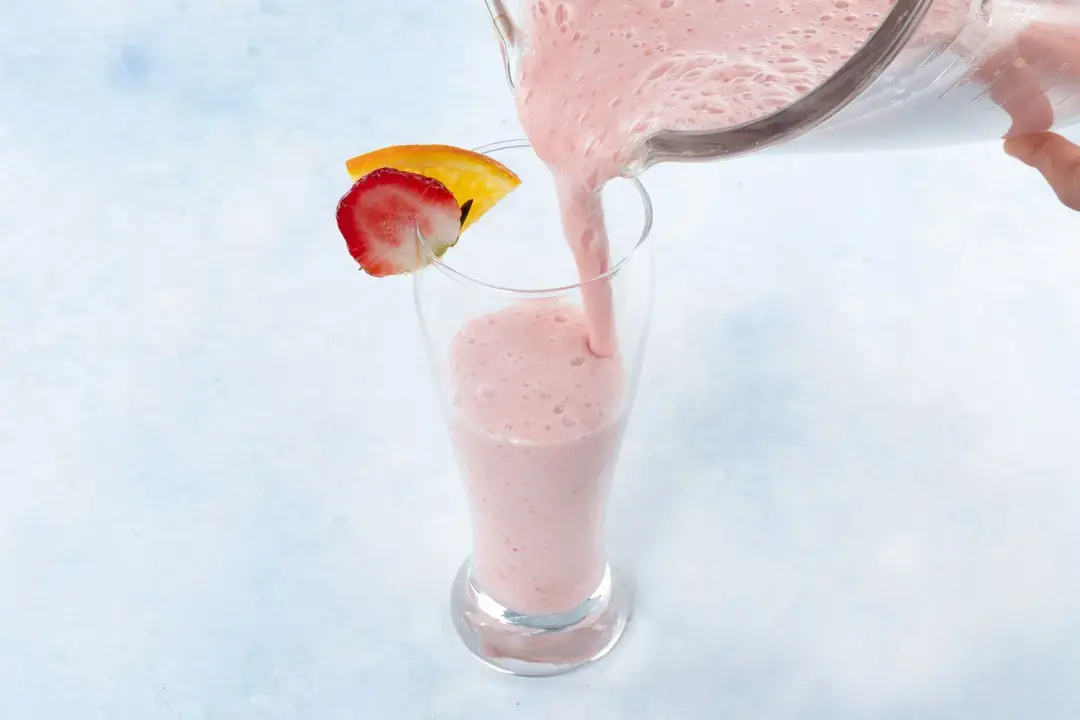 But that's what happens when you have a really powerful blender. With a not-so-much powerful smoothie maker, you need an extra step— adding ingredients in batches and in a certain order.
Since the blade cannot handle several fruits at once, you should cut the ingredients into smaller pieces. Blending them in batches and then mixing the results in a large pitcher helps, too.
The blade may also have trouble blending hard, tough ingredients, and frozen berries check all of those boxes. In this situation, you need to layer the ice at the bottom so it melts and the blade blends more easily.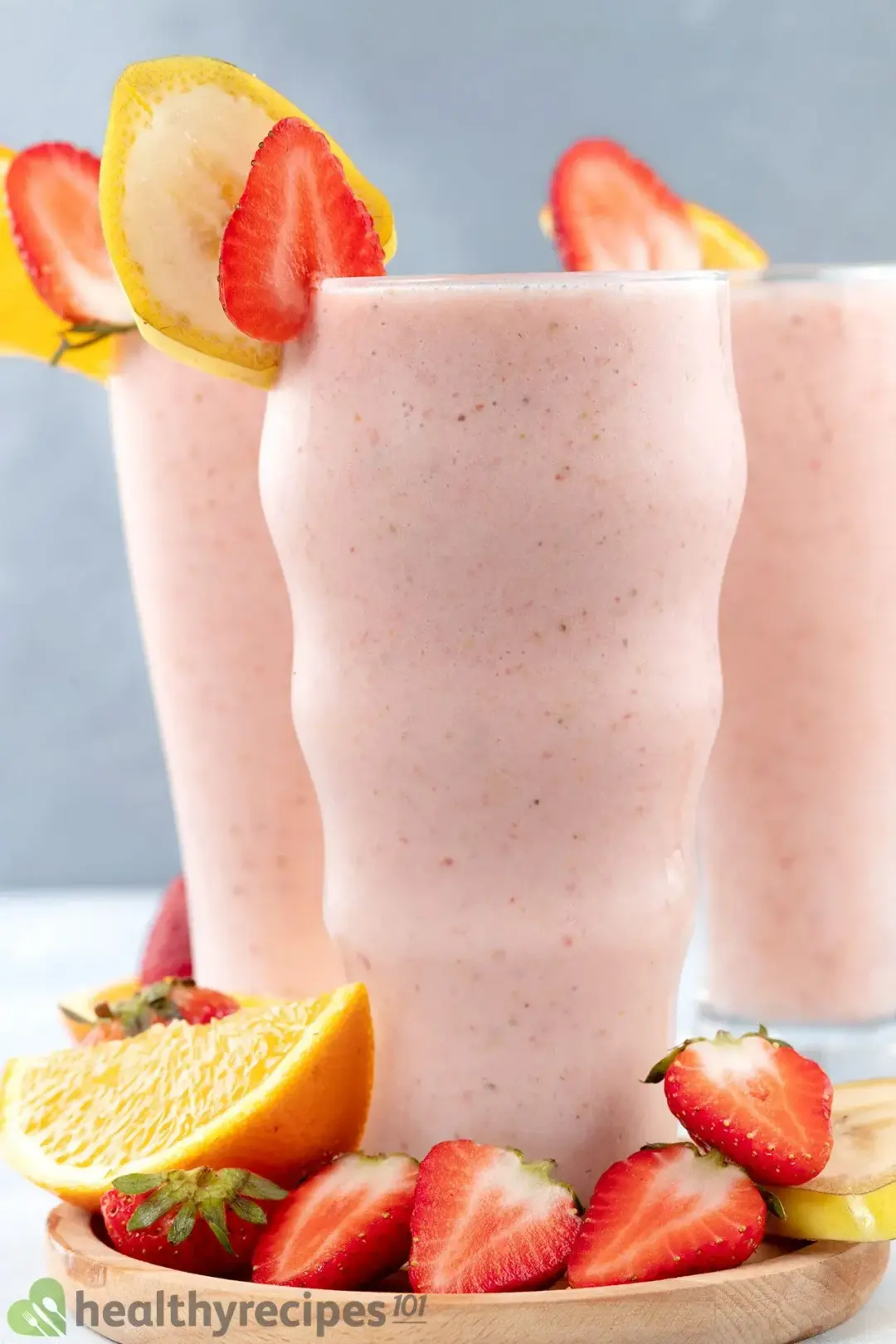 Also, if you're making a green smoothie with leafy greens added, make sure they are between the ice and fruits. The fruits keep the leaves from sticking to the bottom and make things blend smoothly.
FAQ
1. How Many Calories Are in a Strawberry Banana Smoothie?
With only a few fruits, one serving of this strawberry banana smoothie recipe would reach just 140 calories. By adding additions like sugar and milk, however, the calories are cranked to 216.
Although it seems like a lot, it's all within our healthy guidelines. This and a main dish may provide you with enough calories and nutrients— a whole meal one can say.
2. When's the Best Time to Drink a Smoothie?
Smoothies make for a good energy boost pre- or post-workout. or as a refresher to end a wholesome meal. Logically speaking, you can drink a smoothie whenever you feel like it, within moderation, of course.
However, it's not recommended to consume right before going to bed. It's linked to weight gain because excess calories have nowhere to go but the fat cells.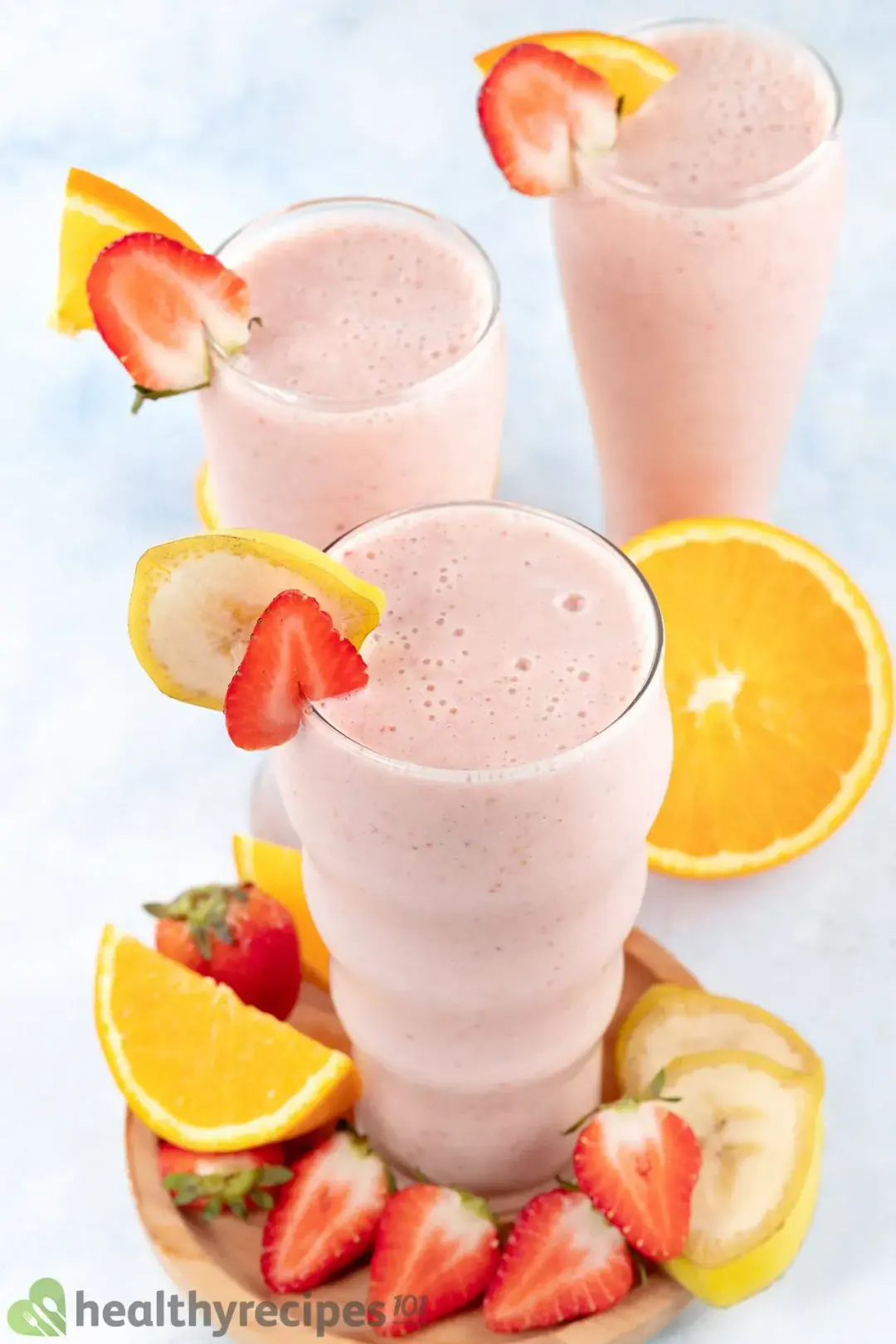 3. How Long Does a Smoothie Last?
A smoothie can last for 3-5 days in the fridge, tightly covered. We often store our fruit juices and smoothies in an airtight container and take them out to enjoy whenever we want.
4. Can You Freeze Fruit Smoothies?
Yes, you can. It lets your smoothie last up to 3 months, and it's easy to thaw, too, in the microwave.
If you intend to make a large batch, divide it into portions and freeze them in Ziploc bags. It'll be super convenient.
Strawberry Banana Smoothie Recipe
This strawberry banana smoothie recipe is easy, quick, and delicious. Turn the blender on while reheating your leftovers or cooking up some eggs, and there it is, a quick and healthy breakfast.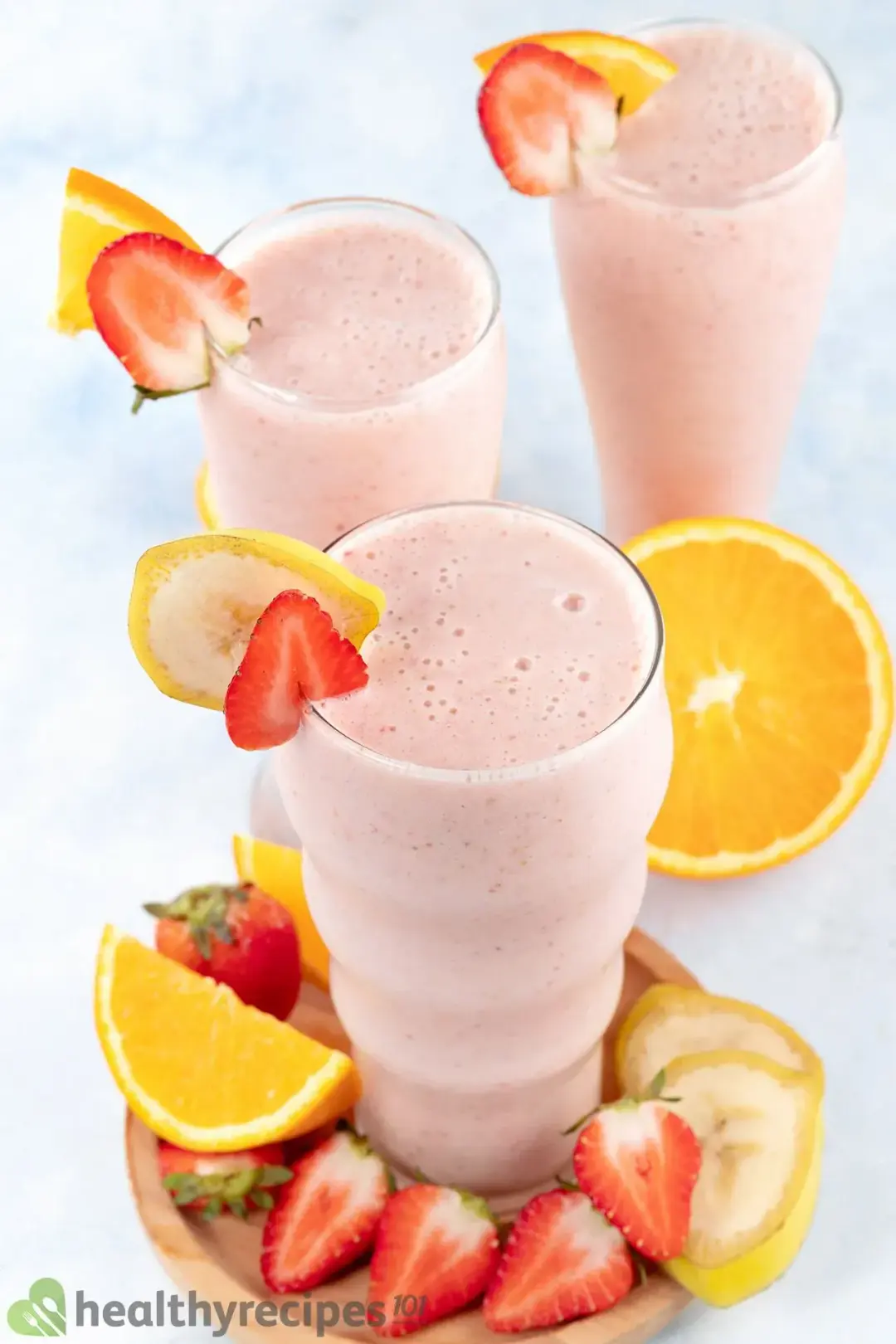 prep TIME

5 mins

total TIME

5 mins
COURSE

Side Dish

CUISINE

American

SERVINGS

servings

CALORIES

216 kcal
INGREDIENTS
17 oz

banana (sliced)

10 oz

strawberry (with stems removed)

3 oz

orange (orange segments only)

1.5 cup

whole milk

4 tbsp

sugar

1 cup

ice (or more)
INSTRUCTIONS
1
Place all ingredients in your blender and blend.
2
Serve in glasses. It's as simple as that.
NUTRITION
Nutrition Facts
Strawberry Banana Smoothie Recipe
Amount Per Serving (1 serving)
Calories 216
Calories from FDA
% Daily Value*
* Percent Daily Values are based on a 2000 calorie diet.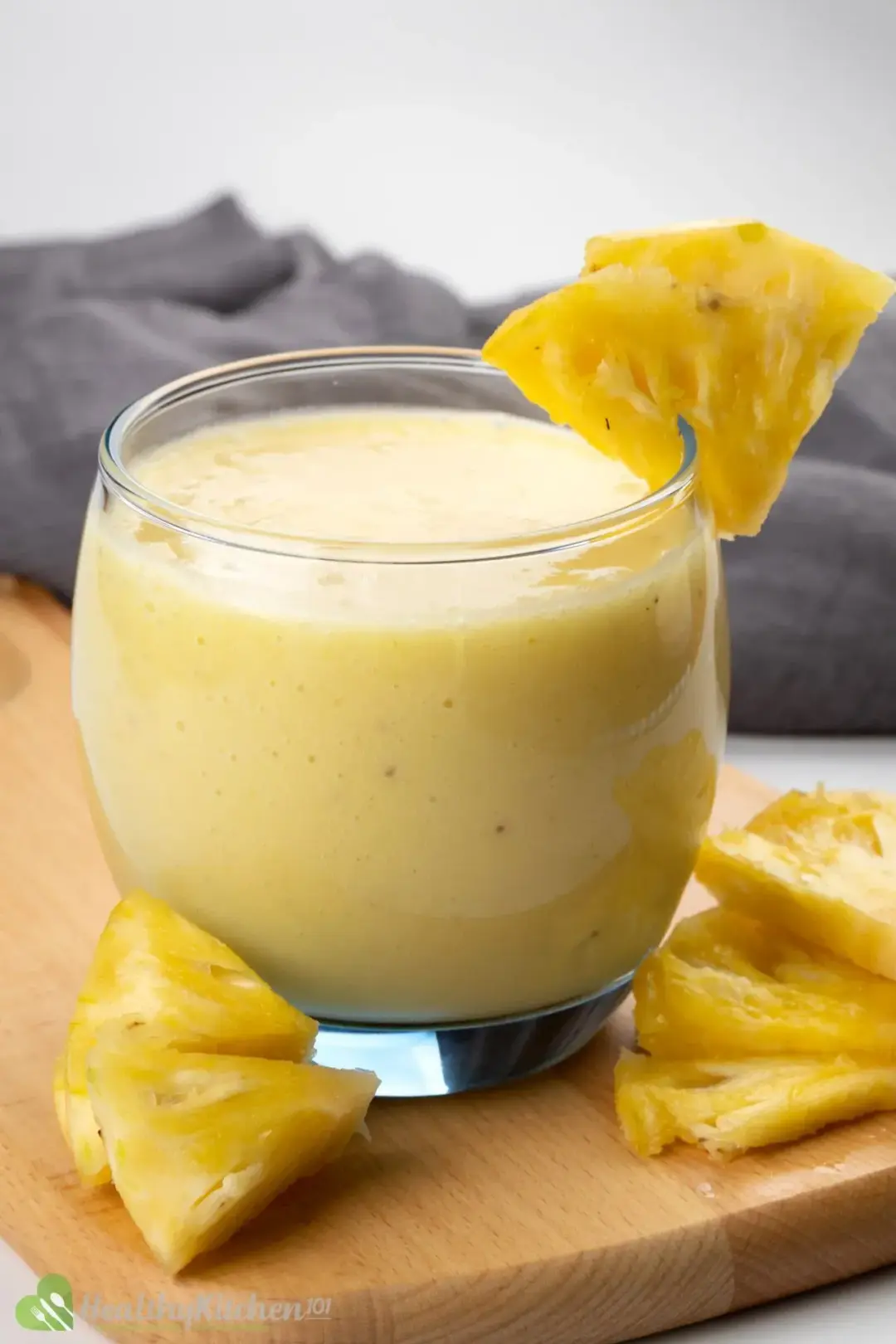 Next Recipe
Healthy Pineapple Smoothie
Healthy Pineapple Smoothie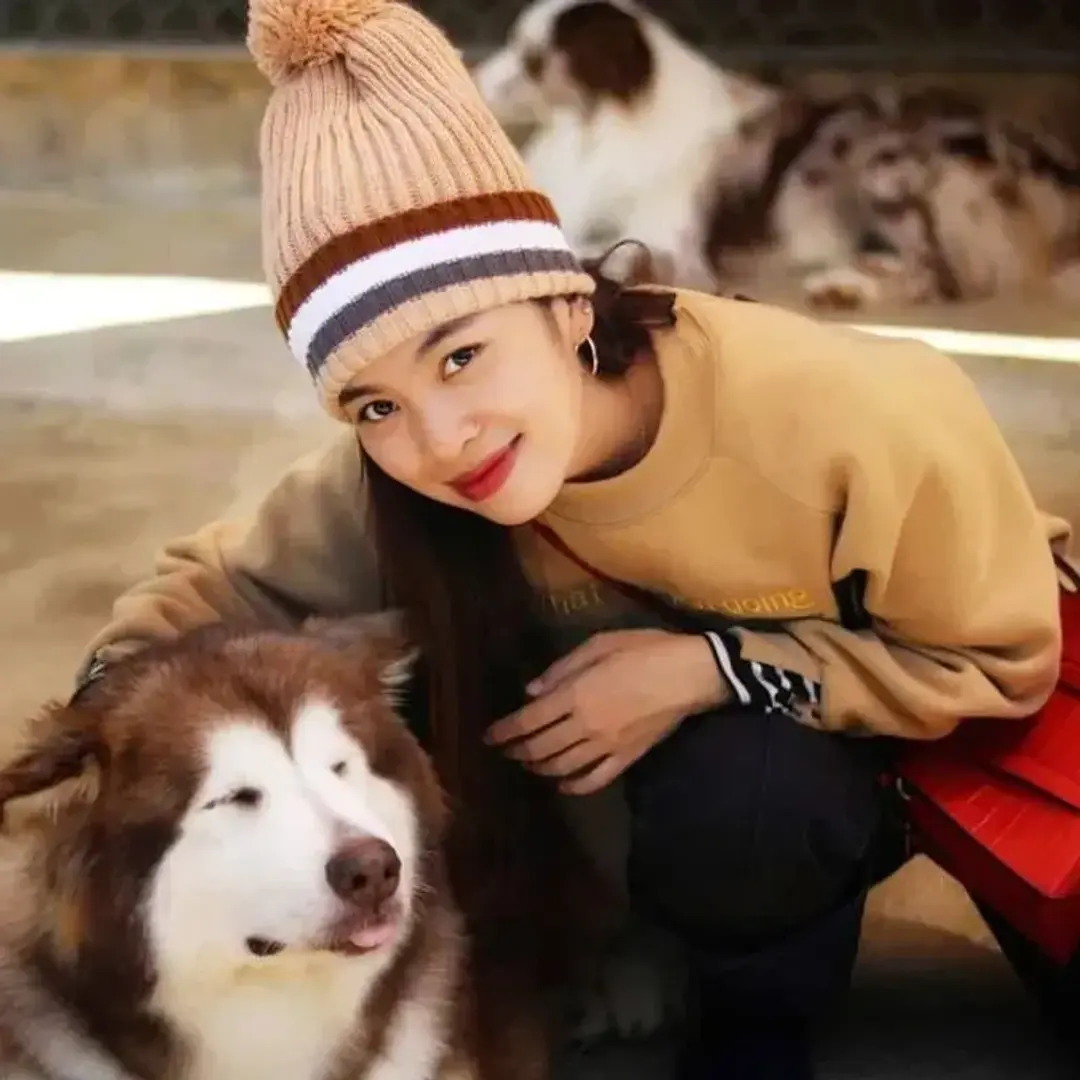 Chef, Culinary Consultant
Tuyet Pham is an award-winning Saigonese chef who believes that joy is the secret ingredient to delicious food. At Healthy Recipes 101, Tuyet personally tests and simplifies every recipe, ensuring maximum flavor with minimal effort. With a background at prestigious French restaurants P'TI Saigon and Le Corto, Tuyet knows how to make every dish exceptional.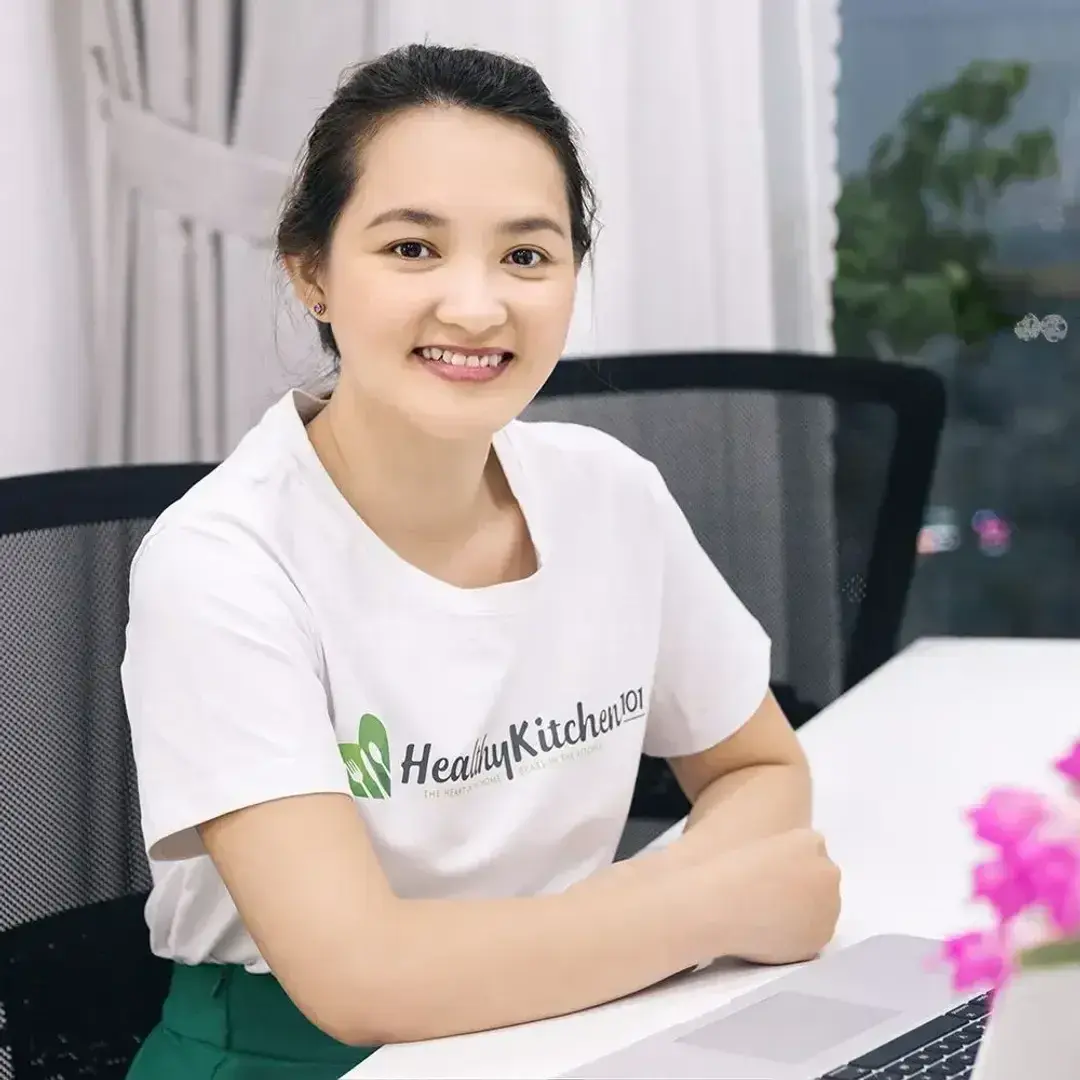 Writer, Author
Luna Regina is an accomplished writer and author who dedicates her career to empowering home cooks and making cooking effortless for everyone. She is the founder of HealthyKitchen101.com and HealthyRecipes101.com, where she works with her team to develop easy, nutritious recipes and help aspiring cooks choose the right kitchen appliances.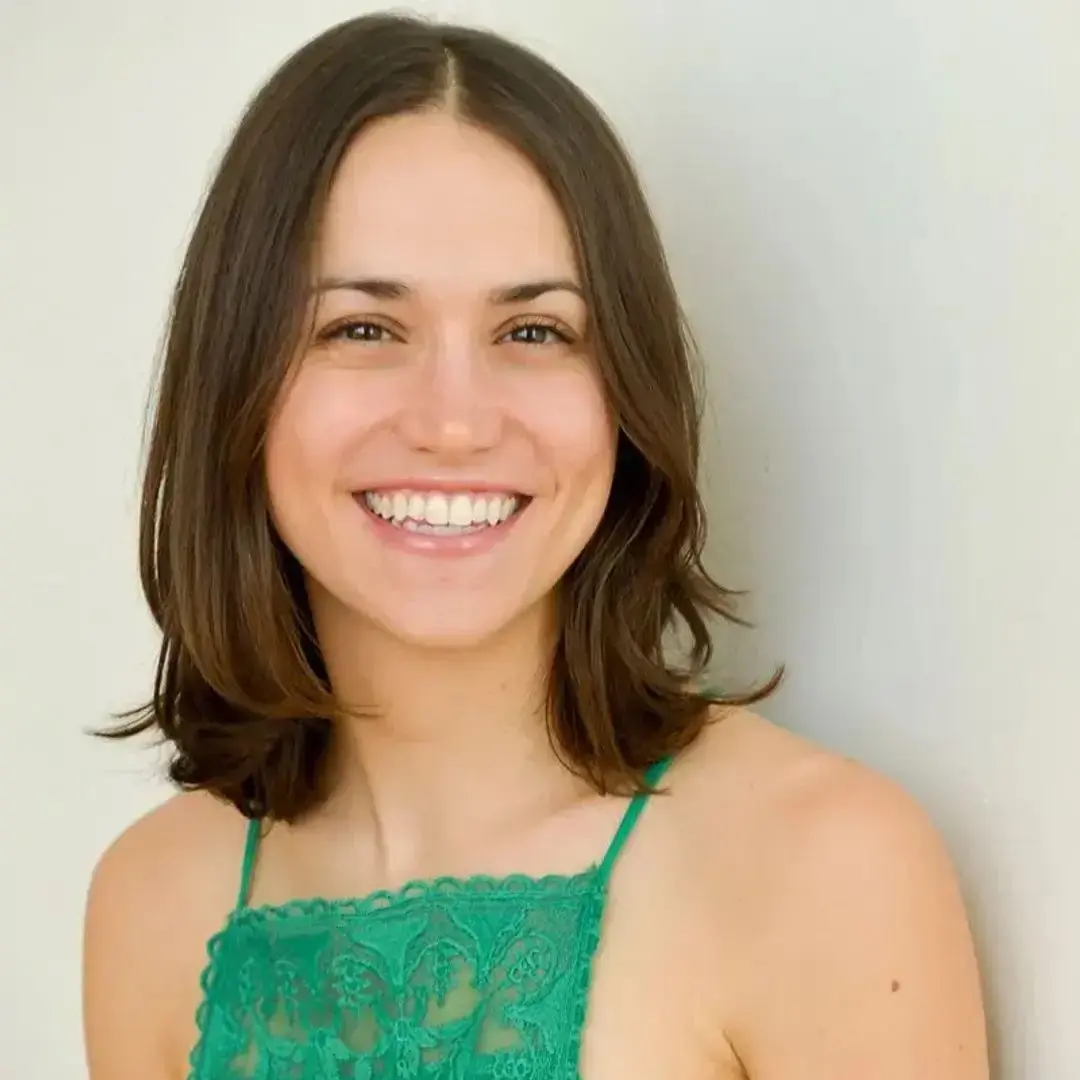 Nutrition Reviewer
Lizzie is a Minneapolis-based dietitian and founder of It's a Veg World After All. She completed her MS in Human Nutrition from Drexel University, and is an expert in culinary nutrition, recipe development, and nutrition communications.
Comments/ Reviews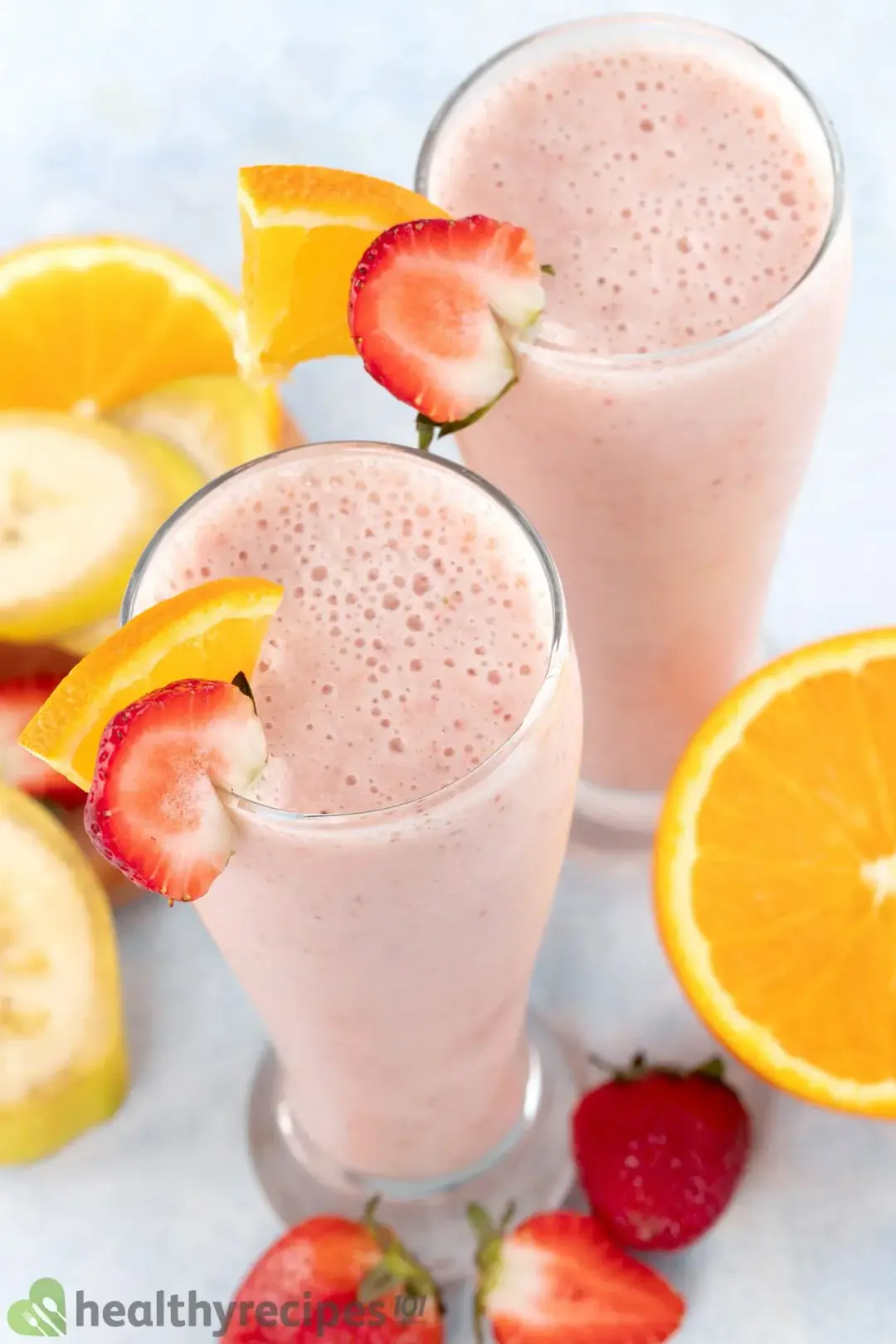 Strawberry Banana Smoothie Recipe