This tropical smoothie recipe makes healthy smoothies that are delicious and refreshing.
Is Tropical Smoothie Healthy?
Yes! As a mixture of natural fruits blended all together, tropical smoothies contain a vast amount of micronutrients.
Vitamin C: according to this table, our smoothie contains more than 100% of the amount of vitamin C recommended each day. It can help manage blood pressure, fight gout, regulate blood pressure, and more.
Folate: although crucial to the human body, folate is more important to women during pregnancy. It participates in the making of marrow in bones, RNA, DNA, and more.
Other micronutrients, such as vitamin Bs, A, E, K, magnesium, iron, etc. come in small quantities. They have important functions in the body too.
Here's other fruit smoothies that are packed with vitamins and minerals, too: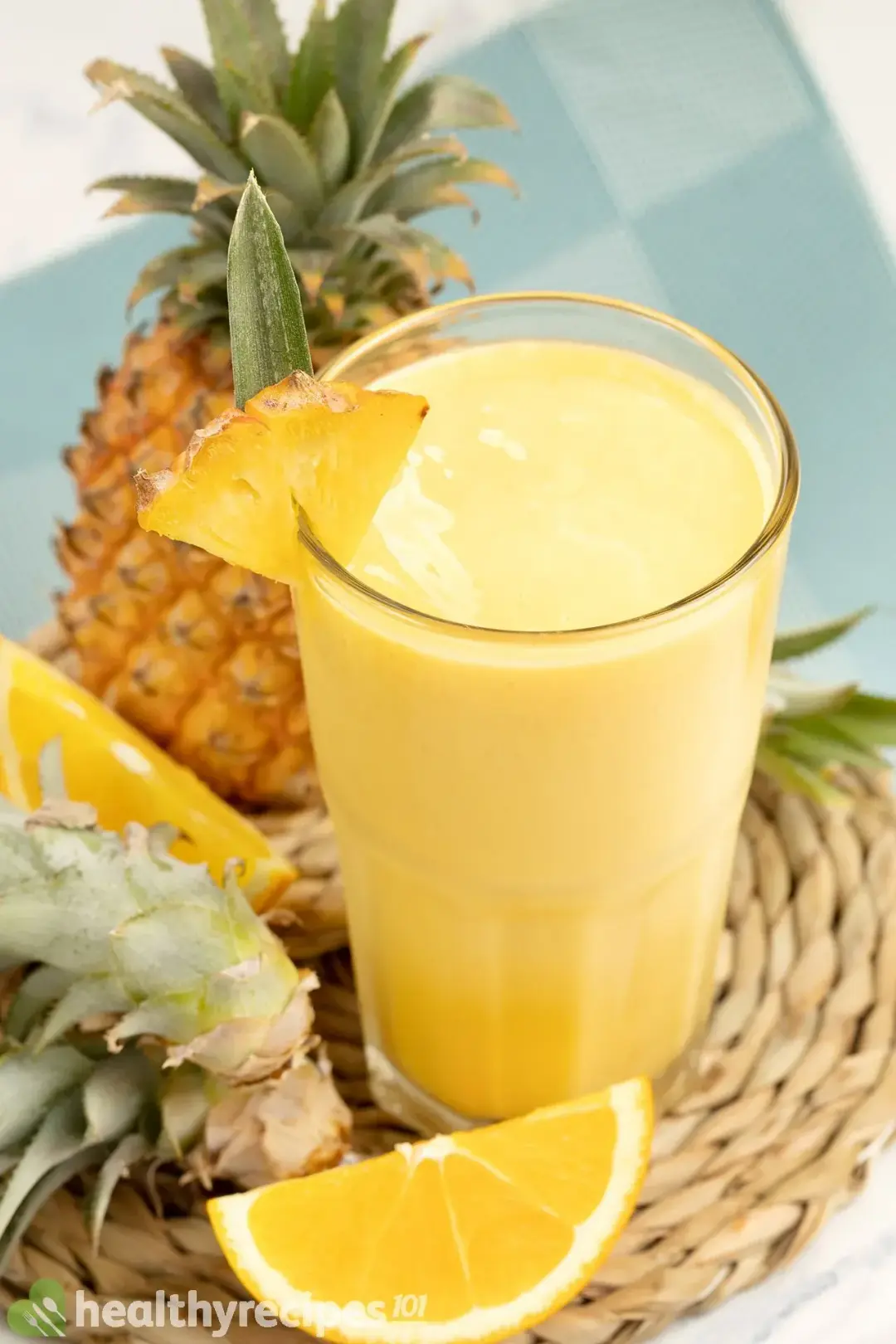 1. How Many Calories in a Tropical Smoothie?
Each serving of our tropical smoothie recipe yields 180 calories. About 73% of the calories are from natural fruits and Greek yogurt.
By substituting Greek yogurt with regular milk, the amount of calories per serving reduces to 170 calories. Also, if you prefer your smoothie less sweet, adding less sugar can reduce the calories even more.
2. Can You Drink Tropical Smoothie without Having Food First?
There's a myth saying pineapple should not be consumed on an empty stomach, as the acid in the pineapple can "eat" away at your stomach. Is this true?
The stomach (for the majority of people) is lined with a protective layer and is in constant exposure to stomach liquid, 1.5-3.5 in pH. Comparing it to whole pineapples, 3.2-4 in pH, we can see that the stomach lining can withstand this fruit.
Pineapple does have a protein-digesting enzyme called "bromelain", which can soften meat. Many think this enzyme can affect the stomach, but thanks to the lining, this is not the case.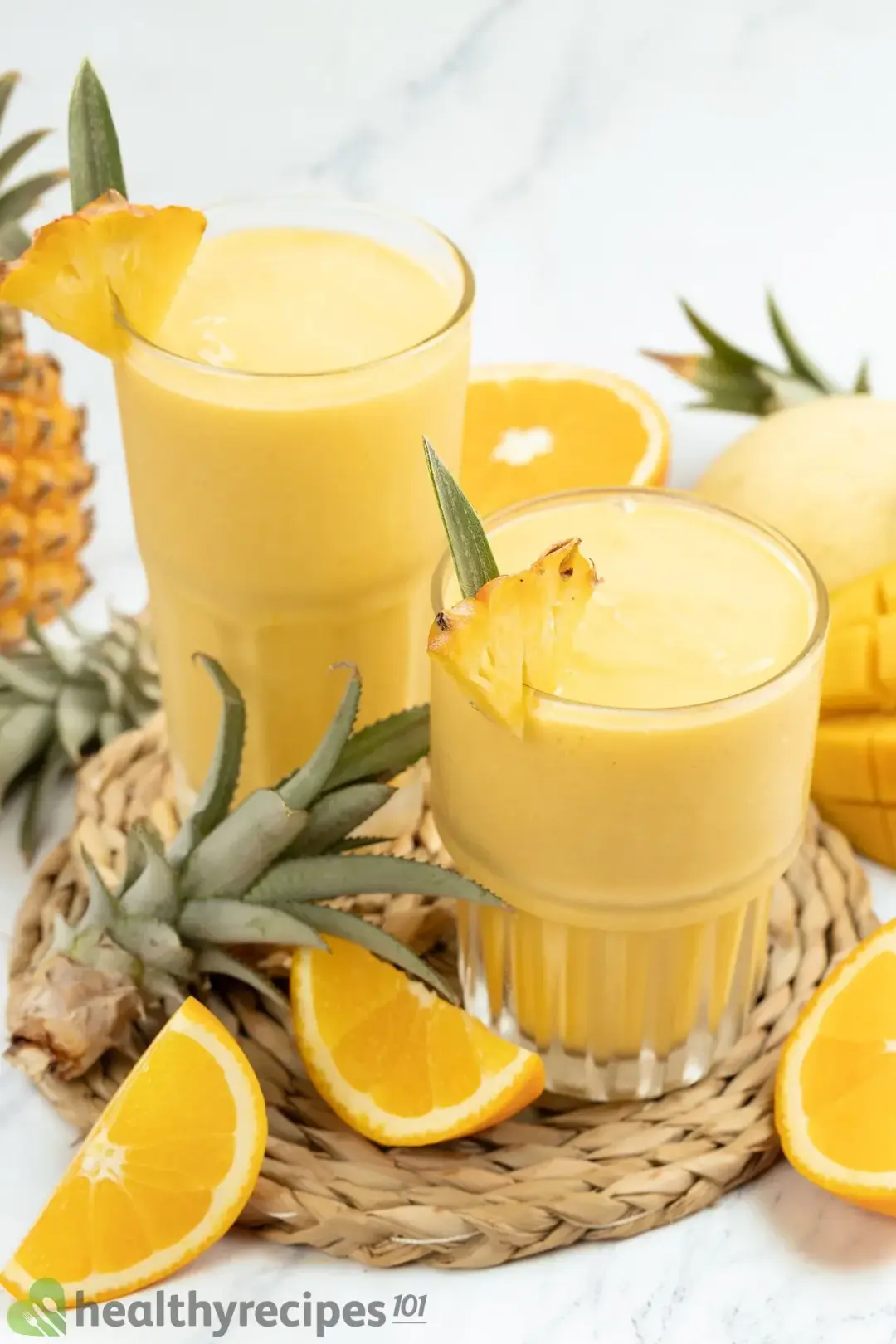 Those having said experience might have gastritis. It's a health condition with many symptoms, stemming from a damaged stomach lining.
The causes of gastritis can be a bacterial infection— Helicobacter pylori, affecting more than half of the world's population. It can also be caused by old age, excessive alcohol use, or stress.
Since these are all common causes, we believe this might be the case, instead of fruit acids or protein-digesting enzymes. We recommend that you seek the advice of your doctor if you experience stomach pain.
Best Tropical Fruits for Smoothies
Our tropical smoothie recipe uses mangoes and pineapple as the main ingredients. They have a sweet but mildly sour taste that pairs well with each other, accentuating the tropical theme.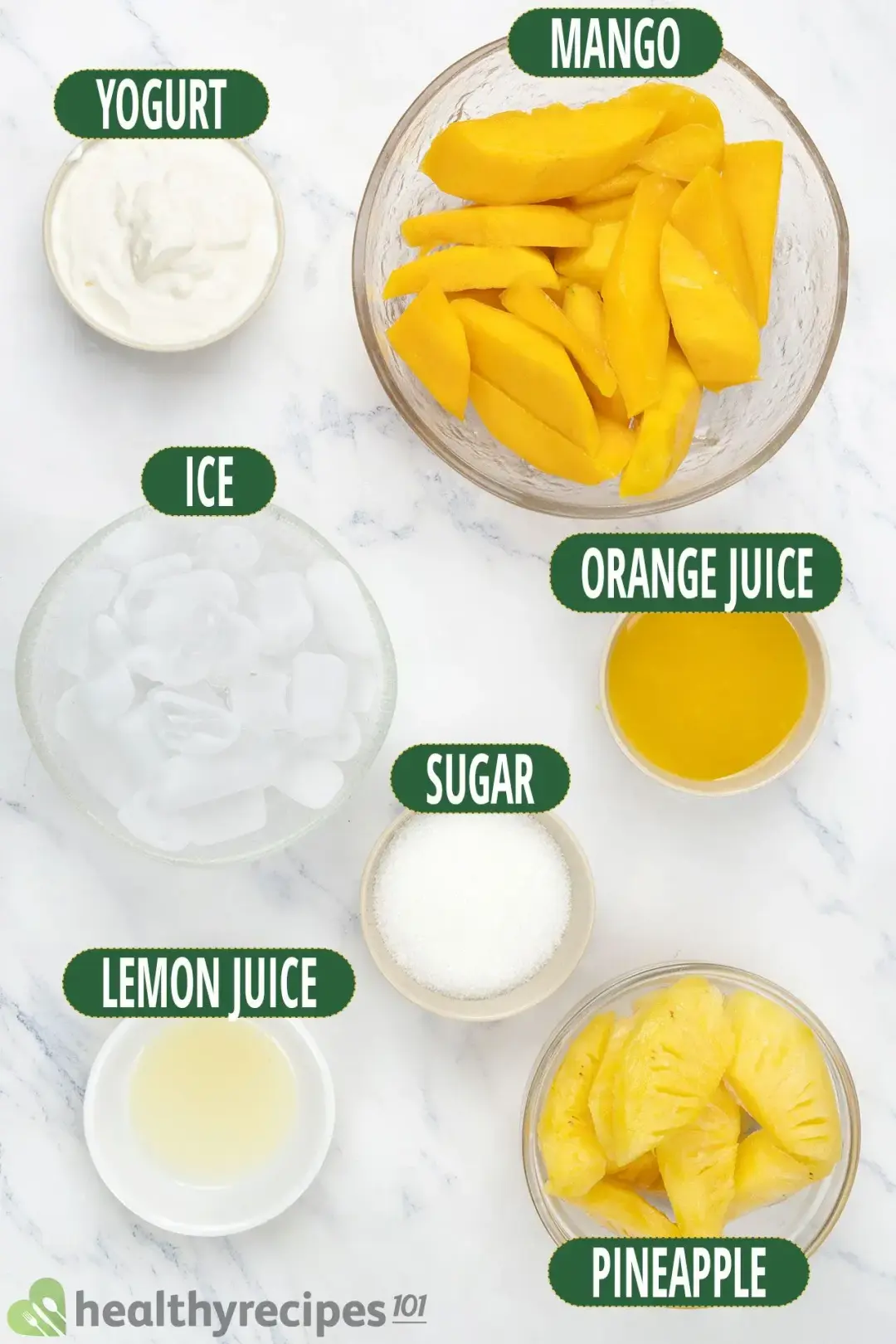 How to Make a Tropical Smoothie
Nothing is easier than making a smoothie. Simply put all of the ingredients in a blender, blitz until smooth and voilà, delicious smoothie.
To make the glasses look even better, you can utilize the remaining ingredients to make beautiful decorations.
In this tropical smoothie recipe, we cut the pineapple slices into 6; each goes on top of a glass. We also cut the mangoes into little cubes and place them on top of the smoothie.
Adding cute little mint leaves also makes the smoothie glasses truly "tropical".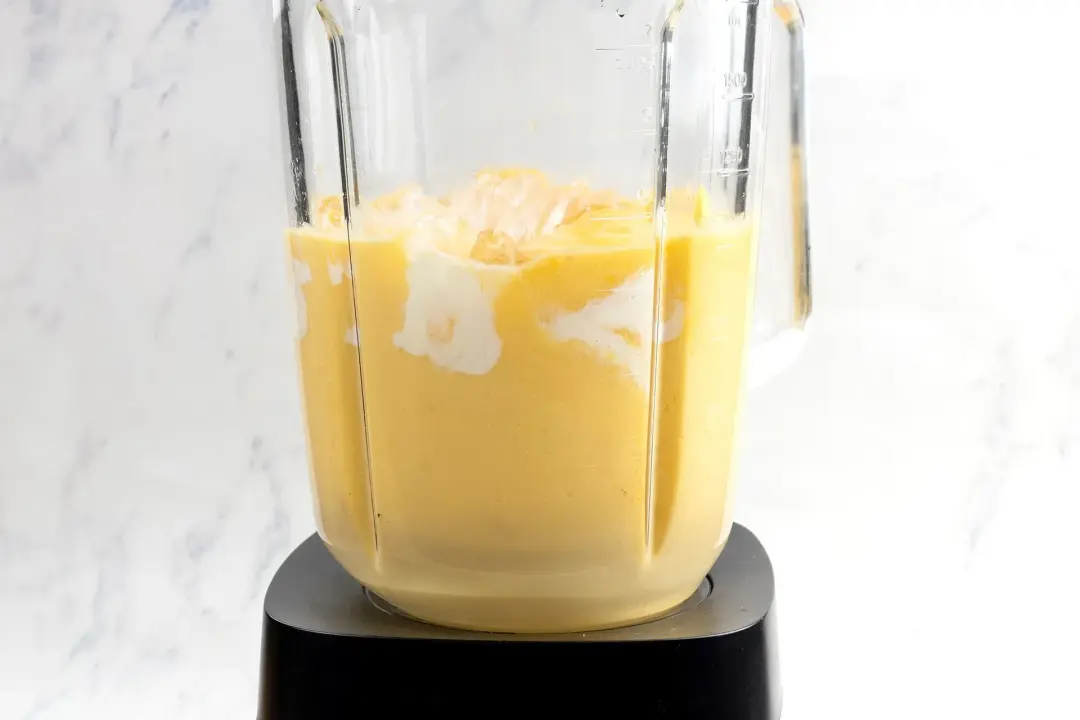 Blend all the ingredients together.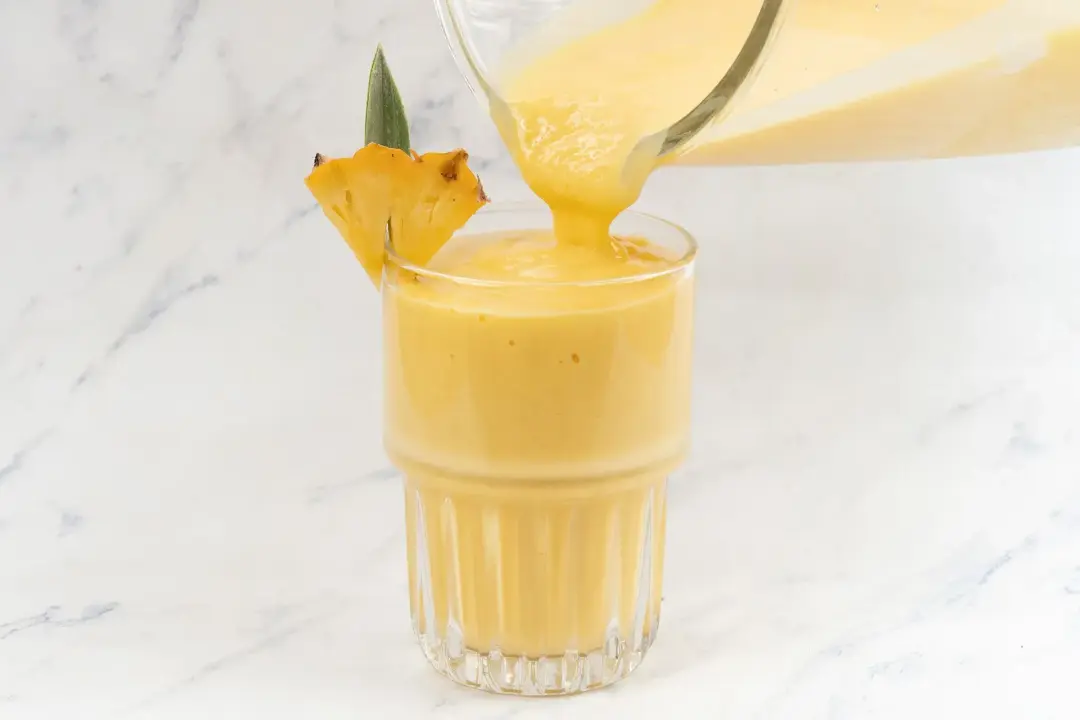 Pour the smoothie into serving glasses. Garnish and enjoy.
Tips for A Slushy Smoothie 
Using frozen fruit and a little bit of ice in your smoothie will make it slushy. It will stay cool for longer, and won't turn watery quickly.
Also, by freezing fruits that oxidize and turn dark easily, you're keeping the enzymes responsible for that temporarily inactive. Your smoothie should have a vibrant color for longer.
If you don't have frozen fruits for this tropical smoothie recipe, you need to have a strong blender— something that blends ice quickly. It will crush the ice into fine particles that keep your smoothie slushy and cool.
More Smoothie Ideas
Those fruits are not the be-all and end-all. There are other ingredients that can also make great tropical combos:
1. Hawaiian Smoothie
To make this, you'll need coconut milk, banana, mango, and pineapple. Its flavor is leaning towards the sweet end of the scale, yet uses no sweetening agent apart from natural fruits.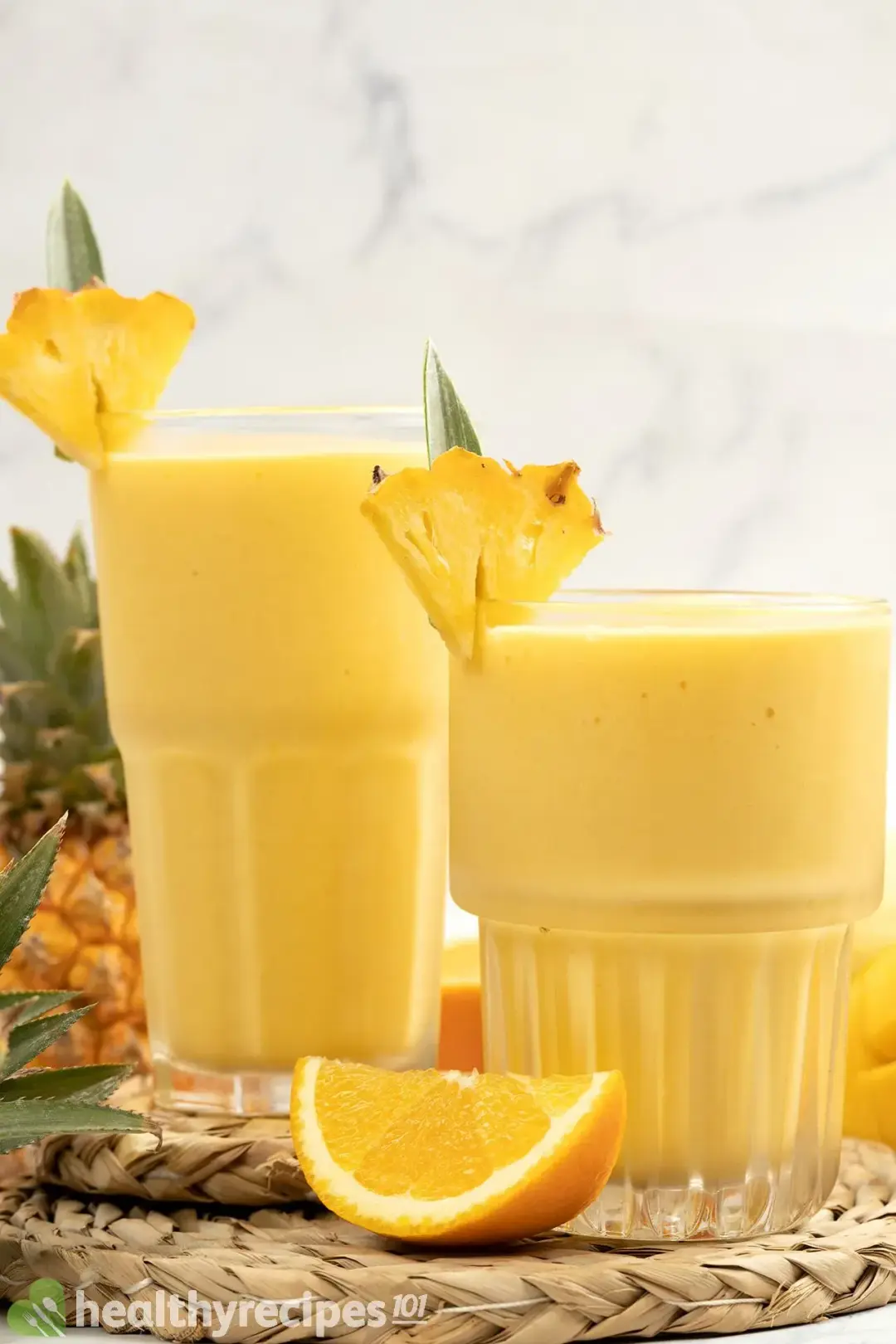 Plus, it tastes so creamy that you'll almost forget there's no dairy.
Quick recipe: 8 oz of the fruits (frozen) and 2 tbsp of coconut milk to serve 4. Each serving yields 140 calories.
2. Coconut Tropical Smoothie
Adding lime juice and coconut water to mango and pineapple can take your smoothie to a whole new level. You might be stunned by the first zing, but then get transported, as it gradually takes your taste buds to another realm.
Quick recipe: 8 oz of the fruits (frozen), 1 tbsp of lime juice, 1 tbsp of coconut milk, and 2 tbsp of coconut water. This also serves 4, and each serving gives 100 calories.
3. Pineapple Smoothie
Our pineapple smoothie has coconut, pineapple, and banana, fitting the tropical theme pretty good. Also, we added a few drops of vanilla extract for an amazing aroma.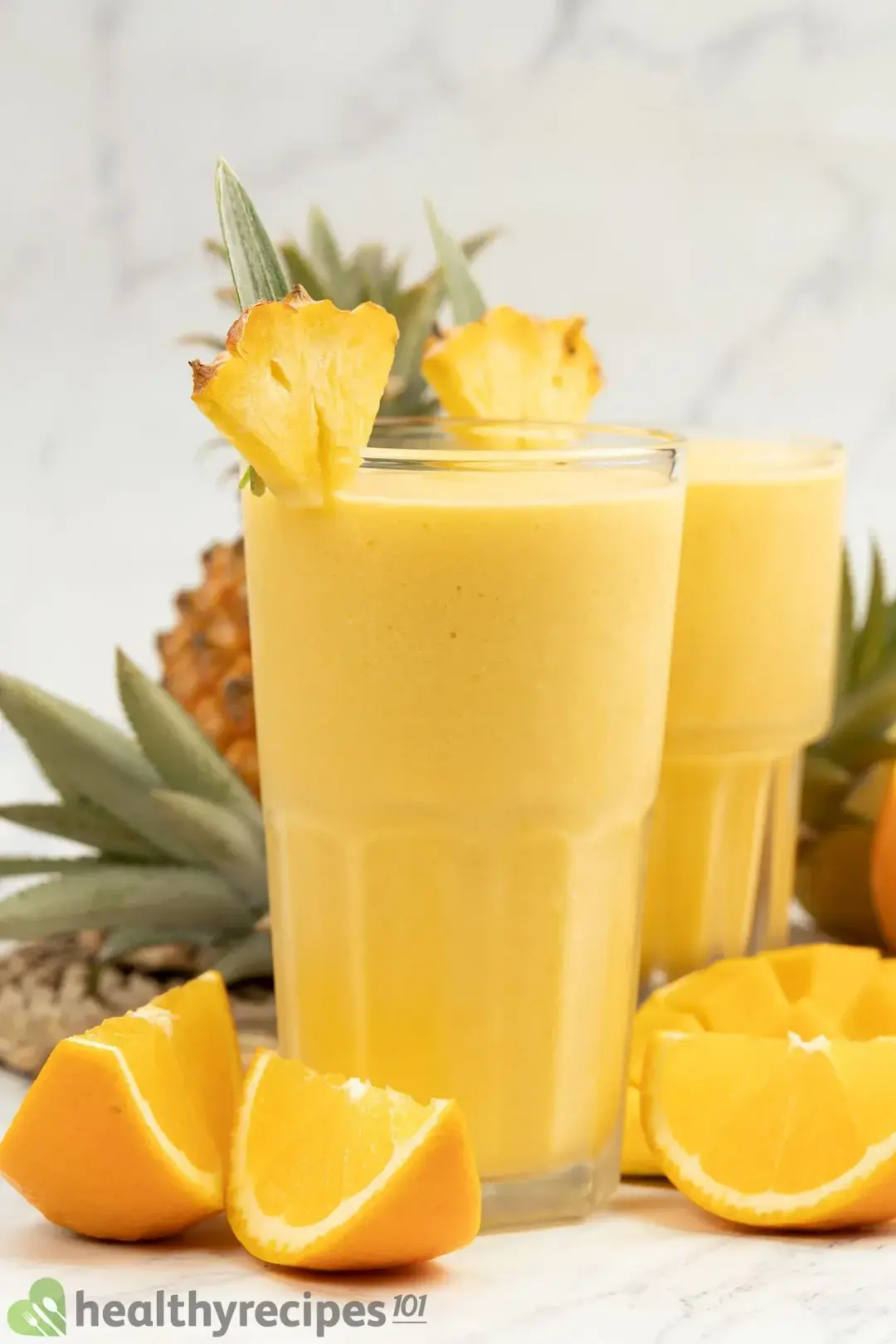 Quick recipe: 12 oz pineapple (frozen), 8 oz bananas (frozen), 1/2 cup coconut water, 1/3 cup coconut milk, 2 tbsp honey, 1/2 tsp vanilla extract. This serves 4, and each serving gives 169 calories.
Healthy Tropical Smoothie Recipe
This healthy tropical smoothie recipe makes yummy, summery glasses of fruit-packed smoothie. And, it only takes like 5 minutes.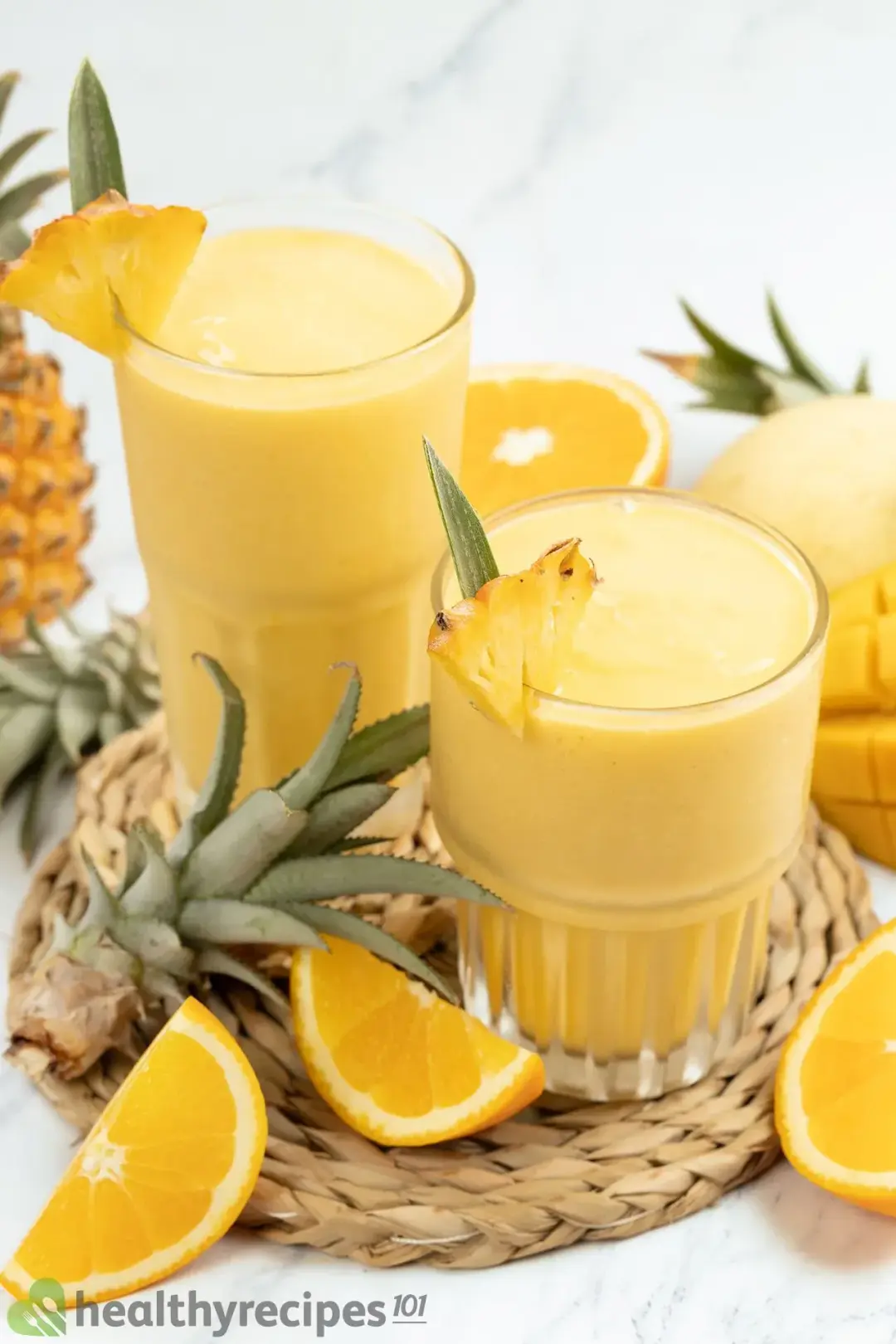 prep TIME

5 mins

total TIME

5 mins
COURSE

Beverage

CUISINE

Global

SERVINGS

servings

CALORIES

180 kcal
INGREDIENTS
12 oz

mangoes frozen

8 oz

pineapples frozen

4 tbsp

sugar

1.3 cups

orange juice

0.3 cup

plain Greek yogurt

2 cups

ice
INSTRUCTIONS
1
Blend all the ingredients together.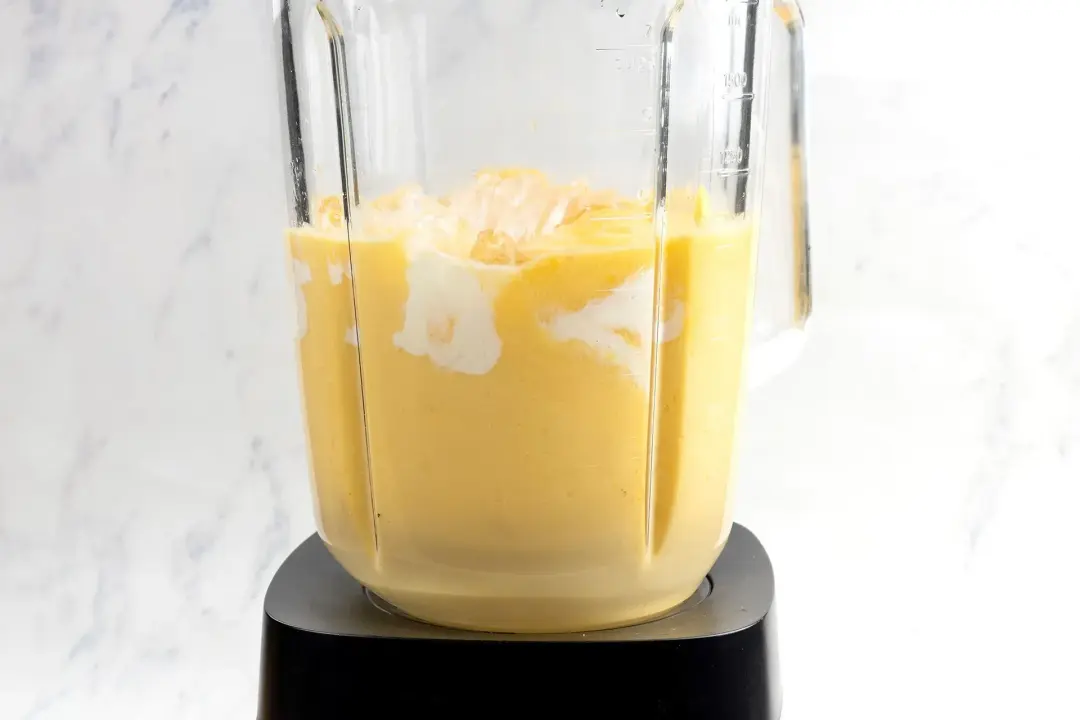 2
Pour the smoothie into serving glasses. Garnish and enjoy.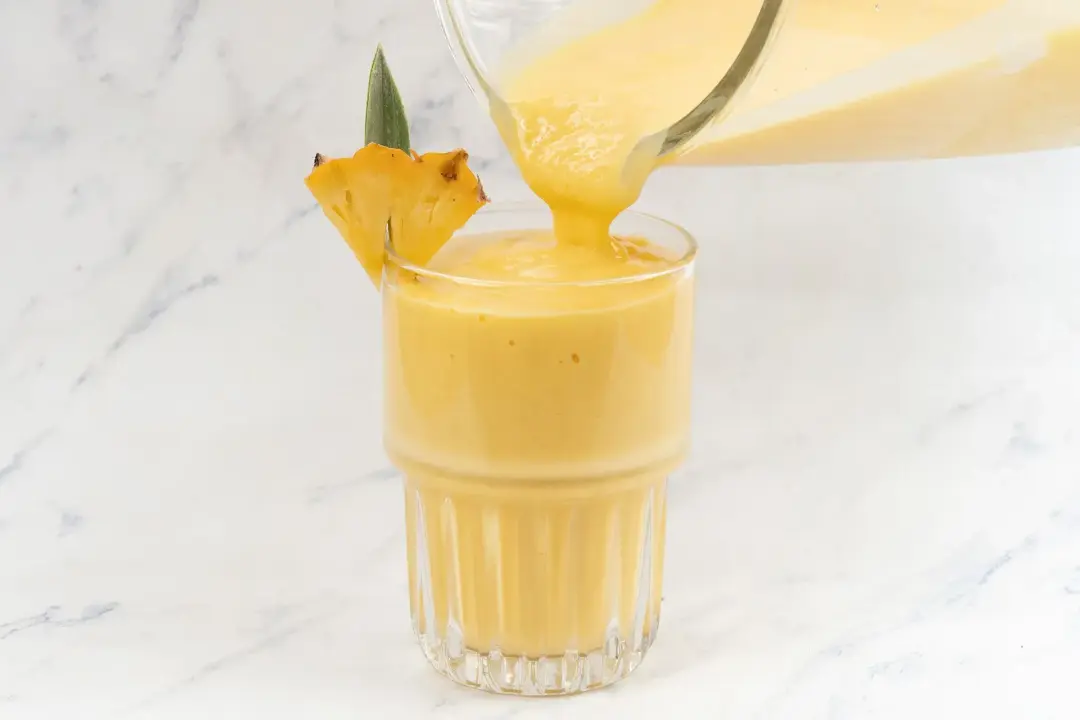 NUTRITION
Nutrition Facts
Healthy Tropical Smoothie Recipe
Amount Per Serving (1 serving)
Calories 180
Calories from FDA
% Daily Value*
* Percent Daily Values are based on a 2000 calorie diet.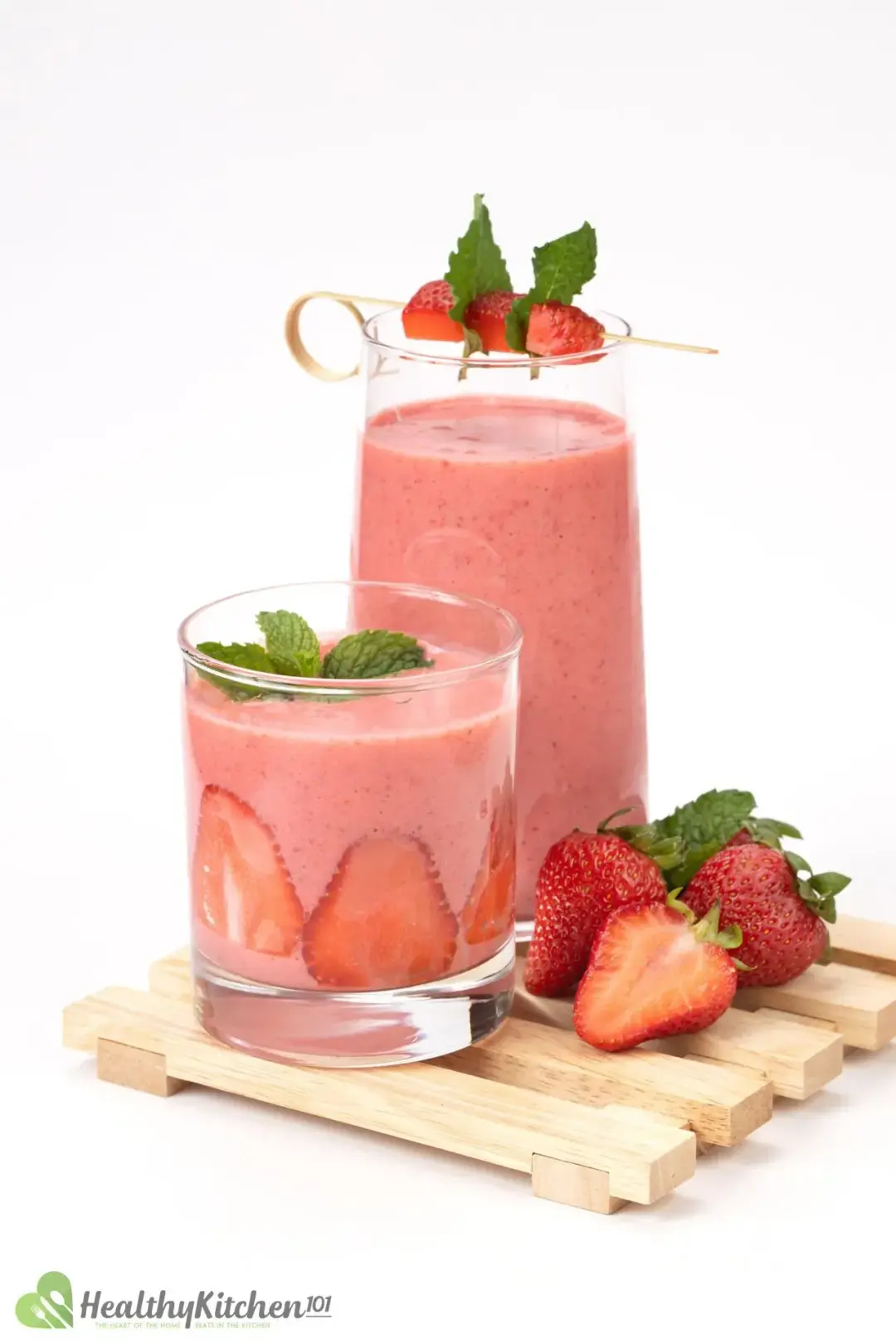 Previous Recipe
Healthy Strawberry Smoothie
Healthy Strawberry Smoothie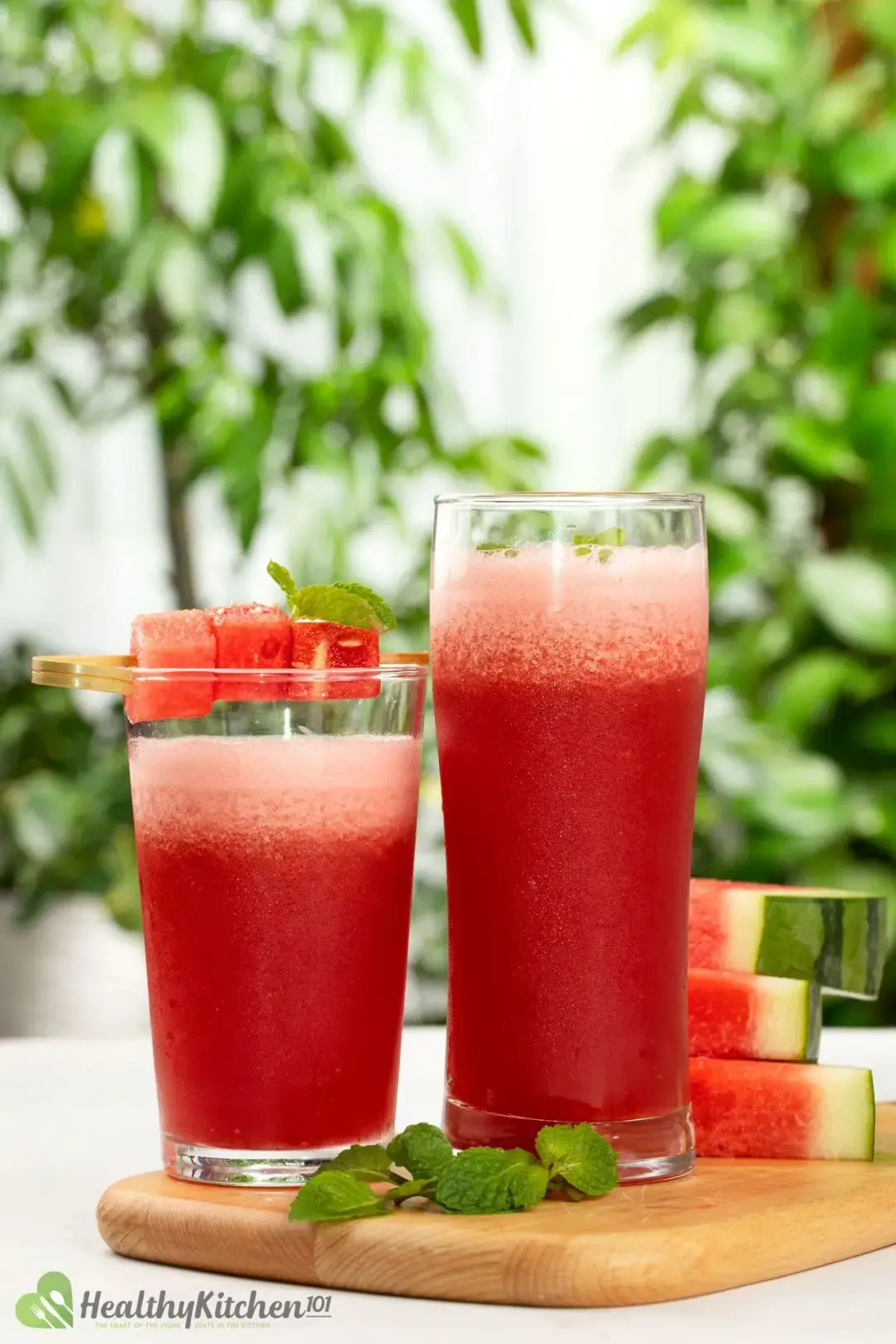 Next Recipe
Healthy Watermelon Smoothie
Healthy Watermelon Smoothie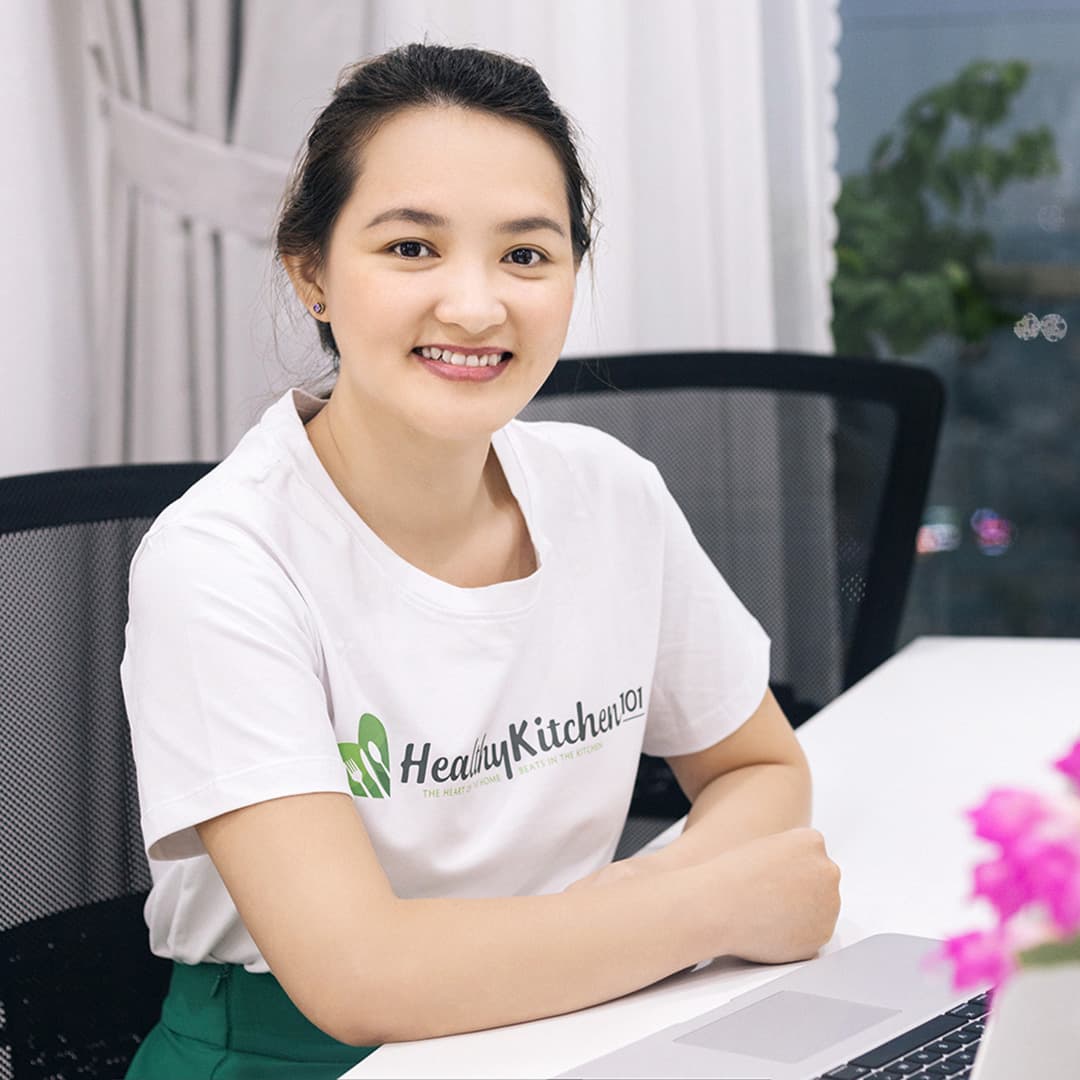 Luna Regina
A writer and entrepreneur, Luna's day doesn't start at the computer keyboard, but in the kitchen.
Half of her working hours are spent on mixing ingredients for her recipes. The other half involve working with the tech team to research and test the tools and appliances that promise to make kitchen work effortless and mess-free. From a kitchen knife or water filter to the Instant Pot, if it can help save time and effort for the home cook, Luna and her team are on it.
Luna's extracurricular pastimes include camping, travel, and photography.
Comments/ Reviews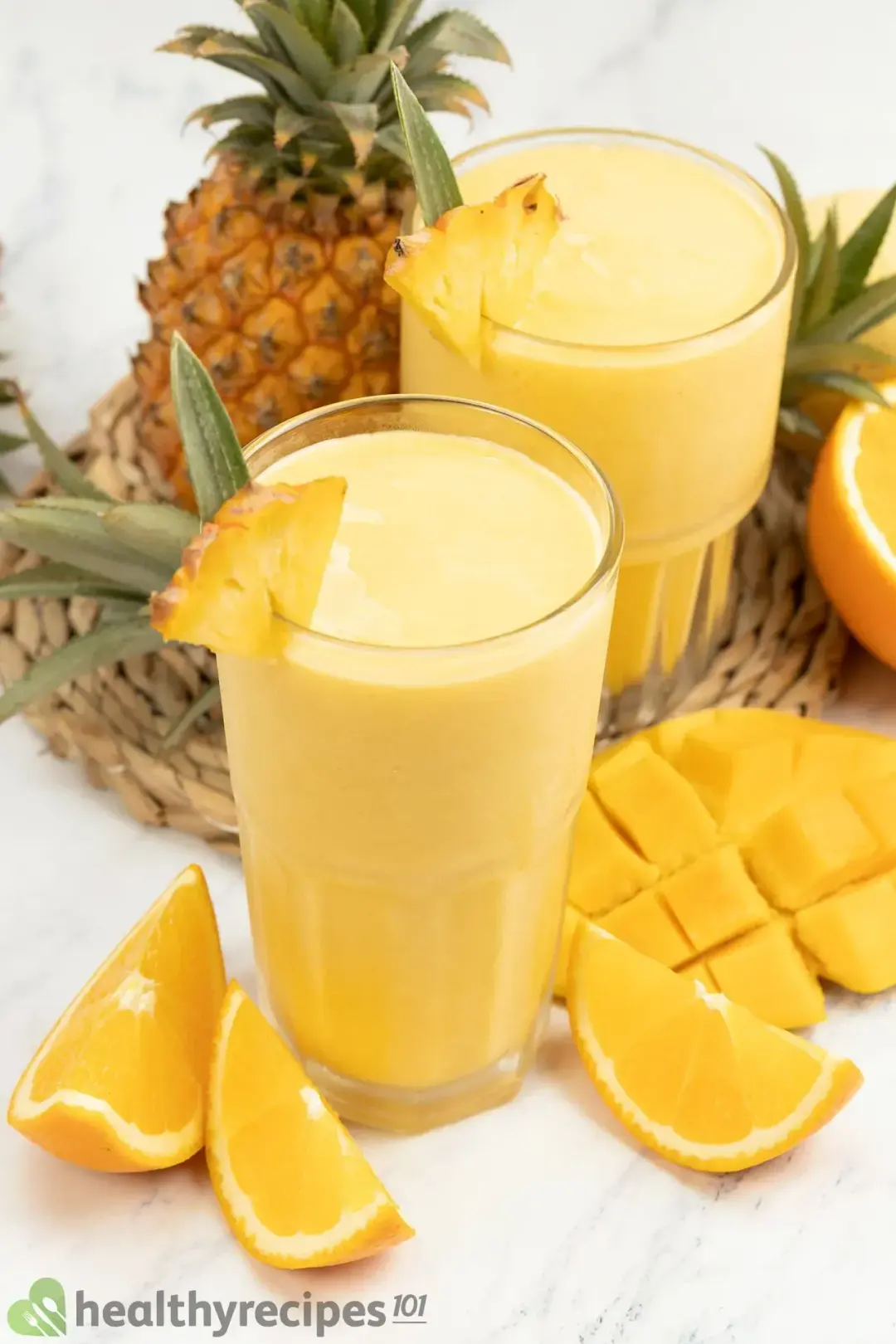 Tropical Smoothie Recipe