This strawberry spinach banana smoothie recipe is dedicated to everyone who loves making their own healthy drinks.
In this recipe, we'll show you how to make this simple-yet-delicious drink using only nine ingredients. But before we check out the ingredients, let's look at how we made this recipe healthy.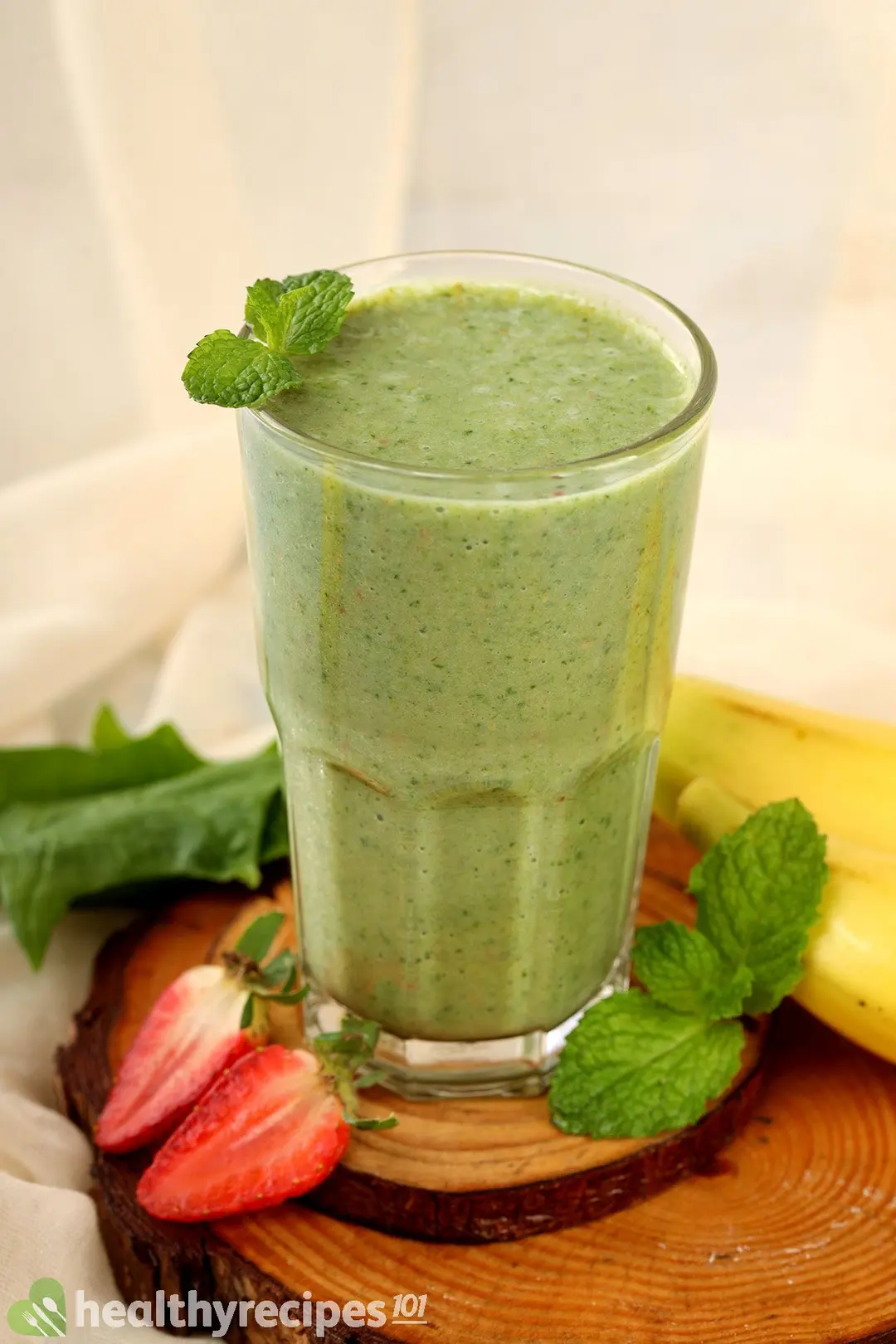 Is Strawberry Spinach Banana Smoothie Healthy?
Like our other recipes, this strawberry spinach banana smoothie recipe follows our healthy eating guidelines so yes, it is healthy. 
Since strawberries and bananas are naturally sweet, you only need a touch of extra sugar to balance their tartness. To be more specific, we added 1 tablespoon of maple syrup and 2 tablespoons of honey to 4 servings of smoothie.
Reducing the amount of sugar also cuts down on the calorie count. The result is that we created a satisfying smoothie that gives you only 178 calories.
In addition, this smoothie inherits nutrients from its two main ingredients, bananas, and strawberries. Bananas are famously high in potassium while strawberries are packed with vitamin C and manganese.
This smoothie may not give you all the nutrients that you need but it can certainly be a part of a healthy eating pattern.
Ingredients for This Smoothie
This strawberry spinach banana smoothie recipe only requires these few ingredients: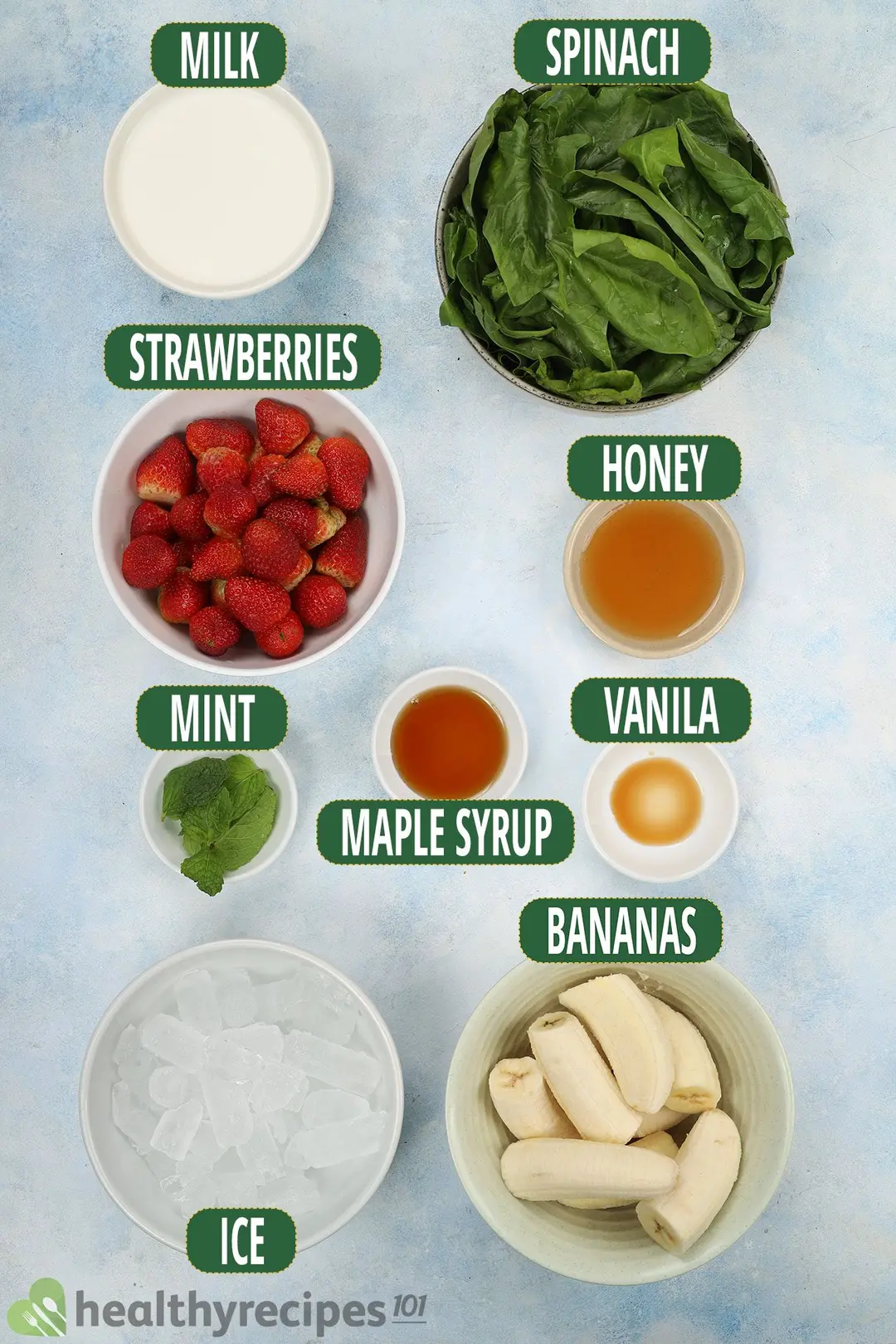 Fresh strawberries: Some smoothie recipes instruct you to freeze your strawberries in advance, but that's not the case today. Instead, we'll be blending them with ice.
Fresh bananas: Likewise, there's no need to freeze bananas for this smoothie. However, it is important that you use ripe bananas because they'll add more natural sweetness to the final product.
Raw spinach: It's very common to blend raw leafy greens into smoothies — there's no need to blanch the spinach beforehand.
Dairy: This recipe calls for whole milk. If you're lactose-intolerant, feel free to swap it with any plant-based milk alternative you prefer.
Flavorings: We chose honey and maple syrup as sweeteners. We also added a few sprigs of spearmint to garnish and give the drink a fresh taste.
Ice: If possible, use relatively soft ice. Your blender will have an easier time breaking it up than hard, block ice.
How to Make Strawberry Spinach Banana Smoothie
We recommend preparing all of the ingredients for your strawberry spinach banana smoothie in advance.
Start by peeling the bananas and breaking them into chunks so that they fit in the blender.
Then, quickly rinse the strawberries under running water to remove any dirt. Pat them dry using a kitchen towel and cut off the stems.
You should also rinse and drain the spinach before adding it to the blender. You only need the leaves for this smoothie, so cut off the stems and save them for another meal.
Once your ingredients for this strawberry spinach banana smoothie recipe are all prepared, you can put everything into the blender: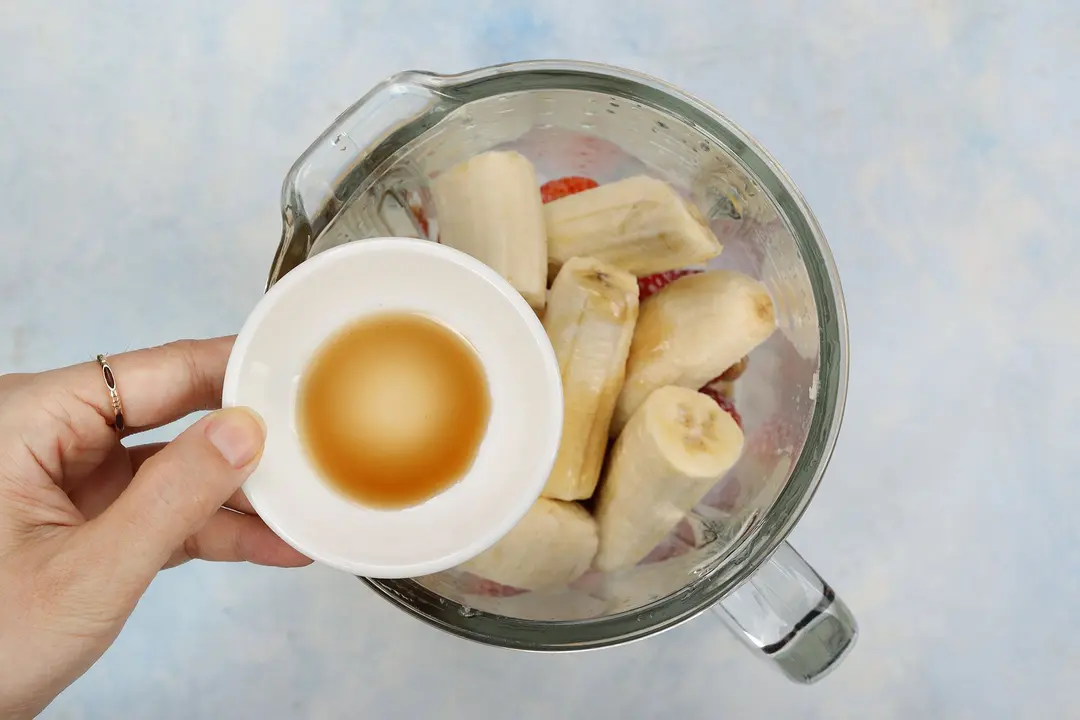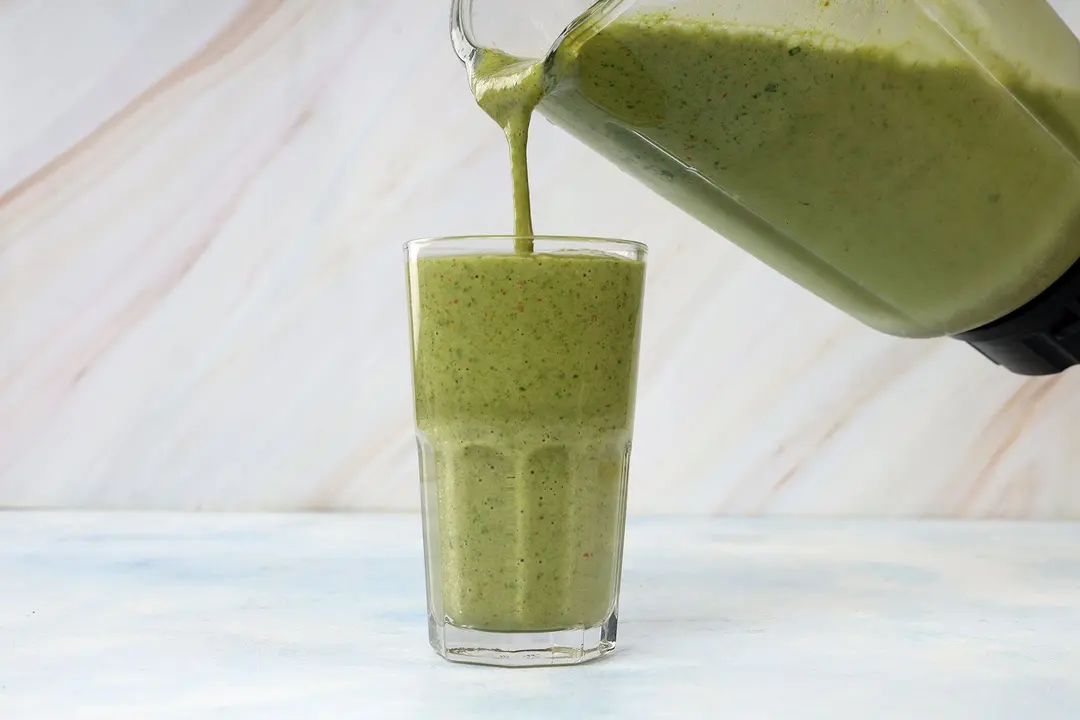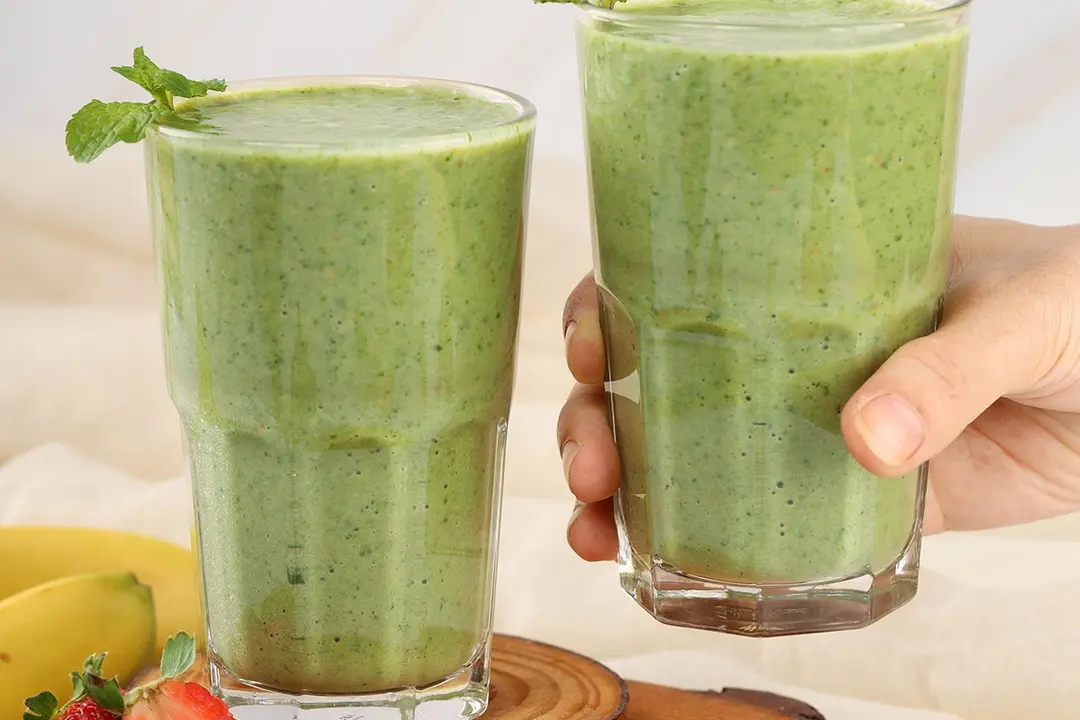 As always, ingredients and detailed measurements will be provided in the recipe section below.
Can You Use Frozen Spinach in a Smoothie?
Yes, you can try it, but it may actually increase your prep time.
Frozen spinach is available in supermarkets across the country. It should be easy to find the next time you go grocery shopping.
However, commercially frozen spinach is compressed and formed into small blocks that may be too hard to blend.
It's best if you allow it to thaw and drain thoroughly to remove excess moisture before putting it into the blender along with your other smoothie ingredients.
How to Store the Leftover Smoothie
We recommend storing the smoothie mix in an airtight container, bottle, or jar with a tight-fitting lid.
Avoid leaving the smoothie out at room temperature as this reduces its shelf life to less than two hours. It's better to put it into the fridge right away so that it will last longer.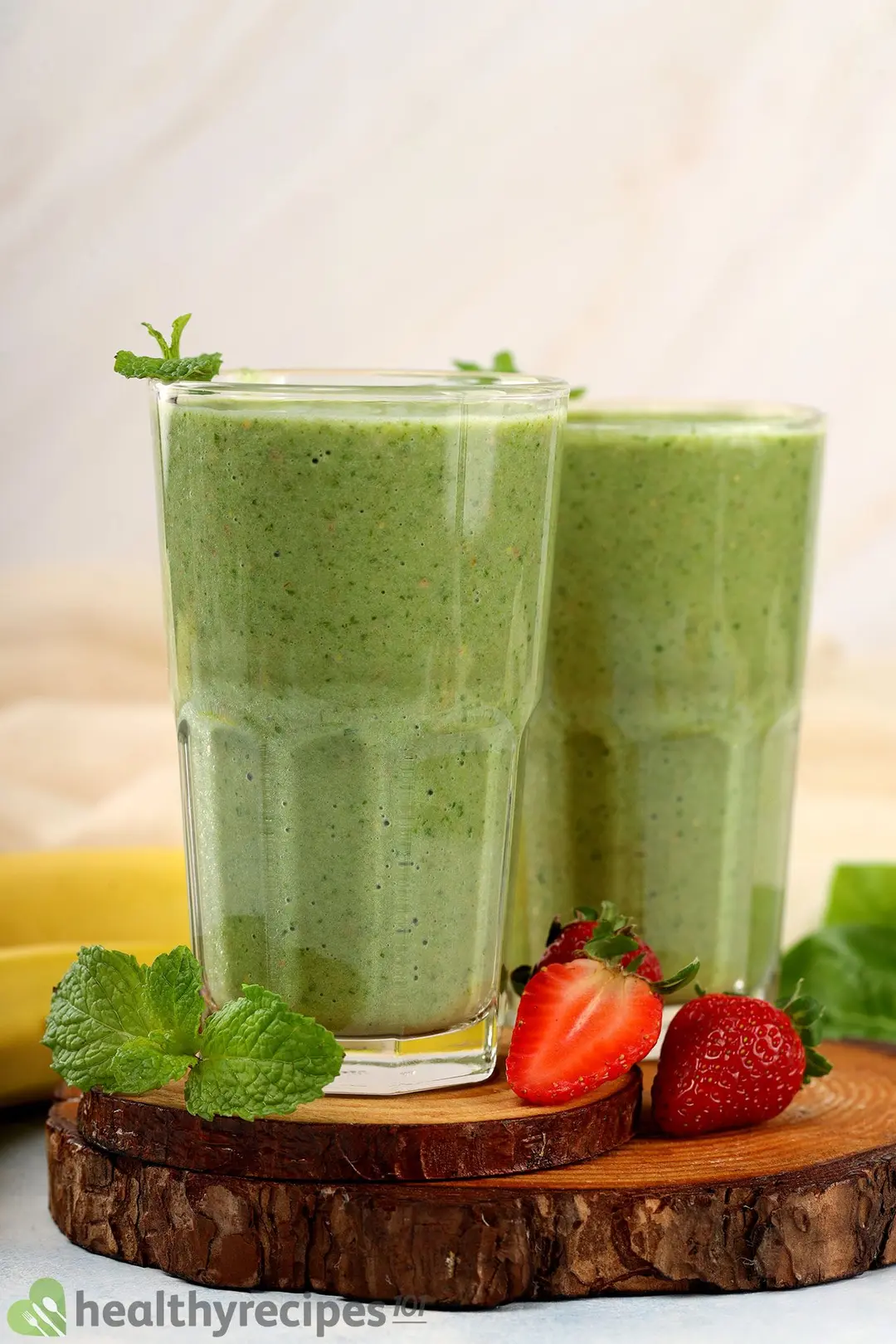 FAQ
1. How Long Does This Smoothie Last?
This strawberry spinach banana smoothie can last for about one day in the fridge. Since it contains whole milk — a highly perishable product — it will spoil before the two-day mark, even in the cold.
However, if you freeze the smoothie mix, it can stay good for three to four weeks. You can enjoy it as a fruity, low-calorie ice cream on hot summer days.
2. How to Tell If Spinach Is Bad
Fresh spinach can last for about a week in the fridge if it is stored properly in a tightly sealed container.
Check your spinach occasionally to make sure it's still safe. Vegetables can go bad quickly.
Fresh spinach should have hardy, bright green leaves.
If the leaves seem wilted or have a dark green color, it may not be safe to eat anymore. As spinach starts to spoil, it will gradually turn a darker shade of green.
Another indication is the shape of the leaves.
Fresh spinach has smooth leaves. If the leaves are wrinkly and have a blackish-green color, they've gone bad. There's no need to even bother checking other indicators.
Always trust your nose! It can tell you if your spinach is spoiled.
Fresh spinach, like most fresh vegetables should have an earthy, leafy smell. However, if you open the container and the spinach gives off a pungent sour smell, it's definitely gone off.
Reach in and grab a handful.
Fresh spinach should be dry and firm in texture. If it feels wet and slimy, it has spoiled and should be discarded.
The reason spinach becomes slimy is because there is too much moisture in the container. But don't worry, we know an effective way to store spinach without trapping moisture inside the container.
Strawberry Spinach Banana Smoothie Recipe
This strawberry spinach banana smoothie recipe combines ingredients that you may already have in your fridge to create a quick drink.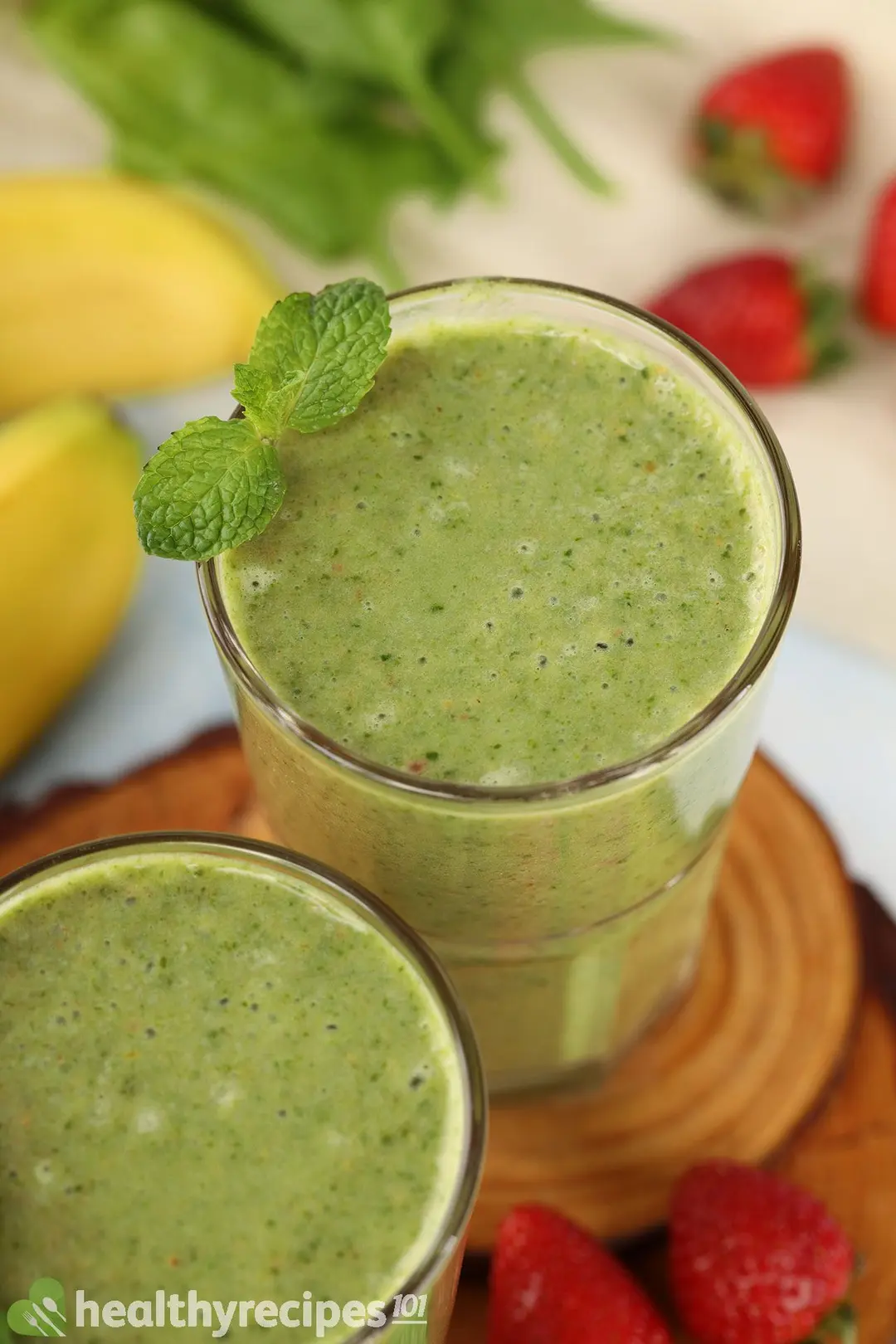 prep TIME

10 mins

total TIME

10 mins
COURSE

Beverage

CUISINE

American

SERVINGS

servings

CALORIES

178 kcal
INGREDIENTS
12 oz

strawberries (stems removed)

3 oz

spinach (leaves only)

10 oz

bananas (cut into chunks)

1 tbsp

maple syrup

2 tbsp

honey

1 cup

whole milk

0.3 tsp

vanilla extract

6

mint leaves (for garnish)

2 cups

ice
INSTRUCTIONS
1
Blend the smoothie ingredients: Combine 12 oz strawberries, 3 oz spinach, 10 oz bananas, 1 tbsp maple syrup, 2 tbsp honey, 1 cup whole milk, and 1/4 tsp vanilla extract in a blender. Blend until completely smooth.
2
Pour the smoothie mixture into 4 glasses.
3
Garnish them with the mint leaves and enjoy your refreshing beverage.
NUTRITION
Nutrition Facts
Strawberry Spinach Banana Smoothie Recipe
Amount Per Serving (1 serving)
Calories 178
Calories from FDA
% Daily Value*
* Percent Daily Values are based on a 2000 calorie diet.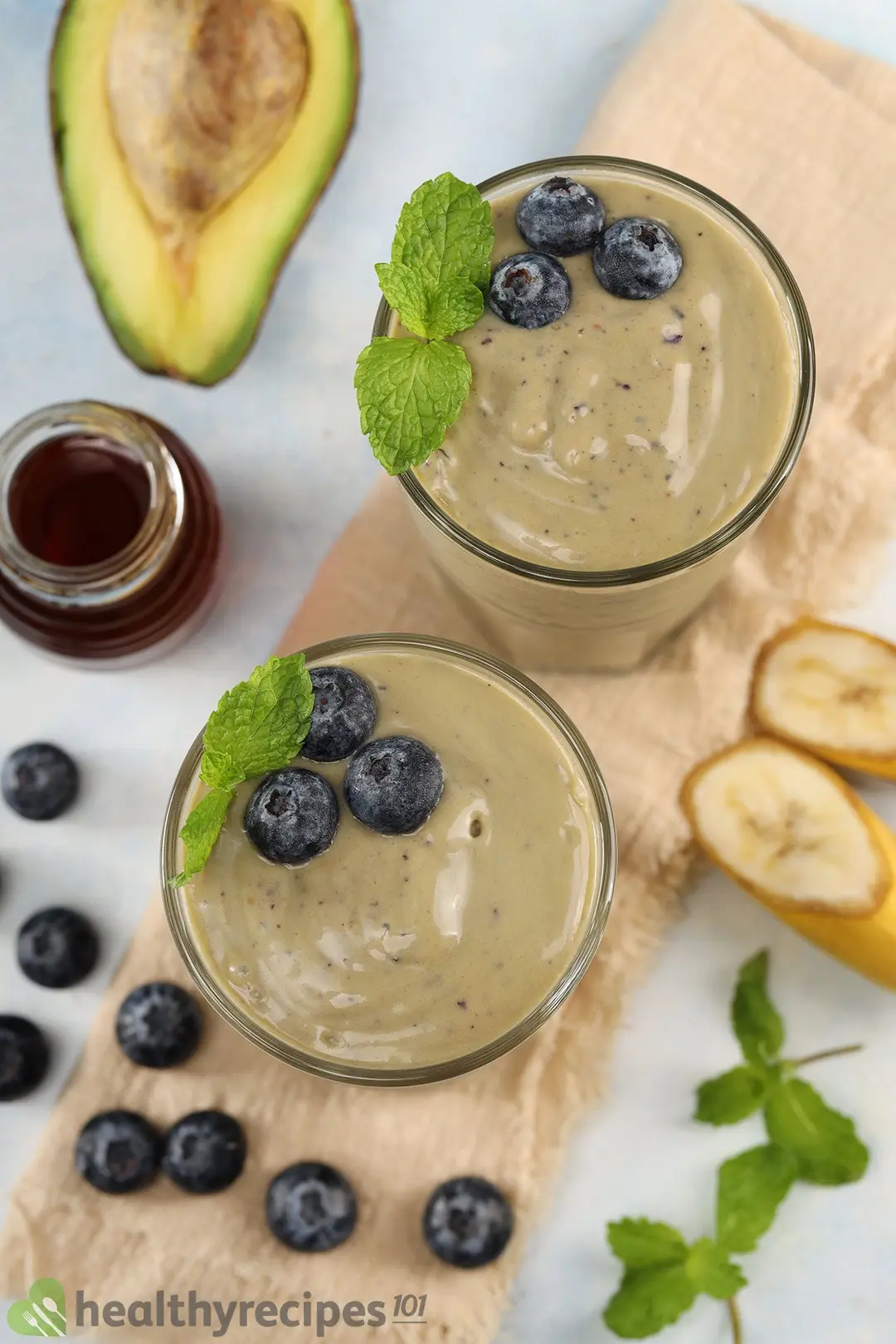 Previous Recipe
Blueberry Avocado Smoothie
Blueberry Avocado Smoothie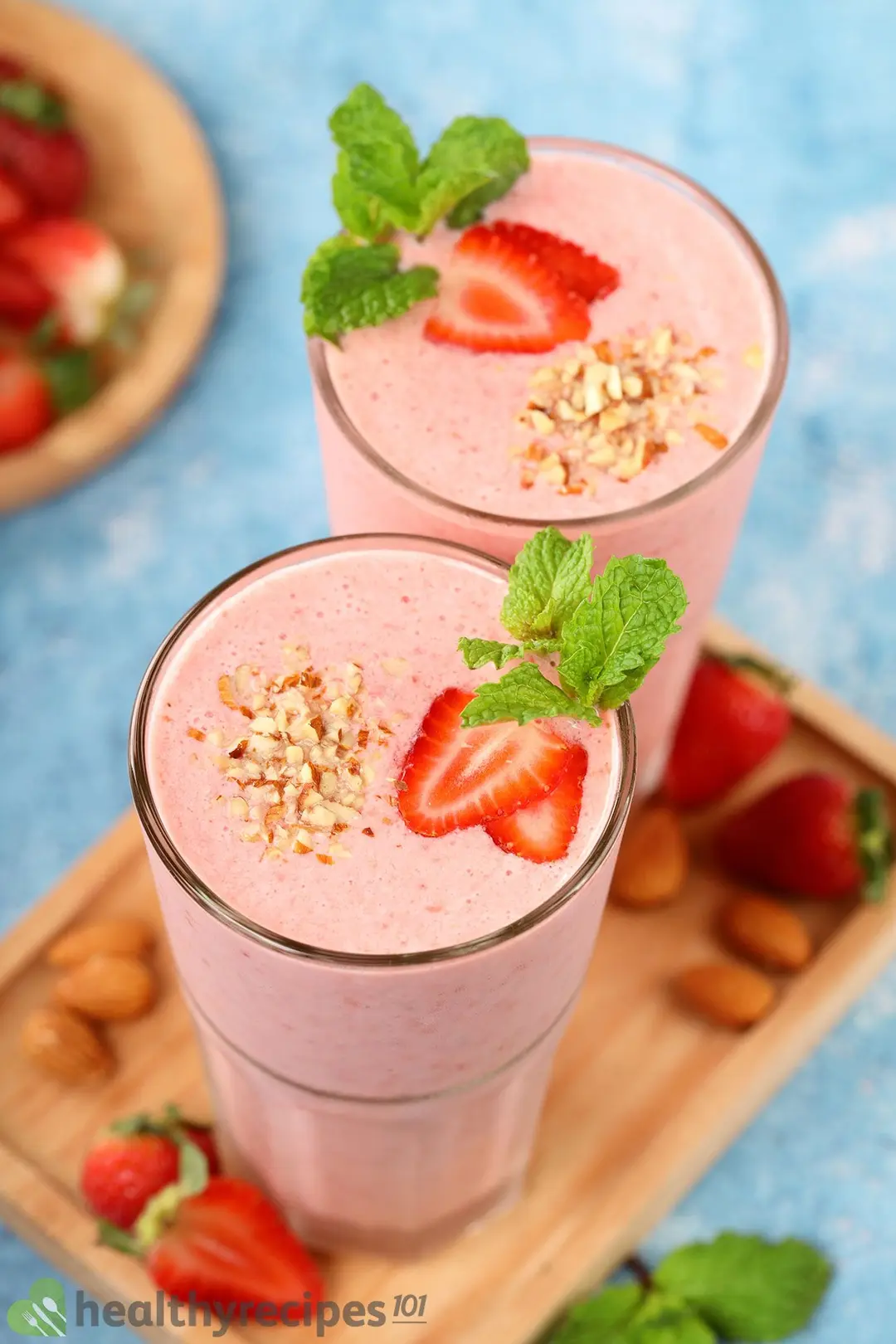 Next Recipe
Strawberry Smoothie With Yogurt
Strawberry Smoothie With Yogurt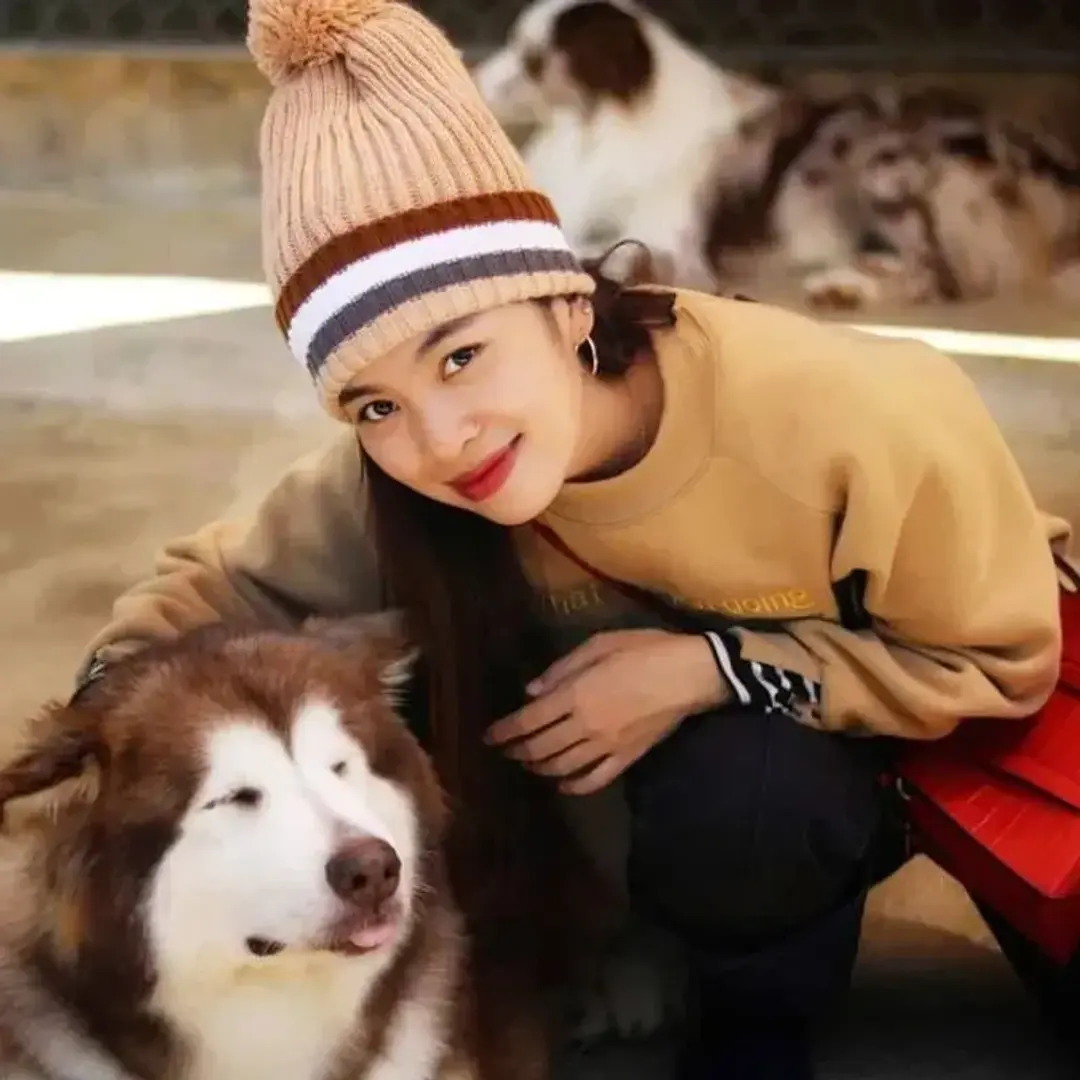 Chef, Culinary Consultant
Tuyet Pham is an award-winning Saigonese chef who believes that joy is the secret ingredient to delicious food. At Healthy Recipes 101, Tuyet personally tests and simplifies every recipe, ensuring maximum flavor with minimal effort. With a background at prestigious French restaurants P'TI Saigon and Le Corto, Tuyet knows how to make every dish exceptional.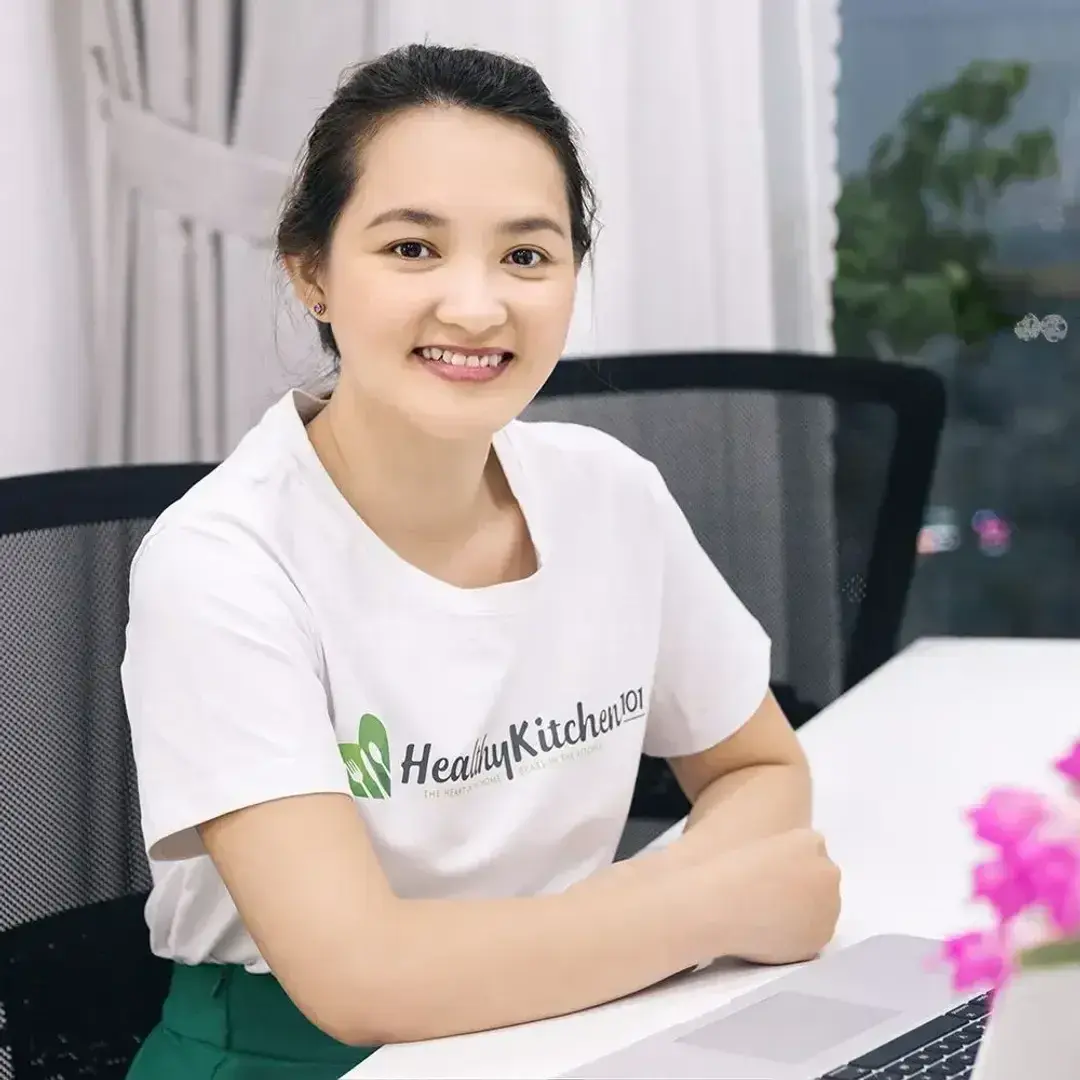 Writer, Author
Luna Regina is an accomplished writer and author who dedicates her career to empowering home cooks and making cooking effortless for everyone. She is the founder of HealthyKitchen101.com and HealthyRecipes101.com, where she works with her team to develop easy, nutritious recipes and help aspiring cooks choose the right kitchen appliances.
Comments/ Reviews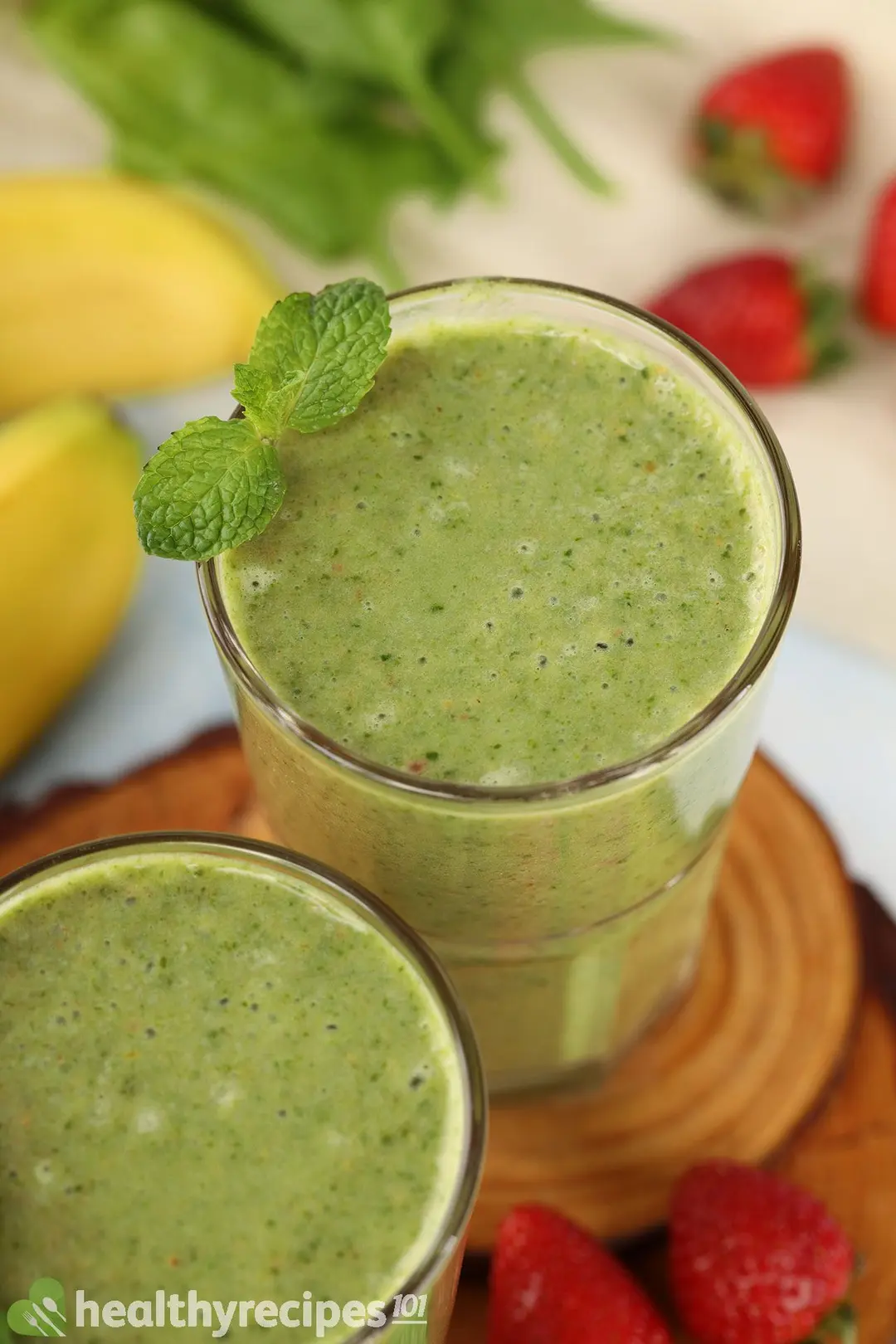 Strawberry Spinach Banana Smoothie Recipe