Forget taro bubble tea. This healthy taro smoothie recipe is what to make! Our taro smoothie tastes slightly sweet and rich, and all it takes is 30 minutes to make.
Taro is a tropical plant that has many edible parts, especially its roots. Taro roots are a key ingredient in many delicious recipes from different cuisines such as African, Asian, Hawaiian, etc.
If you have never tasted taro before, here's how we would describe it.
What Does Taro Taste Like?
It may be hard to describe the unique texture and taste of taro, but here's what you can expect:
Taro roots are only safe to eat once they are cooked.
When boiled or steamed, taro roots will become quite tender and crumble apart when mashed. The texture is somewhat similar to sweet potatoes, only that taro is a bit more dense and dry.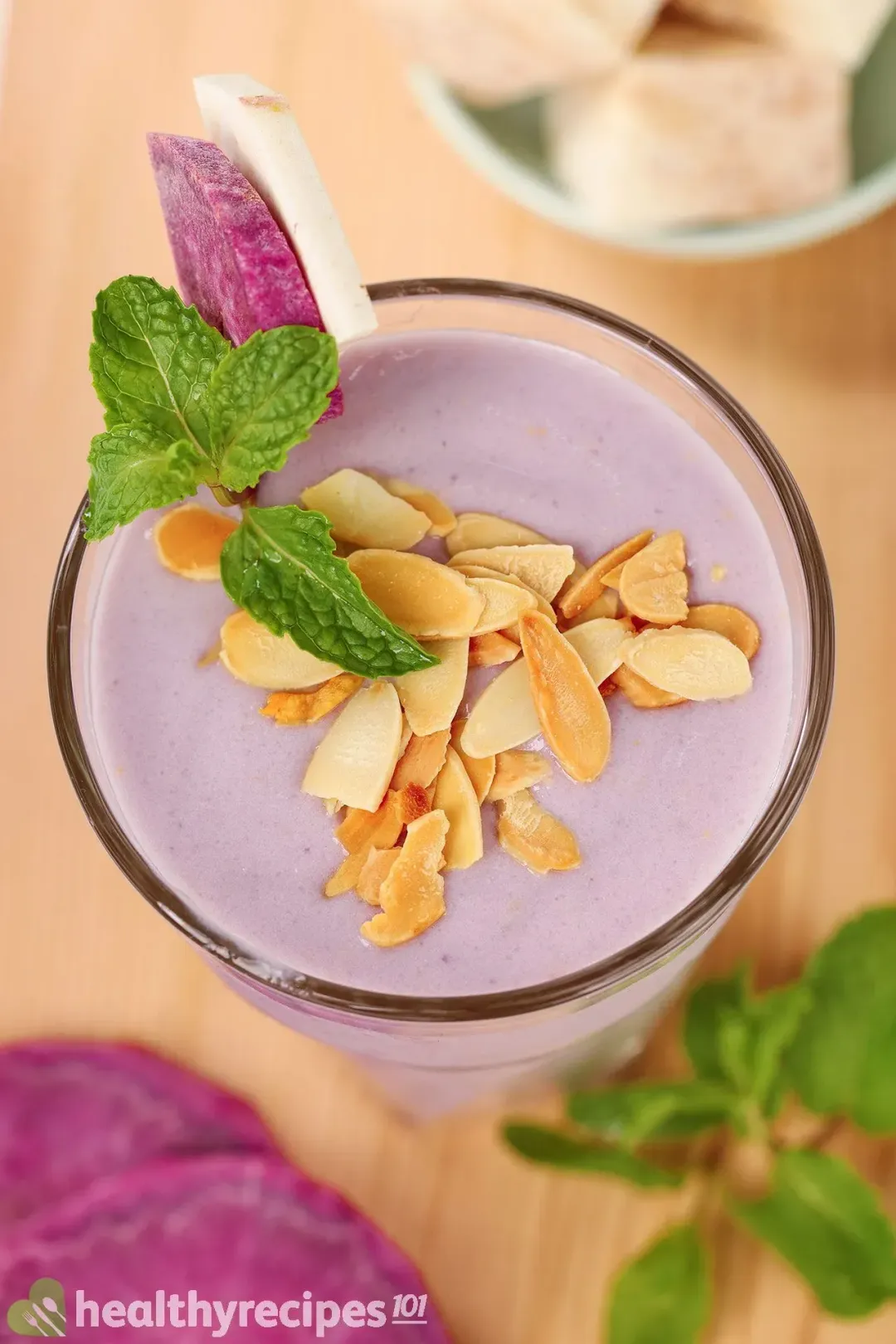 Taste-wise, taro has an earthy and bland flavor profile. But don't be discouraged, this is what makes it a good base for our taro smoothie recipe.
Southeast Asian cuisine has various taro soup recipes where the vegetable is cut into chunks and simmered in broth. The taro will become tender and chewy. And since it's a starchy vegetable, it absorbs all the flavor from the seasonings and tastes absolutely amazing.
Healthy Benefits
Our taro smoothie recipe contains steamed taro and purple sweet potatoes. These two vegetables are quite high in fiber, making the drink an excellent way to sneak more fiber into your diet.
And being high in fiber, our smoothie can give you a feeling of satiety, making you feel fuller for longer. This is what makes our smoothie a great and healthy snack.
In addition, like many other vegetables, taro roots are packed with micronutrients, especially manganese, potassium, vitamin B6, and vitamin E. Besides taros, purple sweet potatoes are also a great source of potassium and vitamin C.
If you're looking for more ways to add vegetables to your smoothie, you can check out our healthy pumpkin spice smoothie recipe.
Main Ingredients
You will need the following for today's taro smoothie recipe:
Fresh Taro Roots: This is the star of today's show. However, it may not be easy for you to find them at your local grocery store. Instead, you can try going to farmers markets or Asian grocery stores.
Purple Sweet Potatoes: Taros are off-white in color with purple freckles that disappear when the tuber is cooked. Adding purple sweet potatoes to the smoothie will give the drink a luscious lavender-like color.
Dairy: Adding condensed milk, whole milk, and heavy cream will help the root vegetables blend more smoothly as well as add a richer, creamier flavor to your drink.
Toasted Sliced Almonds: Blending toasted sliced almonds with the smoothie will give it a slight hint of nuttiness. We also recommend garnishing your glass of smoothie with toasted almond slices to make it look more visually appealing.
Mints: We always like to garnish our smoothies with a sprig of spearmint for a refreshing finish. That being said, it doesn't add much flavor, so feel free to simply leave it out.
And ice for blending.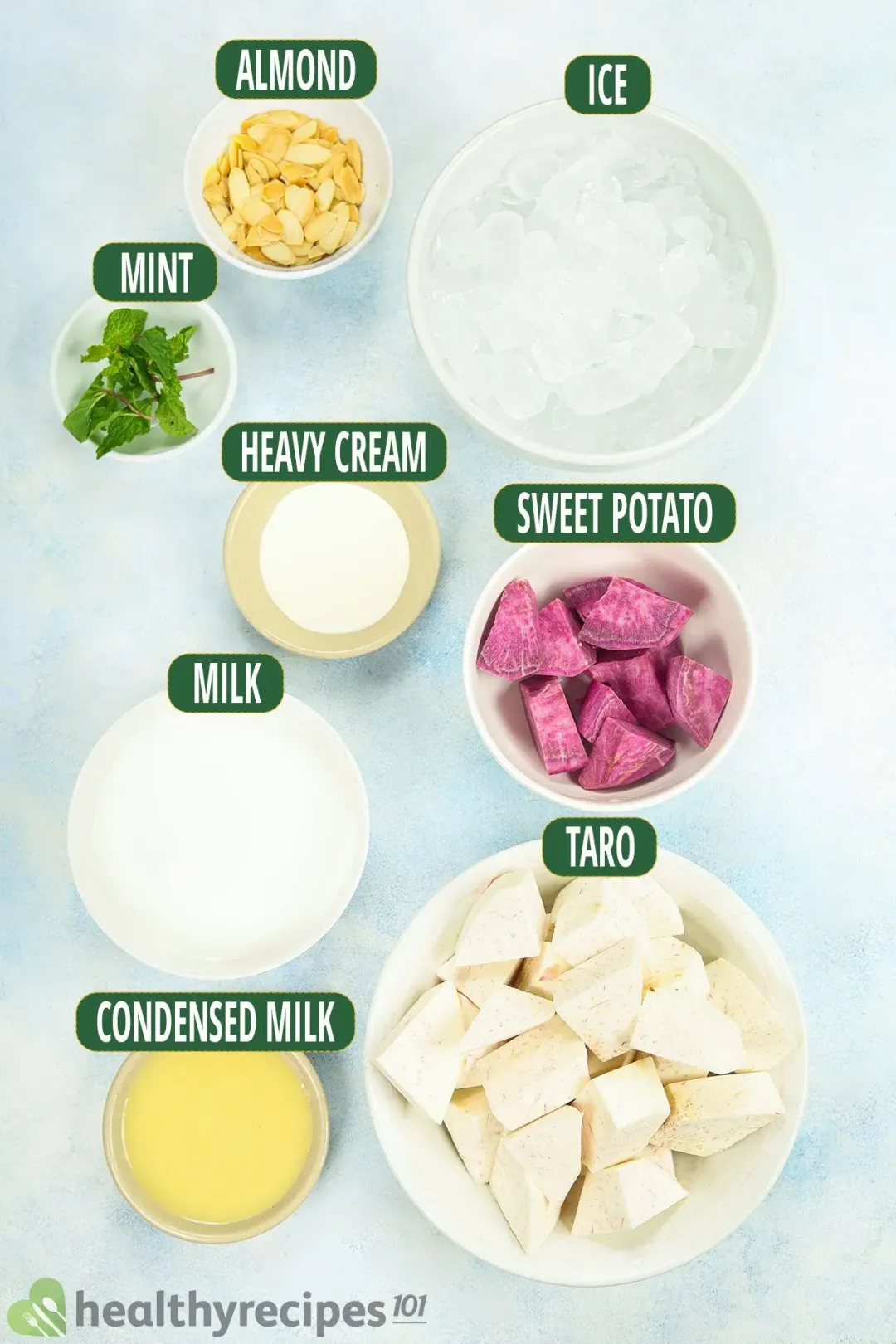 How to Prepare Taro Root
A fresh taro root with its hairy exterior may seem quite intimidating to handle, but don't worry. Here's what you should do:
Clean the taro roots under running water, scrubbing the roots well to get rid of any dirt.
Use a vegetable peeler to remove the skin. The peel of a taro root is very fibrous and isn't edible, so you can discard or use it to make compost.
Once peeled, rinse the root under running water again.
Allow the root to dry naturally for a few minutes in a basket, or pat it dry with a kitchen towel.
You can now cut it into your desired shape. For this taro smoothie recipe, we recommend cutting it into chunks, about ½-inch thick.
Both taro and purple sweet potatoes are root vegetables, so you can clean and prepare them simultaneously to save time.
Storing and Freezing the Leftover
We recommend removing the leftover smoothie from the blender and transferring it to an airtight container or bottle. Since the root vegetables are cooked, this smoothie should last for about 3 to 5 days in the refrigerator.
Alternatively, you can also freeze the smoothie, and it should last for a month.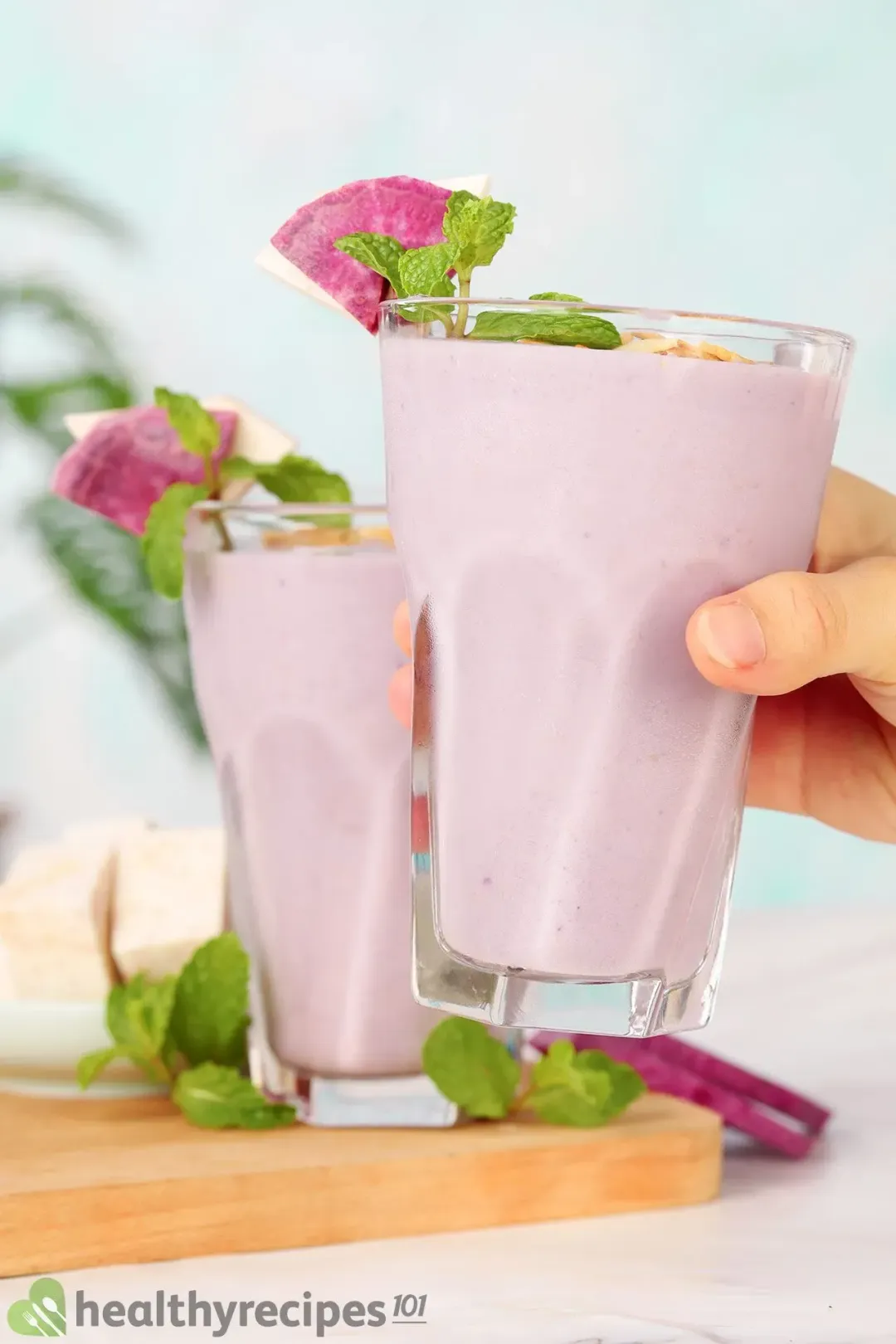 We recommend pouring the smoothie into ice trays and freezing until solid. Once frozen, transfer your "smoothie cubes" to a Ziploc bag and put it in the freezer.
When you want a drink, you can blend those "smoothie cubes" with a splash of milk.
Or, you can put the leftover smoothie into a freezer-safe container and freeze it to make low-calorie, high-fiber taro ice cream.
Taro Smoothie
This taro smoothie recipe is a great way to sneak more fiber and veggies into your diet. You'd be surprised how easy it is to make!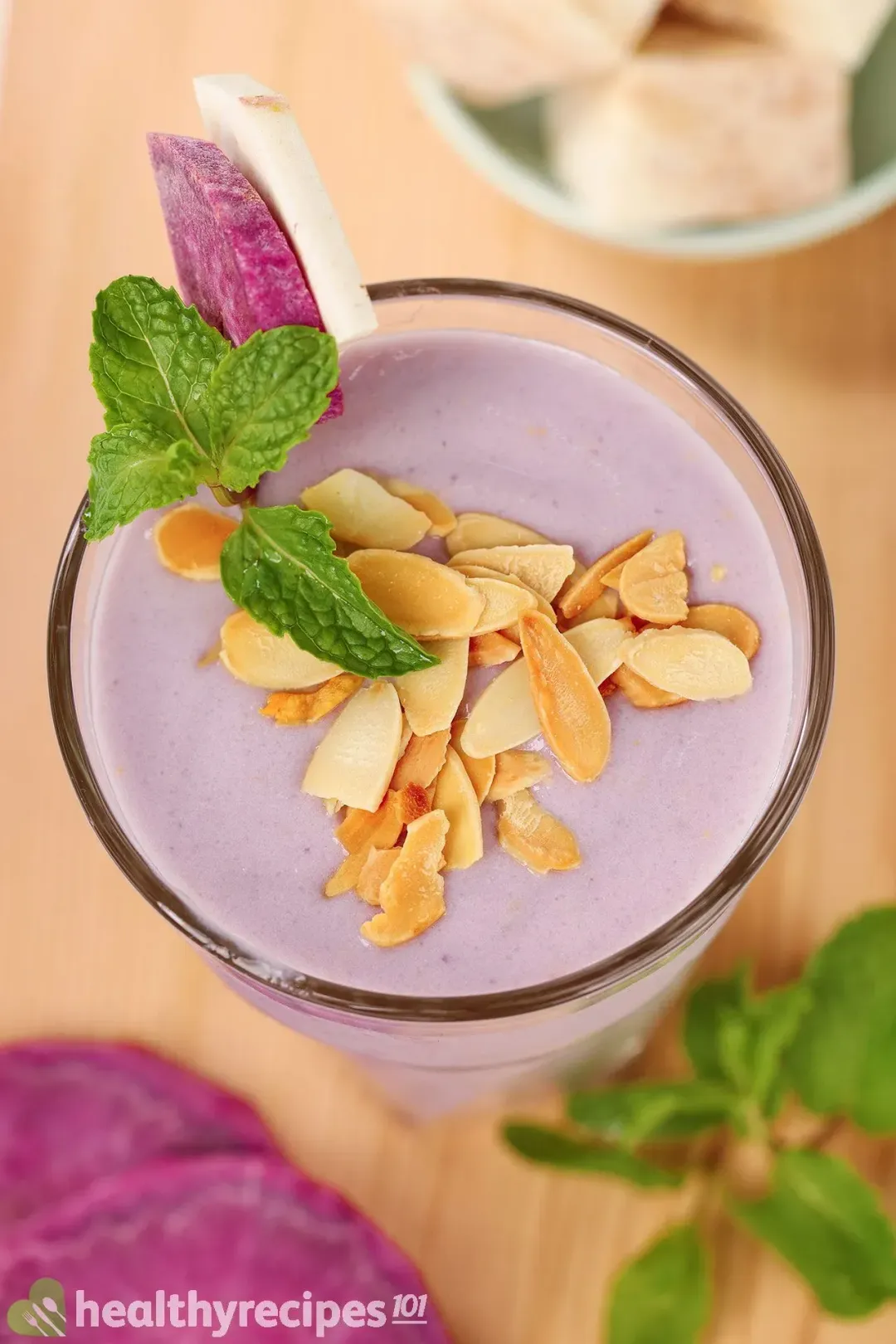 cook TIME

20 mins

prep TIME

10 mins

total TIME

30 mins
COURSE

Beverage, Smoothie

CUISINE

Global

SERVINGS

CALORIES

252 kcal
INGREDIENTS
14 oz

taro

(peeled and cut into chunks)

4 oz

purple sweet potato

(peeled and cut into chunks)

0.5 oz

sliced almond

(divided in half)
INSTRUCTIONS
1
Cook the taro and purple sweet potatoes: Fill about 1-inch of water in a pot. Bring it to a boil over high heat. Place 14 oz taro and 4 oz purple sweet potatoes chunks in a steamer basket. Put the basket over the boiling water. Cover, reduce the heat to medium-low, and steam for 20 minutes. Remove the vegetables from the steamer basket and set aside to cool.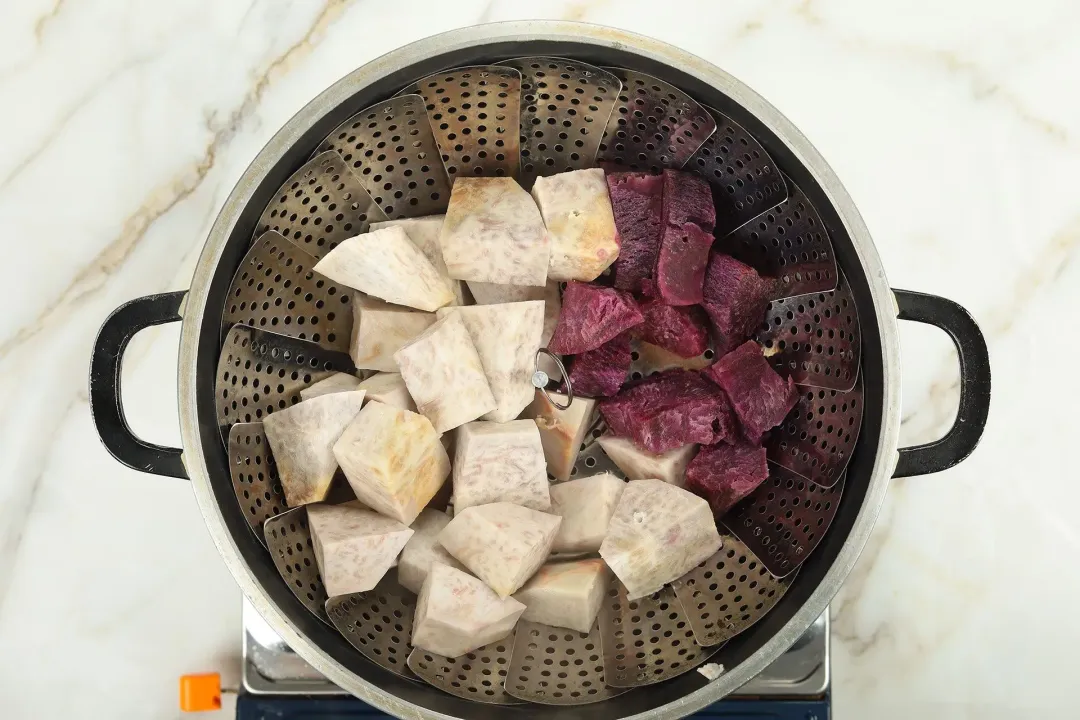 2
Put the steamed vegetables in the blender along with 2 cups ice, 3 tbsp condensed milk, 1 cup whole milk, 1 tbsp heavy cream, 0.25 oz sliced almond.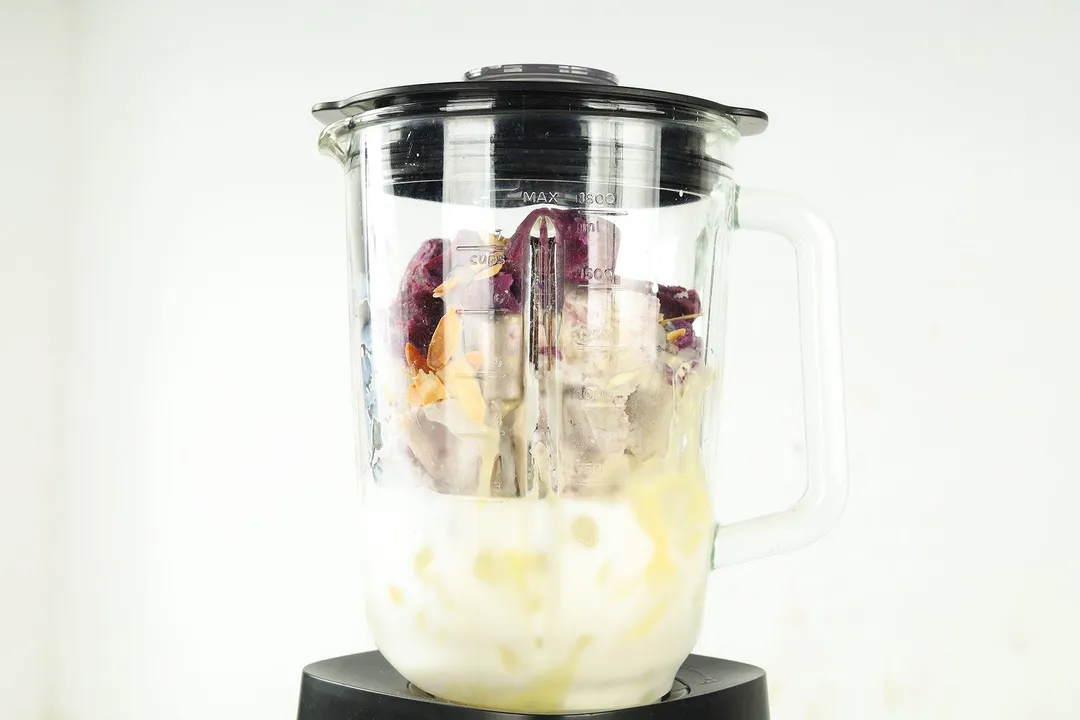 3
Blend all the ingredients: Blend in 20 - 30 seconds at high speed until completely smooth.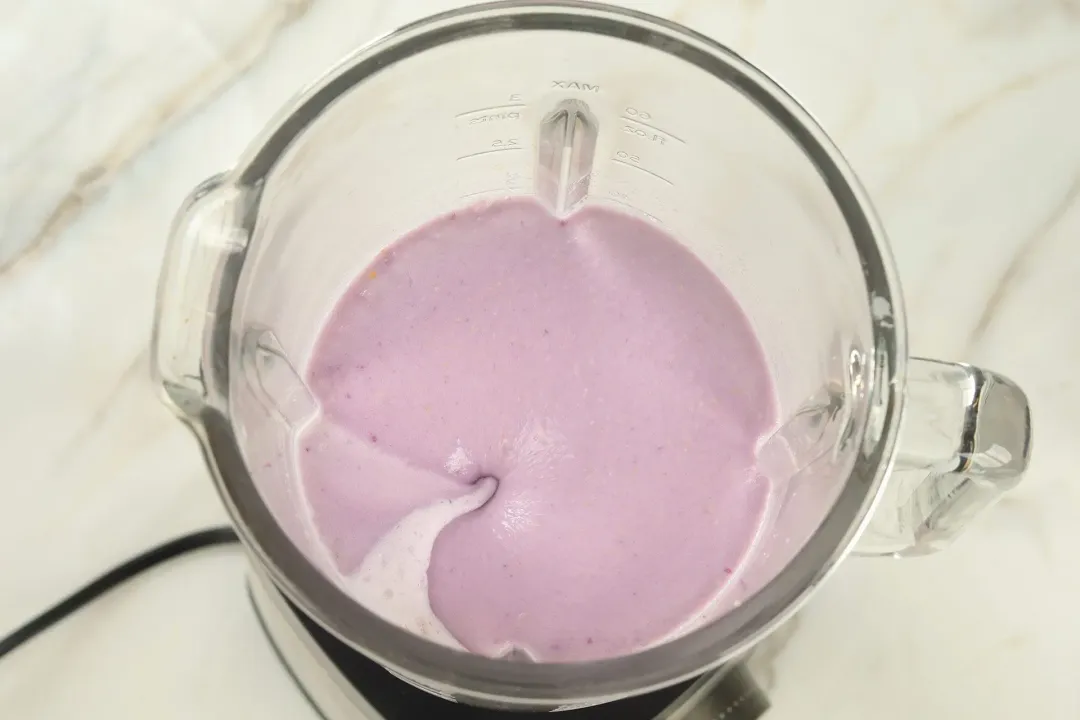 4
Transfer the smoothie to glass.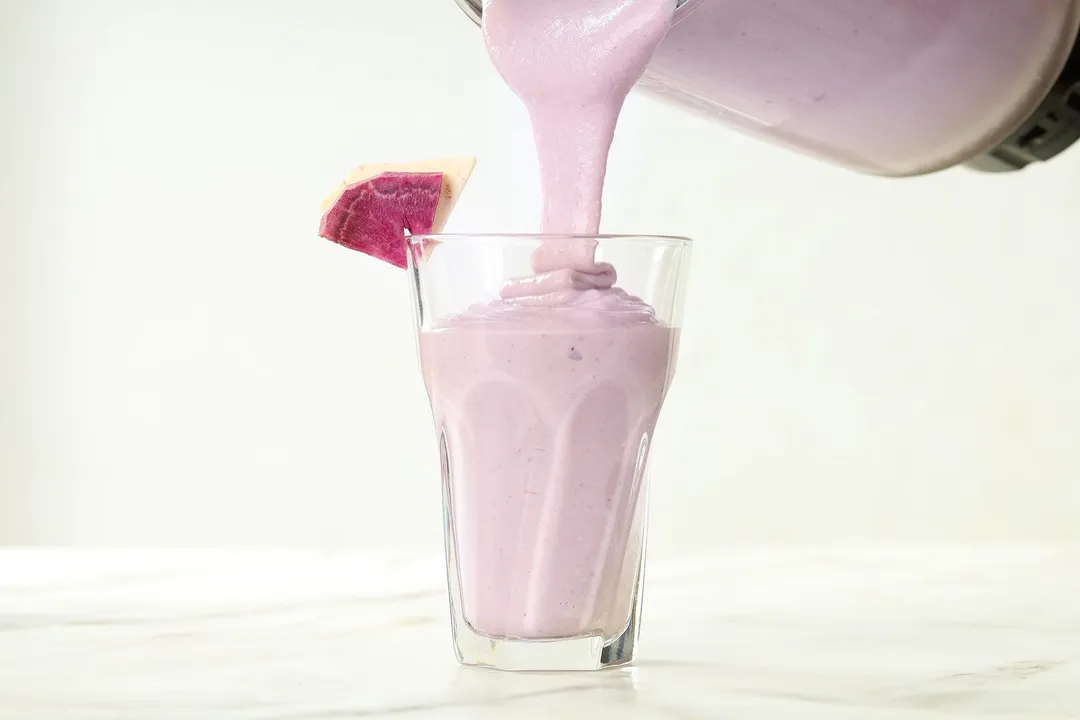 5
Garnish and serve: Garnish with the remaining 0.25 oz sliced almond and fresh mint leaves. Enjoy!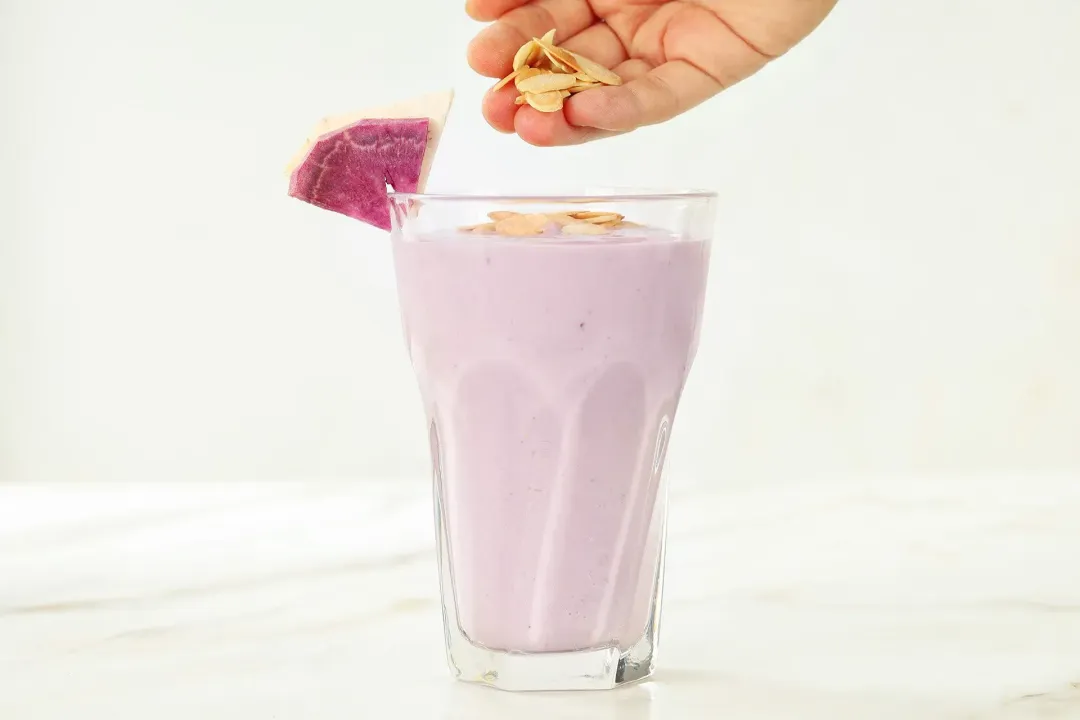 NUTRITION
Nutrition Facts
Taro Smoothie
Amount Per Serving (1 serving)
Calories 252
Calories from Fat 59
% Daily Value*
* Percent Daily Values are based on a 2000 calorie diet.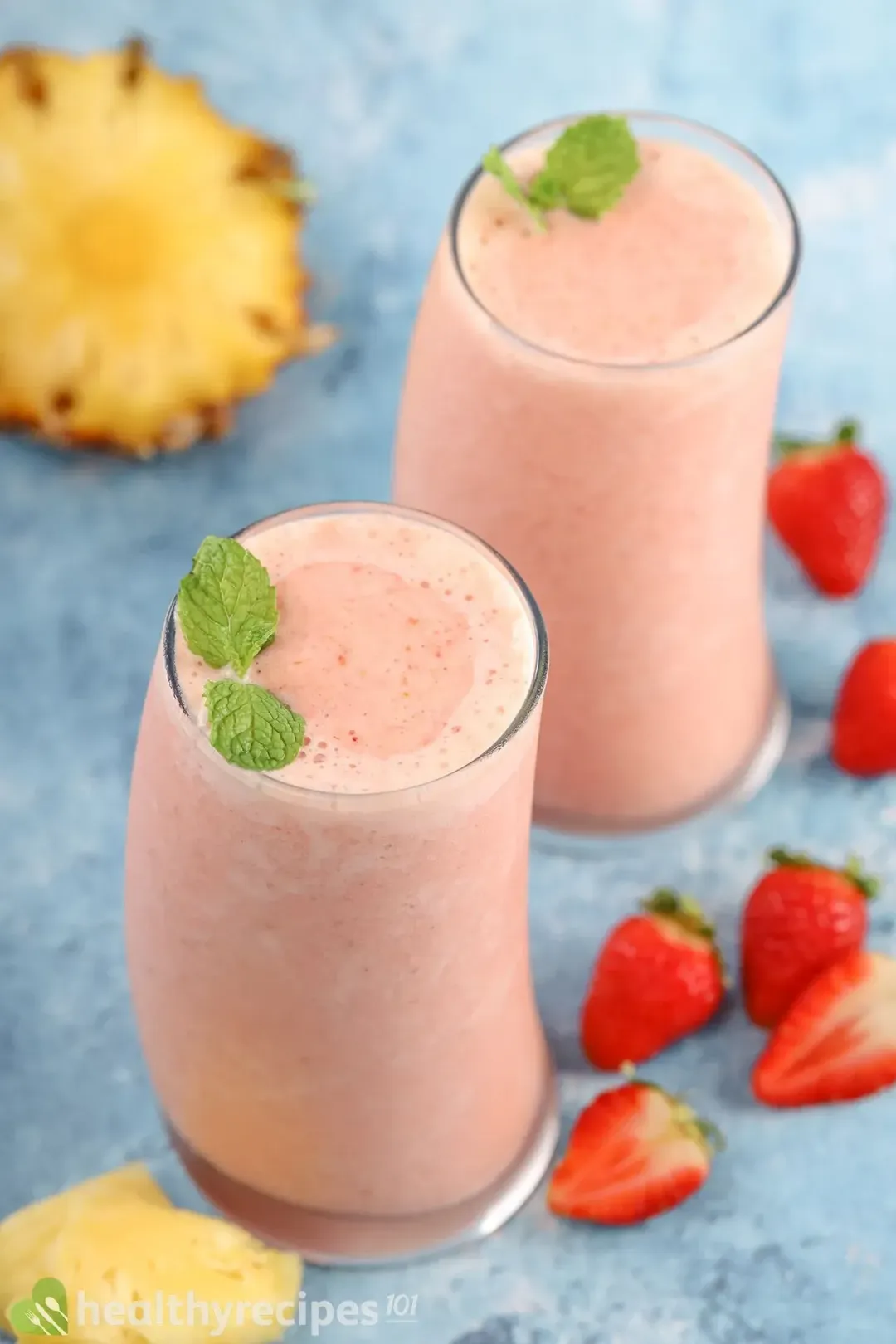 Previous Recipe
Strawberry Pineapple Smoothie
Strawberry Pineapple Smoothie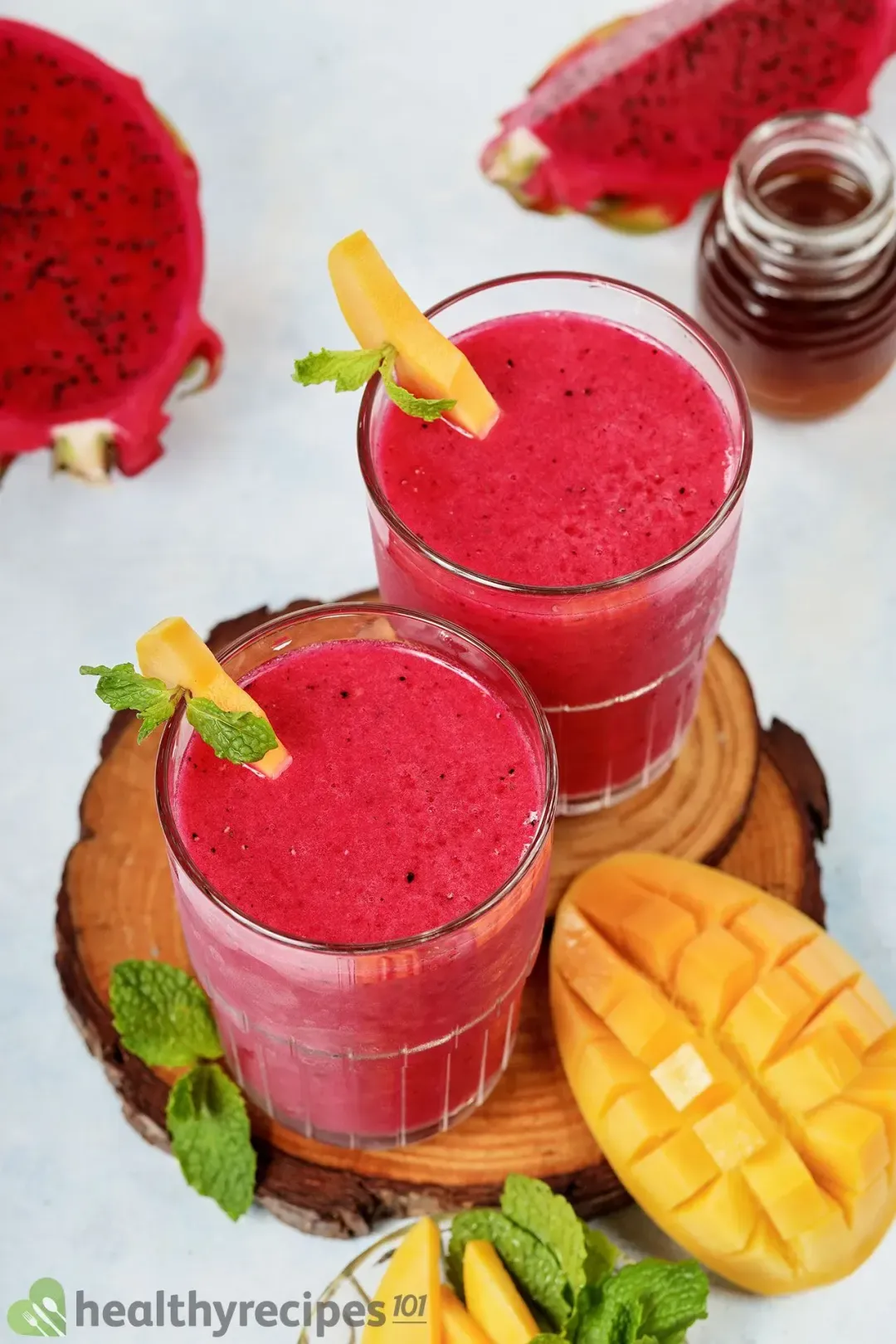 Next Recipe
Mango Dragon Fruit Smoothie
Mango Dragon Fruit Smoothie
Head Chef, Culinary Consultant
Tuyet Pham is an award-winning Saigonese chef who believes that joy is the secret ingredient to delicious food. At Healthy Recipes 101, Tuyet personally tests and simplifies every recipe, ensuring maximum flavor with minimal effort. With a background at prestigious French restaurants P'TI Saigon and Le Corto, Tuyet knows how to make every dish exceptional.
Writer, Author
Luna Regina is an accomplished writer and author who dedicates her career to empowering home cooks and making cooking effortless for everyone. She is the founder of HealthyKitchen101.com and HealthyRecipes101.com, where she works with her team to develop easy, nutritious recipes and help aspiring cooks choose the right kitchen appliances.
Nutrition Reviewer
Natalie Butler is a registered dietitian nutritionist with a passion to help others live their best life through food, fitness, safer beauty and a healthy lifestyle. She has expertise with a variety of diets and diseases and believes that there is no one-size-fits-all approach for health.
Super excited to make it for breakfast tomorrow morning - I know it's gonna hit the spot!

why not forget the heavy fat cream/condensed milk and throw in a cup of purple grapes for some sweetness?

Because heavy cream is full of flavor! Less than one teaspoon of cream (15ml/4) in a vegetable smoothie isn't going to give you a heart attack. Live a little! 😊

Just realized....are you using sweetened or UNsweetened condensed milk? If the former, then that's why no additional sugar?

Hi Khawkey, we used sweetened condensed milk, which is sweet enough that no additional sugar is require. The dairy products are mostly to help the taro and sweet potato blend more smoothly, therefore creating a richer flavor and creamier texture. However, since our recipe is quite adaptable, feel free to make any changes that fit your preference and diet.

Unique and delicious taro smoothie.