Our easy strawberry pineapple smoothie recipe is a delicious way to perk up your morning. 
Strawberry, sweet pineapple, and yogurt give this fruit smoothie a flavor reminiscent of a strawberry milkshake, but much healthier. It is the ideal beverage if you're in the mood for something with a tropical flavor.
Healthy Benefits
Strawberries and pineapples offer a few essential nutrients with great health benefits.
One cup of strawberries contains around 120% of the daily value of vitamin C (84 mg of vitamin C). This important vitamin is a strong antioxidant that protects the body from damage caused by free radicals.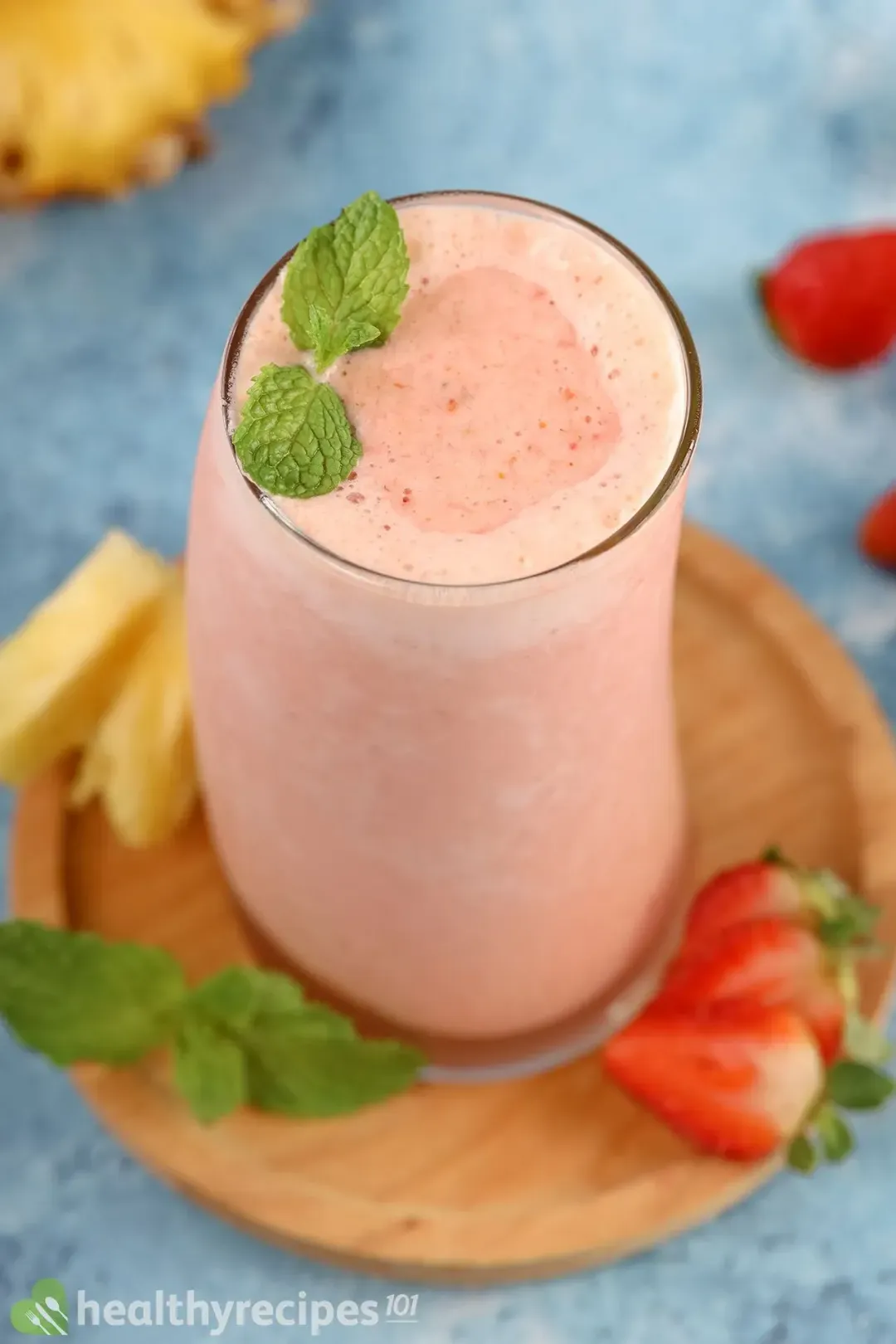 Vitamin C is also needed for good skin and connective tissue maintenance. It helps the body generate collagen, the protein responsible for the suppleness of the skin.
In addition to being a rich source of antioxidants, strawberries are also packed with fiber, which is essential for digestive health and helps us maintain the feeling of satiation after a meal (2.9 g of fiber in one cup of strawberries).
Pineapples are a powerhouse of vitamin C, beta-carotene, antioxidants, and other essential minerals. This fruit is low in calories and fat-free, making it a good option for weight-conscious individuals. They are also a great source of manganese (19.8 mg in one cup), which is a very important mineral for bone growth and metabolism.
You can find strawberries as the star of many of our other smoothie recipes, such as this Strawberry Peanut Butter Smoothie Recipe and Strawberry Kiwi Smoothie Recipe. As for pineapples, we recommend some of the following recipes: Papaya Pineapple Smoothie, Pineapple Coconut Smoothie, and Pineapple Blueberry Smoothie.
Main Ingredients
With the sweet taste of summer strawberries and the tropical vibe of pineapple, this strawberry pineapple smoothie is the ultimate combination. There are only a few ingredients you'll need for the recipe: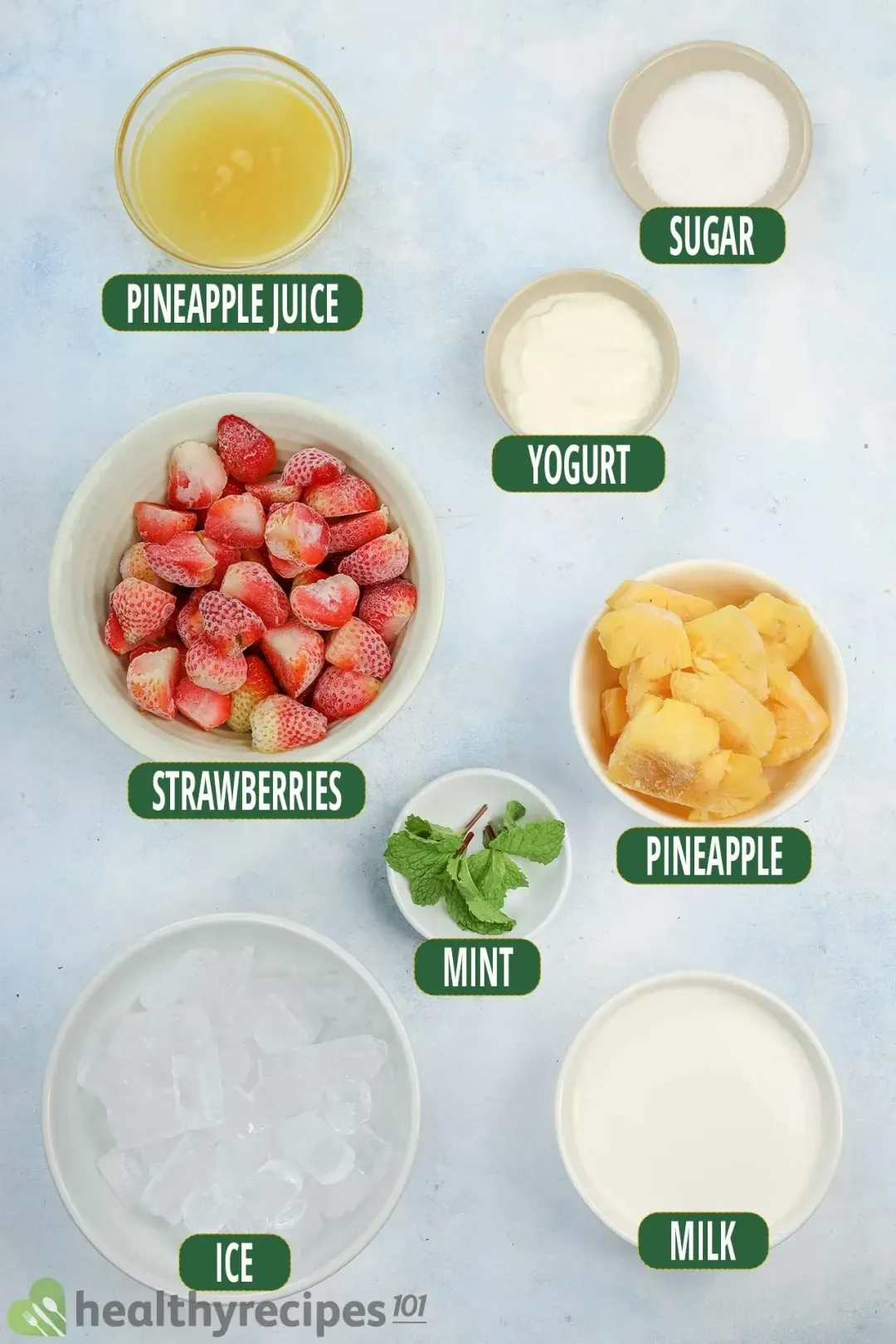 Frozen Fruits: Strawberries are fruity and sweet with a hint of caramel, while pineapples are delightfully reviving and slightly tangy, making them ideal for summertime drinks. In this recipe, the fruits must be frozen for at least 5-6 hours. You may save time by purchasing frozen variants in stores or by freezing them yourself in advance when they are in season.
Pineapple Juice: The juice helps dilute the smoothie and highlight the tropical flavor.
Dairy: Yogurt imparts creaminess and contributes to a velvety texture. If you don't have yogurt, you can create a similar consistency using alternative ingredients. Simply substitute banana, whipped cream, or coconut milk for the yogurt. All three contribute flavor to the smoothie as well as a creamy texture.
Milk: In addition to yogurt, we also add milk to provide a smooth consistency. You may use whole milk, skim milk, or low-fat milk. Plant-based milks such as coconut milk, soy milk, cashew milk, oat milk, and almond milk also work well in this recipe.
Sweetener: Depending on the sweetness of the strawberries and pineapple, honey or sugar may be added to or omitted from the smoothie. Additionally, maple syrup and agave nectar may be utilized.
Mint: Adds a sense of freshness and visual appeal.
How to Tell If A Pineapple Is Bad
The first thing to consider is how long your pineapple has been sitting since you purchased it. The rate at which pineapple degrades also depends on storage conditions.
The fruit has a maximum shelf life of 2 – 3 days at room temperature and 4 – 5 days in the refrigerator.
Another way is to use your senses. When a pineapple begins to smell, becomes very mushy to the touch or becomes dark brown, it is often past its prime.
How Long Does It Last?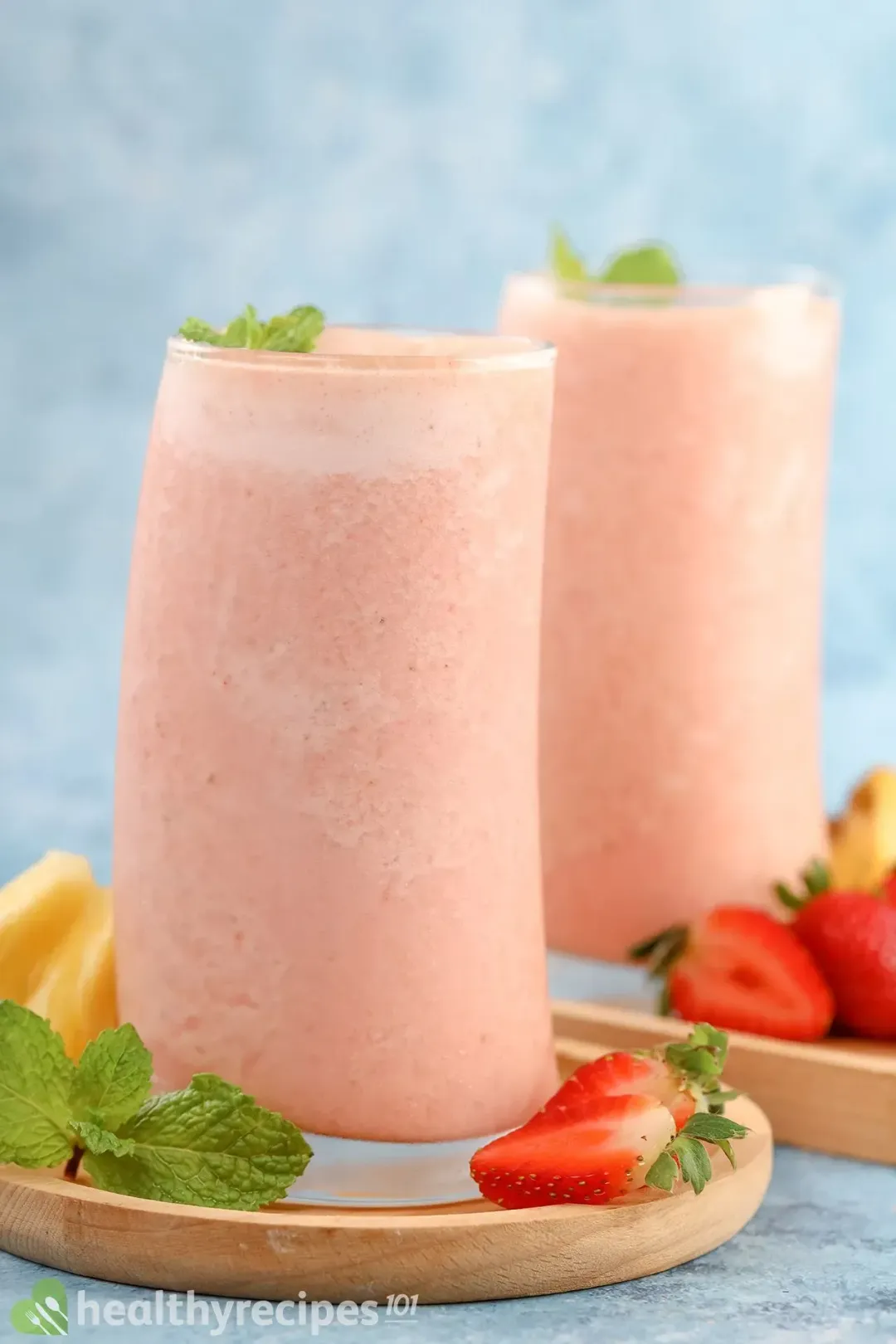 This strawberry pineapple smoothie tastes best when freshly made. However, if you have leftovers, store them in an airtight container in the refrigerator for up to 2 days. When consuming again, shake well and then drink.
By freezing this smoothie, its shelf life may be extended to around 3 months. Additionally, you should leave roughly 1 inch of headspace to allow for the smoothie's growth as it freezes. Before drinking a frozen smoothie, allow it to defrost on the counter for around 30 to 45 minutes.
How to Make Strawberry Pineapple Smoothie
This strawberry pineapple smoothie recipe makes a delicious tropical drink. The best part is that by using frozen fruits, you can enjoy it all year round.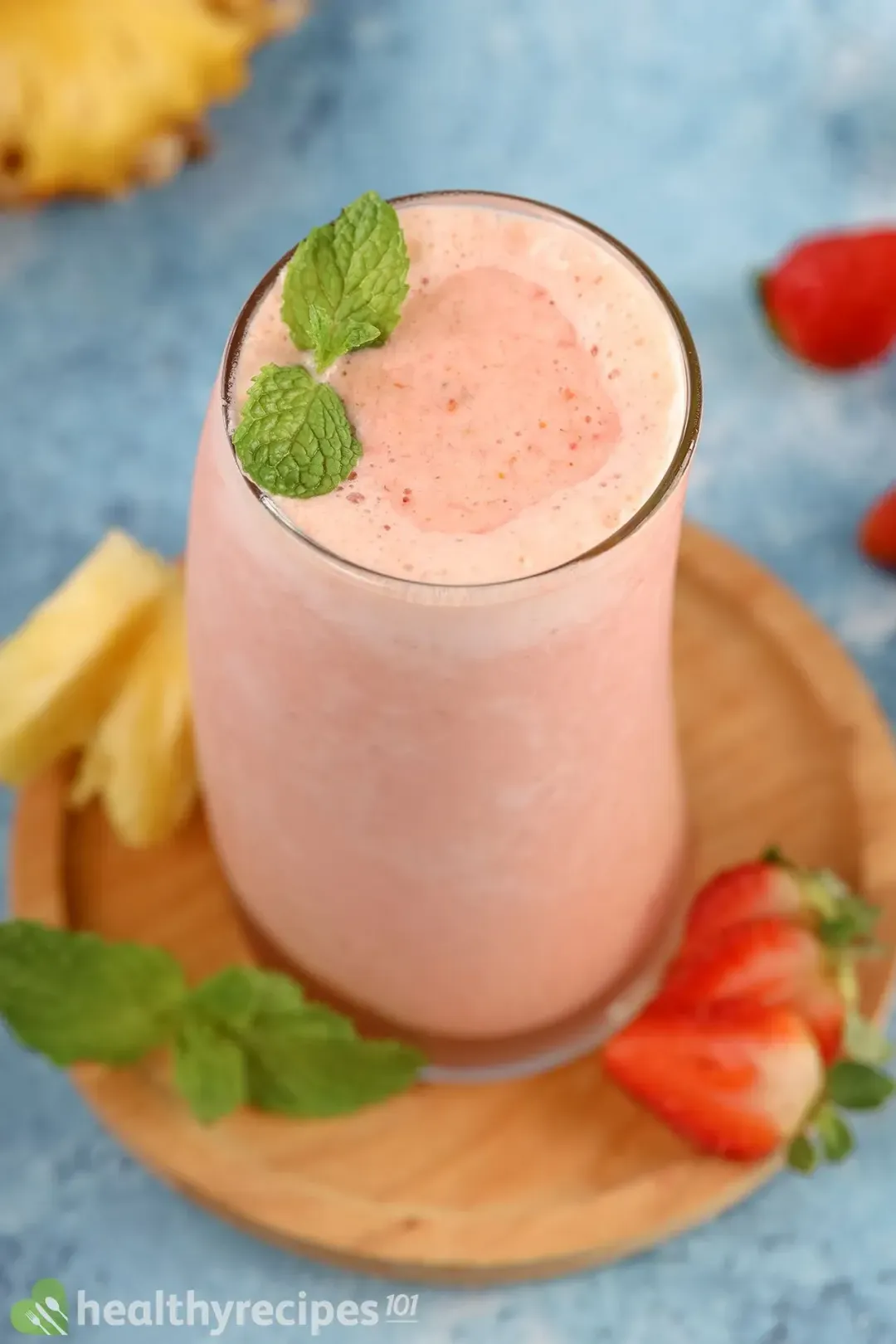 prep TIME

10 mins

total TIME

10 mins
COURSE

Drinks, Smoothie

CUISINE

Global

SERVINGS

CALORIES

144 kcal
INGREDIENTS
10 oz

strawberries

(frozen)

1/4 cup

plain Greek yogurt
INSTRUCTIONS
Preparation
1
Wash the strawberries by running them under cold water, drain, then slice the leaves off the strawberries. Measure 10 oz of them, place in a container, and keep it in the freezer overnight.
2
Cut and remove both the crown and the bottom of the pineapple. Slice the skin away from top to bottom and remove any brown 'eyes' on the fruit.
3
Cut the pineapple in half lengthways and then into wedges. Slice away the tough central core and chop each wedge into bite-sized chunks. Measure 6 oz pineapple into a container and keep it in the freezer overnight.
4
Feed the pineapple chunks through a juicer and collect the juice. You'll need ½ cup pineapple juice for this smoothie recipe.
Instructions
1
Combine 2 cups ice, 10 oz frozen strawberries, 6 oz frozen pineapple, 1 cup milk, 1/2 cup pineapple juice, 1/4 cup plain Greek yogurt, and 3 tbsp sugar in a blender.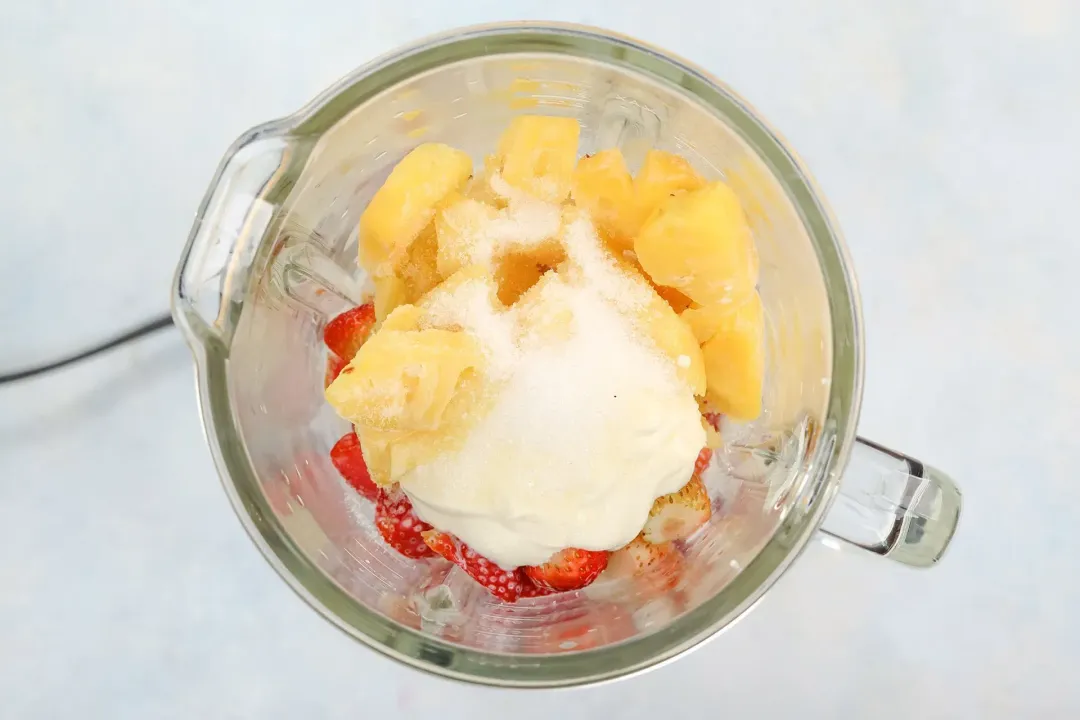 2
Blend at high speed in 20 - 30 seconds until the smoothie is smooth and creamy.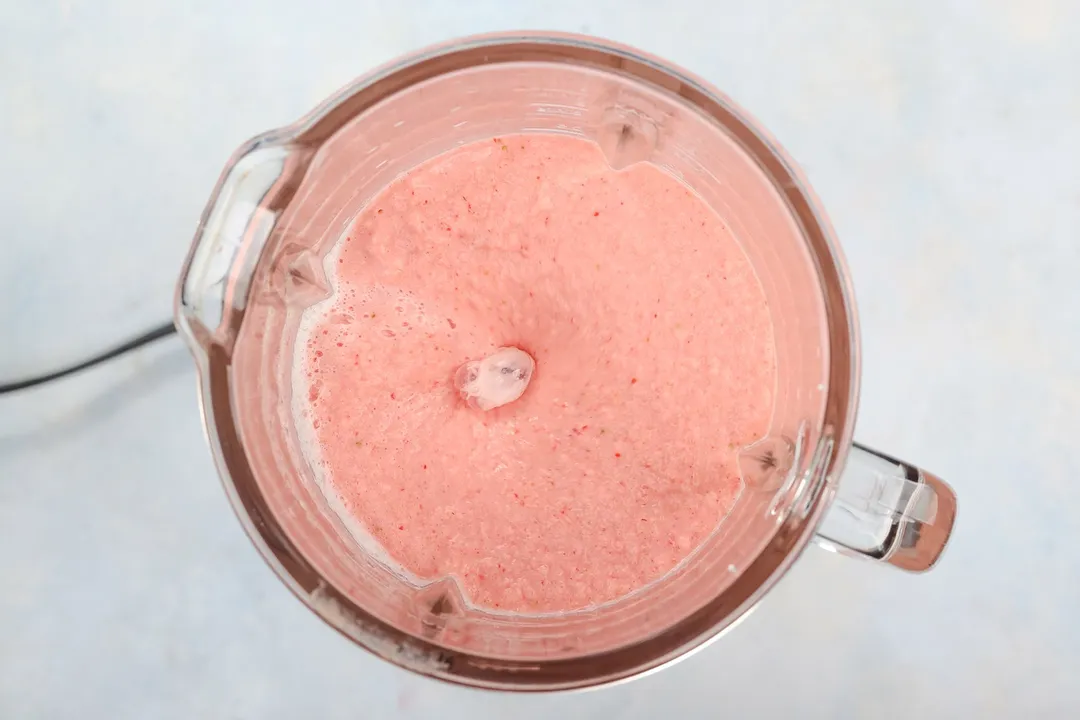 3
Pour the smoothie into serving glasses.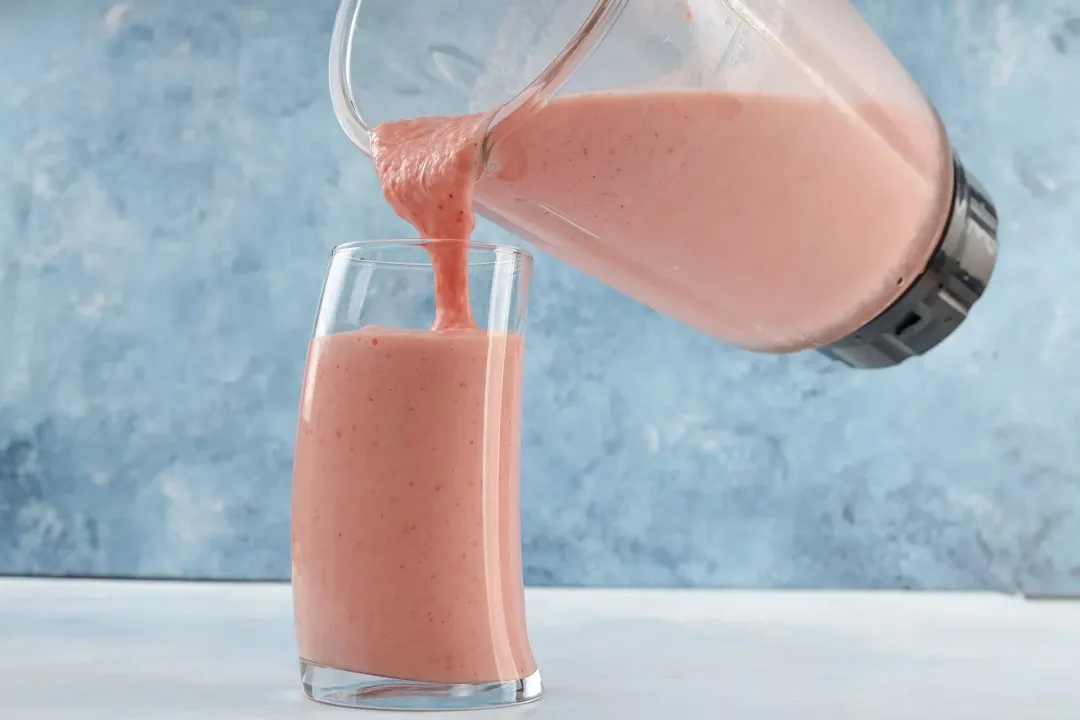 4
Garnish with mint leaves and serve this strawberry pineapple smoothie cold.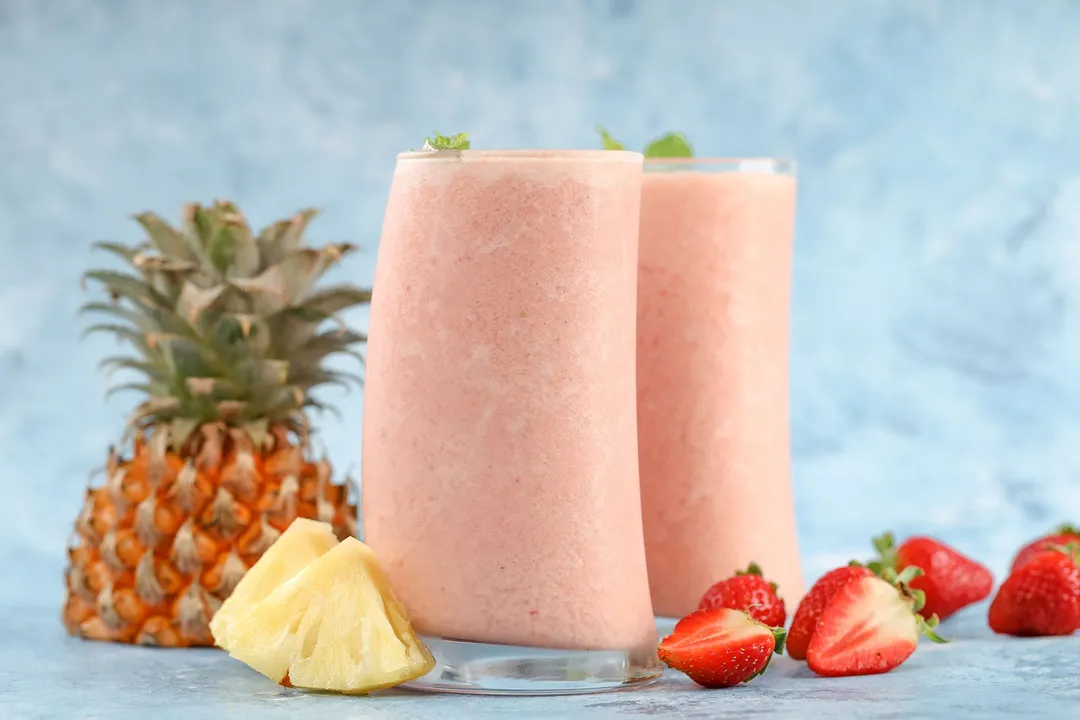 NUTRITION
Nutrition Facts
How to Make Strawberry Pineapple Smoothie
Amount Per Serving (1 serving)
Calories 144
Calories from Fat 28
% Daily Value*
* Percent Daily Values are based on a 2000 calorie diet.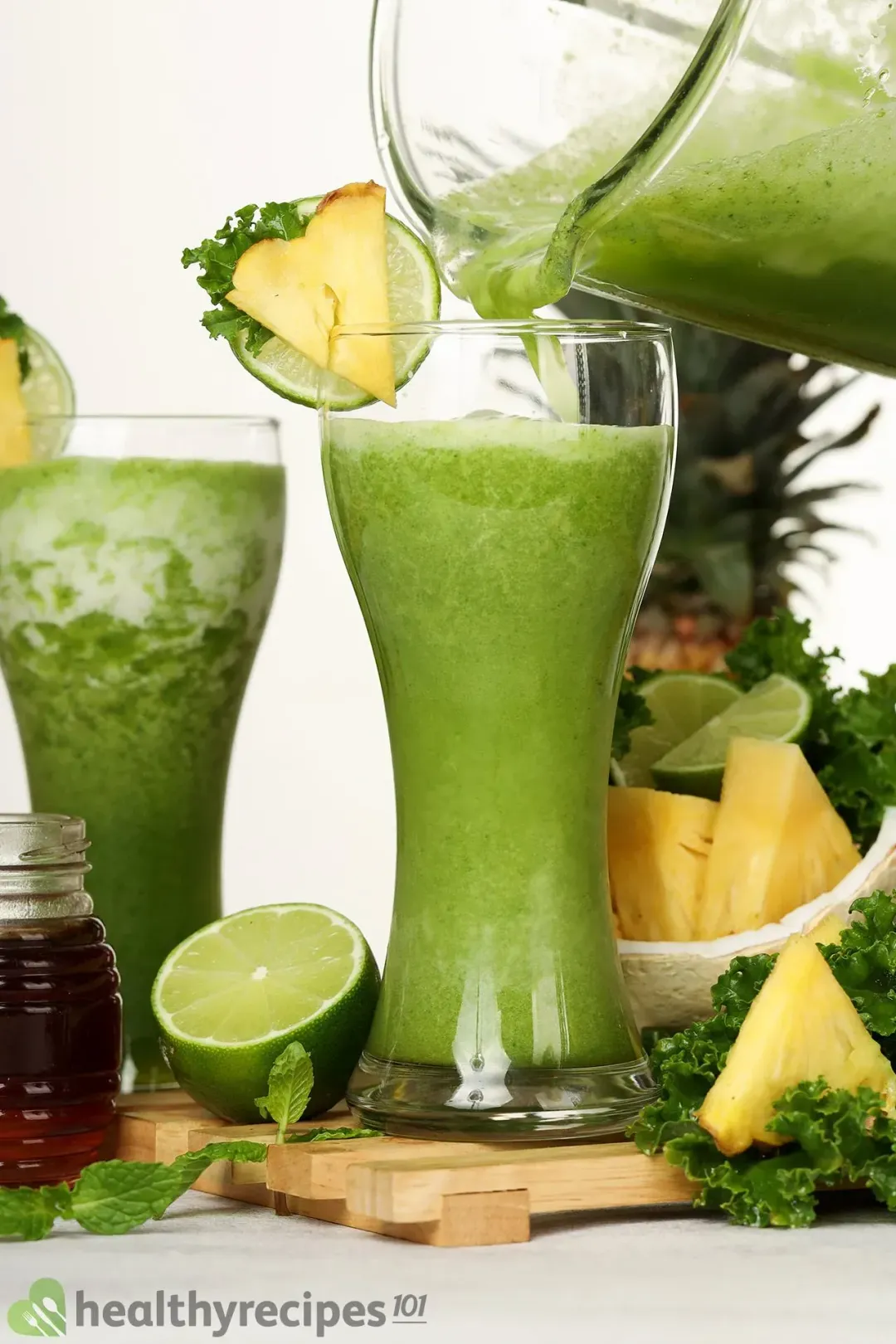 Previous Recipe
Green Mojito Smoothie
Green Mojito Smoothie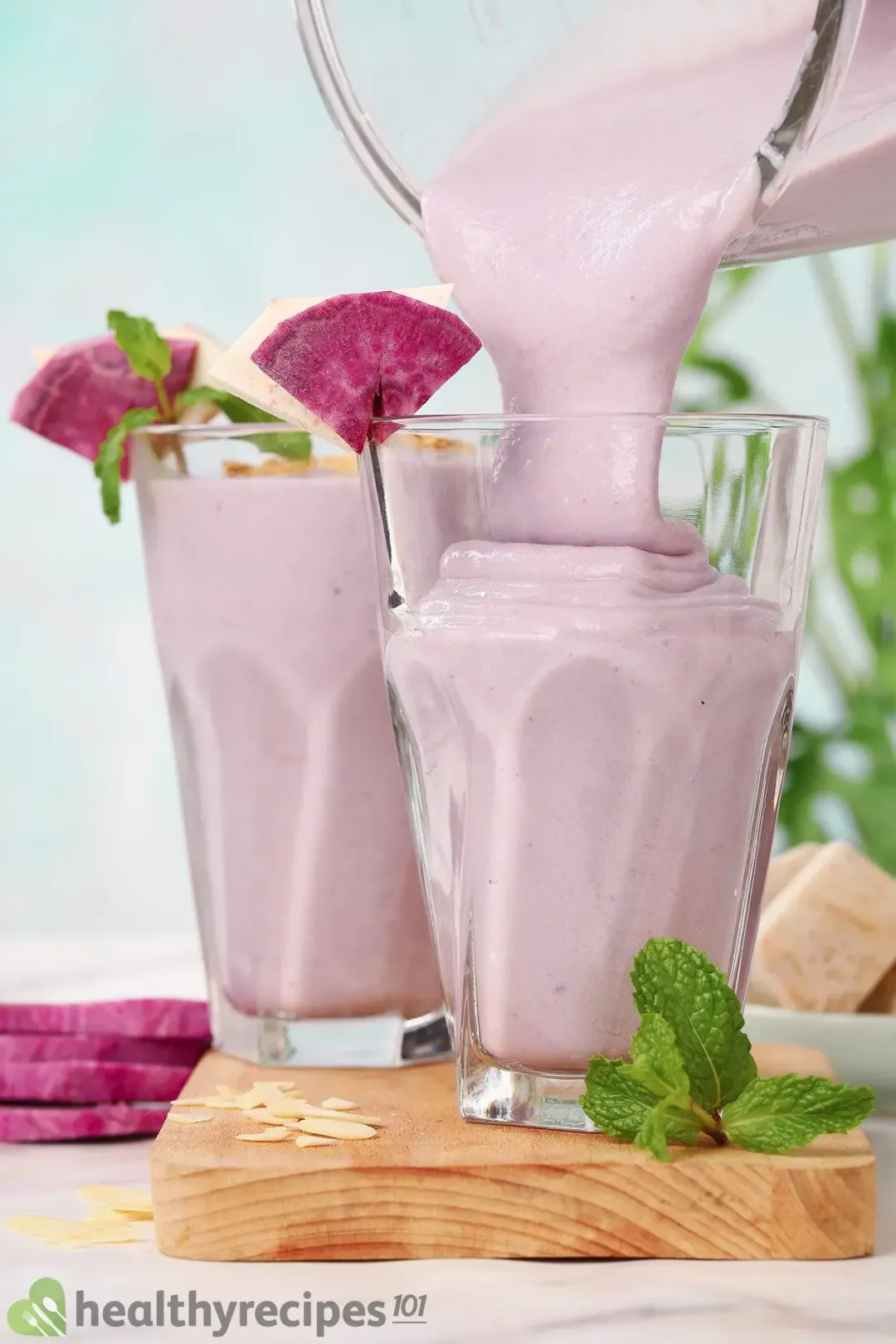 Taro Smoothie
Head Chef, Culinary Consultant
Tuyet Pham is an award-winning Saigonese chef who believes that joy is the secret ingredient to delicious food. At Healthy Recipes 101, Tuyet personally tests and simplifies every recipe, ensuring maximum flavor with minimal effort. With a background at prestigious French restaurants P'TI Saigon and Le Corto, Tuyet knows how to make every dish exceptional.
Writer, Author
Luna Regina is an accomplished writer and author who dedicates her career to empowering home cooks and making cooking effortless for everyone. She is the founder of HealthyKitchen101.com and HealthyRecipes101.com, where she works with her team to develop easy, nutritious recipes and help aspiring cooks choose the right kitchen appliances.
Nutrition Reviewer
Natalie Butler is a registered dietitian nutritionist with a passion to help others live their best life through food, fitness, safer beauty and a healthy lifestyle. She has expertise with a variety of diets and diseases and believes that there is no one-size-fits-all approach for health.
The strawberry pineapple smoothie is refreshing and delicious.