Whenever you're craving something fresh and nutritious, it's time to make our spinach banana smoothie recipe.
Packed with fresh fruits, vegetables, and dairy, the drink is creamy and subtly sweet with added honey for a lip-smacking blend. This vibrant smoothie is perfect for a decent breakfast or to quickly charge you up after a workout.
Is This Spinach Banana Smoothie Recipe Healthy?
Yes, our smoothie is full of nutrients from the spinach and banana.
1. Spinach
This low-calorie but nutrient-dense green vegetable is considered a superfood. Three cups of raw spinach have only 20 calories, 2 grams of protein, 3 grams of carbohydrates, and 2 grams of fiber.
Spinach is also abundant in vitamin K. To be specific, one serving of our spinach banana smoothie delivers approximately 170% of our daily intake. Vitamin K serves several beneficial functions in your body but is best known for its role in blood clotting.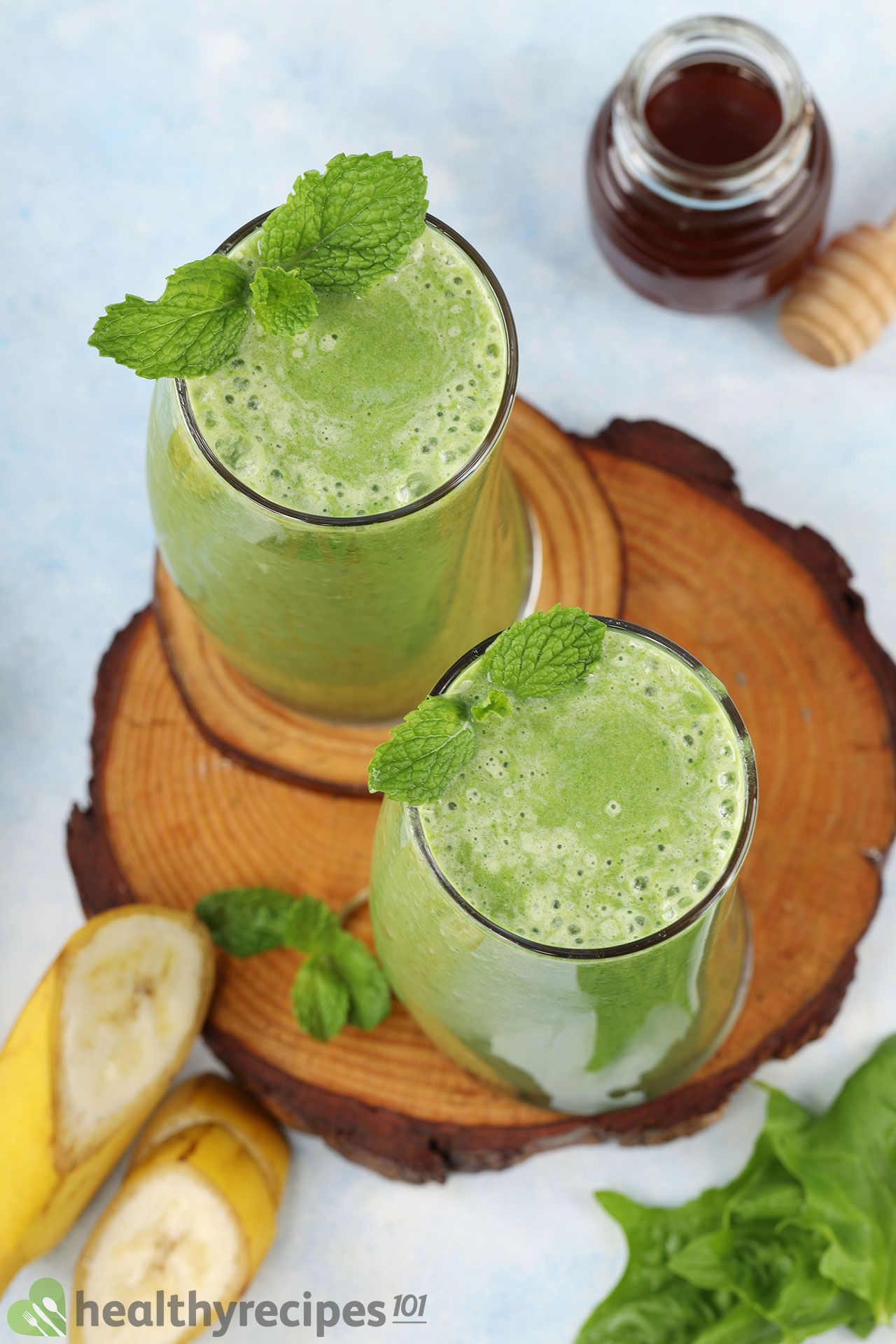 2. Bananas
The bananas in this smoothie have digestive and cardiovascular benefits. One medium banana provides nearly 10% of the daily value (DV) of potassium.
Potassium is an essential mineral and electrolyte for our health. Increased dietary potassium has been shown to lower blood pressure and help minimize the risk of cardiovascular disease.
High blood pressure can be caused by a diet that is low in potassium and high in sodium. Gradually increasing the amount of potassium in your diet can allow the body to purge excess sodium through the urine, resulting in a decrease in blood pressure.
Ingredients for Spinach Banana Smoothie
The key to a wholesome smoothie is using delicious, healthy ingredients.
Spinach: Spinach gives a vibrant green color and nutritious value to this smoothie. It's best to rinse fresh spinach well before tossing it into the blender.
Banana: Ripe bananas provide extra creaminess and help to cover up the flavor of the greens. Our smoothie is thus rich in flavor and can be enjoyed by those picky kids!
Dairy: When making frozen fruit smoothies, unsweetened milk and yogurt add incredible creaminess and help balance the fruit's sweetness. Plus, they help to give the smoothie more of a liquid consistency.
Plant and nut-based dairy products also work equally well in this recipe and can be used if you're on a vegetarian or vegan diet.
Honey: A few tablespoons of honey lend a great touch of earthy sweetness. Depending on the banana's ripeness, you may need to reduce or increase the amount of this additional sweetener.
Ice: Even just a few ice cubes will provide a chilly texture. If you go with frozen fruits, it's not necessary to add ice to the smoothie.
Mint: For garnishing and a refreshing finish.
How to Make Spinach Banana Smoothie
The steps for making our spinach banana smoothie are super easy. All that is left is to gather the ingredients and blend them together.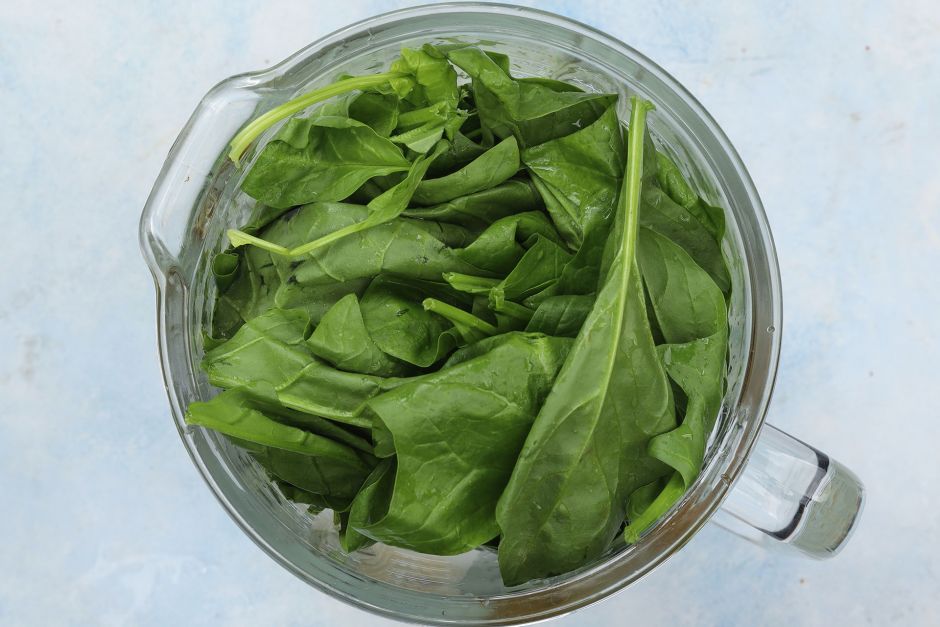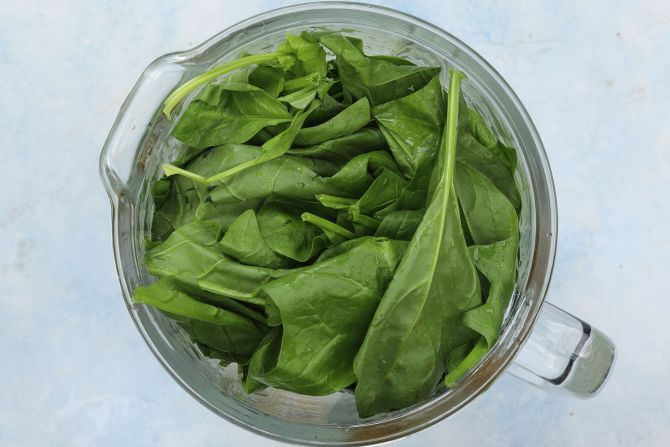 Blend ingredients.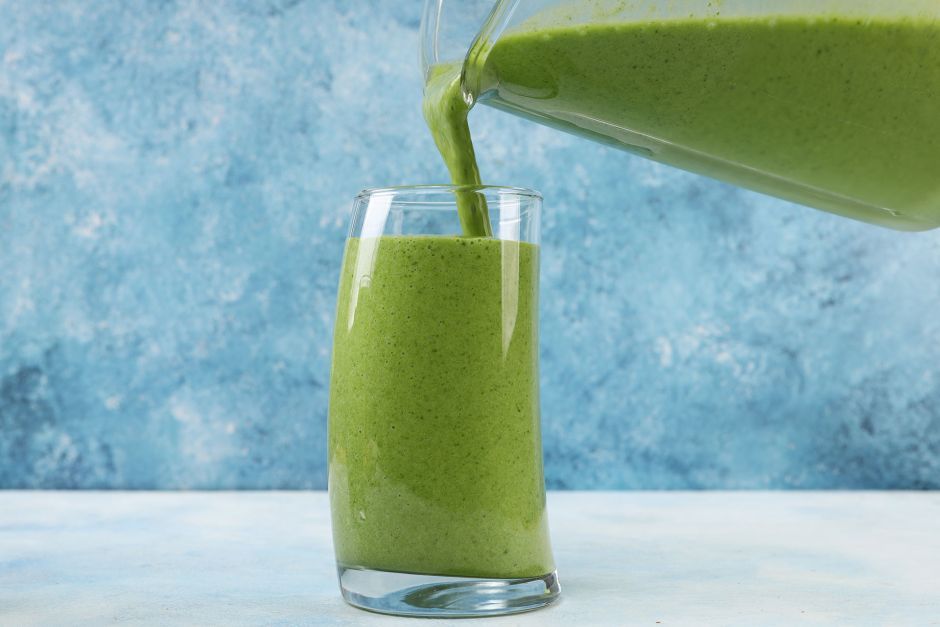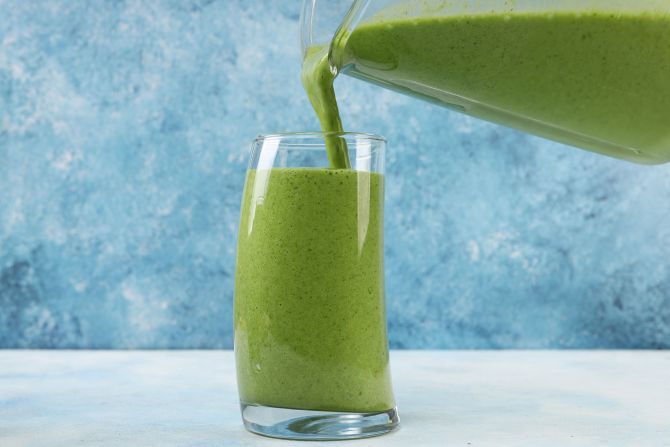 Pour into serving glasses.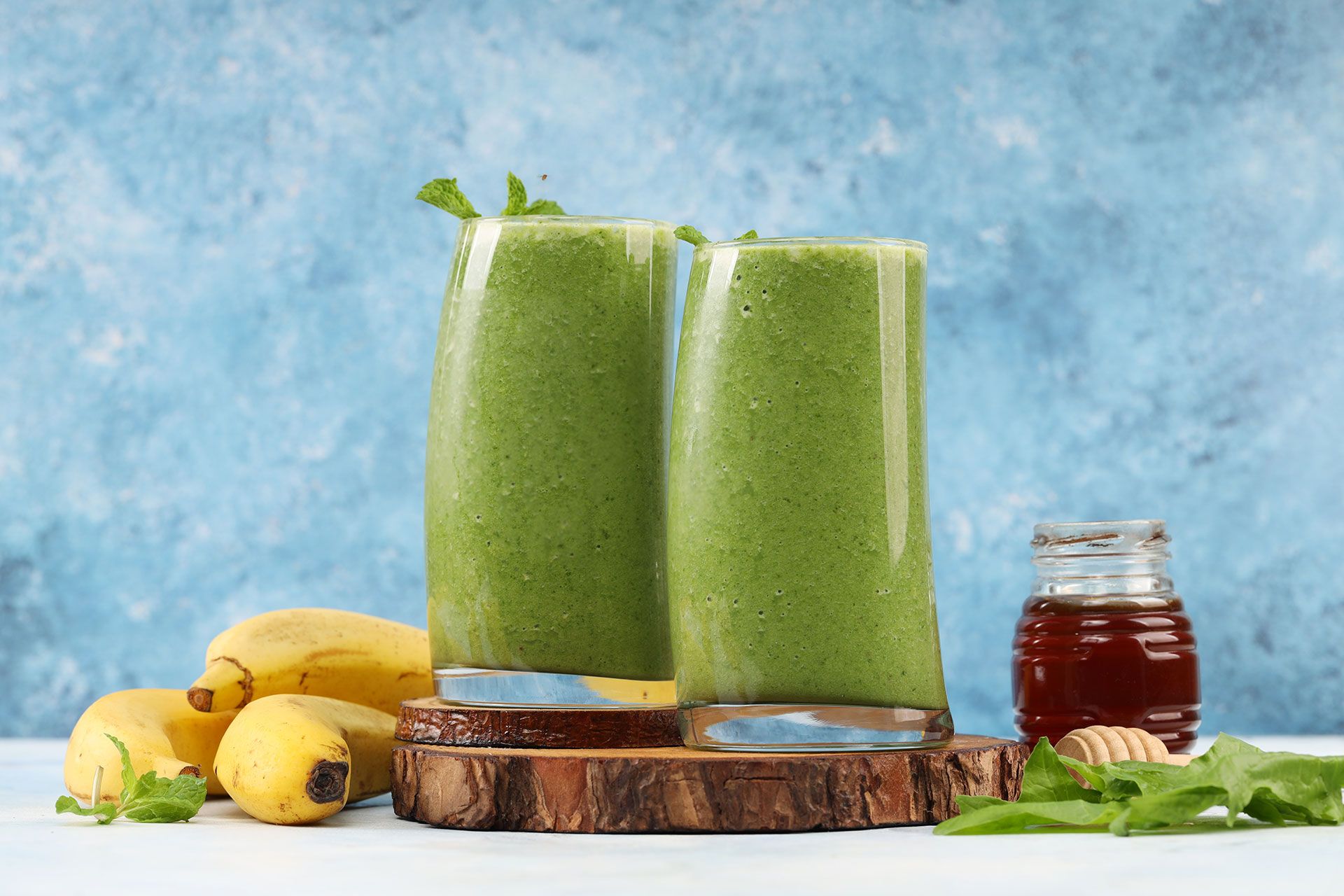 Garnish with mint leaves and serve.
For smoothie recipes with leafy greens, place them between the ice and fruits. The fruits prevent the leaves from adhering to the bottom and ensure that everything blends together nicely.
Can I Use Frozen Ingredients for This Smoothie?
The answer is yes and keeping frozen fruits and veg to hand means you can easily whip up a smoothie anytime you want. The frozen fruit negates the need for additional ice, instantly giving your smoothie an icy, thick texture.
If you have plenty of time, you can wash and chop the ingredients, separate them into serving-sized portions, and place them in the freezer. This way, when you're short of time, just pop your ingredients and cubes into a blender for a quick and mess-free favorite smoothie.
How to Store the Leftover
1. Leftover Smoothie
Our spinach banana smoothie is best consumed immediately, but there are a few ways to store it. If you have leftovers, simply transfer them to the refrigerator and store for up to 2 days.
Another option is to pour the smoothie into a freezer-safe tumbler or to-go cup then place it in the freezer for 2 – 3 months.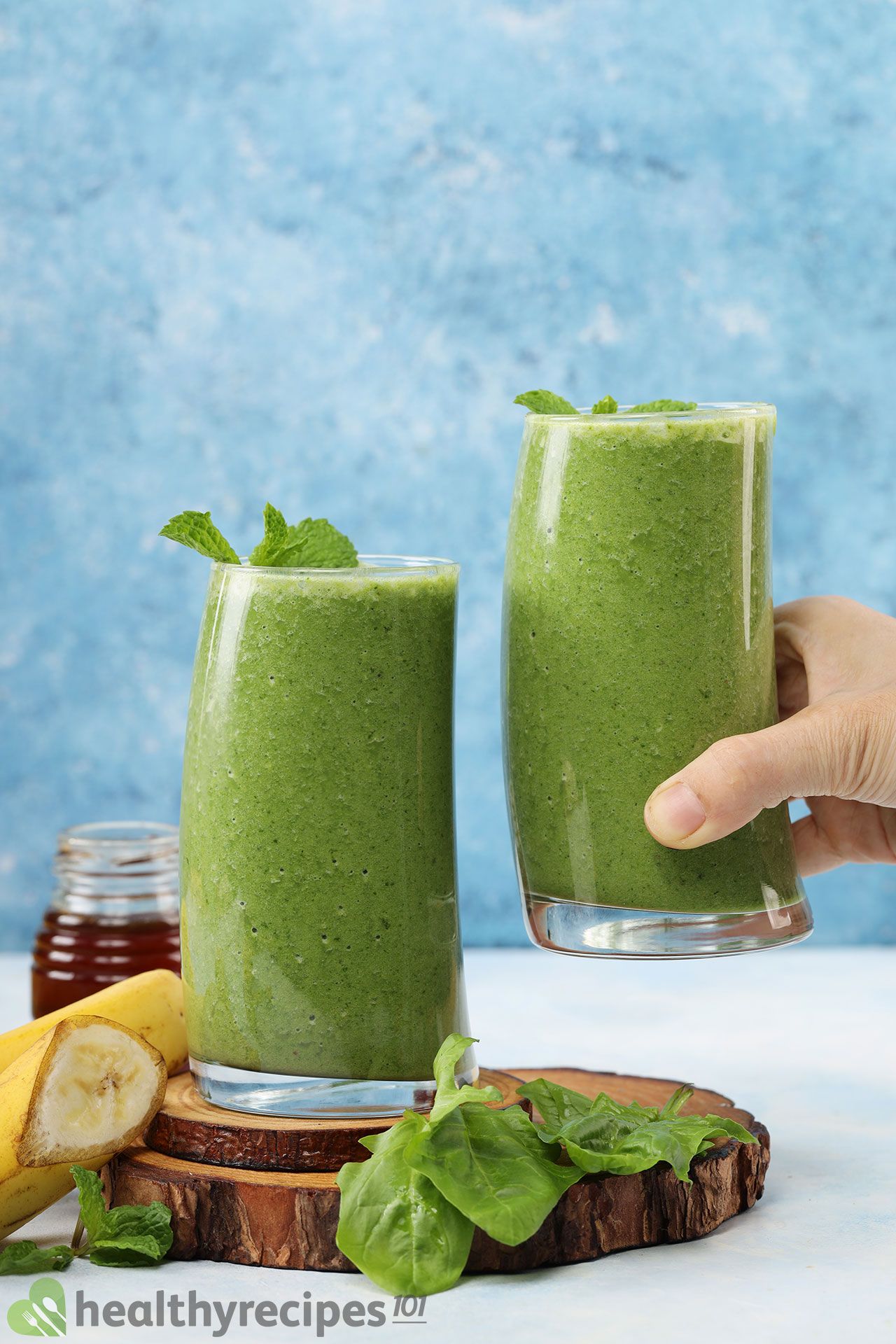 2. Leftover Spinach and Banana
To store the spinach, rinse it in advance and pat it dry with a towel before storing it in an airtight container in the refrigerator or the freezer. This helps to keep the leafy greens fresh for longer.
We love to freeze whole bananas (peeled) and store them in the freezer for whenever we have a smoothie craving. If you do not have a powerful blender, it's best to freeze ripe bananas sliced or chopped into larger quarter or half pieces. Then place them in a plastic jar or on a parchment-lined baking sheet in bulk.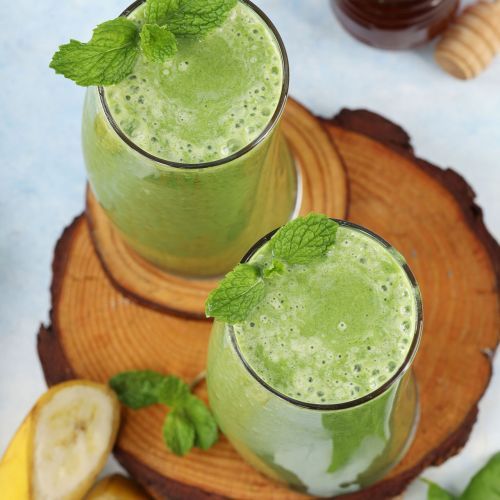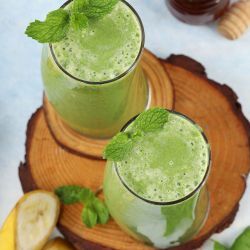 Spinach Banana Smoothie Recipe
This spinach banana smoothie recipe is one of our favorites. It features the taste of fresh fruits and vegetables without any artificial flavors.
Ingredients
4

oz

spinach

14

oz

banana

2

cups

ice

2

tbsp

honey

1

cup

milk

1/4

cup

plain Greek yogurt

6

mint leaves
Instructions
Put 2 cups of ice into a blender. Add in 14 oz banana, 4 oz spinach, 1 cup milk, 1/4 cup Greek yogurt, and 2 tbsp honey. Blend for a few minutes at high power until smooth.

Pour into serving glasses.

Garnish with mint leaves and serve.
Nutrition
Nutrition Facts
Spinach Banana Smoothie Recipe
Amount Per Serving (1 serving)
Calories 178
Calories from Fat 27
% Daily Value*
Fat 3g5%
Cholesterol 9mg3%
Sodium 66mg3%
Potassium 637mg18%
Carbohydrates 36g12%
Protein 4g8%
Vitamin A 2884IU58%
Vitamin C 17mg21%
Calcium 110mg11%
Iron 1mg6%
* Percent Daily Values are based on a 2000 calorie diet.