This strawberry peanut butter smoothie recipe is a harmonious blend of sweet fruits, rich peanut butter, chewy dried berries, and crunchy toasted peanuts. We include some Greek yogurt to enhance the smoothie's thickness.
Is Strawberry Peanut Butter Smoothie Healthy?
Yes, we believe it is. This smoothie is a healthy blend of delicious ingredients.
To begin, there are a selection of fruits in this smoothie — bananas, strawberries, and dried cranberries. They're packed with nutrients such as vitamin C, vitamin B6, vitamin E, vitamin K1, potassium, manganese, and many others.
Adding peanut butter to this blend means you get more micronutrients and a small amount of proteins and healthy monounsaturated fats. Additionally, we include toasted peanuts for even more nutrients.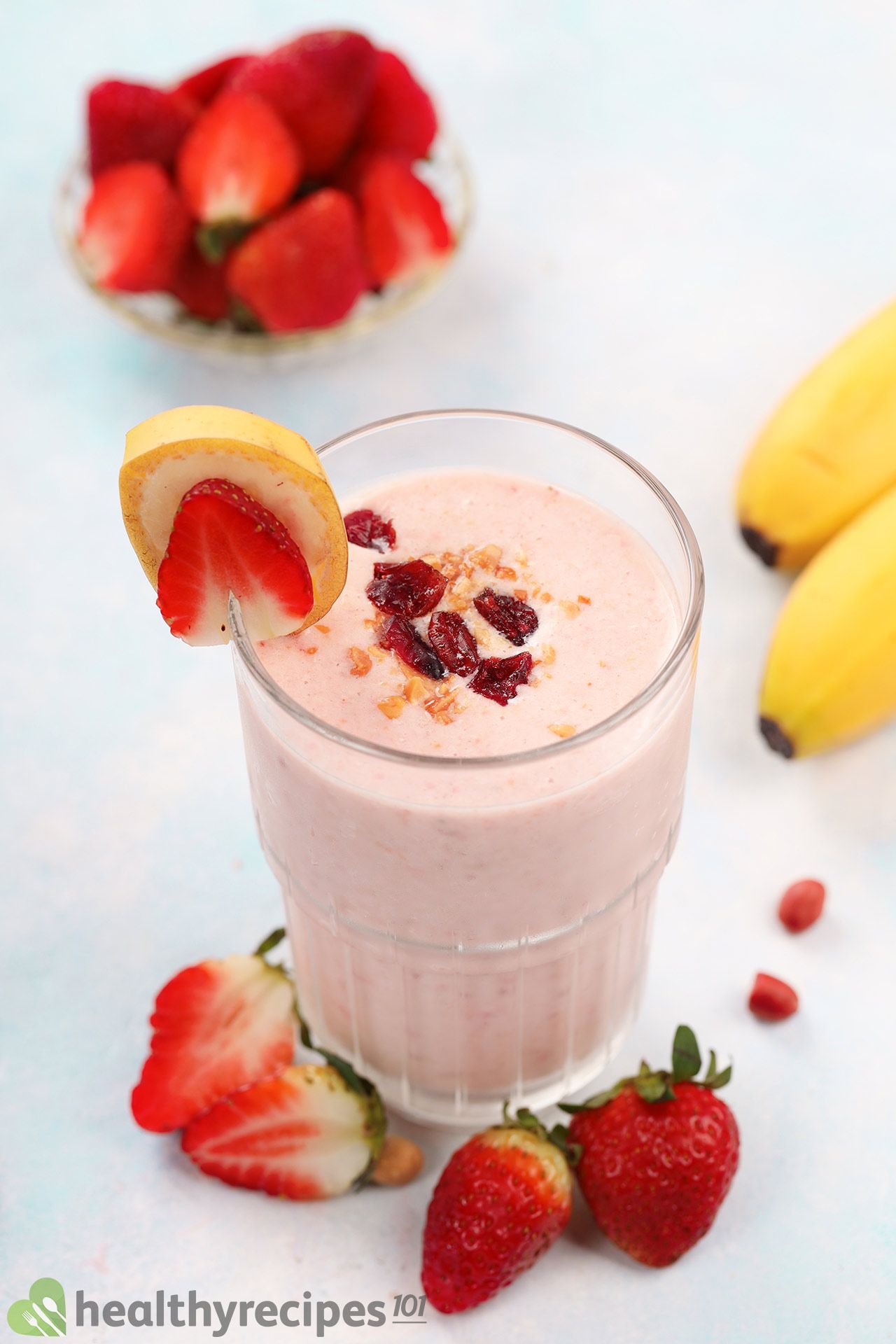 We also use Greek yogurt and milk. Greek yogurt contains a small amount of minerals, such as iron or calcium, and is denser in protein than other types of yogurt.
Thanks to bananas' natural sweetness, we needn't add any sweetener.
If you want a sweeter smoothie, feel free to use a sweetener of your choice, but do so in moderation. Be sure to keep your daily intake of added sugar below 10% of the day's total calories.
Is Peanut Butter Vegan?
Peanuts are vegan-friendly, but some peanut butter products may contain animal-based ingredients. It's best to not make assumptions and look for products that claim to be vegan-friendly.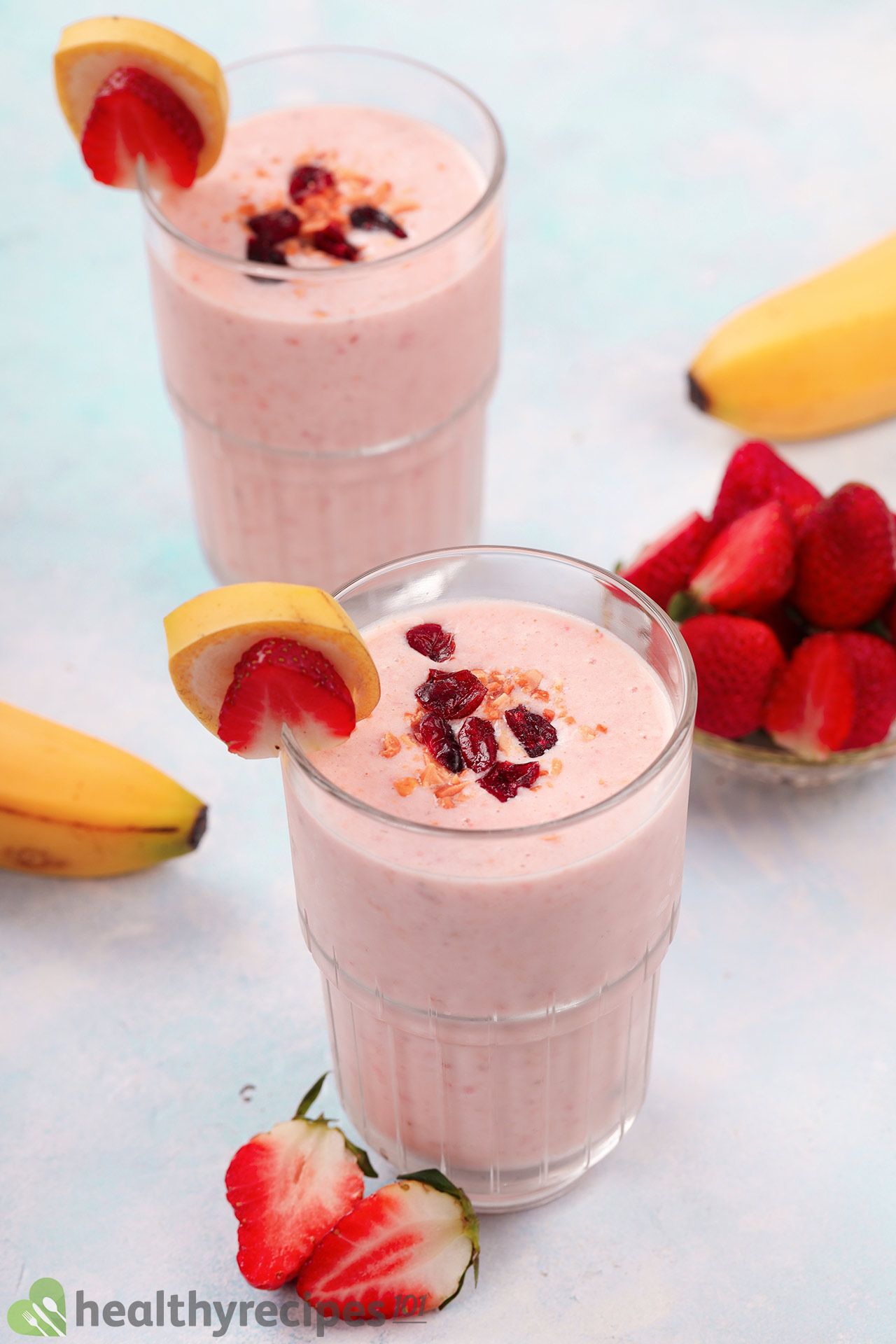 Main Ingredients for Strawberry Peanut Butter Smoothie
You'll need strawberries, peanut butter, peanuts, bananas, dried cranberries, Greek yogurt, milk, ice, and vanilla extract.
Here are some tips for the best smoothie ever:
If you have bananas that are overly ripe, this smoothie is a great opportunity to use them. Their high sugar and nutrient content makes for a sweet treat that is nutritionally respectable.
We use dried cranberries and toasted peanuts to top the smoothie, creating a contrast in texture. You can substitute these ingredients with any dried fruits or toasted nuts you prefer, but we wanted to keep the peanuts to maintain the theme.
You can turn this smoothie into a fruity bowl by using frozen ingredients and skipping the ice. The ingredients can be stored for up to three months in the freezer — convenient!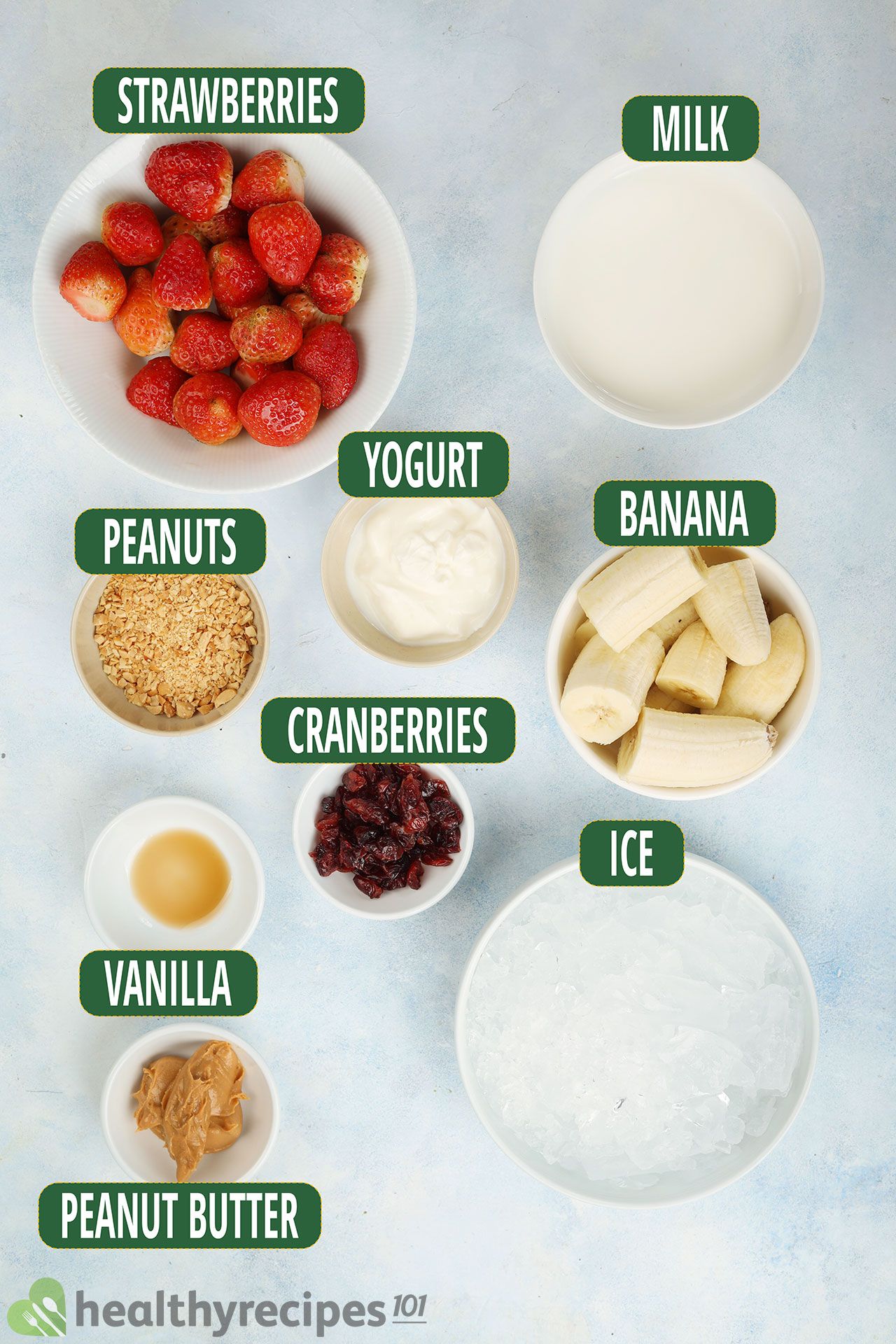 Which Type of Peanut Butter to Use
We selected smooth, unsweetened peanut butter. You can use any variety you prefer — just be sure to keep an eye on its saturated fat and added sugar levels.
How to Make a Strawberry Peanut Butter Smoothie
Once you've measured the ingredients, place them all into your blender and blend until smooth.
Some blenders don't work well with hard ice. If that's the case for you, either choose softer ice like ice nuggets or break your ice into smaller pieces first.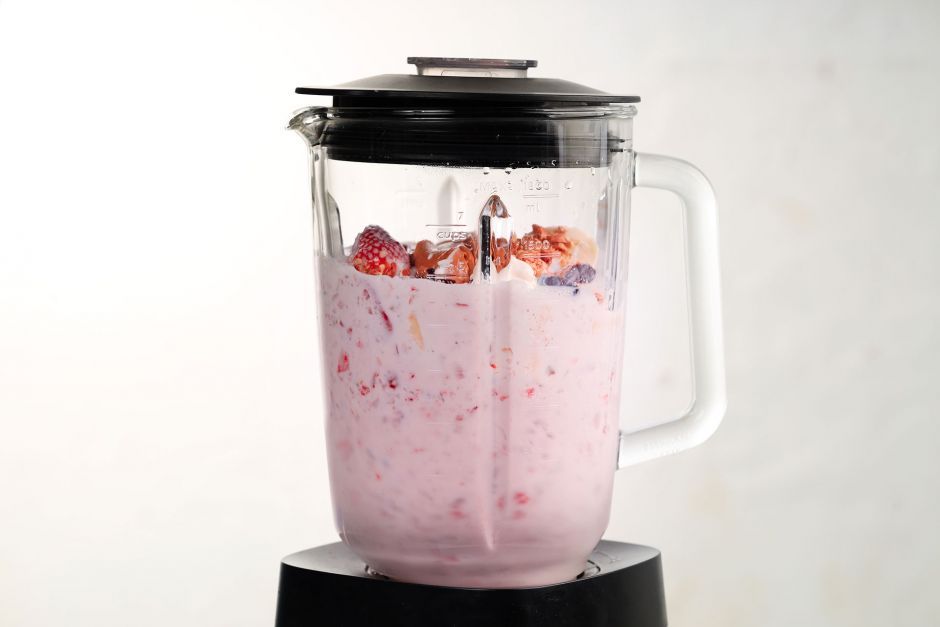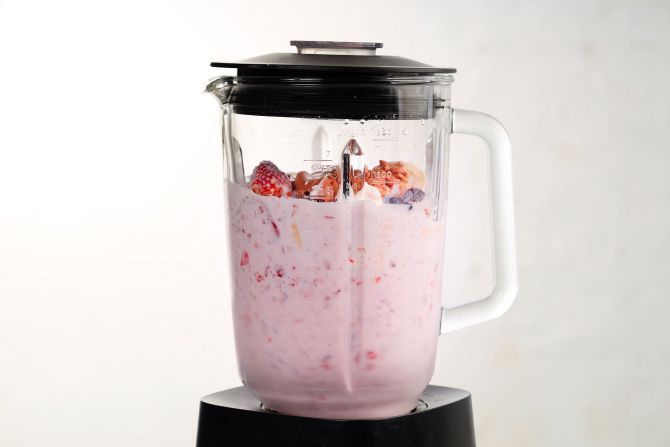 Blend ingredients.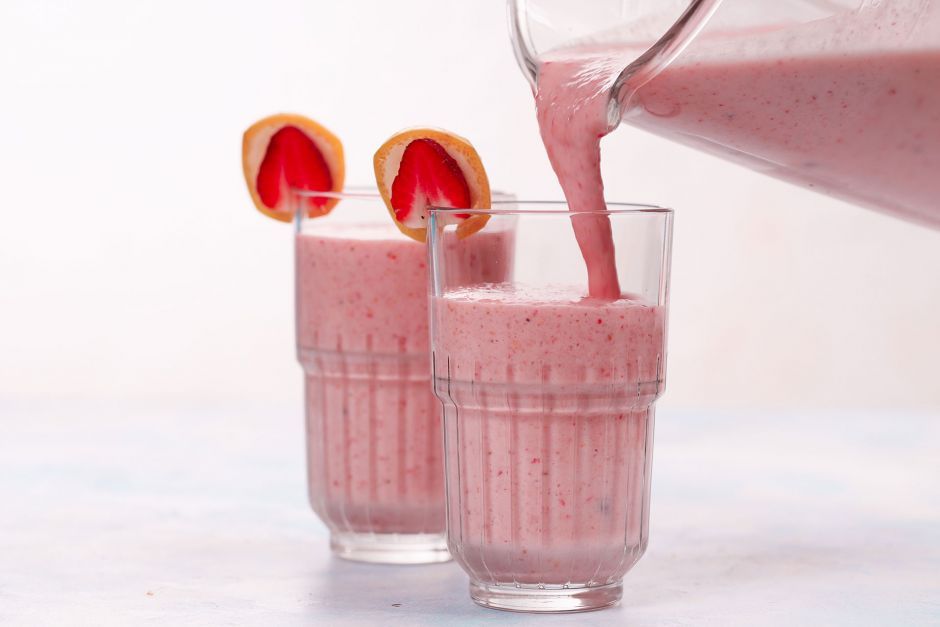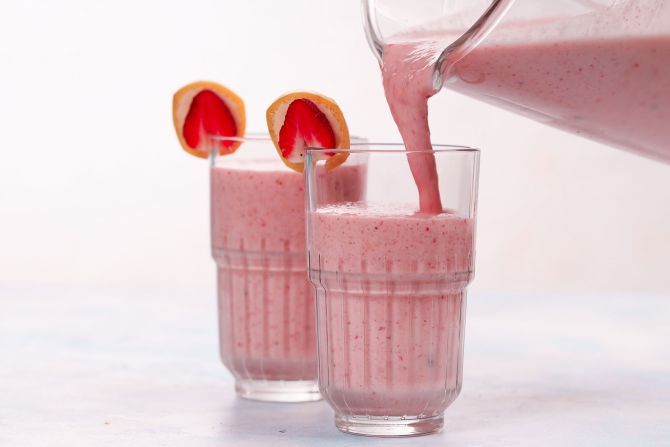 Pour into serving glasses.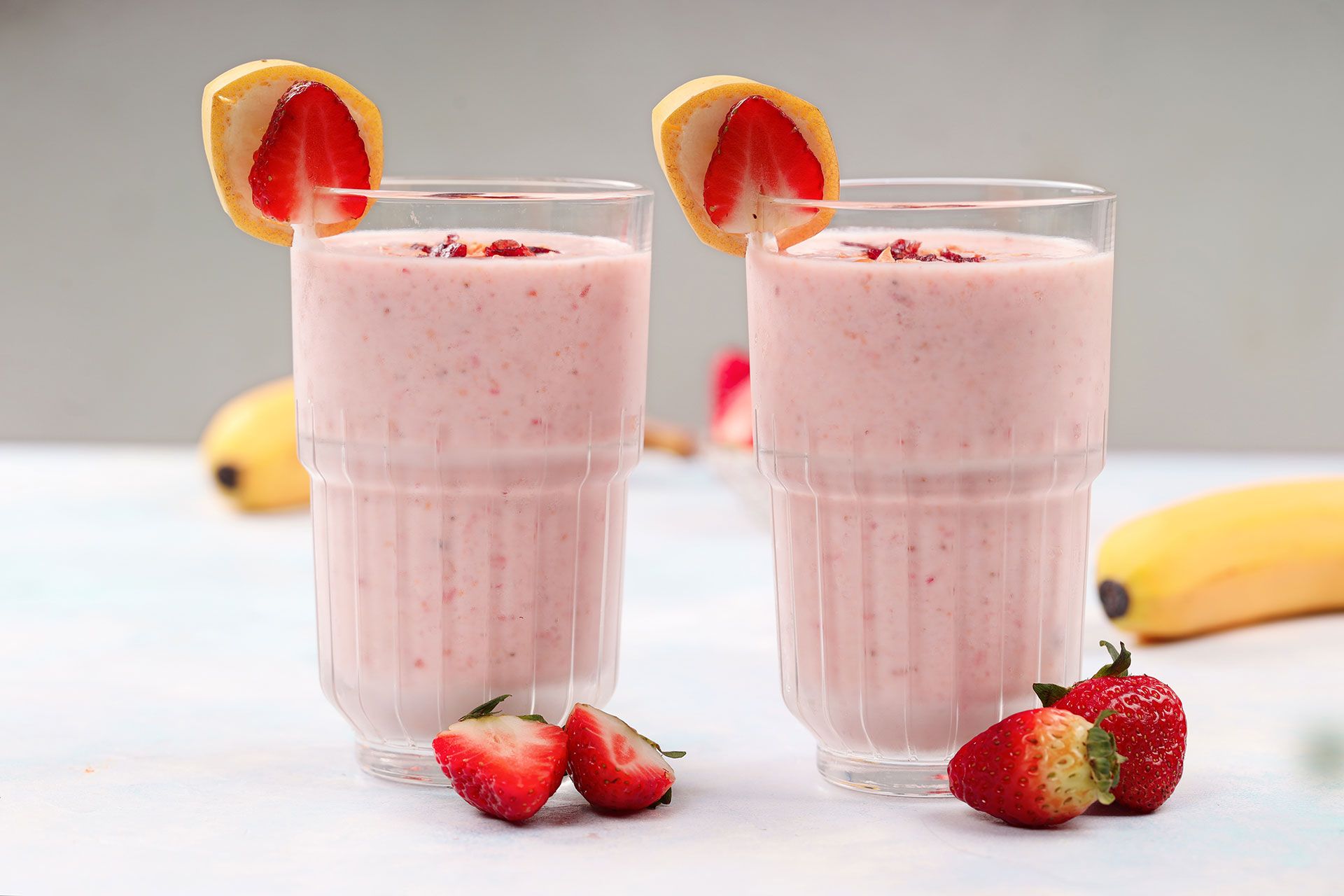 Serve immediately.
Jump to Recipe
For the best results, be sure to stick to our 'Strawberry Peanut Butter Smoothie Recipe' card at the bottom.
How Long Does This Smoothie Last?
If not preserved in the fridge, the smoothie should be consumed within 2 hours. Leaving it out longer puts it at risk of spoilage by airborne bacteria.
Covered tightly and kept in the fridge, the smoothie can stay edible for up to 2 days. If you decide to freeze the smoothie, it can be kept for up to 3 months. Neither of these methods guarantees that the smoothie will taste as delicious as when freshly made, however.
If you plan to store it, we suggest blending the ingredients together without the ice, portioning it into Ziploc bags, and freezing immediately. Whenever you want a glass of smoothie, blend one packet with some ice for a quick and delicious treat.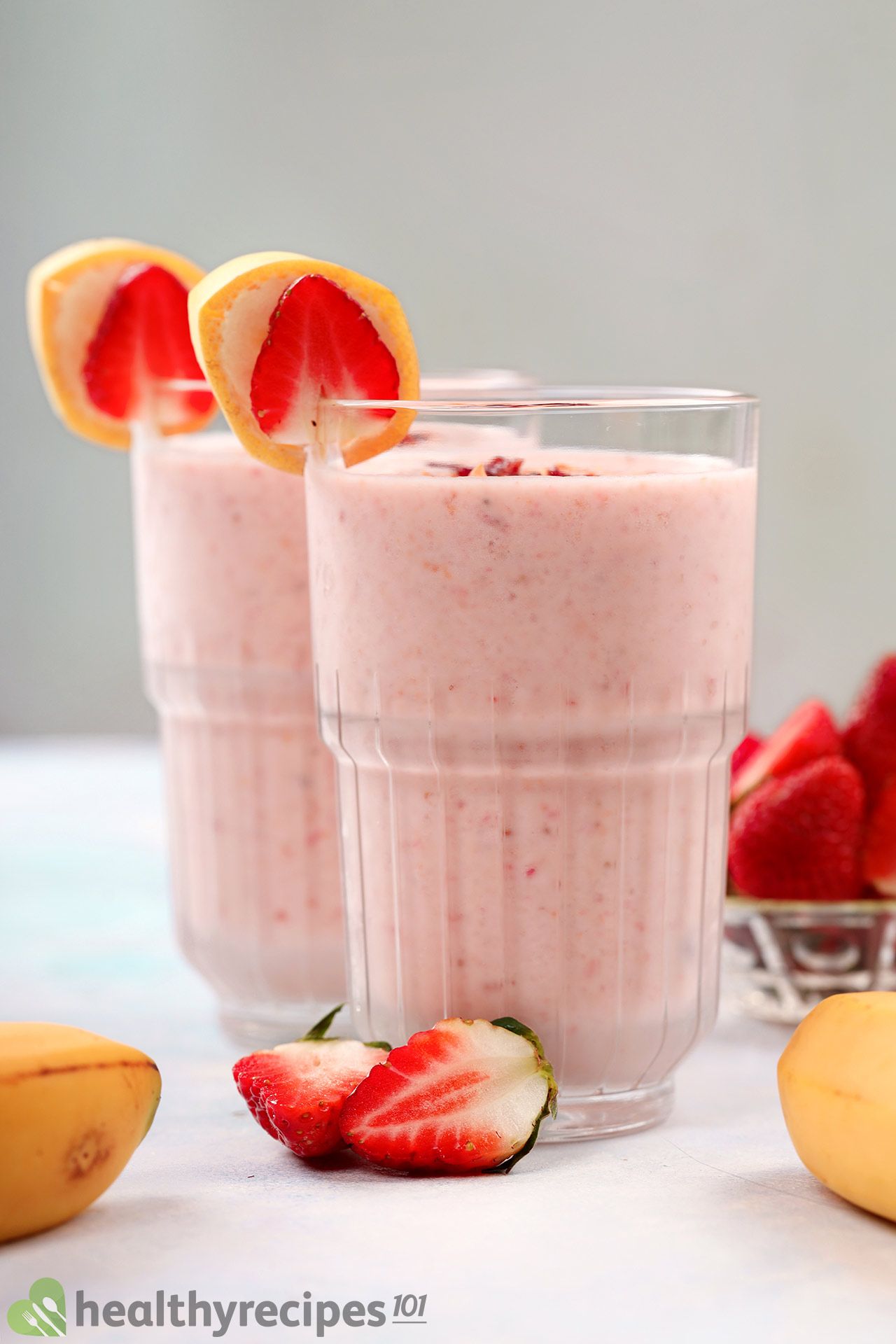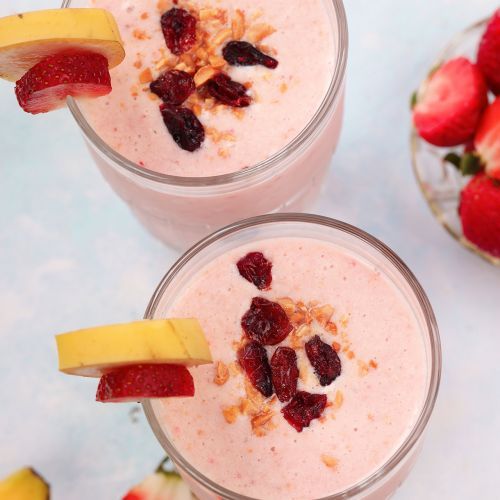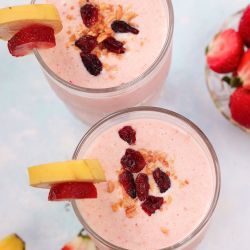 Strawberry Peanut Butter Smoothie Recipe
This strawberry peanut butter smoothie recipe blends sweet berries together with rich peanut butter and thick Greek yogurt. It's the perfect breakfast drink.
Ingredients
8

oz

strawberry

hulled and quartered

8

oz

banana

sliced

2

tbsp

unsalted peanut butter

2

cups

ice

1

cup

whole milk

1/4

cup

plain Greek yogurt

1/4

tsp

vanilla

1

oz

dried cranberries

1

oz

toasted peanuts

chopped
Instructions
Place all ingredients in a blender except for the cranberries and peanuts. Cover and blend until smooth.

Pour into serving glasses.

Top with dried cranberries and toasted peanuts. Enjoy cold.
Nutrition
Nutrition Facts
Strawberry Peanut Butter Smoothie Recipe
Amount Per Serving (1 serving)
Calories 236
Calories from Fat 99
% Daily Value*
Fat 11g17%
Cholesterol 10mg3%
Sodium 41mg2%
Potassium 501mg14%
Carbohydrates 30g10%
Protein 7g14%
Vitamin A 142IU3%
Vitamin C 38mg46%
Calcium 101mg10%
Iron 1mg6%
* Percent Daily Values are based on a 2000 calorie diet.