With simple fruits you may already have in your kitchen, our apple banana smoothie recipe makes a nutritious drink that's ready in just minutes.
Is Our Apple Banana Smoothie Healthy?
As it combines two nutrient-powerhouse fruits in a drink, our apple banana smoothie is healthy.
1. Benefits of Apples
Apples are an excellent source of phytonutrients such as polyphenols. While the majority of plant chemicals are concentrated in the peel, you can retain a significant proportion while blending apples for homemade smoothies.
Polyphenols have been shown to protect cells from oxidative stress and inflammation. The result being, they may slow the growth of some malignancies and cardiovascular illnesses and increase immunity.
These fruits are also rich in fiber. 100 grams of red apples provides 2 g of fiber, and a single-serving of our smoothie contains up to 13% of your daily recommended fiber consumption.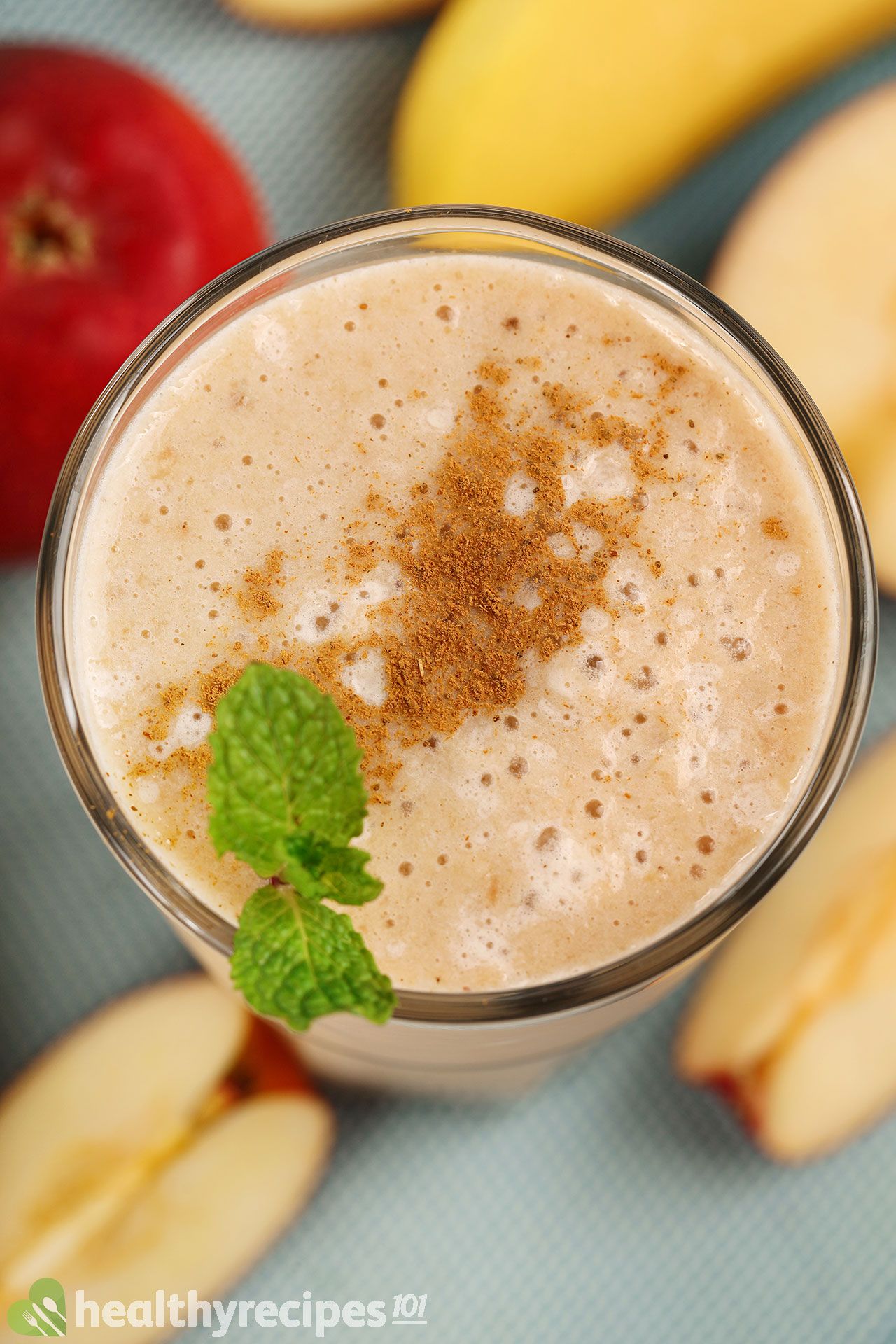 2. Benefits of Bananas
To begin with, bananas provide digestive, cardiovascular, and weight-loss benefits in this smoothie. One medium banana provides nearly 10% of the daily value (DV) of potassium.
Potassium is a mineral and electrolyte that is required for life. Increased dietary potassium has been shown to lower blood pressure and help minimize the risk of cardiovascular disease.
Banana is also a good source of several other vitamins and minerals, especially vitamin B6, and vitamin C. This popular fruit may have great health benefits when consumed regularly as part of a healthy diet.
Ingredients for Apple Banana Smoothie
The best apples for your green smoothie are red apples like Fuji or Gala. They will lend a nice, sweet flavor as well as a slight tang to your drink.
If you have green apples on hand, you can certainly use one of those too. But be aware that you may need to add more honey to balance out the tanginess.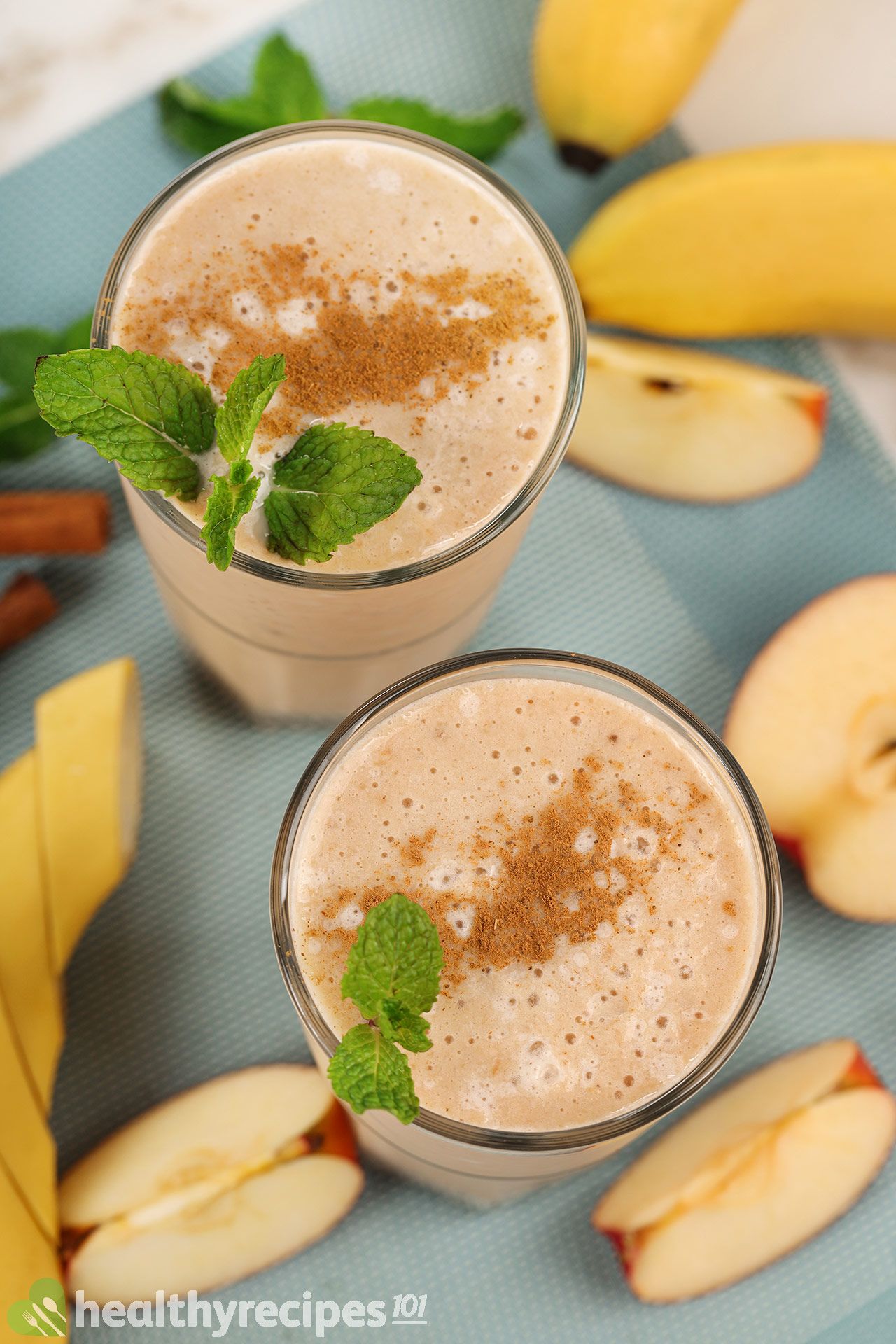 Bananas are a smoothie staple. They lend a thickened texture and sweet taste to any beverage, making it feel more substantial.
Bananas give sweetness to this smoothie, which helps temper the tanginess of the apple.
Dairy products are a wonderful way to give this smoothie a creamy texture.
Yogurt is a dreamy component for enhancing any smoothie. Adding it helps guarantee your smoothie will come out creamy and smooth, while still retaining the fruits' vibrancy.
Milk is our favorite go-to for adding fluidity to a beverage. However, use it cautiously, pour in a little bit at a time to avoid a slurry texture that is too thin.
Besides the nutty aroma and pleasant sweetness, honey adds essential nutrients, such as calcium, copper, iron, and magnesium to your already healthy apple banana smoothie. You can reduce or increase the amount of honey in our recipe based on the ripeness of the bananas you use.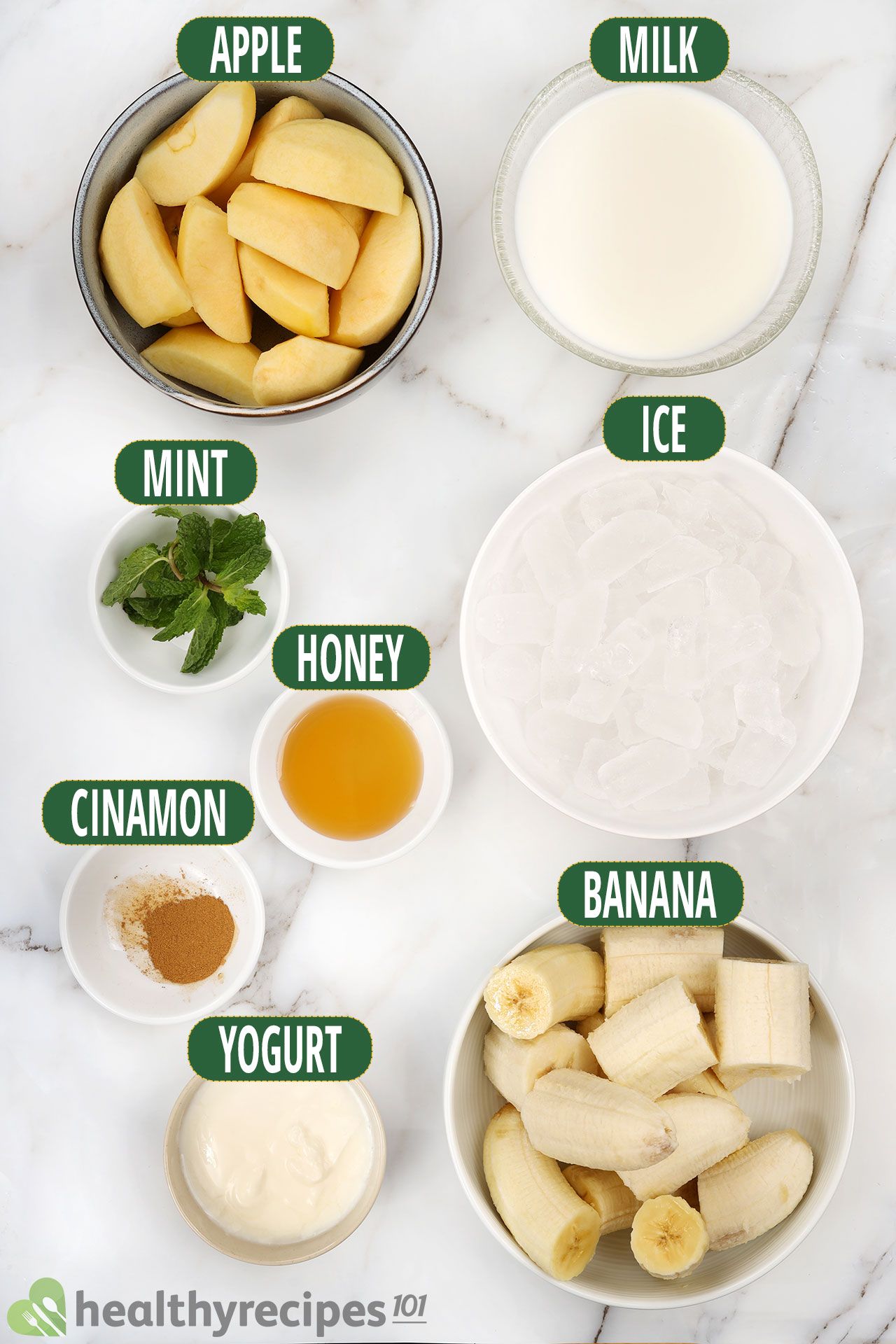 Cinnamon comes with its own health-promoting properties, and imparts a delightful warm note to the smoothie, especially when paired with the classic flavors of apple and banana. The result is a truly delectable beverage that's also filled with beneficial nutrients.
Ice is an excellent way to achieve a thicker smoothie and adds extra refreshment on a hot day. If you go with frozen fruits, omit this ingredient.
How to Make Apple Banana Smoothie
This apple banana smoothie recipe is quite straightforward. To save the daily prep time, measure out a portion for each day of the week and store it in separate containers. After that, blend one serving each morning.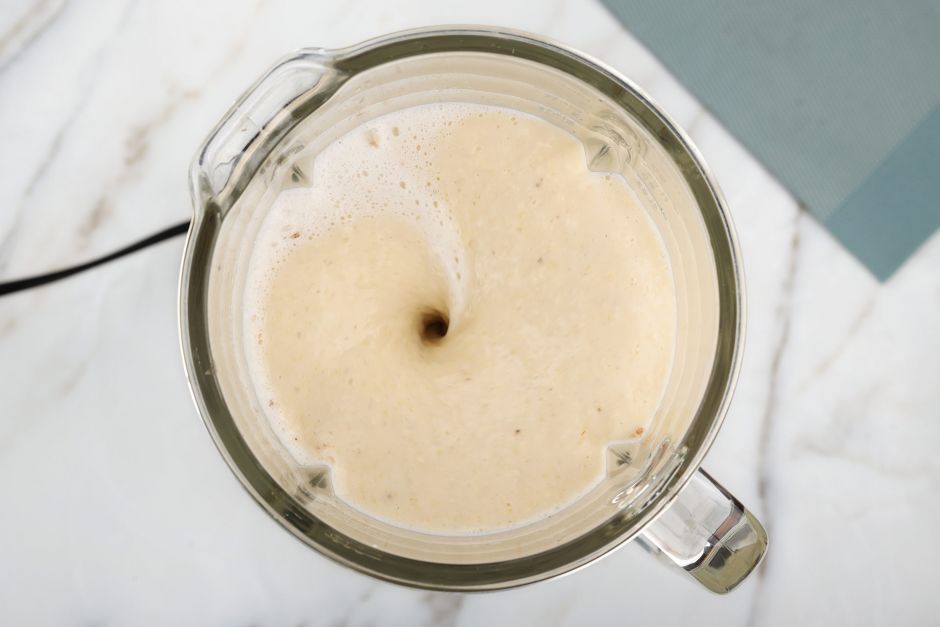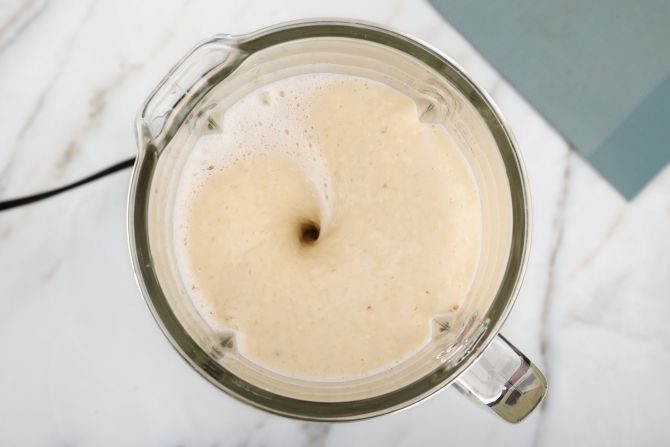 Blend ingredients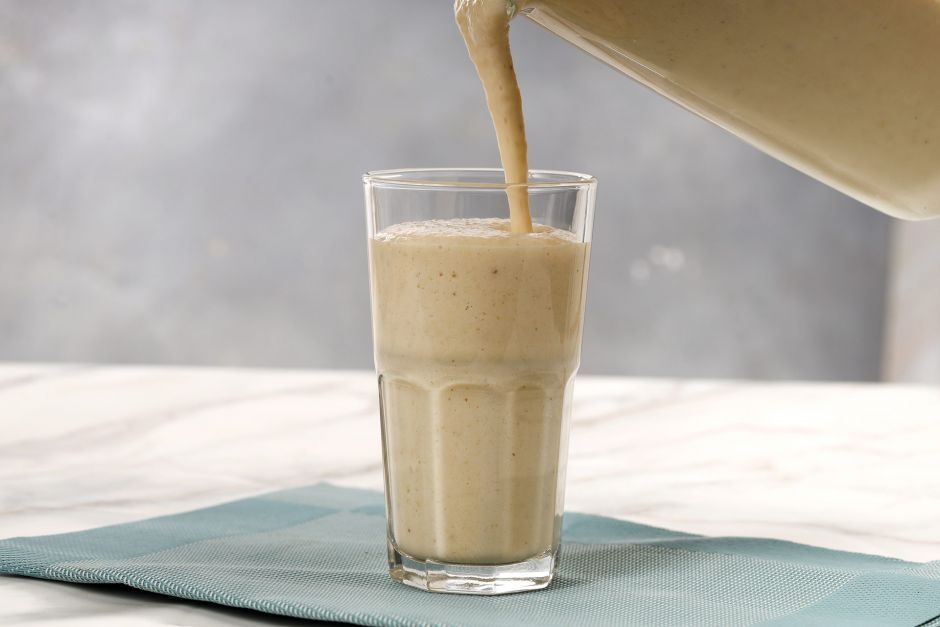 Pour into glasses.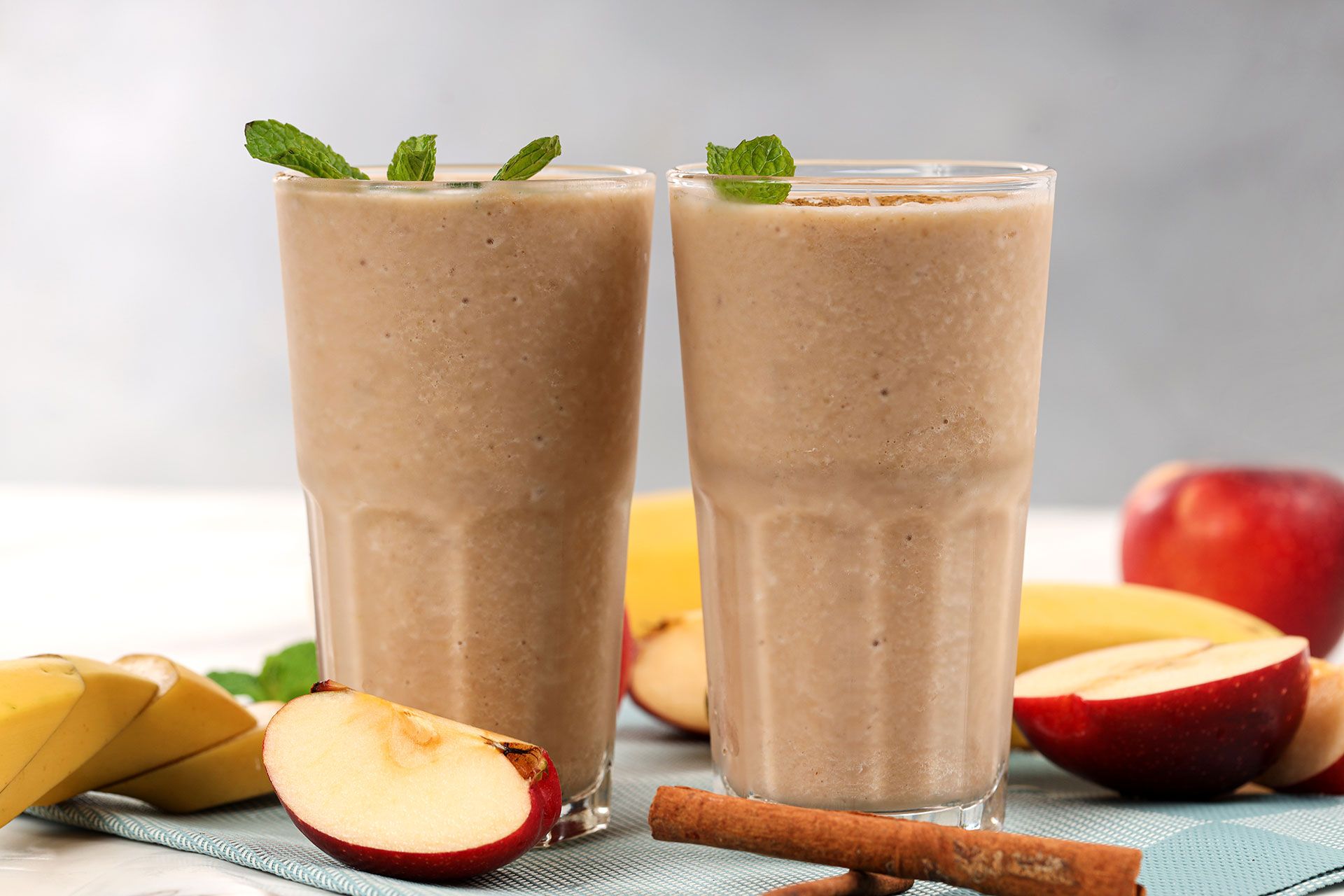 Garnish and serve.
How to Tell if an Apple Is Bad
Apples, like other fruits and vegetables, have a limited shelf life. While not a foolproof test, your senses are usually the most trustworthy indicators of whether your apples have gone bad or not.
When purchasing apples in a bag, check their appearance. It's advised to make sure that they are free of mold and insect-caused holes. A healthy apple also should not be mushy or dripping with juice.
Additionally, inspect your apples for black circular lesions and sunken, light to dark brown lesions. Apples often get bumped in the transportation process and this can form a bruise which will get progressively mushier over time and lead to rot. As the rot proceeds, the spots can spread rapidly and eventually cover the entire fruit.
Apples can last for more than a week if kept in the refrigerator. If stored on the countertop, they can stay fresh for up to seven days.
How Long Does Apple Banana Smoothie Last?
Smoothies should always be consumed on the same day they are prepared. They're more flavorful and the color is more vibrant right out of the blender.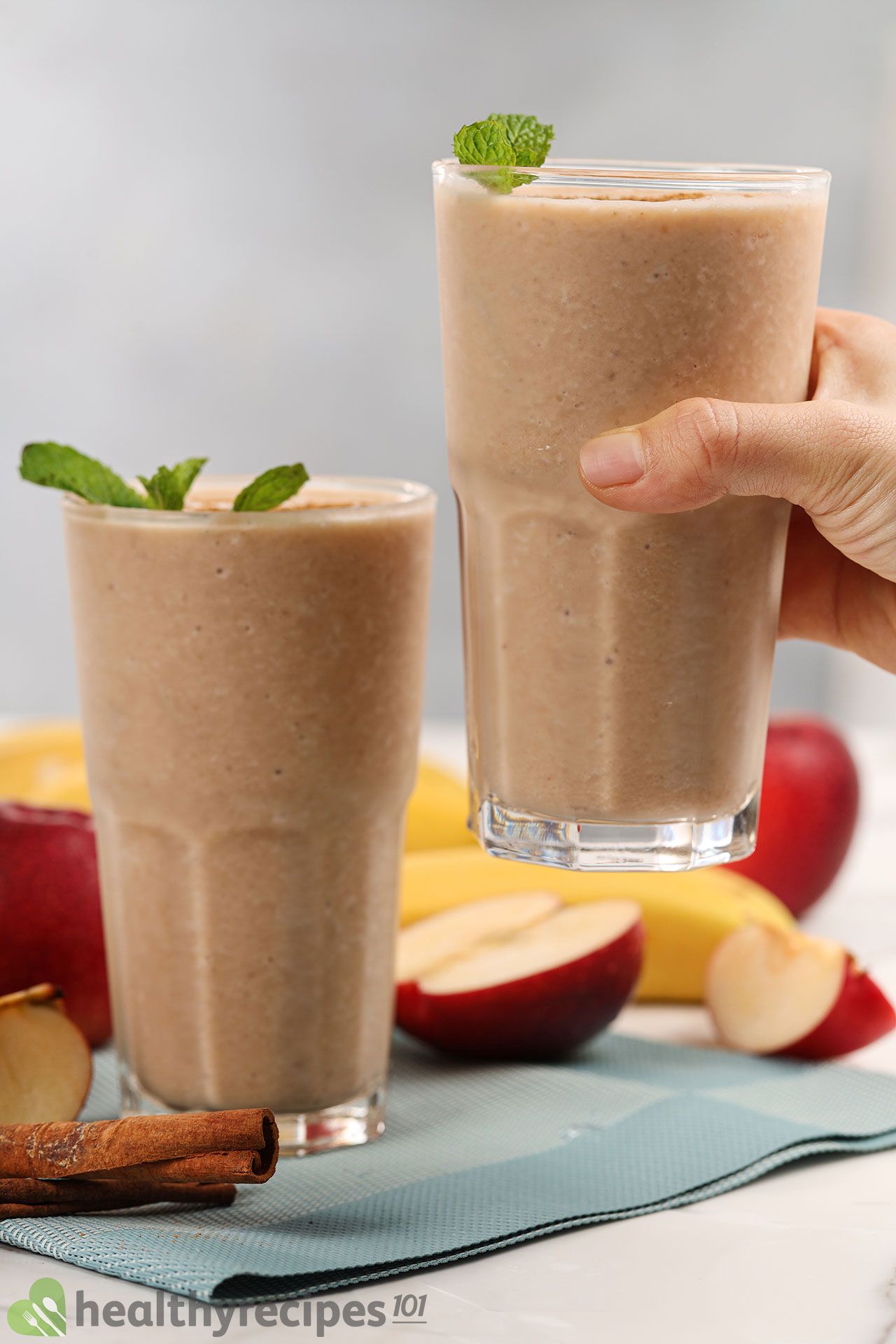 Smoothie leftovers can be stored in the refrigerator for up to 2–3 days. Though some separation may occur after the first day, this is completely normal. Simply whisk the smoothie and serve!
For longer storage, freeze your fresh fruits and veggies in different batches and blend one batch at a time when you want a glass of smoothie.
Cut fruits and vegetables can be frozen for an extended period of time. But we recommend always checking for mold if you're unsure about their quality.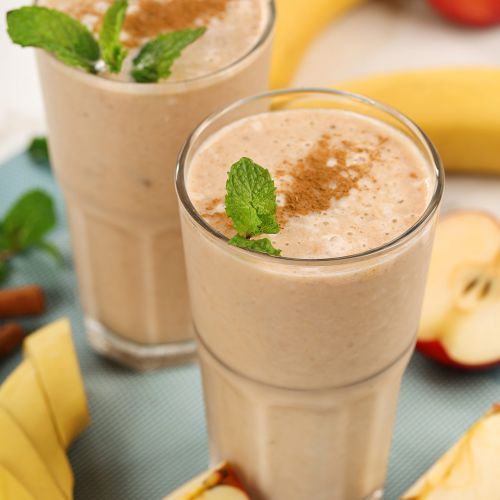 Apple Banana Smoothie Recipe
Our apple banana smoothie recipe is simple: add all the ingredients into a blender and blend until you have a pleasantly rich and delicious drink.
Ingredients
10

oz

red apple

14

oz

bananas

2

cups

ice

1

cup

milk

1/4

cup

plain Greek yogurt

1/4

tsp

cinnamon

1/2

tbsp

honey

8

mint leaves
Instructions
Put 2 cups of ice and 14 oz bananas into a blender. Add 10 oz red apple, 1 cup milk, 1/4 cup Greek yogurt, 1/4 tsp cinnamon, and 1/2 tbsp honey to the blender. Blend until smooth and creamy.

Pour into serving glasses.

Garnish with 8 mint leaves and serve immediately.
Nutrition
Nutrition Facts
Apple Banana Smoothie Recipe
Amount Per Serving (1 serving)
Calories 182
Calories from Fat 27
% Daily Value*
Fat 3g5%
Cholesterol 10mg3%
Sodium 41mg2%
Potassium 565mg16%
Carbohydrates 39g13%
Protein 4g8%
Vitamin A 286IU6%
Vitamin C 13mg16%
Calcium 94mg9%
Iron 1mg6%
* Percent Daily Values are based on a 2000 calorie diet.