Running on a time crunch or have a hectic day ahead but still want something healthy and tasty for breakfast? These avocado sandwich recipes have got your back! They're packed with healthy fats, vitamins, and minerals and come together in a blink of an eye—a perfect quick fix that will keep you energized and nourished all day long.
Top 10 Best Avocado Sandwich Recipes You Won't Regret Trying
1. Smashed Avocado on Toast
Is there anything more satisfying than cutting into an egg with a runny yolk? After making this dish, your answer might be no.
This recipe features toasted bread, poached eggs, arugula, cherry tomatoes, and mashed avocados. It's technically a toast, but that's just one slice of bread away from a mouthwatering, utterly satisfying sandwich.
Go to Recipe
2. Avocado Sandwich With Spicy Mayo
With avocado slices, melted cheese, roasted tomatoes, sprouts, and pickled red onions layered over one another, then jammed between two seared bread slices, this sandwich is truly a sight to behold. These ingredients' tumultuous flavors are enhanced by the spicy, smoky mayo sauce, making each bite unbelievably irresistible. Let this sandwich accompany you for breakfast, lunch, or during sunny picnics—your taste buds will thank you!
Go to Recipe
3. Kimchi and Avocado Grilled Cheese Sandwich
Here's a fun and easy way to jazz up your regular grilled cheese sandwiches. This recipe includes kimchi mixed with scallions, gochujang, honey, and sesame oil, and avocado mashed with lime juice, garlic powder, and salt. They bring a spicy, nutty twist that may seem mismatched at first, but turns out surprisingly enjoyable.
Go to Recipe
4. Pesto Smashed Chickpea and Avocado Sandwich
Pesto's herbaceous brightness and garlicky richness make this sandwich a stellar choice for those fun summer meals. You can feel these flavors melting right onto your taste buds, along with the luscious, smoothness of the mashed avocados. It's completed by the chickpeas' nutty, starchy goodness and the veggies' earthy notes, giving you excitement with every bite.
Go to Recipe
5. Halloumi Sandwich
Halloumi is a type of cheese made from a mixture of goat's and sheep's milk with a uniquely tangy, buttery taste and semi-soft texture. With this recipe, the cheese pieces are pan-fried until the edges are slightly browned, then nestled between mashed avocados, tomato chutney, and grilled focaccia. It's not your typical sandwich, but hey, that's why it's definitely worth a try!
Go to Recipe
6. Vegetarian Avocado Sandwich
If you're looking for something that's more like a classic sandwich, this one is perfect. That doesn't mean it's boring, however.
This vegetarian sandwich includes avocado, vegetables, and crumbled feta cheese—a seemingly simple combination that gives you a rainbow of flavors with every bite. It's got sweet, tangy, nutty, and subtly peppery notes that altogether taste like something straight out of heaven.
Go to Recipe
7. Avocado Toast
Eggs, mashed avocados, radish and Japanese mayonnaise—this combination doesn't sound like something you'd normally find in a sandwich, but don't let that deter you. The flavors are a harmonized mixture of subtly sweet, nutty, garlicky, and savory notes that come together like a symphony. Have it for breakfast, brunch, or dinner and it's a good time guaranteed. 
Go to Recipe
8. Turkey Avocado Sandwich
Don't want to keep eating the same proteins with your sandwich? Switch them out for turkey with this recipe. It features turkey, avocado slices, Gouda cheese, and tomato drenched in a chipotle mayo sauce. The result is a subtly spicy, smoky, and flavorful treat that you can make in just 15 minutes and still delivers some true culinary magic.
Go to Recipe
9. Avocado and Smoked Tofu Sandwich
Here's another unconventional sandwich that you just might find enjoyable. There are no bread slices as you'd normally expect. Instead, the fillings—avocado slices, spinach leaves, baked tofu, and cucumber slices—are stacked between cooked rice and wrapped in nori seaweed sheets. It's a great vegan option for those who are looking for something light in flavor but still filling and packed with essential nutrients.
Go to Recipe
10. Green Goddess Tuna Sandwich
This no-mayo tuna sandwich comes together in a few simple and easy steps. All you have to do is pulse the avocado, yogurt, herbs, spices, and lemon juice together to make the delectable green sauce, then slather it onto the bread along with the tuna. It doesn't require much, yet adds so much more flavor layers to your regular tuna sandwich.
Go to Recipe
Why We Love These Avocado Sandwich Recipes
Here are four main reasons you should include these avocado sandwiches in your meal rotation:
They're healthy and tasty: As a member of the superfood family, avocado is jam-packed with dietary fiber, monounsaturated fats, minerals, and vitamins. Moreover, making a sandwich is one of the best ways to introduce different nutrients to your diet because you can select fillings from various food groups.
They're quick and easy: Much like these Avocado Dip Recipes, putting together a perfect avocado sandwich barely requires any advanced cooking, and thus, less cleaning up. The ingredients can also be prepared ahead, so when necessary, all you need to do is stack them into an easy, tasty treat and be out the door in 10 minutes. 
They're customizable: When it comes to ingredients, the sky's the limit with sandwiches—and we are not exaggerating. They can include a wide variety of foods and be perfectly tailored to your preference and diet. Get experimental or stick with the fundamentals, you'll have a marvelous treat to enjoy either way!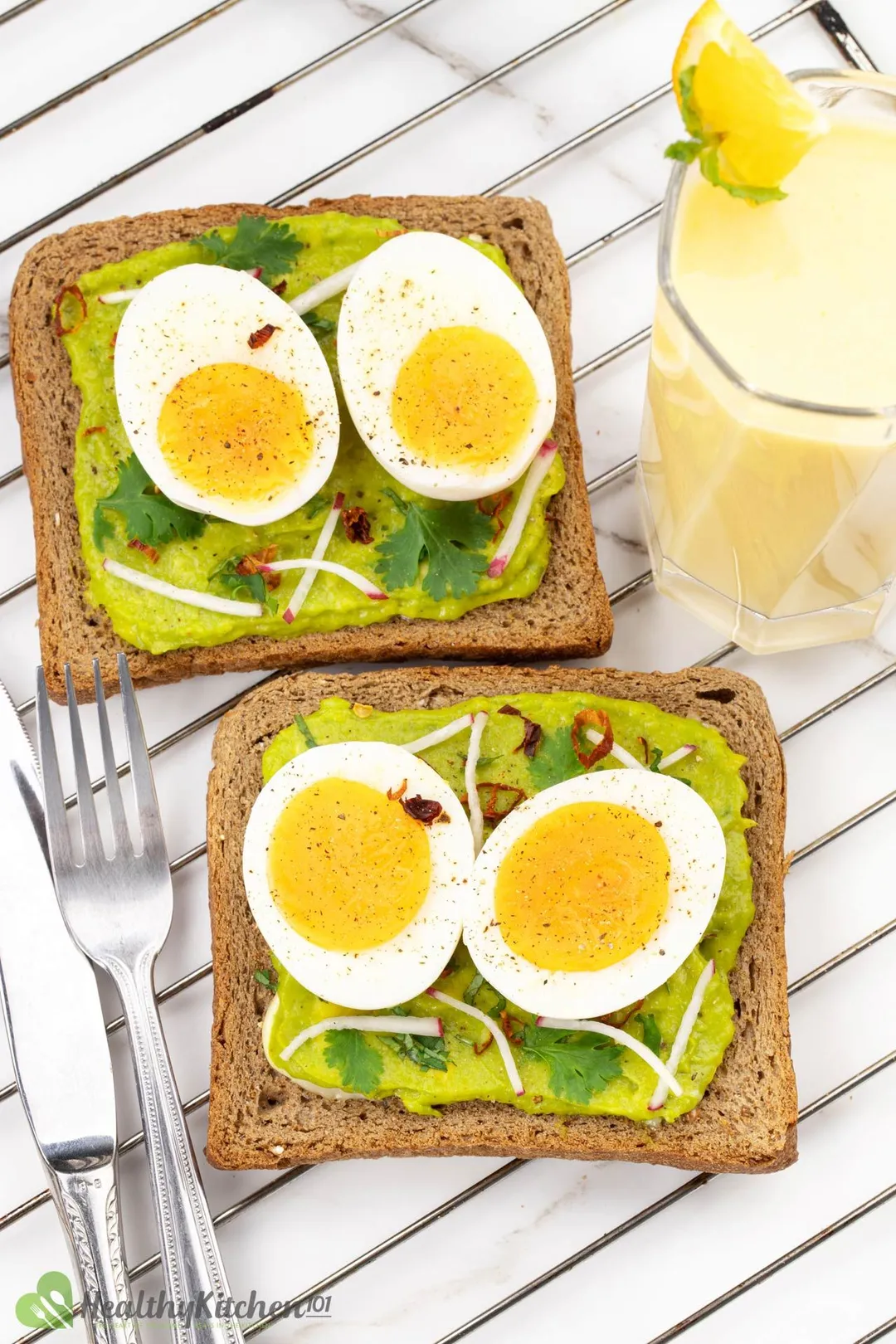 How Long Does Avocado Last?
The avocado's shelf life varies depending on its ripeness, state (peeled, pitted, cut, or whole), and storage method.
If you want to stock avocados for 1-2 weeks, we suggest keeping them whole in the fridge. Whole avocados with a firm texture will last for 2 weeks, while ripe ones will last for 1 week.
As for pre-cut or mashed avocados, avoid storing them at room temperature for more than 2 hours as it may lead to bacterial growth.
Refrigerator storage: If stored properly, prepped avocados will remain in their best condition for 3-4 days. A tip to preserve the green color of avocados: spritz them with some lemon juice.
Freezer storage: Frozen avocados are not suitable for tossing in salads or adding to sandwiches since they will turn mushy when thawed. However, if you have some leftovers after making your sandwiches, freezing them to make ice cream or smoothie later on is a great choice. They will last in the freezer for up to 3 months.
What Toppings Go Well With Avocado Sandwich
Why not add pan-seared bacon and a soft-boiled egg to your avocado sandwich for an on-the-go breakfast? You can also add a layer of smoked salmon or slices of steak—a restaurant-style dish made from the comfort of your home. Besides those, you can use your leftover pulled pork/chicken/turkey to keep things budget-friendly but still tasty.   
For us, the more vegetables the better because they add wonderful flavor, color, and texture to the humble avocado sandwich. Some great choices are juicy Roma tomatoes, fresh baby spinach and lettuce, crunchy cucumber slices, and red onion strips.
Cheese's rich, tangy taste blends harmoniously with the buttery smoothness of avocado, creating a luscious dish that is worth every calorie.
You can stick with the classic options (cheddar, fresh mozzarella, and parmesan cheese) or amp up your avocado sandwich with some pepper jack cheese.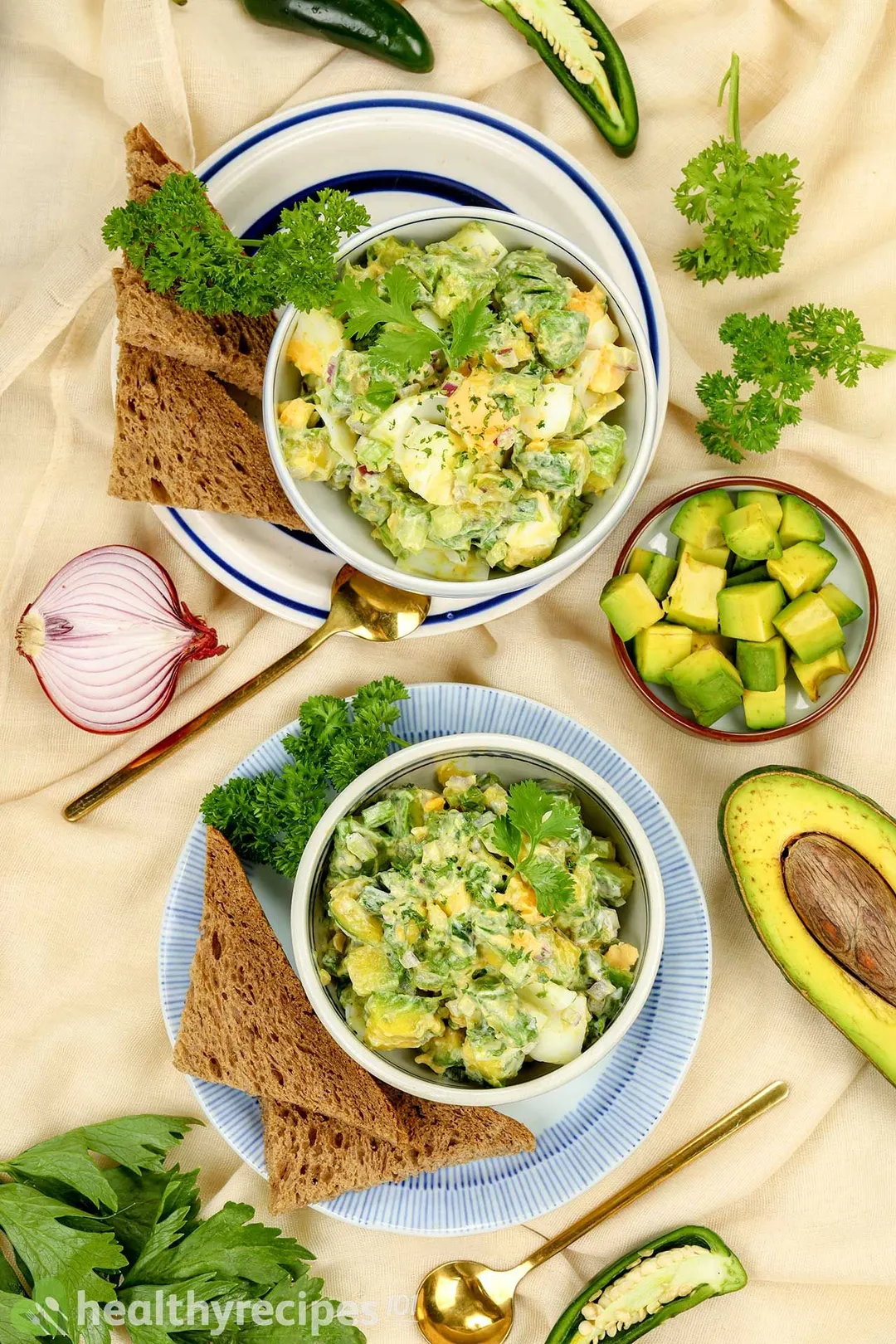 Previous Recipe
Avocado Salad Recipes
Avocado Salad Recipes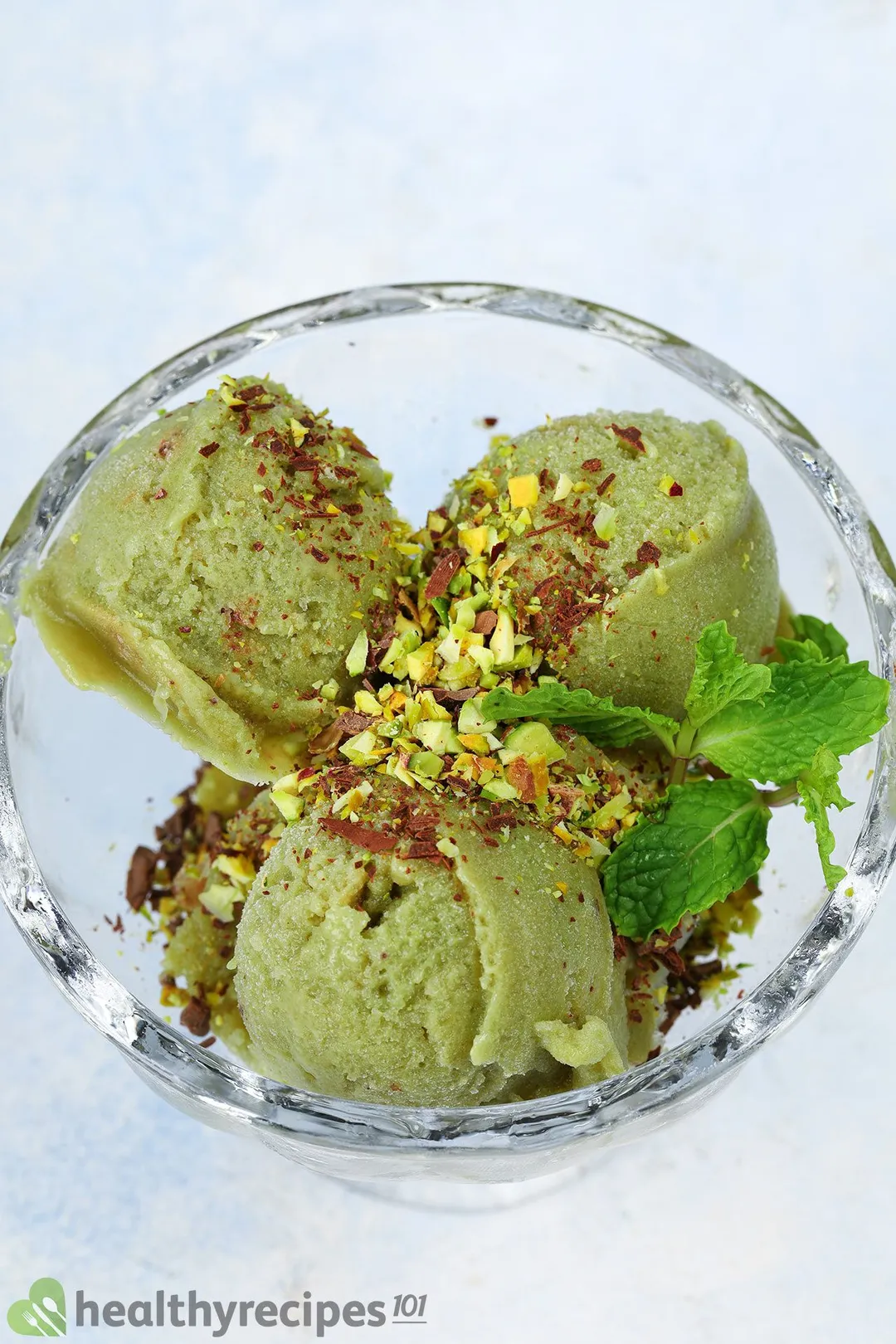 Next Recipe
Avocado Dessert Recipes
Avocado Dessert Recipes
Writer, Author
Luna Regina is an accomplished writer and author who dedicates her career to empowering home cooks and making cooking effortless for everyone. She is the founder of HealthyKitchen101.com and HealthyRecipes101.com, where she works with her team to develop easy, nutritious recipes and help aspiring cooks choose the right kitchen appliances.
Comments/ Reviews