This beef quesadilla recipe will make your upcoming dinner party and quest for a National Quesadilla Day (September 25th) dish a lot easier.
What we love about quesadillas isn't just the gooey minced beef inside their crunchy shells. It's also because of how quick they are: 13 minutes for the filling and 2 minutes to put it together.
So if you have on hand some ground beef, seasonings, and corn tortillas, you're already halfway to making this delicious treat.
What Is a Quesadilla?
A quesadilla is a corn tortilla sandwiching a filling of well-seasoned ground beef, cheese, and some other toppings. This Mexican staple is a popular food in America, and sold in almost every Mexican restaurant.
To make one, the filling is placed onto a tortilla, folded in half, and then cooked on the griddle or stovetop. This is a half quesadilla. A full quesadilla is made with two tortillas instead of one, sandwiching the filling and sliced up like a pizza.
Quesadillas are sometimes made with mushrooms, bell peppers, sweet potatoes, and beans, etc. instead of beef. As long as the filling is thoroughly seasoned, these versions can taste just as good as the original.
No matter how they're made, quesadillas should always be cooked until the outside is slightly crispy and the cheese is melted. People expect the filling to be dripping with juice when they take a bite.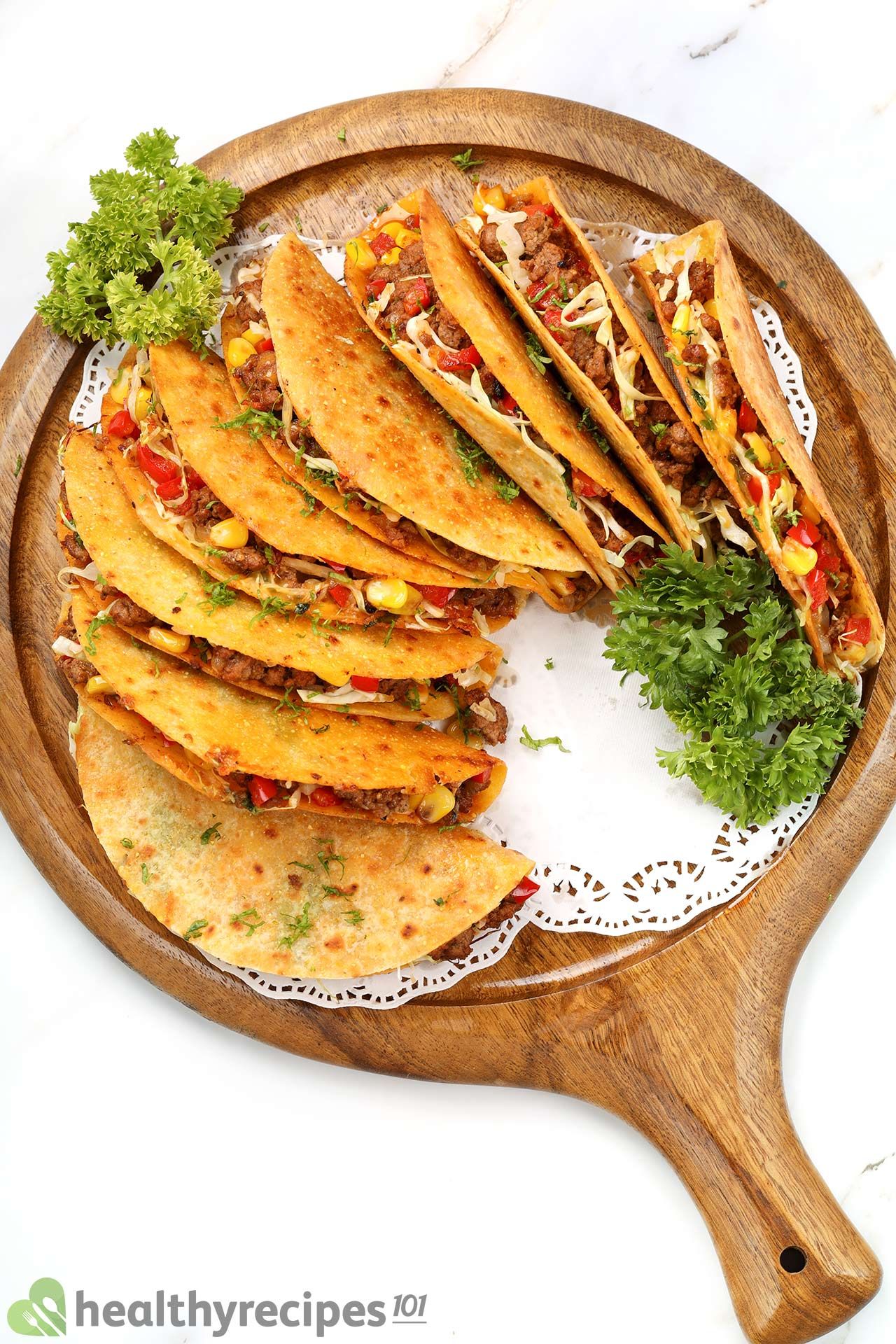 Are Beef Quesadillas Healthy?
The meaty quesadilla is often balanced with some vegetables on the side, making for a healthy meal packed with nutrients. However, it often comes with heaps of cheese, which is high in saturated fat and sodium.
This explains why our quesadillas aren't dripping with cheese — we use just enough cheese to keep the filling flavorful and the nutritional profile within guidelines. However, the filling is still moist enough to guarantee a delicious healthy meal.
Beef Quesadilla Ingredients
1. The Meat Filling
When it comes to ground beef, we love the 85% lean option. It has a moderate amount of saturated fat and always turns out moist, not dry.
The beef is cooked with fresh garlic and onions, but since more flavor is always welcome, we also include the powdered versions. They add a serious depth of flavor.
Being Mexican, this dish must be filled with plenty of spices and seasonings. The important spices are cumin, paprika, and chili powder, creating the aromatic and slightly spicy qualities that people love in Mexican food.
Some tomato paste and lime juice are also a must. Their bright tanginess fuses with the savory beef and creamy cheese, making for the ultimate filling.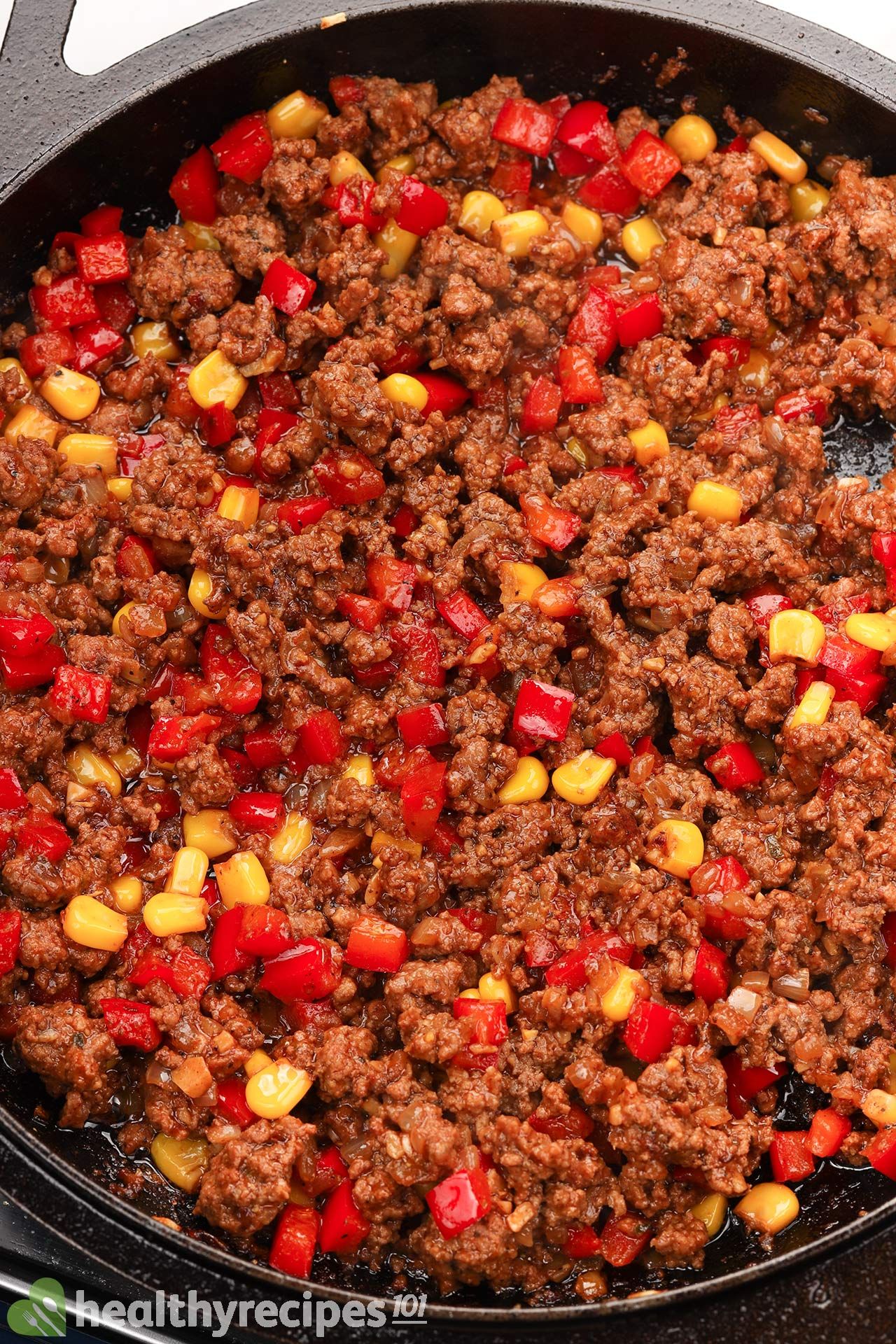 Of course, a pinch of salt and pepper for added flavor.
To collect all of the tasty bits stuck to the bottom of the pan, we deglaze it with some chicken stock. You can use water, but we appreciate the extra savoriness it adds to the meat.
To balance out the flavors, we cook the beef with some sweet corn and bell peppers.
Finally, this is optional: some oregano. Its aroma brings out the beefy flavors even more.
2. Best Cheese for Quesadilla
Cheddar is the traditional option to make quesadilla: it has a beautifully golden color and provides that appetizing stretchy effect. Some people go for a mix of cheddar and mozzarella — also a good choice.
No matter how many types of cheese you're using, the total amount should be 3 ounces only, to keep the nutritional profile within recommendations.
3. Toppings for Beef Quesadilla
To give it a refreshing quality, we added some shredded cabbage to the filling.
We also serve our quesadillas with an assortment of fresh vegetables, which you can choose according to your liking. Our pick includes some hand-torn iceberg lettuce, halved cherry tomatoes, and thinly-shaved baby carrots.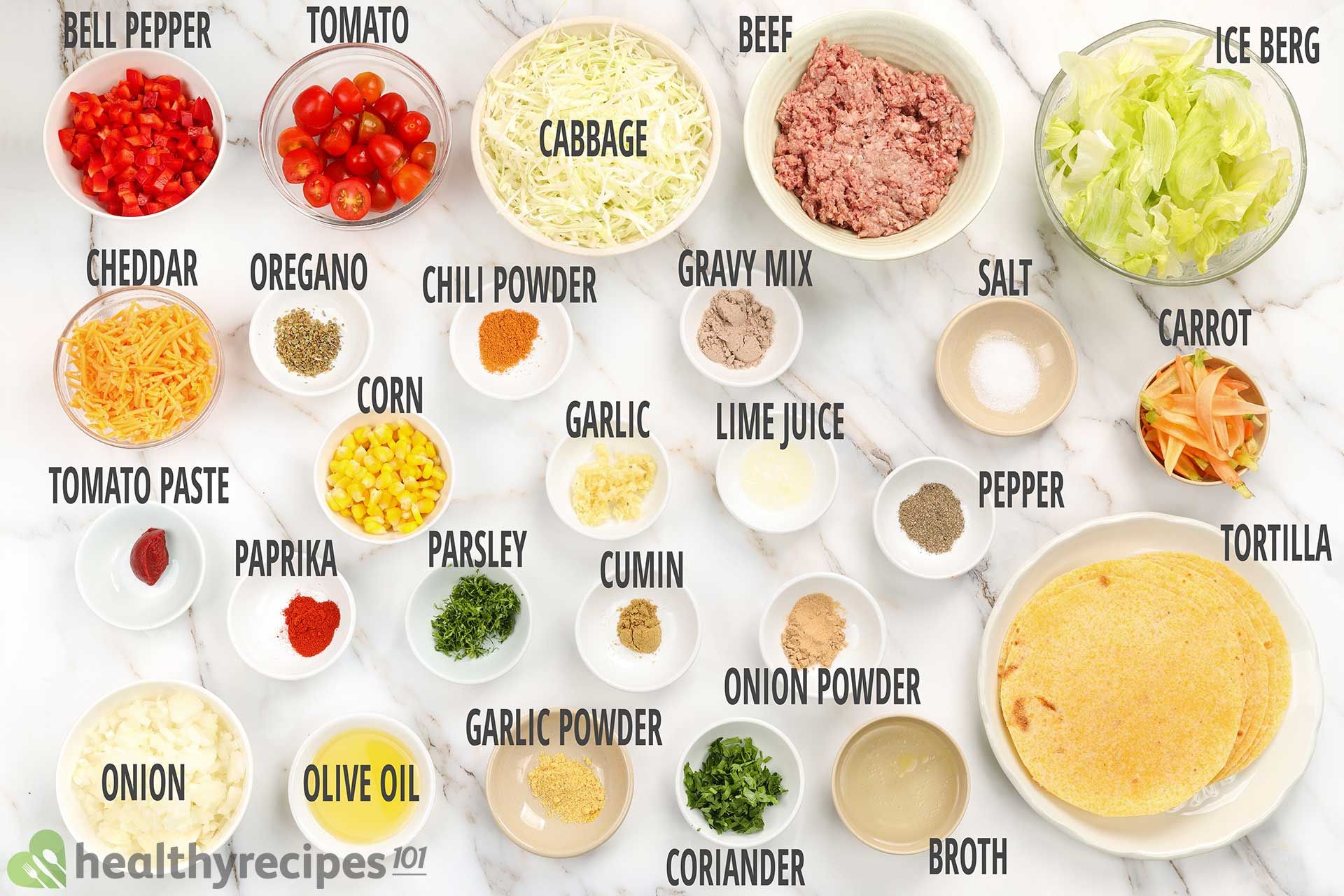 4. What Kind of Tortilla Is Best for Quesadillas?
Flour tortillas are occasionally used, and they work fine, but corn tortilla remains the best option for us because:
It has a signature aroma of masa, a treated corn flour. Without it, the food feels less like a Mexican dish.
It's almost gluten-free since corn originally contains no gluten. It's an option that everyone can enjoy.
How to Make a Beef Quesadilla
Once the ingredients are gathered, things are really straightforward: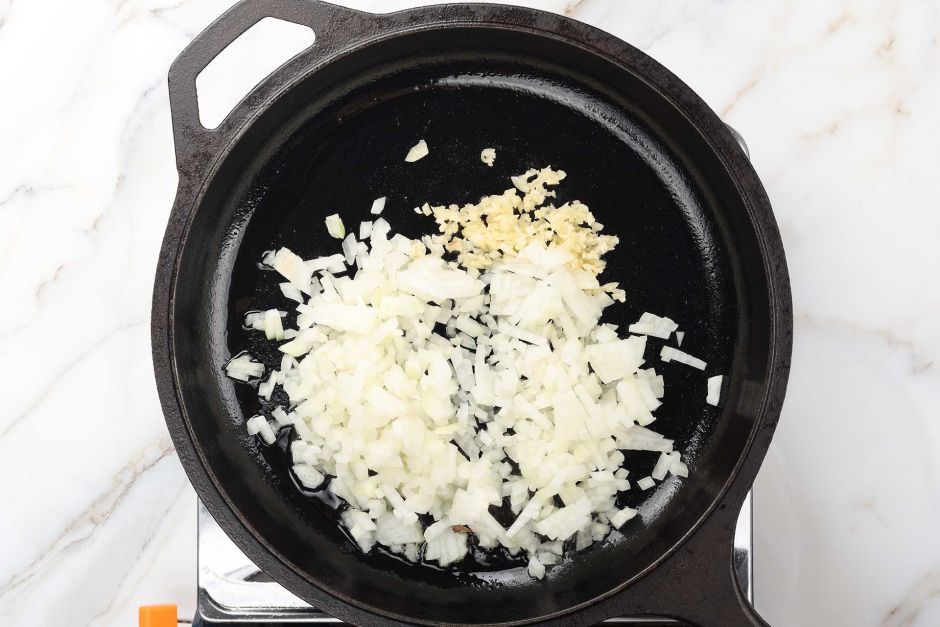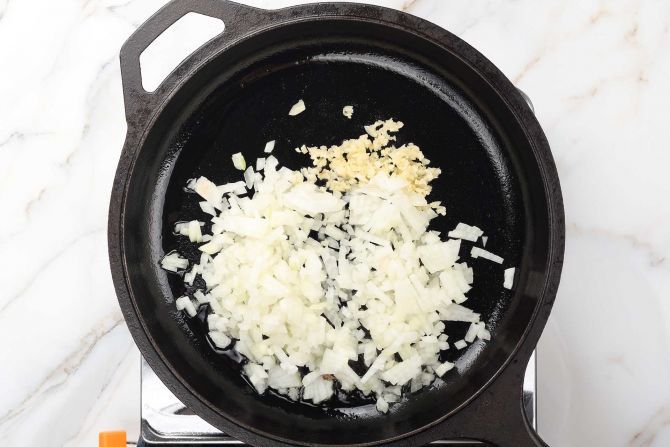 Cook the garlic and onions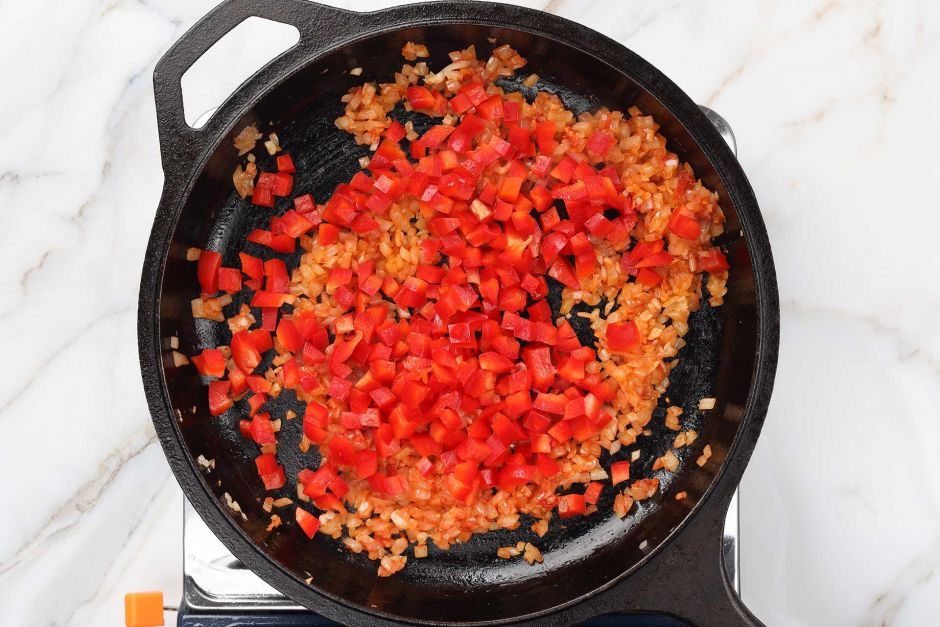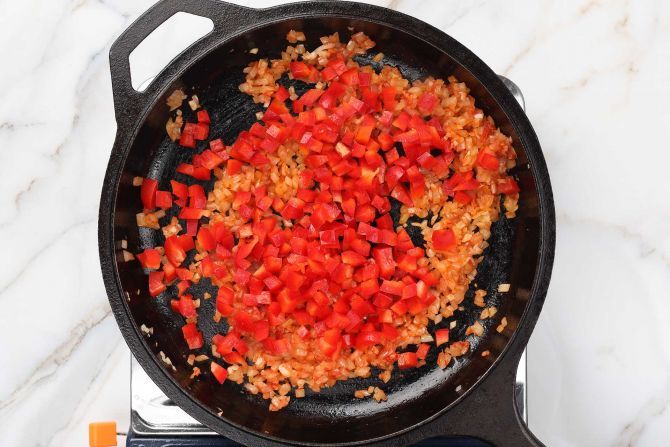 Add the bell peppers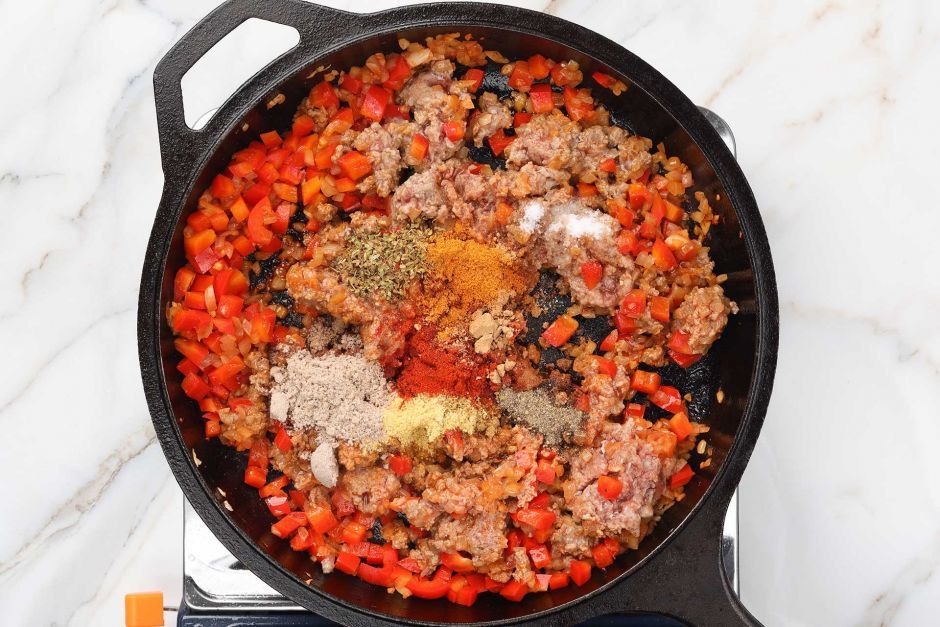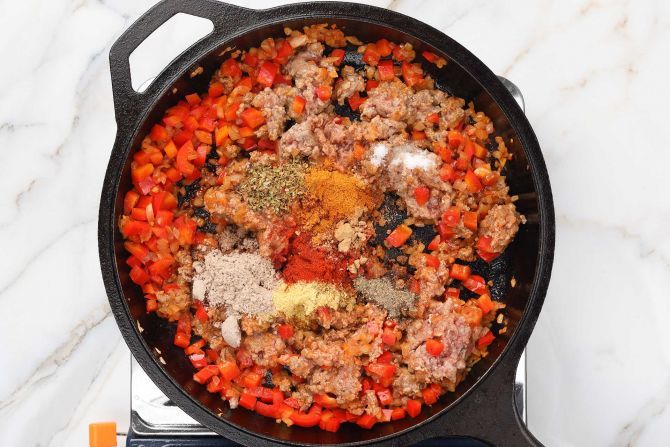 Add the beef with seasonings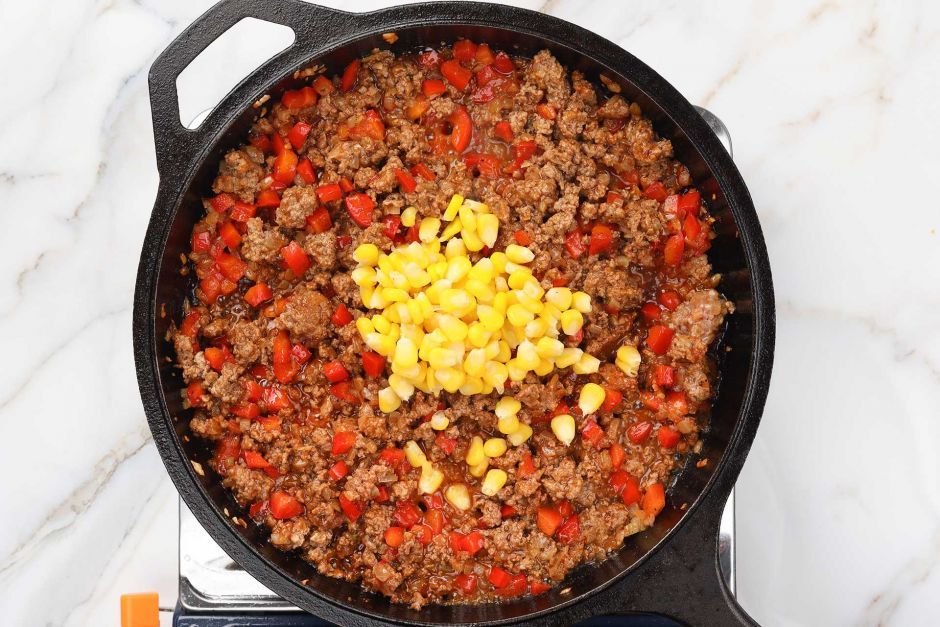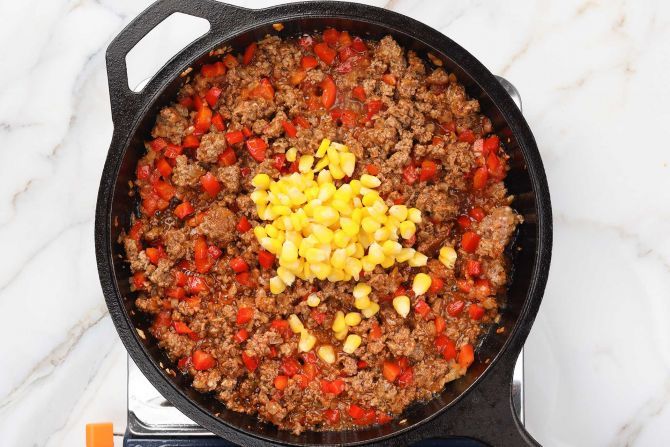 Add corn and de-glaze the pan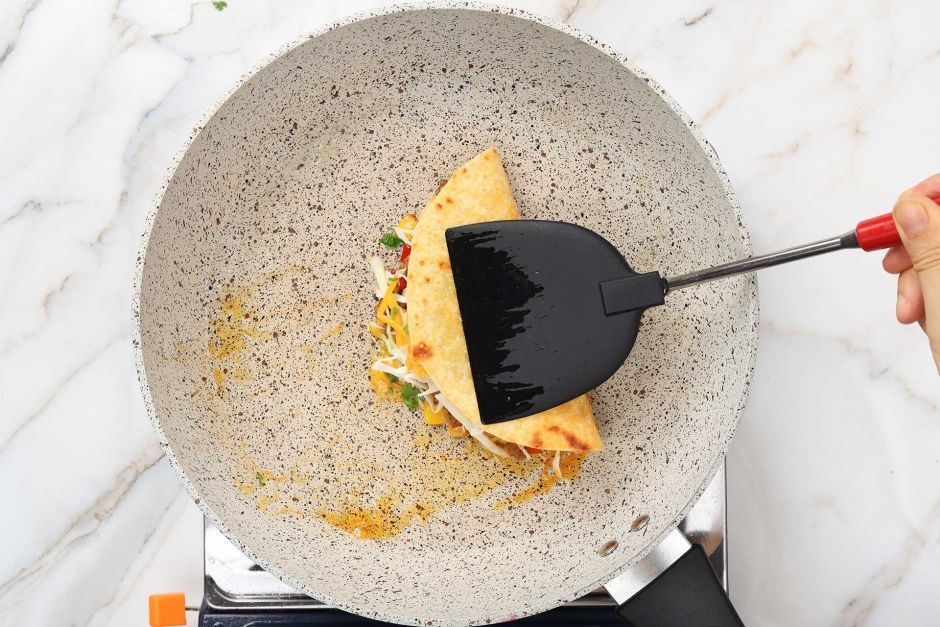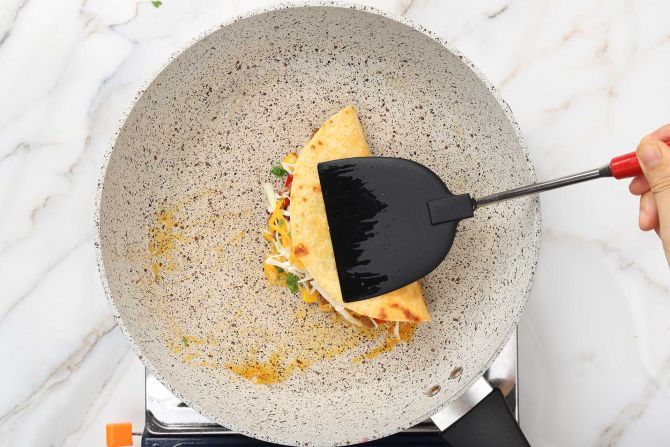 Make the quesadillas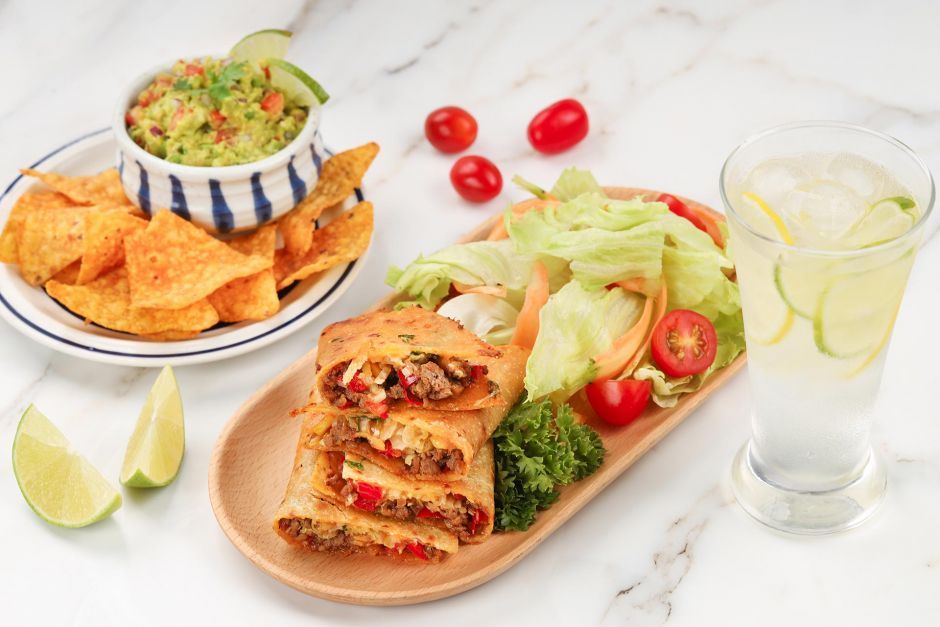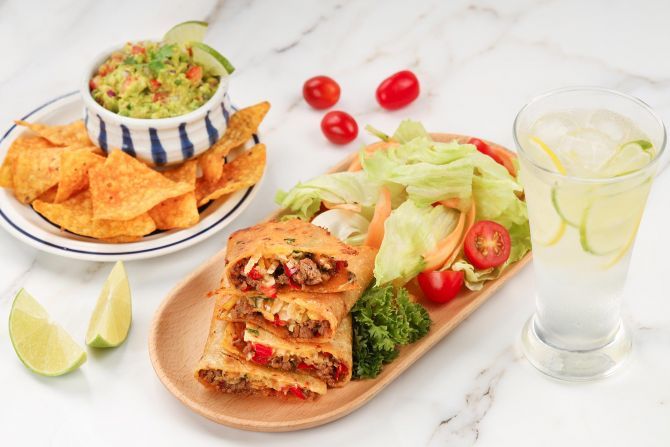 Serve and enjoy
For the exact measurements, check out our beef quesadilla recipe card below.
Jump to Recipe
Beef Quesadilla Preparation and Serving Tips
Today we're showing you how to make half quesadillas as we expect you're serving yourself. If you're making them for a party, make whole quesadillas instead for a more fun experience.
For a full meal, you'll also need to serve the quesadillas with a drink and guacamole. Since they're best chilled, you can make them in advance and store them in the fridge.
How to Store and Reheat Quesadillas
Quesadillas last for about 5 days in the fridge, so you should plan to eat them soon after cooking. To reheat, place them in a pan and cook over low heat for 2 minutes per side.
You can also freeze them — they'll last for up to three months. We recommend reheating them in the oven for about 10 minutes at 350°F.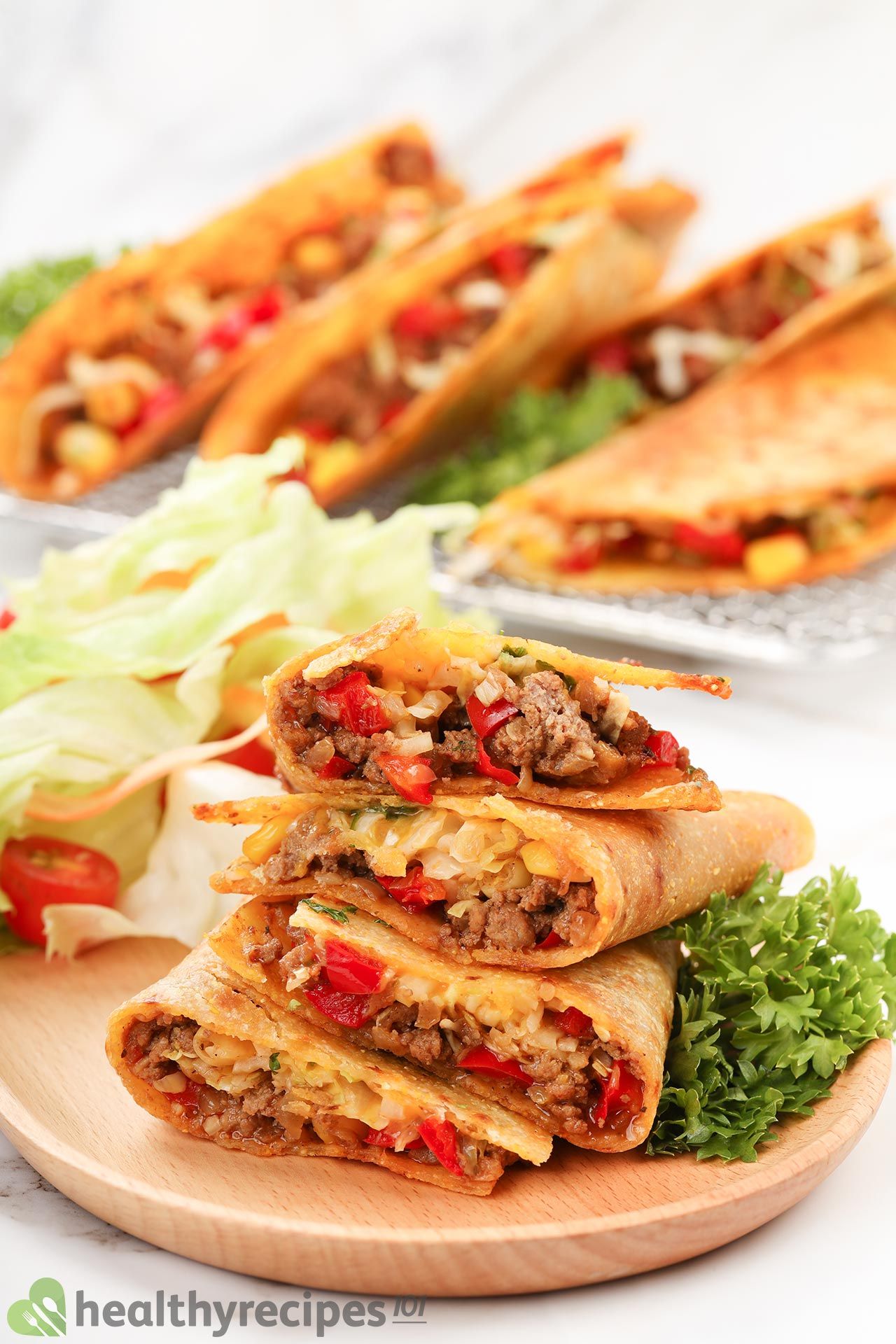 If you want to multiply the recipe and make tons of filling ahead of time, here's how:
Cover the filling and allow it to cool to room temperature.
Portion it out into Ziploc bags and close the bag, leaving a small gap. Spread the meat into a flat sheet carefully, and close the bag to minimize the amount of air in the bag.
Label the bags "three months since [current date]" with non-permanent markers and stack them in your freezer. To reheat, place the meat into a pan with about 1 tbsp/serving and stir-fry until warm.
What to Serve With Quesadillas
You can serve quesadillas with either guacamole or a salsa, but since ours already have fresh vegetables, we went with guacamole. The satisfying creaminess is exactly what the crunchy sandwiches need.
Finally, we chose some lime water on the side to complete the meal. It refreshes your palate, so every bite is as delicious as the first.
Recipes
Course
Calories
Saturated fat
Sodium
Beef Quesadilla
Main Dish
485
9.2 g
578 mg
Guacamole
Side Dish
256
2.2 g
260 mg
Lime Water
Beverage
9
0.0 g
22 mg
Total
750
11.4 g
860 mg
Nutritional values in this table vary somewhat to those below due to different app calculations. Read more...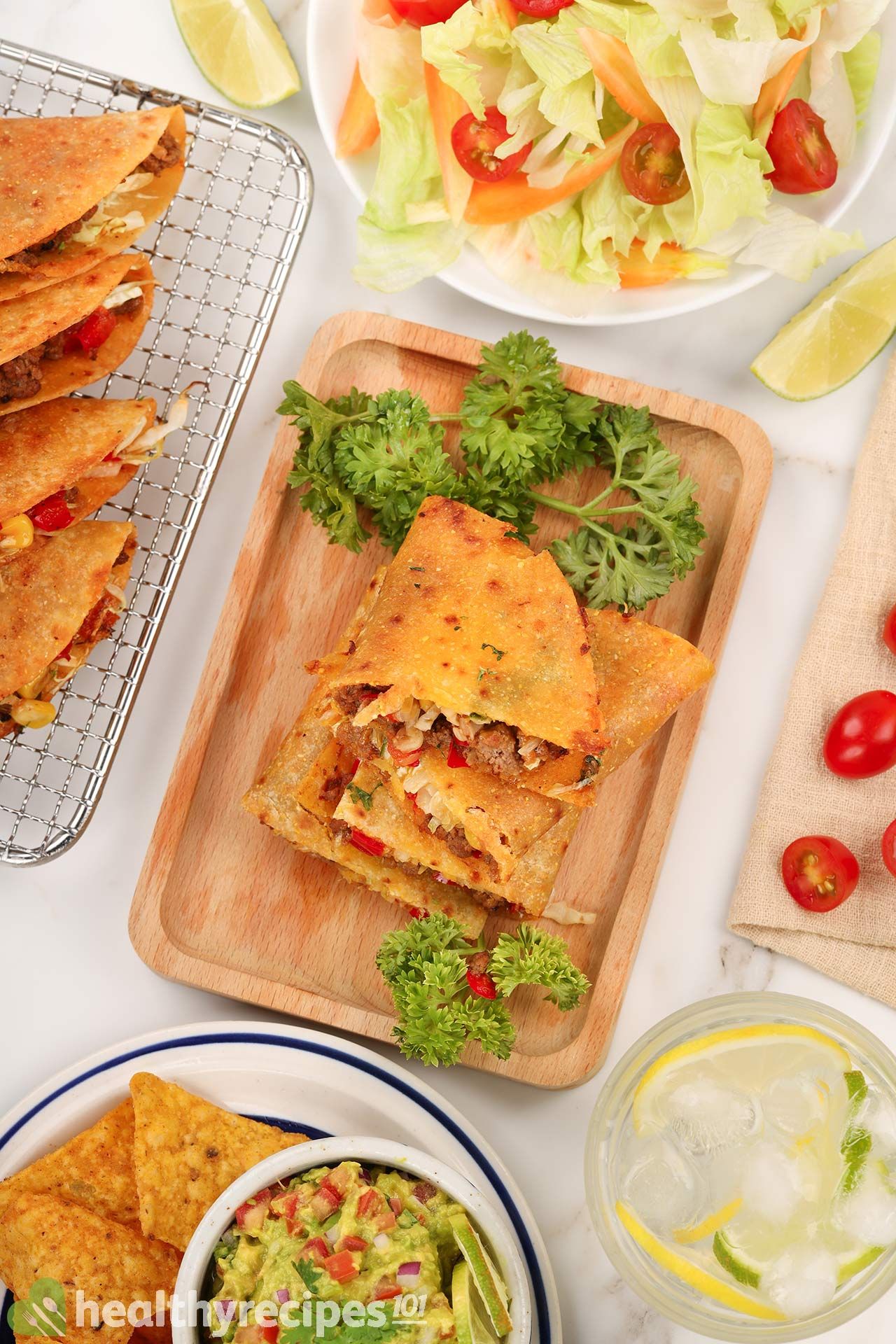 Similarly Tasty Ground Beef Recipes
When it comes to making delicious meals out of ground beef, the possibilities are endless. We have plenty of ideas for you to get started: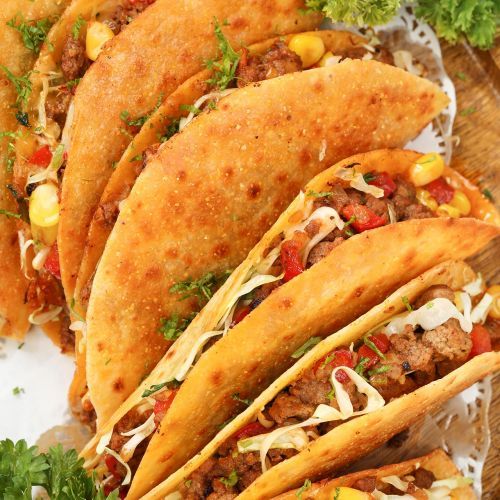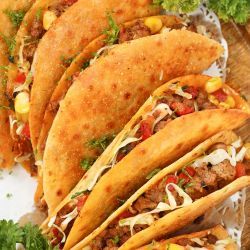 Beef Quesadilla Recipe
This beef quesadilla recipe turns out a satisfying meal in just 30 minutes. If you're serving just one, it takes only 15 minutes.
Ingredients
10

oz

85% lean ground beef

2

tbsp

olive oil

divided

1

tbsp

garlic

minced

4

oz

onions

finely chopped

1/2

tbsp

Hunt's tomato paste

4

oz

red bell peppers

chopped

1/2

tsp

paprika

1/2

tsp

unsalted chili powder

1/2

tsp

cumin

1/2

tsp

garlic powder

1/2

tsp

onion powder

1/2

tsp

oregano

1/2

tsp

salt

1/2

tsp

ground black pepper

1

tsp

lime juice

1 1/2

tsp

brown gravy mix

1/4

cup

unsalted chicken broth

2

oz

corn

fresh or canned (have to rinse first if using canned)

4

oz

cabbage

shredded

3

oz

cheddar cheese

shredded

2

tbsp

coriander

roughly chopped

2

tbsp

parsley

finely chopped

4

oz

cherry tomatoes

halved

4

oz

iceberg lettuce

torn by hand

1

oz

baby carrots

shaved
Instructions
Heat a skillet over medium heat. Add just 1/2 tbsp olive oil (save the rest to heat the tortillas), and when it's hot, add 1 tbsp garlic and 4 oz chopped onions to cook. Stir for about 1 minute.

Add 1/2 tbsp tomato paste and stir to incorporate. Add 4 oz chopped bell peppers in and stir to cook for 1 minute.

Make a space in the middle of the skillet, and add 10 oz ground beef to this space. Break up the meat and stir to cook for about 1 minute, then add the seasonings: paprika, chili powder, cumin, garlic powder, onion powder, oregano, salt, pepper (1/2 tsp each), 1 tsp lime juice, and 1 1/2 tsp gravy mix. Stir to incorporate.

Pour in 1/4 cup chicken broth and add 2 oz corn. Scrape the bottom to release any bit of flavor sticking. Turn the heat to low and simmer everything for 3 minutes or until the liquid evaporates. Remove the skillet from the heat.

Heat a non-stick pan over low heat. Brush a thin layer of oil all over the pan using the remaining oil (1 1/2 tbsp). Place a tortilla into the pan and fill one half of it with 1/8 the amount of cooked beef, cabbage, cheddar, and chopped cilantro. Carefully fold the other half over, gently press for 1 minute, then flip and press for another minute.

Repeat with the rest of the tortillas until you have 8 half quesadillas equal in size. Sprinkle parsley on top for decoration. Serve the quesadillas with a quick salad of 4 oz halved cherry tomatoes, 4 oz torn iceberg lettuce, and 1 oz shaved carrots.
Nutrition
Nutrition Facts
Beef Quesadilla Recipe
Amount Per Serving (1 serving)
Calories 485
Calories from Fat 243
% Daily Value*
Fat 27g42%
Cholesterol 69mg23%
Sodium 581mg25%
Potassium 392mg11%
Carbohydrates 41g14%
Protein 23g46%
Vitamin A 2516IU50%
Vitamin C 61mg74%
Calcium 198mg20%
Iron 2mg11%
* Percent Daily Values are based on a 2000 calorie diet.